Firstly a Happy New Year to all our TLFL readers and hopefully you are enjoying the new look of the blog today together with the new font we put in recently. Let us know what you think. Apologies for the lateness of the article today but the New Year celebrations started early and finished late….
Well, if I thought my travels in 2018 were hectic then 2019 is on a whole new level. I have challenged myself to make British Airway's Gold Guest list level in my next tier point year and on top of that to try to fly every Oneworld airline from now to the end of my TP year in March 2019! S7 could be a challenge as well as Qantas since I have no Australia trips planned yet! Paul our resident TP expert will be helping me with maximising my flights to get extra TPs. I already have around 3000 TP booked so I am well on the way to the 5000 needed.
The trip I am most looking forward is the next one in a couple of weeks to Cape Town. Aside from the fact that I love this area (and particularly Franschoek where I will be staying) I managed to get the great deal on Emirates Airlines to fly in First with them. I will be doing one leg on the old first and one leg on the new first (subject to any last minute equipment changes!). I will also fly Emirates business class later in the month so look out for the reviews! Don't forget you can earn Avios and Tier Points if you book Emirates on a Qantas codeshare!
I will be visiting South America for the first time as I use my 90,000 Iberia bonus to visit Buenos Aires with Roving Reporter and join Claudio as he redeems his to Costa Rica.
Roving Reporter and I will be visiting Vietnam as well to explore Halong Bay and Hanoi as well as revisiting a few of my favourite places. Thanks to Claudio I managed to snag the great fare from Edinburgh to Penang with Qatar which was only available for a few hours so we will be heading off together to enjoy the Qatar QSuites and some time in Penang. I will flying around Asia visiting Singapore, Jakarta, Bangkok and Hong Kong racking up the tier points as well as trying Philippine Airlines A350 from Heathrow in business class. Finally, I will be returning to two of my favourite US spots – Scottsdale near Phoenix and Las Vegas as I use up my Lloyds upgrade voucher.
Paul
2019 brings even more than before! I will be flying pretty much all the Oneworld First cabins mainly on redemptions and BA Gold upgrade vouchers. I will be visiting Japan for the first time as well as South Africa, Australia, Singapore, Thailand and Hong Kong to name but a few places. Currently, I have planned: Japan Airlines First Class, Cathay Pacific First Class, Qantas First Class, Qatar First Class, BA First Class…..did I mention first class??! There will be more flight reviews than ever and you can be assured you will get the truth from me as ever on TLFL!
Roving Reporter
I am off to South Africa in January for the weekend as an excuse to be a gastronome in Franschoek and to try out the Emirates 'old' and 'new' first class experiences. Also fitting in 24 hours in Abu Dhabi (so I can visit the Louvre and the Mosque) and trying out the Rosewood hotel. March will see a visit to Phoenix, Scottsdale and Sedona (this time on Virgin Upper and Delta First).
April sees Buenos Aires (Iberia Business taking advantage of the ludicrous Iberia Avios promotion from last summer). May means a BA First trip to Hong Kong, then a week in Vietnam and Bangkok. I will be working hard in the summer so will only squeeze in a couple of short haul trips to Europe. September is BA Club to Seoul for a visit. November is my return trip to The Datai (for a much longer stay this time!). So that's it for confirmed bookings.
I also have to fit in a trip to India with a close friend and am hoping to have an ANA First trip to Tokyo at some point using my Virgin miles for a fantastic value redemption on this route. Of course, should there be a Qatar Flash Sale I will probably take advantage; after all Tier Points don't earn themselves!
Claudio
I finished 2018 with 45 countries visited and I hope to reach 50 in 2019. After all, I need to catch up because Michele's list is growing!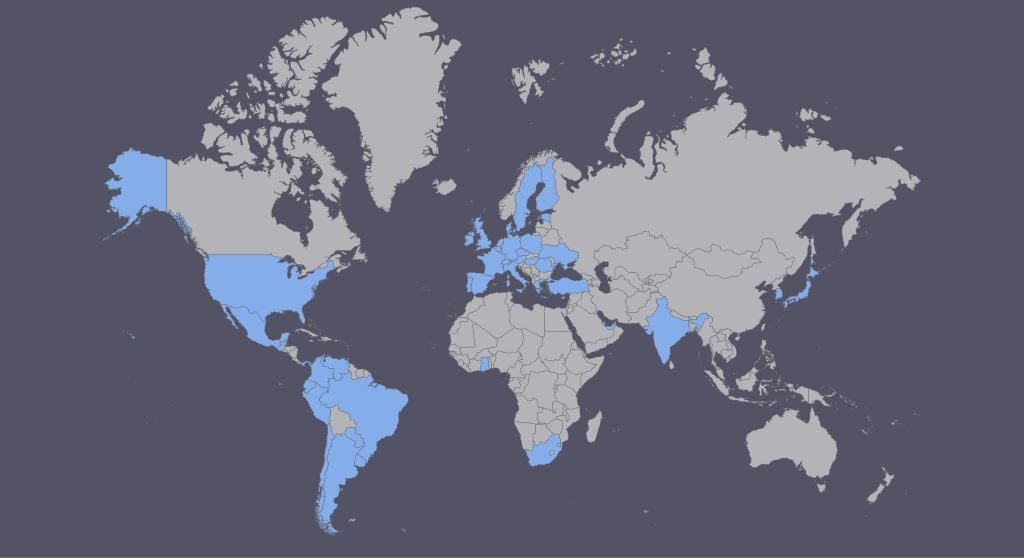 For this year I already have trips planned to Costa Rica, Malaysia and Vietnam. In addition throughout the year I will include some European countries for short trips.
Costa Rica
Michele and I took advantage of the Iberia promotion in 2018 where when buying 10 flights but without the need to fly them you get 90,000 Avios. It is with these Avios that I will be going in business class to know Costa Rica with Iberia!
Malaysia
As Michele mentioned there was a very cheap Qatar fare via a British Airways codeshare so Michele and I bought tickets to meet Penang in Malaysia. We will be flying business class with Qatar Airways.
It will be a very nice trip, because it will be my first time in Qsuites and we will fly on the A380 and B787-800 which are the Qatar aircraft I haven't flown yet. And best of all, the A380 has a bar on board!
Vietnam
Without doubt, this will be my best trip of the year! It's been years since I've wanted to visit Vietnam, and the opportunity has finally come. I will travel from north to south, seeing the main sights of the country.
Hopefully, I will be able to upgrade to first class with a BA Executive Club voucher. As British Airways does not fly to Vietnam I will go via Kuala Lumpur and from there a regional flight with Malaysian Airlines.
European Destinations
There are some countries in Europe that I haven't visited and I am considering Croatia, Bulgaria, Latvia and Lithuania. Look out for future articles to see which I manage to visit.
Mrs B
Mr B retires in spring so plenty more travelling is in order! I reviewed OZEN by Atmosphere in the Maldives in 2017 where we spent our 25th wedding anniversary. At the time I said it was a once in a lifetime experience for unlimited luxury – well, I've managed to persuade Mr B that this would be a wonderful place for him to begin his retirement so we are visiting again in March! Trips are also booked to Phoenix (to visit Jnr Benson), Cuba and Jamaica with planning underway for an Irish Coastal Road Trip. I'll be continuing to use Michele's hints and tips to get wonderful trips for the best cost.
So that's the TLFL team – what do the airlines have planned?
British Airways
BA has an exciting year planned with both his centenary and the launch of its new seat on their A350s which are due to start being delivered in the summer. Rumours abound about the seats but the current consensus is that it is likely to be a customised version of the Iberia A350 seats. I would expect there to be quite a few differences as it will need to be future proof as it will take a whopping four years to roll out across the fleet. Whether they will retrofit the B747s we don't know but given that they are due to retire in 2023 it is probably unlikely meaning that we will have a mix of seats for a good few years to come, unfortunately.
BA was due to have a new uniform this year designed by Oswald Botang in time for the centenary but unfortunately, it looks like this may not happen until 2020 according to cabin crew site Paddle your own Kanoo.
BA First will also be getting a refresh with a new soft product in May 2019. This will mean new meals, crockery, glasses and amenities such as pyjamas. TLFL exclusively revealed that a 'new' seat will be introduced for First based on the current B787 First seat which I really rate. As yet timescales are unknown but I would imagine that it will be tied to retrofitting the new Club seats to minimise down time for aircraft.
Virgin Atlantic
Virgin are also due to take delivery of their A350 aircraft this year but again we don't know what the seats will look like but they won't be the existing Upper Class ones. My money is on the same seats or similar to the ones they have just refurbished on their ex Air Berlin A330s.
Rumour has it that Virgin will be starting a new route to Tel Aviv from September although they are yet to confirm this. It seems an odd choice of destination given the rest of the route network but one I would be happy with as I fancy visiting Tel Aviv and have plenty of miles to burn.
Qatar and Air Italy
Qatar is due to announce a new regional business class seat in February this year which could be useful on some of the Eastern European routes that currently have the regional seats to Doha. That is if we ever get another decent Qatar fare! They also announced lots of new routes last year some of which like Langkawi they are yet to actually launch. They are increasing frequency on many routes which may mean less new routes to come this year. The other big question is whether they will leave Oneworld as the deadline for them to confirm this has now passed…
I predict that new routes will come from Air Italy as they have B787s on order and Qatar is trying to expand the airline rapidly into something of an Italian Qatar airlines. They are one to watch for Avios redemptions and cheap fares once they get some decent aircraft given that you can earn Avios on them currently if not tier points.
What are you looking forward to with your travels in 2019? Are you aiming to get a new status level? Let us know in the comments below.