British Airways launch electronic bag tags
I am quite a fan of electronic bag tags and have been hoping that BA would launch their version of them fairly soon. You can read more about the general concept of electronic bag tags in this article.
BA have announced the launch of TAG, their own version of an electronic bag tag which will launch in January 2019. The digital bag tag connects with your phone to produce luggage tags in conjunction with the BA app. This has benefits for the environment rather than single-use paper tags and can make check in a quicker experience too. Unlike some of the other electronic luggage tags, it is quite versatile if you use different suitcases as it attaches like a traditional luggage tag. How robust it is remains to be seen given the rate at which I lose my BAEC gold tags! It is designed to be reusable and can be used up to 3000 times.
The price to buy will be £60 which is not an inconsiderable amount of money considering the actual benefits of using it for the customer. It will be interesting to see if BA decide to give any away for their top tier status members. I can't see them doing it for Gold or GGL with the sheer numbers of members but it is conceivable for GGL with Concorde Room and Premiers.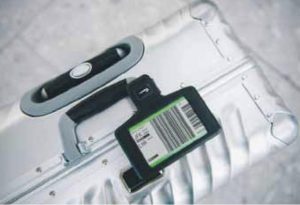 We will try and test some out in the new year when they launch and let you know whether we think they are worth the investment both with a Gold Card through the First Wing or using the new TAG bag drop area that will be launched next year.
UK to South Africa from £1344 – BA and Virgin
If you missed the recent Black Friday offers then there is still a chance to get a bargain from the UK to South Africa for a last minute sunshine break. BA are offering return business class flights from £1499 to Johannesburg or £1522 to Durban if you book with them or from £1344 with travel agents. The catch is you have to depart by 18 December and book by 12 December. The deal also requires a Saturday night stay. If you want a great deal to South Africa and the dates don't work you may want to look at the ex Amsterdam deal from £1102 that I wrote about last week.
You can book via British Airways (always worth looking if making it a BA holiday lowers the cost) for £1499 or Skyscanner has the same for £1344. Virgin are offering Cape Town for £1535 during the same timescales but you need to book by 5 December.
British Airways app improvements?
British Airways have updated and improved their app to include adding Siri capability and TSA Pre-check.
You can now set a specific phrase of our choosing to ask Siri (iPhone) what your next flight is. I tried this with some amusing consequences. I am flying to Madrid with BA on Thursday so I thought I would see what Siri said. Here is the result: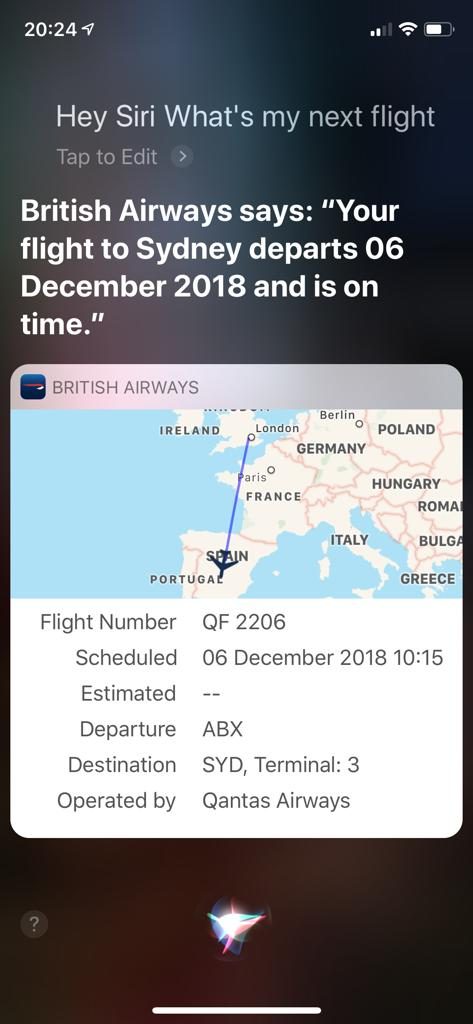 Well, they did at least get the date right!! To be fair you can also use a phrase to check your Avios balance. This worked perfectly apart from Siri's terrible pronunciation of Avios!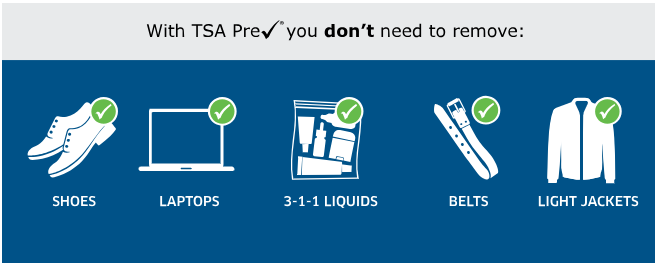 The best new feature on the App is the ability to use TSA Pre-check on mobile boarding passes. Up until now you have had to collect a paper boarding card to be able to use it making it a pain if you had hand baggage only. Even though BA's JFK terminal does not have Pre-check it is still extremely useful for the rest of the US as PreCheck means you get a shorter queue usually and do not need to remove anything from your bag or takes shoes off etc. You can get TSA PreCheck as part of Global Entry.
I only travel to the US about 4 times a year but for me, Global Entry was worth it for all the benefits: extremely quick immigration into the US (less than 5 minutes on average), often a separate customs queue plus TSA PreCheck as well. The fee is $100 plus a £42 fee for the UK background checks. However, this is valid for 5 years so at £24 a year I think it is well worth it for me. You can find out more about Global Entry for UK residents here.