I recently attended the Future Travel Experience in Dublin and wanted to share what I saw there as well as a few other advances coming to an airline near you!
Windowless aircraft – Emirates
Out of all the advances I have heard about this is my least favourite. Emirates developed virtual window for the middle suites of their new First class suite and are now suggesting that they may develop entire aircraft with them. Some have raised safety concerns as crew need to be able to see clearly outside in case of an emergency but it has been suggested that this is not insurmountable. Tim Clark, Emirates CEO said "On the outside there will appear to be no windows, but on the inside there will be a full display of windows. And we will use fibre-optic camera technology to beam in the images from the outside into those windows – as we have done on the first-class suites,".
The CEO acknowledges that the idea may be disliked by passengers but the windows would have better views than you would see with your eyes through a normal window thanks to the high definition used. Having fewer windows has financial advantages for the airline. Having no windows would save 50% of the weight of an aircraft as you have to reinforce the fuselage to be able to take them. This means that the aircraft would burn less fuel and be able to fly for longer.
Whilst I appreciate the clever technology I feel that we spend enough of our lives looking at things in an artificial way such as on TV, through the lens of our phone's camera etc. I would much rather see the views with my own eyes, inferior or not.
What do you think? Do you like the idea of virtual windows? Let me know in the comments below or on social media.
3D 360° views of seat maps and aircraft interiors
It is often hard to know exactly what you are getting in terms of the seats on a plane from just looking at the airline's website. New technology from company 3D SeatMapVR will allow you to look round the whole cabin in 3D virtual reality to choose your seat. Emirates are the first airline to adopt this which you can now experience via
emirates.com.
On the website you can see the interior of the Emirates A380 and Boeing 777.  You can navigate through the Economy, Business and First Class cabins, as well as the Onboard Lounge and Shower Spa on the Emirates A380 using hotspots. The 3D maps are only currently available for the three class Emirates A380 but will soon Emirates' entire fleet including all configurations of the A380 and Boeing 777 aircraft.
You can even experience it in virtual reality if you have any VR headset. If you access emirates.com on your mobile or the Emirates app you will also be able to explore seats before checking in online with the 3D seat map. You can book your seats directly from the 3D display.
There are also new product videos for Emirates to give you even more of an idea of what their premium experiences offer. The video below shows how the 3D maps and tours look.
Easier check-in and interactive emails
Unless you are checking in using an app then it can be a lengthy process from an email. On average it takes about 40 clicks, 8 pages and 7 minutes just to check-in. If you are flying an airline you are unlikely to use often, you probably can't be bothered to download the app. So what is the solution? Well, SeatAssignmate have come up with a way to interact directly with the airlines check-in email to see live seat maps and select your seat. There are absolutely no downloads or login required by the passenger, just simply open the email and real-time content will appear in the email. You can also potentially do all the extra services from the email such as buying additional luggage or paying for seats.  The company is already working with airlines from Europe, Latin America and Japan to use the system.
Electronic bag tags
The idea of electronic bag tags has been around for a while now but they are beginning to actually be used by airlines such as Austrian, Swiss and  Lufthansa with BAGTAG. I saw the BAGTAG in action at the Future Travel Experience show and was very impressed. I can only hope that other airlines adopt the system. The tags offer benefits to the environment, airlines and passengers. In terms of the environment there are currently 4 billion labels printed per year and thermal adhesive printed baggage labels cannot easily be recycled.
The BAGTAG labels use a watch type battery so there are no worries about checking in your luggage with one with the current smart luggage ban. It enables you to skip queues at the airport and reduces the risk of your luggage getting lost. Paper labels can tear, get wet or smudge when your suitcase moves around the conveyor belts, decreasing their readability. BAGTAG is perfectly readable compared to traditional paper labels and therefore far more accurate. Less errors mean less lost luggage. BAGTAG can be used on any piece of luggage, whether it's a hard, soft or metal case. The high-resolution e-paper display is protected by an impact absorbing lens and is weather resistant.
To use it with a compatible airline you would check in as usual and then be offered an additional option to "print" your BAGTAG. This delivers the label to the BAGTAG in a secure way. Lufthansa recently opened up a 'Fast Bag Drop' dedicated for passengers with an electronic BAGTAG. If you already have your boarding pass and your bag tag you can see how that would be a very fast way to drop your luggage off at the airport. It will be interesting to see if this was something that airlines could offer to their status holders for free.
You can see the demo below.
You can buy the BAGTAG for €89 on BAGTAG.com or on Lufthansa's Miles and More shop (www.worldshop.eu) where you can also buy it for €89 or can get the product for 24,000 Lufthansa Miles.
Streaming entertainment to passengers own devices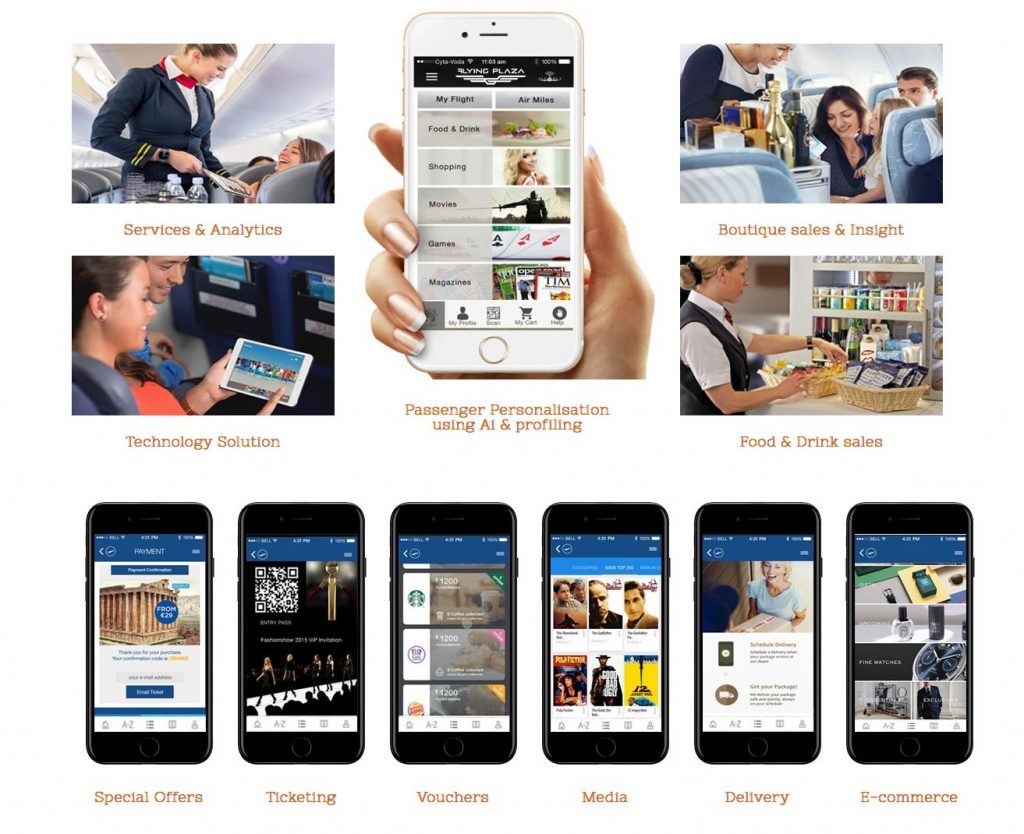 The future of airline entertainment looks as though it could go the way of streaming entertainment to a passenger's own device. This saves the airline equipment cost and extra weight for the individual screens, although I think this unlikely at the premium end of the market. EasyJet already has streaming entertainment and BA has hinted that this may be on the cards too. American Airlines recently announced that they had ordered 100 new Boing 737s without seatback screens as they will switch to streaming instead.
I spoke to Flying Plaza about their airbox system which offers a whole range of potential services to the customer, not just entertainment. The FlyingPlaza mobile app 'concierge' interface shows information and offers relevant to your current location. This could be pre-flight offers or even offering ground transportation when you land.
The system has a high-speed wireless hub which is accessed by apps downloadable to any smartphone or tablet for use by passengers and flight crew. The AirBox wireless media hub can deliver entertainment, destination videos, food and drink menus, shopping, and any other digital media such as reading material. You could see how this could help someone like BA speed up their buy on board service if everyone ordered and paid for their food and drink using a tablet. Then all the crew would have to do is dish it out. The software is encrypted to allow credit card transactions on your own device. This is likely to be the future of in-flight shopping too as this effectively replaces seat-back shopping catalogues, reduces weight, and provides the ability to change products much faster.
Another interesting option that they can give to airlines is the ability to offer passengers the chance to bid or pay for an upgrade seat, even on board. Up until a few years ago you used to be able to upgrade on board BA flights for a set price which you arranged with the cabin crew. This stopped which was a real shame even though the prices weren't that great.
Chatbots
Airports, hotel booking systems and airlines are all starting to use Chatbots and voice assistants to give faster help to customers with simple queries and as well as saving the company money. Iberia are supposed to be using this technology on Facebook messenger but typically for Iberia, I couldn't get it to work when I tried it!  Perhaps the bot is busy with people's 9,000 Avios bonus claims?!
Destygo is one of the new start-ups in this area and was part of IAG's Hanger 51 innovation project. They currently work with airlines such as Iberia and Vueling as well as hotels and airports. I like the idea in principle although I think it would be unlikely that I would ever use it as I am sure google is just as fast in many cases.
Have you used a chatbot? What did you think? Let me know below or on social media.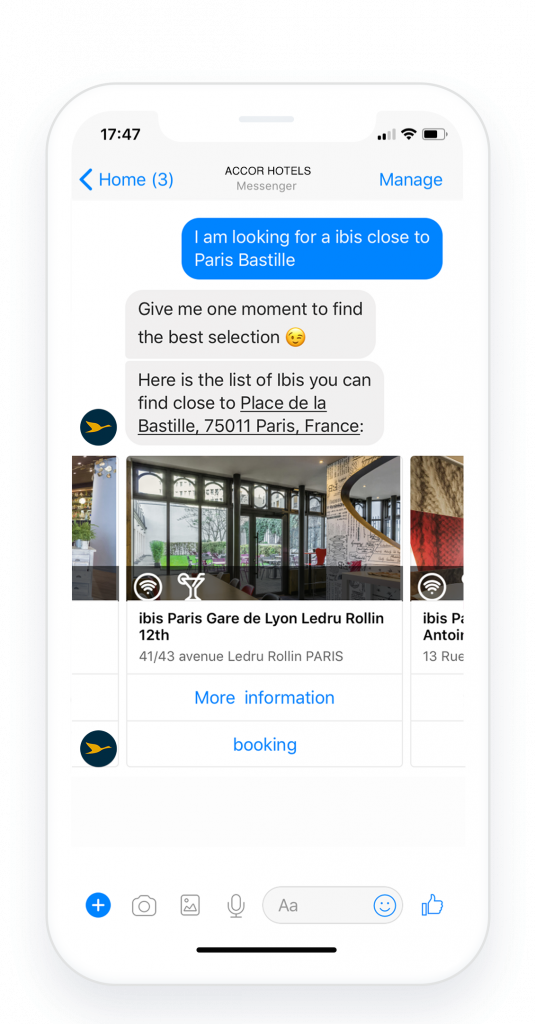 Future technology for travellers

I also asked my friend Tom from Tech for Travel blog what he thought the future held in terms of technology for travellers.
"There are many new and innovative devices entering the consumer tech market that have the potential to transform how we travel.  For me though, the biggest potential game changer, is the rise in next-generation apps!
Whether you prefer a single App that captures all your travel bookings, a standalone hotel/airline app that offers an improved service or even some of the new 'experience' apps like Kolu.  We have moved far beyond the early days of the basic user interface and into an era where we can now control nearly every aspect of our travelling experience.
There are apps that translate spoken or written words better than ever before, or automatically notify and help you change your flight in case of a cancellation.  The Hilton Honors App becomes a digital key that can open your room and even the lift!
The rise of brands such as AirBnB and Turo demonstrate, not only how intuitive and powerful Apps can be, but how they can change the market and how we as travellers, travel!"
You can read some of my recommendations for travel apps in this article.