This article is about British Airways' longest flight in First and Club World, written by regular contributor Gus. The second and third parts will look at his hotel and the lounges he tried.
South America in the frame
Last month I ticked off a pre-pandemic bucket list destination by heading to Chile's thriving and cosmopolitan capital city, Santiago. The city is nestled in a flat plain within the Andes mountain range, giving it an incredibly unique feeling, both as you first see it from the air, and when you are looking out from the city-scape itself (including from the Santiago Ritz Carlton, which will be published soon).
Longest BA flight
I managed to snare a fare around £1.5k in a British Airways Luxury sale for a Club outbound and a Premium Economy return, but with careful planning (and consultation of Seat Spy which I am increasingly using), I also managed to upgrade both legs with Avios, so enjoyed a stint in both First and Club. I know both cabins have been well covered by TLFL before, but given this route is the longest in the whole BA network, and was my first time back in both cabins since the pandemic, I thought a general update review of both might be interesting to some.
The first thing to say is that actually once again I enjoyed the slightly odd feeling of serenity as I walked to B gates rather than catching the connection train, and I also enjoyed BA's B-gate lounge (which I still think remains one of BA's most over-looked and under-rated lounges in LHR), as well as LHR T5's Arrivals lounge on the way back (which you can read more about here).
Santiago is usually BA's long flight although I suspect with the re-routes around Russia, Singapore may be in the running currently.
Getting going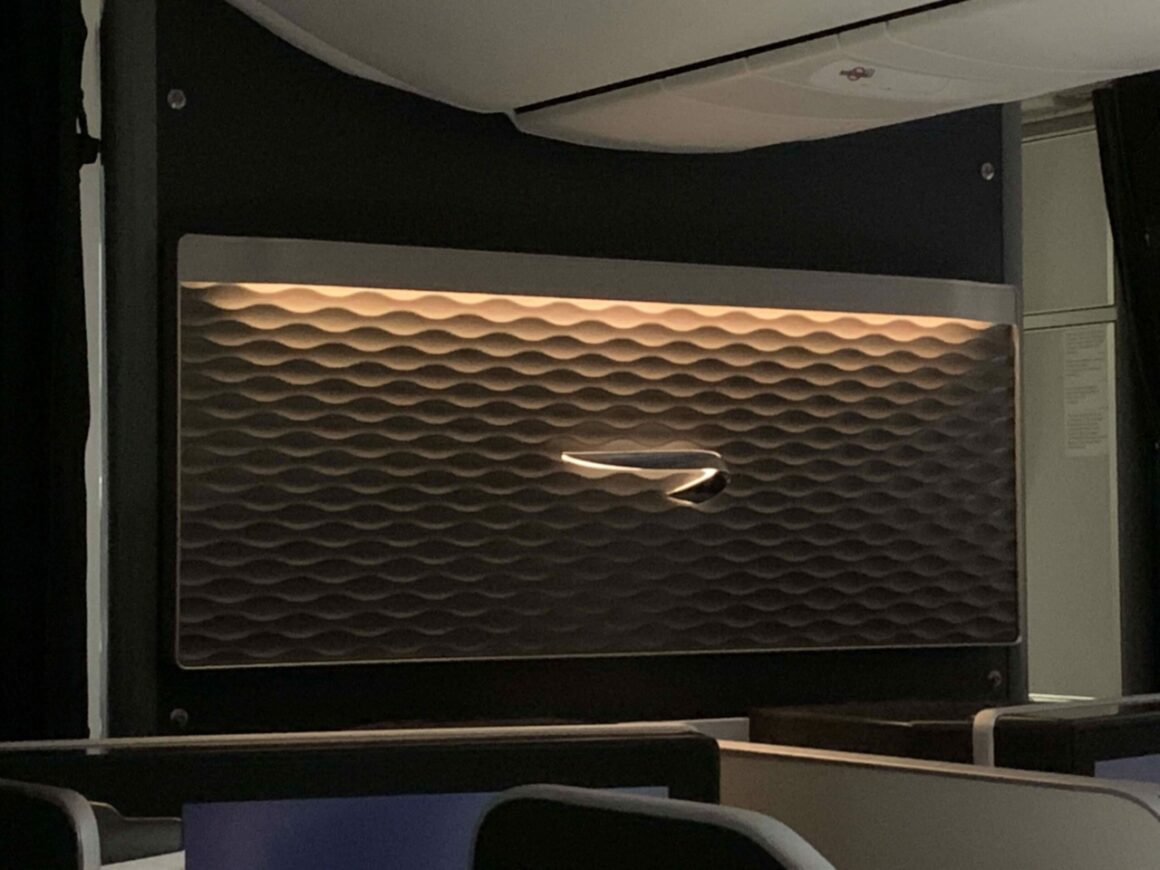 Boarding was very orderly, and as per protocol from a Groups perspective, and overall the load was probably about 50% in First. The aircraft was a 3.5 years old 787-9 Dreamliner (which I understand boasts the best range of any commercial aircraft), and the cabin was fresh and clean and cosy. I do love a Dreamliner for the reduced air pressure, but I have to say I much prefer the cool double-window blind in other First blinds, and generally I'm not a fan of the 'slow darkening' windows either.
Service in First (outbound)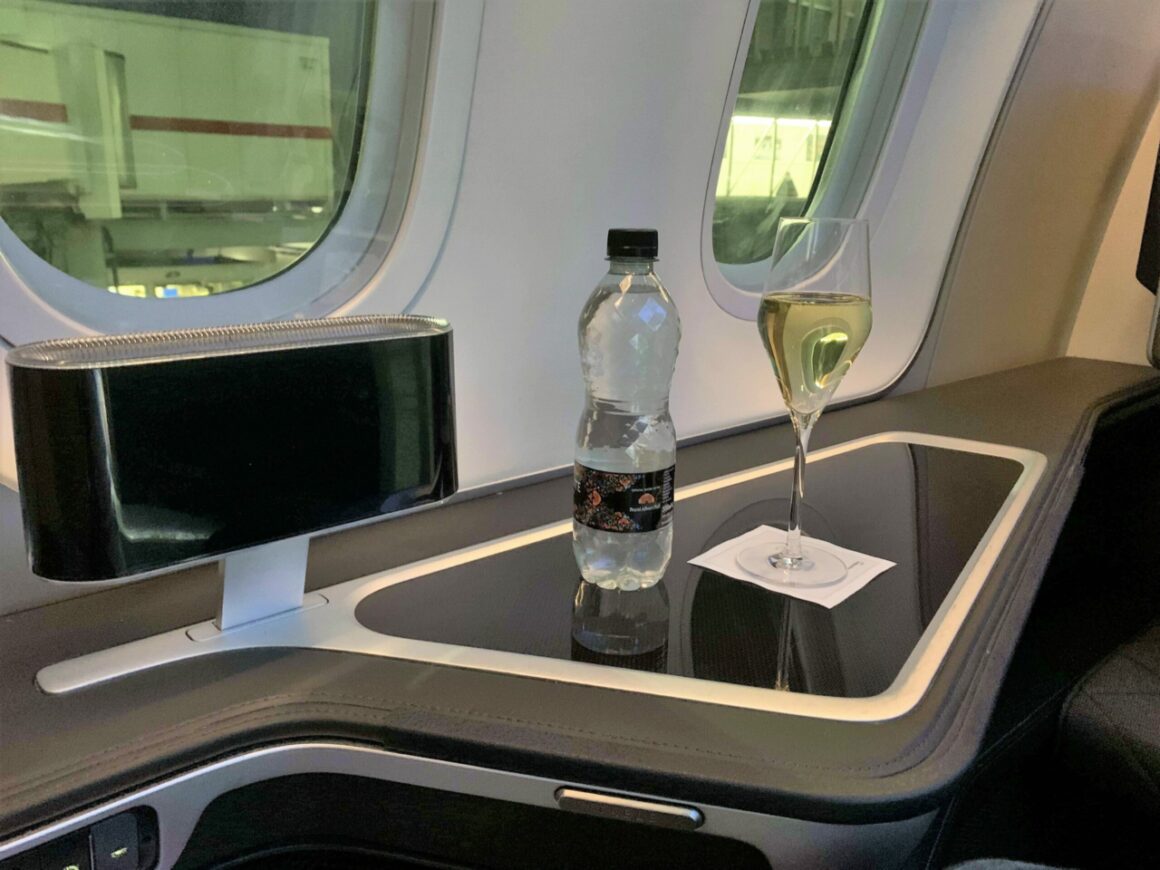 Service was good from the off, with the crew being personable and efficient, which was a relief when you consider that the leg was blocked at 14.5 hours! After the pre-take-off champers (obvs), canapes were served up, which were decent enough, with the sharp and tart prawns being the best of the mix.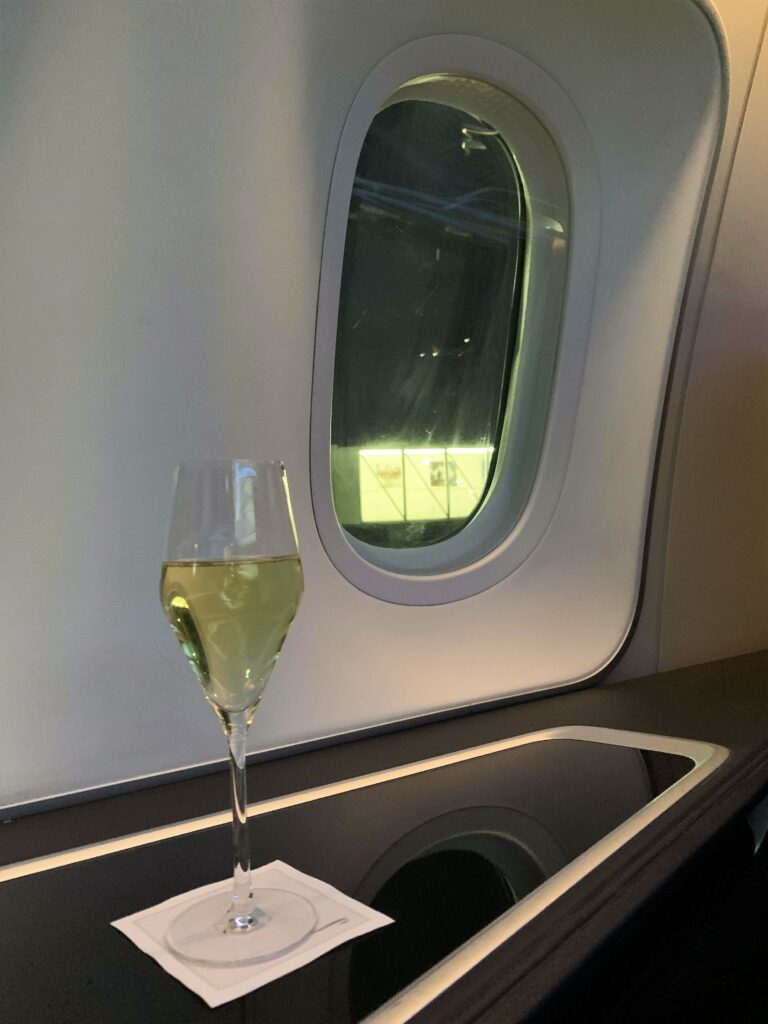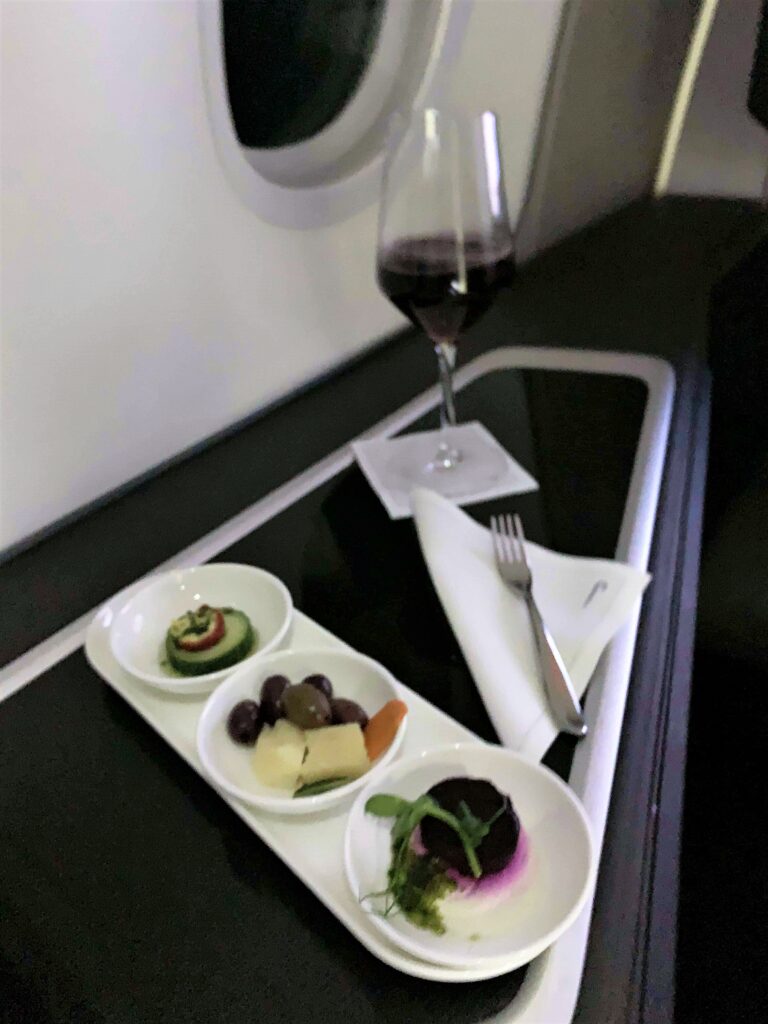 Here is the prawn starter: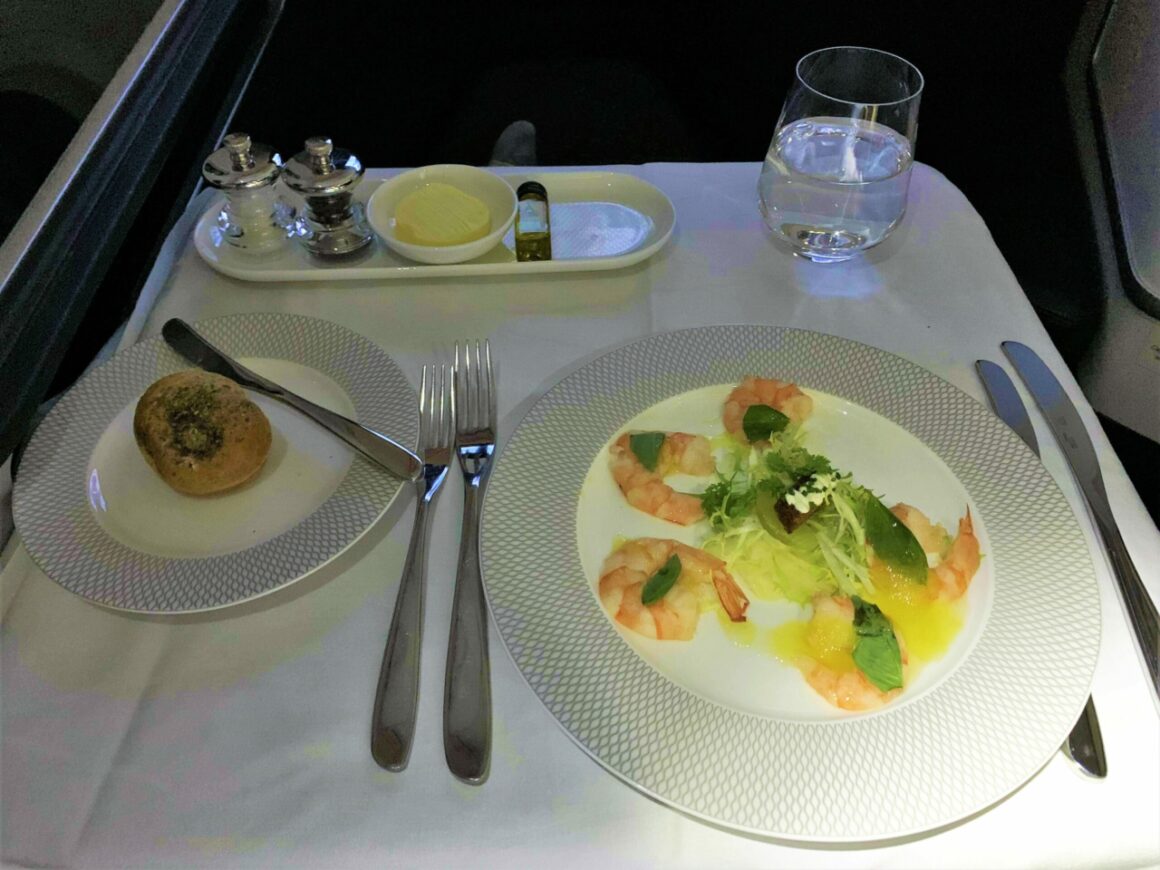 Then a succulent rack of lamb and cheese plate – washed down by a stonking Bordeaux – were administered.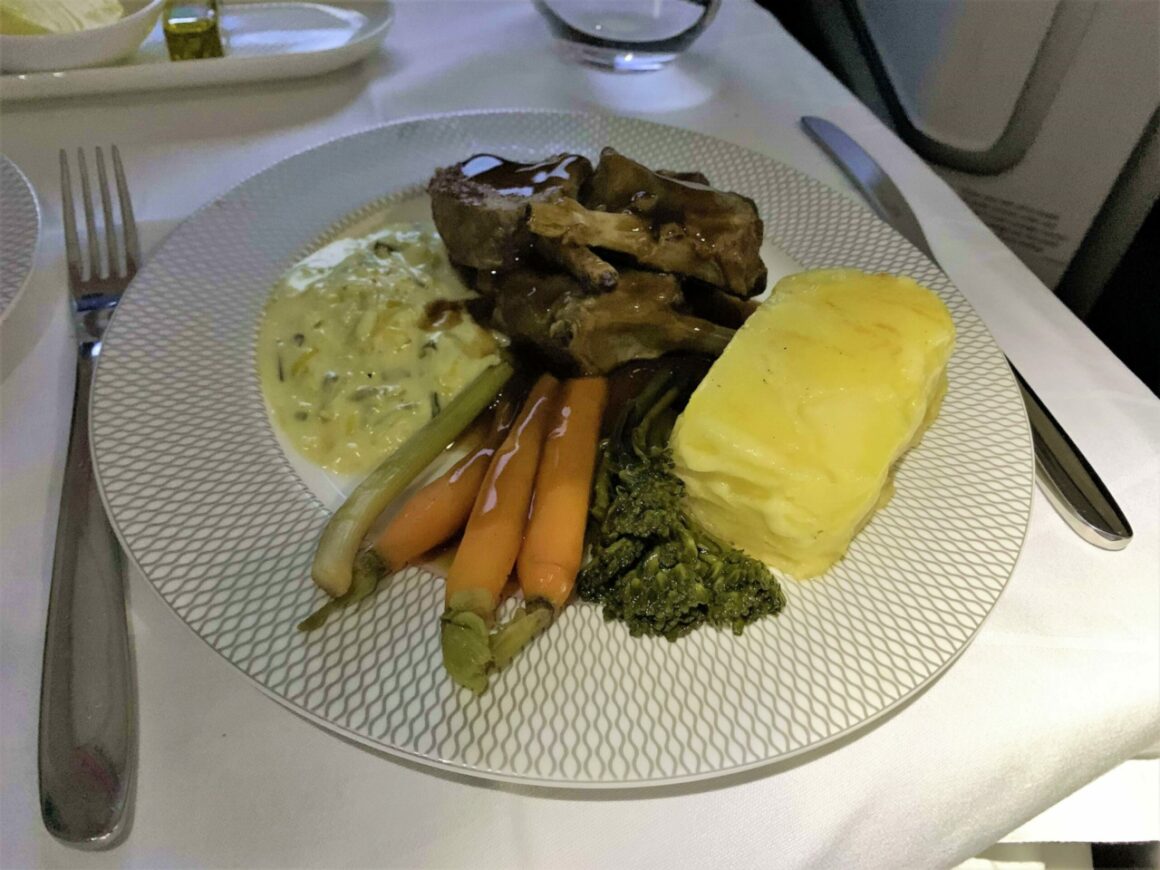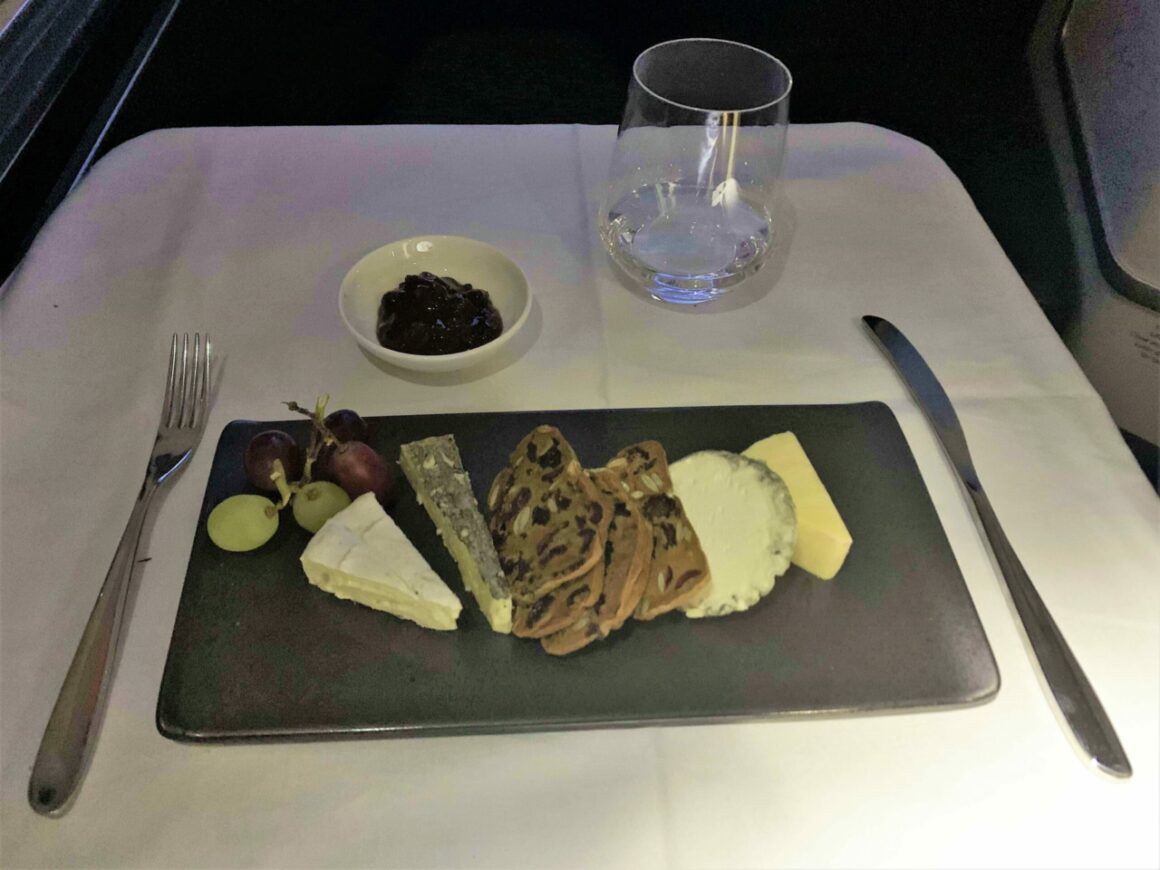 The bed was made and a generous slug of time was given over to sleeping.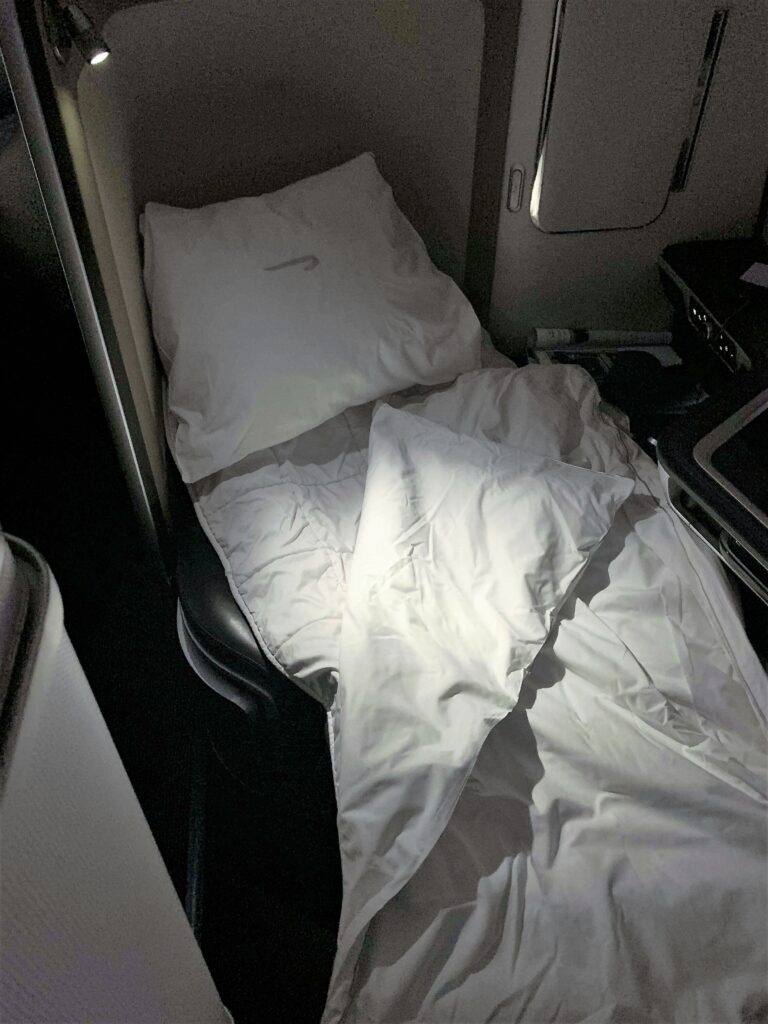 In practice, this was actually a little tricky due to a fair few patches of light-ish turbulence, but that was forgotten when a tasty breakfast – with a surprise highlight being a warm Danish – was served up to accompany the sunrise views and smooth-as-ice landing.
Here is the full menu:
I received a personalised greeting card too welcoming me on board which was a lovely touch.
Improvements
As ever there were some niggles. The first was an unexpected one, in that the Meridian headphones supplied in First had a headphone jack which was incompatible with my own Bose (non wireless, sadly) ones, even with a specific flight adaptor. Then the First ones crackled awfully with any small movement, and a replacement set wasn't that great either.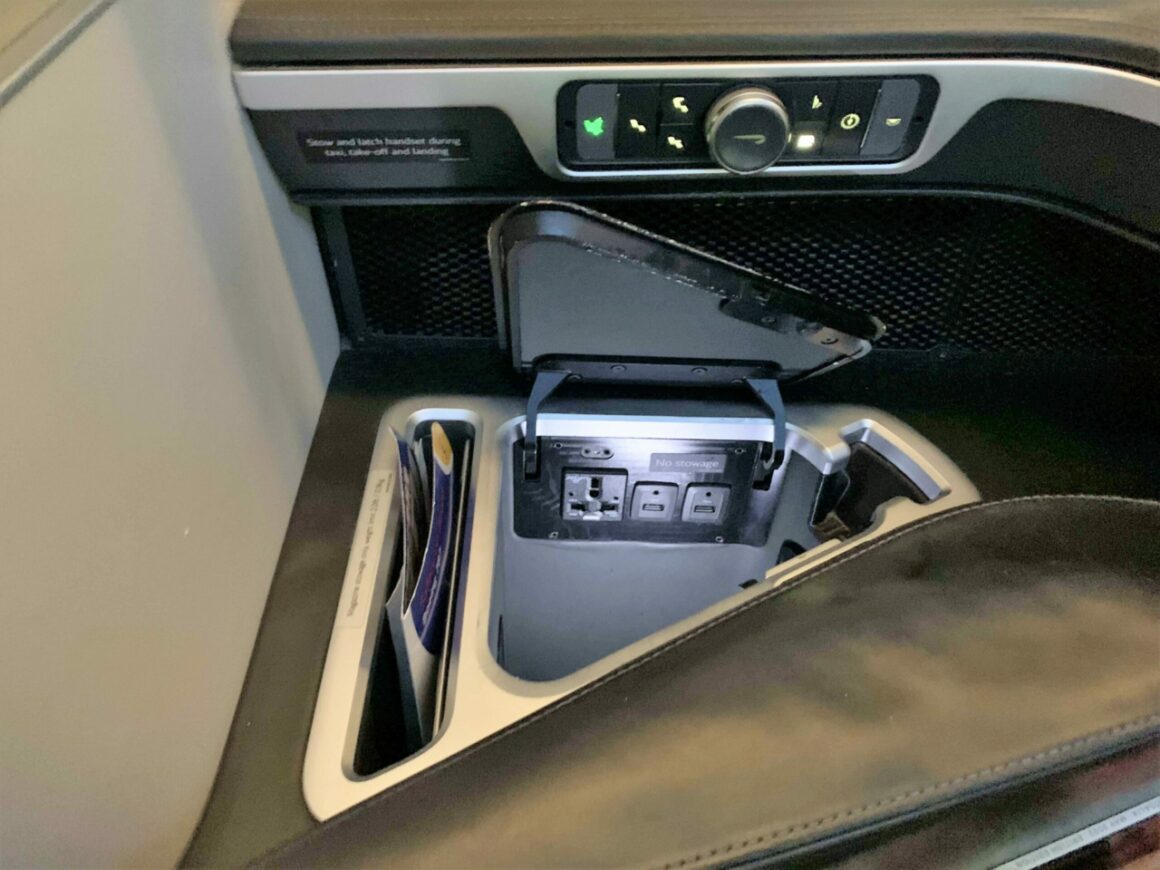 The other very minor (first world etc) problem is that outside of the meal times, and a short while either side, there was very little checking in on passengers, and not one 'how are you, do you need anything' (even for water, let alone wine). Normally that wouldn't be a massive problem, but during bumpy 14+ hour flight, a few subtle slide-pasts would have been appreciated.
Covid still not gone from every corner
Happily, the arrival was super simple, with a short taxi to the main terminal. Chile remains a more covid-concerned nation, and prior to departure I had to upload proof of 'international' triple-vaccination, a travel 'Affidavit' form, and at the time I went also a negative PCR. Plus I needed proof of travel insurance (above $30k in value), all of which gave a solid feeling of what-the-heck-have-I-forgotten in the few days before departure..
This continued when in the terminal as all arriving passengers are greeted by an enormous sea of paperwork checking desks and clerks, who go through everything and decide whether to send you for a random additional PCR. Happily, I got the hallowed little blue ticket allowing me to skip that part, and was through passport control and out very quickly, and in to Santiago itself where I checked in at the Ritz-Carlton (review to follow) to enjoy a few days in the city.
Club vibes (return flight Santiago-Heathrow)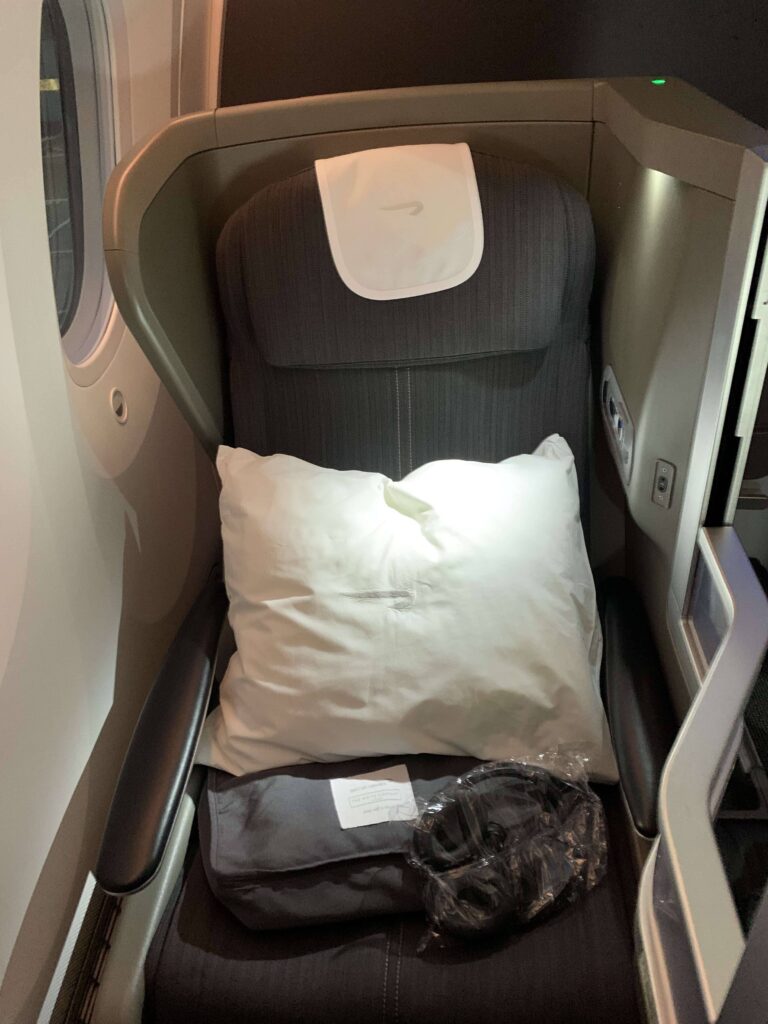 My return leg was a very standard Club World experience (sadly not a Club Suite), and despite it still being a super long schlep – 13.5 hours – it felt like it was over more quickly than I wanted! I put this down to the fact that the crew are less frenetic than usual for both dinner and breakfast service, given the ample flight time leaving more than enough for a proper night's sleep.
Plus I've always found that the rear-facing Club seats – ideally at a bulkhead, and in the forward cabin on the 787-9 – are very private and you can cocoon yourself away.
This was necessary for my flight as while I'd seen that the seat next to me had been blocked (perhaps as I'm Gold) for several days, and was still blocked at check-in. However, it was, perhaps unsurprisingly, taken by the time we boarded. There were enough other empty seats in Club, so I'm never quite sure why they get blocked when it doesn't seem to often carry through on the day..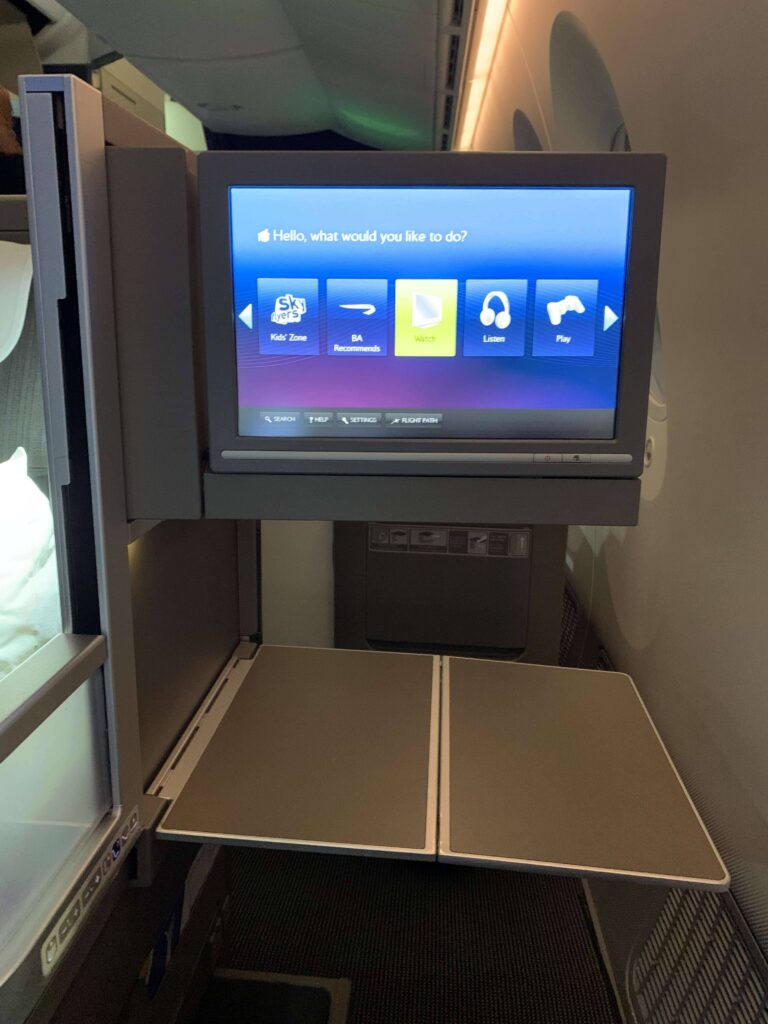 Anyway it was a enjoyable flight, with one exception being my meal choice of beef, which was super tough (will I never learn?!)
Here is the menu:
And that beef!: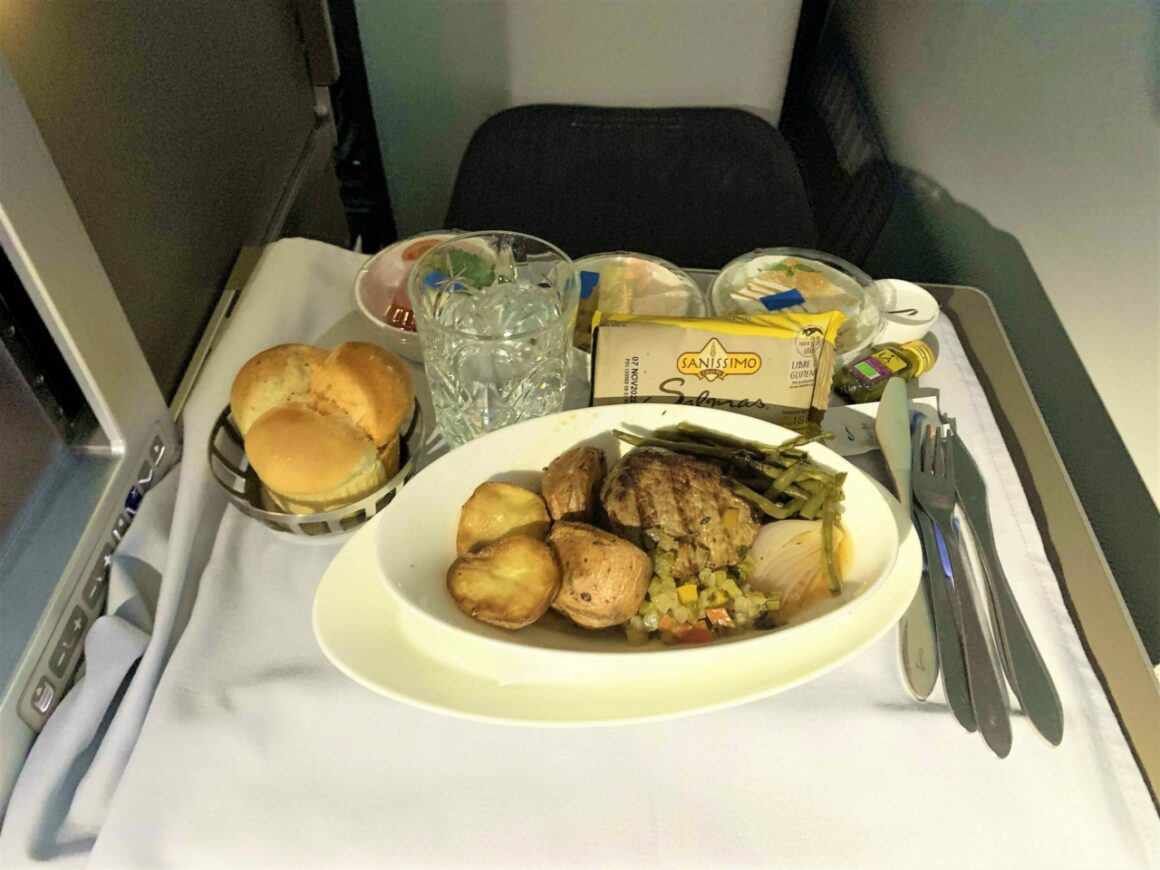 Breakfast was more successful and fairly generous which was needed on a long flight: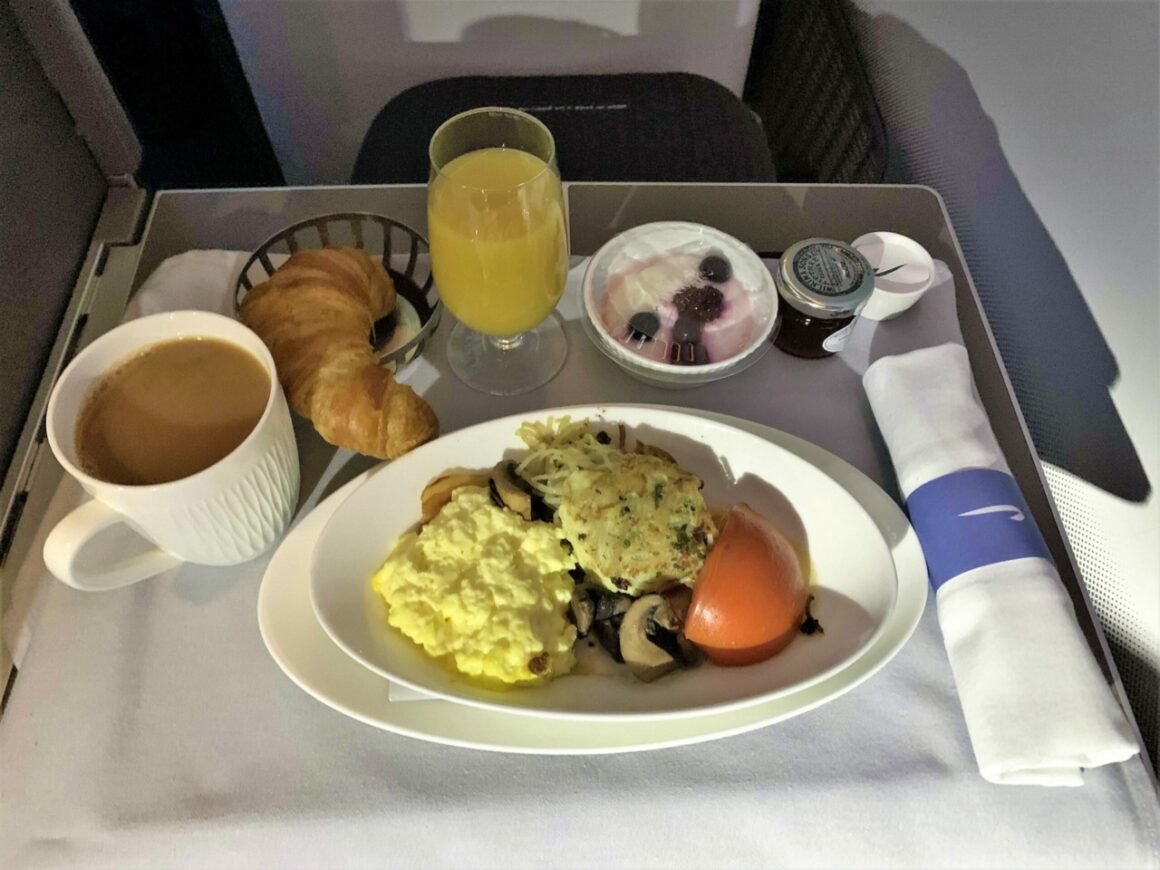 One small post-script for British Airways' longest flight in First and Club World is that I did ask about the cost of an upgrade at check-in in Heathrow, and learnt that anyone seeking a Club to First upgrade would have been facing a punchy £659 in cash, or a whopping 104,000 Avios.
Like our British Airways' longest flight in First and Club World review? You can read more flight reviews here.