BA to move back to Heathrow T3
Thanks to the UK now allowing European and US travellers to enter the UK without quarantine if fully vaccinated, BA is looking at when they will open flights at T3. Today according to Flyertalk the BA Galleries Club lounge reopened on Tuesday even though there are no BA flights there. However, there are now a number of Oneworld flights there (hopefully there is actually a chance that we may go back to the good old days of the T3 lounge crawl!)
Yesterday also American Airlines (American Airlines flights to New York JFK will remain in Terminal 5) and JAL moved back to Terminal 3. This should ease pressure on the BA T5 lounges hopefully.
The other airlines currently operating from T3 are
Cathay Pacific,
Delta Air Lines,
Emirates,
Finnair,
Iran Air,
Middle East Airlines (MEA),
Qantas,
Royal Jordanian,
Sri Lankan
Virgin Atlantic
In BA's update for their earning report, they indicated that the move would be at some point in Q3. Today it looks like they are planning a much earlier move back with a provisional date of 24 August. I would expect we will see that firmed up quite quickly after Thursday's travel announcements if they are positive.
Up to 50,000 Marriott points free
If you want to earn some Marriott points free and have plenty of friends or colleagues, then you should apply for their latest refer a friend offer.
Invite up to five friends to join Marriott Bonvoy™ and you'll each earn 2,000 bonus points per stay for their first five stays. That's a maximum earning potential of 50,000 bonus points for you, and 10,000 bonus points for each of your friends. The referrals have to stay in a Marriott hotel within a year of your referral to get the bonus points.
Here's a sample of the email your friend would get: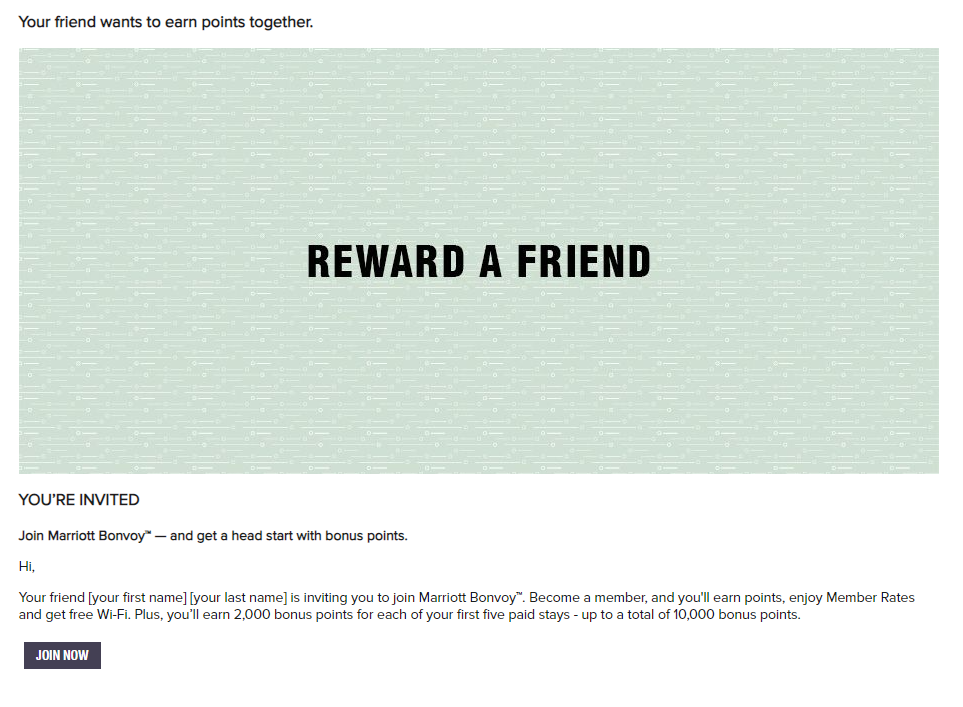 Obviously make sure it's someone you trust as you will need to give them your Marriott Bonvoy number to sign up.
You can find more about the scheme here.
Curve
Curve card has lost some of its usefulness since it lost its American Express contract. However, Curve is still useful if you travel abroad. You basically link all your Mastercard and Visa cards to it and when you make a purchase abroad with your Curve card you get a better foreign exchange rate without any fees. The purchase then shows on your own Mastercard or Visa allowing you to earn points or miles as you normally would.
Curve, recently upgraded its Rewards programme, with offers of up to 20% cashback. Customers can earn Curve Rewards when they spend on services like gym membership with Hussle, or shopping for a new working wardrobe with Hawes & Curtis.
If you don't want an Amex then this is also a great way to get cashback for nothing and still use your credit card of choice in the background. The app works well and will alert you to every purchase made and you can lock the card instantly too.
This month there is an offer on IHG which gives you 10% cashback which goes into your Curve account that you can then spend on the card. Like Amex you need to activate the offer first, then pay with your card and the cashback will appear on your Curve Cash Card. The cashback is available until 27 September and is valid at InterContinental, Kimpton, and Crown Plaza hotels as well as most of the more budget-friendly IHG brands on UK stays only.
There's also 5% off Europcar and a number of other shops and services.