One of the questions that gets asked most frequently is "which is the best oneworld lounge at Heathrow Terminal 3?" With 4 lounges to choose from now, it's a great problem to have. #firstworldproblems. Although some people have completely forgotten that in oneworld and other alliances you can use any lounge if you are travelling in business or first or have the correct status level in their frequent flyer scheme. I must admit I was guilty of that for a while just going to the lounge of the airline I was flying with.
So before you head straight to the British Airways or your airline's lounge why not have a look at what else is on offer? Here is the link to the oneworld lounge finder which will show you all the lounges available for oneworld. Don't forget if you have an American Express Platinum card you can also use 80 Plaza Premium lounges and Amex Centurion lounges (US & Hong Kong). You can find a list of all the British Airways lounges and the facilities here.
Which is the best oneworld lounge at London Heathrow Terminal 3?
To answer this question is like answering how long is a piece of string? It all depends on what you want from a lounge and what your status or travel class is. I will look at which is the best lounge depending on your needs from a lounge.
What is the best overall oneworld First lounge at T3?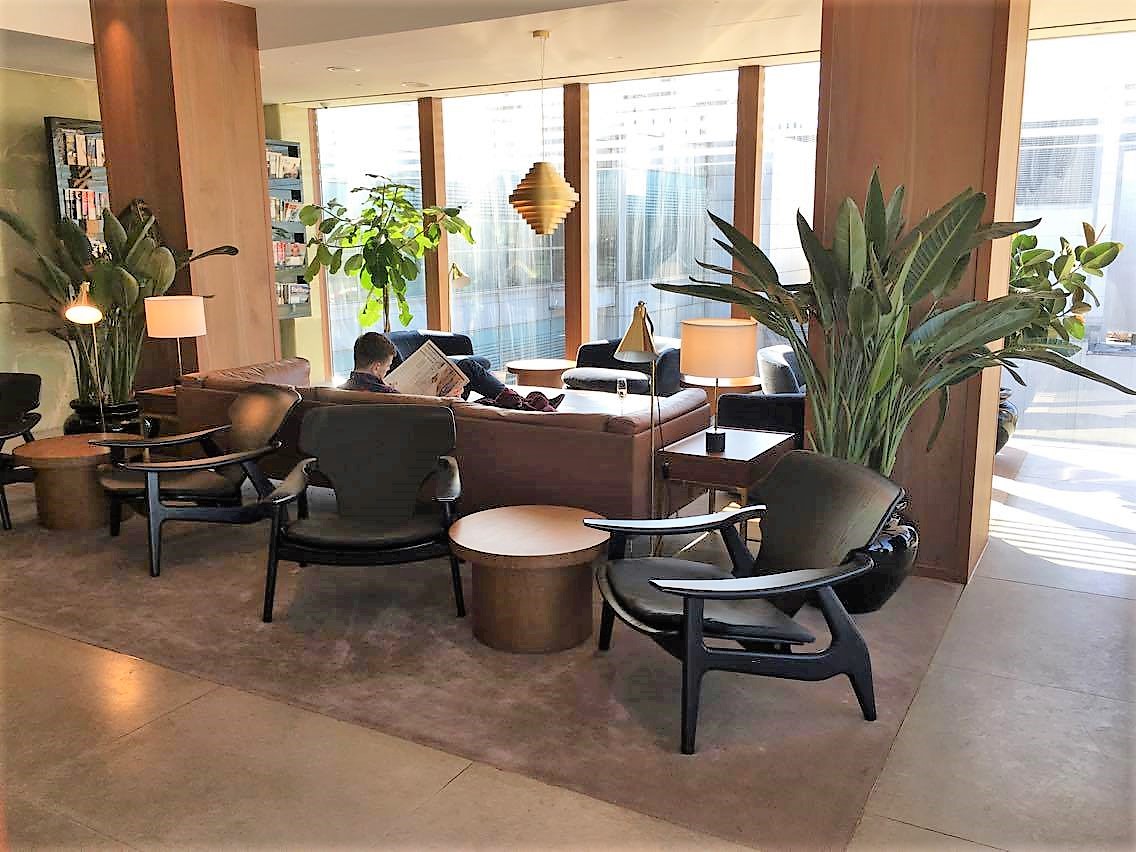 This is a fairly easy answer for me. Although there isn't one lounge that has everything, the Cathay Pacific First lounge is the closest to perfection for me. From great dining, good champagne & cocktails plus attentive service to the relaxing decor, this is my top oneworld lounge at T3. It is second only to the Virgin Clubhouse for my favourite UK lounge. As a matter of interest, the Concorde room would be very close to the Virgin lounge in my rankings due to the fabulous Laurent Perrier Grand Siecle Champagne they serve.
What is the best overall oneworld business class lounge at T3?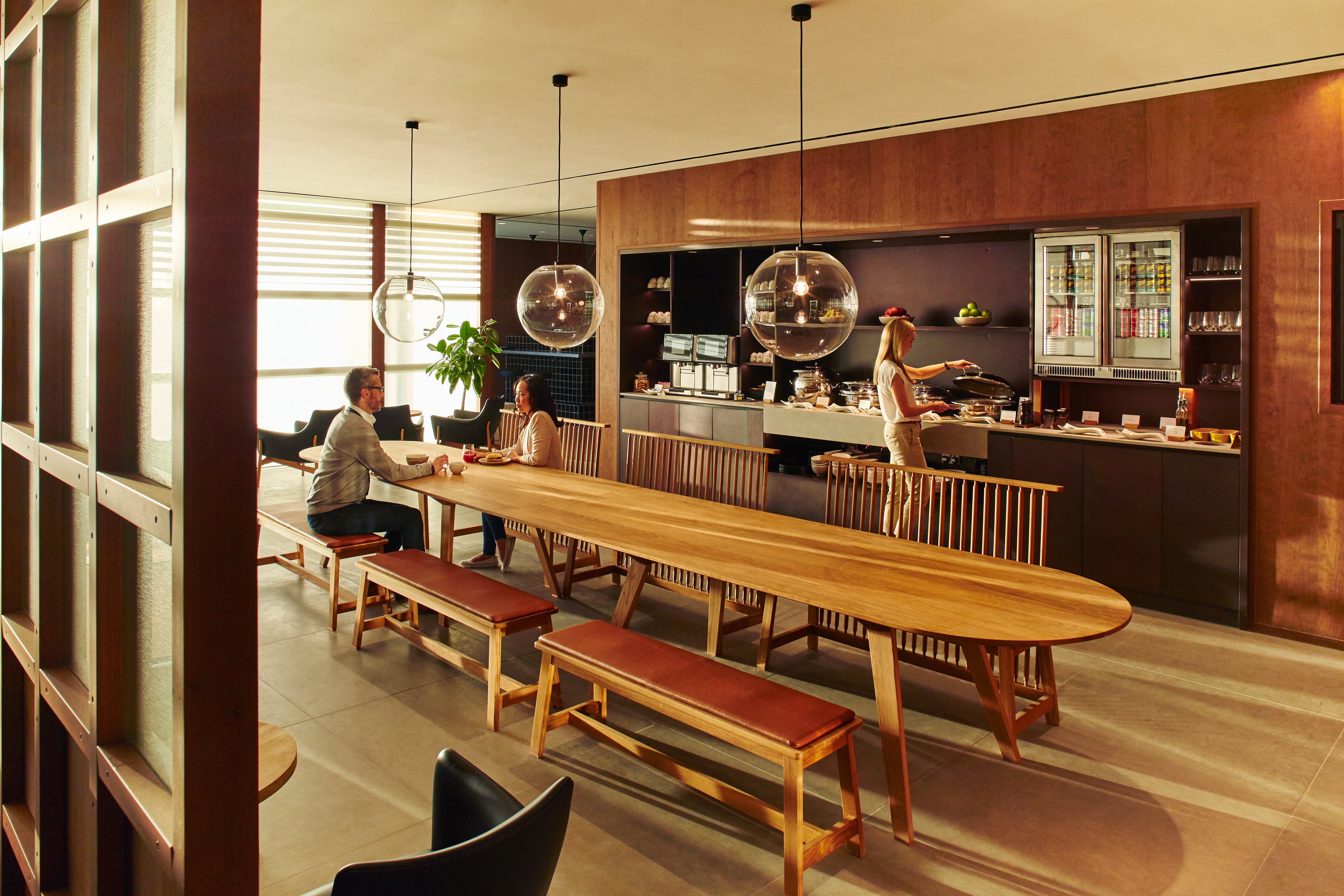 Surprise, surprise this is Cathay again with an honourable mention to Qantas. The Cathay business class lounge has a broad selection of hot and cold buffet food as well as the Noodle bar plus cocktails and a reasonable selection of wines and drinks.
What is the best lounge for Champagne and wine?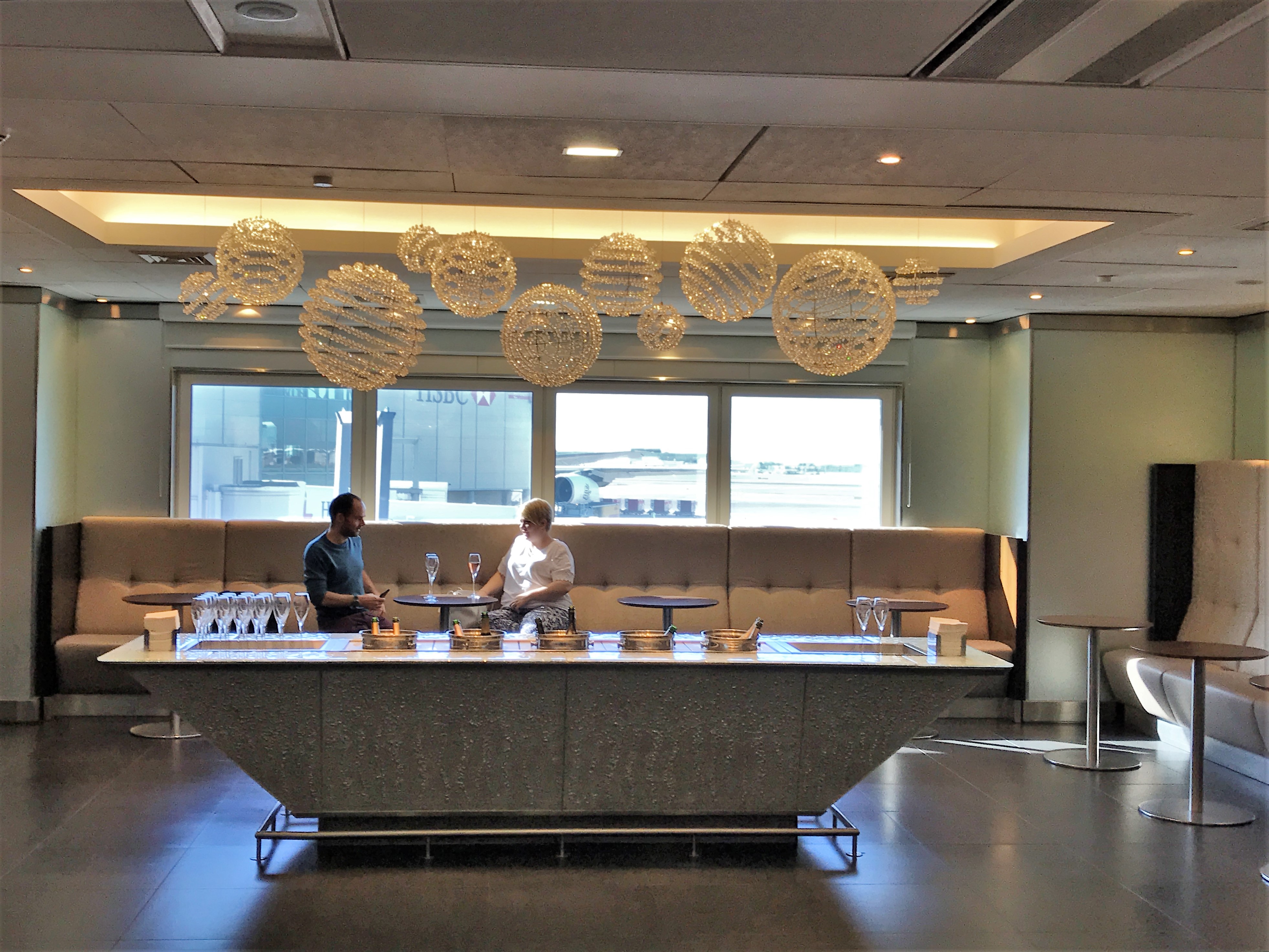 Surprisingly for some, I would say the BA First and business lounges. Cathay and Qantas are close runners-up though. British Airways often have some hidden gems which I suspect are bin ends from the onboard service.
In both lounges, they usually have 3-4 each of red and white wines plus Champagne. It is always worth having a wander around the lounge as often you will find different wines in different areas. For example on my last T3 BA Club lounge visit I found this gem: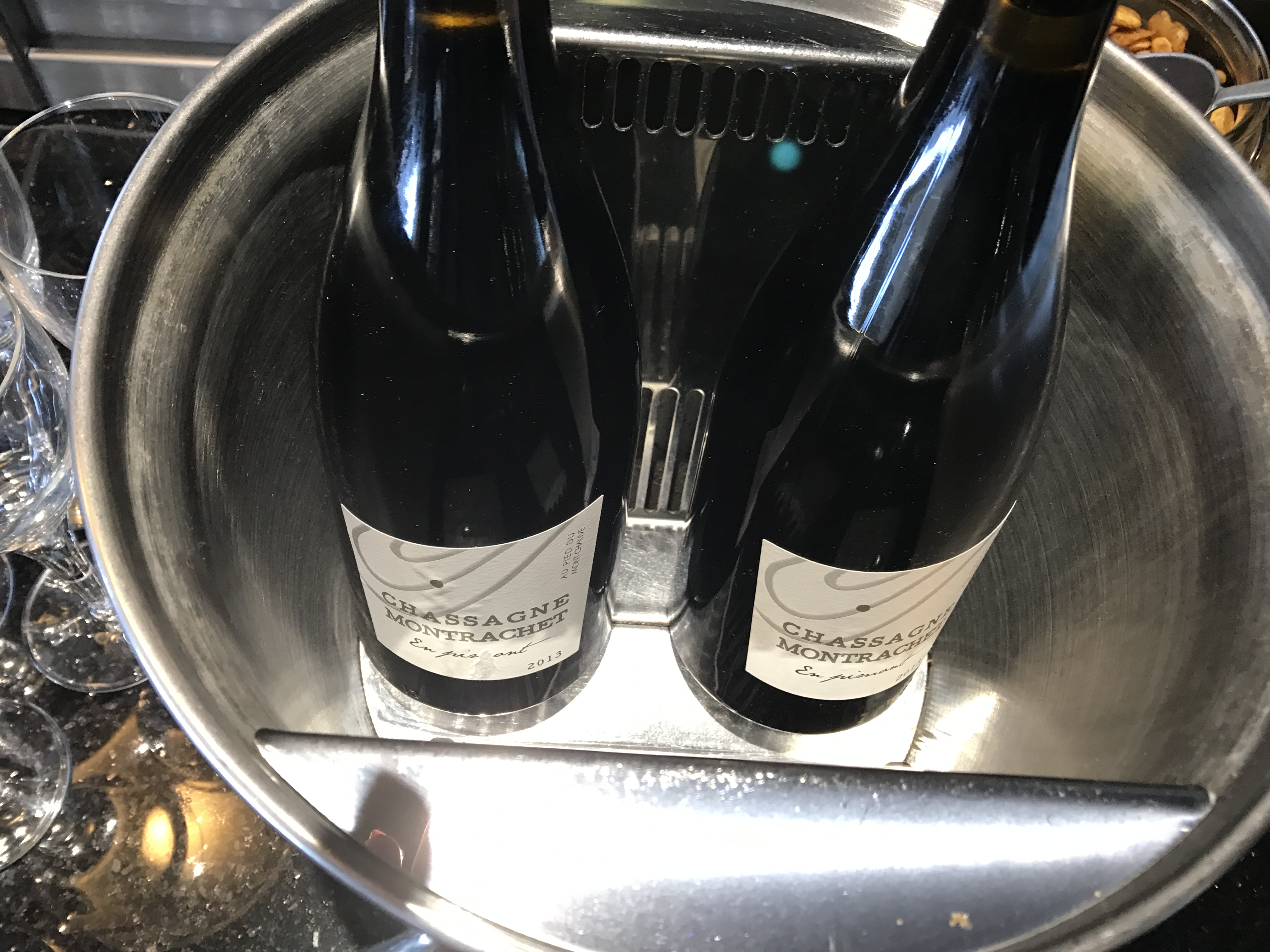 In Galleries Club you normally have to ask one of the servers for Champagne which is usually Castel-no.
The First wines often include a Mersault which is one of my favourites although the BA ones aren't normally the best examples of this wine. The Champagnes vary depending on supply but are usually Henriot white and rose Champagnes.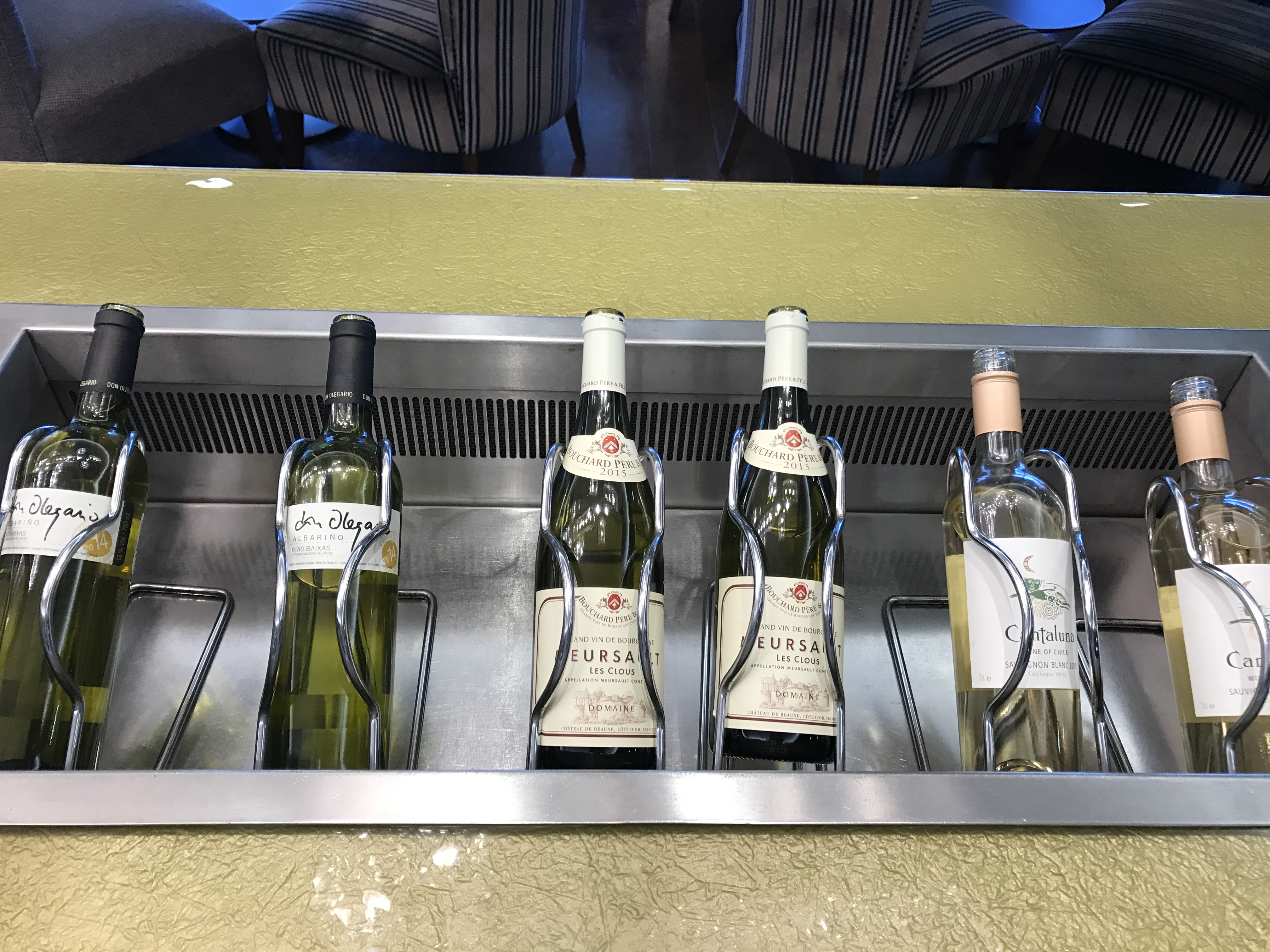 In second place would be the Qantas lounge for the selection of Australian and New Zealand wines plus the fact they have a dessert wine. I also like their Australian sparkling wine.
Cathay is a solid choice for 3rd place as the First lounge has Baron Rothschild and Moet Champagnes. The wine selection I find a bit dull here with 2-3 choices of red and white wine. Examples would include a Bourgogne Chardonnay or a Waipara Sauvignon Blanc. I often find the white wines and Champagne a bit warm in here, probably due to the way they are stored: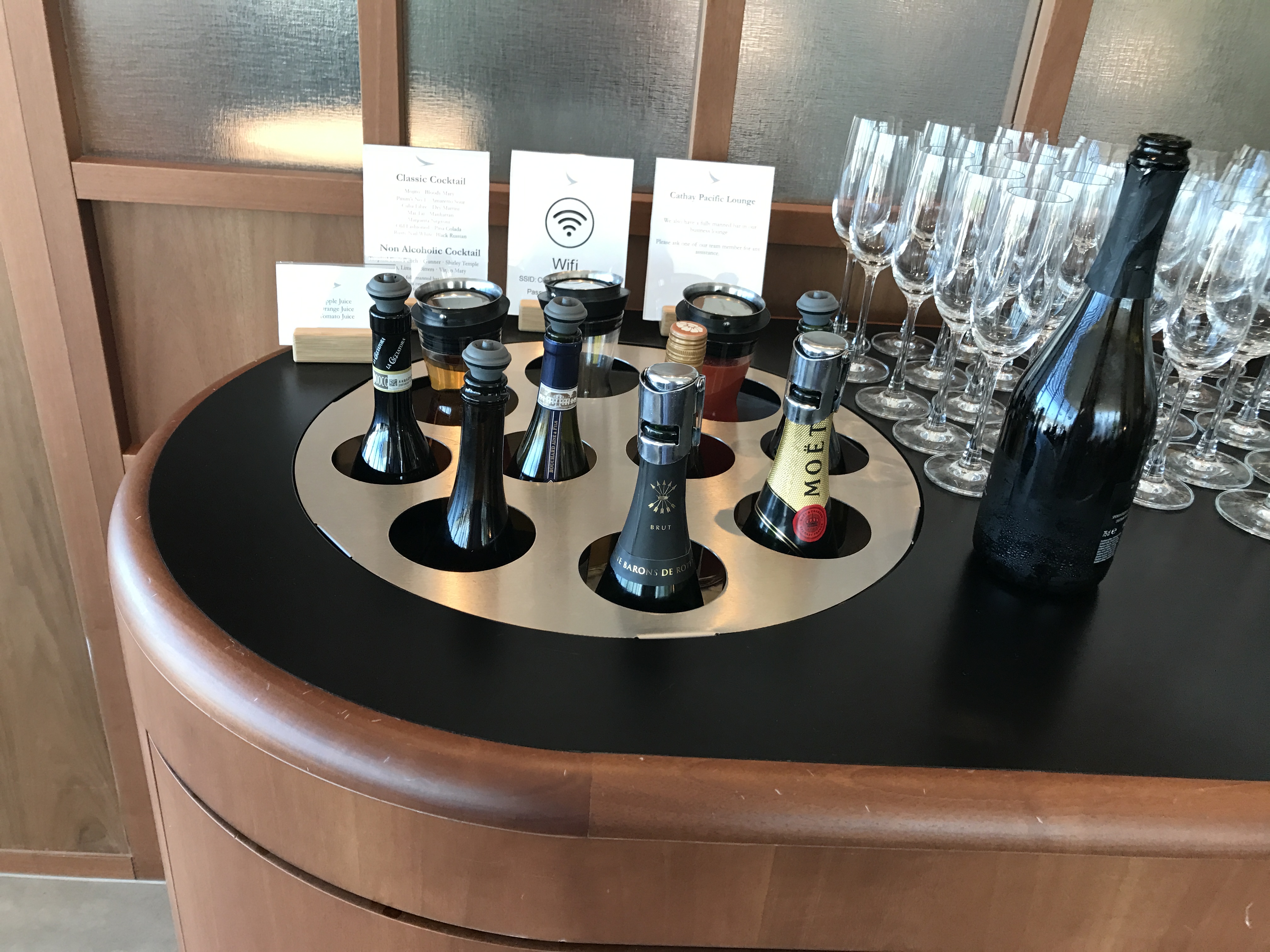 In the Cathay business lounge, they have Moet Champagne, Prosecco and a couple of wines at the bar but none are particularly outstanding. The Prosecco cocktails are fun though.
What is the best lounge for gin or cocktails?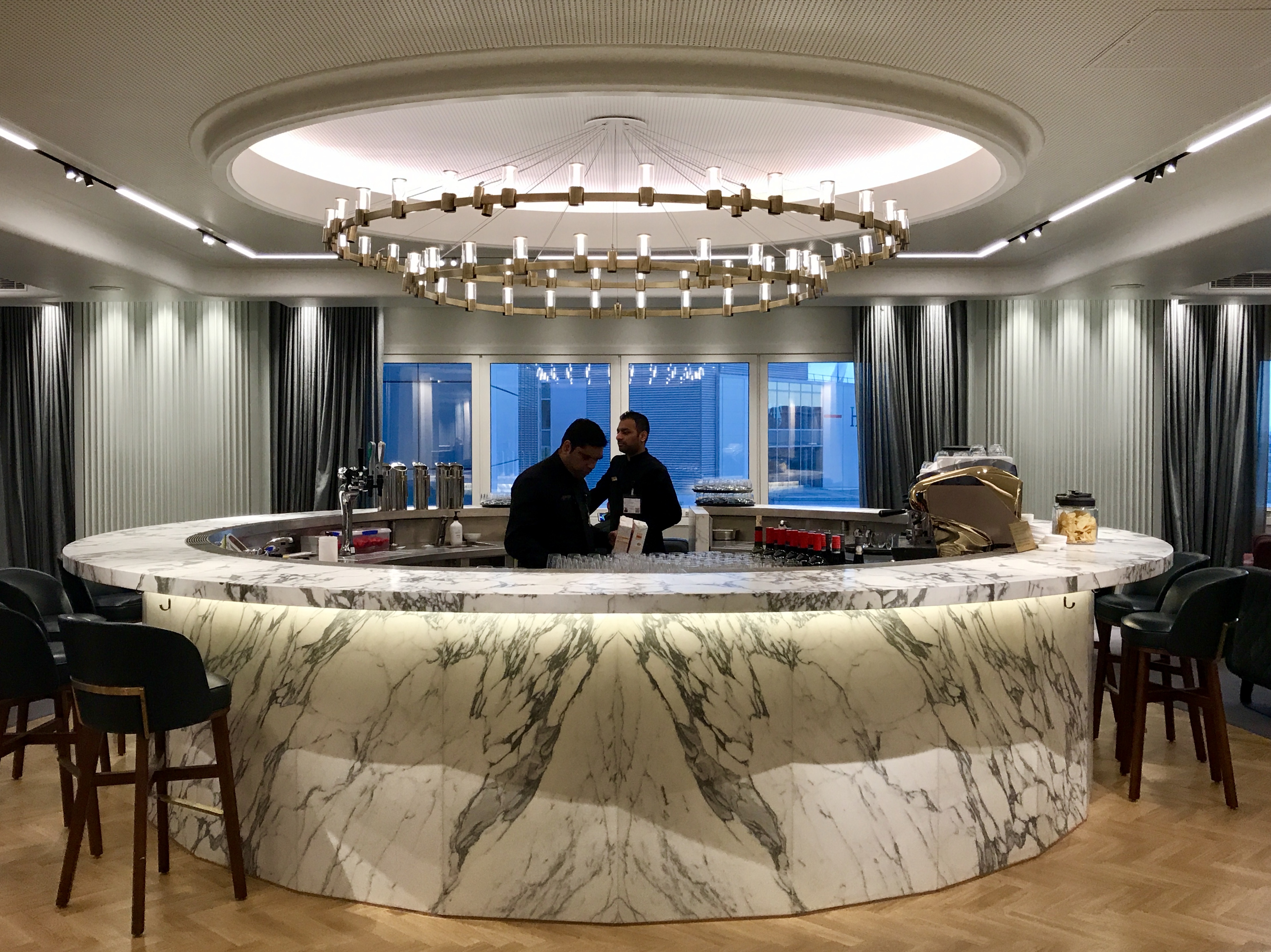 This is 100% the Qantas lounge for me. What's not to love about 14 different types of gin and Rockpool cocktails? I love the marble bar too and the elevated position by the window for looking out over the airfield. The Cathay First lounge has a better list of cocktails but I am sure that the bartenders at Qantas can make most classic cocktails.
What is the best lounge for a healthy meal?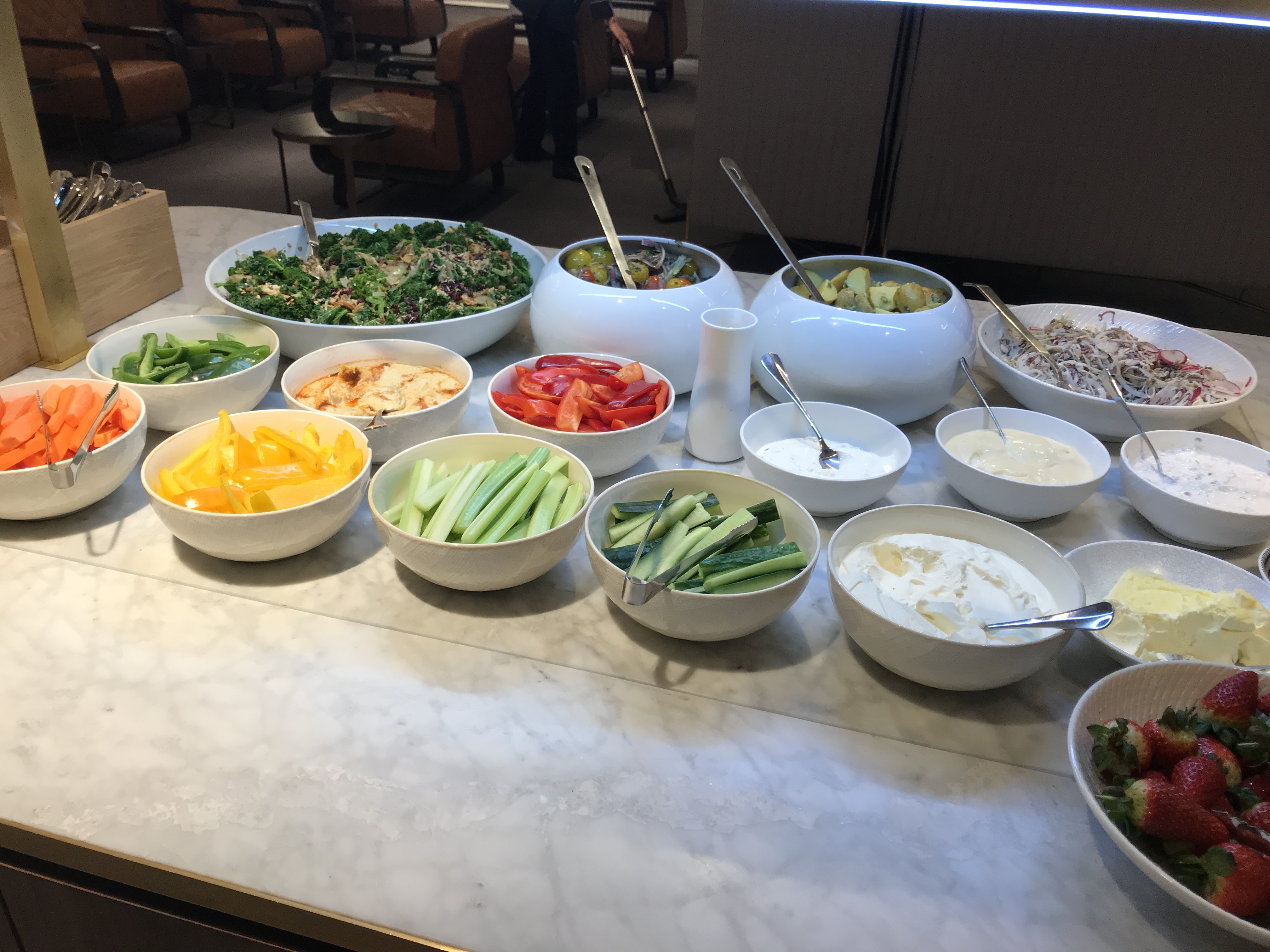 This would probably be a tie between Qantas and Cathay. Qantas has a firm focus on health with their buffet of fresh salads and crudites for snacking on in the gin bar. They also have a Quench bar for infused waters and tissanes.
Cathay has a small selection of salads and fruit in their business class lounge but less in the way of healthy snack items other than wraps.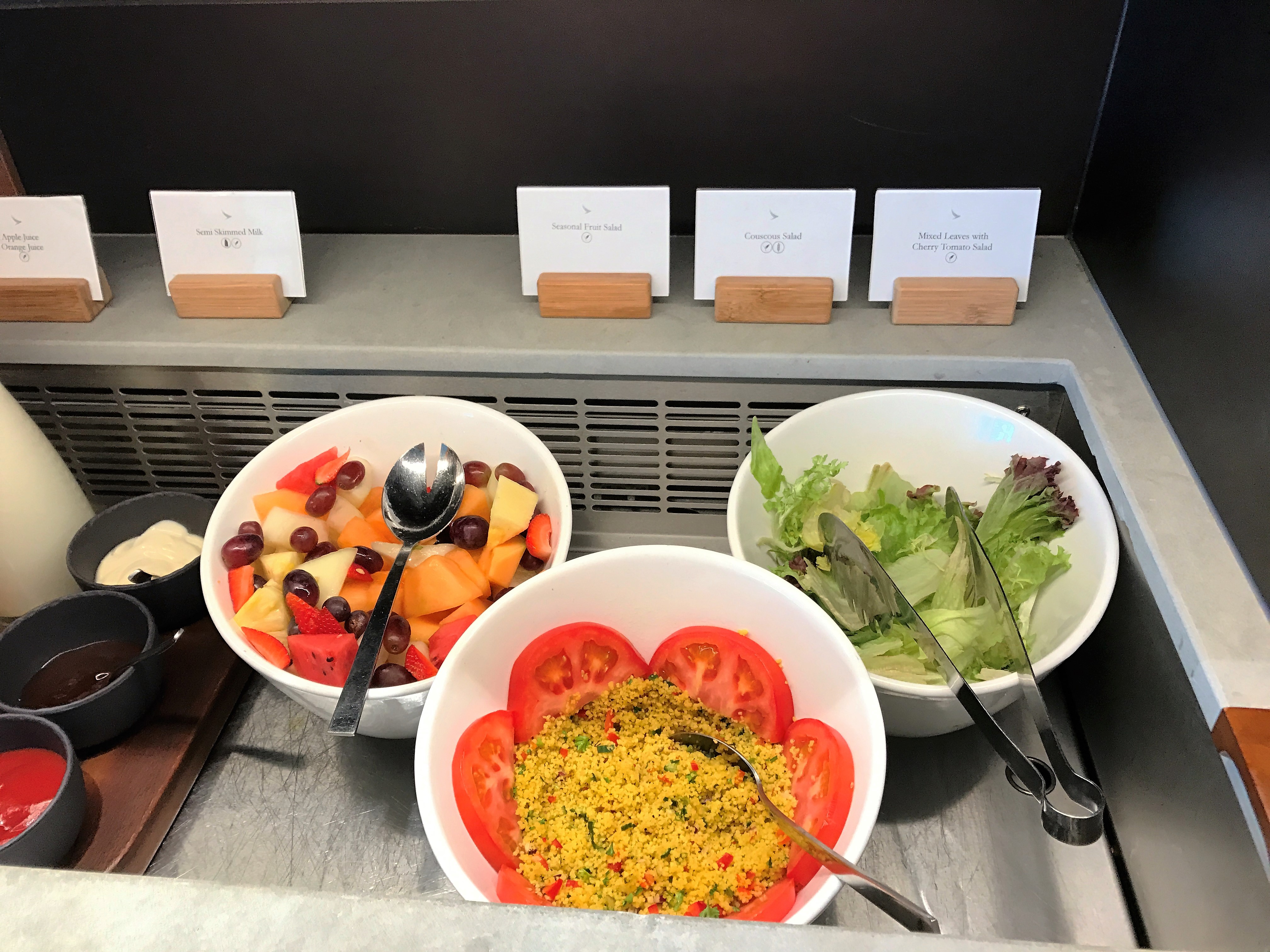 What is the best lounge for a proper meal?
First class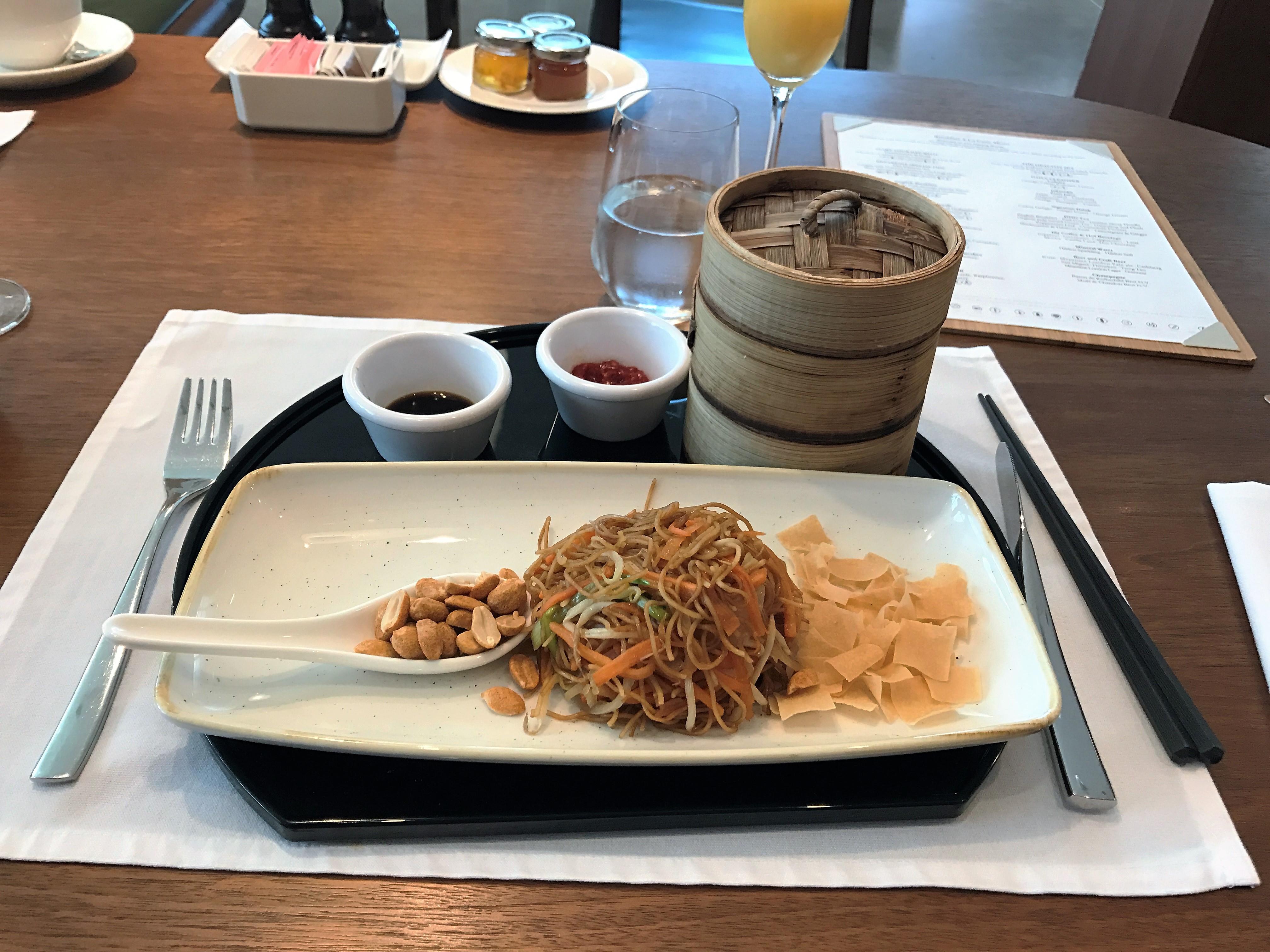 Hands down the Cathay First Class lounge. They have a proper dining area with table service and a great menu of Western and Asian favourites. I particularly like their Asian breakfast with dim sum and noddles. Qantas, American and BA all do food to order for First class but the menus are smaller and the atmosphere is less sophisticated.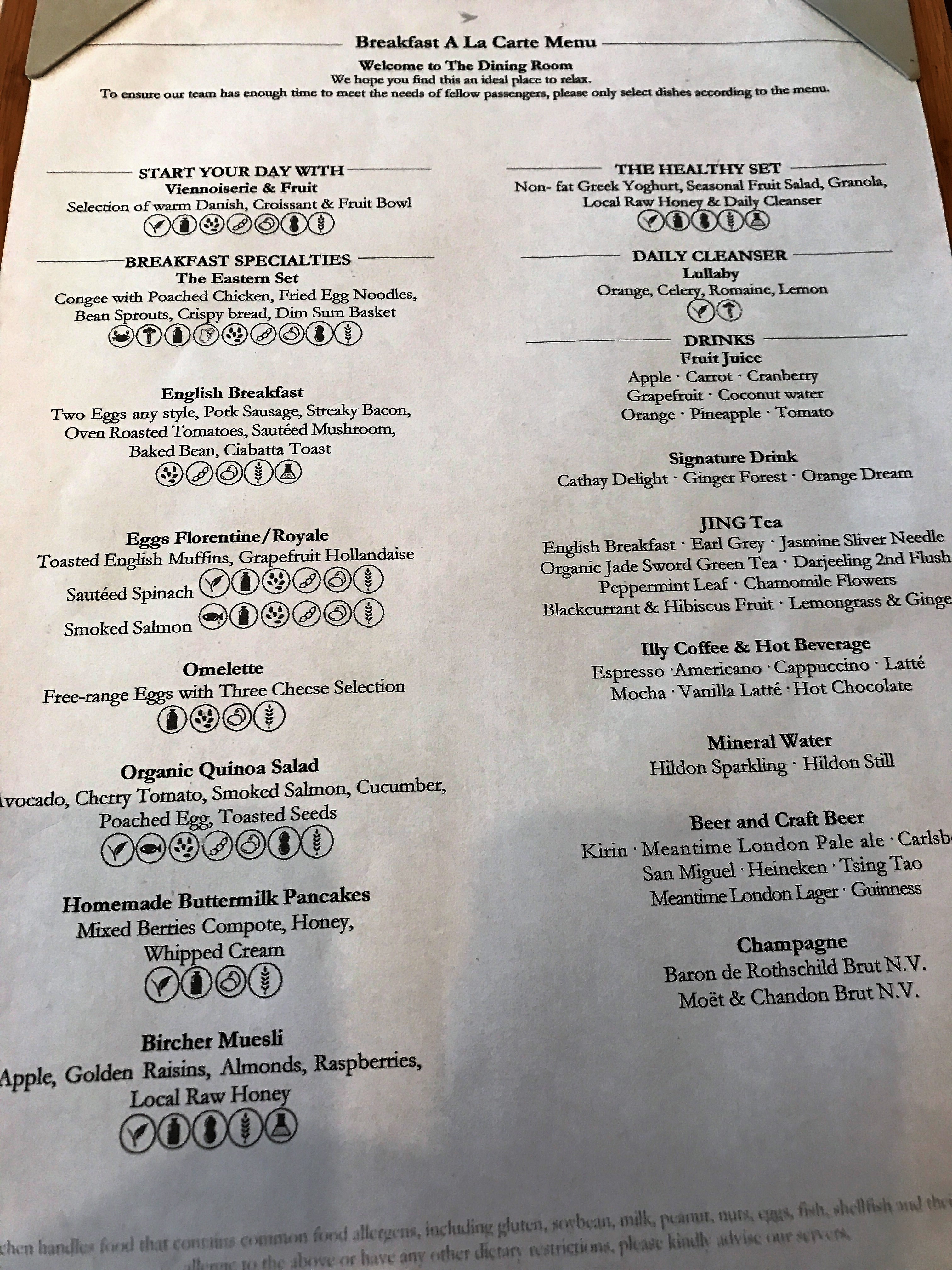 For more upmarket food my next choice would be American Airlines. Their menu is very small but the dishes are restaurant quality and service is generally excellent – I have often found it better than Cathay's service. If you want a more casual meal then BA can do that with items such as burgers and bau buns. Qantas has a smaller menu of casual dishes such as pies and sausage and mash. The ambience is nicer than BA being a new lounge but there is no champagne unless you are travelling in First with Qantas.
Business class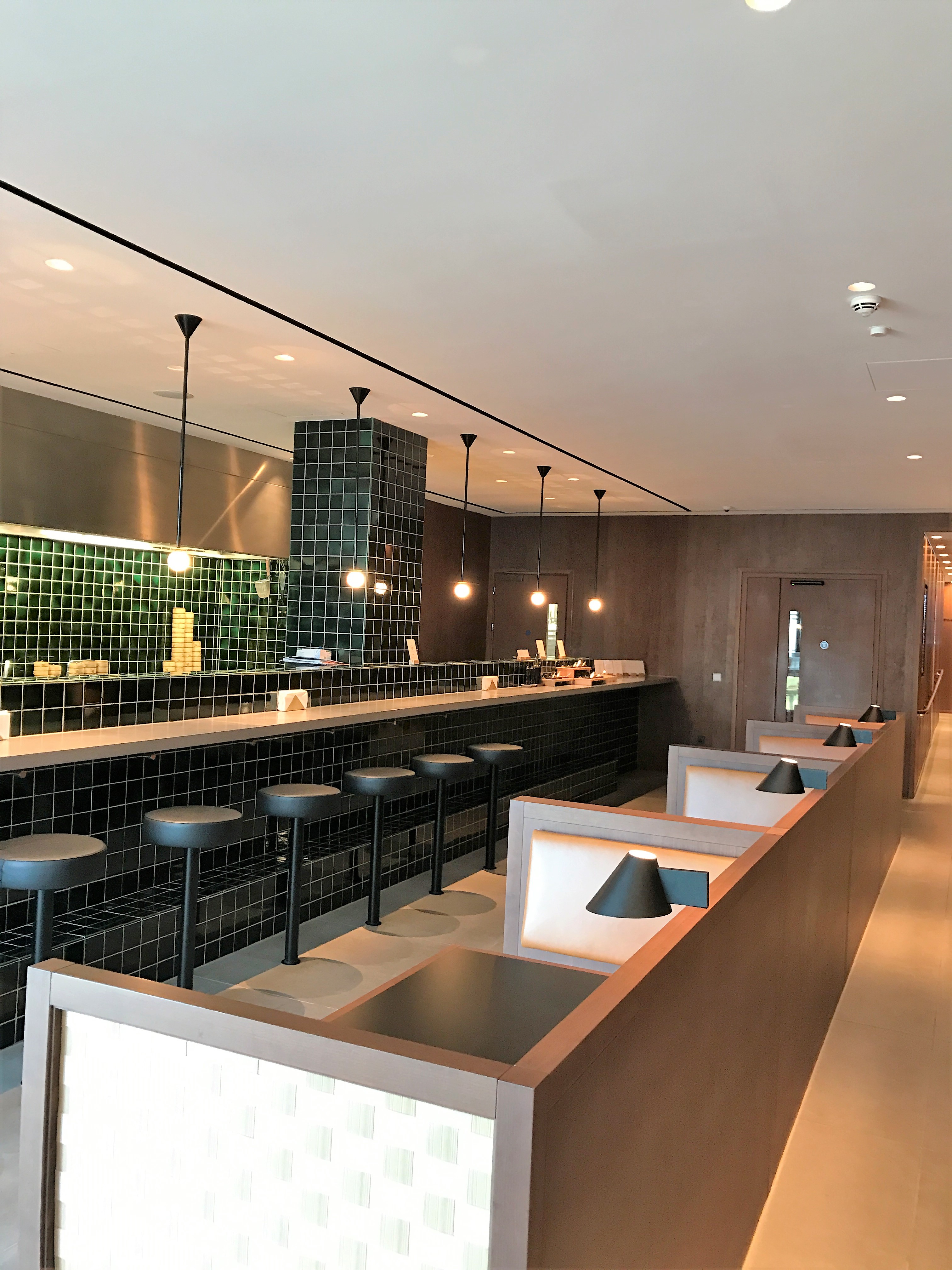 The Cathay business class lounge not only has the most extensive and high-quality buffet for food but also has the Noodle Bar where dishes are cooked to order. You can have dim sum or noodles including their signature dish, Dan Dan noodles. As well as hot dishes the lounge offers sandwiches and wraps, fruit and salads so ideal if you want something lighter or healthy.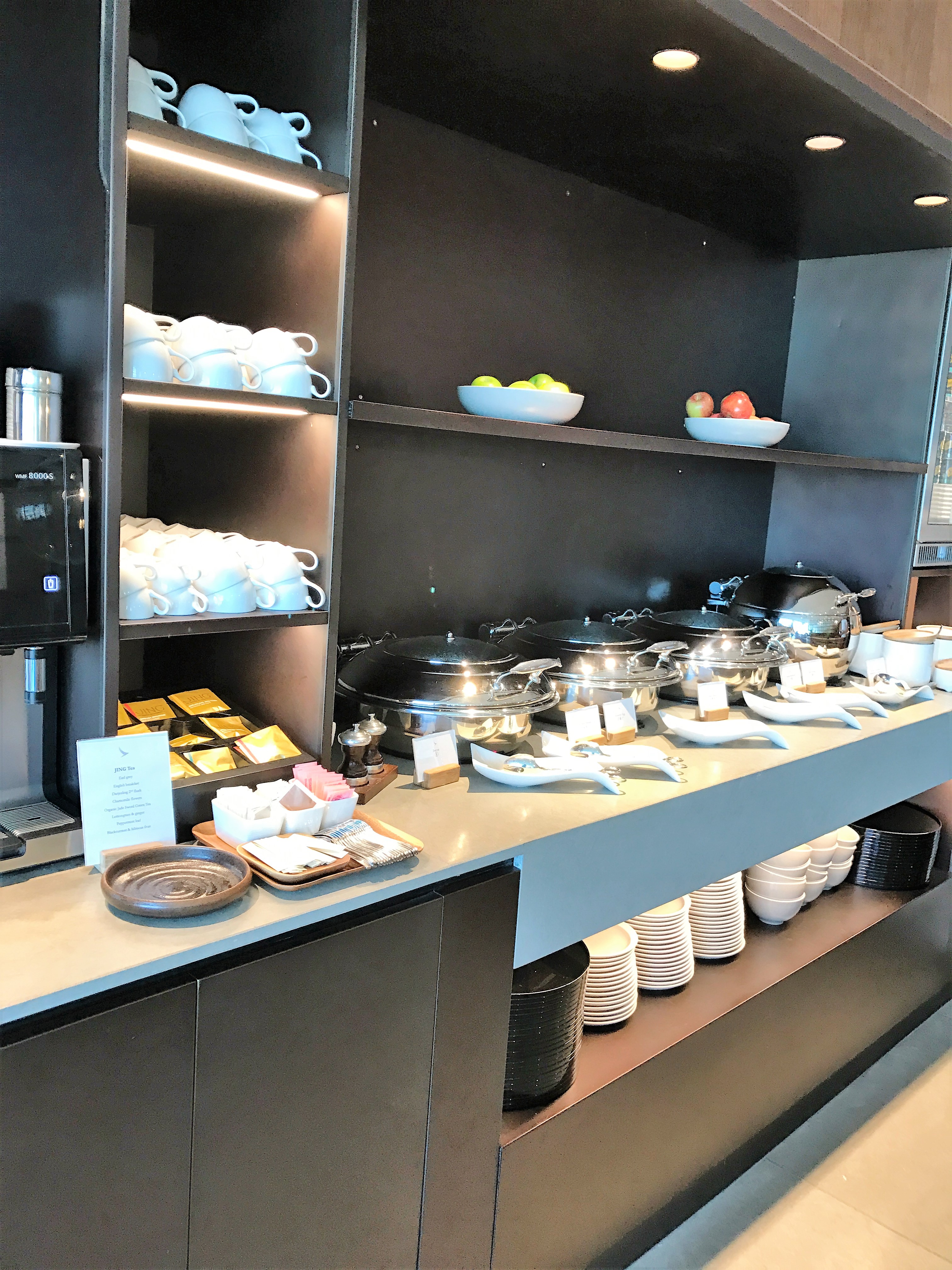 What is the best lounge for food or drinks in a hurry or self-service?
In this situation, you want to grab something quickly and not have to order food or a drink.
For First class the BA lounge has an OK selection of buffet food and the wines and champagnes are good plus completely self-service. The American Airlines buffet is also good in First although champagne is brought to you but you can help yourself to wine.
For business class, British Airways has the best selection of help yourself drinks apart from Champagne which must be requested, although they have been trialling help yourself at some airports. The food is fairly average though with a rather underwhelming buffet.
What is the best lounge to get work done?
For this one, it depends on the time of day. The Qantas flights go out at around 1pm and 9pm. In between these times and early in the morning the lounge is very quiet. Service is great and there is a fairly large desk area to work at. There is only one PC (Mac) however. If you are not worried about this or champagne I would go for Qantas.
Cathay flights also go out in the evening but this lounge can be busier during the day as more people are wise to using it now. The BA lounges have a large well-equipped work area and I have rarely seen this overcrowded.
The lounges all have a dedicated work area with printers and Wi-Fi. I have found the BA wi-fi at little slow at times but it is normally good enough for work purposes.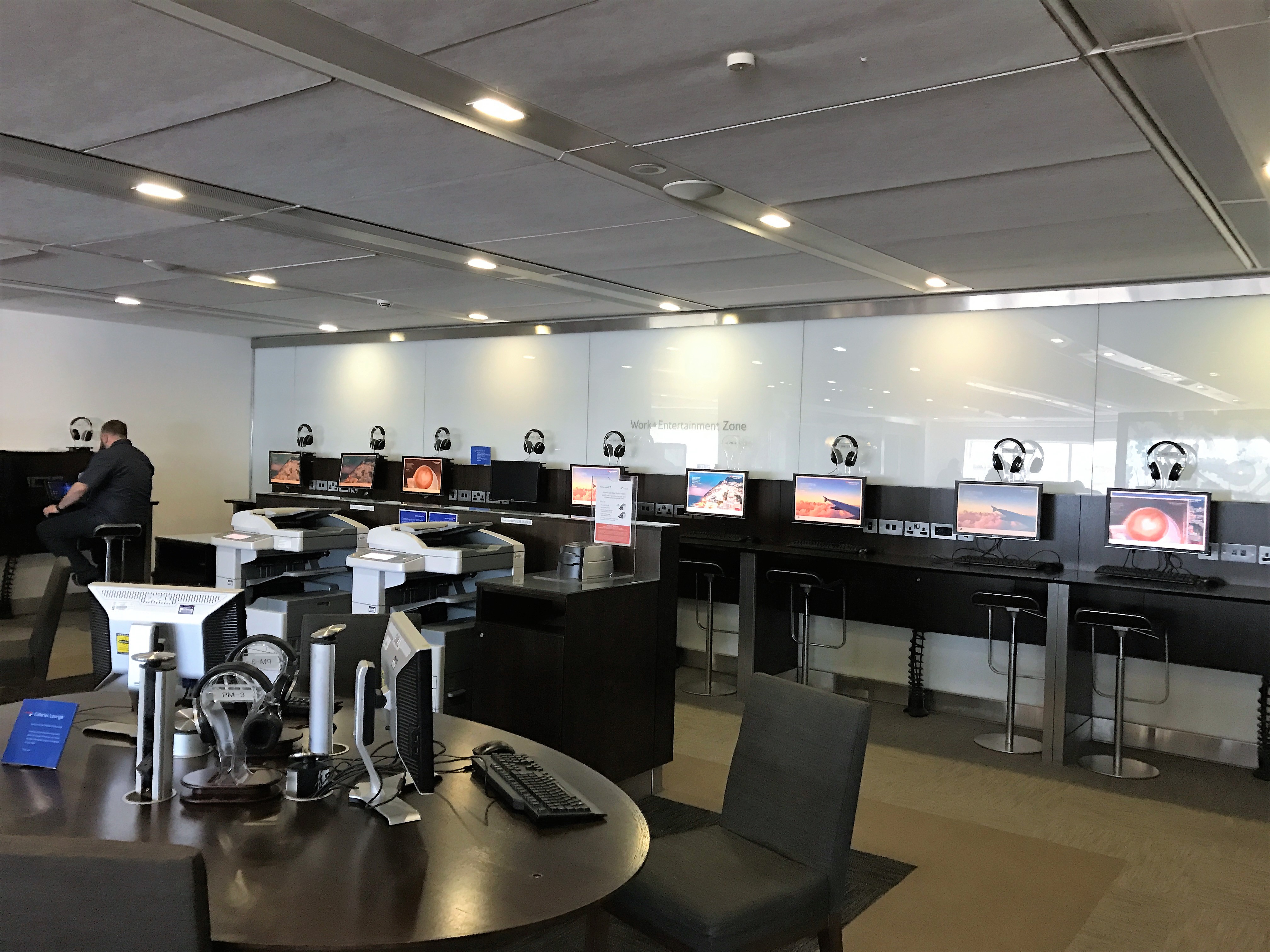 What is the best lounge for a spa treatment or shower?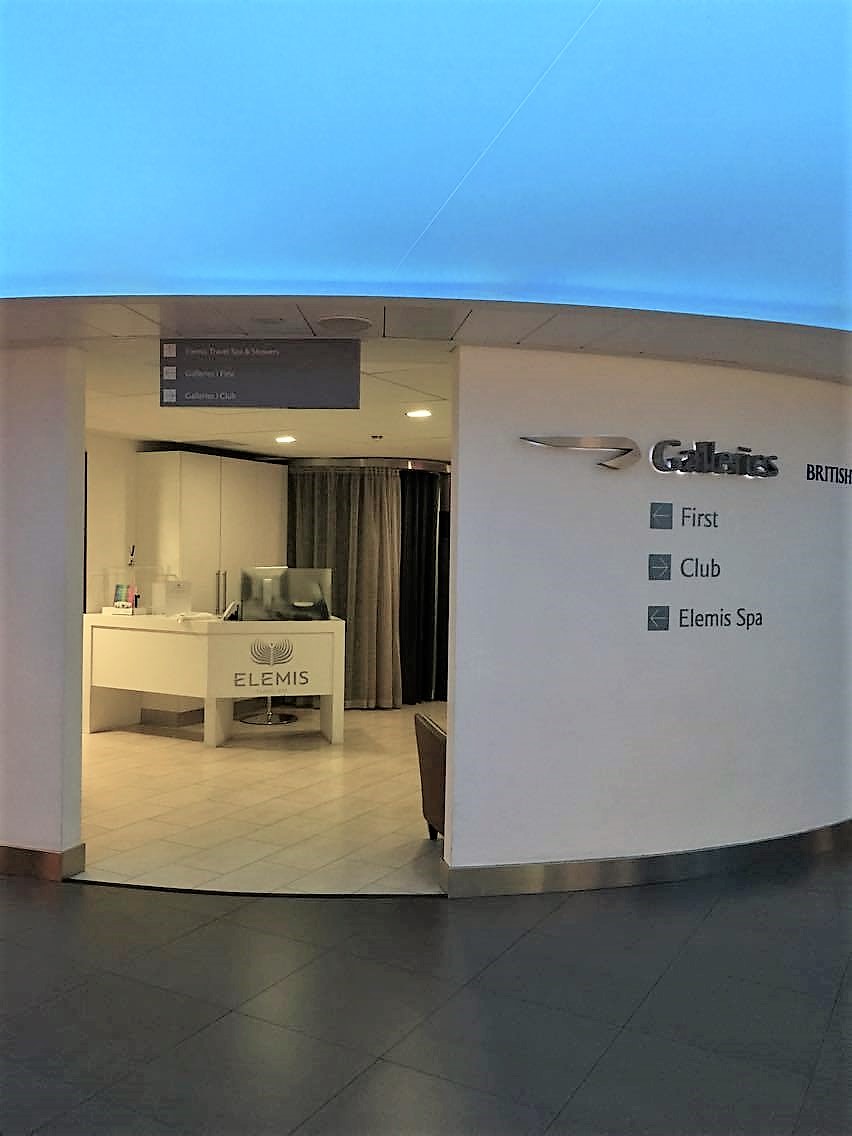 There is one option here: British Airways and their Elemis spa but make sure you get there early to get a treatment. You are entitled to a complimentary 15 minute treatment if you are travelling in First or business (Club World) cabins or you are a Gold card member flying long haul on British Airways flights only. The BA spa menu is here.
For showers there is little difference between the Cathay and Qantas lounges, both of which are available for business class customers. They both have a luxurious feel and great toiletries. If pushed I would probably go for Cathay as I love Aesop products.
If you would like to read more information about a particular lounge here are my reviews:
British Airways Galleries Club and First lounges
Qantas business and first lounge
American Airlines Business and First lounges T3 review
You can find the airlines official information about the lounges here:
Do you have a favourite lounge at Heathrow? What is your favourite lounge at T3? Let me know on social media or in the comments below.