This is a review of The Westin Dragonara hotel in St Julian's Malta during my visit in June 2021. If you want to read more about Malta, my food and drink recommendation, and other hotels as well as my experience entering the country you can read more here. In July 2021, fully vaccinated Brits are allowed to visit Malta and the country is on the UK's green list.
Booking
Being part of Marriott you can book using points. This is a category 6 hotel which means prices range from 40-60,000. Whether this is good value or not depends on the price. I had booked before it went on the green list when prices were low as it would have been a poor use of points. I paid €160 per night. If I was trying to book now prices are around €280 which would be a better use of points although still not fantastic value.
I booked through our partner GTC, a Marriott Luminous agent. You can get Marriott Luminous perks on participating W Hotels – Westin – Renaissance – Marriott – Autograph – Le Meridien and Tribute Portfolio hotels.
The benefits for this Westin are:
Daily complimentary breakfast for 2 guests per day

Early Check-in/late Check-out, based on availability

Upgrade on arrival subject to availability
You still get your Marriott benefits and points too.
Location
It's up a bit of a hill which was a pain in the heat with a mask on, although it is on the bus route. The rules have changed since I was there and now fully vaccinated people do not need to wear their masks outdoors as from 1 July 2021. There are a few local restaurants within a 2-minute walk and the centre of St Julians is about 5 minutes walk.
The airport is around 20-25 minutes as is the main city of Valetta.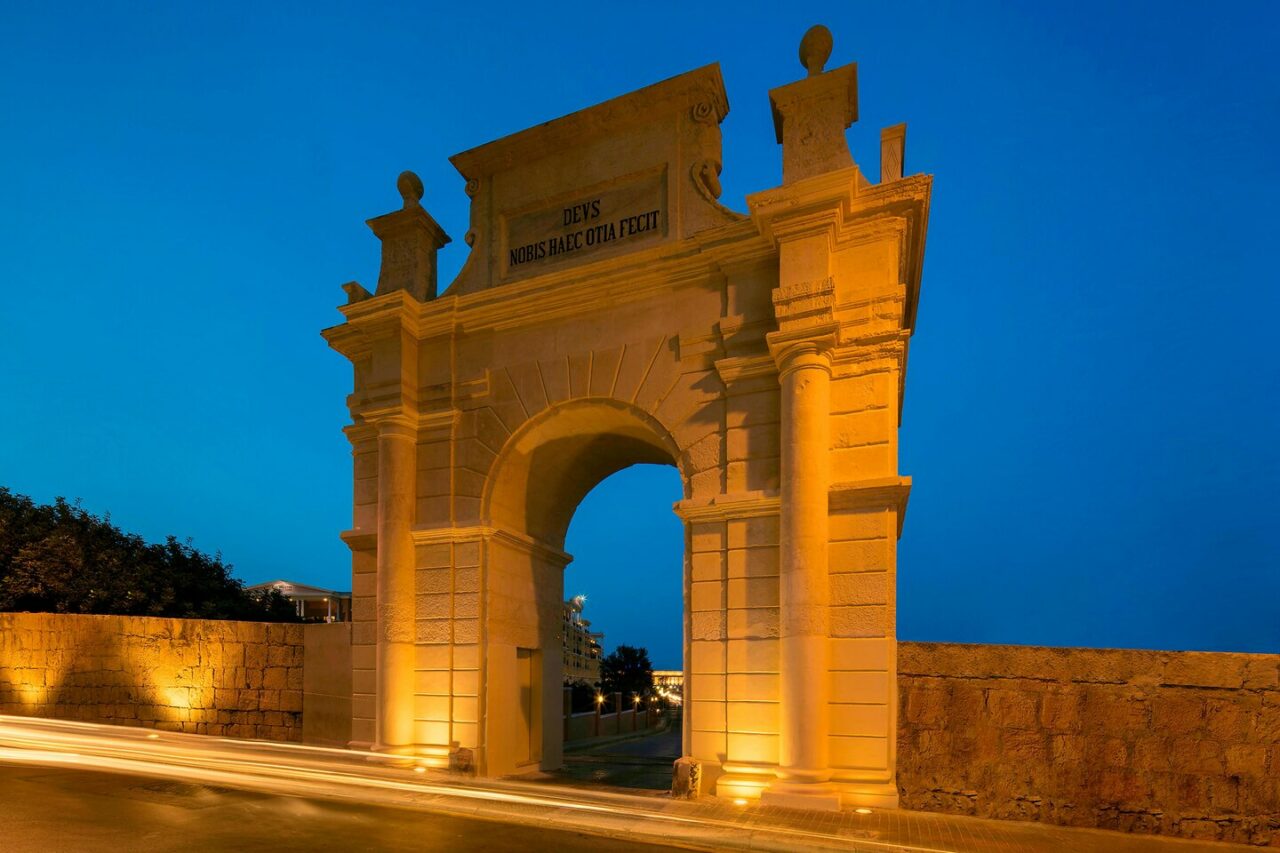 There is another entrance to the The Westin Dragonara Resort hotel through an archway which brings you out near the restaurants by the resort. This is a quicker and nicer walk than on the road. However, for some reason, most of the entrances were shut so you had to walk a bit further to the main entrance.
You can see more about restaurants in this article.
Check-in
I was helped with my luggage out of the Bolt car (like Uber) fairly quickly on arrival and headed through to the impressive lobby. On first impressions the The Westin Dragonara Resort hotel feels quite grand but more like you could be in the US than Malta.
The receptionist was friendly and explained which restaurants and bars were open. Prior to arrival, I had also had an email that explained which restaurants would be open and when plus what the Covid precautions were and changes in service.
I had booked a King Garden view and got upgraded to a 2 Queen Executive Sea View. Effectively this is a 2 Queen Seaview, so the same room as the type I had booked but with a better view. Normally you would have access to the lounge but it was closed due to Covid. Given that the hotel seemed pretty busy and there was an outdoor terrace in the lounge, this felt very much like a Covid excuse. The hotel refused to give any compensation, not even one free drink in the bar which was very poor and not something I have seen before. I was entitled to the lounge access through my Marriott Bonvoy Platinum status, as obviously with a free upgrade you can't really complain that there is no lounge.
The Westin Dragonara Resort hotel room

All the rooms at the The Westin Dragonara Resort hotel were recently refurbished which definitely showed. The decor is very neutral and not likely to offend anyone but I did find it a little dull. The main thing I liked about the room was the size. It was a huge room with two queen size beds which although I had booked a king I quite liked as I could store all my stuff on the other bed.
There were power points and USB charging in multiple locations next to the beds, including at the base of the reading lights.
By the desk, there was also another couple of power points (UK ). Wipes had been provided in case you wanted to wipe anything down.
I found the bed of The Westin Dragonara Resort hotel very comfortable and the room was pretty quiet apart from the odd late-night person talking loudly in the corridor. As you'd expect the hotel had everything you would expect for a luxury hotel with the exception of a coffee machine. However, there was a kettle for tea and coffee at least. Bathrobes and slippers were also provided.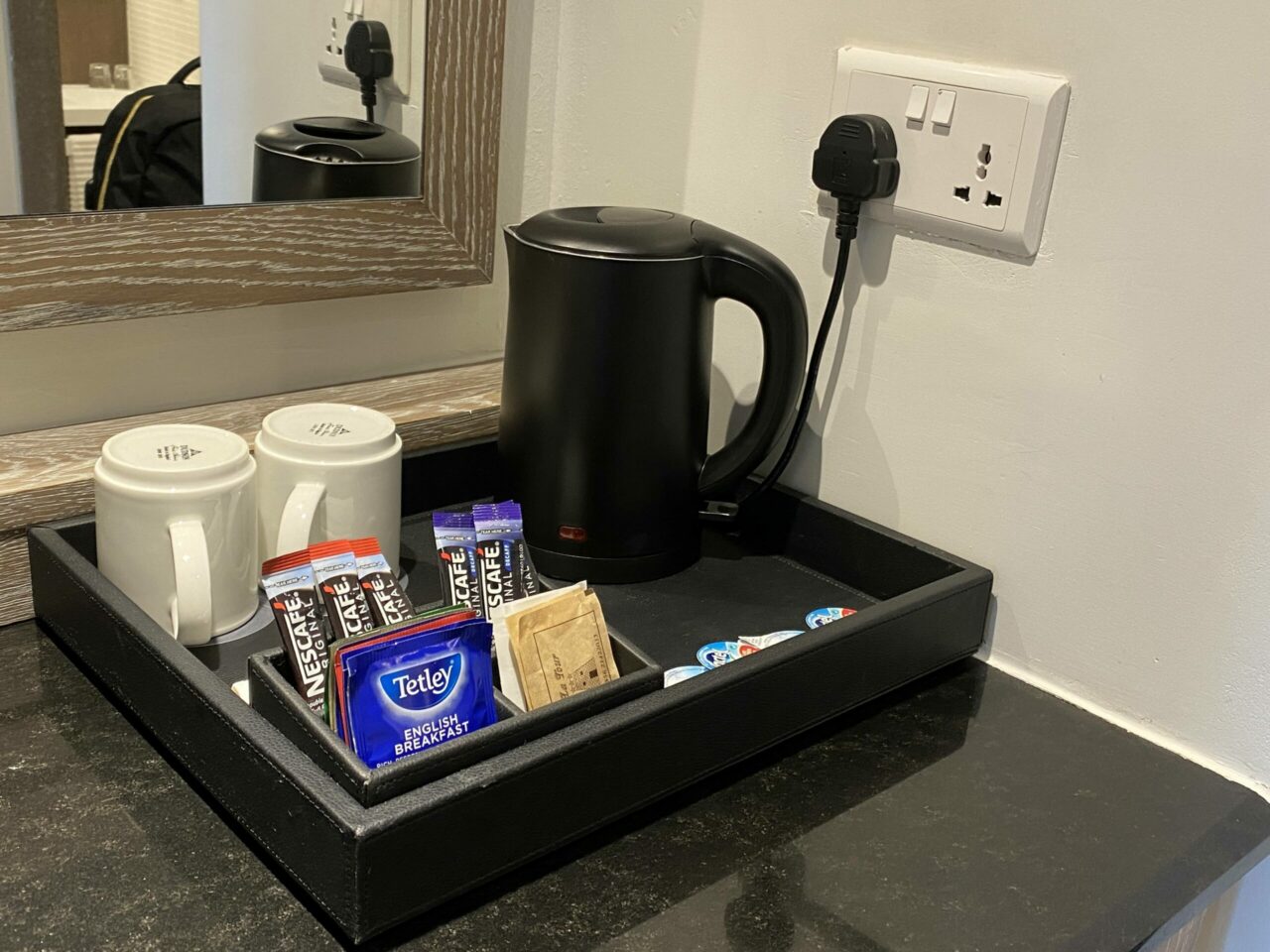 Every day I was given two bottles of water free and I was pleased to see that there was an ice bucket and glasses in the room. There was a reasonably mini bar fridge so there was room for your own things. My floor had an ice machine by the corridor. Housekeeping was regular every day when I went for breakfast all except one when it happened very late in the afternoon.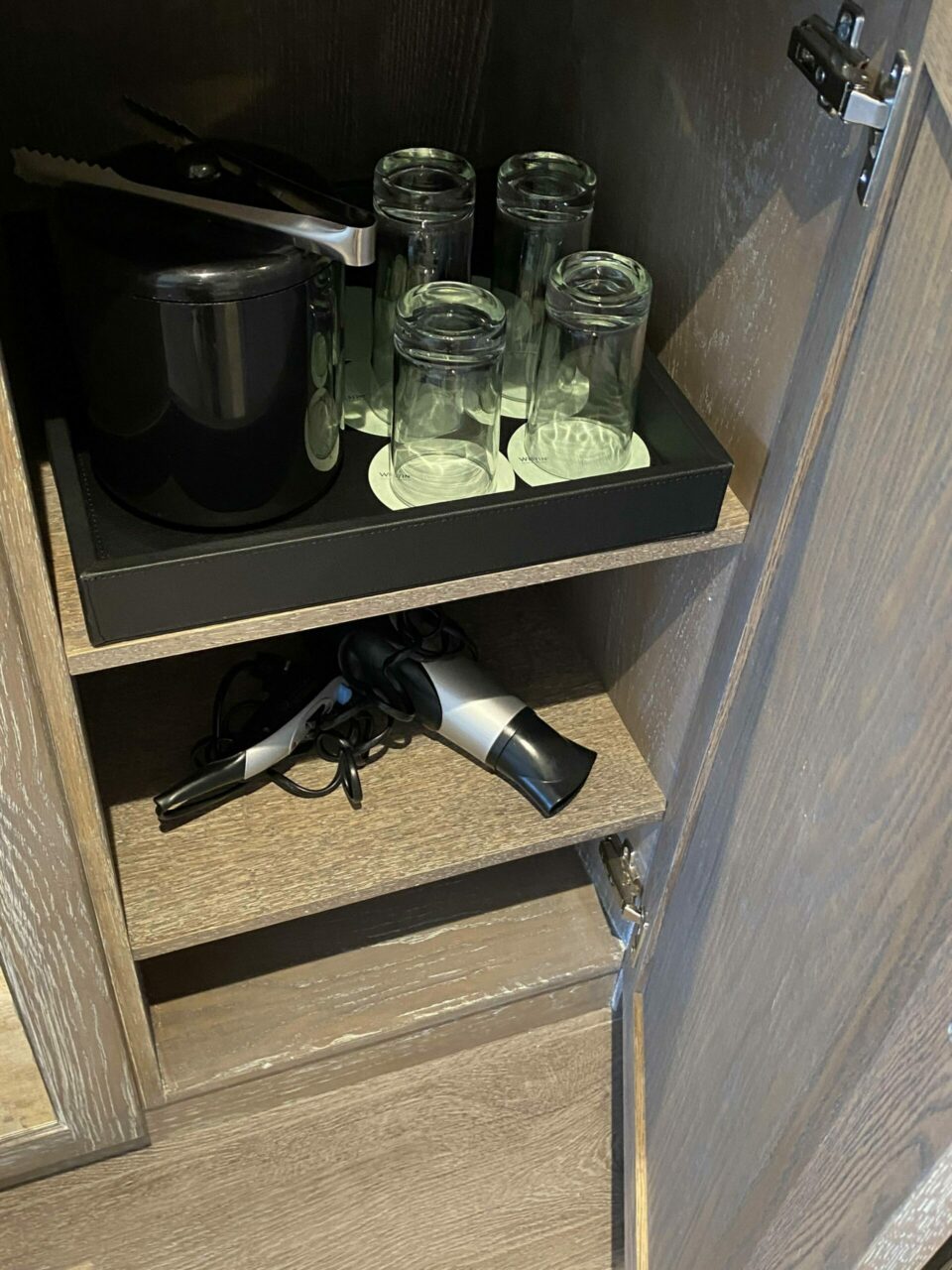 I was given a welcome gift by the hotel of some wine and local snacks.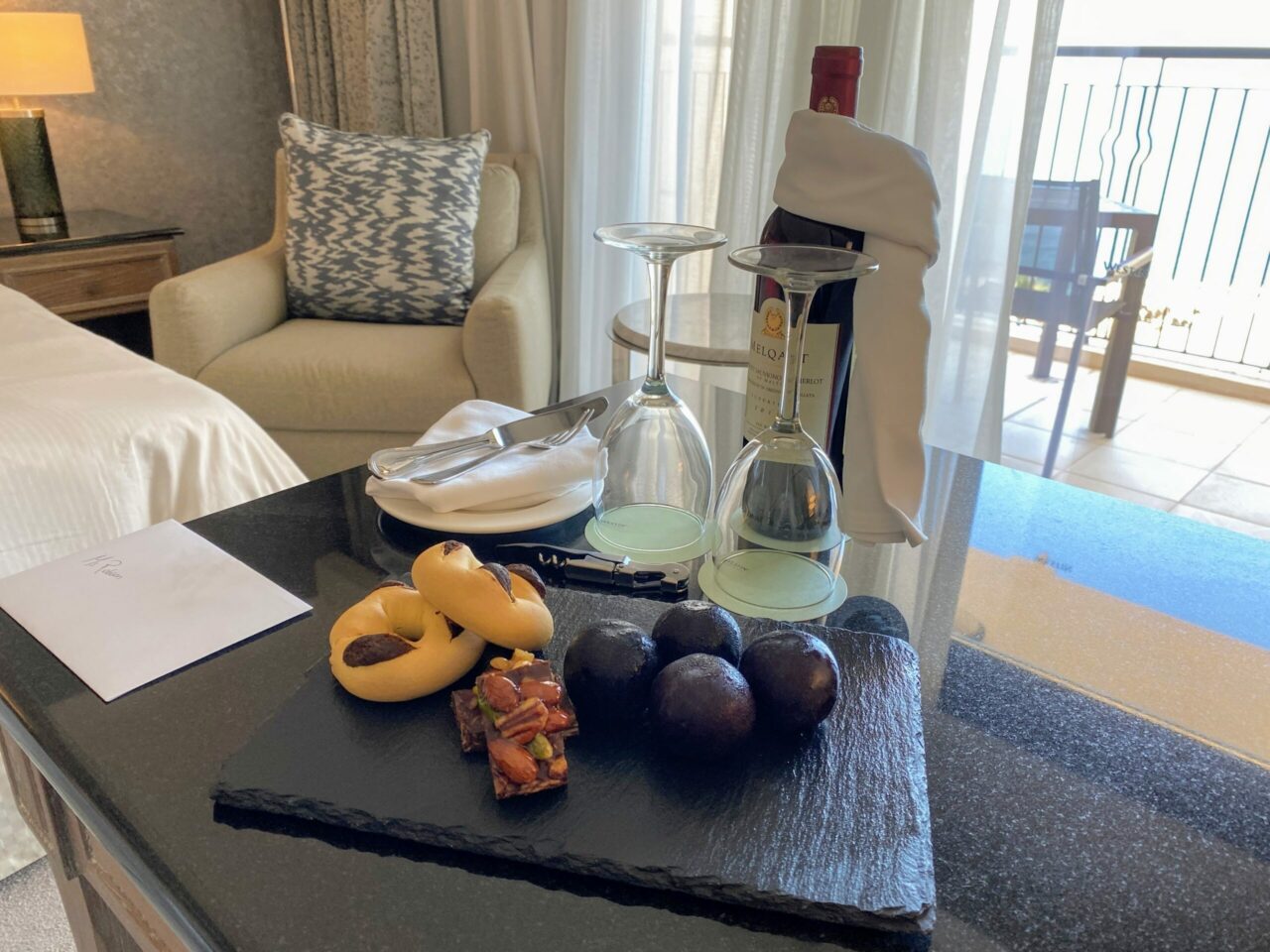 The balcony had a table and chairs plus a decent sea view that was particularly pretty at night.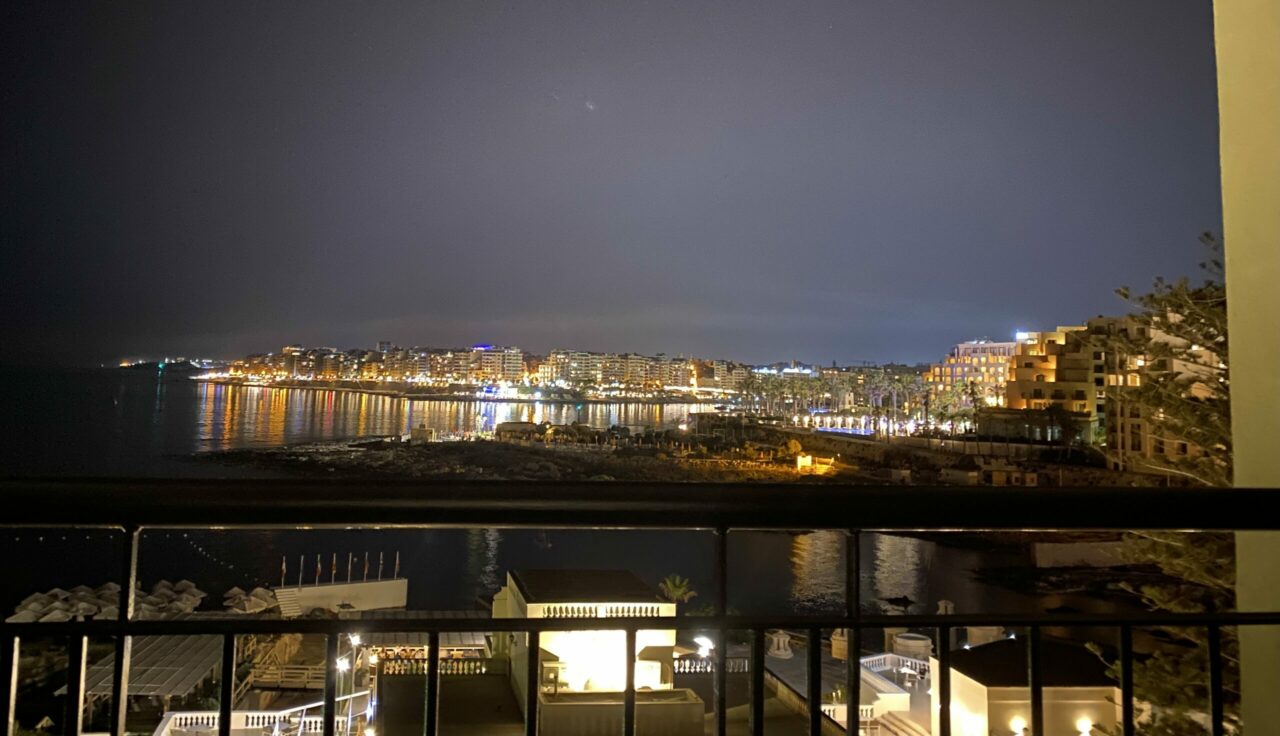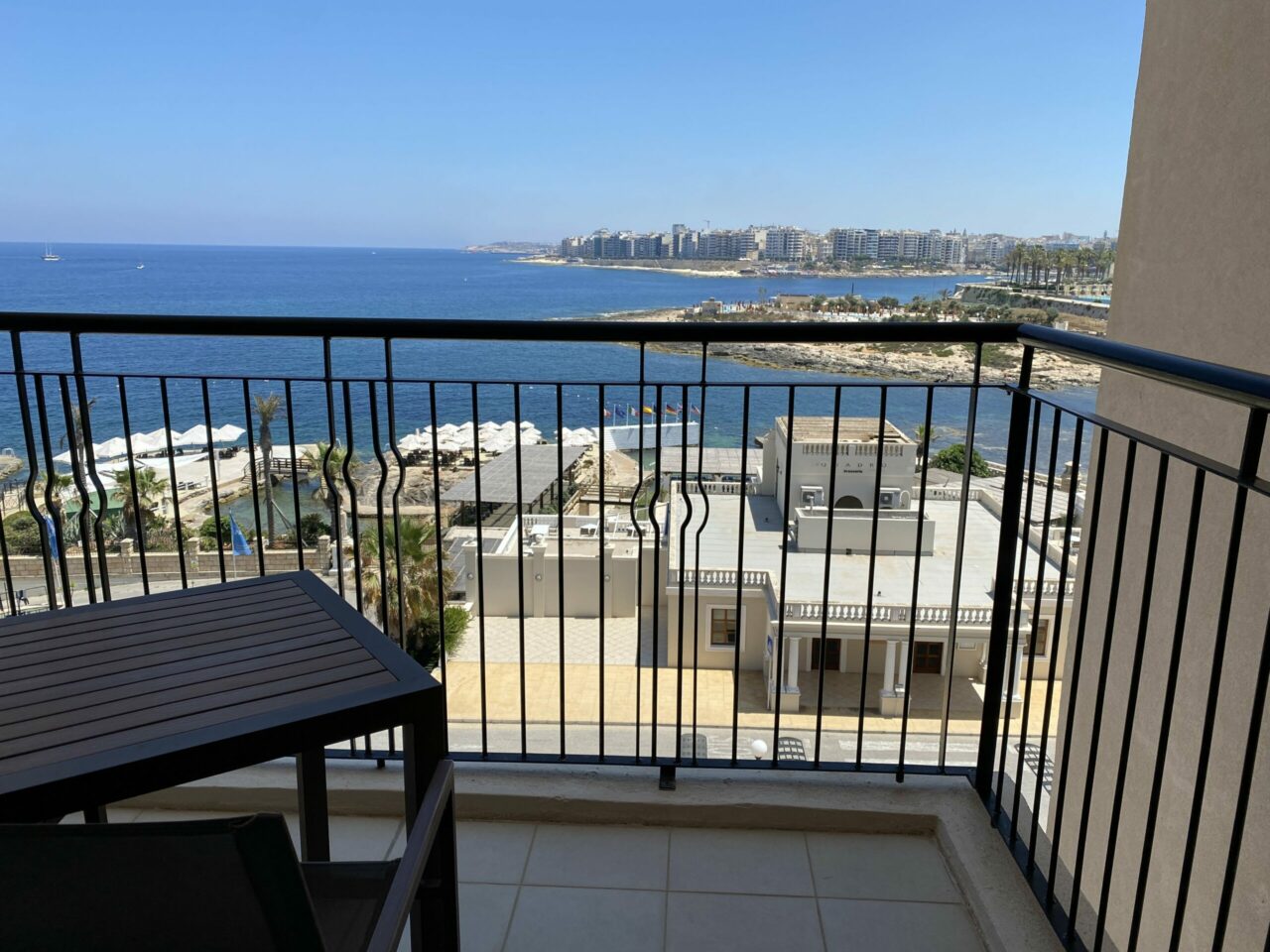 The bathroom was a little bit clinical looking for my tastes.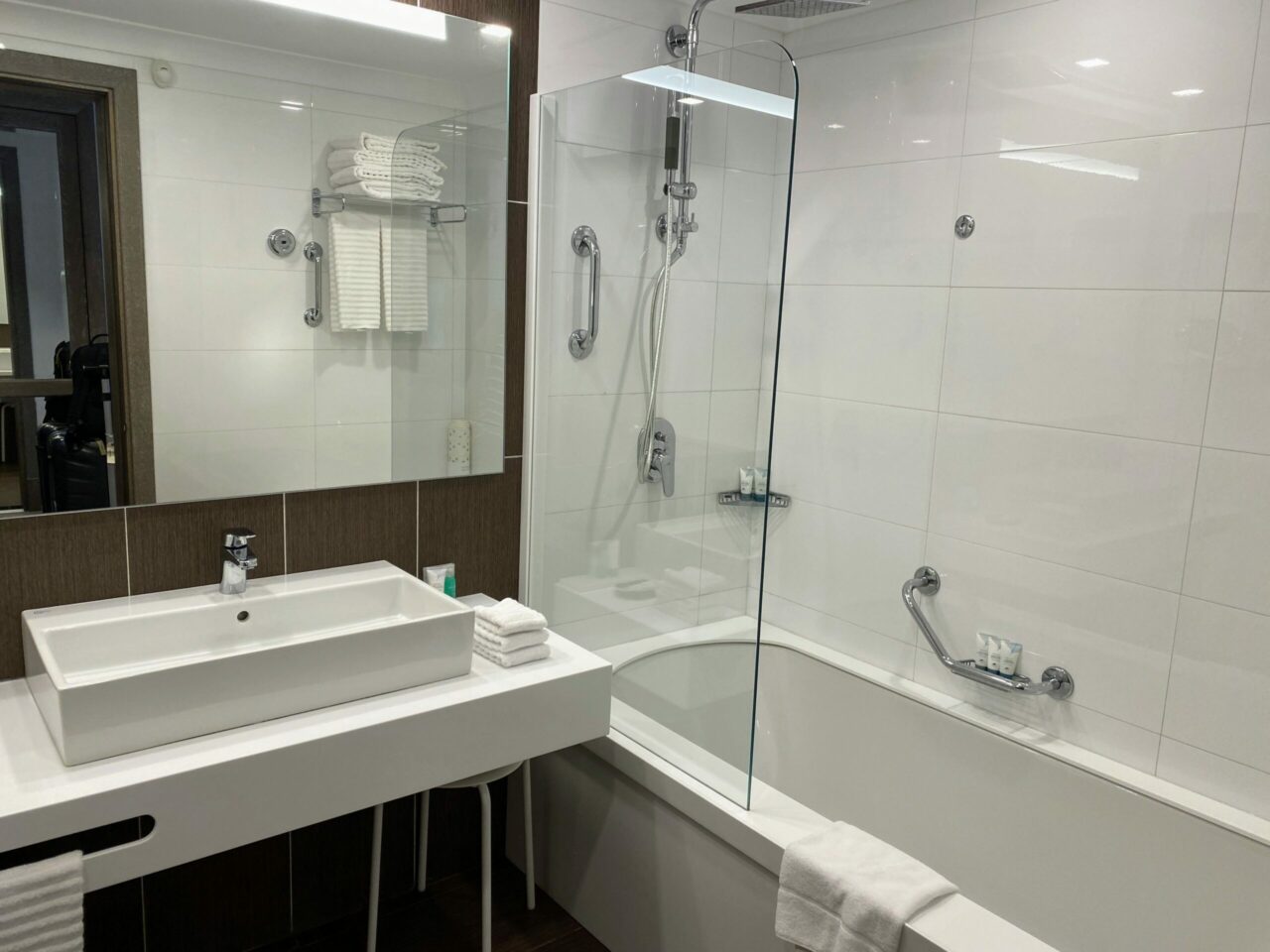 However, the bath was a proper size for having a decent soak plus there was a rain head shower over it. I also liked that there was plenty of space to store your toiletries.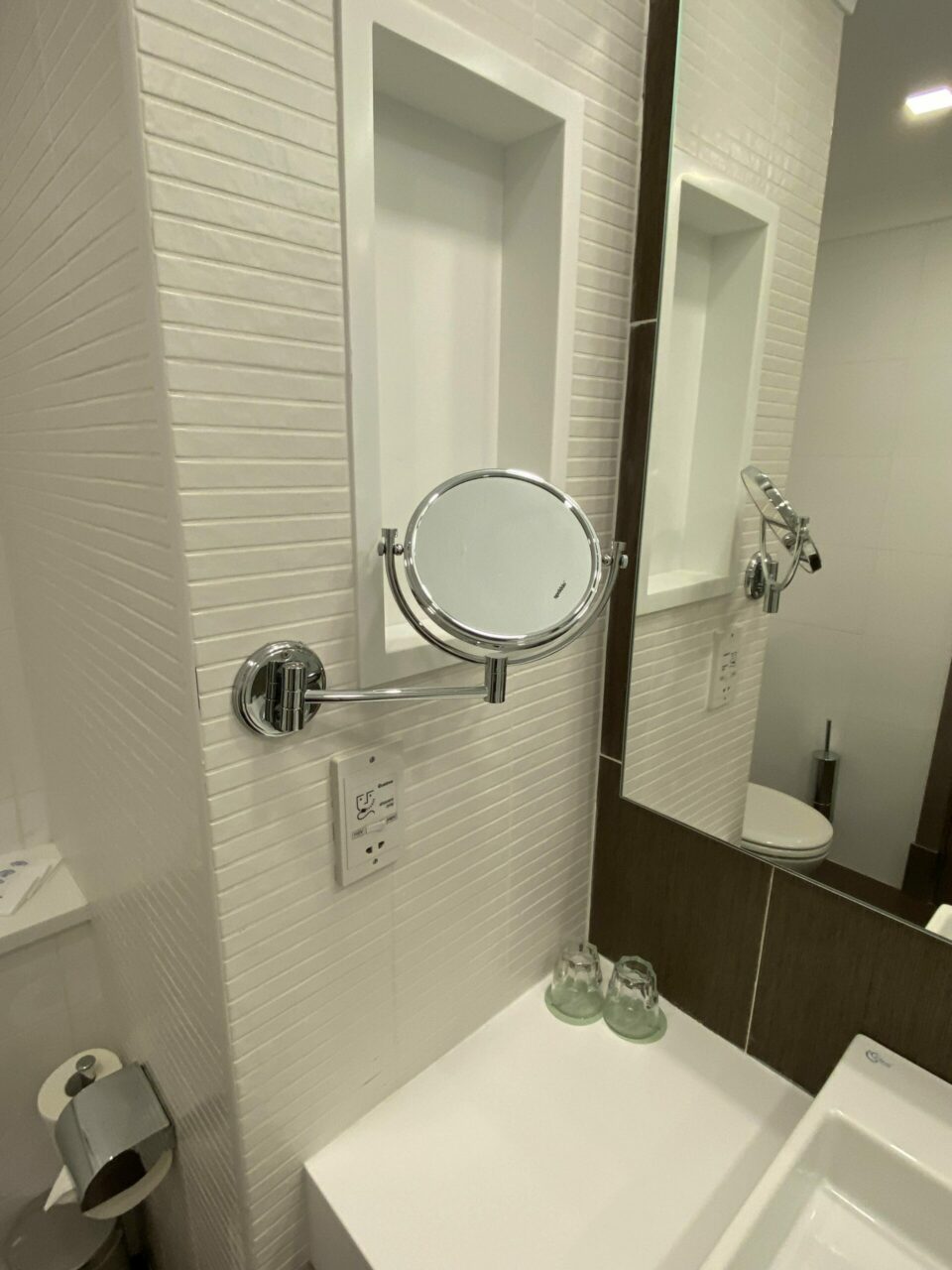 Toiletries were the usual Westin ones that have a light refreshing scent and included a mouthwash and vanity pack.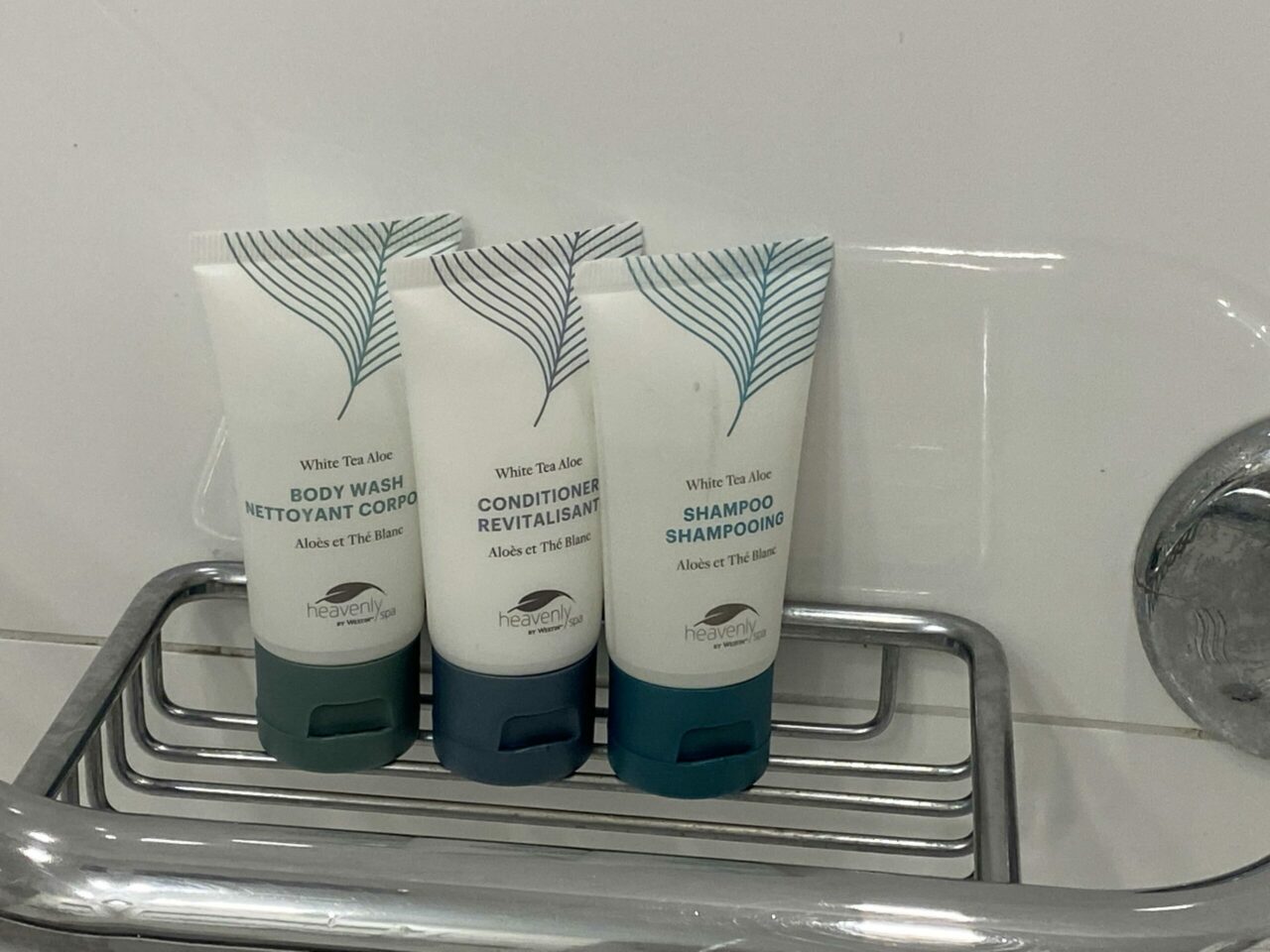 Food and drink at The Westin Dragonara Resort hotel
Breakfast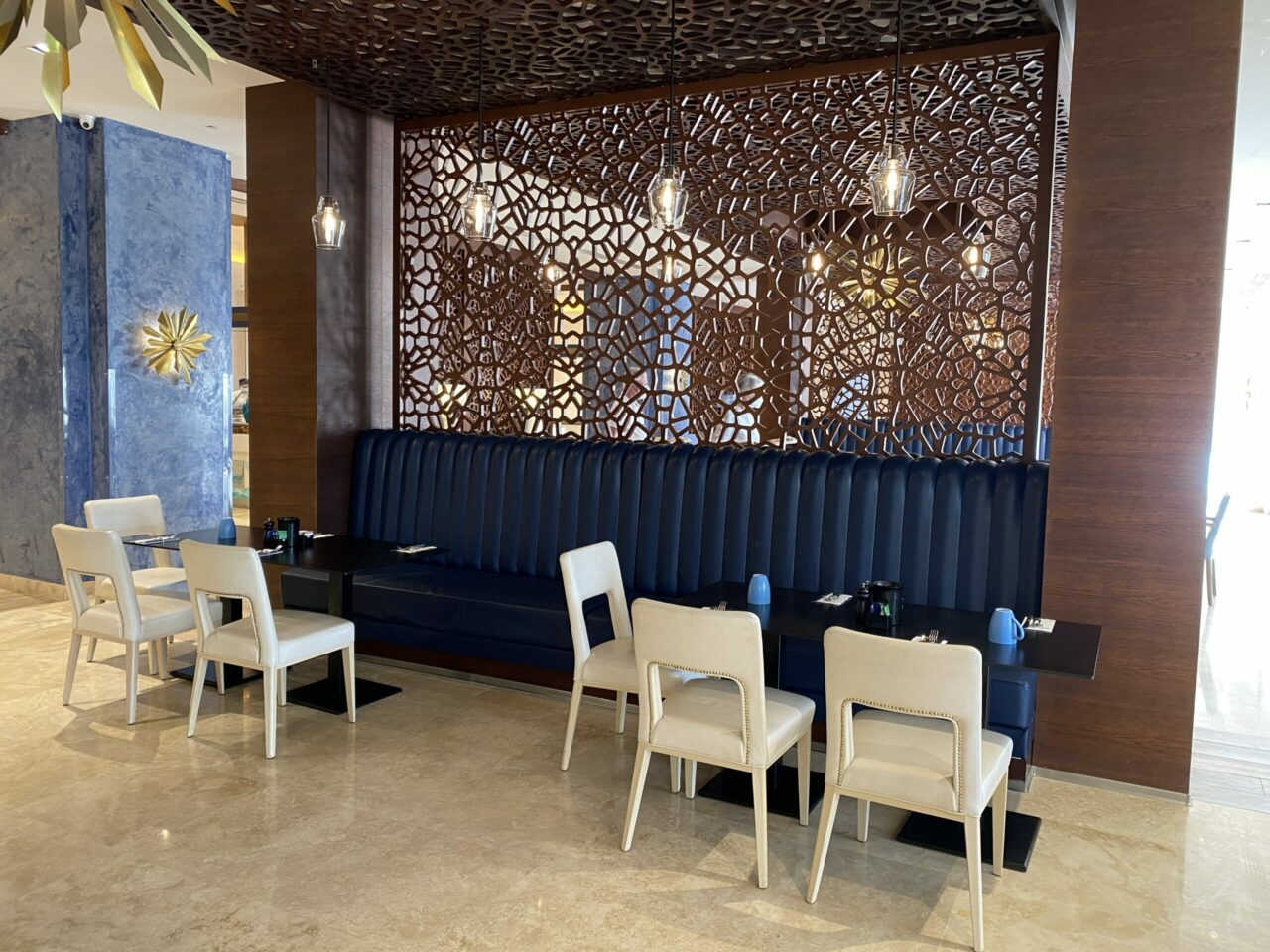 Breakfast was served at the Terrace restaurant either inside or outside near the pool until 10.30am. The staff at the door were always incredibly friendly as were most of the waiters. Generally, they were pretty efficient although one day I had to ask again for my coffee.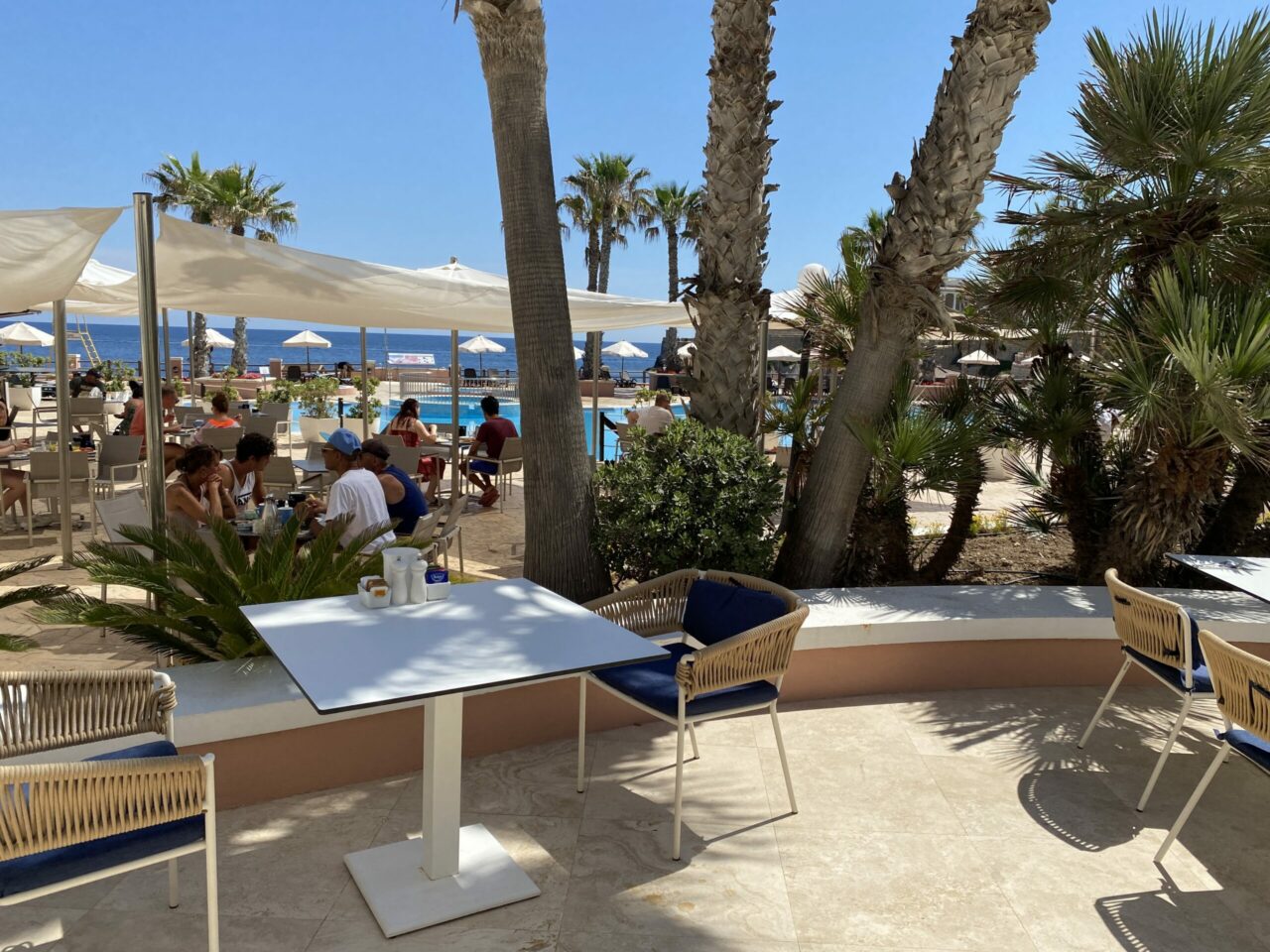 I liked the area just by the doors as shown above as it was pretty hot outside even by 10am.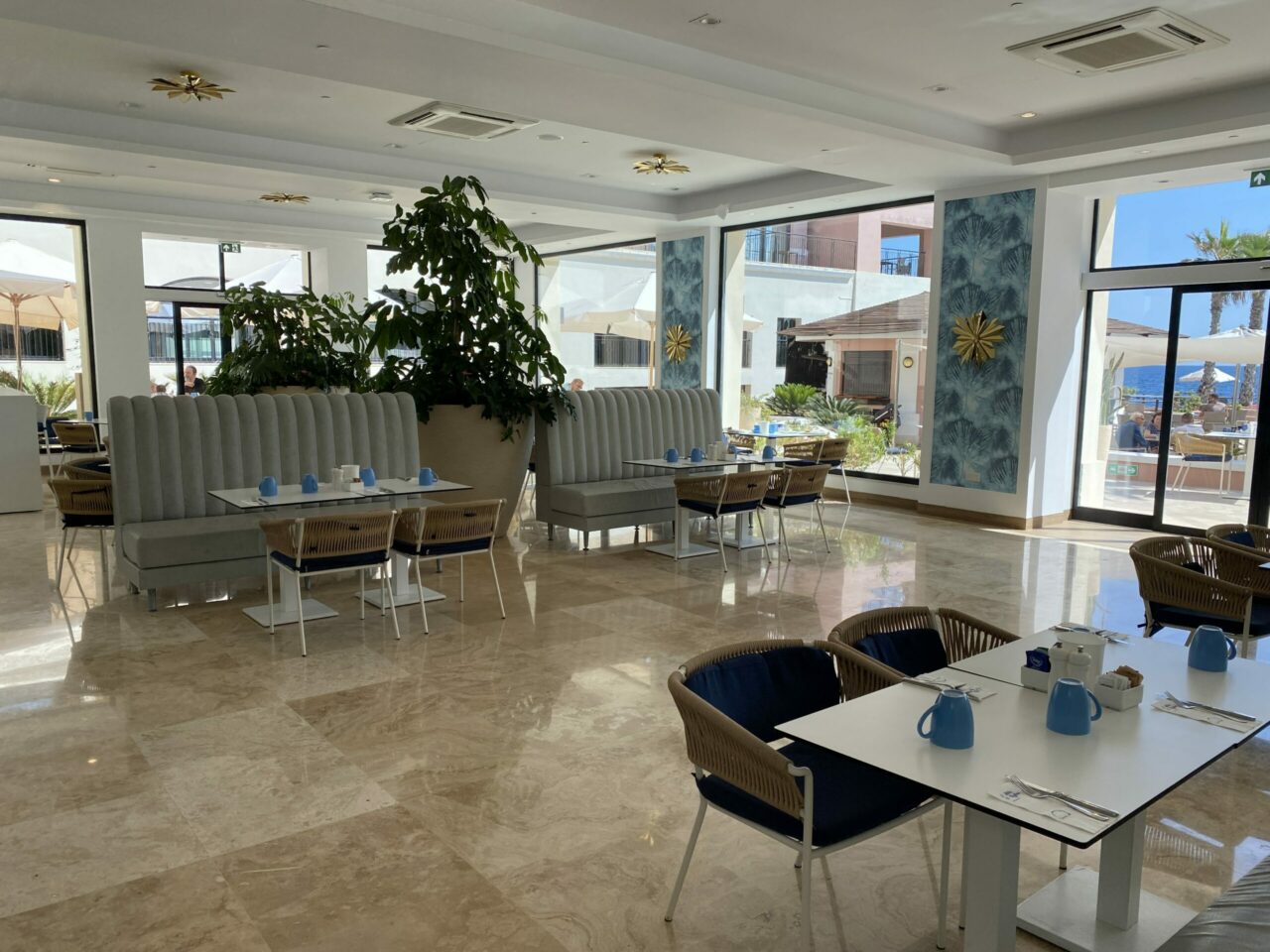 The breakfast was still a buffet but the staff helped you to what you wanted. There was no issue with queuing when I was there.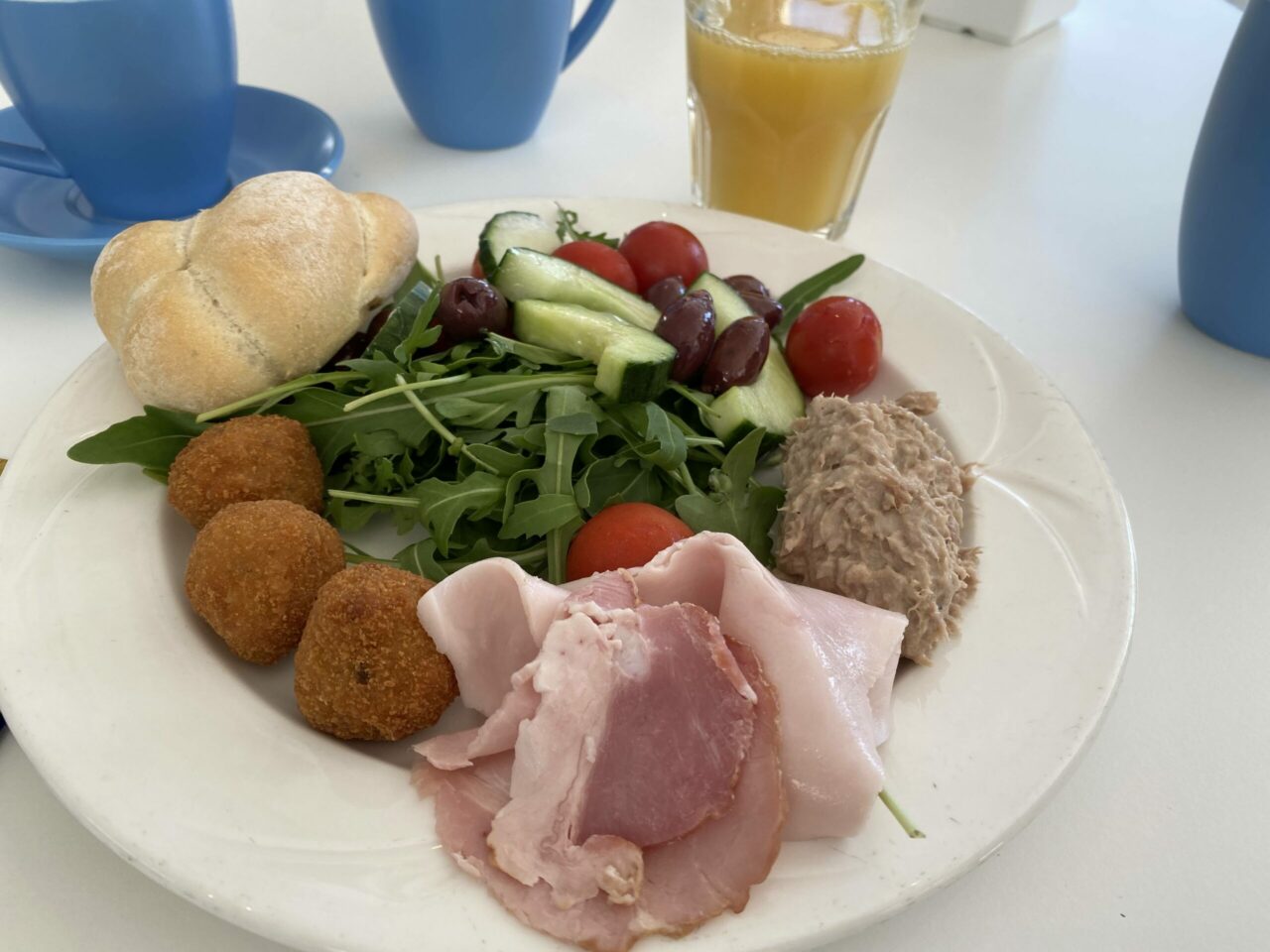 The selection was reasonable but it didn't change really from one day to the next so got quite repetitive after a few days. For the cold section, there was meat, cheese, salad, tuna, bread, and pastries plus yogurt fruit, and cereals. The juice was disappointing as it was only orange or apple and they were both poor quality that tasted like they were from concentrate. Coffee was out of a machine and wasn't great either. However, all the food I had was good. There was a full hot breakfast and you could also order omelettes and eggs to order.
Other dining
In-Room Dining
Brought to your door – 24/7
Terrace Restaurant
The terrace restaurant also did a brunch on Sundays.
Sundays 13:00 – 14:30hrs
ORVM Lounge & Piano Barat at The Westin Dragonara Resort hotel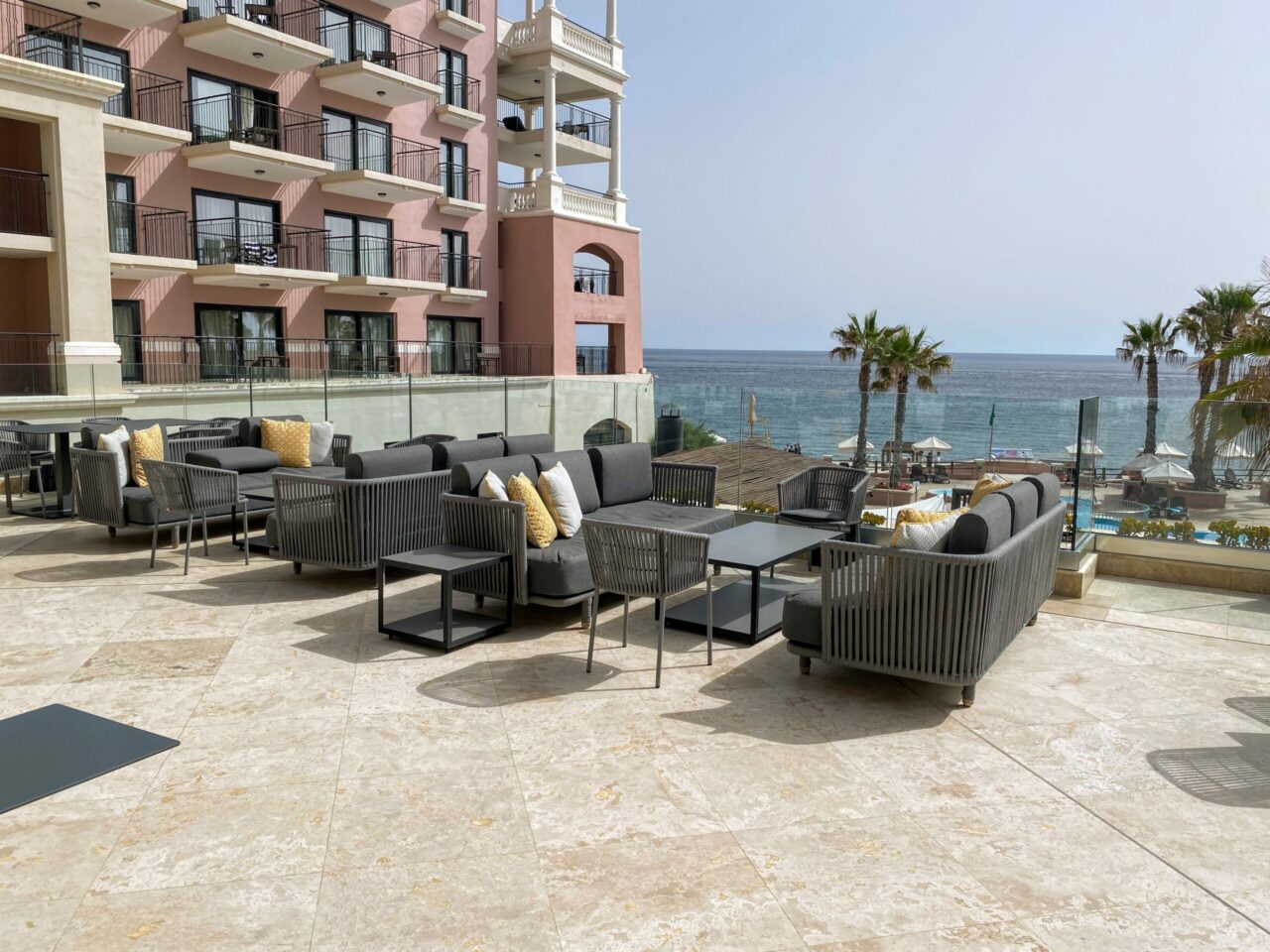 Daily 08:00 – 00:00hrs and Saturday Brunch 11:00 – 15:30hrs
This was my favourite part of the hotel for eating and drinks thanks to the lovely location overlooking the pool and sea. It was a good place to catch the sunset.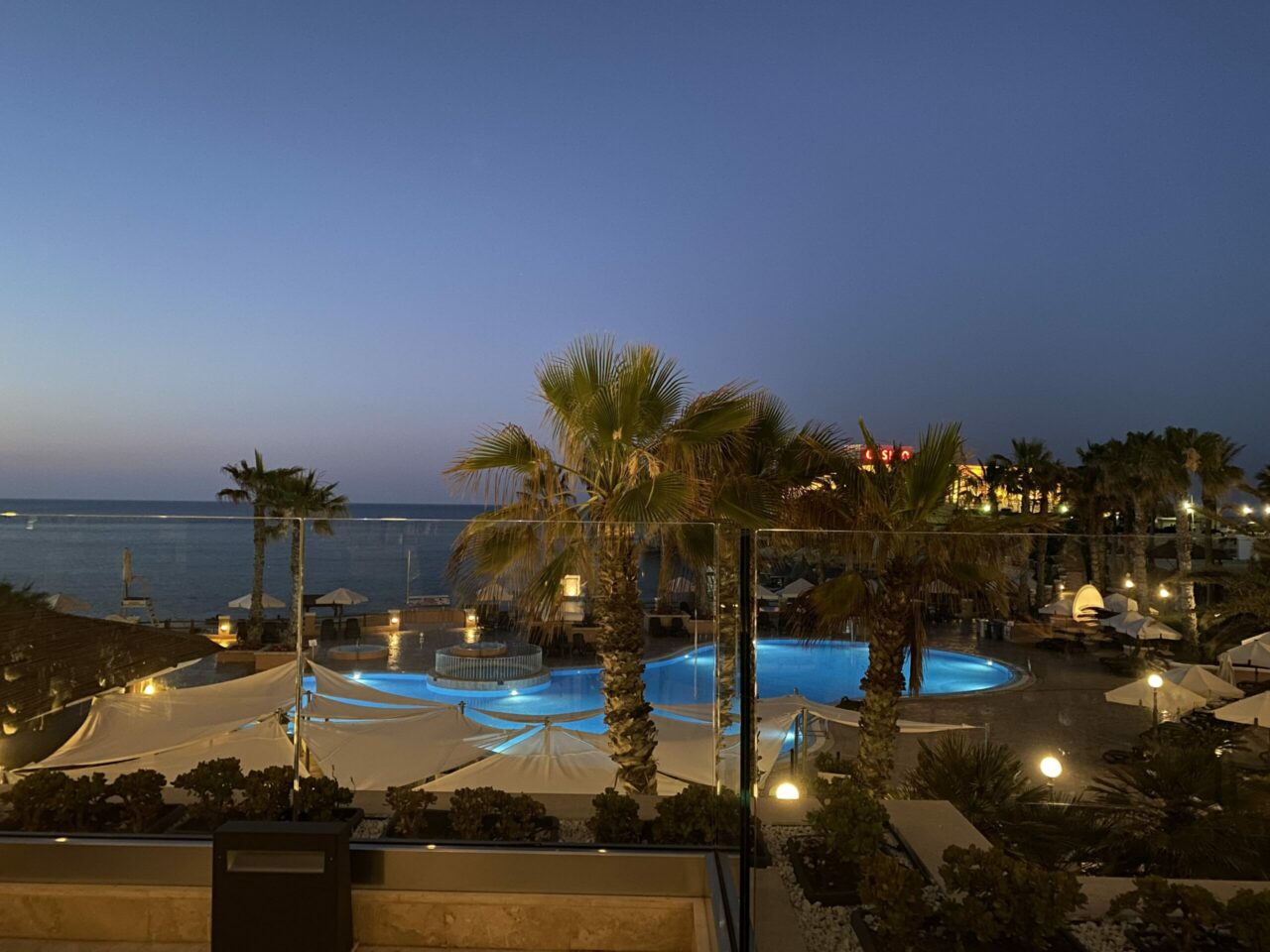 There was a comprehensive cocktail list.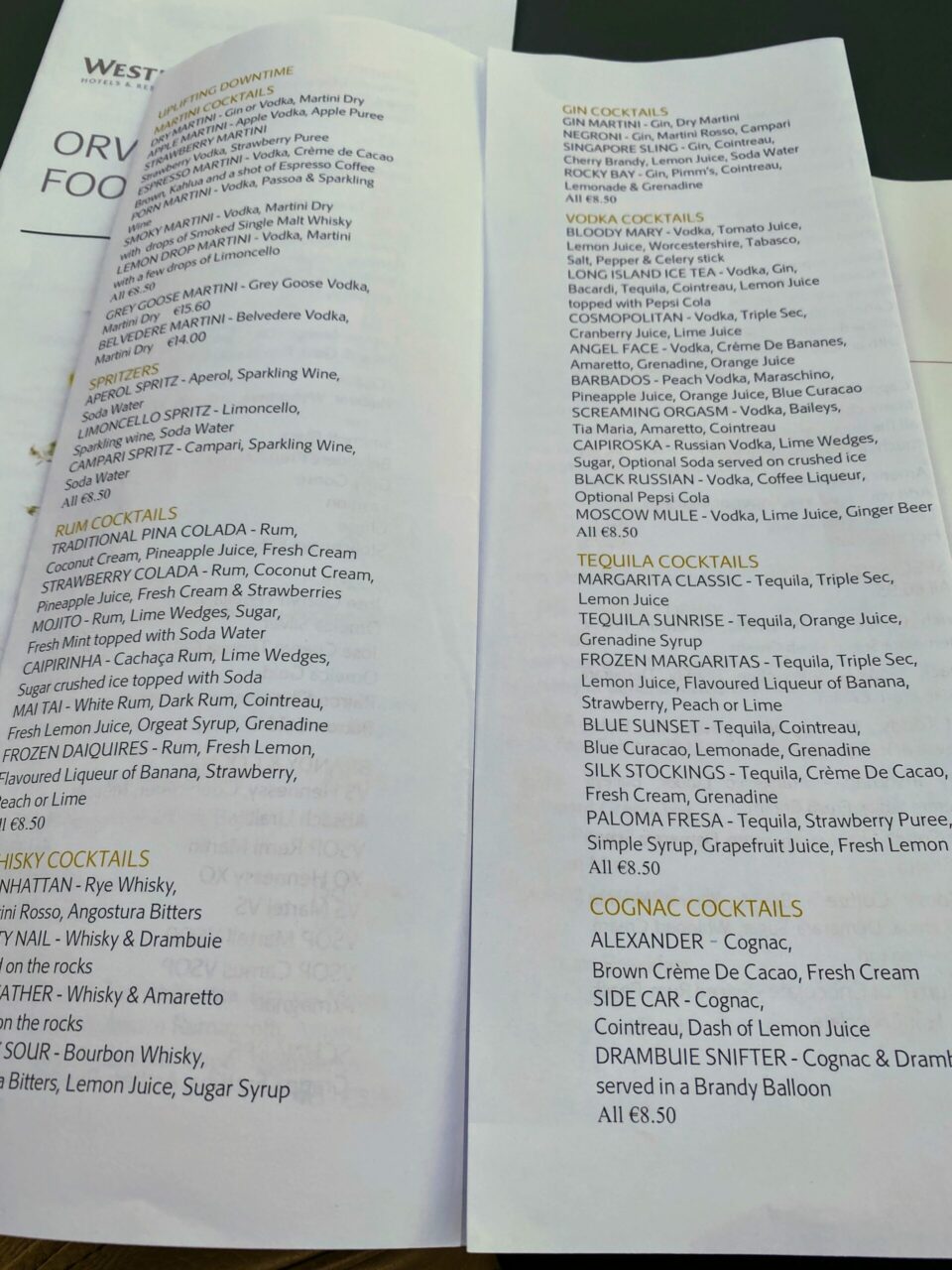 The food here and throughout the resort was fairly similar with some local favourites and Italian dishes as well.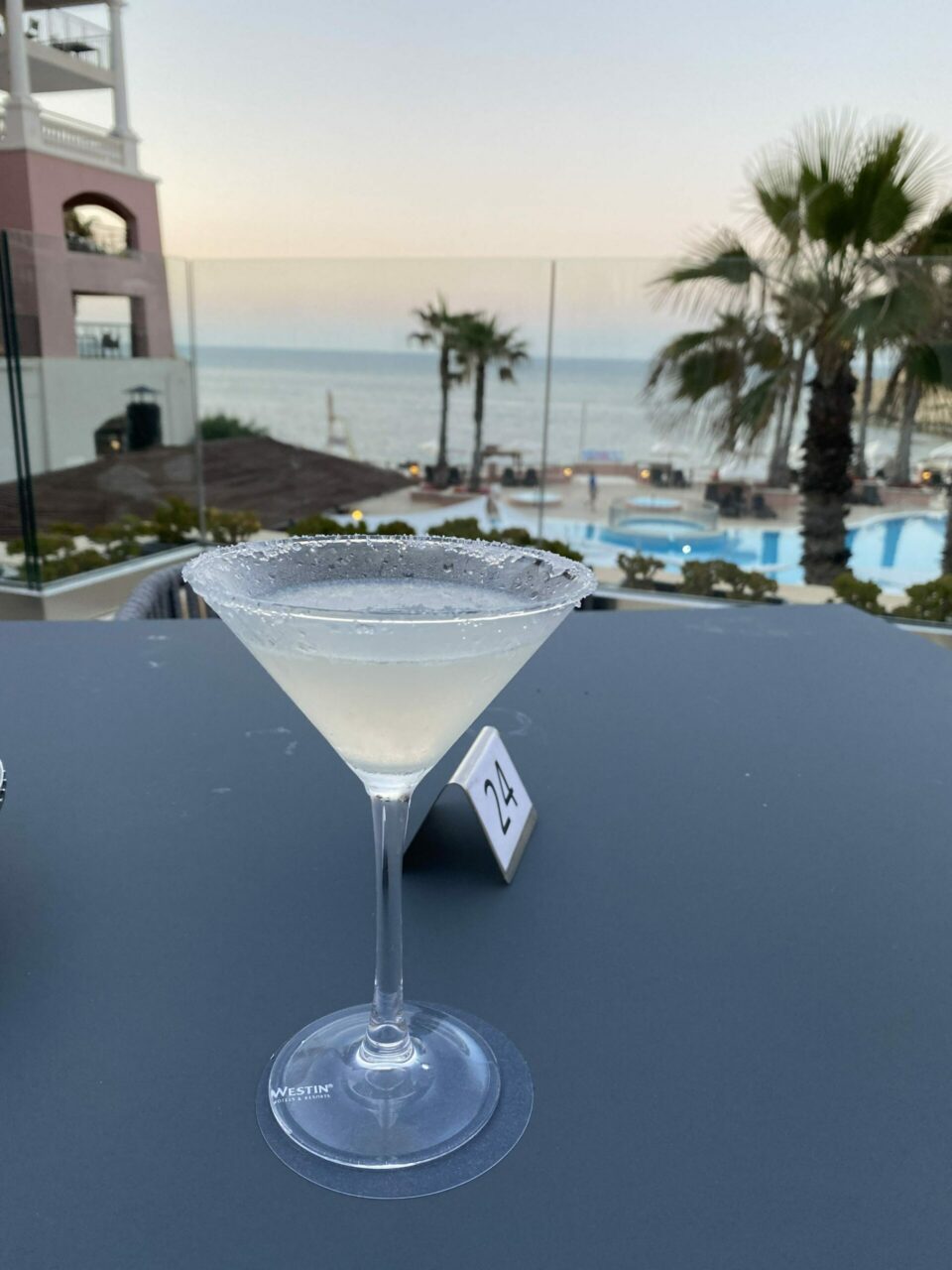 The thing that struck me was the amazingly cheap prices with cocktails starting at just €8.50. Often resorts hold you to ransom but everything was a reasonable price here.
I ate dinner one night in the bar and had some tomato bruschetta to start. The tomatoes had plenty of flavour and it tasted fresh. I liked that the bread was focaccia which made it light and gave a bit more flavour to the dish.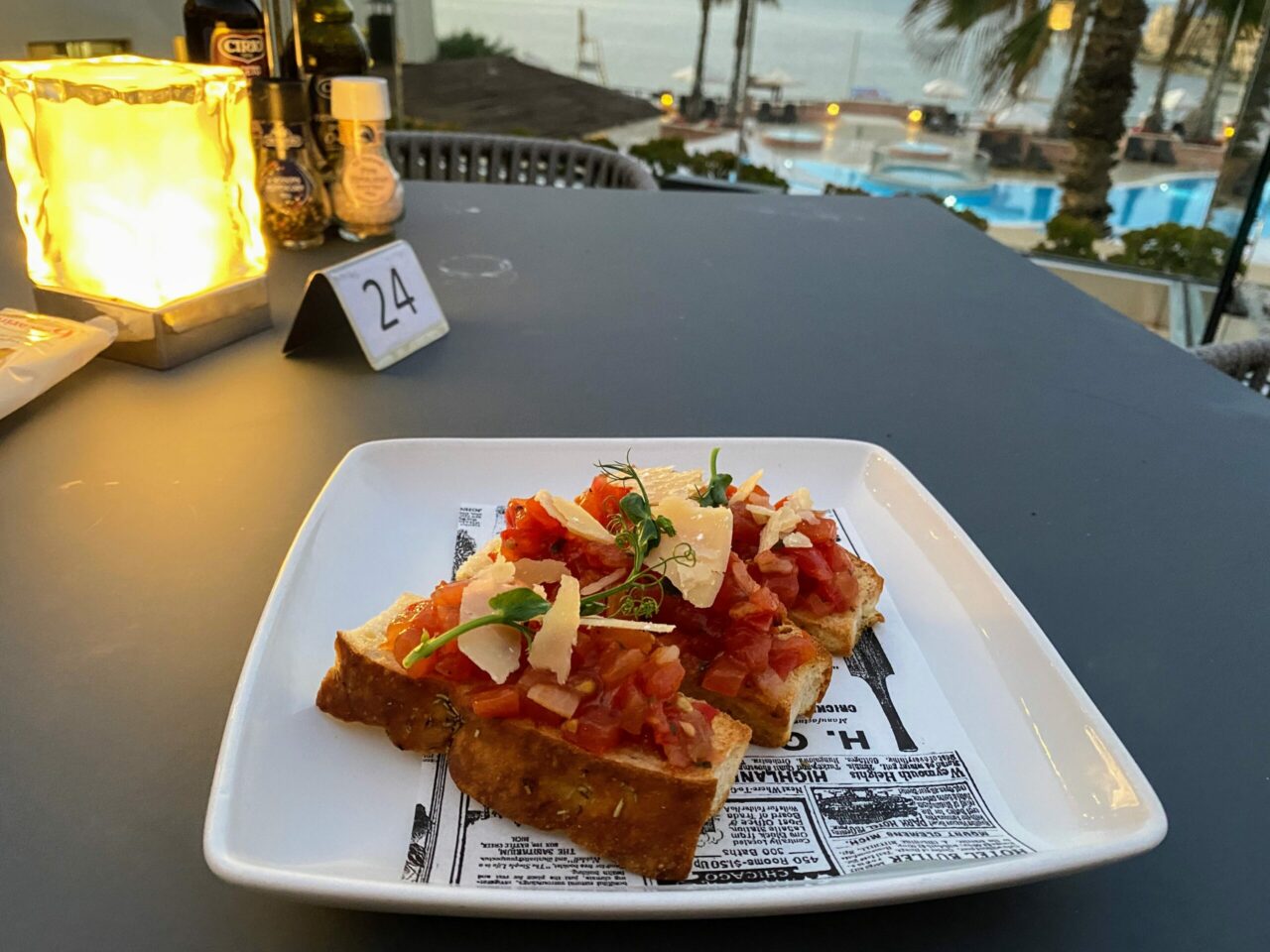 Then I tried a local pasta dish with Maltese sausage which was a little oily for my tastes although it had a little kick that made it tasty enough.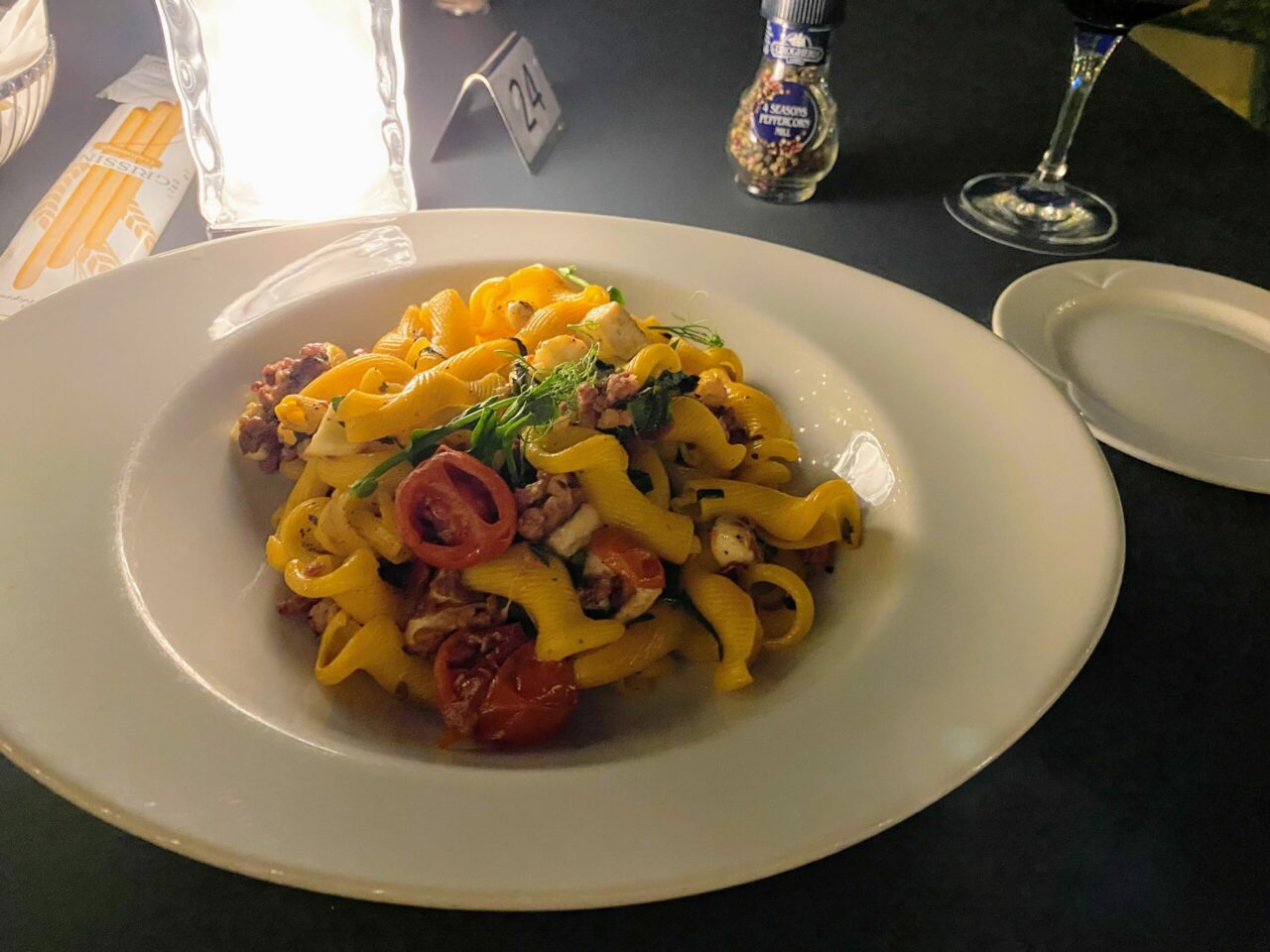 I ate lunch there one day as well and had a huge portion of chicken tacos which were tasty.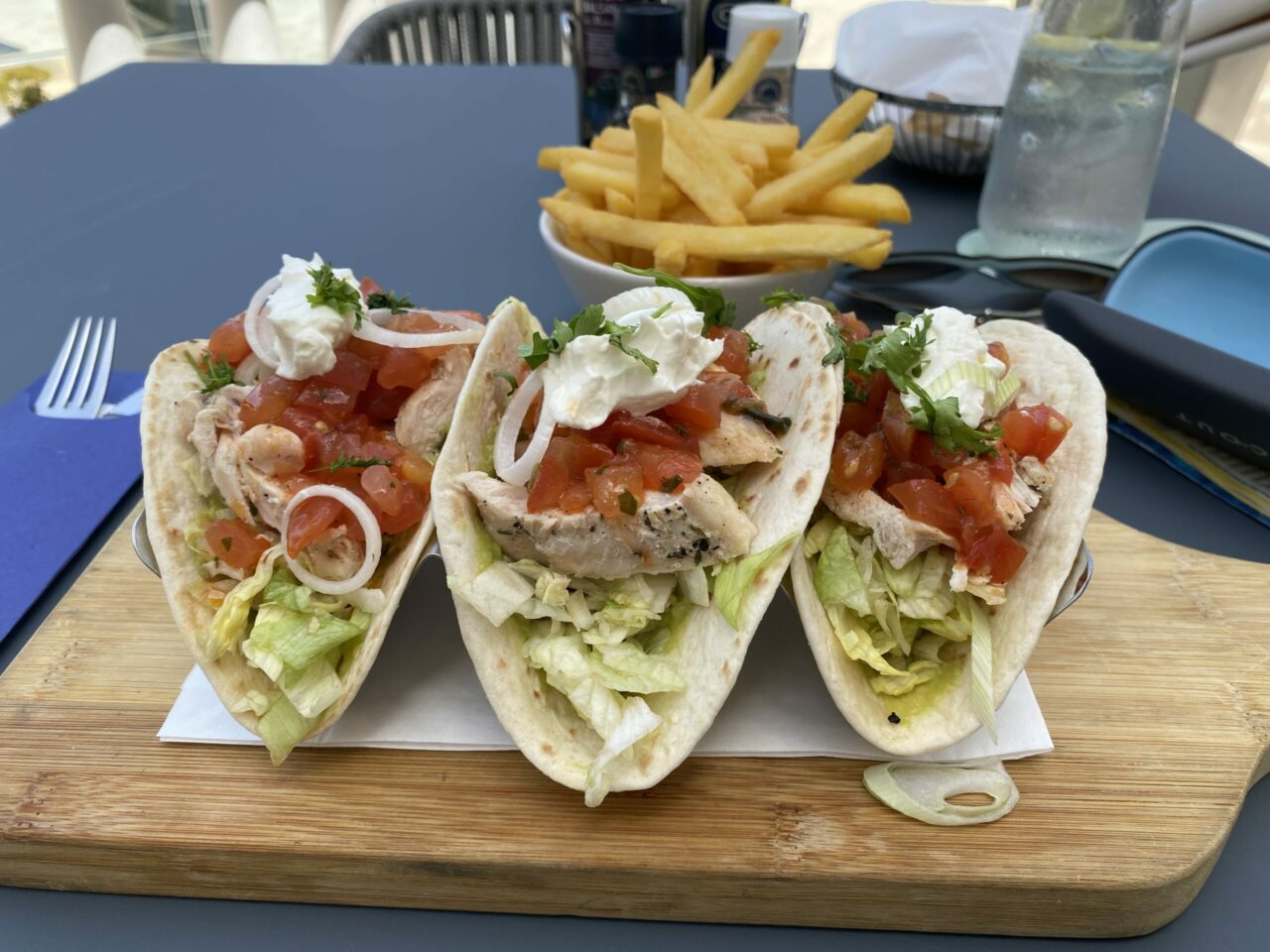 I also liked the indoor section with its grand piano.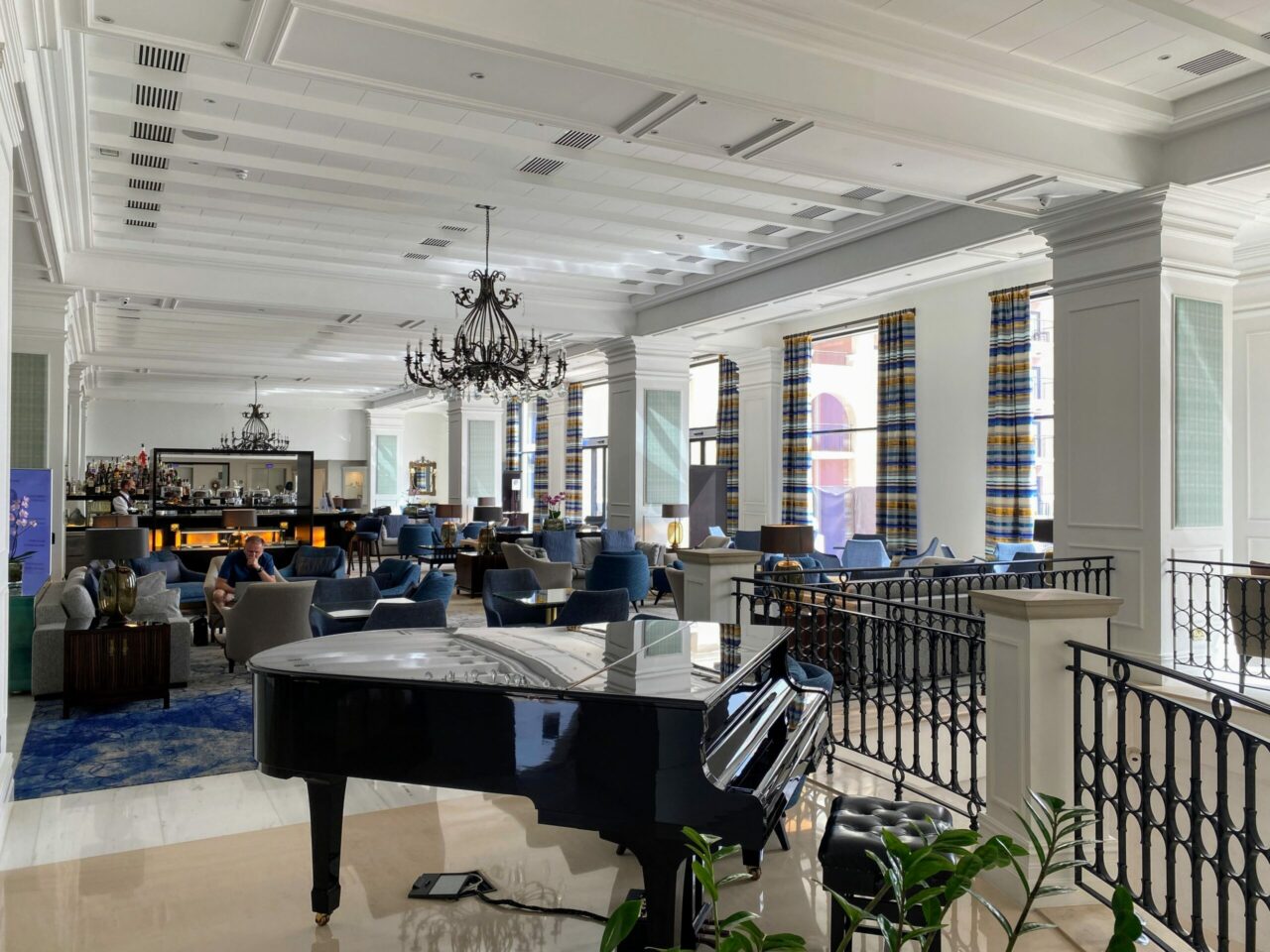 Bay View Pool Bar and Reef Club Pool Bar at The Westin Dragonara Resort hotel
Food & Beverage service was available Daily 10:00 – 18:00hrs except at the Reef Club which had limited hours at weekends. Service was good and they had a great system for ordering via a QR code at your lounger. Most things arrived very quickly.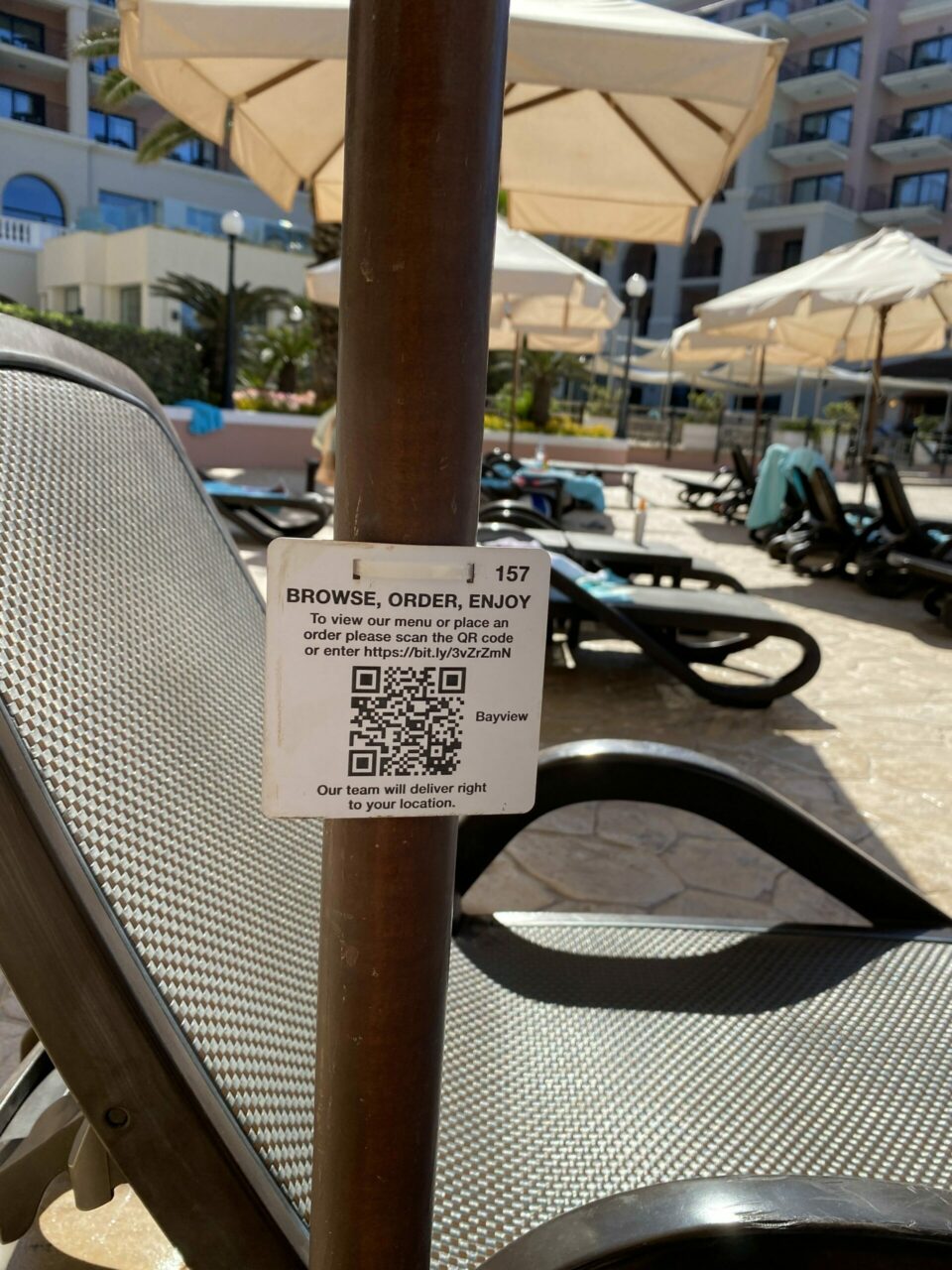 I enjoyed all the cocktails I had by the pool and everything was very cheap for a 5* resort. One lunch I had, a Mexican chicken wrap was awful as it was literally dripping grease. Everything else I had was really tasty, particularly the potato-wrapped prawns.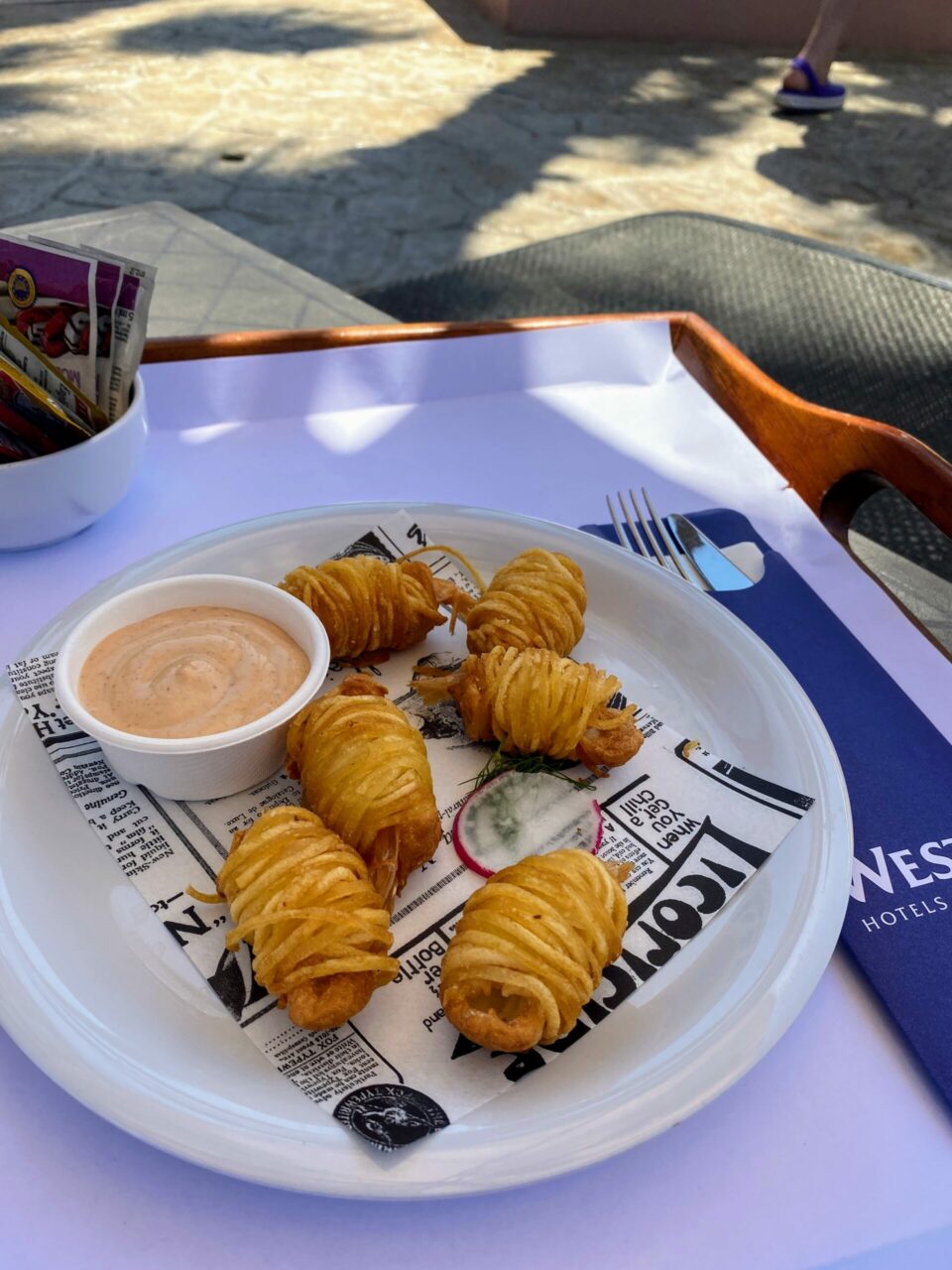 The cocktails were also a large size for the price and there were plenty to chose from as well as the usual beer, wine and spirits.
The other restaurants are:
Palio's Trattoria (Italian)
Daily 18:30 – 22:00hrs
Sunday Lunch 12:00 – 14:30hrs
Quadro Brasserie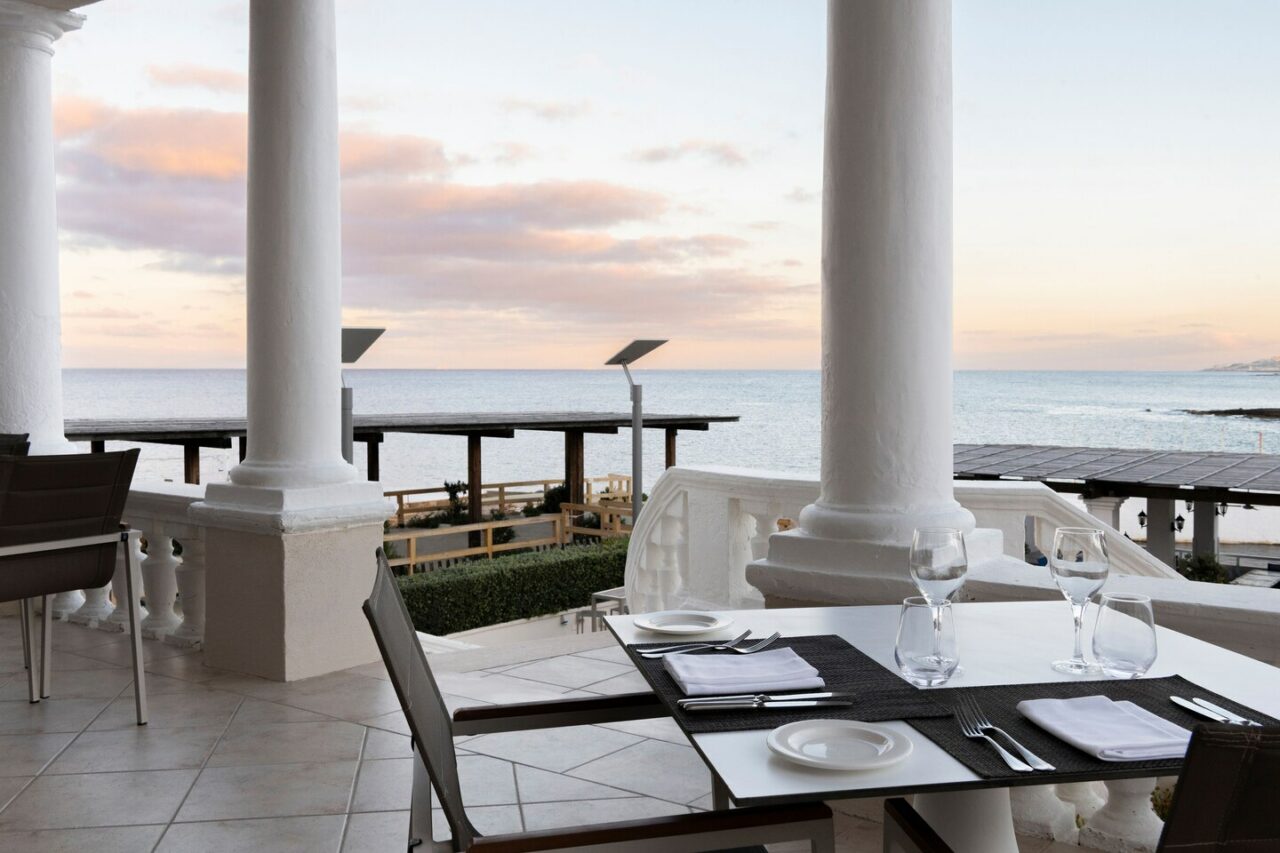 Tuesdays through Saturdays 19:00 – 22:00hrs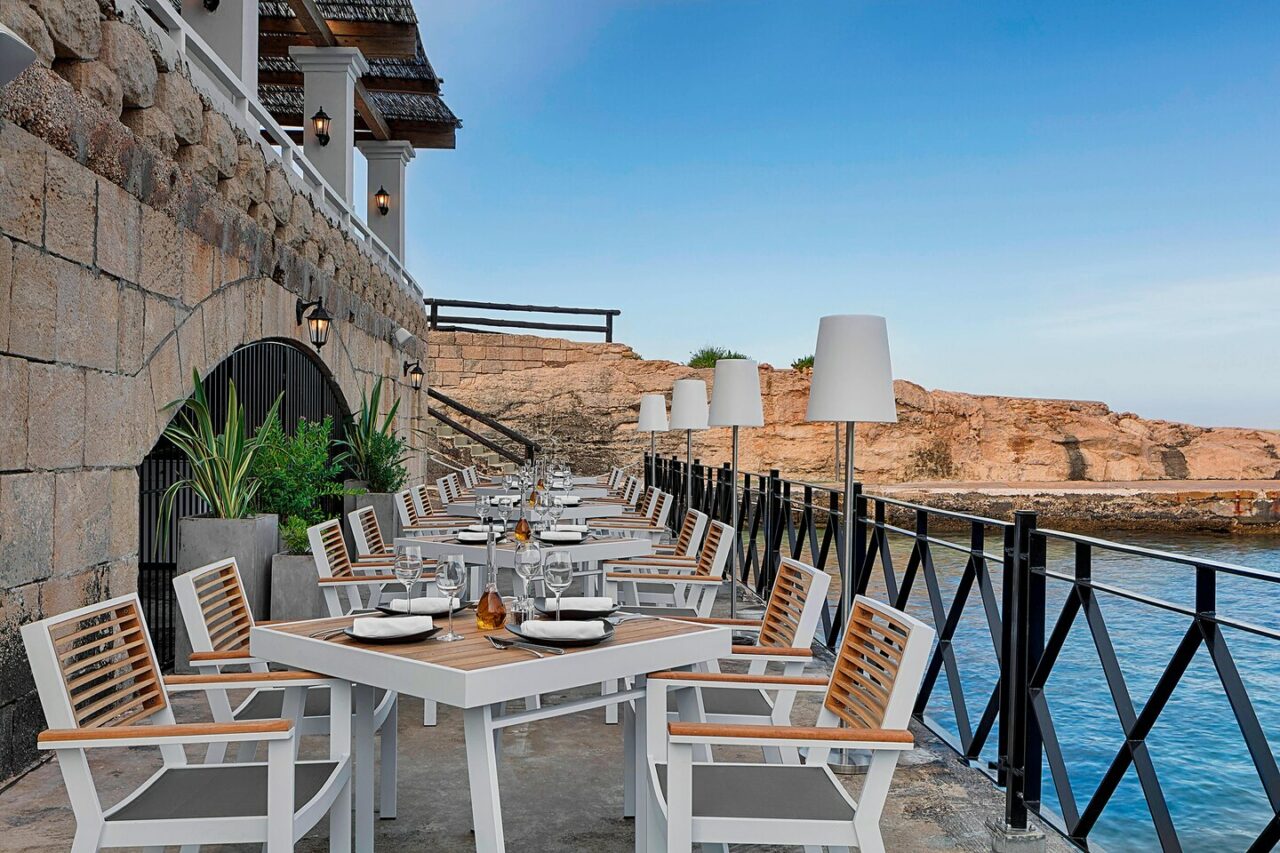 The Boathouse was shut on my visit but it looked lovely.
Facilities, services & pools at The Westin Dragonara Resort hotel
There are two outdoor pools at the hotel and an indoor one.
Bay View Pool Deck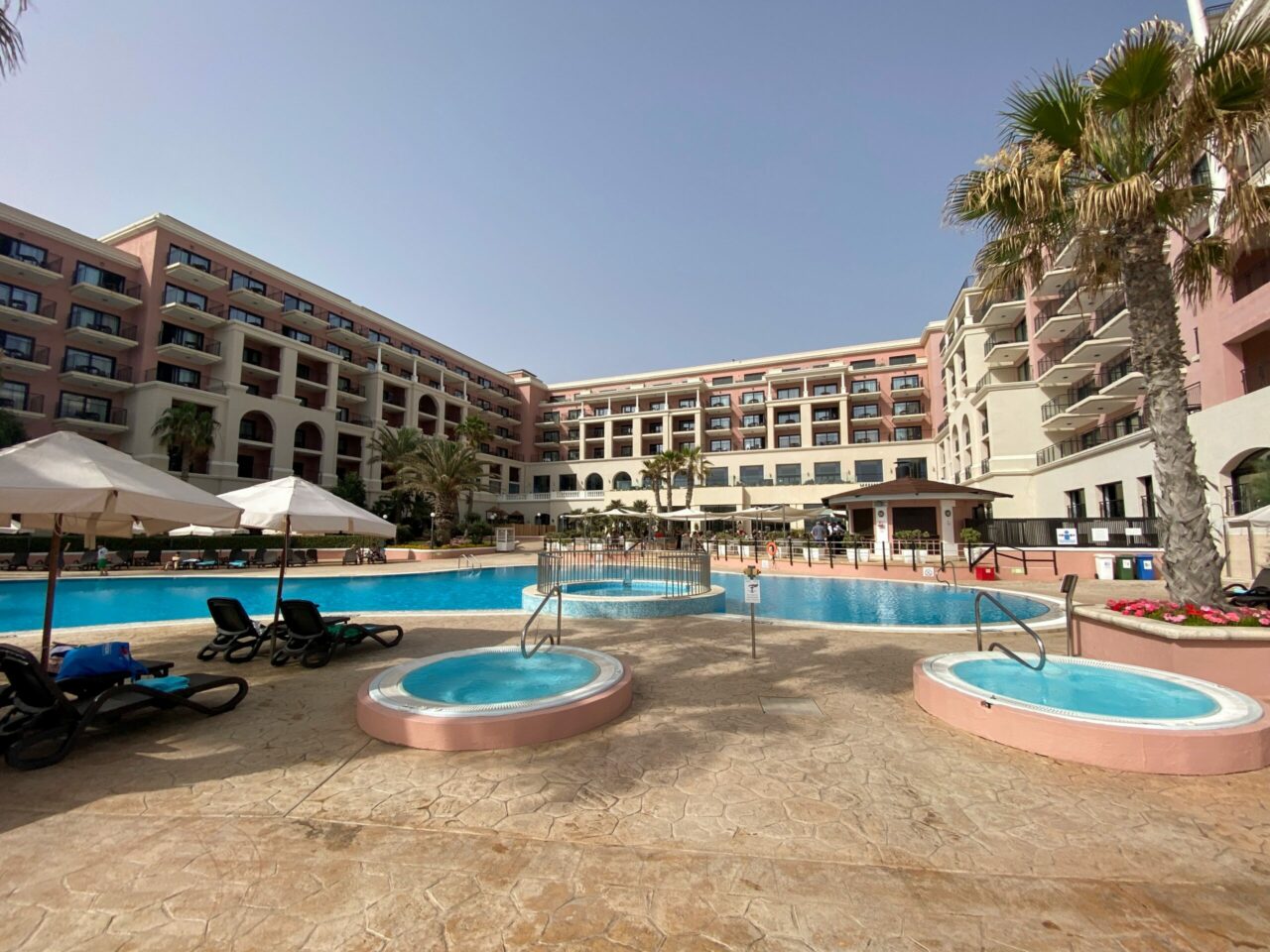 It's open daily 10:00 – 18:00hrs and has two unheated jacuzzis and a kids paddling pool. The pool is unheated. There was never an issue getting a lounger except at the weekend though I still managed to find one eventually. The loungers were not the most luxurious and quite low to the ground.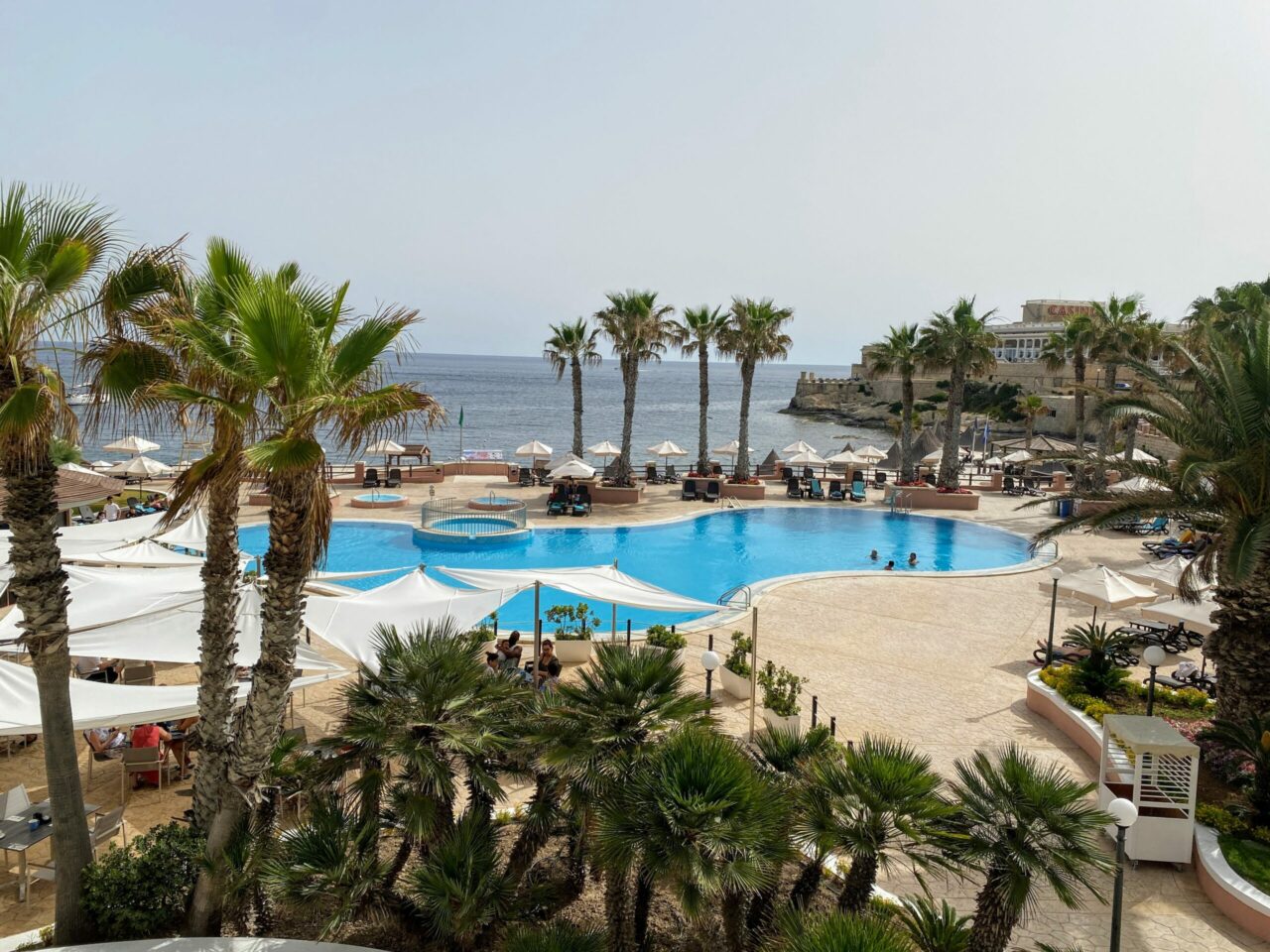 Reef Club Pool Deck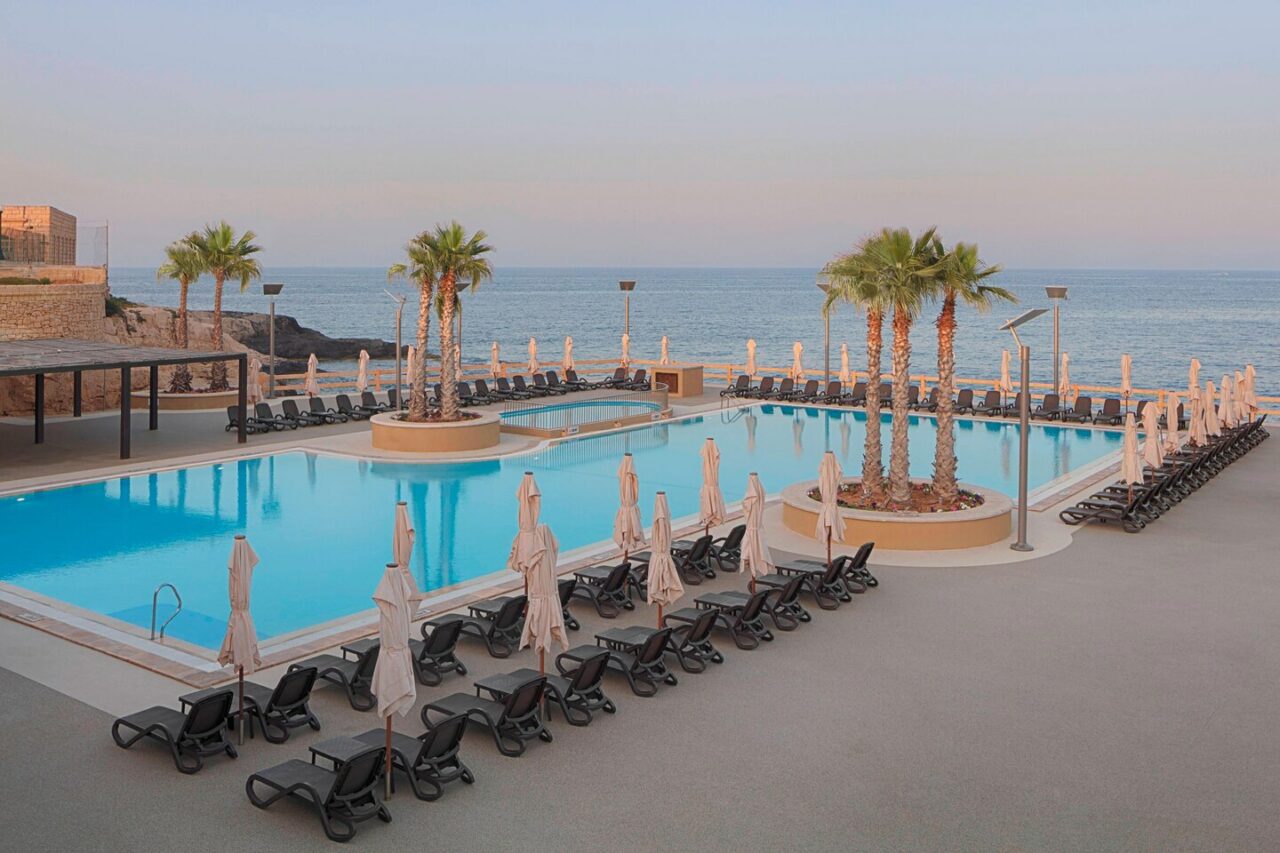 This also has a kids pool and a large shaded area to sit under. This is a better bet if loungers are short by the other pool.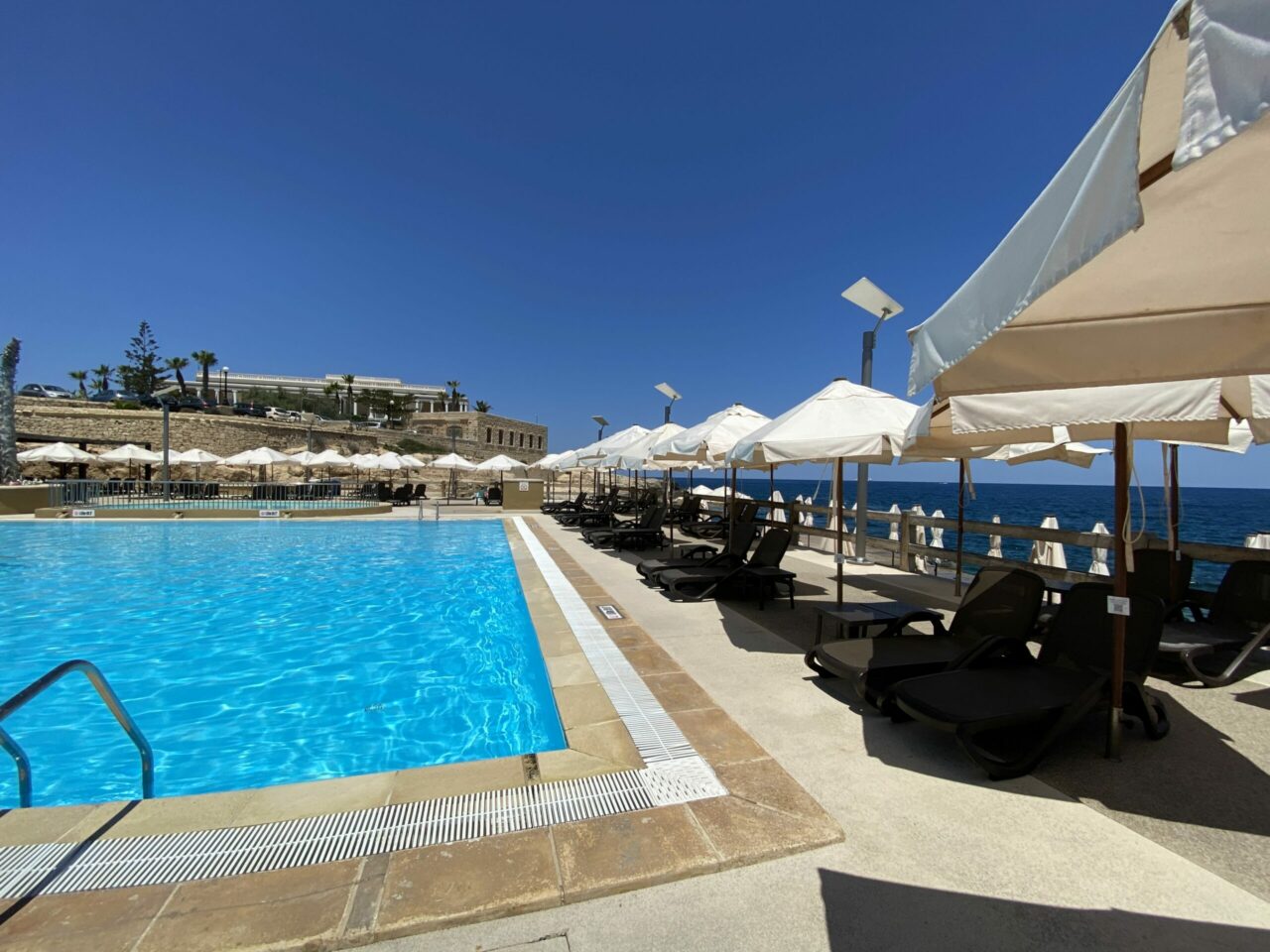 Beach and sea access

There's an artificial beach at both pools with access into the beautiful turquoise sea. There are plenty of loungers and you can get service in that area too using the same QR code system as the pool. There's also a small sandy area for sea access.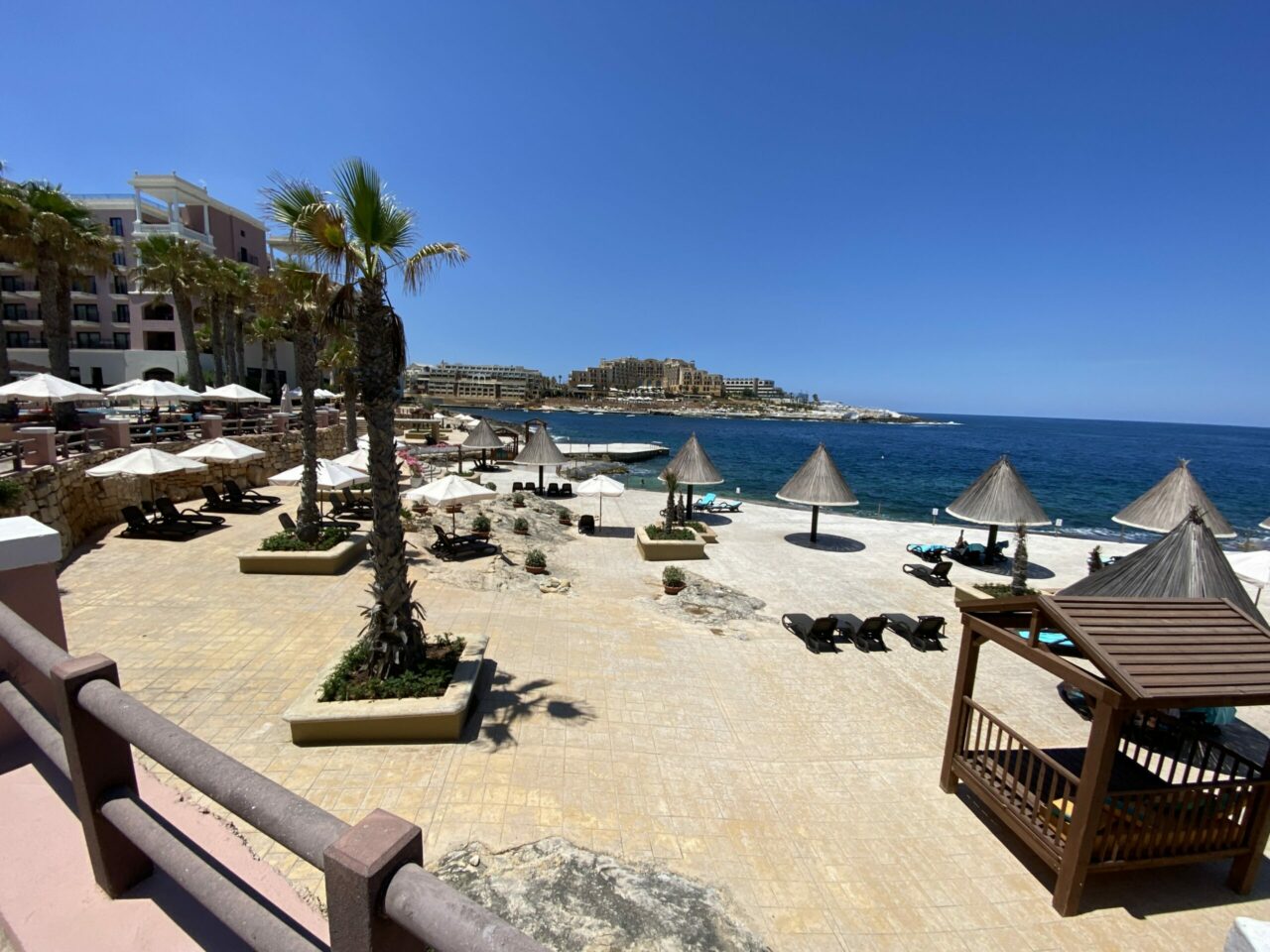 The Westin Dragonara Resort hotel Indoor pool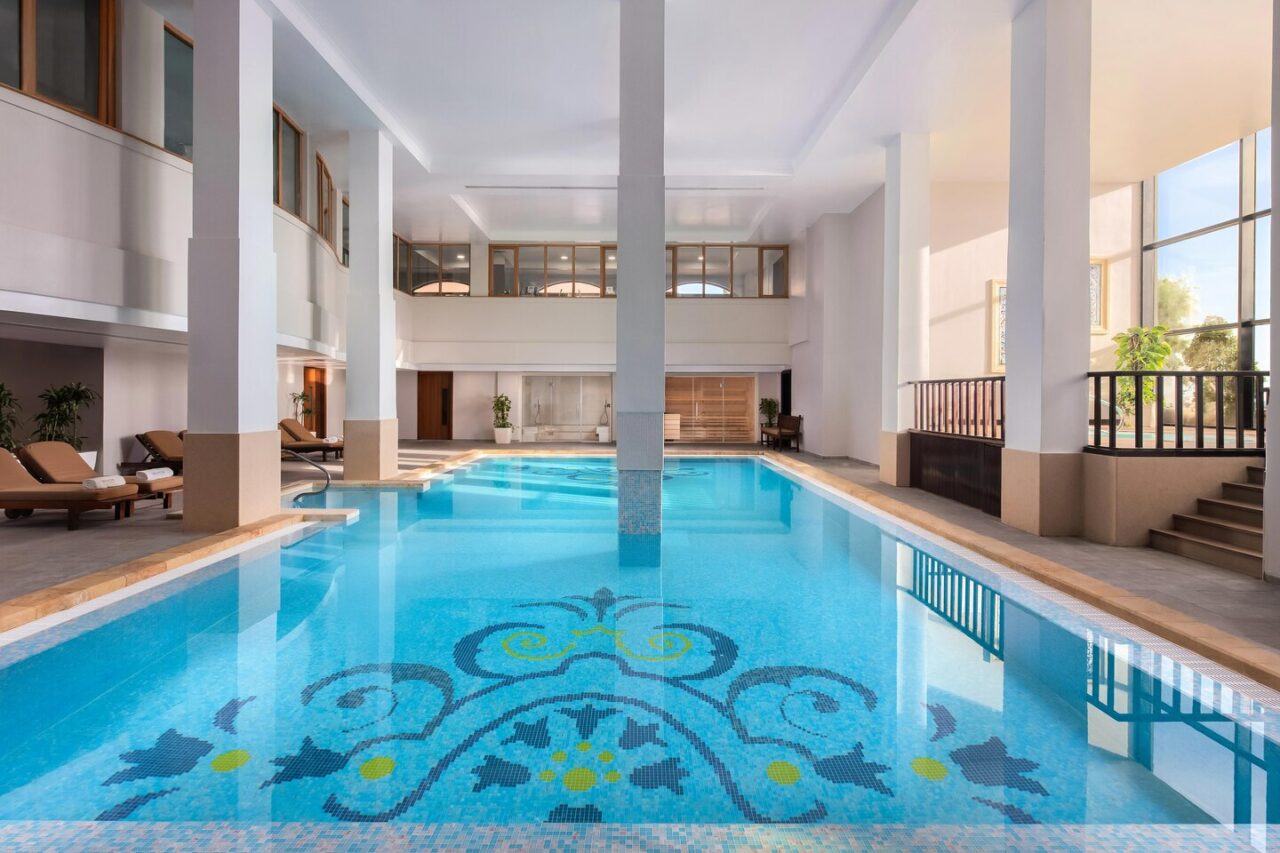 Use of the indoor pool required pre-booking and the Jacuzzi, Steam room & Sauna were closed. This may have changed since my visit.
The Westin Dragonara Resort hotel Workout Fitness Studio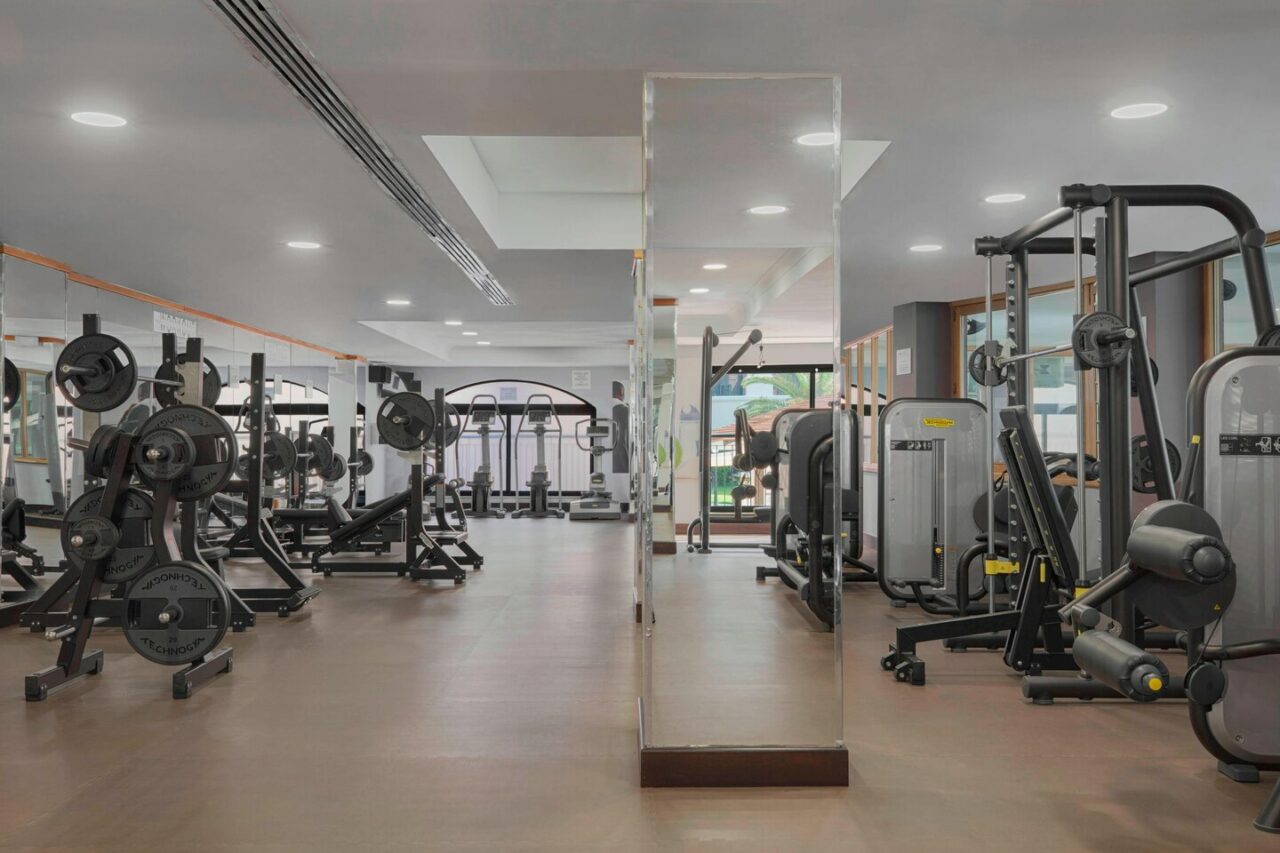 There's a large well equipped modern gym.
Beauty Clinic
The Beauty Clinic was open Mondays to Saturdays 09:00 – 19:00hrs with Sundays & Public Holiday on request. It offers a decent range of massages, body treatments, facials and manicures. The products are by Guinot.
Children
For children, there is also a play area, a kids club, and even a small sandy beach ideal for younger children to paddle in the sea.
Casino
The Dragonara Casino is housed within the impressive Dragonara Palace which was built in 1870 and has been operating since 1964, offering a unique gaming and entertainment destination 24 hours a day, 7 days a week. The Dragonara Casino features 300 slot machines, 15 live tables, a premier poker room overlooking the St. George's Bay, a VIP-Lounge for high-roller private gaming, a Sports Lounge and one of Malta's top-rated restaurants.
Watersports
Divewise, an award-winning dive centre, is located within the resort and is one of the biggest diving centres on the island. They offer year-round PADI diving courses amongst a number of other services.
Other
The business center was shut as were most of the shops apart from the one by the lobby. They were happy to print things out for you in reception.
Conclusion for The Westin Dragonara Resort hotel
If you want a hotel away from the hustle and bustle of the main part of St Julian's, The Westin Dragonara Resort hotel is a good choice. It's still walking distance to the centre and there are a few restaurants nearby too. The hotel's rooms are large and modern if bland with almost everything you'd expect from a luxury hotel.
The pools were pleasant although they feel a little dated in some respects. If you want a large sandy beach this isn't the place but there is direct sea access and plenty of loungers to enjoy the view from. With all its facilities the hotel would be suitable for a summer or winter break and if you wanted to relax you wouldn't actually need to leave the resort to eat and drink. Prices are very reasonable which makes this feel like you are not being ripped off.
Service was generally good with friendly staff. My only real complaint was the lack of an alternative to the Executive lounge since every other hotel I have visited has at least provided some drinks in the bar.
You can find more information and rates about the Westin Dragonara hotel in St Julian's Malta here or enquire with GTC to get the extra Marriott Luminous benefits.
You can read my review of the Hyatt Regency Malta here.
Like our The Westin Dragonara Resort hotel review? You can read more hotel reviews here.