Every year IAG holds a Capital Markets day for its investors where they share their current situation and unveil their forthcoming plans for each airline. This article is a summary of the key points from this year's British Airways presentation which was given yesterday. The presentation did not contain as much of interest as last year's one. This was when BA unveiled the plans for the new Club World service and bedding but there are still some encouraging signs that BA will continue to invest their products following a year of negative PR and earlier cutbacks.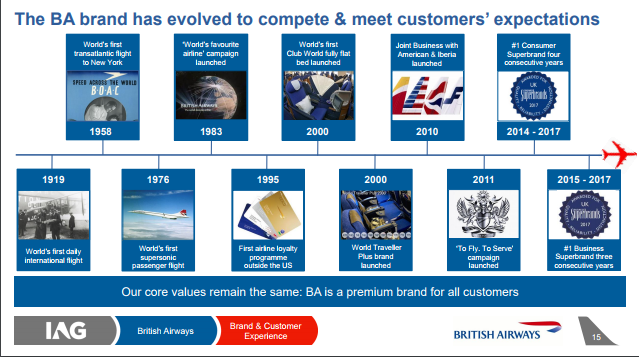 Aircraft
One of the things I was most pleased to see was the announcement that BA will be refurbishing more of their B747s next year. They have already completed 18 and these are a huge improvement compared to the old ones. The entertainment system and screen is far superior and the cabin appearance refreshed. You can read my reviews of both the old and new B747s in Club World here.
With United being the latest airline to retire their B747s, BA are not going to be retiring their B747s completely until February 2024. They will continue to retire them bit by bit as new aircraft come on line. I love the upper deck of the B747s in Club World so I am pleased to see that they will be keeping them longer and refurbishing them. British Airways will also be refurbishing their Gatwick B777s. This is in addition to taking delivery of three B777-300s to replace three older B777-200 aircraft. They will also retire their B767s next year.
BA currently have 72 new aircraft on order including the A350, B787, B777-300 for long haul and the A320/321Neo for short haul.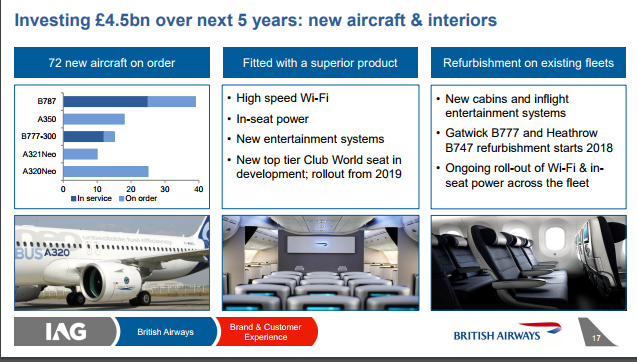 Brand
BA have also revealed their mission is "To be the airline of choice, with personalised service, exceptional reliability, a digital mindset and unique British style" Again, I am glad to see them acknowledge the "Britishness" of the airline as this is an area that sometimes has seemed to have been forgotten (removing the scones from afternoon tea in Club Europe for a start).
They also want to be viewed as a 'Premium proposition' for all customers. This is currently quite a confusing message for the economy cabins with the buy on board product. However, it's good to see BA being clearer about where it wants to be as it has often appeared they are trying to rebrand themselves as a low cost airline in economy. This has always seemed a foolish idea to me when there are already so many low cost airlines but few at the more premium end.
Club World
As expected the new Club World seat will start rolling out in 2019 and is being described as "Top tier". One BA pilot previously described it as like the Qatar Qsuites but with a BA twist. They have also increased their investment in Club World by a further £200m to a total of £600m. This year the airline has already started their new Club World catering on the London to New York JFK which is a huge improvement. You can read my review here.
Lounges
The lounge refurbishments will continue. The Concorde Room refurbishments at T5 are pretty much complete for the time being. I shall be reviewing this in December. Aberdeen and Rome are next on the list to be redone in 2018. The New York JFK lounges refurbishment is also expected to be completed in 2018 with the JFK First Wing having opened recently. Additionally, there will be a further investment in lounge catering in 2018.
On board food
BA have acknowledged that there need to be improvements in their Buy on Board service that was introduced in partnership with M&S this year on short haul economy flights. The new service was condemned by some customers and there have been complaints about the speed at which the crew reach customers. BA have promised to deliver a faster service with a new simplified menu, better forecasting and moving crew to where they are needed.
There will also be better long haul economy catering from January 2018 with a focus on better quality, quantity and snacks. I can imagine this in response to customer reaction at being given a small chocolate bar as their second 'meal' on the shorter long haul routes!
Avios
As I have mentioned before on TLFL, BA have reaffirmed their commitment to dynamic pricing for Avios to be introduced in 2018. As yet we don't know precisely what this means but it is certain to mean popular flights will rise in cost and hopefully less popular ones may reduce. This may help with availability of premium seats which will be the trade off.
Technology

There will be a continued focus on automation at the airports to free up staff to deliver better customer service. The self-boarding gates will be rolled out to international flights as well as the domestic flights they are currently being used on. This is expected to reduce boarding times by a third. They will also be introducing further automated bag drop counters in 2018. T5 connections will also have 18 automated gates.
On board, they are promising a new entertainment system which they have previously hinted will be innovative. Finally, they will be installing in-seat power across the fleet along with fast wi-fi, both of which can't come fast enough for me. BA have started rolling out wi-fi on aircraft this year.
What do you think of the announcements? Do you think BA is doing enough to win customers back? Let me know in the comments below or on social media.