British Airways' eagerly awaited new Club World catering and service went live on 1 September. I was lucky enough to travel on the JFK route to try it out.
BA was also due to roll out the new The White Company amenity kits and bedding but this has been delayed until the end of October. This is due to the duvet colour originally chosen being too close in colour to the carpet! Apparently, it could be a safety hazard at night as people could trip over them. They are now being made in a light grey shade. It has also been confirmed that the day blanket will be the same high quality material as found in the White Company's shops.
Check in & lounge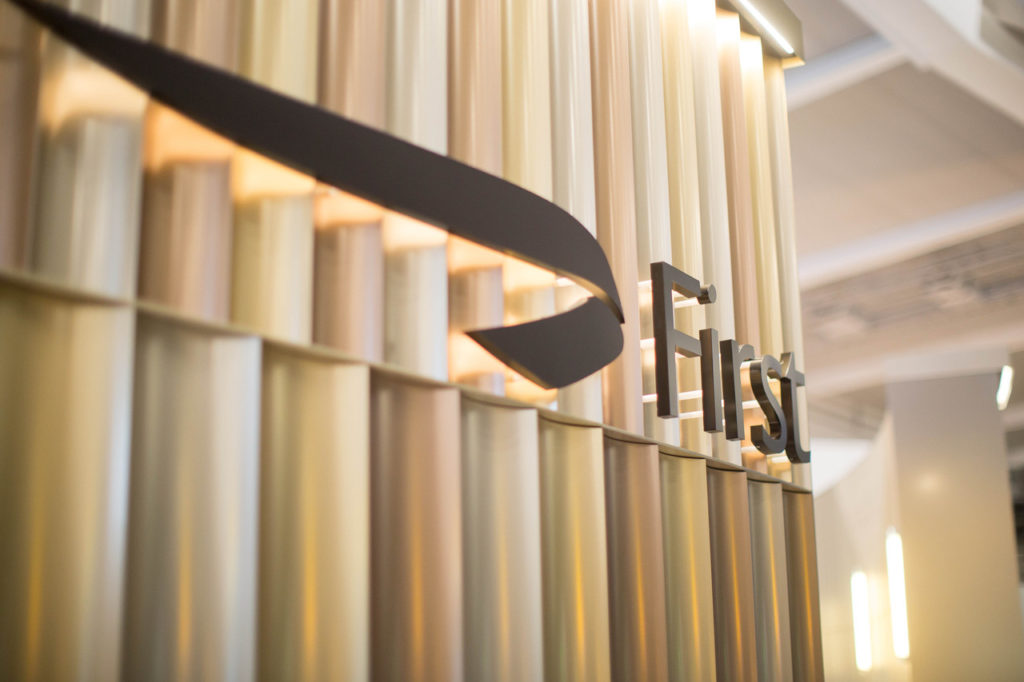 I was staying at the Hilton T5 (review to follow) so I caught the Hoppa and made my way down to the First Wing. From kerbside to the First lounge took 6 minutes, which is excellent. The First Wing was introduced earlier this year for BA Gold and First customers which you can read more about here. You exit from First check in through a separate security lane and straight into the BA Galleries First lounge.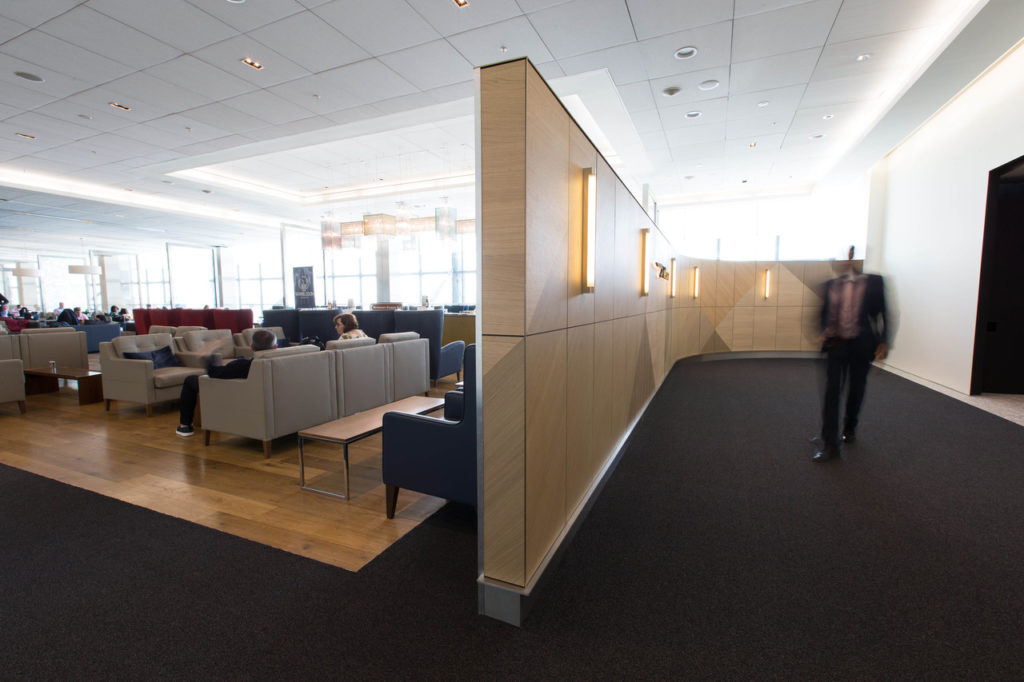 As a Club passenger, you would be entitled to use the Galleries Club Lounge but as I am BA Gold I can use the First lounge. I had a quick look around to see what was new before heading over to Gordon Ramsay's recently re-opened Plane food. I will be reviewing the restaurant on the blog shortly. The usual breakfast service was out in the First lounge and there was a rather odd mixture of gins and Drambuie in the display area by the First Wing entrance.
You can read my Heathrow Terminal 5 lounge reviews here for more details: BA Galleries Club T5 lounges guide and BA Galleries First Heathrow T5 review.
Boarding began very promptly 45 minutes before. I was only in the T5B Club lounge when they announced it. By the time I got there the premium queue was empty and I walked straight on.
I knew it was going to be a good flight from the minute I got on. The CSD noticed at the door that I was Gold and welcomed me back. He also popped by later to say hello to the Gold cardholders. I had a quick chat with one of the additional crew that was on board to help with the new service on my way to my seat.
Once in my seat, I was offered the usual Elemis 'shoe bag' amenity kit and a glass of champagne or water. I was pleasantly surprised when my assigned cabin crew member introduced herself and explained she would be looking after me for the flight. She was excellent throughout – BA crew at their best – friendly and chatty but efficient too. She used my name during the flight consistently which is the service standard now.
I hadn't expected BA to use the new glasses for pre departure drinks but my champagne was presented in a very elegant stemless flute. I was also given a bottle of water for the flight which was better than getting it after the meal service.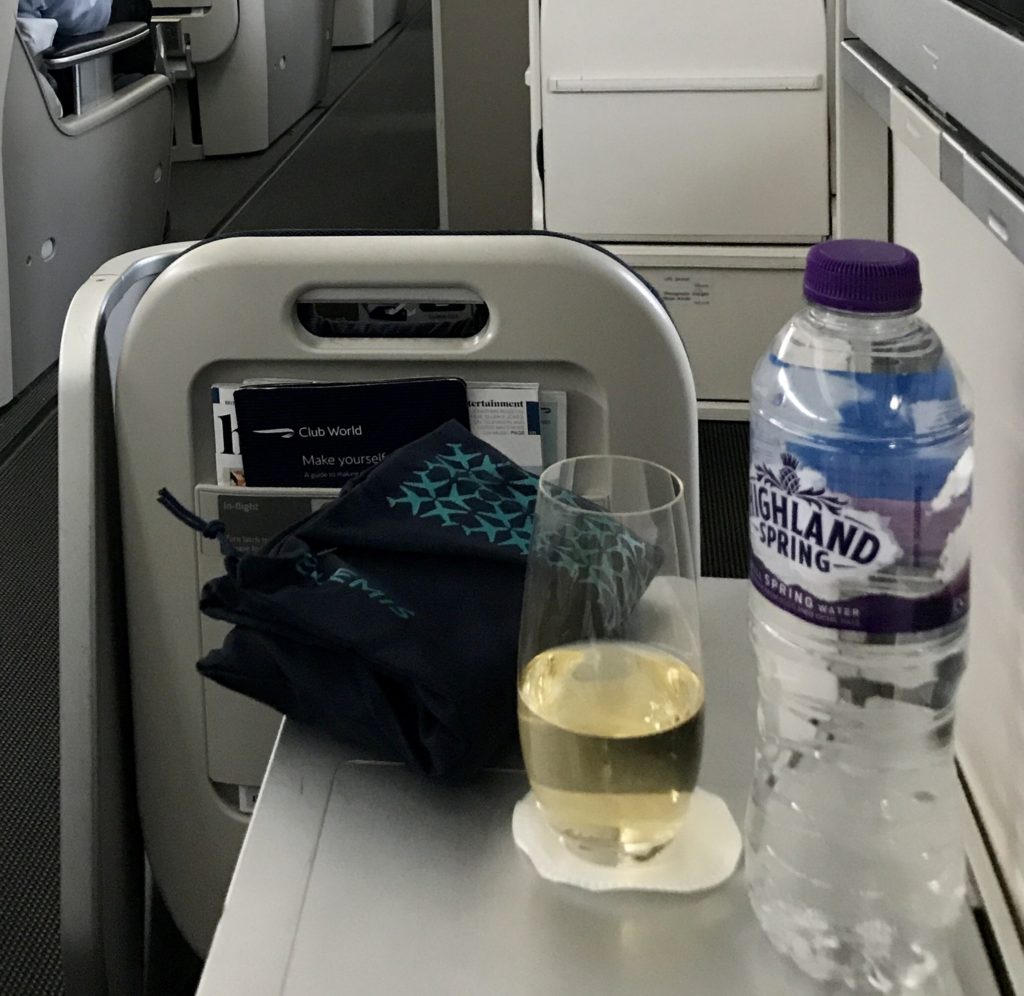 The seat
I have reviewed the Super Hi-J B747 briefly before, which you can read here. There are a number of BA's B747 that have been refurbished and can accommodate an increased number of Club passengers (J). The seats have had their cushions replaced and new covers. This, along with the much improved in flight entertainment screens, make it my first choice of aircraft for BA Club World as I am a fan of the B747s whilst they are still around. Due to the 86 seats, this has a different layout for Club than the other B747s. Here is the map: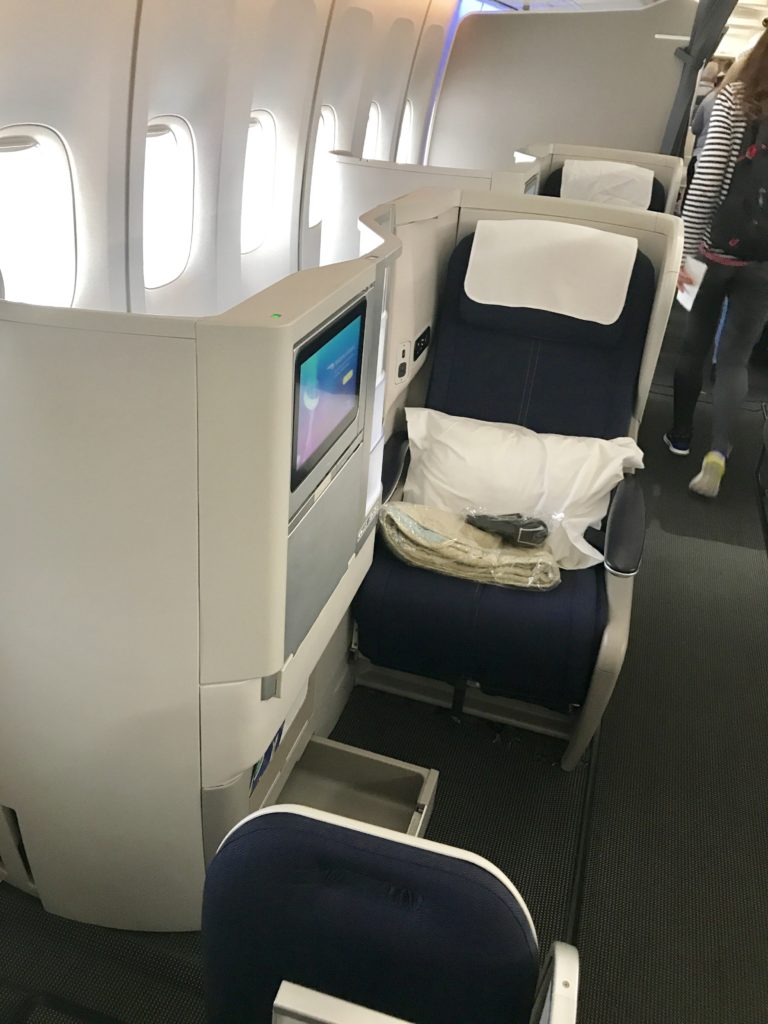 This time I was keen to get a good view of the trolley for this review, so I decided to go for an exit row seat in the mini cabin on the lower deck. The best seats on this configuration would be row 62 or 64 A or K on the upper deck as nobody steps over you and you have direct aisle access.
On the lower deck, row 21 aisle seats have the advantage of direct aisle access with nobody stepping over you and nothing in front of you. They are quite exposed though, so not very private. Other than those, the front and back rows of each cabin mean not having to step over people or be stepped over but they are by the toilets and/or galley so there is more noise.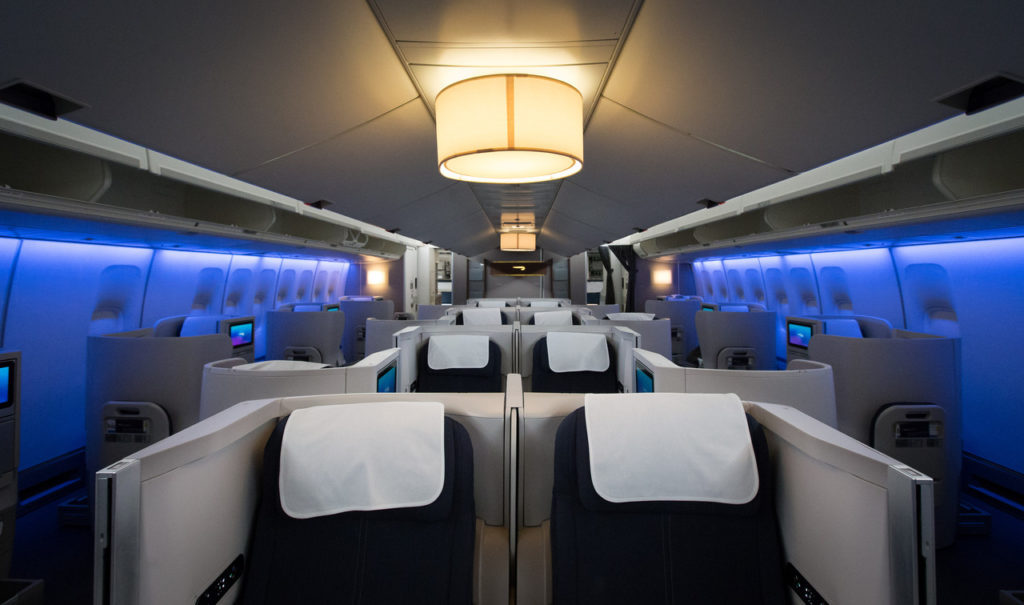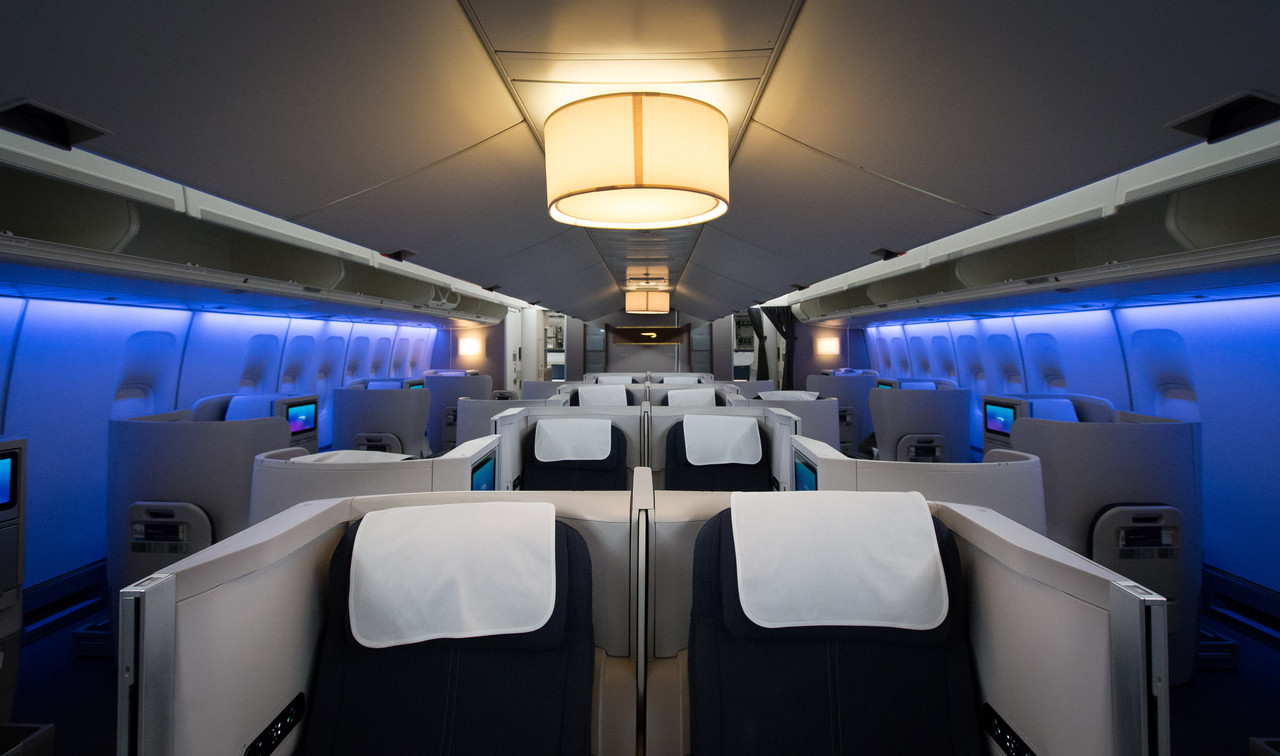 The seats have been recovered in a smart dark blue upholstery and definitely felt a lot more comfortable than the clapped out B747 I came back on from JFK in April!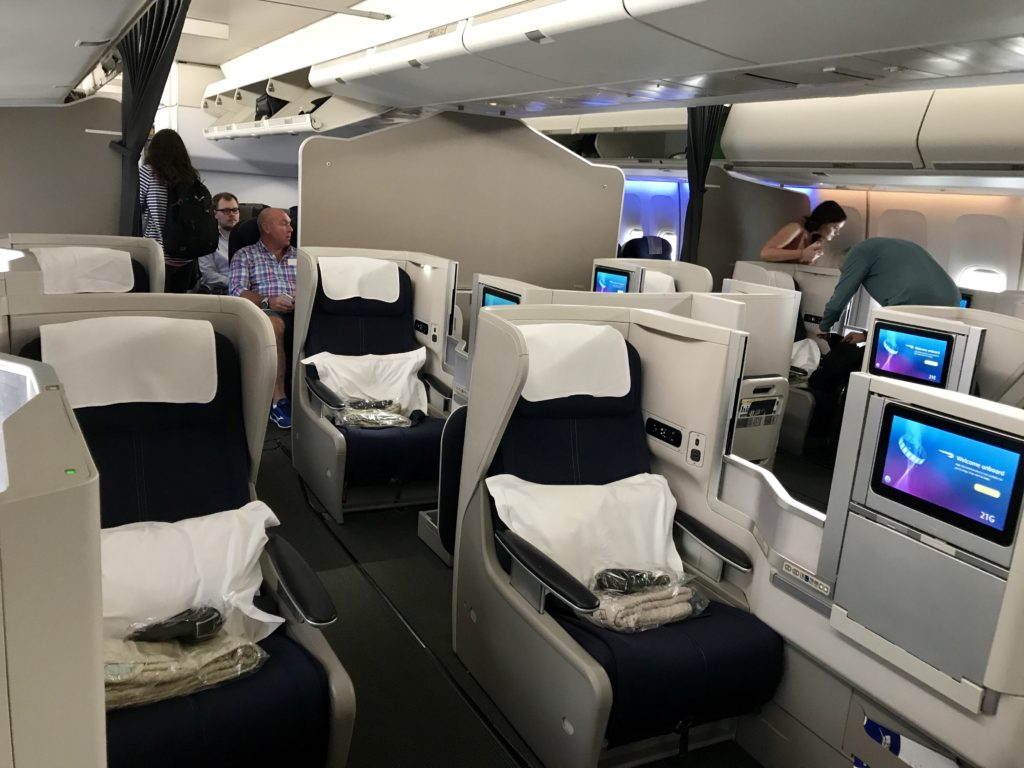 Entertainment
The difference compared to the excuse for IFE that you get on the other BA B747s was enormous. The aircraft was fitted with Panasonic's next generation eX3 entertainment system. This has a choice of over 1,300 hours of entertainment including more than 130 movies and 400 TV programs. The screen was larger and far, far higher resolution than the old fuzzy ones. They are also capable of touch and swipe gestures, which gives it the feel of a tablet.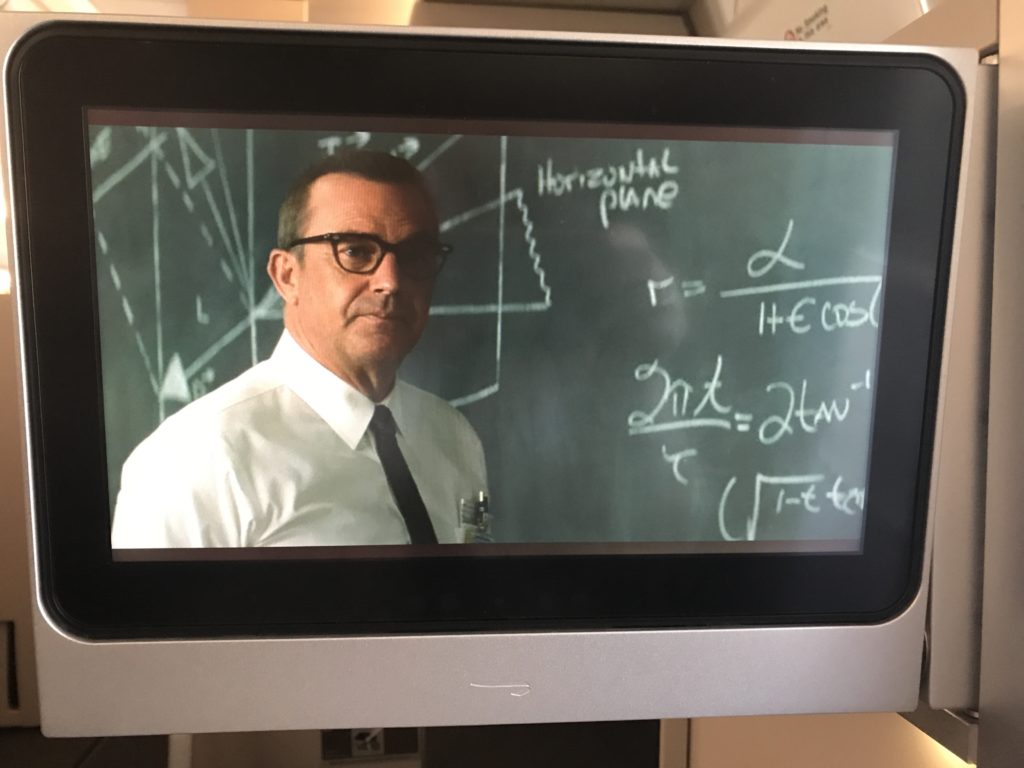 I found the picture quality on a par with my retina display iPad and the system was very responsive compared to the old one. The IFE was also simple to use and had plenty of choice of recent and older films. I liked the fact that your seat number was displayed very obviously on it, though I bet I still keep finding someone sitting in my seat, as it happens surprisingly often! I watched Hidden Figures which is a very inspiring film about a group of 3 black women working for NASA during the Space Race. Watch it if you get a chance!
There was also an improvement in terms of charging your personal items, with both a universal power socket and a USB socket. This was really useful to be able to charge 2 items at once.
The main event – the food and drink
After departure, I was offered a hot towel which had also been upgraded. They were scented with cucumber which smelt refreshing and distinctly better than the previous eau de kettle fragrance! Unfortunately, although they were a bit thicker they were very rough and I was quite tempted to take one home for scrubbing the hob!
The menus were then handed out which definitely feel much more premium and concertinaed out with the menu on both sides. It was printed on linen textured paper which felt quite substantial.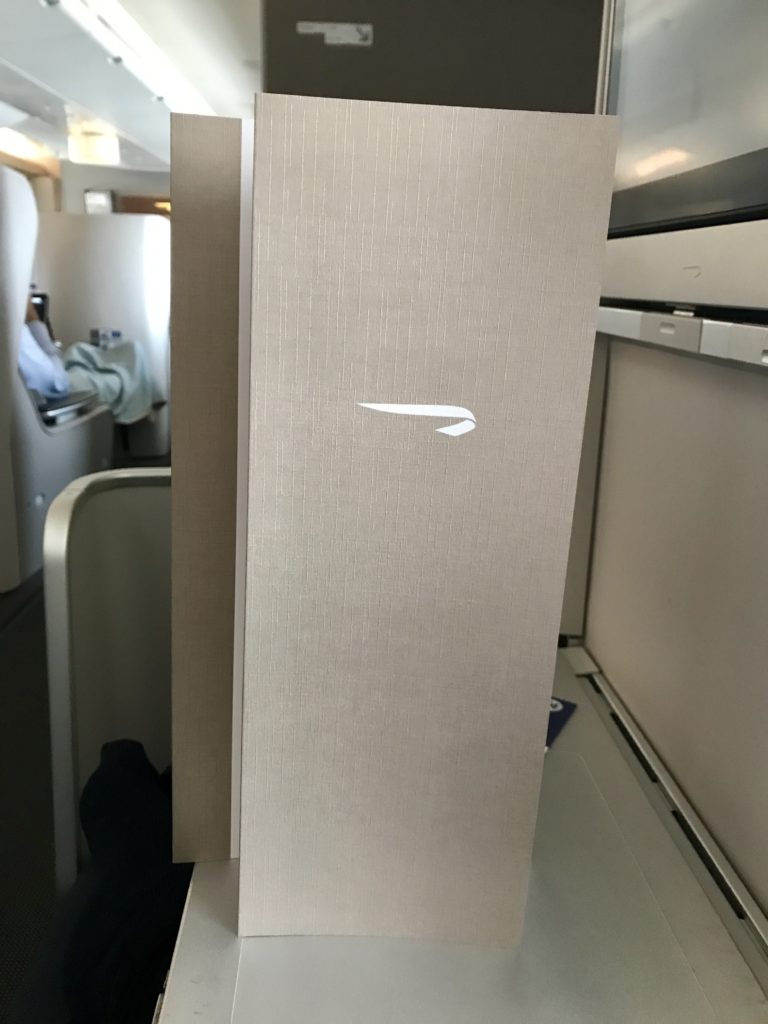 Pre lunch drinks
Next drinks were offered with nuts. I normally would go for wine, but I was keen to see the new cut crystal look tumblers, so I ordered a Tanqueray gin and Fevertree tonic. The drink was hand delivered on a tray with a bowl of nuts but they weren't warm like on American. I had been expecting the rather elegant looking white porcelain trays that I had seen in the press releases. However, what appeared was a rather cheap looking black plastic tray instead. Apparently, they discovered that funnily enough, porcelain is not non-slip so they have had to change the design. The drinks seemed to arrive fairly quickly despite the hand delivery and I was also offered a top up fairly quickly too.
The crystal tumblers were not my personal style and seemed a little incongruous with the very modern stemless wine glasses but they are very British in feel.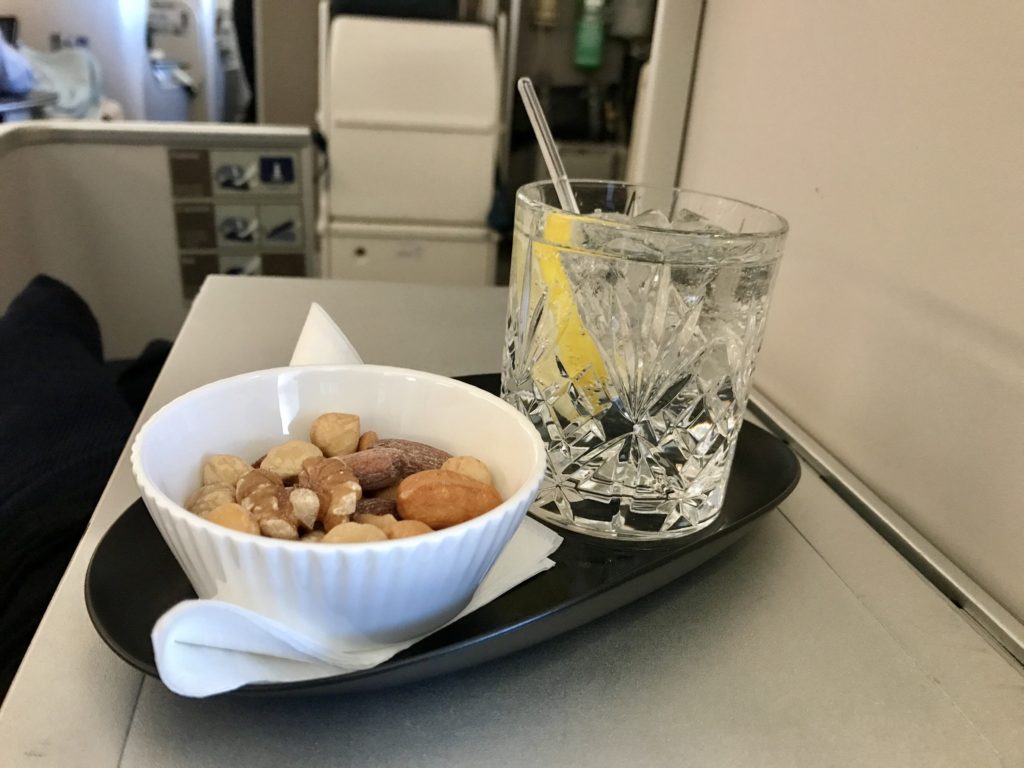 British Airways are advertising their new Club World service as a "restaurant-style dining experience" with a choice of starters and desserts served from a trolley. This strikes me as a bit odd since the last time that restaurants served food from a trolley was probably in the 1970s. Hopefully, they are referring more to the presentation.
The menu
Starters:
Loch Fyne smoked salmon tartare with wasabi crème fraîche
Burrata and tomato carpaccio with olive oil and balsamic dressing
Creamy butternut squash soup with chive and sour cream
Fresh seasonal salad, grilled vegetables and a choice of French dressing or olive oil and balsamic dressing
Main course
Best of Heritage beef, homemade gnocchi in Café de Paris sauce and pan-fried green asparagus
Line-caught grilled Cornish Dover sole with Mediterranean lentils, celeriac mousseline and lemon butter
Homemade artichoke ravioli Parmesan
Dessert:
DO & CO's double chocolate medley
Lemon tart
Viennese-style apple strudel with vanilla sauce
Fresh strawberries
Cheese board with Somerset brie, Keen's cheddar, Cropwell Bishop stilton, walnuts, grapes and fig chutney
Lunch
After the drinks had been cleared away by hand, the trays were delivered with the new beige linen look tablecloths. The tray was very smart and already had the bread on it with both butter and a bottle of olive oil with a small dish to pour it into. I also liked the metal bread basket which contained 3 mini rolls of wholemeal, white and seeded bread. The bread was warm and better quality than previously. The seeded roll even had a good crust on it. The whole tray felt very premium with a lot of attention to detail such as the mini pot for the butter plus the porcelain salt and pepper shakers.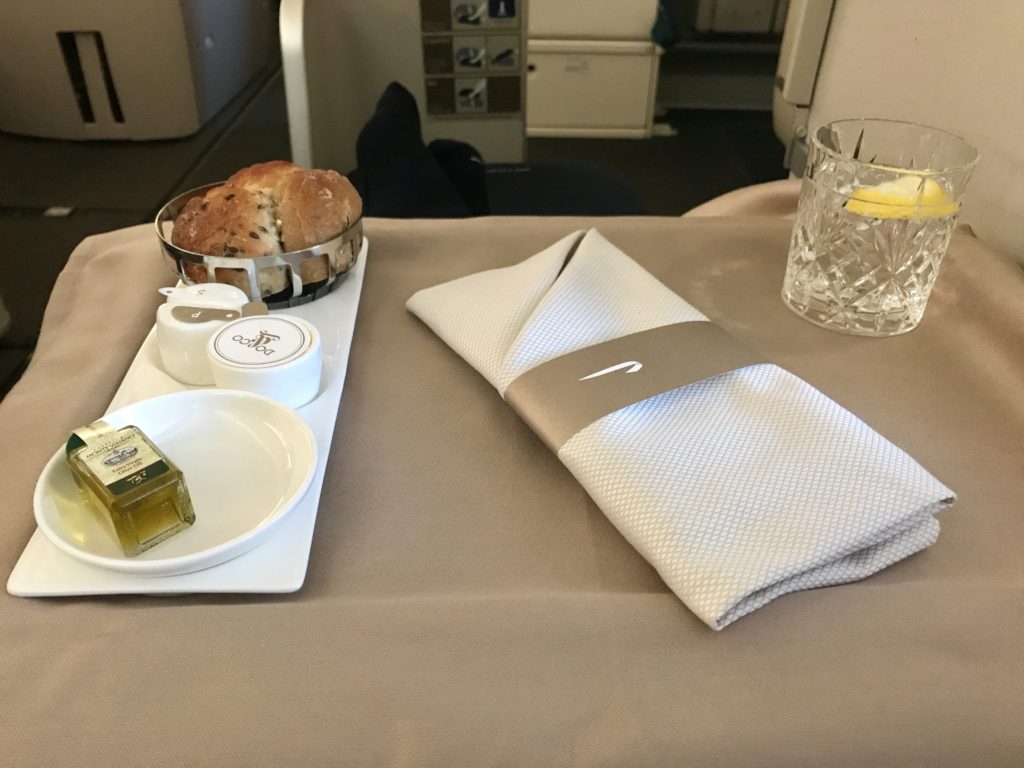 Next, the trolley came down the aisle with the starters. It did take a reasonably long time to get to this point, but given that it was still a bit early for lunch I didn't mind. I reckon it was about 1 hour 50 from wheels up to the starters being served. Hopefully, it will get quicker as both staff and passengers get used to the new service.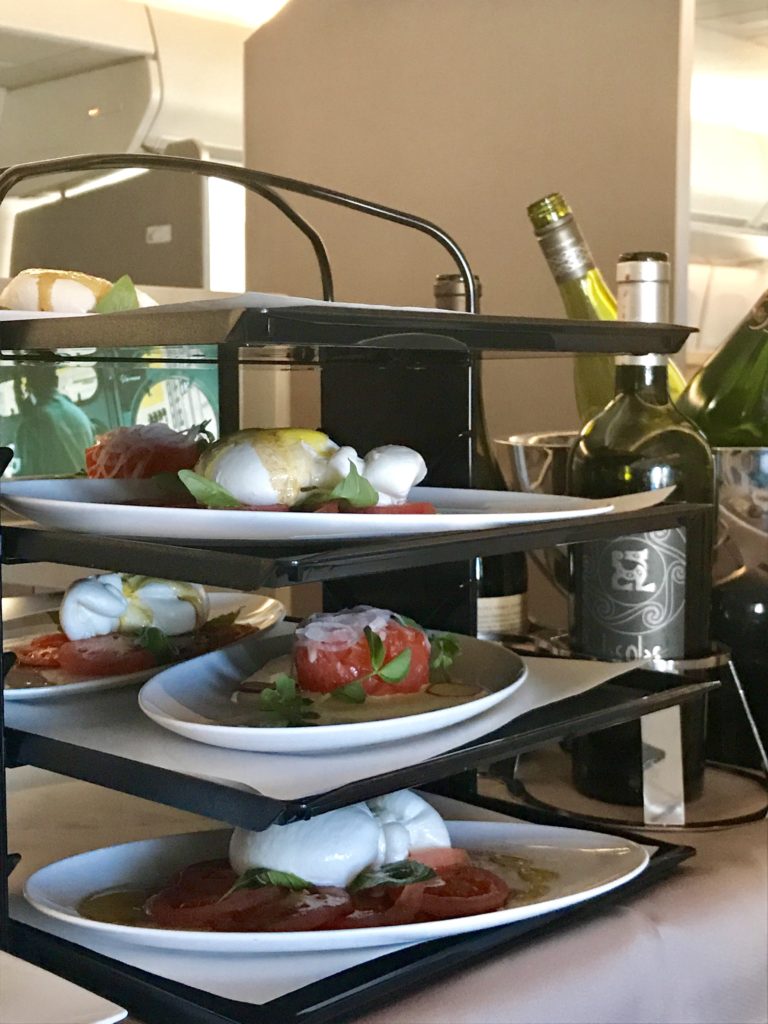 It was good being able to select the starter from the trolley as at least you can see the food to work out what it is. Sometimes BA can get a bit carried away with over-complicating the descriptions. The mozzarella salad looked good with a large ball of the cheese but I decided to try the salmon. You could have had more than one item as the side salads are no longer served on the tray. I didn't try one but they looked good. You could also have soup as a separate course. I was sitting in the second to last row of business class and there was plenty of all the choices left when they got to me.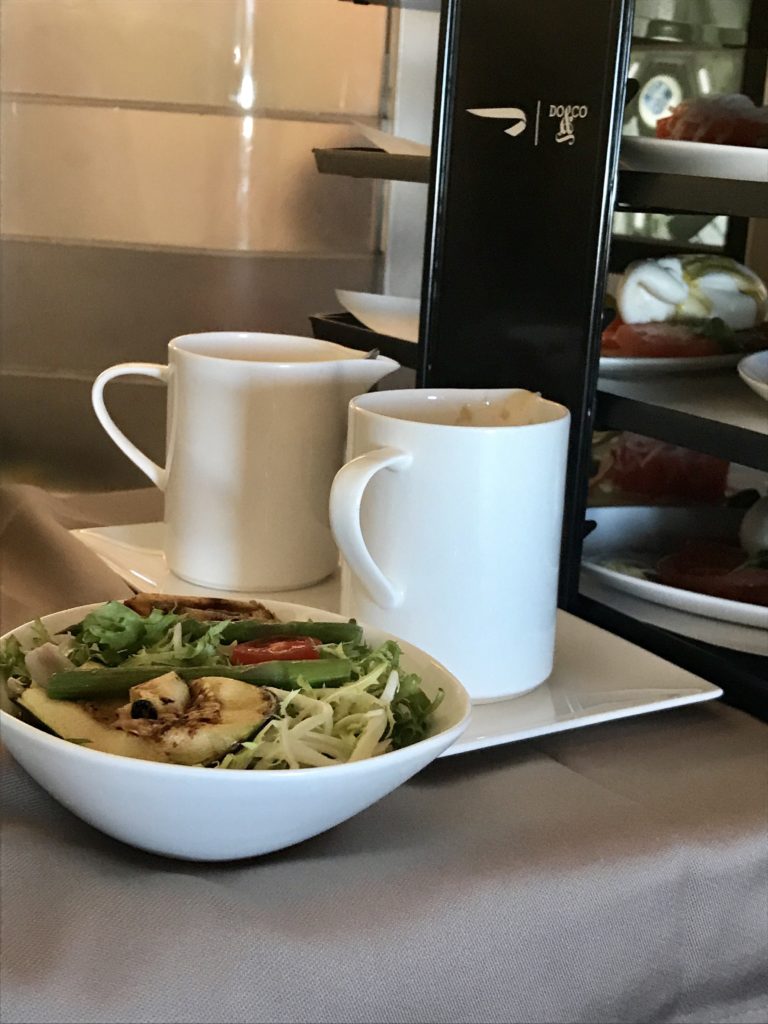 I loved the presentation of my starter and the stylish plate. Luckily it tasted as good as it looked and was as good as any business class starter I have had before. The salmon was high quality and the wasabi creme fraiche was the perfect accompaniment. The vegetables added some refreshing acidity and crunch against the richness of the salmon.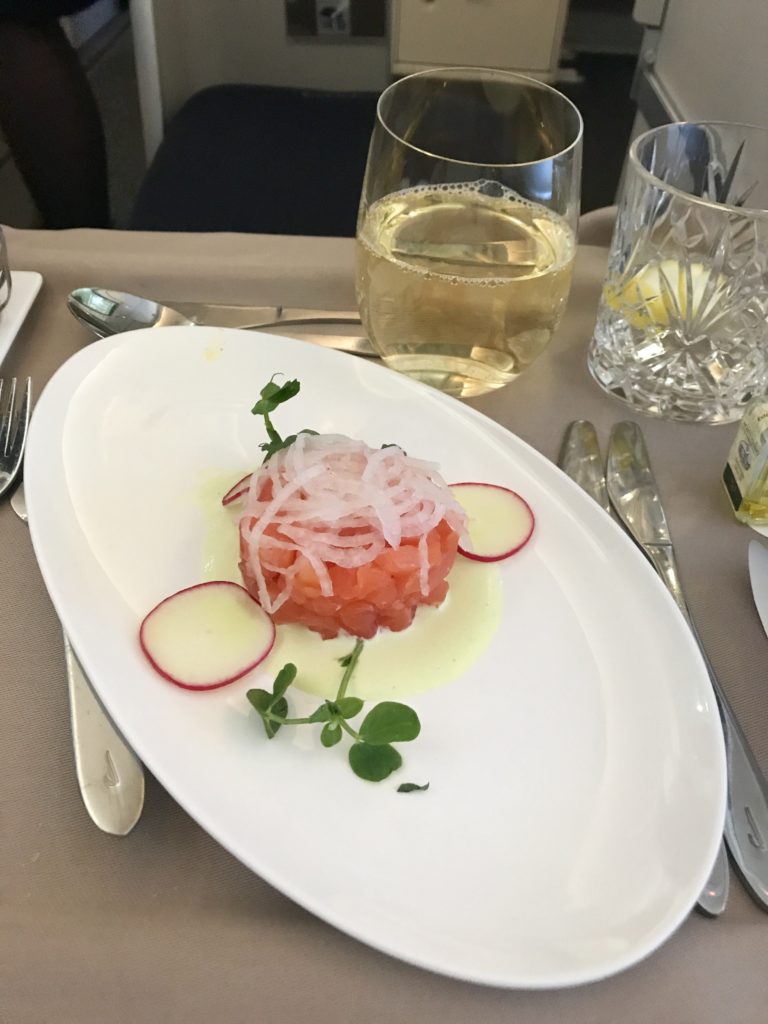 As I mentioned in a previous article, I was slightly dismayed that they had reduced the choice of main courses by removing the main course salad. Instead, they now have no less than 4 puddings and cheese which just seems excessive to me. I am hoping that feedback will mean they ditch one of the puddings and go back to 4 mains. After all that is the most important part of the meal for people.
I usually avoid beef on planes as it is generally disappointing but I thought given that it was a new service I would go for the acid test and try it. The beef consisted of 2 types, a slow cooked piece that was delicious although it was a little stringy in places and a fillet. The filet wasn't rare by any stretch of the imagination but it was definitely much more tender than some of the shoe leather I have had before. The gnocchi with the Cafe de Paris sauce were also very tasty and not too stodgy. A little sweetness was added to the dish with the roasted cherry tomatoes still on the vine.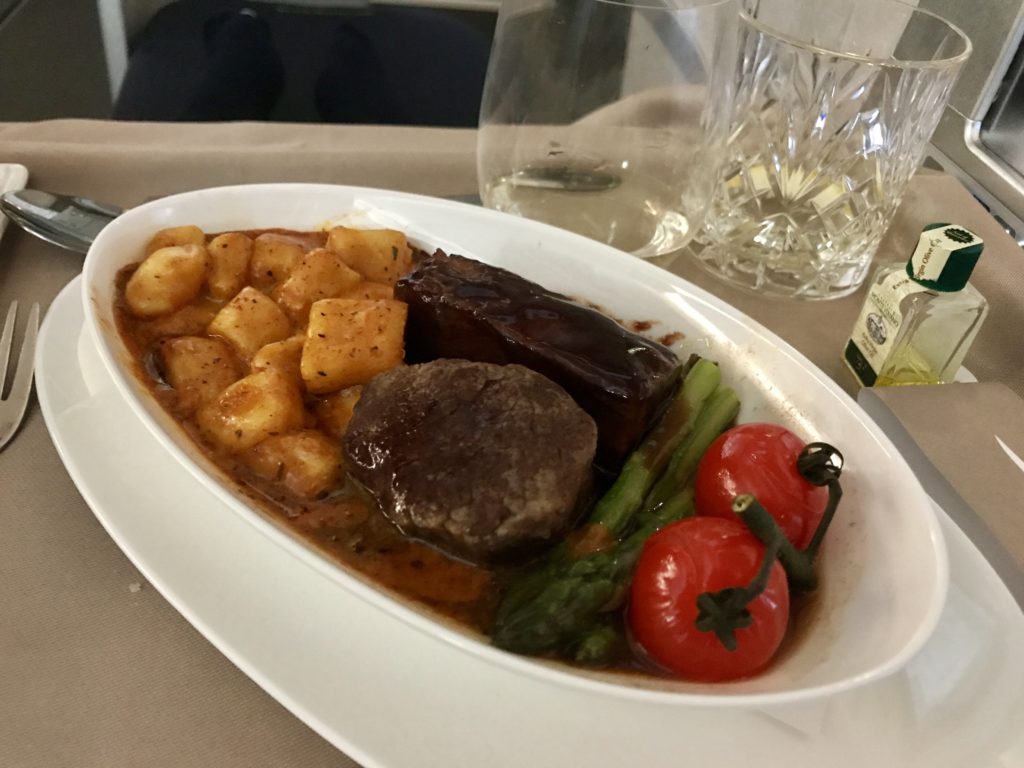 Wine and Spirits
The wine choice was pretty standard for BA Club. Despite rumours of Bollinger by some other blogs which were caused by a dummy bottle used for the cabin crew training, the drinks were not really part of the improvements. I actually have always thought that most of the BA Club World wines were pretty good if a bit repetitive. BA serve Henriot Champagne on board, which is also in the BA First Lounge, along with the usual Castelnau or Castel-no as it is known to many! Henriot is not my favourite but better than Castelnau in my opinion.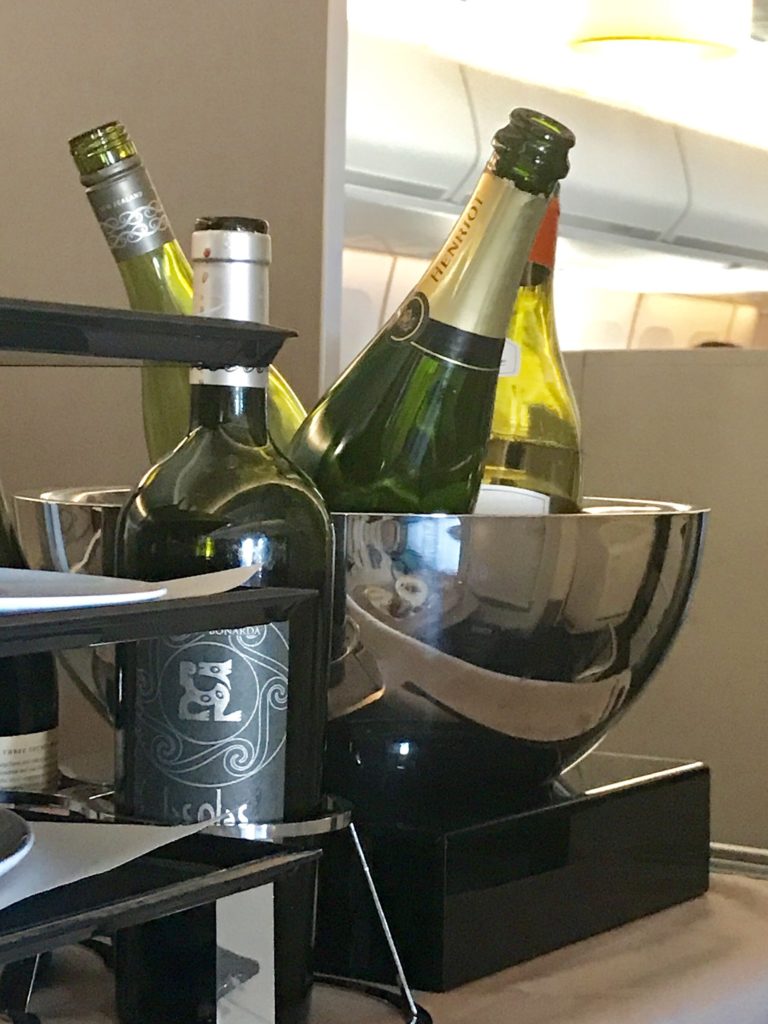 The wines are now presented on top of the trolleys in large, silver wine coolers, while the red wine bottles stand alongside them.
White wines:
Bourgogne Chardonnay 2016, Patriarche Père et Fils from Burgundy,
Tiki Sauvignon Blanc 2016 from Marlborough,
Red Wines:
Las Olas Malbec/Bonarda Reserve 2014 from the Famatina Valley in Argentina
Reata Three County Pinot Noir 2013 from California.
Champagne:
Champagne Henriot Brut Souverain NV,
Champagne de Castelnau Brut Réserve NV
Champagne de Castelnau Brut Rosé NV.
I had a taste of both the whites and wasn't particularly bowled over with either of them but I had a glass of Chardonnay with my starter. With the beef, I decided to try the Malbec which was much more successful. It was well rounded but still with a hint of spice. I liked the stylish new wine holders that the crew had for top ups. This was the only area that could have been better. The top up rounds seemed less regular but I just asked if I needed something. Again, I am sure this will improve as crew get used to the new service.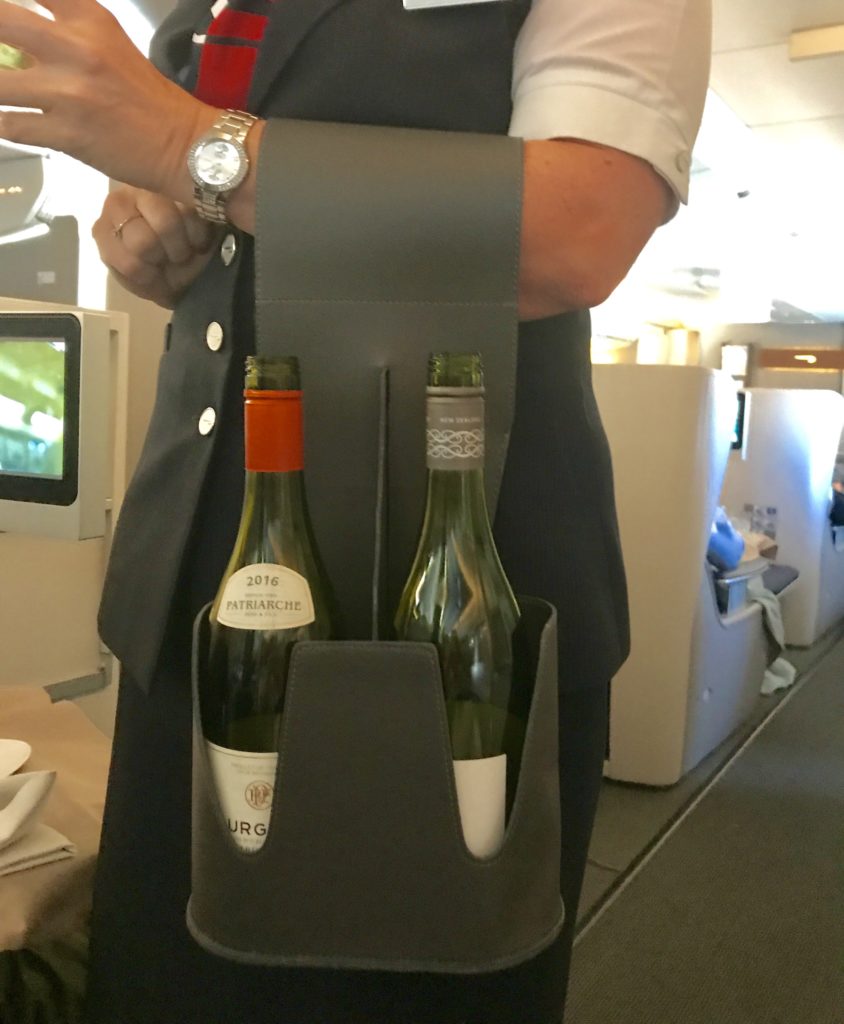 There was no change to the previous drinks list apart from the Port which was incorrect on the menu: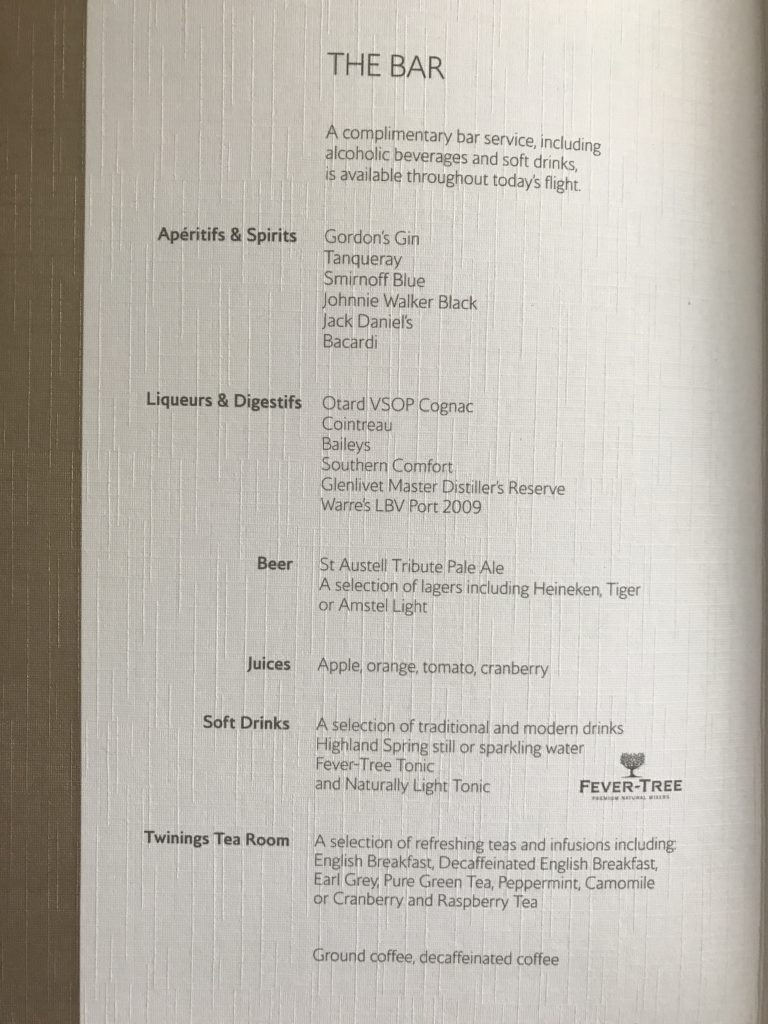 Finally, the dessert trolley came round about 1 hour since the start of the meal. The puddings looked tempting and the crew were proactively offering the strawberries to accompany the desserts. I decided to have the cheese as I wanted to try the new Club Port which I talked about here.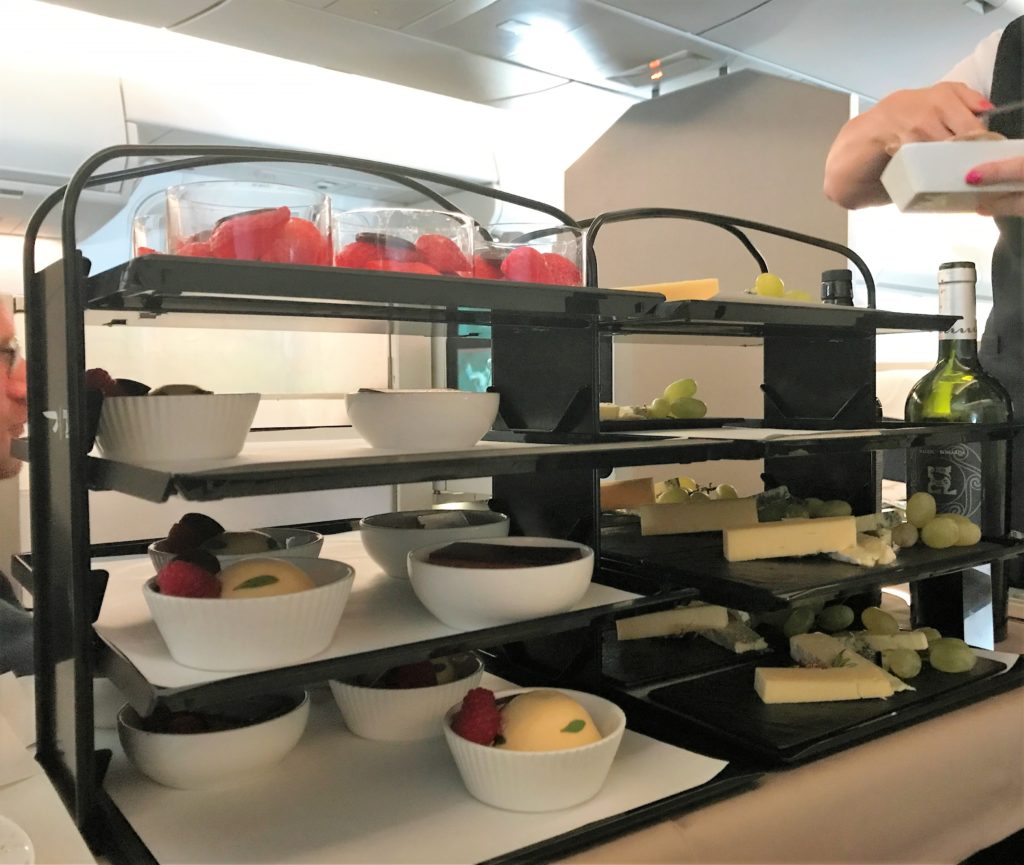 I really enjoyed both the Port and the cheese. It was nicely presented on a slate with chutney and crackers added by the crew. This was a huge improvement on the 2 pieces of not very exciting cheese you had before. The only thing I missed was that there were no chocolates on the tray. I wonder if you only get them if you order a coffee or tea or if they have done away with them altogether.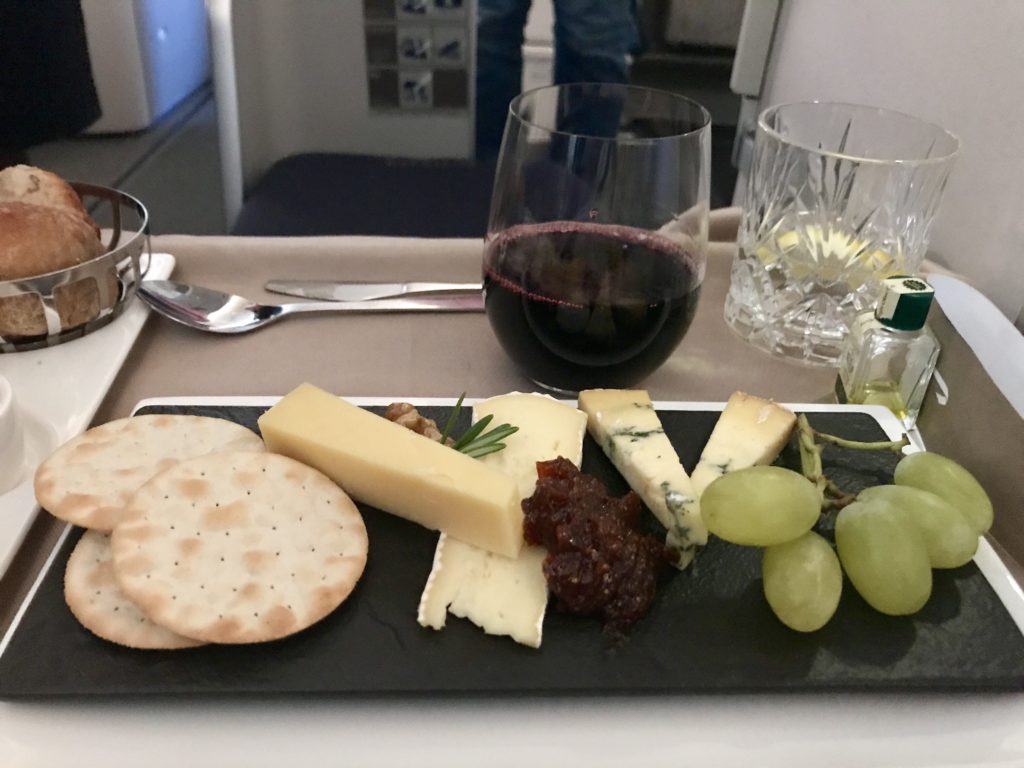 Afternoon tea
The second meal service menu was served about 1 hour 30 minutes before landing.
Here is the menu: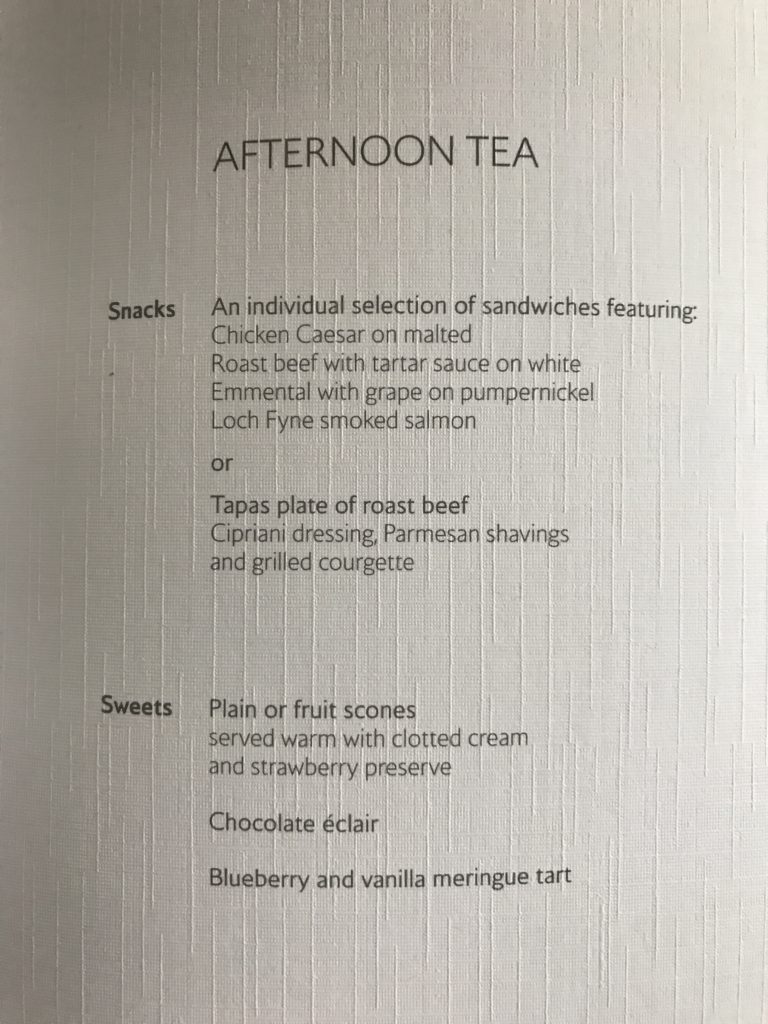 I decided to try the tapas as I would usually not have had anything or had the sandwiches. If you love rare beef, this is the dish for you. This was my favourite dish of the flight. Beautifully tender rare beef with a tasty Cipriani dressing accompanied by roasted courgettes, delicious!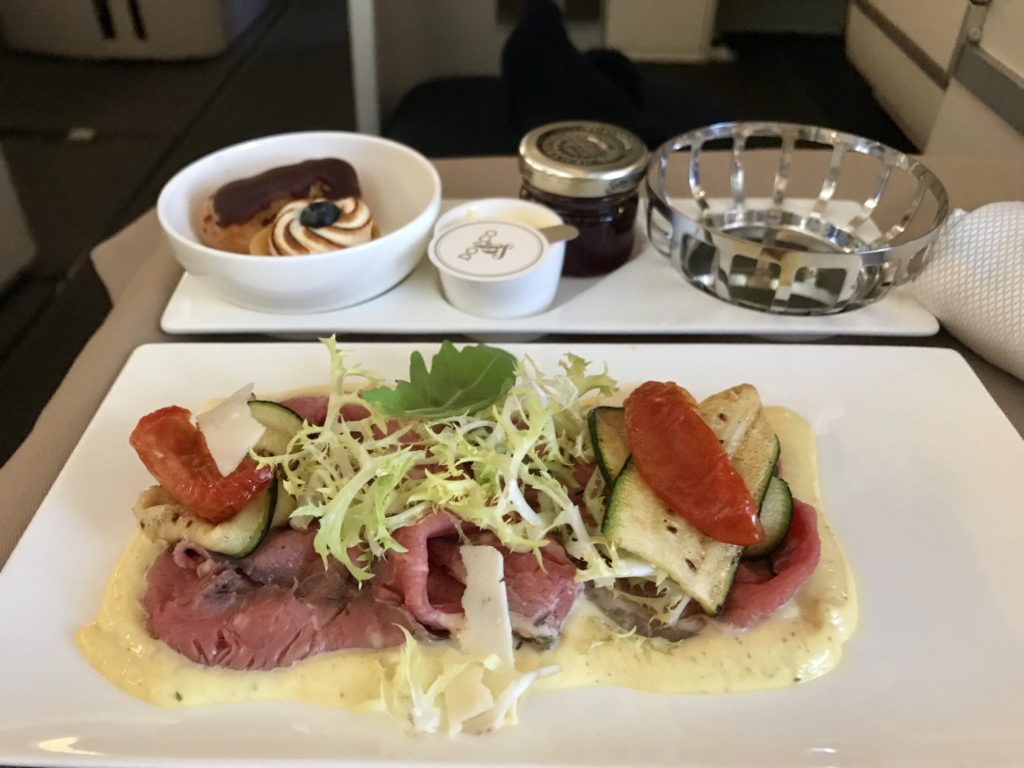 The tray already came with 2 mini cakes and a basket for the scone. The scones seem to have grown and were enormous. There was a choice of plain or fruit scones which were served warm as usual. The little pot of cream was no match for the size of the scone, so I think they probably need to rethink the size of one or the other.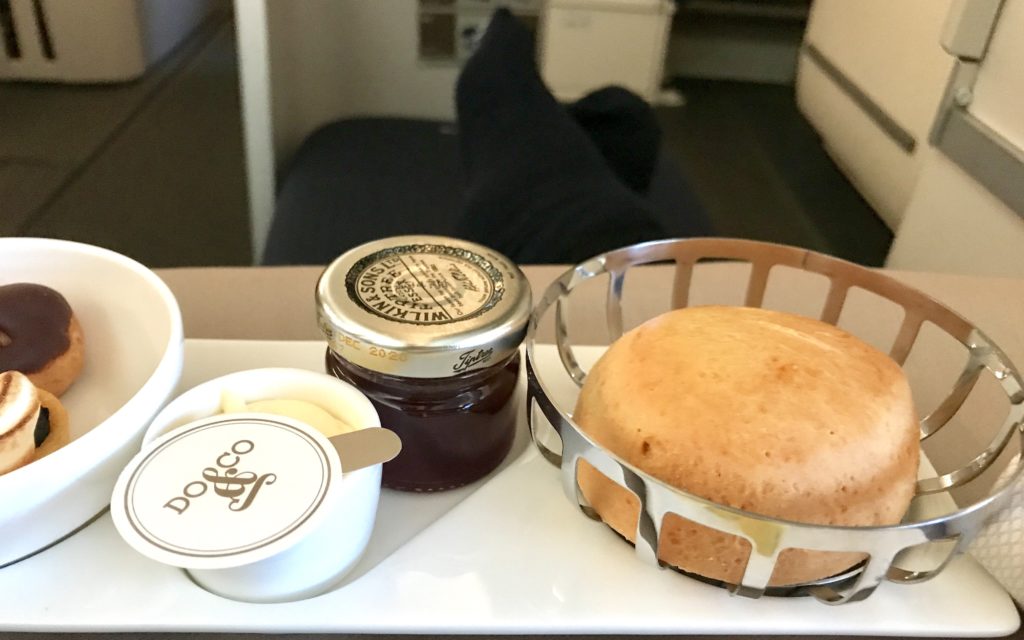 Conclusion
Finally, we seem to have a genuine enhancement with more to come when the new bedding is rolled out. The whole service felt far more personal and definitely more like a premium cabin than before. The food was all well presented, high quality and very tasty. Indeed when BA says restaurant style dining, it may not be quite that but it was definitely restaurant quality. I loved all the attention to detail too, from the wine carriers to the little dish for the olive oil.
I recently reviewed the American Airlines B777-300 to London and felt at the time that the food was better on AA than BA. However, with the new improved BA service, BA is definitely in the lead for food and wine for me. Once they get their new seats in 2019, which are rumoured to be 'Qatar Q Suites with a BA twist', BA may well be back at the forefront of business class again.