Marriott fairly recently added to their Autograph collection with the Bankside hotel in London that opened in Autumn 2018.
When I visited the Bankside hotel it had only been open a very short while. It looked like a very smart design-led hotel which sometimes rings alarms bells of design over function, so let's see how it was in reality. This is not to be confused with the Hilton Bankside which is very closeby.
Location
The Bankside is in a convenient location for the South Bank, Waterloo and the City. It is almost opposite London Bridge station which makes it easy to get around the rest of London. If you are a foodie, it is only a short walk from Borough Market with its many restaurants and food stalls. If you fancy something more upmarket, you are also close to the Shard with its restaurants and bars with stunning views.
Check-in

Arriving at the hotel the entrance felt very impressive with the name illuminated outside on the pavement. You check in sitting at a large table which feels more premium and gives the reception area a relaxed communal feel. There were a lot of hotel staff on hand in reception including managers as the hotel was so new. I had booked an entry-level room which is the Modest king but got an upgrade to the Ample king room at check-in due to my status. The receptionist was very friendly and explained everything that I needed to know about the hotel.
There was free water available in reception which was a nice extra. All the staff I encountered were very friendly and knowledgeable although it was sometimes obvious the hotel was new due to the slow service here and there.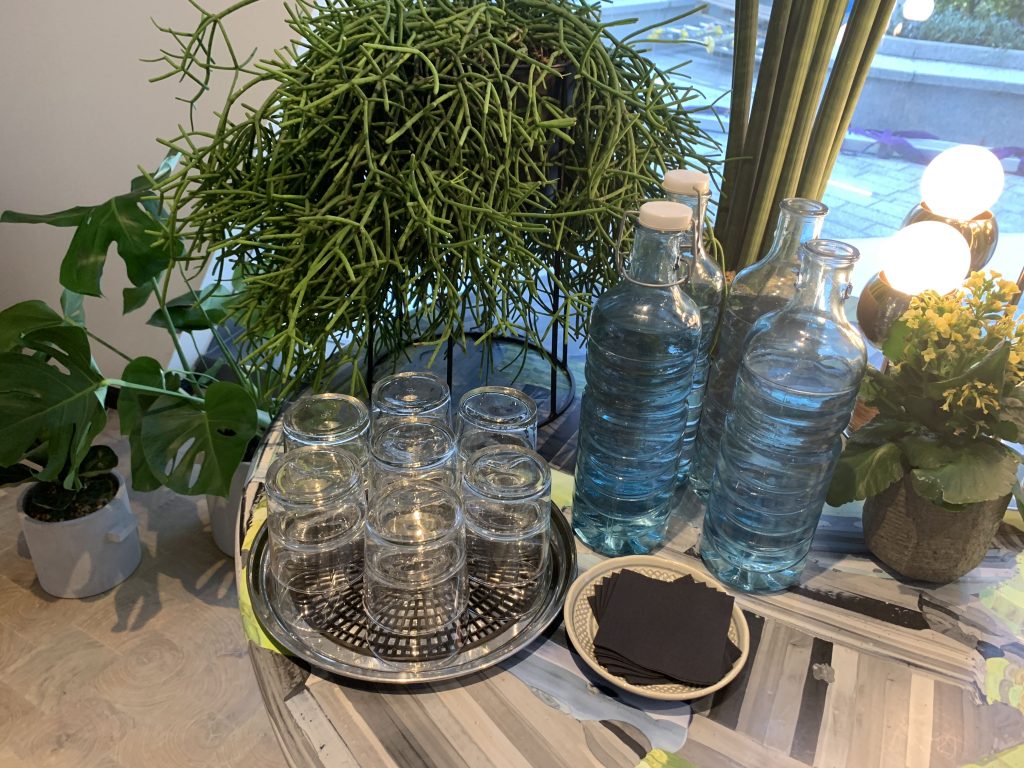 The room
The room was definitely modern in design but I thought it still felt reasonably luxurious despite the slightly quirkier design touches. There was a Nespresso type coffee machine plus a premium selection of teas and coffees. A large desk was situated along the window which made a nice light place to work. The room was quite hi-tec with an iPad by the bed to control things from and it automatically dimmed unlike some hotels where they create a light nuisance. There were plenty of charging points by the bed too.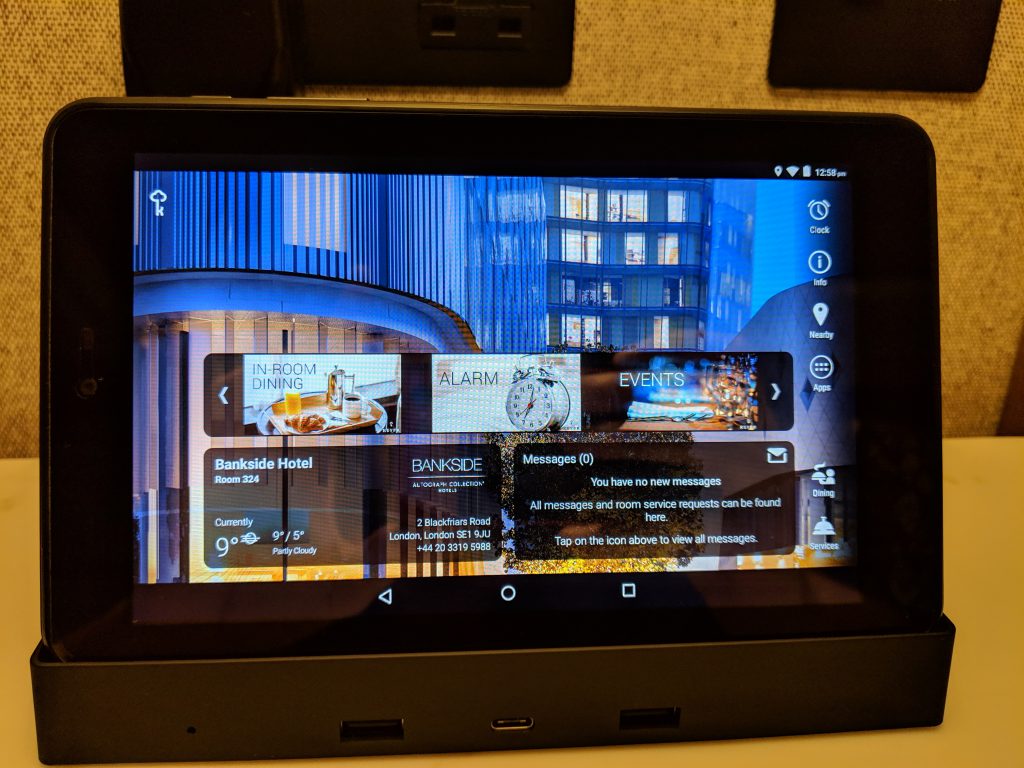 The blinds were a little tricky to figure out but that was probably my only real criticism of the room itself. The hotel are actually going to out some instructions for the blinds since it is not obvious at all how to work them.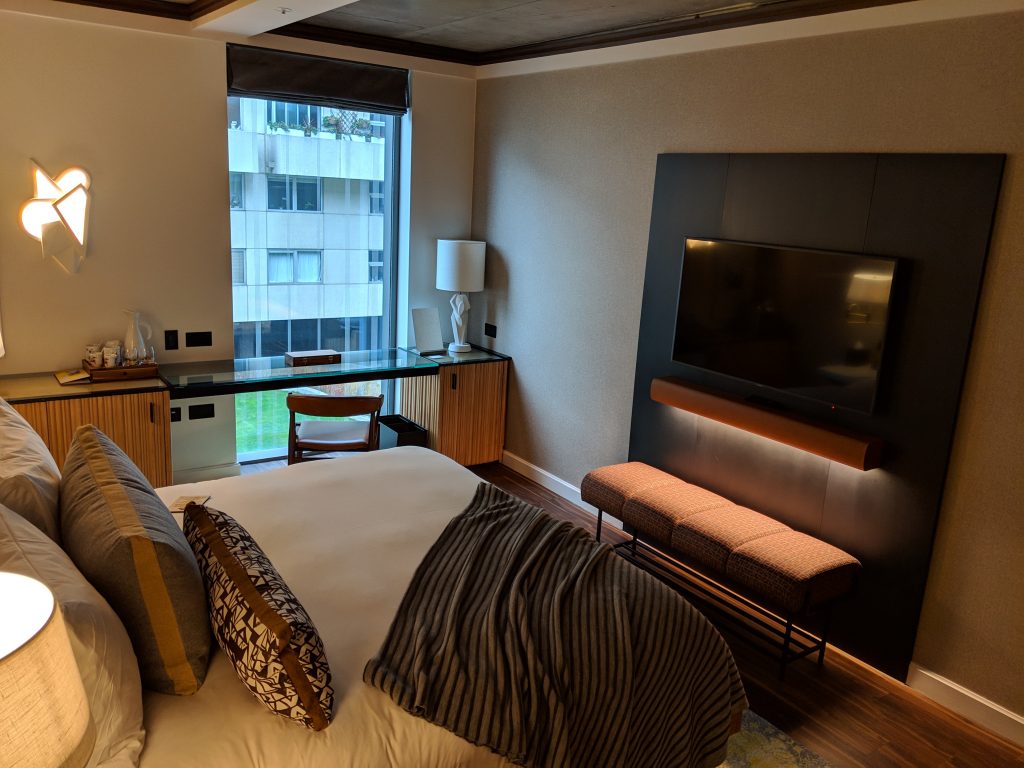 The bed was very comfortable and the room was quiet despite its central London location and the fact we were on a fairly low floor. There was a little noise during the day from the building opposite where work is being done but it wasn't an issue during sleeping hours.
The hotel does not have a traditional mini bar but instead, they have very upmarket vending machines on each floor as you exit the lift. This has a somewhat eclectic mix of items including a pair of sparkly pants. I personally can't think of an occasion where I will be in a hotel and think to myself " you know what I really need right now is a sparkly pair of pants" but perhaps some people do?? There were also drinks such as chamopagne and snacks. Next to the vending machine were all the things you would need such as glasses, bottle openers etc. The sparkly pants, in fact, relate to a piece of artwork that is displayed in the lobby area.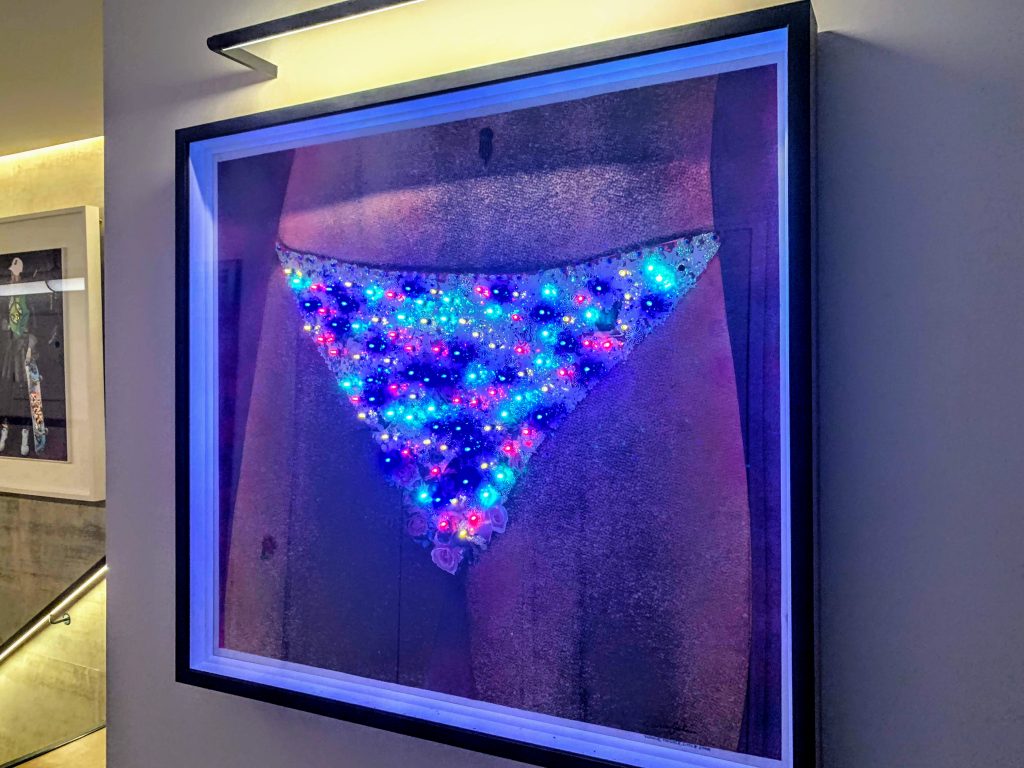 I also liked the fact that in the corridor there was a water station with carafes were guests could fill up on still or sparkling water for free. I am guessing this counts towards the hotel's goal of zero waste. In the room there were also two bottles of mineral water which seemed a bit odd plus some free snacks.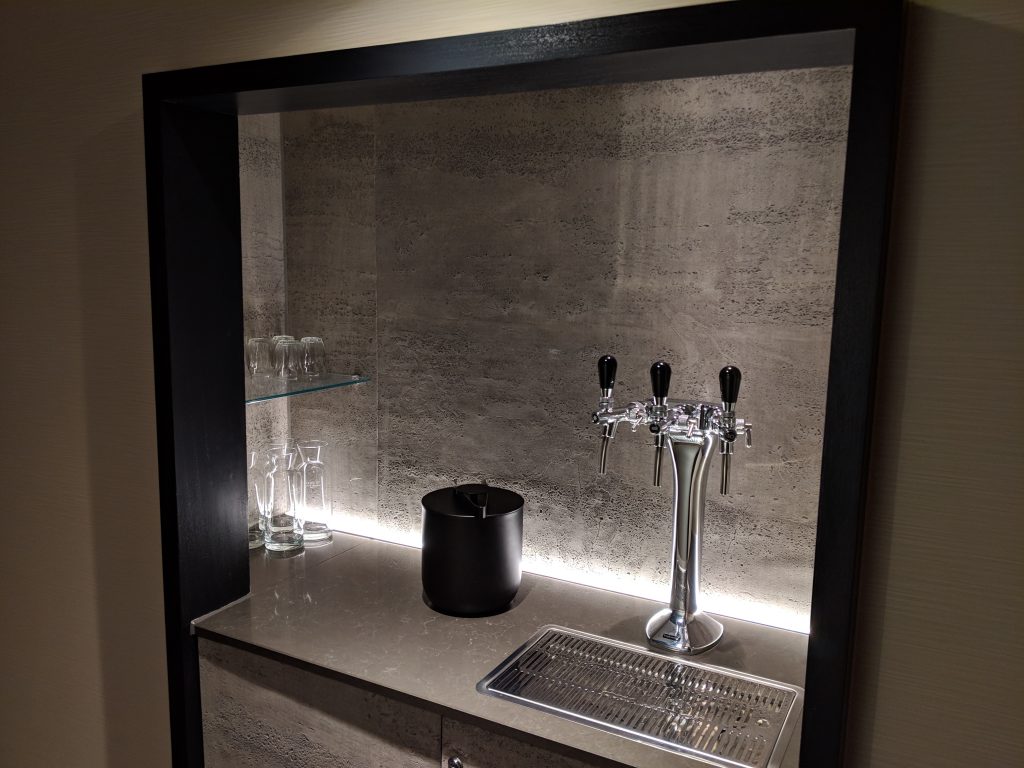 Bathroom
The bathroom was a little small and personally, I would have liked a bigger area for storage around the sink. The Grown Alchemist brand toiletries were high quality but in large containers so there was no taking them home here! Plus they were screwed to the wall in the shower! I found the shower a little annoying as the spray was slightly pathetic and went everywhere like it already had a limescale problem.
The shower was large though and the towels were high quality. I also liked the fleecy soft grey bathrobes which were stylish but practical.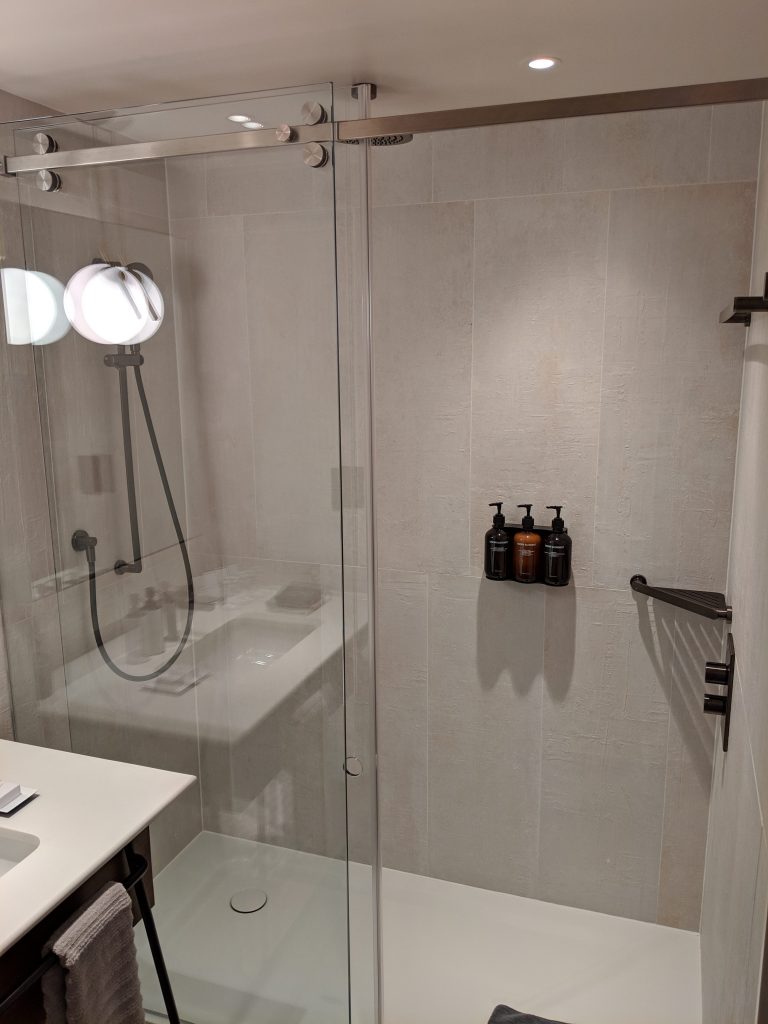 Other room categories
I had a quick tour around the hotel to look at a couple of different categories.
There was the Biggest Suite which had an impressive bathroom and a large living room.
The entry-level room the Modest King was almost identical to my room apart from being a bit smaller.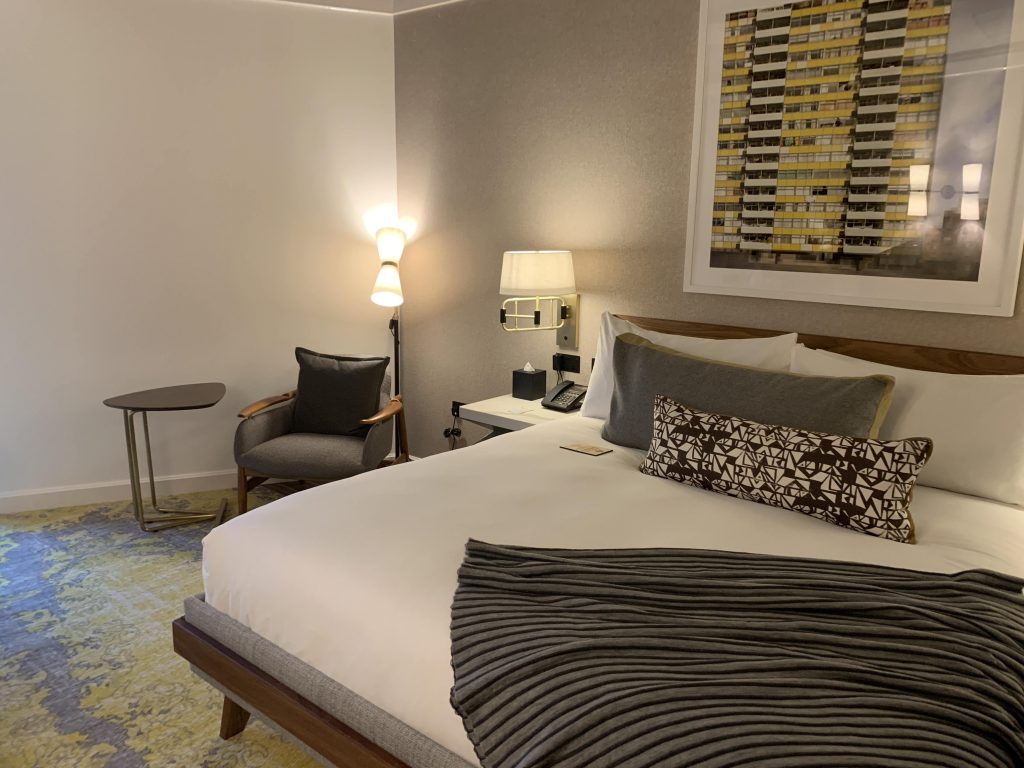 Food and drink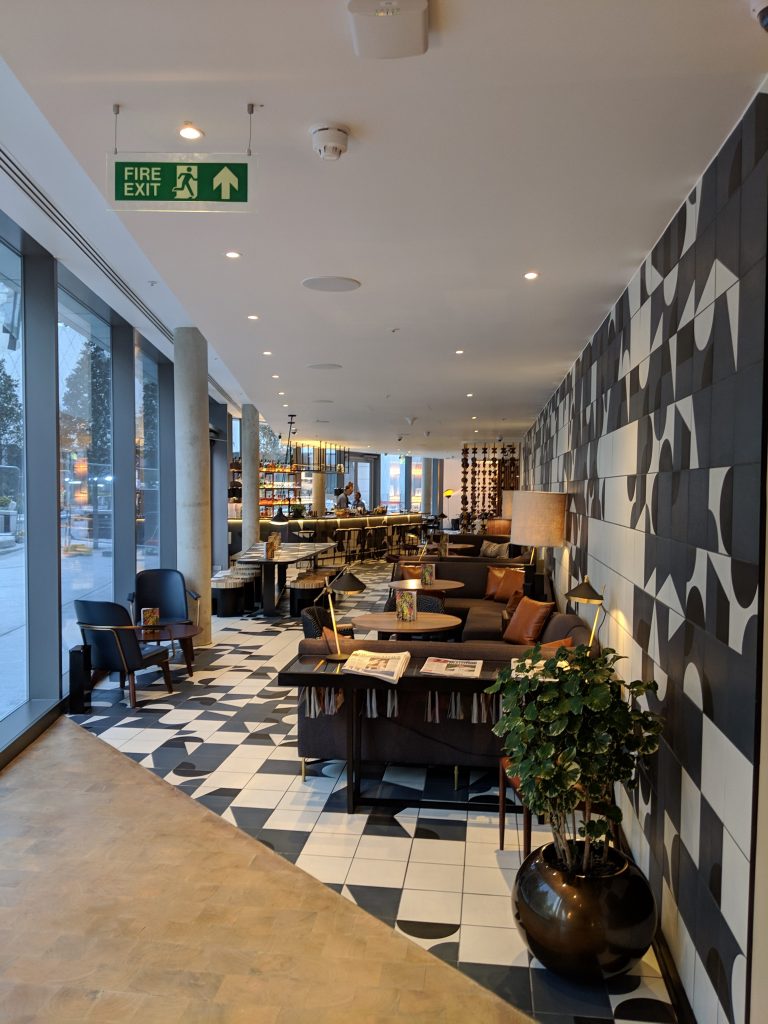 The hotel currently has the Art Yard Bar and restaurant which has a small bar area which leads into the restaurant. I had a couple of drinks in the hotel bar and tried the low alcohol option. It was good to see a selection of low and no alcohol drinks that were more exciting than the usual water, juice or soda.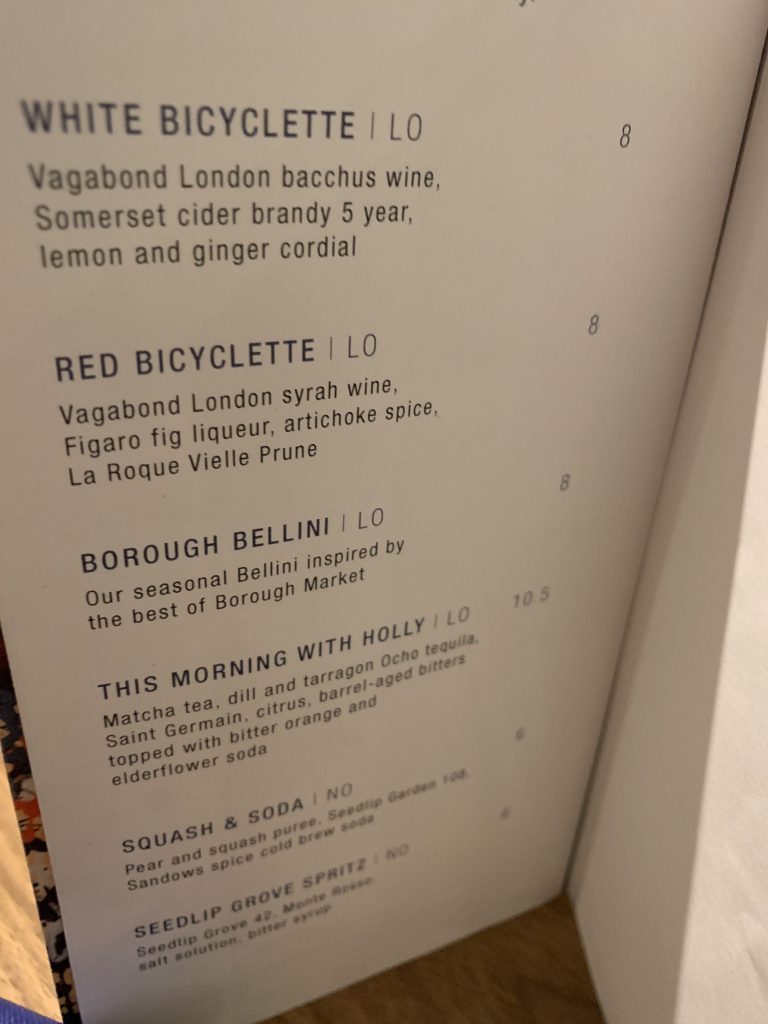 At the waitress's recommendation, I tried the low alcohol White Bicyclette which ironically tasted very alcoholic though I think that was just due to the strong flavour of the brandy. It was refreshing as well as not making me feel I was missing out on a proper drink.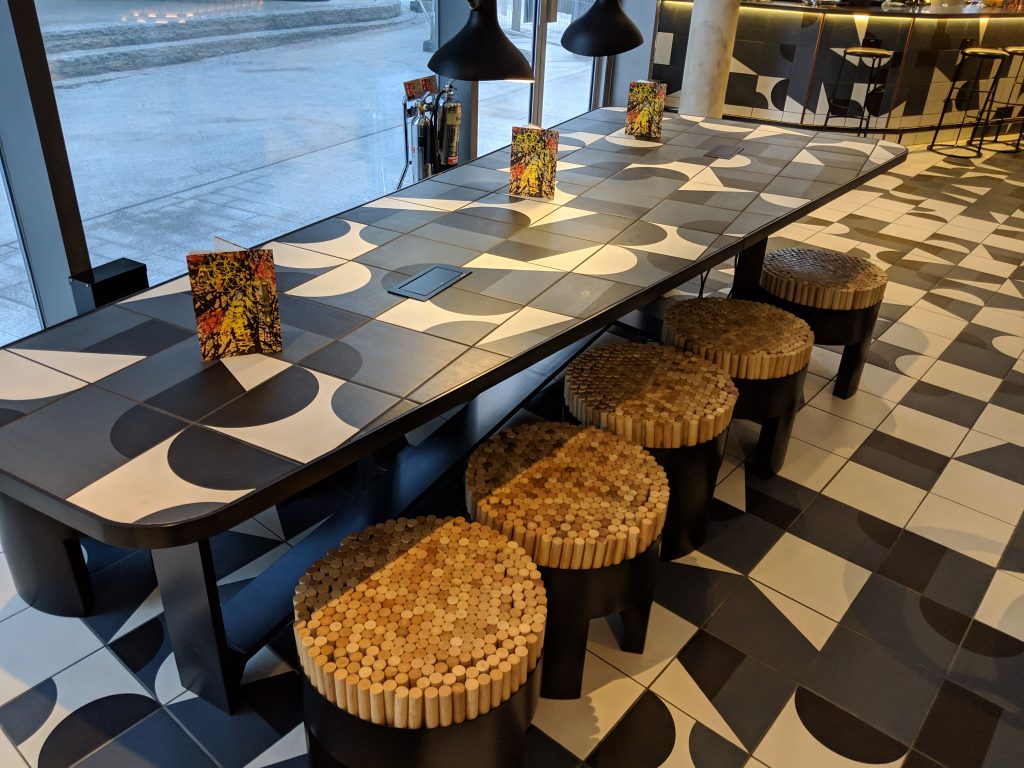 The service was a little hit and miss at times but they were extremely friendly and keen to please.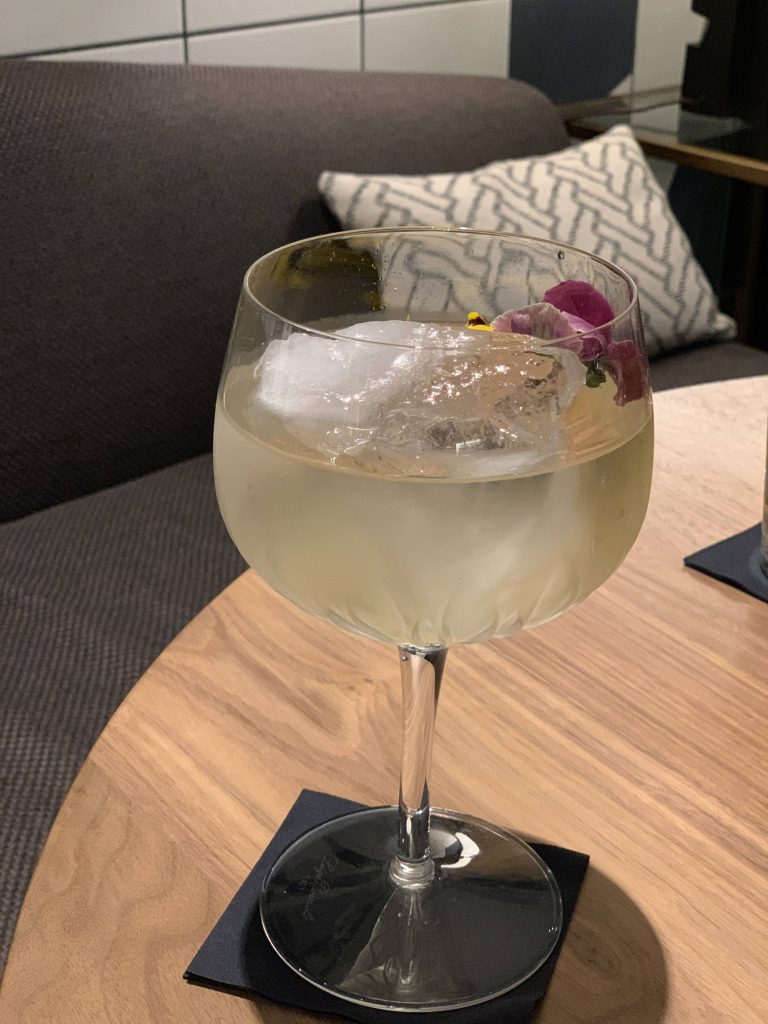 The restaurant is open for breakfast lunch and dinner.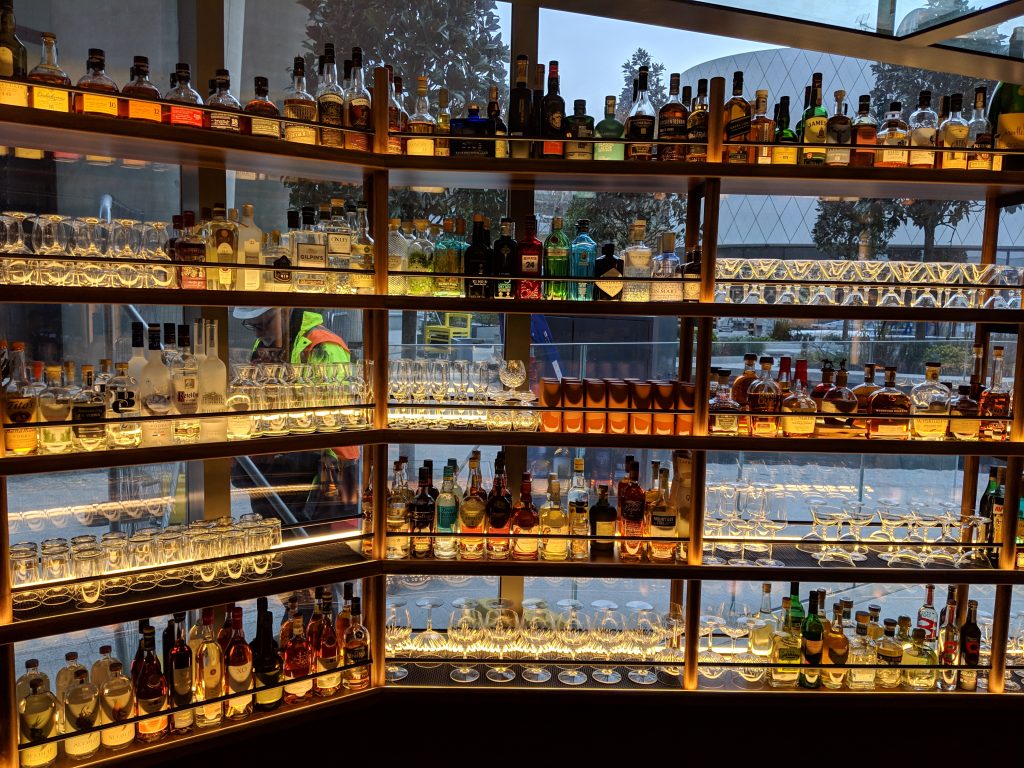 Breakfast
This was a shame as it was very disappointing and probably the worst breakfast I have had in this standard of hotel. If you look at the pictures you will see why. When I arrived at the restaurant it was hard to tell who was staff as there appeared to be several people in just normal suits serving alongside the main wait staff which were slightly easier to identify. I stood there for quite a while before anyone acknowledged me and took me to a table. Once at the table, although the staff were friendly and helpful the service was slow and chaotic with it feeling like there was no real system in place. It took me forever to get a tea and I had to ask again for it before it finally appeared.
There was a fairly limited buffet available with smoked salmon (that was way, way too smoky for me), fruit, pastries, cheese, meat, and cereal. There were some pre-cooked items and then you could order eggs in various forms. This was the main issue with breakfast for me. It appeared that they had hired a chef who literally can not cook an egg!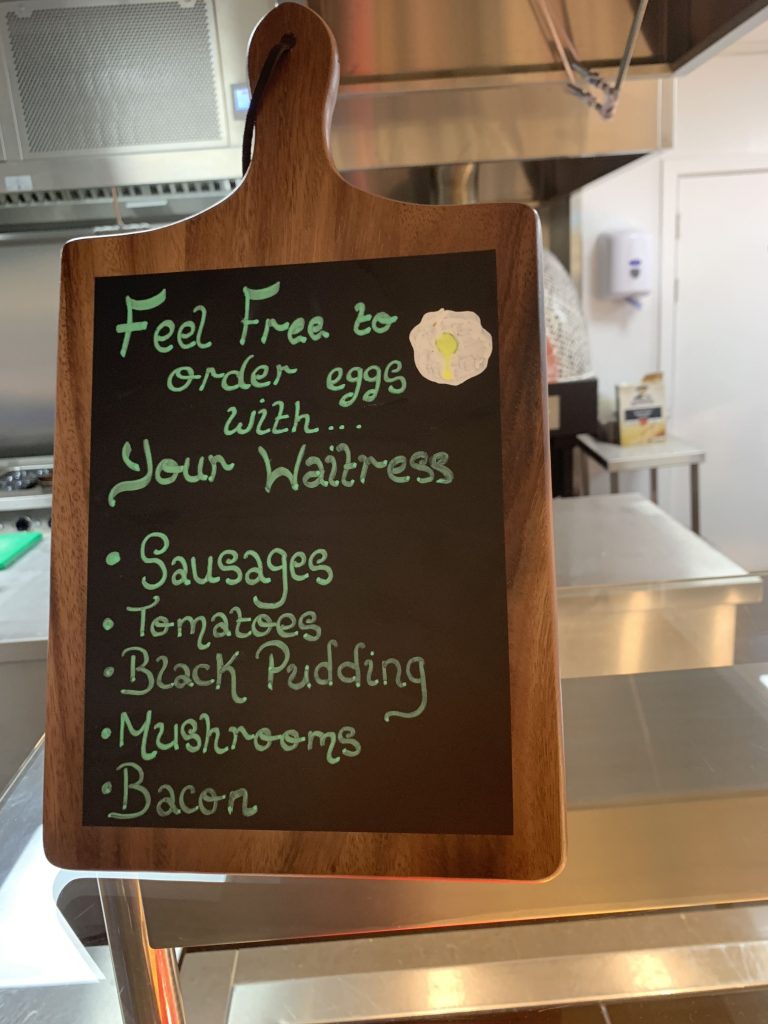 I ordered some poached eggs and they came swimming in water. The chef had also managed to work a miracle and both over and undercook the egg at the same time. Some parts were still jelly-like in the white (urgh!) and the yolk was solid.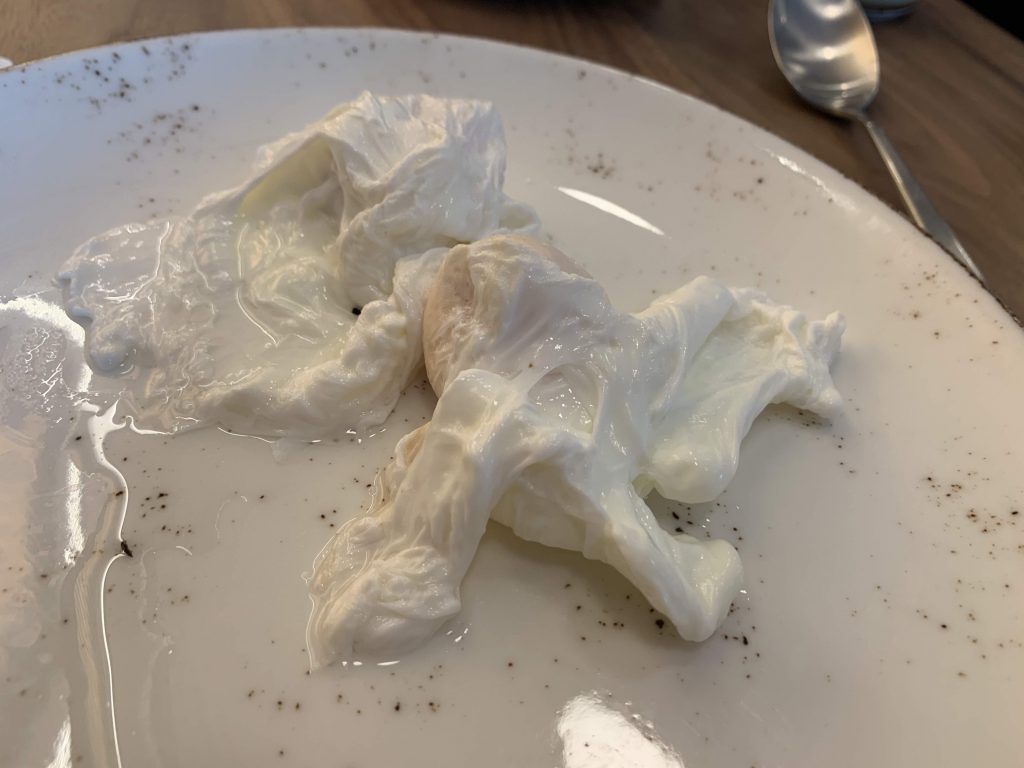 I spotted some very dodgy-looking scrambled eggs which reminded me of the very odd eggs I had on Qatar Qsuites last year which resembled eggy bath sponge. I decided to brave it and try a tiny amount. They were as bad as they looked with a very strange grainy rubbery texture. I did feed all this back to a member of management before I left so hopefully they have now fixed the issues.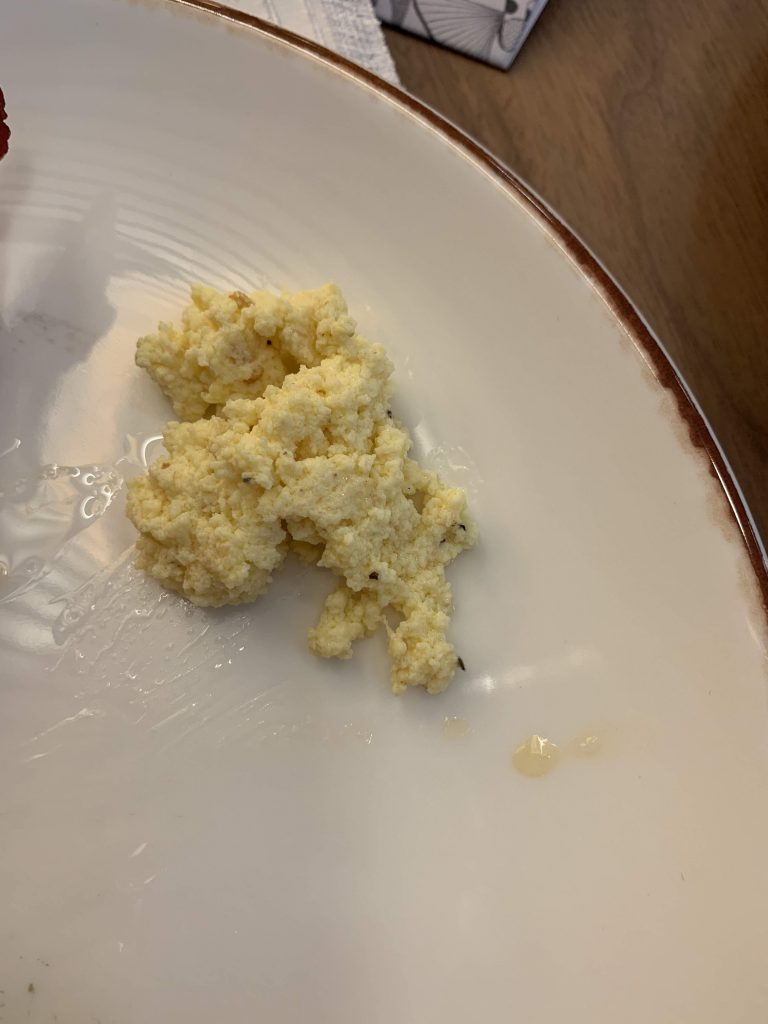 The terrace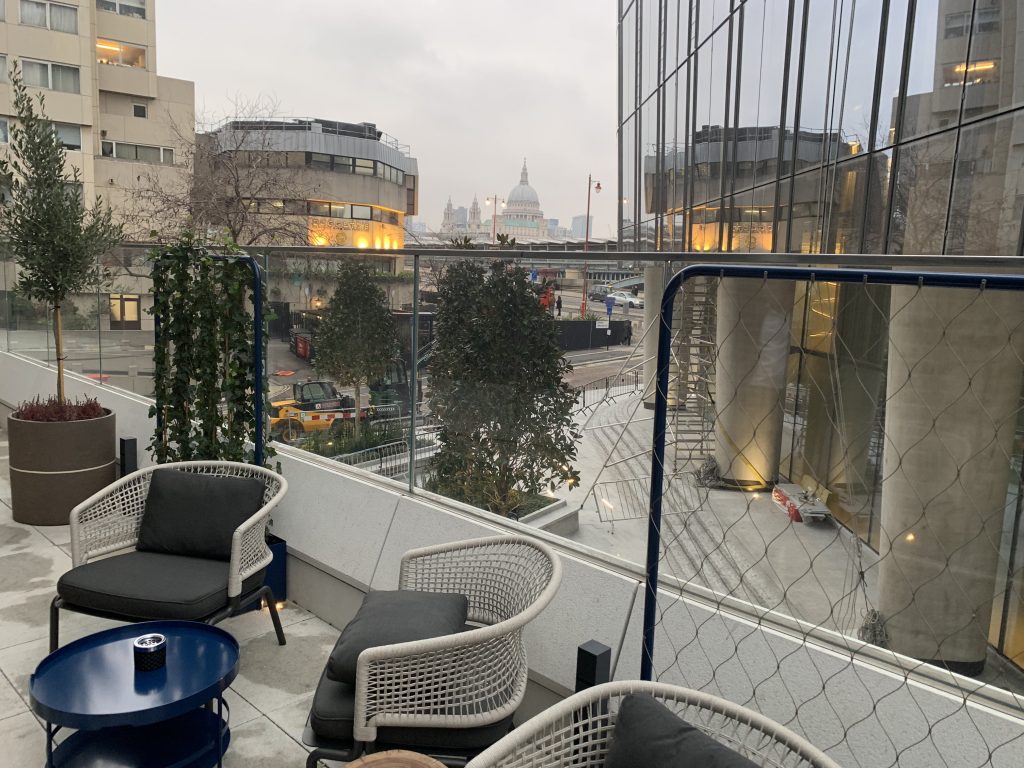 The hotel has an outside terrace where you can catch a glimpse of St Pauls and in the summer they plan to open this as a bar.
Facilities and extras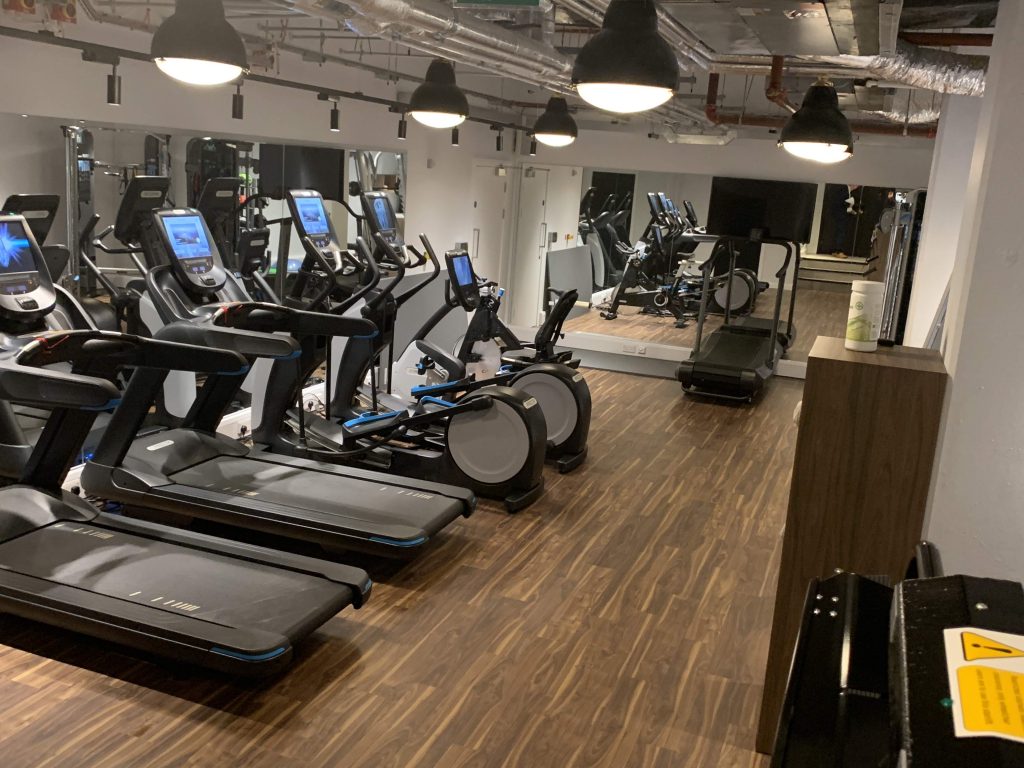 The hotel is fairly small so it doesn't have a huge amount in terms of extras. There is a gym which is small but has a decent range of equipment. They also offer classes here.
Above reception, there is a mezzanine level with plenty of areas for sitting and displays of work by their resident artist who is available to talk to guests at certain times as well. I particularly liked the book display which is actually made of real legal books that the designer collected over a long period of time.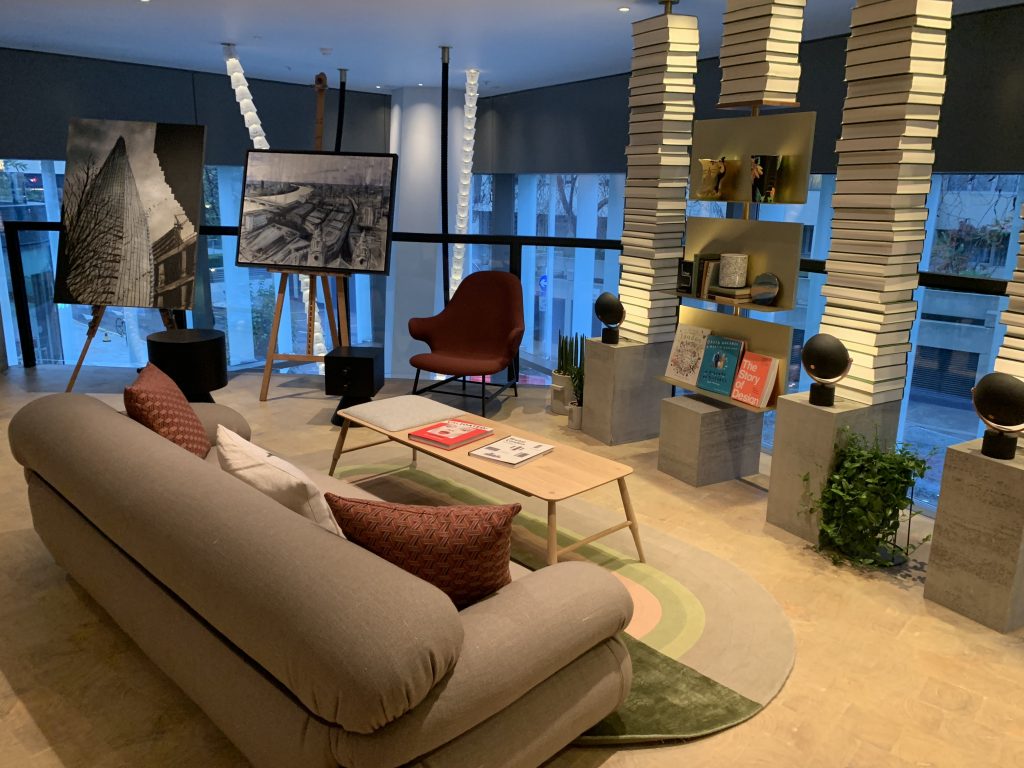 Every evening they offer guests the chance to enjoy a free glass of house wine in the reception area with a member of two of the hotel management team in attendance. This way the management team kind find out what guests think of the hotel in a relaxed way as well offering guests a chance to socialise.
Conclusion
Although breakfast was something of a disaster area, overall I really liked the hotel. It was obvious they had put a lot of thought into doing things a bit different such as the vending machines, wine hour and free water on every floor. The room was smart, quiet and comfortable which is all I could want really from a London hotel. Despite being a new hotel the rooms weren't ridiculously small and had in general been thought out well. I would consider staying again given the location and standard of the hotel.
You can find the latest prices and more information on the Bankside Hotel London here.