A couple of months ago I published the outward flight review on Oman Air and it is fair to say I was very impressed. However, consistency is always a tricky thing for airlines so was the flight home as good? I will also look at the new Oman Air lounge in Muscat in this review.
Check-in and lounge
Check-in at Dubai was fairly unremarkable. There was a separate business class queue and the staff were friendly and efficient explaining where the lounge was.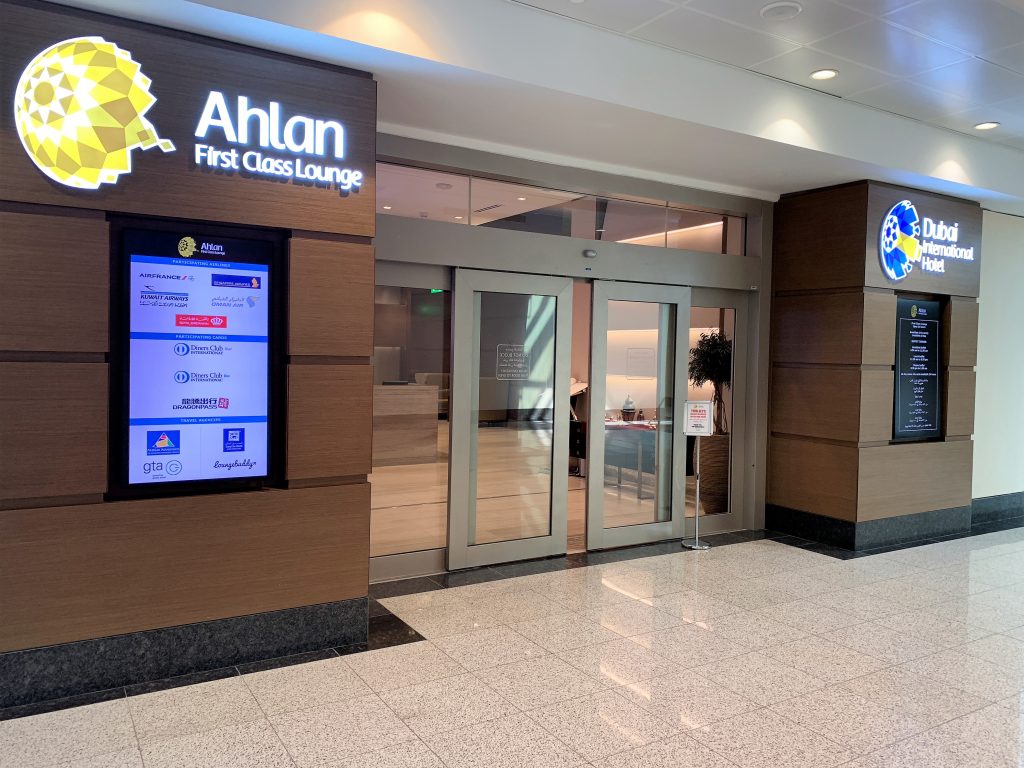 Oman Air uses the Ahlan First class lounge at Dubai, despite the fact they don't actually have First class. I thought that the lounge was very impressive and it definitely felt first class. On entering the lounge you go into the main dining area where the tables were smartly laid up with fresh lilies on each table.
There was a buffet breakfast laid out with a good selection of western and Arabic choices.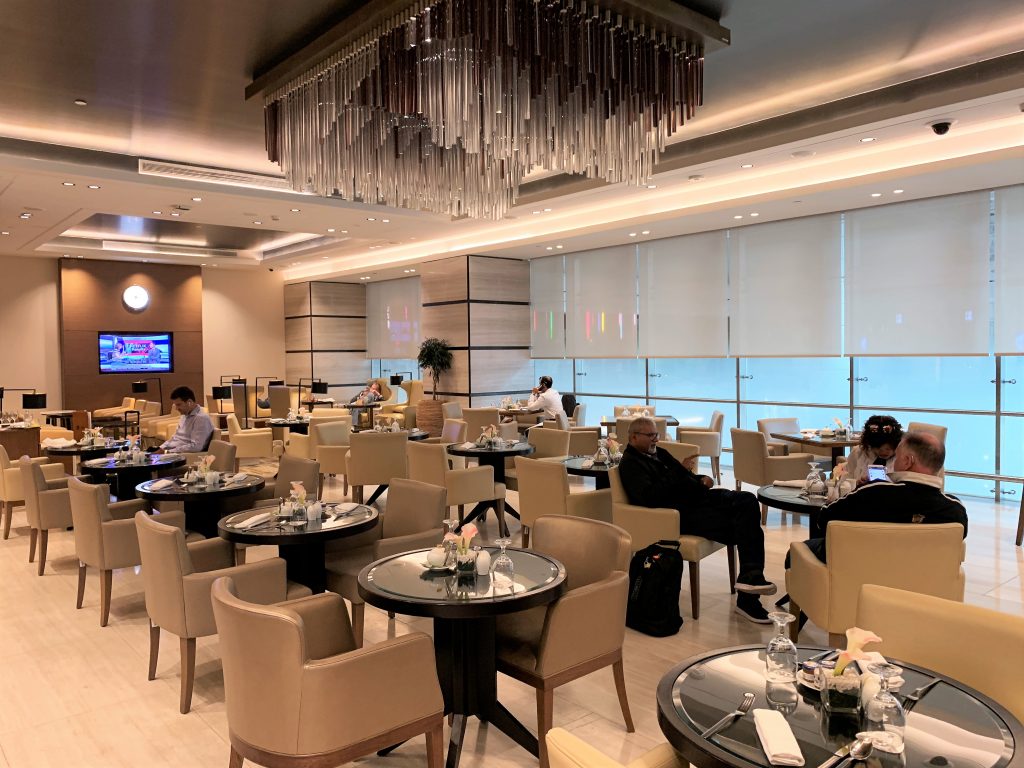 This led into a small bar area which offered a wide range of spirits and cocktails as well as Moet and Chandon champagne and a couple of decent red and white wines although they were not what I would view as first class wines.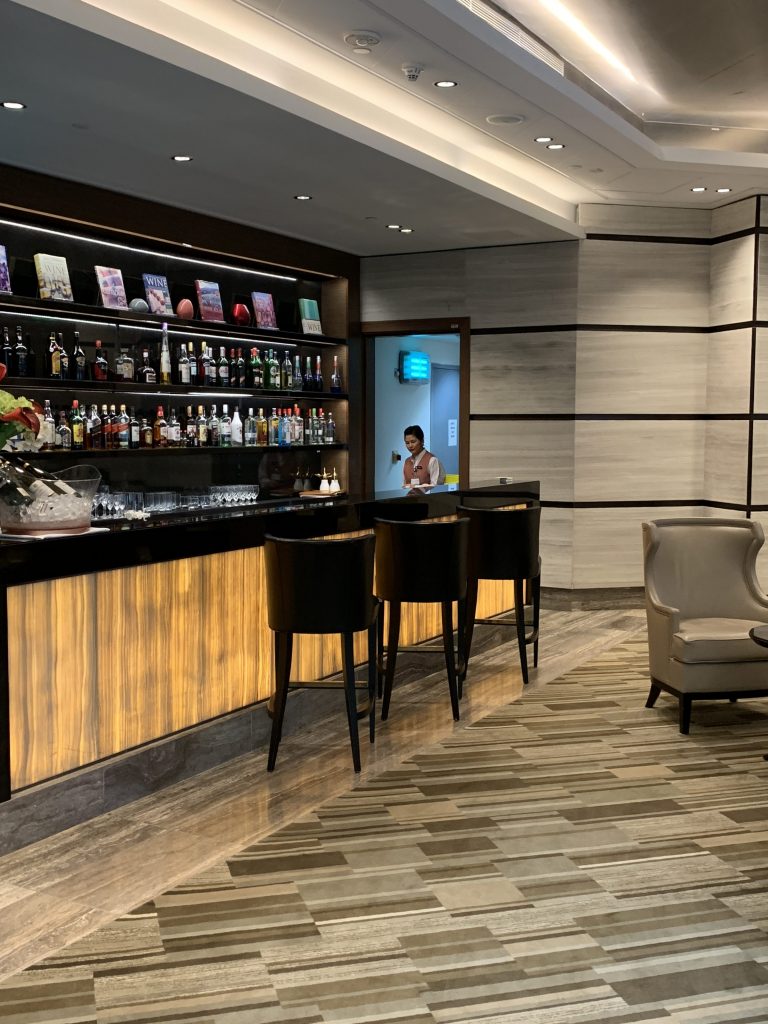 Then finally there was a large seating area that was completely deserted. I spotted a couple of massage chairs so sat down to have a quick go on one. Shortly afterwards the bartender appeared with a napkin, cutlery and a menu. The a la carte menu was very comprehensive and better than many airline First lounges I have been to in terms of choice.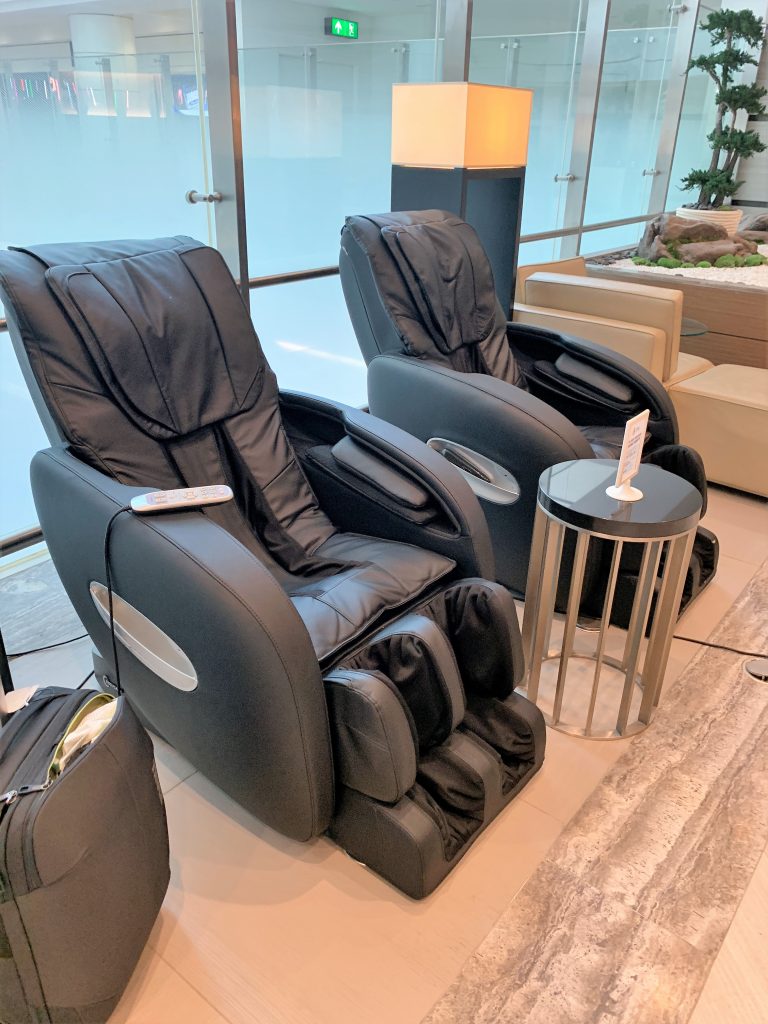 I was planning to eat something in the lounge at Muscat so I didn't bother with any food. I went back inside to the main bar area and the ordered some drinks at my table.
Dubai to Muscat
Boarding was with business class first along with elite members of Oman's frequent flyer scheme. Once on board, I received the usual warm welcome with a choice of drinks. Given the relatively early hour I went for the traditional lemon mint drink which I always find refreshing. This was then followed by a box of dates, hot towel and Arabic coffee. A bottle of water was also given out. They offer a choice of a hot meal or sandwiches on the short 1 hour flight but I declined both and just stuck with water.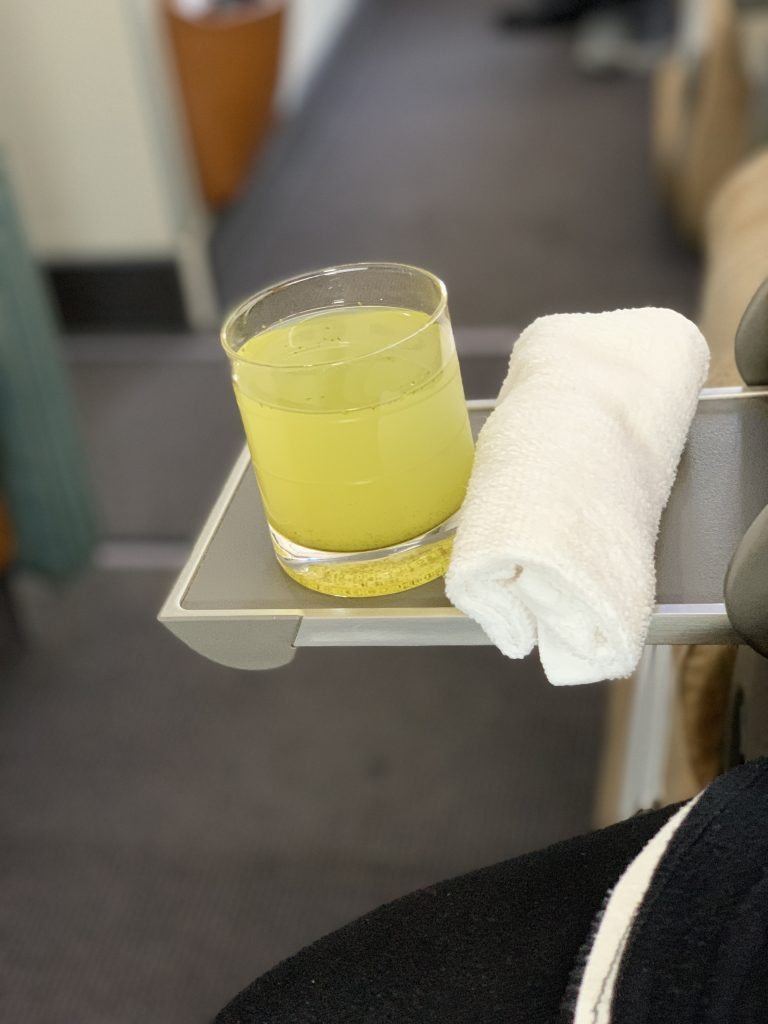 The seats were laid out 2-2 but it was a quiet flight and I had the front row to myself on my side. The seats were slightly old fashioned but more than adequate for this hour long flight and a huge improvement on what you would get on a similar intra-European flight.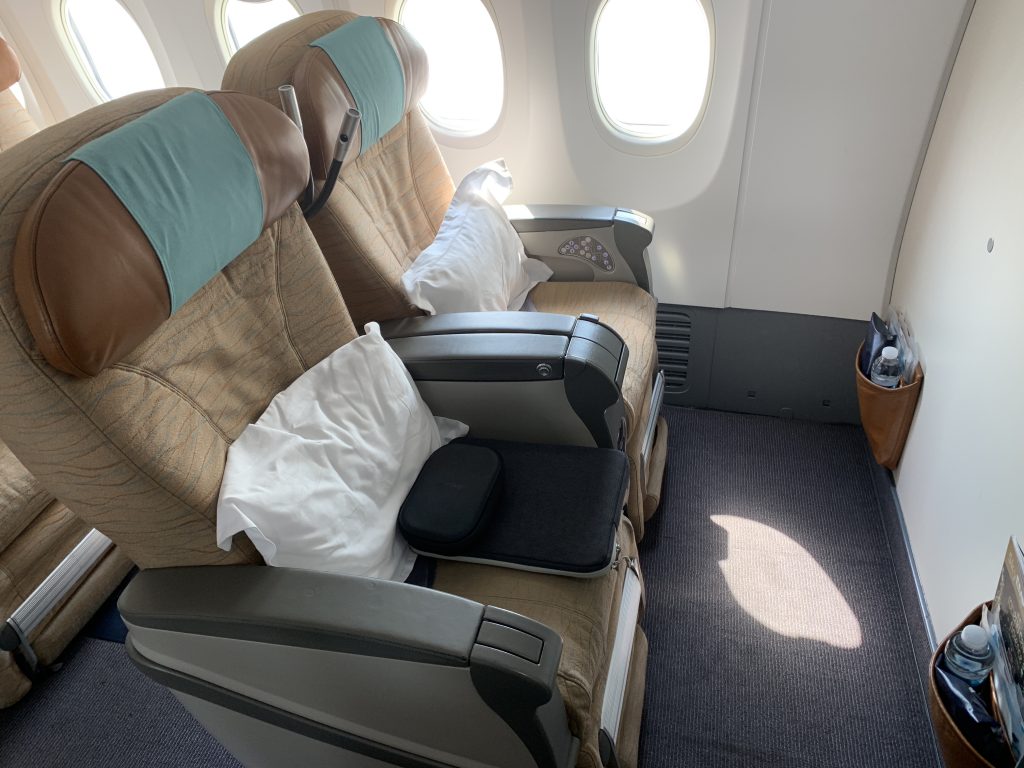 Oman Air lounge Muscat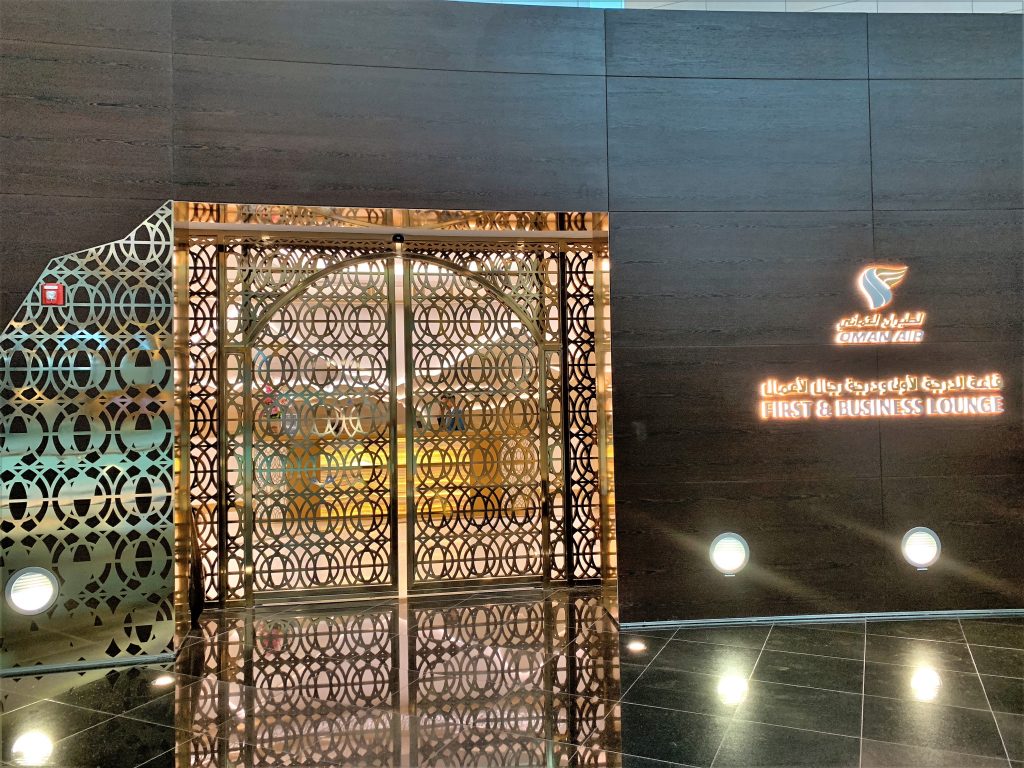 The Oman Air business and first lounge is still relatively new and from the moment you enter it looks impressive. There are a spa and showers but I didn't have time to use either of these facilities.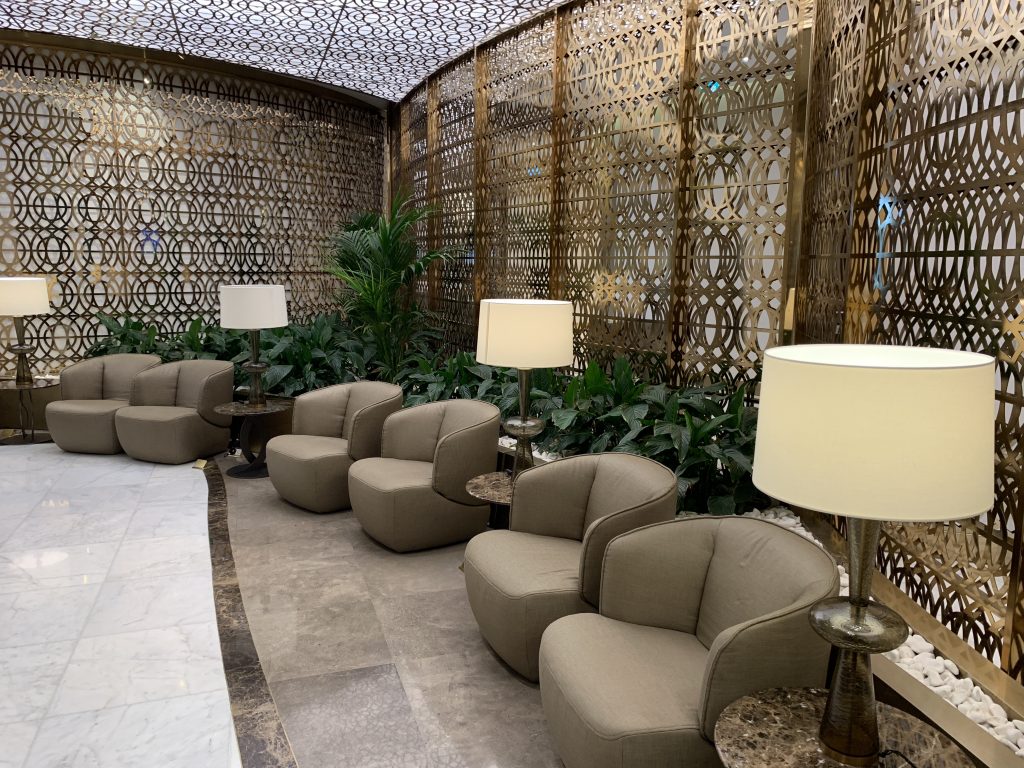 As you enter there is a small seating area and then you enter into the main buffet and dining area. The lounge looks very smart and reflects the local Omani style. The buffet had a really good selection of local, Indian and international food.
There were plenty of tables to sit and eat if you wanted a proper meal.
I liked that they were laid up with cutlery and flowers on each table rather than having to carry it all to the table yourself. There was also a smaller buffet area at the back of the lounge.
Past the lounge was the impressive looking bar area where you could get Champagne as well as wine, cocktails and spirits. There was table service in this area and the staff were keen to look after you as soon as you sat down. If you went up to the bar they offered to bring it over for you. The bar area was a nice light and airy spot with views over the tarmac.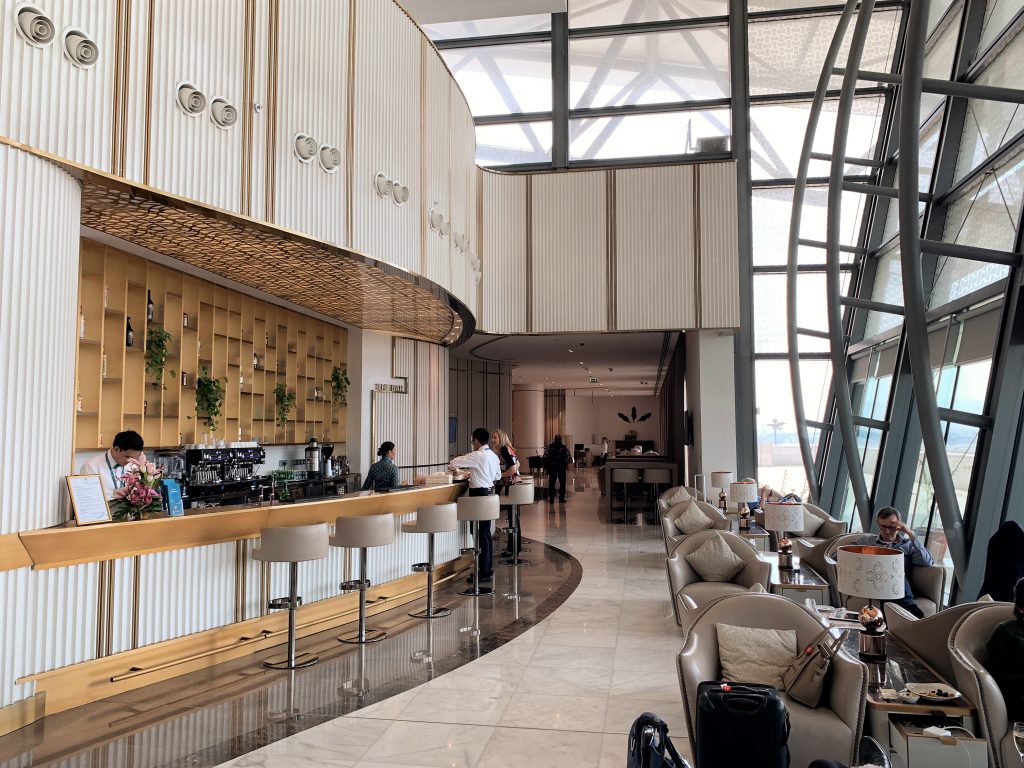 I visited the very nice toilets whilst I was in the lounge and loved the smart stone basins and proper linen towels to dry your hands.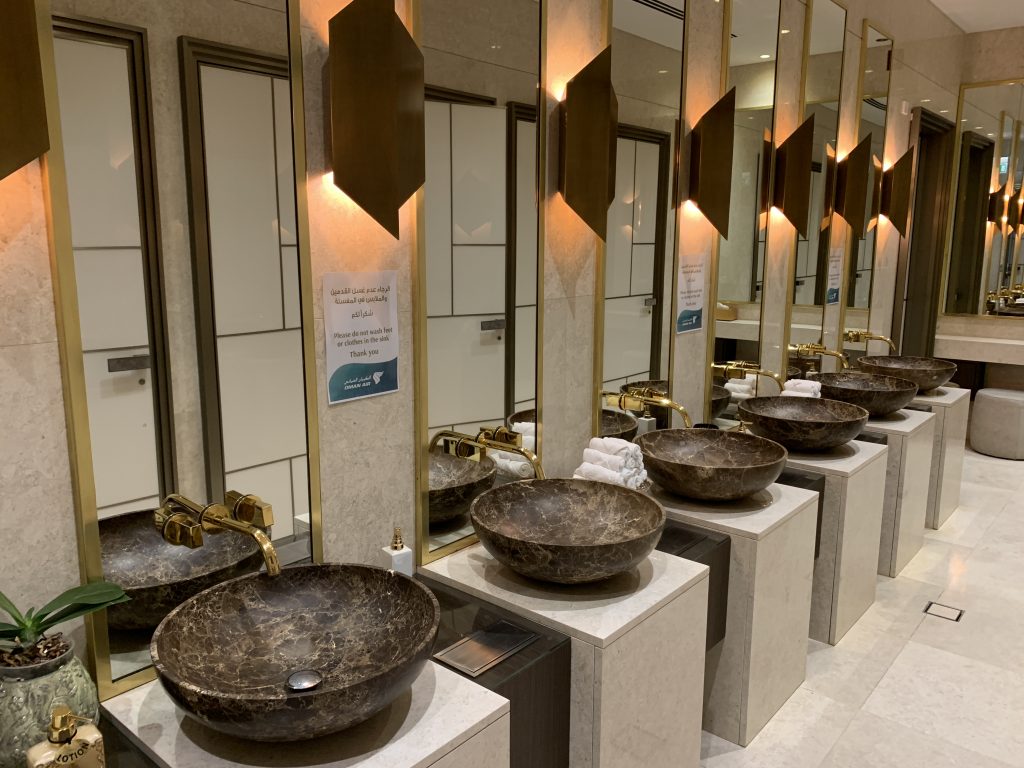 However, I did find it disturbing that they had to have this sign up.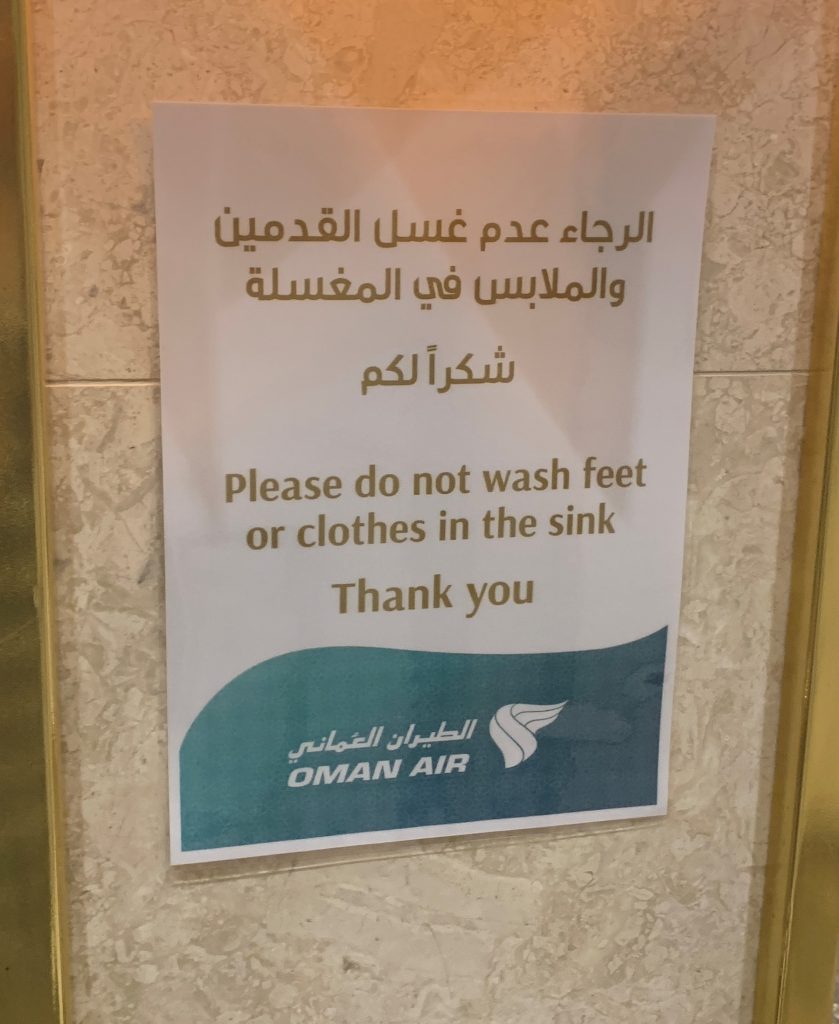 I just about get the feet bit but clothes? Who decides to do a load of laundry in the lounge toilets??
Muscat to Paris – Boarding
Boarding involved quite a bit of waiting around at the gate as they were late to start boarding. Once on board the welcome was as impressive as all the other flights with a seemingly never-ending amount of items presented to me.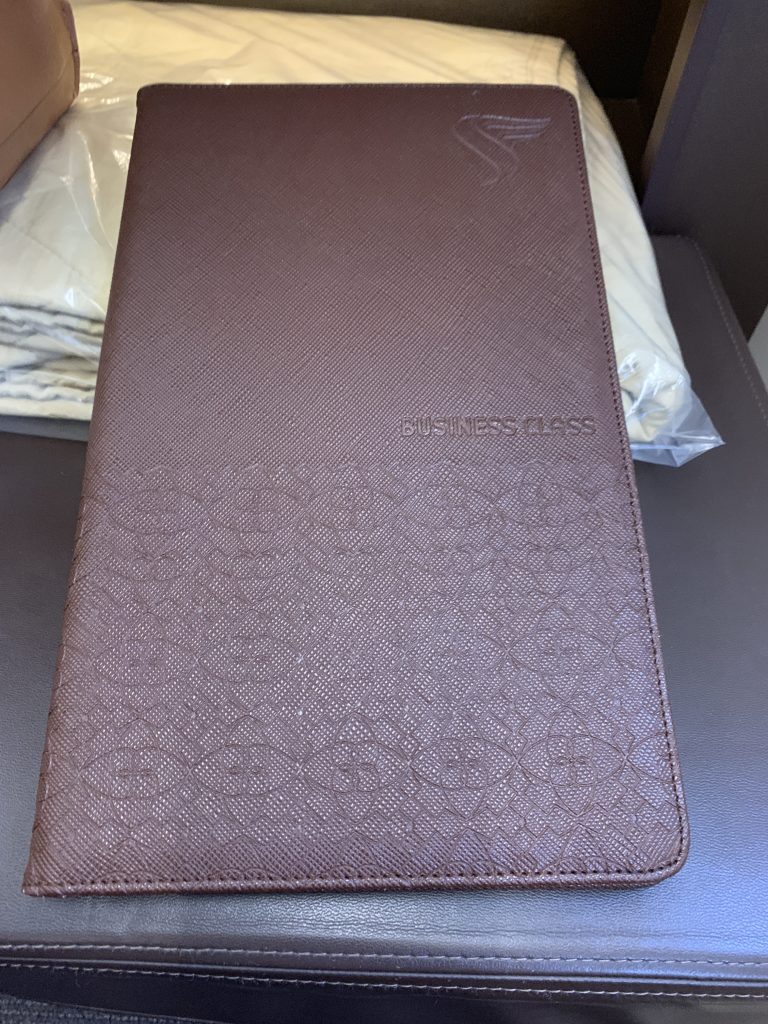 I was presented with a leather menu and a smart looking amenity kit. I really liked the Oman Air amenity kits which looked more like a first class kit to me and had a good range of contents. There was a dental kit, shaving kit, Amouage moisturiser, body lotion, lip balm, eyeshades, earplugs socks and a hairbrush/comb.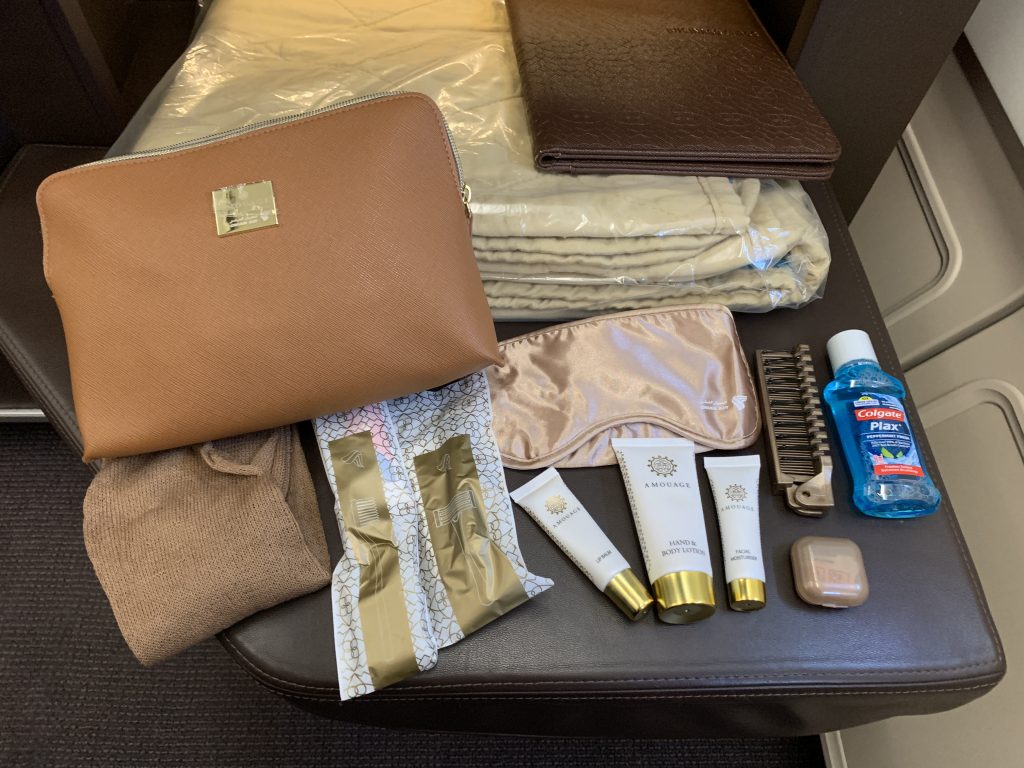 At the seat, there was already some bedding and the noise cancelling headphones plus a bottle of water. There were no pyjamas offered as this was a day flight. I was also presented with a large box of dates to help myself to, followed by the traditional Omani coffee which is much the same as Arabic coffee – slightly weak but spiced.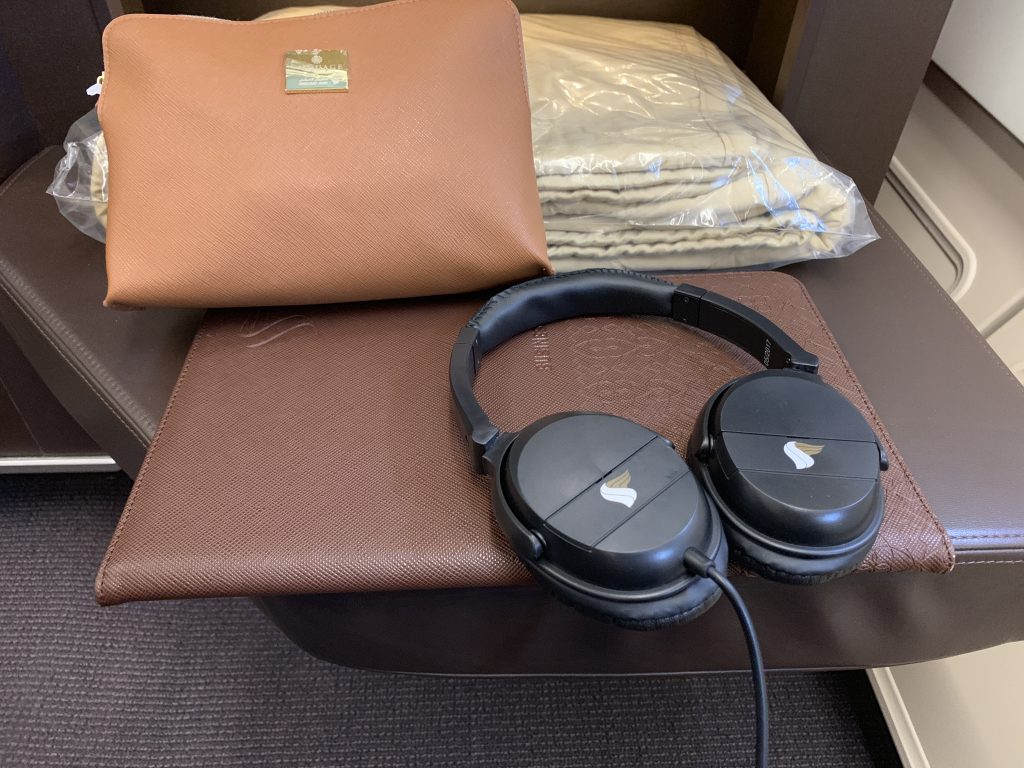 Next the cabin crew member who would be serving me came over and introduced himself and offered me a welcome drink. This is where the trouble began and set the tone for the flight. He was perfectly friendly and polite but pretty useless. Most of the flight was spent waiting for things or having to ask a second time to get things he had forgotten.
I asked for a glass of champagne as the welcome drink and was still waiting 15 minutes later so had to ask again. They did pour it at the seat though and I liked the rather unique glasses too. The champagne was Laurent Perrier. I was also given a hot towel on a nice ceramic dish. I find Oman Air pay a lot of attention to all the details which is impressive.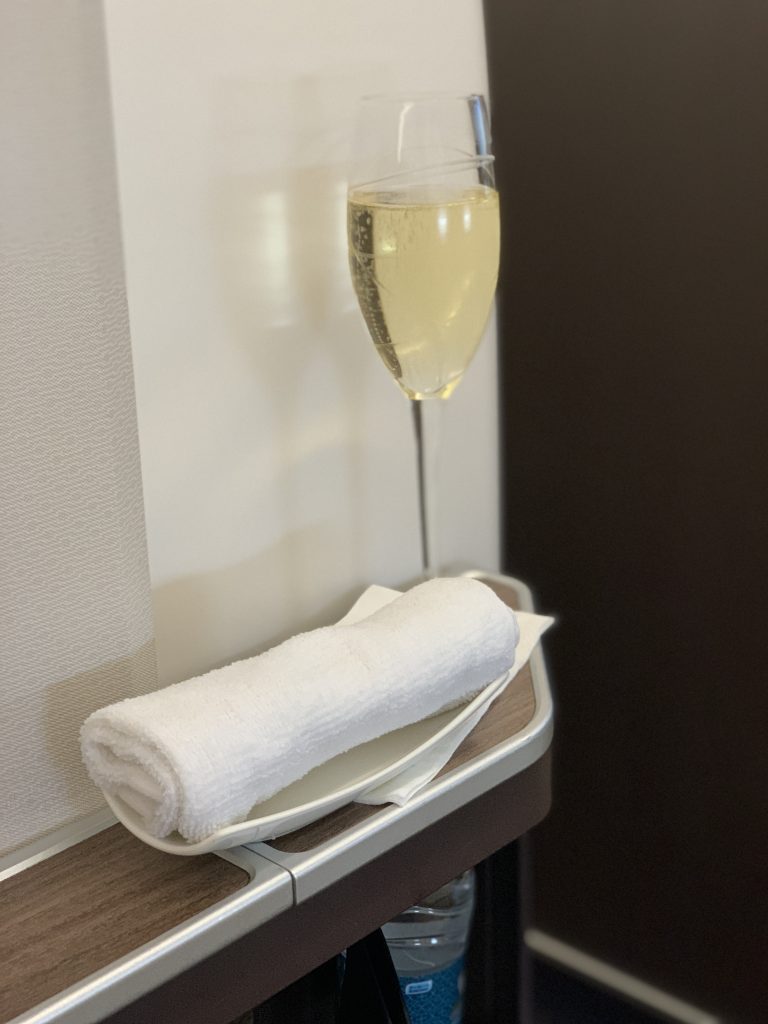 We had a long delay on the ground due to issues with missing passengers and bags still being onboard. We waited for ages to leave the gate then got halfway around the airfield before we went back to the gate again as they still hadn't reconciled the bags with missing passengers! At no point during the delays was I offered another drink, even water. We eventually left around an hour late.
The seats and cabin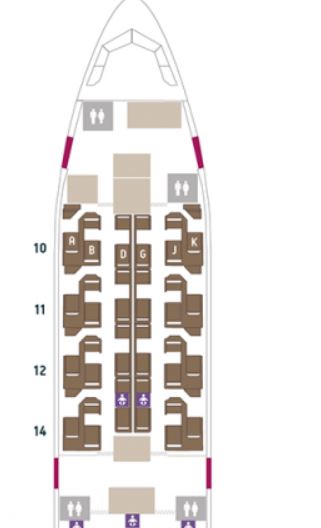 I had originally booked 11K a window seat but two gentlemen travelling together asked if I would swap to 12K so they could sit together and I agreed. This was a bit pointless in the end as I ended up with no one next to me so they could have sat together in the original seats. I did wonder if they were a bit sneaky as I ended up with a crying baby behind me!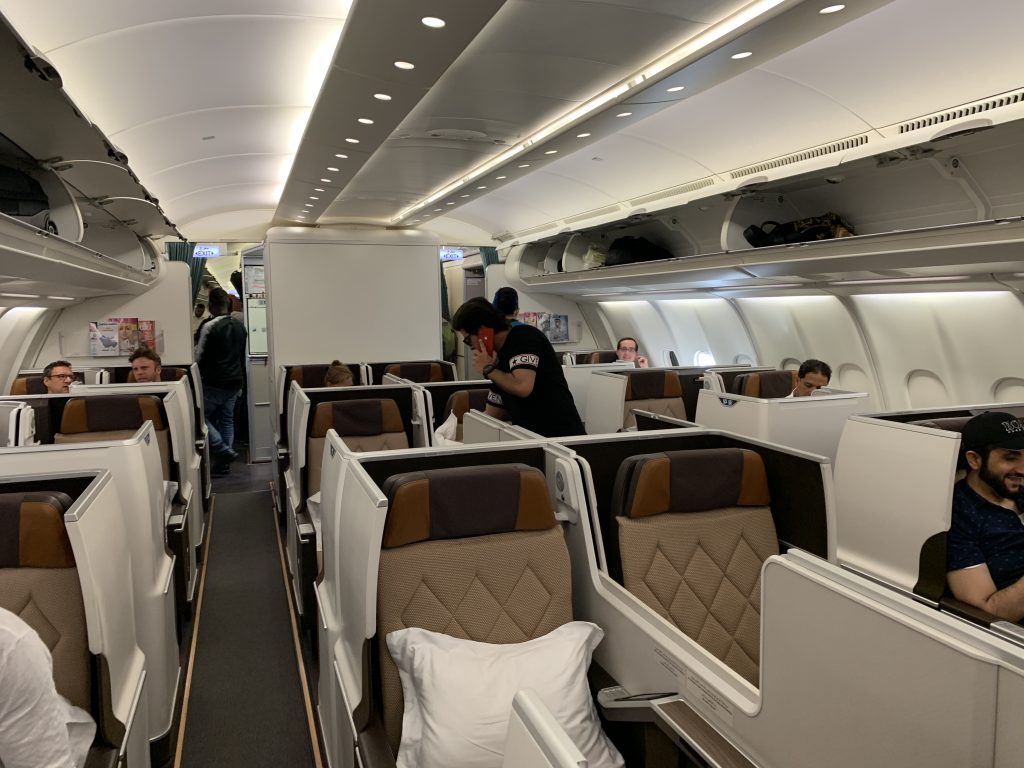 Oman Air seats are laid out in 2-2-2 but they all have aisle access thanks to the clever design.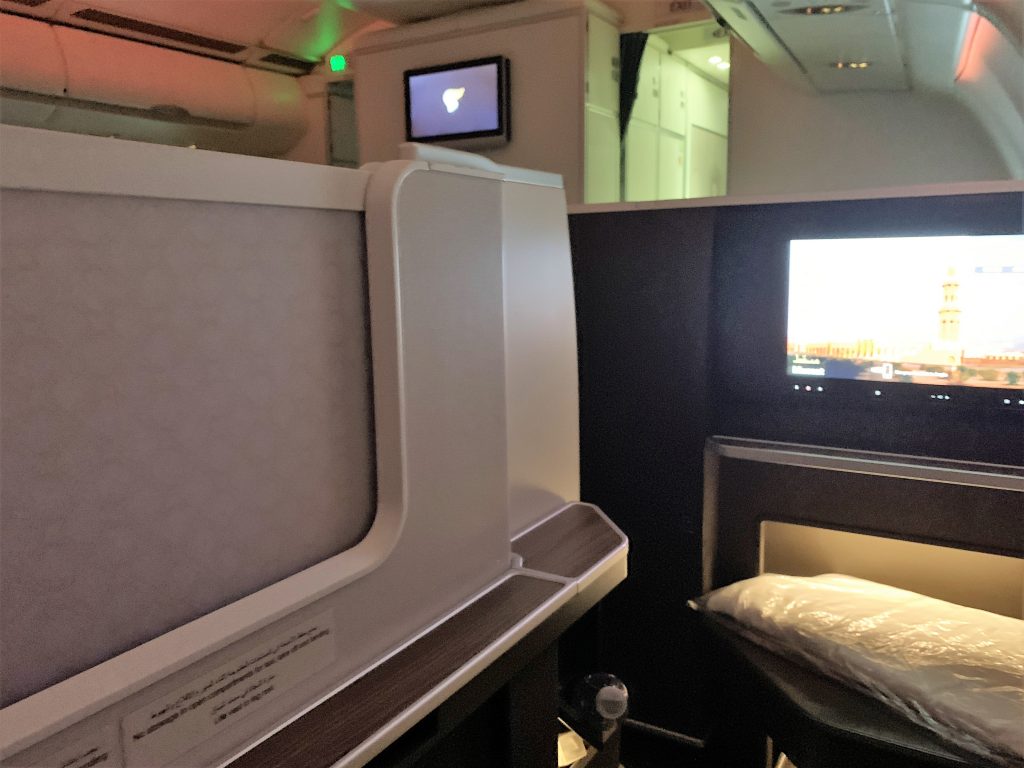 The window seats feel like suites even though they are not enclosed but they are very private once you have the privacy screen up.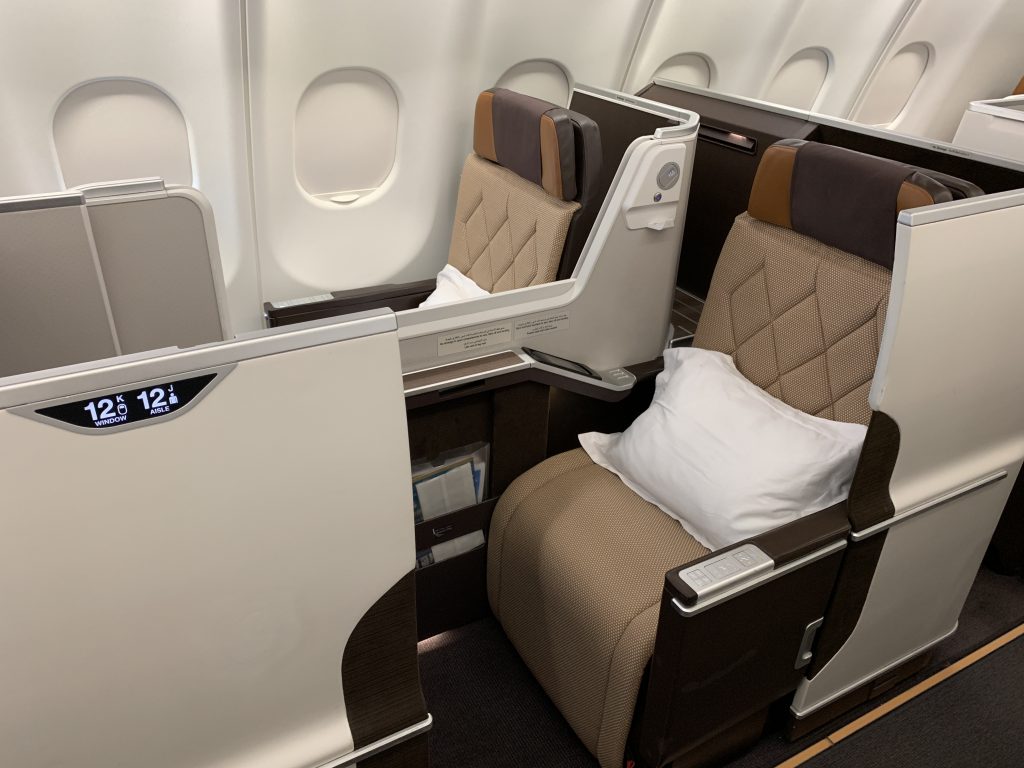 The seat feels very roomy in the window area with a wide seat and large footwell/footstool.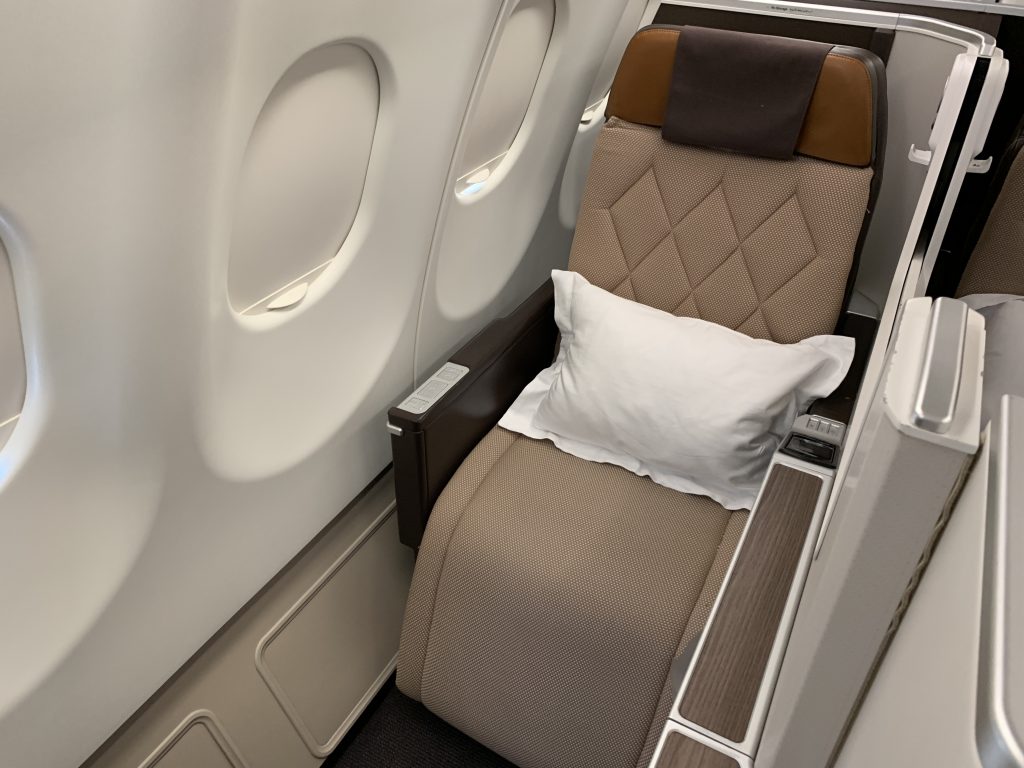 There was a reasonable amount of storage space although nowhere to easily put a laptop. To the side were some shelves which were divided up making nice little cubby holes for bits and pieces.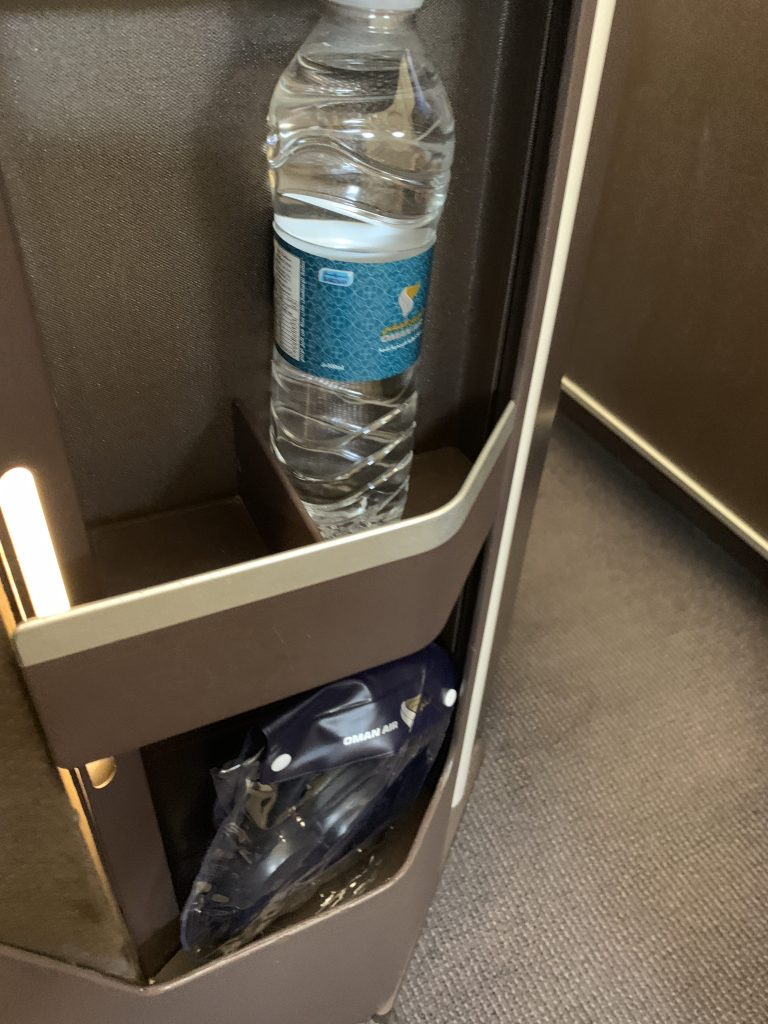 The seat was comfortable apart from the footstool being too far away to reach without adjusting the seat. There was full leg support though which meant that it wasn't too much of an issue. The seat had plenty of different options for controlling its position. Although it looked simple it did take quite a bit of adjusting to get it completely how I wanted, as when you pressed one button it did then move other parts of the seat too!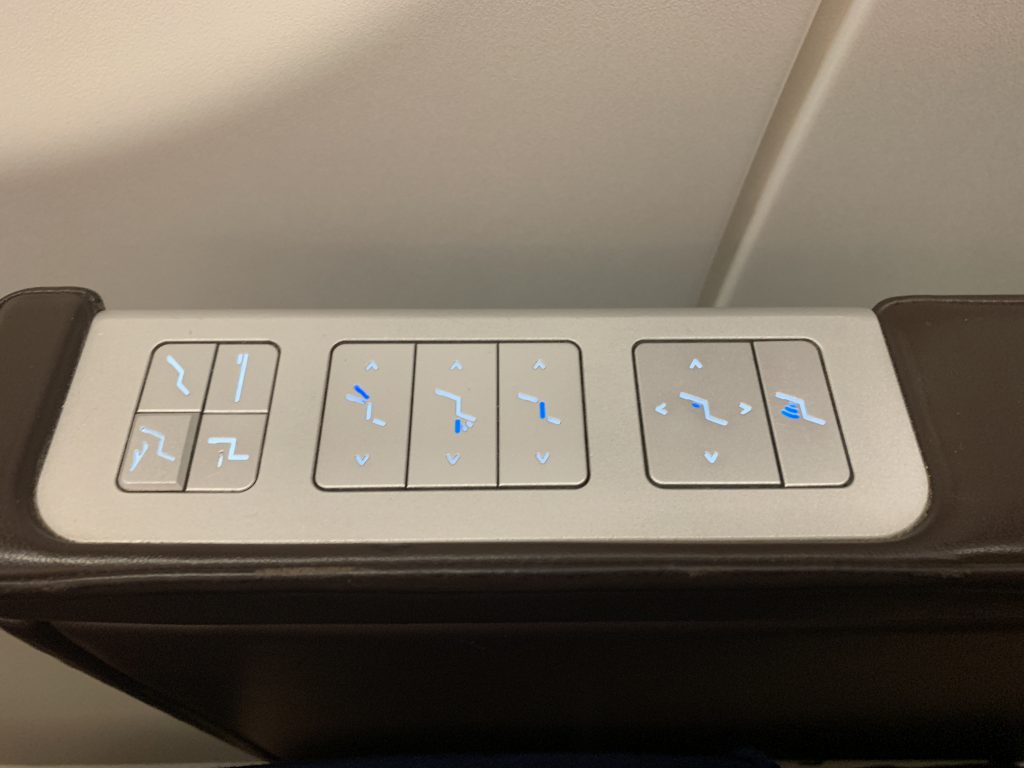 I had a short nap on board and found the seat very comfortable for sleeping as well. It wasn't too firm and the pillow was nice and plump for plenty of head support. There was also a quilt which had a cotton covering and wasn't too thick.
Food and drink
Once again the menu looked good with plenty of interesting sounding choices. Very strangely there was no pre-meals drinks, unlike the previous flight which seemed very odd on a day flight. We went straight into the amuse bouche of a sesame crusted prawn which was tasty. The service was still not great and I sat there with both an empty water glass and no offer of a drink for quite a while. Basically, for most of the flight, I was not really offered any drinks and had to keep asking for everything including water which I thought was poor. Here is the wine and drinks list:
For my starter, I choose the salmon and tuna. This was beautifully presented and although fairly simple in its composition it was enjoyable and there was plenty of it. There was also a personal bread selection with olive and balsamic for dipping or butter. I finally managed to get a glass of wine and had gone for the Sancerre. It was a good Sancerre but unfortunately it was lukewarm at best which spoilt it plus they gave me a tiny half glass and I was not offered a top up at any point.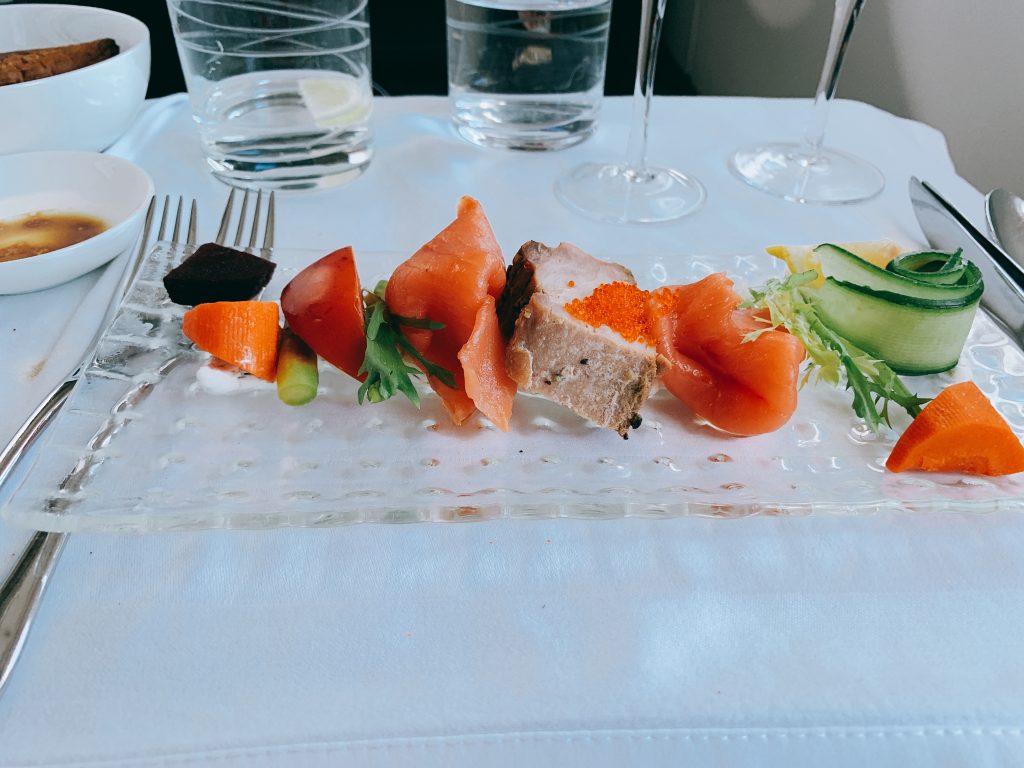 Next, I had the kingfish which had a lovely flavour from the kaffir lime sauce and was not overcooked either. Again I thought it was presented to restaurant standards.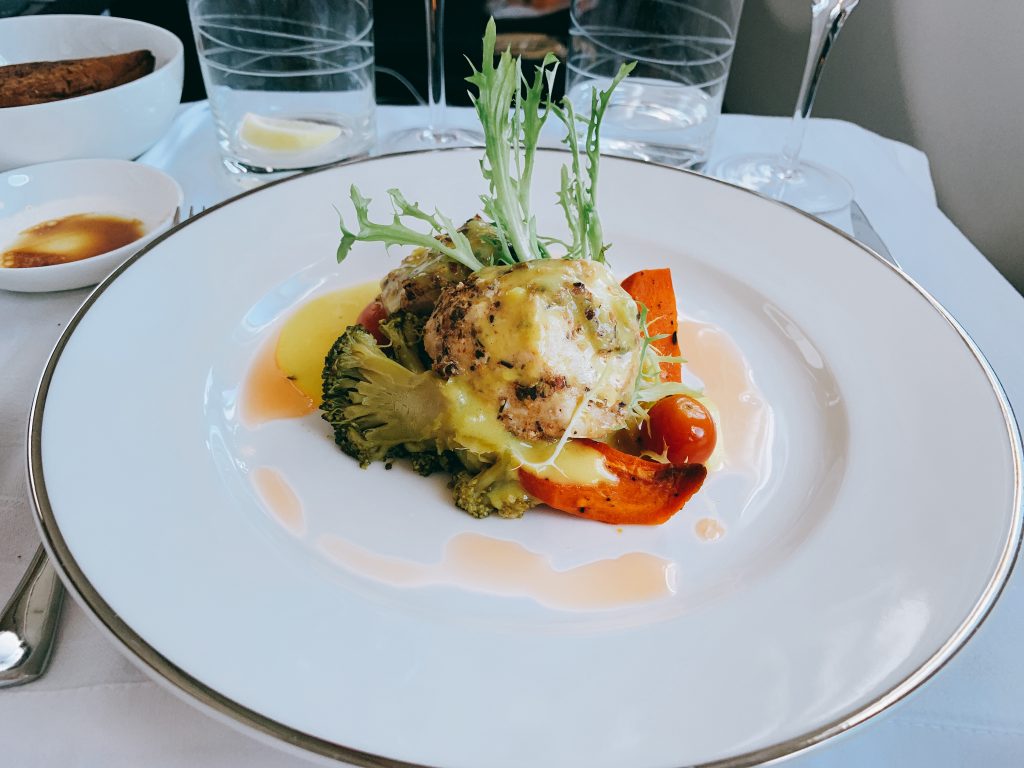 Finally, I finished with the cheese plate which had a nice selection of cheese and accompaniments. I tried a glass of the Sauternes dessert wine with the cheese which was very good.
I decided to finish the meal with a cognac in a bid to make myself a bit sleepy for a snooze. The measure was generous and I was pleased to see that they had proper brandy glasses for it.
I could have had the second meal of afternoon tea but the portions were so big at lunch I didn't really feel hungry. I also was not entirely convinced by carrot scones being something of a traditionalist when it comes to afternoon tea!
Instead, I asked for some tea which was served with some very good chunky cookies.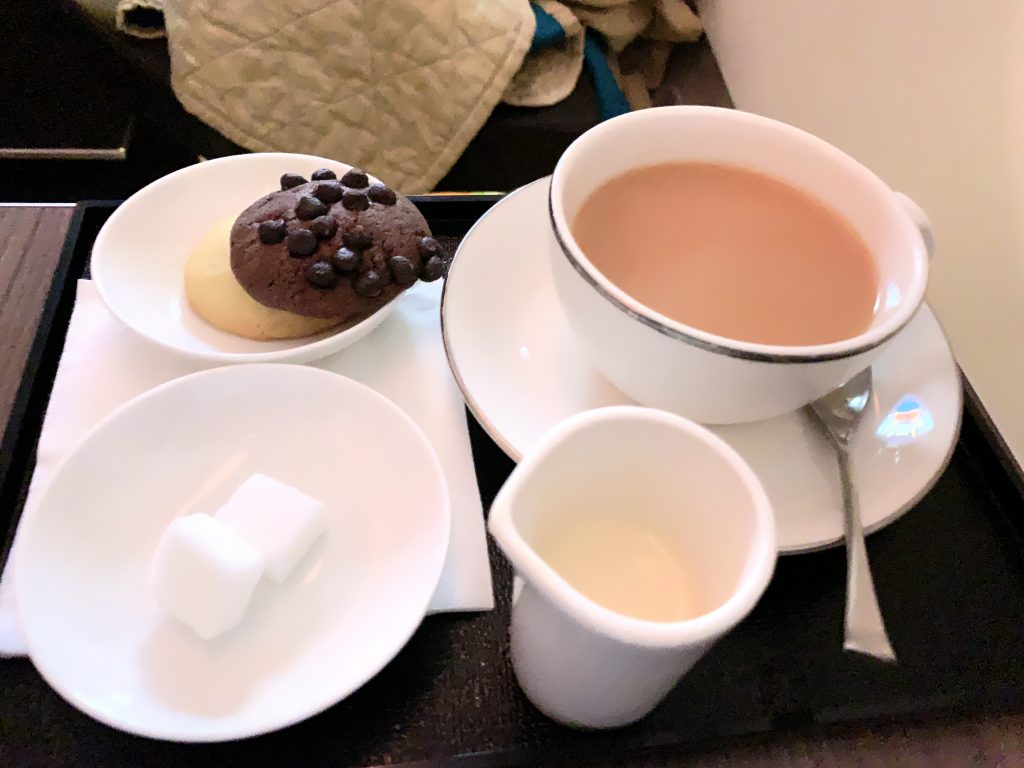 Entertainment and connectivity
There were all sorts of problems with the entertainment, power and internet on the flight and it had to be reset a couple of times before it worked.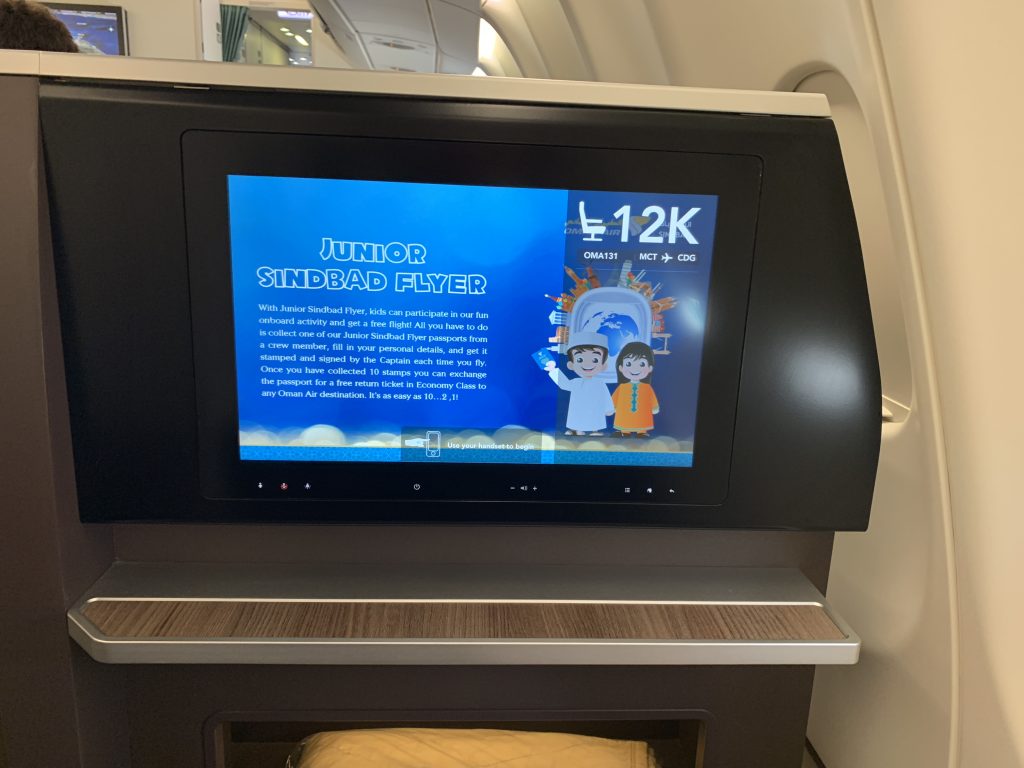 Oman Air do have Wifi which I gave a go on the flight. The packages come in a number of hours which was annoying as there wasn't a package big enough for the whole flight as the biggest was 5 hours. There was also a limit on each package as to how much data you could use to make sure you didn't go mad. The 5 hour package was 150mb which seemed pretty small for that length of time. The Wi-Fi speed was reasonable and once it was up and running it worked OK for basic emails and messaging.
The TV screen seems big even though it is quite a distance away from the seat. The screen had good definition and I was impressed with the selection of films available. On my flights, they had the entire series of Ocean's films from the very original one right through to the recent Ocean's 8 which I watched. I enjoyed it but didn't think it was as good as Oceans 11. The headphones weren't great so I stuck to my own Bose ones.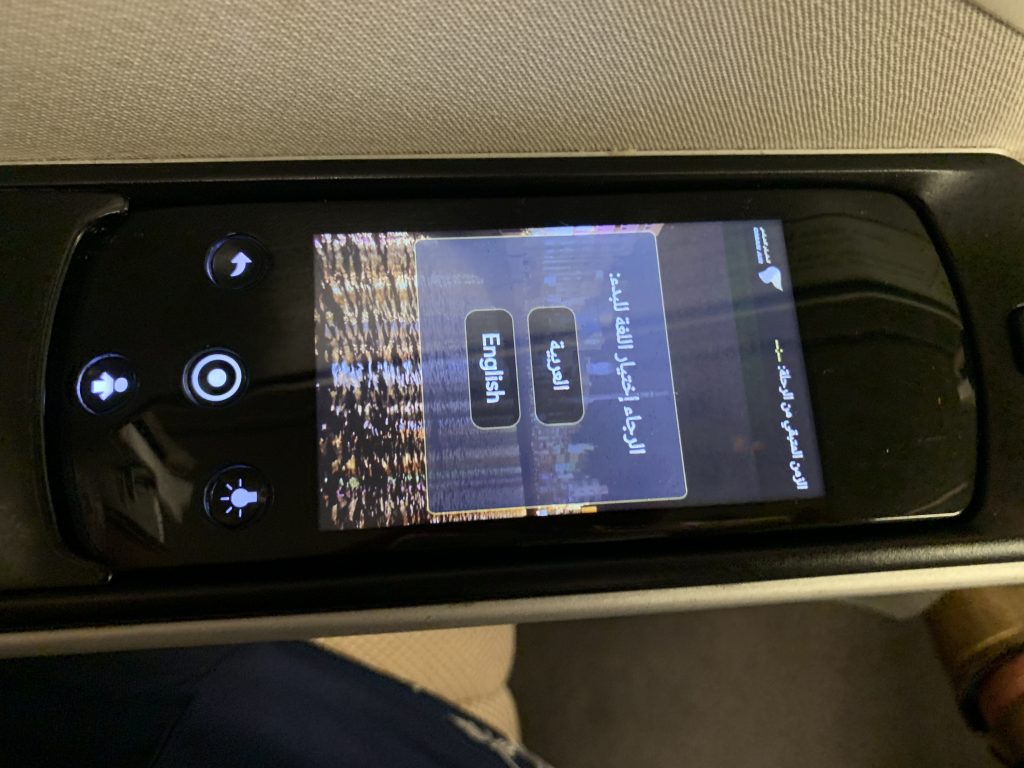 The TV had a modern touchscreen remote. It was simple to use but I found it a little sluggish and sometimes it was tricky to actually select the thing you wanted as the screen could have been more responsive. There was a multi-country socket for charging and a USB port.
Conclusion
I had been really impressed by Oman Air on my outward flight. Unfortunately, the service let this flight down. Despite the service issues I still rate Oman Air highly as everything else on board was good with comfortable seats, privacy, well presented, tasty food and good wine. There were also lots of touches that felt more like I was in first class than business class.
The new Muscat lounge was impressive as was the Dubai third party lounge. Despite the lapses in service, I would fly with Oman Air again as I think I was just unlucky. The other 3 flights I took on this trip were all excellent with great service. I also got a great deal on the flight which was around £1100.