BA's Easter Treat for Executive Club members
British Airways are again offering special lounge access for Gold & GGL Cardholders over the Easter holidays. If you are currently due to travel you should be informed by email from British Airways or when you check in for your flight.
Between 26 March and 15 April:
Gold and GGL Cardholders will be able to take FIVE (!) additional guests with them into the lounge on top of their regular guest allowance. The guests must be travelling with the Cardholder and on the same flight.
Gold Cardholders may only be able to use the Galleries Club lounge with the extra guests (obviously you could use Galleries First with your normal +1) and GGL Cardholders may only be able to use Galleries First lounge if they take additional guests due to capacity.
The offer is subject to lounge capacity and only valid on British Airways flights from Heathrow and Gatwick
Are you travelling over Easter and planning to use the BA lounges? What do you think of this policy?
BA's European Wi-Fi problems

IAG and BA are due to be the launch customer for a new satellite and ground-based aircraft Wi-Fi system by Inmarsat called European Aviation Network (EAN).  There are now around 300 base stations across all 28 member states of the European Union, as well as Switzerland and Norway which will provide in-flight Wi-Fi. This has been difficult in European airspace before due to the density of traffic.
The system has been tested since last year and is operational waiting for airlines to start using it. Unfortunately, the Belgian Courts have just revoked permission for the system to be operated in Belgium, leaving a Belgian sized hole in the network. Inmarsat has said it won't stop plans to go ahead with the launch. There have been other legal challenges against the use of the system too.
BA have committed to having 90% of their aircraft fitted with Wi-Fi by 2019 with a recent announcement that the Wi-Fi will start on board on short-haul in June. Whether this ruling affects the launch remains to be seen.
Virgin Atlantic's aircraft changes
Virgin Atlantic have had to lease an ex-Air Berlin aircraft to cover their B787s which are being repaired due to the ongoing B787 engine issues. Airlines are having to replace engine turbine blades on their B787s due to manufacturing issues.  On the ex-Air Berlin aircraft, you can expect direct aisle access 1-2-1 configuration seats in 'Upper class' but there is no premium economy. You can read more about the leased A330 aircraft in this article.
Virgin have announced some changes to the lease aircraft operations effective from 25 March:
The leased Airbus A330-200 service has been extended to late-October 2018. The following routes are affected:
London Gatwick – Antigua eff 15 May 18 – 3 weekly
London Gatwick – Barbados eff 15 May 18 -1 daily
London Gatwick – St. Lucia – Grenada eff 18 May 18 -2 weekly
London Gatwick – St. Lucia – Tobago eff 20 May 18 – 1 weekly
Manchester – Atlanta eff 02 March 18 – 7 weekly (6 weekly from 30 May 18)
Manchester – Barbados eff 17 May 18 – 2 weekly
Manchester – Boston eff 23 May 18 – 2 weekly
Manchester – New York JFK 01 March 18 – 14 May 18 – 7 weekly
Manchester – San Francisco eff 22 May 18 – 3 weekly
If you are already booked on one of these flights in Premium Economy you should automatically rebooked into economy. You should receive an email to that extent. They will, where possible, move you into Extra Leg Rooms seats and refund 75% of the cost of the flights. There are also options to change your flights to different dates and starting airports/destinations. They may fit the aircraft with Premium Economy later on and so far the only dates announced for definite lack of Premium Economy go up to July 2018.
Even though the aircraft currently have different seats to the usual Upper Class seats you have no legal right to a refund/change unless Virgin decide to offer something as goodwill.
Opodo offer
Opodo have a special promotion for money off flights which is available on bookings until 2nd April
£30 off Flight bookings over £550
£60 off Flight bookings over £700
Use voucher code: PROMO. Discount only valid for round-trip flights, departing from any airport in the United Kingdom. The flights page for Opodo is here.
First non-stop flight from Perth to London arrives

QF9 landed at Heathrow yesterday morning at 5am marking the start of the direct flights between Australia and the UK. Operated by a Boeing 787-9 Dreamliner, the flight carrying more than 200 passengers arrived after a 17-hour flight from Perth. The historic flight opens up a new era of travel which is a far cry from the original seven stop Kangaroo route in 1947!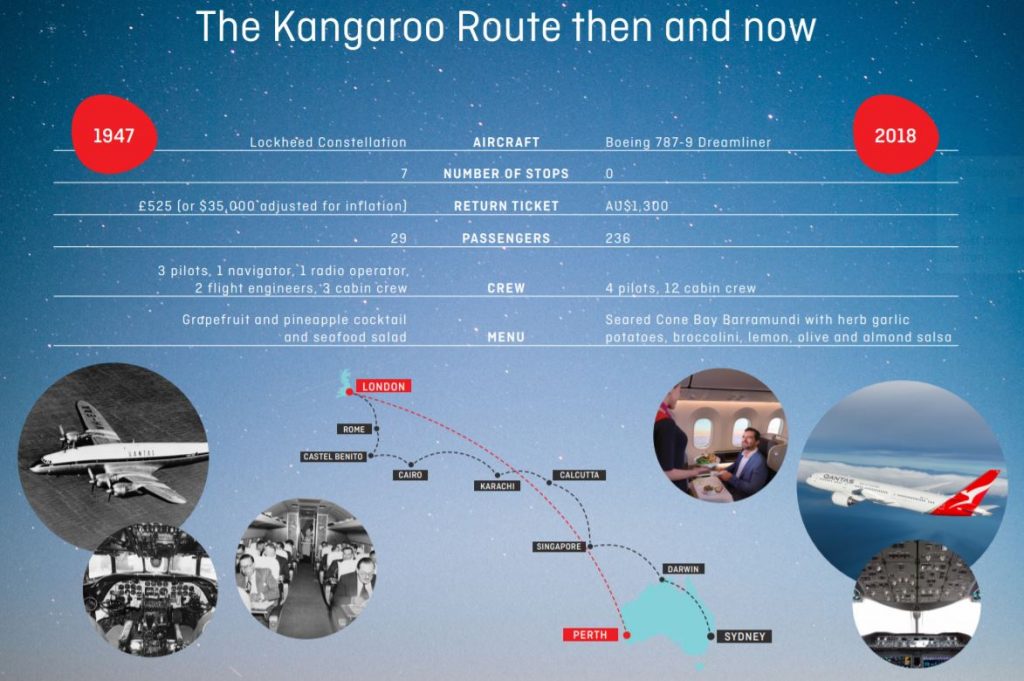 Qantas have now challenged Airbus and Boeing to develop aircraft by 2022 that are capable of flying direct from London to Sydney, which would be around 20 hours of flying.
I don't know about you but I really don't fancy spending 20 hours continuously on any plane even in first class. I enjoy stopping off in Asia on the way to Australia and like to build in a few days there to break up the journey.
Are you planning to take the London-Perth direct flight? Do you think London to Sydney direct is a good idea? Let me know in the comments below or on social media.