I had some time to kill on a recent visit to Heathrow, so I attempted to visit the 2 Club lounges and the First lounge in the A gates area. The First lounge review will follow shortly. As I have been lucky enough to be a BA Executive Club gold card holder for the last 18 months, it was a while since I had visited the Galleries Club lounges. I was pleased to see that they had replaced most of the furniture, as it had been pretty tired the last time I visited.
BA Galleries Club Lounge North
Unless you are BA Gold and use the new First Wing (opening on the 4th), the North lounge is quickest to access, especially if you go through North security. Therefore, if you are in a hurry or on a short haul flight this may be the best option. BA recommend using the South lounge instead  if you have more than 90 minutes to departure.
As you come out of North security, it is just to your left. It is however, usually the busiest of the 3 Club lounges as you can see from the pictures below. I visited on a weekday lunchtime and it was very busy, but there were still a few seats left.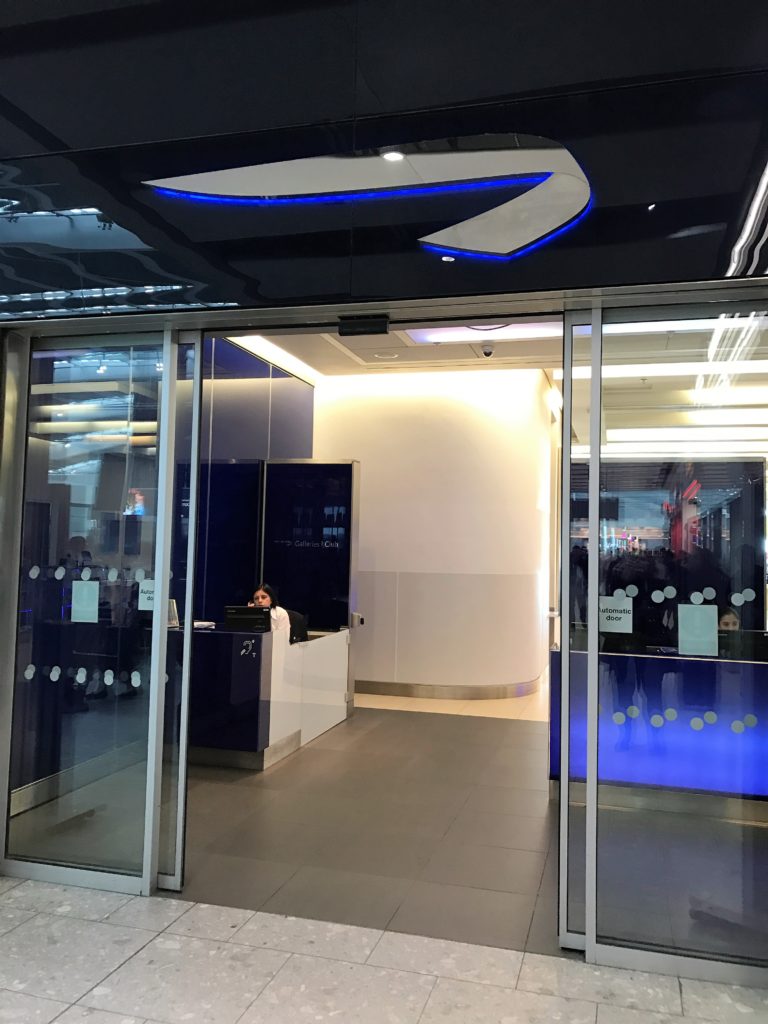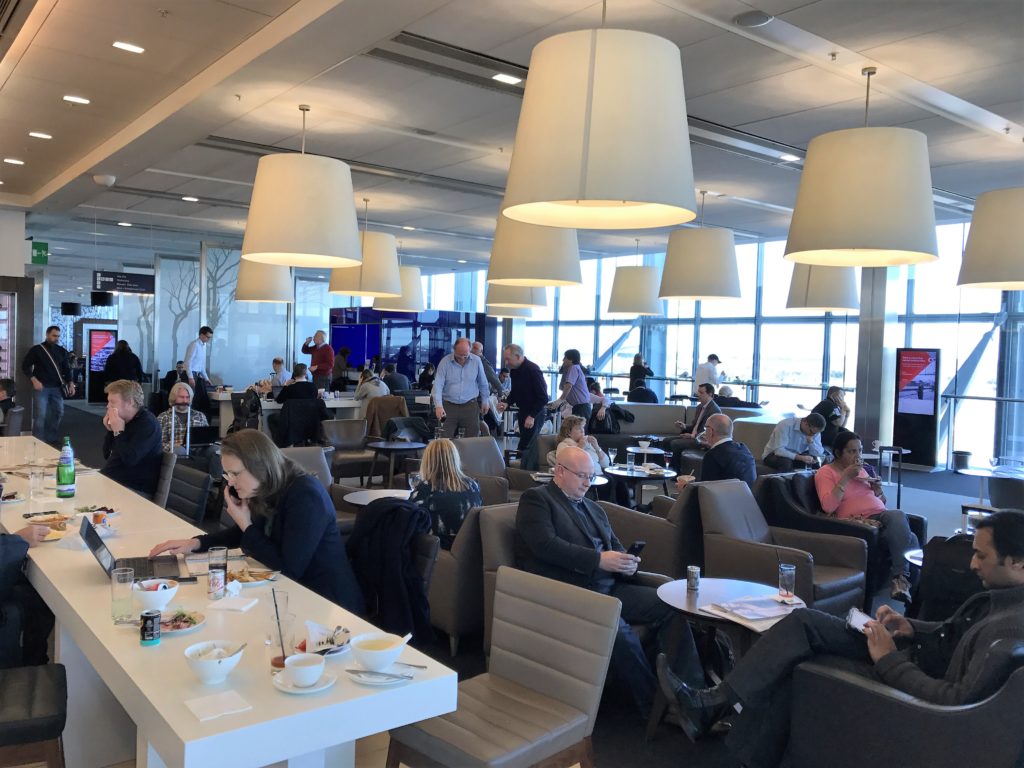 Food
It was lunchtime when I arrived. The choice was OK, if a bit cheap and cheerful. There was a salad bar and some hot options of :
Baked beans
Jacket potatoes
Thai Green chicken curry
Italian beef
Spinach and mascarpone pasta
Rice
Hot food and the salad bar is available between 12:00-15:00 & 18:00-22:30. Additionally there is a soup and bread from 12pm onwards.
Breakfast is served 0500-1200, this includes fruit, yoghurt, pastries, toast and cereals. Bacon or omelette and cheese rolls are currently available from 0500-0930. BA have just announced that this will be extended until 1100. They have also hinted that there are other proposed changes to the breakfast service, but as yet we don't know what. I would guess that they may offer a wider selection of hot items, as they used to also offer baked beans. I can never understand why they don't do it now, as if you can offer the bacon and egg rolls, surely it is less labour intensive to just offer people the chance to make their own, rather than pay someone to do it?
Drinks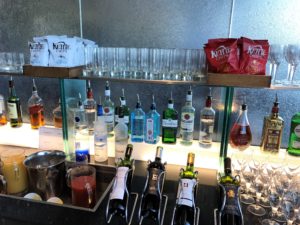 There was an excellent selection of drinks for a business class lounge with:
2 types of Gin – Bombay Sapphire and Gordon's
3 vodkas with Grey Goose, Ciroc and Sminoff
Otard VSOP Cognac
Kahlua
Baileys
Warre's 2011 Late Vintage Port
Cointreau
Southern Comfort
Glenlivet whisky
Johnnie Walker Red label
Gentleman Jack Bourbon
Jameson's whiskey
Martini
Pimms
Barcadi 8 year old rum
Barcadi white rum
Tequila
One thing that I find in BA lounges is that they generally have a good choice of wines, most of which are decent quality. Although I wish they wouldn't have 2 wines that are very similar, which seems to happen frequently.
Top tip: Don't just go to one bar if you are after wine. Often you can find hidden gems elsewhere in the lounge, if you hunt around. I suspect they may use bin ends from the onboard wines in the lounge. I once found a Mersault in the Club Lounge which retails at £25-30 a bottle.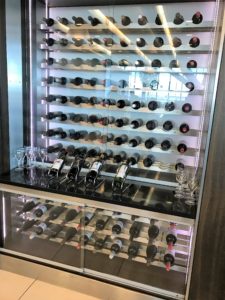 There were 5 red wines dotted around the across the North and South lounges:
Las Olas reserve Malbec
Ramon Roqueta Garnacha
Ichanka single vineyard Malbec
Chateau La Martine Bordeuax
Hahn Monterey Pinot Noir
For white wines across the North and South lounges they had:
Jean Marc Brocard Chablis premier cru
Inama Soave Classico
Cataluna Chilean chardonnay
Alain Jaume Cotes Du Rhone
Hahn Monterey Chardonnay
Bellingham Old Vine Chenin Blanc
Chateau de Chantegrive Graves
There was Champagne on demand, which I managed to secure a glass of very quickly. You just flag down any of the staff and they will bring it to you. In the bar areas are a few snacks such as Kettle crisps. Still and sparkling water are only available from large glass bottles, presumably so you can't take them!
The plates were being cleared very slowly and there was debris on nearly all the tables. It was not a particularly relaxing experience.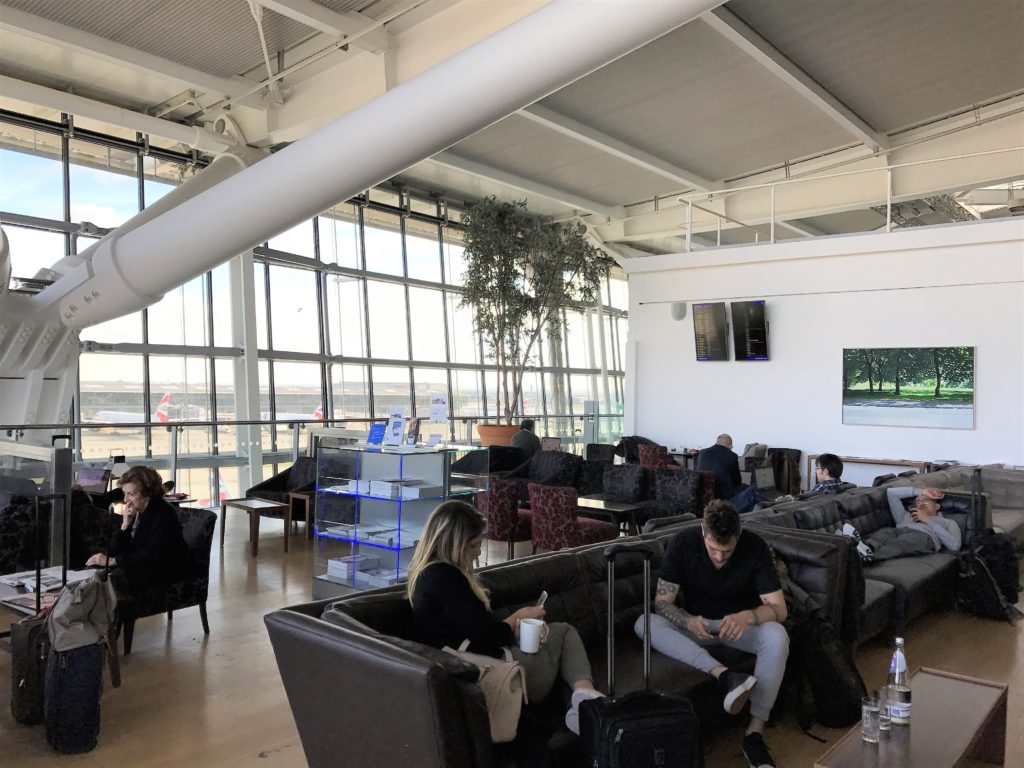 The best place to sit in the North lounge for some peace and quiet is definitely the terrace in my opinion. The disadvantage is you have to go through a set of doors which can be tricky if you have both hands full with drinks and food. There is a better view of the tarmac in the main lounge though, for those that like a bit of plane spotting!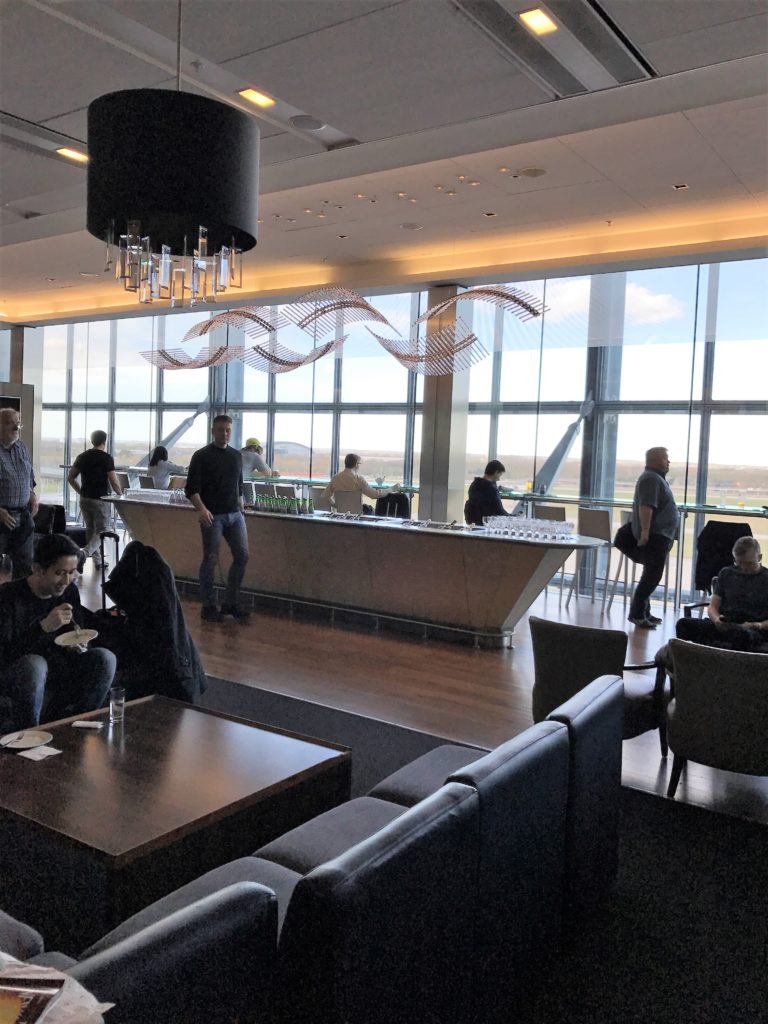 BA Galleries Club Lounge South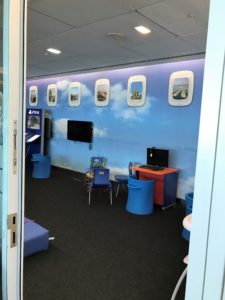 The South lounge has the same food and drink as the other lounges. However, as I said above it may have a slightly different wine selection. They seemed to have more wines available in this lounge. It is bigger than the North lounge and generally slightly quieter. There is a kids area, business centre with printer, cinema room (which looked good for a nap!) and a spa.
Elemis Spa
Spa treatments by Elemis are available for passengers flying long haul business and first class. It is also available for Executive club gold members and above flying long haul. The spa is open 0700-2100. You can only pre-book if you are flying First. My advice is to always go to the spa first, as soon as you get through security, to book your treatment. Often even arriving 3 hours before a flight is not long enough to get a treatment. Treatments are 15 minutes long and include, facials, massages and file and polish. You can find the full list of treatments here. If you can't get a treatment, you may be able to get a massage chair session instead. Afterwards it is worth asking for Elemis samples if they are not automatically offered, as they are usually quite generous.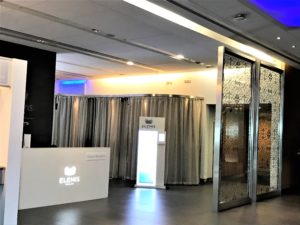 Top tip: If they are full in the South spa and you are departing from the B or C gates, then get them to call the T5B gate spa to book a appointment for you. You are usually more likely to get an appointment there. If you don't know your gate, the staff at the desk in the lounge can normally find out for you.
If you want a shower, this is also where shower reception is situated at the same desk.
Food and Drink
It was tea time when I arrived so there was no hot food available, only afternoon tea. This consisted of a selection of sandwiches and cakes. Gluten free cakes are available on request. Afternoon tea is served 1500-1800.
I did find one surprise which I had not seen before. If you turn right as you go in past the buffet and keep going, you will find a barrel of draft Heineken tucked away at the end.
Seating areas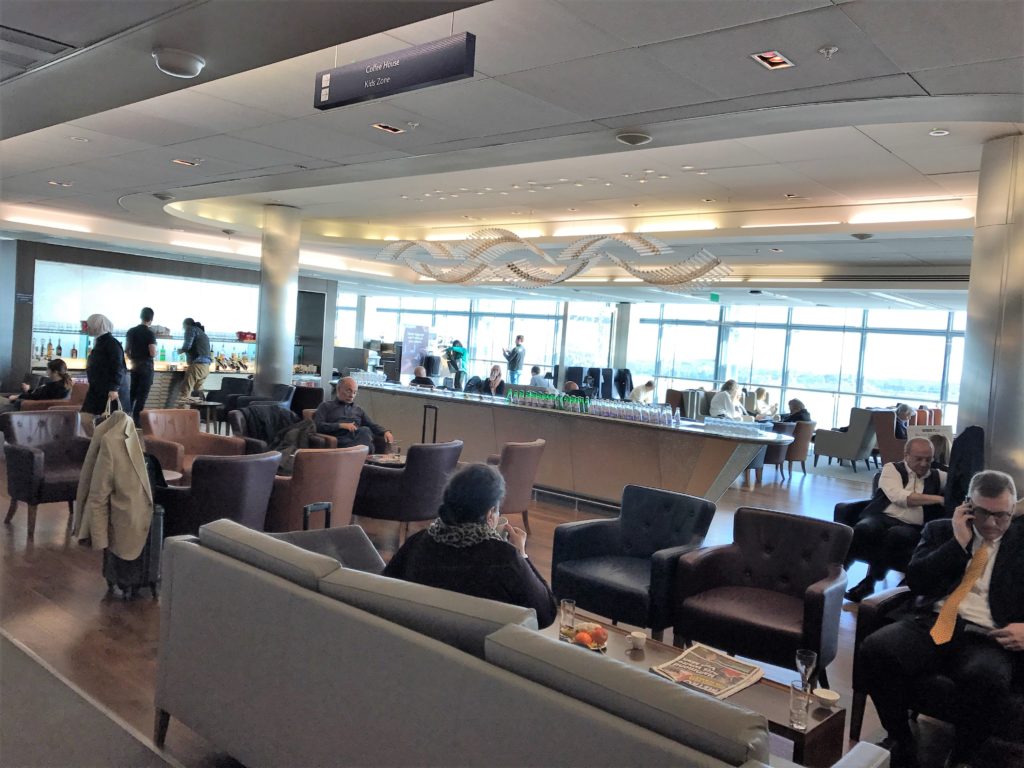 There are various different seating areas. The nicest ones with natural light and a view of the airfield, are to the left as you enter the lounge. If you turn right and walk past the buffet, it will bring you to a quieter area, although it is a bit dark. It also had some of the very old sofas still in place. The cinema room is in this area. At the very end near the Heineken, is an area overlooking security which has a bit more light and is usually empty.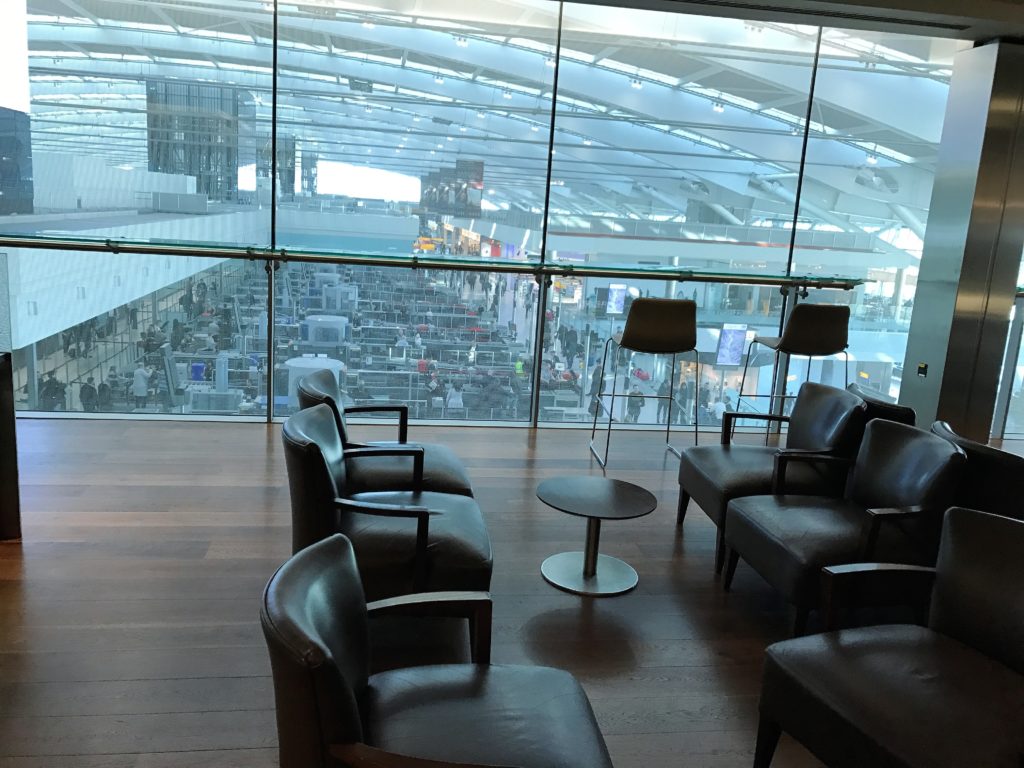 BA Galleries Club Lounge T5B
On this occasion I did not visit the B Gates lounge as my flight was departing from the A gates. However, if you flight departs from the B or C gates, this would be your best bet. It is the quietest of the 3 lounges with the same selection of food and drinks.
It also has its own spa, which is usually easier to get an appointment in. You can visit the lounge even if your flight departs from the A gates. You will, however, have to walk back via the walkway which will take over 10 minutes to some A gates. If you are tempted by this option, I would recommend consulting Flyertalk's guide to the walkways as they are not particularly obvious. Also make sure you allow plenty of time to get to your gate if you are going to the C gates. There can sometimes be a few minutes wait for a train.
Top tip: It's best to check with the Galleries South Elemis spa for an appointment at the T5B gates Spa for you. You may find that the South lounge appointment time suits you better. This way you can also be sure that you can get an appointment at T5B, before you travel all the way there.