I reviewed my business class experience on the outbound A380 flight to Doha a few weeks ago which was a daytime flight. I thought it would be worth comparing both Qatar A380 flights as this was an overnight flight to see the difference. As the cabin was dark or had mood lighting I have included a few photos from the outbound A380 flight of some features in case you wonder why it is light outside in the photo or they look familiar!
Transfer at Doha and the lounge
We had already checked in at Ho Chi Minh City so all we had to do was transfer at Doha. The transfer process was very simple and well signposted. It was a short walk from the gate to where we went through Premium transfer security. This is a separate line and only took about 5 minutes with a small queue in front of us.
We then headed to the Al Mourjan business lounge where we were told to go to the desk for some sort of check. This didn't take long and they were very pleasant about it.
The lounge was heaving inside given that it was the peak time overnight. I will be doing a more in-depth review of the lounge in a few weeks time as I have 6 hours to kill on the way back from Bangkok.
Downstairs they have a deli/sandwich bar and lots of seats with self-service soft drinks. We decided to head upstairs and have something to eat as we planned to try to maximise our sleep time on board. It was tricky to find a seat but we eventually found a table for two. There is a fairly hidden section round the back of the lifts/toilets through some glass doors if you can't find anywhere to sit.
There is now only a buffet service rather than the à la carte menu which they had when the lounge first opened and was shared by first class. They do have waiter service for drinks though. If you just want a drink you can sit at the bar. I went for a glass of the Fox Creek Shiraz I had on board as it was excellent.
The buffet was very busy but it did have a decent selection of hot and cold options with butter chicken, mezze, vegetable chop suey, beef goulash, soup, penne with seafood, lamb biryani and salads. There was a separate area with a bean to cup coffee machine, desserts and cakes. I sampled the lamb biryani and butter chicken – both were tasty though the butter chicken was nowhere near as nice as the one I had in Qatar's Heathrow lounge.
This slideshow requires JavaScript.
Boarding
I have always found Qatar's boarding to be well organised with premium passengers first and being the A380 we had a separate entrance for our upstairs cabin.
Once at the seat we were offered the usual hot or cold towel and a welcome drink. I went for my normal order of the Rose Lanson Champagne which in my mind is the lesser of two evils with the Lanson Champagne. This is one of the few criticisms I have of Qatar – I really don't like Lanson very much. Menus and amenity kits were already at the seats along with a bottle of water.
The seat and cabin
Post from RICOH THETA. #theta360 #theta360uk – Spherical Image – RICOH THETA
The seats on Qatar's A380 are the reverse herringbone seats in a 1-2-1 configuration that they also have on their A350-900s (until they get the QSuites) and B787s. On the A380 there is just one large business class cabin behind first class on the upper deck. I chose 14k, a window seat, as it was away from the galley and toilets at the front but still only the fourth row from the front so I would get served fairly quickly.
I have flown in many reverse herringbone seats on various airlines and it is amazing how much they vary in terms of comfort. A lot depends on the cushions used and how the seat lays flat without any gaps between the cushions. For me, Qatar has the best ones that I have flown on with American being a very close second. The seats are comfortable for sitting and sleeping with multiple positions easily selected from the simple seat controls. There is a leg rest that comes up to fully support your legs which is something I find very comfortable for relaxing. Your feet go under the seat in front into a footwell but this didn't feel cramped.
In terms of storage, the A380 is by far and away the best aircraft on Qatar for the window seats. Being on the upper deck there were the usual A380 window bins which are handy for storing small bags and bedding. This arrangement on Qatar is slightly awkward as unless you have long arms, it is a bit of a stretch to reach the bottom of these due to the shelf in front of it.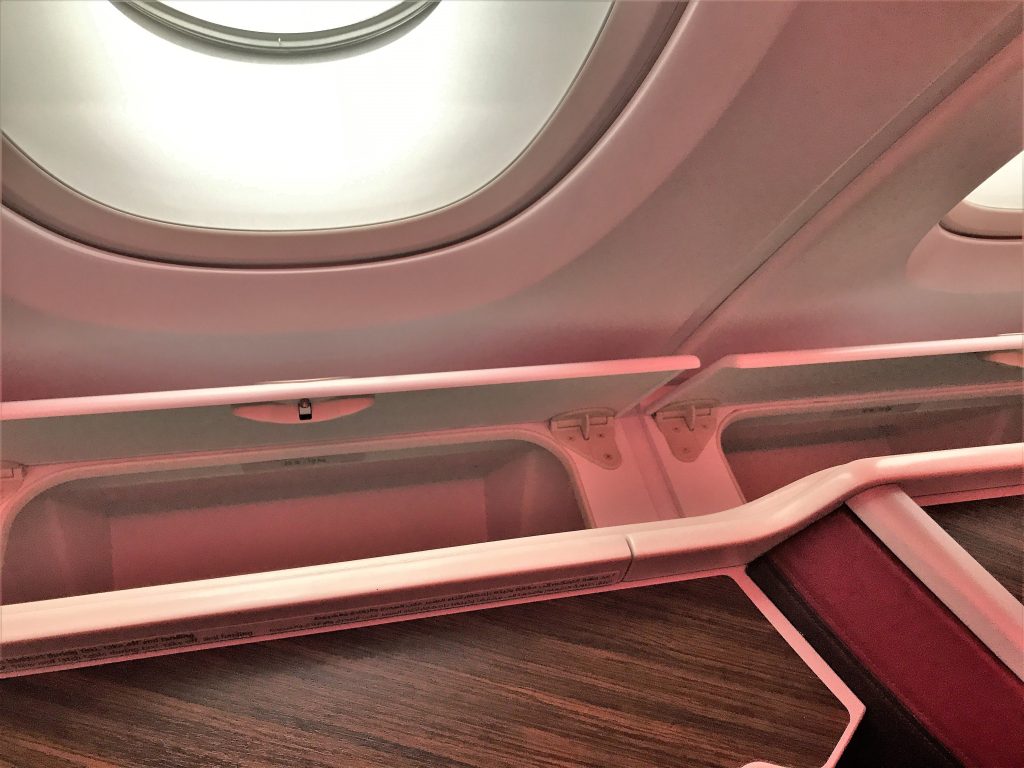 I liked the floor level draw in the back of the seat in front which was perfect for shoes or an iPad.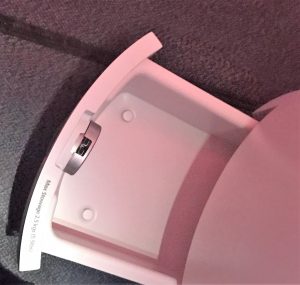 There was also a large storage area under the shelf as well as a water bottle holder at the back of the shelf. Your headset was stored in yet another area in the armrest which also had room for a bottle of water.
I should also mention the toilets as they were always very clean every time I went in and had a nice range of amenities including toothbrush & paste, Rituals Yin body mist and hand lotion. It was rather odd that on none of our 4 flights did they have paper hand towels or cloth ones – only tissues. I found this very odd and pretty wasteful as you end up using a lot to dry your hands as they just disintegrated.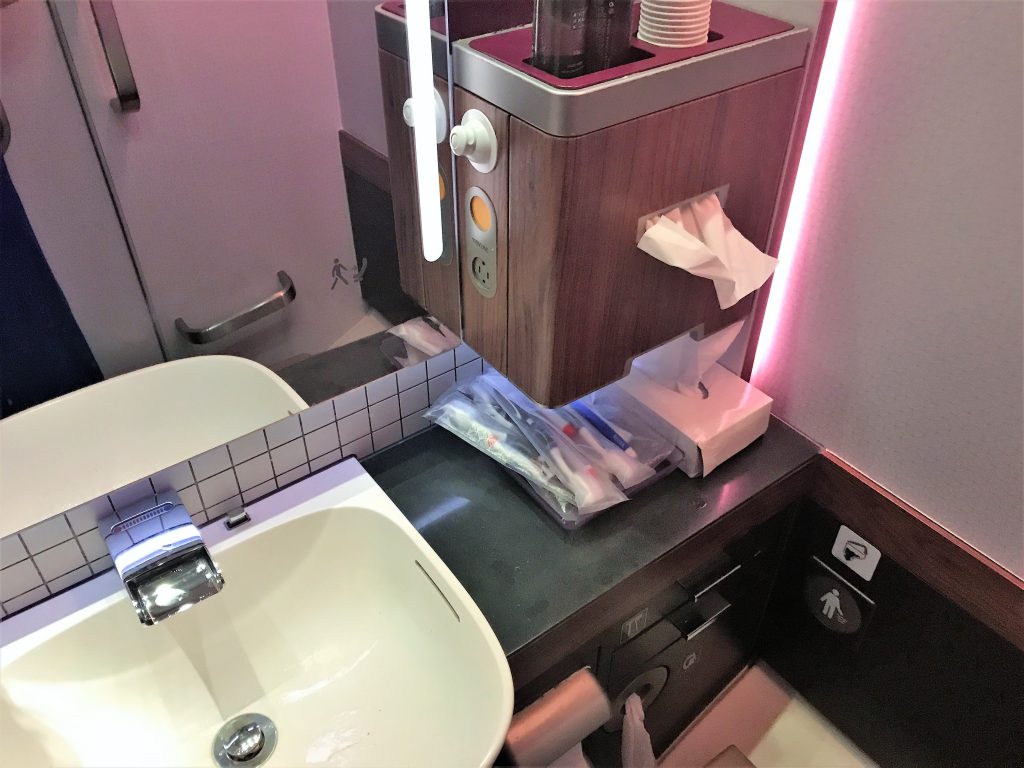 Amenities
The amenity kit was the new BRIC'S one which I much prefer to the old ones. The new ones have products I actually use rather than just perfume. The kits come in several different colours – blue, beige and tan. The kits contained earplugs, eyemask, socks in a colour to match the bag, hydrating face spray, anti-ageing moisturiser and lip balm. The facial products had a light natural scent and were good quality as well as a decent size. I particularly liked the facial mist which was very refreshing.
We were offered the new White Company pyjamas and slippers. Interestingly they didn't ask your requested size but simply gave them to you.  The new pyjamas were only available on A380 flights not on our A330 which still had the other ones, so it looks like the rollout to beyond A380s won't happen.
This slideshow requires JavaScript.
As this was a night flight you got the full bedding with a proper pillow. On day flights you only get a day pillow which I find slightly annoying. I usually have a doze on most long flights and it is nice to have a proper cotton-covered pillow.
Food and drink
We had already eaten dinner in the lounge as we planned to try to sleep as much as possible. I was also planning to try one of the bar snacks (see below) as they looked tempting last time. Some people still had the meal though which seems amazing at 2am on a short flight! The first meal was more of a snack or 'late night dining' with a short list of snacks, mains and dessert. Here is the menu:
There was the same wine and drinks list as my previous flights. I stuck with a glass of Chablis. Qatar has a good wine list for business class, not outstanding but good solid choices and nice to have a dessert wine included too.
This slideshow requires JavaScript.
The main meal was breakfast served around 2 hours before landing. One thing I think BA does better than Qatar is getting breakfast done later in the flight although this may be because it is a simpler service. On a 7 hour flight putting the lights on over 2 hours before landing is a bit much.
There was a good choice of options on the menu: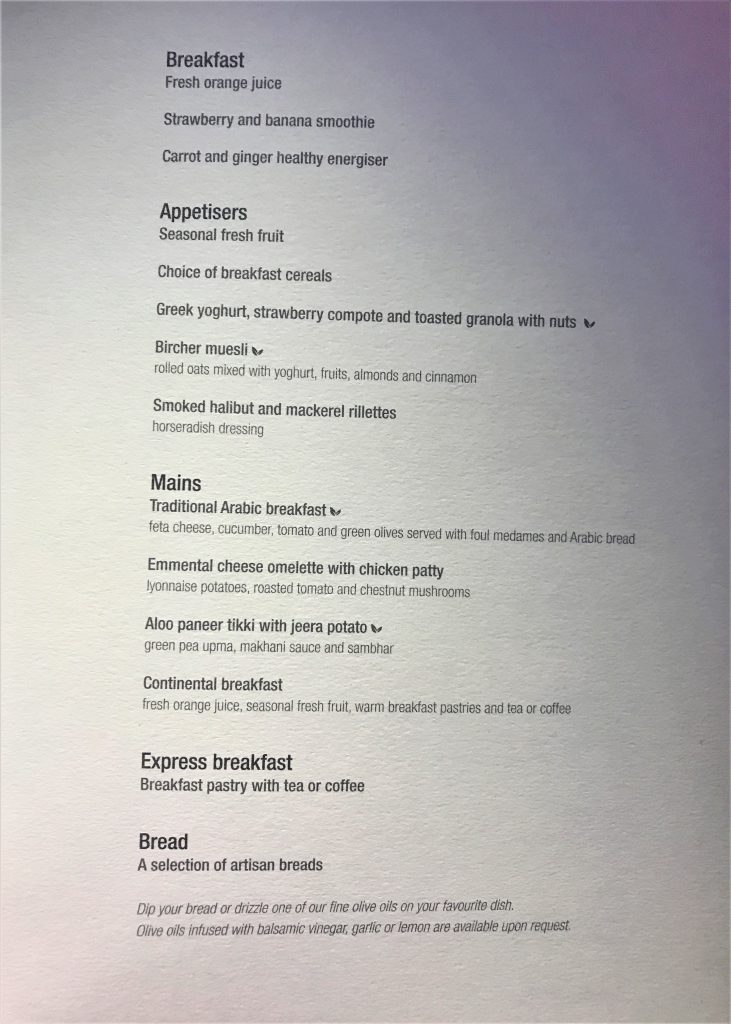 I started with the greek yoghurt with strawberry compote which was delicious.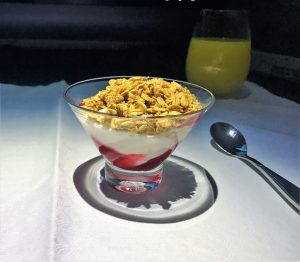 I was quite tempted by the Arabic breakfast which I recommend if you like Arabic food. Foul medames doesn't sound the most appetising dish but it is a bit like a cross between baked beans and dhal. It is made of fava beans, tomatoes, onions, garlic, olive oil and spices. However, since I always go for that on Qatar and in the Middle East I thought I would try the Indian option – the aloo paneer tikki. This was very tasty, lightly spiced and filling as well. As usual, I accompanied my meal with a cup of saffron chai tea which for me is worth flying Qatar for alone!
Sleeping
Other than the Singapore Airlines business class, Qatar would be my favourite business class seat for sleeping. The seats are very well padded with soft cushions and no gaps between them when the bed is out. The pillow provided was large and soft but provided enough support. As the seat is reasonably wide at 22″ (BA is 20″) it was comfortable for sleeping on my side without feeling cramped. Your feet do go into a footwell under the seat in front but I didn't find this restrictive. If you were very tall it may have more of an impact.
The only thing I wasn't so keen on was the blanket. I prefer a lightweight cotton duvet/quilt whereas on Qatar they had a quilt that had a sort of velvety finish one side and satin the other. It was more like a throw than a blanket or quilt. I found it a little bit hot for sleeping but it was soft and not too heavy.
Service
Out of the 4 flights we did with Qatar this was probably the worst service I had but it still wasn't bad, more mediocre. The cabin crew member serving was very pleasant but quite slow and I did have to ask twice for a couple of things. Qatar on a bad day is still pretty much like many other airlines on a normal day so I can't really complain, it is just more noticeable as they usually excel.
Onboard bar
One of my favourite features of Qatar's A380 is their onboard bar which I think is one of the best in the air. I like the sophisticated elegant feel to it and there was nobody in there most of the time apart from the barman. They will also usually give you the first class wine and champagne since the bar area is shared with first passengers.
They had a beautiful looking selection of fresh snacks laid out as well as packaged crisps, fresh fruit etc. In the glasses were both savoury and sweet options such as chocolate mousse or corn salad. I tried the corn salad which I found slightly odd tasting but I am sure there were better options. The ones on the bar top are for display and the barman gets you a fresh one from the fridge.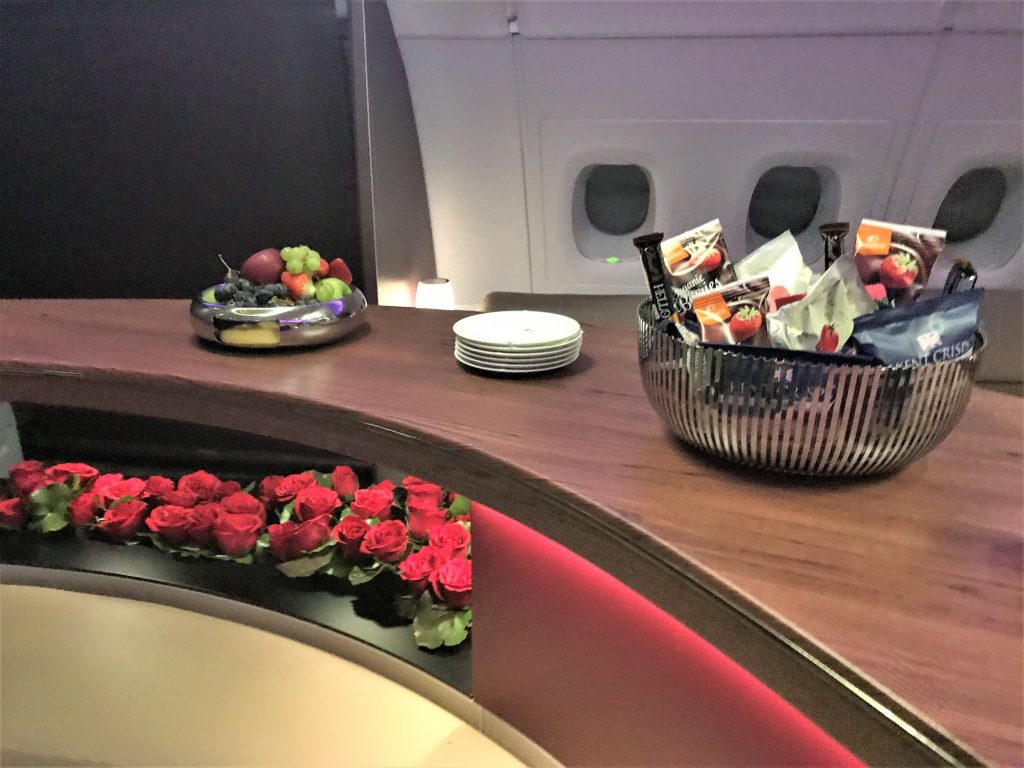 Entertainment and charging

The Qatar A380 has a 17″ entertainment screen which has good definition and a hand-held touchscreen control. The Oryx One system had a wide selection of recent films, older films, TV series and music. You could also see outside the aircraft with various camera views which I love watching and was pretty clear. I found the TV and remote easy to operate.
If you need to charge or connect anything there were USB, Apple iPort and multi-country sockets. Noise cancelling headphones were supplied which were effective and comfortable although not as good as my own Bose QC35 ones.
Conclusion
Although the service was a little below average for Qatar, it didn't really matter as it was a night flight and it was still above what you would get on many airlines. It was nowhere near as bad as my Etihad A380 business class service. Most importantly the seat was comfortable for sleeping and a full breakfast was served with plenty of options.
You can see more about the A380 on Qatar's special page which also give a 360° look at first class (which is not worth the money from my experience).