The reports back from yesterday's first day of BA buy on board are fairly mixed. As expected the food quality was good but there were a lot of issues with card machines not working and food running out. In fact some flights only had drinks on offer. It will most likely take a week or two to bed down. I would therefore advise you not to rely on food being available, particularly on inbound routes.
It has been confirmed that BA will be charging for hot water at £2.30 but that does include the paper cup! If you want cold tap water you will have to wait until the end of the buy on board service which I suspect will mean, on short flights you may not get anything. See below for details of how to fill your water bottle for free with chilled filtered water at Heathrow.
Many people who were previously flying Club Europe reverted to Economy after they reduced the Club leg room to economy standards. It will be interesting to see if people start reverting back. Will the buy on board affect your decision to fly BA in Club or Economy or in fact to fly BA at all? Let me know in the comments sections or via any of the TLFL social media channels.
So if you aren't relying on buying on board what is on offer at Heathrow apart from a Boots meal deal?
Alternatives to Buy on Board at Heathrow
Onboard picnics
Heathrow introduced the concept in flight picnics a few years ago and I have since used the Gordon Ramsey one a few times when I haven't fancied the BA onboard food. Heathrow are now taking the concept so seriously that Heathrow food ambassadors will be in terminals from 11 January!
Below I will take a look at what all the best options are at Heathrow.
Fortnum & Mason (T5 only)
Fortnum  and Mason, famous for their Christmas hampers, now  do a 'Hamperling' at T5 to take on board. These feature some of Fortnum's best-loved produce from the Food Hall including: Smoked Salmon; Lincolnshire Poacher; York Ham; Game Terrine; Rare Roast Glenarm Salt-Aged Beef and Fortnum's Oscietra Caviar.  You can see the full range of options here.
An example of one of the menus is below and pictured at the top of this post:
Smoked Salmon Plate: £15.00
Smoked salmon, capers & onion, rye bread, butter
F&M Panache Salad, Herb Mustard dressing (ind btl)
Lemon Posset
F&M Napolitan Squares
1 x Plane food Bag
1 x Cutlery set
Each Hamperling is packaged in an aeroplane-friendly plate format and comes with its own Fortnum & Mason cutlery set and cool bag in signature eau-de-nil. The bags are easily collapsible once you have finished so won't take up room in your luggage.
I love the look of these and I'm sure the quality is excellent but I think you get more for your money with the Gordon Ramsey ones personally.
Gordon Ramsay's Plane food (T5 only)
I have tried several of the options and I think for the quality and quantity of food plus the bag to keep, it is excellent value. The cool bag served me well for carrying my lunch to work for several years!
Plane picnics are available to take away between 7am – 9pm.  3 Courses costs a reasonable £14.00. The picnic does take time to prepare so make sure you leave enough time to pick it up. You can also pre-order to save a bit of time, the details are here.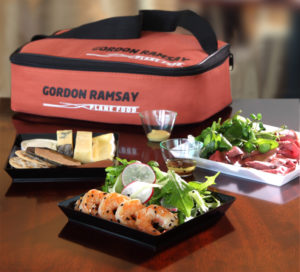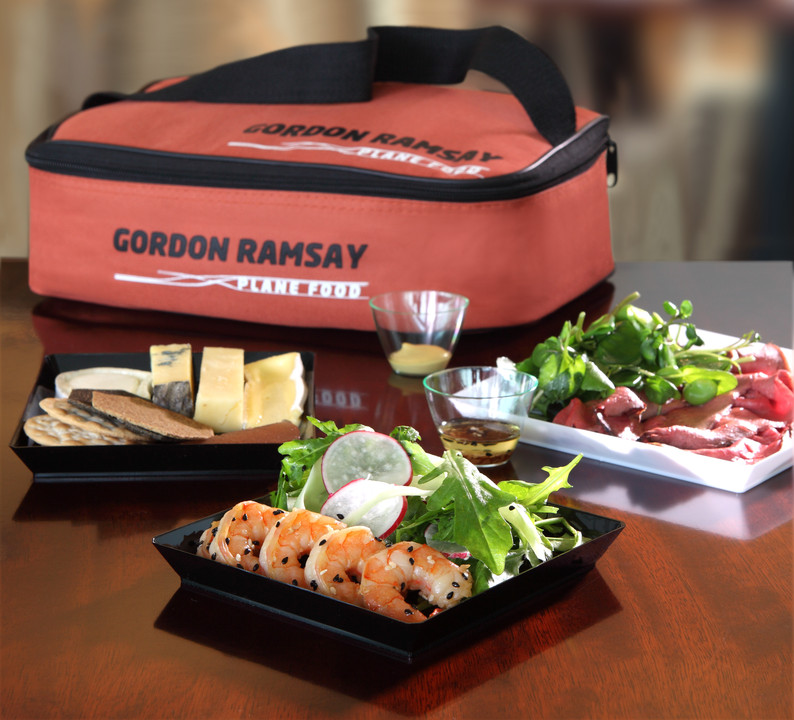 You get a choice of one item from each of the courses:
STARTERS Selection of mini breakfast pastries; Caesar salad, pancetta, soft boiled egg; Antipasti of salami, buffalo mozzarella; Prawn & baby gem cocktail
MAINS Smoked Scottish salmon with an apple, celery & walnut salad; Honey-roasted beetroot, goat's cheese, walnut & rocket; Roasted Hereford rump of beef with green bean salad & mustard; Cumbrian honey-roast & Parma ham with slow roast vine tomatoes
DESSERTS Fruit salad, vanilla yoghurt; Chocolate & pecan brownie crème Chantilly; Cheesecake tart with berries; English cheeses, fig & almond torte with biscuits
I can recommend the caesar salad, prawn cocktail and particularly the roast beef main and cheese for dessert.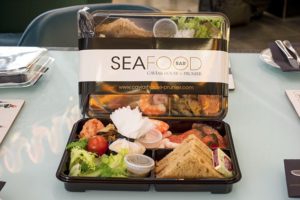 Caviar House & Prunier
Caviar House do seafood and caviar platters to take away for an in flight picnic so if you fancy caviar at 30,000ft you are in luck! Prices are understandably fairly high.
Other options for in flight picnics
Eat -T2 & T3 only
Giraffe – T5 only
Yo Sushi – T2 & T3 only
Wagamama – T5 only
Itsu – T5 only
Starbucks – T5
Pret A Manager – not T2
Caffe Nero
Free water
You are allowed to take an empty bottle through security so if you don't want to have to keep buying water at Heathrow this is a good option. Flyertalk has an excellent guide to finding the water fountains at Heathrow which you can find on this web page. Some of the water is filtered and chilled so just as good as bottled in my opinion and more environmentally friendly.
Heathrow Rewards extra points on food and drink
In a bid, no doubt, to cash in on BA's buy on board, Heathrow Rewards are offering double points when you purchase food or drinks. This can be at any of Heathrow's restaurants, bars and cafes from 11 January to 28 February 2017. Dine in or take away and including Take Onboard picnics. With Heathrow Rewards you can get rewards such as Avios. vouchers for shopping and parking by simply presenting your rewards card when you make a purchase at Heathrow. You can get 100 points for joining via this link.