This is another review from the recent tier point run some of the TLFL team did to Phoenix from Bucharest. You can read my other B747 first class review from the trip here. 
Check-in and lounge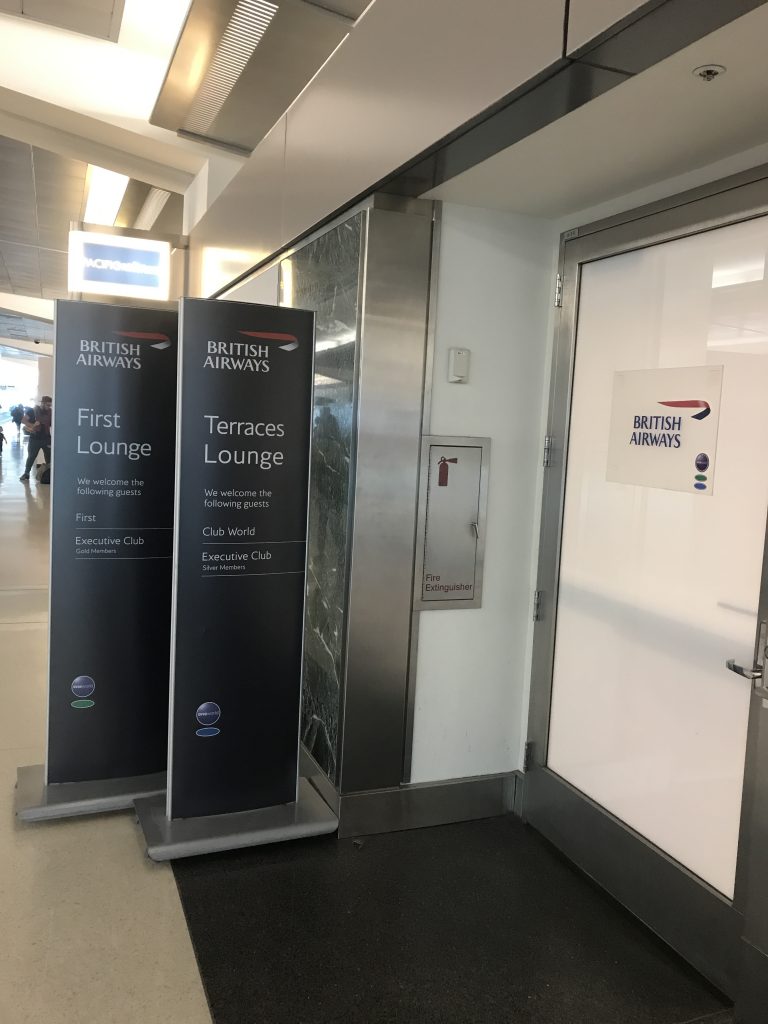 I had flown in on American from Phoenix all on the same ticket so I didn't actually need to check in San Francisco. My luggage was checked through to Heathrow from Phoenix as I had done an overnight break at Heathrow (staying in my usual T5 haunt – The Sofitel)
After the Qantas lounge at Los Angeles I was expecting to be disappointed with the BA lounge but it was even worse than I expected. The lounge is very dated, cramped and the food and drink offering is not exactly Concord room level, more like the BA First lounge on a bad day.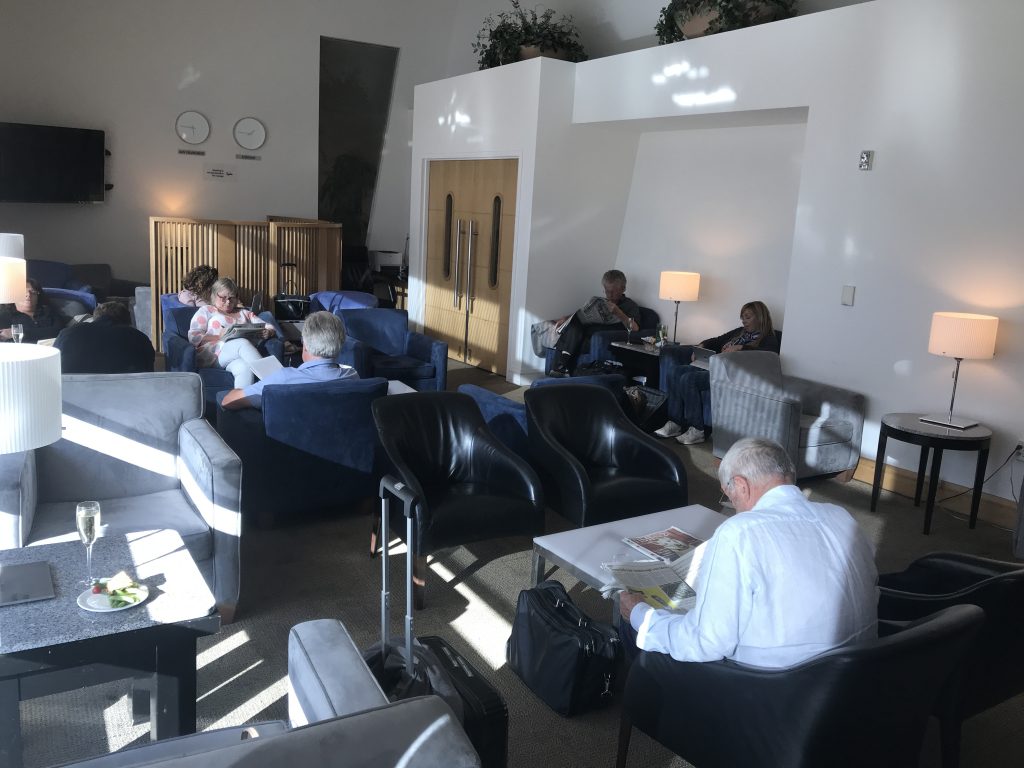 There was a least champagne although it was Mumm so they weren't exactly pushing the boat out. They also had Prosecco as well. Other than that the drinks selection was not bad with plenty of choice of wines and a decent spirit selection too. The gins weren't overly exciting but Bombay Sapphire and Tanqueray at least. There were some more unusual options such as Pimms, Cointreau and Tequila too.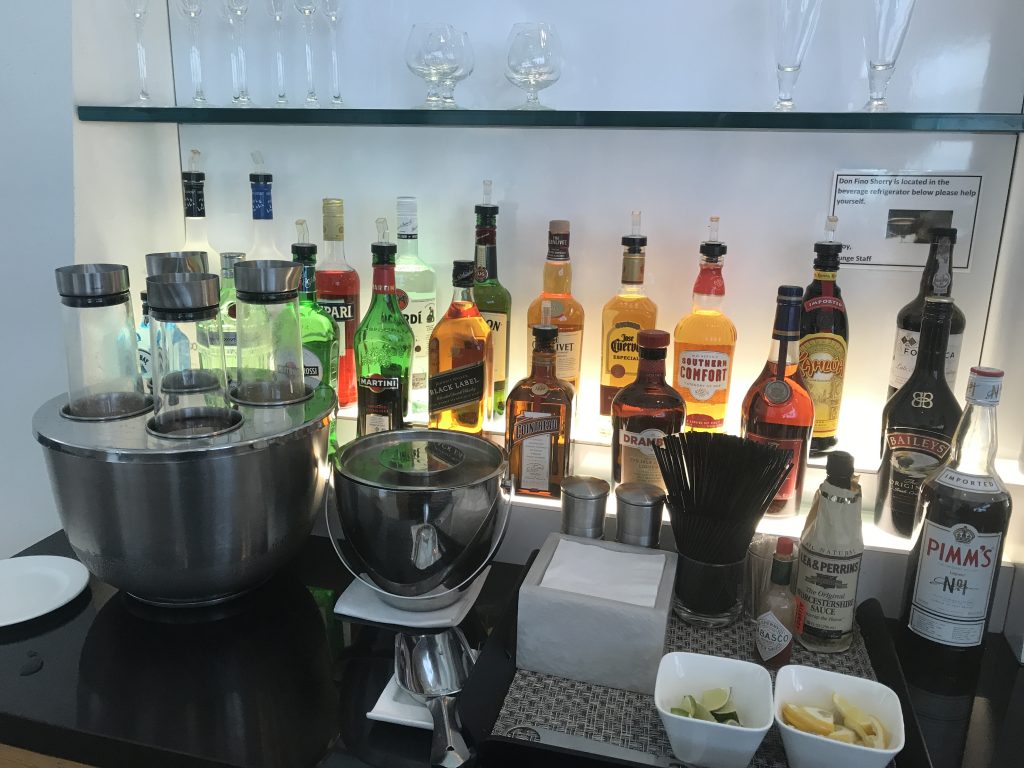 The food was not very exciting and if you wanted to eat a proper meal before boarding you were pretty much out of luck as it was more snack food albeit with a few hot options. There were sandwiches, gyoza, ready-made toasted sandwiches, salads and cheeses.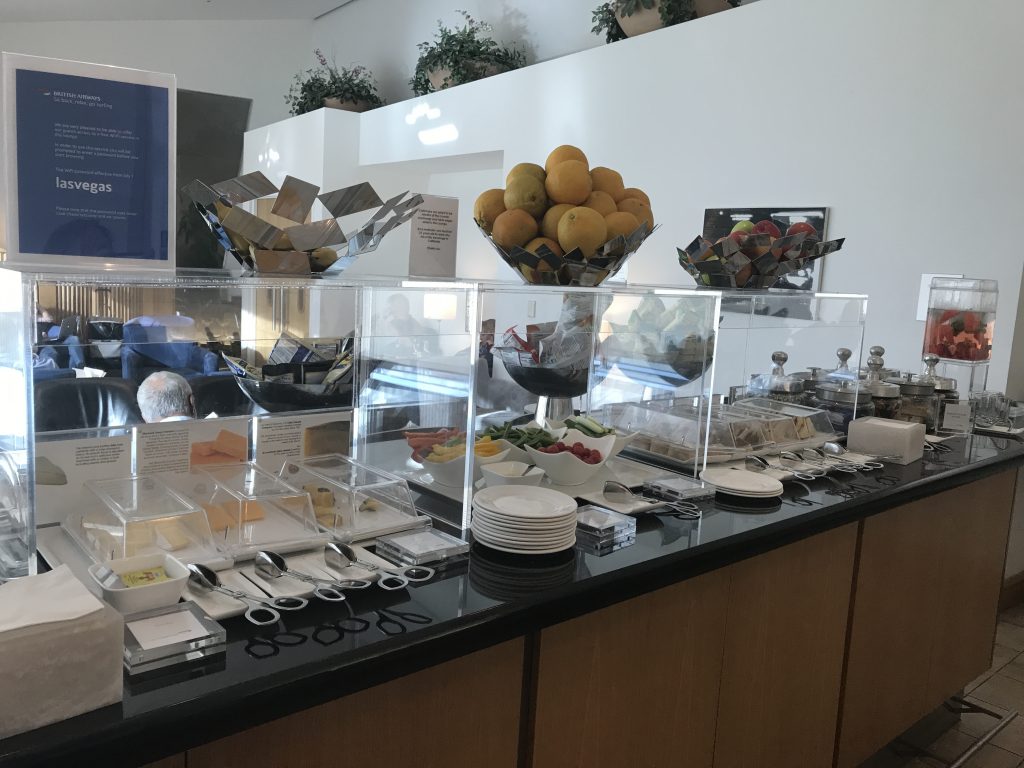 Boarding
I had asked to board first, as usual, to take some photos so it was not an issue for me but the gate seemed reasonably well organised compared to other A380 BA experiences where it has been a bit of a mess.
I was shown to my seat as per the service standard. If you are not shown to your seat it is usually because someone else has tunred up at the same time as for obvious reasons there has to be someone at the main entrance at all times.
Once at the seat I was given a washbag, slippers and PJs. There seems to be no rhyme or reason to when you get offered slippers or day blankets as it varied between the two flights despite both items being meant to be on demand (ie you wonlt get it unless you know about it and specifically request them).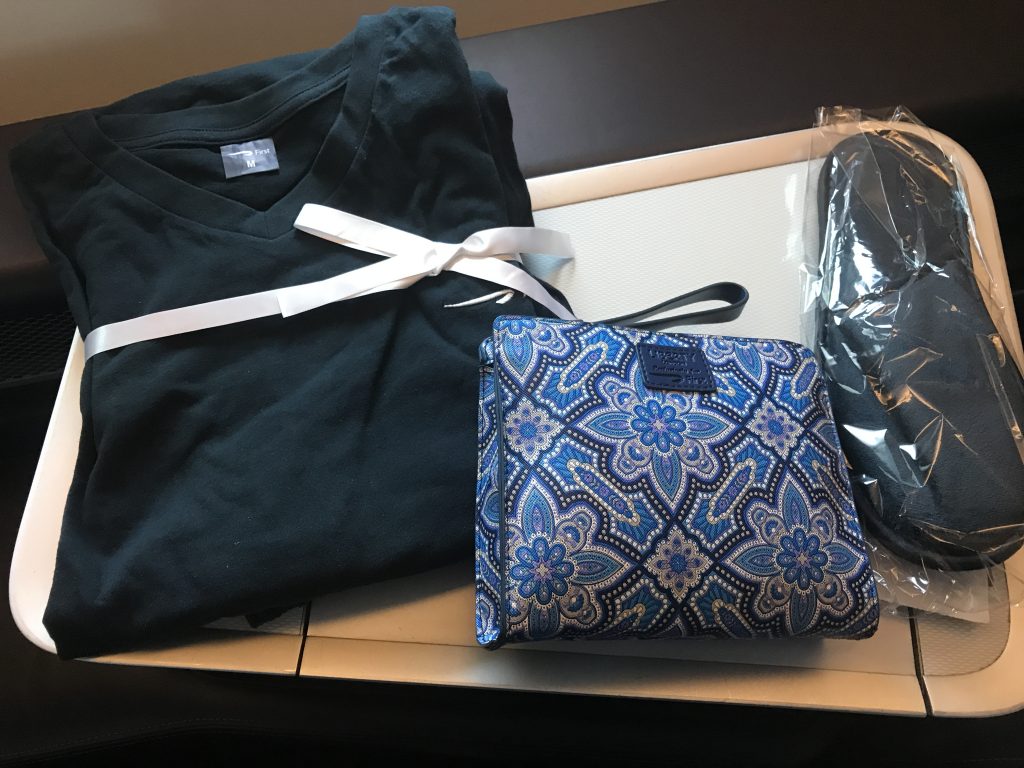 I was then offered a drink. I chose champagne and wished I hadn't…. One small glass of pre-poured luke warm fizz that was very definitely not Laurent Perrier Grand Siecle. I was pretty sure it was Castel-no and asked the cabin crew what it was, I was surprised when she had no idea and went to check. Given that they only have a small number off champagnes on board I thought it odd not to know what they were serving. Even though we were on the ground no top up was offered (not necessarily a bad thing given the fizz in question ). Apparently, they only have one bottle for pre departures drinks for 14 people in First so a top-up won't happen unless it is a light load.
Seat and cabin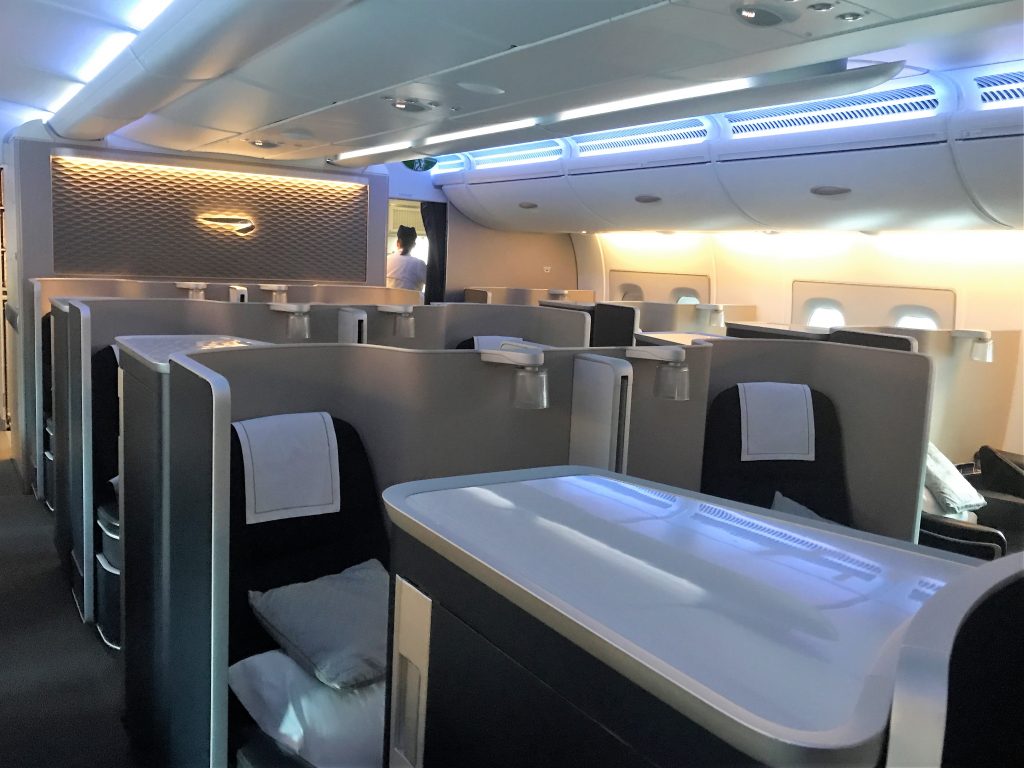 The A380 is currently my favourite First seat in British Airways and I have fond memories of my first time on the A380 on First when they used to serve the tasting menu (big mistake to not roll this out across all of First rather than stop it altogether).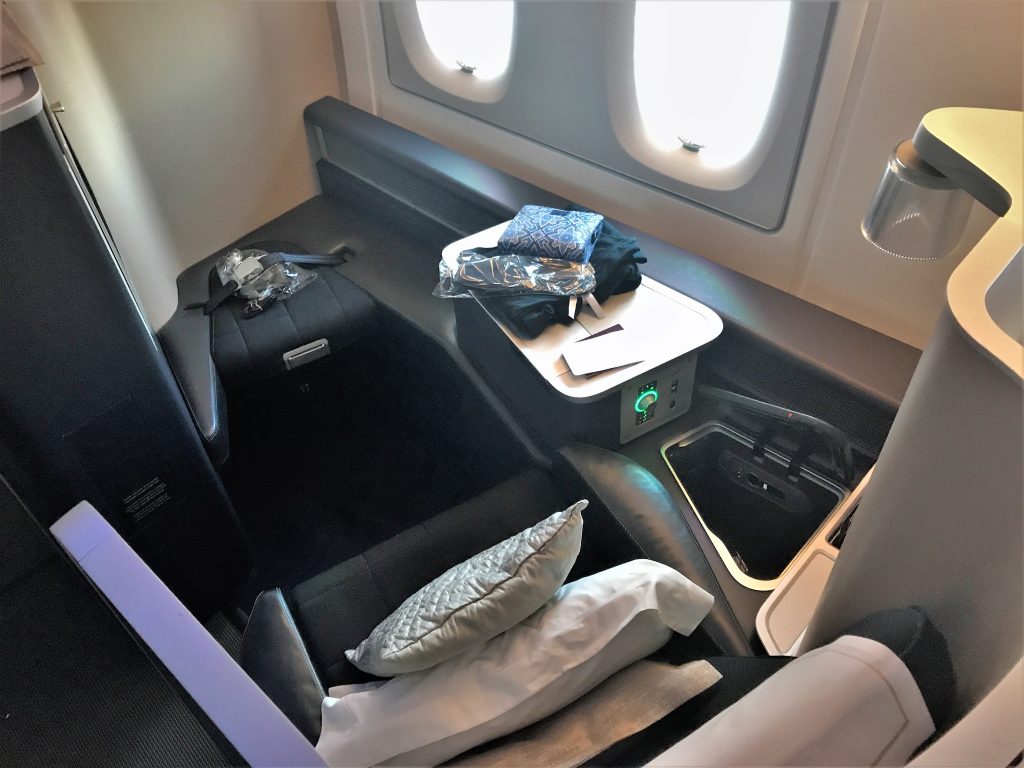 I had chosen 1K for some reason unknown to me by the time I checked in online. Normally I would have gone for 2 or 3K to be away from the toilets. This was my view: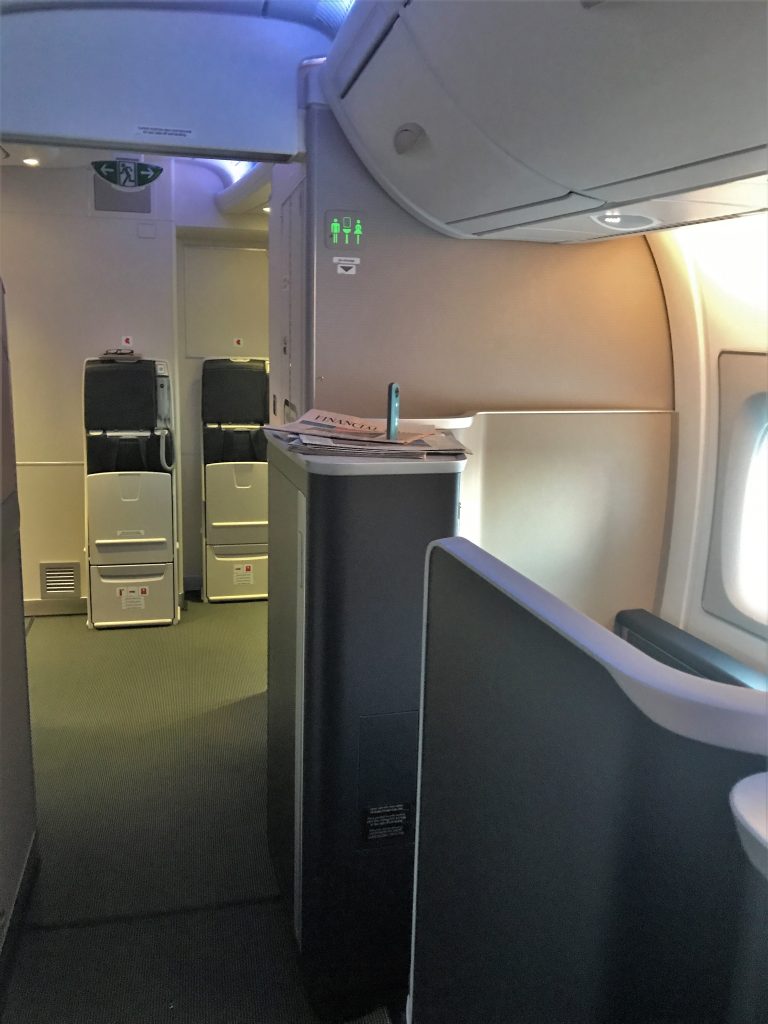 The cabin layout is similar to the B777: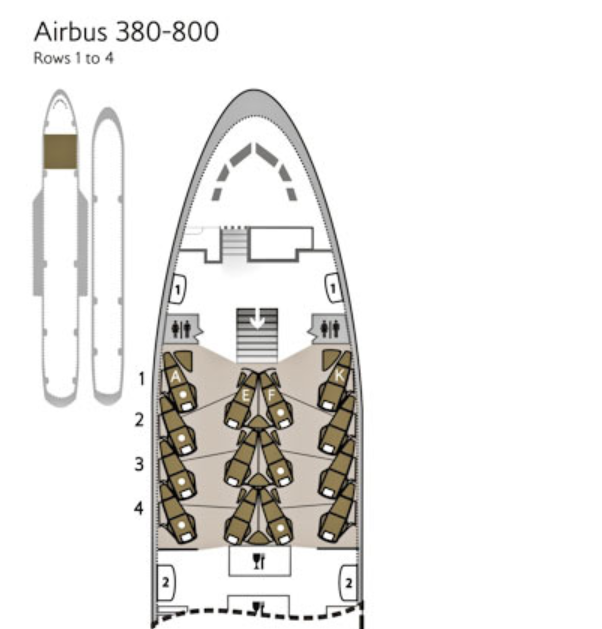 I like the A380 as the suites feel more spacious than the older B777 and B747. There is a good sized wardrobe with a hanger and more room for storage unlike some of the other F wardrobes that just have a couple of small netting pockets for storage.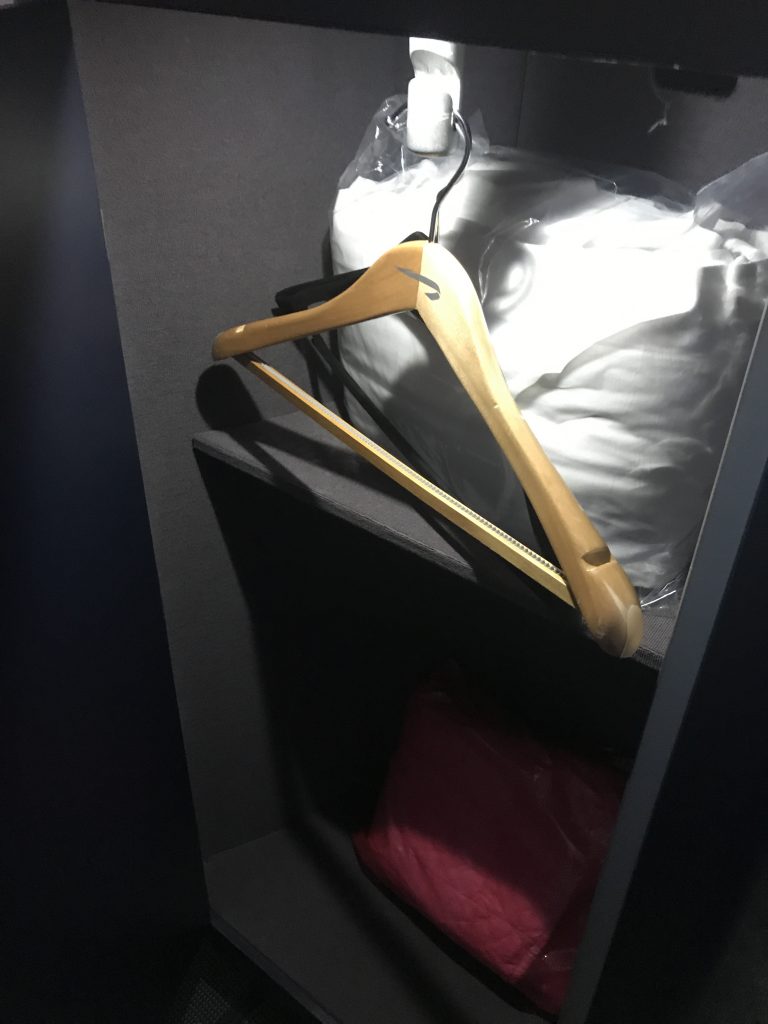 Another feature I really like on the A380 is the storage bin at the side which I find holds pretty much everything I need for the flight.
Otherwise, the seat is pretty much the same as the other First seats on BA. A single controller for the seat controls the recline. It looks great but actually, I would rather have a separate footrest. I generally find the footstools quite uncomfortable in BA First as they are a bit hard and have a big metal bit at the front.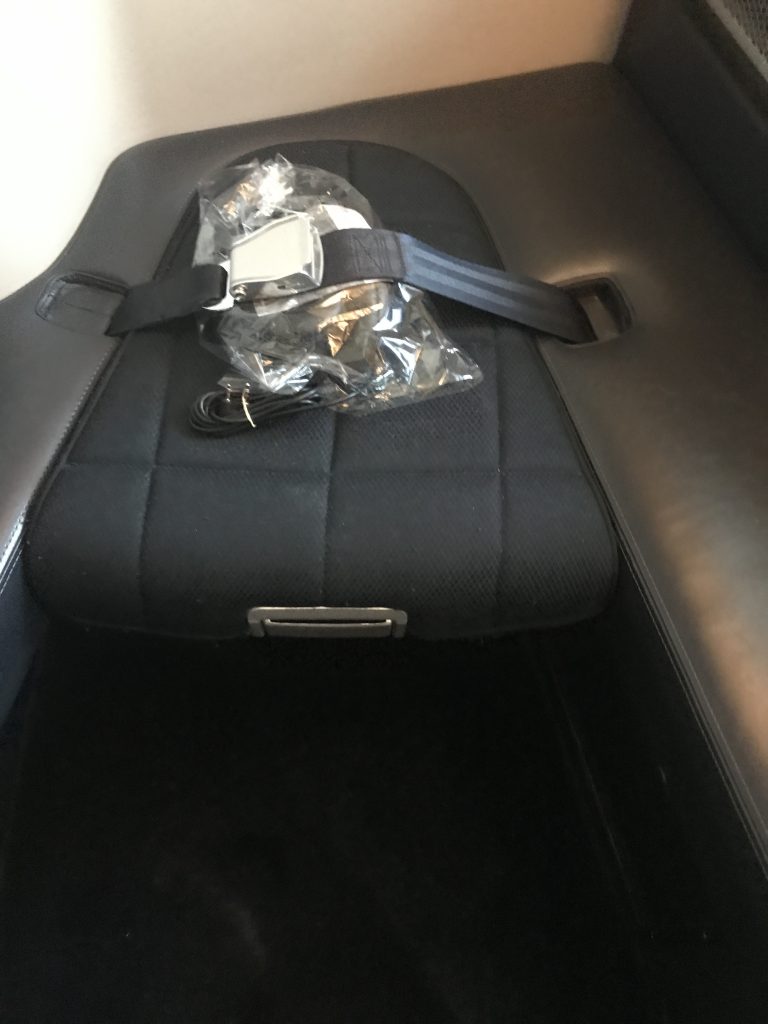 That said the seat is well padded and reasonably comfortable for sitting and good for sleeping. I was surprised to see a cushion, pillow and then another cushion/day pillow on my seat as this was not something I had seen before and looked a bit odd.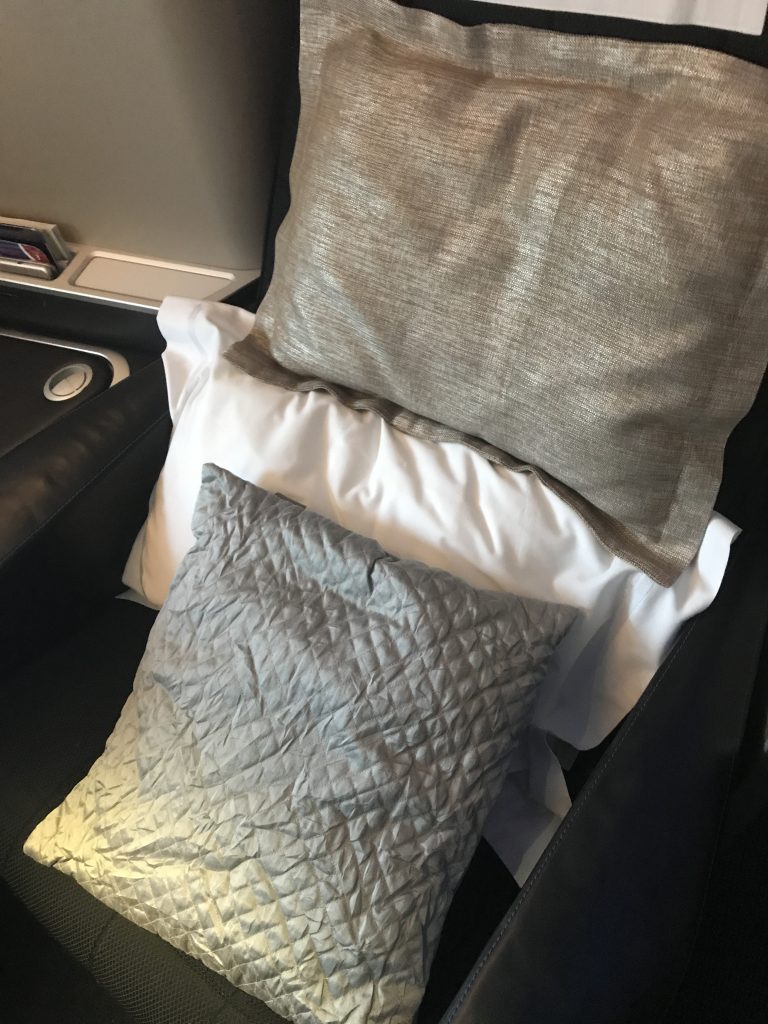 The crew will make up your bed for you if you wish although I normally just do it myself. The bedding consists of a rather thin mattress topper, duvet and the pillow that is at the seat. I like that you get a pillow and decent size cushion as I generally prefer to have two pillows when sleeping.
Post from RICOH THETA. – Spherical Image – RICOH THETA
I find the BA First seats pretty good for sleeping apart from the footstool part which I do find a little hard. I managed to get about 5 hours sleep on and off which wasn't bad.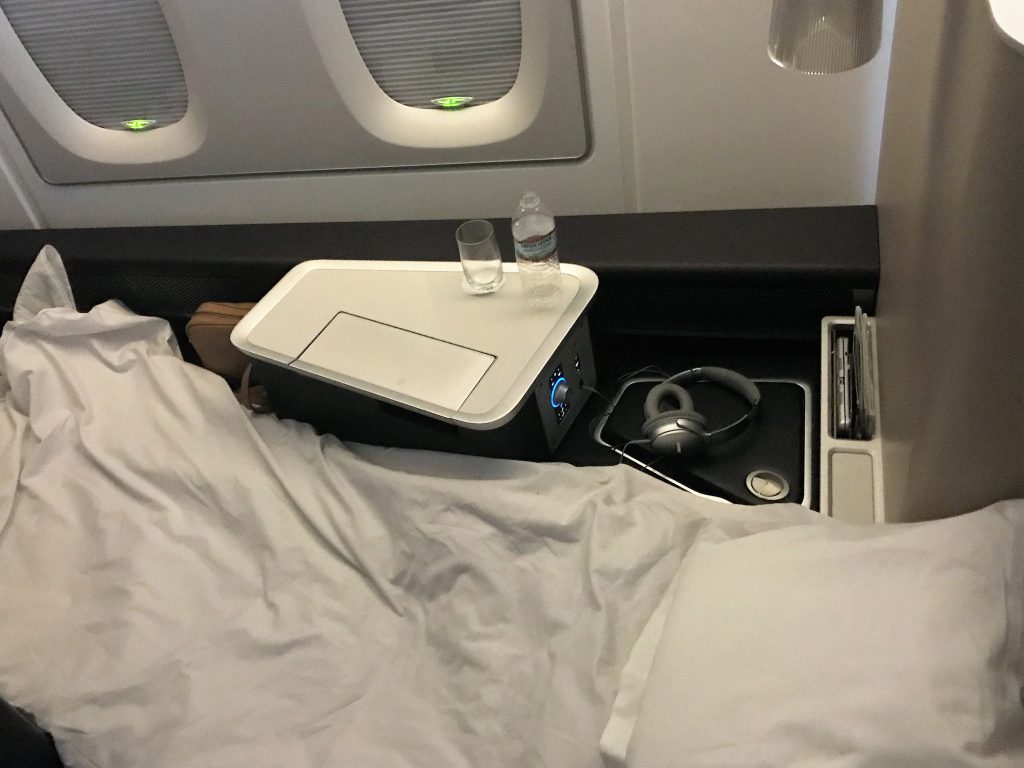 Food and drink
After take off my food order was taken. As you can only pre-order outbound from Heathrow I was at the mercy of the food loading but I got all my first choices luckily.
The menu was:
The wine list
I was offered a pre-dinner drink and as I had missed out on the Laurent Perrier Grand Siecle prior to take off I decided to have a glass. It was as always served with BA's rather tasty nut selection which has a lovely spiced crispy coating.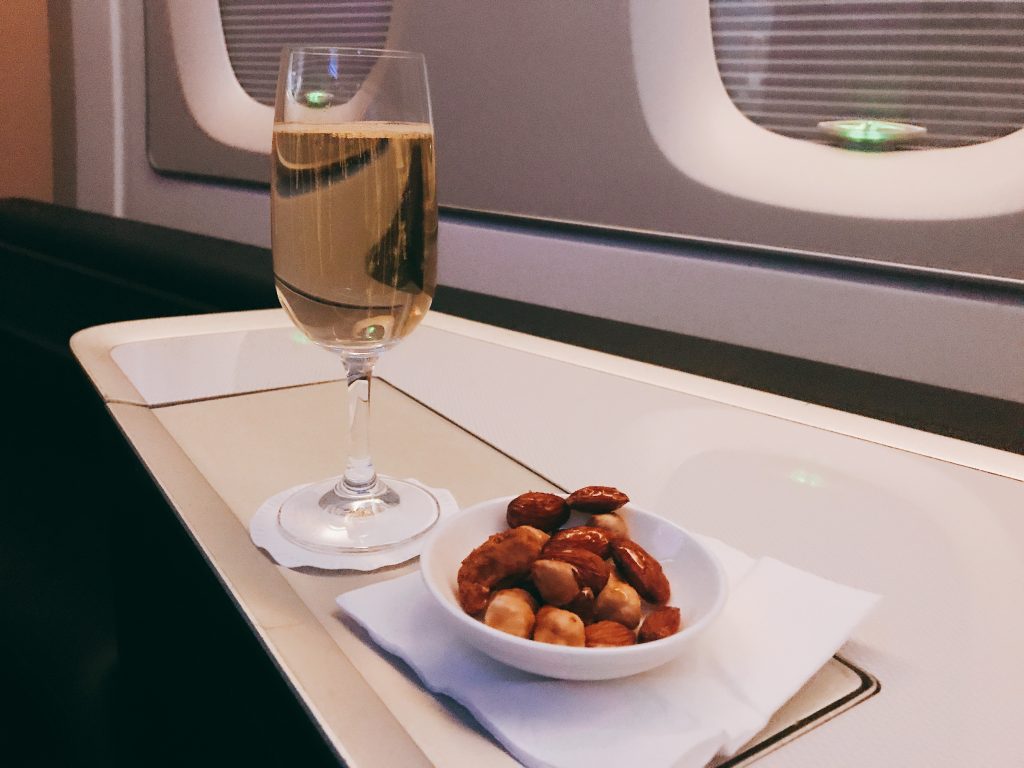 Before the starter, an amuse bouche was served which was a cheese and prosciutto canape. This was rather suspiciously like the previous antipasti amuse bouche which I didn't feel was very First, although I was pleased to see the amuse bouche return. It didn't really hit the spot for me – I would much prefer a small elegant canape type amuse bouche like you get in Qatar business class.  BA call this a canape but a canape should be small and delicate which this wasn't.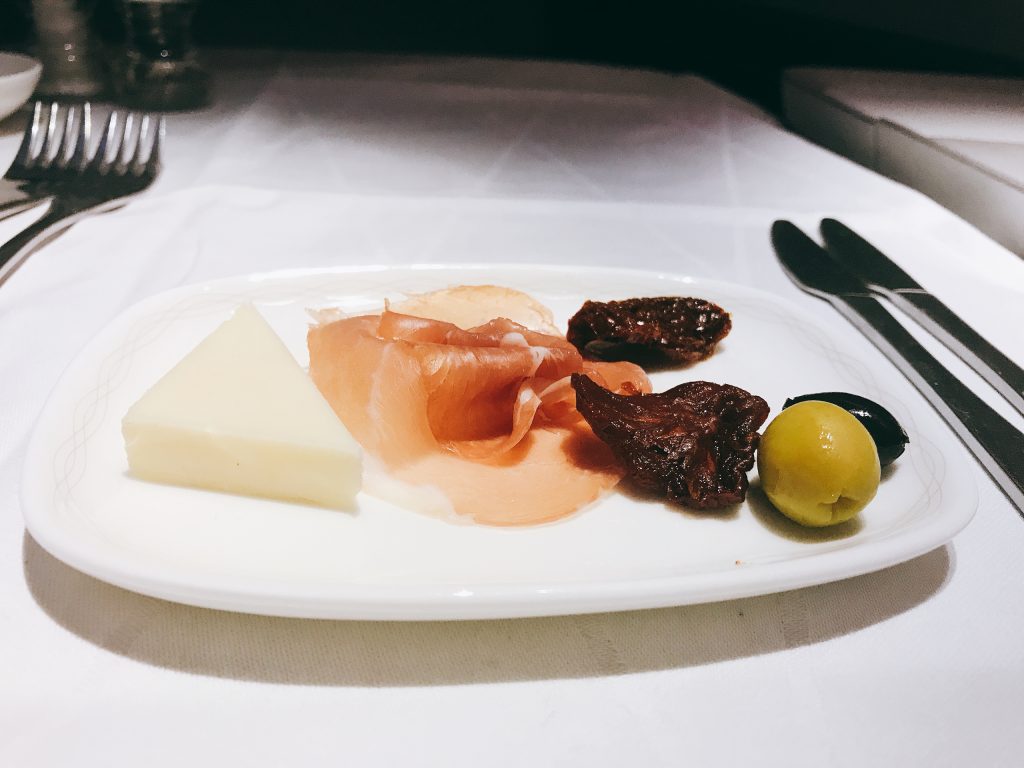 As usual, a good selection of warm bread was offered with olive oil or butter. For the starter, I had chosen the smoked salmon cannelloni. It was nicely presented and tasted Ok but it felt a little bland to me as if it needed something a little more punchy with it such as chives or horseradish maybe. I had a glass of the Saint Aubin French white wine with the starter. I found this enjoyable if a little boring.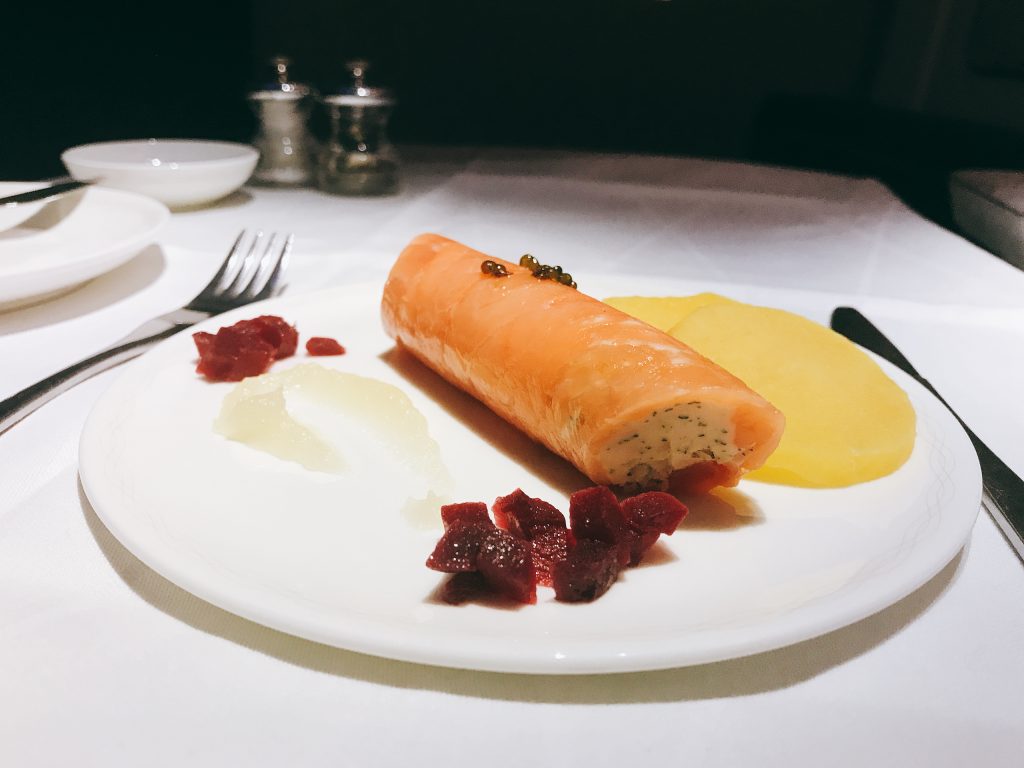 The main course was not what I expected to see in First Class to be honest, Chicken Kiev. However, being something of a Kiev fan I thought I would give it a go to see how they managed to do it on a plane although my expectations were not that high…. To be honest it wasn't really chicken kiev as there was no filling as such but wasn't too soggy and reasonably tasty. It was fairly light on the garlic which is probably not a bad thing on an aircraft even with the indivudal suites!
I moved onto red wine with my main and had a glass or two of the Saint Emilion red which was pretty good.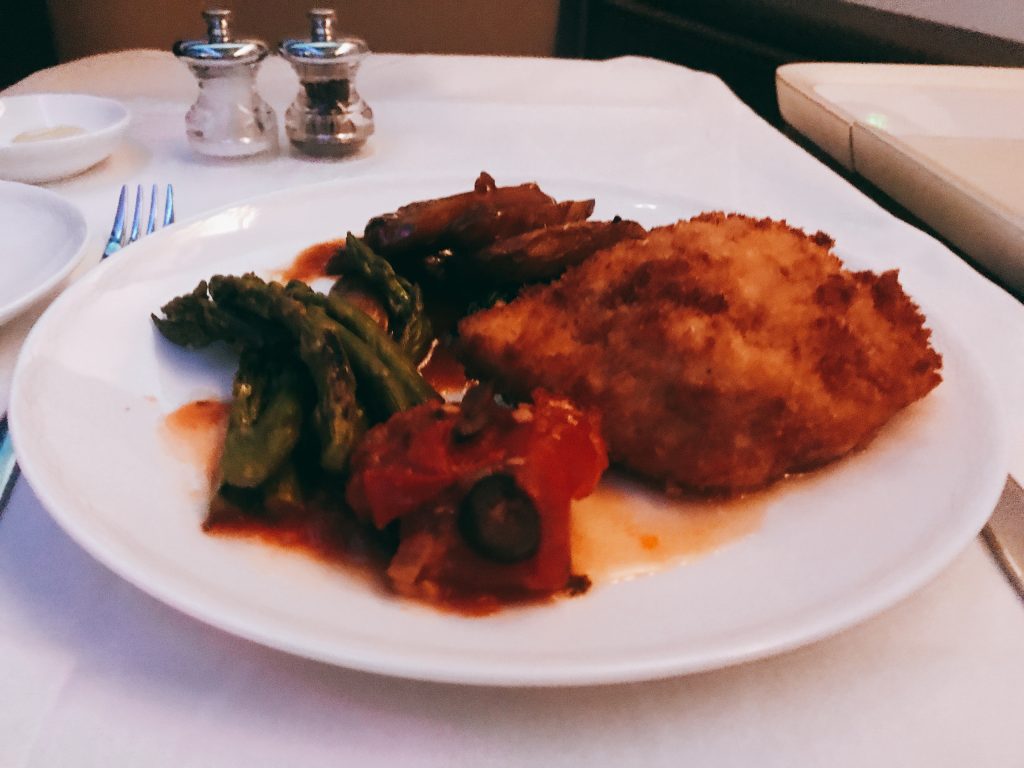 Normally I would go for the cheese for dessert but I am a bit of a sucker for a warm pudding on an evening flight (bit of comfort food before bed) so I opted to try the apple butter cake which was very tasty and moist.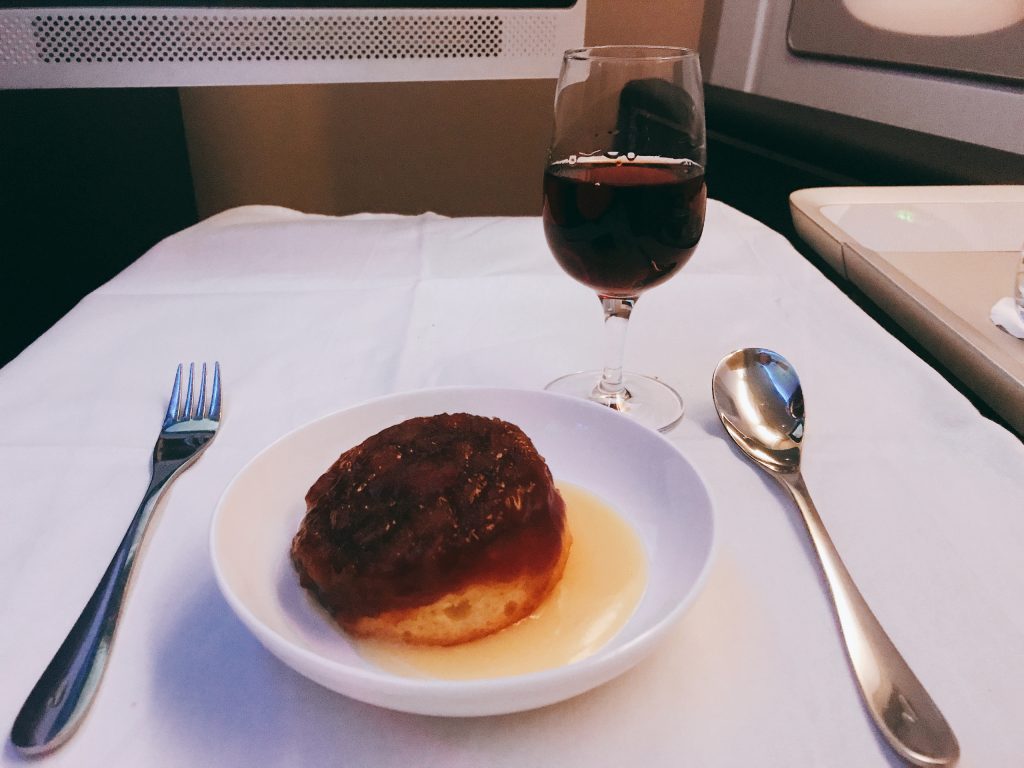 Breakfast
I wasn't overly hungry when I woke up as I had had a big dinner. The menu had full cooked breakfast if you wanted it as well as plenty of lighter options: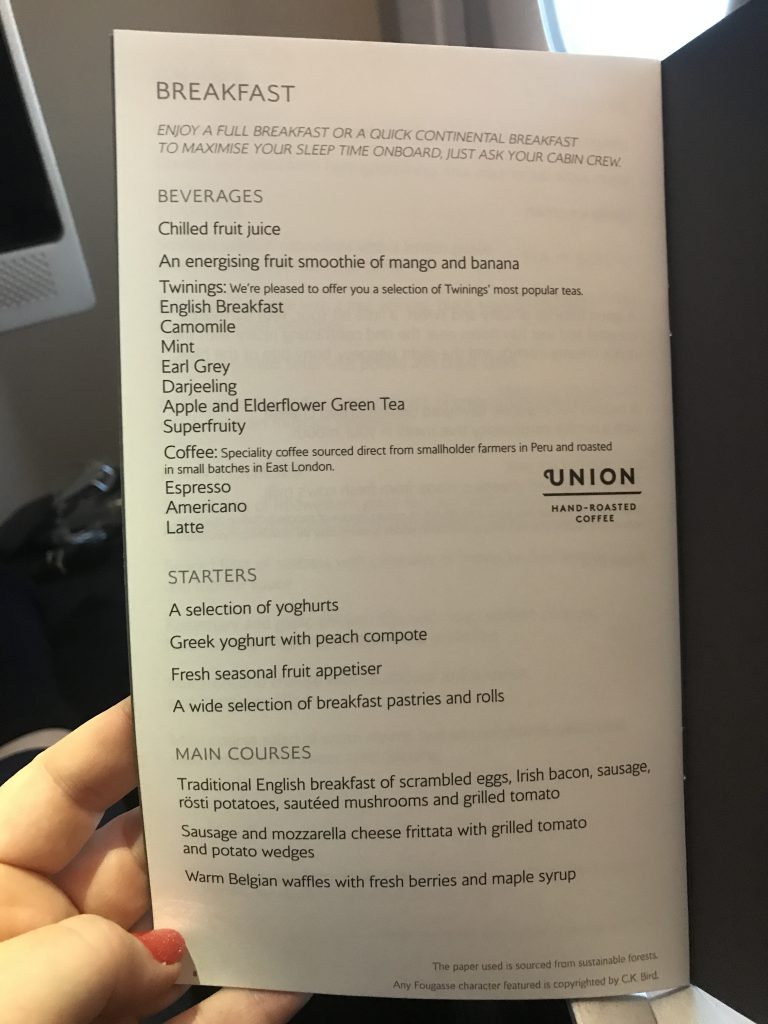 I just opted to have some fruit and a nice cup of tea. I also enjoyed the smoothie which is something BA do well.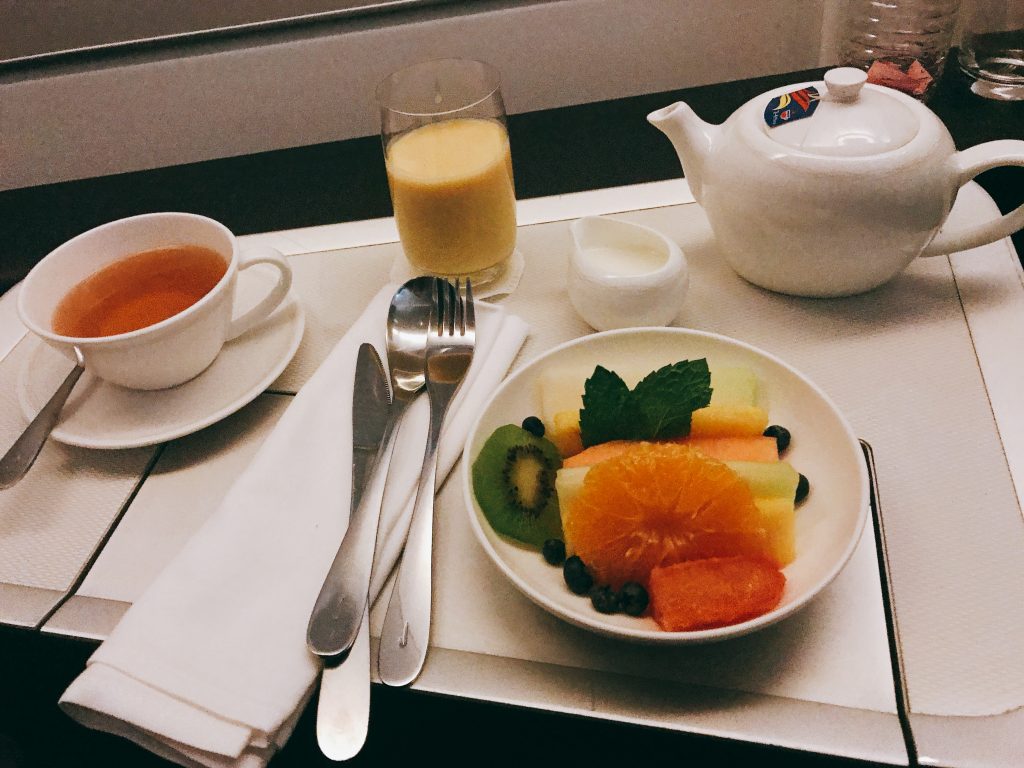 Entertainment

The screens on the A380 have reasonable definition compared to some of the older First cabins and the screen size is perfect for me. I quite like the BA Highlife entertainment system. There are usually enough new films for me to find something to watch and the TV programs normally provide plenty of options too.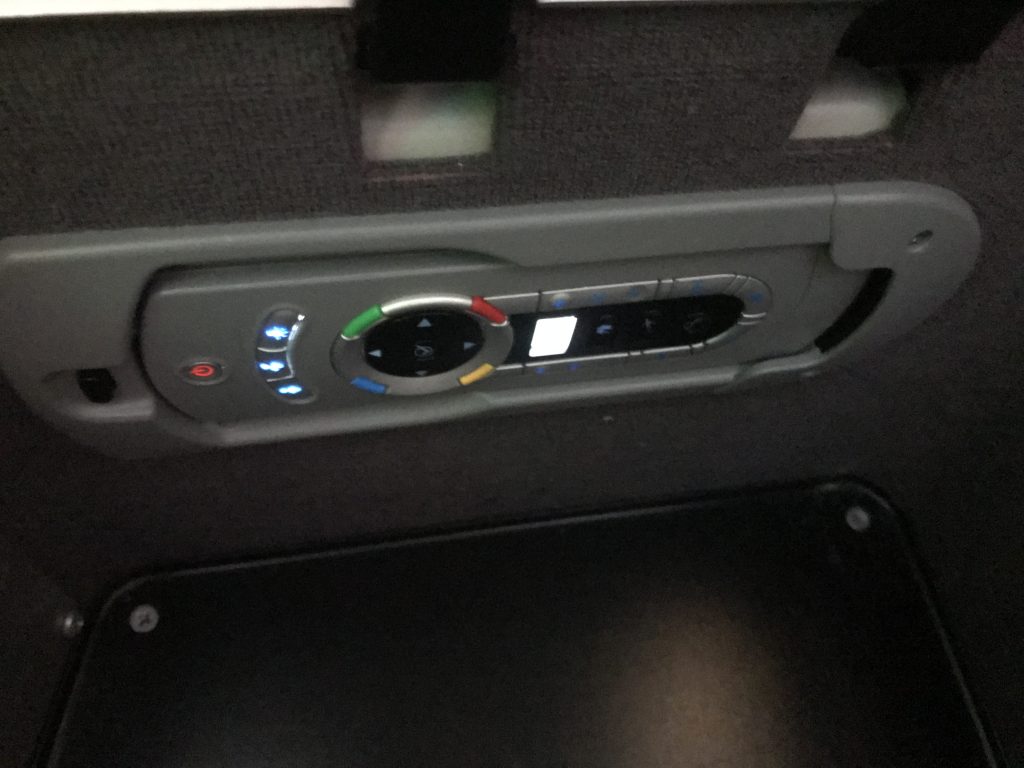 The handheld controller was rather old-fashioned by current standards but it worked fine which is more than I can say for some of the touchscreen controllers you get. Noise cancelling headphones were provided but I find the BA ones a bit uncomfortable so I prefer to use my own.
Conclusion
I still rate the A380 First as my top BA First seat but I suspect this will change when I experience the B787 for the first time. The crew did everything they should and were attentive and polite but lacked the pizazz you get with some crews. The food was something of a disappointment. The starter was a little bland, the main was not very fine dining and I feel given the recent improvements to Club World that they need to up their game in this department. I also thought that having Castelnau as the pre-departure drink was a big let down too.
For the price I paid overall I was happy with the experience. If I had paid a more usual First price I would have been underwhelmed by the experience to be honest.