As many of you know, some of the TLFL have recently been on a Phoenix tier point run. Claudio and I were lucky enough to grab the short-lived £1500 fare in First class from Bucharest so we flew from Heathrow to JFK in First together a couple of weeks ago. Whilst many joke that BA First is one of the best business class experiences in the world, I nearly always enjoy it. I only fly First with BA once or twice a year usually so I always regard it as something of a treat. Not being a Gold Guest list member I also don't visit the Concorde Room that often either.
Check-in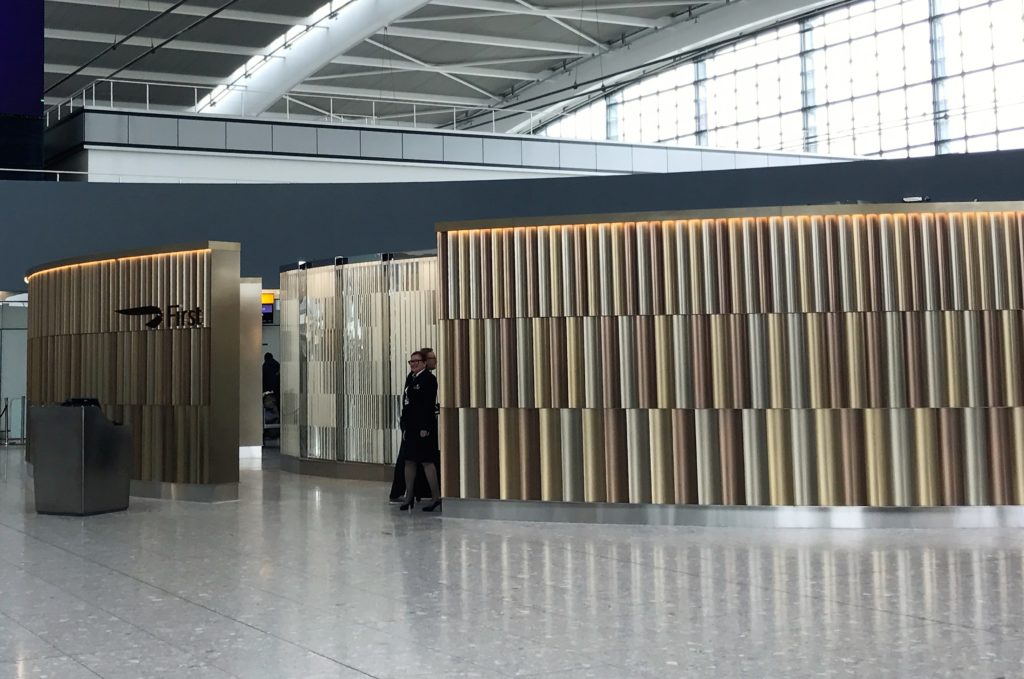 We started off extremely early in Bucharest for our flight to Heathrow so we didn't have the usual BA First check-in experience from Heathrow. Bucharest is pretty much a zoo in the morning but the Club Europe check-in was fine and we had our cases checked in all the way to New York as we were stopping overnight. We did have to specify this though as she offered to check them all the way through to Phoenix. We also received invitations to the lounge. I will cover more about Bucharest in a separate tier point breaks guide at a later date.
As I have been through the First wing about 10 times in the last six weeks I will cover what you would get if you used that which would be the normal Heathrow experience.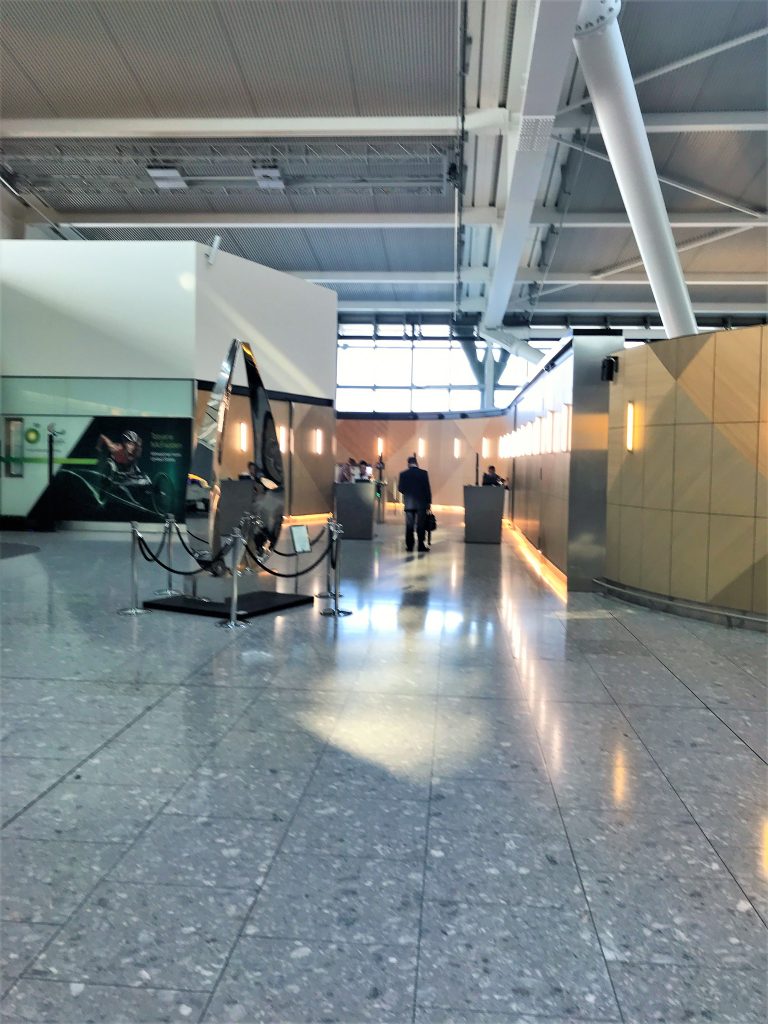 The First Wing is a separate area for First Class passengers and Gold cardholders. You can also take guests through if you are entitled to guest them into the First lounge so as a Gold Card Holder I can take one guest with me.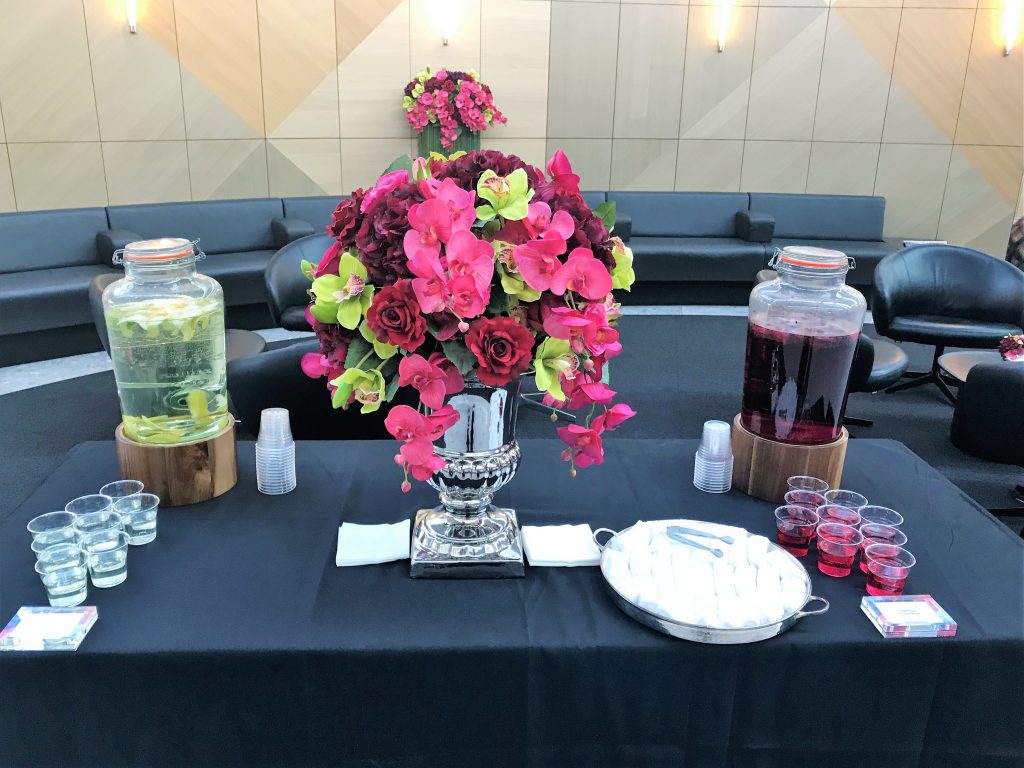 Now as you walk into the First wing area you are often greeted with someone offering you a drink and a cold towel. This is not something I have seen with any other airlines and I think it is a nice touch. If there is no one at the entrance there is also a table with the same thing. I am not sure whether BA has been doing some training with their First Wing staff but I have noticed a visible improvement in my interactions with them recently. All my check-in agents have been very friendly and helpful, asking about my trip etc.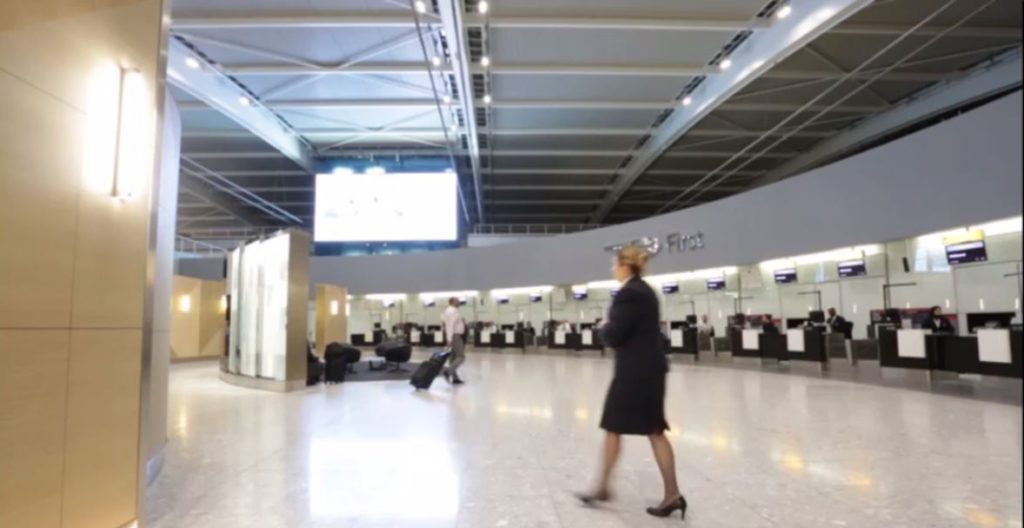 I have also noticed there are fresh flowers everywhere which brightens it up. It feels like they have modelled the First Wing on the check-in of a 5 star hotel which makes sense.
Once checked-in you go through a dedicated security channel and then walk down a passageway straight into the Galleries First lounge. The Concorde Room can be reached by walking through the lounge and past the Elemis spa.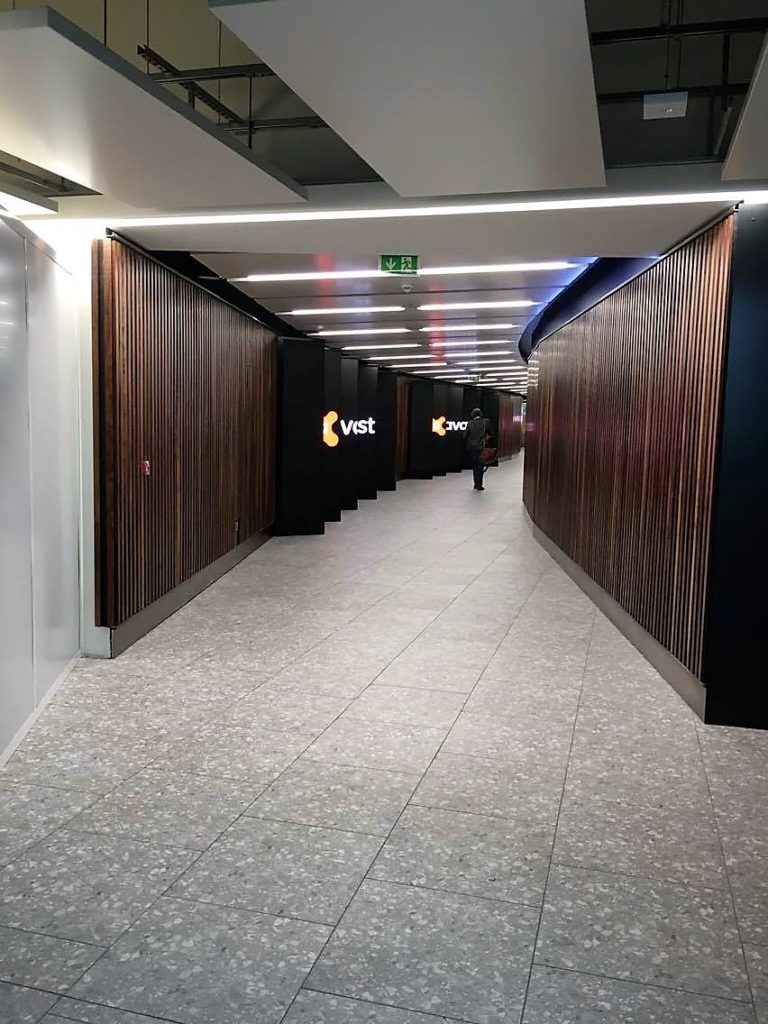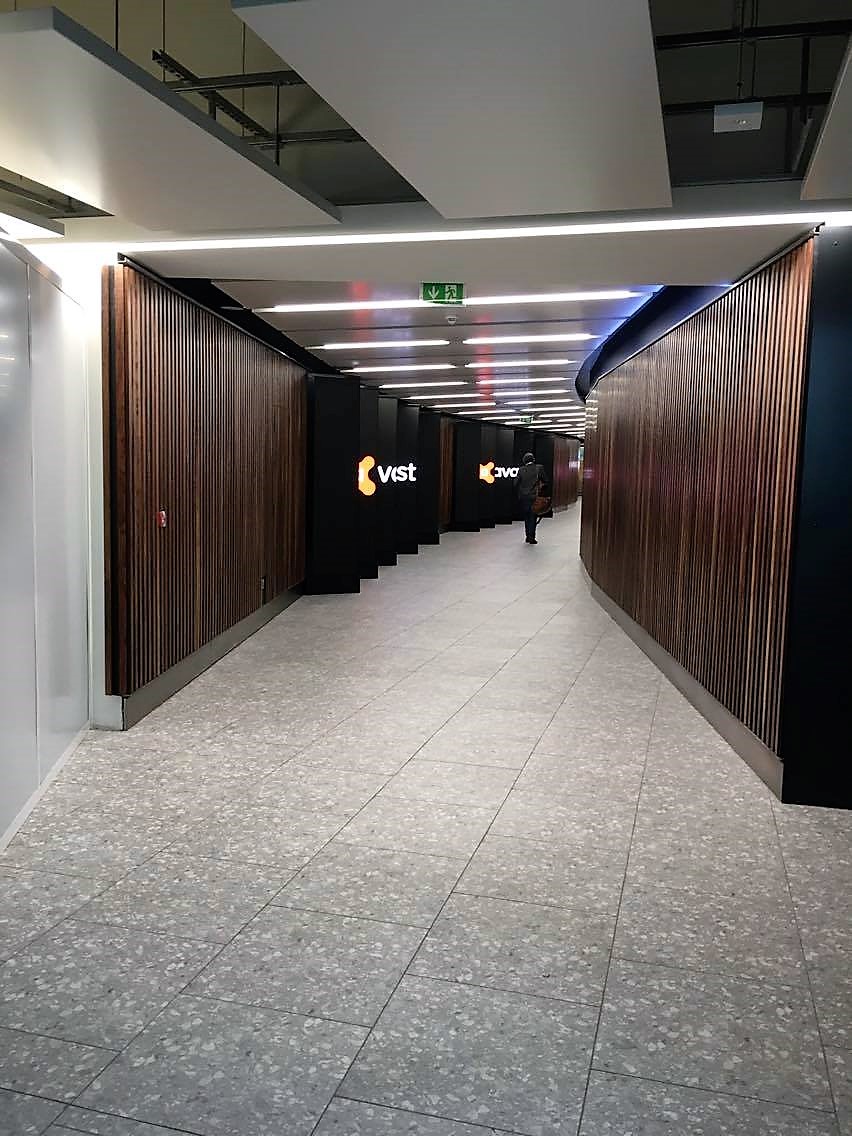 The Concorde Room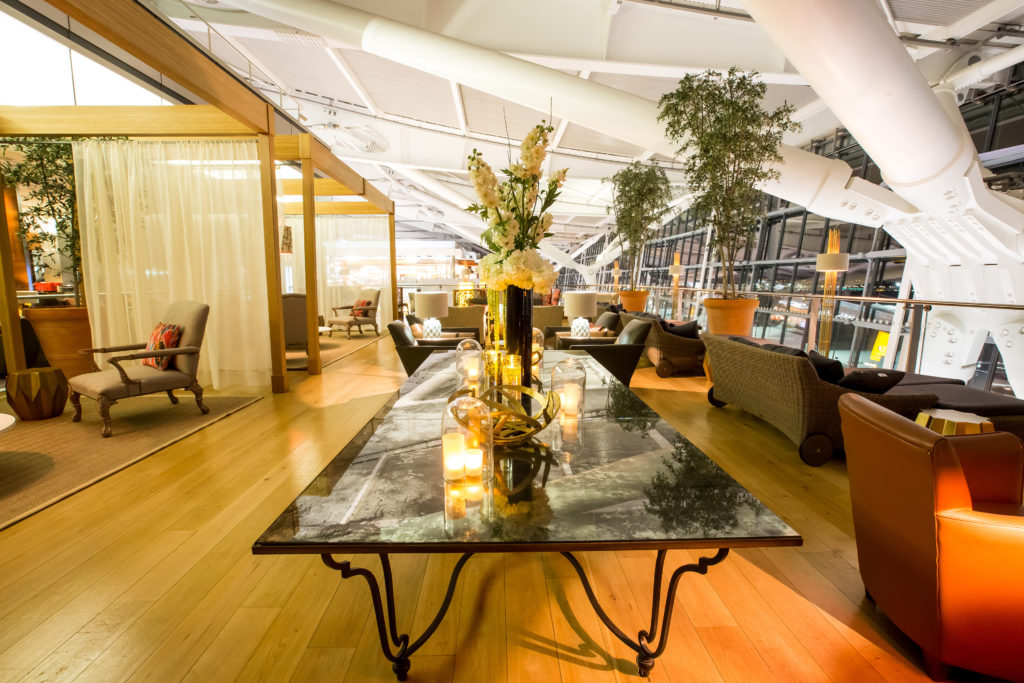 You can read a more thorough review of the Concorde Room here as we didn't have that much time between flights to enjoy the full experience. The Concorde Room recently had a refurbishment and looks better for it I think. We had met up with a few tier point runners on the Bucharest flight so we all headed to the Terrace for a glass of the Laurent Perrier Grand Siecle champagne. Although not as good as my favourite Krug, I always enjoy a few glasses of this as part of the First experience. I ordered a couple at the bar but they came round fairly regularly to top us up out on the terrace as well.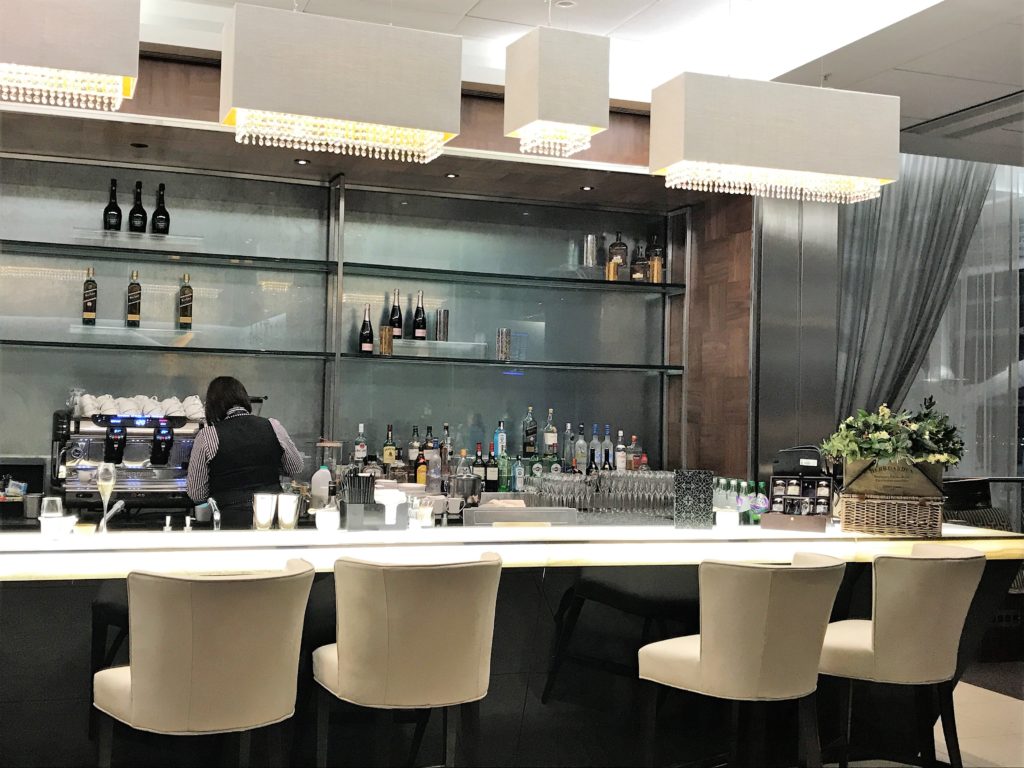 Again as we were short on time we didn't bother to book a cabana. These can be booked up to a year in advance, unlike the spa treatments which you can only book 28 days in advance. You can find out more about them and making the most of BA First in this article.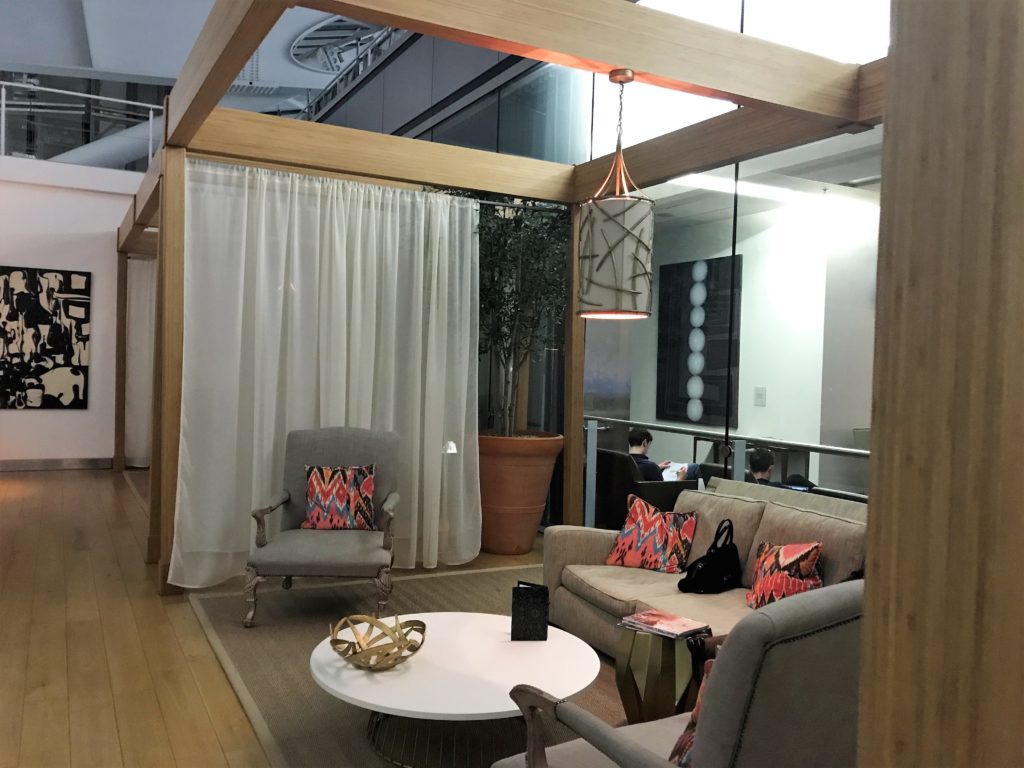 We did, however, manage to book some spa treatments. Both of us had reserved the power back massage but not without a lot of hassle. Claudio was in Brazil at the time of the booking window and I offered to book one for him. He added me as a third party nominee on his account and gave me the password to be able to manage his bookings with BA. Despite this, they would not book him a treatment as I didn't give the correct email address for the booking as he had made it using a different one. I thought this was frankly ridiculous along with all the other answers needed such as his Executive Club number, date of birth and more. I can understand if I was changing something fundamental on his booking but not making a spa appointment?! I can make a normal spa appointment for anyone despite data protection except with BA!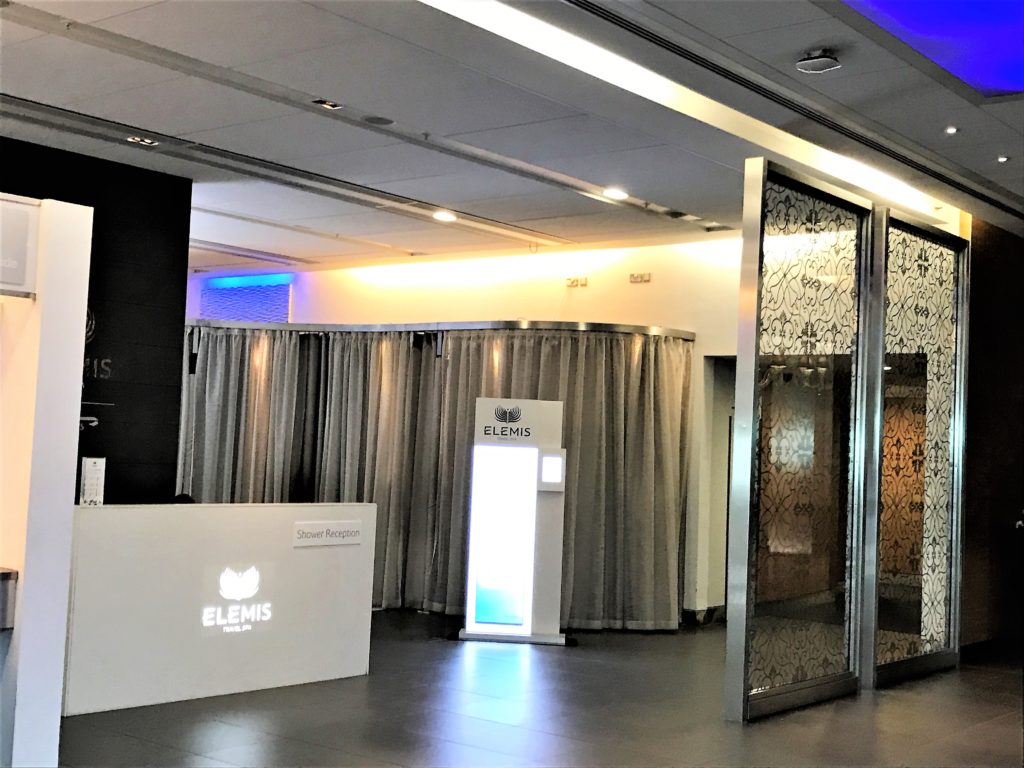 Despite these difficulties I have to say I was impressed with the treatment which was done sitting on a massage chair. It was a good treatment with some aromatherapy type inhalation and some balm on my temples too. I was also given a selection of Elemis samples at the end by my therapist who was lovely.
Boarding
Unfortunately, boarding did not go well. I had received the dreaded 'SSSS' on my boarding pass which meant that I had been specially selected for extra security screening. This happens on flights to the US and is often triggered by things such as one-way tickets or the routeing on your ticket. This meant I got on board late which made photos a little tricky but fortunately Claudio managed to get a few as well.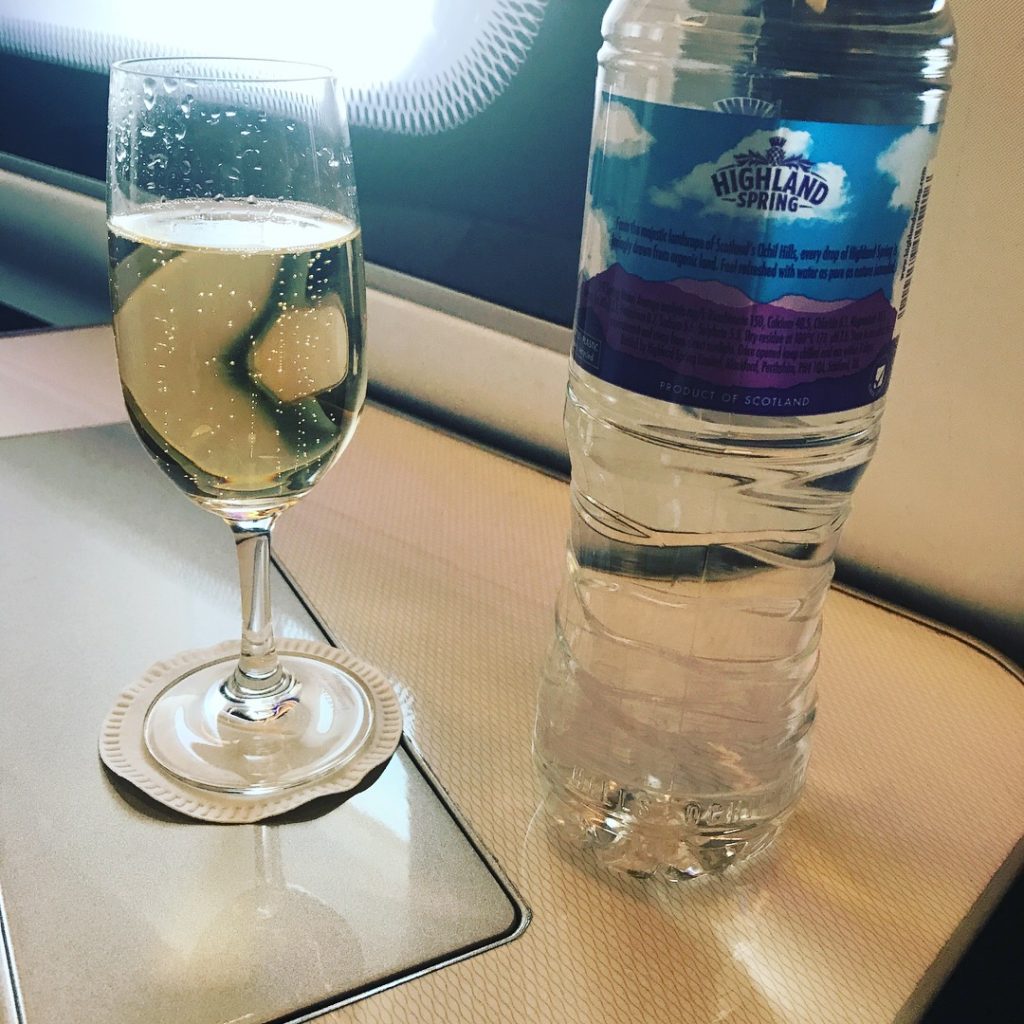 You can usually tell how a flight is going to be when you first get on board and we were both pretty sure this would be a good one. Philippa was looking after us for most of flight (along with colleague Lisa) and she really made the flight for us. It began well with a glass of LPGS which was refilled twice before departure which is always a good start (although if some of the pictures are a little wonky you can see why now!). Already at the seat were a day blanket, a bottle of water and a Liberty Ladies amenity kit with Aromatherapy Associates products.
This was unusual as the day blankets are meant to be on demand as they kept being 'liberated' by passengers! I was offered the First pyjamas too. There was also a day pillow and a large pillow with a pillowcase for sleeping.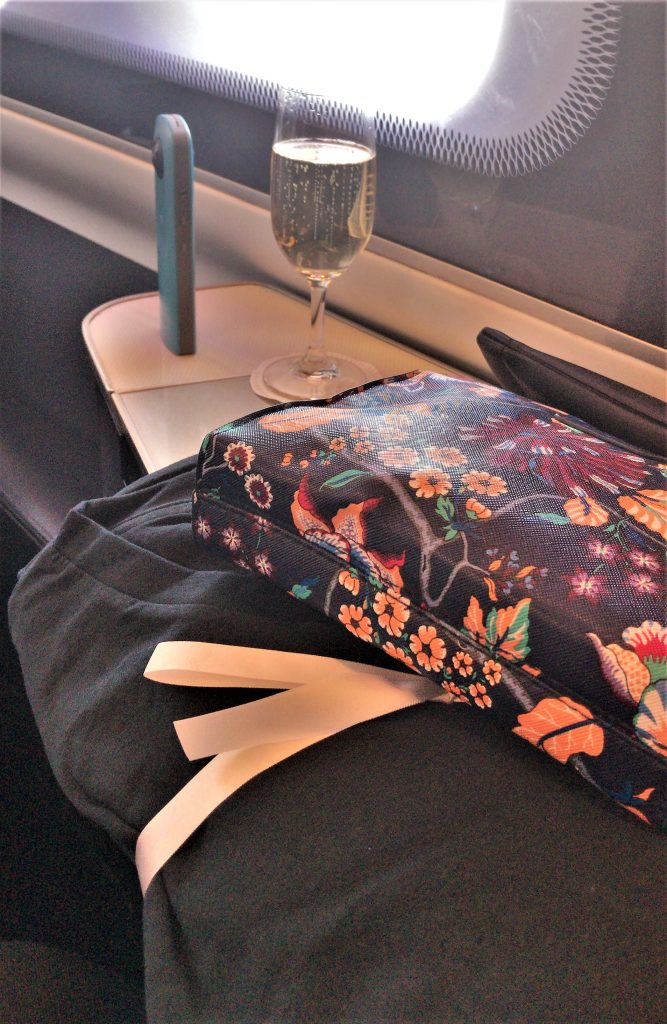 The seat
Booking seats in First class is still thankfully free, unlike Club World on British Airways. Claudio and I had booked separately but coincidentally ended up behind each other in 2 and 3 K. If you were in a couple you could try for Row 1 which is reserved for Gold Cardholders from BA's Executive Club and VIPs. If you are not BA Gold you can sometimes still snag them at on-line check-in or even closer to the flight. Remember when you do on-line check-in, don't download your boarding pass or print it unless you are happy with your seats. Until you do this you can keep checking for a better seat to switch to. Row 1 is good for travel companions who want to sit together but still have the window seats. It is possible to talk between the seats but you aren't really within touching distance. However, they do have the advantage of being the most private seats.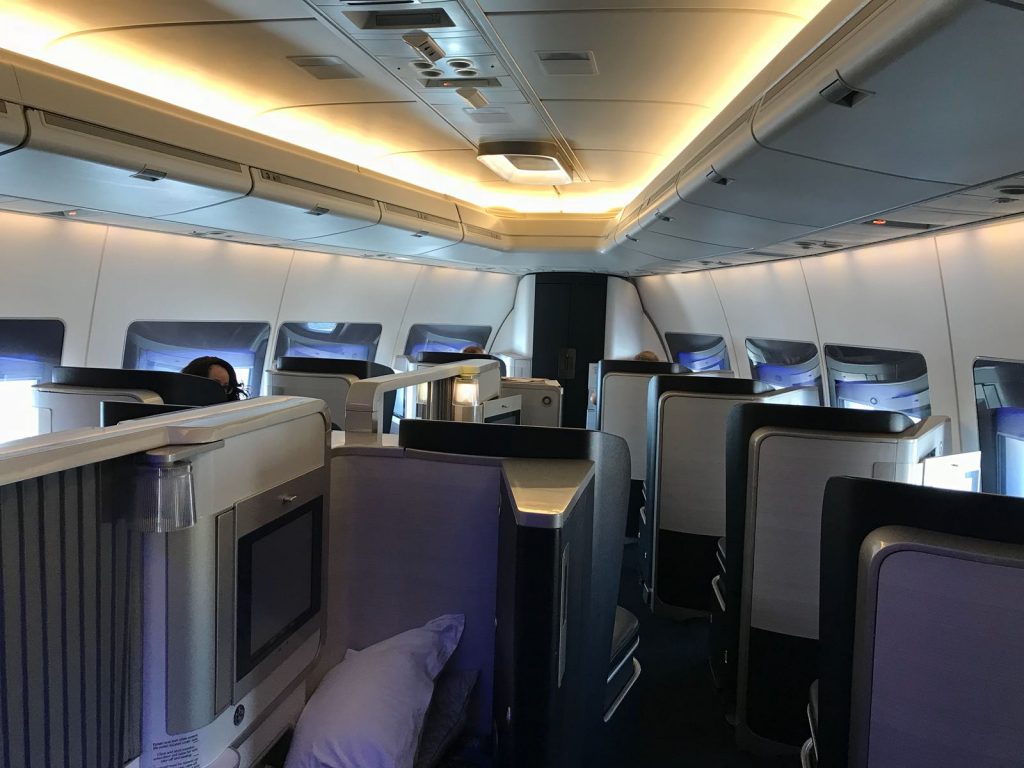 Your choice of seats depends on whether you want to sit with someone or would rather have a window seat. If you have a window seat there is a buddy stool where you can join someone for the meal, but you wouldn't want to sit on it for much longer than that as you will see below.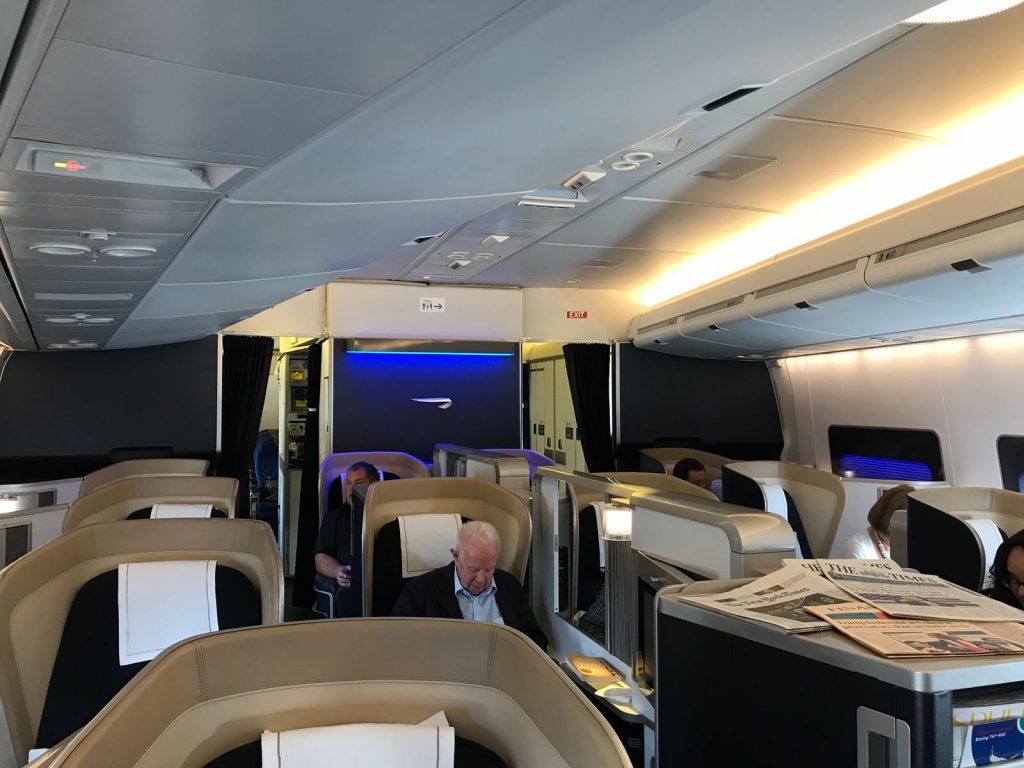 The cabin is small with 14 seats and despite the B747's age I still think the First cabin has an air of modern English elegance. I particularly like the fluted glass-look individual lights and the window shades which are controlled at the touch of a button.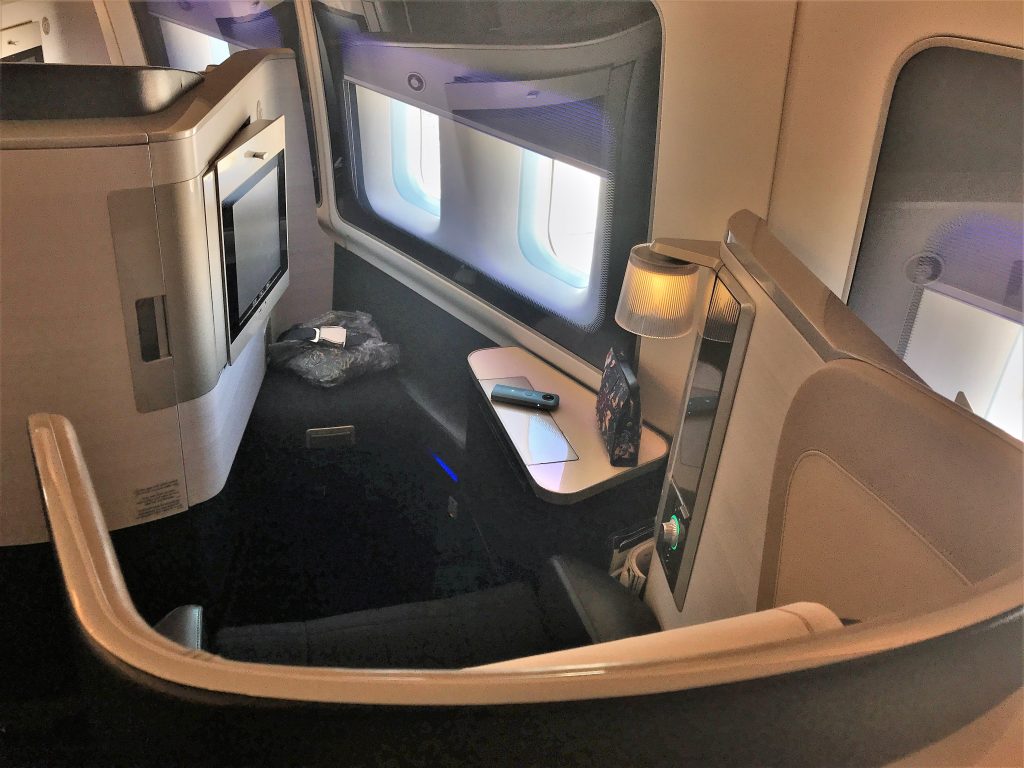 I find the First seats generally very comfortable. They are not as private or roomy as a suite but I still find them private enough for me and there is a good amount of space around to store your belongings. There is a wardrobe for each seat which has some handy mesh pockets to store stuff in by your seat as well as a hanger and a cubby hole for shoes or a small bag.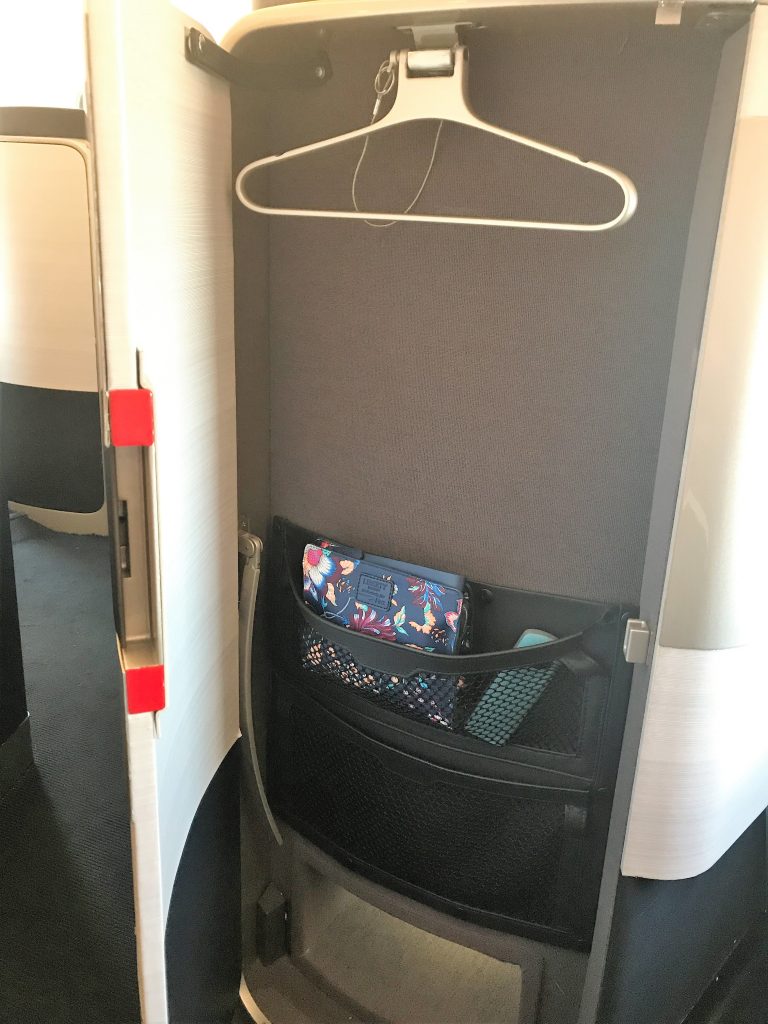 The seats are controlled very simply with a turn dial that is illuminated. When green it means that the seat is in the takeoff and landing position. You could also control the lumbar support and the headrest firmness with another couple of buttons.
Post from RICOH THETA. – Spherical Image – RICOH THETA
The only thing I would complain about is that I would prefer to have an individually controlled leg rest and recline rather than an all in one to get the perfect position. It doesn't really have a leg rest as such but I still found it comfortable for sitting, relaxing or lying down.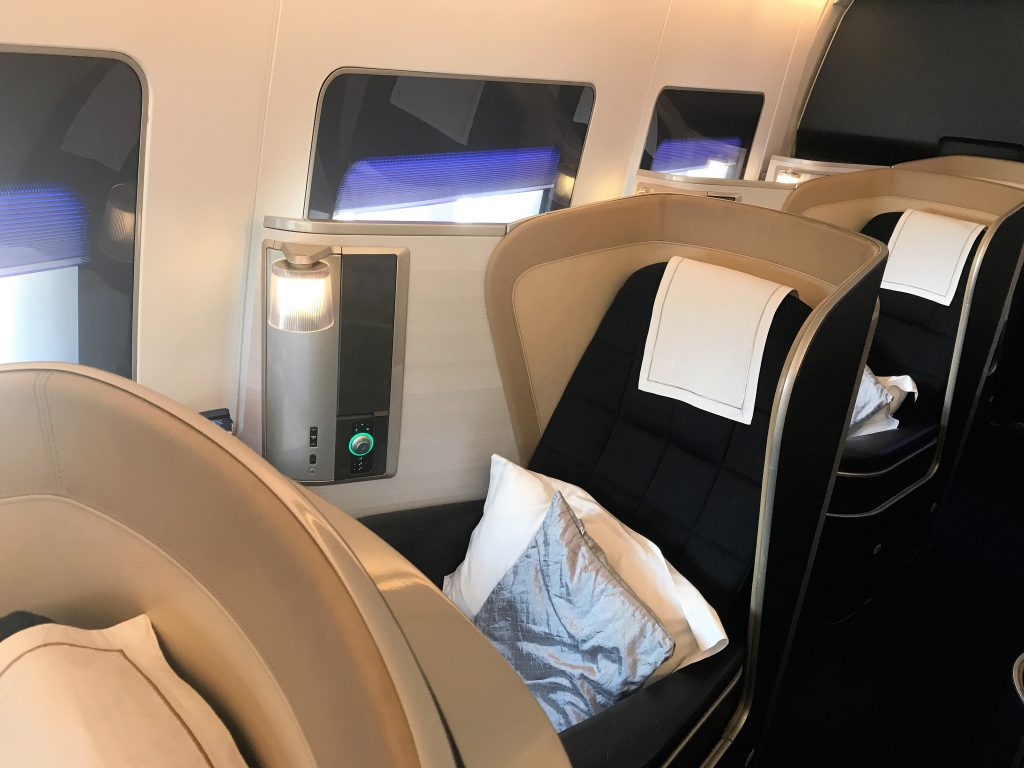 After the meal, the crew offered to make up my bed (to sleep off all the drinks!). The bedding consists of a mattress topper, a duvet with a crisp white cotton cover and a large matching pillow. With the new Club World bedding by the White Company, I would say there is not much to choose between them but the duvets in First are more like a proper bed.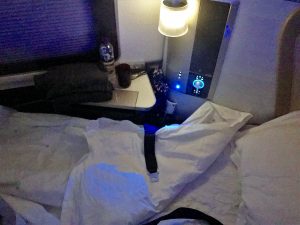 I managed to get a couple of hours rest and found the seat very comfortable when lying down. The surface is nice and soft and it feels like a wide enough sleeping area even if you sleep in your side. With less traffic up and down the aisle than Club, it also helps you get a good night's rest.
Food and drink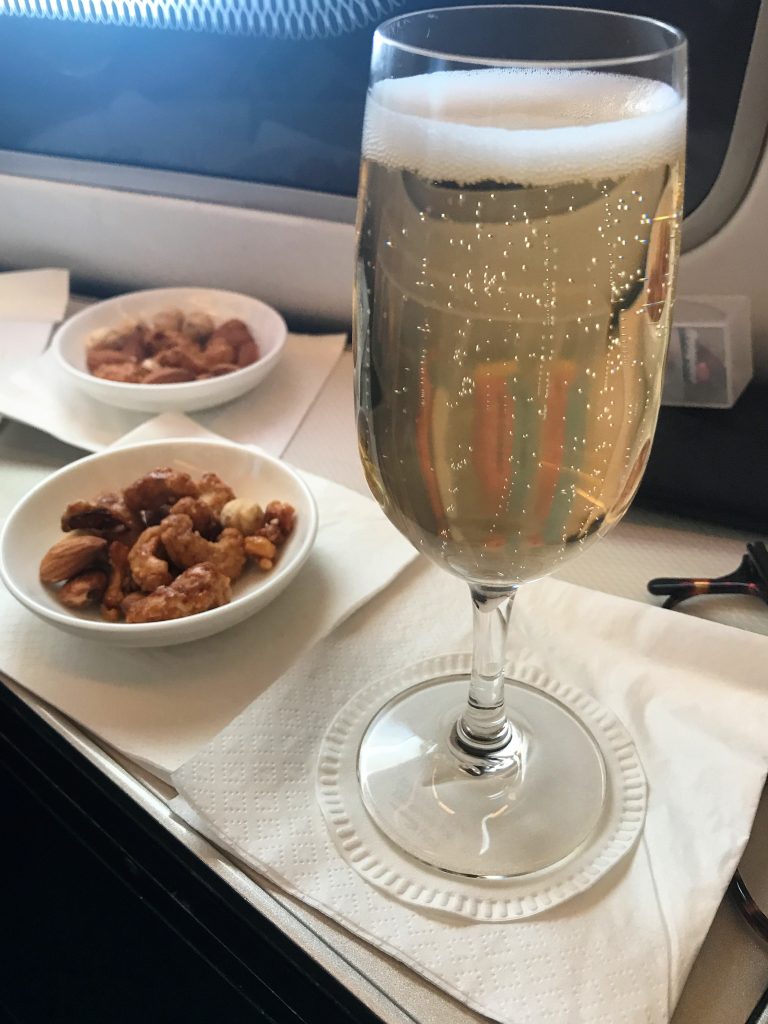 After take-off we were offered a drink before lunch so we decided to carry on with the LPGS and get our money's worth. This was served with  nuts that had a tasty, crunchy coating. When they came round for a top up I decided to try a glass of the English sparkling wine on offer – the Wiston Estate. Although very different to the LPGS I enjoyed this too. It was less complex but lighter and fresher than LPGS. Here is the full wine list and drinks list:
I had pre-ordered my main meal before the flight which you can do on most long-haul routes out of Heathrow. Even if you don't want to do this you can see what the menu for your flight will be by going to the choose your meal section on ba.com under manage my booking.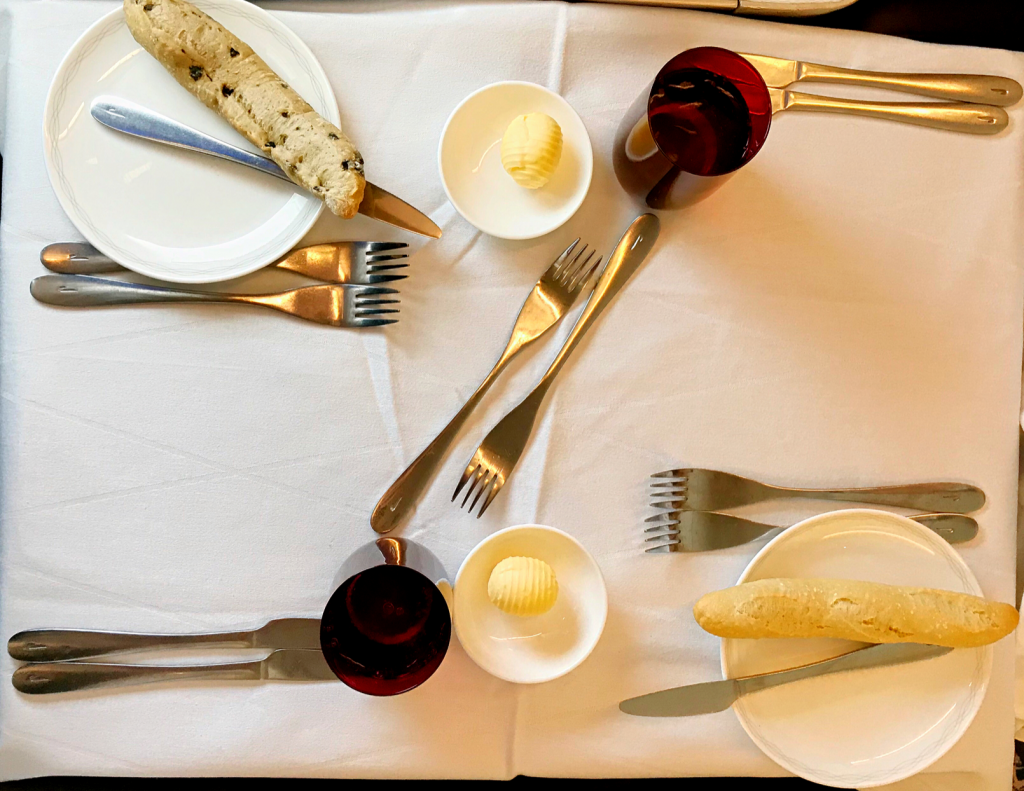 Claudio chose his on the day. Once we had ordered our food the table was laid with a white tablecloth after Claudio had settled into the buddy seat. He found this rather cramped…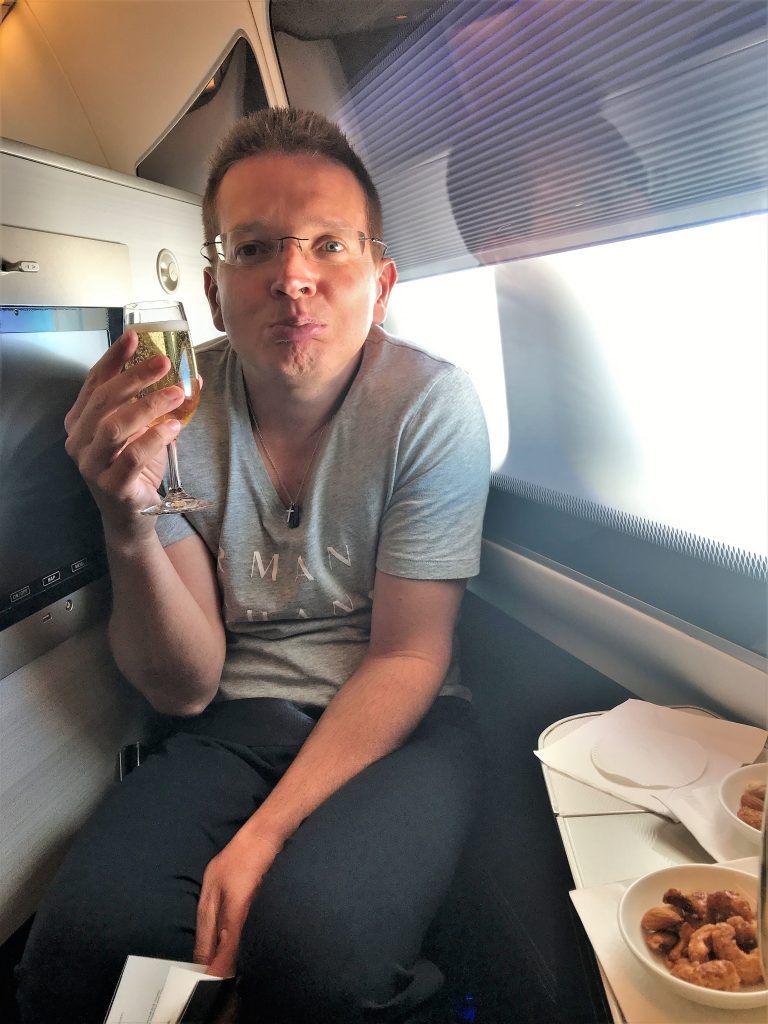 I have to say I struggled a little with choice of starter as there was only one that appealed. Here is the full menu:
Before the starter, we were served an amuse bouche which thankfully they have brought back. They had previously been serving an antipasti type plate but I much preferred what we had. It was beautifully presented and very tasty with two baby roasted potatoes topped with smoked salmon and horseradish on one and sour cream and Keta caviar on the other. We were offered a selection of bread and although I normally don't bother with airline bread I decided to try some. I was very pleasantly surprised by my mini baguette which wasn't far off what you would get in a fine dining restaurant.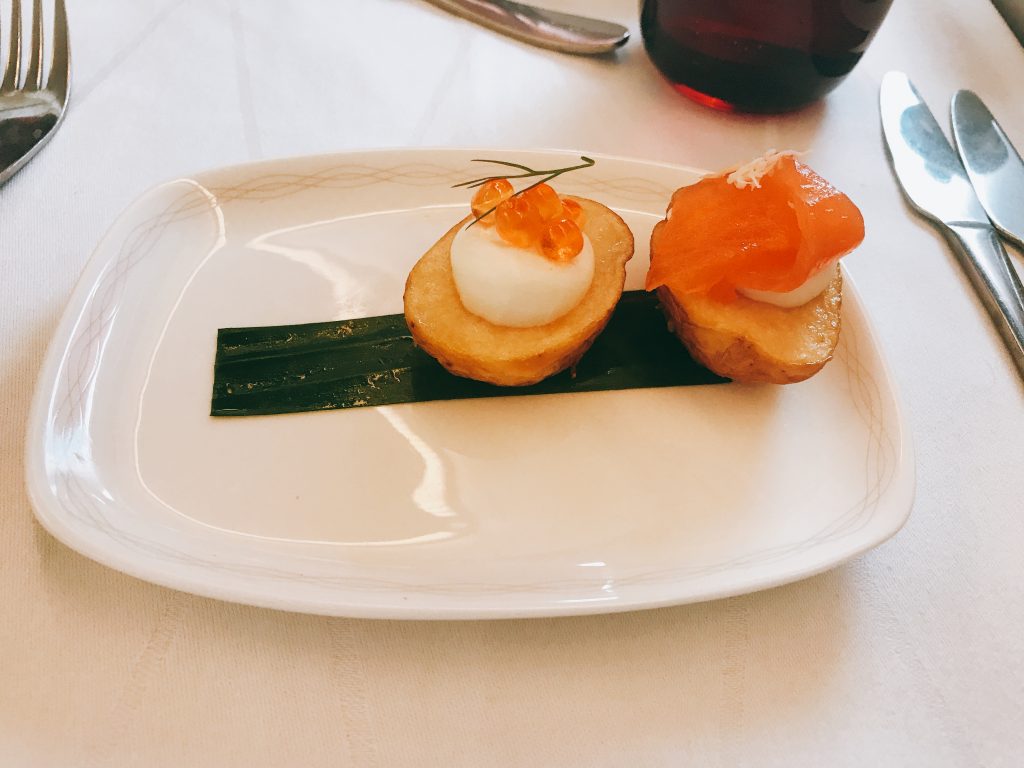 Next came my starter which despite not sounding particularly like the sort of thing you would have on a first class menu was actually pretty delicious too. The prawns were lovely and crispy in a light batter and the zingy cajun dip had enough of a kick to stop the dish being dull. The addition of a crunchy little potato lattice basket also helped to add some interest and texture to the dish.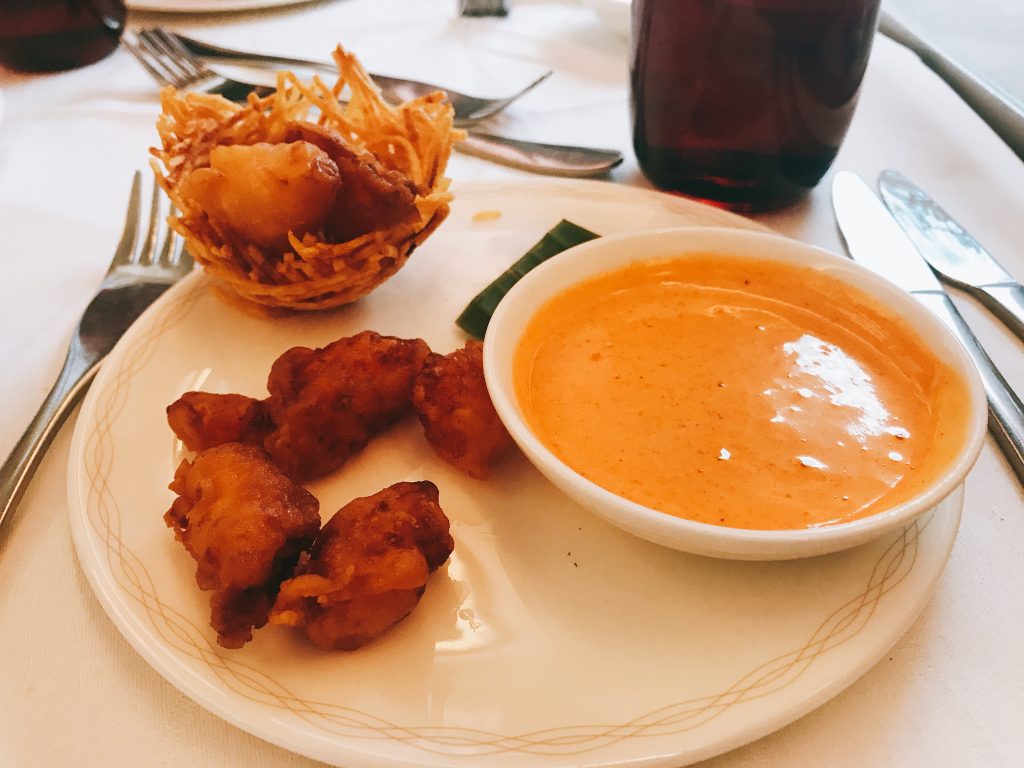 We opted to have the salad as well which came with a choice of dressings and looked very pretty. It was a bit like a greek salad with some feta cheese and olives. I opted for the Balsamic vinegar and olive oil dressing.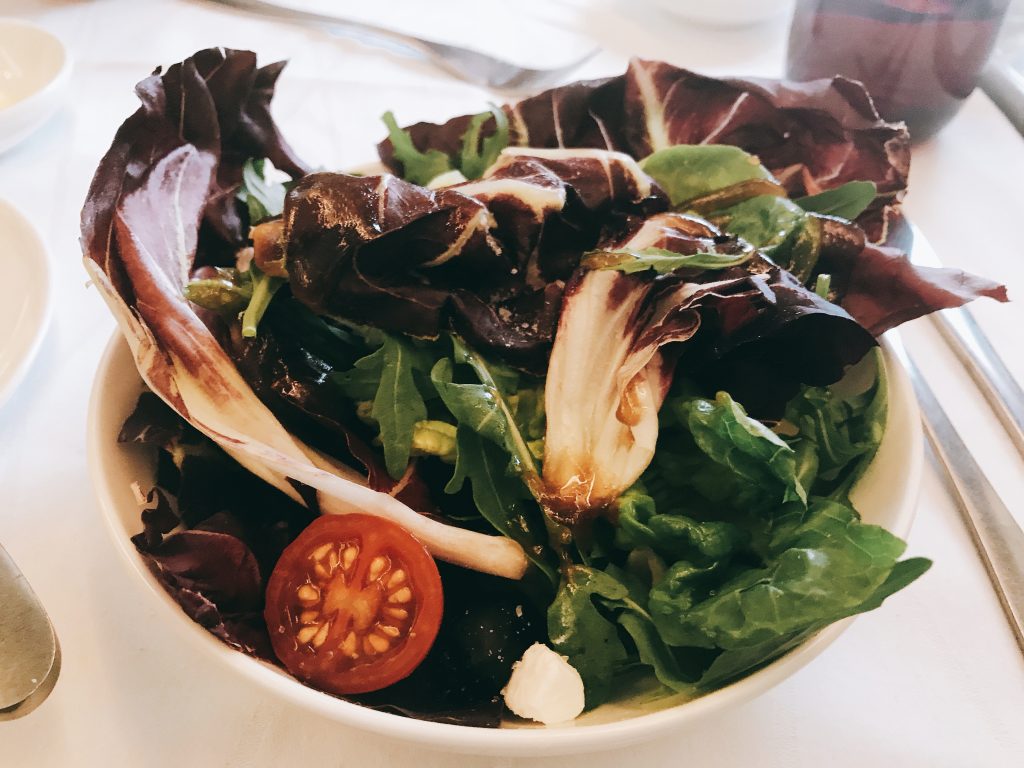 Next came my Dover sole and Claudio's Kashmiri chicken.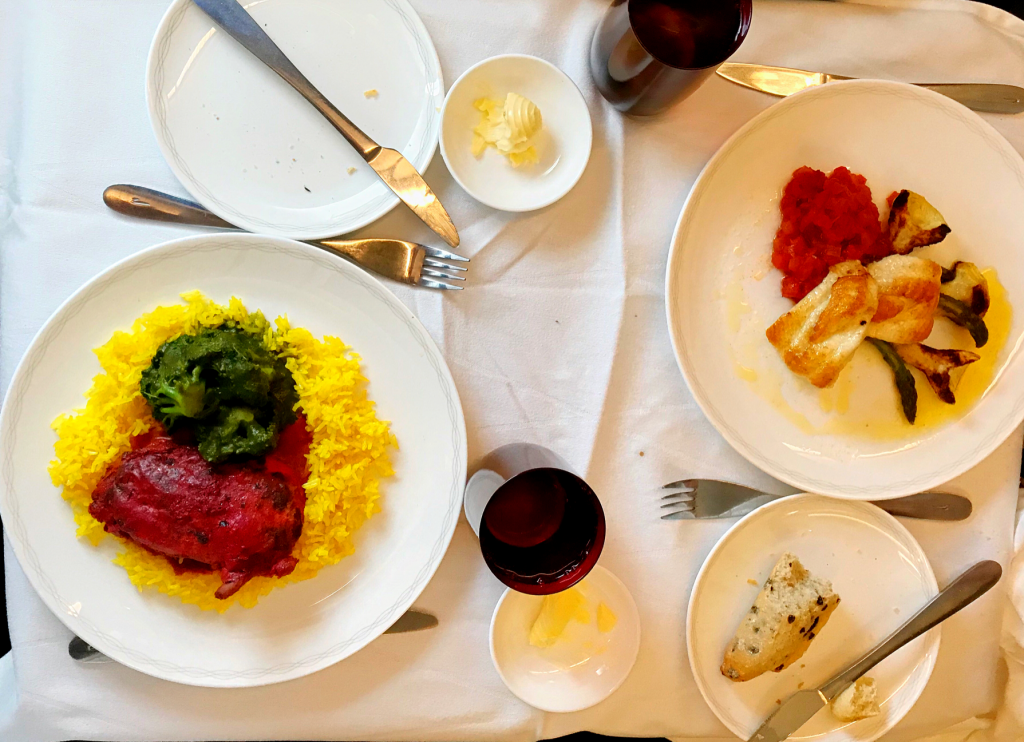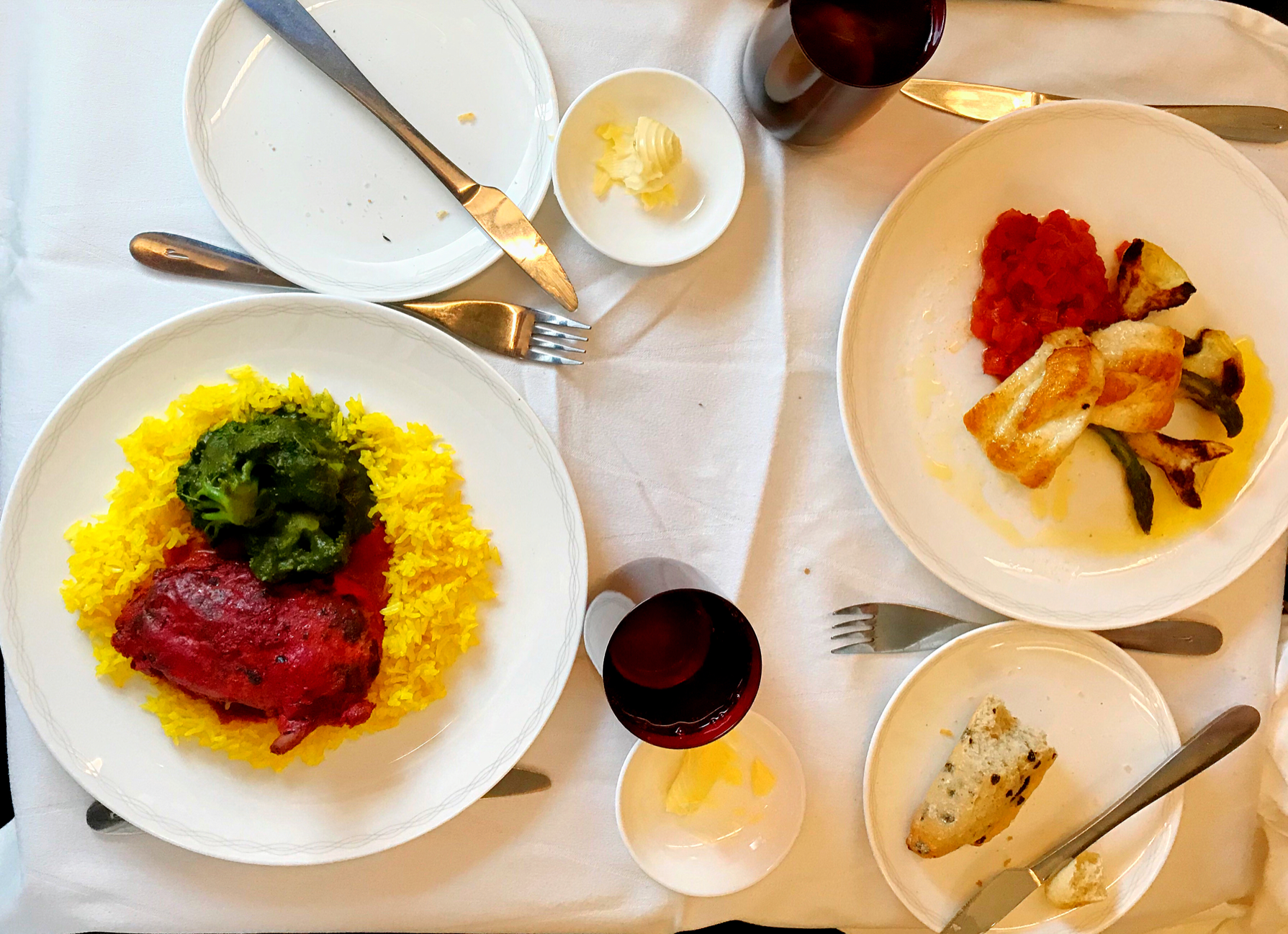 I was pleased with my fish which was almost at restaurant quality. It was only marginally overcooked and the smoked tomato wasn't too overpowering as I had feared. I enjoyed the light lemon butter and the accompanying vegetables but it felt like it could have done with a starch element as it was a bit sparse on the plate. Still, it meant I had room for cheese….
Claudio described his as one of the best main courses he has had on BA and thought the spicing was well balanced and the rice well cooked.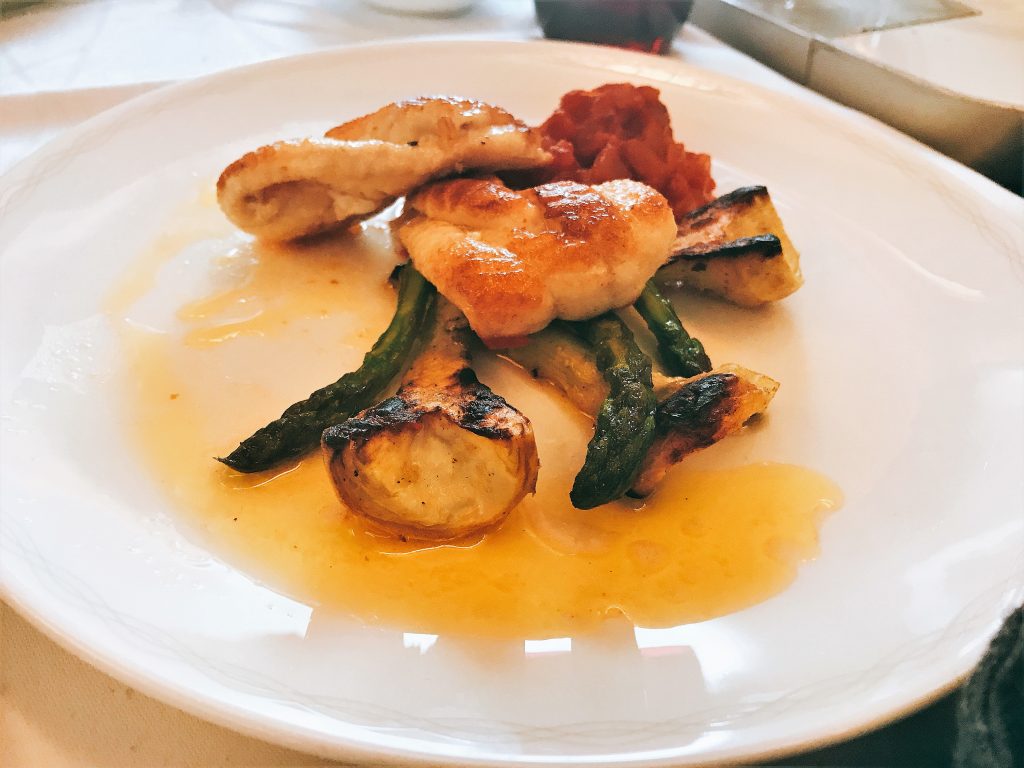 Pretty much the whole TLFL team are cheese lovers so naturally Claudio and I had to give the cheese plate a try. I toyed with having a port but I am not a huge fan of tawny port so I decided to go for the Bordeaux Saint Emilion red instead which I really enjoyed.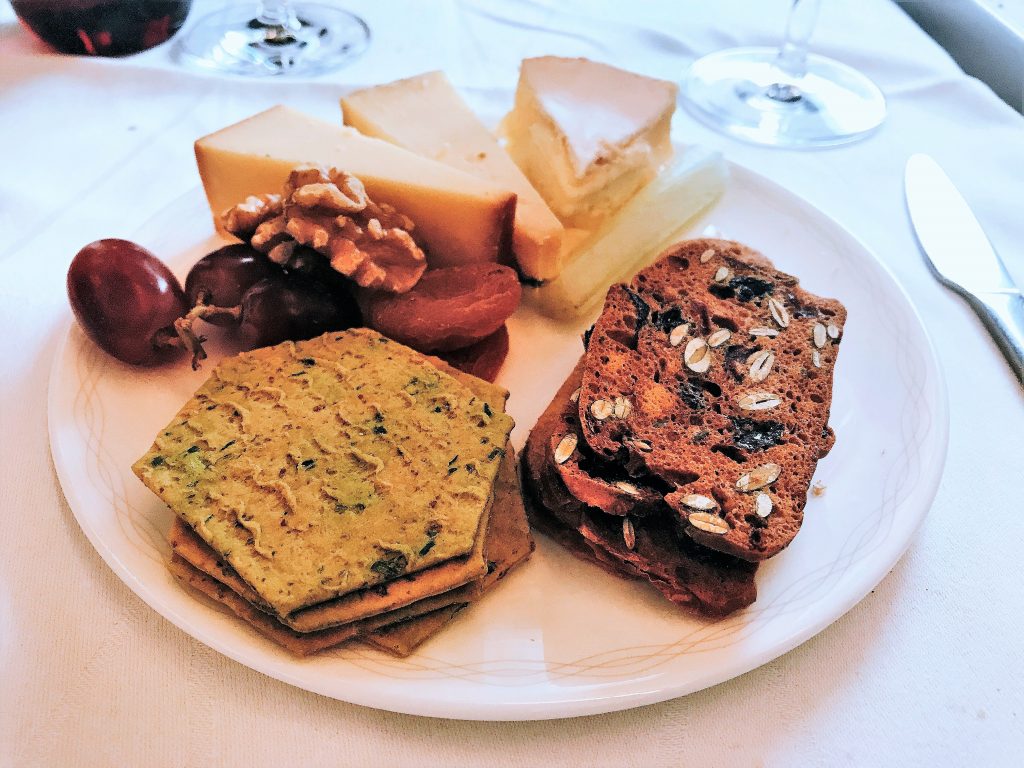 Since I was on a roll I ended with a generous measure of the XO Otard Cognac. If you are keen-eyed you will notice some rather downmarket chocolate on the table. Someone had dropped the First chocolates on the floor so we were reduced to the Club World kitchen chocolates and enjoyed a mini Twirl and Cadbury's fudge with our drinks!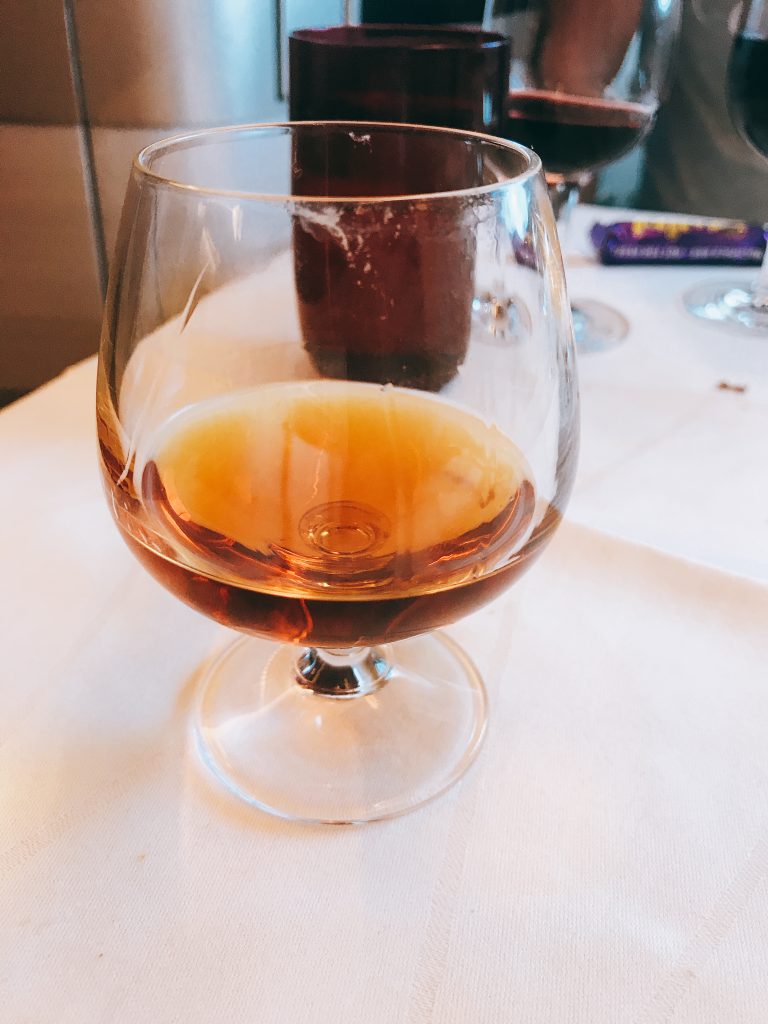 Overall it had been an excellent lunch especially with the fun service we had from Phillipa. She looked after us extremely well as well having that rare quality with BA crew that you can have a bit of banter and conversation with. Yet at all times she was extremely professional and we were constantly topped up before we had finished our wine (not always a good thing!!).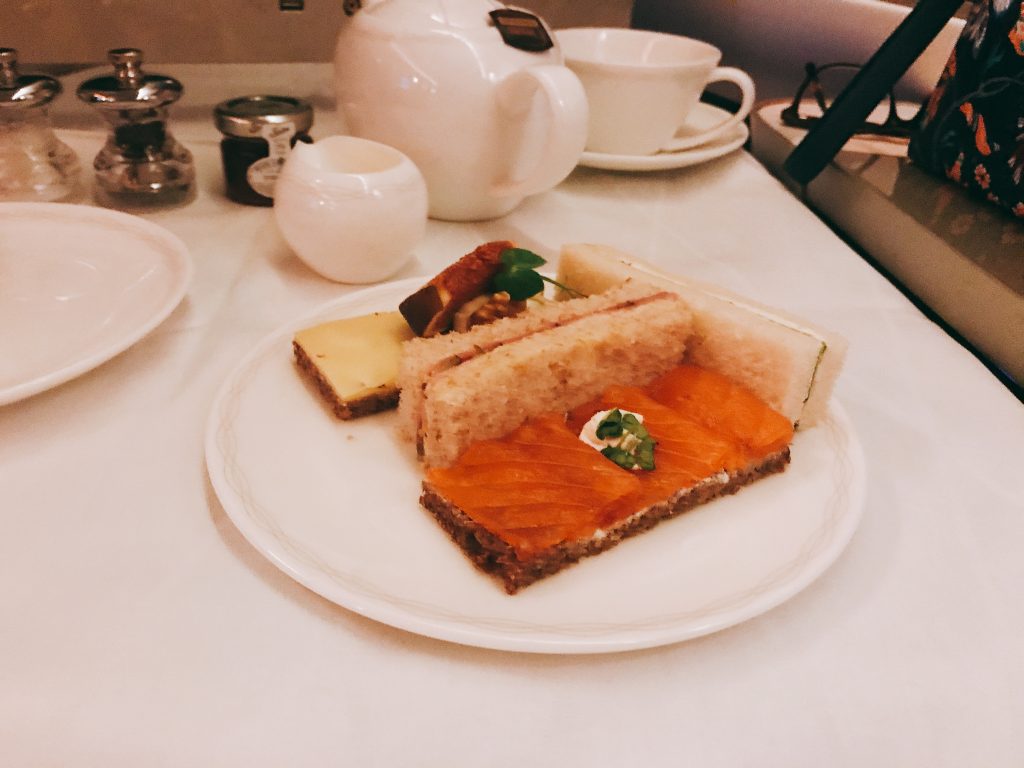 Although neither of us were hungry, we weren't planning on eating in New York so we decided to try the afternoon tea. We both just had the sandwiches but you could have had cakes as well. Being a lover of scones and looking forward to their return in Club Europe shortly, I tried one. The scones were a bit of a let down to be honest, a bit heavy and an overly lemon flavour. The sandwiches were fine though.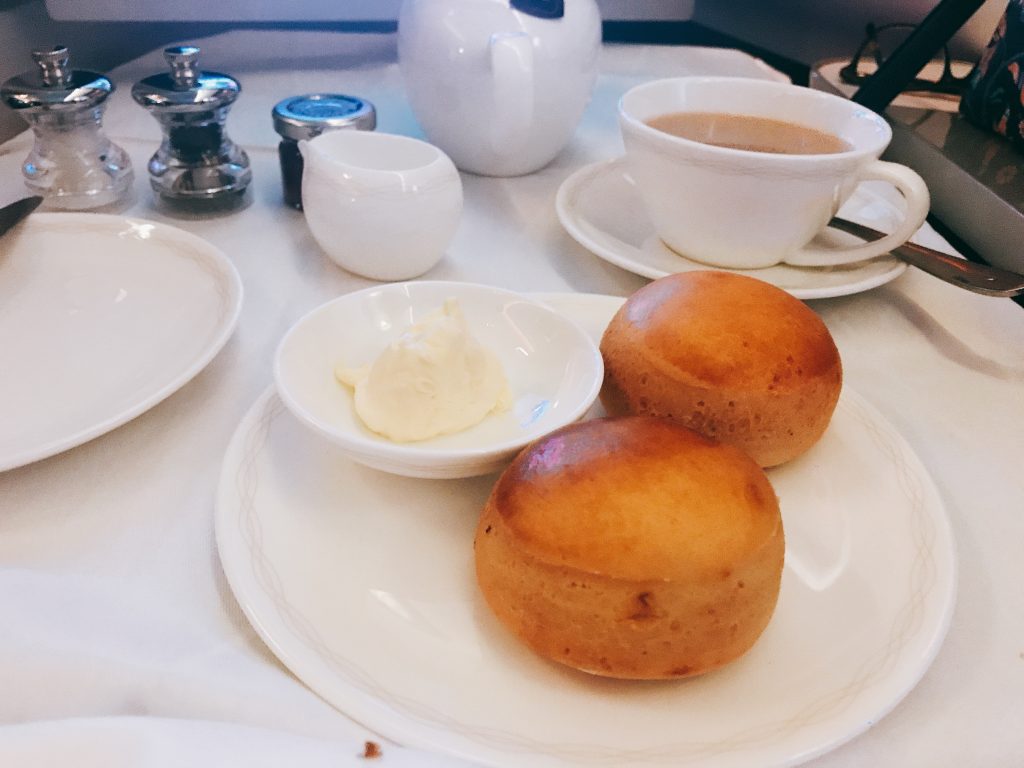 Entertainment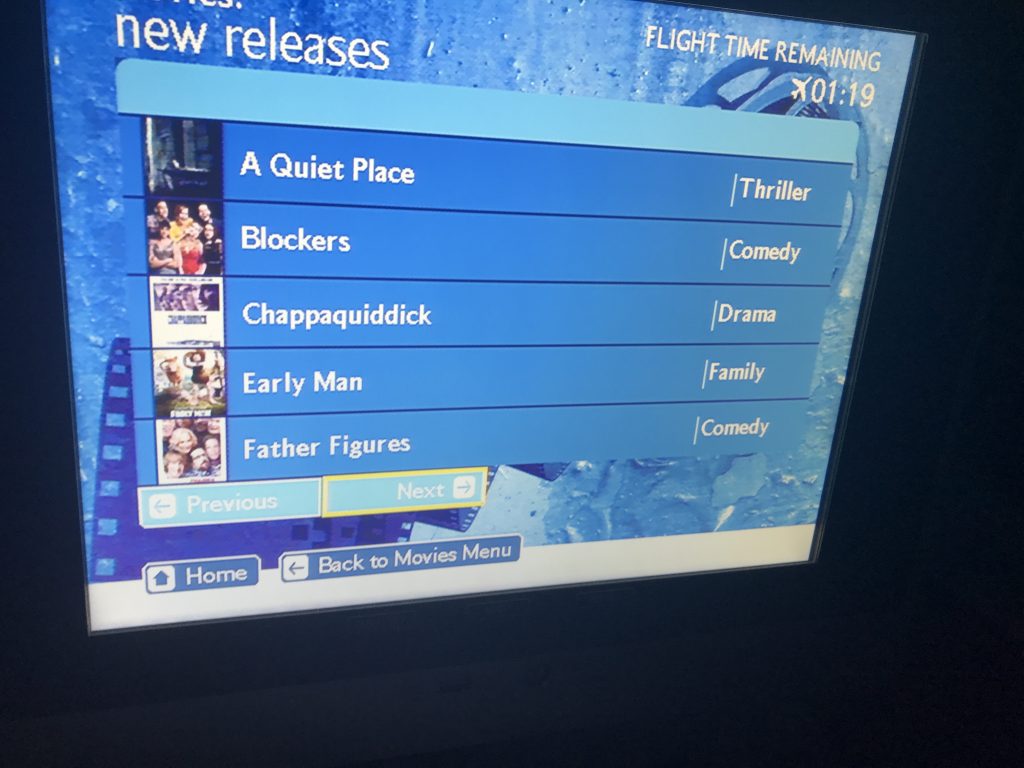 Being a B747 the First screens are not the newest but they are a good size and the definition was acceptable. There were a lot of films and TV programs to choose from but by the time we had eaten I didn't really want to launch into a film so I just watched a few comedy programs. You are given noise-cancelling headphones (the same as Club World) which are OK but I find they hurt my ears after a while so I usually stick to my Bose QC35s instead which are super comfortable and have excellent sound quality.
There were enough options for charging with multi-country socket and a USB port. There was no Wi-Fi on this flight but it is gradually being rolled out over the long haul fleet.
Conclusion
This was a fantastic experience which was largely down to the crew although we enjoyed the food and wine too. Claudio thought it was one of the best main courses he had had on a BA flight. I enjoyed all of my food and wine and could fault very little. The seats may not have the wow factor of something like the Middle Eastern airlines First but they are comfortable and private enough for me. The main things for me are; did I enjoy the flight, was the seat comfortable for sitting and sleeping, was there enough choice of food, was it well presented and tasty and did I get great service. For me, this flight was a 10/10 for all of those aspects.
In a few weeks time, I will be reviewing my return trip on the A380 in First with BA for comparison with the B787 and B777 to come later this year.
You can find more about the First class experience on British Airways on their dedicated page here.