In the second of our series of travelling in economy with BA without status, guest writer Zine will be taking a look at his recent flight to JFK. You can read his review of American Airlines economy here.
Booking
I flew from Heathrow to New York with British Airways and then returned to Paris on American Airlines in economy. The ticket was an Iberia codeshare. The original ticket was an economy light which had a great price of £275, this went up to about £350 by the time it was upgraded to include baggage. This demonstrates why it is usually a bad idea to use Avios for an economy ticket unless you need extra flexibility. An economy redemption to New York with Avios usually costs around £267 in taxes and charges and 26,000 Avios.
Check-in and boarding
I had not paid for reserve a seat as I was travelling solo. I was lucky enough to get one of the bulkhead aisle seats even though I did not check-in exactly 24 hours before. These can not usually be booked in advance except as a bassinet position.
I arrived quite early for my flight at Heathrow Terminal Five and was greeted by two very friendly BA staff. They checked my ticket and asked me to use the self-check terminals.
The self check-in machines were very easy and user-friendly. It took less than 30 seconds to get by boarding pass and my luggage tag. No sooner had I finished than I was approached by the BA staff, asking me if everything had gone OK. They were very friendly and so we ended up talking about the future of flying and British airways. I thought they were very professional and up to speed with the news and future technologies!
The flight was on-time, I boarded with the last group, group 5 as I was on a budget hand baggage only ticket that I had added luggage to! Apart from the waiting around, boarding was simple.
Cabin and seats
Unfortunately for me this time I didn't turn left! (Although going upstairs would also have been nice on the B747).
The B747 comes in two configurations, being New York this was a Super Hi J which means lots of Club Seats and less economy. The good news is that they have refurbished these aircraft and they have a modern entertainment system.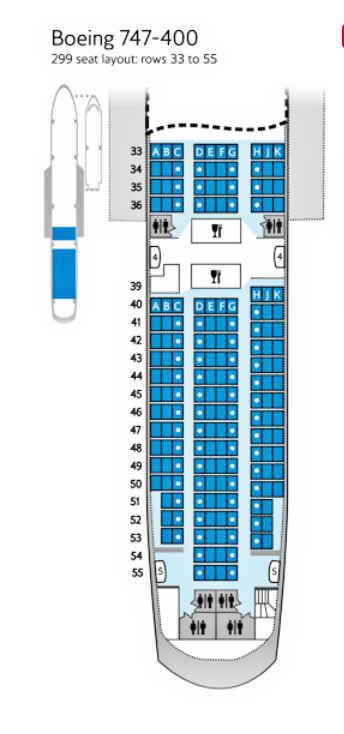 I was in 40G and I was very happy with a bulkhead aisle seat. With the extra space, it did not seem much different to with World Traveller Plus (premium economy)! The seat looked modern and was very comfortable with plenty of legroom. Non-bulkhead seats have 31″ of pitch. I liked the movable head supports on either side, although I didn't really need it on this daylight flight.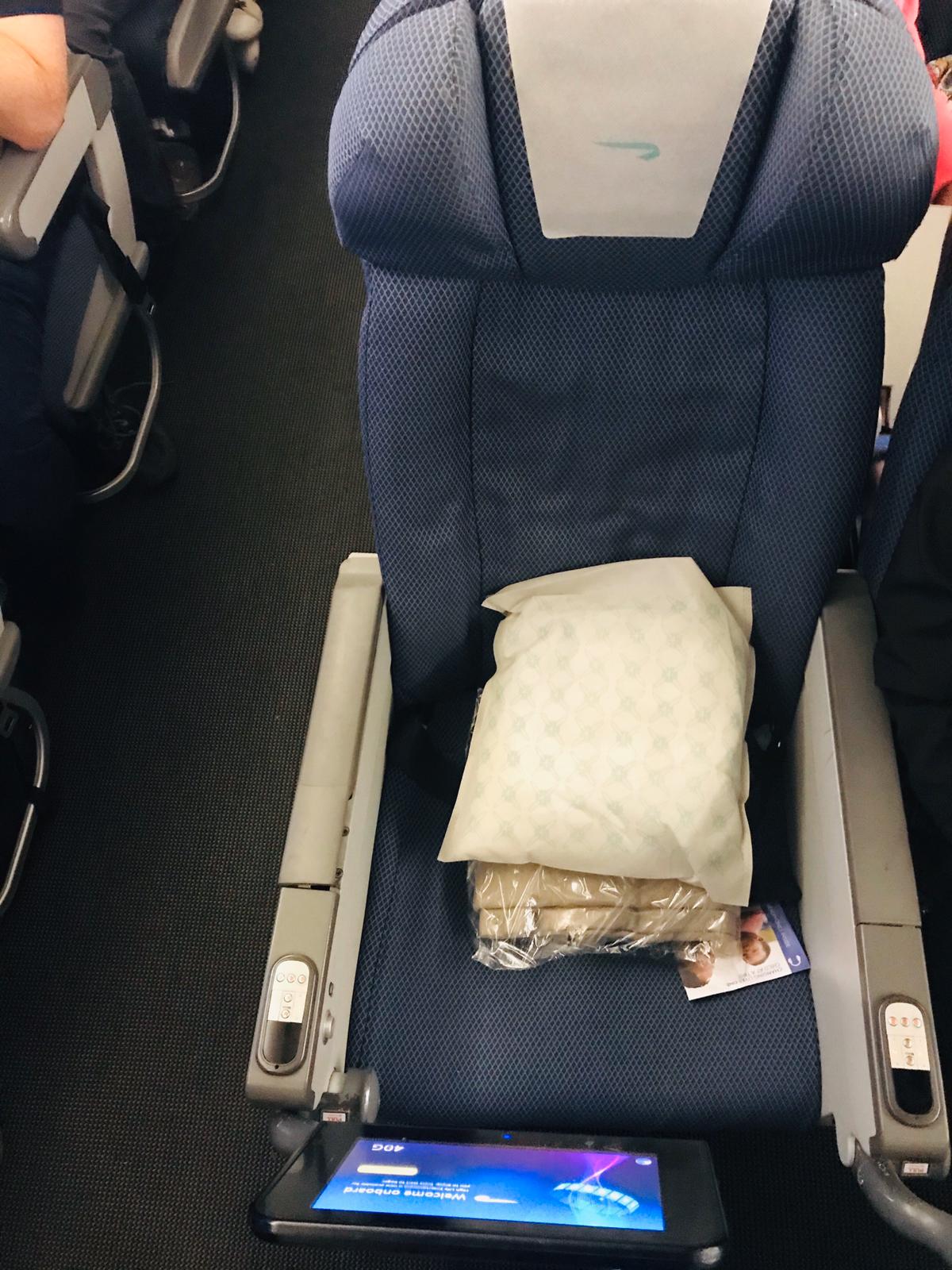 On the seat was a pillow with a flimsy paper cover and a blanket. Flight socks, an eye mask, toothbrush and toothpaste are apparently available on request.
Food & service
The food was served fairly quickly after take-off which was in late afternoon. We had a choice from a chicken tikka masala and a vegetarian option of pasta with spinach, accompanied with salad starter and tiramisu with cheese & biscuits for dessert. I was offered wine with the meal so I tried the Pinot Noir which was just passable. I chose the curry as they are normally pretty good on BA and this wasn't too bad at all! I thought the rice had too much of a cardamon flavour though. I always find meals on planes very small so I always ask for a second meal. Nine times out of ten I get it 😁 and you never lose anything by asking…. which I did!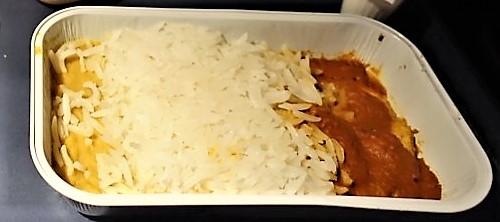 My section was served by a man called John, and I can honestly say he made my flight one of the best ever. He was just super professional, very friendly, attentive and efficient. We were also offered tea and coffee after the meal.
Drinks and snacks were served throughout the flight very frequently including ice-cream.
The second meal was pizza which I quite enjoyed.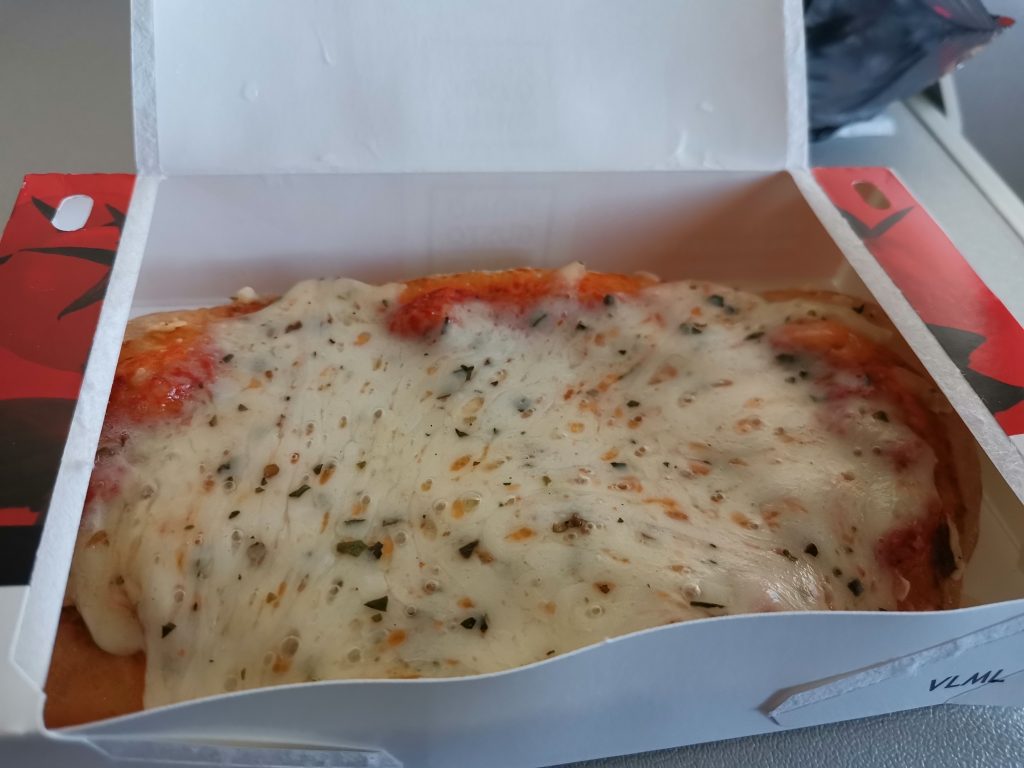 I stood up to stretch for a bit, and I had the chance the pleasure to chat with John and a lady called Liz who was the Customer Service Director. We exchanged over the future of air crafts and working with BA. They were both positive about the company and the future vision of BA which was nice to see.
Entertainment

A pair of very flimsy earphones came with the blanket. Since these were such terrible quality I just used my own. The screen was great, particularly at the bulkhead where it pops up from the side and you can manoeuvre it around to the perfect position. The screen seemed large and had great definition. There was a great choice of films, TV series and documentaries including plenty of recent releases. You will definitely not get bored! I watched Once Upon A Time In Hollywood which I enjoyed.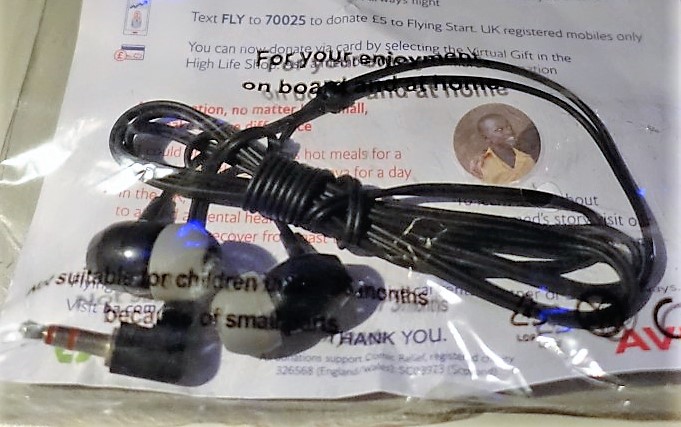 There was no socket for charging, but as you can see from the picture there was at least a USB point under the screen.
Conclusion
I was very satisfied and happy with everything on my flight is very rare! I found everyone very professional and the service was excellent. Travelling economy on long haul, British Airways are amongst the best in my opinion although I am yet to try Virgin. I thought that BA were definitely better than my return flight with American.
Food, drink and service
Entertainment