Today's guest review, American Airlines economy class, is by Zine Fethazzar. We often have comments about our economy reviews being from BA Gold cardholders which obviously is a different experience to those with no status. Zine has no status with BA.
Zine flew from Heathrow to New York with British Airways and then returned to Paris on American Airlines in economy. The ticket was an Iberia codeshare. The original ticket was an economy light which had a great price of £275, this went up to about £350 by the time it was upgraded to include baggage. This demonstrates why it is usually a bad idea to use Avios for an economy ticket unless you need extra flexibility. An economy redemption to New York with Avios usually costs around £267 in taxes and charges and 26,000 Avios.
Check-In
I tried to use online check-in, but couldn't get it to work. The system appeared to be playing up. Once I arrived at JFK Terminal 8 they had self-check-in terminals. As I had a bag to drop and had been unable to check in online, I approached the lady at the counter for help. I greeted her in the nicest way possible but couldn't get a smile or an eye contact back. (Michele – welcome to American Airlines service!)
The check-in agent instructed me to check by myself and use the self check-in, then drop the bag. Sadly it wasn't straightforward as it looked and the system was slow. I had to change use a second different check-in point for it to work eventually and then returned to the counter to drop the bag. I said thanks and goodbye to the check-in agent but funnily enough didn't hear a reply from her!
Security and boarding
I was reasonably on time but started to panic when I saw the number of huge chaotic queues by the security entrance. The queue was very slow, only 3 scanning machines were available out of 5.
Fortunately, I made it to the gate in enough time. As I had no status I was in one of the last groups to board in group 6. This meant quite a long wait and slow boarding but we eventually boarded with no problems.
American Airlines economy class Seat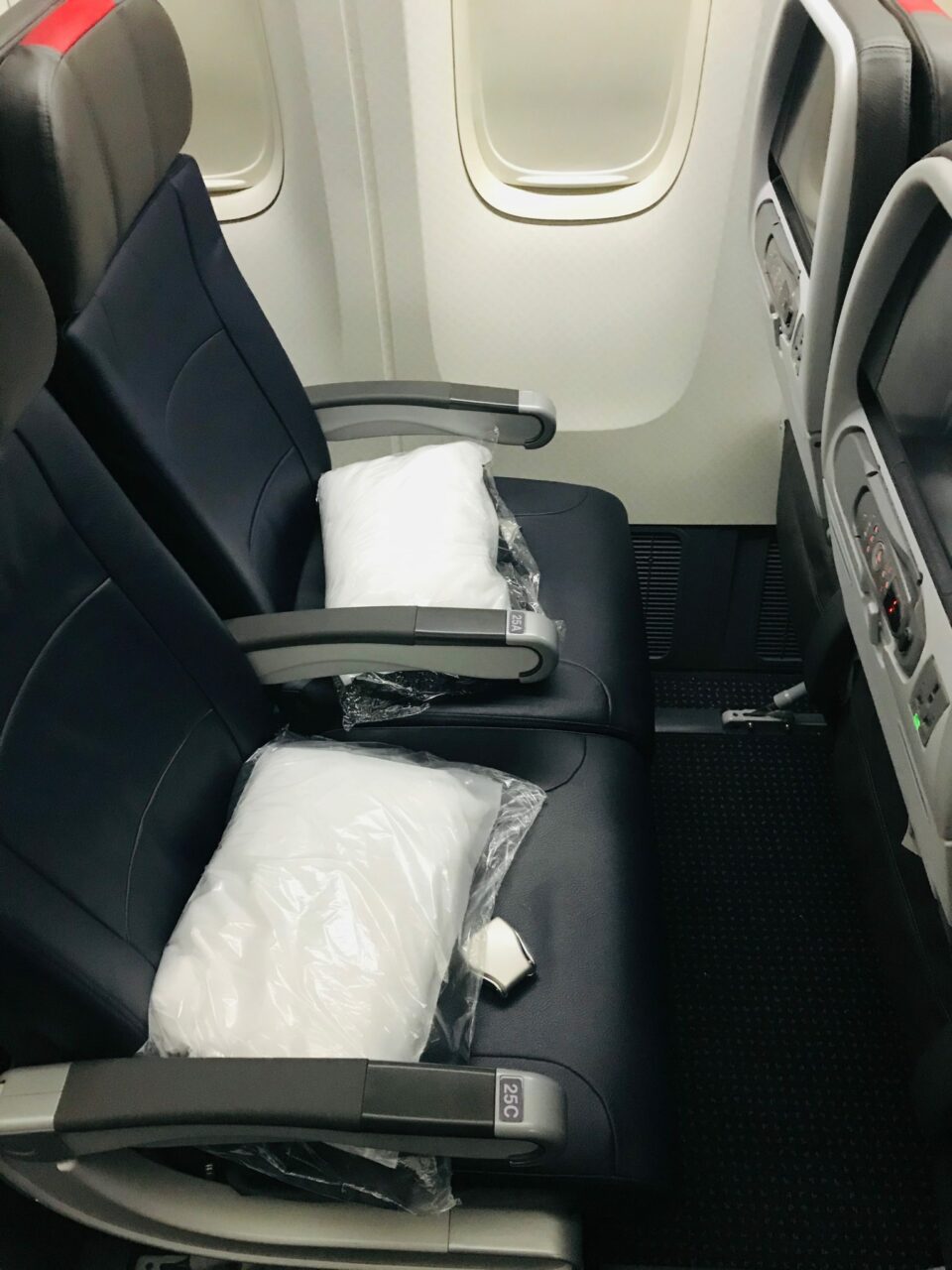 The B777-200 has 146 seats in economy with a seat pitch of 31 – 32″ and a width of 17.1 – 18.1″. The seats are laid out in a 3-4-3 configuration with several pairs of two seats together in the last row of the front cabin by the window at the very back of economy. My ticket did not include a free choice of seat prior to check-in, and the price was pretty high to buy one so I didn't bother. Here is an example of the pricing and the cabin layout: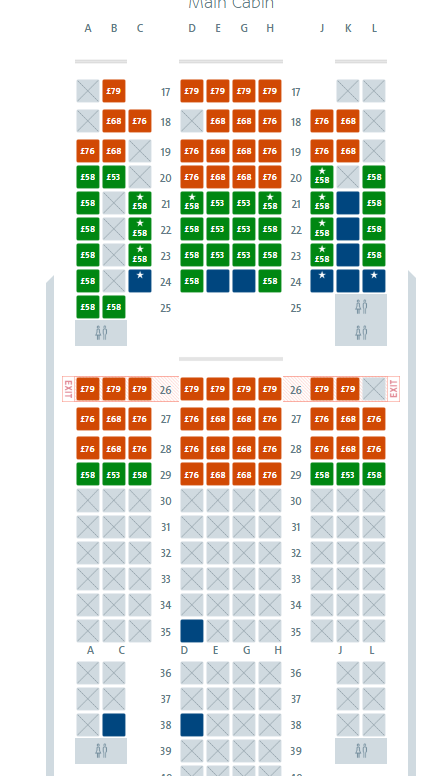 The cabin is broken up into two main parts. I chose an aisle seat in the front cabin, 23J. The bulkhead seats looked like the best choice in terms of room unsurprisingly.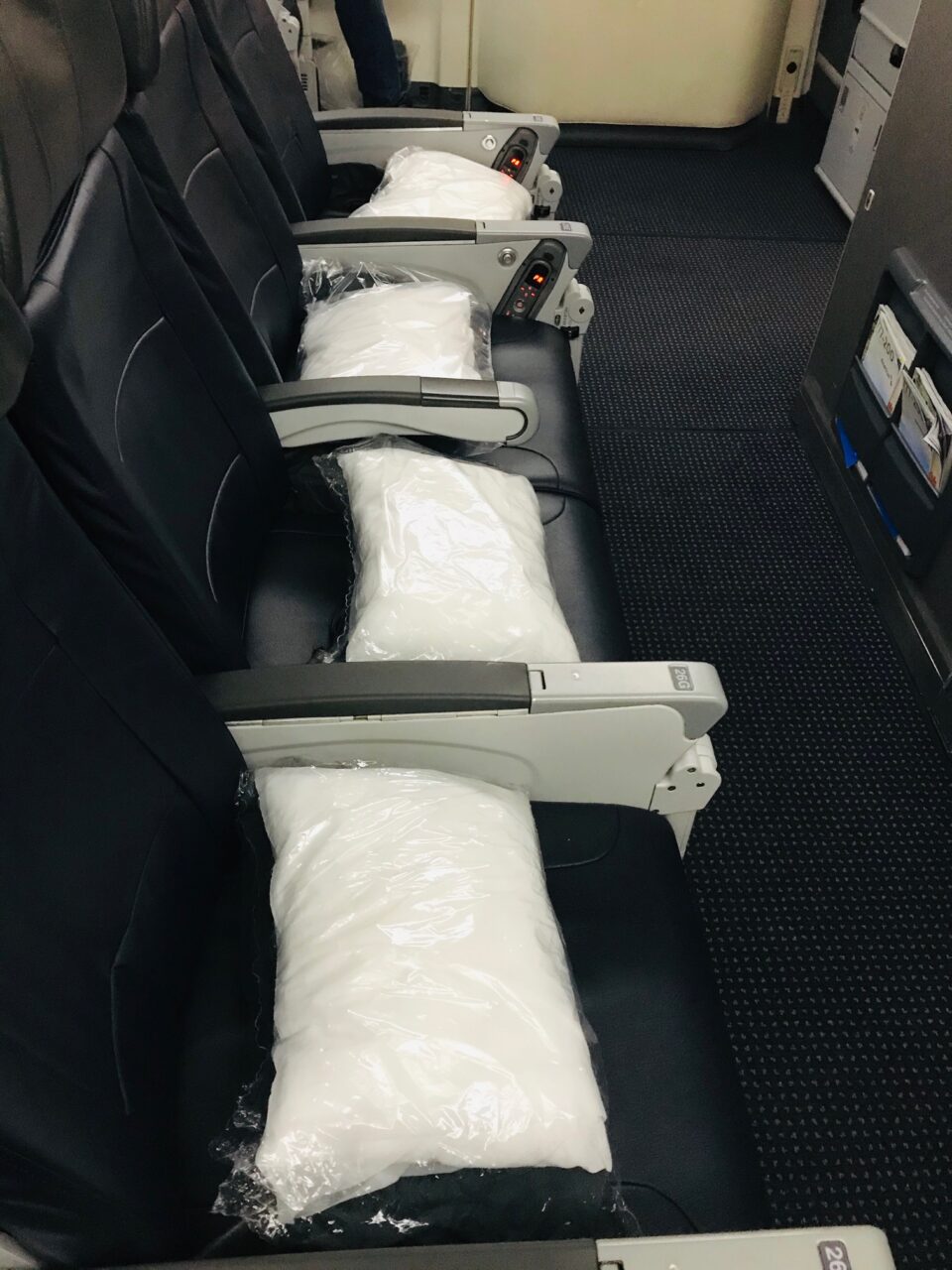 I felt that there was enough legroom for me (I am 5ft 10).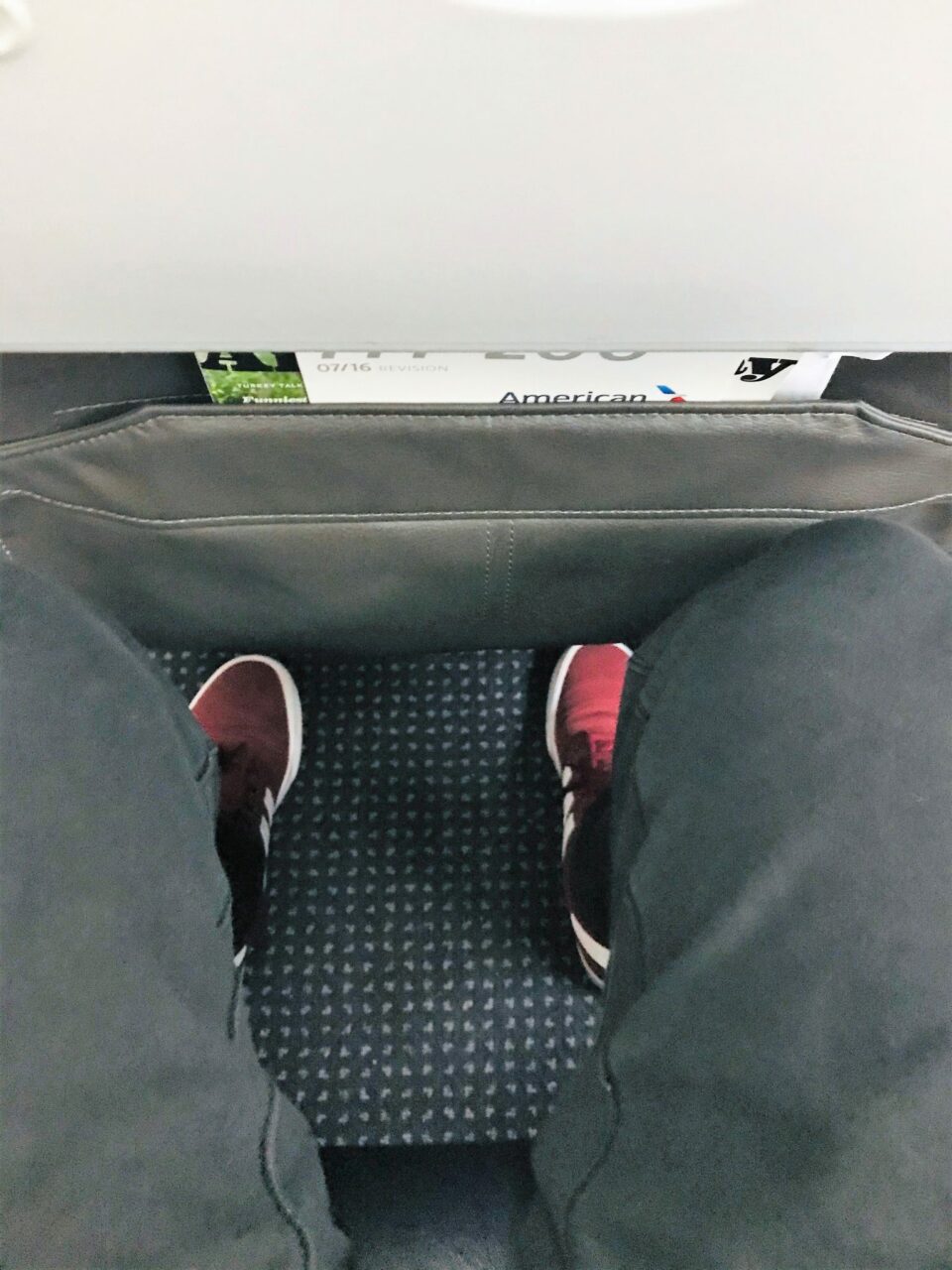 The seats looked fairly modern and I thought there were ok in terms of comfort and legroom. I did feel that the back could have reclined further,
The back could have reclined further. There was a small pillow and blanket neither of which were particularly great.
American Airlines economy class Food & service
Dinner was served fairly quickly after takeoff on this 5.30pm departure. We had a choice between a pasta and a chicken curry for the main course. The main course was served on a tray with the starter which was a fairly plain salad with grated cheese on top. At least there was a balsamic dressing for it. There was a plastic wrapped roll, cheese, crackers and dessert. A bottle of water was also given.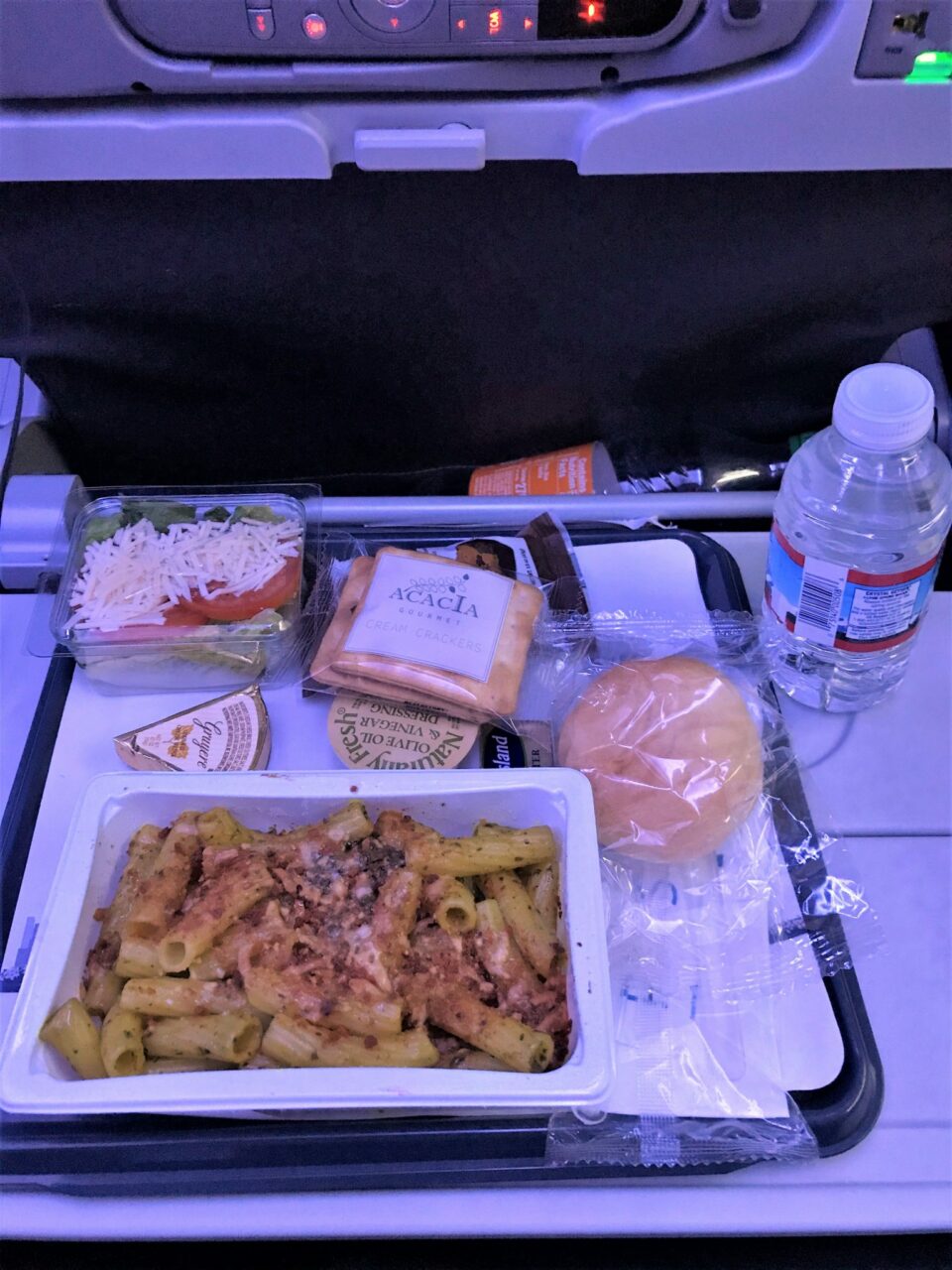 At first, I had the pasta, whioh was awful! As I was very hungry I requested a second meal instead. The flight attendant was very nice and was happy to oblige. I did have to wait a little while, but she eventually remembered that I was waiting for a second meal.
Sadly the curry was nearly as bad too! For drinks there was a choice of a bottle of small red or white wine plus the usual beers, soft drinks and spirits. I had the wine and it was drinkable, just about. Tea and coffee were offered at the end of the meal.
The crew seemed happy to serve you as many drinks as you wanted (assuming you don't appear drunk I would guess!)
Apart from the lovely flight attendant who got me my second main course, the service was a bit of a farce and definitely what I would call an old school crew! Let's just say they were rather on the mature side. They also didn't look very professional – a bit scruffy and also looked exhausted!
There was a very noticeable absence of the crew thought out the flight once the meal has been served! I never saw any water runs or snacks offered, unlike many other airlines on long haul flights!
Breakfast was fairly standard and rather minimal with juice, tea or coffee, a yoghurt, grain-free granola and a croissant.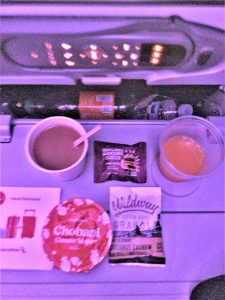 American Airlines economy class Entertainment and connectivity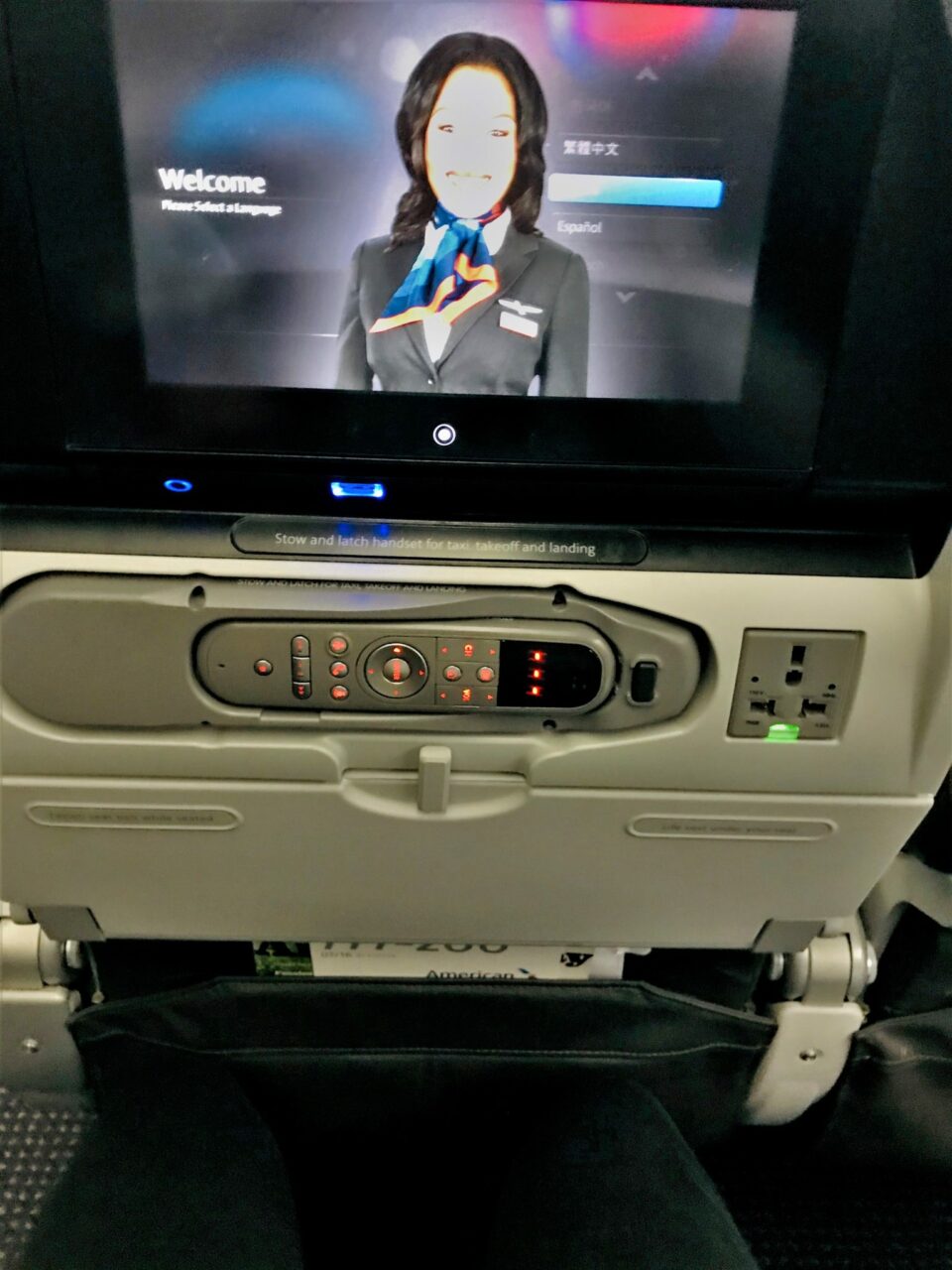 Probably the best thing about American Airlines in economy is the entertainment. Headphones are provided but just the usual cheap and flimsy economy ones. However, the screens are a decent size for economy with reasonable definition and simple to control with the handheld remote or screen. There was a large choice of films, documentaries, music and TV series. There was also live TV available although I did not use it.
Most of AA's international flights now feature satellite-based Panasonic Wi-Fi. The prices are:
$12 for two hours
$17 for four hours
$19 for the entire flight
This seems pretty reasonable in comparison to many other airlines. The WiFi is not particularly fast though. If you wanted to charge your devices there was an easily accessible multi-country socket as well as a USB point.
Conclusion
There was definitely very little write home about with this flight. Although the service wasn't great, as is usually the case with American, at least one of the crew was friendly and helpful. The food was poor but the seats had decent legroom for economy and the entertainment was good. I think with so many choices across the Atlantic, I'm not sure I would choose American again unless they were much cheaper than anyone else, but at least I could collect some Avios!
Like our American Airlines economy class review? You can read more flight reviews here.