There are a number of routes where you can get a much more premium experience on short haul when they are flown on long-haul aircraft. BA consistently use a long haul aircraft for one flight a day from Madrid and this summer they are operating it with a B777. You can find more ideas of where you can find long haul aircraft for short haul in this article. 
Check-in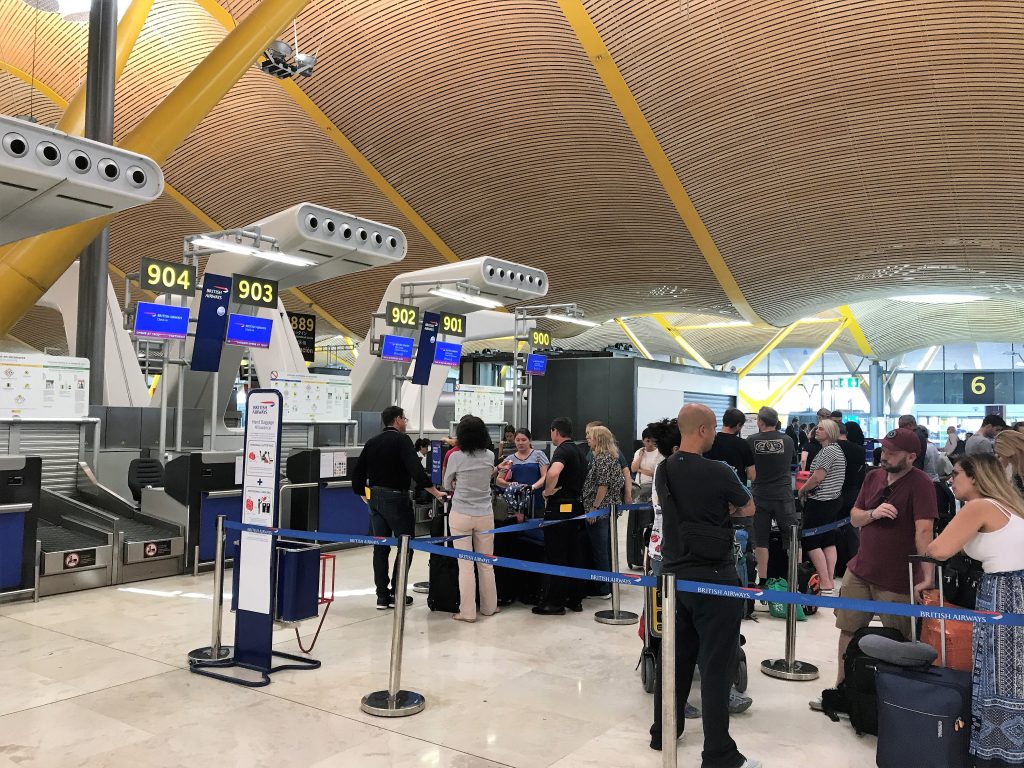 BA usually fly from Terminal 4S at Madrid's airport which is an architecturally impressive building. The check-in area was pretty busy particularly for business class as it only opened at 15.35 with my departure at 18.15. Fortunately, I was travelling hand baggage only so didn't need to queue up.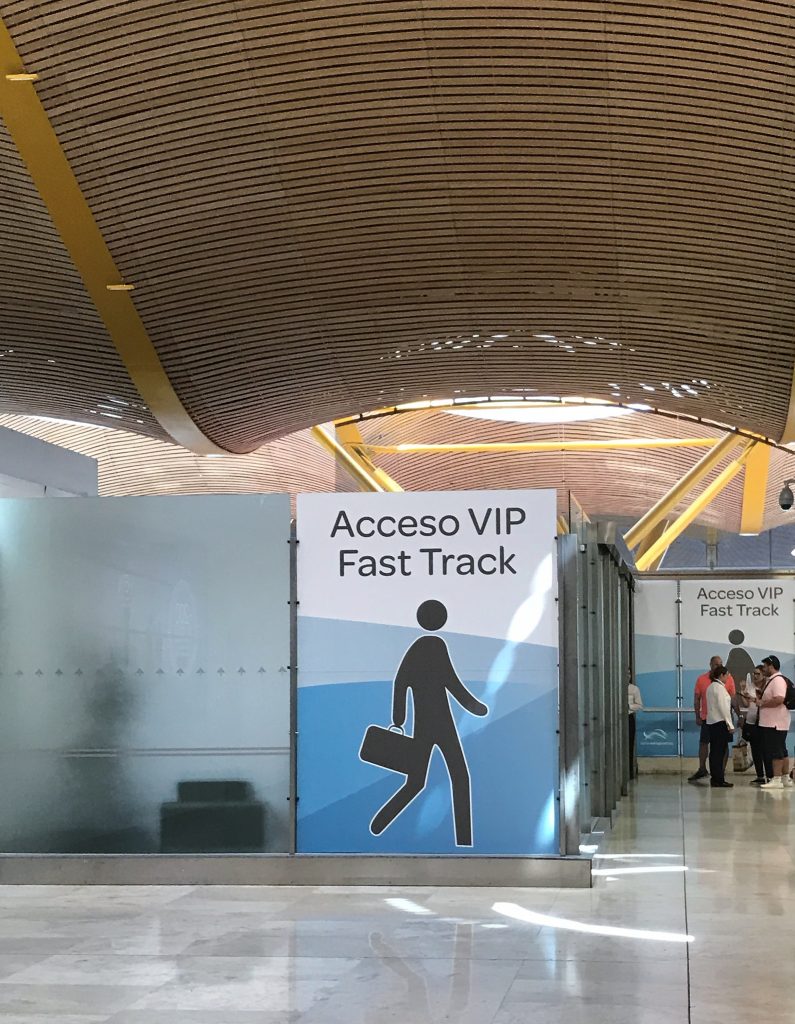 I had received a text to say that they were expecting long queues for security and immigration so allow at least 90 minutes to clear them. As it was the queues were fine particularly with the fast track access. Both times I have been through recently there was no more than one person ahead of me.  However, it does take quite a long time to get to the satellite terminal by train so I would certainly never cut it fine at Madrid. Passport control can look to have a long queue as there is no fast track but it moved fairly quickly. Especially when Iberia have such a nice lounge to enjoy!
Iberia Velázquez business class lounge T4S Madrid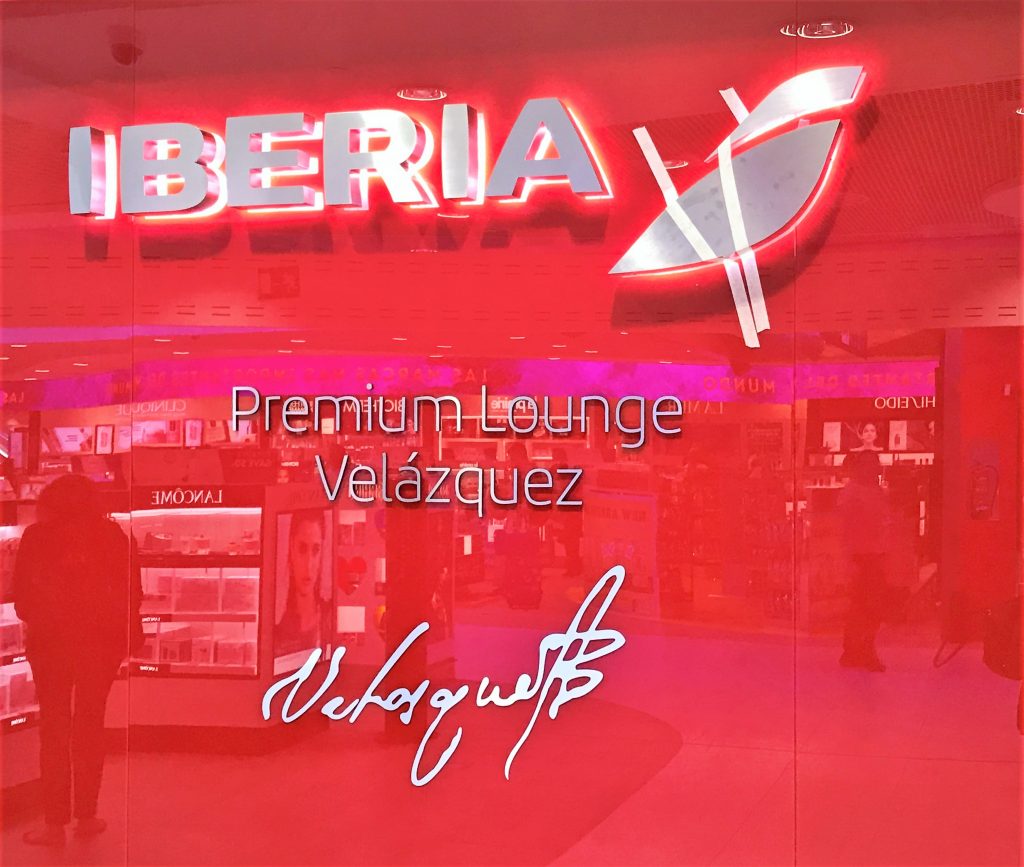 The Iberia lounge is not that easy to find. You need to take the train to the satellite terminal and then go through passport control. Once you have done this you will find yourself in the duty-free shop and very bizarrely slap bang in the middle is the lounge. Iberia recently refurbished this lounge and their other Terminal 4 lounge is now being refurbished too. I thought the lounge was very smart and well worth a visit.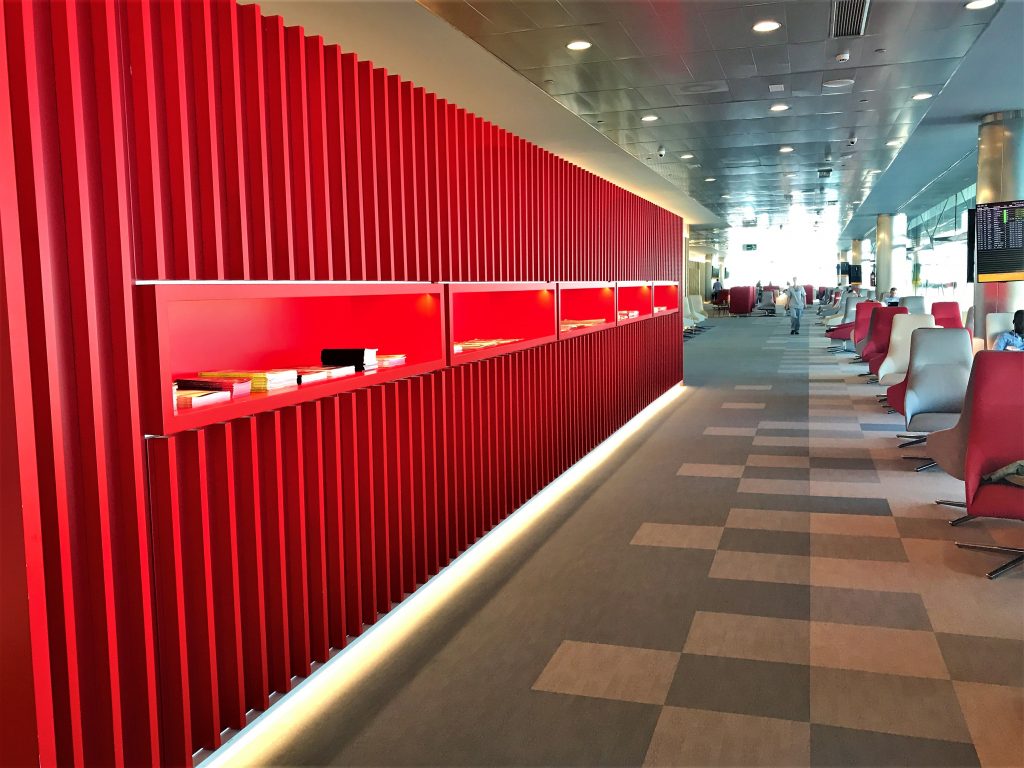 The lounge has all the usual features you would expect with showers, rest areas, a kids area with games, two buffet areas (identical) and a bar. The work area was the only real letdown.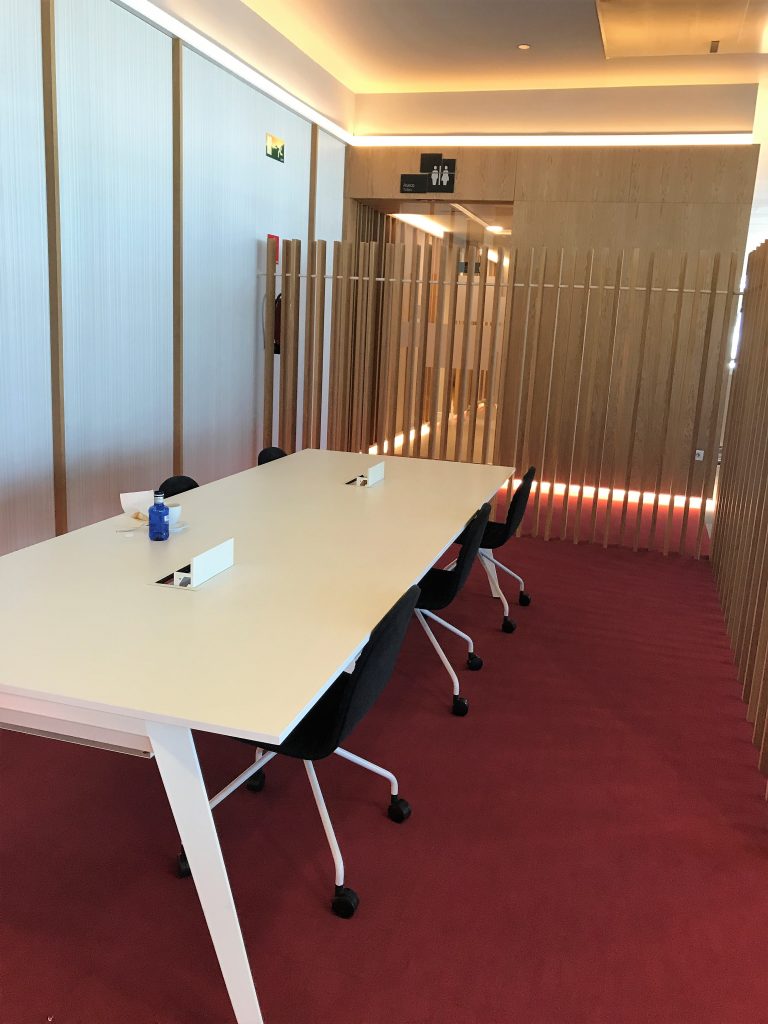 It also has a rather futuristic looking luggage storage area as you go in.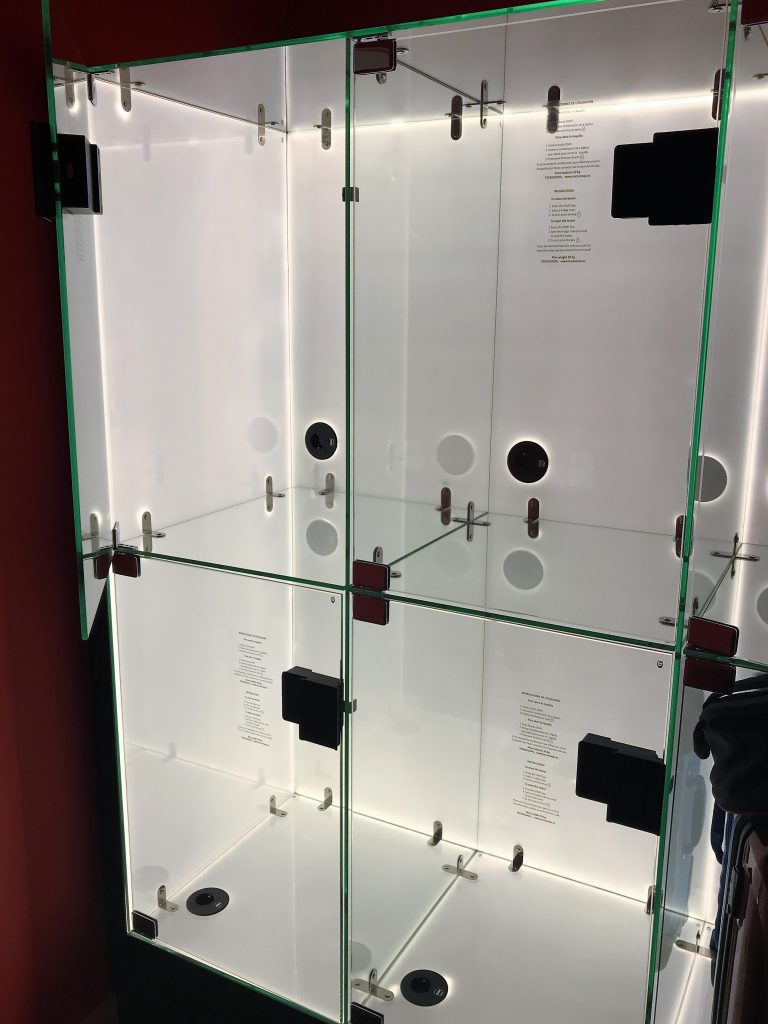 There was a huge amount of seating spanning the length of the lounge and on neither visit was there a lack of chairs. As well as individual chairs they also have more private booths. There were power points at most of the seats and the tables by the buffet too.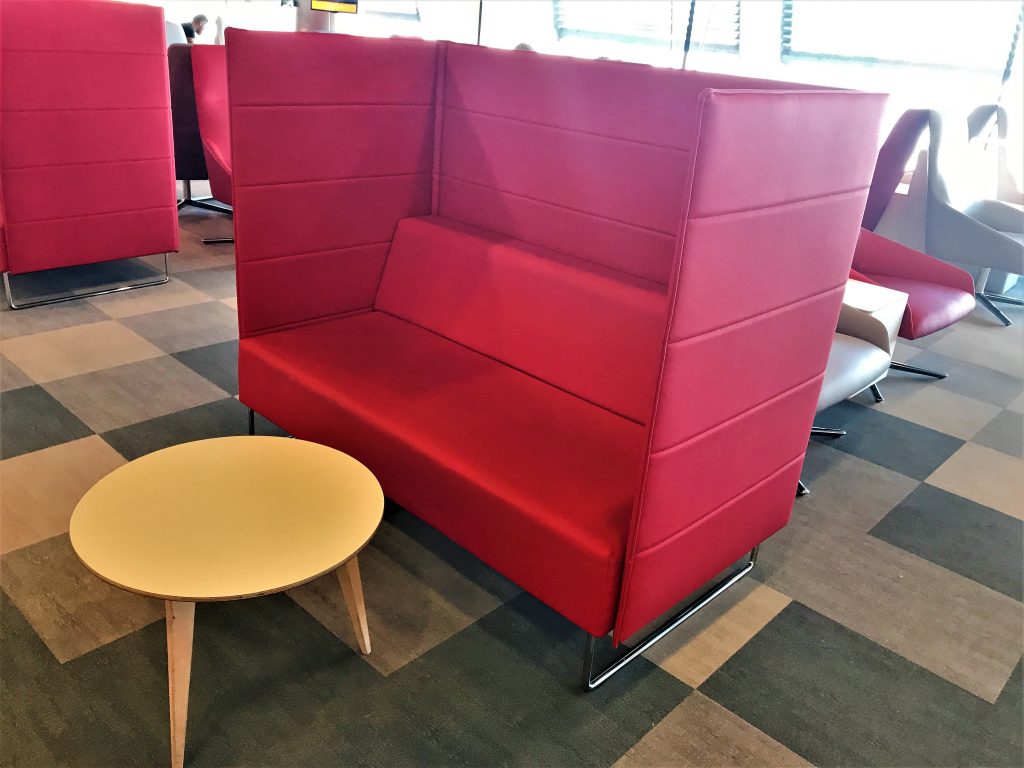 Both times I have visited the lounge were mid to late afternoon and the food on display was pretty much identical.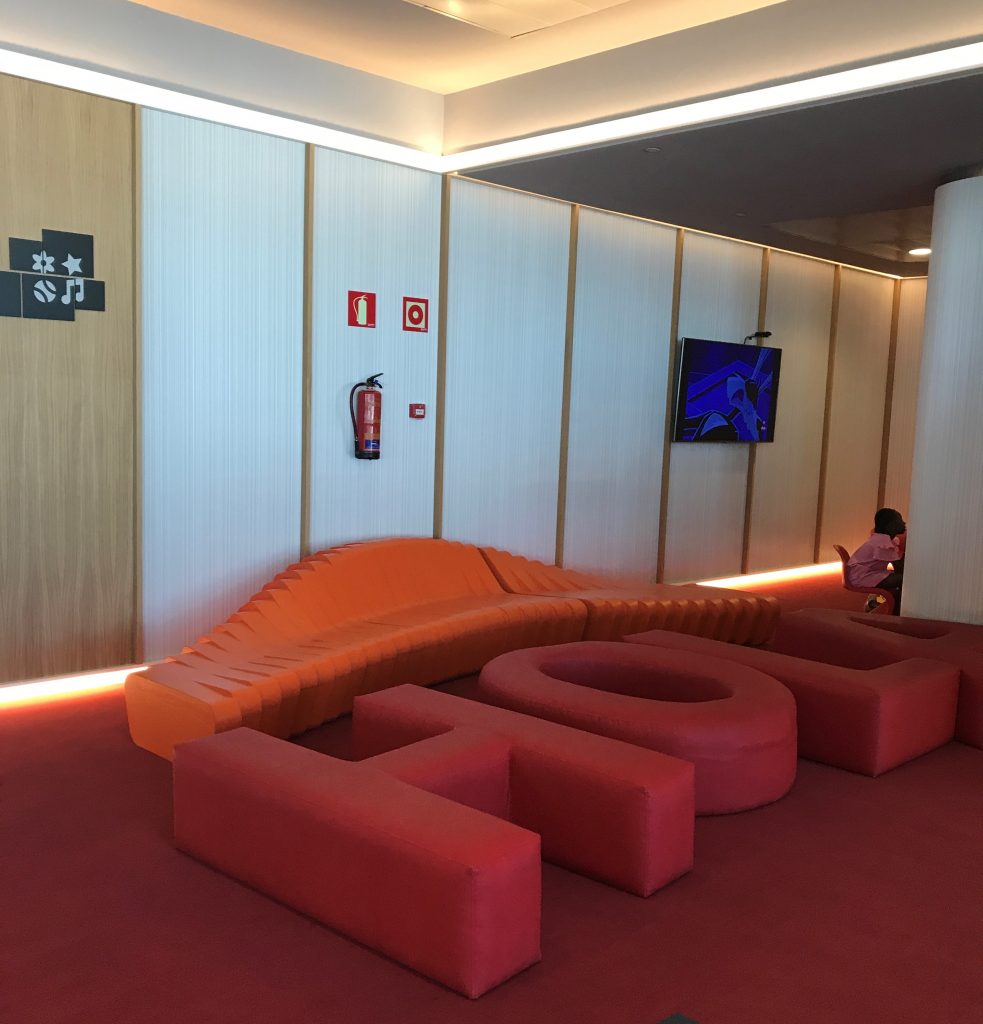 There was a nice salad bar with plenty of different components to make up your own salad, sandwiches, cold meat and cheese, sushi, gazpacho soup, and bread in the cold section. There was also plenty of hot food with pasta, fish, paella, rice and a tomato sauce. For dessert, there is ice cream by Haagen Dazs and cookies.
My only complaint would be that the bar is around the corner from the right side buffet so you have to go and get your drinks separately. On the left hand side, there are wines by the buffet.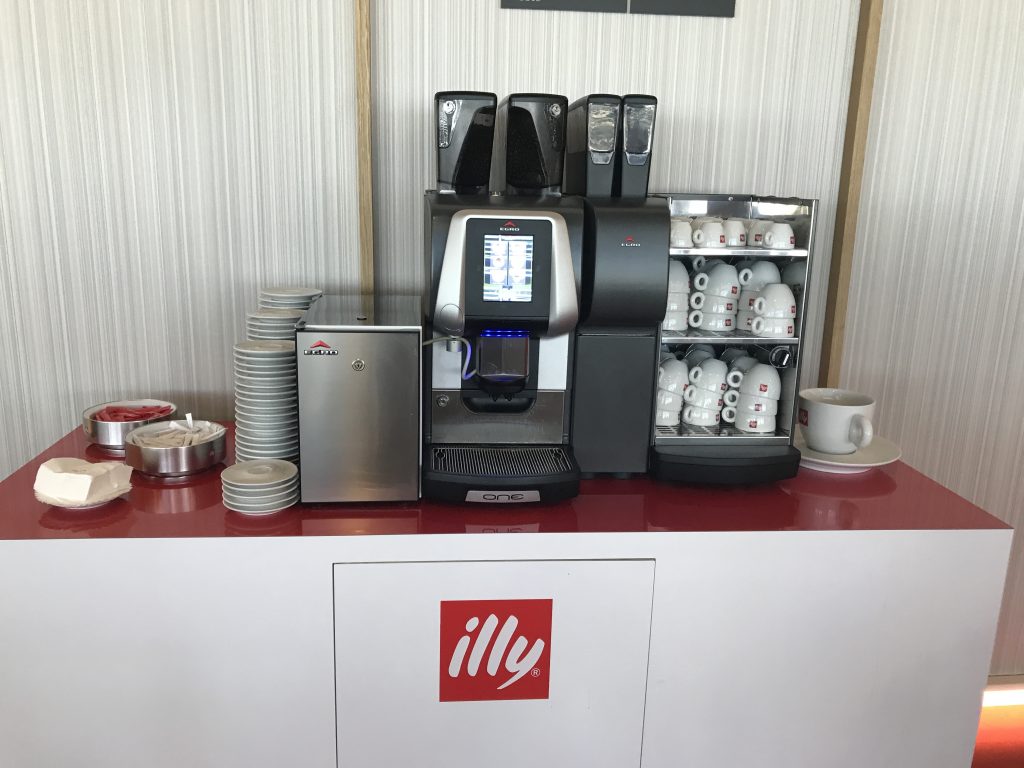 There are a couple of good coffee machines in the lounge as well as soft drinks by the buffet.
At the very far left of the lounge is a proper restaurant dining area which is available after 9pm for long haul business class passengers wishing to dine before their flight.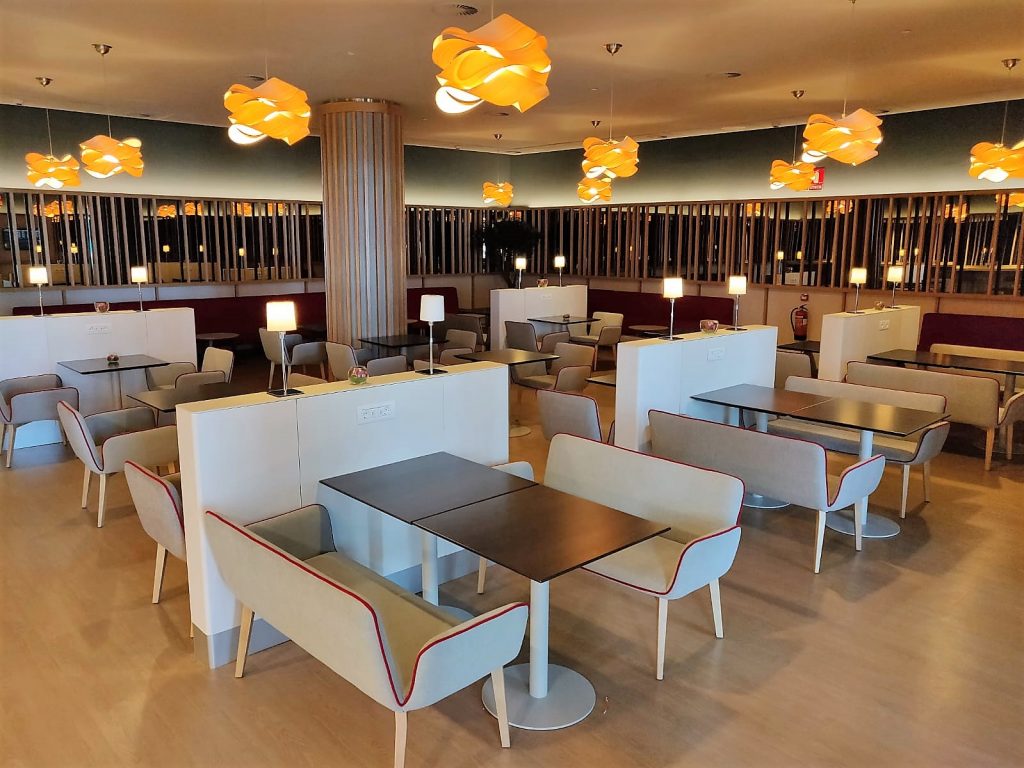 The best thing about the lounge was the sweeping views of pretty much the entire airport with mountains in the distance which is pretty spectacular.
For drinks, they had a comprehensive selection of spirits including several gins such as Plymouth Gin. There were 3 white and 3 red Spanish wines along with individual bottles of cava. I tried an Albarino and it was excellent. The second time I went in there was a rosé wine available too which was OK but a little bland.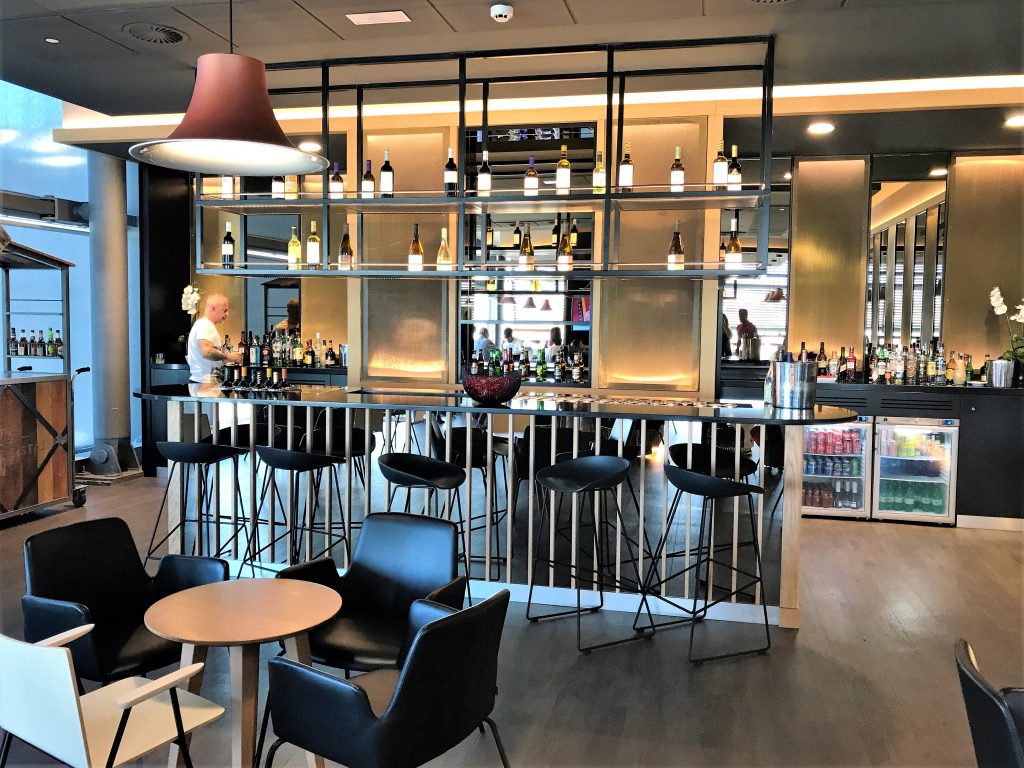 Boarding and cabin
Boarding was a bit of a scrum until I managed to find the premium queue. I had chosen 10K as I wanted a window seat and to be off quickly in Heathrow. It meant I would have to step over my neighbour to get out but it didn't really matter on this short flight. You can see the seat map for the B777.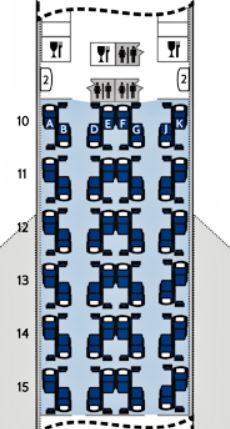 The BA B777 is my least favourite aircraft in the fleet for Club World and you can see why in what is nicknamed the flying dormitory. The best seats in this cabin are the last row of Club World as you don't need to step over anyone or be stepped over but be aware that row 15 has the bassinet position in the middle so they are likely to be blocked until near departure.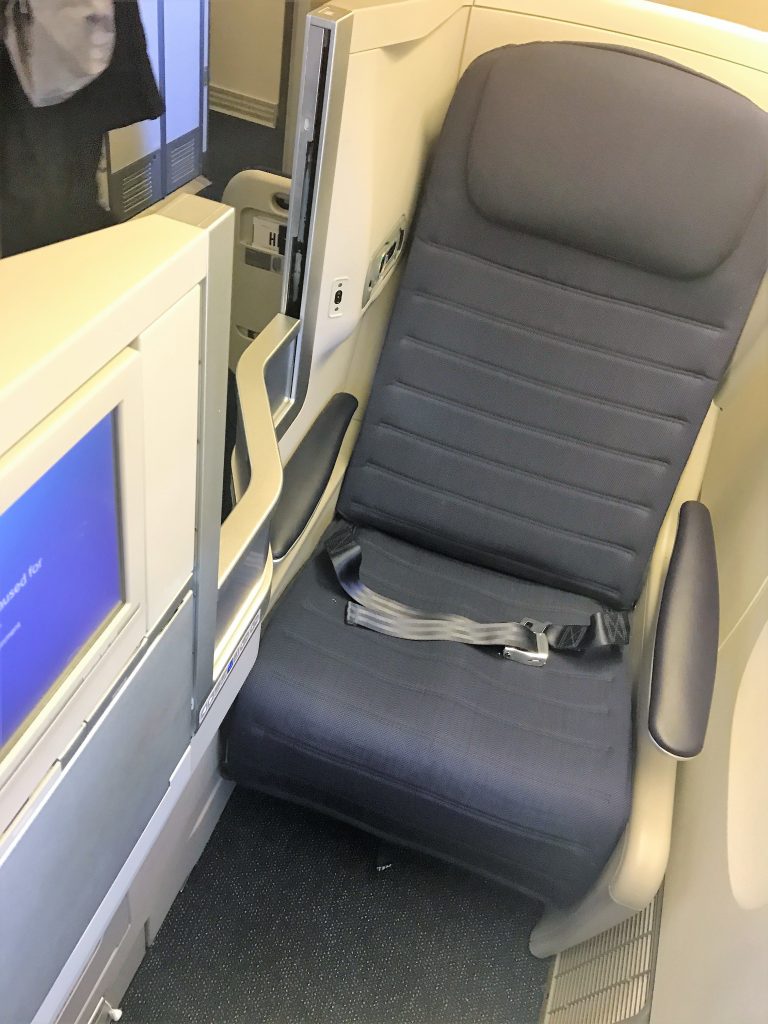 The seat was the standard Club World seat but didn't feel particularly old like some of the B777. The area around it was fairly clean too. The First class cabin is sometimes operated on this route as Club Europe for Gold card holders but alas on this flight it wasn't to be. I hate the awkward eye contact scenario with the yin-yang seats which wasn't helped by the crew never putting it back up again after serving the meal. At least with a window seat I had something else to look at.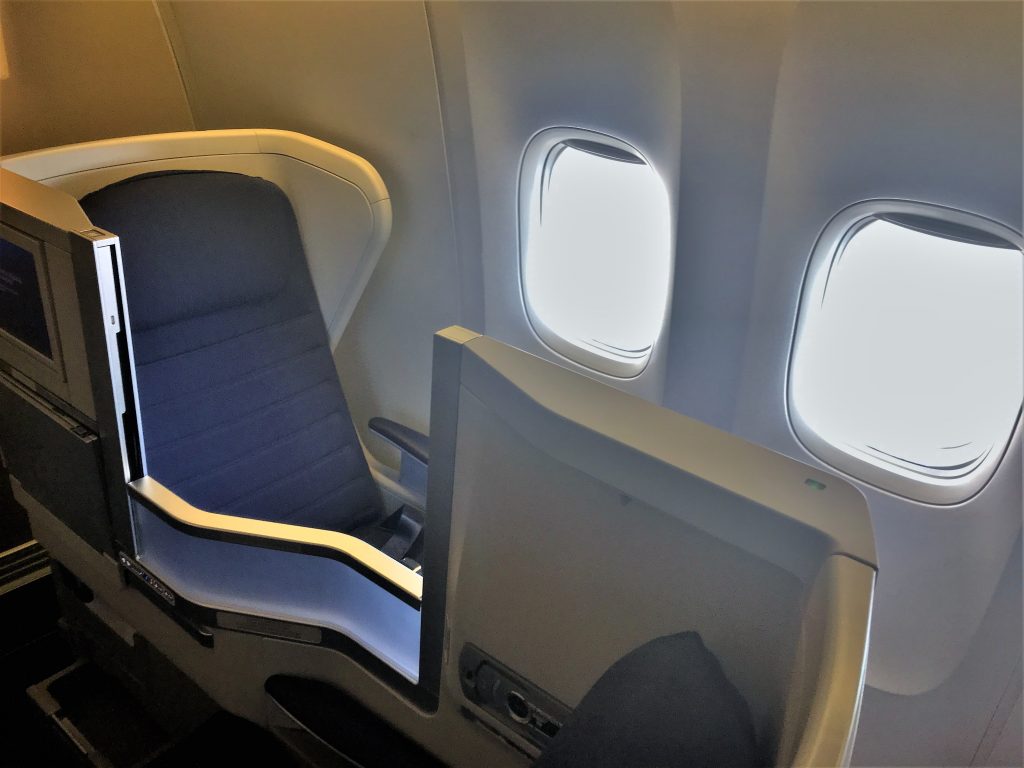 Food and drink
The Madrid route until last month was a medium route for short haul catering. This would have meant one of the very underwhelming paninis or a tiny salad. Fortunately, they changed it to a long route which means that there was a 4-course meal. The crew on this trip were decidedly underwhelming, unfortunately. I had previously had a great run of Club Europe flights with acknowledgement of my Gold status on every trip and attentive service. Unfortunately recently the service has been perfunctory at best.
There was no pre-dinner drinks service which I find seems to vary every time. We were presented with menus and a hot towel before take off and our main course orders were taken straight after take off. Here is the full menu: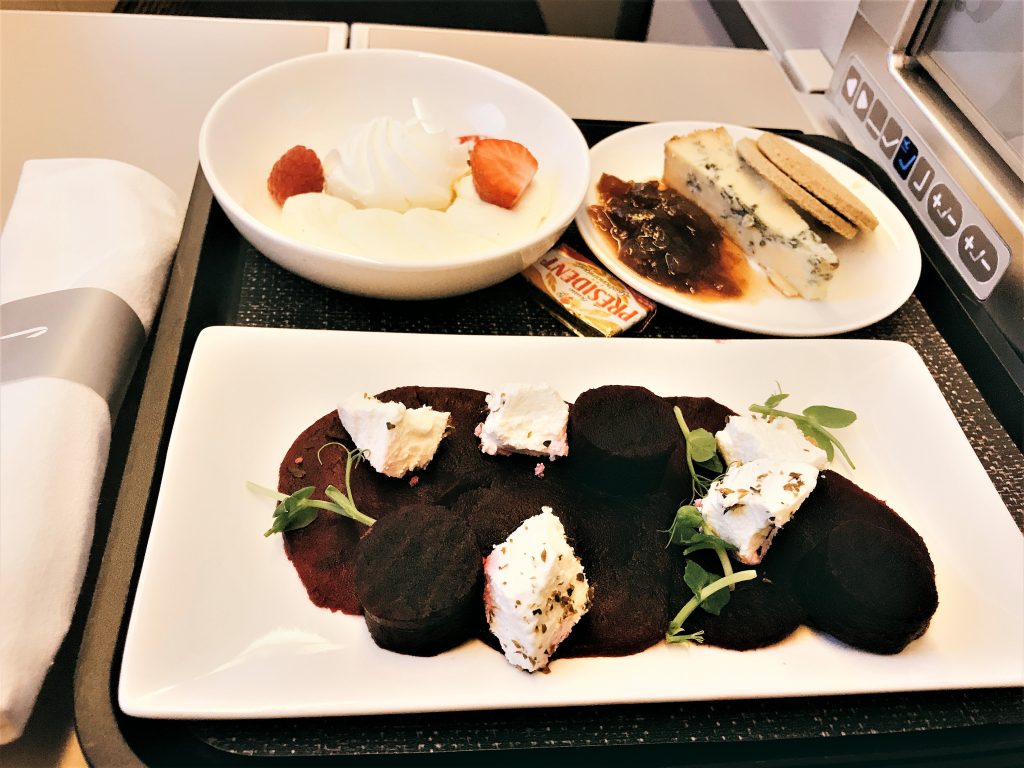 The starter was a beetroot and goat's cheese salad. This was fine but a little lacking in complexity since it was literally just beetroot and cheese with a little thyme but with no real dressing. A selection of bread was offered with the starter but no second round.
For my main course, I chose the curry as this is a Club Europe regular and usually very tasty. The curry was very filling with lots of rice and the gobi saag accompaniment. The spicing was just the right level with a little bit of a kick but not overwhelmingly so.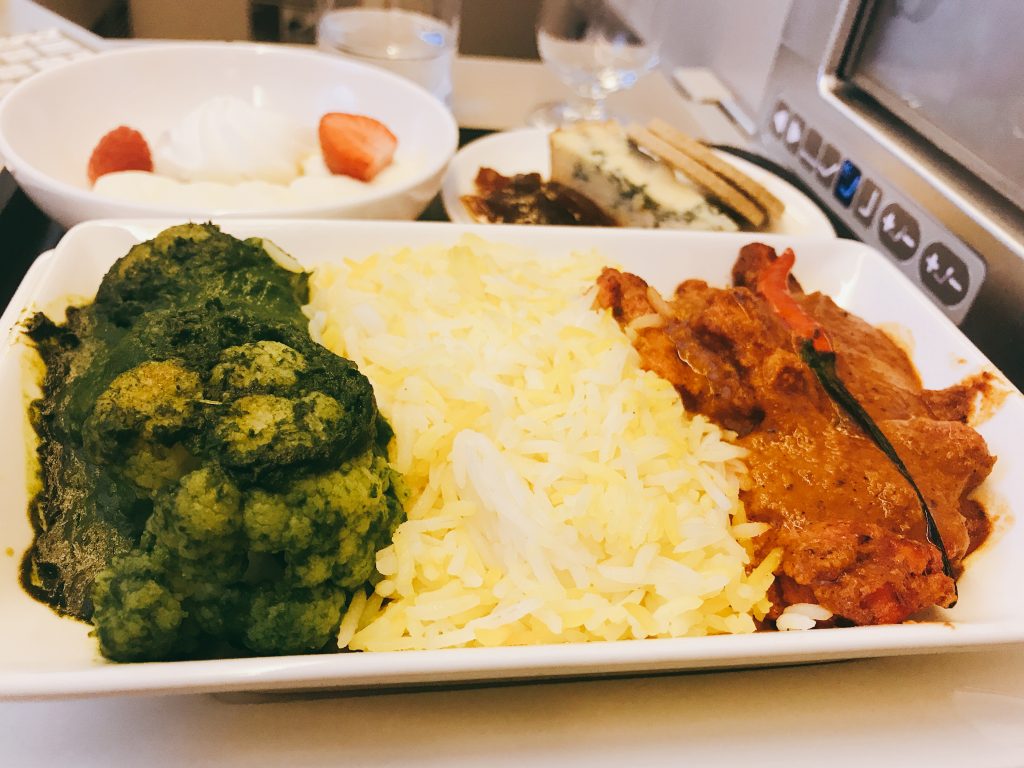 For drinks, there were the long route large bottles of wine and Castelnau champagne. These are normally two red and two white wines for Spain and usually not great. I had my teeny glass of Castelnau but was not offered a top up at any point or tea and coffee. I eventually managed to get a top up by asking a passing crew member. The spirits were the usual Tanqueray or Gordons Gin, Ciroc vodka and then the usual selection of beers and spirits for Club Europe, For most of the flight, they were not visible in the cabin and seemed to not be interested in engaging with their customers.
The pudding was one of my Club Europe favourites – the pavlova as it is a little lighter than some of the other rather rich desserts. There was also a rather nice Cropwell Bishop Stilton for the cheese course which makes a nice change from the last rotation of a rather boring cheddar cheese which I usually left. Unfortunately, they still had the unwrapped biscuits which I find quite unpleasant and soft. I do wish they would do individual packets instead.
Entertainment and connectivity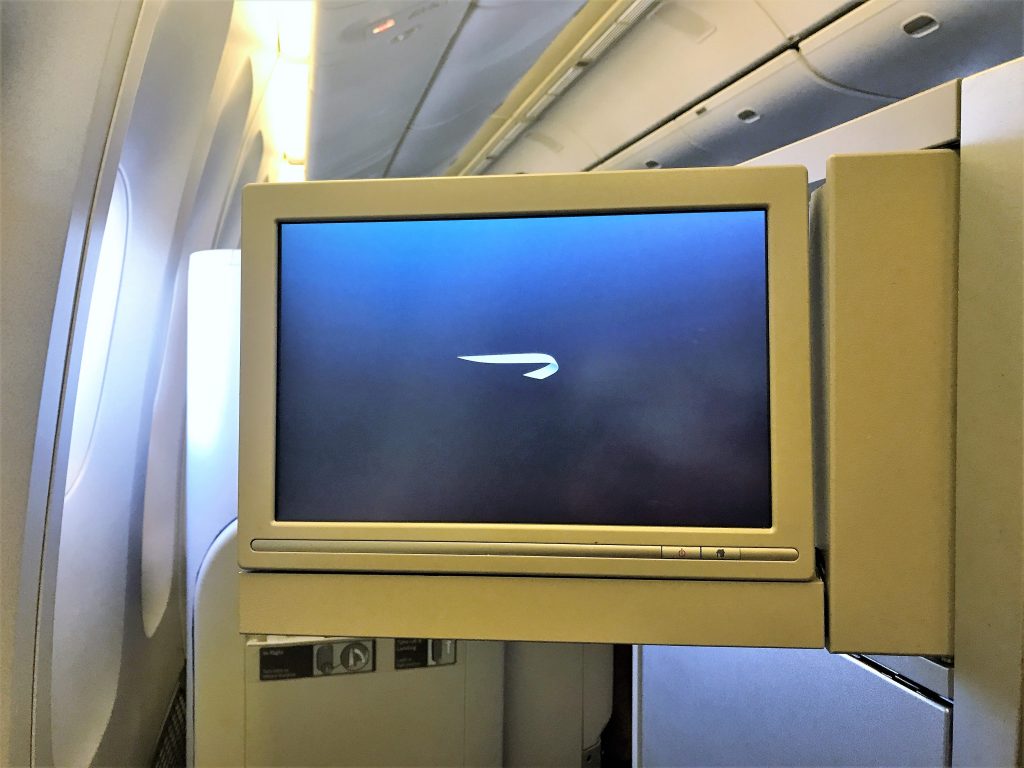 Unusually for short haul, the aircraft had Wi-Fi which was handy. I gave it a go with the free one hour offer from Visa. This is only the standard speed and I found it a little slow but useable. If I wanted it to work with I would go with the faster speed as that is even capable of streaming services such as Netflix.
I did find the security questions very annoying though. They are the sort of questions you are likely to forget if you didn't use the system often. I like questions that have one right answer such as your first school or mothers madien name. Here are some of the questions: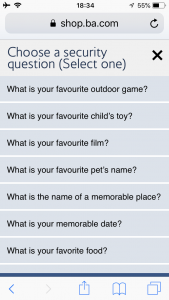 The charging facilities consisted of a USB plug and a multi country socket.  Due to licensing restrictions, I was not able to use the entertainment system but the screen looked like it had reasonable definition as it was one of the newer generation B777 systems. The handheld remote looked a little old-fashioned by today's touchscreen standards but frankly, as long as it works I don't actually care. I generally find the newer version of BA in flight entertainment pretty good with plenty of new release films and TV programs.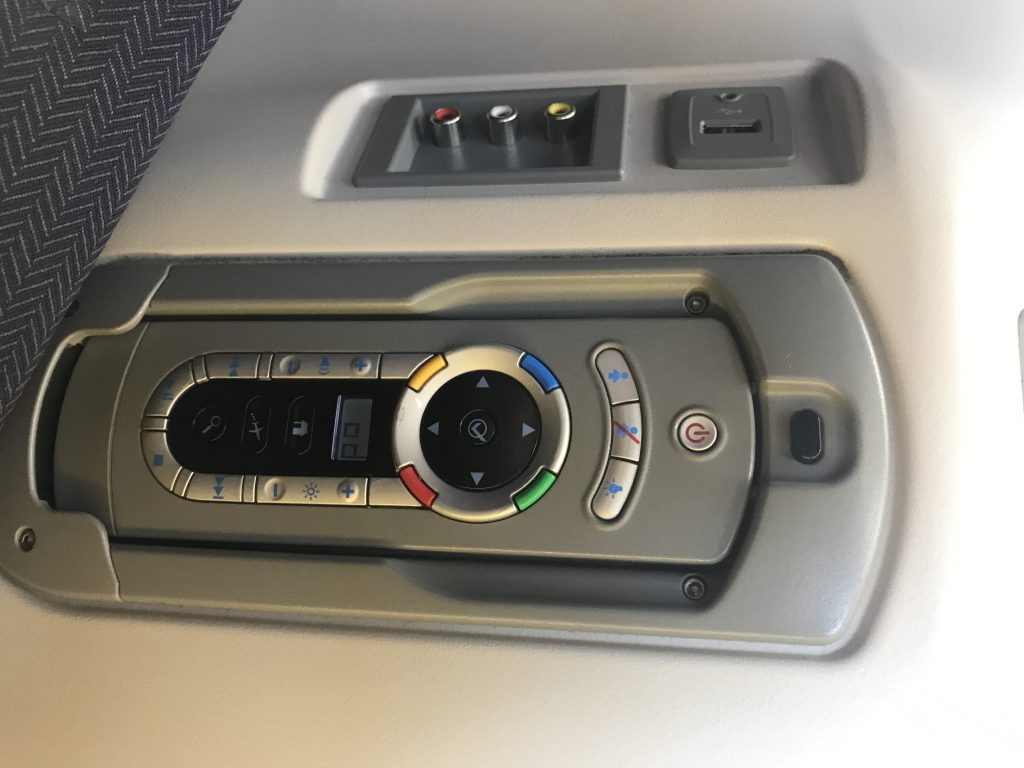 Conclusion
I was really impressed with both Madrid airport and the new Iberia lounge. It felt very light and open plus the views were well worth visiting for if you are a bit of an aviation geek like me! The flight itself was a nit of a let down in terms of service by the crew. It felt a little lazy like they were just going through the motions to do the bar minimum which is a shame. However, the food was a huge improvement from the medium route food that used to be served on this route. The meal was well presented, generous and for the most part tasty. I would like to see some decent wine and Champagne on short haul but for the most part, it is drinkable and the range of beers and spirits is pretty good.