There are plenty of reasons to single out airlines that operate long-haul aircraft on short haul flights. For a start European business class on short haul is pretty bad generally. The same seats as economy but with a middle seat free, no entertainment and mediocre food is pretty much standard. However, if you want to try out a long haul business class seat for a special occasion or just because like me you like trying out different aircraft there are a number of options in Europe. Some of these flights are referred to as fifth freedom flights which is where an airline flies from one country to another despite not being based in either country. For example, BA do this in the Caribbean between islands.
There are also small windows of opportunity when airlines are training their crews on new aircraft and operate on short-haul routes. This is something I did with Air France on their B787. Iberia are doing the same with their A350 this summer and next year hopefully BA will do the same with their A350 with its new Club World seats.
Hainan Airlines – a Skytrax 5* airline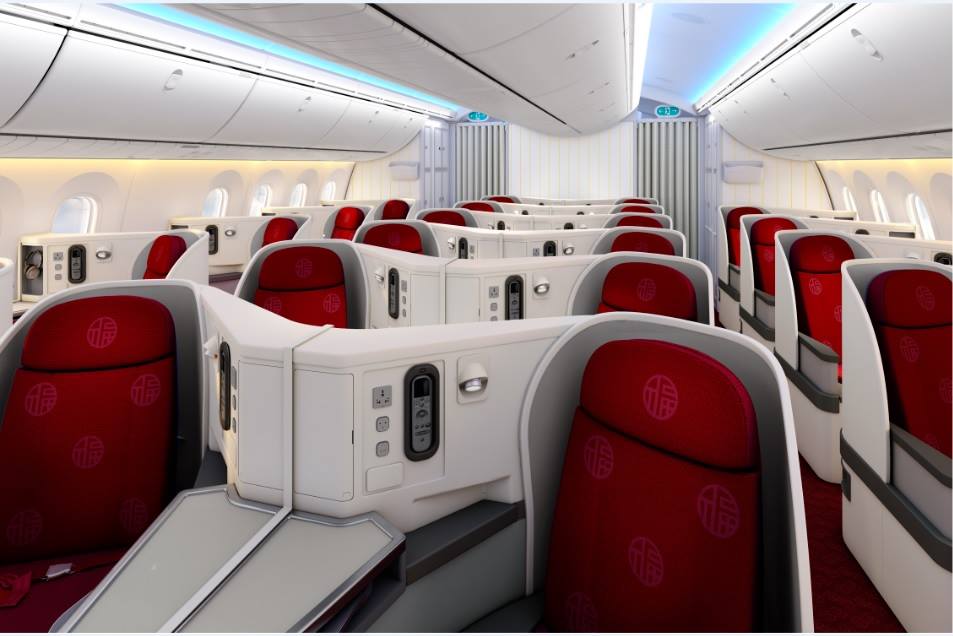 I have written about Hainan airlines a few times on TLFL as they have done some fantastic fares considering that they have a good reputation as a SkyTrax 5* airline. They have recently started a new service from Edinburgh to Beijing which also includes Dublin, handily giving a short-haul route with long-haul seats on an A330-300. The route is slightly complicated as it goes
Beijing-Edinburgh-Dublin-Beijing on Tuesdays and Saturdays
Beijing-Dublin-Edinburgh-Beijing on Thursdays and Sundays
Prices are pretty high for such a short flight at £264 one way in business class! You can book with Hainan airlines.
British Airways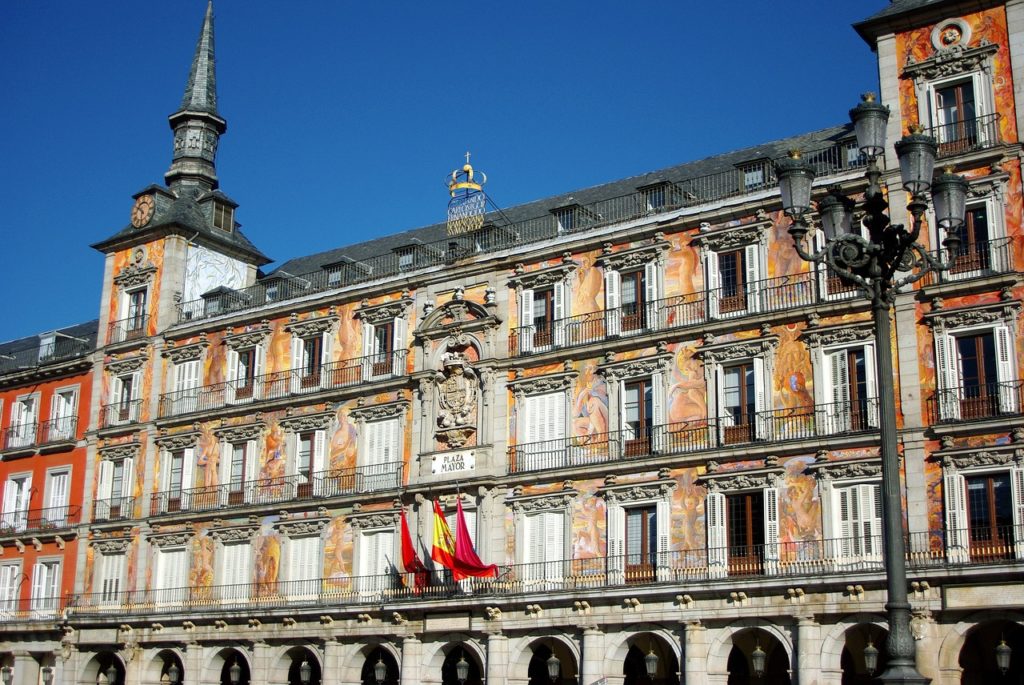 British Airways regularly use long-haul aircraft on the London Madrid route but the actual type varies. For this summer they are using a B777 until the end of October 2018. At the moment I can't see any long-haul aircraft for the winter schedule but it could change. You can read Roving Reporter's review of his Madrid flight on the B787 here. The B777 currently operates on the BA460 leaving London at 13.20 and the BA461 leaving Madrid at 18.15.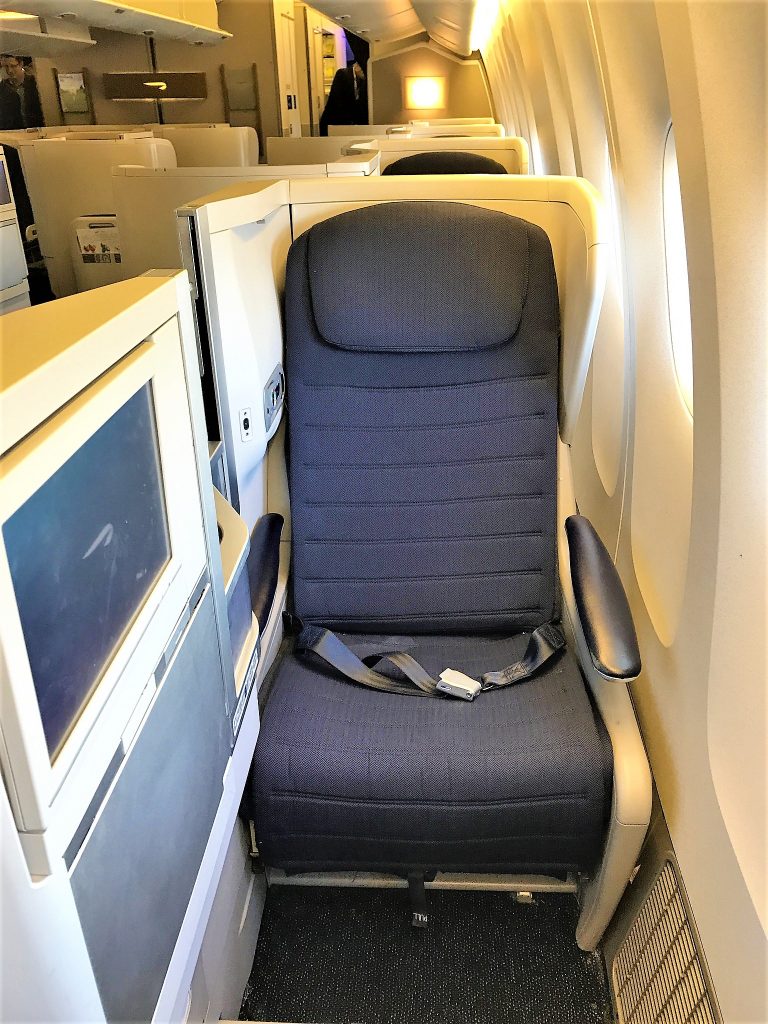 You can find prices and book the flights on the British Airways website.
Iberia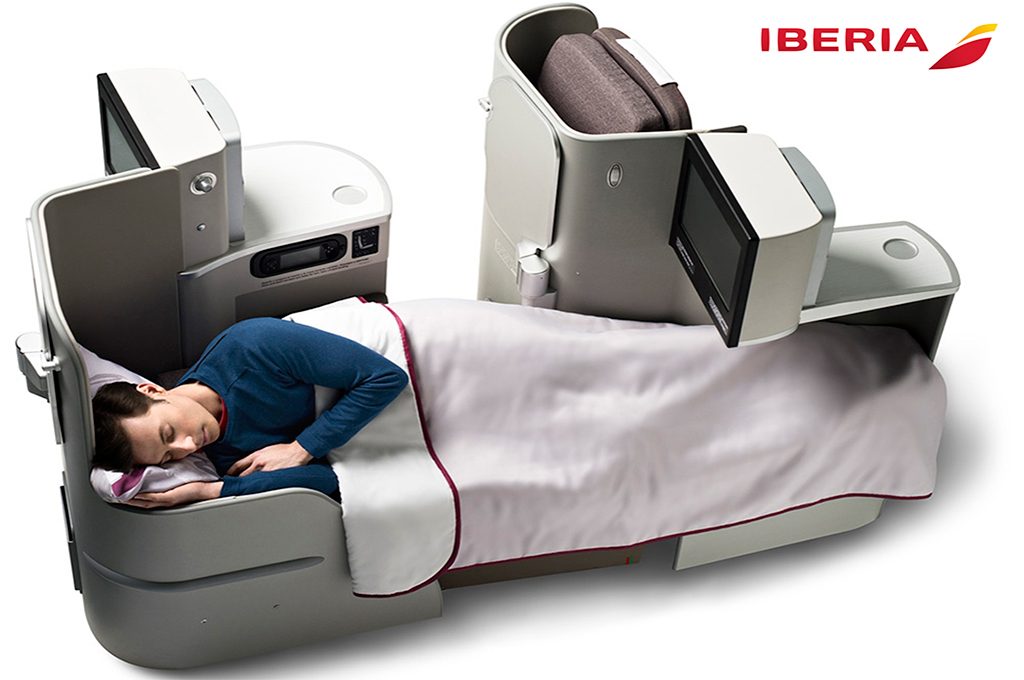 Iberia also uses a long haul plane on London-Madrid. One option would be to do BA one way and Iberia the other which along with 80 tier points would make a nice trip. Madrid is well worth a short break with its beautiful buildings, wide leafy avenues and fantastic tapas bars. I will be visiting Madrid twice this year so I will be bringing you my tips on a short break in Madrid in a few weeks time.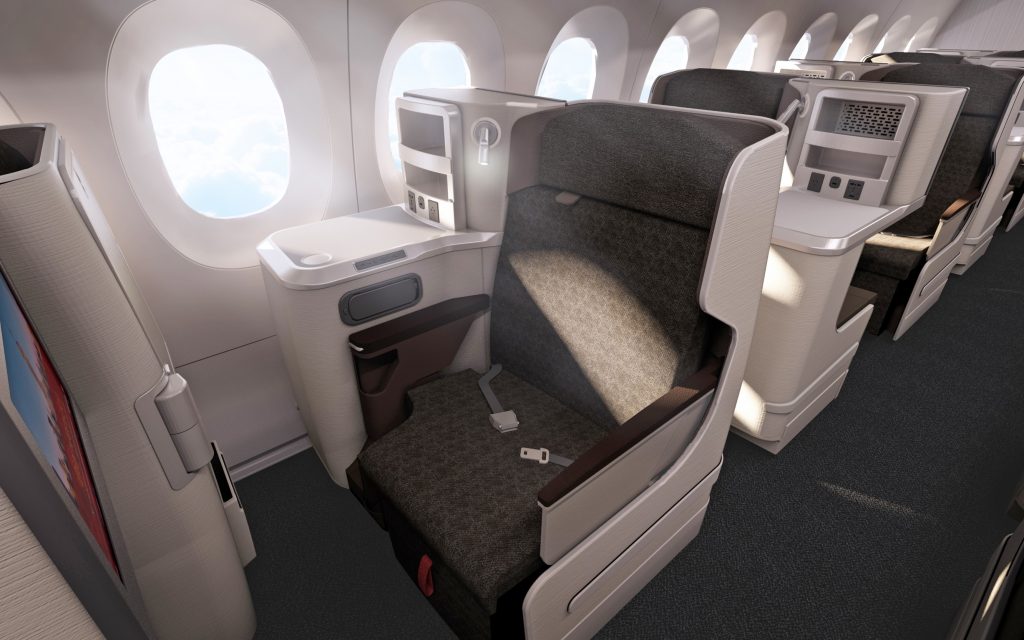 Iberia normally use their A340 on one return flight a day to London which I will be reviewing in August. However, this summer they are using their new A350 on the route. They have already changed the dates of these once so I would only book this with the understanding you may end up on the A340.  Iberia will operate one flight a day between London and Madrid return between 27 July and 3 August and also this will be on IB3166 leaving Madrid at 15.55 and IB3167 leaving Heathrow at 18.50. The London to Madrid still shows the A340 but it unlikely that they will only be flying the A350 one way each day as the other way shows the A350. If you have a stash of the Iberia promotion Avios this could be one way to use them up fairly easily. It would also mean you could cancel or change the dates if there was an aircraft swap. Business class costs 15,000 Avios each way off peak.
The A350 is also scheduled to serve Madrid – Paris Orly route once a day, from 27 July to  3 August and from 27  to 31 August.
IB3436 MAD 0850 – 1050 ORY
IB3435 ORY 1220 – 1425 MAD
Singapore Airlines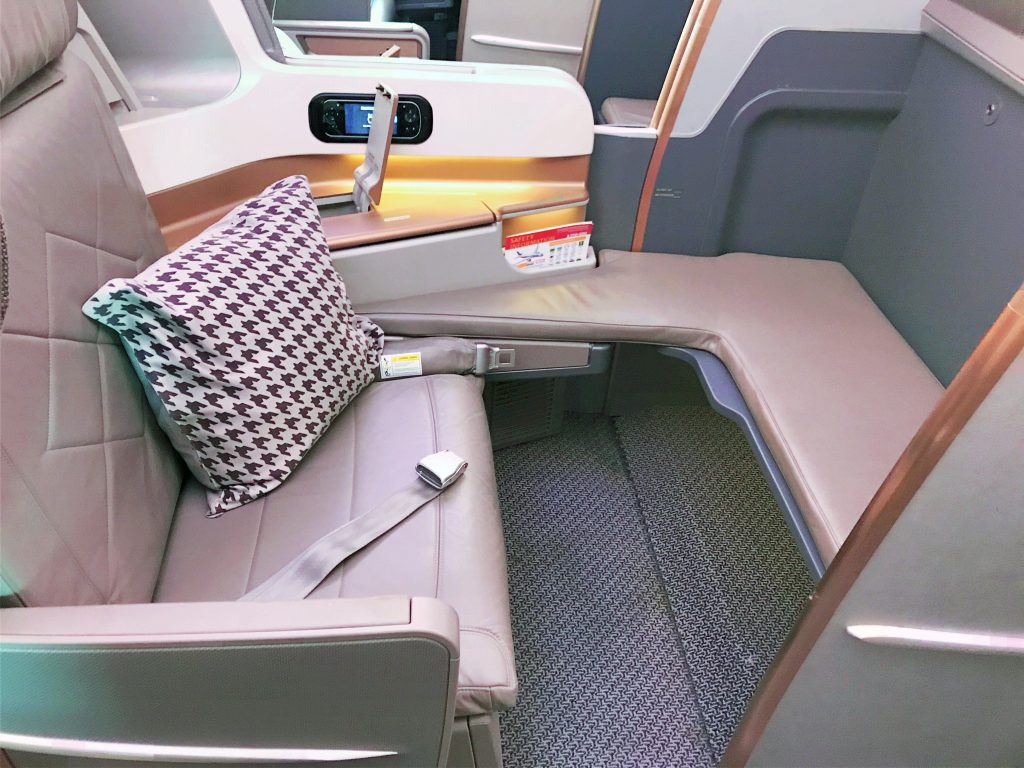 I flew on Singapore Airlines to Auckland on their Stockholm-Moscow-Sydney route as it is a very reasonable £2100 and their A350 business class product has the biggest business class beds I have seen. If you fancy trying this out you could do a short trip between Stockholm and Moscow on this flight. You could turn it into a Moscow break but be aware getting a visa is a tedious process. The cheapest way to do this is a single ticket from Stockholm to Moscow which costs from £278. You could also redeem some Virgin or Star Alliance miles. You can read my Singapore A350 business class review here.
You get a small snack meal on this flight with either a sandwich or salad.
You can find prices and book on Singapore Airlines.
Aer Lingus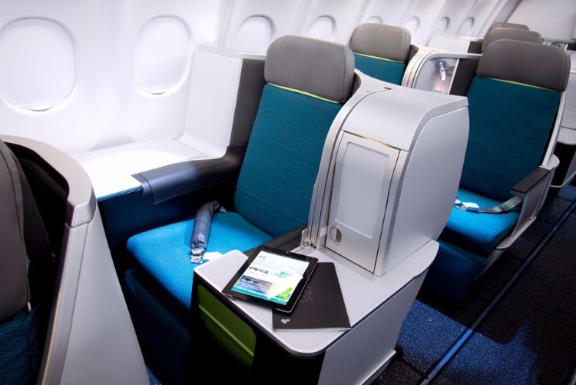 Aer Lingus uses their long-haul A330-300 on Dublin-Malaga route on one flights a day over the summer flight schedule which means you get to try their seats which include the sought after throne seat you see above. It is not a full-service business class flight but you do at least get to fly in comfort with the flatbeds. I will be flying with Aer Lingus from New York later this year and will bring a full review of their business class product.
You can find the latest prices on the Aer Lingus website.
LATAM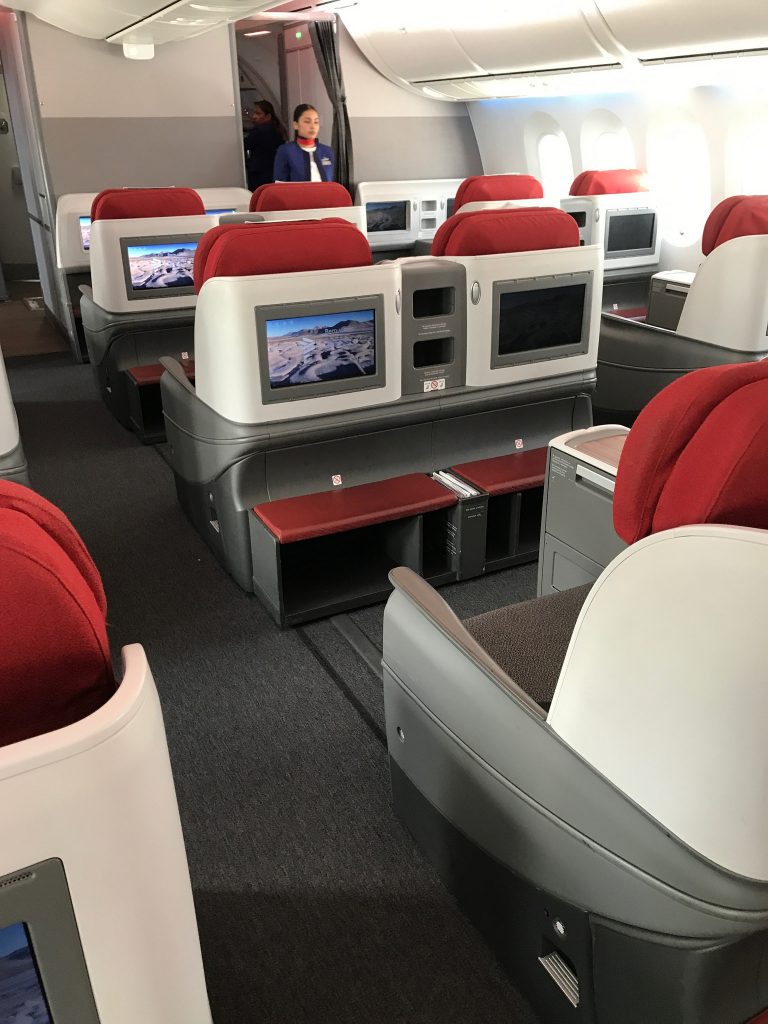 The LATAM Madrid-Frankfurt route can be a handy way to add in a few tier points on a Madrid or Frankfurt trip. Although there was some panic about Z class business class tickets appearing in the BA Avios table, it has been corrected and you will indeed get to earn tier points and Avios. As a Blue Executive Club member, you would earn 40 tier points and 1100 Avios each way. LATAM currently uses a B787 on this route with a 2-2-2 layout. You can get a return trip from Madrid for a very reasonable £153.
You can find the latest prices on the LATAM website.