This flight was the final leg of Roving Reporter and my jaunt around Asia using my BA Amex 2-4-1 voucher. I am writing this trip's reviews in reverse given that a chat with Alex Cruz recently revealed that BA will be developing the B787 First seat with a few tweaks to put on other aircraft in the fleet. I will be reviewing my B777-200 from London to Shanghai next to compare with Paul's experience from September.
Check-in
BA's First check-in was fairly unremarkable but the staff were friendly enough as we loaded our now ridiculously heavy bags onto the baggage belt. (I'm still not entirely sure how we ended up with nearly 30kg of luggage each with very few purchases although we do have a slight hotel toiletry fetish I will admit!)
The first and business class lounges
I had seen lots of pictures of the Malaysia Airlines First and Business class satellite lounges at Kuala Lumpur so I was anxious to try them out.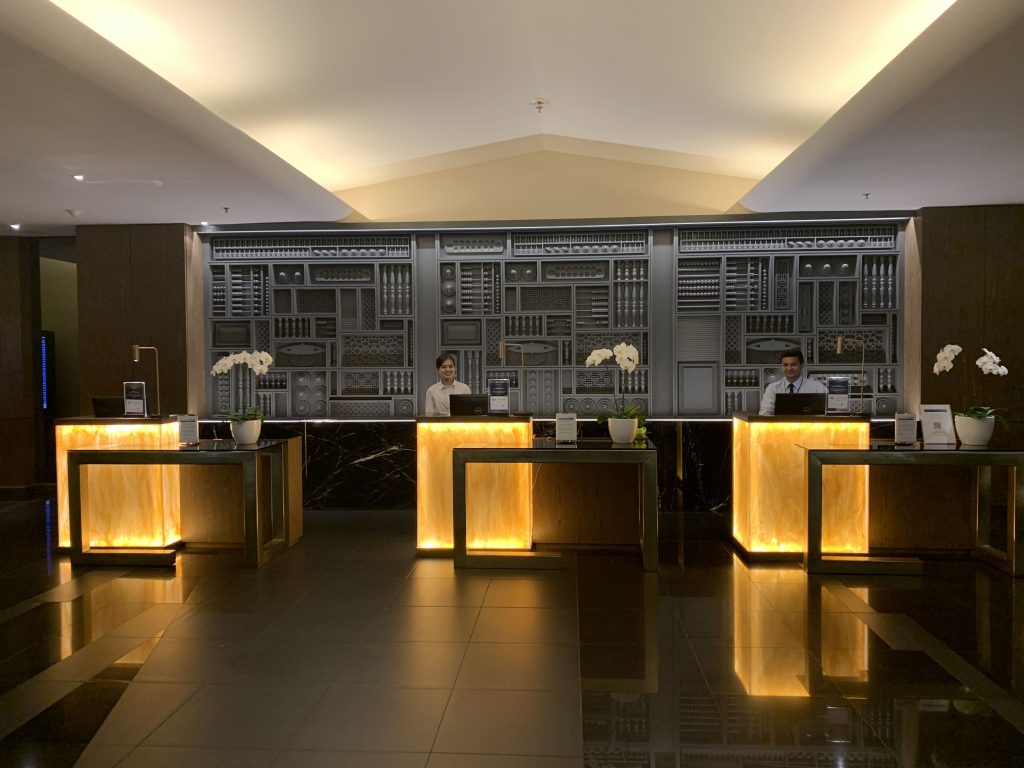 We had a long wait at KL so both RR and I had also booked a massage at the Wellness spa near the lounge. We decided to grab a quick bite in the formal First restaurant beforehand.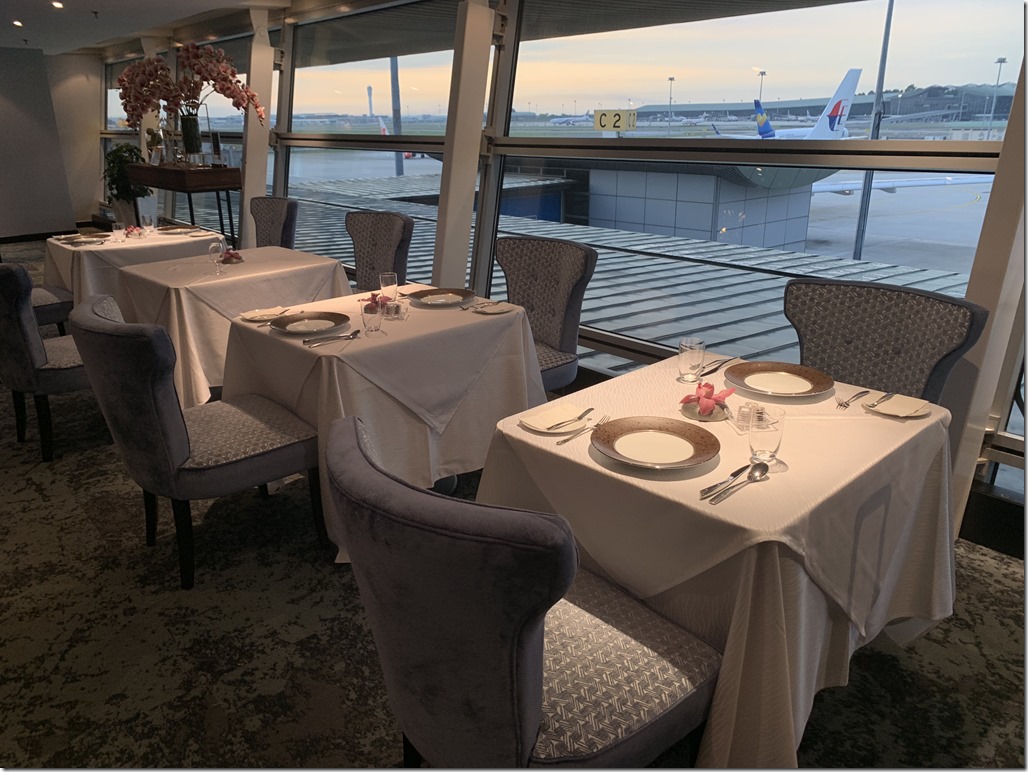 The restaurant looked very nice and was like a fancy hotel restaurant. There was sadly no drinks list. I found this odd as you had to ask what they had which seemed quite limited in terms of wines.
Here is the menu: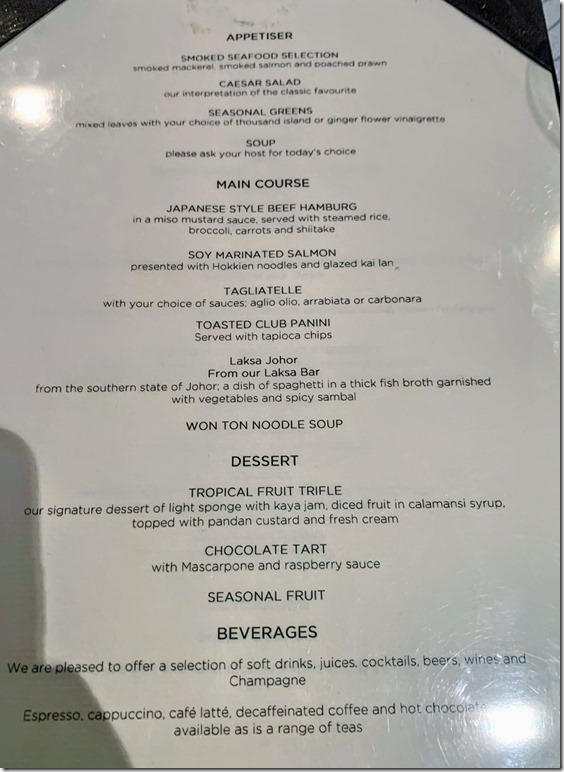 It seemed a little limited. I was very tempted by the Laksa but since I only had a short time before my massage and I planned to kill some time on board with some food I opted to have the Caesar salad. RR went for the mushroom soup.
My salad was very tasty but pretty small apart from the enormous crouton!
After my massage, I went into the main part of the lounge to wait for RR. As per the pictures, it looked impressive. I particularly liked the seating area where you first walked in which was very elegant.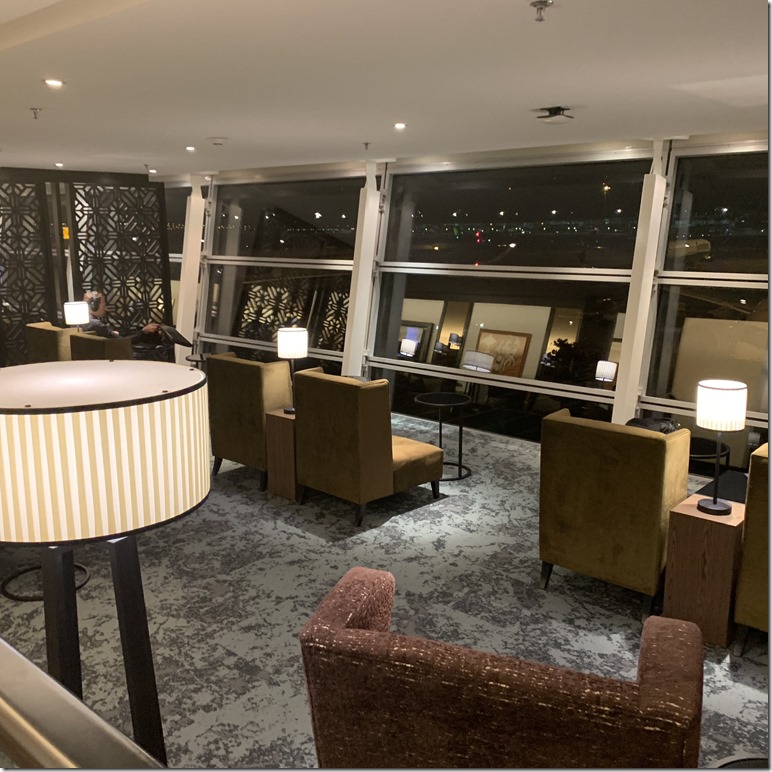 This then led into a long room with a small buffet area and rows of seats on two levels. There were washrooms and showers but no in-house spa.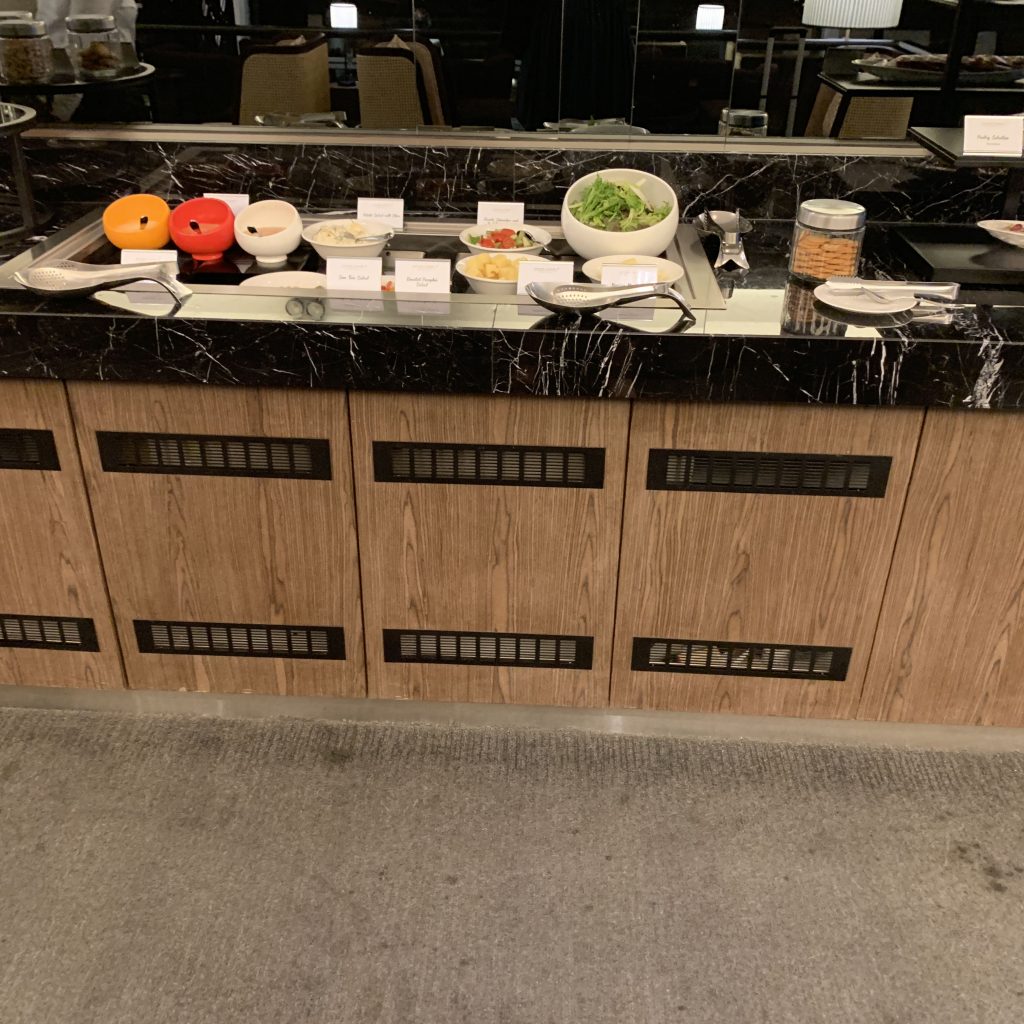 I had a look to see what food there was as I was still a bit peckish after my titchy salad. If you went into the lounge expecting hot food or more than a light snack you would be disappointed. There was a small salad buffet and some smoked salmon and cakes but that was pretty much it.
For drinks again there was no menu which I find annoying as I like to be able to see the wine bottles or a proper list rather than a vague description by the staff. Drinks were all table service and the staff were generally attentive. I opted to try the Champagne but this was pretty disappointing being a very average de Venoge which sells for about £30 a bottle. I quite fancied a gin and tonic but when she described the gin as London Dry Gin it could have been anything so I decided to stick with wine.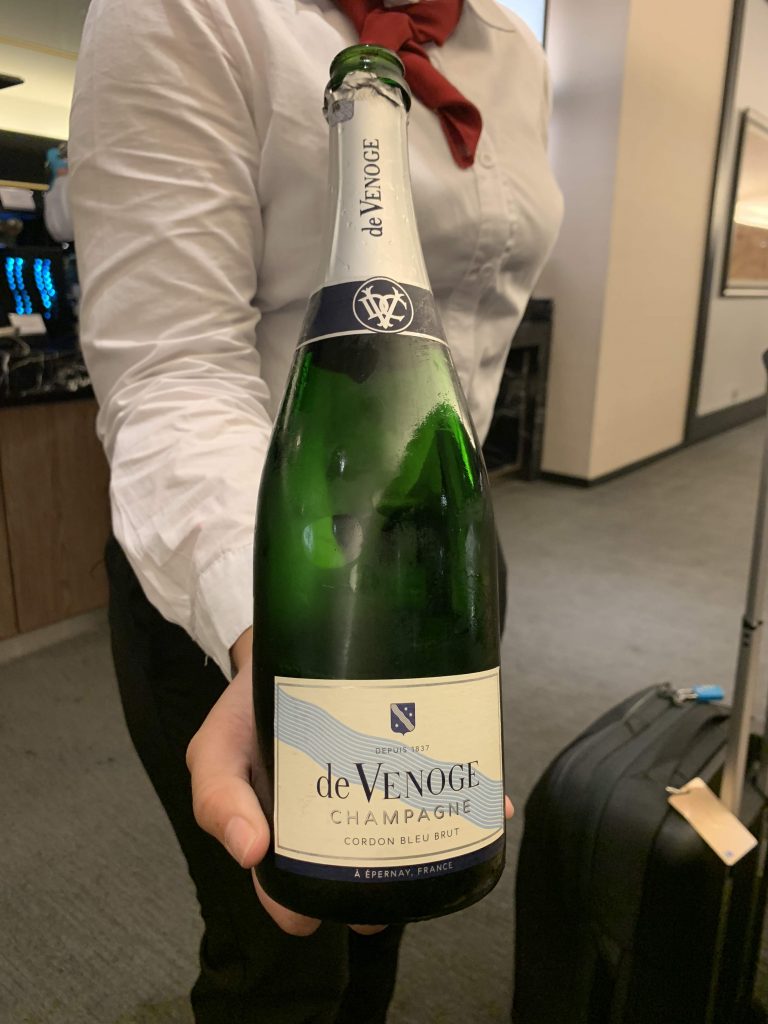 I tried a glass of the Chateau Reysson Haut Medoc red wine which was pretty average but drinkable. Once RR returned from his foot massage we decided to try the business class area. This was busy but it did have a proper bar area and a better selection of food although it was still pretty limited. They had a laksa bar and sandwiches which were made to order along with some ready-made sandwiches and salads.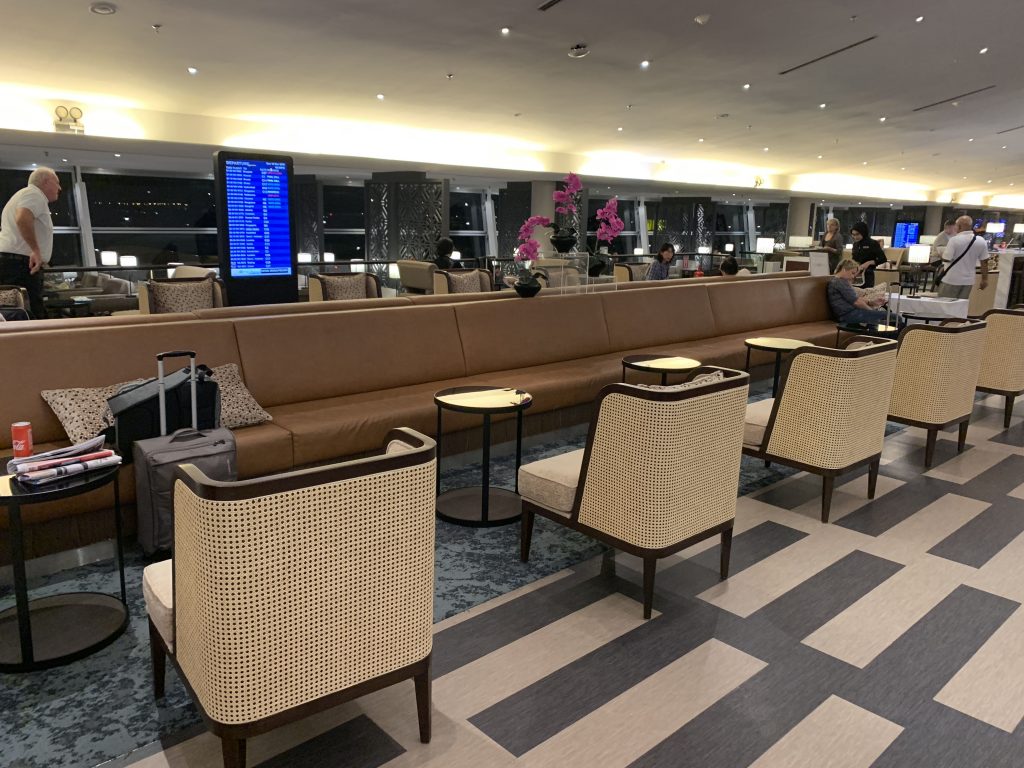 Boarding
Boarding was done by group number and fairly efficient. Roving Reporter and I were seated on opposite sides of the aircraft as we both like a window seat so only one of us could be escorted to their seat as they are obviously not allowed to leave the door unattended! This doesn't bother me at all as I am sure I can work out which seat it is in a cabin of just 8 seats!
Once seated I was offered a washbag which was designed by Liberty. The designs are changed regularly based on what the top-selling print is in Liberty's London store at the time which I thought was a nice touch.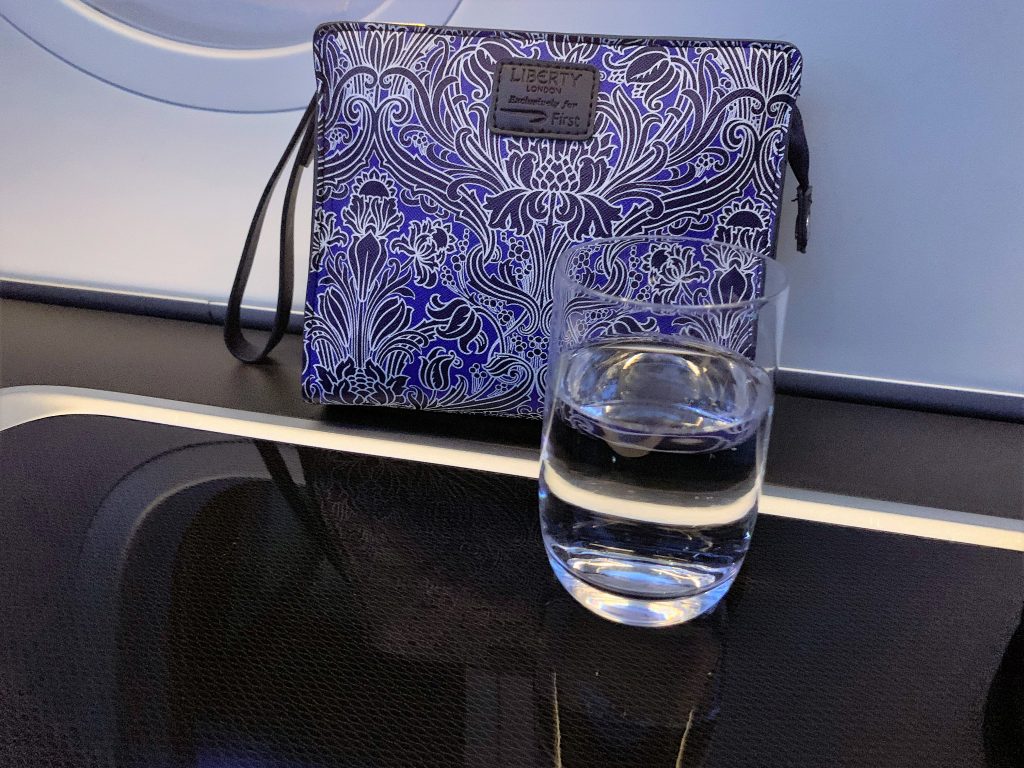 Inside the kit were the usual Aromatherapy Associates amenities which I am a big fan of and I also always love the First pen which looks good quality. The contents included cleanser, lip balm moisturiser, hand cream and eye shades.
Unfortunately for some reason (I'm guessing to do with duty), there is no champagne served pre-take off in Kuala Lumpur so I had to make do with a glass of water to my horror!! I survived the ordeal though…
I was also offered the menu, pyjamas and noise cancelling headphones before take-off.
The seat and cabin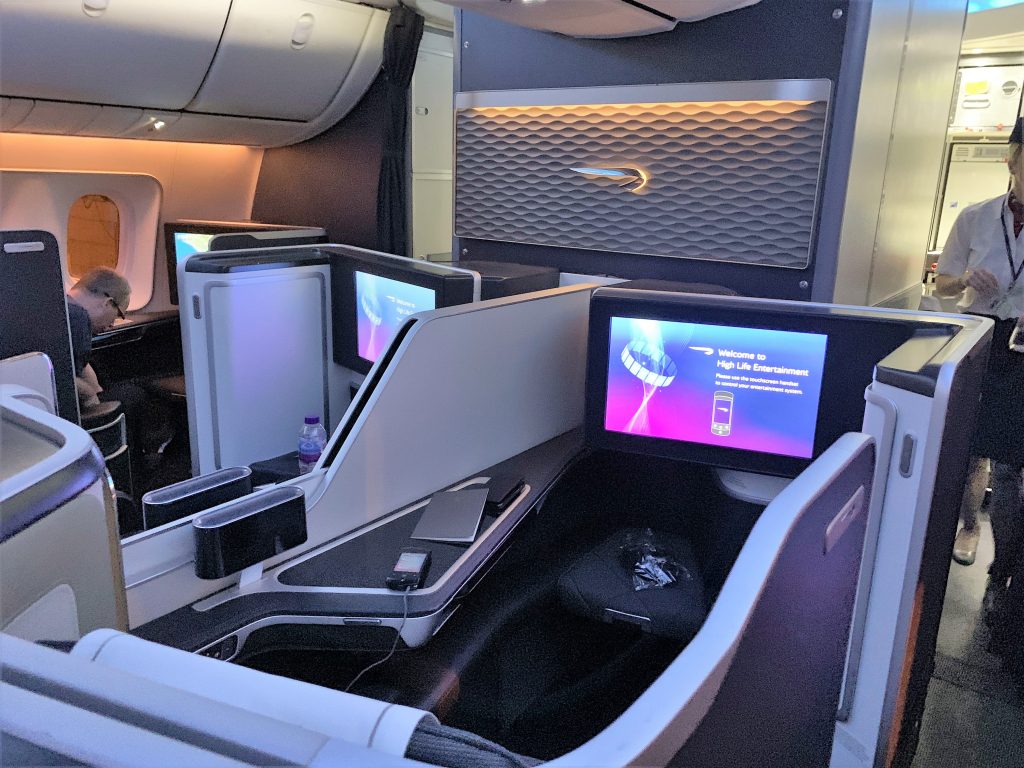 This was the last of BA's First cabins that I had to try and I definitely saved the best until last. I have always been a fan of the A380 First (particularly when they used to do the tasting menus) but this definitely blew that out of the water. It may not have been like the Emirates First Class Suites but I found it very impressive. I was in the window seat 2K.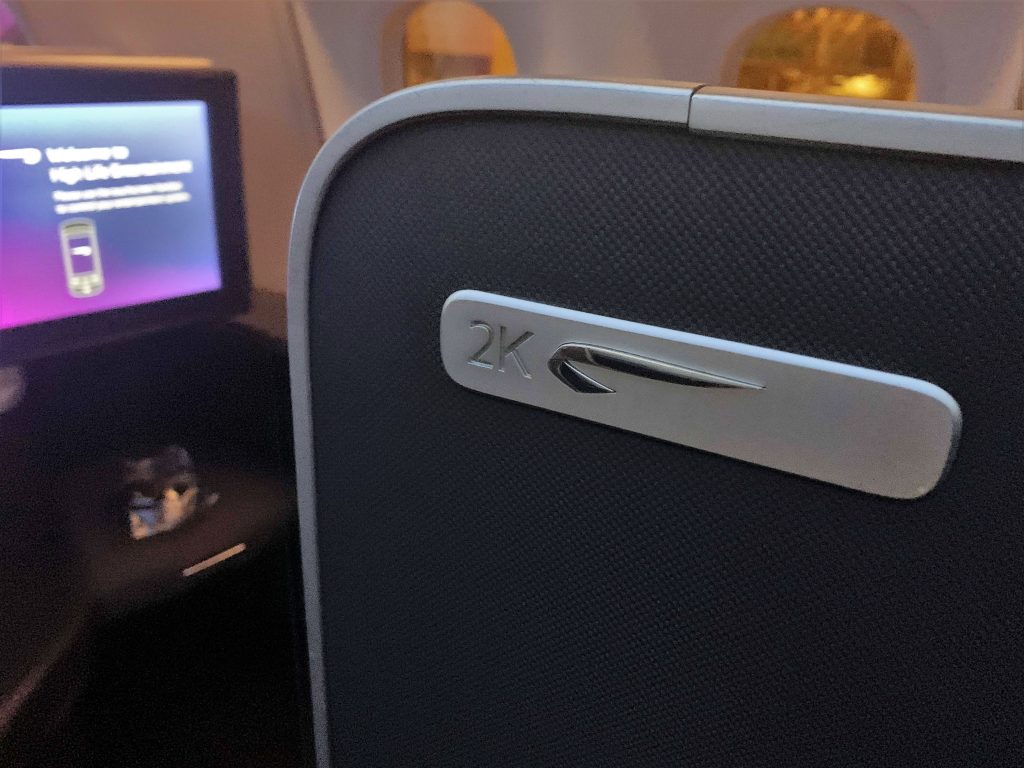 First impressions were that it felt very exclusive with just 8 seats and the cabin had a modern British elegance to it. The suite seemed much bigger than the other BA First seats and more private too. There was definitely a huge improvement in storage space too with plenty of options.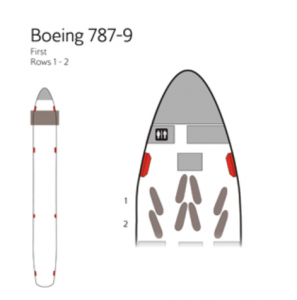 The cabin is laid out in 2 rows of four seats in a 1-2-1 configuration. There is not much to choose between the seats in such a small cabin other than window or middle seat. It is worth bearing in mind that there is no buddy seat dining on the B787 as the TV screen is fixed in place so if you are in a couple you may wish to choose the middle seats.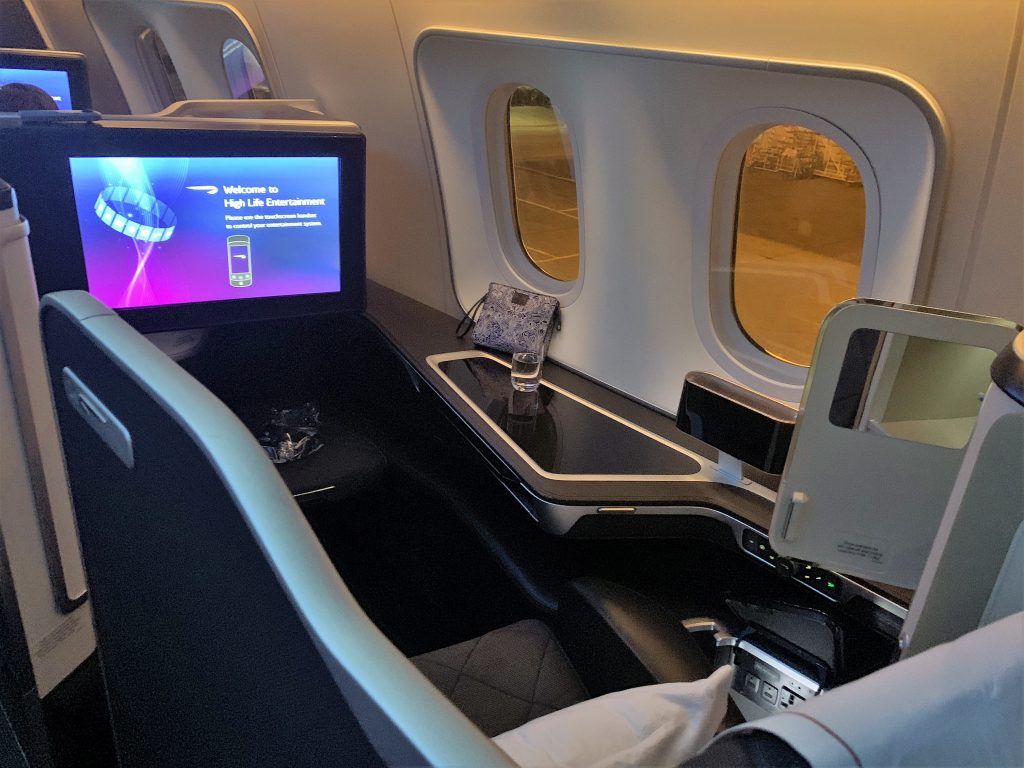 Like the other BA First seats there was an individual wardrobe but it was a little smaller than the others as other storage areas replaced the need for it.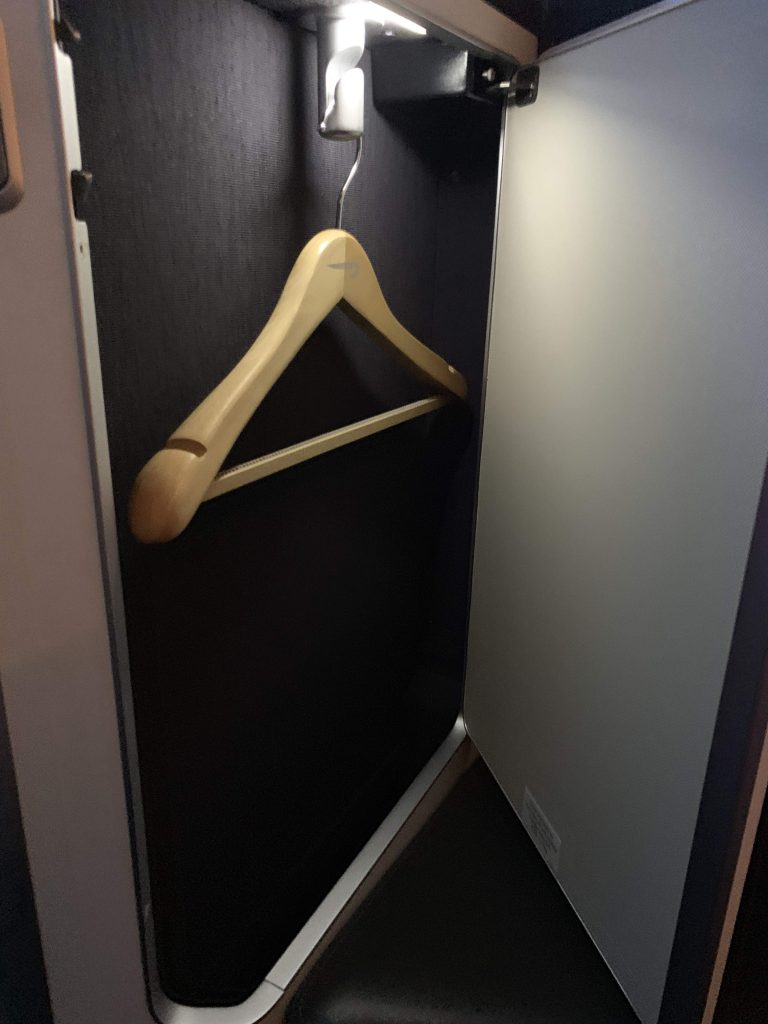 By the window, there was a big storage and charging compartment for your headphones and electronics where all the sockets and headphone socket could be found.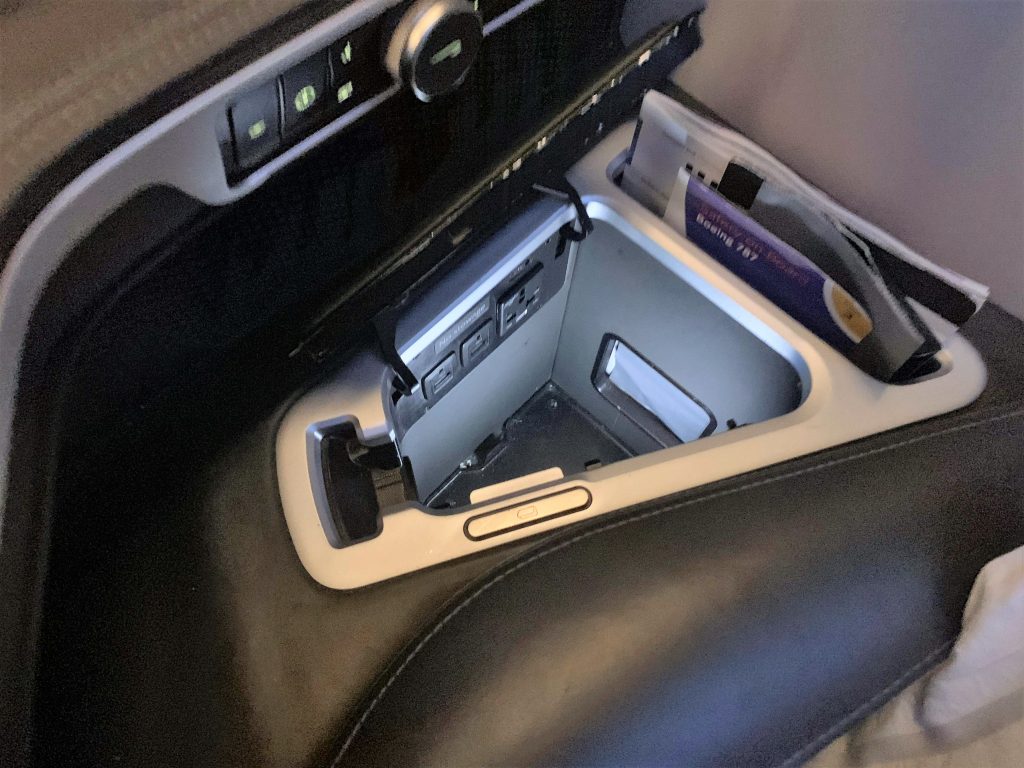 My favourite was the cupboard at head height which had different compartments and an all-important mirror as I tend to wake on the plane looking somewhat frightening!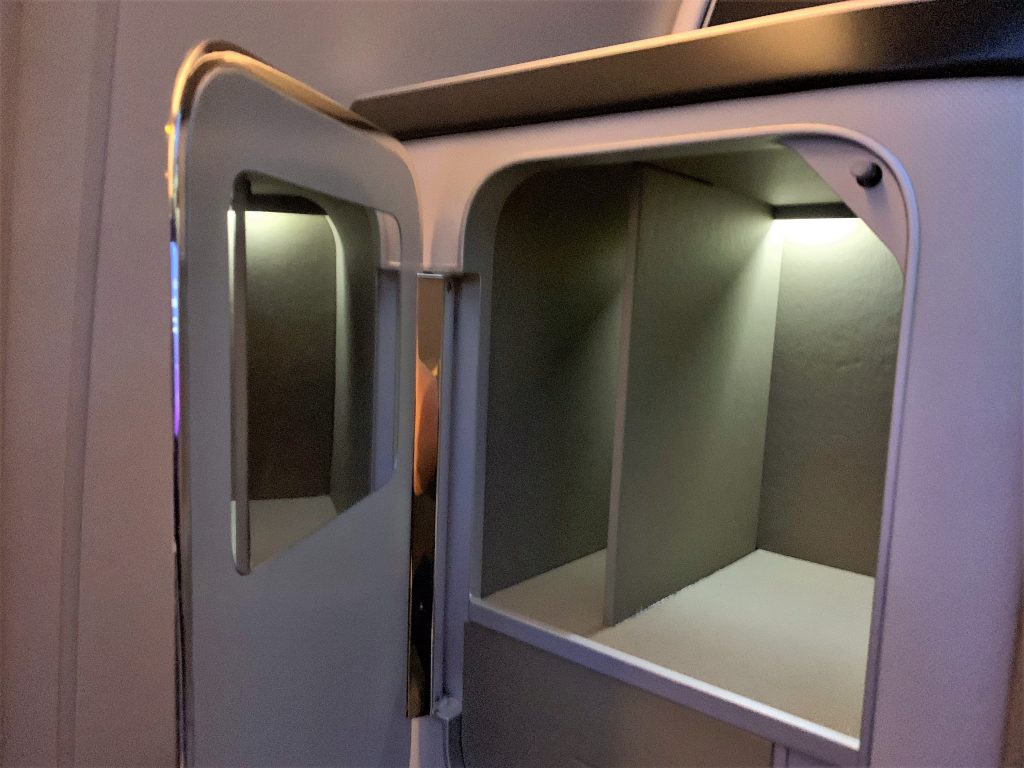 There was yet another storage area under the footstool!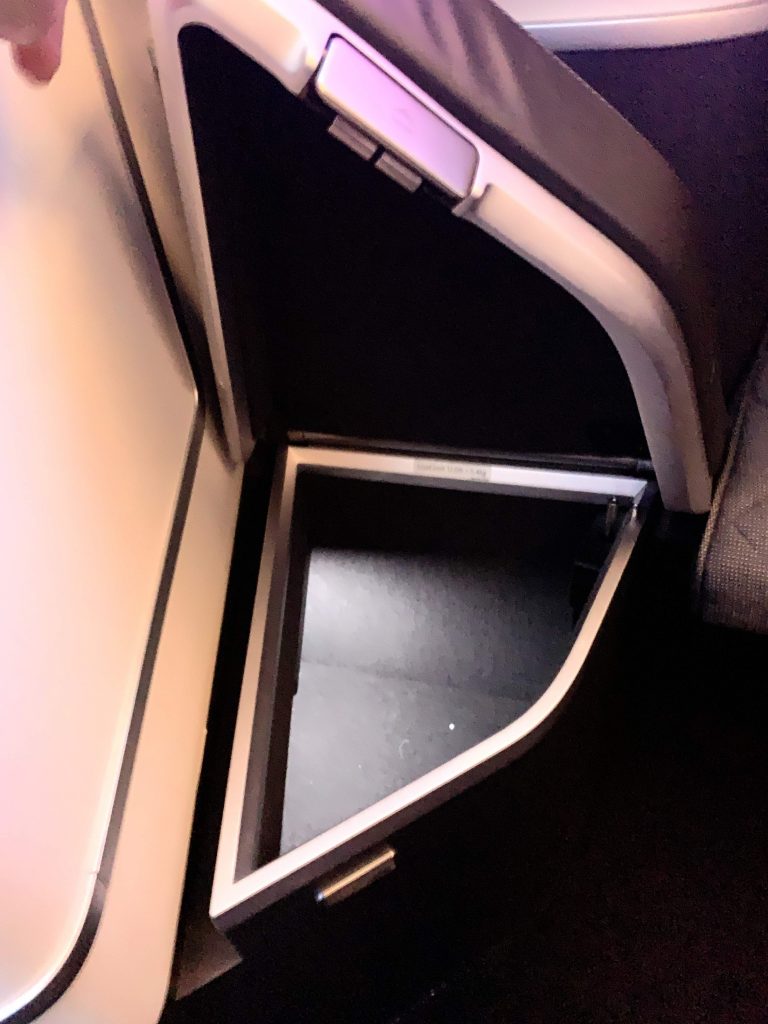 The seat controls were quite different from the rest of the fleet as there were a range of lighting options as well as adjusting the seat. It meant that you had to select the function first and then use the dial to change the feature. This made everything very customisable which was good. One of the key features that I think looks really good is the tableside lamp. The suite does come with a booklet of how to do everything which may be worth a read as some things are not immediately obvious when you have lots of lights to choose from.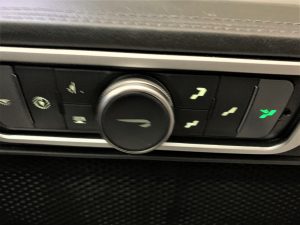 The footstool could be adjusted to suit you and the seat could go from upright to full recline with the controls. I found the seat comfortable at all stages and I liked how simple it was to adjust.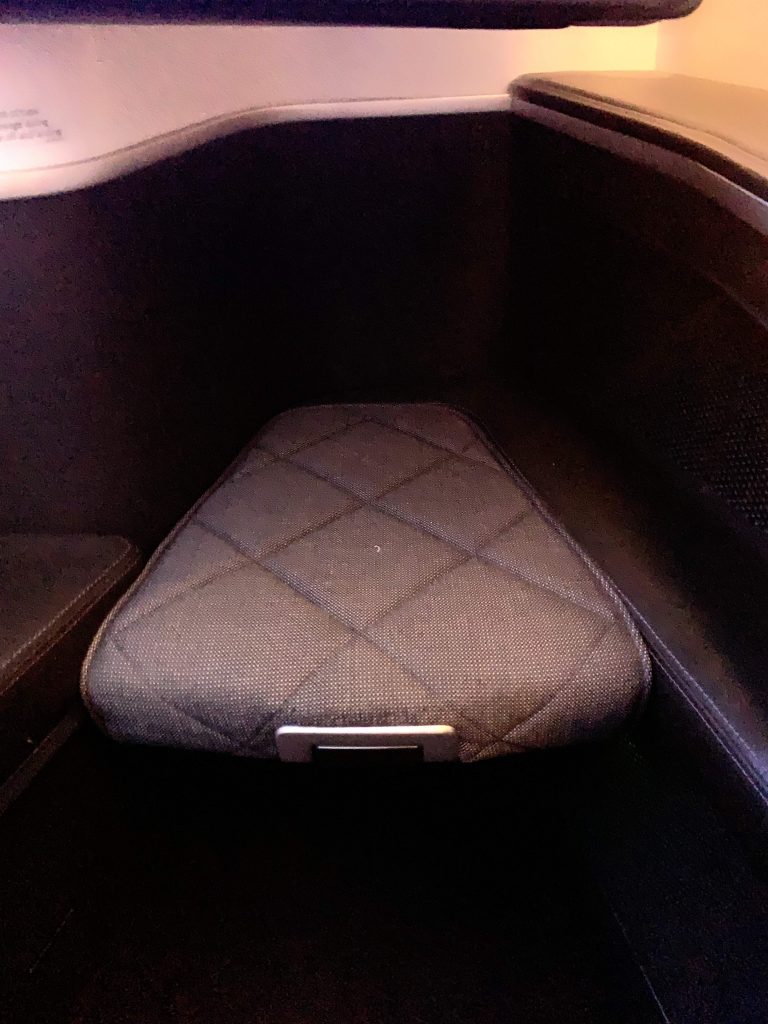 Food and drink
After take off drinks and warm nuts were offered. After the champagne drought of the first few minutes, pre-take off, I naturally had to opt for a glass a the Laurent Perrier Grand Siecle which retails at around £130 a bottle. It's not quite at the level of Krug but it is a lovely champagne.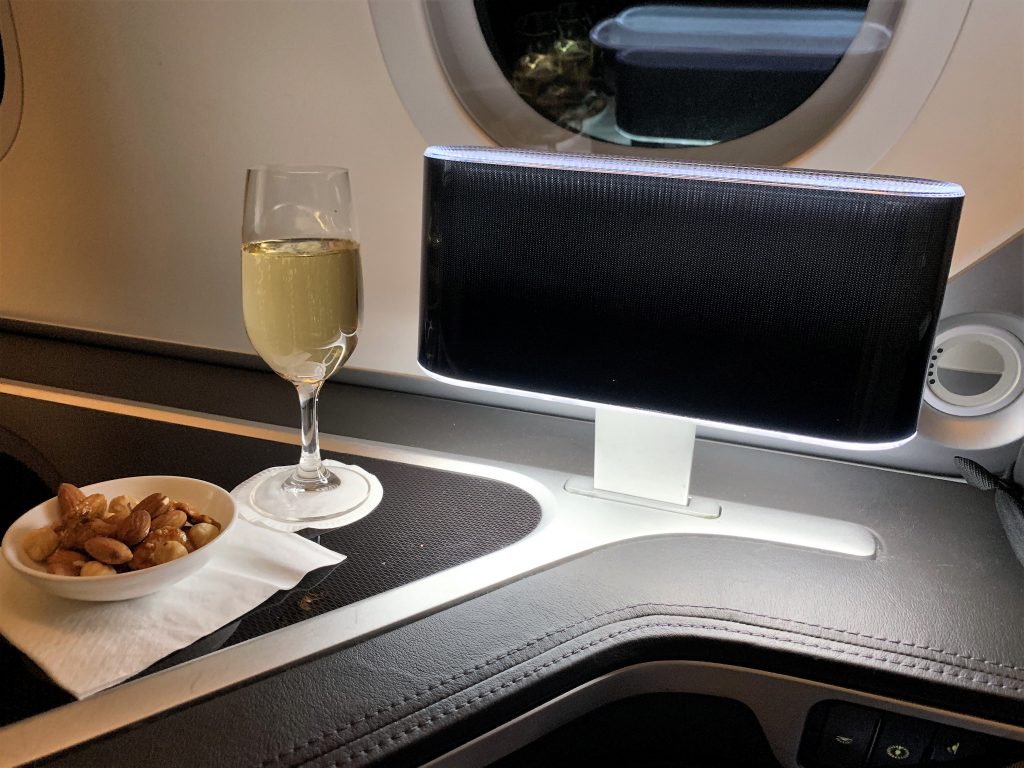 As it was now past midnight I didn't plan to eat a full meal but thought I would have a couple of starters. The cabin crew were very good on this flight and came round early on to ask what I wanted so that I could get my first choice (standard procedure for Gold card holders and above to get priority).
Here is the menu:
Despite having just been in Malaysia and probably having eaten my own body weight in satay by now my eyes still lit up when I saw the satay on the menu. (There seems to be a bit of a satay fetish going on with the TLFL team although judging by Paul's Malaysia First class review he is definitely in the lead!) I also fancied the soup as it is comforting to have something like soup or a hot drink just before bed.
To start the meal an amuse bouche of chicken ballotine was served. This was pretty big for an amuse bouche and quite tasty.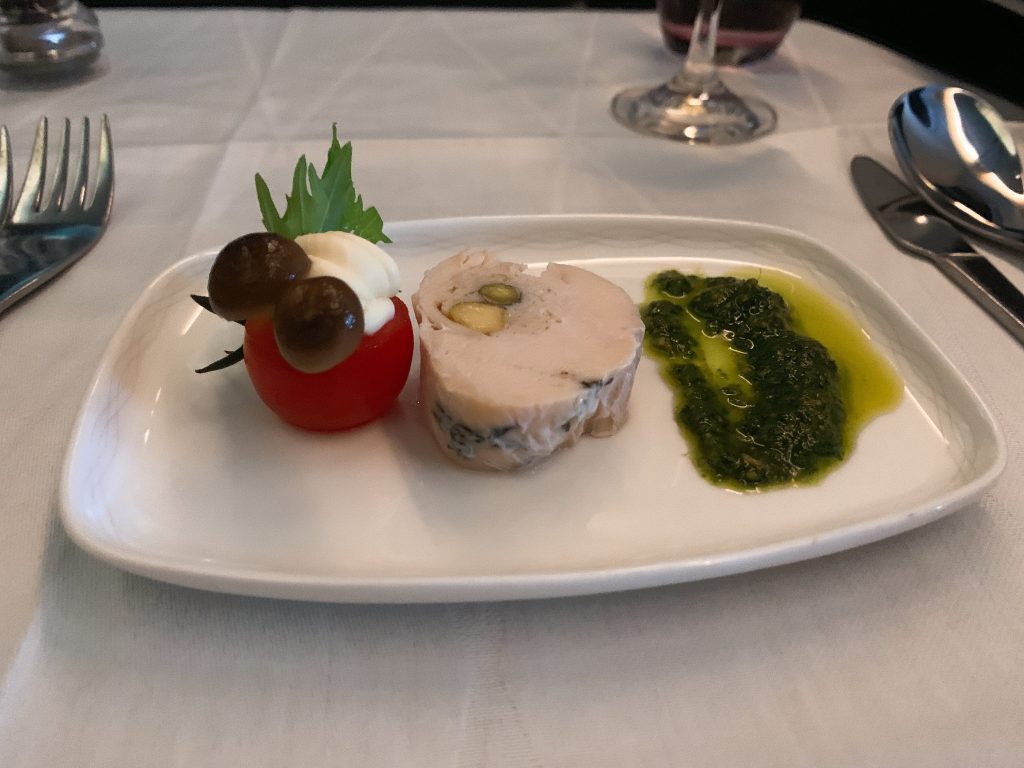 Next, I had my satay. I could have eaten another portion of this but I managed to restrain myself! It was very moreish but the cashew sauce did not taste that authentic as it was more chilli than nuts though still enjoyable.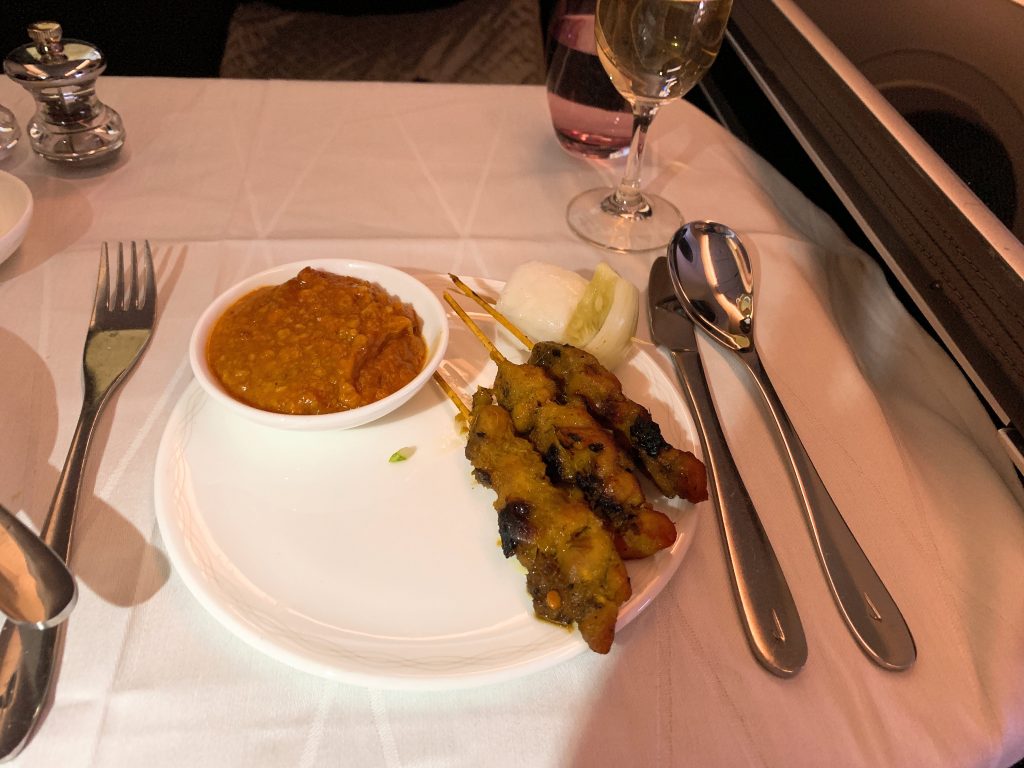 The soup was served next and this was a big disaster which is a shame as the soup in BA First is normally excellent. Both RR and I had the soup and had the same issues with it. It was quite watery, not very creamy, had too much chilli oil added to it and was not even lukewarm. I am surprised it wasn't noticed by the cabin crew as they generally have to check that meals are cooked through so you would assume the same would apply to soup!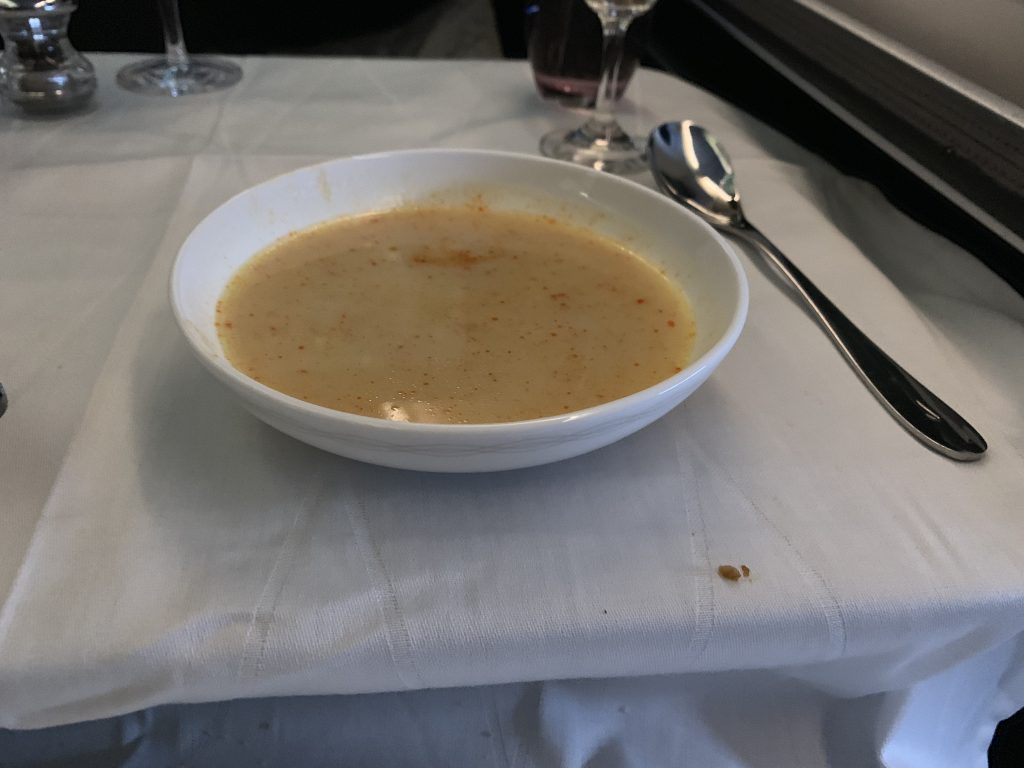 The wines were the same as on the way over so I stuck with the Saint Emilion in the hope the red wine would lull me to sleep. I finished up with an XO Cognac which came in an enormous measure (no complaints from me there!) and was given a bottle of water for the night.
Here is the wine and drinks list:
Sleeping

The crew were very proactive in offering to make up the bed. I am more than happy to do it myself but since they were so insistent I let them do it for me. You get a mattress topper, duvet in a crisp white cover and a pillow. They also provide a day cushion which I use as a second pillow underneath.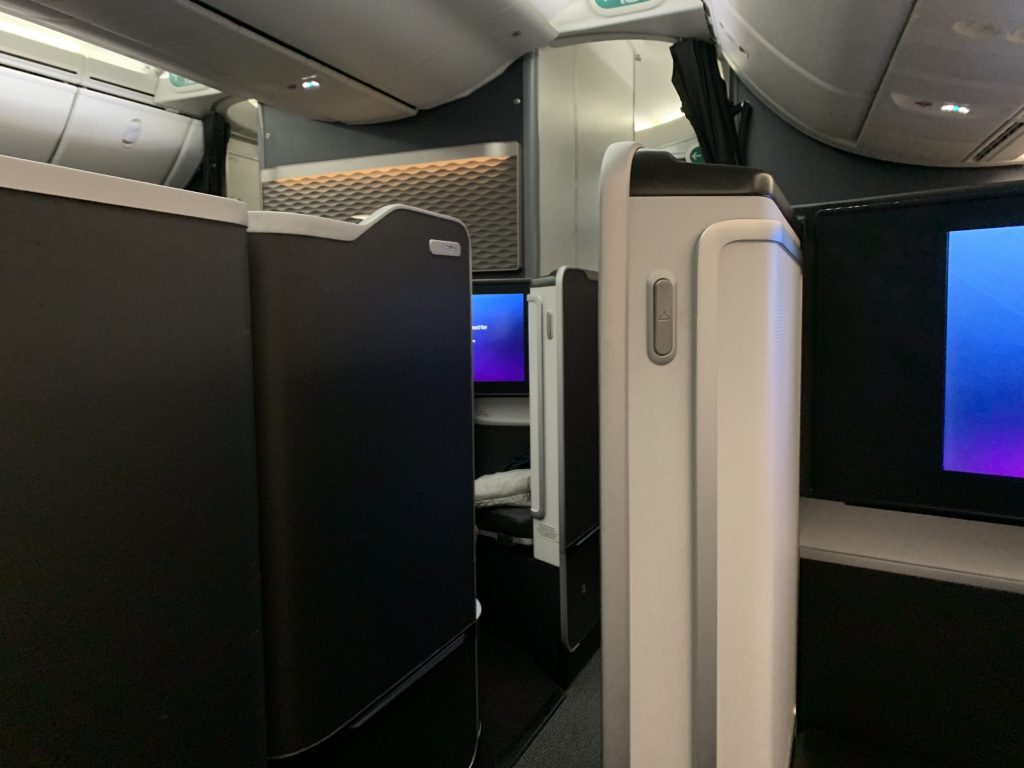 Well, I have to say this led to a record sleep – 9 hours on and off (probably helped by the large Cognac!) Needless to say I found the seat very comfy for sleeping and next to Etihad's Apartment which has an enormous separate bed, probably my favourite bed in the sky. It felt much roomier than the other BA F seats and also very private. I think having a cabin of just 8 seats also makes a big difference as there is less noise and foot traffic in the cabin.
Breakfast
About 90 minutes before landing we were offered a full breakfast. After my fairly light dinner and good sleep I decided to partake even though RR and I were planning to go to the Arrivals lounge after landing. (review to follow)
Here is the breakfast menu: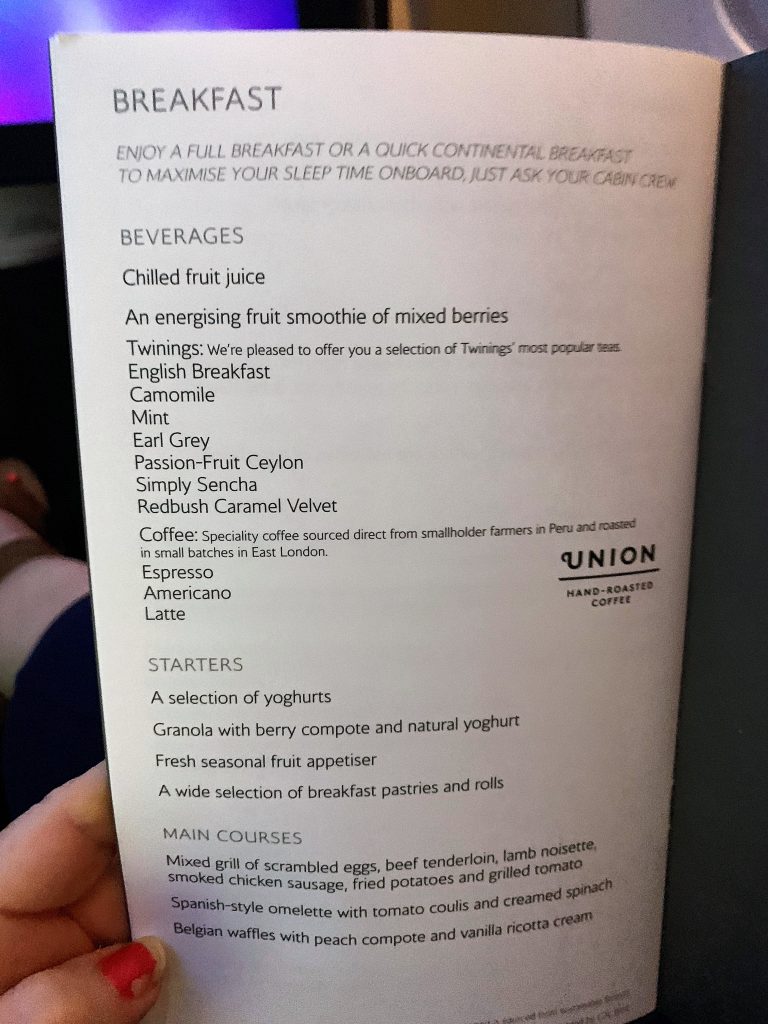 Unfortunately, they had not loaded enough table linen for breakfast and there were not even any napkins. There also seemed to be so issues with the loading of the starters and the only options left were plain yoghurt or fruit.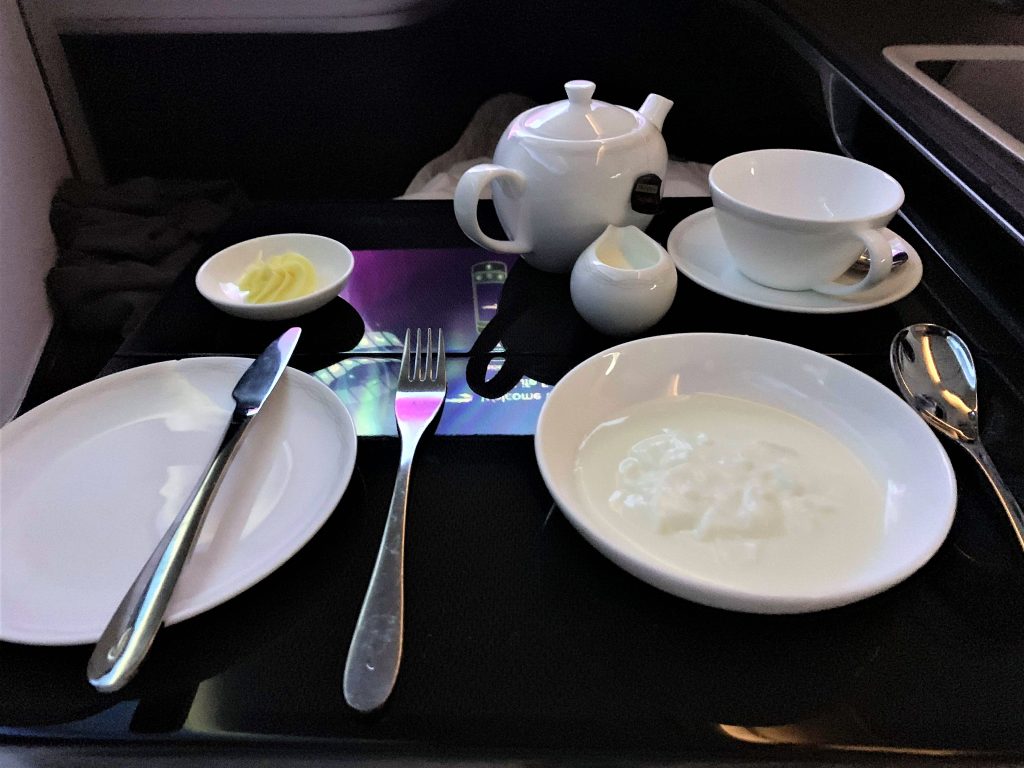 For the main course, I thought I would try the waffles. These were tasty and I liked the fruit with them but they needed some more moisture with them as once you had used up the ricotta and peaches it was quite dry.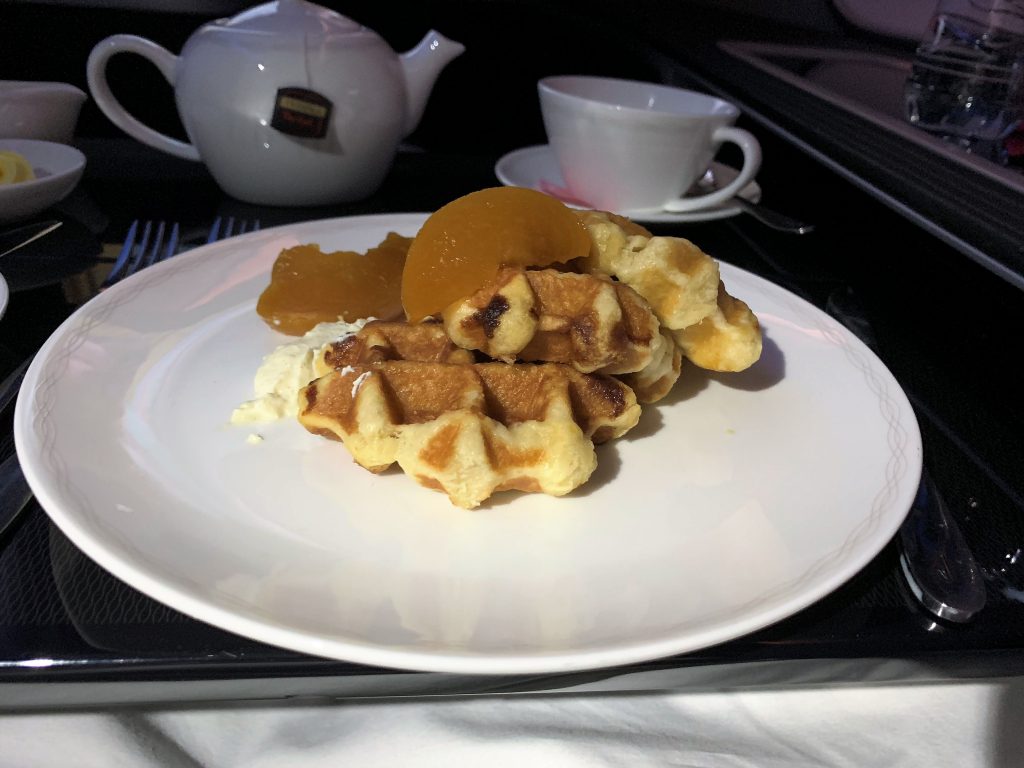 At Roving Reporter's suggestion, I decided to have a Bucks Fizz with breakfast. Normally on most flights, I tend to have my meal and then don't have anything other than soft drinks but I am definitely a convert to a lovely zingy Bucks Fizz made with Grand Siecle and freshly squeezed orange juice!
Entertainment and connectivity

This was another big plus for me with a large 23″ high definition screen. It felt enormous and the picture quality was great. There was a good selection of recent and older films plus TV, music and games. I was pretty tired so I watched the latest Melissa McCarthy film 'Life of the party' which was light-hearted fun.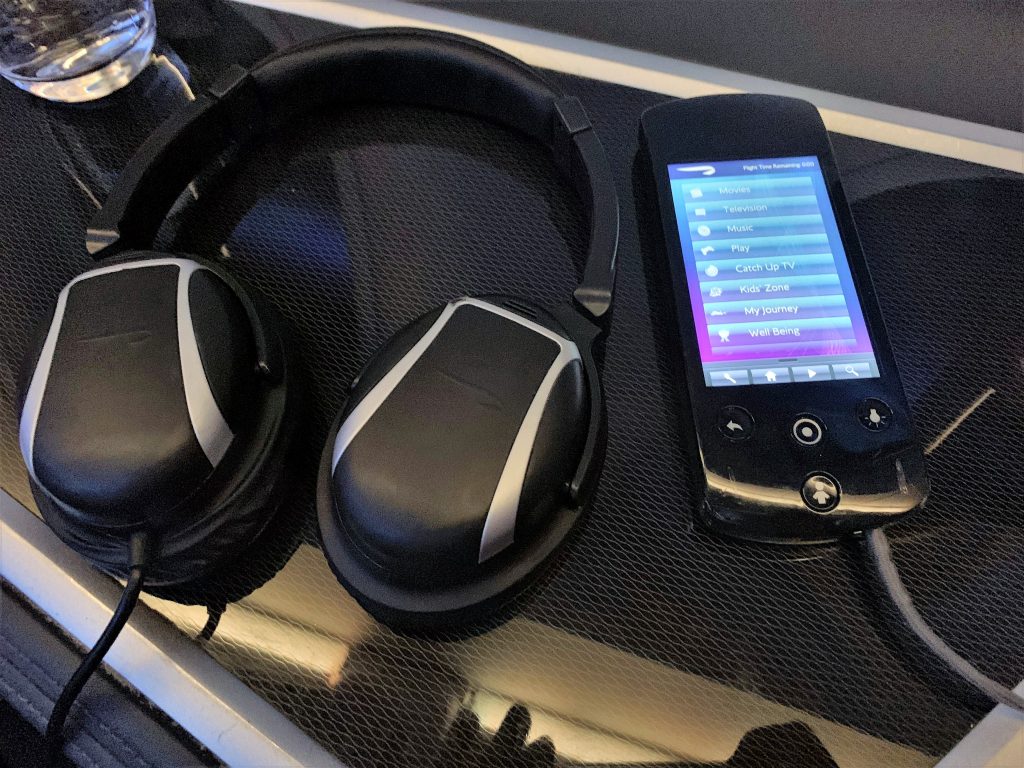 I found the handheld remote one of the best I have tried on an aircraft as it was simple to use and very responsive which is unusual.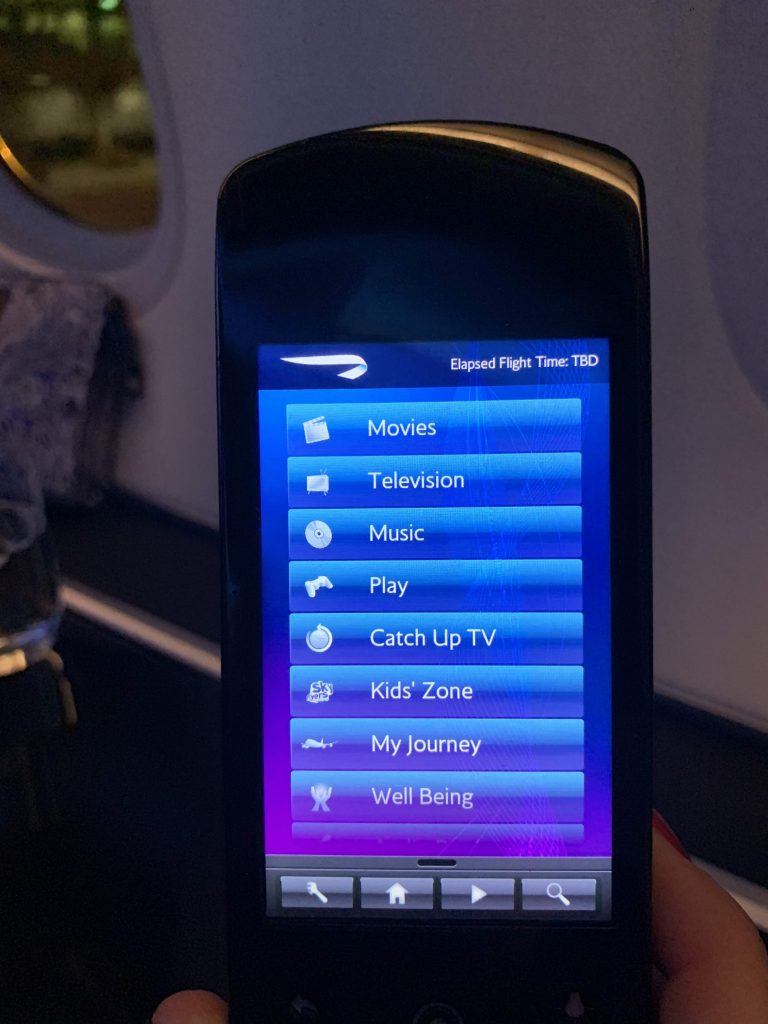 There was no Wi-Fi onboard this flight but BA are gradually rolling it out across their fleet so I had used it on the way out to Shanghai. If you wanted to charge your devices there were plenty of options with USB and multi-country power sockets.
Conclusion
I thought this BA First cabin was a big step up from the others I have travelled in. The extra space, storage, great entertainment and general modern, clean look of the cabin all add up to a great experience. My record length sleep was testament to how comfortable the seats were for sleeping too. The cabin crew were great and looked after us very well. The only thing I would have liked improved was a couple of the food items which is always trickier when inbound to London. It is great to know that BA are looking to introduce a similar seat for First in the future too.