So it's that day. Its time to fly, and this time in FIRST (capitalised as that is how BA like to type it!) Does it make it more important?! Let's find out…
Getting to Terminal 5
The Piccadilly line was on strike so the HEX (Heathrow Express) was the only way today. Fortunately, even when its packed the business first cabin manages to maintain a nice level of calmness. A welcome free upgrade for me and a guest with my British Airways Gold Guest List card.
Before you know it, you have arrived at T5 and are striding through to the First Wing, but this wasn't to be any normal first wing experience! There were a sea of staff dancing with headphones on…. Turns out they were promoting "Flying Start" with a silent disco – and all the staff were keen to get in on the action! I have said it before and I will say it again, the First Wing is the best thing to happen at Heathrow since I have been a Gold / Guest List card holder. What a breeze, and before we know it we are through and making our way to the Concorde Room.
The Concorde Room
A couple of things here regarding the CCR…..
I have access to it with the flight on two counts – One with my F Boarding pass as it's the lounge for BA First class passengers and secondly with my Concorde Room Card.
By virtue of OneWorld guesting rules a passenger in F is entitled to one guest into the CCR. A slightly more BA specific rule states that as a GGL member flying in F – I am entitled to two guests into the CCR. It's worth noting not all BA Lounge staff know this, so you might have to refer them to the lounge access guide, specifically the section around status.
Anyway enough of the boring – back to the champagne!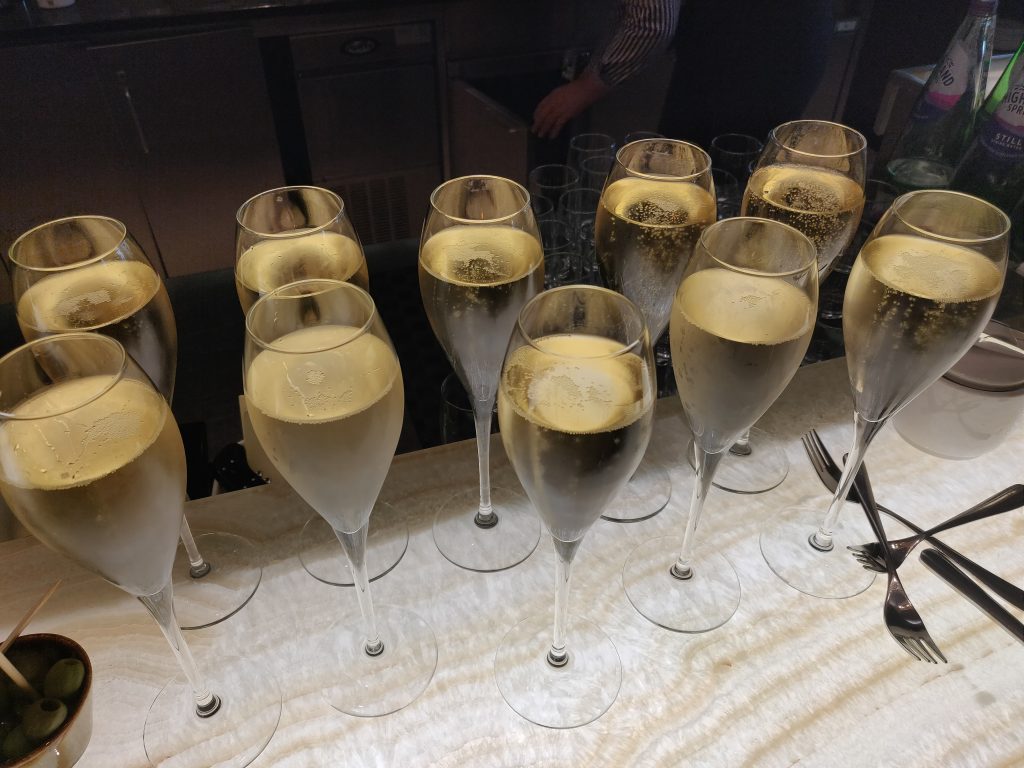 The CCR is a peaceful place in comparison to Galleries First and we quickly settled down at the bar (you will usually find me here in 1K – the bar stool furthest to the right – come say Hi at any point!)
And then I hear a voice, and I look up from my phone! It's a FlyerTalk Member who I had recently travelled to Phoenix with.
How nice to see you etc etc….
"Where are you flying today then?"
Shanghai, how about yourself?
Laughs
"Shanghai too, on the 169, are you in F?!"
Yes!
There went my plan for a few hours sleep on the flight! It's always great when a community can create moments like this!
I won't bore you with the rest of the chit-chat but much champagne and a few cocktails were consumed before it was time to head off to the B Gates.
The flight was incredibly lightly loaded today in all cabins so expectations were high. As we came up the lift, however, we noticed…as it was such a light load, we, in fact, were the last passenger to board.
"Nice time in the Lounge Sir?"
It's like they know me – oops!
Onboard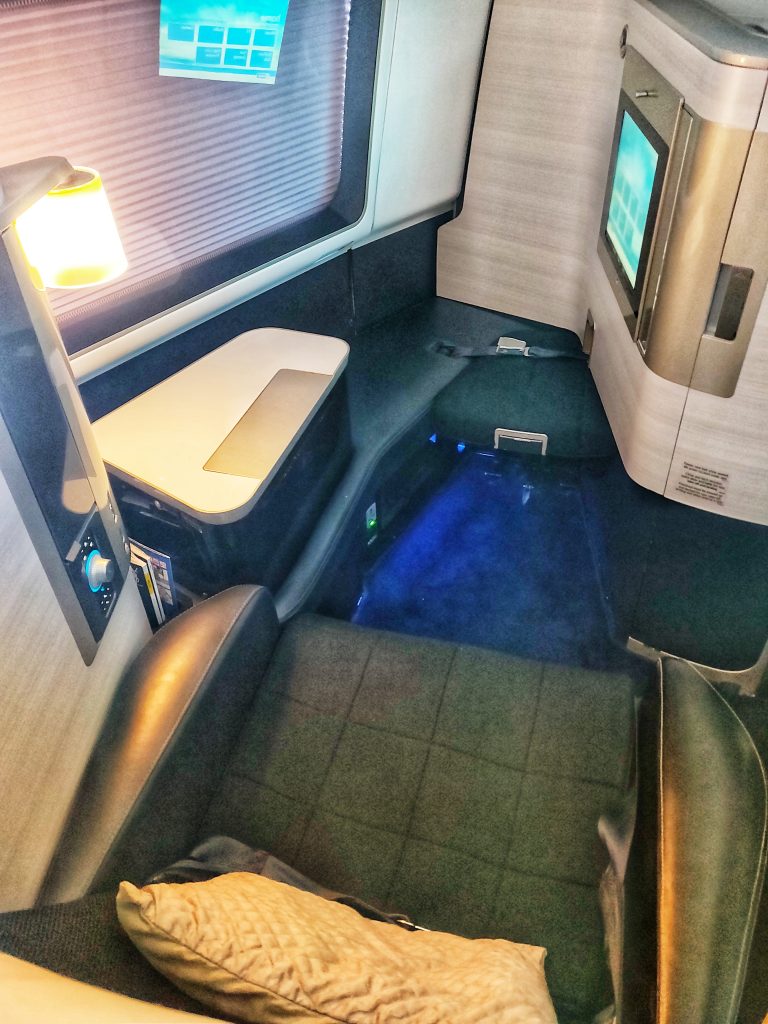 Onboard we took our seats in 1K (me) and 1F. Our friends were in 2E and F behind. The first thing you notice about the 12 First class seat B777-200 operating the PVG (Shanghai) route is the lack of anything behind 2K! This is because they have been removed to make room for the crew rest area.
The champagne was popped, and the pre departure beverage was swiftly server and topped up. The crew all seemed to be full of smiles and thus, so did we.
Now lets talk about the seat quickly. I have flown F on the B777 various times before, and whilst it may be dated, after the A380 its one of the larger F suites in the fleet. For clarity, my First seat preference would be as follows –
B787-9
A380
B777
B747 row 1 (there is something special about sitting the nose with the windows curved around you)
So the seat is spacious, and most importantly comfortable so a perfect way to travel the 10hrs+ to Shanghai.
Here are a few pics of the familiar F suite light and seats controller –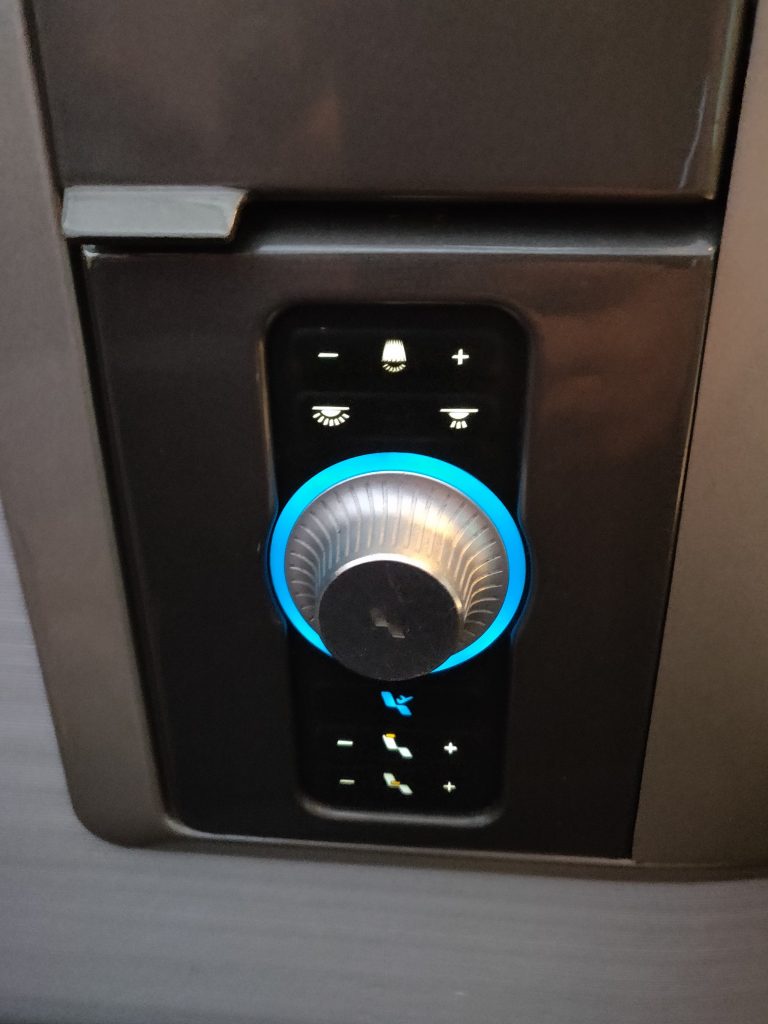 Turn the knob for seat movement – the light changes from Green when out of the Take-Off/Landing position.
And the very old dated IFE controller –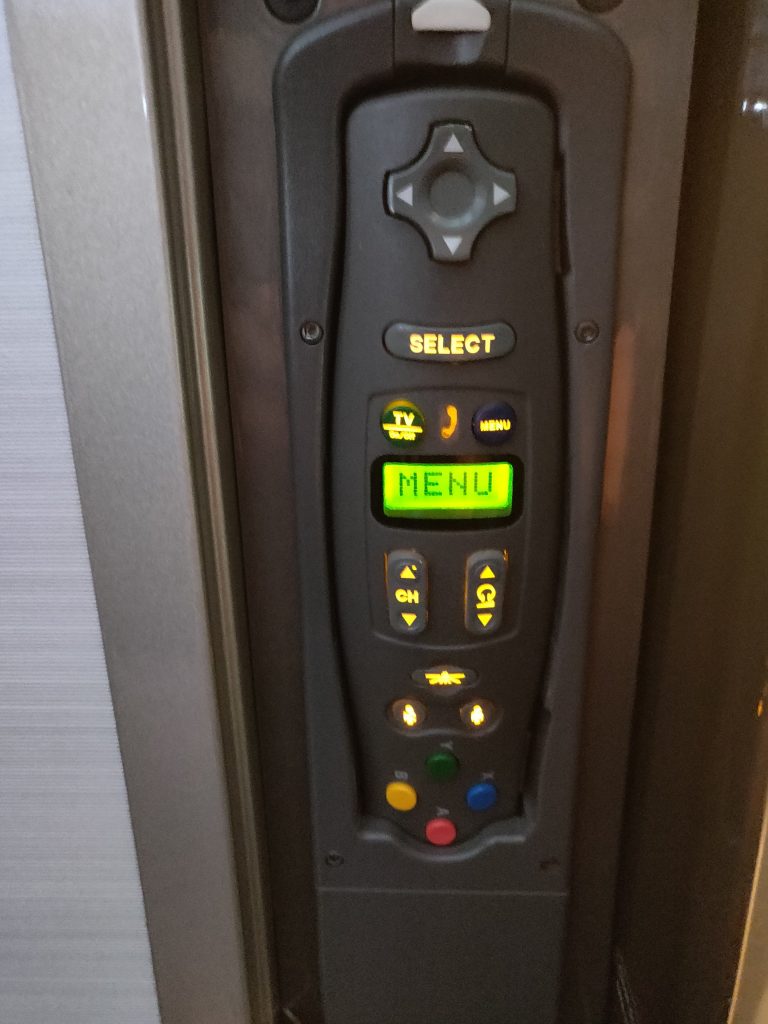 Now as a Gold Guest List card holder I sometimes don't bother to pre-order my meal as I will generally get a good chance to be high up the list for first choices. So the menu came round and I had a quick glance at it.
Food Choicegate – aka Third choice meal time
The Pork sounded lovely so I had my eyes set on that following the soup. I usually always go for the soup in F, as BA rarely do a bad one, and frankly its hard to mess up even at 38,000ft.
Amenity kits, sleeper suits and slippers were then distributed around the cabin.
This is where the fun ended, for a short time anyway….
A keen crew member had gone up the A side of the cabin and taken all the meal orders without checking status etc. Now BA has taken some flack recently on public forums and social media for poor performances in F and going to far with cost cutting. I think you can see where this is going. The crew came to take our orders which were of one Pork and one beef. They had neither. They had only loaded two of each. There goes my first AND second choices…. I'm then told its 50/50 on if they have any duck left which was my third choice! My partner in 1F didn't really fancy any of the other choices after pork and beef so was offered a Club World menu.
Now let's go back to the elephant in the room. "You should have pre-ordered". Well, no in my opinion. This is First class, and frankly no matter what I have paid, or not paid for my ticket, I expect first class service. As a GGL and Gold card holder on one booking with a very lightly loaded cabin I don't expect to have to worry about meal choices. Not getting my first choice, fair enough. But to have to go down to my third choice due to a protocol failure on meal distribution is not acceptable in BAs "ultra premium" cabin. And before everyone starts – yes the meal loads were low. Too low in my opinion, but this is more a service failing, than "a race to the bottom".
Anyway, I digress….
The CSM came and saw us both to apologise, and even said he would personally make sure we got our first choice if we so wished. Now as I just said – anyone who flies First deserves First service, status or not. So because of this I was not comfortable or prepared to take someone elses choice from them after it being offered and confirmed to them.  I did appreciate the gesture from the CSM however.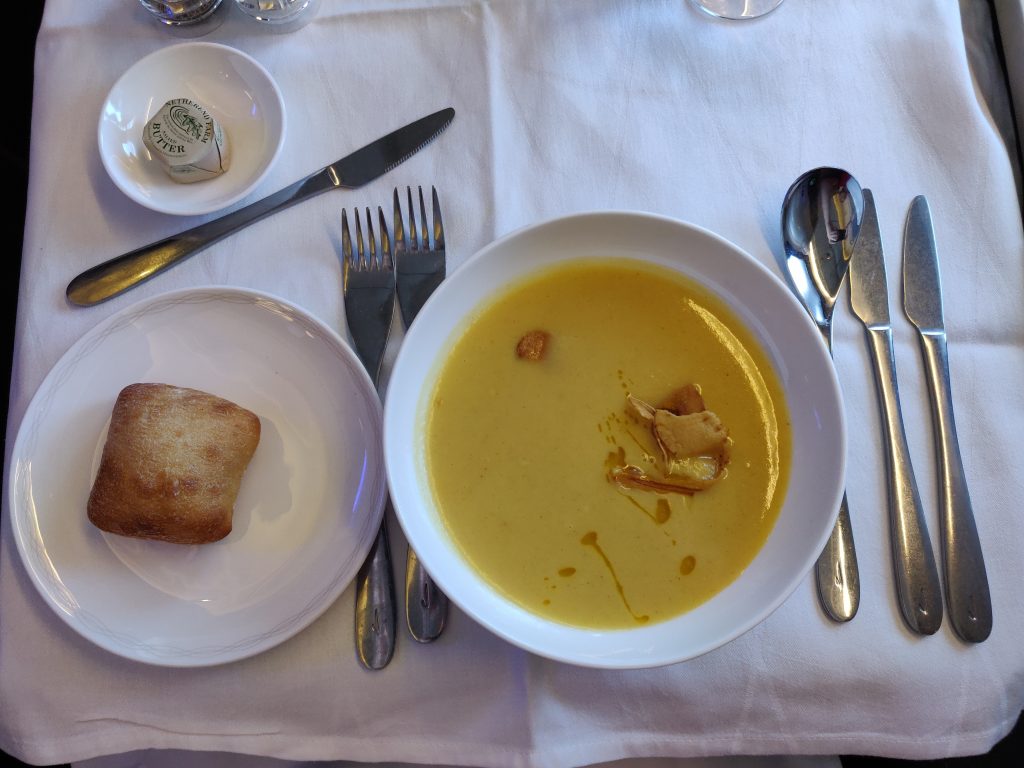 I ended up with the soup and the duck which was decent, albeit not outstanding. My partner had the beef from Club World, which they presented to F standards and was "very tasty".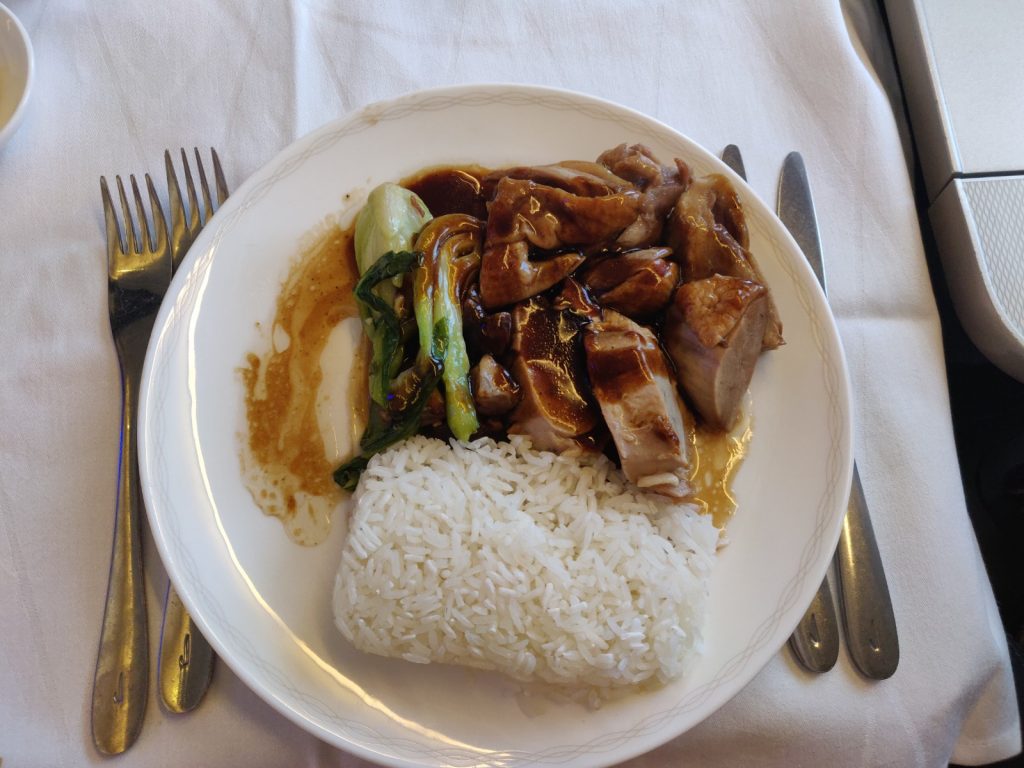 We had WiFi onboard this plane and I purchased the entire flight "streaming" package for £23.99. Now whilst I don't doubt its faster than the normal one – don't expect HD Netflix, or YouTube without buffering! It was fine for emails and to keep in touch with friends via WhatsApp.
The champagne was flowing, I typed out my email to BA Customer Service, and the crew were amazing. Smiles all round. No point beating yourself up for the entire flight! About an hour later I fancied another bite and it turns out an off-menu Sea Bass dish had been loaded. I proceeded to have this the only way in F – with a bottle of LPGS next to me! Again a good tasty dish. In between chatting to the lovely crew, each other and friends, the flight went in a flash. I thought it wise to order a small breakfast before landing so had some fruit and yoghurt (yes that's another bottle!)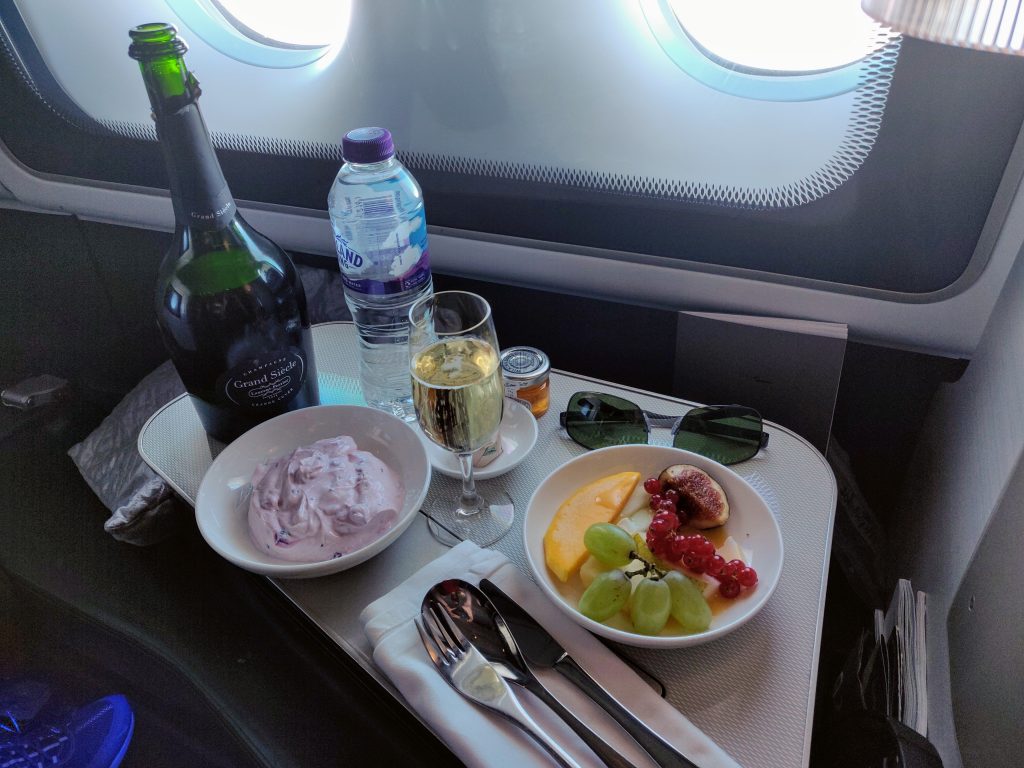 Four weary passengers then stepped off the plane and off to Chinese immigration we went….
A few things I have not covered –
The IFE – it's the old rockwell collins system, and the hateful resolution frustrates me – so I did not use it, preferring my smart phone and laptop/tablet.

The bed – again I did not use it, as I did not sleep at all during the flight. I can however confirm as I type this from BA168 on the way home to London that it's comfy and spacious. I am a shade over 6ft tall and have plenty of space to stretch out anyway I want. The 4 hours sleep I just got were very comfortable.
Now takeaways from this flight?
Well, ultimately if BA catered F like it should be would this have happened? Who knows? I appreciate it is a fine line and they don't want wastage. But F is F. And F doesn't have the tagline "Sorry we are too tight to cater enough popular dishes for all – so make sure you pre-order." Will I pre-order my next flight? If I remember, possibly!
Customer Services Response
For clarity, this is the response from BA Customer Services I received –
Thanks for letting us know about the catering problems you had on your flight from London Heathrow to Shanghai on 27 September in our First cabin.

I completely understand why you're annoyed we couldn't give you your first choice and second choice of meal.  I absolutely agree we've let you down, especially as you were seated in the first row.  We keep an eye on trends so we can make adjustments to the loading ratios based on the meals we serve, but it can be hard to get it right on every flight.  As I'm sure you're aware, the ability to pre-order is now available in our premium cabins for all of our outbound London Heathrow routes, which will guarantee your choice of main course.  However, I appreciate this doesn't change how your own journey was affected, and I do apologise for the inconvenience caused.

To show you how much we appreciate your support, I've added 6,500 Avios to your Gold Guest List account.  Please accept them as an apology.  Subject to availability, you can put your Avios towards future bookings or use them to upgrade your class of travel next time you fly with us.  They can also be used for hotels and car hire.  Please visit www.ba.com/executiveclub to find out more.

Thanks again for getting in touch with us, as your feedback is essential to help us improve our service.  

We value your support as a Gold Guest List member, and we look forward to welcoming you on board again 

on Sunday.

  Please feel free to contact me directly using the blue link below if I can help you with anything else.
I will leave you to make up your own minds. I will fly BA F again. But I won't be accepting 6,500 avios.
Update
The offer was increased, a very small amount due to my GGL status, but they were hard and sticking to the 6,500 is standard for food issues in First.  They have noted my displeasure.
Michele is doing exactly the same trip in a month's time in First with Roving Reporter, so it will be interesting to see what her flight is like when we read her review for comparison.
You can read other BA First and Club review here.