It's a little-known perk of flying British Airways First Class from Barbados that you get to use a private jet terminal as the lounge. I'm not totally sure how people find out about it, as there was no communication from BA in advance. I would assume that people are informed at check-in if they turn up in the wrong place. I have heard that some people had it in their itinerary, but I can't say I noticed it anywhere on my information.
The IAM Private Jet Centre
The IAM Private Jet centre is not in the main airport building, so you will need to get to the building by car. My taxi driver found it hard to find, but there is a signpost for it at the turn-off next to St Bartholomew's Church.
When you arrive, you enter into reception and security. Even if you have already got a mobile boarding pass, you will have to show your passport and get a paper boarding card that will have to be shown to board the bus to the aircraft.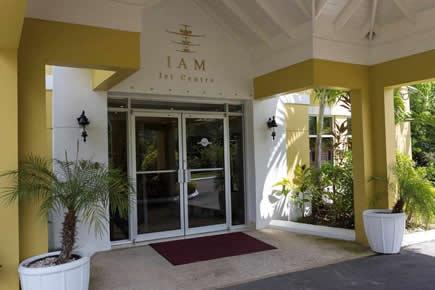 I arrived around two hours before departure, and I was the only person in reception. This definitely felt like a private jet service as I went through security in a matter of seconds. This was the best part for me. If you wanted to leave getting to check-in until the cut-off time to enjoy Barbados, you would not have to worry about a queue here.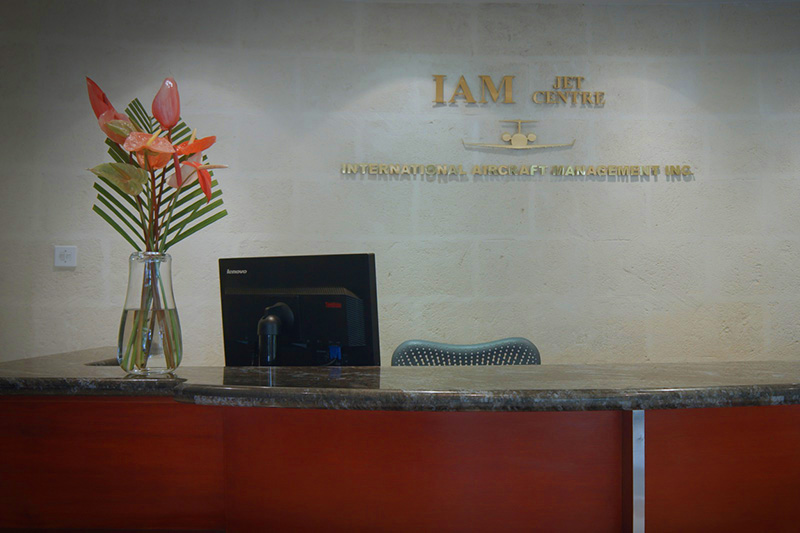 Once the formalities are done, you are invited to the lounge upstairs. There is no lift, so you have to lug your hand luggage upstairs and downstairs, which is not exactly the epitome of luxury, but they let me leave mine downstairs when I asked due to my knee issue.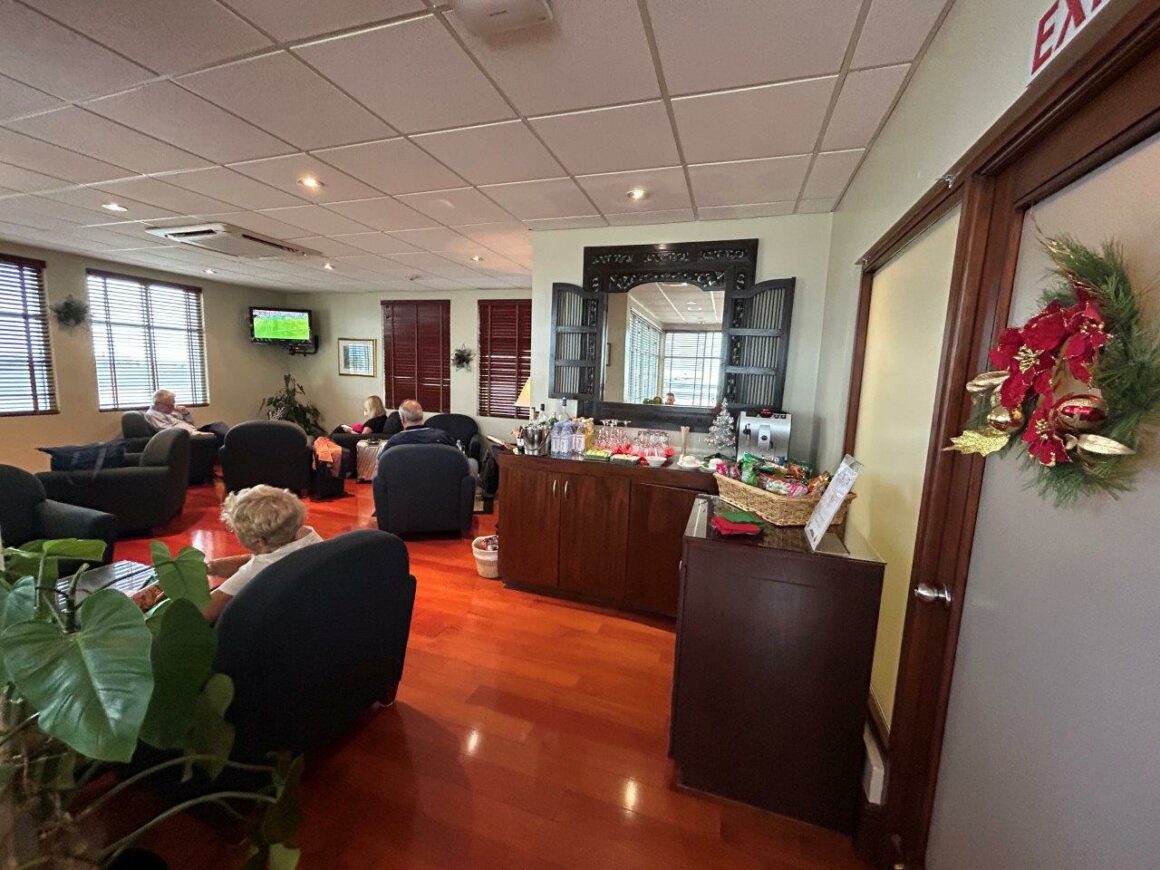 Upstairs there are a small lounge and toilet facilities. Staff were generally very helpful and would fetch things for you. When you first enter the lounge, they give you the general layout and flight information. As they cleared empty glasses, the staff asked if you would like more and would bring it over.
The flight was full in First, and there were only just enough seats for everyone. I managed to snag a corner for myself. One small area opposite me held all the rather sparse food and drink.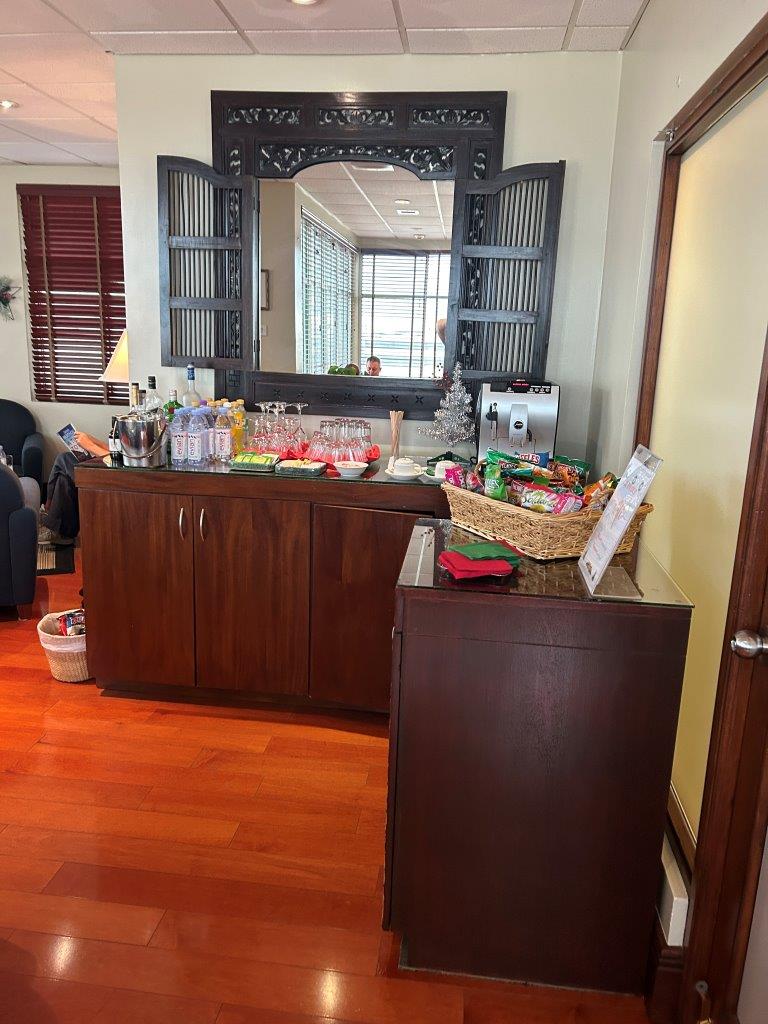 If you wanted to eat before the flight, then you would be much better going to the main lounge in the terminal.
This was the rather dismal selection: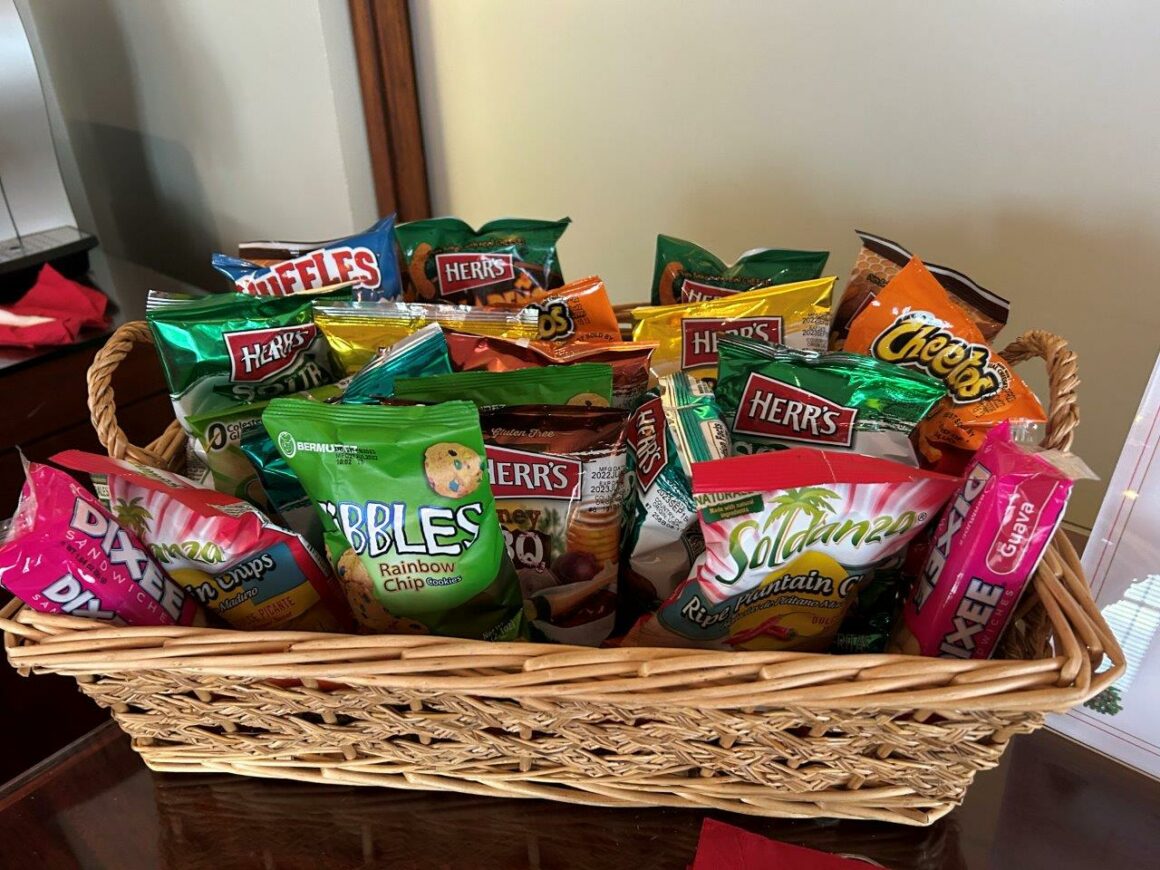 For me, it was not an issue as the flight was at 5pm. So I'd had lunch already, and I did not want to go straight to sleep on board either. It's also worth noting that you can't use the airport shops if you use this terminal, but that wasn't an issue for me either.
The drinks selection was much better with Laurent Perrier Champagne, Mount Gay rum, Grey Goose Vodka and Tanqueray gin.
The champagne was in quarter bottles which you could pour a glass from or take the whole one with you.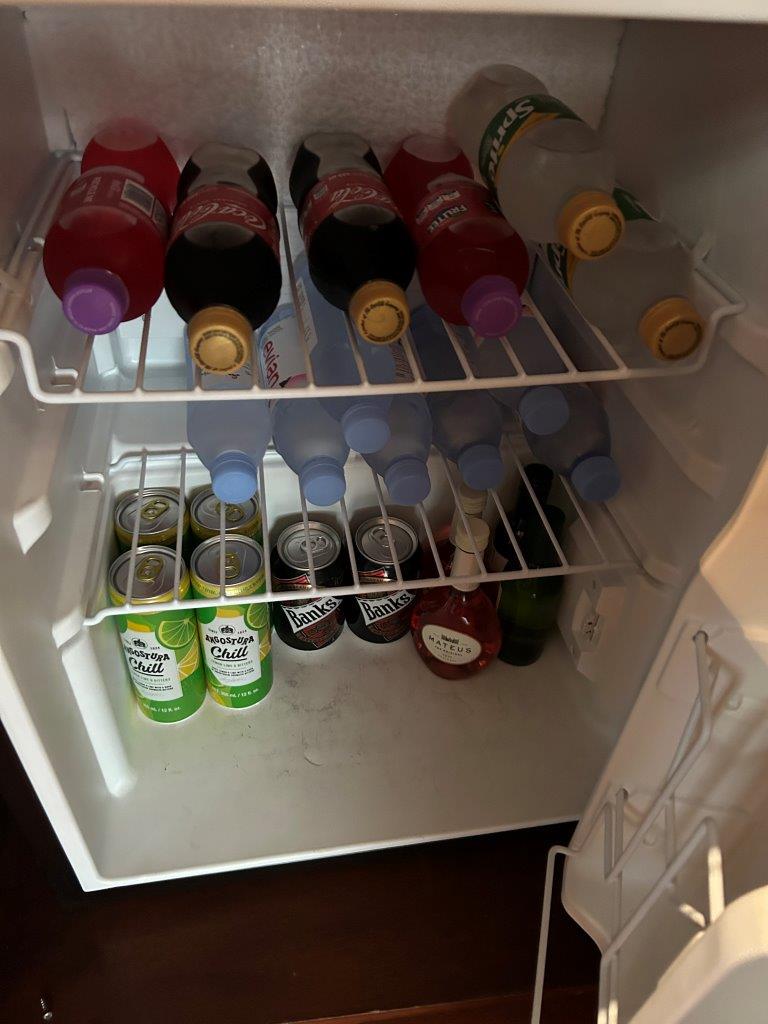 In the fridge was a selection of wine, beer and soft drinks. There was also a coffee machine and a decent select of teas.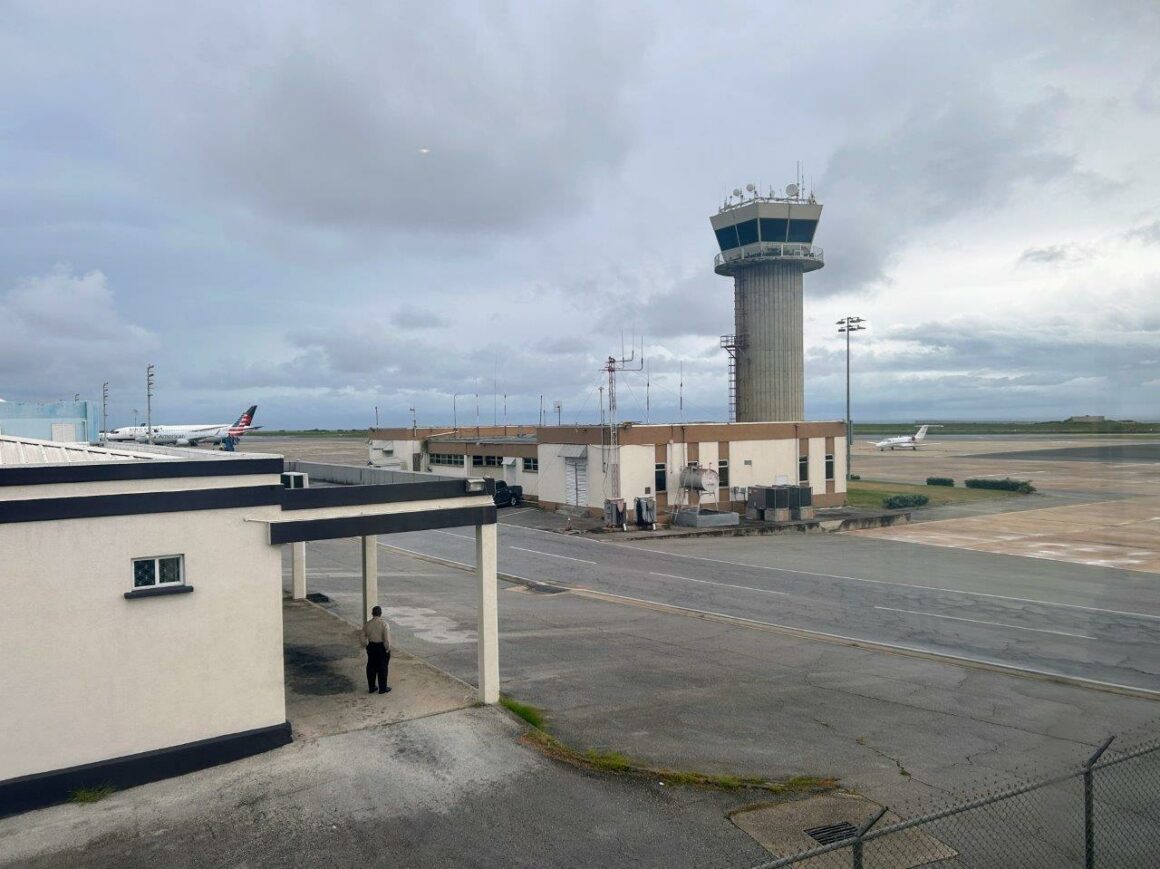 You could see part of the apron through the blinds and the air traffic control tower. I could also spot when my aircraft had arrived.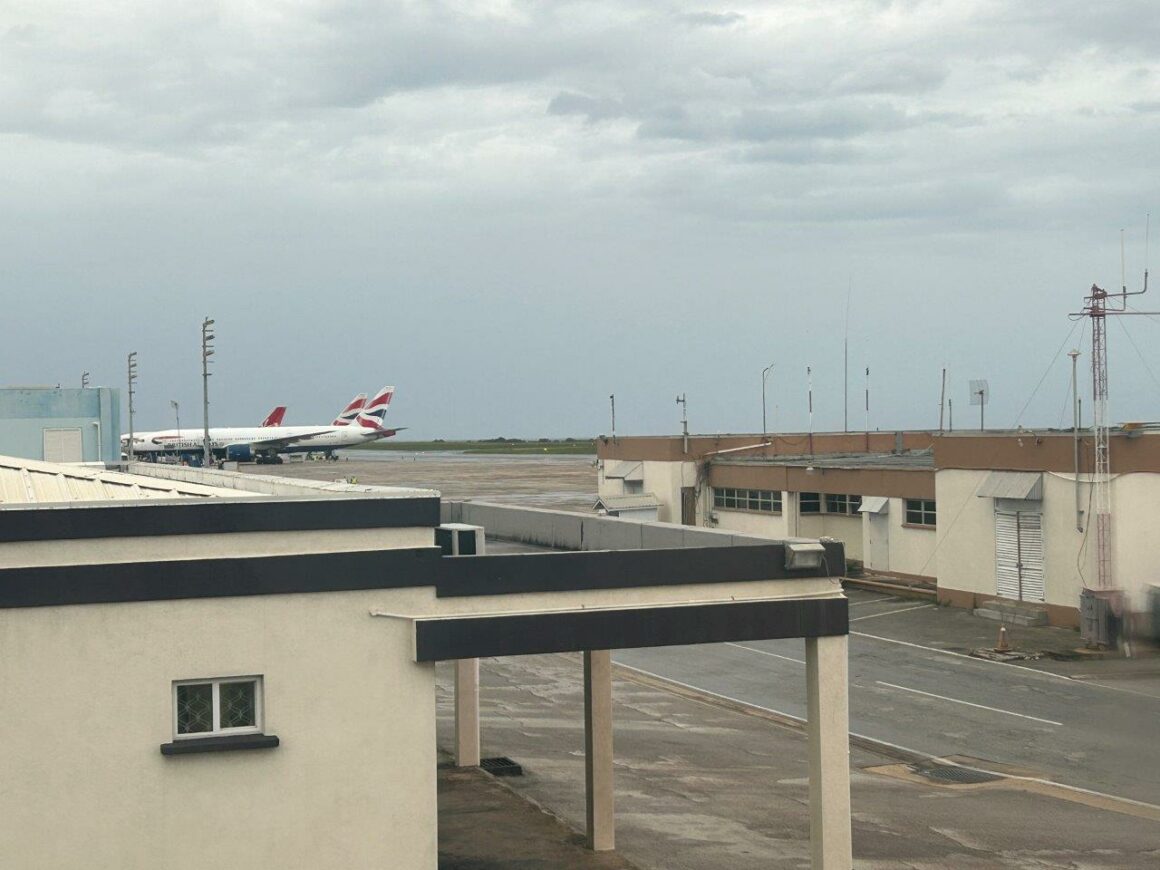 Boarding the British Airways First class
The other good thing about being in a small closed environment like this was that staff kept us up to date with the planned boarding time. The aircraft was a little late landing, so as the departure time slipped, they kept us informed of the new time. We were then given a ten-minute warning before boarding was expected, which was handy.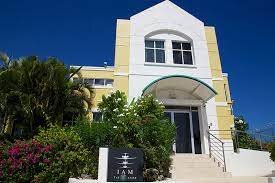 When it was time to board, there were two fairly luxurious minibuses directly outside the back steps. Again this is probably not the best design, as there was an older lady who struggled a bit with the steps.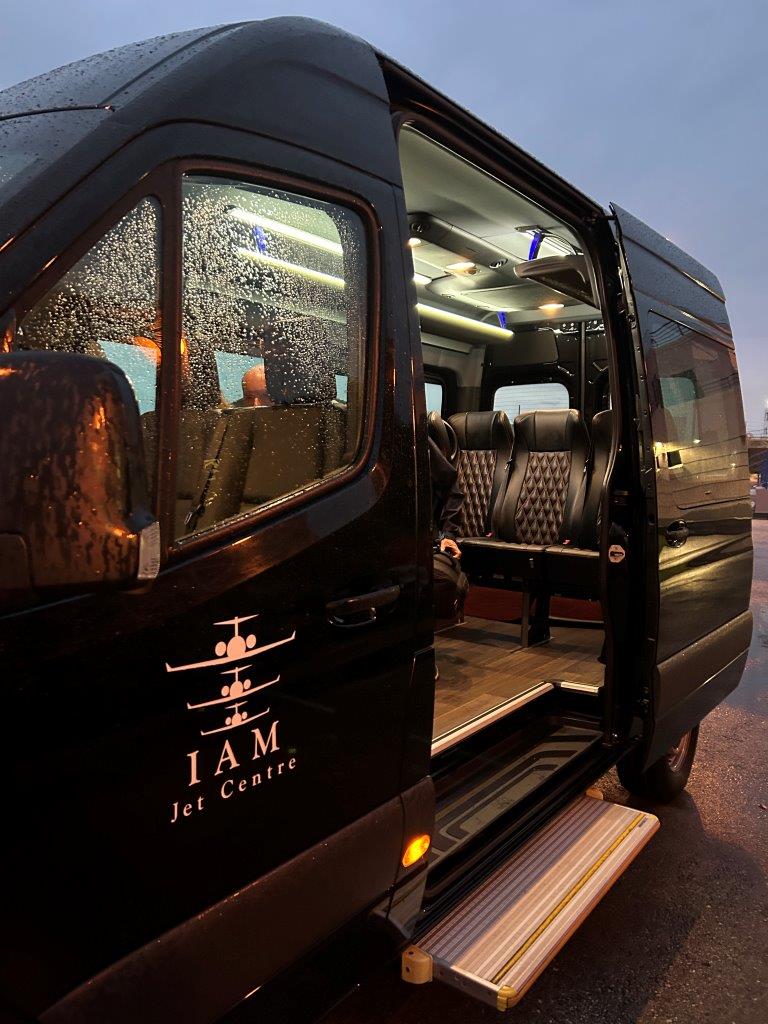 This definitely felt a lot more luxurious than being crammed into a bus without a seat at Heathrow as I had been on the way out.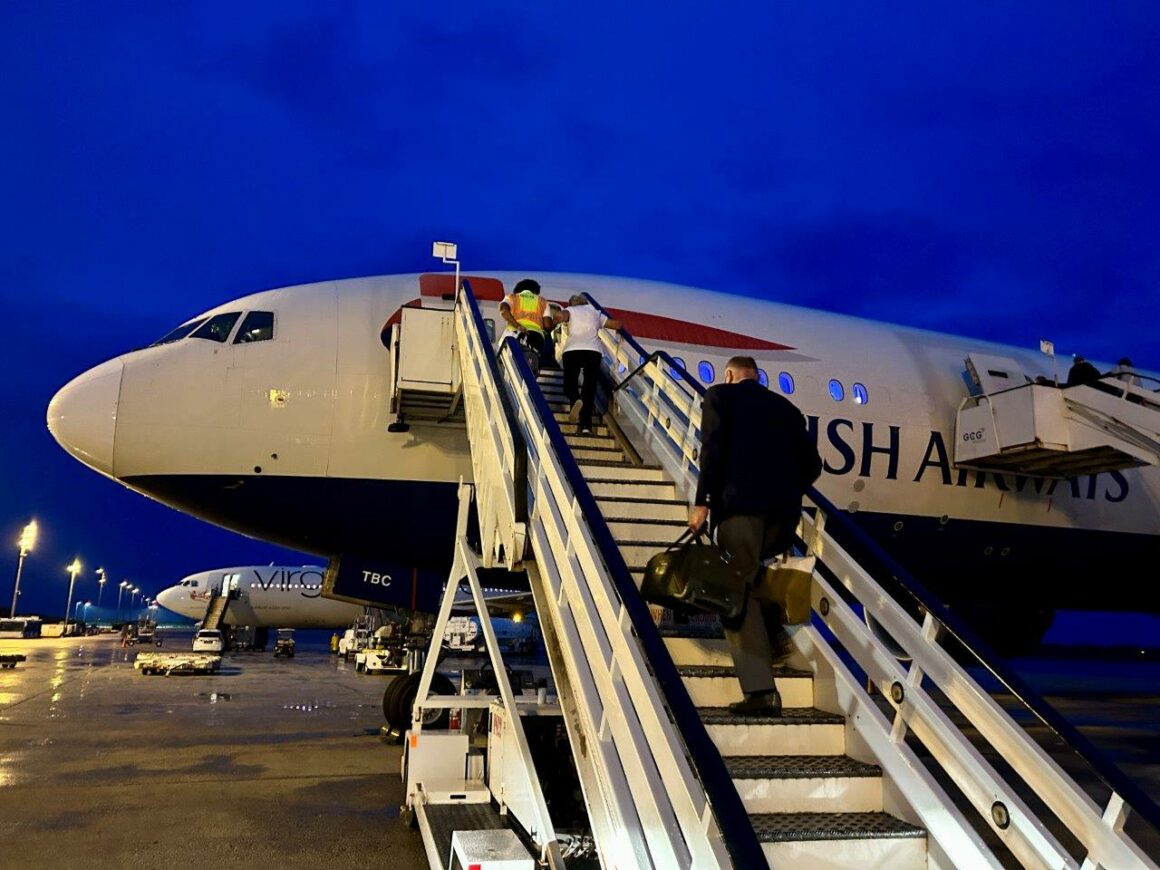 Once at the aircraft, one of the IAM staff came to help me up the steps with my bag after she had finished escorting the older lady to the aircraft door. We boarded through door 1, which made it feel like a very private experience as we were driven directly to the steps.
While the lounge itself is not quite what you would call super luxurious, I really liked the experience. Compared to queuing at check-in, security and the usual gate scrum, it was a much more pleasant experience. I also liked being driven to the plane.
Once onboard, I was greeted by the cabin crew and offered a pre-departure drink. I was also given a washbag and asked if I would like pyjamas and slippers.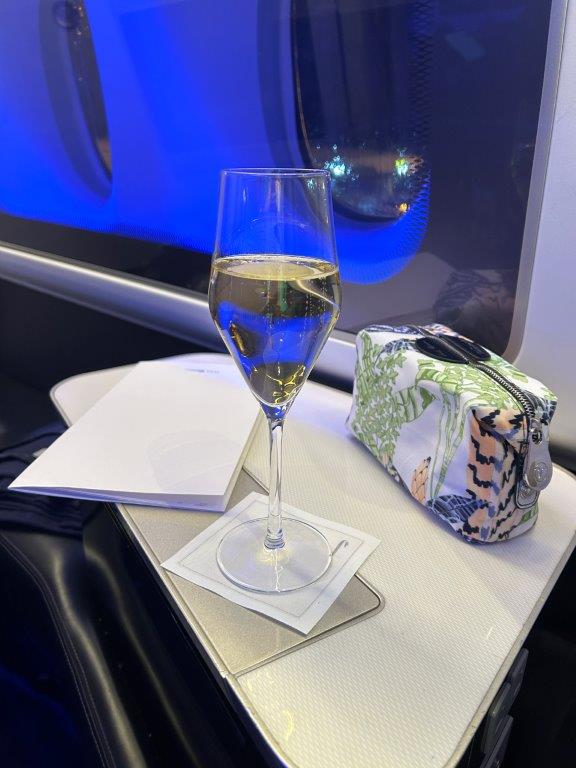 The Inflight Manager came over, and I had an interesting chat as he had been called out on standby after the crew that should have brought me home had diverted due to a medical emergency. I noticed that he introduced himself to every passenger in first, which you don't always see.
British Airways First class Food and drink
Sometimes the food outbound from the Caribbean can be a bit below par compared to other countries, so I was interested to see what I would get in First.
Here is the menu:
I thought it looked OK compared to what you would get from London.
As usual, the service started with the canapés. I thought the chunk of Brie cheese was not really what I would call a canapé, but the rest were very tasty.
I asked for a glass of Grand Siecle champagne to go with it, at which the cabin crew member looked at me completely blankly. I'm guessing she may not have been first class trained if they had to call a crew off standby. She had to go and fetch the menu and get me to point at the one I wanted. She seemed a little quiet initially, but I'd guess that was down to inexperience. Later on in the flight, she relaxed a bit, and we had a nice chat.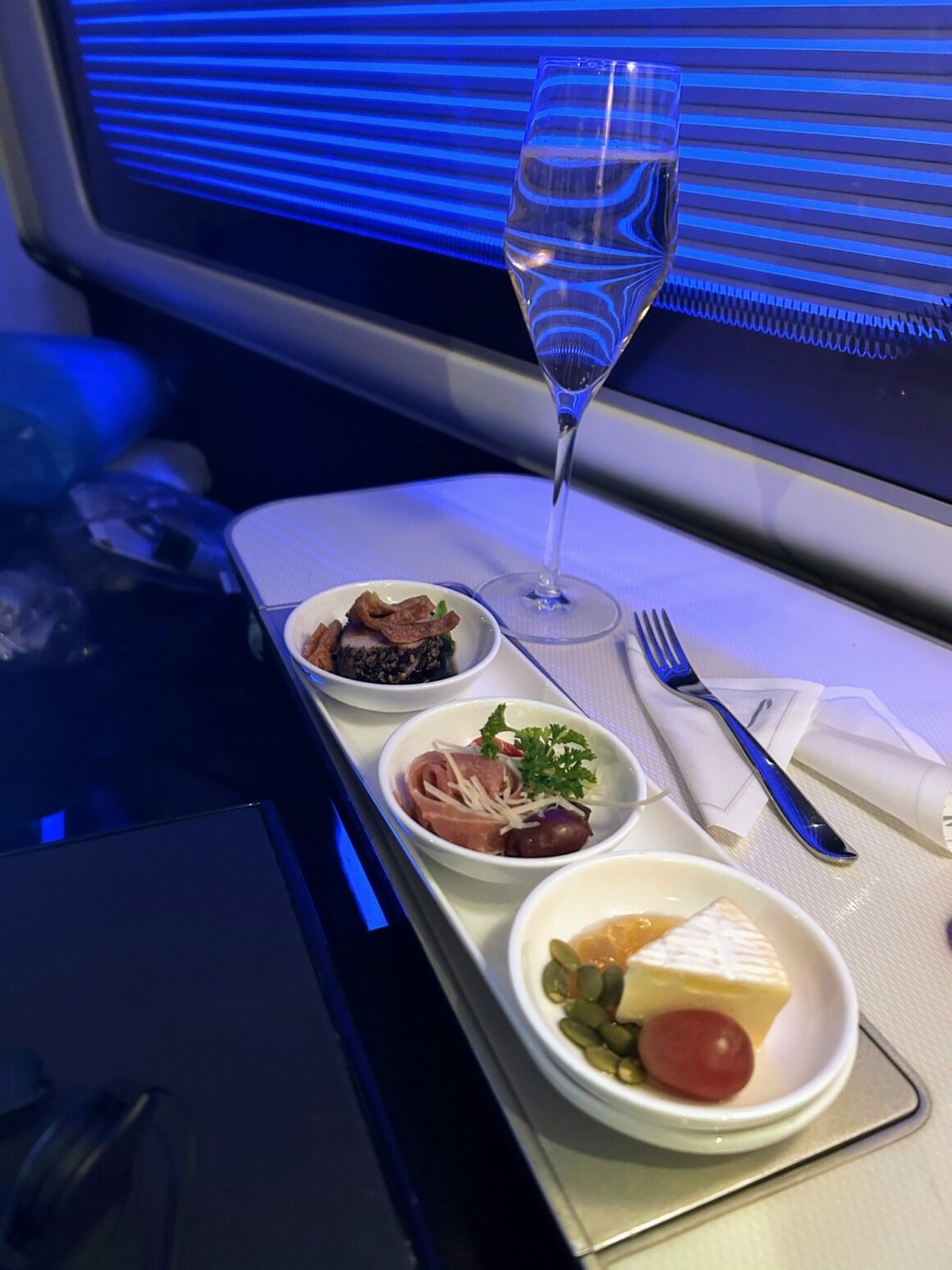 For the starter, I picked the salmon, as you can't really go wrong with that. I was offered a choice of bread roll along with butter and olive oil once my table had been laid up.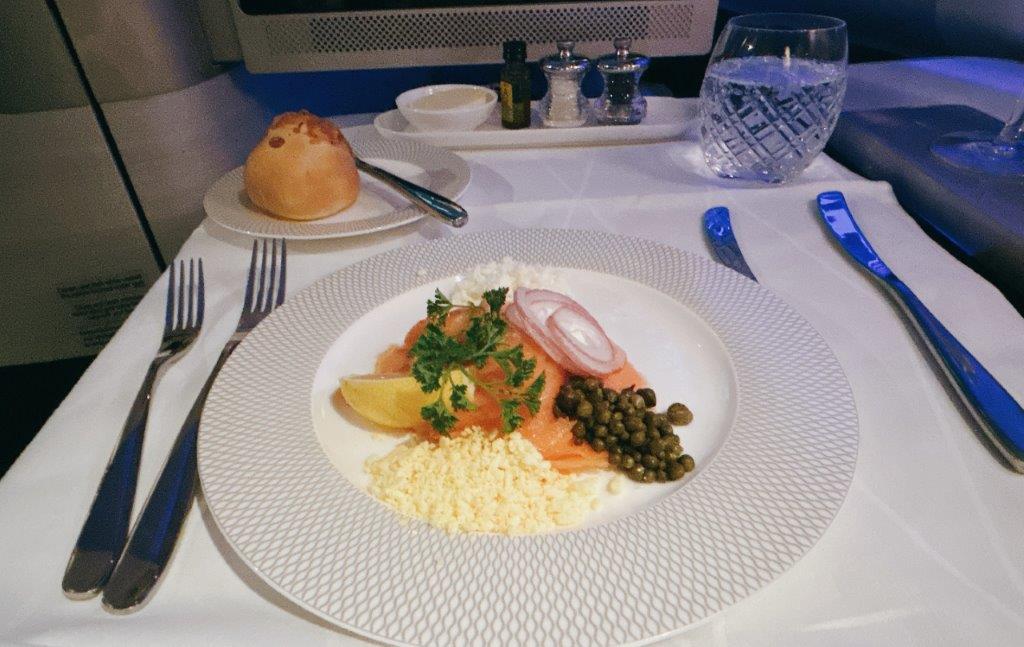 I was really impressed with the salmon. It was a large portion of high-quality salmon that had been properly trimmed. The salmon was also not too smoky either.
I wasn't going to risk the beef as a main course as generally, unless it is something slow-cooked like the fantastic slow-cooked beef rib I have had before, it is going to be overcooked for my taste. I generally avoid anything that says medallion or fillet as I know it won't be how I want it.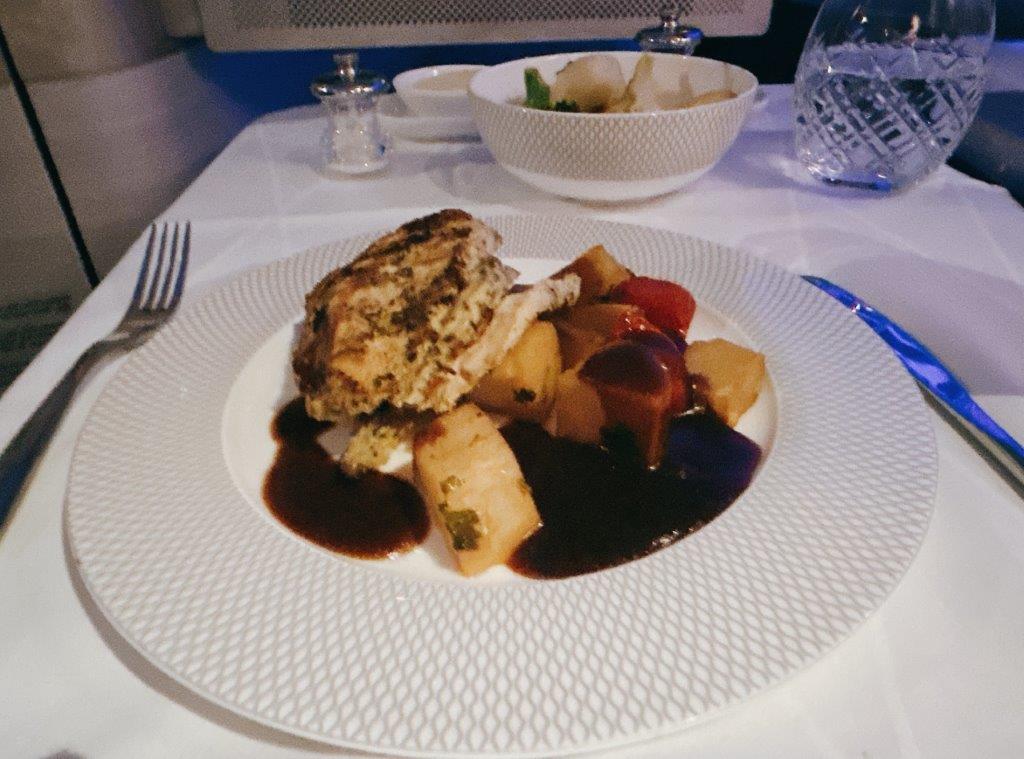 Instead, I went for the chicken, which was also a large portion. The jus was rich, and the chicken was not too dry. I liked that it had been cooked in the marinade to give it extra flavour. The plantains were also tasty and gave me a final taste of Barbados. My only complaint is that the vegetables were very carb-heavy with potatoes, plantain, and sweet potatoes.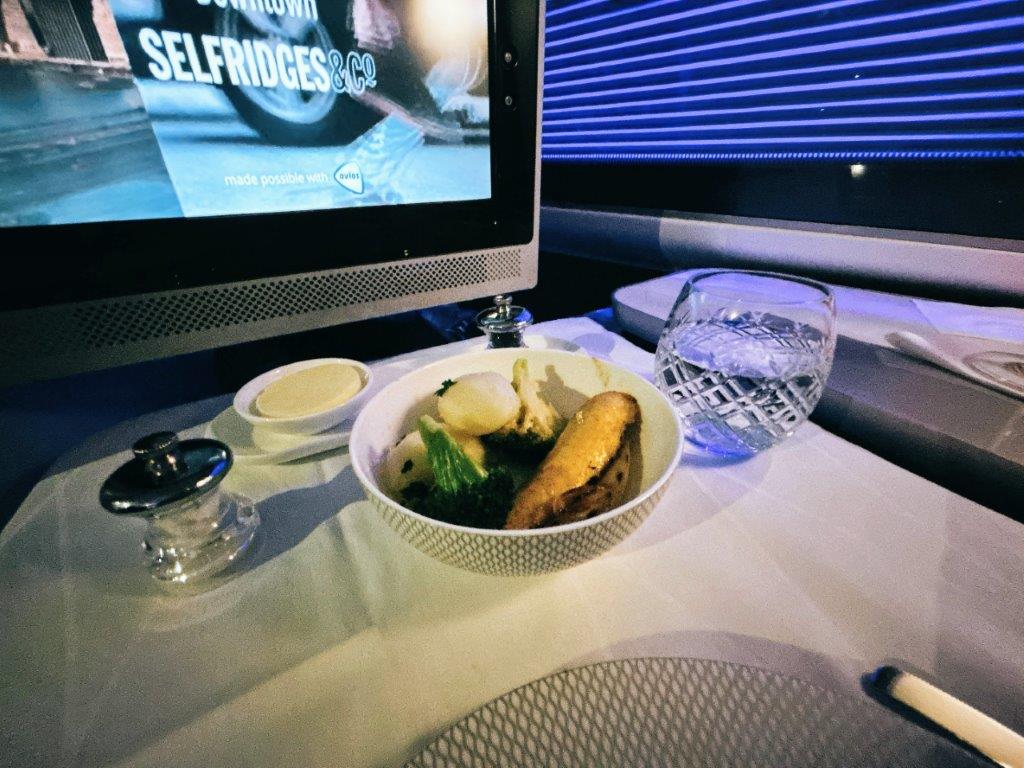 I was too full after the large portions to go for dessert, so I thought I'd ask for a cognac to finish off with some Lindt chocolates. After #brandygate, it did reappear in first for a short time. Now it appears that it is still printed on the menu but does not get loaded on the aircraft. A TLFL reader also reported this recently, and it was the same on my way out to Barbados.
So I made do with a Baileys, but I do think when BA are charging $10k for a first ticket, it's not too much to ask for them to manage to load a bottle of cognac. Apparently, it is due to supply issues, but if their supplier still can't get their act together after all this time, perhaps they need to be looking elsewhere.
I was offered breakfast when I woke, but I was still full from those huge portions, so I just had some tea.
Sleeping vs Club Suite
I will discuss the seat and cabin, along with other information, in more detail when I review the outbound flight. However, I will mention sleeping. The crew offered to make up my bed, but I was happy to do it myself. Although I think the Club Suites are a great product, I definitely noticed the difference having flown back from New York in them just before I went to Barbados.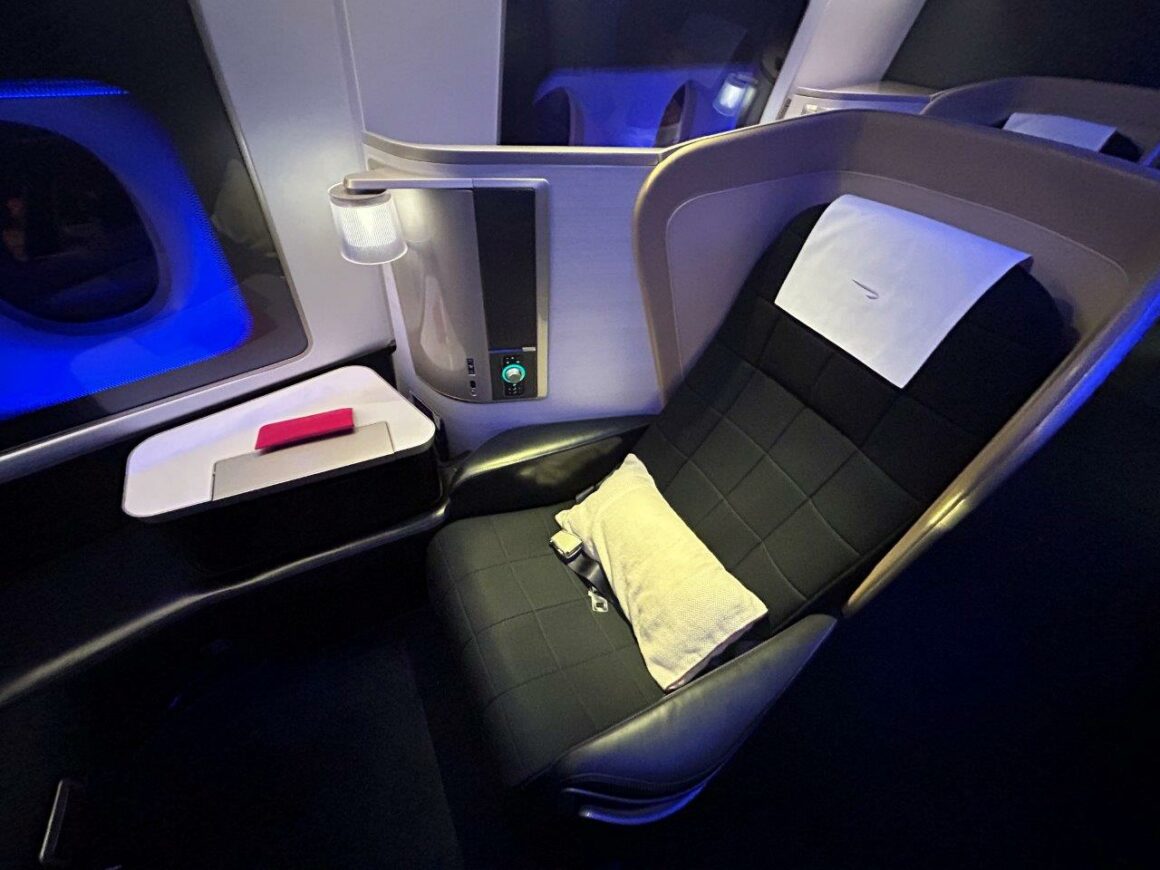 The little things that make the difference for me in British Airways First class are the room around the seat which, unlike the Club Suite, means that you are not putting your legs under a TV screen.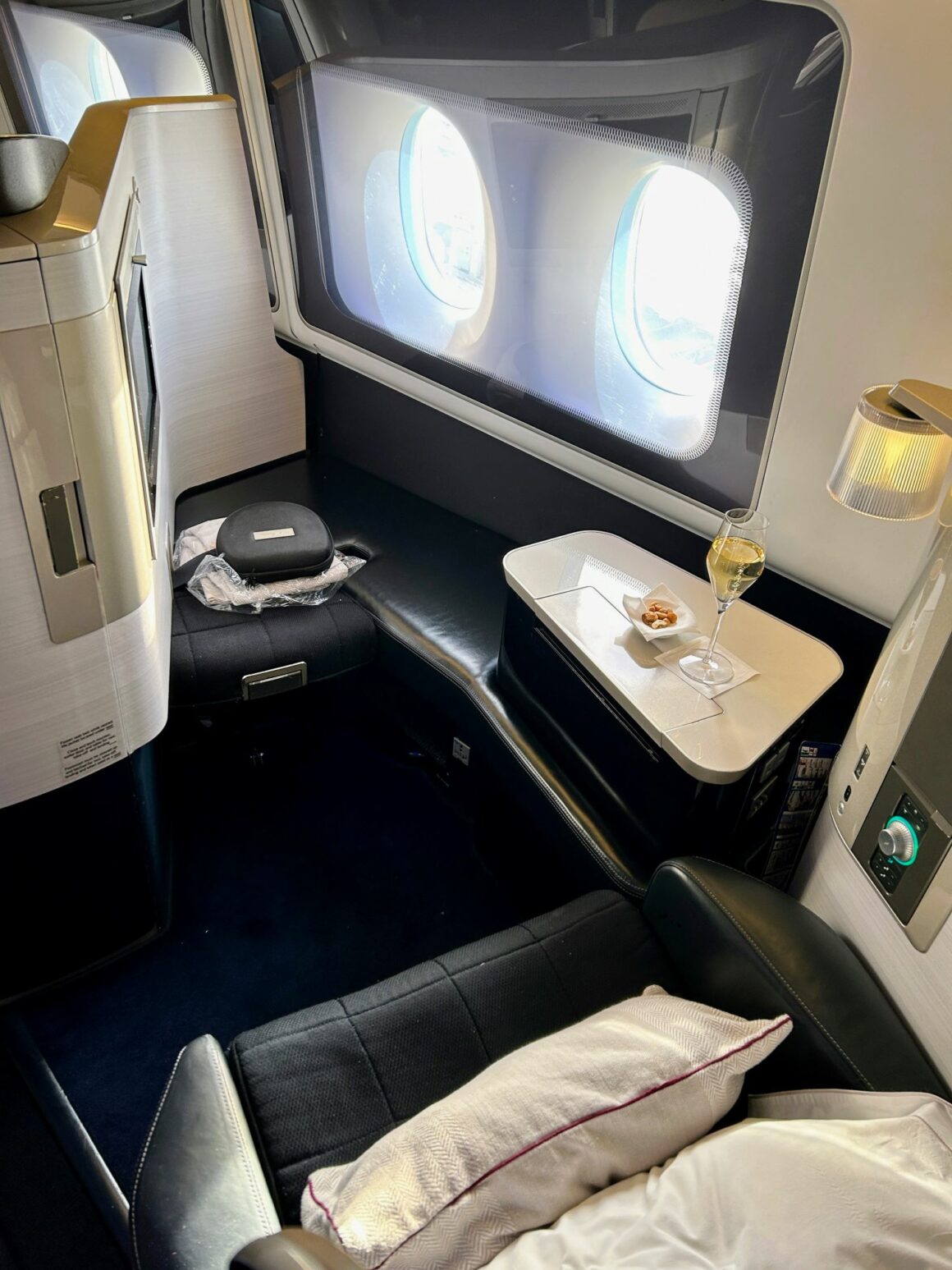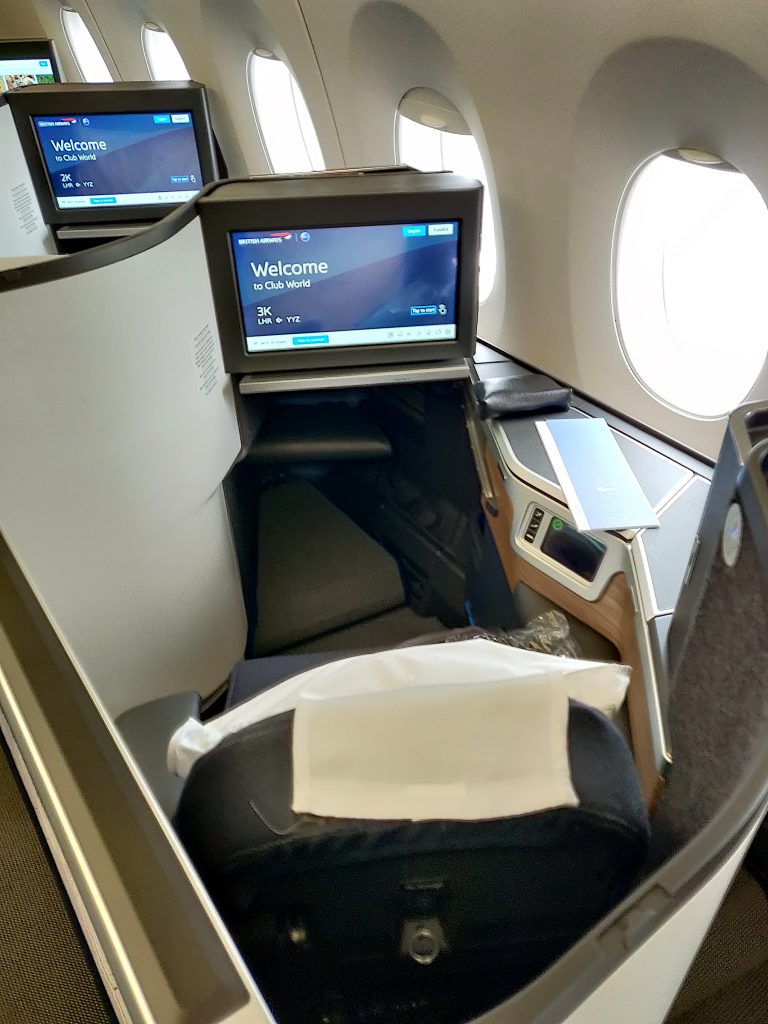 The mattress topper is also a lot more substantial in British Airways First class, and you get the day pillow and blanket too. This allows you more choice of how warm you want to be and how high your pillows are compared to Club. I definitely find sleeping more comfortable in British Airways First class. Overall, I slept well for around 3 hours on the flight as it was a short flight time.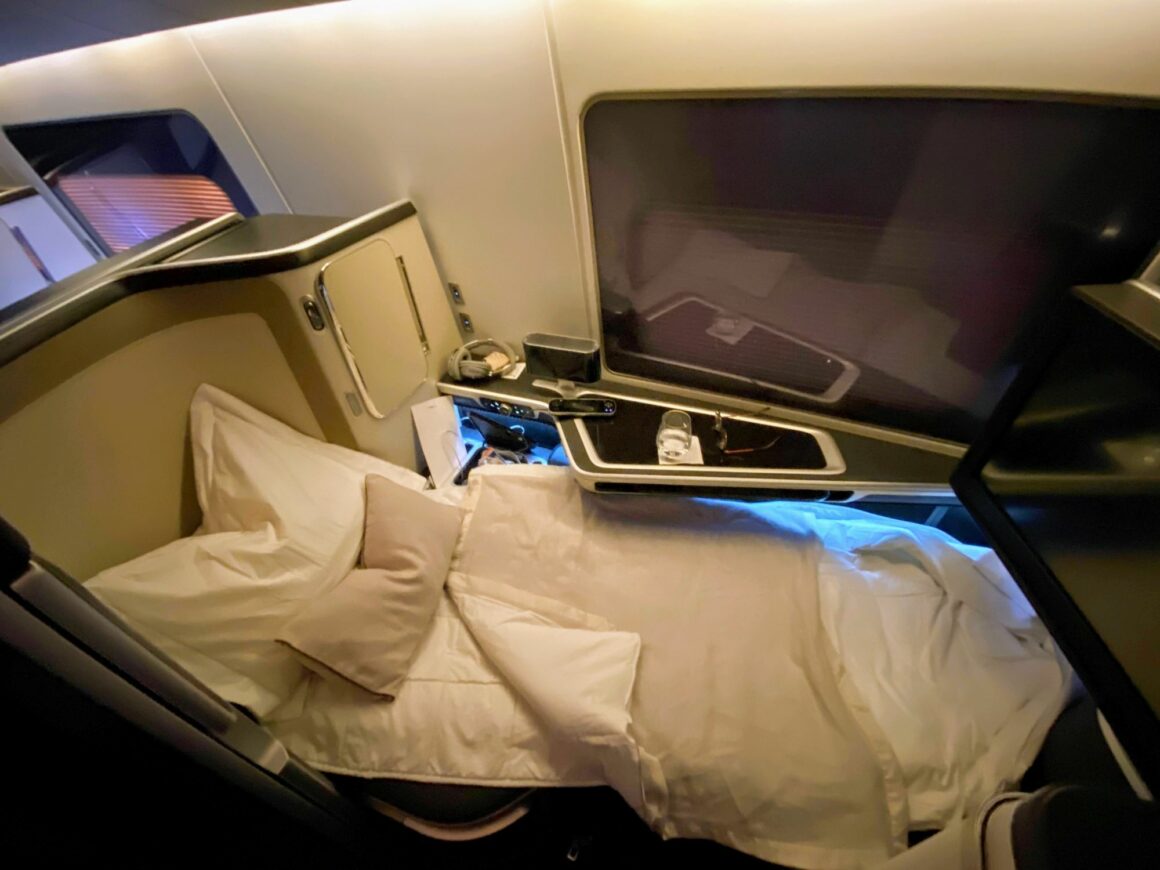 Conclusion
I did enjoy the novelty factor of the IAM Jet Centre – if only all travelling were this hassle-free! The flight itself had decent food in generous portions so no complaints there. The cabin crew member seemed a bit inexperienced in First, but there will always be situations where things go wrong, and they have to substitute someone, which is what I suspected here. The one thing that irked me (and yes, I know it's a first world problem) is the continuing issue with cognac supplies onboard. Every other airline seems to manage it, even in business class. BA need to sort these issues out.
If you want to read what you can expect on arrival at Heathrow when in First, you can read this article.