While Times Square is a fantastic place to stay for being central to most of Manhattan, hotels in this area have been notoriously poor. Overpriced, tiny rooms, and often outdated. So when I saw on the press trip to see British Airways' new lounges at JFK T8, my heart sank slightly when I first saw where I was staying.
Then I actually looked at the Marriott Marquis I was impressed. It has recently had a full refurbishment, and it looked very modern with what seemed to be spacious rooms. Normally I would not choose a large hotel like this, so let's see how I got on.
Location
The hotel entrance spans a whole block which is actually quite useful as you can exit onto either 45th or 46th street, which saves time. It is literally a few strides into Times Square, and if you want to pop out to buy a few bits and pieces or a snack, you are spoilt for choice.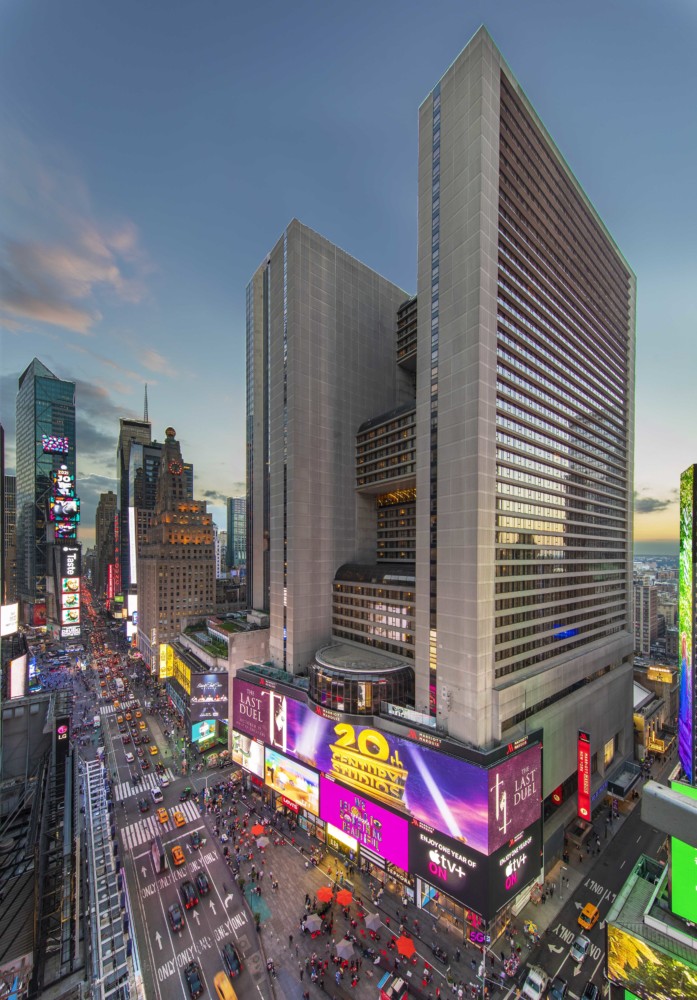 If you are planning to use the subway, it is also close to the 42nd Street/Port Authority subway station, which is very handy due to the large number of lines it offers.
Check-in at New York Marriott Marquis hotel
I arrived at a different time than the rest of my party as I had chosen to try out the Blade helicopter service from JFK.
Once you arrive you may be slightly confused as there is nothing much on the ground floor of the hotel apart from the elevators as reception is on the 8th floor. Despite being spread over many floors, the efficient elevator system which allocates you a lift, meant you never had to wait long.
Despite being the largest hotel in terms of rooms in Manhattan (1966 rooms), from what I saw, it does not suffer from the queueing issues that many large hotels seem to have. There was a multitude of check-in desks and no wait when I arrived in the afternoon. The check-in desk added my Marriott Bonvoy number to the booking and welcomed me as a Platinum member. She explained about the lounge and the main restaurant and bar.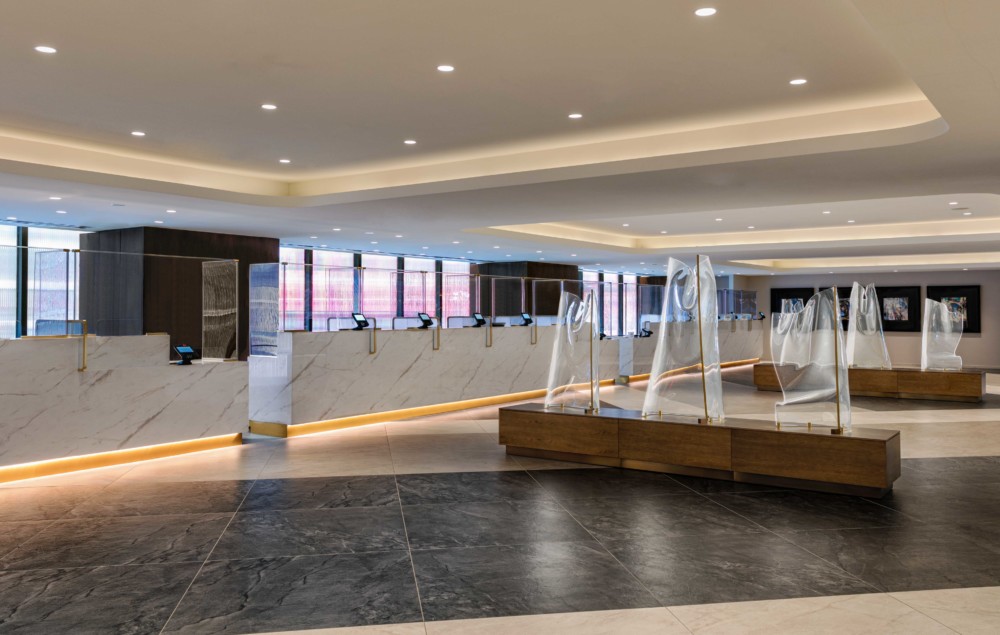 There were plenty of facilities around the lobby, including souvenir shops and a money exchange, as well as the bell desk. One feature I really liked was the amount of seating dotted about with side tables and charging points. Often you get kicked out of your hotel room early compared to the transatlantic flight times, so this would be perfect to pop back for a quick charge of the phone and a sit-down. Or it would be handy if you were waiting for your room to be ready.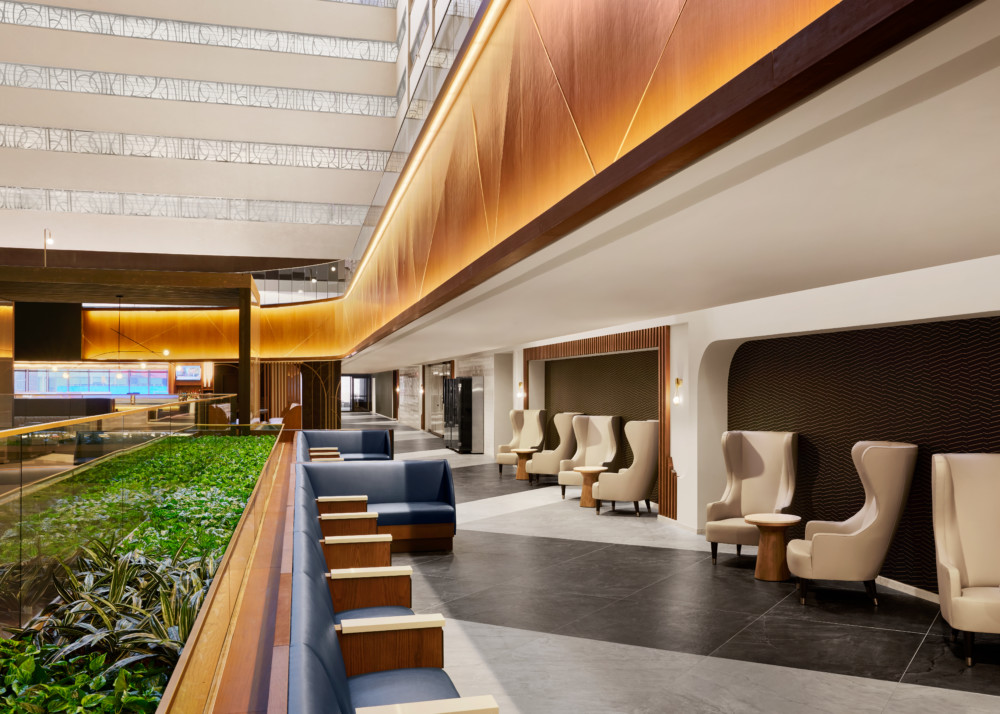 New York Marriott Marquis hotel Room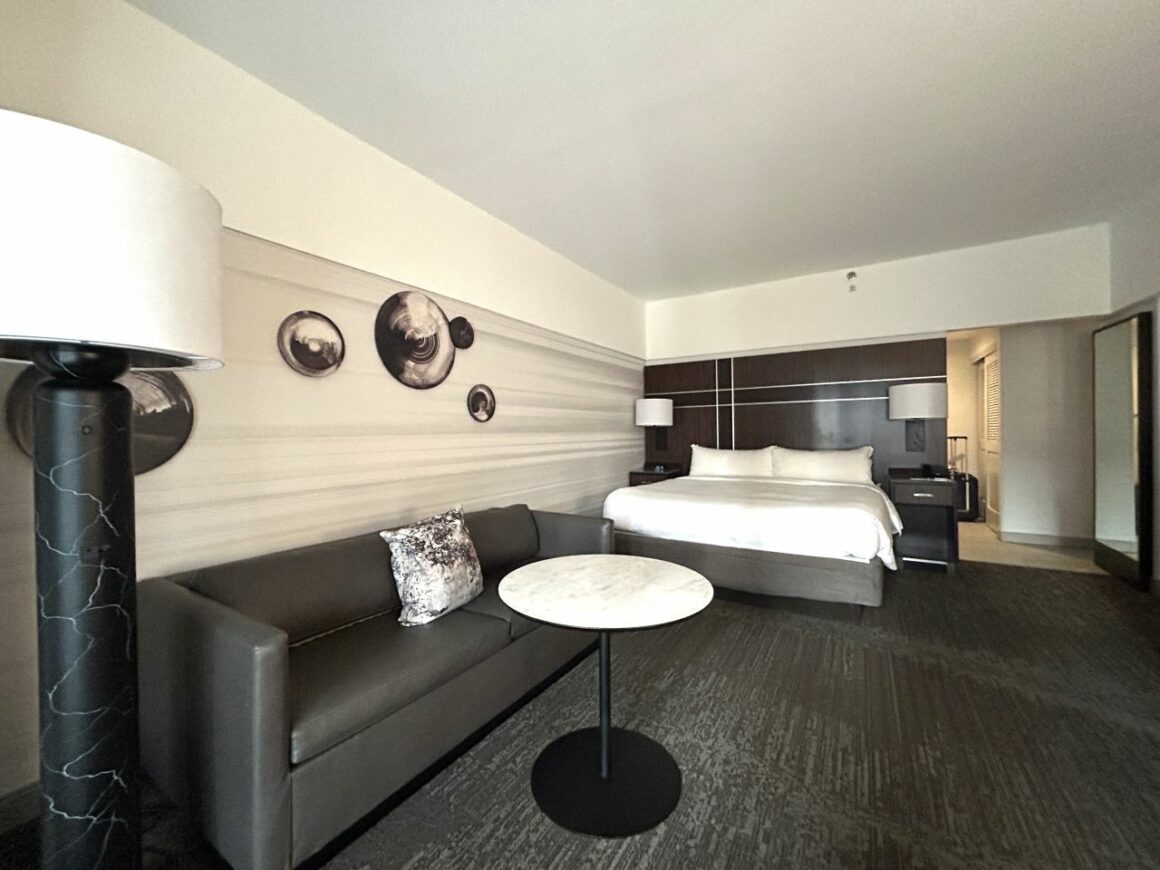 I had a Renovated Superior room with 1 King bed and the Times Square view, which is several categories above the entry-level. However, the rooms are all quite similar, so most people may be happy with an entry-level room if they are not bothered about the view.
However, I loved the iconic view from my floor-to-ceiling windows from the 36th floor (there are 45 in total). Bathrobe and slippers were also provided. One thing worth noting is that these rooms are the further from the lift, so I would avoid them if you don't want a long walk.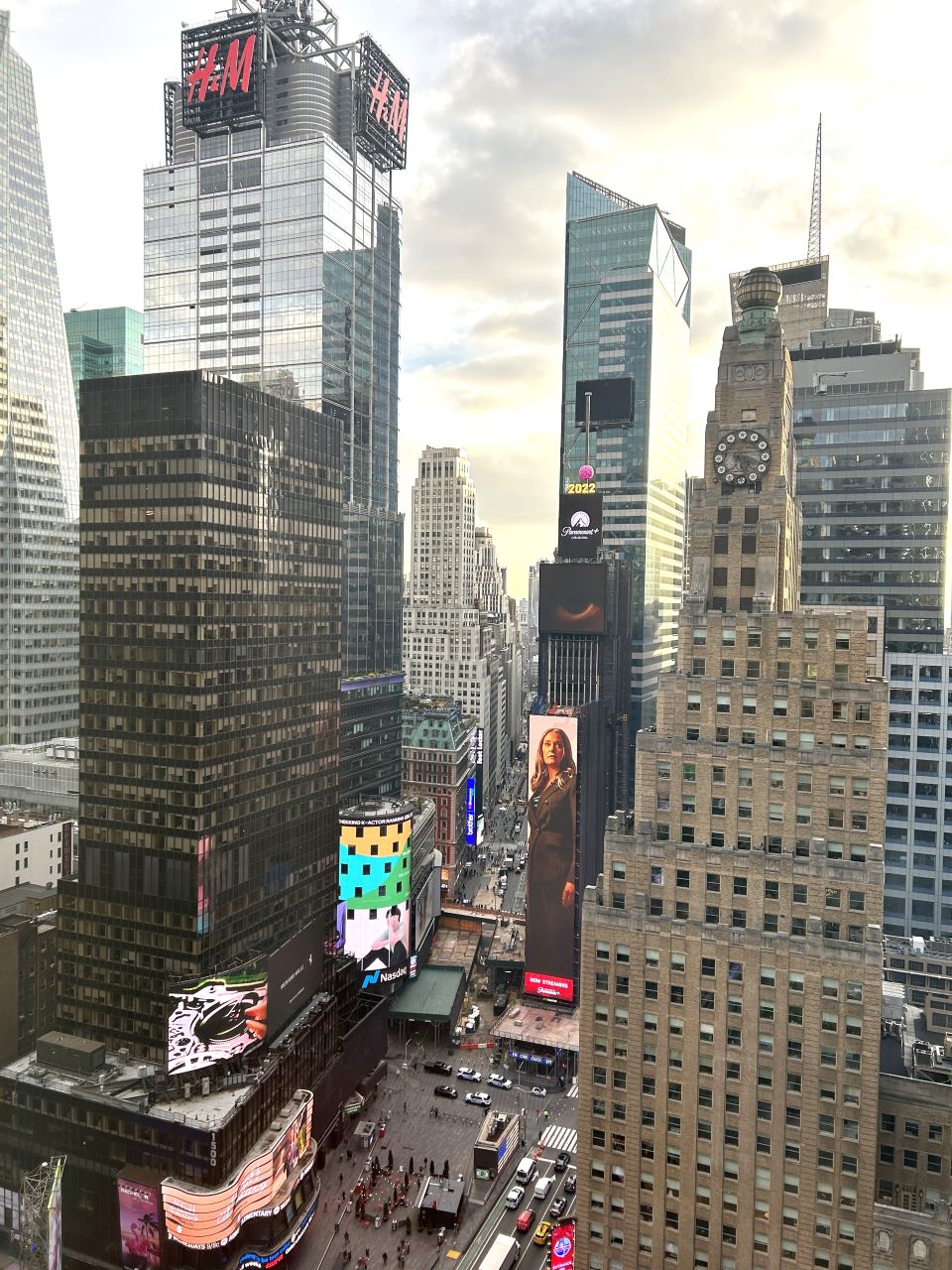 The room felt huge compared to what you usually get in New York, and it was well-equipped. My favourite feature was the large round "stool/table". I'm not quite sure what it was designed for but it was perfect for a suitcase. Most hotels still do not have the right suitcase stands for modern twin-sided suitcases which drives me crazy, but this worked perfectly.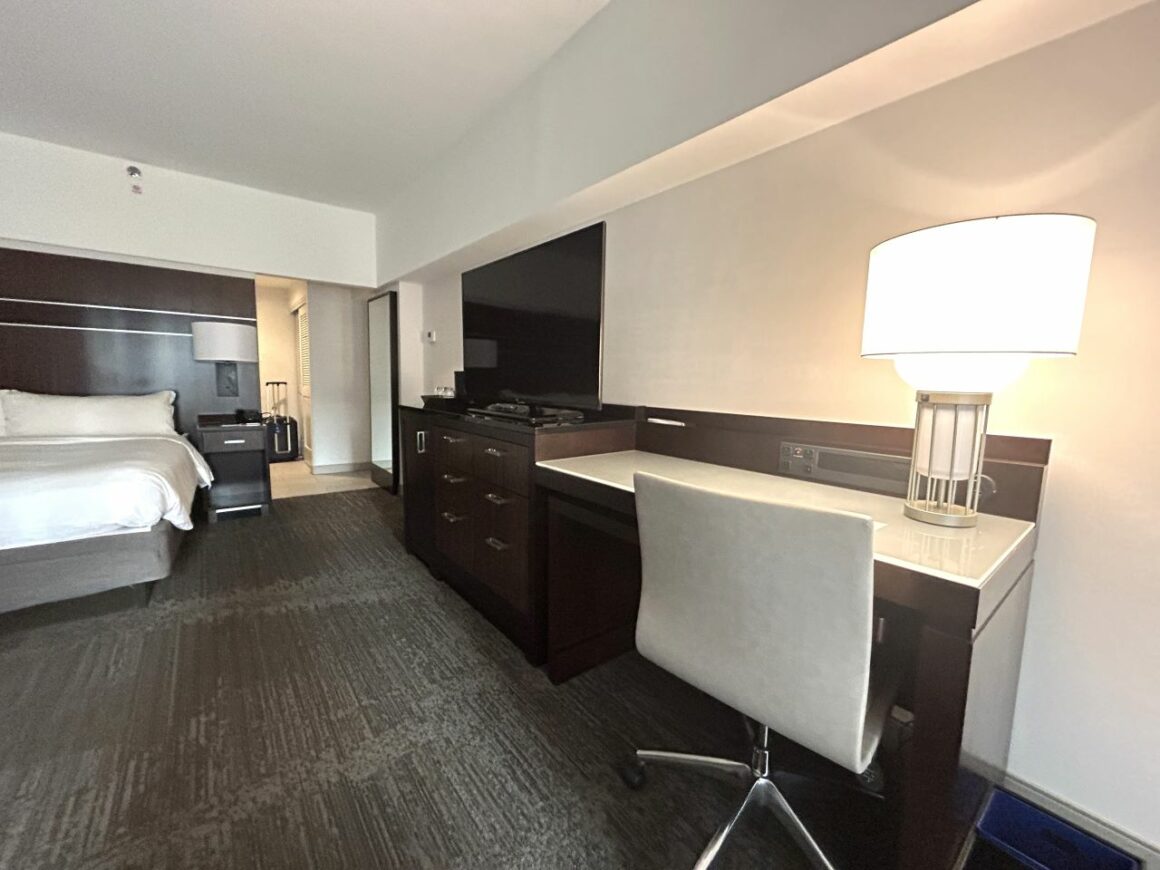 There was a large desk with plenty of power points for working and a comfortable chair.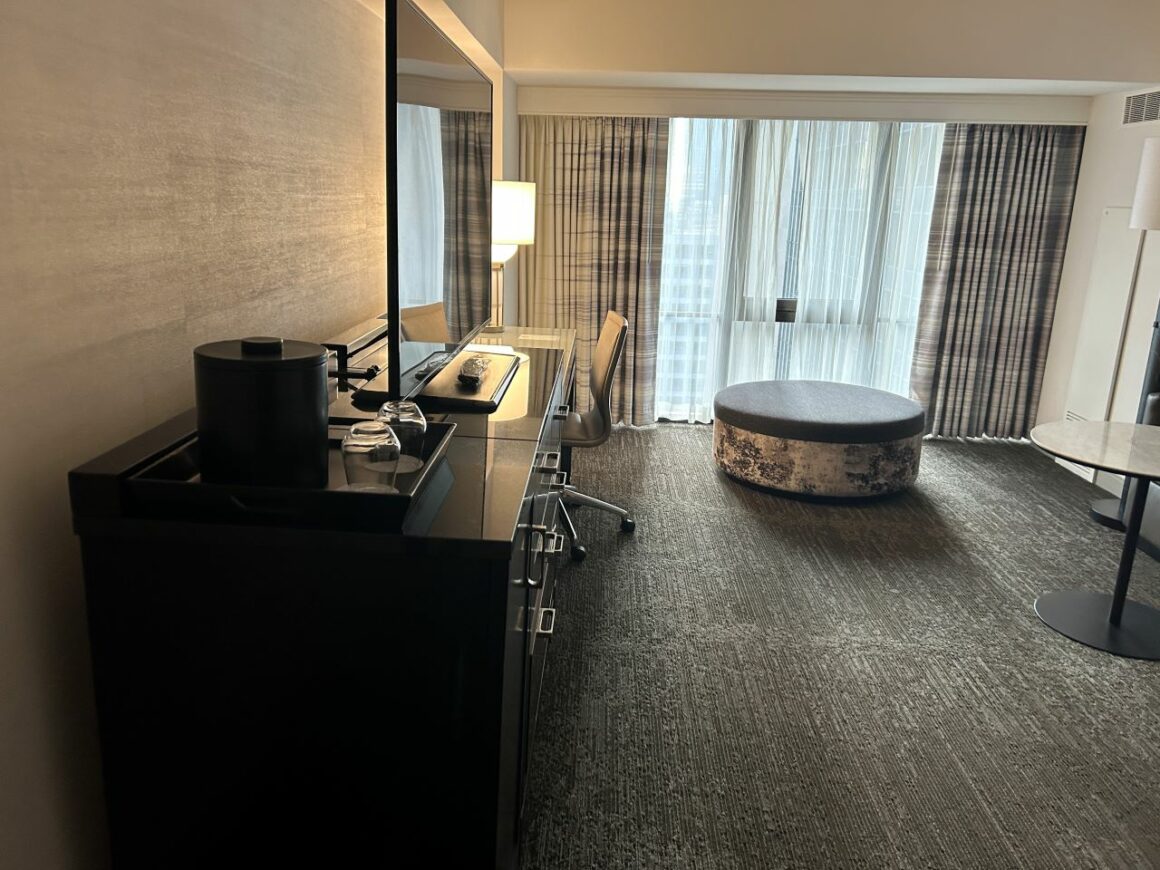 Hidden away was an empty but large fridge and a coffee maker with Starbucks coffee.
The TV had the modern Marriott system where you could watch things such as Netflix and connect your device to the TV.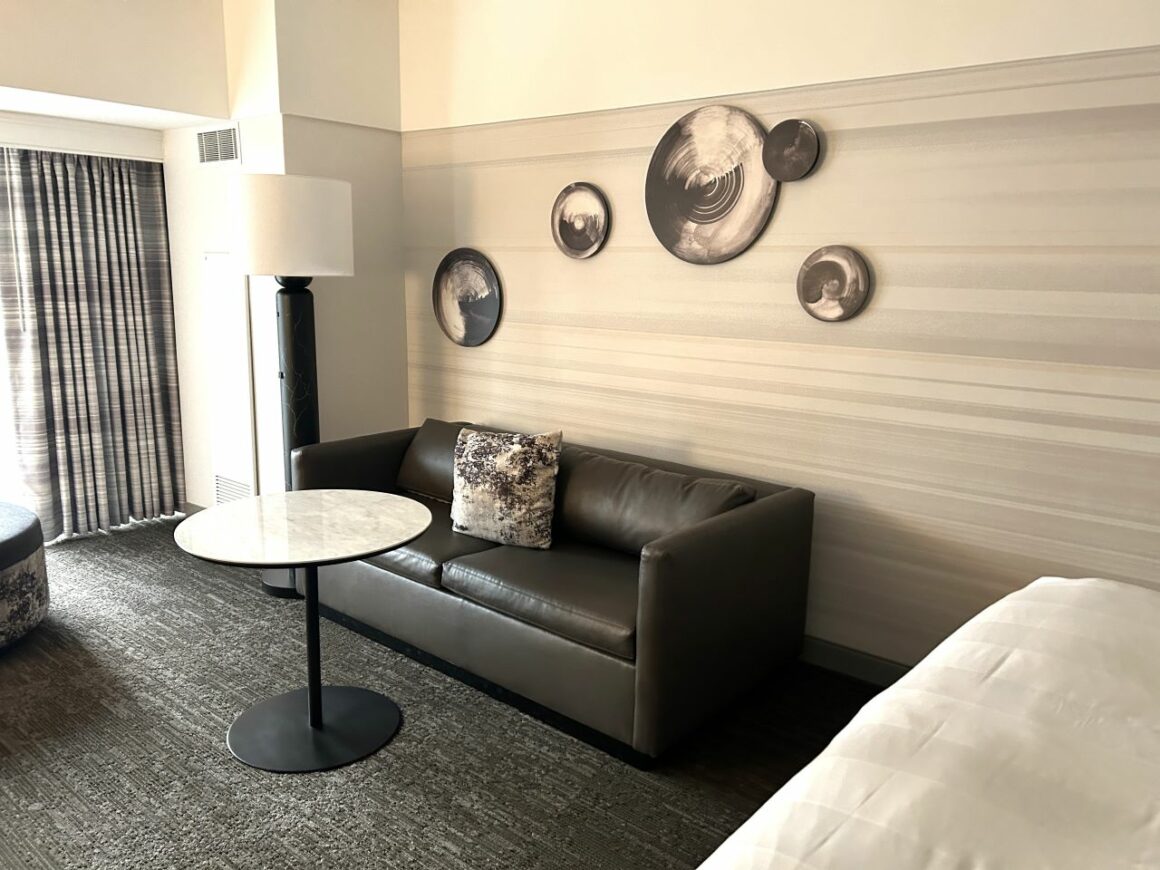 The bathroom was also a good size with a good-sized vanity area that was well-lit. There was even a magnifying mirror, although this did not have a light. However, I do like the fact that it is portable,e so you could take it into the bedroom to do make-up at the desk if you prefer.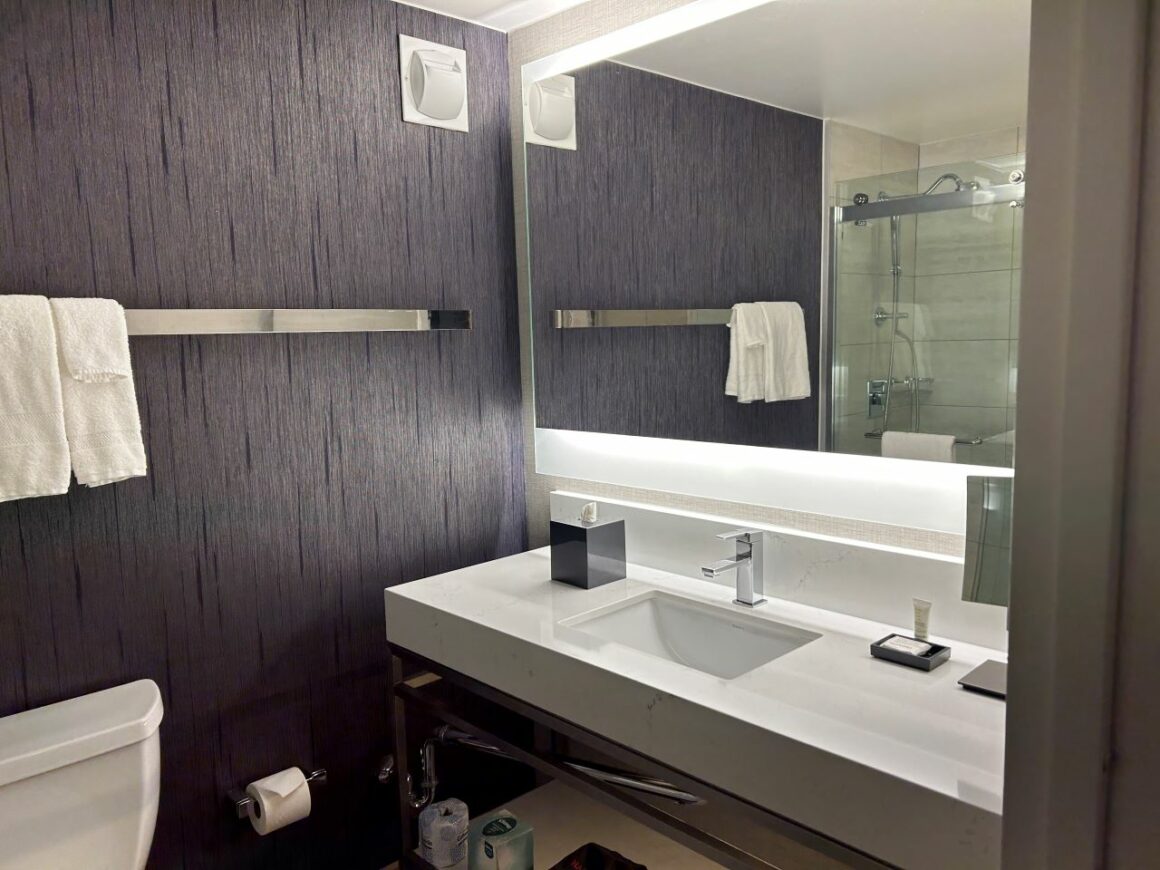 Toiletries were by This Works, which are a brand I use at home, so I was pleased to see this. In the shower, there were large size pump bottles which most major chains are moving to now for environmental reasons.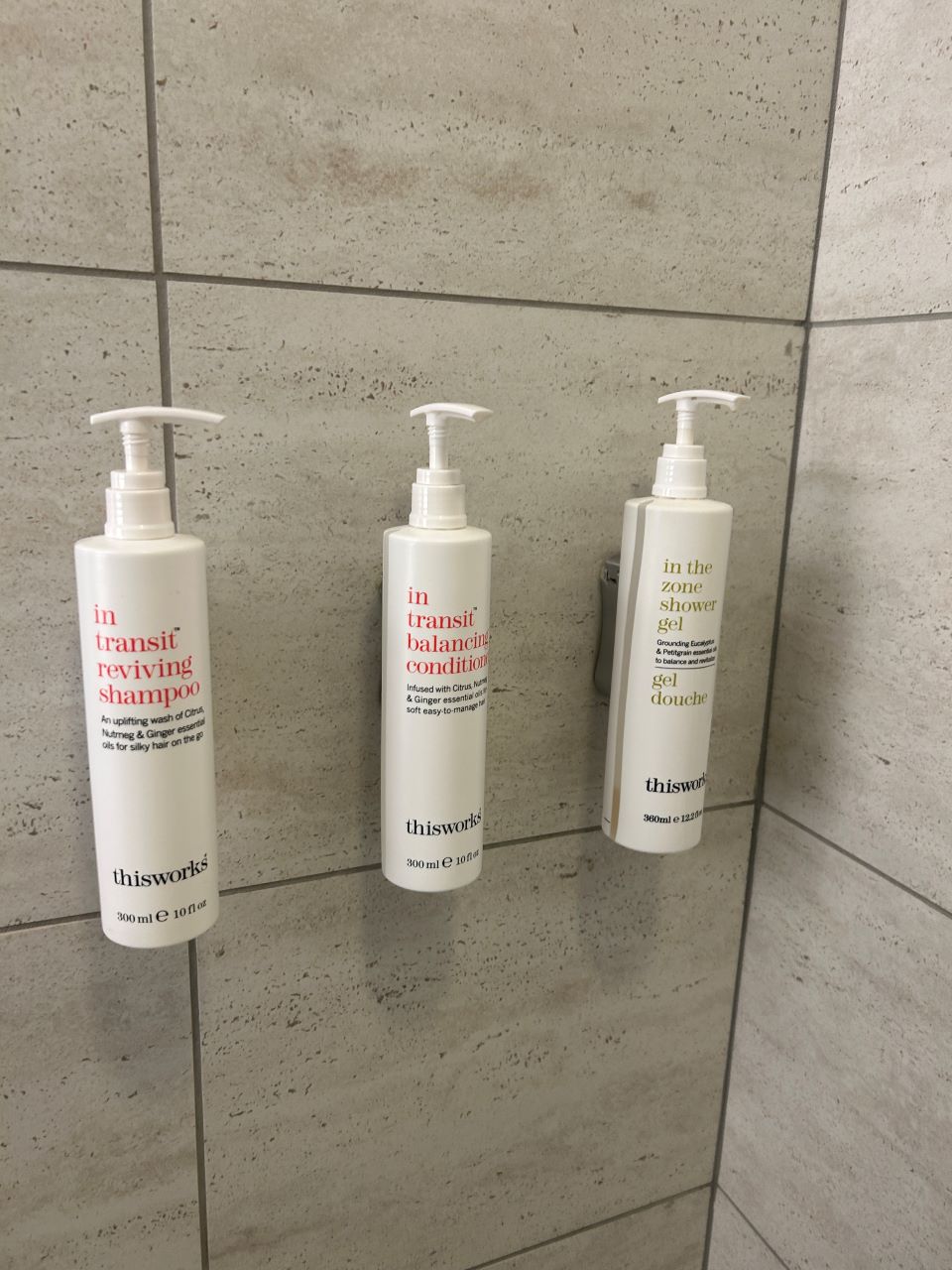 My room had a walk-in shower, but some rooms still have what would regard as slightly odd baths with a shower over. These are the typical American-style low baths with shower curtains. It kind of makes sense in a hotel as they are easier to step in to get into the shower but you can also sort of have a half bath too!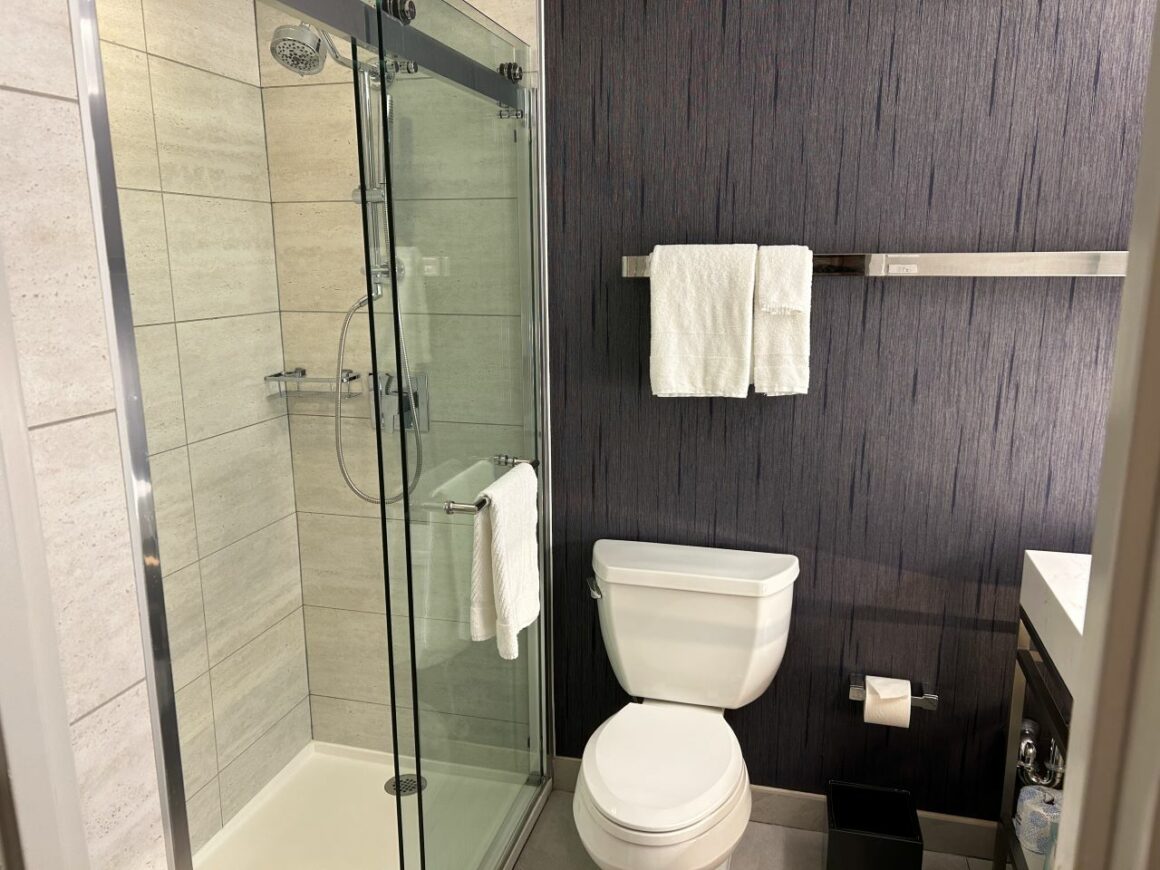 The shower was simple to use and had decent pressure which is all you can ask for.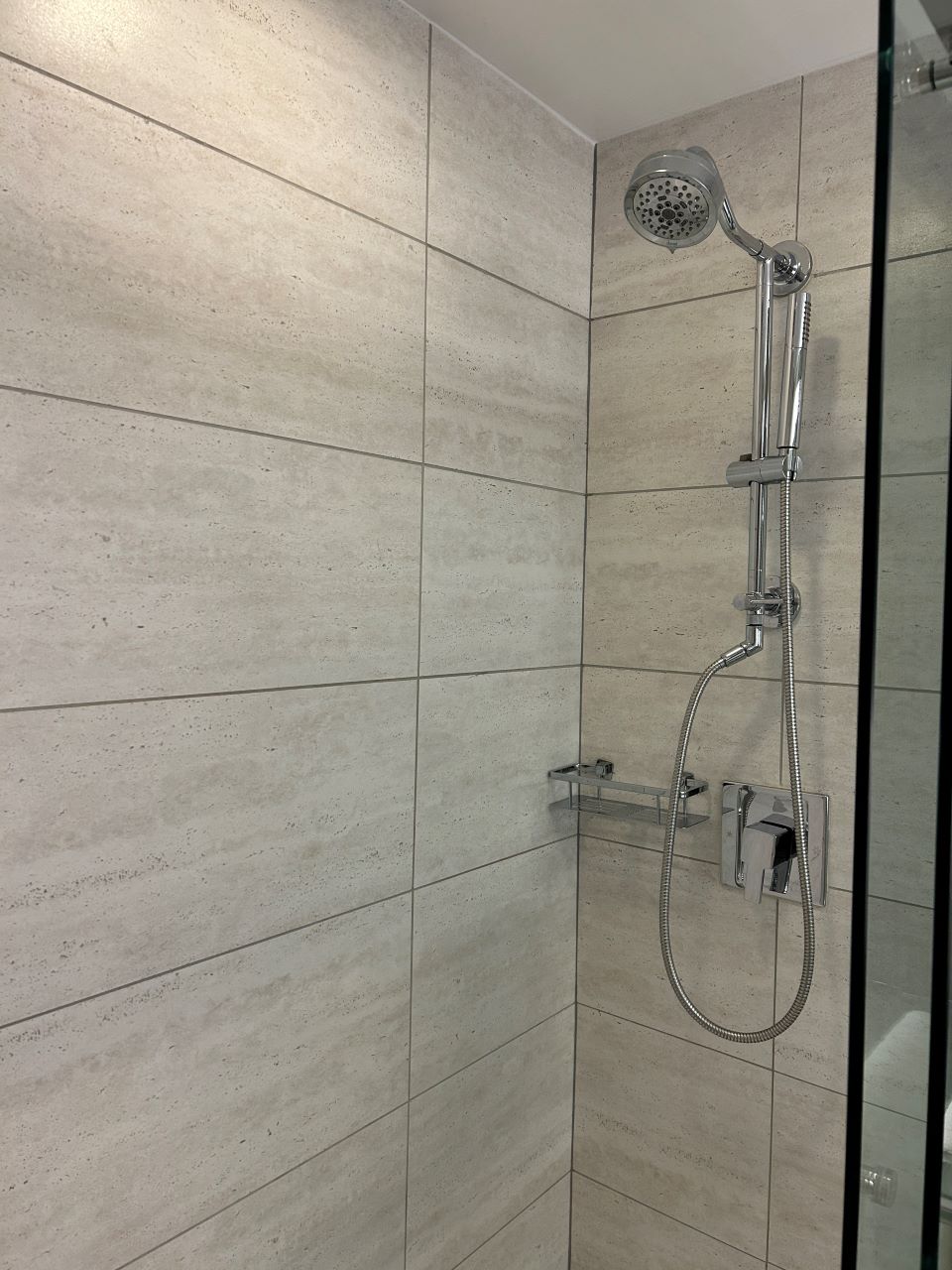 I was pleased to see that the hotel had gone for a small tube of body lotion rather than a big pump. Often I want to use it last thing at night for my hands so I don't particularly want to get up and go into the bathroom. Plus then I can also take what's left away with me too!
New York Marriott Marquis hotel Food and Drink
I didn't sample any of the restaurants or bars as I had M Club access. It's worth mentioning though as you may want to pop in even if you aren't staying there.
Revel & Rye Bar and Restaurant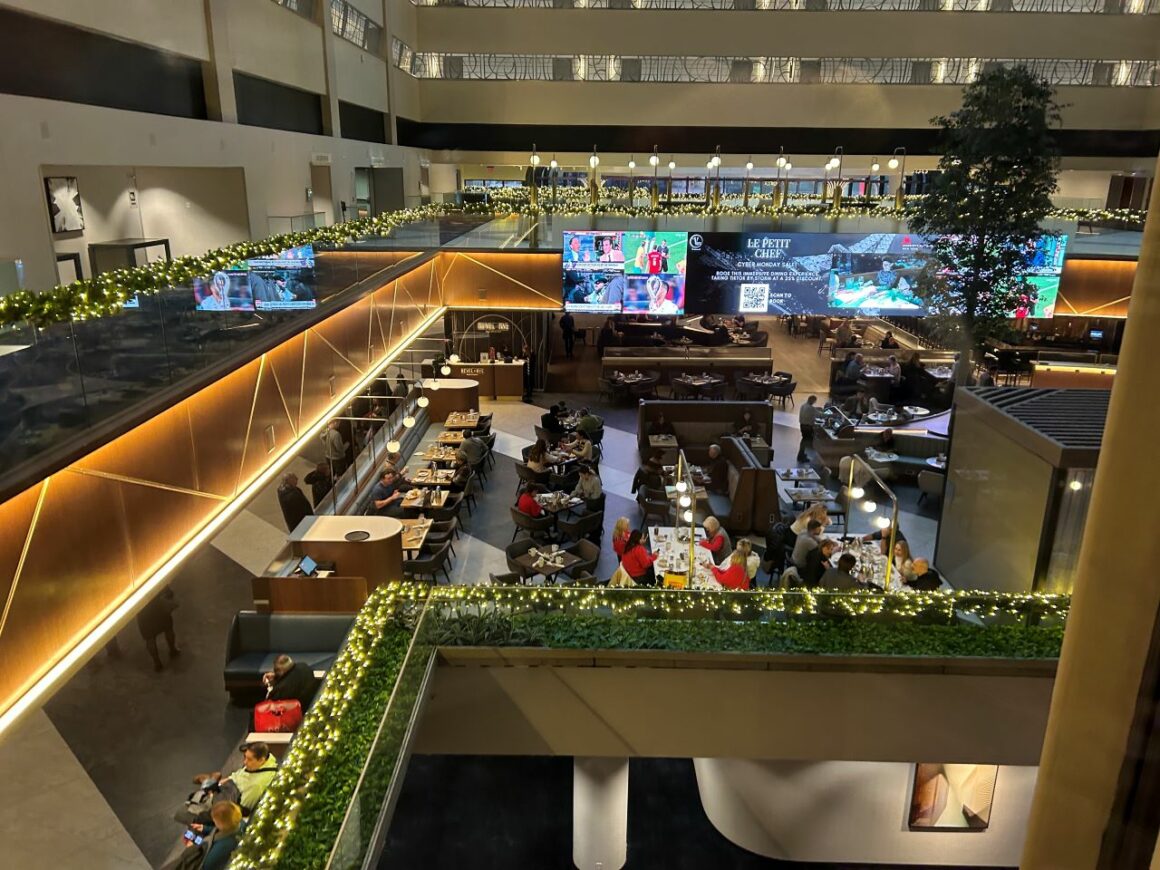 This is the main all-day restaurant where breakfast is served. The buffet breakfast, costs from $37.00.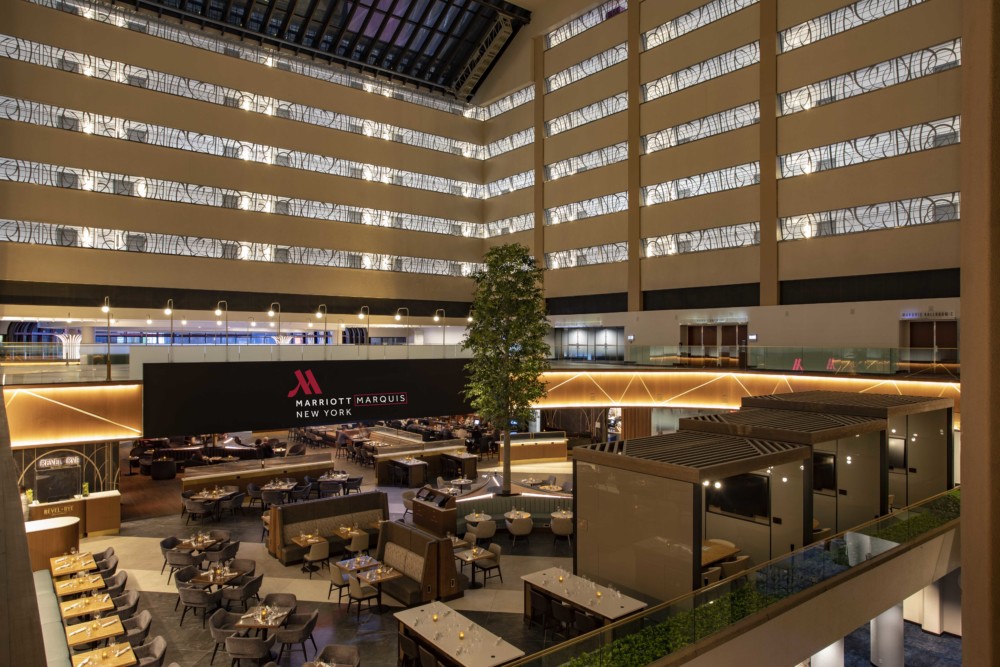 Broadway lounge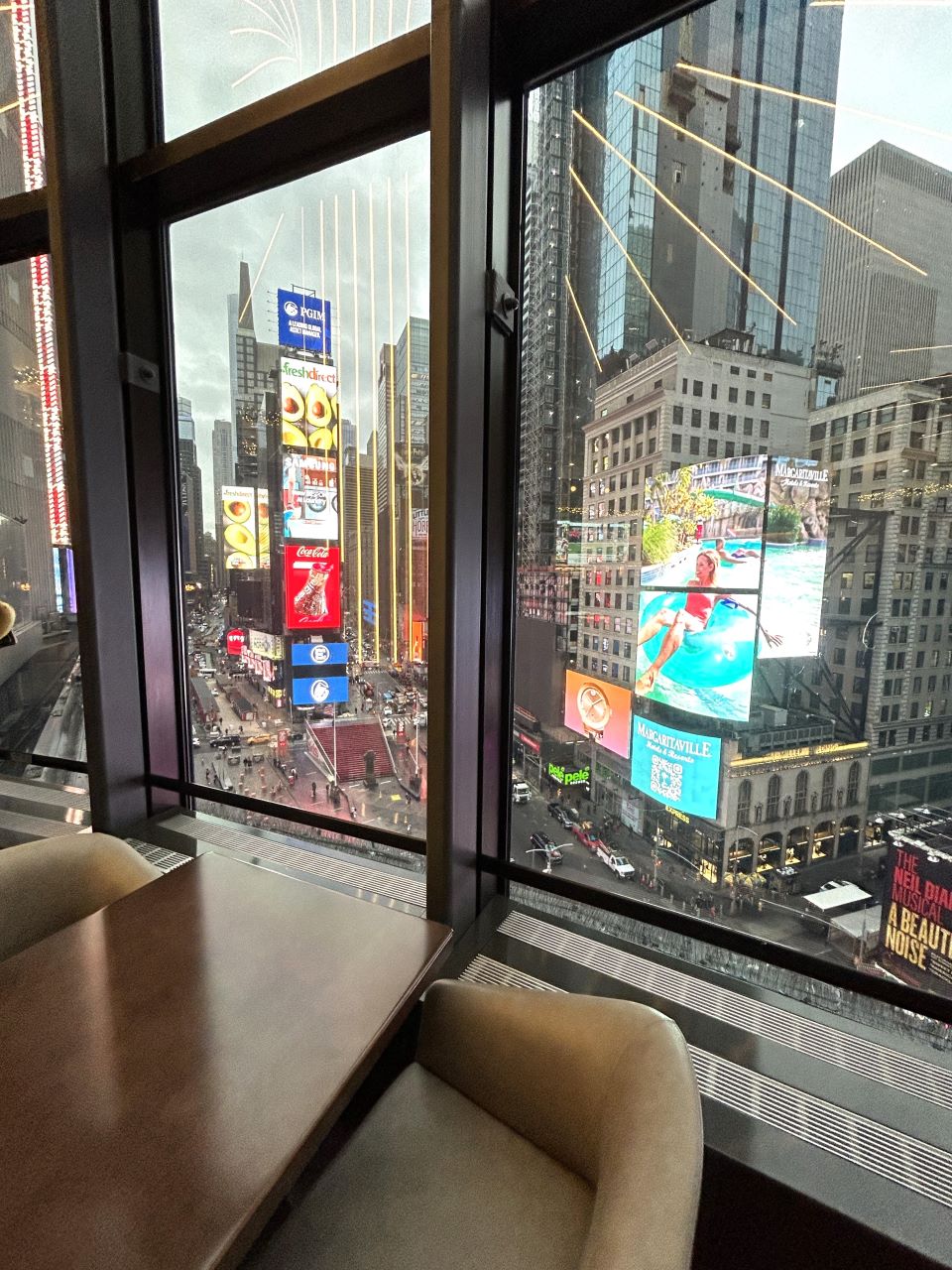 I really liked the look of this bar when I popped in, and I would visit thanks to the fantastic views of Times Square.
The real draw for me would be the Perch outdoor terrace which looked amazing for the summer.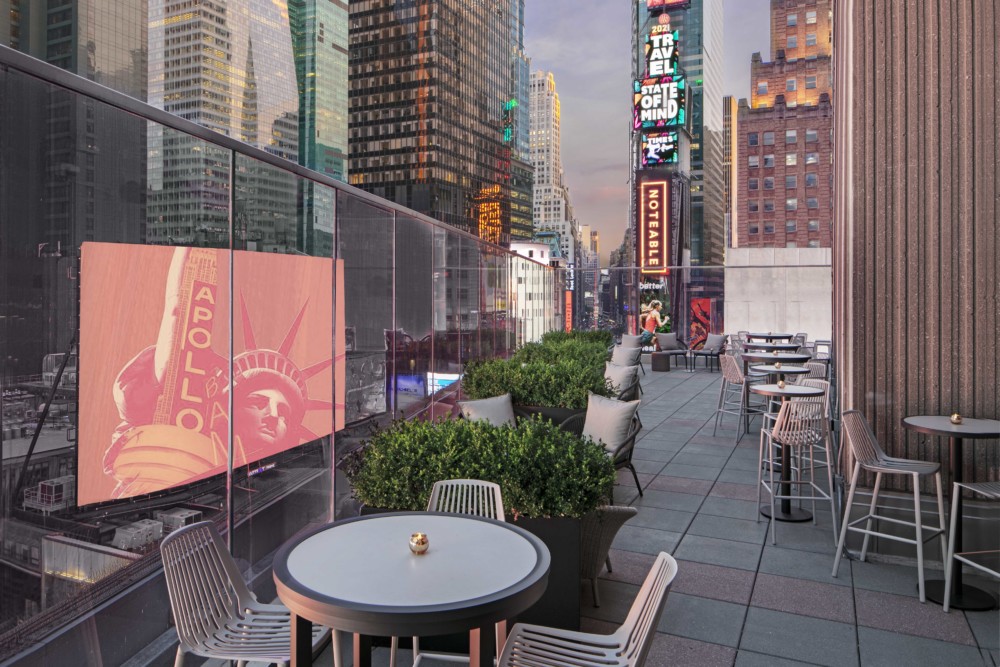 The View Restaurant Le Petit Chef
At the top of the hotel there is currently a unique pop-up dining experience with an animated French chef preparing a 4-course meal right before your eyes.
Other restaurants and coffee shops
There is also a Starbucks and a second coffee shop within the hotel.
M Club Lounge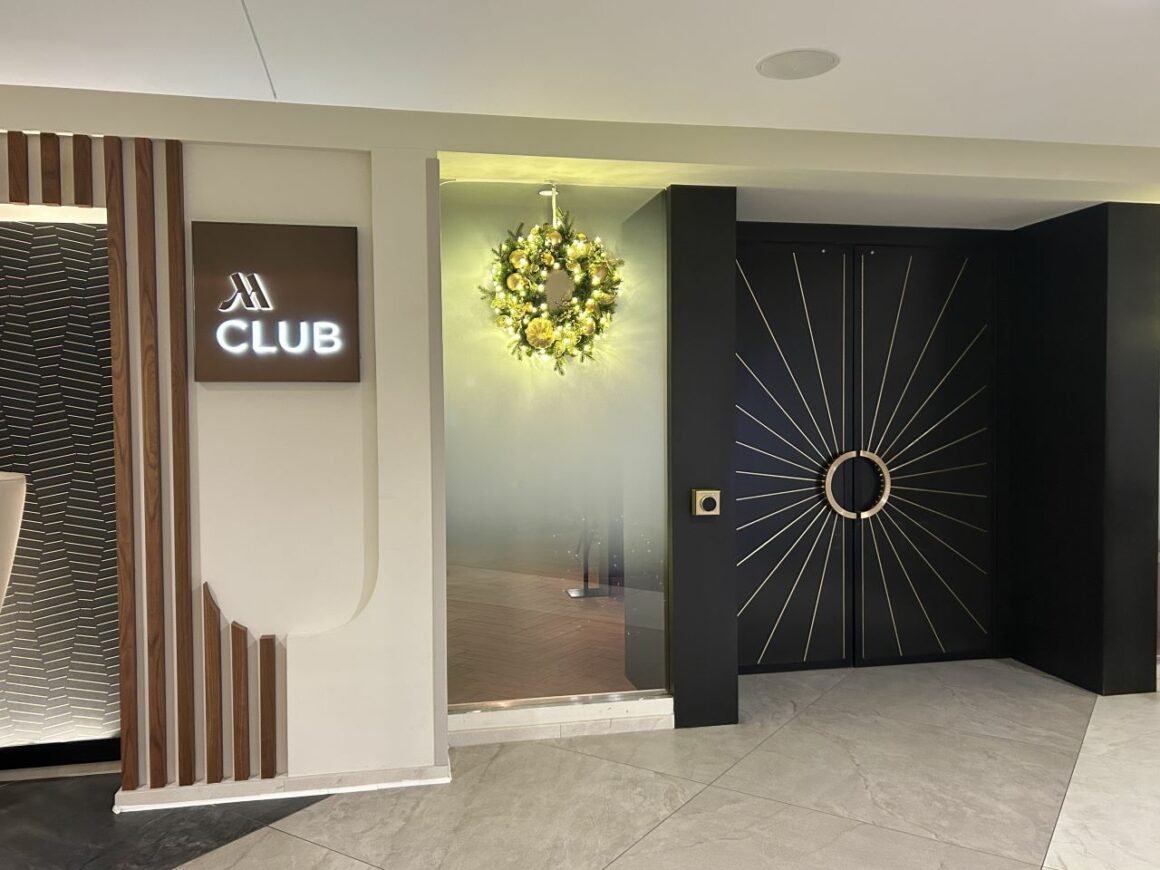 Hotel lounges in the US are quite different as they do not tend to serve free alcohol. However, they do have free food and freshments. The M Club was on the lobby level of the hotel and was staffed by friendly and helpful desk agents at the entrance. This was very definitely the largest lounge I had been in, but there was never an issue getting a seat, even during evening canapes.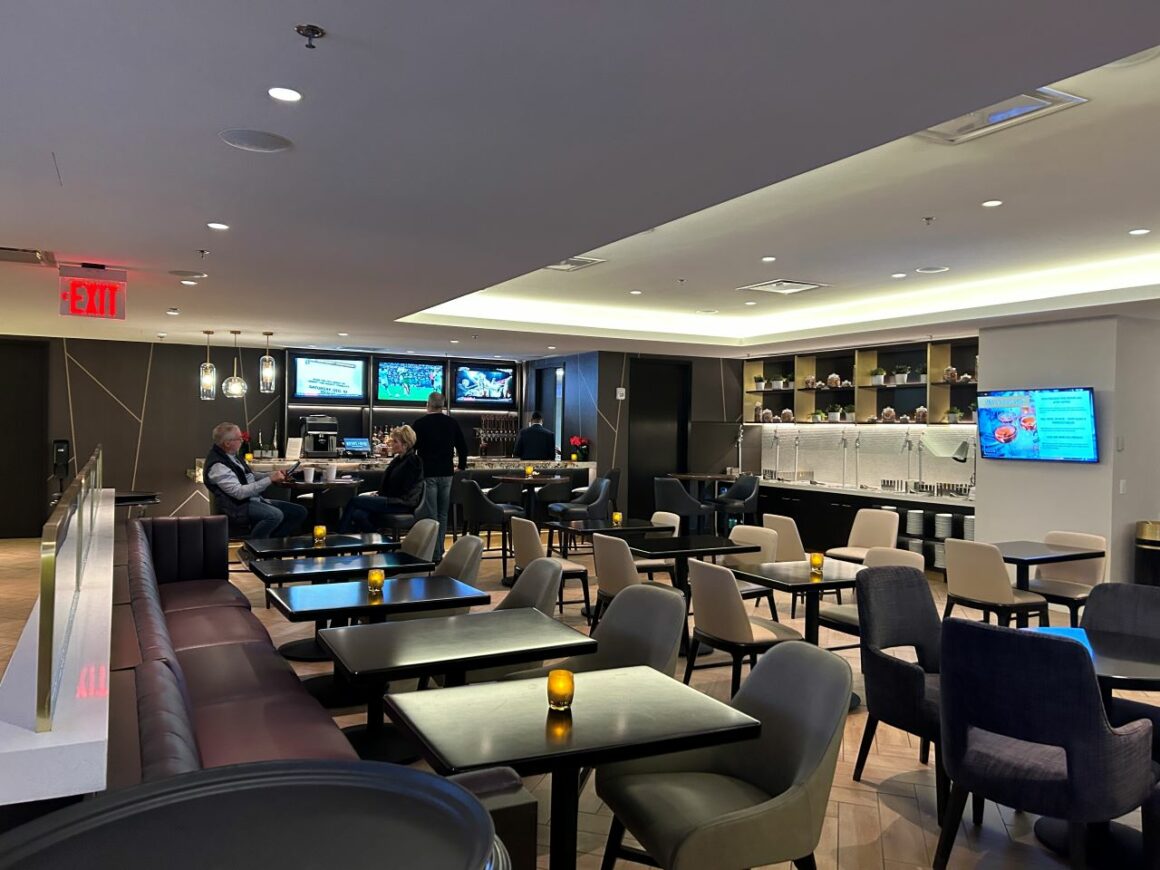 At the far end was the bar and canapé area. Prices were reasonable for drinks, and they were extremely generous pours – pint of wine anyone?! It had the full range of wines and spirits you'd expect to see in a normal upscale bar. Given you get $30 a day to spend on food and drink in the Resort fee, it probably is a better option than the cheap rubbish drinks you get in some lounges.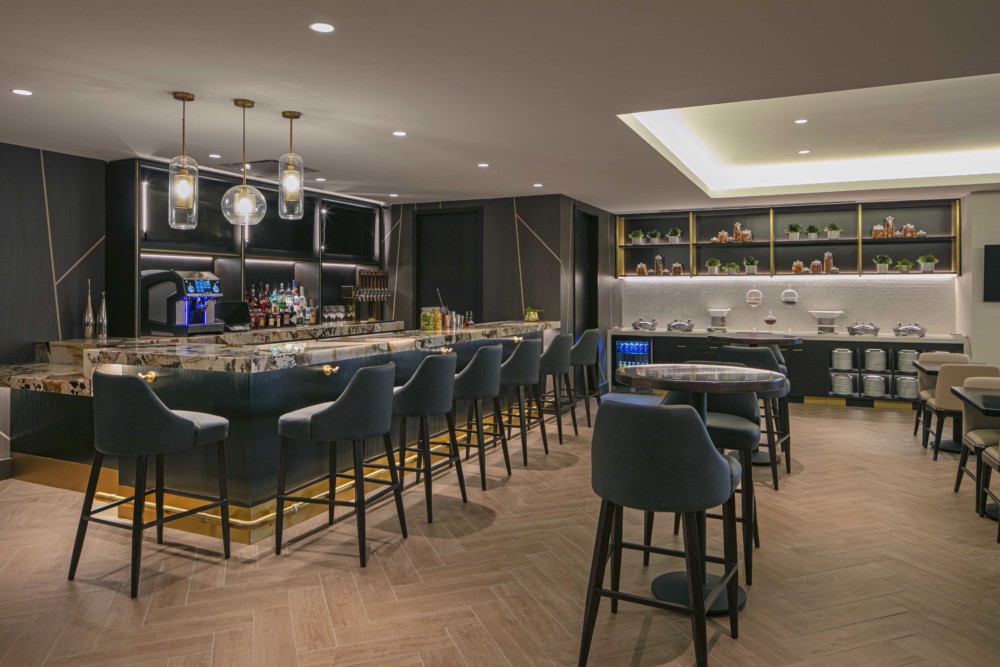 The "canapes" were more substantial than the names suggested and were mainly meats, cheese, bread, and dips with some crudites as well.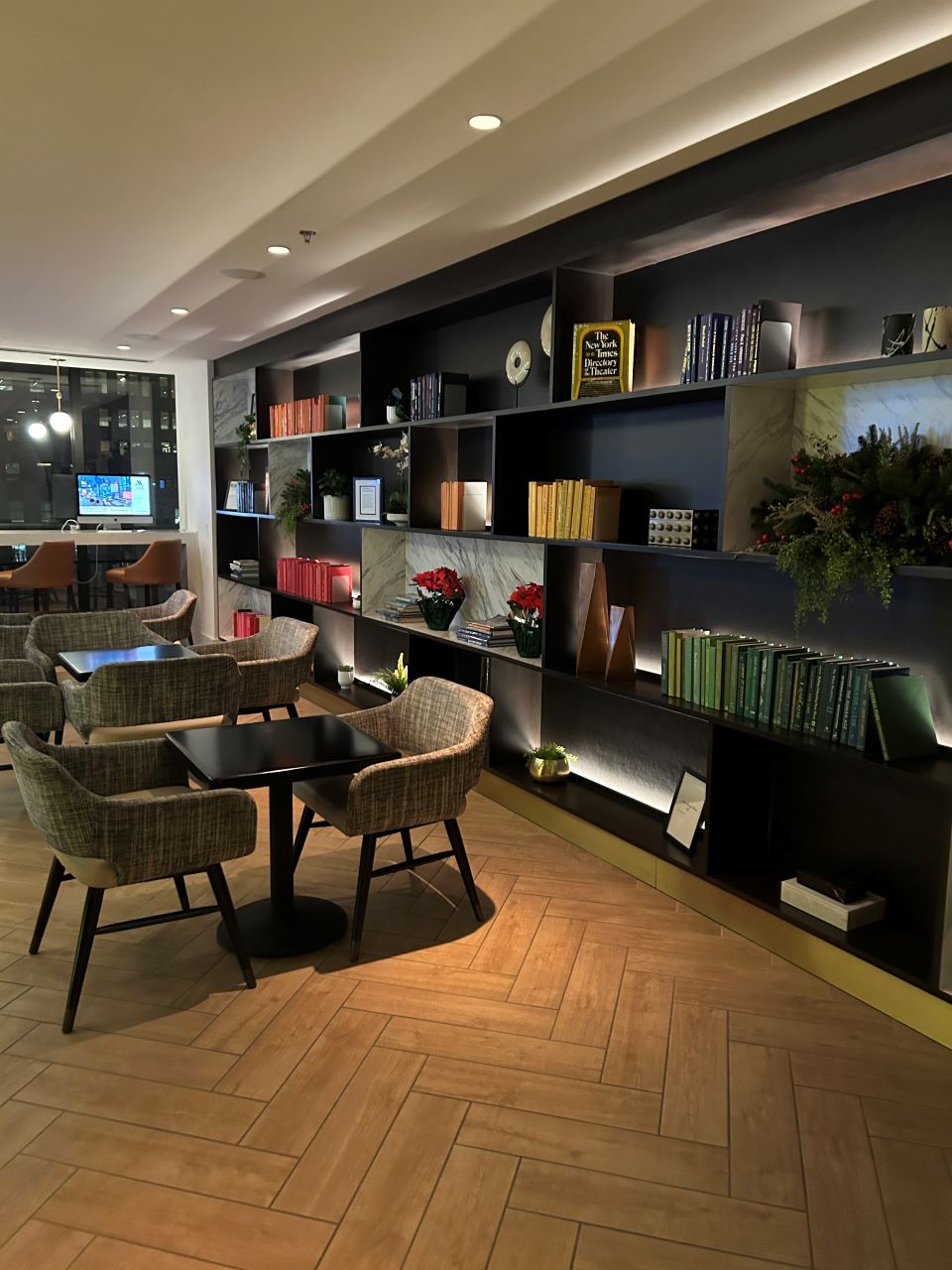 There were numerous different seating areas with plenty of tables and power sockets if you wanted to work.
In the day you could help yourself to soft drinks, coffee and tea as well as snacks. These consisted of things like crisps, trail mix and biscuits.
Breakfast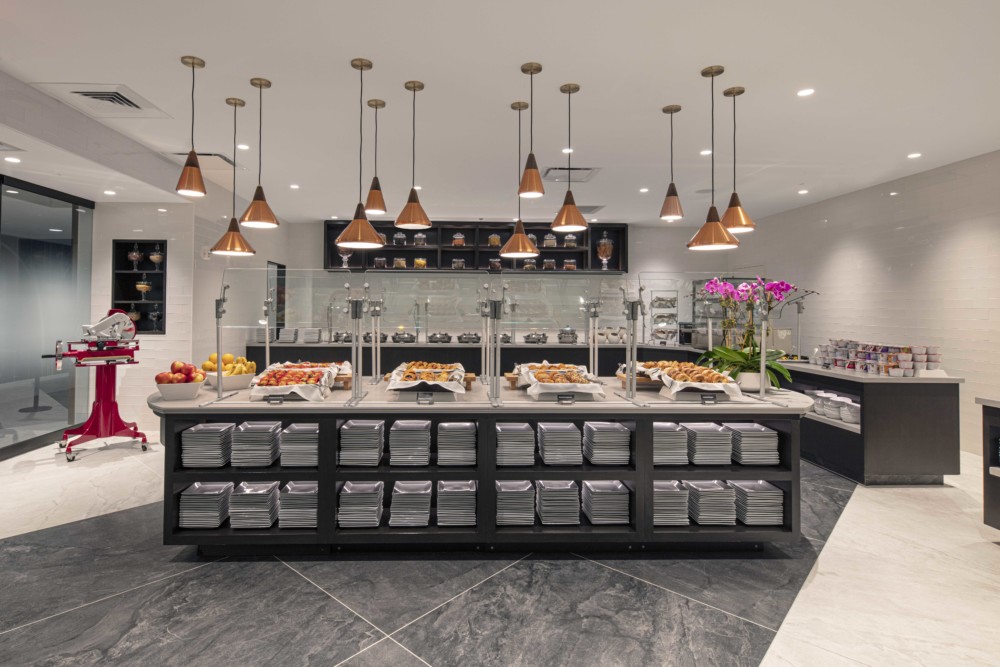 In the mornings, a large area at the back of the bar was open, which meant you were never fighting to get to the food. The selection was simple but had everything you needed for a decent breakfast.
Hot items included scrambled eggs, egg white frittata, breakfast potato hash, sausage and bacon. In the cold section I was pleased to see they also had smoked salmon. Fruit, yoghurt, cereal plus bread and pastries were also available.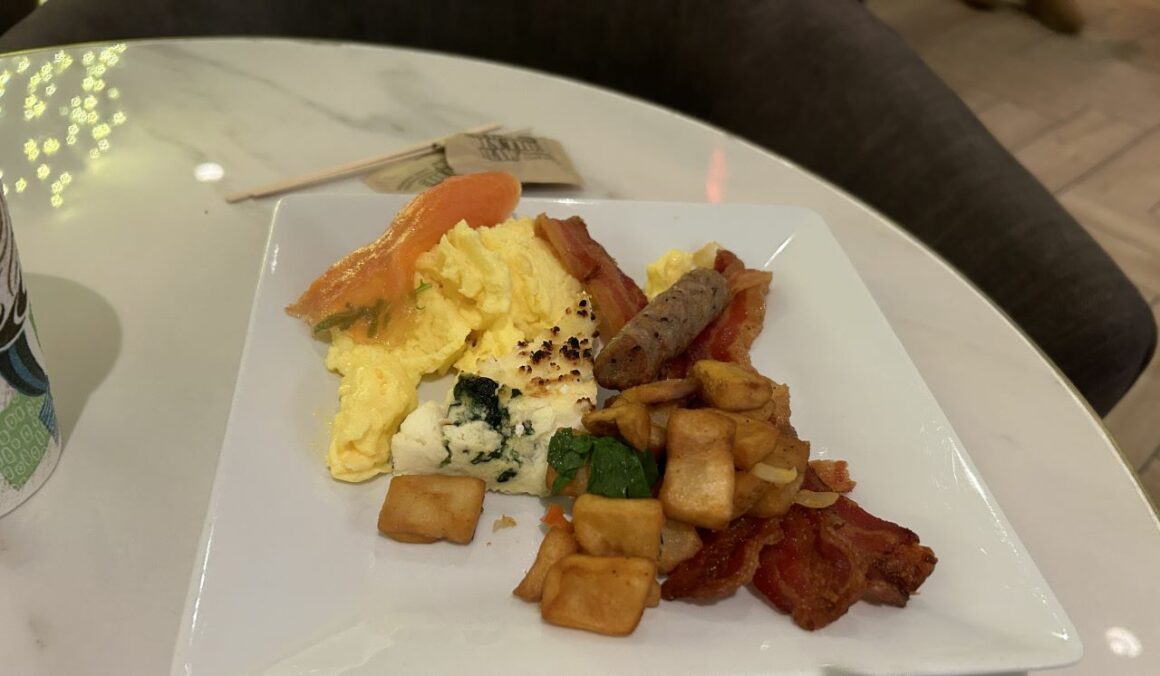 Other facilities at New York Marriott Marquis hotel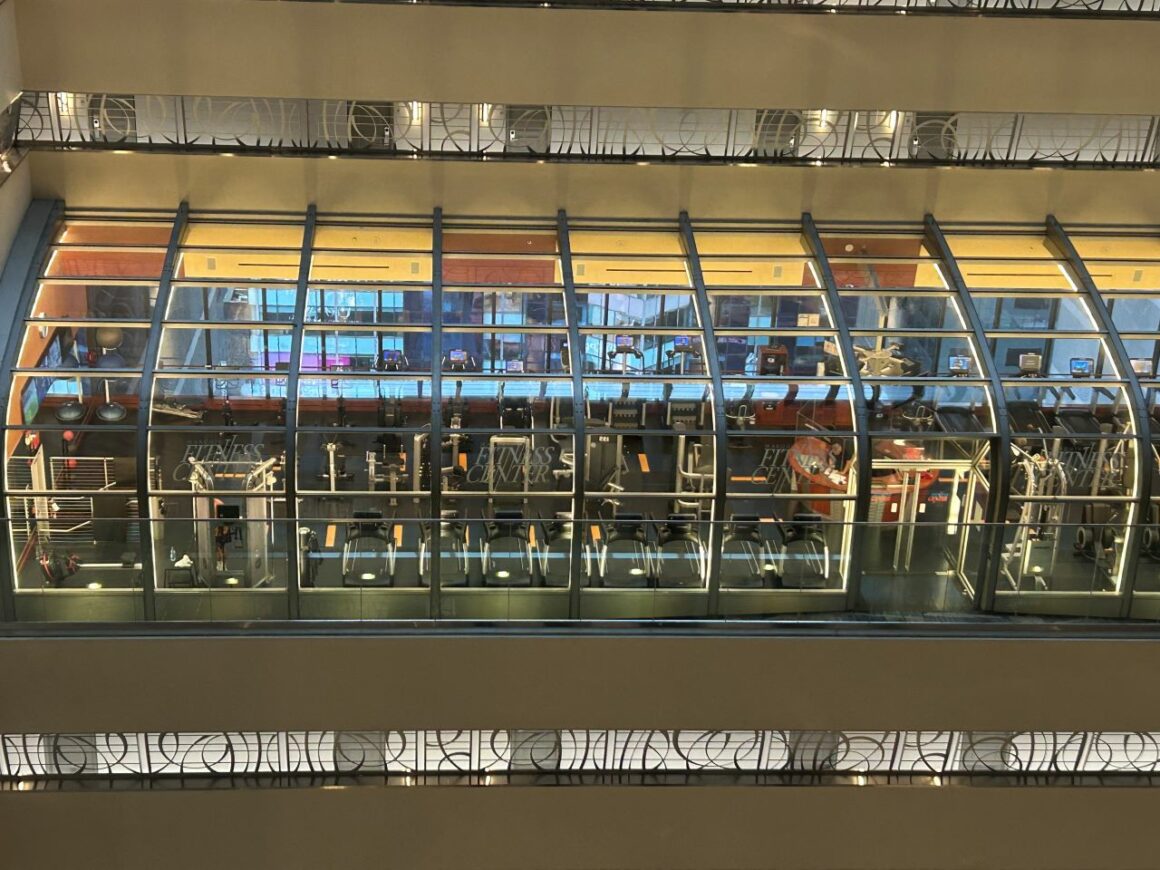 There is a large gym on the 23rd floor, which is light and airy thanks to its glass roof in the atrium. It also has great views of Times Square from the treadmills.
Should you need to post anything (or receive something like Amazon) there is a Fed Office too.
There's a general shop that has souvenirs and essentials on the lobby level.
New York Marriott Marquis hotel Booking and price
Unfortunately, New York has become like Vegas with destination fees. Marriott Marquis add a daily destination fee of USD 30 plus tax which includes USD 30 food and beverage credit, 1 NYC Attraction Tour ticket, FIT Tours Experience and more. I actually don't think this is too bad, as at least you can get your money back on a couple of drinks.
Prices start around £270 a night or 53,000 points. This may sound like a lot, but that is pretty normal for New York at the moment, where prices are sky-high currently.
You can check prices and availability here.
Conclusion for New York Marriott Marquis hotel
It's rare that I'm impressed by a New York hotel, let alone one near Times Square. Despite its size, this offered pretty much everything I would want from a New York hotel. A central location, large, well-equipped rooms that were quiet as well as comfortable and a decent lounge. If I wanted to stay in this area, or specifically wanted a central Marriott, I would choose this over The Edition Times Square personally.