This article first appeared in December last year. Now that the Sri Lankan fare has reappeared, I thought it was worth updating Paul's article with the current prices and details. 
Sri Lankan currently have a sale on for business class from all departure points except London offering up to 40% off. You can find the relevant sale page here. 
We get told by readers of success hitting Silver and even Gold, but what about doing it in one hit cheaply?  Interested?  Keep reading.
Thanks to some very, very good sale pricing from Sri Lankan and a good fare from BA you can construct some excellent Tier Point runs around Asia.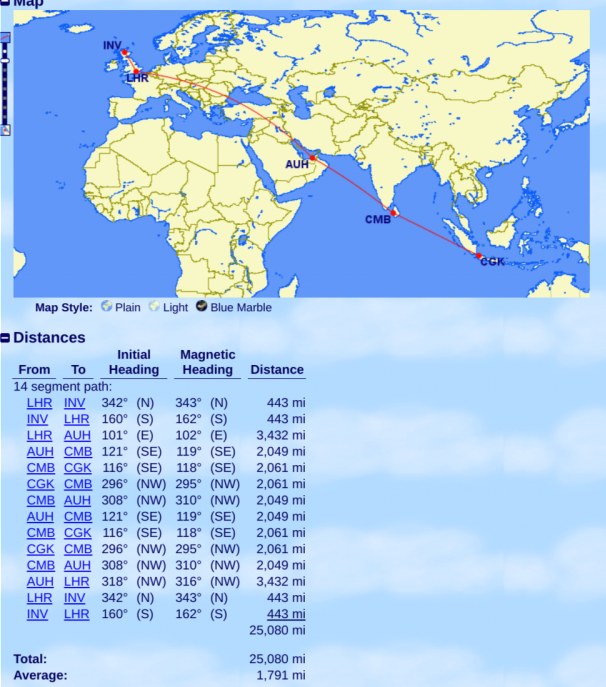 How about 1400 Tier Points in one trip for £1781?  That's an amazing exUK price per point of £1.27/TP.  Yes, I am aware Gold needs 1500 points so at the end I'll give some ideas for around the last hundred.
If you are not sure if Gold is worth it for you have a read of this article which explains the benefits of the different tiers.
Let's start putting this together then.
The "Main Fare" starts in Inverness, so unless you are local you will need to position there.  Inverness is a very small airport which makes doing a "Back-to-Back" very easy.
What is a back to back?  Well put simply, you get off the plane and get back on the same one.  At Inverness, you will walk off the plane into the terminal, straight into the security queue and voila – back in departures waiting to board the plane, in likely the same seat! You can read more about back to backs in this article.
So in my examples below you will be doing two back to backs, at each end of the trip.  Thankfully at the start, there is a nice overnight at Heathrow, allowing you if local to LHR to head home before the main trip! If you wanted you could overnight at Inverness instead although the choice of hotels near the airport is limited and expensive. The Holiday Inn Express is easy to reach via public transport. There is also a Premier Inn nearby.
The following dates and flights are just suggestions – you can make up your own itinerary within the rules allowed. Remember you can always add a stopover of fewer than 24 hours for free.
The Positioning Ticket (Ticket 1)

This is a straight point to point BA fare to Inverness.  The ITA fare above is actually incorrect and can be bought on ba.com for £257. It can also be reduced in price by using Avios. This will net you 80 tier points total for the flights.
The "Main" Fare (Ticket 2)

This is a very good value Premium Economy fare from Inverness to Abu Dhabi via Heathrow which will get you 200 TPs.  Again cost can be reduced on BA with Avios. You could also look at upgrading with Avios if you fancied Club instead.
Restrictions are currently –
Book by: on/before 28 Aug 19.
Travel: 11 Aug 19- 30 Sep 19 on the first international sector.
Outbound – Permitted Sun Through Thu on the first international sector.
Inbound – Permitted Mon Through Thu on the first international sector.
Non-refundable
Changeable for a fee
From October onwards the fare rises by around £100. The fare is available on ba.com but only on certain flights. Expedia has the fare on a wider selection of flights but if things go wrong with lots of connections it is much harder to rectify if you are using an online travel agent.
Tier Point Run 1 (Ticket 3)
A very good value 560TP run to Jakarta on Sri Lanka – I must stress that this is currently not on lie-flat planes.  You will get full business class service, however.
Current restrictions are –
Travel dates: Travel is not permitted 5 Dec 19 through 15 Jan 20 for the departure of the first international sector.
Book by: Tickets must be issued on/before 26 July 19.
Tier Point Run 2 (Ticket 4)

The same run as above, the following days!
Hotels
Now as with most complex Tier Point runs this one will require overnights to prevent doing "dangerous" back to backs where the connection with security is too much of a risk. Remember you must keep the stopover to less than 24 hours to avoid extra charges.
So here are TLFL's recommendations for each location –
Abu Dhabi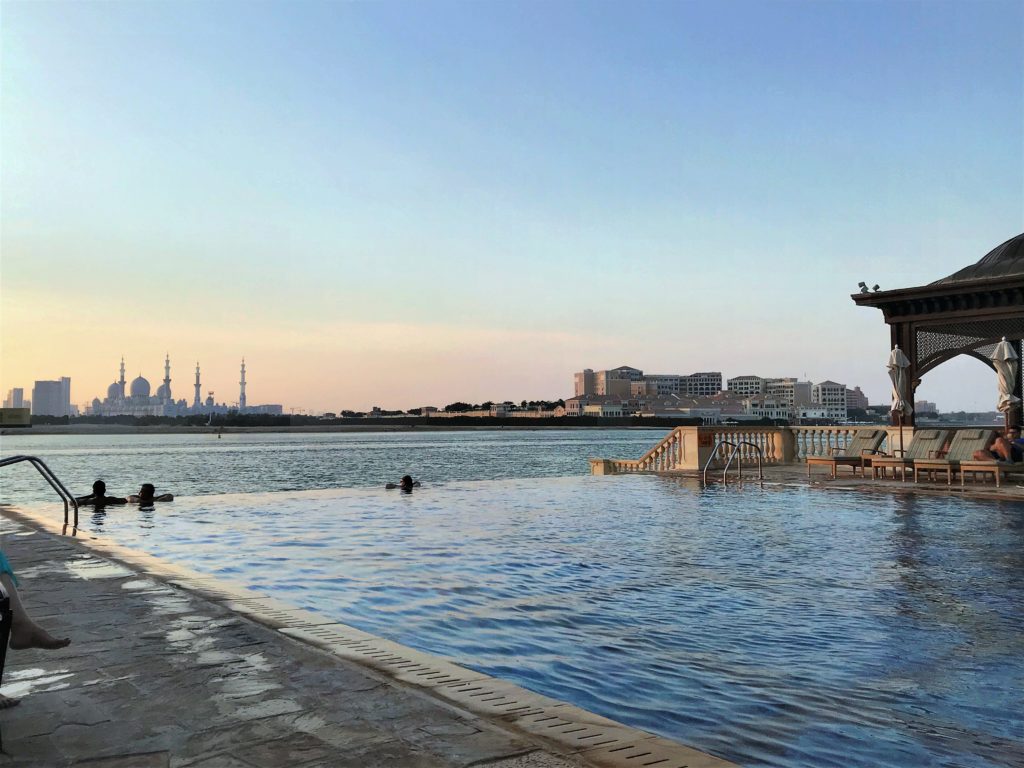 Shangri-La Qaryat Al Beri: I love this hotel and you can read my review here. If you book through our new travel partner Propeller on you would get additional benefits on your stay such as:
Upgrade on arrival, subject to availability

Daily Buffet breakfast, for up to two in room guests

Complimentary one-way car transfer from the airport to the hotel

$100 USD equivalent Spa Services credit to utilize during stay

Early check-in/late check-out, subject to availability

Complimentary Wi-Fi

With minimum 4-night stay receive Round trip transfer
You book via the special TLFL Propeller page here.
Jakarta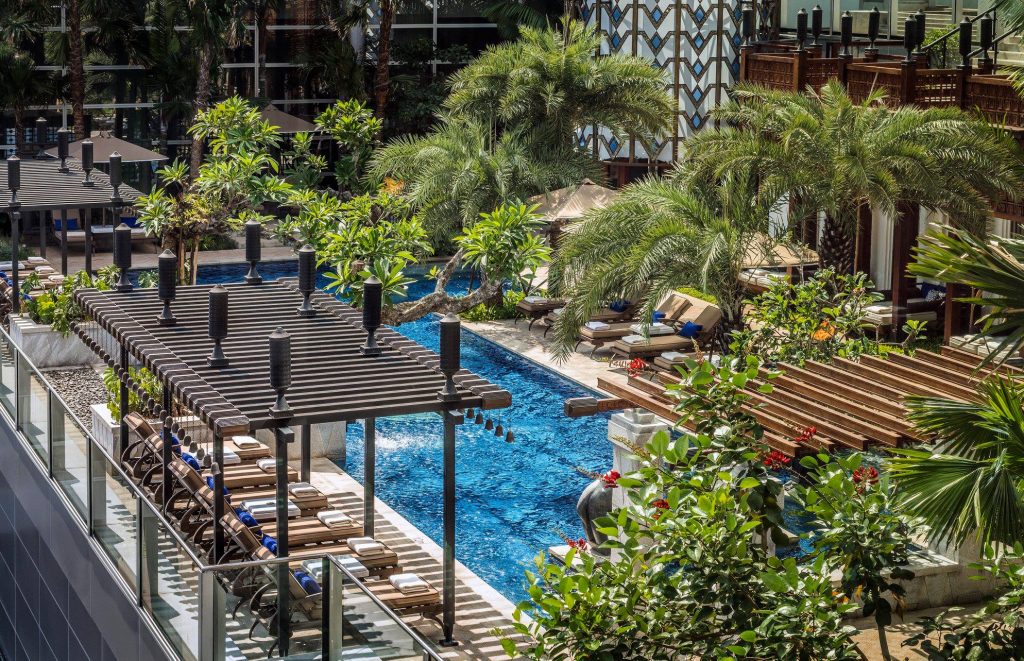 Hotels are generally very cheap so you can afford to splash out a bit. The closest one to the airport that is decent is the Bandara International Hotel which is part of Accor hotels. I have stayed there and thought it was fine if a little worn for being close to the airport with a free shuttle to the airport.
If you want to splash out a bit more there is the Four Seasons hotel which can also be booked through Propeller travel for additional benefits on your stay.
Extending the trip
It is possible on these fares to split the time, even more, to allow a few days in Abu Dhabi, Sri Lanka and around Indonesia – so perfect for a little Asian jolly!  Have a play with the dates and trips in ITA Matrix and if needed check my articles here for more info. and part 2.
The last 100 TPs!
Well, 100 is an awkward number to gain in terms of tier points.  A Club Europe return will get you 80, unless its one of the longer ones for 160.
Here are a few suggestions –
80 Points 
Amsterdam – £185
Dublin – £177
Manchester – £188
Luxembourg – £166
Venice/Rome £150/£157
160 Points
Helsinki – £247
Malta – £301
Catania – £266
Sofia £235
Tirana £243
These fares are all available from British Airways here or you can see if you can get a cheaper deal online with Skyscanner.
Catania is a good starting point for a short break. You can read our guide to a Catania tier point break and the airport here.
There you go. 1560 Tier Points for around £2000. Enjoy!