I had flown out to the US in the new AA B777-200 business class (review here) but I was keen to weigh it up against the American Airlines B777-300ER business class, which I had flown a couple of years before and been very impressed by. I flew from Los Angeles to London Heathrow on the return leg of my Hawaii trip. I did this trip as an ex Dublin and it cost around £1500 for a return business class to Honolulu.
Lounges at Los Angeles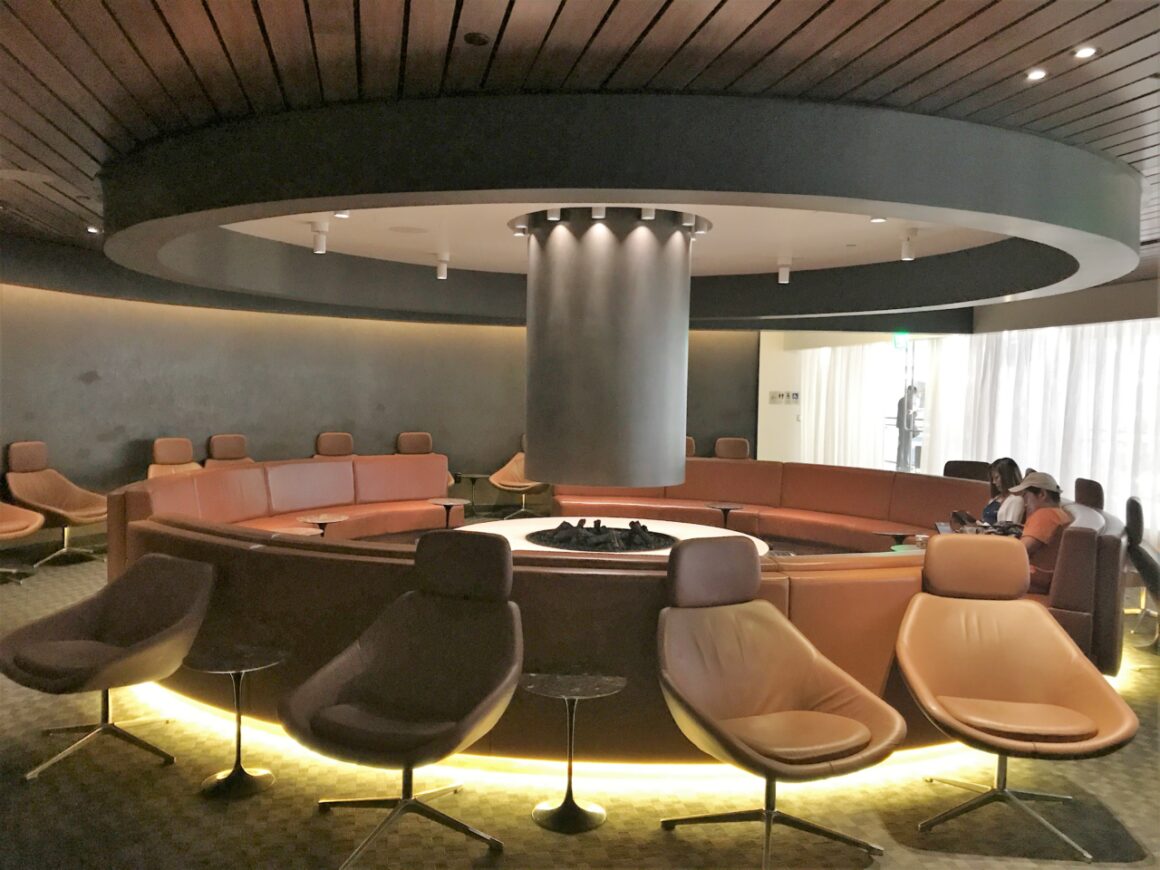 I will write a separate post about the lounges since I visited a couple. However, it is worth noting here that if you are flying American Airlines you don't have to use the Admirals Club or Flagship First (for BA gold card/OW Emeralds). There is a walkway between Terminal 4 which AA use and the main Tom Bradley International Terminal. It only takes about 5-7 minutes to walk to the TBIT lounges which are much better than the AA lounges in my opinion. In TBIT you have the Oneworld business lounge or the Qantas First lounge depending on your status and flying class.
Check in and boarding
I checked in at Terminal 4 and was decidedly unimpressed compared to the great Flagship First check-in at JFK. The premium check-in itself was fine but then I went upstairs to the security queue and saw there was no priority line and a massive queue. Fortunately, the queue moved fairly quickly but it wasn't the most pleasant start to my trip.
Boarding happened very early again and surprise, surprise they had already finished group 1 by the time I got there. I walked up to the empty Priority lane and was soon on board. I often think that it is better to board just after the rest of business and first so that you don't have to stand around.
Once at my seat I could see that there were a menu, water and amenity kit already at the seat. The amenity kit was the same as the way out with CE Bigelow toiletries in a Cole Haan designed bag. A pre-departure champagne or water was offered in the usual horrible plastic glass.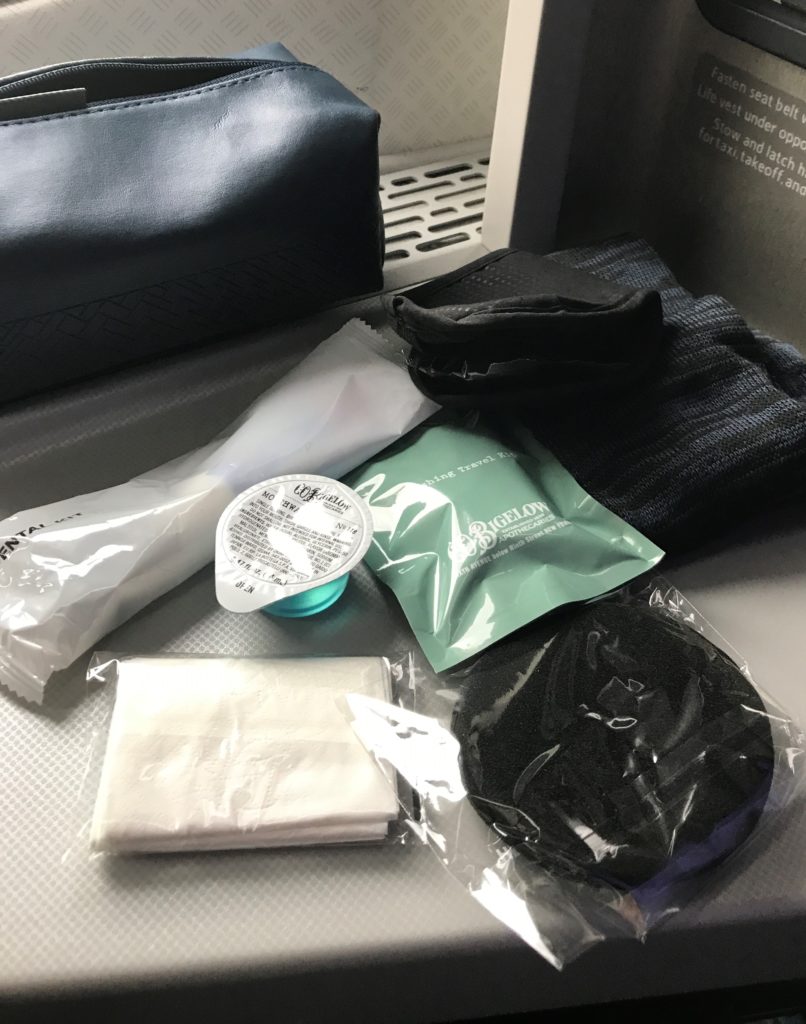 American Airlines B777-300ER business class Seat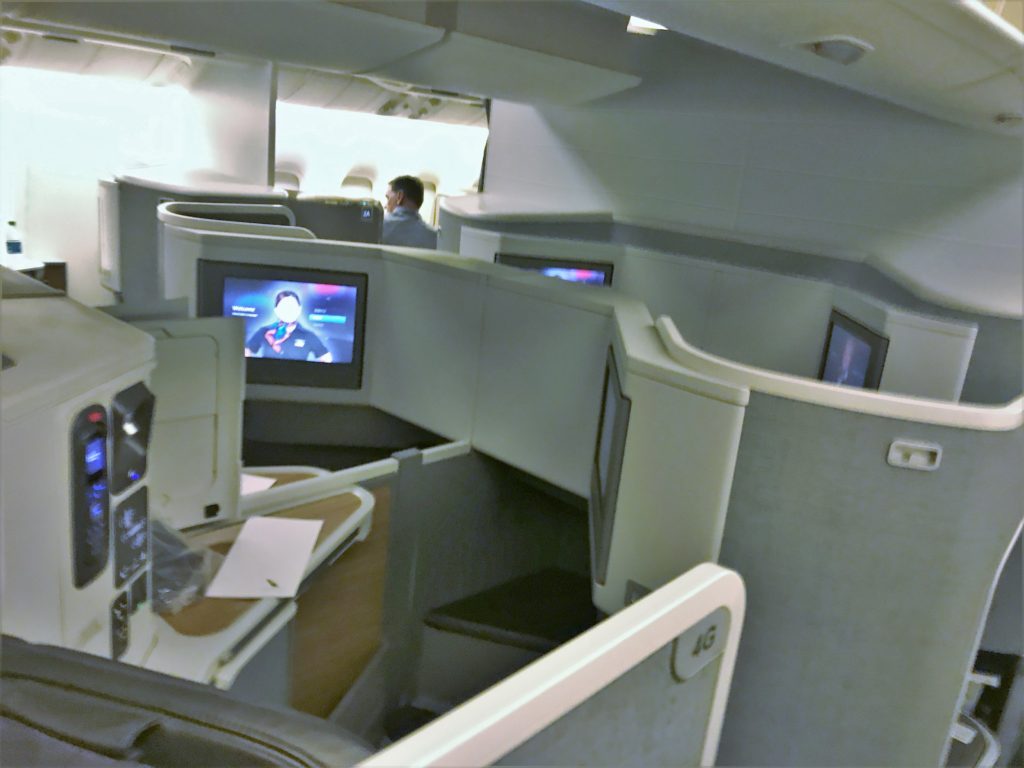 The seat was as good as I remember and is similar to the Qatar reverse herringbone seats. The layout is 1-2-1 and is over 2 cabins for business class. All the seats have aisle access and also feel very private due to the slightly staggered rows. As a solo traveller, the window seat is the best option whereas a couple would have to choose the middle seats if they wanted to be able to talk to each other.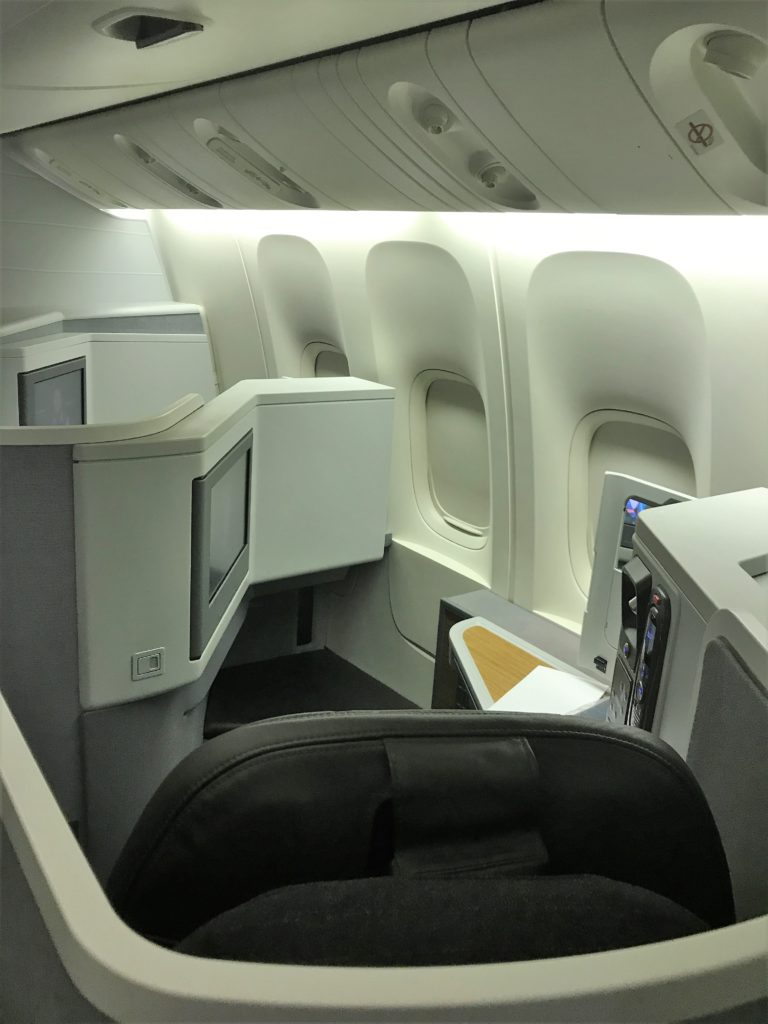 I was in the mini cabin of 2 rows as I had flown in this last time, but this time I was in 4K, the second row. Unfortunately, this meant I had the toilet behind me. Unfortunately, I kept getting wafts of toilet type odours when people went in or out, so I don't think I will be choosing that seat again! Row 3 was definitely a better choice but was unavailable when I selected my seat.
The seat was very comfortable and due to the layout, I didn't feel any movement from my adjacent passengers unlike on the B777-200. The seat was quite different in layout too. It had a small ledge for your feet and then a footstool which I couldn't reach in the upright position unless I moved the seat forward.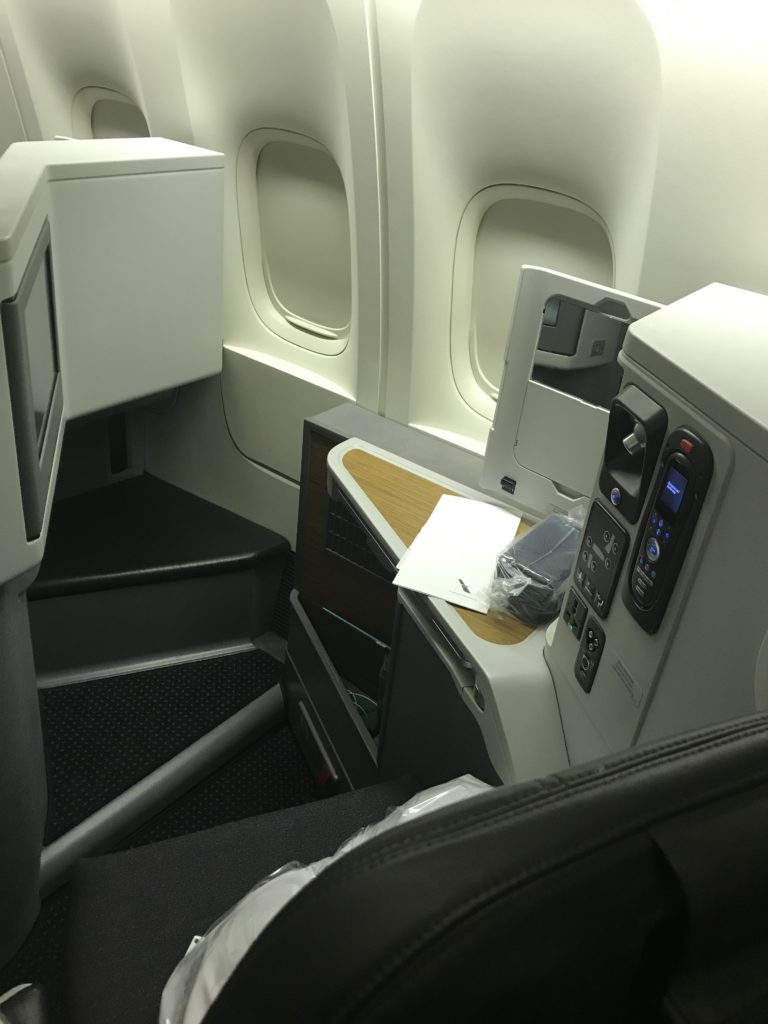 There was definitely a good amount of storage options which makes a nice change. The vain among us would particularly enjoy the mirror inside the headphones cabinet! Under the window shelf, there was also a large storage area with a netting pocket for securing smaller items.
From my seat I couldn't really see anyone else, which made it feel very private.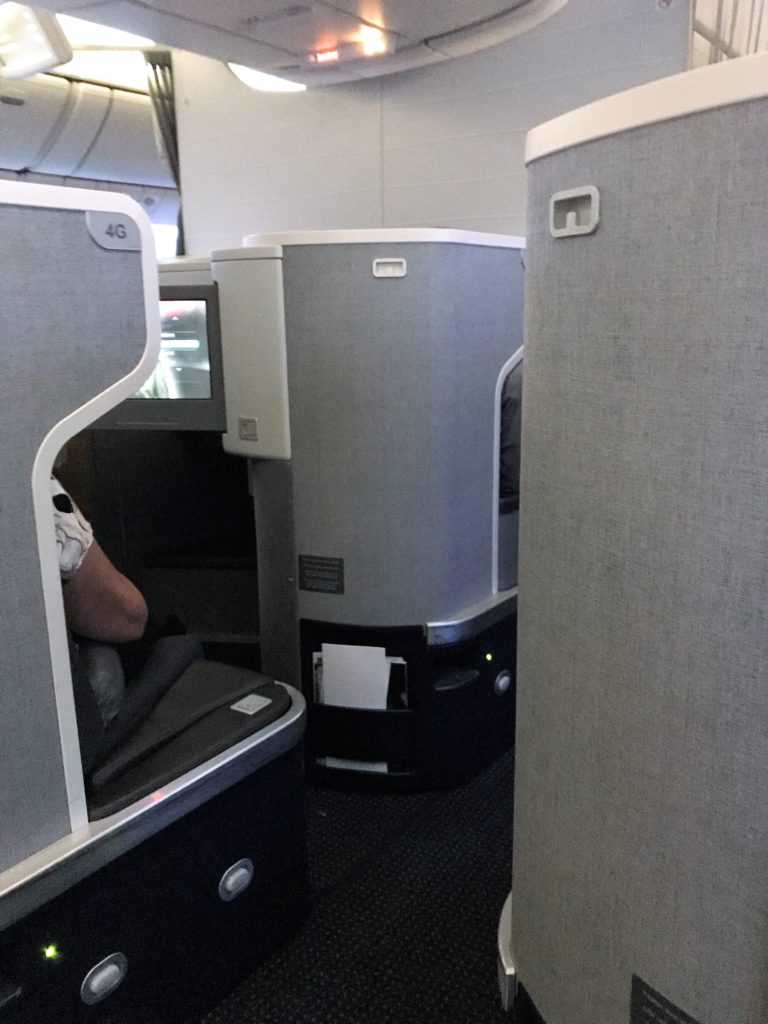 Seat controls were simple and it was fairly easy to find a comfortable position. I liked the fact that you could move the seat backwards and forwards so that I could reach the footstool. There was also a padded armrest on one side which could be lowered or raised as you wanted. This meant you could have it lowered if you wanted more space whilst sleeping.
The seat goes completely flat with one control setting. Unfortunately by the time I had to do this the cabin was pitch black, so please excuse the library photo! As usual, the lovely AA silky quilt and large pillow were provided which made for a good sleep combined with the comfortable seat.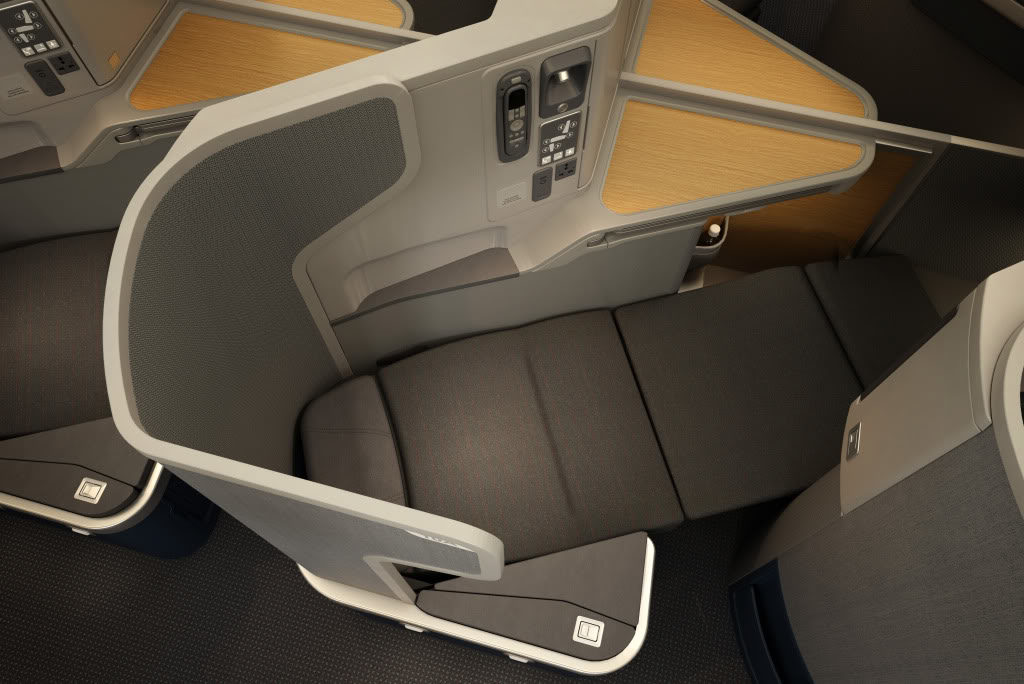 American Airlines B777-300ER business class Food and drink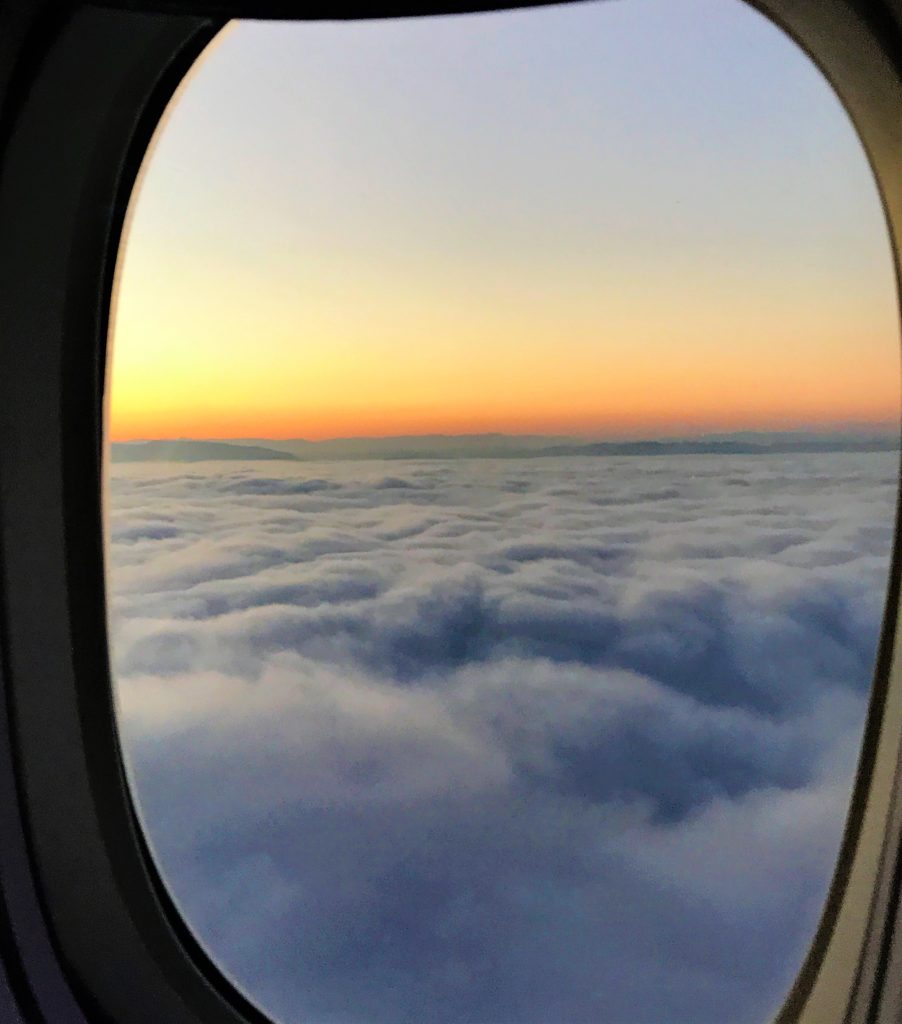 After take-off enjoying a spectacular sunset over LA, it was time for a drink and warm nuts. I can never resist a Bloody Mary on American with Tito's Handmade vodka, so yet again I went for my usual. It was presented nicely in a decent size glass and the nuts in a proper bowl.I did find it annoying that they insisted on having the full table with the table cloth for the drinks service.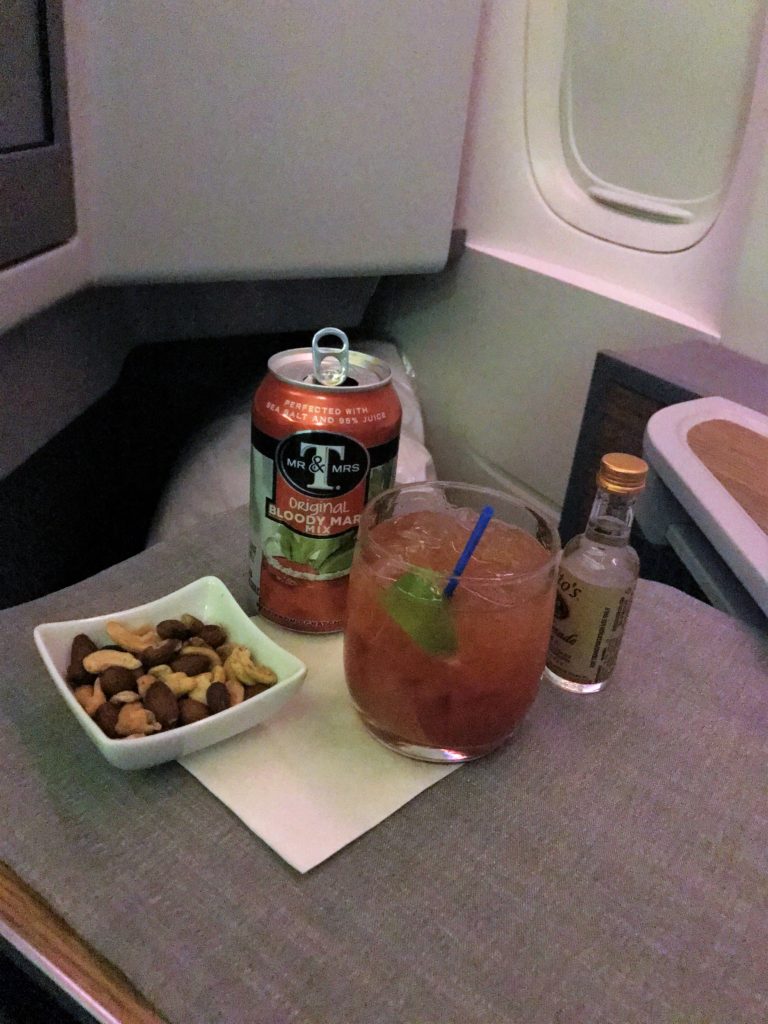 The table was large and very stable, so if you wanted to work it would have been ideal. I like the smart linen look tablecloths and the tiny salt and pepper shakers.
On AA there is no choice of starter but seeing as it is vegetarian and there is also an enormous salad with it, it should suit most people.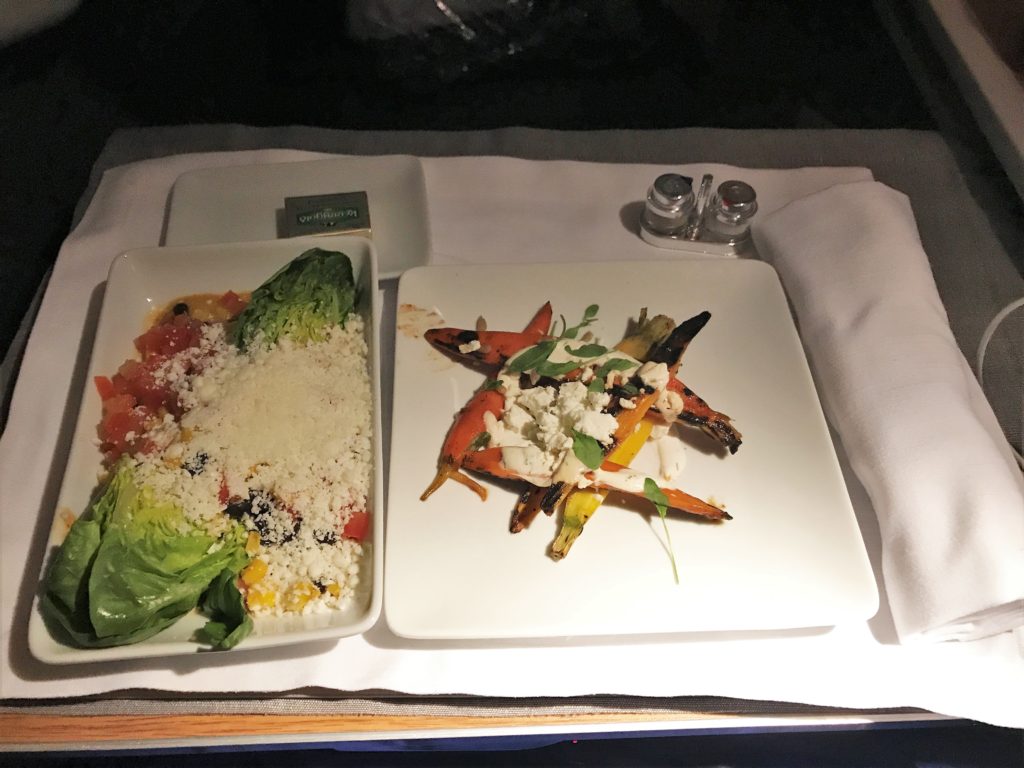 Warm bread was also offered with the starter including my favourite German pretzel bread. The starter was Hickory smoked rainbow carrots with goats cheese, sunflower seeds and a dill buttermilk dressing. The dish was presented beautifully, pretty much restaurant standard. Although the dish was very tasty the carrots were a bit hard and I feared one would go shooting across the cabin in Pretty Woman style as I tried to cut into it!
The accompanying salad was an enormous portion but it was really moreish with the piquant spicy dressing, so I found myself eating it all. The salad was a Southwest wedge salad with chipotle cilantro dressing, roasted corn, black beans and Cotija cheese. One thing about American is that they do have some interesting salads, unlike the BA ones that seem very repetitive.
For main course, there was a choice of 4 options. I had pre-ordered and had deliberated for a while between 3 out of the 4 options. In the end, the chicken won.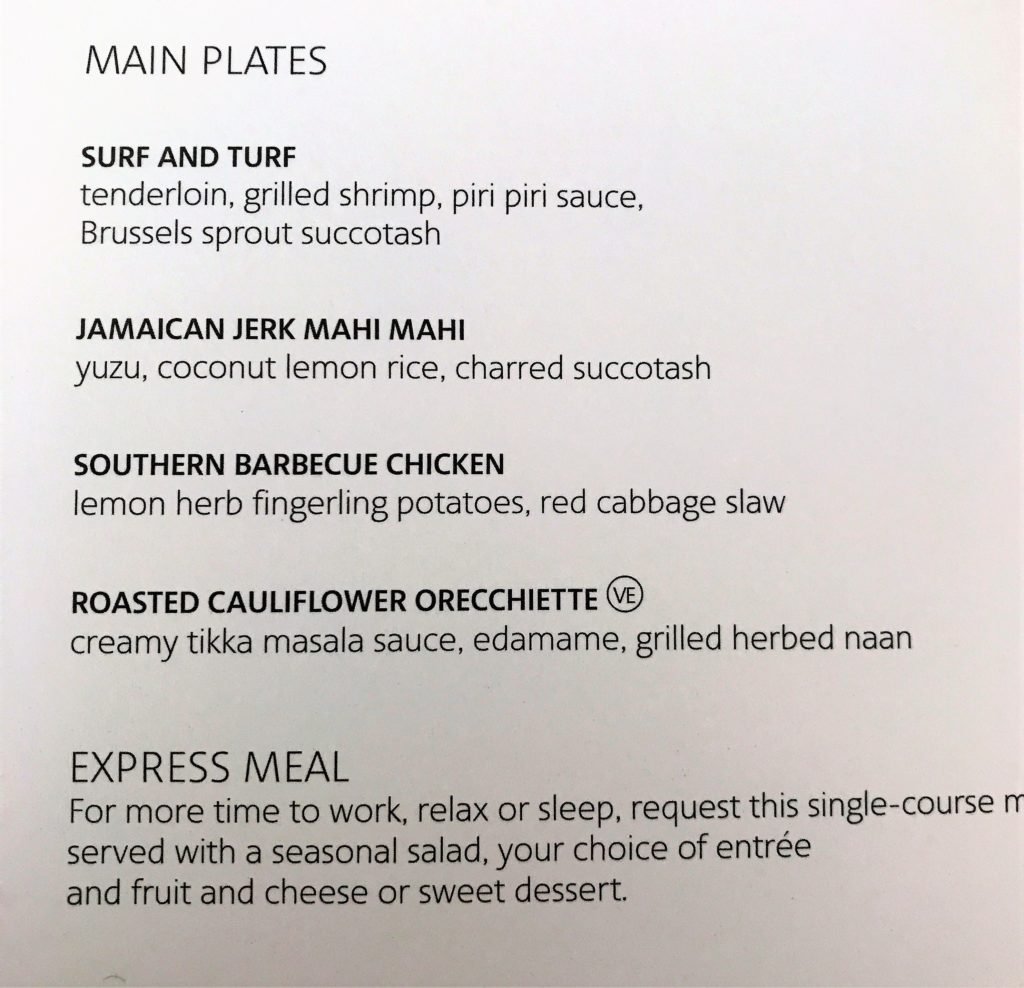 The chicken was tasty and it was nice to see that the sauce came in a proper dish, not just the foil one that we had on the way out. I wasn't overly keen on the red cabbage which could have done with some sweetness, but otherwise, it was enjoyable if unsophisticated.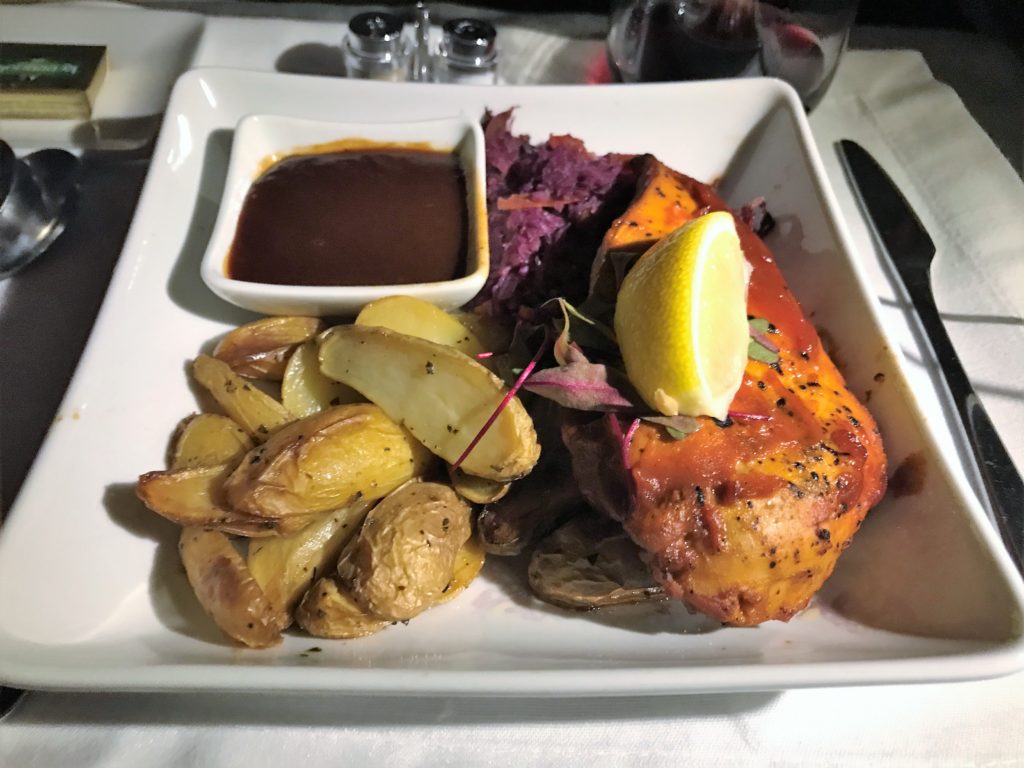 For dessert there were 3 options: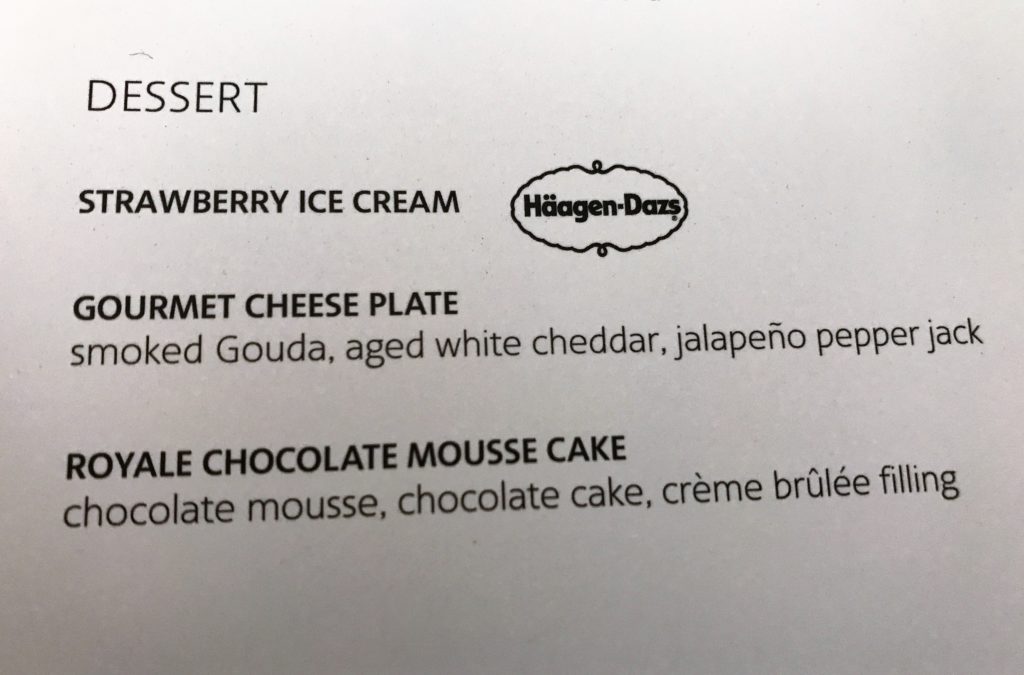 I asked for the ice cream and was surprised to be given an ice cream sundae instead of strawberry ice cream.
If you were hungry between meals, there was also the fantastic buffet of snacks in the galley with wraps, open sandwiches, desserts and crisps, chocolate etc.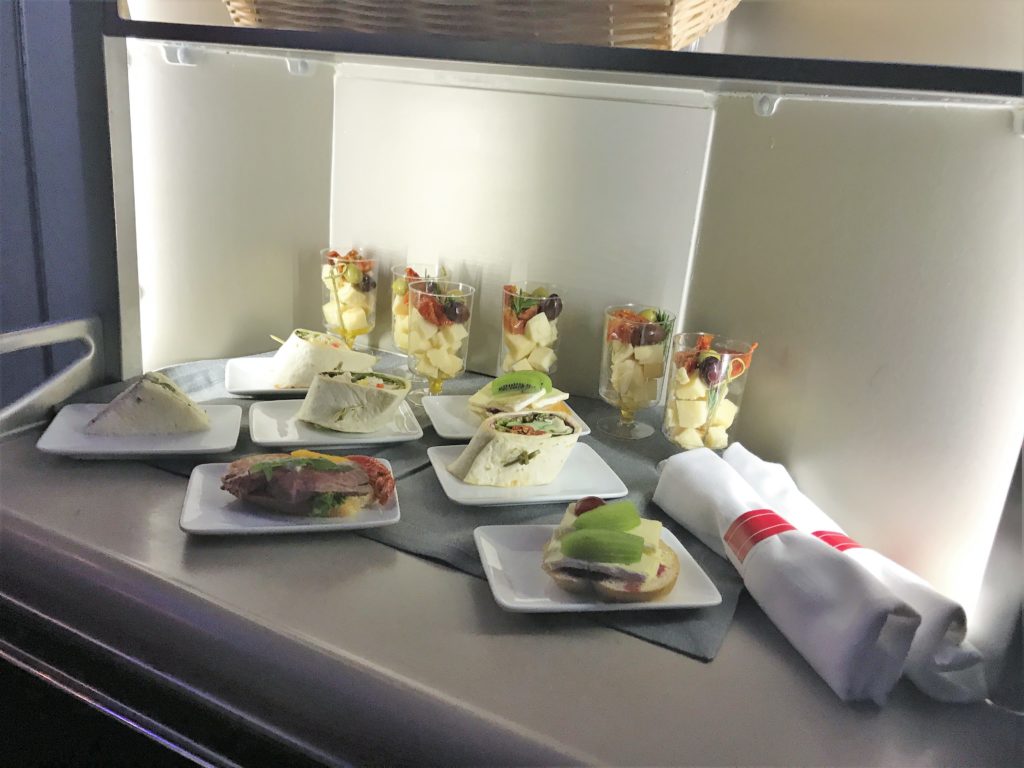 I had decided to maximise my sleep time since I had a large dinner, so I didn't bother with breakfast. The choice didn't look overlooking exciting though. I am not sure what AA's obsession with smoking everything is all about, after the smoked carrots, now smoked chicken sausages!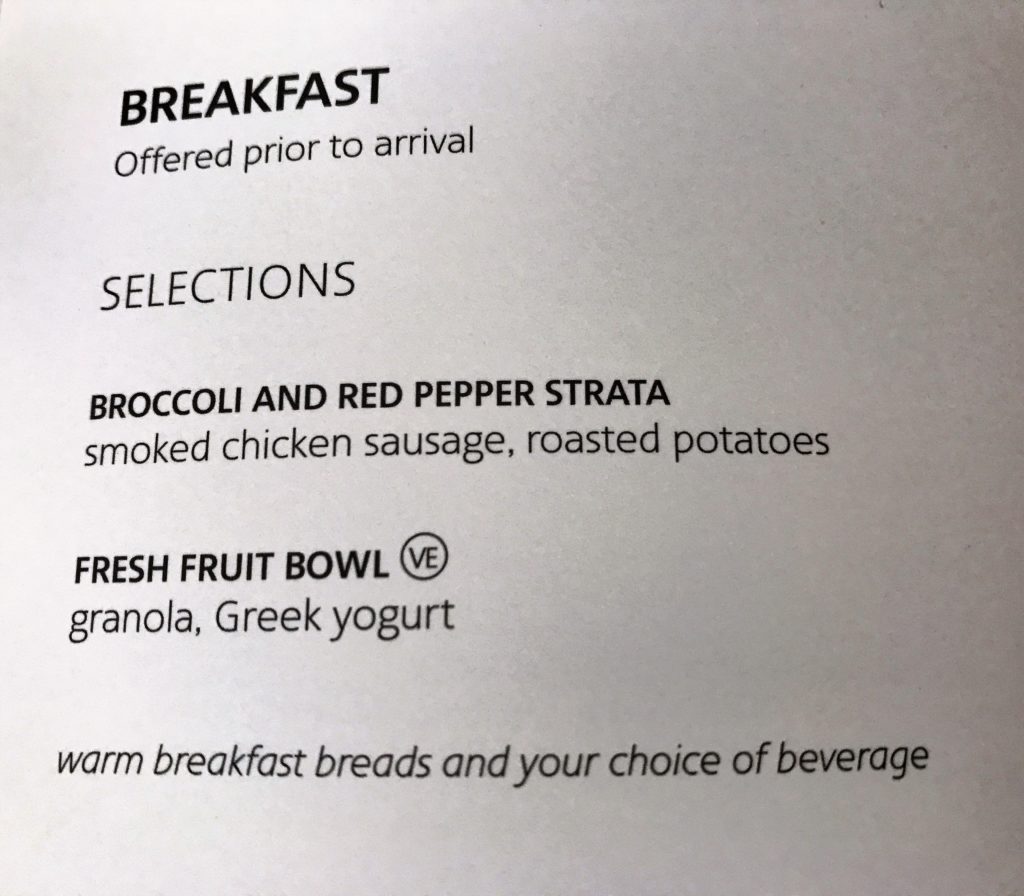 I did have a mug of tea and a juice though. Surprisingly, the tea was actually pretty good considering it was onboard a plane and made on an American airline!
The service on the flight was pretty much the same as all the other AA flights I did and I like that they are consistent. I found the staff to be efficient and professional but never particularly personable or friendly.
Drinks
As well as Champagne, there was a choice of 4 wines, 2 red and 2 white which were the same as the way out.
De Venoge Cordon Bleu Champagne
Beringer Chardonnay, Napa
Klein Constantia Sauvignon Blanc, South Africa
Hancock & Hancock Cabernet Sauvignon, McClaren Vale, Australia
La Fou Garancha Negra-Syrah, Spain
There was also a Churchill's LBV Port. I had the Cabernet Sauvignon which I enjoyed. The wines aren't the most expensive but they were better quality than AA used to have a few years ago. I liked the stemless wine glasses as there is far less chance of knocking them over as well as getting a large serving too!
They had a great selection of other drinks, including lots of different soft drinks with several diet choices. For spirits, there were no less than 5 whiskeys including a Glenlivet 12 year single Malt and a Woodford Reserve Bourbon. They also had Bombay Sapphire Gin, Baileys and Amaretto. There were 6 beers to choose from including Samuel Adams and Dos Equis. Not much chance of getting off AA sober if you like a drink!
American Airlines B777-300ER business class Entertainment and technology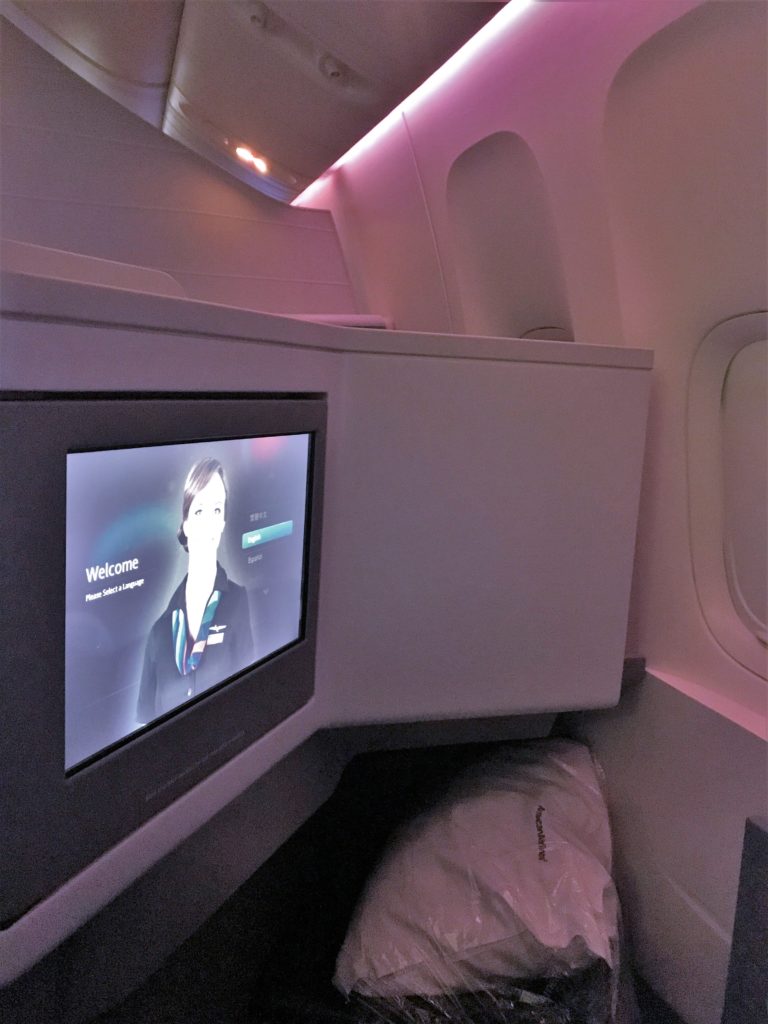 The charging points weren't as good as the B777-200 but there was still a universal socket to plug your device into and 1 USB port. The TV screen was a good size and high definition. It had to be tucked into the side during take-off but you could still see the screen OK.
The entertainment system was easy to control using either the touchscreen itself or the handheld remote. The remote is not as sophisticated as the touch screen one on the B777-200 but actually, I found it easier to use if anything. There was a large choice of films with plenty of recent movies plus the usual TV shows, music and games.
Bose noise-cancelling headsets were already at the seat and these had excellent sound quality, as well as being very comfortable. The downside is that AA are so precious about them, that they collect them very firmly 1 hour before landing, which is way too early. They will even wake you to get them if you are asleep!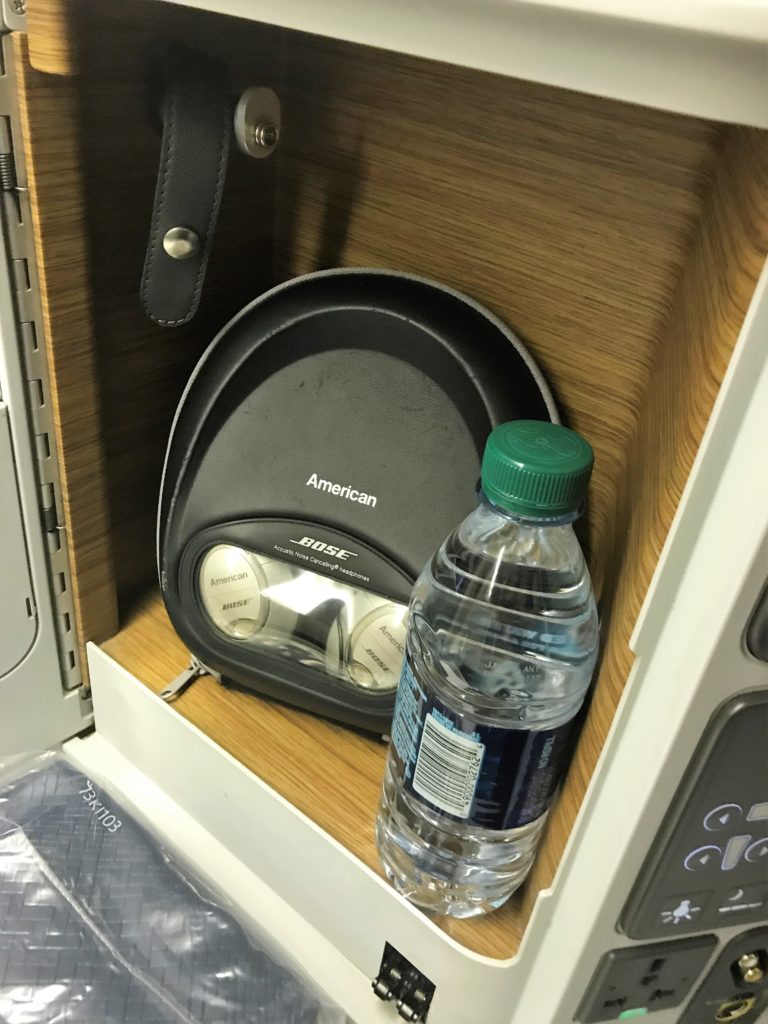 Arrivals lounge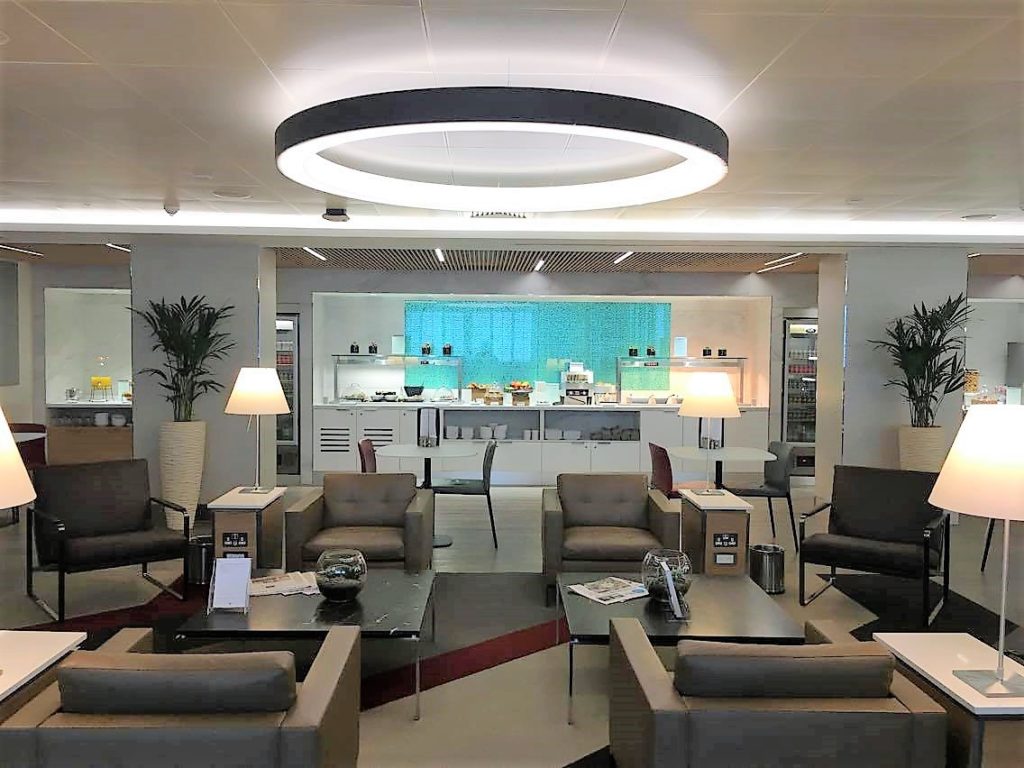 If you are arriving into Terminal 3 on American Airlines or BA in business or first class, there is an excellent arrivals lounge. I didn't visit on this occasion but you can read Roving Reporter's review here.
Conclusion
This will definitely continue to be my first choice for transatlantic flights with the AA B777-200 a close second. The seats were more comfortable than the B777-200 and you could feel less movement from adjacents seats. I also like the mini-cabin on the B777-300 providing you don't end up by the toilet! BA has certainly fallen far behind AA in their business class and the only thing I would say they have the upper hand on is the service when it is good and the quality of the wines.