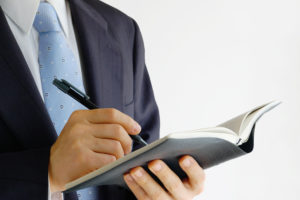 My Roving Reporter has recently been on a madcap tier point run of Asia thanks to a great Qatar deal from Pisa in their sale. The flight to Bangkok cost €1069 return. He flew on the regional business class A319 to Doha and was impressed by his experience. This is good to know, as some of the cheapest Qatar deals such as the £500 deal from Bucharest to Dubai, have featured the A319. The flight time to Doha was just under 6 hours. The A320 is also used for regional business class and is identical except for an extra row of business class.
Pisa Lounge
The Oneworld lounge at Pisa is the third party Galiliei Vip Lounge. It is on the first floor in the Departure Area, right past the security checkpoints. The lounge is charmingly 'granny-ish' and comfortable but it is on the basic side.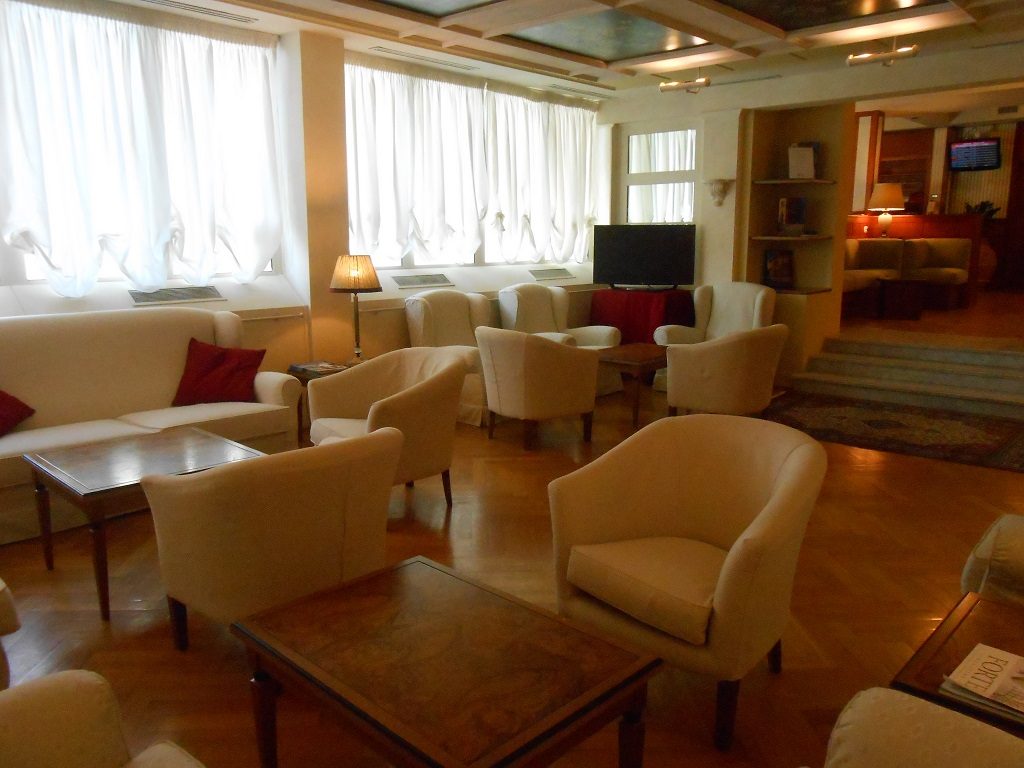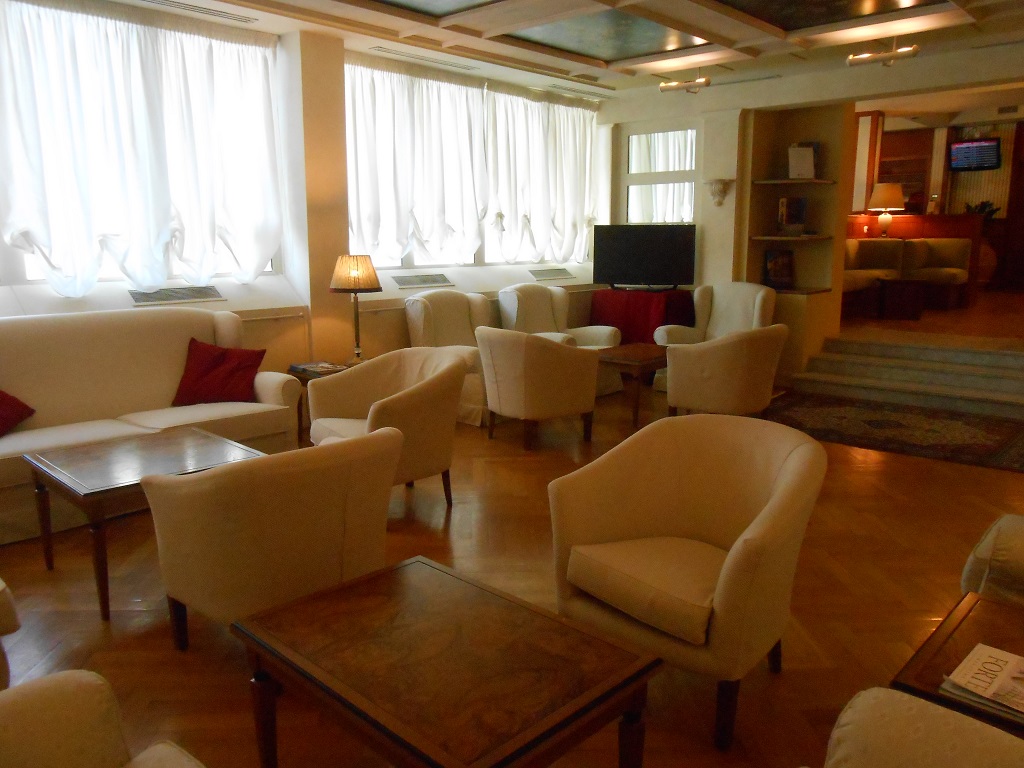 Boarding
Interestingly, they boarded from the back of the aircraft first. I only witnessed this as I got to the gate early since the lounge wasn't great. However the check in lady saw me, and insisted I came to the front of the queue, so I boarded first. The rest of the Business cabin boarded after everyone else.
Once on-board I received a lovely welcome. Both business class crew members introduced themselves (and knelt). I was offered anything I wanted to drink, which was a nice change from the standard selection on most airlines. I had Mint Tea and 2 full glasses of champagne before take off.
Amenity kit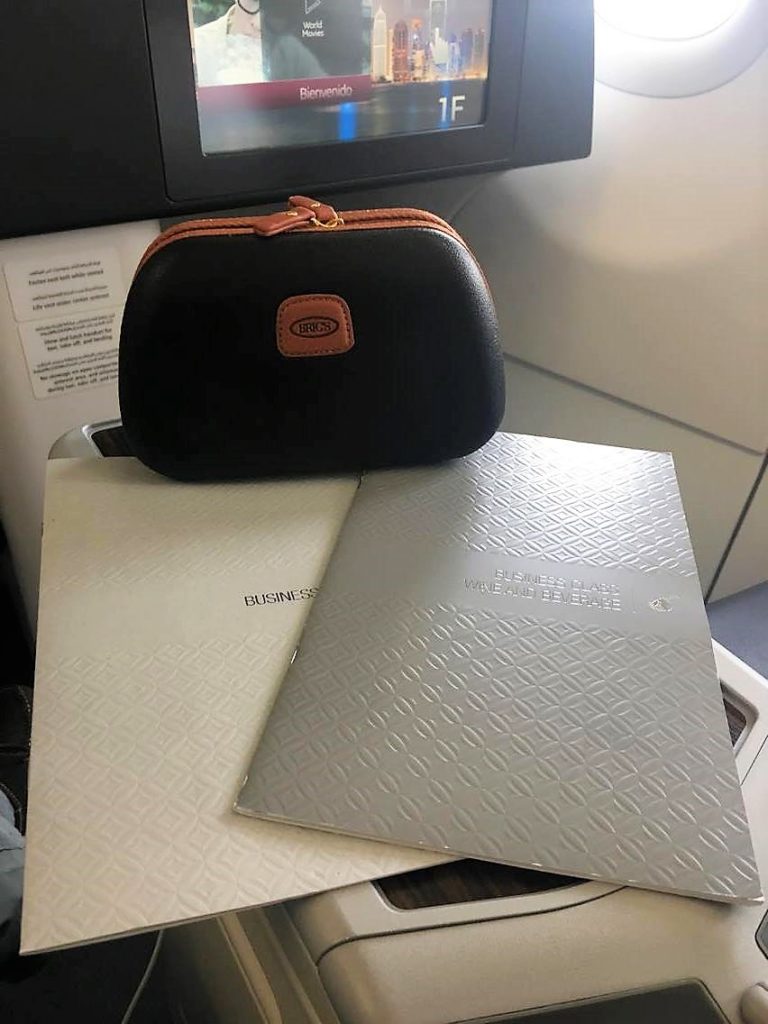 Unlike my last trip, they had the new BRICS amenity kit. I thought that this was a vast improvement on the previous Armani kit. They looked very smart and had a much better selection of products for using on the flight. The problem with the Armani kit was that if you didn't like the fragrance, there was not much else in the kit. There is a choice of grey, black, burgundy or white cases. Unlike the Armani kit, it contains products from Italy's Castello Monte Vibiano Vecchio, an environmentally friendly olive oil company. The kit comprised of lip balm, City Cream anti ageing moisturiser, hydrating facial mist, flight socks, eye mask and earplugs.
Seats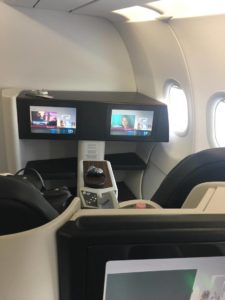 The A319 business class cabin is tiny with only 2 rows of 2-2 layout. The seat is very spacious when you compare it with something like BA Club Europe regional business class. It has a similar feel to the AA A321 trans-continental aircraft. There is plenty of space for your feet on the ottoman. Even more impressive for regional business class, the seat converts into a fully flat bed. The only disadvantage is the 2-2- layout if you are travelling on your own. In order to exit the window seat, you will have to climb over the person next to you if they have the bed out.
The television screen appears very small compared to the modern Qatar aircraft though this is isn't helped by it being so far away, instead of to the side. It is akin to the old A330 monitor, but it was actually more than adequate for the relatively short flight. Bose noise cancelling headphones were provided.
Dining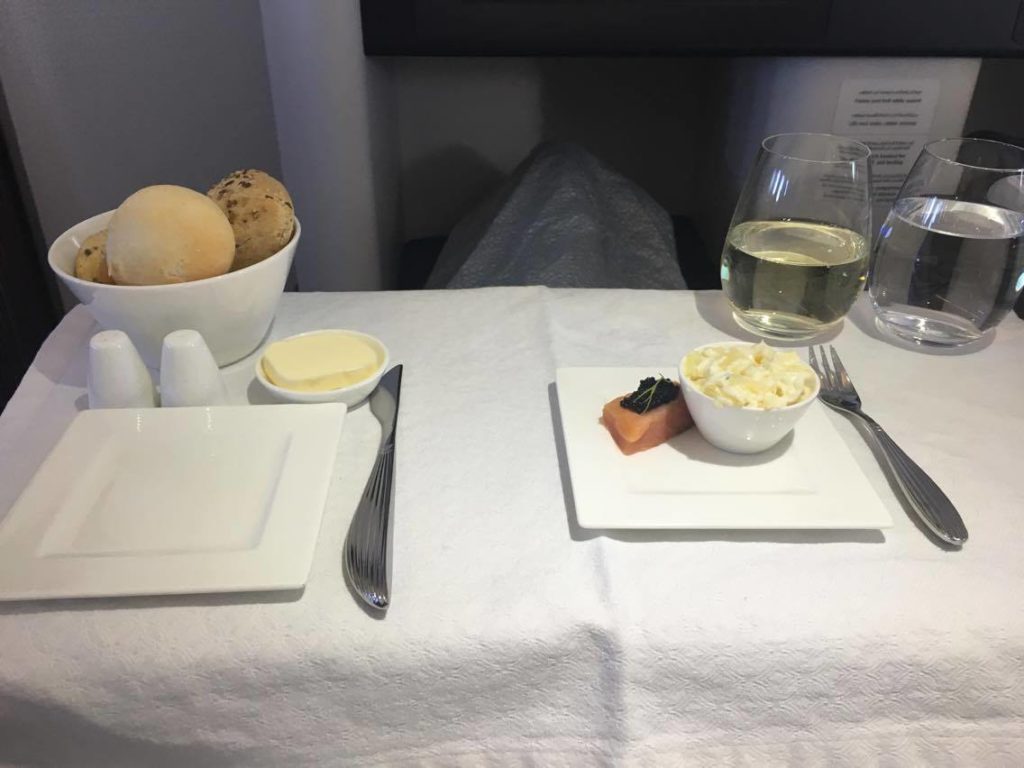 As usual Qatar offered dine on demand. I ordered my meal for 1 hour after departure. I was offered an amuse bouche of smoked salmon with potato salad, which appeared to be a small portion of the appetiser! The menu was the same as from the flight I took from Oslo last month. The beef was clearly a popular option as they soon ran out, but not before I secured my order.
Example menu: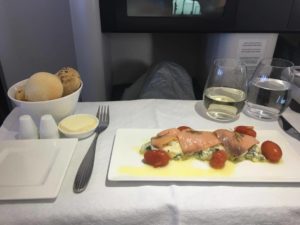 Soup
Roasted butternut squash soup
Appetisers
Mezze
Smoked salmon with pea and potato salads
Main Course
Arabic spiced chicken with machboos sauce
Grilled fillet of beef with horseradish jus
Paneer tikka masala with makhani sauce
Cheese plate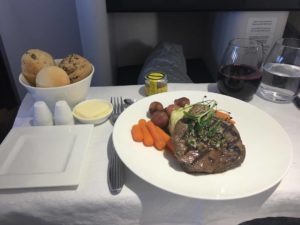 Dessert
Lime and coconut panna cotta
Gourmet ice cream
Fresh Fruit
The beef was disappointing as it was bland and tough. I had enjoyed my steak on the Oslo flight so perhaps their are better ovens on the B787! I did, however, really enjoy the cheese plate which certainly puts the Club World cheese plate to shame!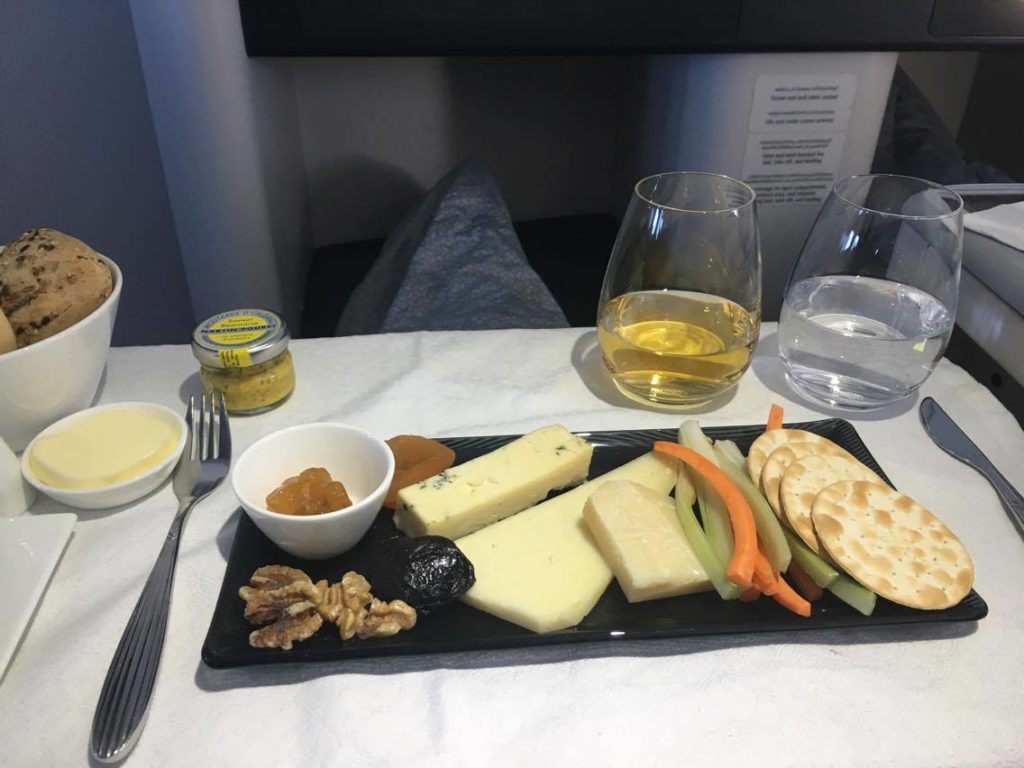 Wines
Billecart Salmon Champagne
Lanson Brut Rose
Francois Martenot Chablis Premier Cru 2015
Babich Black Label Marlborough Sauvignon Blanc
Gustav Lorentz Gewurtztraminer
Chateau Brane-Cantenac Margaux 2012
Two Hands McClaren Vale Shiraz
Villa di Vetrice Chianti Rufina Riserva 2011
Lions de Suduirant Sauternes 2013
Gran Cruz Tawny Port 1992
Service
The service was the usual high standard from Qatar. I was offered regular top ups of my drinks. When I requested another bottle of water, I was offered a choice of either freezing cold or room temperature. This is the first time I have been offered this on an aircraft and it was a nice touch.
Summary
Overall this was an excellent flight, as you would expect from Qatar. Although the regional seats are not as good as the normal Qatar business class seats, they were more than adequate for the short flight time. When you compare this to other regional business class products such as AA or BA, this is definitely streets ahead.