British Airways' new hand baggage trial
If you have been on a busy BA flight on short haul recently, you will no doubt have seen the fun that crew and gate staff have trying to get all the hand luggage on board. Ever since the invention of hand luggage-only fares, pretty much all airlines have struggled to fit the volume of hand luggage onboard. BA often seems to be its own worst enemy here as I often see people with three bags, way over the limits, not being challenged at all. Or with wheelie bags very obviously way bigger than allowed. I would have thought actually policing how much stuff people bring on board may help.
In order to solve the problem, BA has decided to trial ditching the usual yellow luggage tags that indicate the bag must be placed under the seat and try a blue tag that will be added to larger bags which must go in the locker. The trial is running now for three weeks from flights leaving from Amsterdam, Barcelona, Budapest, Dusseldorf, Madrid, Zurich and Newcastle. I'm slightly bemused as to how this will be any different from the yellow tags (which people have been known to take off). I flew Easyjet on Friday, and they were not mucking about in their policing of baggage. One passenger tried to sneak their bag on with the tag that indicated it had to be checked, and the cabin crew raced down the aisle after him!
With Finnair recently launching a Super Light fare where you are only allowed one small bag that fits under the seat in front, let's hope if the trial is not successful, BA don't get ideas from their oneworld partners!
While they are at it, perhaps they could trial sorting out the boarding process two. I just did six flights within the US, and somehow, they managed to do each one without the rugby scrum you usually get with BA.
Qatar's Louis Vuitton lounge opens at Doha Hamad airport
There was a big media event in Doha (my invitation seems to have got lost in the post..) this week for the opening of the Louis Vuitton lounge, which is within Qatar Airways' new lounge complex at Doha airport.
This will be Louis Vuitton's first airport lounge in the world. The lounge, located at Hamad International Airport, is as you'd expect a stylish and luxurious space that offers passengers a variety of amenities, including:
A restaurant with a menu developed by Yannick Alléno, a three-star Michelin chef
A bar with a wide selection of wines, spirits, and cocktails
A spa with a variety of treatments
A business center with Wi-Fi and printing services
A children's play area
A duty-free shop
The design is inspired by the city of Doha, with elements such as Arabic calligraphy and traditional Qatari motifs. The lounge is also equipped with the latest technology, including a large TV screen and a sound system.
The opening of the Louis Vuitton airport lounge is part of the brand's expansion into the hospitality industry. In recent years, Louis Vuitton has opened a number of restaurants and hotels, including a five-star hotel in Paris. The company is also planning to open a number of other hotels in the future.
Defining a new level of luxury with @qatardutyfree at the opening of the world's first Louis Vuitton Lounge at @HIAQatar 🌍✨ #QatarAirways #HamadInternationalAirport #Doha pic.twitter.com/uv55fJP19i

— Qatar Airways (@qatarairways) May 23, 2023
You'll find the new Vuitton Lounge easily as when you enter the new Al Mourjan Lounge, the first thing you'll see is the Louis Vuitton store straight ahead.
The adjoining restaurant serves a menu curated by three-star Michelin chef, Yannick Alleno. Each dish served at the restaurant is made to highlight local ingredients. In this section, there are dining tables and more relaxed cafe-style tables. The Vuitton branding is hard to miss with motifs on the floor and even the food featuring the symbolic logo. There is also a more lounge-like area with cafe-style tables and relaxed seating.
Like its handbags, some of the food prices are not cheap. But of course, you could just eat in the main lounge for free. The menu is mainly more cafe style, but there is a tasting menu for a mere £334, but it does feature caviar. There is also a more reasonably priced set three-course menu for around £80. In the a la carte section, it is more cafe-like with sandwiches, salads, pastries, caviar and sushi, although there are a few "main courses". However, the cheapest sandwich starts at £4 which is reasonable. If you want to splash out, a hot lobster sandwich costs £16, which is a good price.
Will you be visiting the Louis Vuitton lounge when you fly through Doha? Let us know in the comments below.
HT: OMAAT
Iberia to return to Heathrow T5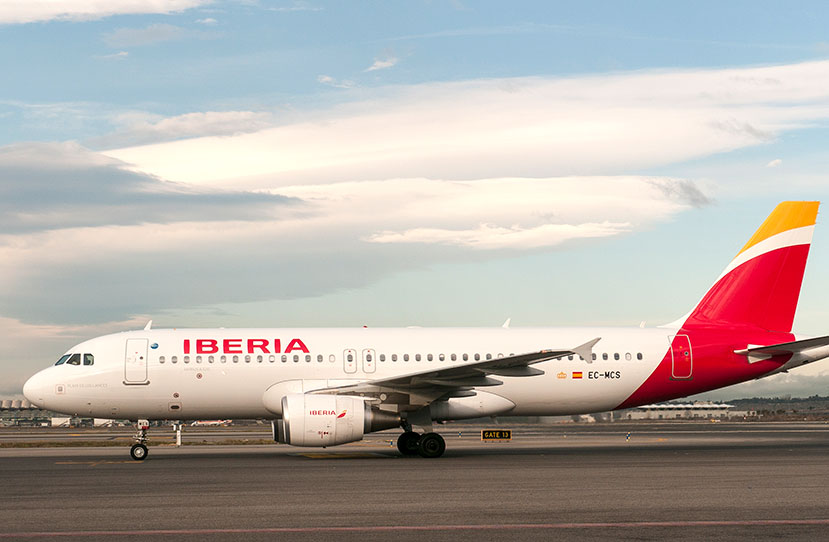 Prior to Covid, Iberia was situated within T5 at Heathrow, but last July it was moved out to T3, mainly due to concerns about strike action at the time. Now the musical terminals are back as from 1 June, Iberia will move back to Terminal 5 at Heathrow Airport, relocating its flights. The check-in area will be in zone B as it was before.
This is slightly concerning, seeing that T5 already seems overwhelmed by the number of flights judging by the amount of times I have been bussed to a remote stand at T3 from T5 on departure recently. Given that and the wait for a stand on arrival, I'm not sure that bringing another five flights a day is going to help the situation when it appears Heathrow and BA are already struggling. This will also mean more connecting passengers in a terminal where connections already are a pain, and there is usually no fast track any more.