I travelled back to the UK with Singapore Airlines after a 3-week trip around Thailand and Singapore. Having tried Thai Airways economy class on the outbound journey to Phuket, I was keen to try flying long-haul with Singapore Airlines, especially after the airline recently won a SKYTRAX award for the world's best economy class airlines in 2022 (3rd for seats and 2nd for catering and 1st for Asian airlines). This was a day flight leaving Singapore at 9:00 am and arriving at Heathrow at 3:40 pm.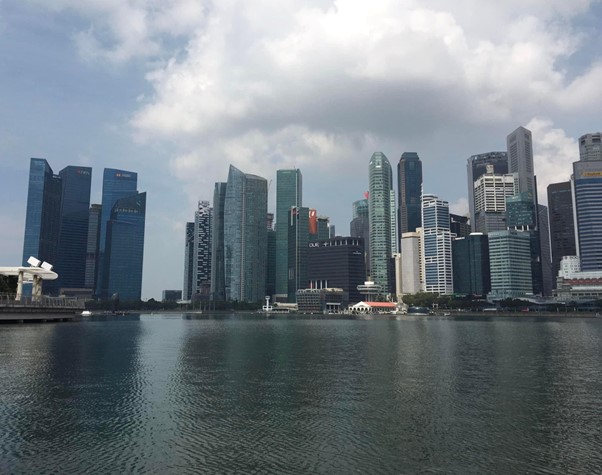 Booking a Flight with Singapore Airlines
The flights were easy to book. The hardest part was ensuring all the details for two adults and one child were correct. We booked a basic non-cancellable fare for £481 per person six months before. This included a 23kg baggage allowance per person and free seat allocation.
During the booking process, I also signed up for KrisFlyer rewards. Once I had booked, the confirmation email came fast. Once you've booked, I recommend downloading the app for all the necessary information.
I checked in 2 days before the flight. It was a straightforward process of reviewing the details. We were all correct.
You can collect or redeem miles on Singapore Airlines on any Star Alliance airline. However, there is now a way to collect Skyteam miles by crediting to Virgin Atlantic which are now part of Skyteam but also partner with Singapore Airlines. This means you could redeem points you collected on Singapore on a Skyteam airline.
Travelling to Changi Airport
The journey to the airport was simple. We stayed just 20 minutes from the airport in the MacPherson area of Singapore.
The hotel advised us to come down and book a taxi 10 minutes before. A taxi arrived within 5 minutes at 5:10 am, and we were soon at the airport after a traffic-free journey. The benefit of a taxi rather than the metro is that we were dropped right outside the Singapore Airlines check-in area at terminal 3.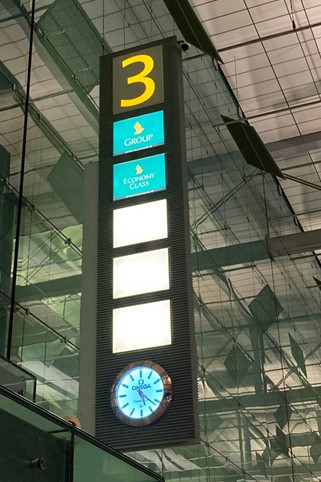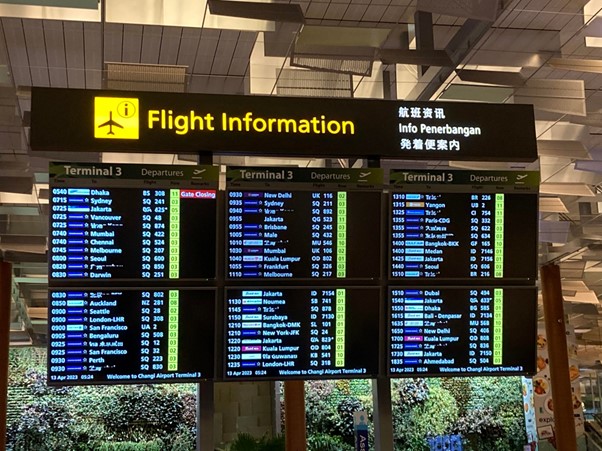 Check-In
Having previously checked in online, I tried to use the automatic check-in machines, but there were a few errors, so we were advised to check in at the counter.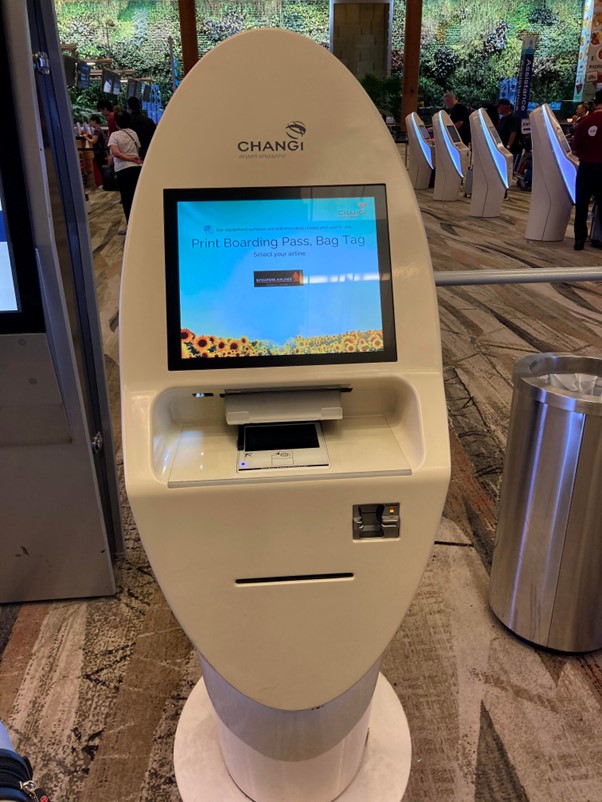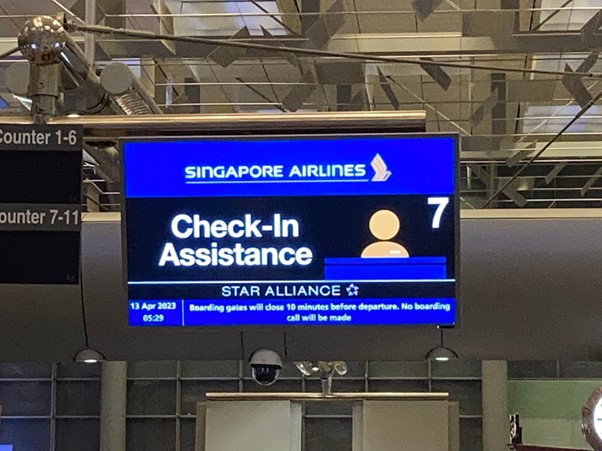 Here, we were given a choice of keeping the electronic boarding passes or replacing them with a paper version. This part of the check-in was very efficient.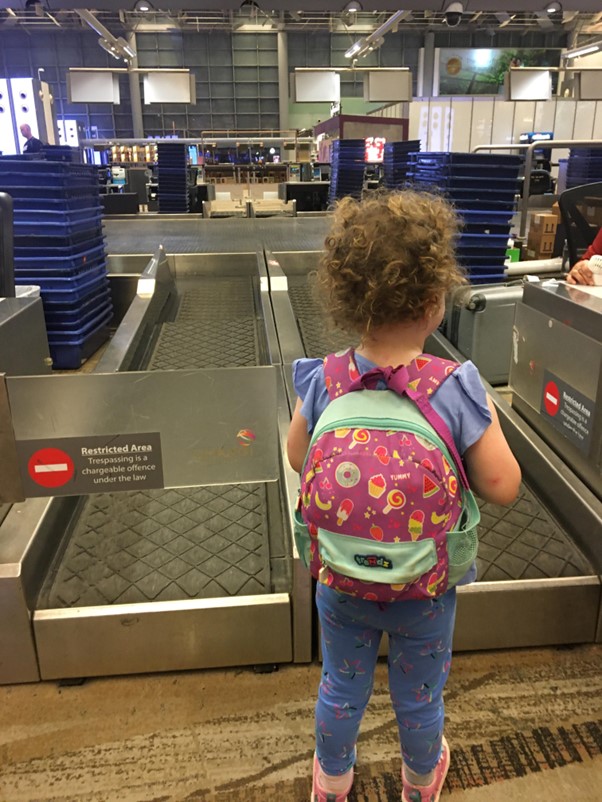 One thing I like about Singapore airports is that backpacks don't have to go through oversized baggage, saving time.
It was very fast getting into the departures area. I just scanned my boarding pass for access. Security is located at the gate.
Exploring Singapore Airport – Terminal 3
There were lots of things to do at Changi Airport Terminal 3. We started by eating breakfast at a lovely cafe before exploring the shops. They had everything from children's toy shops to souvenir shops to luxury stores. There was a sizeable Singaporean-style food centre, a 7-11 and many restaurants, takeaways and cafes.
Throughout the terminal, there was comfortable seating, although people were asleep everywhere due to the airport being a popular connecting flight hub.
Terminal 3 has a 24-hour cinema. I looked in again; it was filled with people lying on the floor asleep. The film was not suitable for children, so we quickly left. The terminal had Xbox Kinect gaming stations and Mario Kart areas. The terminal is also supposed to have a giant slide which I didn't find.
Our highlight was the Butterfly Garden which features butterfly species from around the world. It was still dark when we looked around, but we still spotted lots of butterflies.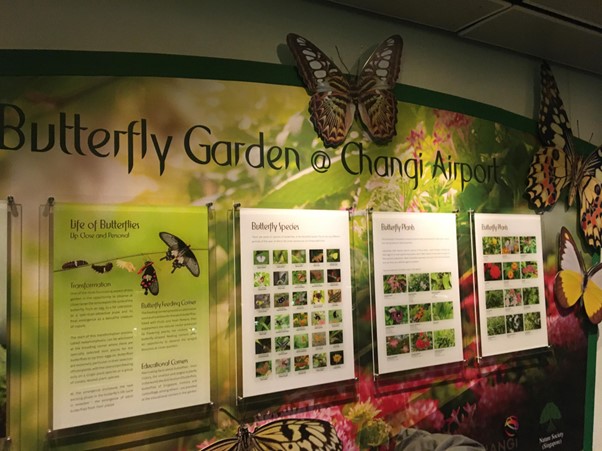 Lounges
Because the check-in process and journey to the airport were so fast, I did not think we would have as much time as we did at the airport, so I wish we had booked a lounge.
Terminal 3 is home to the following lounges:
Marhaba Lounge
SilverKris Lounge
KrisFlyer Gold Lounge
SATS Premier Lounge
SATS Special Service Lounge
DBS Asia Treasures Lounge
Ambassador Transit Lounge
The Gate
The airport screens displayed the gate well in advance, but we could only enter the gate area at the specified time. They were doing one flight at a time. Security was located at the gate. Luckily we were sitting nearby when the access was open, so we got through very quickly with no issues.
Once at the gate, there was a good children's play area and a small snack bar. There were some excellent views out of the window and comfy seats. I settled down and prepared for a long boarding process as we were boarding in group 4.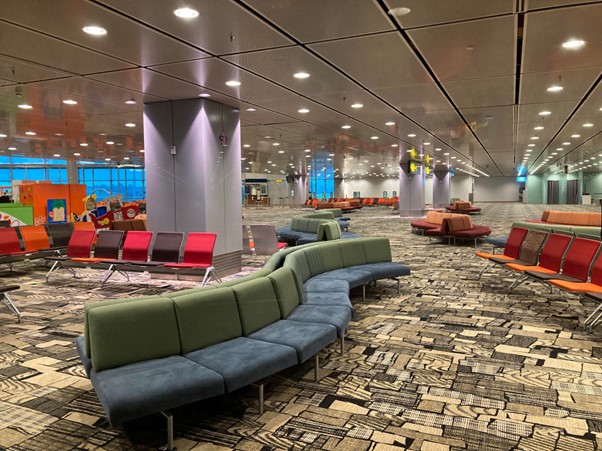 Boarding
Once group 4 was announced, boarding was very quick, with minimal queuing.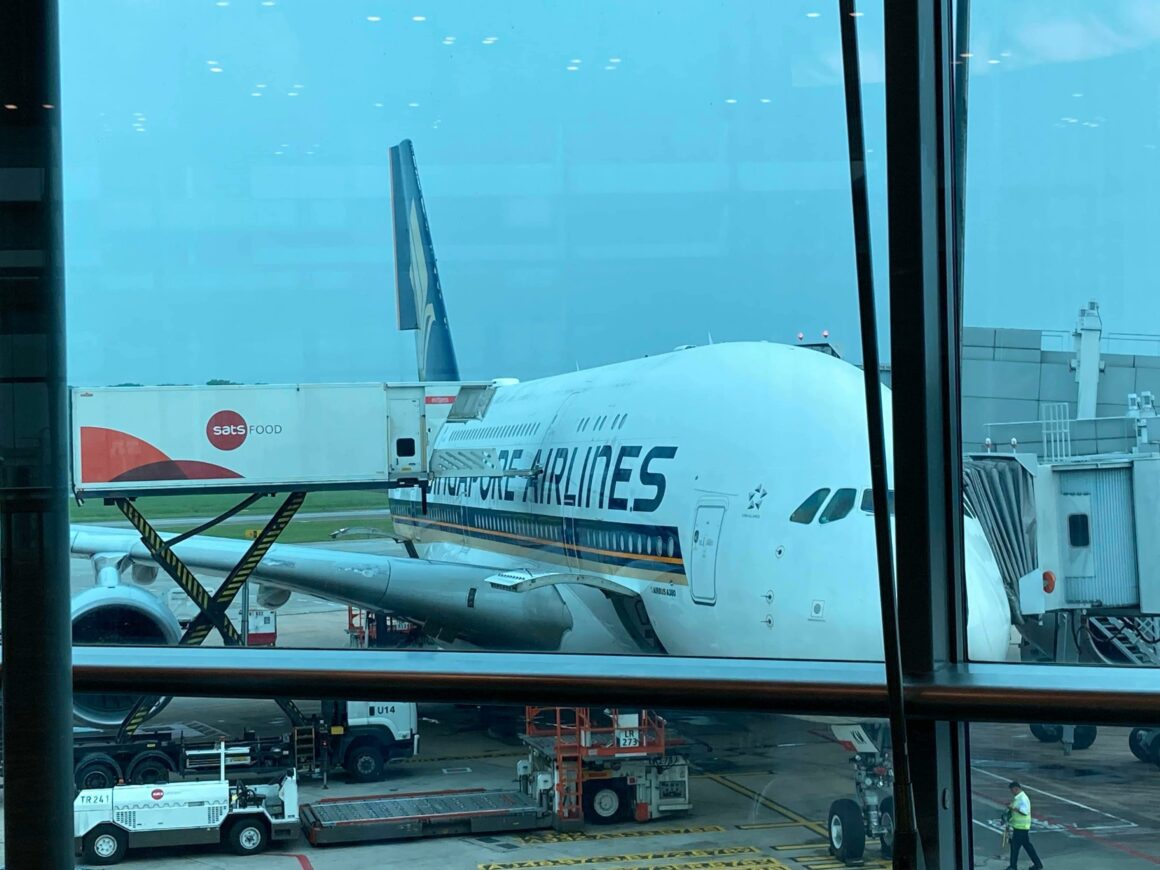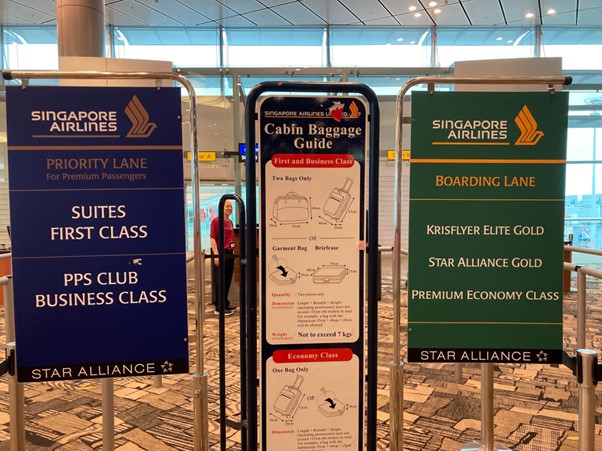 The Cabin and Seats
We were seated in the economy class cabin at the back, the last of 3 cabins. All the economy cabins were configured as 3-4-3. We opted for seats 74 A-C. The two bassinets at the front were in use and looked very good if you are planning to travel with a baby. Both babies on the flight were relatively young, so there was some crying throughout the flight. A seat closer to the back may be quieter.
If you're considering flying business class, you can read more about Michele's experience here.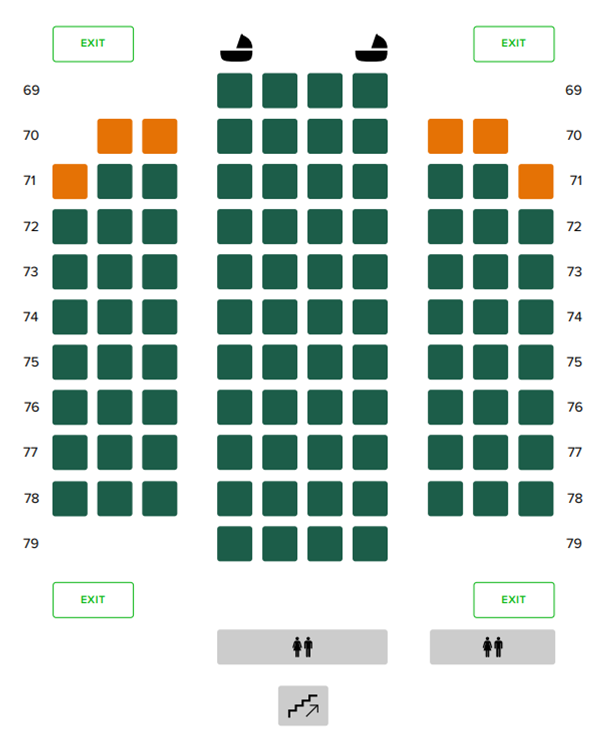 I was impressed with how new everything looked. The seats were in pristine condition. An extra-large blanket and a pillow, and some disposable headphones were provided. When I sat down, I noticed less legroom than my outbound Thai Airways flight.
I had also previously enjoyed the leg rests this plane didn't have. The headrests also seemed more mobile and slipped everywhere when trying to get comfy. Thai Airways were easier to sleep on, although the entertainment was much better with Singapore Airlines!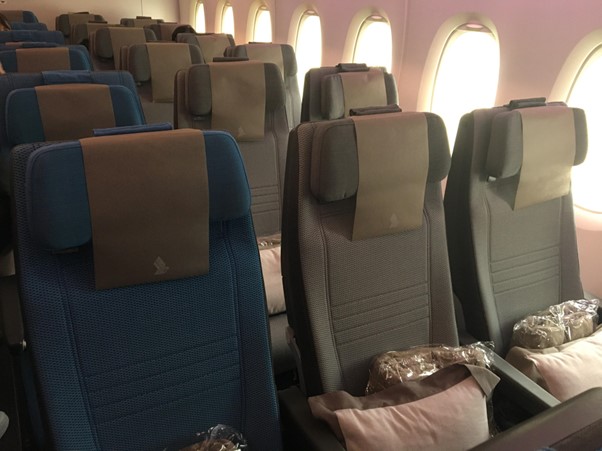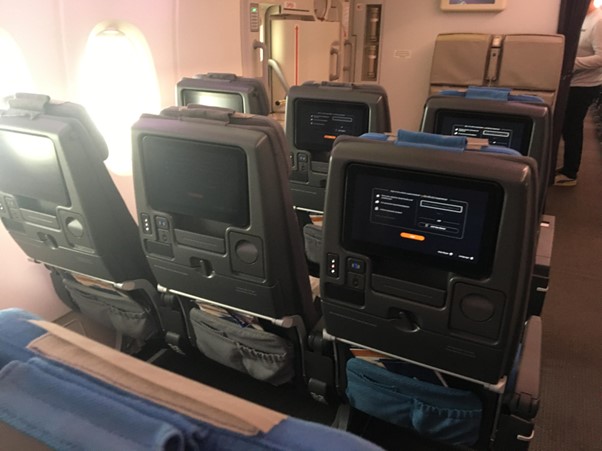 I liked the layout of the seat pocket. I have only ever been on planes with one seat pocket, and I liked how this one had separate compartments.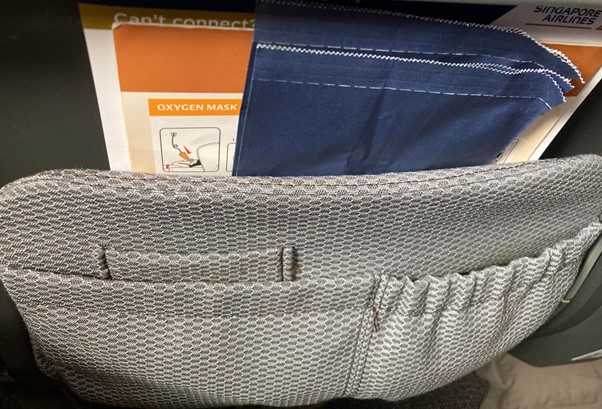 There was charging available on-board as well as a lightswitch and call button.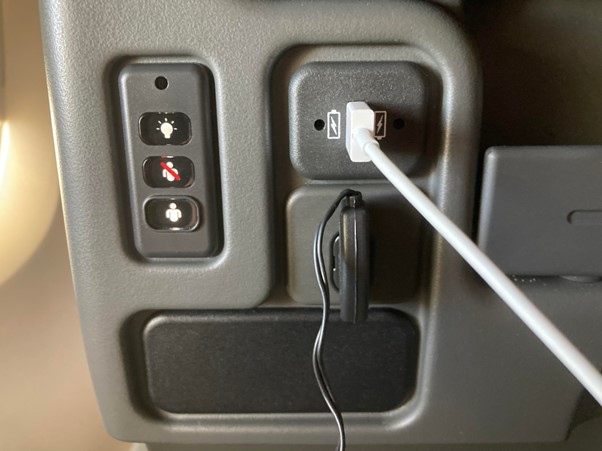 We had some lovely views flying over the Middle East.

Food and Drink
I was impressed overall with the meal service. I opted for the vegetarian oriental meal, which was given out after the kid's meals. I was given rice with a spicy sauce and nuts for breakfast, and the children's meal was falafel balls with potatoes and beans.
Lunch
The lunch was delicious. A warm bread roll was given alongside noodles with tofu and a lovely strawberry dessert. The issue with the meal service for special meals and kids meals is no drink was given during the service until the drinks service alongside the regular meals. This means we waited up to 30 minutes before being given a drink with the meal.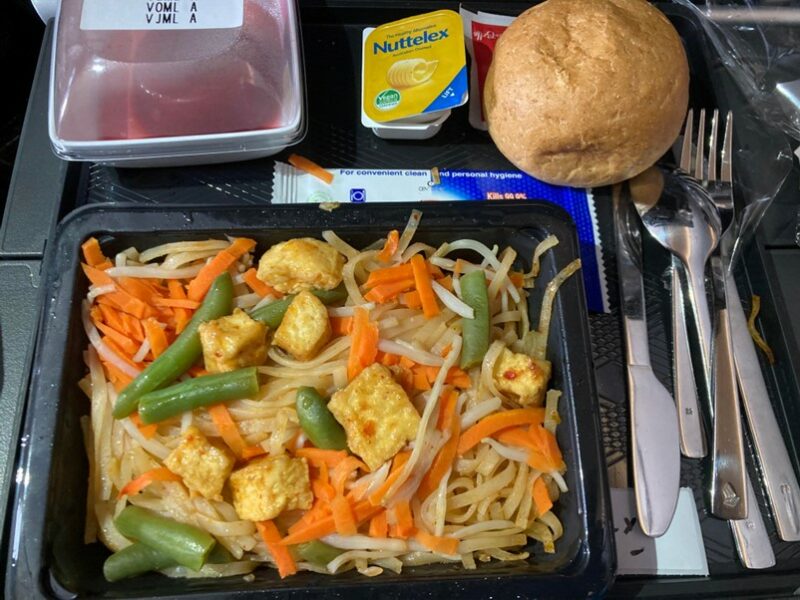 Aside from the two meals, there wasn't much else offered unless you knew where to look. The cabin crew came around with plastic cups of water every 2 hours, but there were no drinks services or snack services outside of when the meals were served.
This differed from other airlines I was comparing to (Thai/Sri Lankan). Snacks and drinks were available throughout the flight, but you either had to press the call bell or go through a closed curtain to the next cabin in front and ask.
Once there, I was presented with trays of nuts, muffins, crisps, cranberries and chocolate bars, and a selection of soft drinks. There was nothing in the in-seat booklet or any announcements. I asked for a Singapore sling which the crew happily made, but I wondered whether the other passengers knew that snacks were complimentary on the flight. It made me feel like they were trying to save money.
It's not ideal for an airline to nearly run out of snacks with still a way to go on the journey. However, the snacks were all very nice. Three hours before the end of the flight, I returned to the snack area, and they only had nuts left.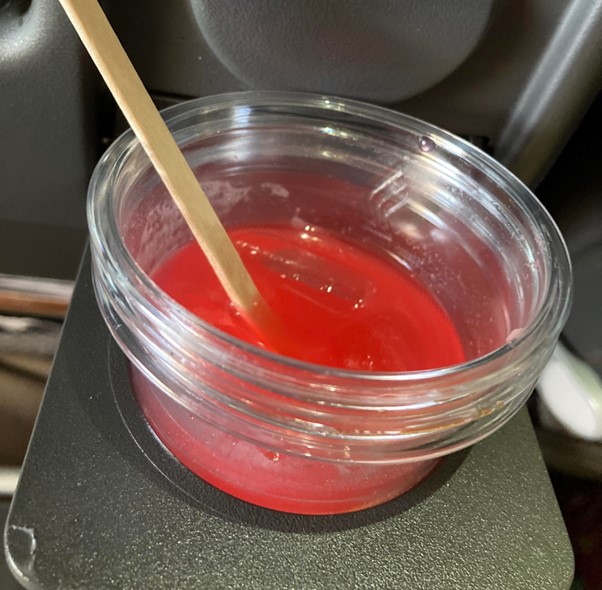 Entertainment
Overall, the entertainment was outstanding.
WIFI
There were detailed instructions on how to connect to the WIFI. I connected, but it was on and off, and I had to reconnect every time I used it.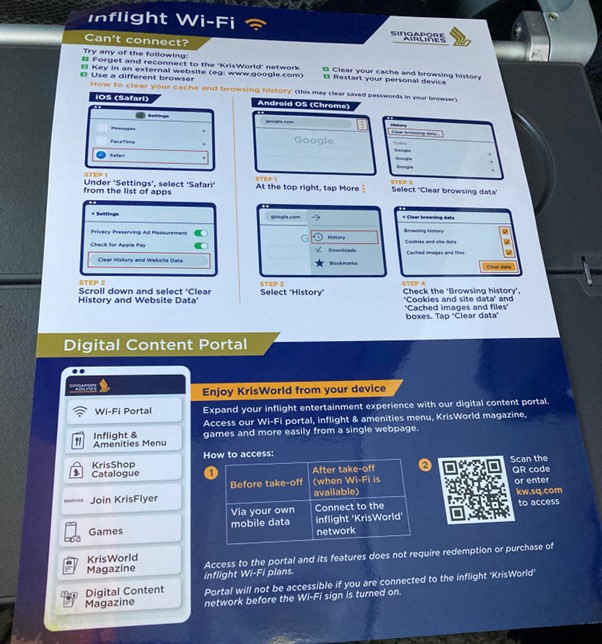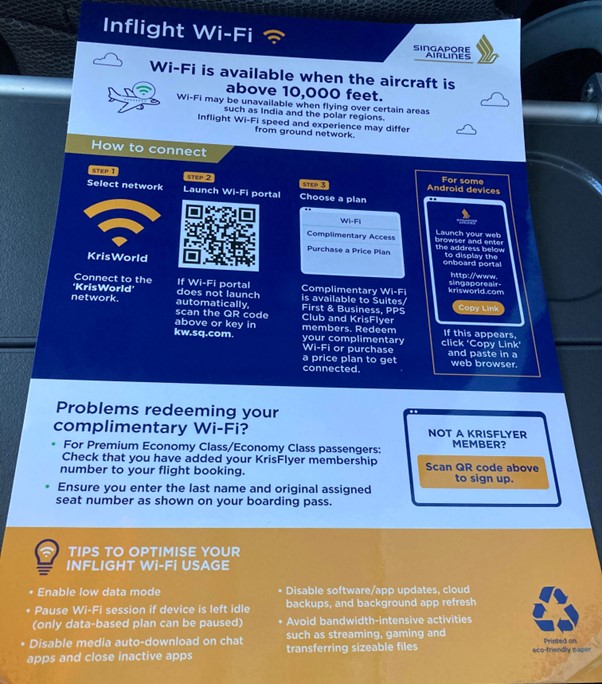 Screens
One of the most impressive aspects of this plane was the entertainment system. They were very responsive, and there were lots on offer, from a wide variety of music, films and TV which would suit people from around the world. The kid's channel also had a vast range of options. As a group of 3, we found things to watch without running out for the entire flight.
The flight-tracking was one of the best I've had. I especially liked the flight route map and the bar at the top where you could easily check how long there was until landing. One feature I missed is a camera underneath the plane which I enjoyed when travelling with Finnair.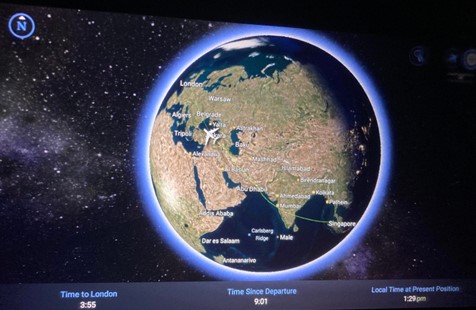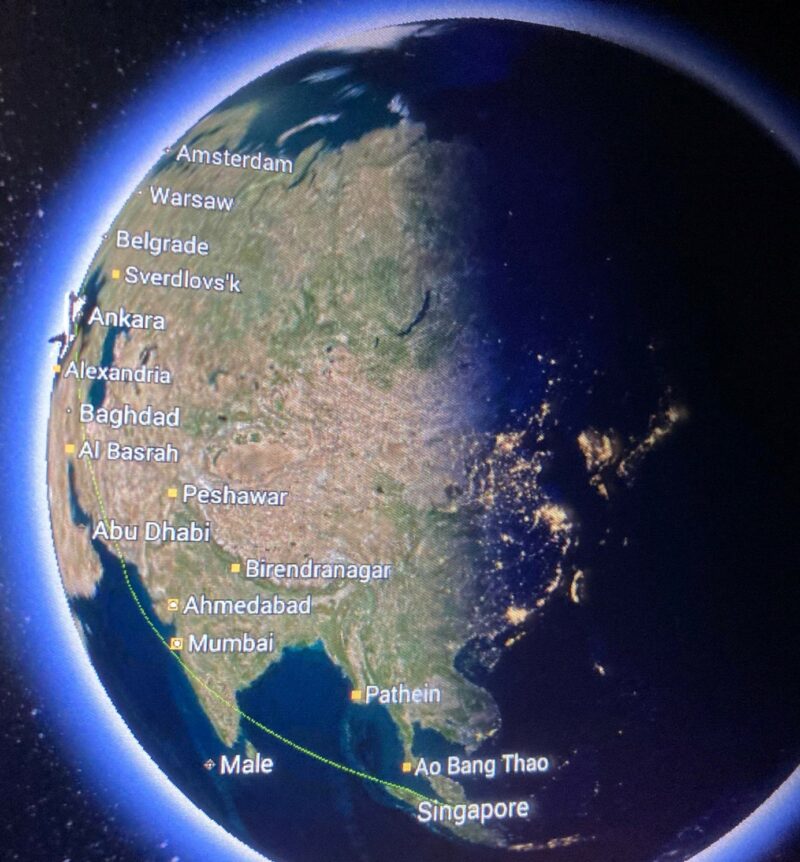 Shopping
There were lots of things available to purchase on board, from mini cabin crew outfits to beauty products and alcohol. There was one in-flight announcement as well as information in a brochure and on the in-flight entertainment systems.
Service
Overall, the crew were very quiet throughout the flight. They didn't spend much time in the cabin, but we were welcomed with a kid's activity at the start of the flight. There was a medical issue mid-way through the flight, which the crew dealt with very well. Even during some bad turbulence, the meals continued to be served.
Landing at Heathrow
We had quite a bumpy landing at Heathrow. The plane disembarked quickly, and we took a long walk to passport control. The queue was around 20 minutes (the family lane), and looked about 30 minutes for the automatic gates. The other passports lane looked much, much longer.
The baggage came out quickly, considering the size of the flight, but it came out so soon that the carousel kept getting jammed, and the staff removed most of the baggage and lined it up on the floor. This caused issues for some people standing on the other side, unaware their luggage had been removed. It was another long walk to the Heathrow Express before staying overnight in Paddington.
Collecting KrisFlyer Miles
Singapore Airlines used KrisFlyer miles. The programme is becoming convenient as I collected more miles within Thailand when flying with Scoot, and you can also order them when flying with Aegean Airlines, which I find helpful. You can also redeem KrisFlyer miles via Marriott, Chase Ultimate Rewards, Capital Ultimate Rewards and American Express Membership Rewards.
I collected 4381 Krisflyer miles from this flight. A complimentary flight using miles starts at 42,000 Krisflyer miles in economy from London to Singapore, 71,000 in the economy plus cabin, 103,500 in business and 141,000 in first.
The Overall Experience
Overall, I enjoyed the flight, especially the entertainment on offer. Having a flight with no layovers was very convenient, although it was nearly 14 hours! Although there were a few issues, I would definitely fly with Singapore Airlines again, although I might opt for Thai Airways if I booked a night flight.