A review of American Airlines Domestic First B737-800. As I know many readers are planning to head to the US and may have heard horror stories about the state of US domestic flights, I thought it was worth a quick article. This was my flight just before Christmas which was booked last minute when BA decided to cancel most Las Vegas flights over the Christmas period. Vegas-Dallas-London was the best option for a connection as it meant Club Suites back on their new B787.
Check-in and lounge
I checked in using the priority queue at Las Vegas and despite it being only a short queue it took forever for some reason. Most people were flying domestic so it wasn't paperwork. This flight was connecting onto London so once I got to the front I simply flashed my Verifly pass and they were happy with that. The agent seemed to have trouble with my passport swiping and had to type it in manually which I have not experienced elsewhere, although the same happened at Dallas too. Other than that, the agent was chatty and friendly.
US domestic First is equivalent to our business class but it does not come with lounge access. Although I have oneworld emerald through BA which would give me access, there was not a lounge open in the terminal area that my flight went from. There are usually The Club Priority Pass lounges that BA use which are average at best and there is also a Centurion lounge which is decent. As I only had a short time to kill and it was early morning, I stayed near the gate and just went for a coffee instead.
Boarding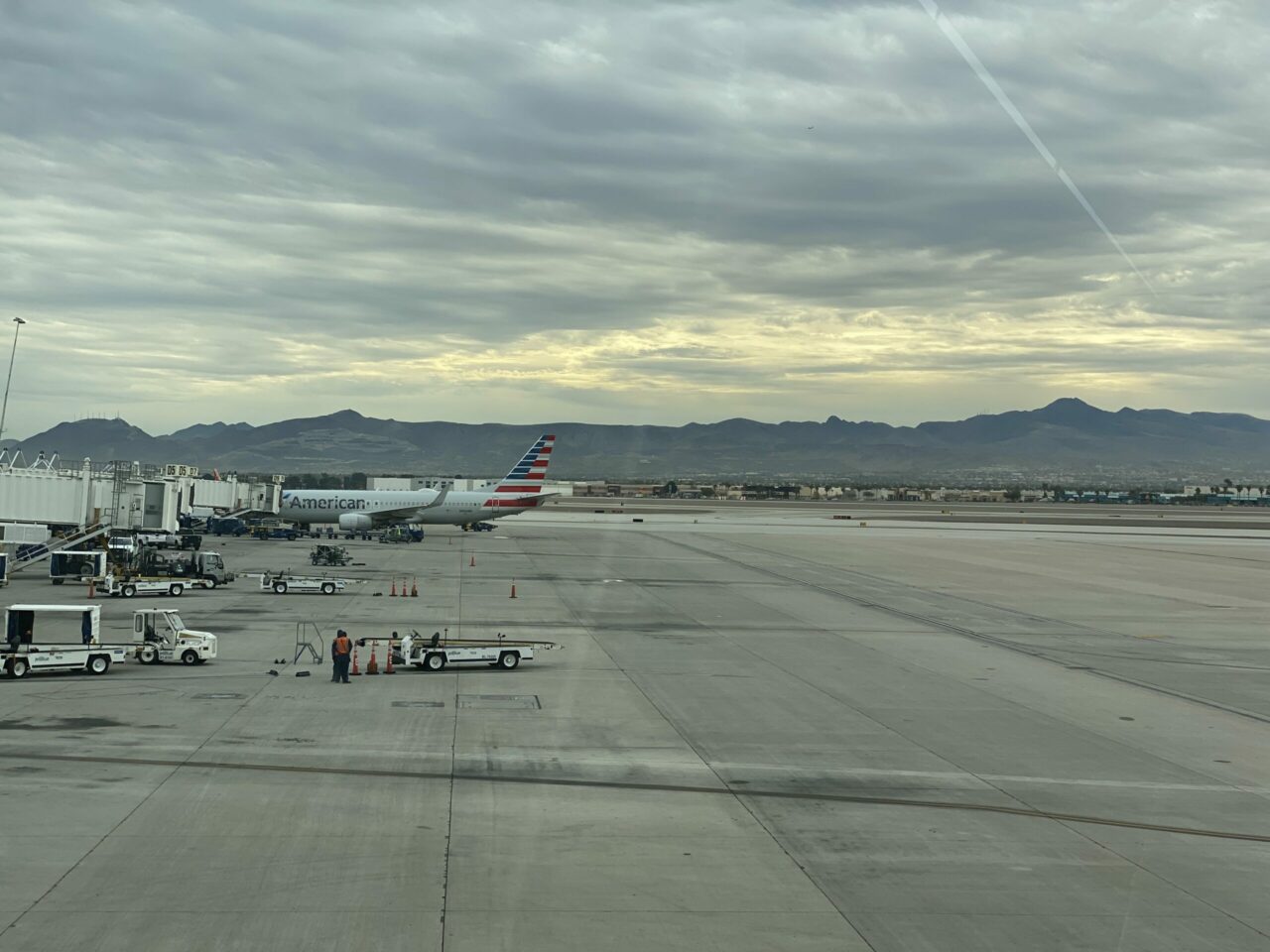 I always find American Airlines boarding seems to take a while as they go through various categories such as active military and Concierge Key etc before they get to First and Oneworld emerald. Eventually, it was my turn and I headed on board. Prior to Covid, you would always get a drink prior to departure but this did not seem to have come back on American Airlines yet. I believe it is now due to have restarted.
American Airlines Domestic First B737-800 Seat and entertainment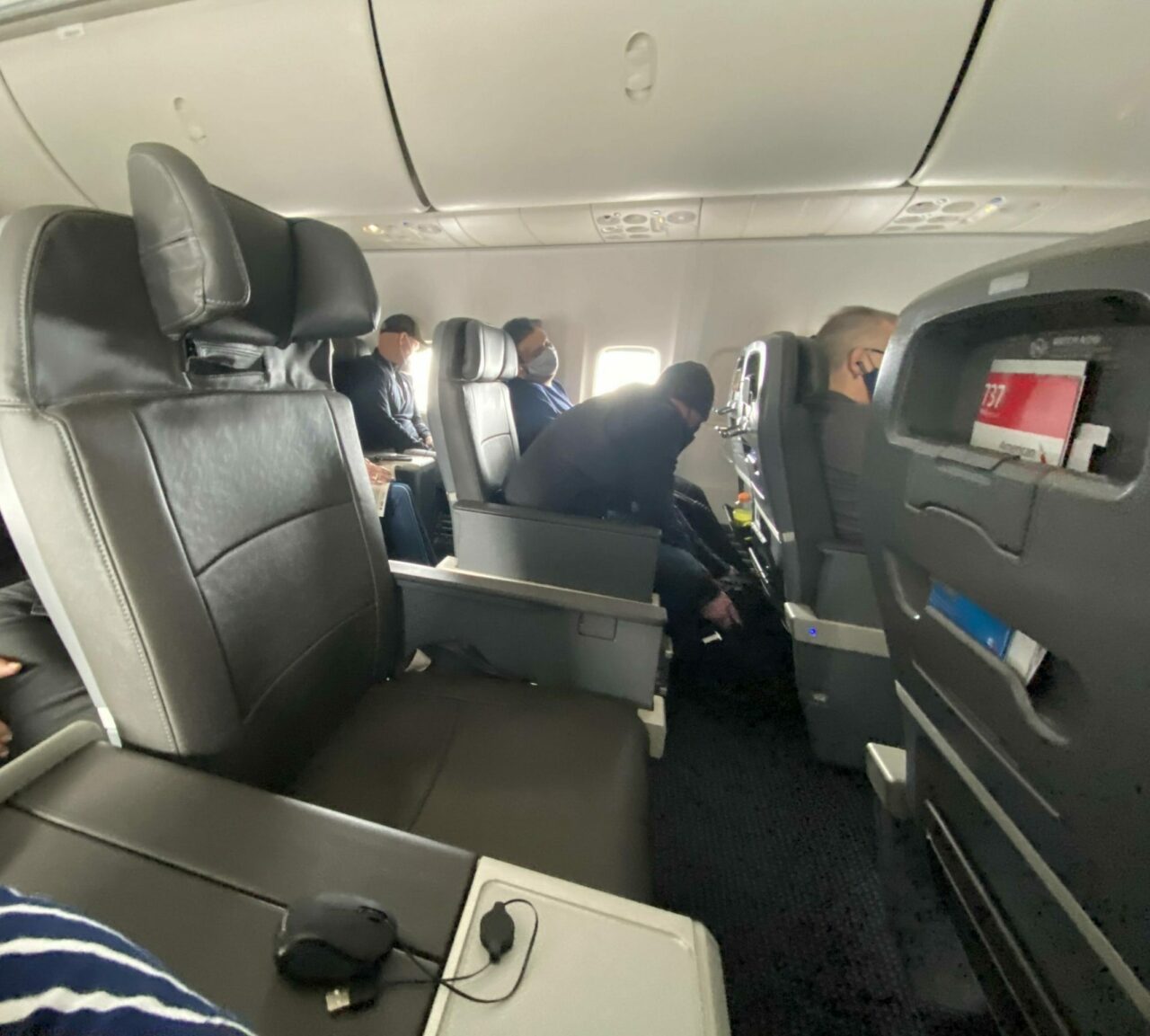 Seats are quite different from European business class in that they are completely different seats to economy. They are arranged in a 2-2 configuration which means you are closer to your neighbour than on European flights where the middle seat is free. But you do get a wider seat and more legroom. The seats are 21″ wide with 37″ legroom, so way above what you get on BA! As it was a last minute booking I had zero choice of seat so was in 2F.
These were the newer seats and I can't say I found it particularly comfortable on a three-hour flight. It felt a bit thin on the cushioning. You could at least recline a fair amount and the adjustable headrest was comfortable if you wanted to relax. American Airlines has also removed their onboard seat back TV on most planes too which is a shame. It always used to be a novelty to have that on a domestic flight. They do have free streaming TV and movies to your device at least through the Wi-Fi. I didn't bother with Wi-FI this time but I normally find it easy to use on American Airlines and fairly stable.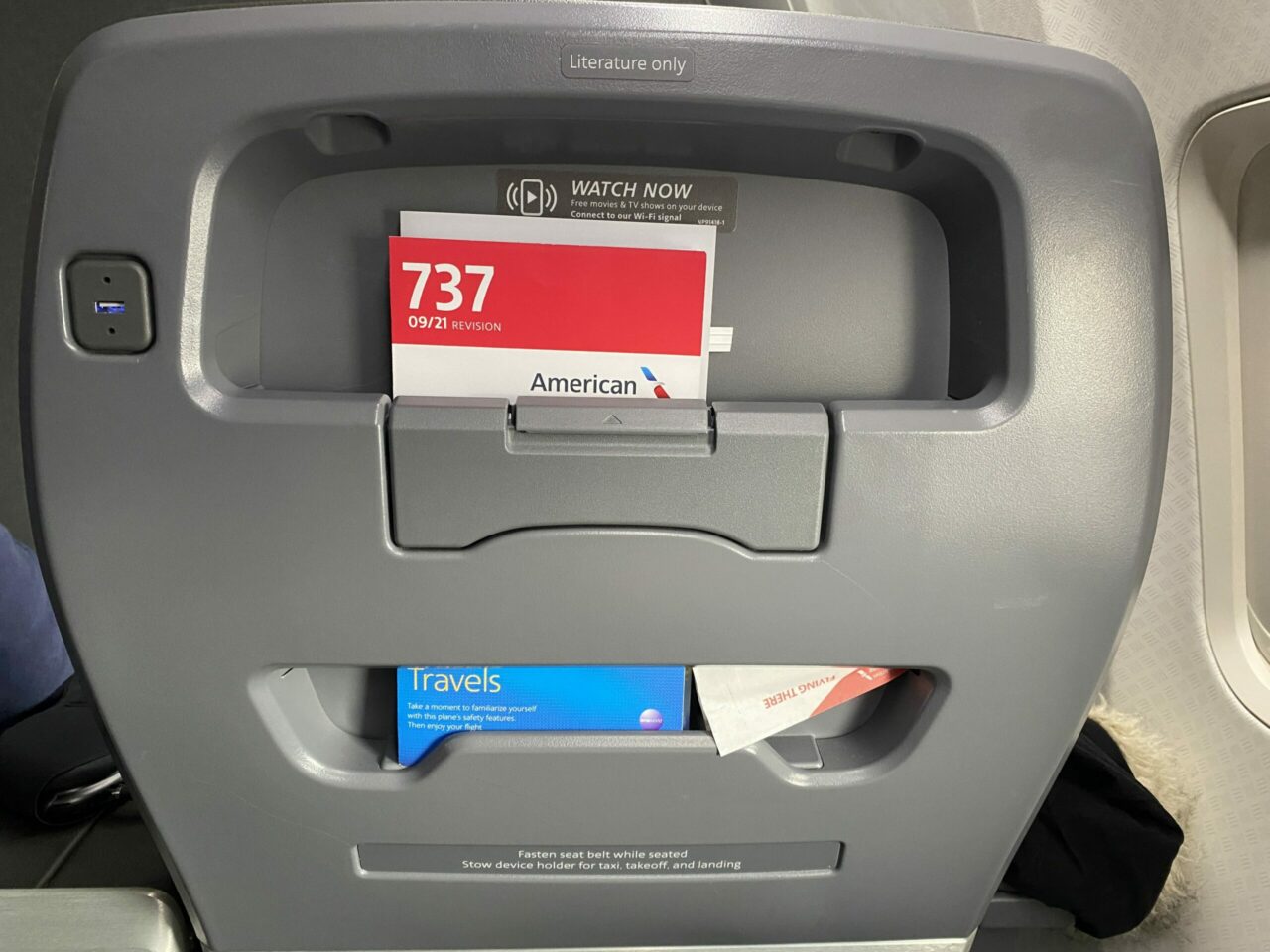 If you had a tablet you could have used the seatback pocket to hang it over potentially. It was annoying as I couldn't plug in my laptop because the only power available was a USB socket which I found very surprising. It was at least very accessible being on the seatback.
The armrest doubles as somewhere to out your drinks as there is a small tray area which is handy. I worked most of the flight and found the tray table reasonably stable for a pull out tray (it comes from the centre) and large enough to be able to use a mouse easily.
Food and drink
I had heard horror stories of the "snack basket" of doom and how bad domestic catering was but I was actually pleasantly surprised. Just looking at the soft drinks gives you an idea of the amount of choice of drinks.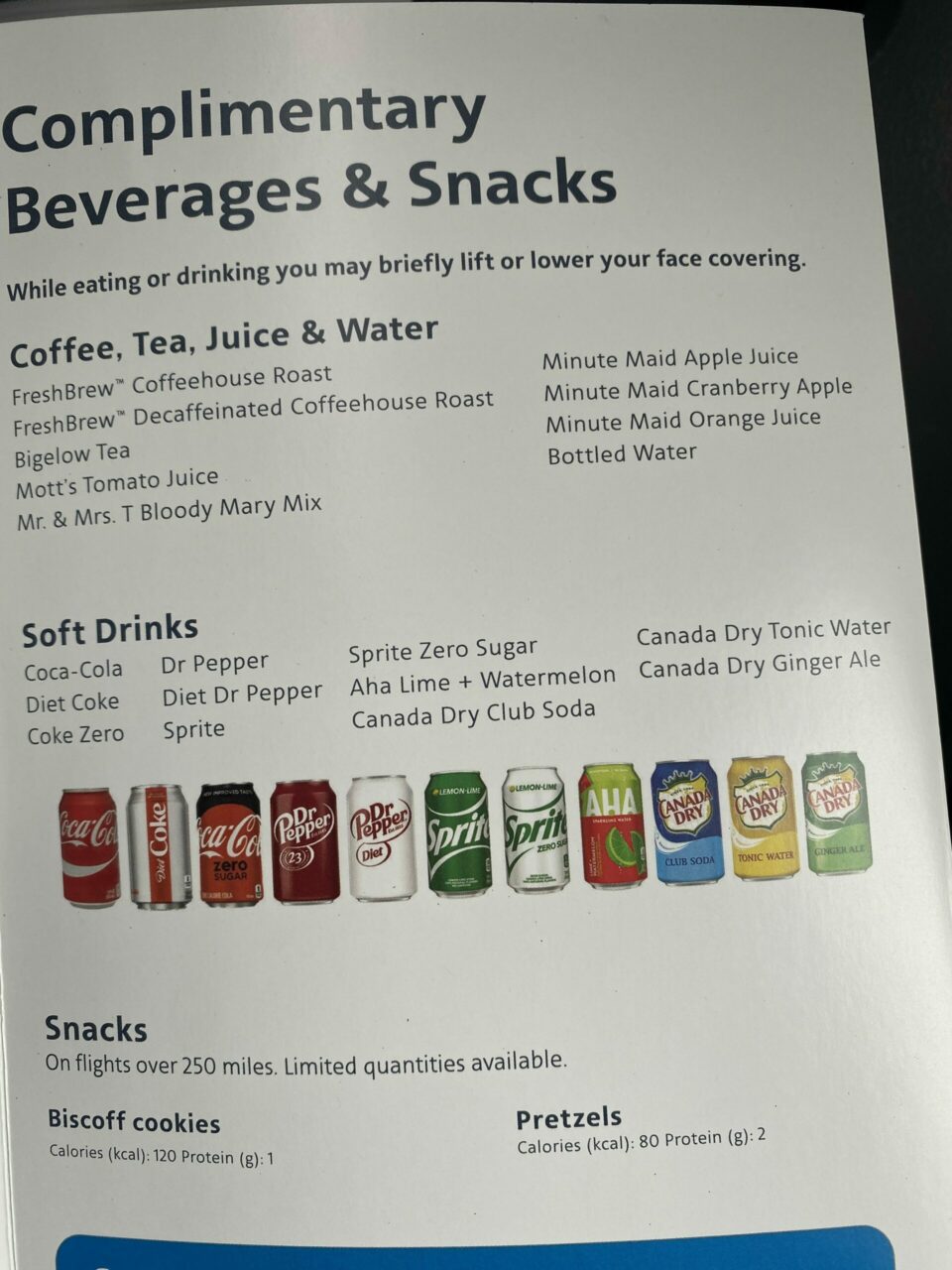 You get free alcoholic drinks in First as well. I'd generally advise avoiding the wine as it's usually pretty bad. They normally have a decent selection of spirits such as Titos's vodka, tequila, gin and bourbon as well as beer.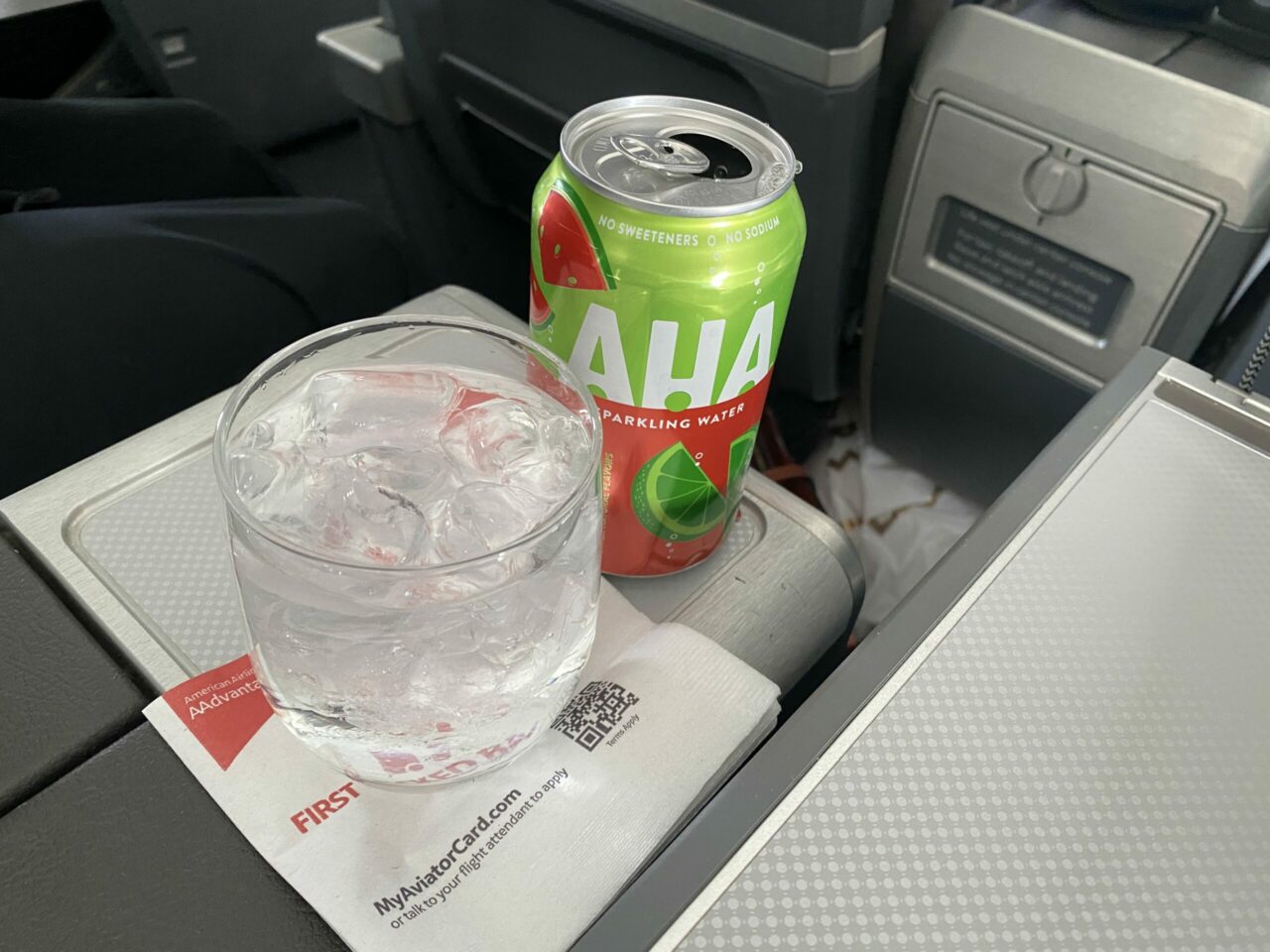 I went for a watermelon-flavoured water which was very refreshing and came with a proper sized glass and plenty of ice. The service was generally pretty attentive although I found one of the flight attendants borderline rude but fortunately, they were not serving me.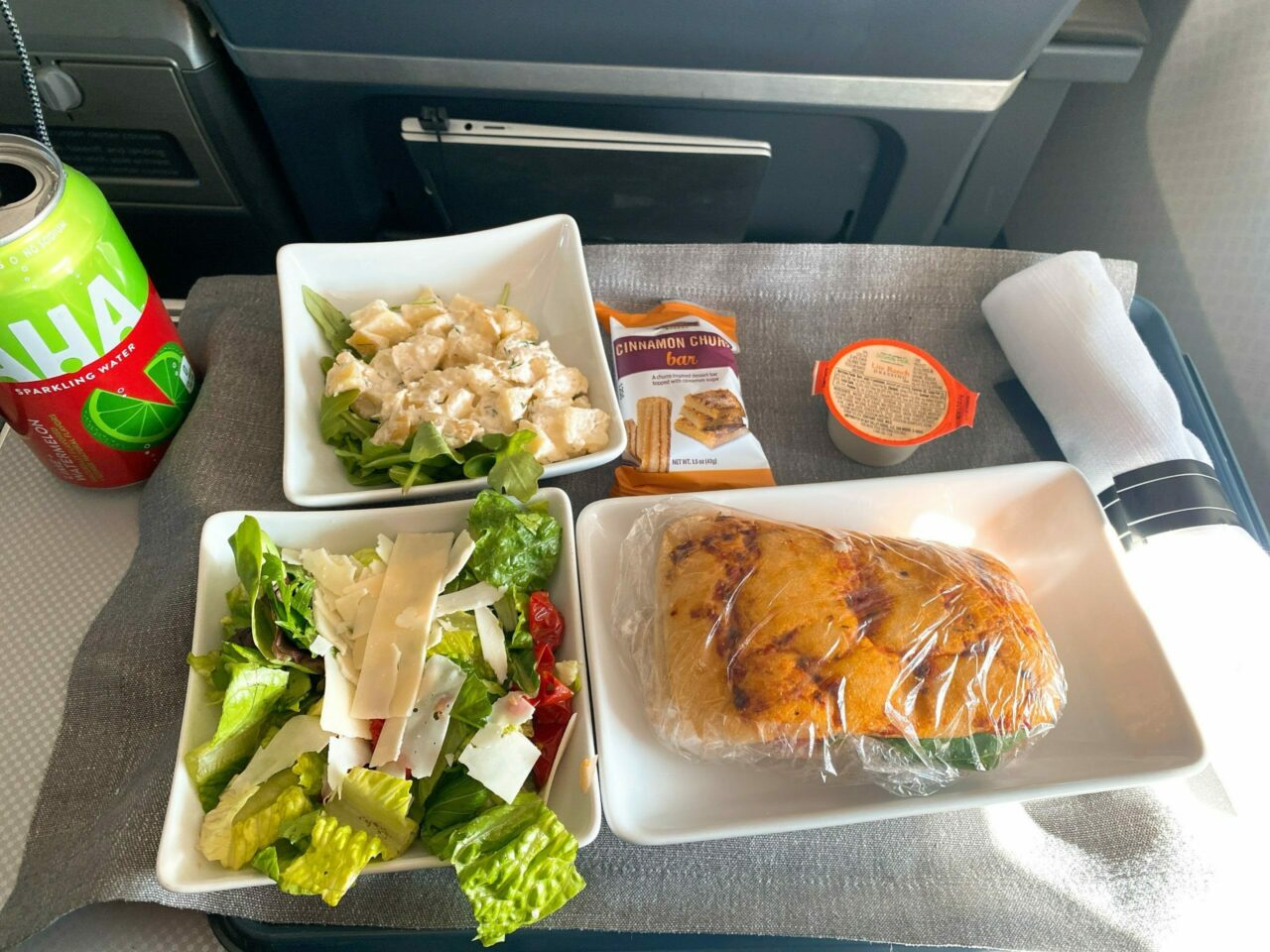 I actually liked my meal as it was substantial and tasted fresh. There was a salad with sun-dried tomatoes and parmesan which came with a generous portion of ranch dressing. Then a mozzarella and tomato sandwich on focaccia with a portion of potato salad. The dessert looked a bit meagre being a cinnamon churros bar but I actually found it really tasty. Let's be honest, this isn't exactly fine dining here. But for a three hour flight I found it tasty, plentiful and with a variety of dishes. It probably helps that I love a good salad or sandwich!
I was asked a couple of times if I wanted another drink so I actually can't really fault the food and drink side of the trip.
American Airlines Domestic First B737-800 Flight
It was a great flight for window gazing so I thought I'd end with a few of the views along the way. We started with a great view of the strip.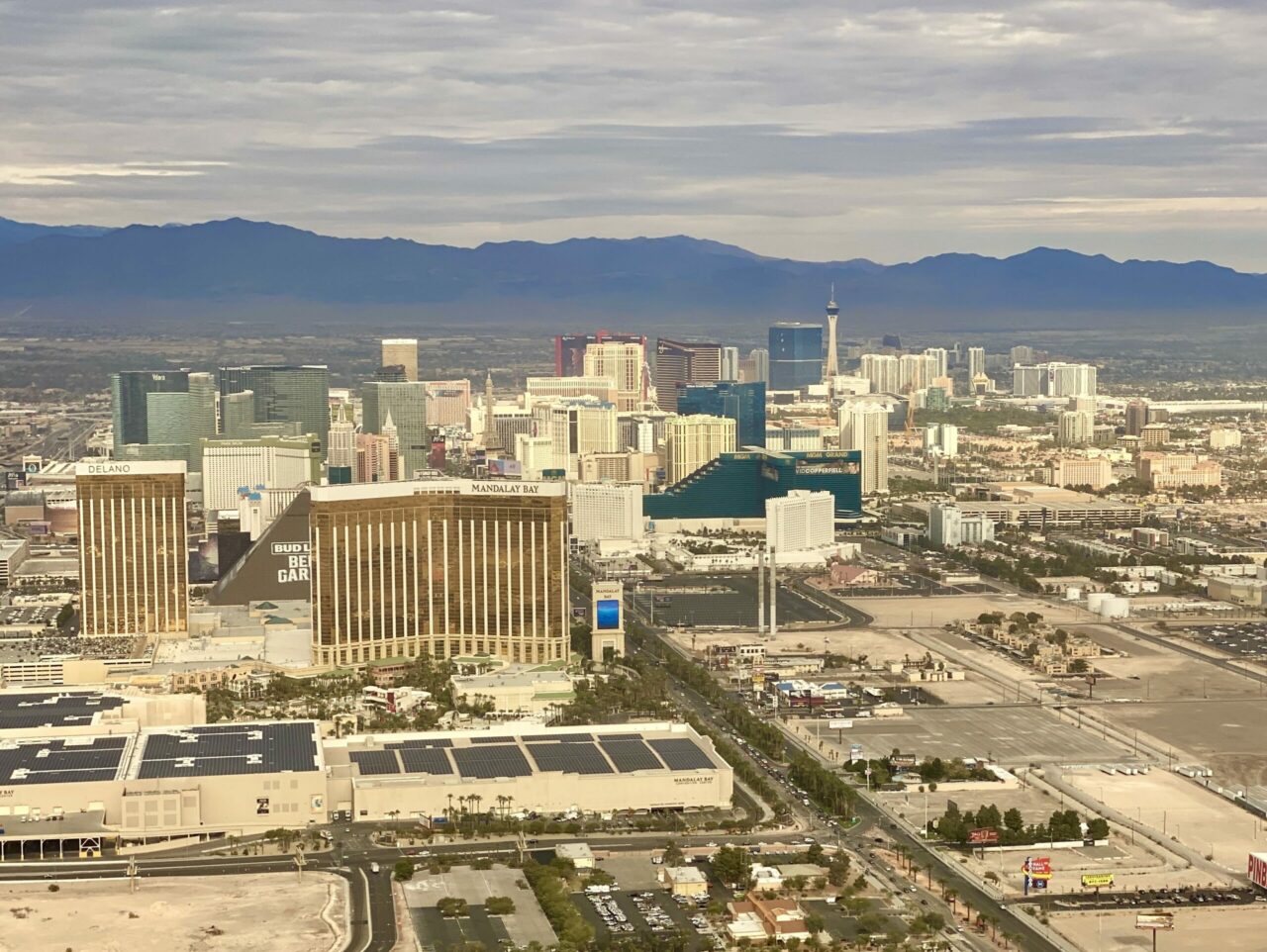 Then some snow-capped mountains with some amazing coloured rock formations in front.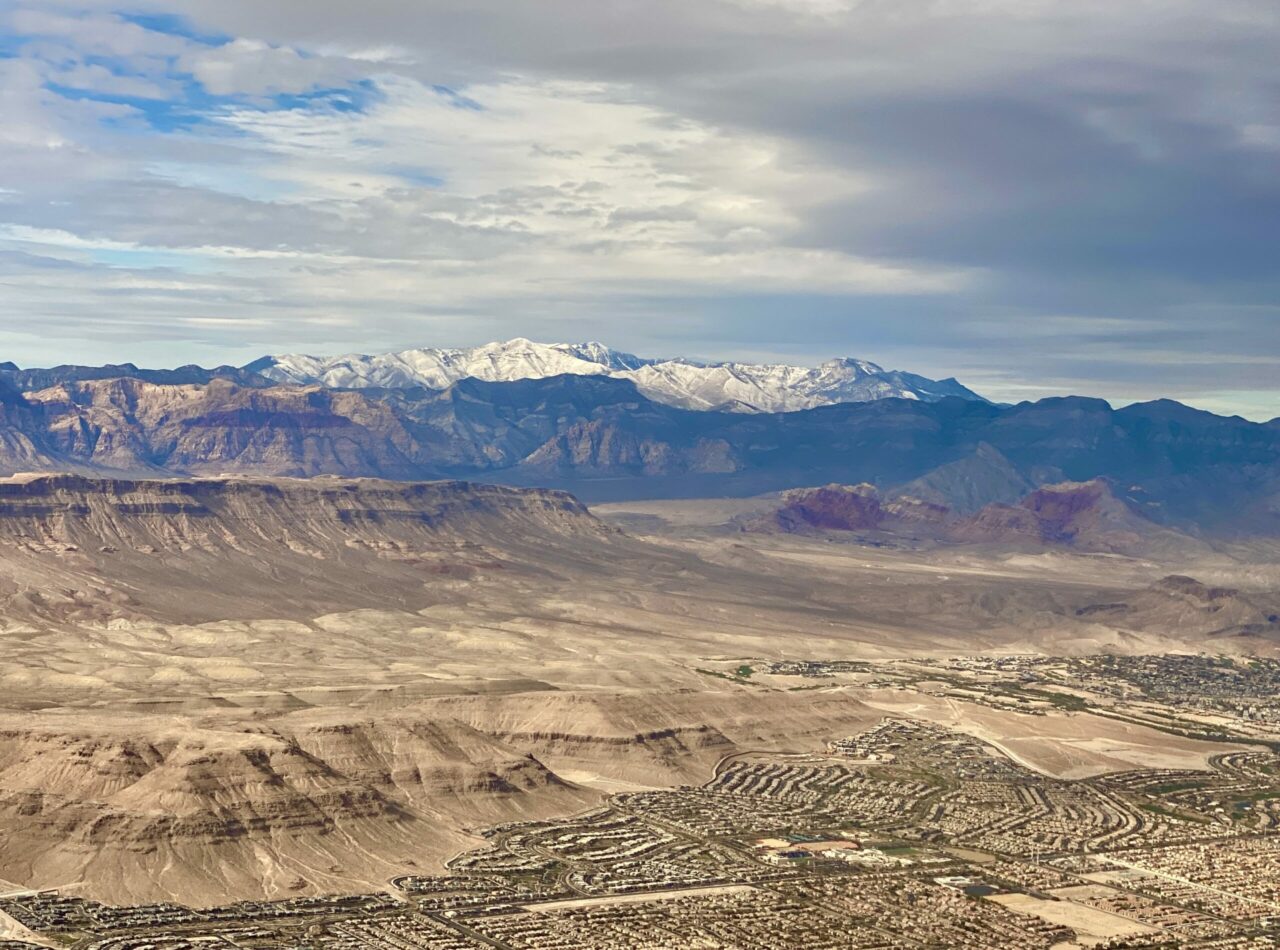 Conclusion
Apart from the rather thin seat, I thought this was a decent enough flight for 3 hours. Especially when you compare the food and seat equivalent in Europe. The mask-wearing was not as vigorously enforced as I expected. You were free to leave it off while sipping a drink slowly without being challenged. Hopefully, the full service will be restored in the coming months.
Like our American Airlines Domestic First B737-800 from Las Vegas to Dallas review? You can read more flight reviews here.