This was a very last-minute trip in terms of location as we had been due to go to Portugal, but only found out with 6 days to go that it would not be possible due to entry restrictions. Fortunately, my flights had been on Avios, so I quickly cancelled our Porto flights and booked flights to Palma instead.
In terms of hotels, I was looking for something relaxing but with some good restaurants and bars nearby. Ideally, I also wanted Marriott as I am trying to maintain my Platinum status for next year. As Mallorca was put on the green list the week before, prices were soaring. When I saw the Castillo Son Vida by Luxury Collection close to Palma but in a quiet location, it looked perfect so I booked it straight away. The other thing that really sold it was that it is only available to adults aged 16+.
Booking
I booked through our partners GTC for €276 per night. This was a special offer which gave 20% for a long stay of 7 nights or more (still available for stays until 31 October). I still got all my Marriott Platinum benefits but even without status with Debonair you also get:
Free breakfast for 2
$100 hotel credit
Upgrade on arrival based on availability
Early check-in and late checkout subject to availability
If you wanted to book on points, it's a category 6 hotel which is 40,000-60,000 points per night.
Location
I really liked the location of the hotel being just over 10 minutes to the centre of Palma and around 20 minutes to the airport. Nearby is their sister property, the Arabella Sheraton which provides a regular shuttle around the property and local golf courses. A taxi to Palma cost €12-14 and a taxi from the airport was around €30. We prebooked a taxi to pick us up and help with the luggage which cost €35 from TaxiPMI.
There is no Uber in Mallorca or equivalent. We used taxis to and from the hotel which the hotel was great at organising quickly. There's also a convenient bus stop by the hotel and parking is free if you want to hire a car.
I will look at my recommendations for Palma in a later article.
History of hotel

The Castillo Son Vida hotel originally dates back to the 13th Century when it began life as a Medieval castle. but it wasn't until the 16th century, when Mateu Vida acquired the castle that now houses the hotel, that the building was baptized. The castle's subsequent owners, the aristocratic Desmás and Truyols families, kept the castle's distinctive name. Near the turn of the 20th century, Fernando Truyols and Despuig undertook extensive and extravagant renovations as a gift to his wife, Magdalena Villalonga. The result was a villa with the look of a castle, complete with a tower.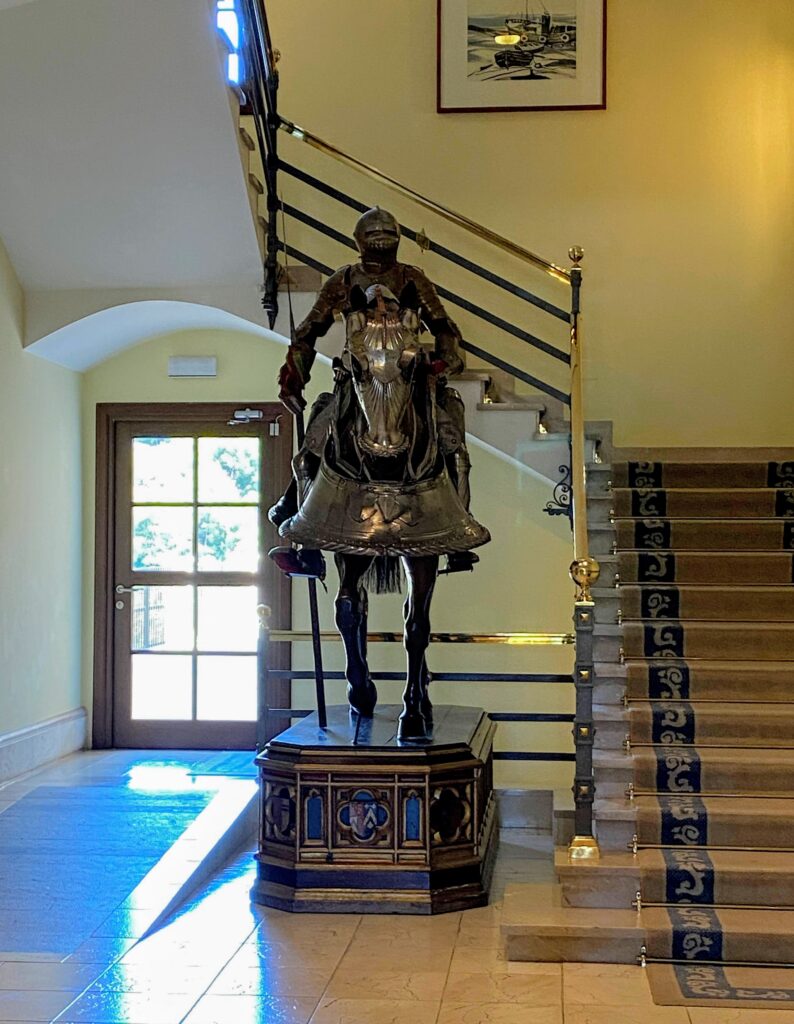 Fifty-seven years later, the Truyols family sold the private Son Vida estate to Steve Kusak, the founder of "Urbanización Son Vida," and on June 23, 1961, the castle opened its doors as a luxury hotel. Three years later, the island's first golf course, the Golf Son Vida, was inaugurated next door. In 1995, the hotel was purchased by the Schörghuber Group, renamed Castillo Hotel Son Vida, and designated as one of the "Leading Hotels of the World". In January 2005, the hotel closed its doors and undertook a renovation and rebuilding, which was completed the following February. Two years later, in March 2007, the legendary hotel became a member of Starwood Hotels & Resorts' Luxury Collection. Today, Castillo Hotel Son Vida is part of Marriott International, and many politicians and celebrities have chosen Castillo Hotel Son Vida including: Prince Rainier of Monaco and Grace Kelly, Aristotle Onassis, Maria Callas, Anthony Quinn, Pedro Almodóvar, Claudia Schiffer, and many more.
You can see many fine paintings and historical artifacts such as the dining room above which is surrounded by murals chronicling a family hunting trip.
Check-in at Castillo Son Vida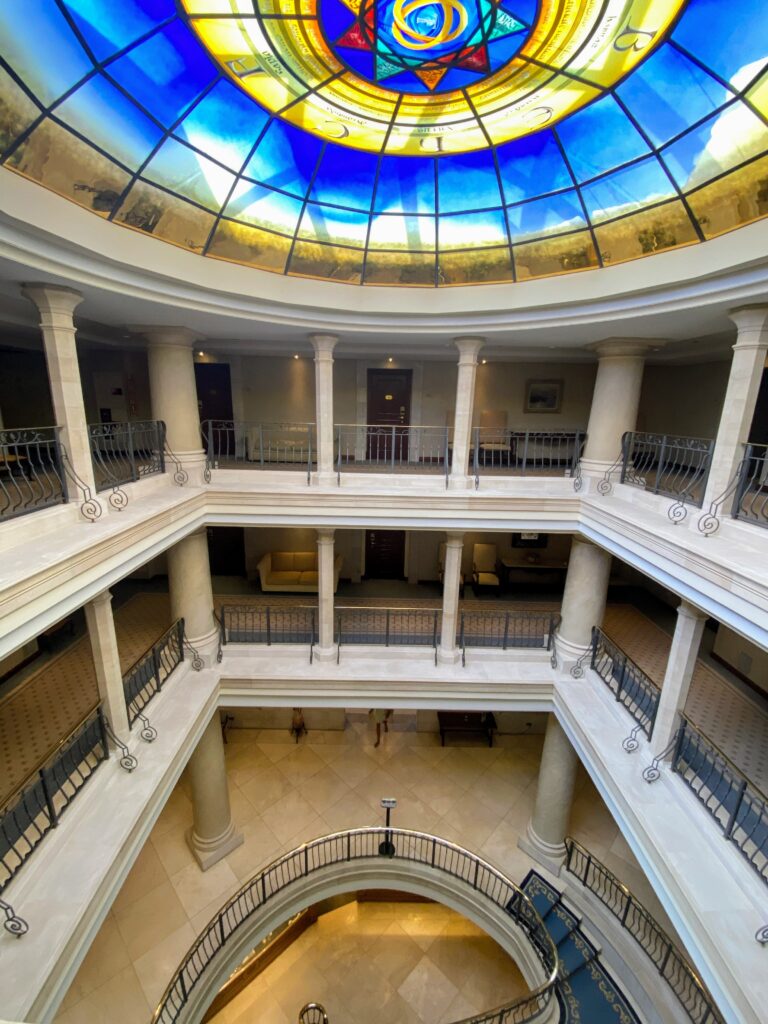 As soon as our taxi arrived, one of the porters appeared to help with the luggage. One of the highlights of the trip was the lovely Davinia on reception. She was always genuinely warm and friendly from the word go. Every time I visited reception she always remembered me and greeted me by name. (The hotel were not aware I was writing a review until the end of the week). I had an unfortunate bag theft later in the week and Davinia really went out of her way to help.
Getting back to check-in, I was given all the details of the hotel such as dining, pool, and layout during check-in. There is also a handy service to get your return lateral flow tests booked at the hotel for €30 which is available via a QR code in reception.
I was travelling with my friend and sometimes TLFL contributor Katie in London (aka Jersey Girl), so we were given interconnecting rooms. I was welcomed as a Marriott Platinum member and automatically given the 1000 points welcome gift instead of breakfast since breakfast was already included due to booking through Debonair.
We had booked the lowest category of room, a classic double with balcony. We were entitled to an upgrade, but the next category does not come with a balcony. I specifically stated that we wanted a balcony, so we both received a double upgrade to a Deluxe double with garden view which does come with a balcony. As a data point, my friend who also stayed at the hotel recently is a Marriott Bonvoy Ambassador and got a Grand Deluxe. However, all the hotel's suites were fully booked that weekend, so he may have got a better upgrade if it had been quieter.
Castillo Son Vida room

On entering the room, I saw that we have been given a nice little welcome gift of a small bottle of rose fizz and some rather yummy chocolates. Both of us received these despite Katie having no status. The rooms are large but pretty traditional in design. If you prefer something more modern then the classic room may be better (see below).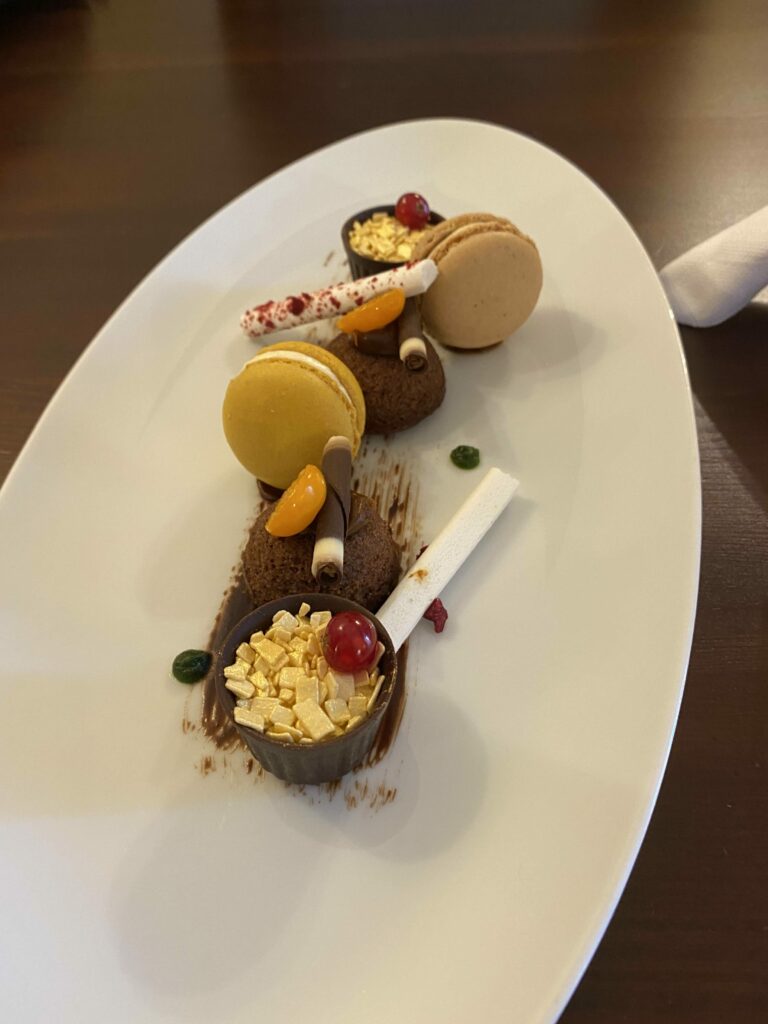 The bed was huge and very comfortable with a decent mattress topper providing softness and good quality plump pillows. Normally the hotel would provide kettles in the room of the Grand Deluxe and above, but these have currently been removed due to Covid. There are also coffee machines in the hotel's 10 suites. You can request a coffee machine in any room but it's not guaranteed due to availability.
There was also no iron or ironing board but you could request these. Otherwise the room layout was great. There was a large chaise lounge that actually made a great suitcase stand! The desk was good for working at and there were two chairs so you could use it for eating at as well. I have never seen quite so many cupboards in a hotel room as in the Castillo Son Vida! Behind one was a TV which had quite a few of the main UK channels. There was also a fridge which was empty except for the daily water. I did particularly like the safe as it had a socket for charging your laptop as well closing automatically when you shut it, instead of having to keep enter a number or press a button.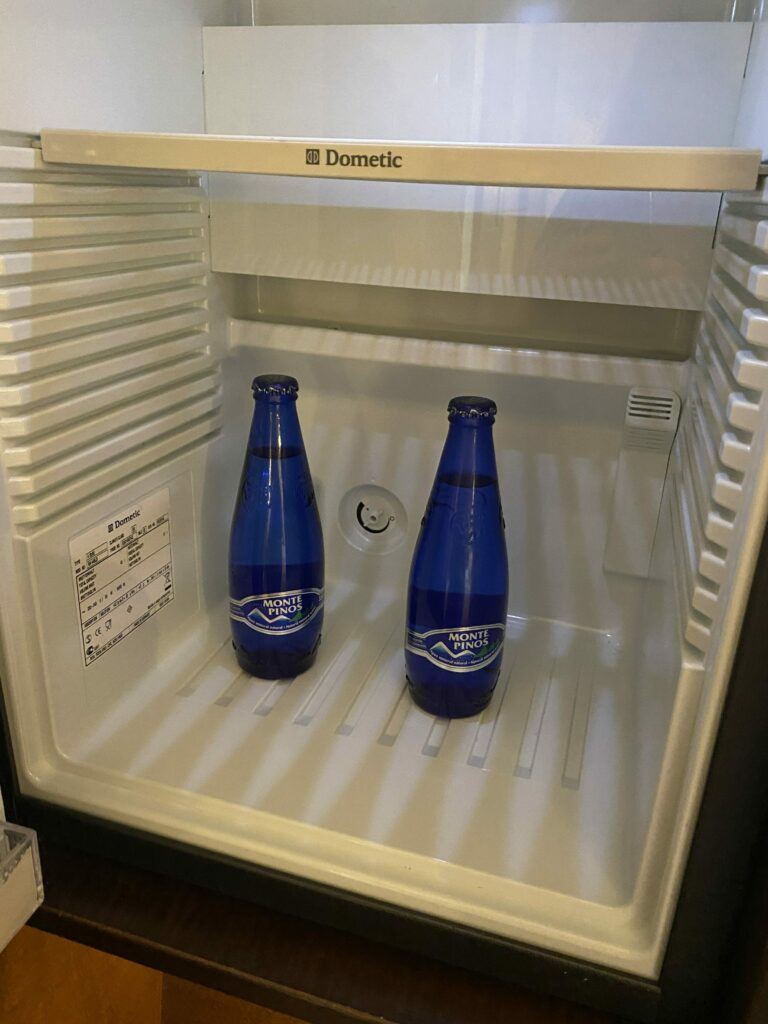 I also found an umbrella and robes and slippers by high-end linen brand Frette.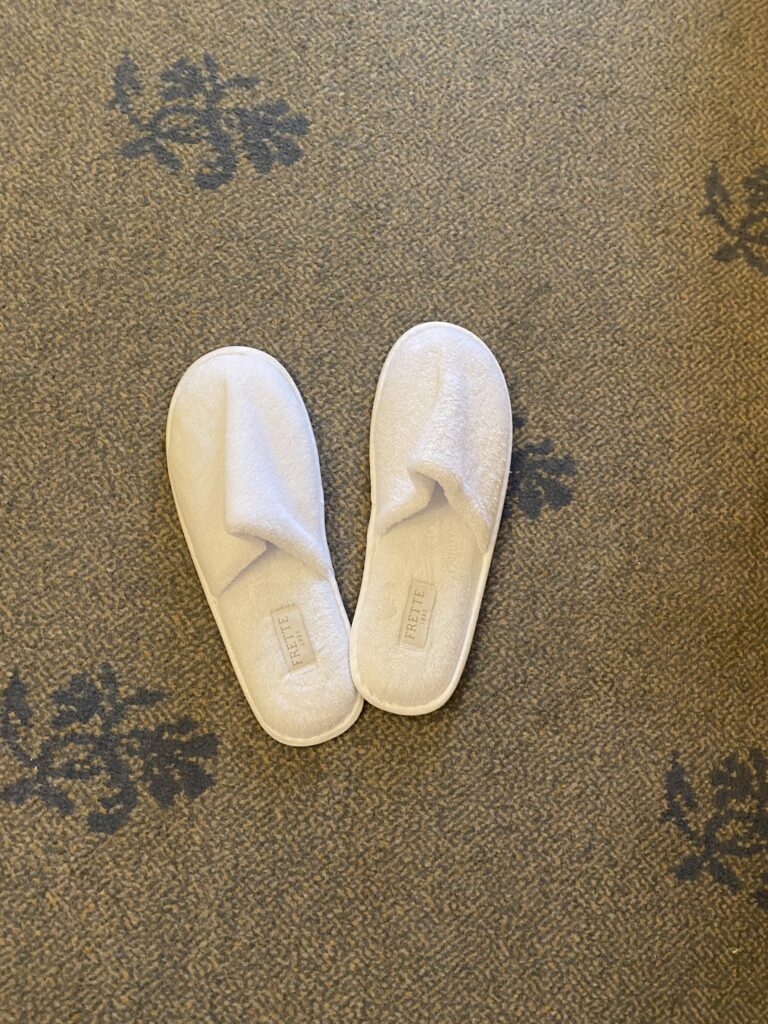 My room had a balcony overlooking the gardens which made a great place for a pre-dinner drink.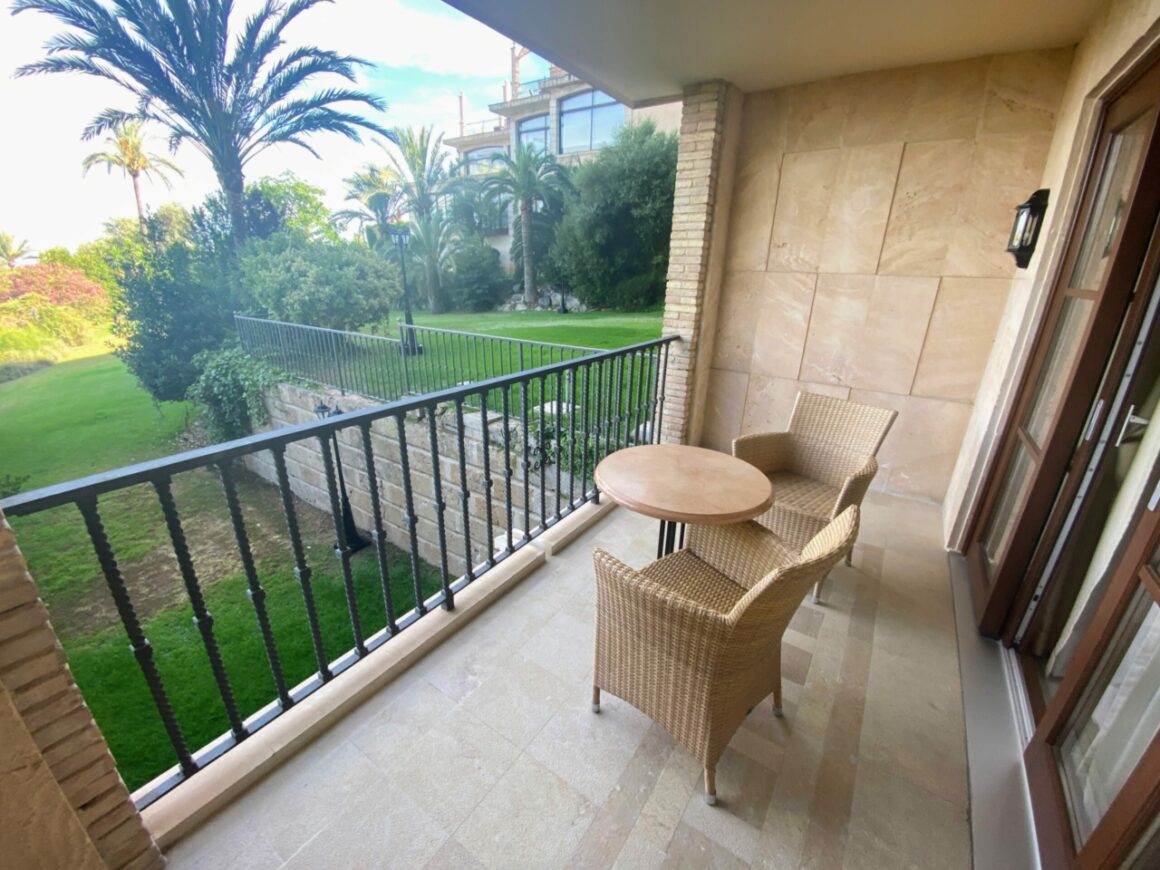 Although the hotel was busy, rooms were generally quiet apart from a bit of banging of cupboard doors by people (you had to be very gentle to close them quietly). The light switches by the bed were not immediately visible but once you found them, they were simple to use and included a great night light under the bedside table if you needed to get up but not blind yourself. There were plenty of sockets with one by the bed underneath the table that was readily accessible. Most importantly when it's 32c outside is the air conditioning and this was well up to my sub-zero requirements!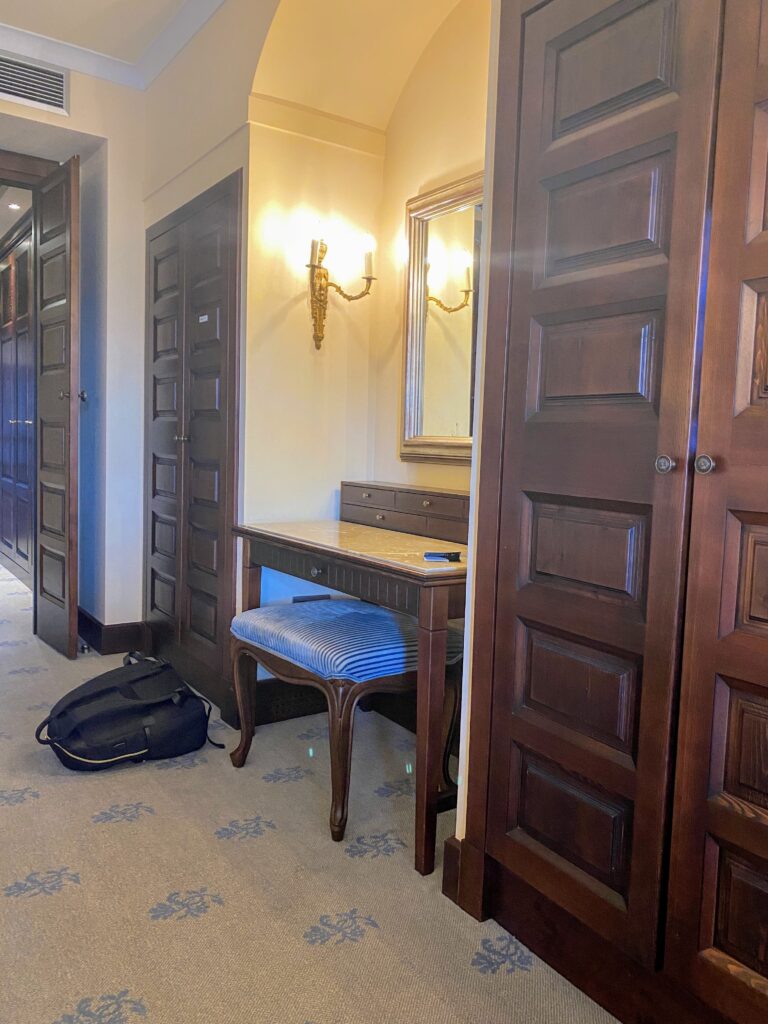 I also liked that there was a special vanity area with a large mirror, socket, and great lighting. There were also plenty of drawers for storing your make-up and hair products.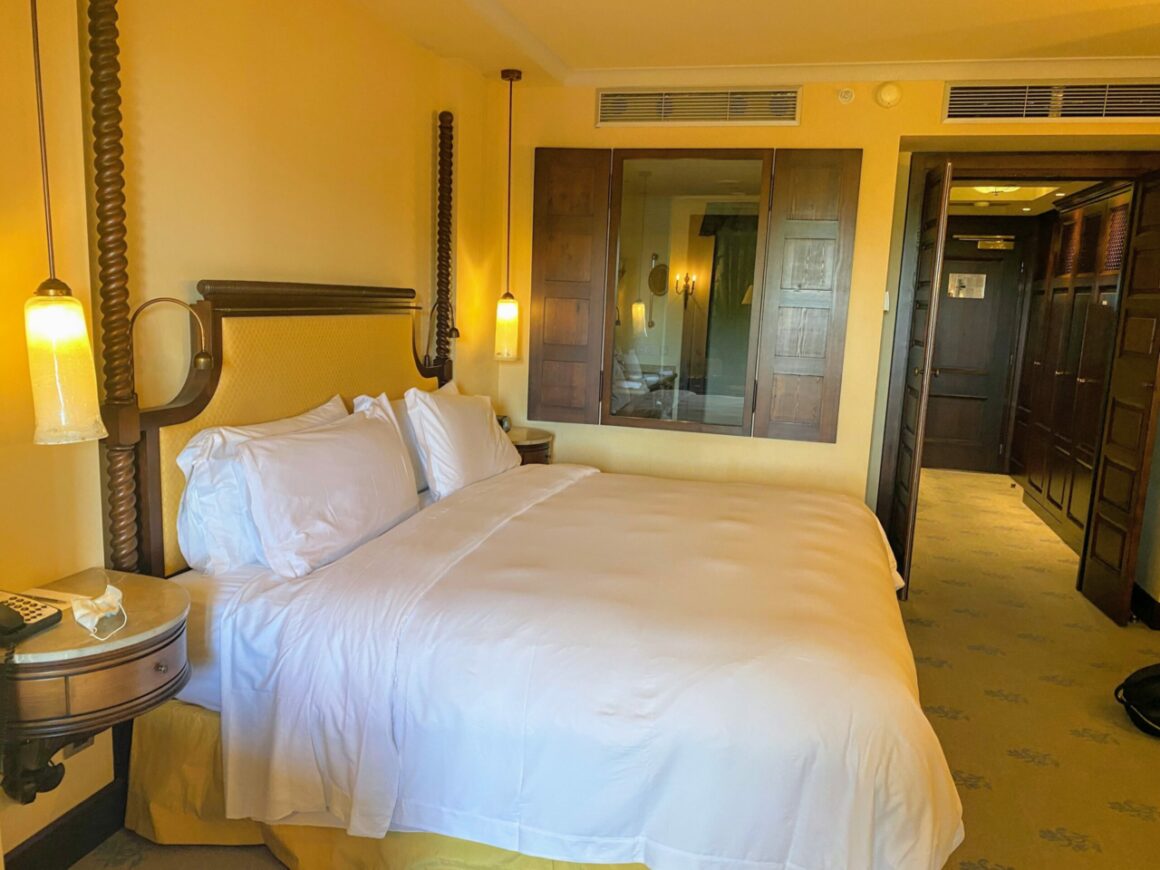 The bathroom was also large and had a window into the room which you could block off with large wooden shutters. There was an enormous deep bath which was a little too long for me but was otherwise great for a long soak.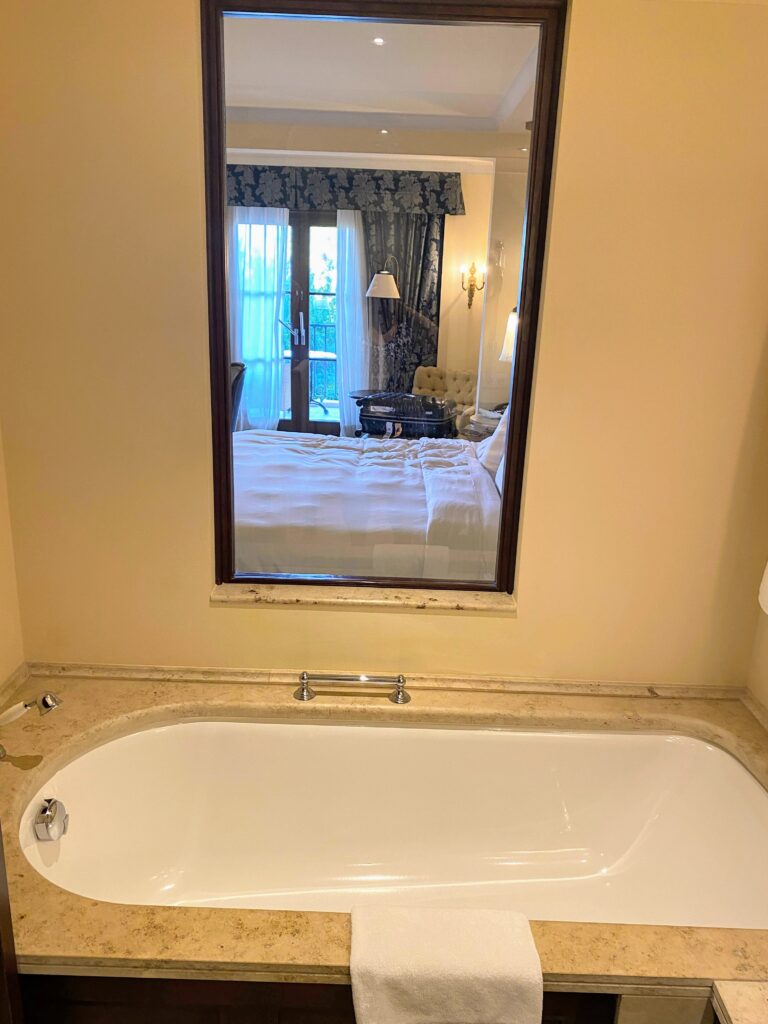 The separate shower cubicle was also a good size and even had a special footrest which is great for washing your legs and feet or shaving legs.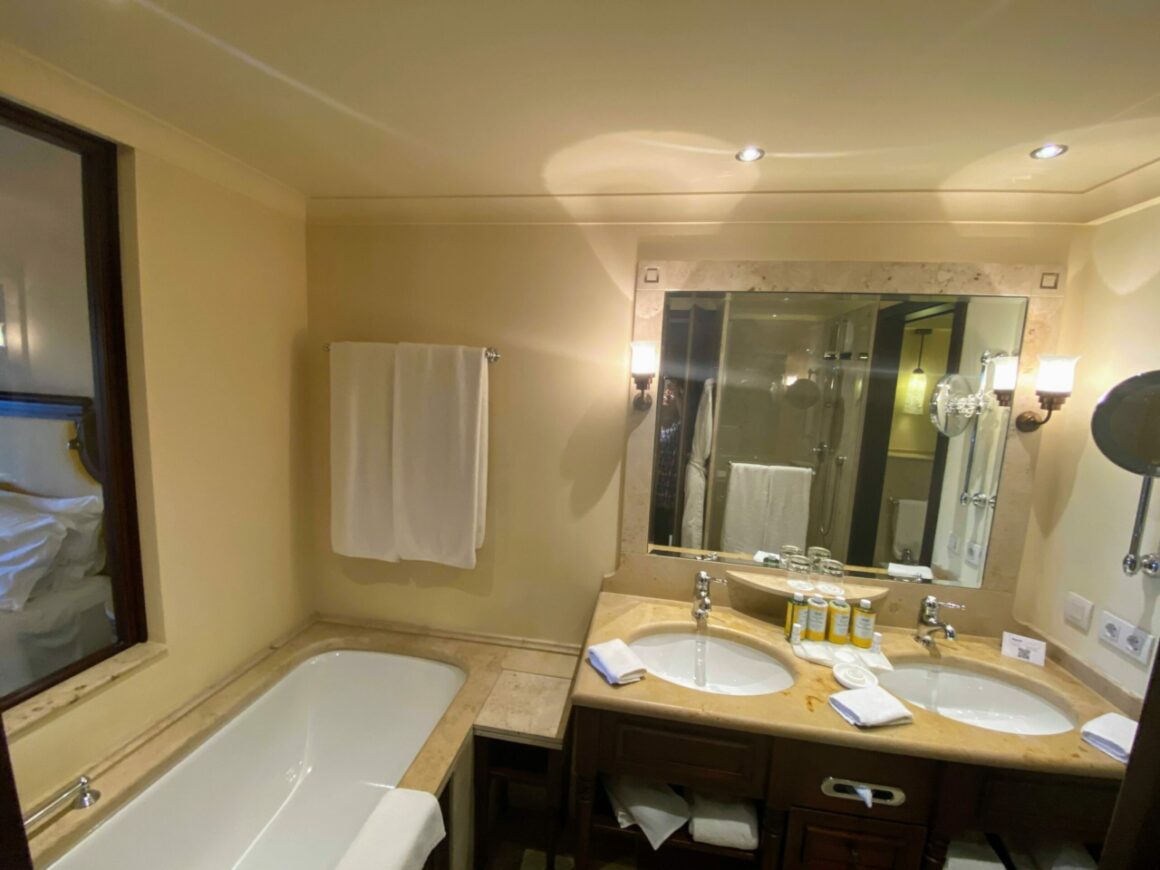 Toiletries were Hierbas de Mallorca and provided in full-size bottles which were pretty large. They had a subtle fresh fragrance and felt luxurious. I thought the little bottles of sanitiser were also a good idea.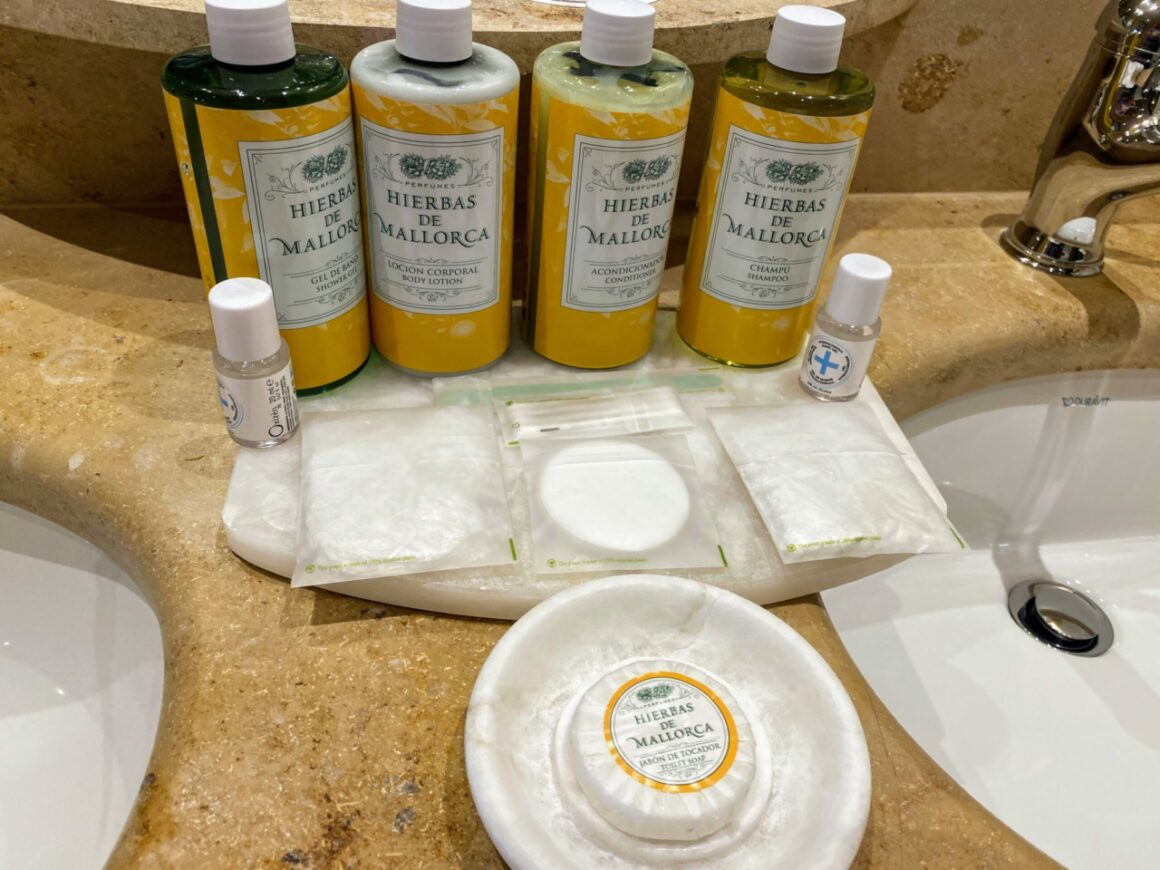 There was still plenty of room in the shower for the toiletries on the shelf even with the hefty size bottles.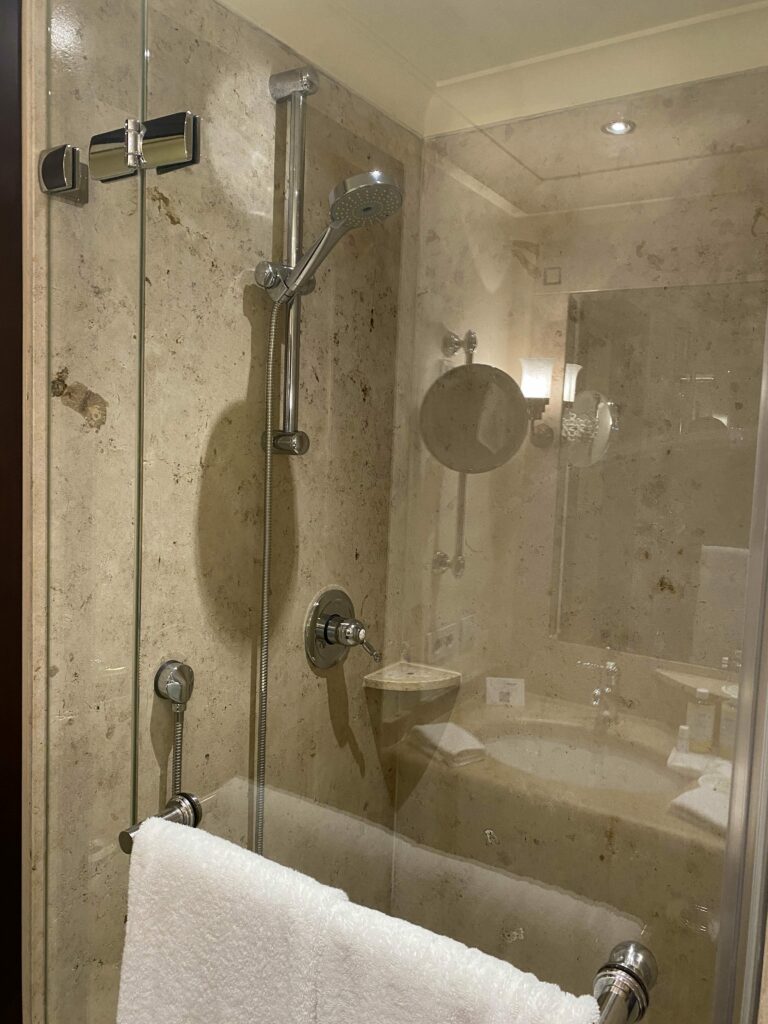 Other room categories
Classic room with balcony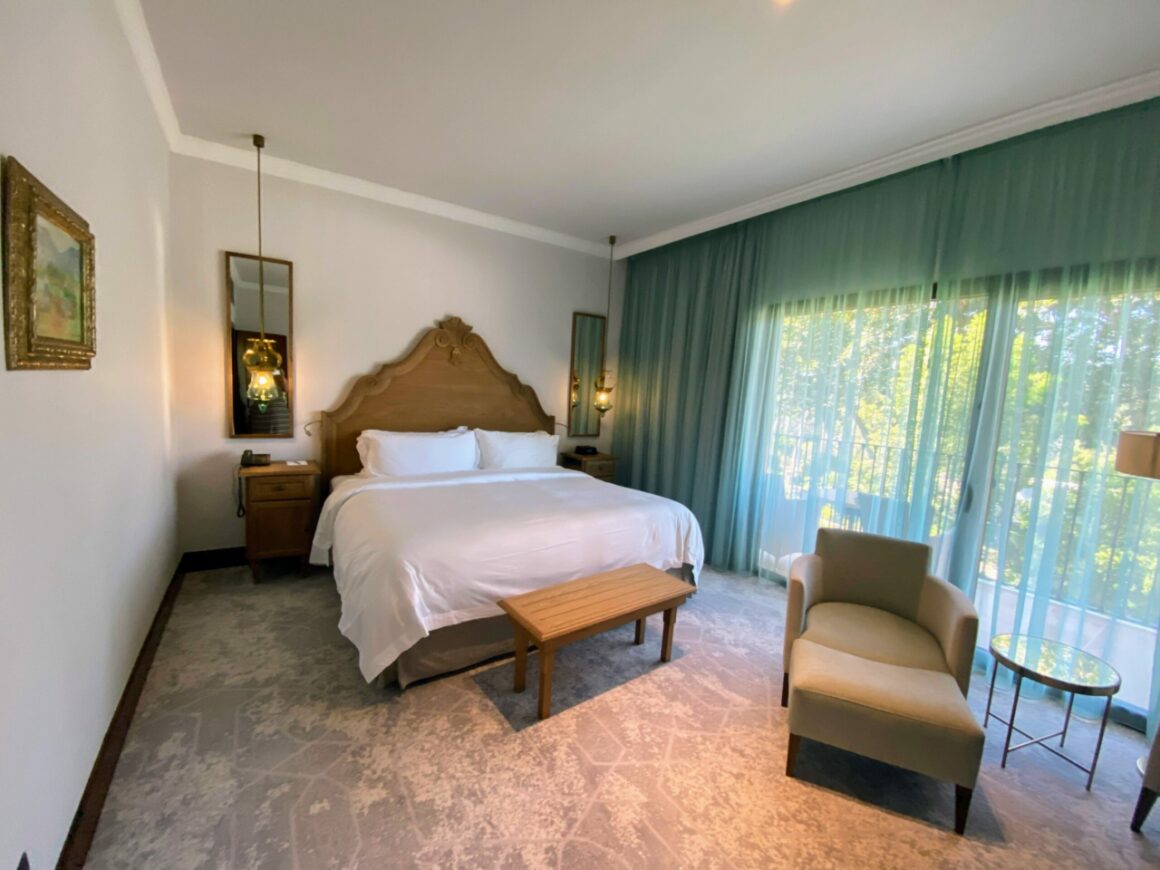 These rooms are smaller than the deluxe and in the more modern annexe. They are also a bit closer to the pool in terms of easy access.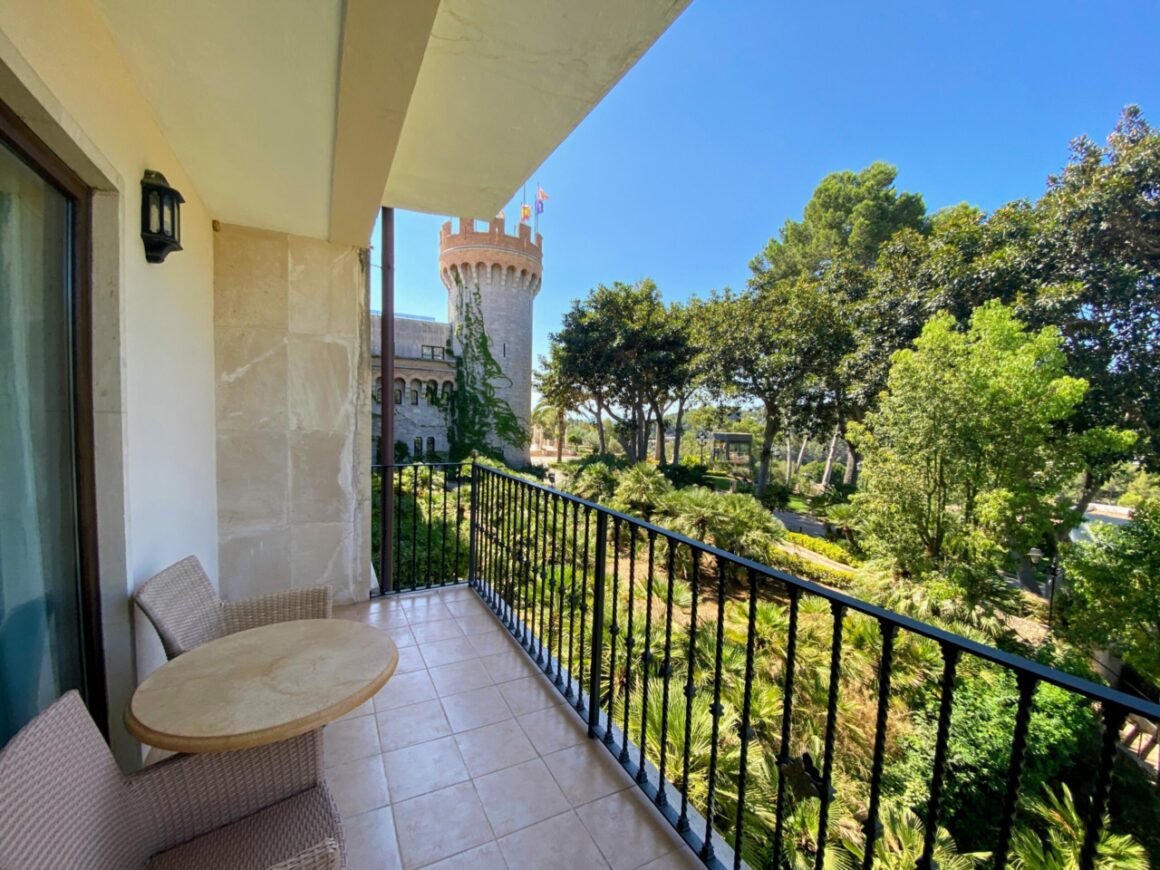 The views are still good although you can't see the sea.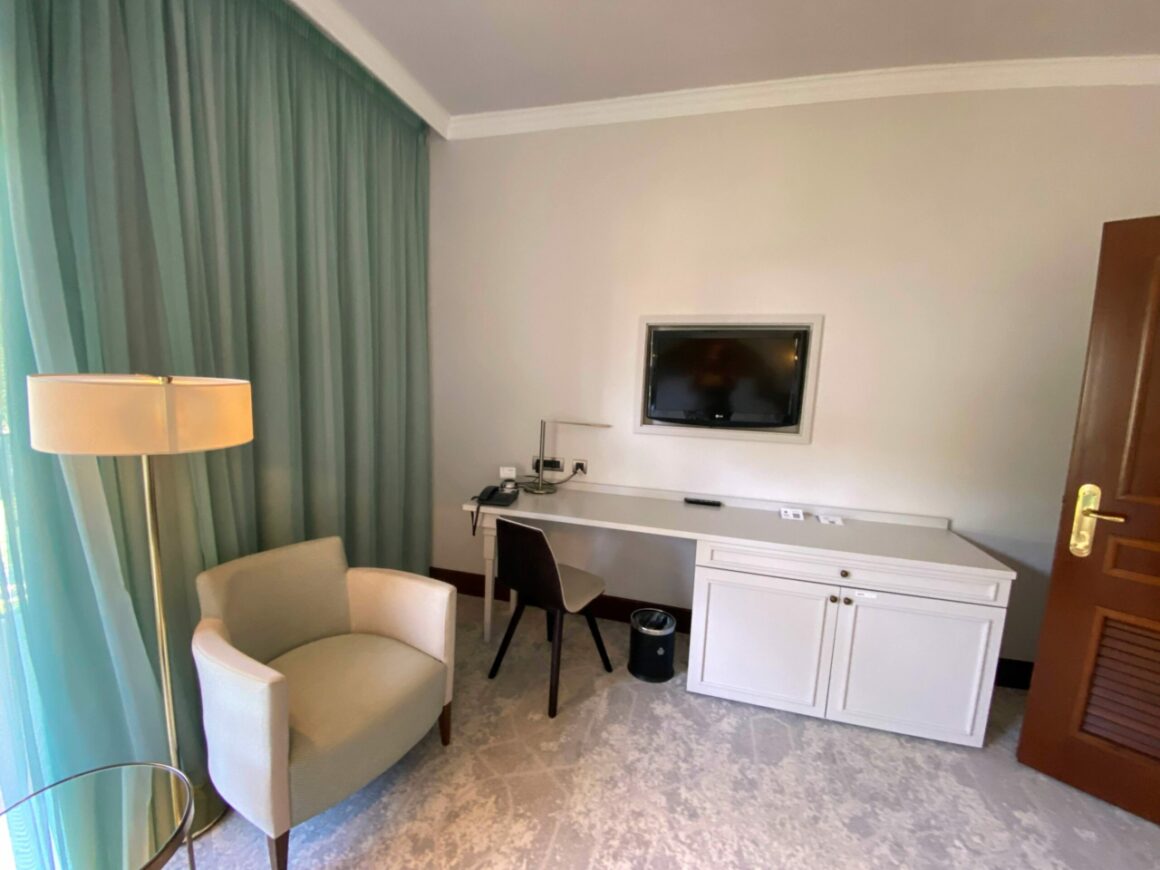 The bathroom still has a separate bath and walk-in shower but it is a little smaller.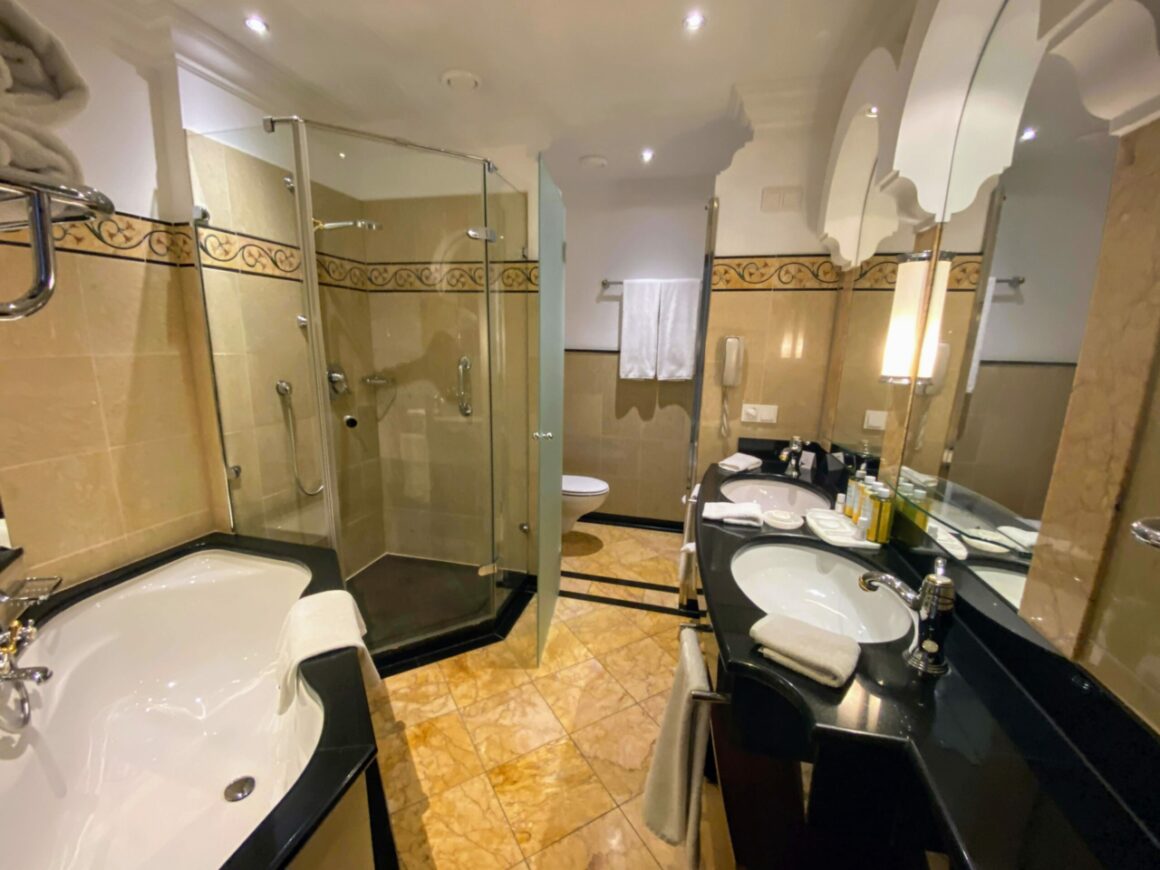 Deluxe room (no balcony)
These rooms have some of the best views and the same layout as the non-balcony rooms.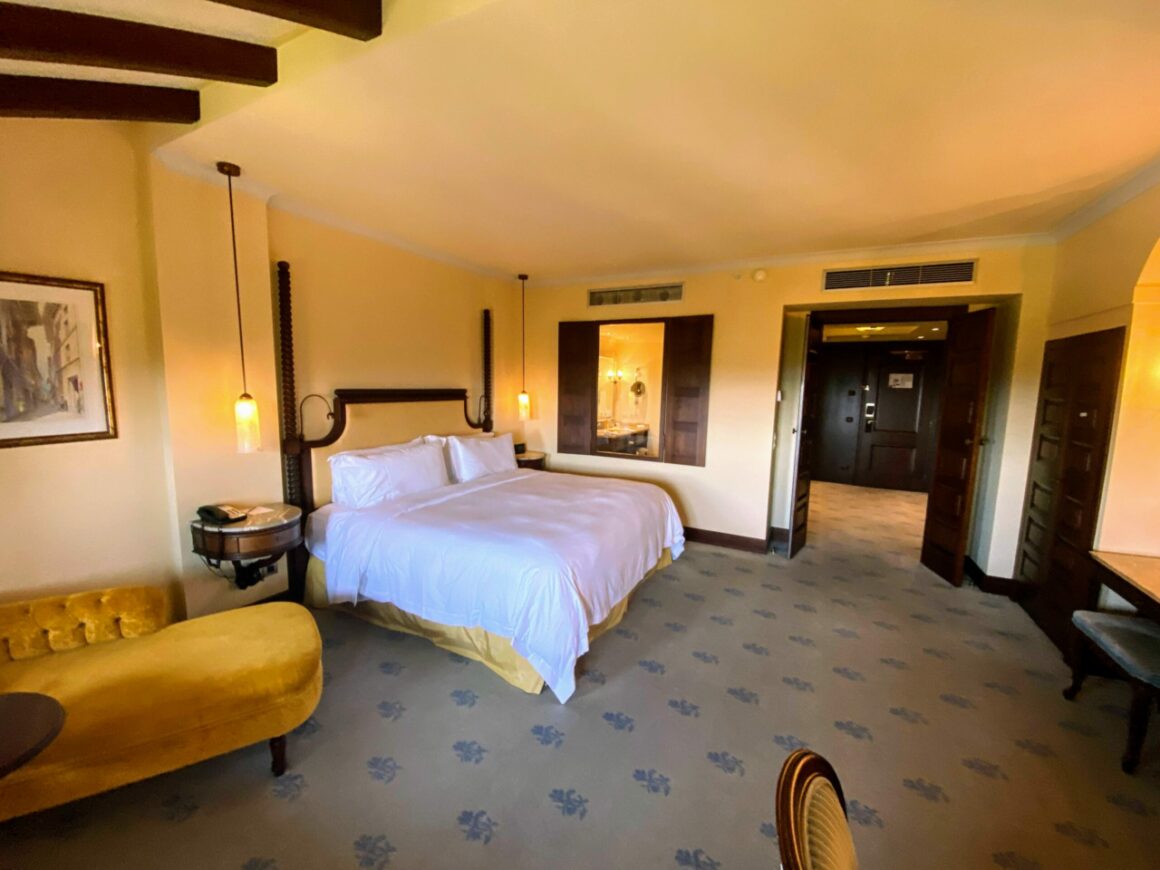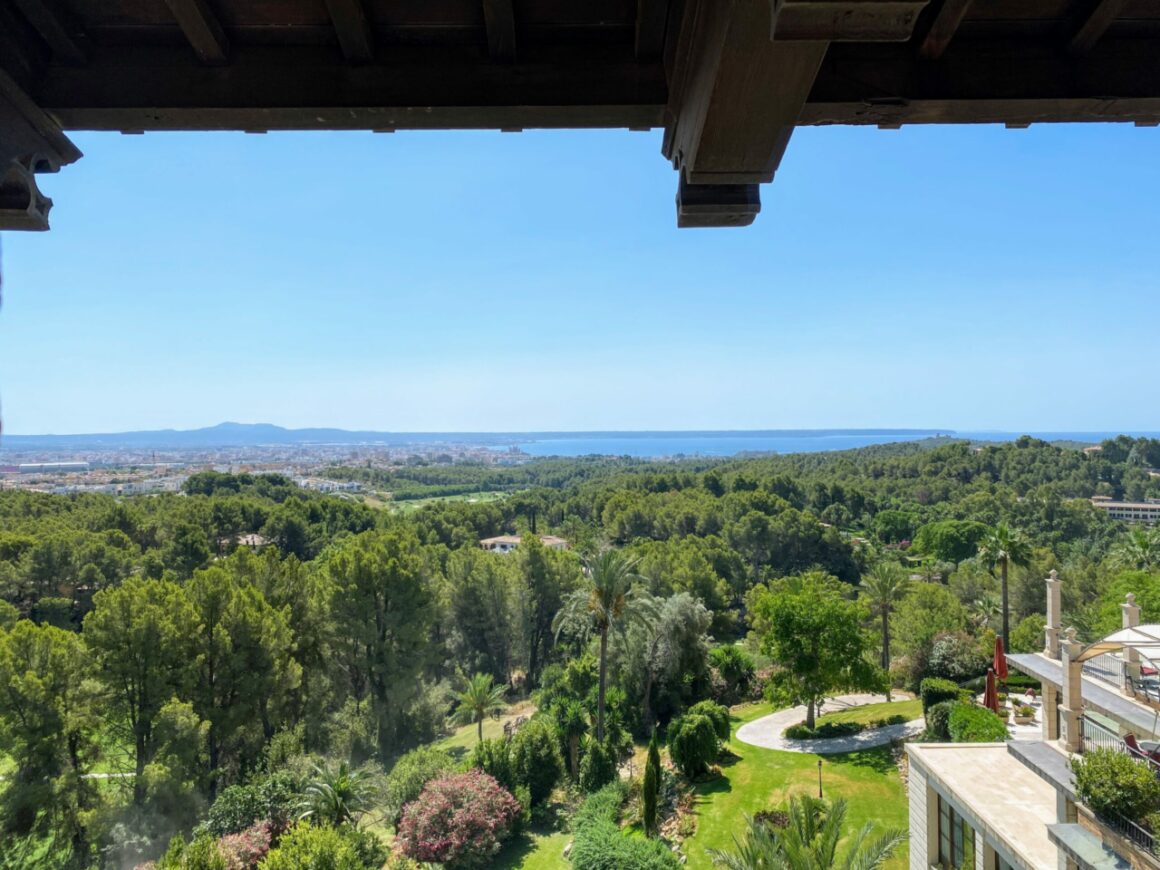 Grand Deluxe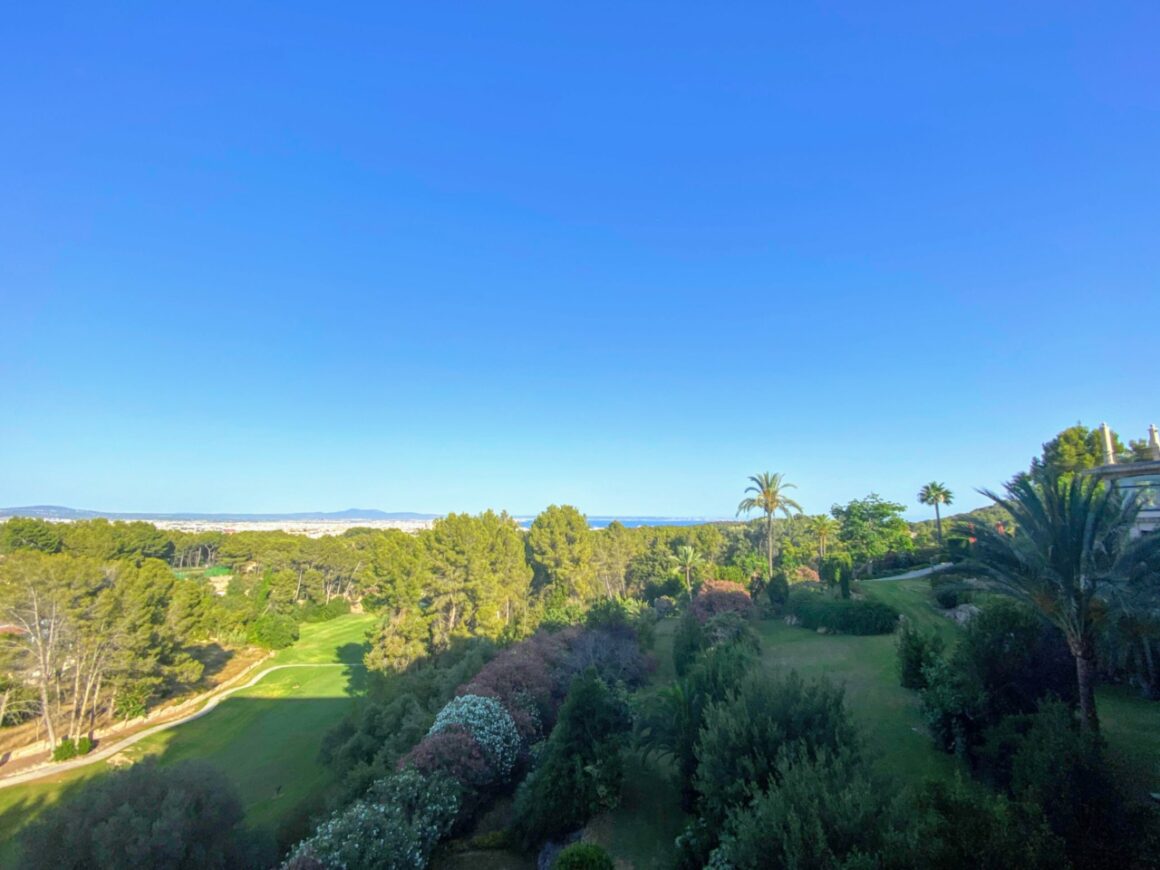 This is identical to the deluxe with balcony but has a better view due to its higher floor.
Food and drink at Castillo Son Vida
Breakfast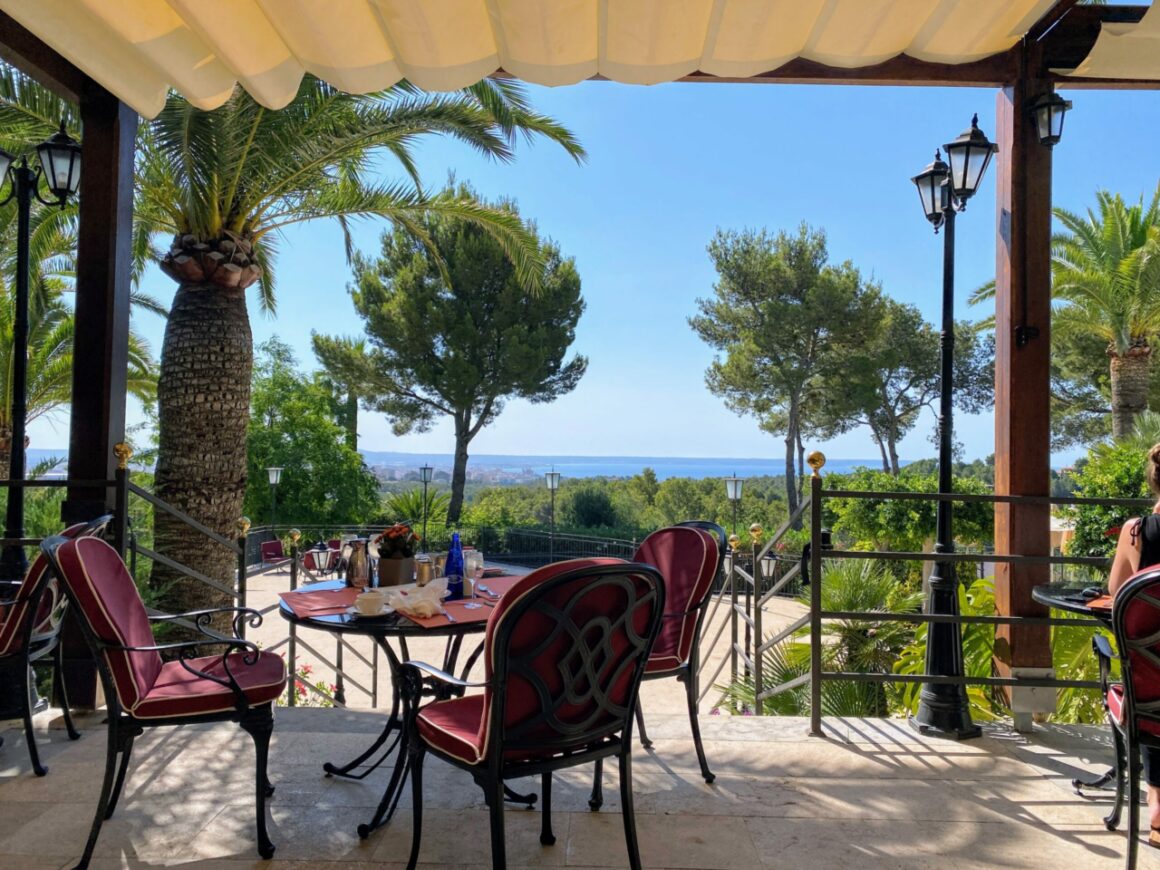 Having been a bit disappointed with breakfast at another Marriott property recently, I was pleased to see a real spread available for breakfast at the Castillo. The staff were lovely too, particularly the sunny German lady that always remembered our coffee orders. If you order bog-standard coffee then you get something akin to the type of weak coffee you get in America in a big jug. Instead, we changed to ordering specific coffees as recommended to us. They had all the usual types of barista coffee plus something called cafe crema which appeared to be akin to a smaller Americano.
Delicious freshly squeezed orange juice was offered at the table along with a different smoothie every day. Cava was available although I did have a bit of a language barrier trying to ask for a Bucks Fizz, so I just ordered the fizz and poured it in my juice!
There was an extensive buffet with a Mallorcan specialty area such as tomato bread, sobrasada, and local cheese as well as the usual fare of fruit, pastries, bread, salad, smoked salmon, and yoghurts. The hot selection was equally comprehensive with a special every day such as cooked salmon or ham, different types of potato and croquettes, Padron peppers, and the usual eggs, sausages, and bacon. Dishes changed every day so there was no issue with getting bored. You could get omelets cooked to order and there was also a choice of several a la carte dishes.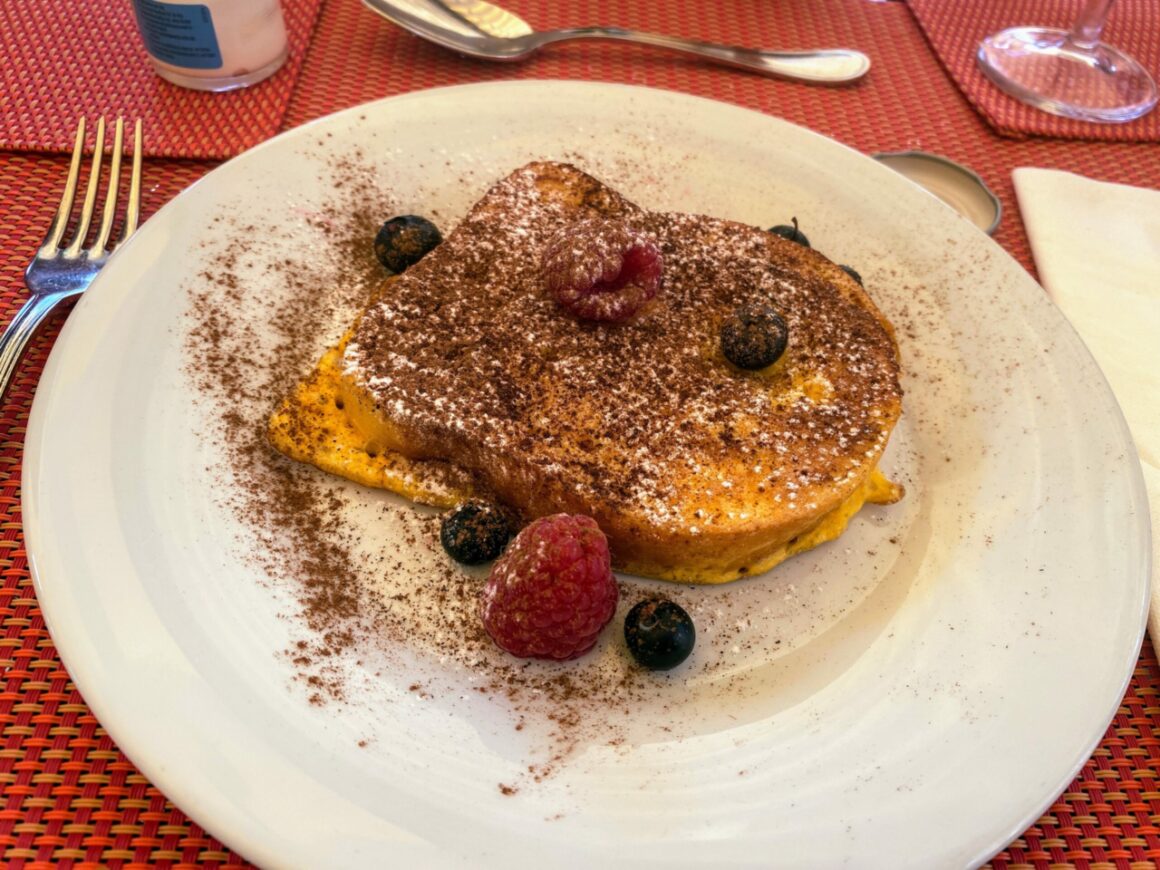 I tried the eggs benedict which could have done with a less thick sauce for my liking, and the French toast.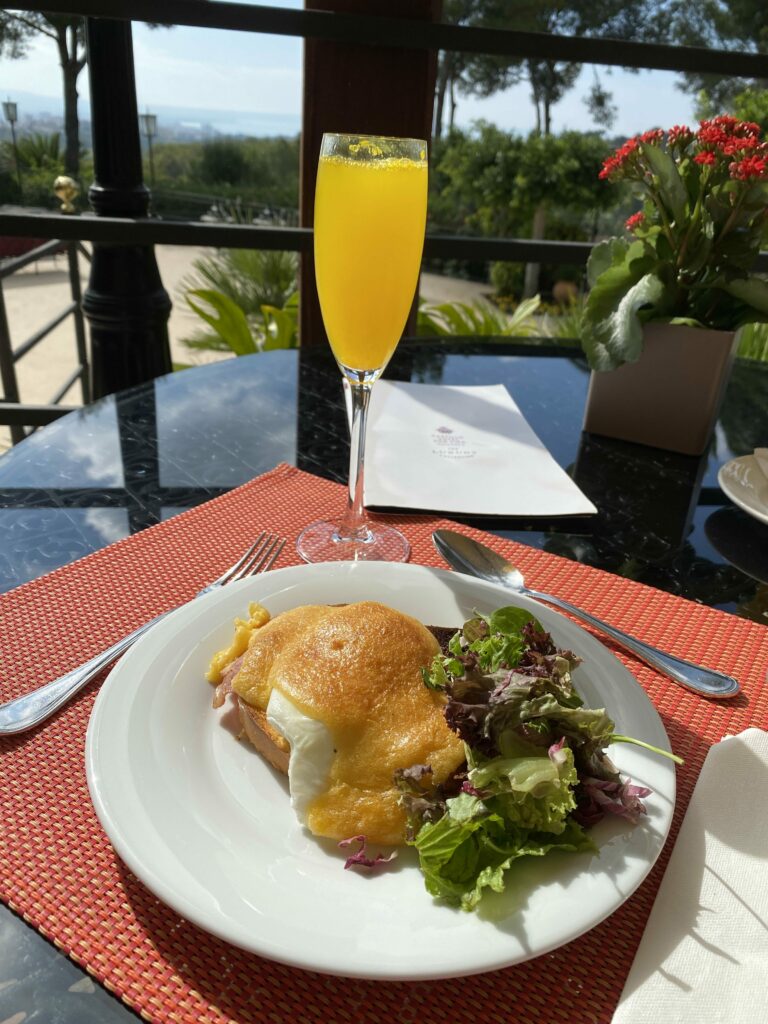 Plus I also just ordered half an avocado instead of the avocado toast.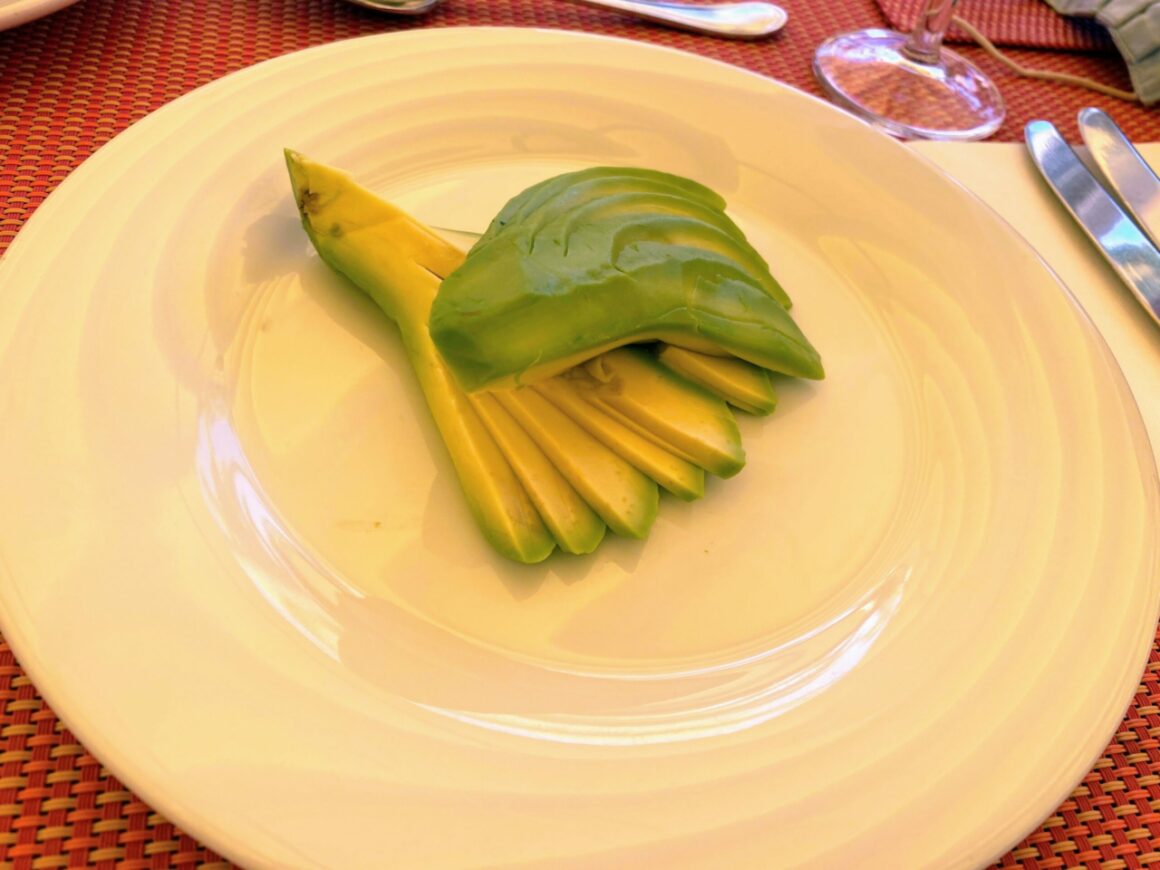 Here is the a la carte menu: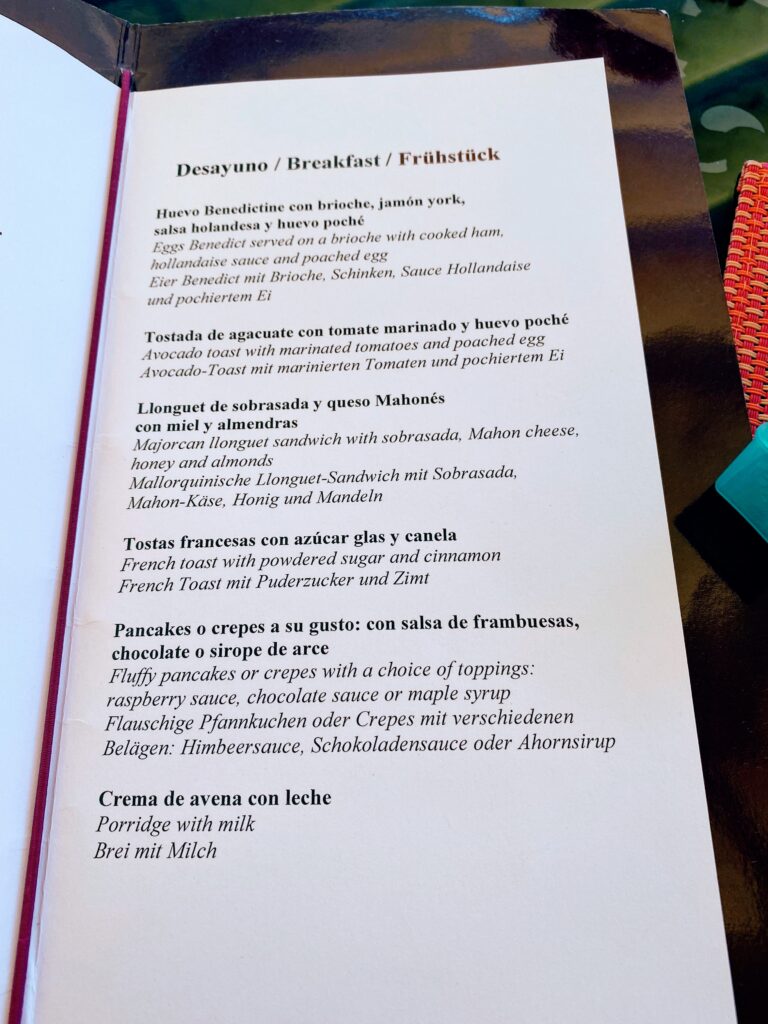 The bar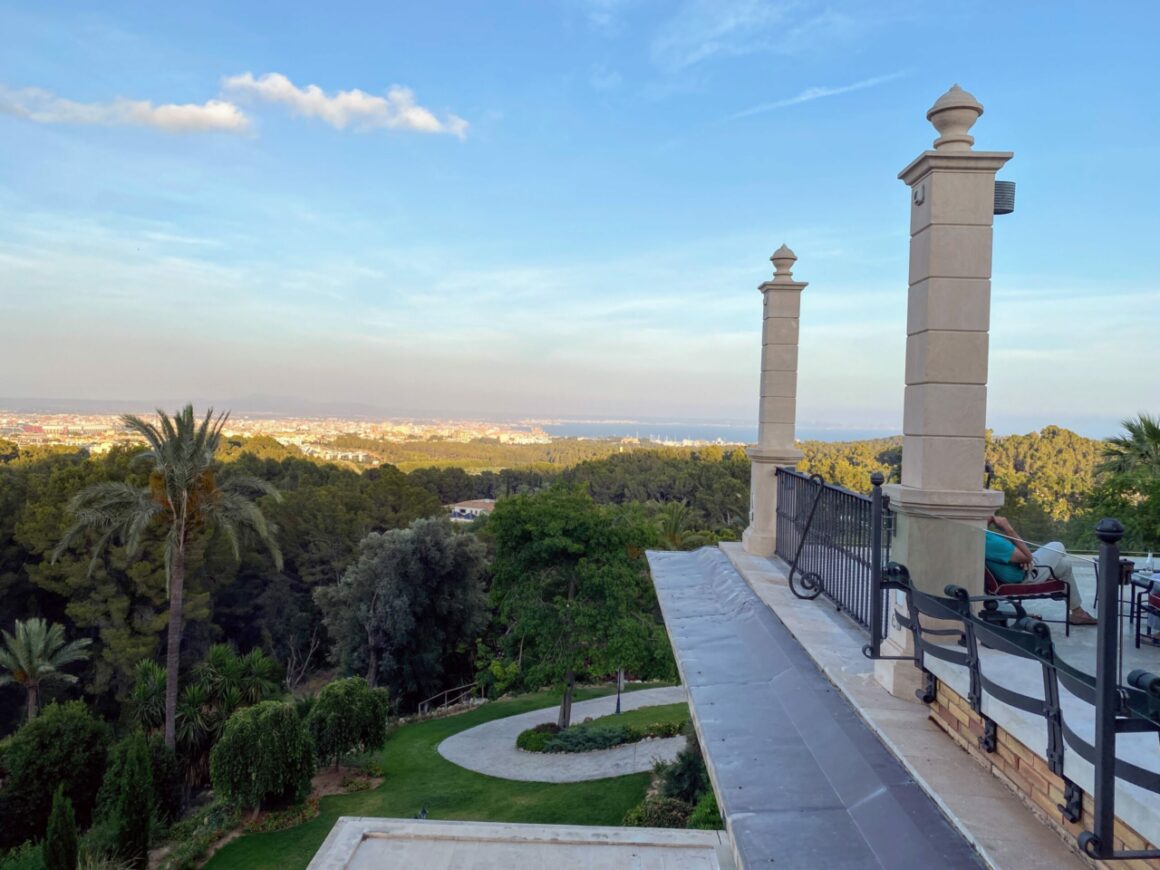 Bar Armas was the main bar which did great cocktails and lights meals/tapas.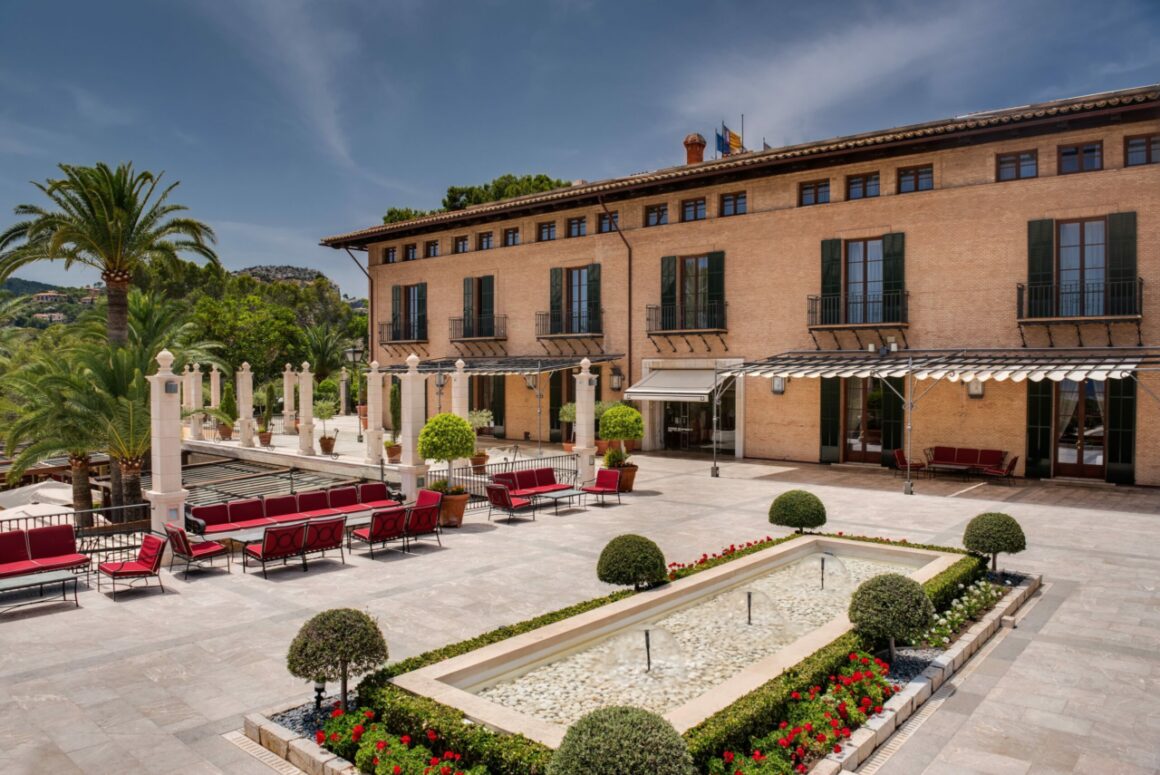 We ate there on the first day and soaked in the gorgeous views down to the sea with some tapas and large G&Ts.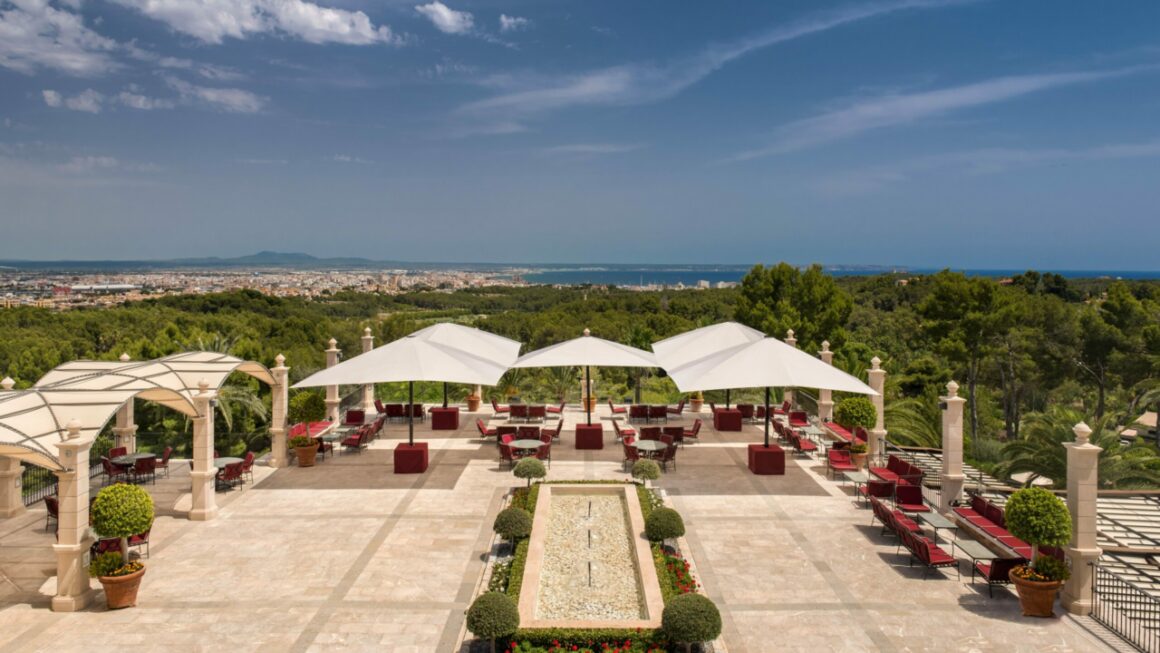 Food and beverage prices were high apart from wine. A G&T could easily cost €15+, although they were huge measures.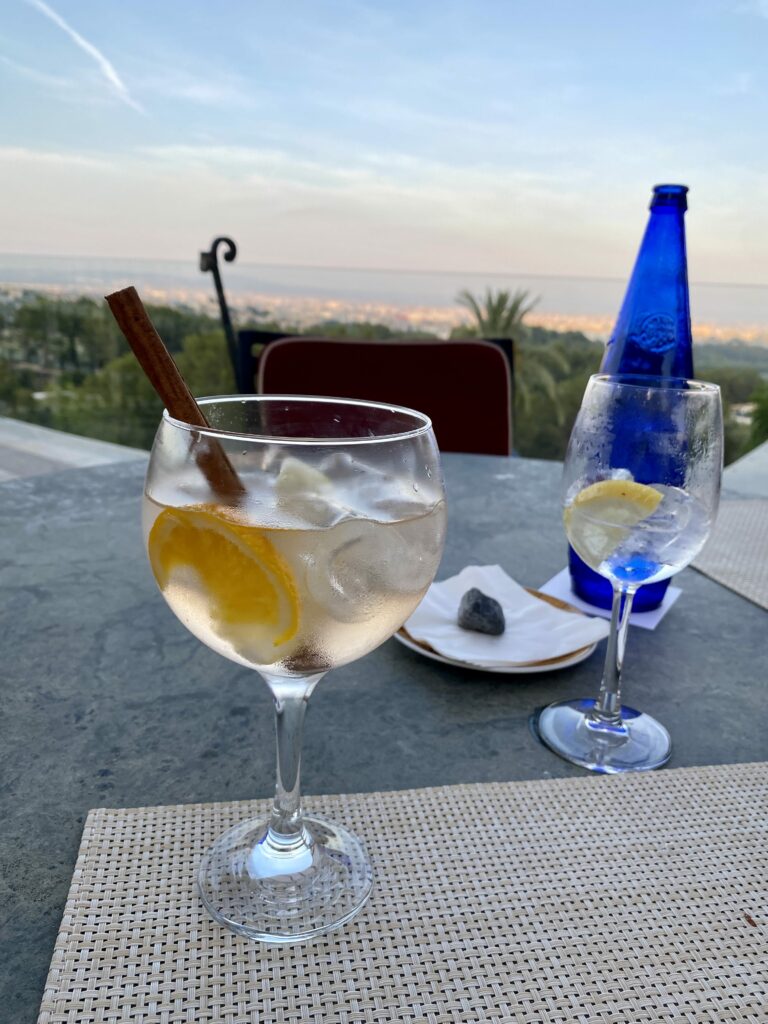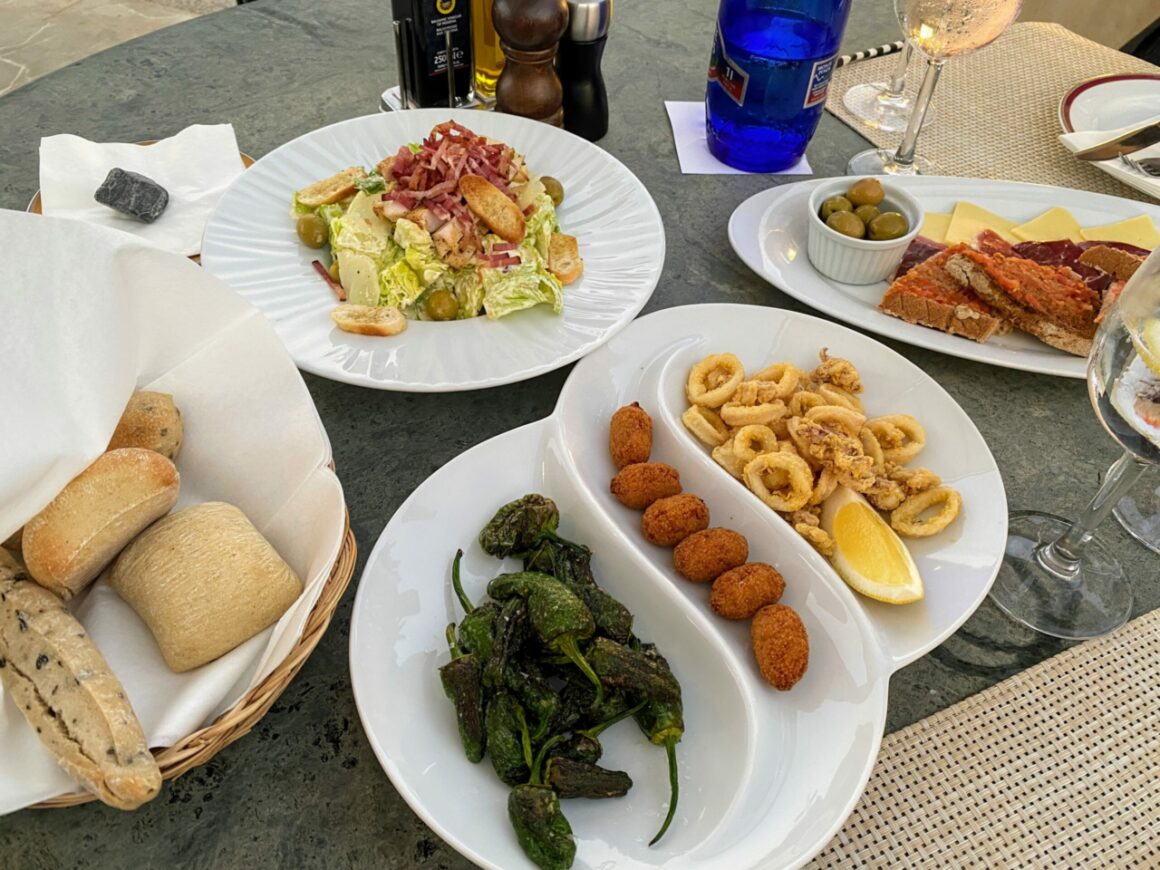 There are also a couple of very ornate lounges that serve drinks and afternoon tea.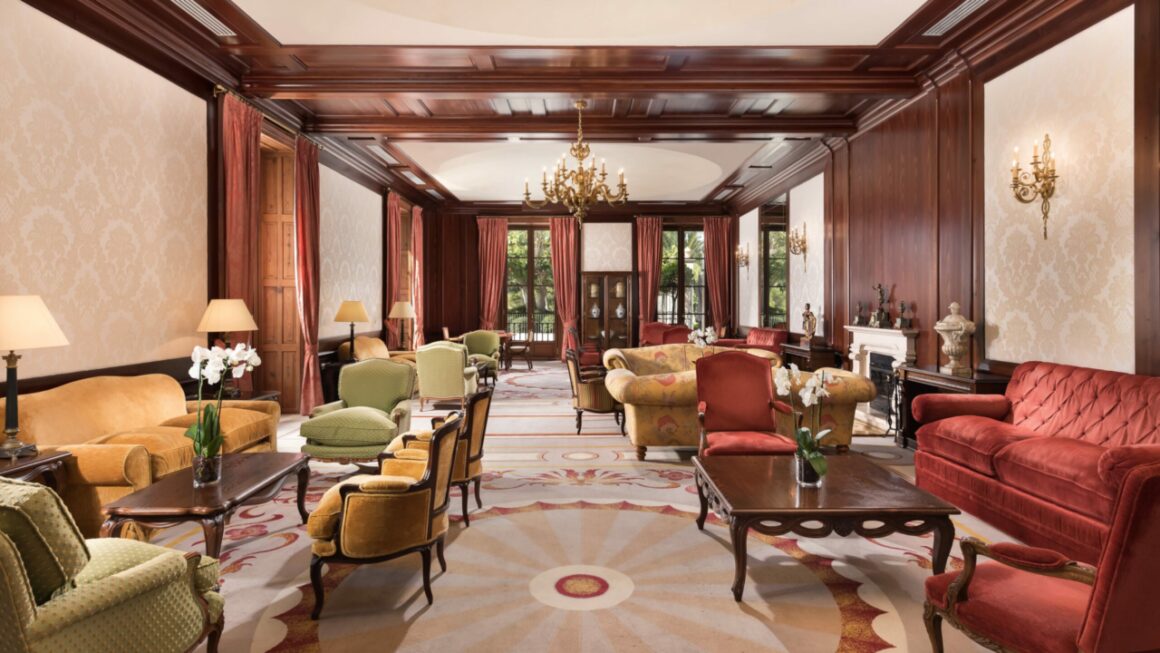 Other dining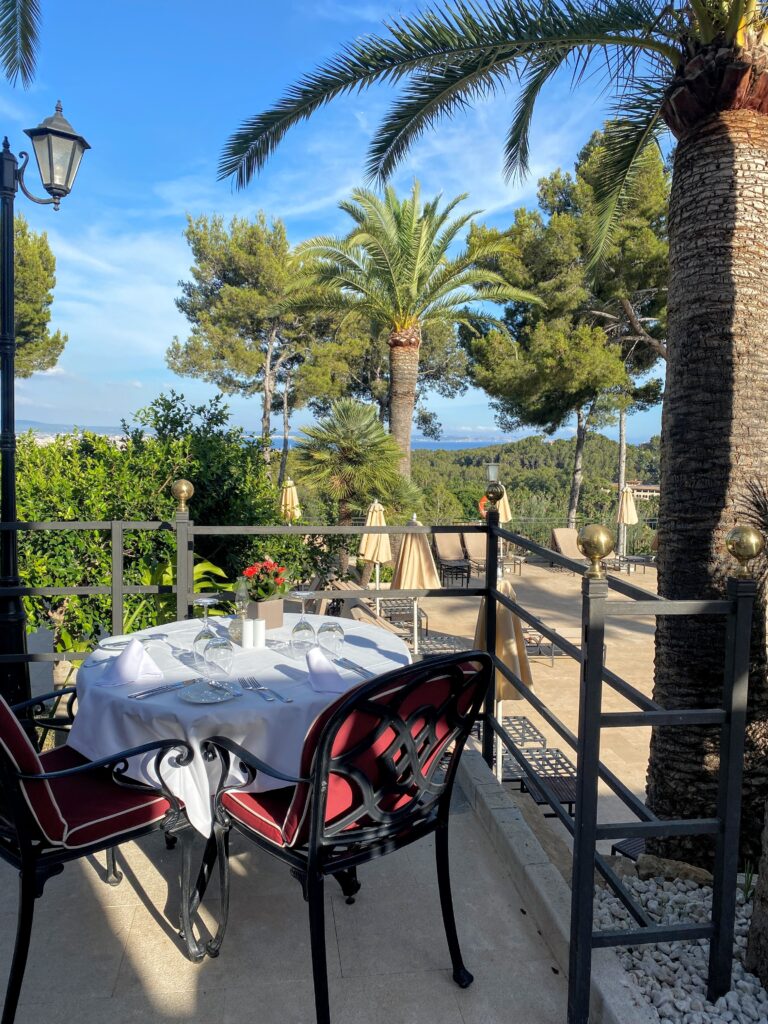 As well as the bar there were two more formal restaurants. The main restaurant is called Es Castell and focuses on Spanish and international dishes. It has a gorgeous terrace for summer dining.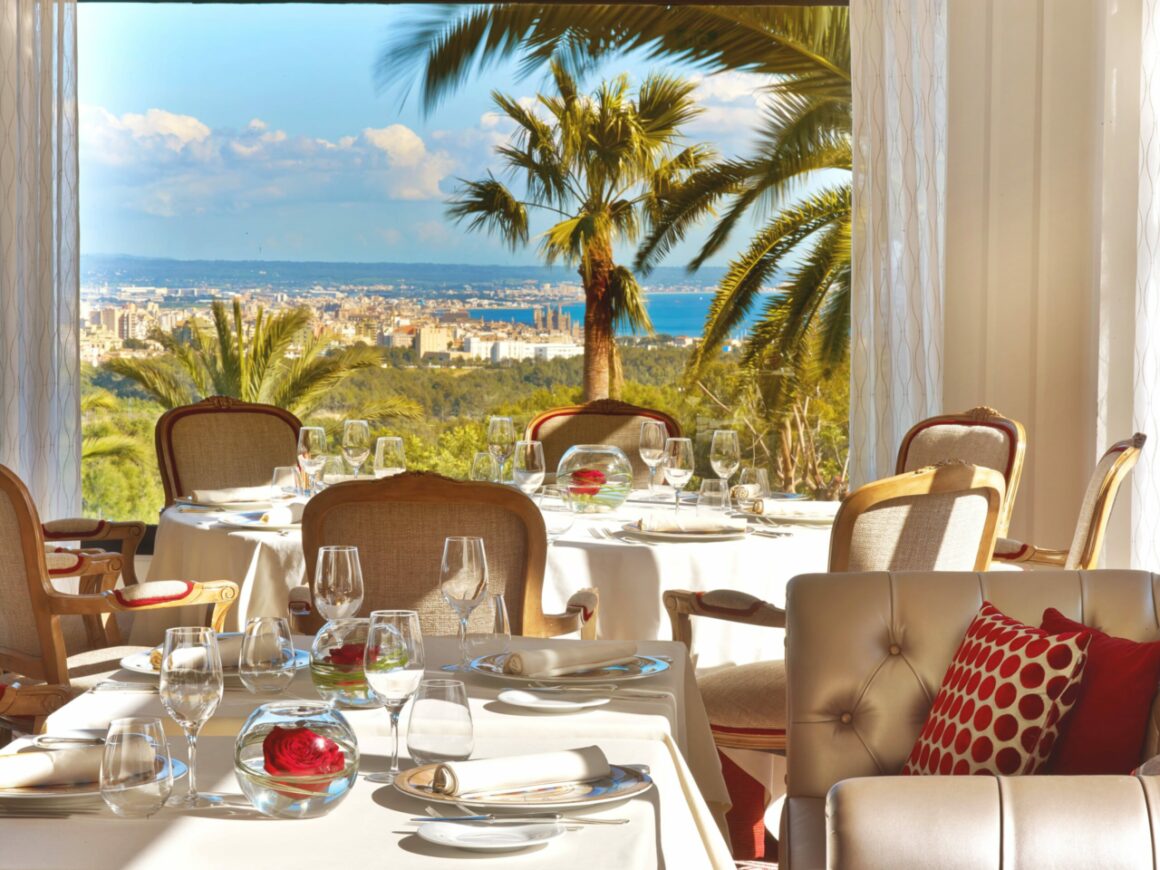 The other restaurant is focused on wine and is called Es Vi. It was only open on weekends when we visited. If you are a wine buff, this would be heaven with 400 different wines —50 of which are available by the glass. The menu has tapas and a tasting menu to accompany the wine.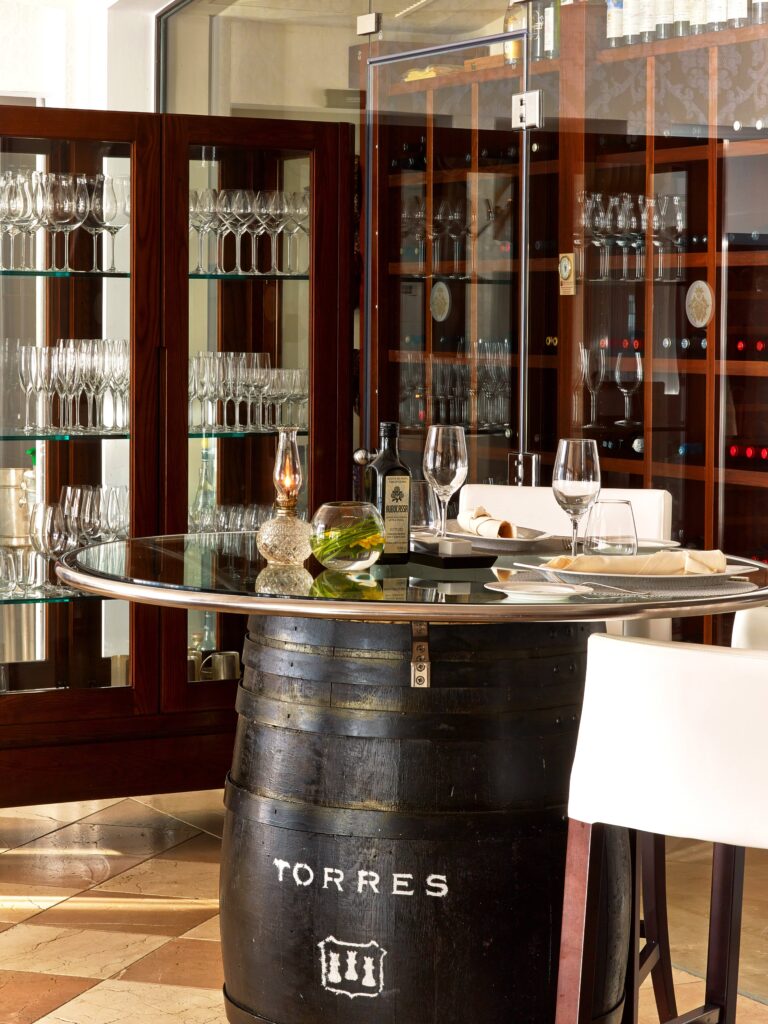 At lunchtime, we ate on the terrace at el Castell. The menu did get a little repetitive as it wasn't huge, but the food choices were modern and a little different as well as the typical classics like gazpacho.
We were both fans of the iced coffee which had ice cream and whipped cream on top, more of a dessert really!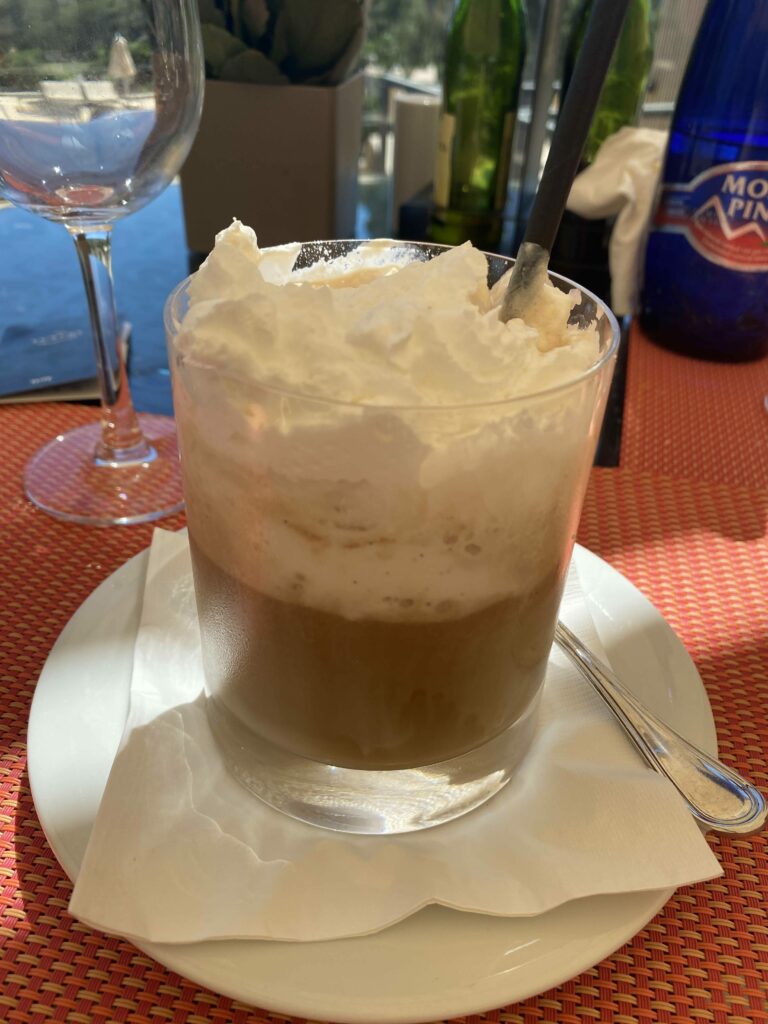 Castillo Son Vida Leisure and sport
Castillo Son Vida Golf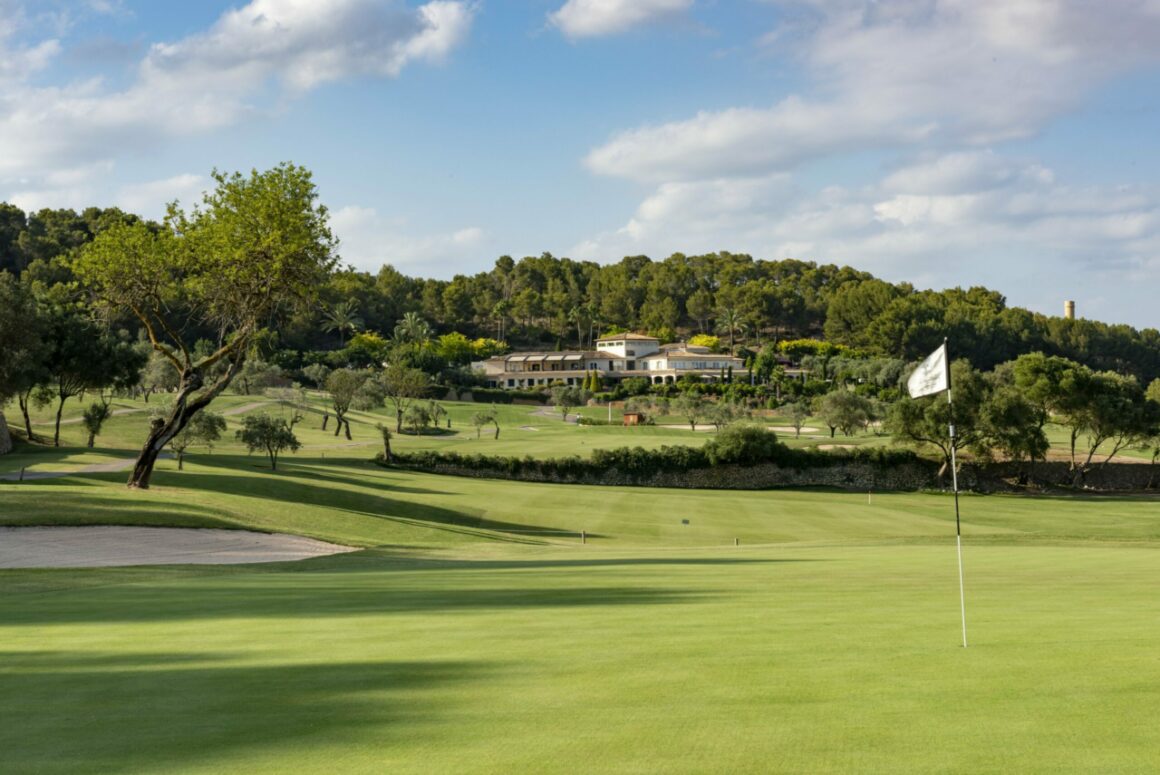 The hotel is definitely at the centre of a golfer's paradise! Both Son Vida Golf Course and the Executive Course of Son Quint surround the hotel whereas Son Muntaner & Son Quint Golf Courses are just two minutes drive. The hotel has Unlimited Golf Offers where you can play at all the nearby Arabella golf courses and offers a complimentary shuttle bus service between the 4 golf courses and the Castillo Hotel Son Vida as well as the Sheraton Mallorca Arabella Golf Hotel. There is a special golf desk in the lobby to help with arrangements.
Castillo Son Vida Gym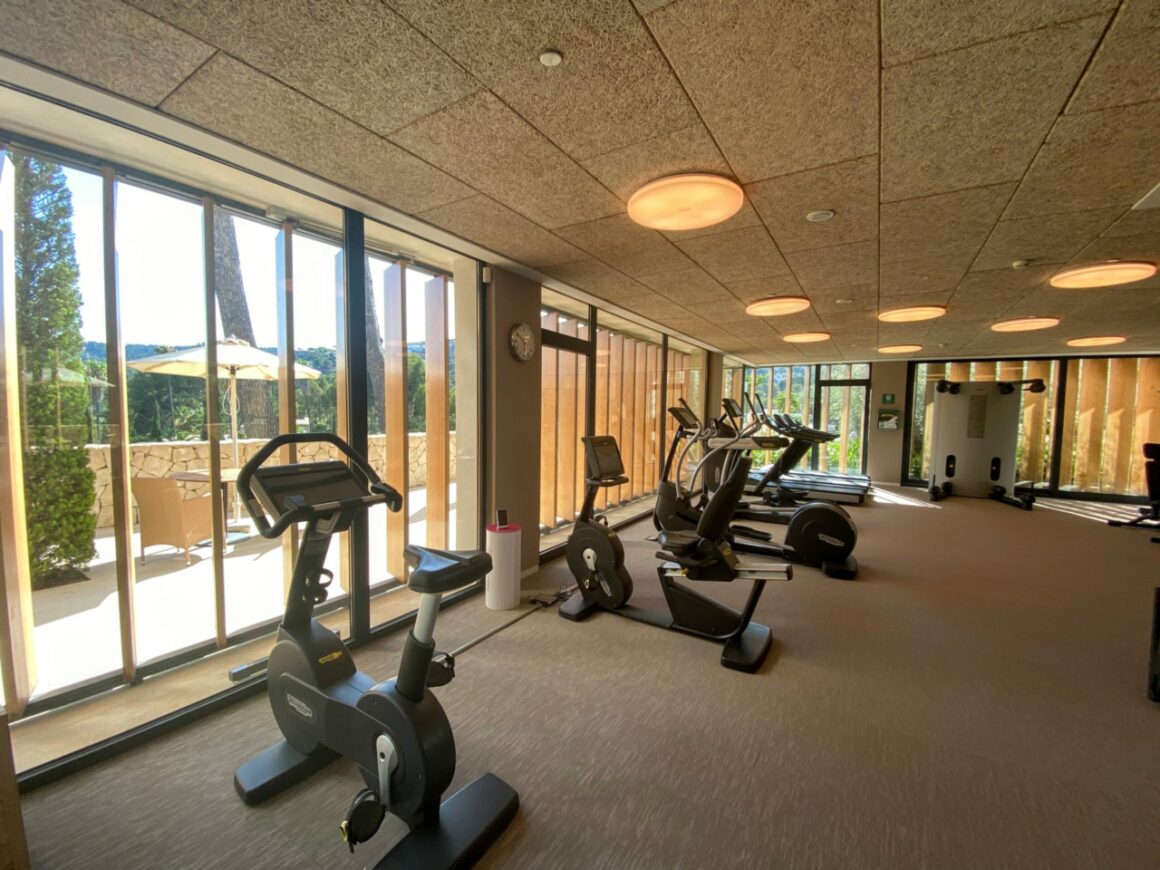 I was surprised by the size of the large gym and the selection of equipment. They have Life Fitness machines, free weights, and the latest fitness accessories, and cardio machines like treadmills, elliptical trainers, and stationary bicycles.
Pools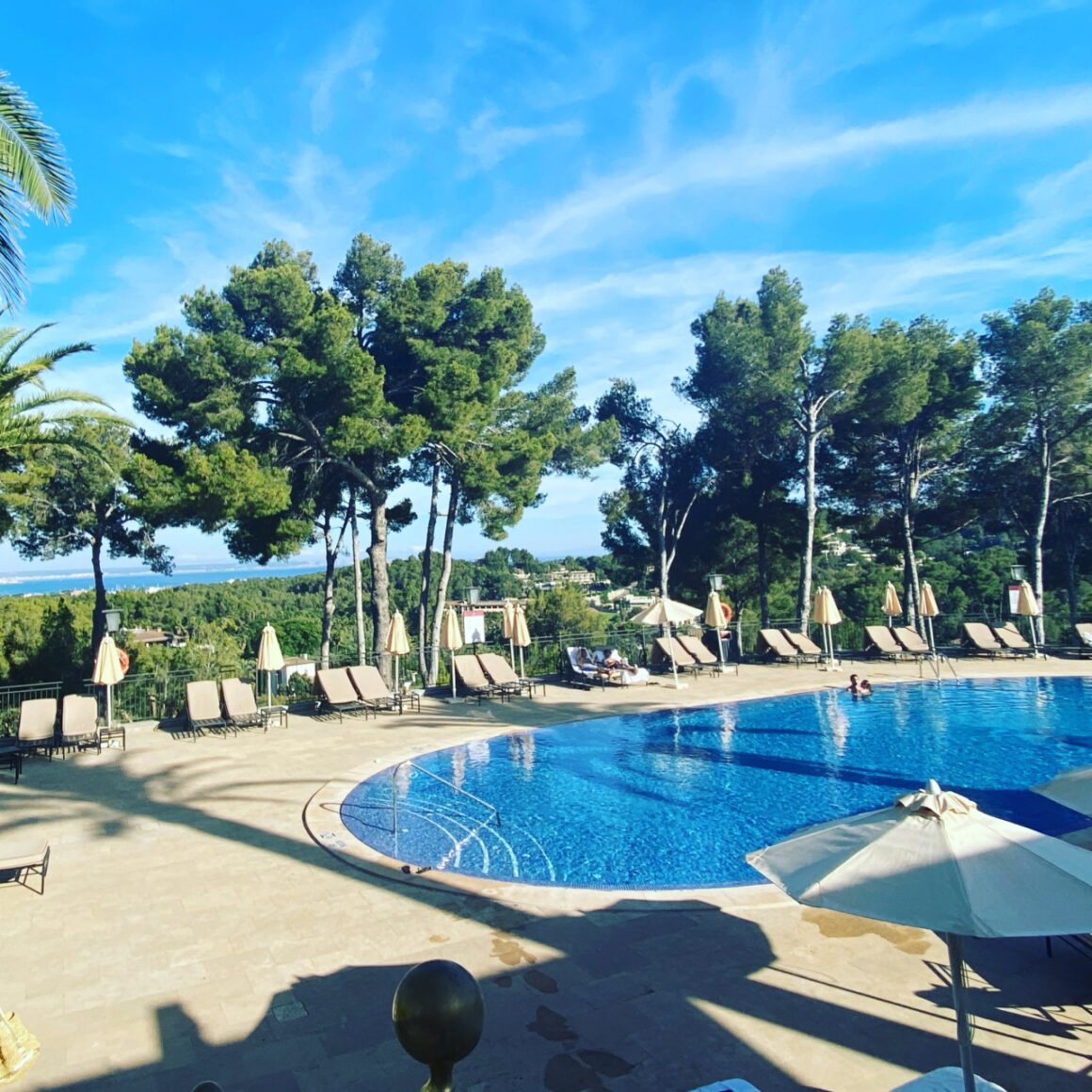 There are two pools right by each other. The majority of the time both pools were a lovely temperature and not crowded. The main was long enough to swim properly. There was no issue getting a sunlounger until the Saturday when the hotel was a full capacity, when they did run out of loungers at one point. If you stay at a weekend, that may be the day to get out of the hotel and explore!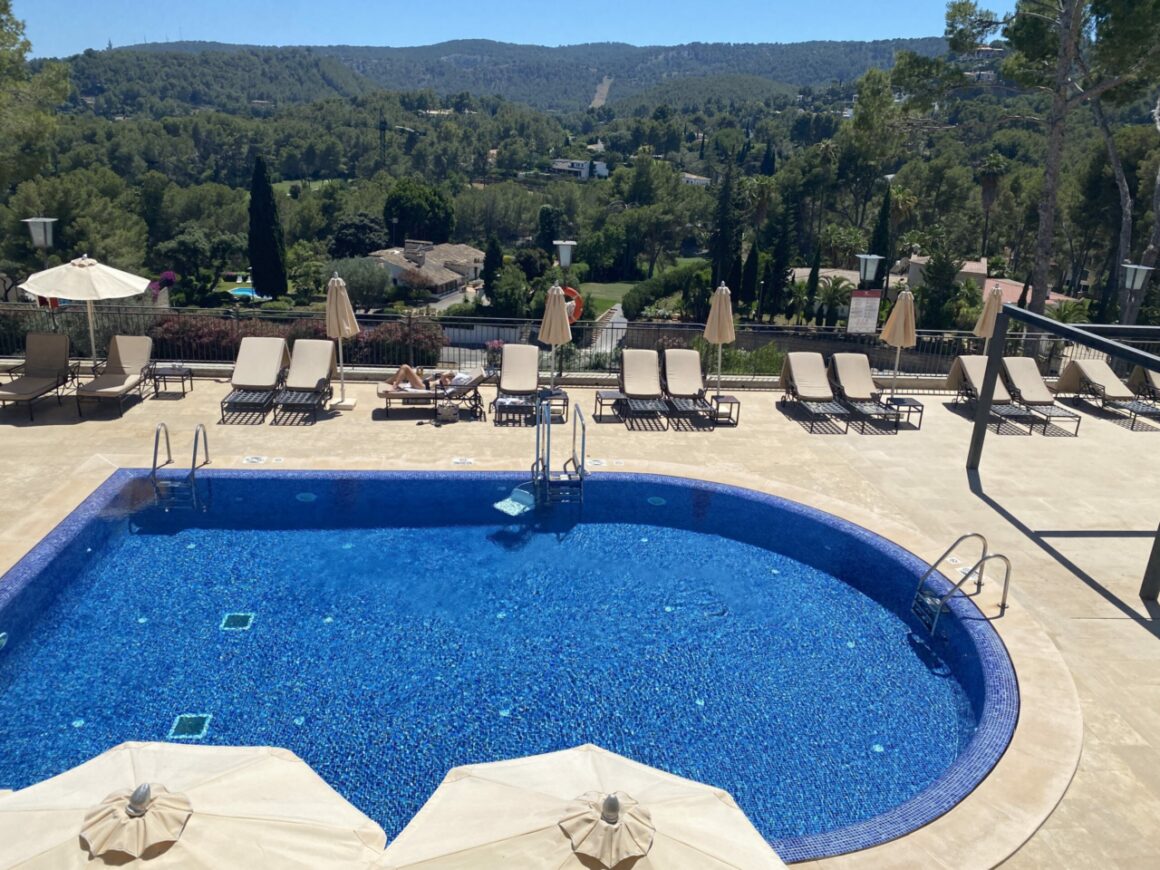 Service around the pool was a little varied as at lunchtime staff often had to go to the restaurant to help out but for the majority of the time, it was good.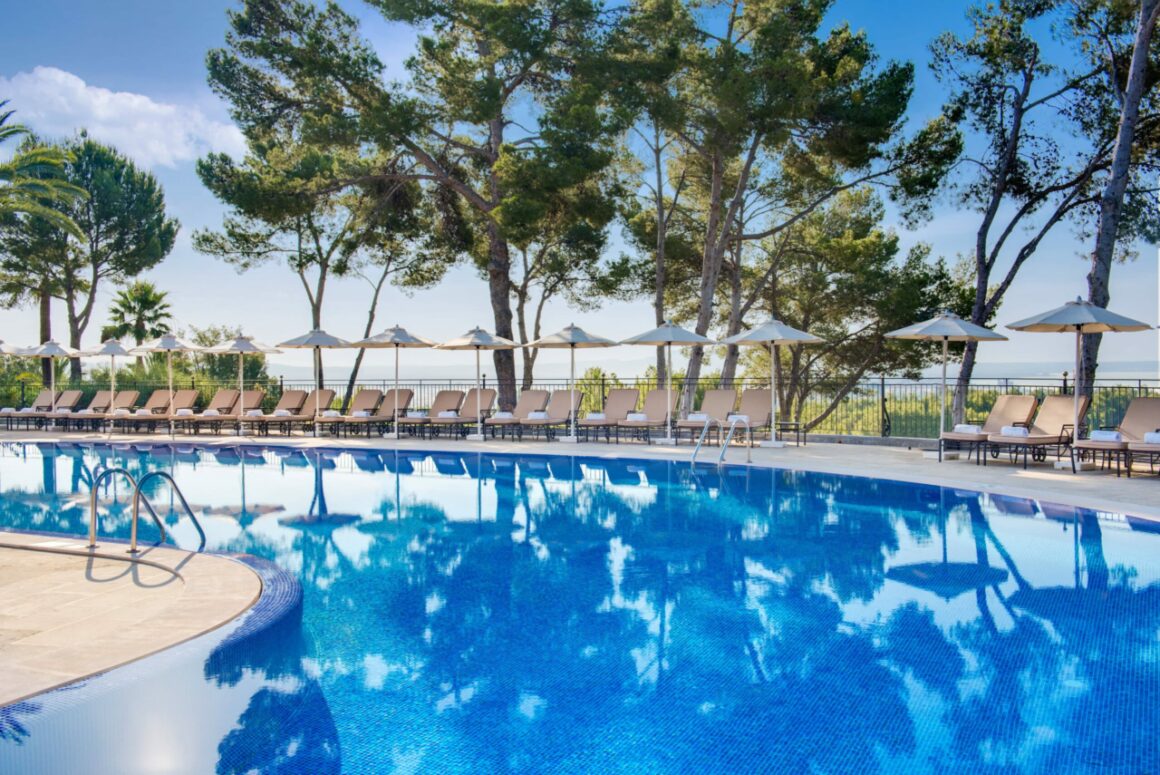 Loungers were large and very comfortable with plenty of towels available. One major irritation for me is that no tap water is provided free by the pool. I would generally expect 5-star hotels in a hot location to provide some sort of iced water but the only option was to buy bottled water for a very high price. Given it was 32c one day, I think that's not really on.
Overall I enjoyed lounging by the pool with the beautiful views and comfy loungers.
The Spa and indoor pool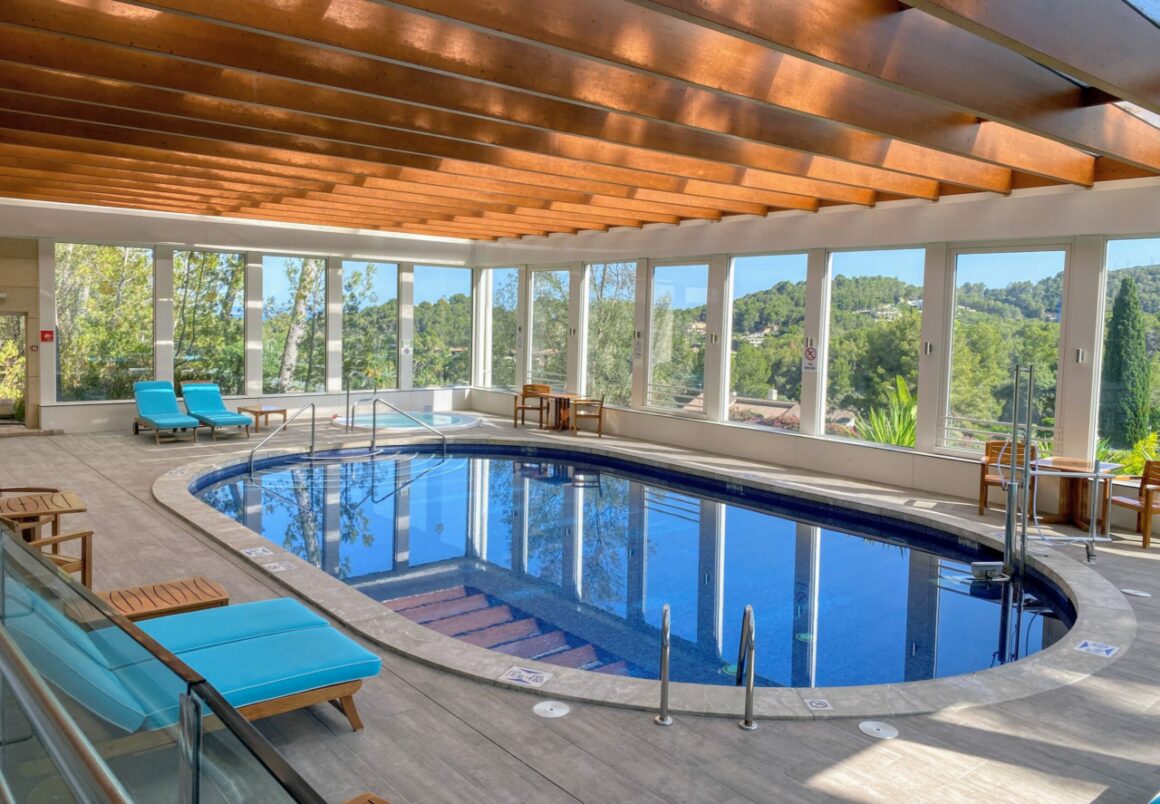 The spa has a great range of treatments including some smaller 25 minutes ones if you are pushed for time. I advise booking ahead as there were not many time slots to choose from by the time I got there. The spa is not manned for much of the day so it's best to phone. I did find it got a little confusing trying to book 2 treatments for one person but it all worked out in the end.
I had a shoulder, back and neck massage followed by a foot massage. Both treatments were performed very professionally and the room was comfortable.
If you went in the winter you may want to use the indoor pool but it was sweltering when we were there! The spa facilities are fairly comprehensive with three sauna versions, a Finnish sauna, a bio sauna, and a steam bath with temperatures of 45 – 90 degrees. To cool off, there are an ice fountain and experience showers too. Finally, there's a light relaxation area overlooking the pool and a hair salon.
Conclusion for Castillo Son Vida

The Castillo Son Vida was the perfect type of hotel for me – adults only, gorgeous setting, a great pool with service, and only a short distance to a multitude of bars and restaurants nearby in Palma. Add in a short distance from the airport and it would be equally good for a weekend break as it was for a longer trip. In terms of a Marriott redemption, at the normal rate of around €300 a night upwards, 40-60,000 a night is a reasonable value for points, although you can get better.
Having seen the lowest classic category rooms, I would be perfectly happy with one of those, especially on the higher floor. They are a little more modern although the bathroom is a little smaller. I like the fact the hotel is a little different from most hotels with its history and castle-like feel. The views are also stunning and add to the feeling of relaxation and tranquility.
The staff also made this hotel special. From the concierge, reception staff, and breakfast staff to the porters outside, nothing was too much hassle and they were all very friendly (with one pool staff exception). Everything felt well organised and befitting of a luxury hotel.
You can find more information on the hotel here or enquire about prices with GTC here to get the extra perks.
Like our hotel review? You can read more hotel reviews here.