Intro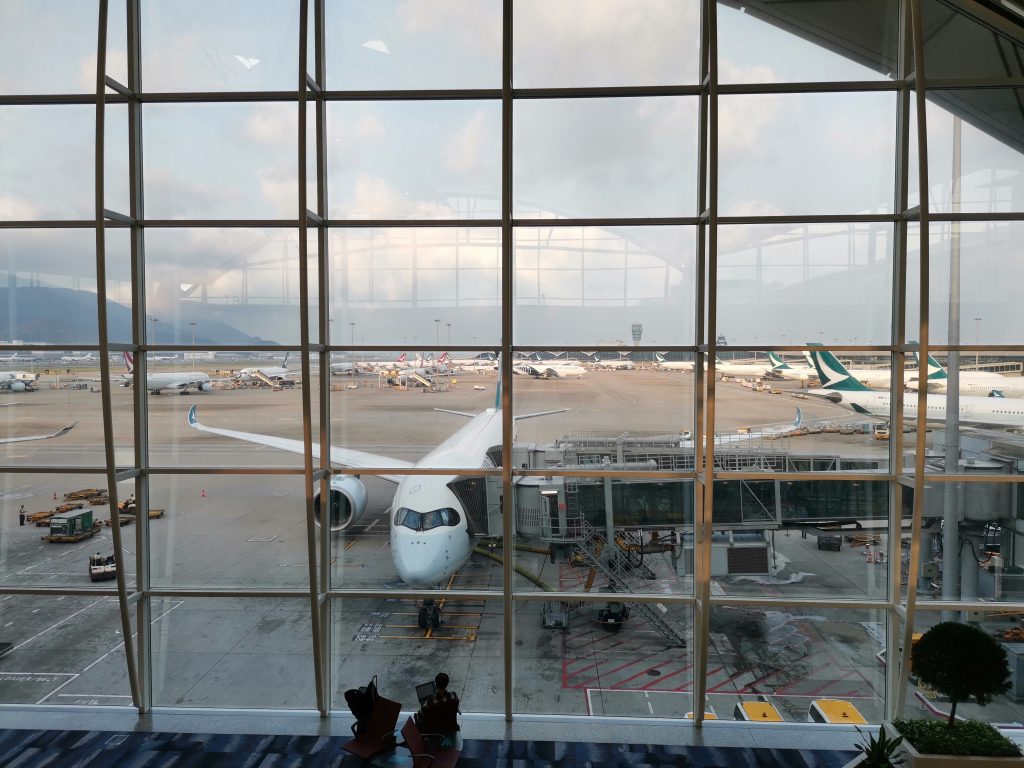 So the A350. Yes, it was my favourite aircraft and still is. Expect much more content on it coming up, with BA and Virgin both receiving theirs soon.
This is the Cathay Pacific variant which can be found on shorter and longer routes to Europe.
Join me on this review of Cathay Pacific "B-LRK". A 2-year-old A350-900, and more particularly seat 12K.
Booking and Why?
This flight was part of a longer Tier Point run Michele and I did earlier this year. We started in Milan and finally ended up in Jakarta – this flight is the final leg of the outbound, from Hong Kong to Jakarta.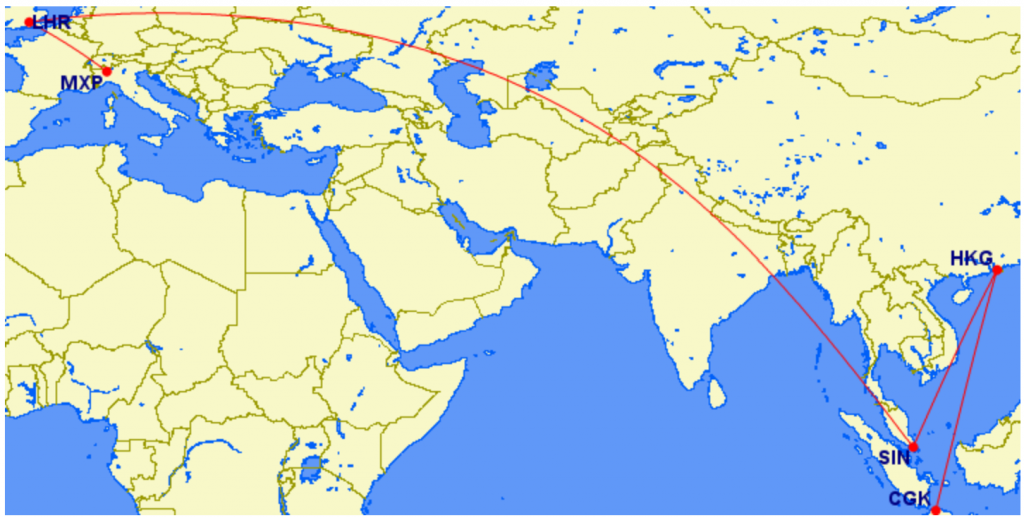 Getting to the Airport
Wasn't that difficult – we were in the Regal! An Airport connected hotel, and very convenient for overnight transfers at Hong Kong. (review coming soon)
Oh, and they have a rather epic selection of beers and other drinks….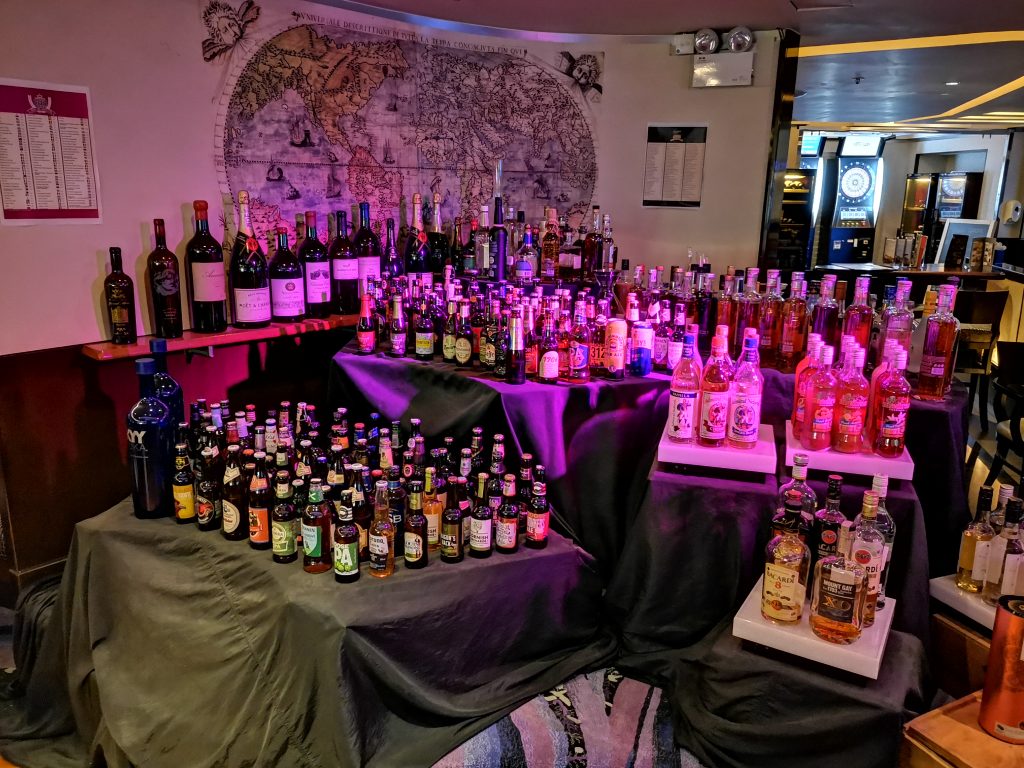 Check-In and Security
I was up early (got to love jet lag!) so was at the CX (Cathay) First check-in, which OneWorld Emeralds can use, as they were opening it!
Security was a breeze as it usually is in Hong Kong, and I was airside in no time and heading for the Lounge.
The Lounge
People rave about "The Pier". Meh. It's ok. Service is very hit and miss (more miss) and the whole place needs a refurb. The food in the dining room has also gone downhill dramatically. For these reasons I headed to "The Wing". It's very conveniently located too!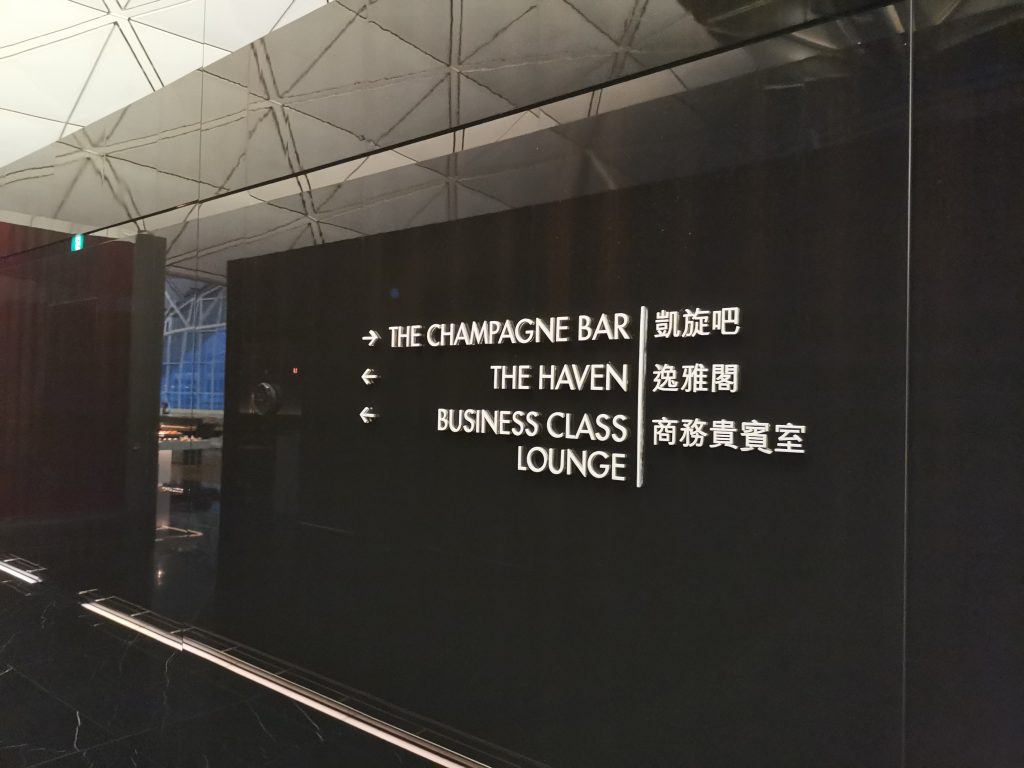 I won't go into much detail, as you can read more about it here.
Here are a few quick pictures from my visit –
Boarding
We headed to the gate with about 40 minutes to go and headed for the OneWorld Emerald queue which we were first in, within 5 minutes, we were on the aircraft – mmmm it almost had that new plane smell!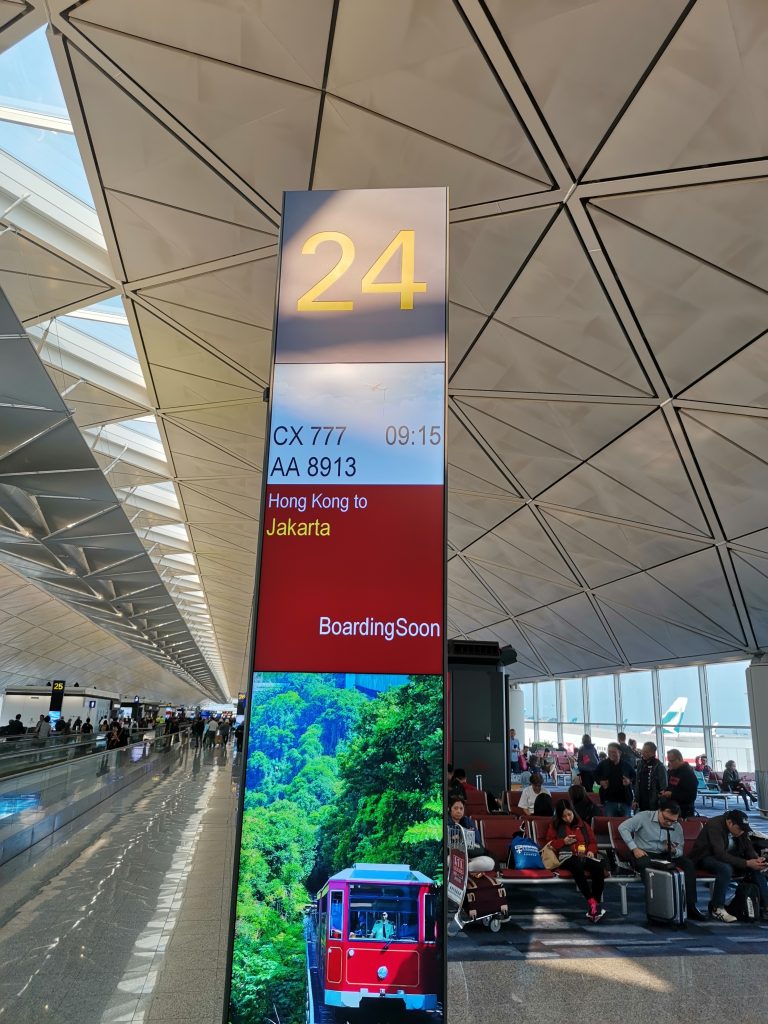 The Cabin
Did I mention I LOVE the A350?
It's light and fresh and just oozes quality.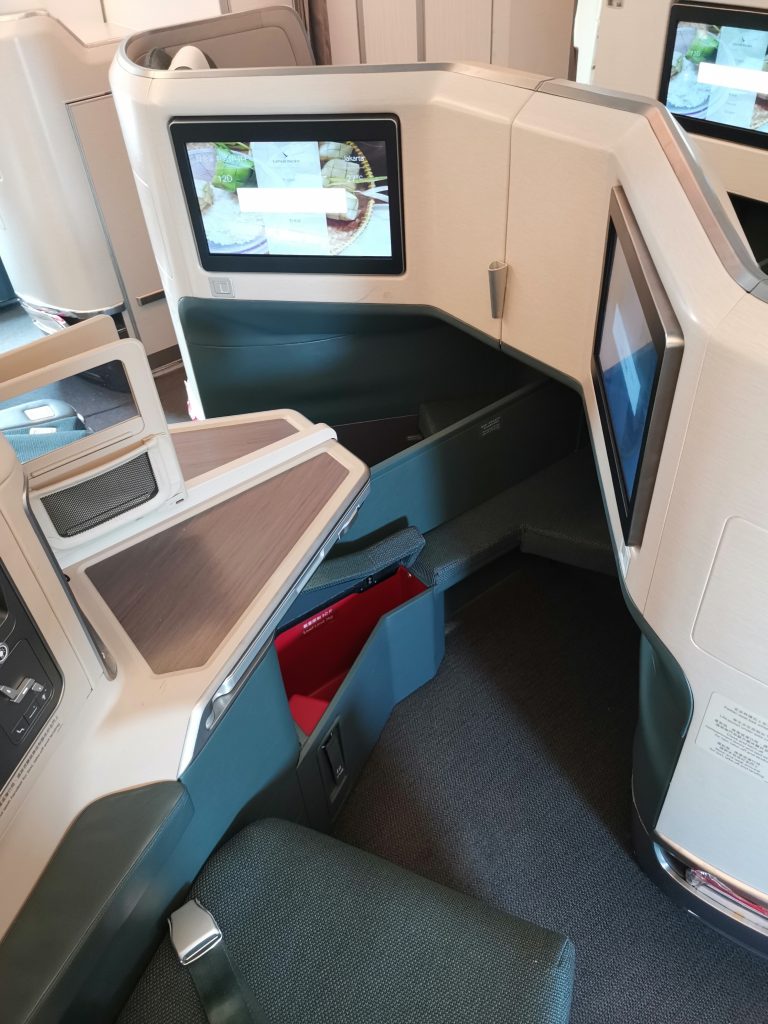 Cathay have configured there A350-900 as so –

I was sat in seat 12K – the front bulkhead on the right-hand side. What did I think of it?
The Seat and Controls
The seats are produced by Zodiac, and similar ones can be found on other carriers such as American and United.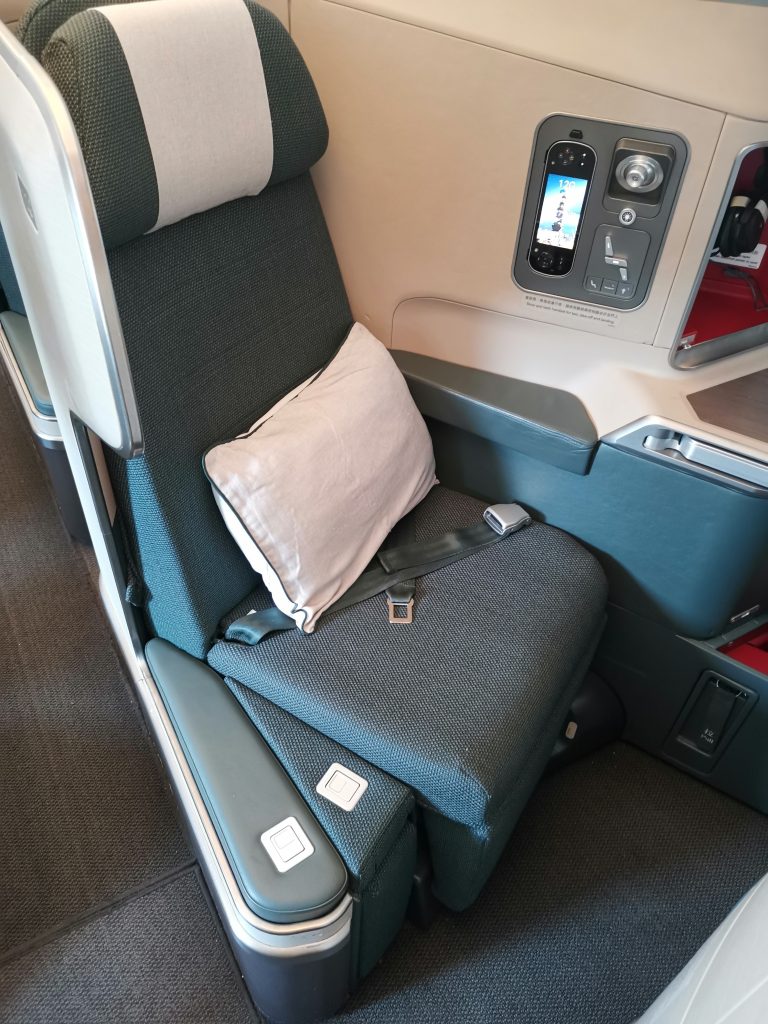 What's not to like? Yes, it doesn't have a door or a huge IFE screen, but it's functional and comfortable.
Here is a shot of my seat showing the side shelf and the footwell space – plenty of space for me at 6ft1″ and size 9 feet.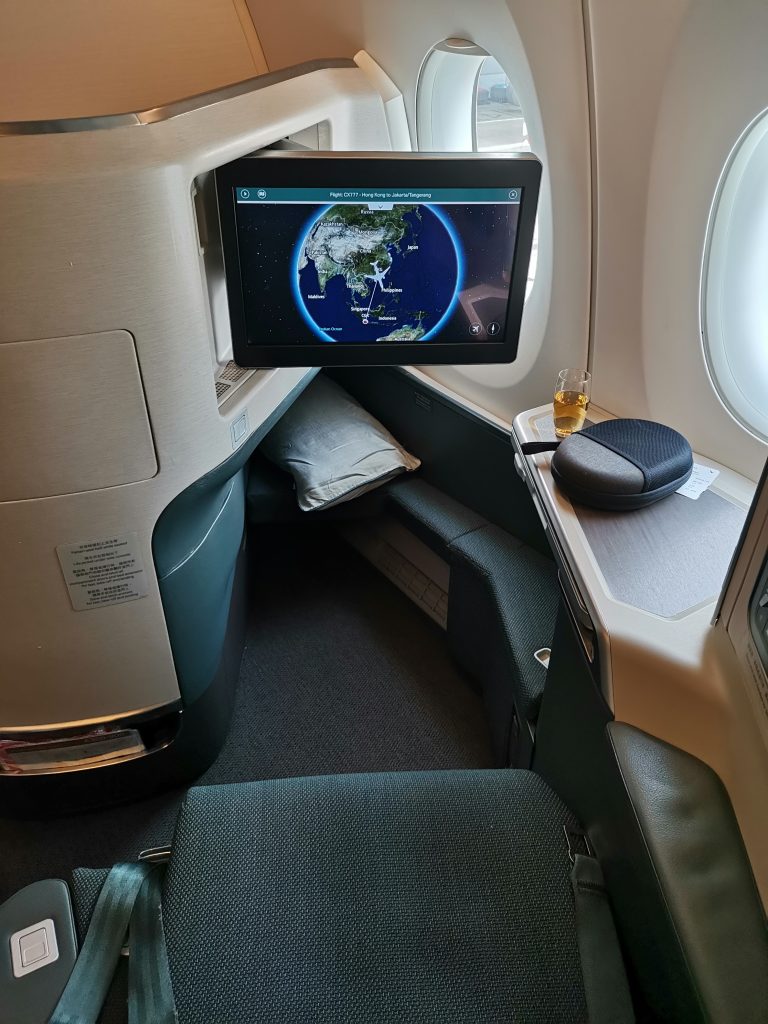 Once put into bed mode, it was very comfortable and there was plenty of space –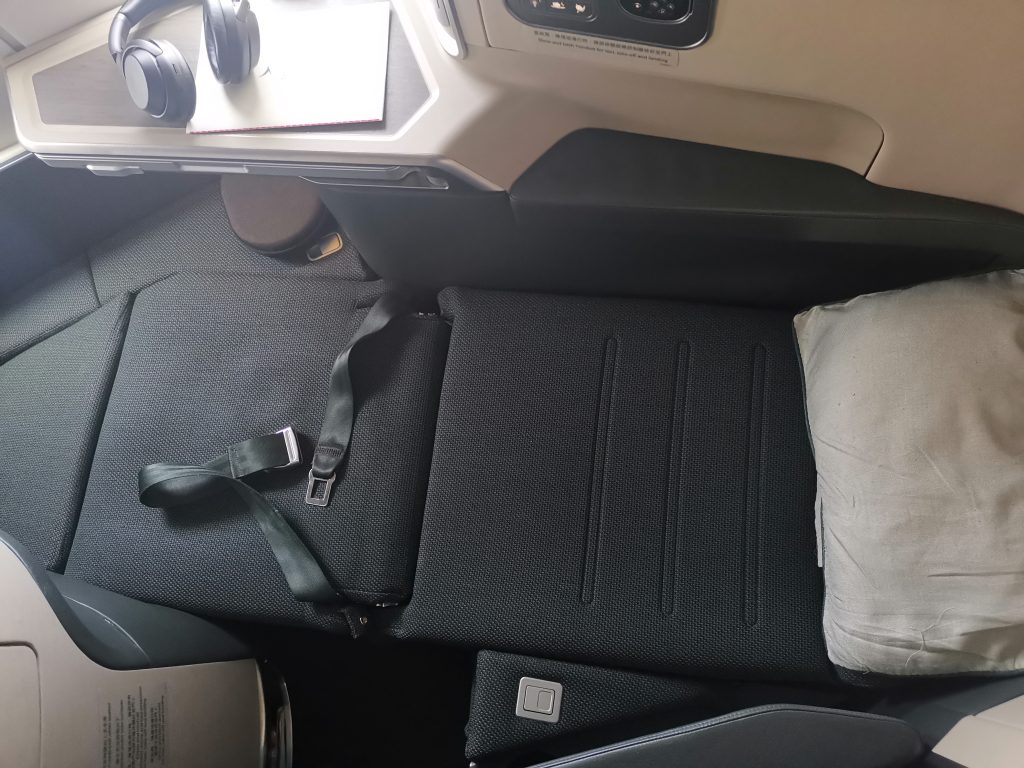 The seat was also fully adjustable in all elements (yes this picture is from a different flight!) –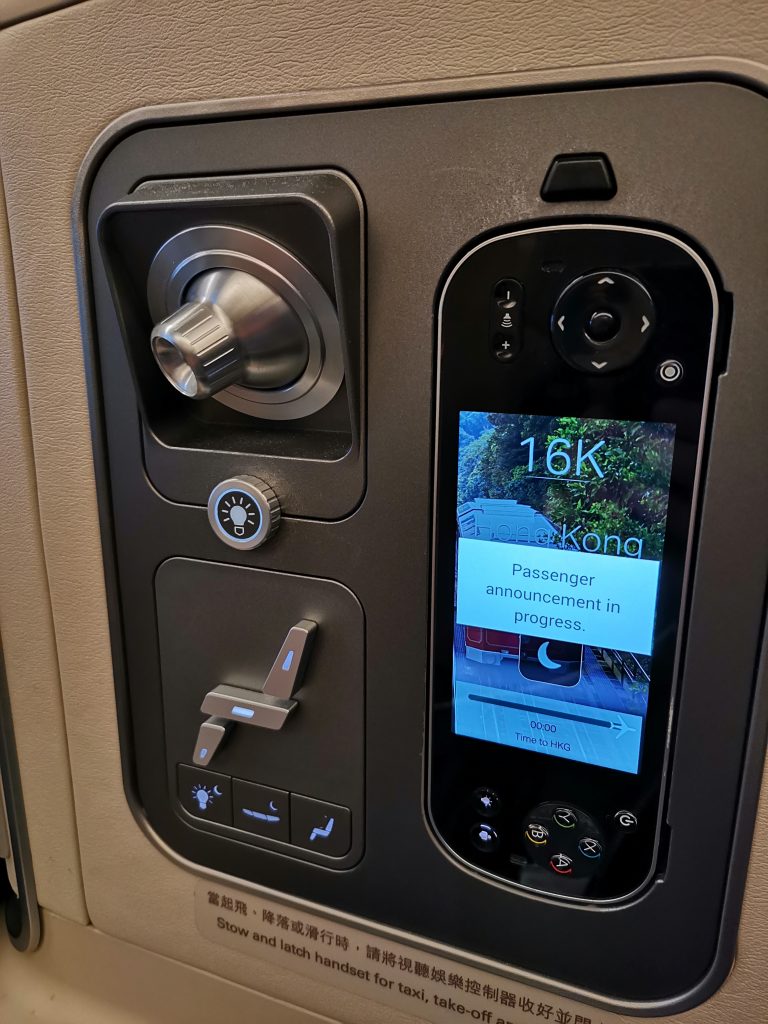 Storage at the seat was also not an issue –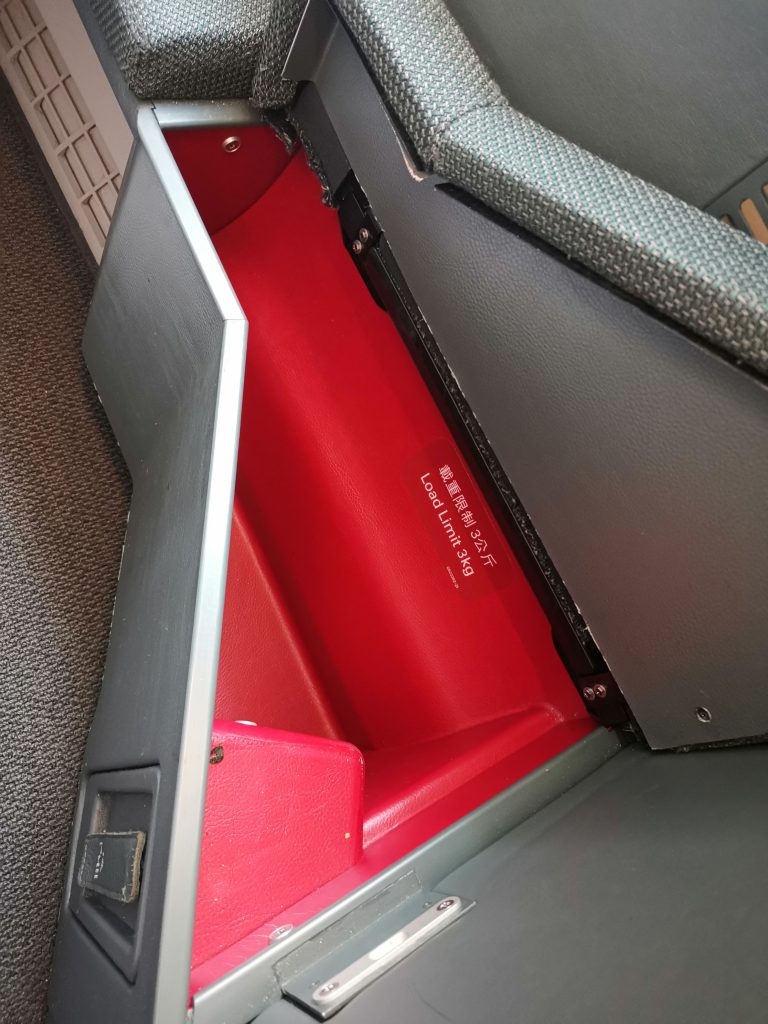 There was also a small cupboard next to the seat which contained the Headphones, and a useful USB port for charging –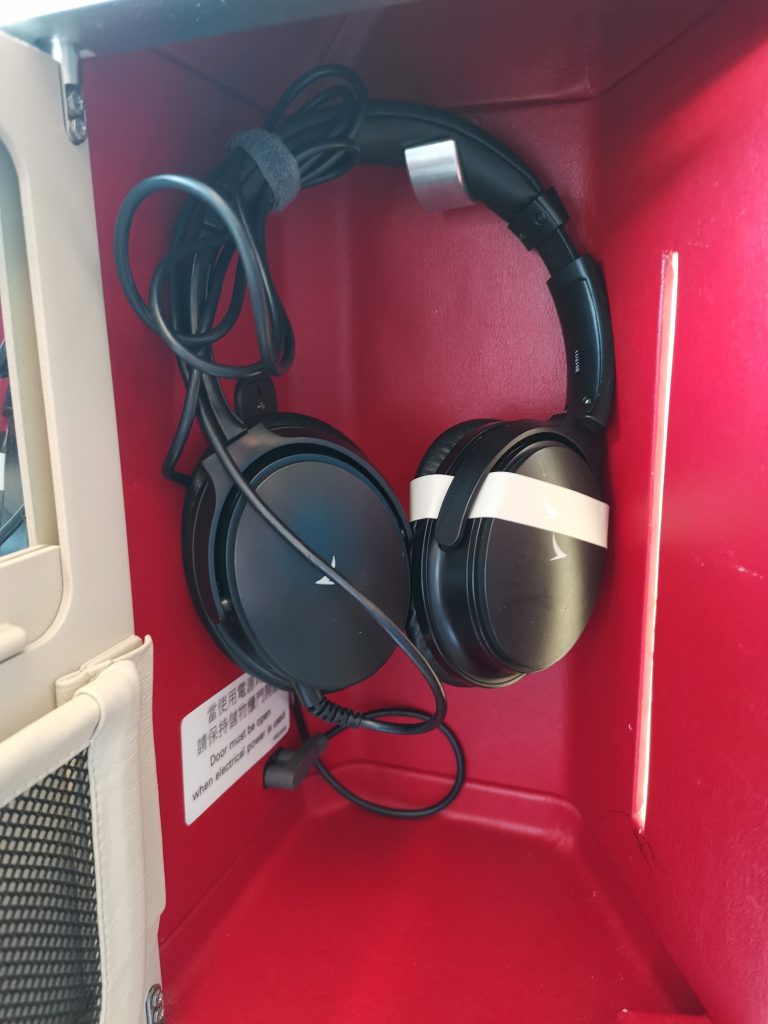 Oh and a vanity mirror – Do I look good in green?!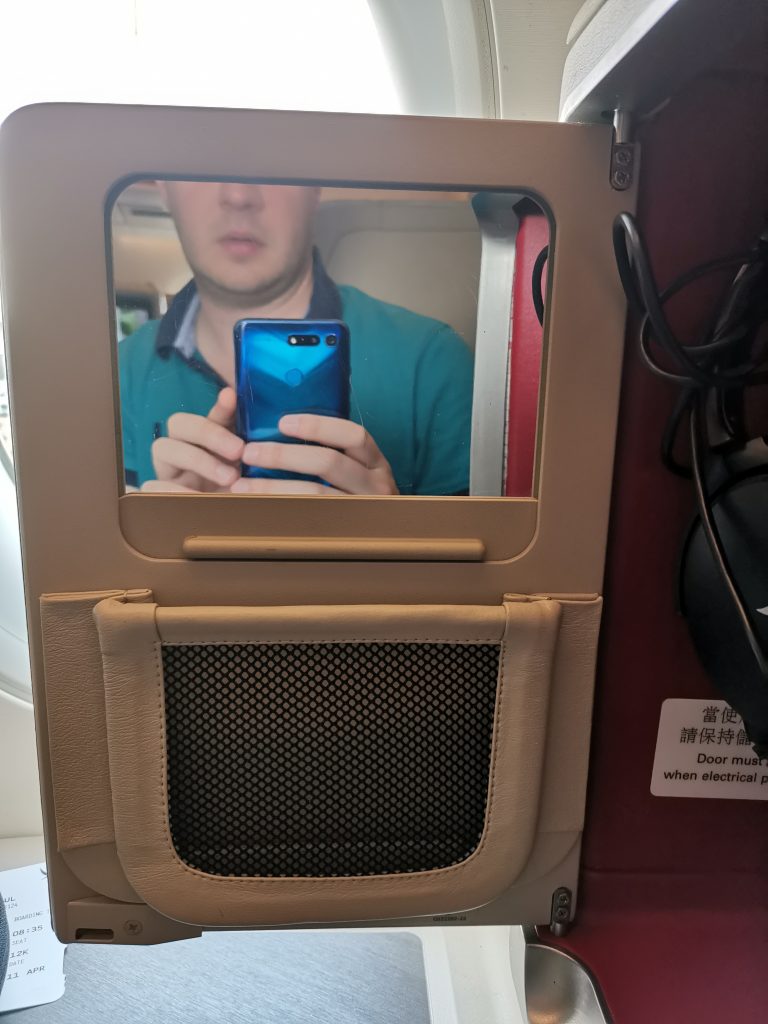 IFE, Entertainment and Connectivity
The IFE was modern, quick and full of content. No, it wasn't Qatar Oryx One good, but it put many other carriers to shame (yes BA I'm talking about you).
The screen was a decent size and responsive!
As always, the headphones were not tested by me. I'm yet to find a pair onboard in any cabin that are remotely decent, so always use my own!. (Note – I found them fairly comfortable and average quality – Michele)
And who doesn't love the A350's external cameras?!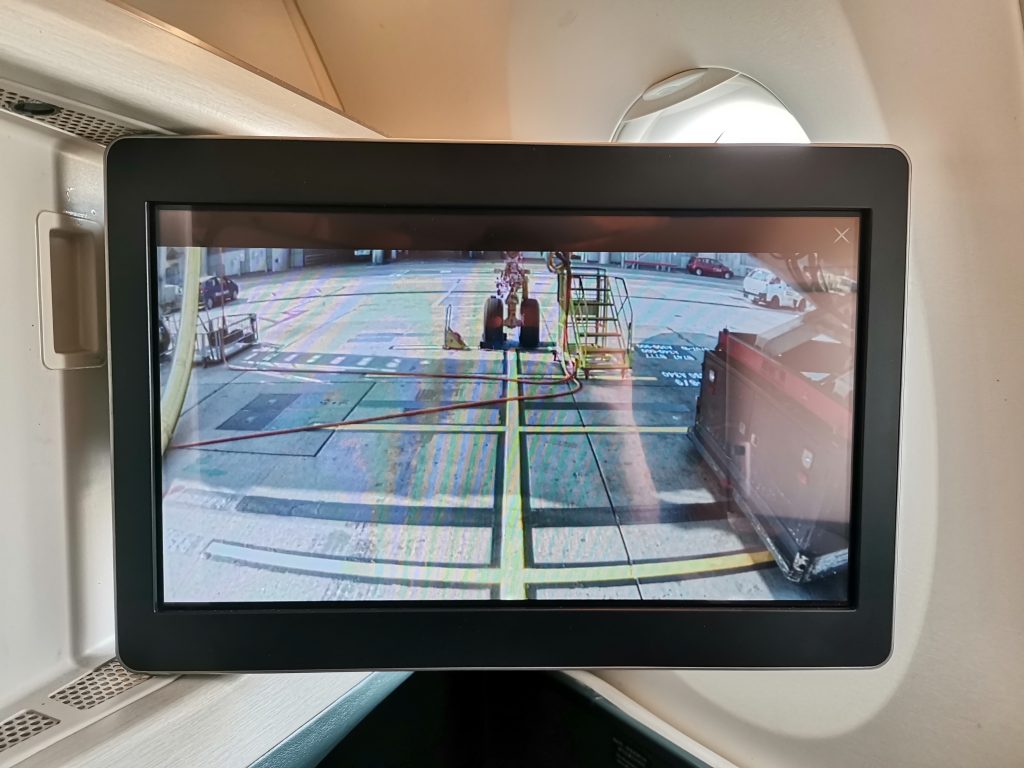 There was also a very good clear remote control –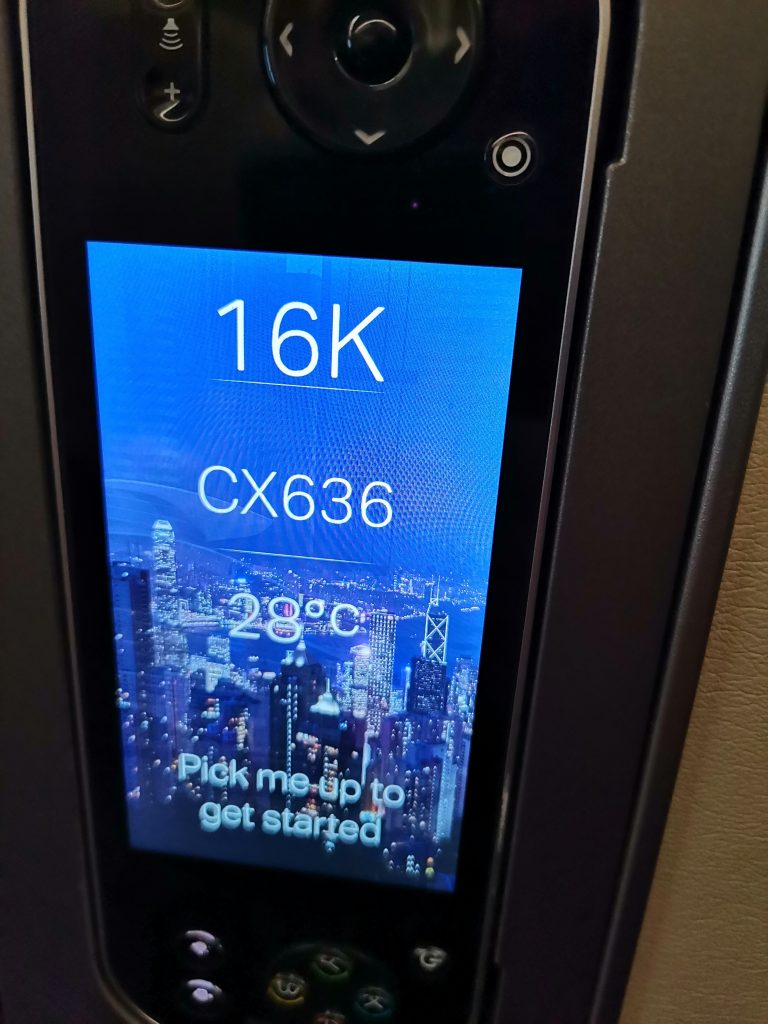 Menus and Food + Drink
Since this was an early departure it was a breakfast service, but I'll show you a dinner service too, from another regional A350 flight.
So firstly breakfast and the menu –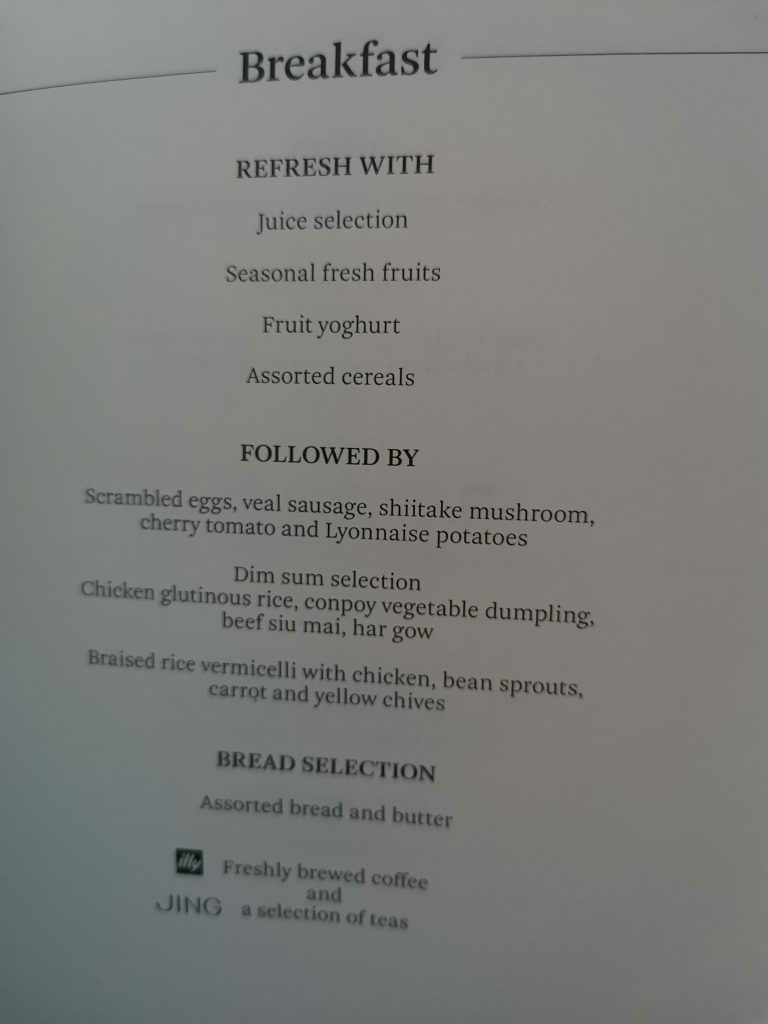 What I love on Cathay, is the fact they cater to both Western and Eastern tastes.
I went for the fruit, followed by the dim sum, and wasn't disappointed.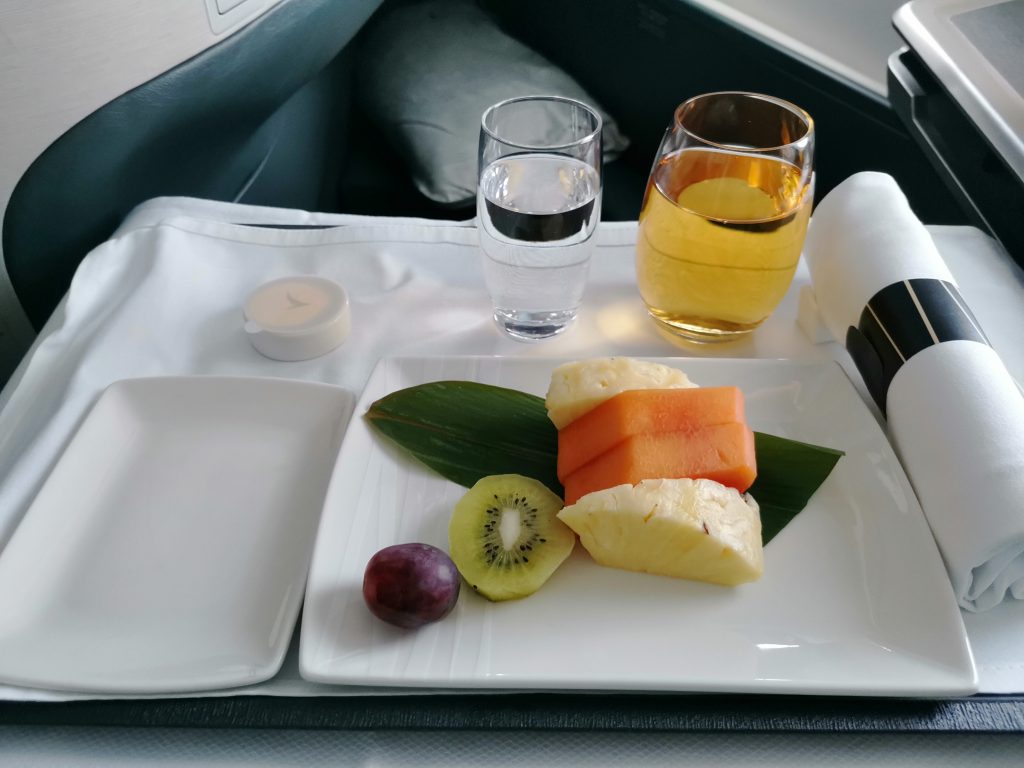 And the Dim Sum, trust me it tasted way better than it looks! –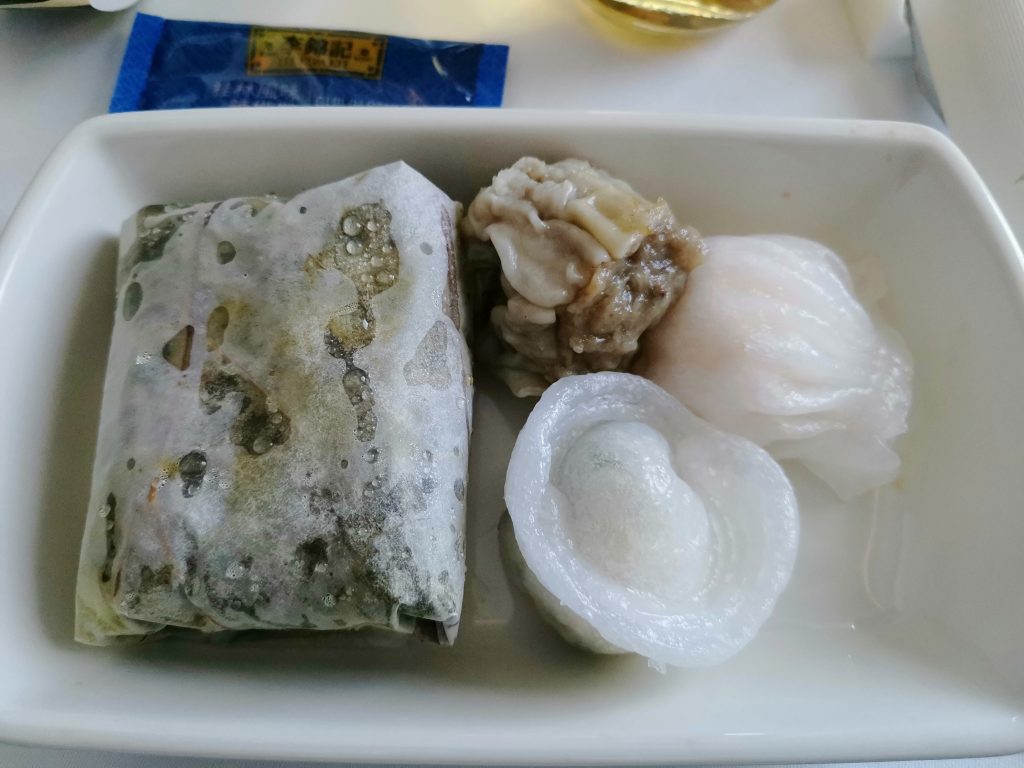 And what about the dinner menu?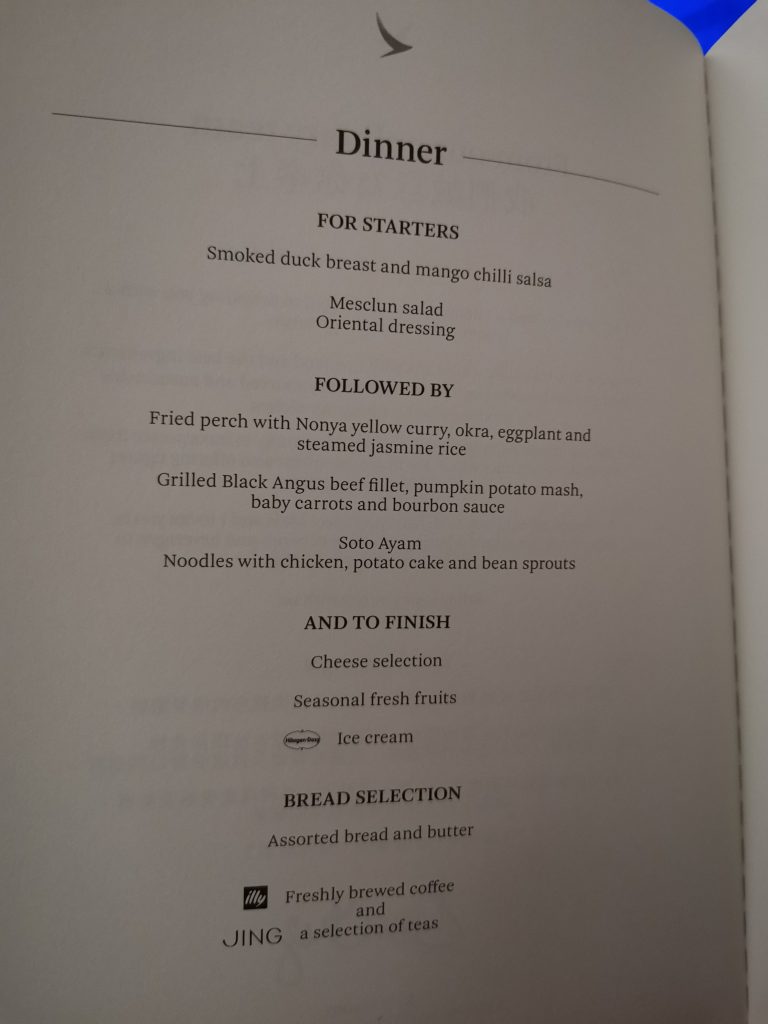 I went for the duck –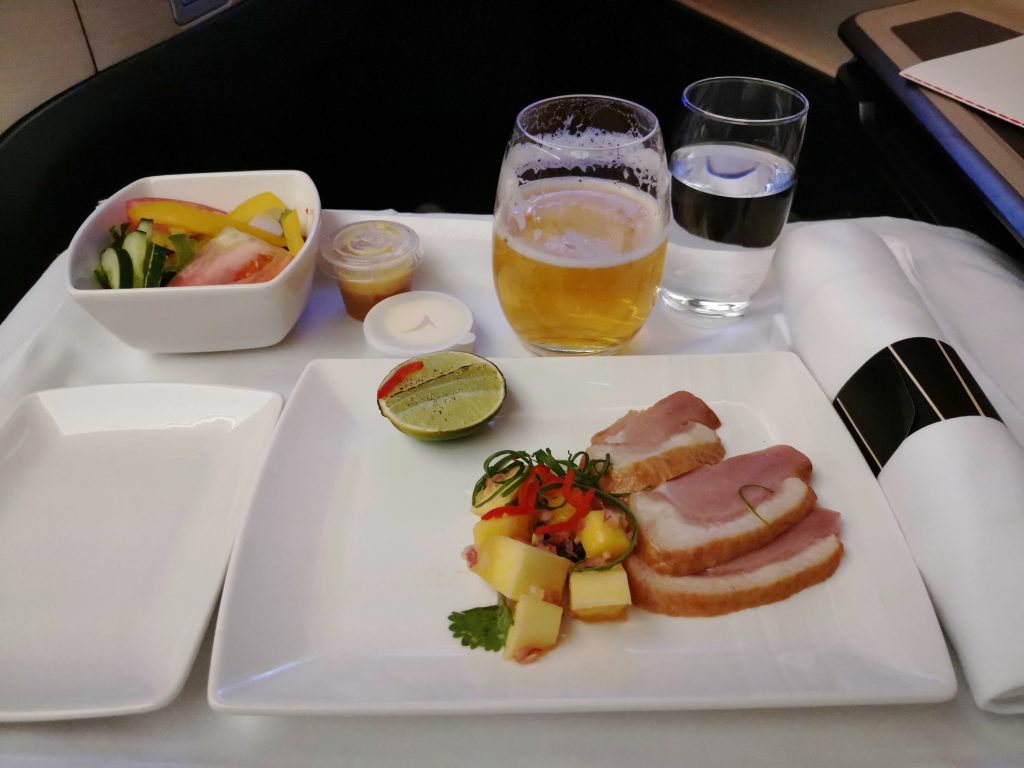 Followed by the beef –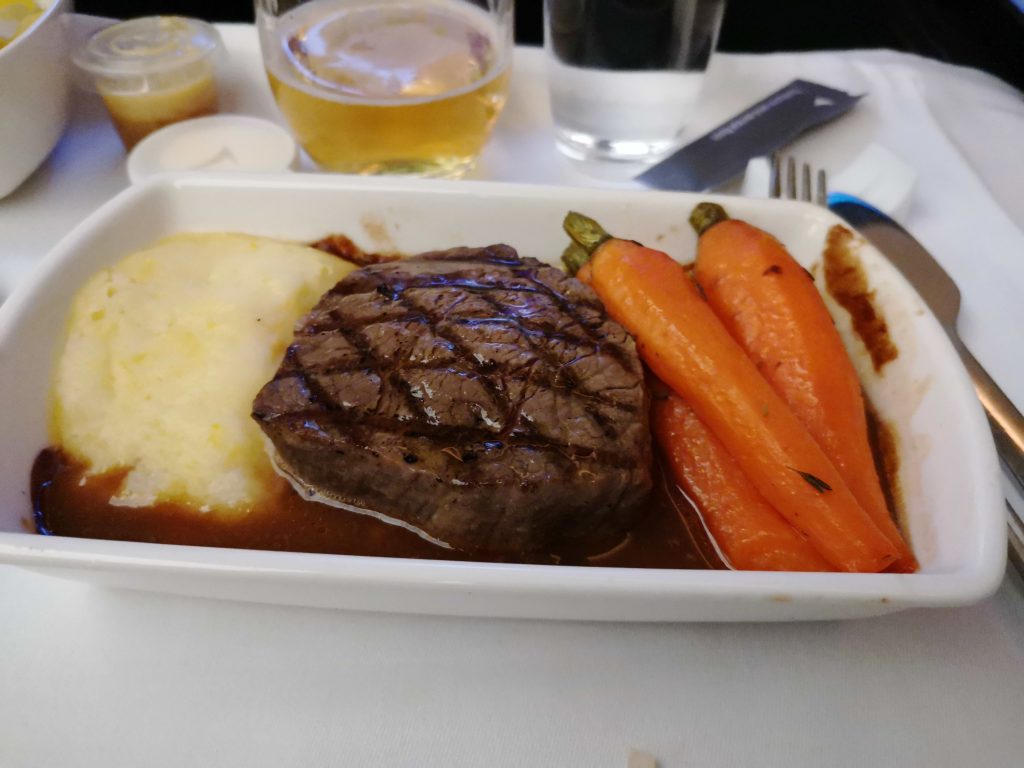 Both very tasty and well presented – bravo Cathay.
Service + Summary
Well. I haven't written much, have I? That's because Cathay has a solid polished product and the service is impeccable. ALWAYS. I have NEVER had a bad Cathay crew. This view is largely shared with all my friends too. They are friendly, welcoming and charming. Service is always on point, and nothing is too much. The food is also decent!
Cathay does have an advantage, over say BA though – all the fleet is long haul aircraft. This leads to more space for meal prep etc. But overall you don't see the inconsistencies you would on other carriers.
Cathay Pacific. My Favourite airline. So far…