This is the second part of my review of the amazing bargain I bought last New Years Eve for £600 for First class return on Cathay Pacific between Da Nang in Vietnam and New York JFK. Cathay Pacific is, of course, part of oneworld so you can earn and redeem Avios on them.
You can read the first part of my review here.
Check-in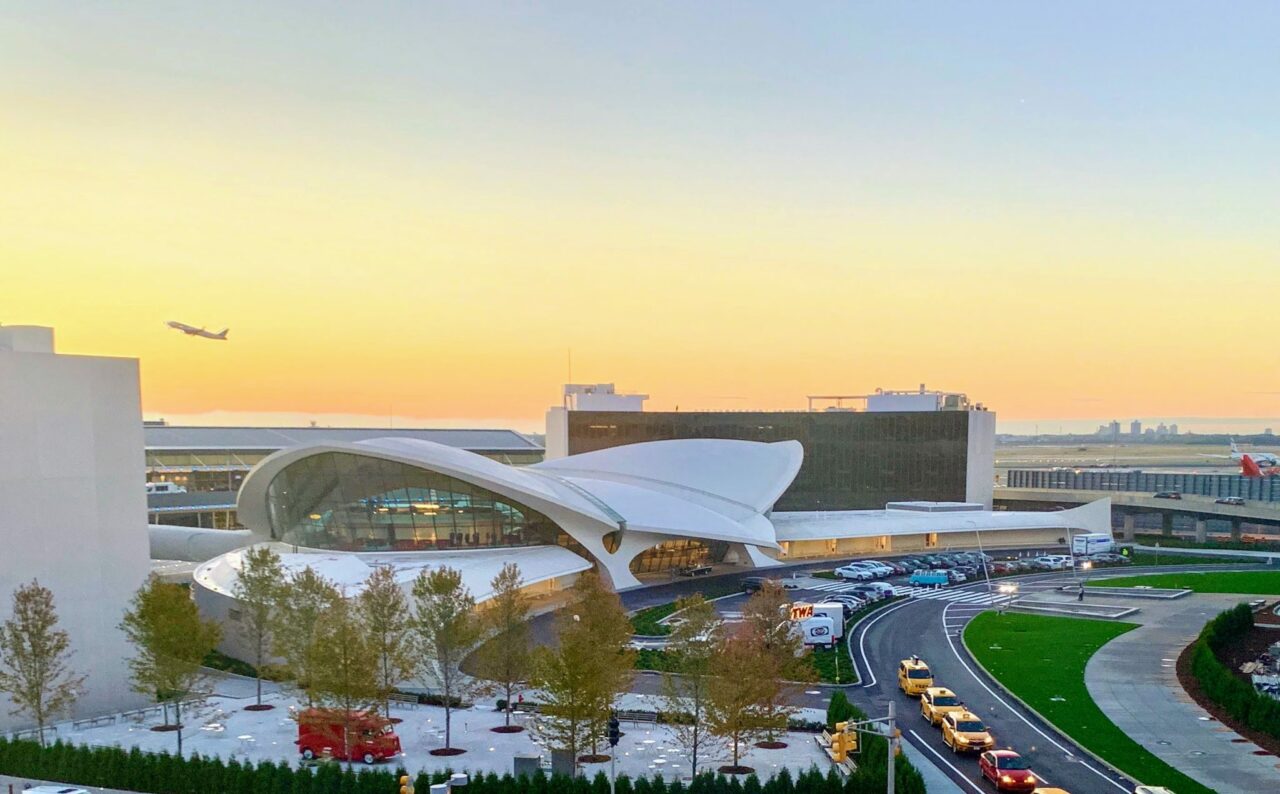 It was an early start for us as the flight was at 10 am and we wanted to make the most of the AA Flagship dining which currently serves Krug, my all-time favourite champagne. We had stayed at the TWA hotel at T5 JFK airport (read Paul's review here). I would not be quite so scathing in my assessment. I absolutely loved the design of the public spaces, but as a hotel itself it is overpriced and a little lacking in service.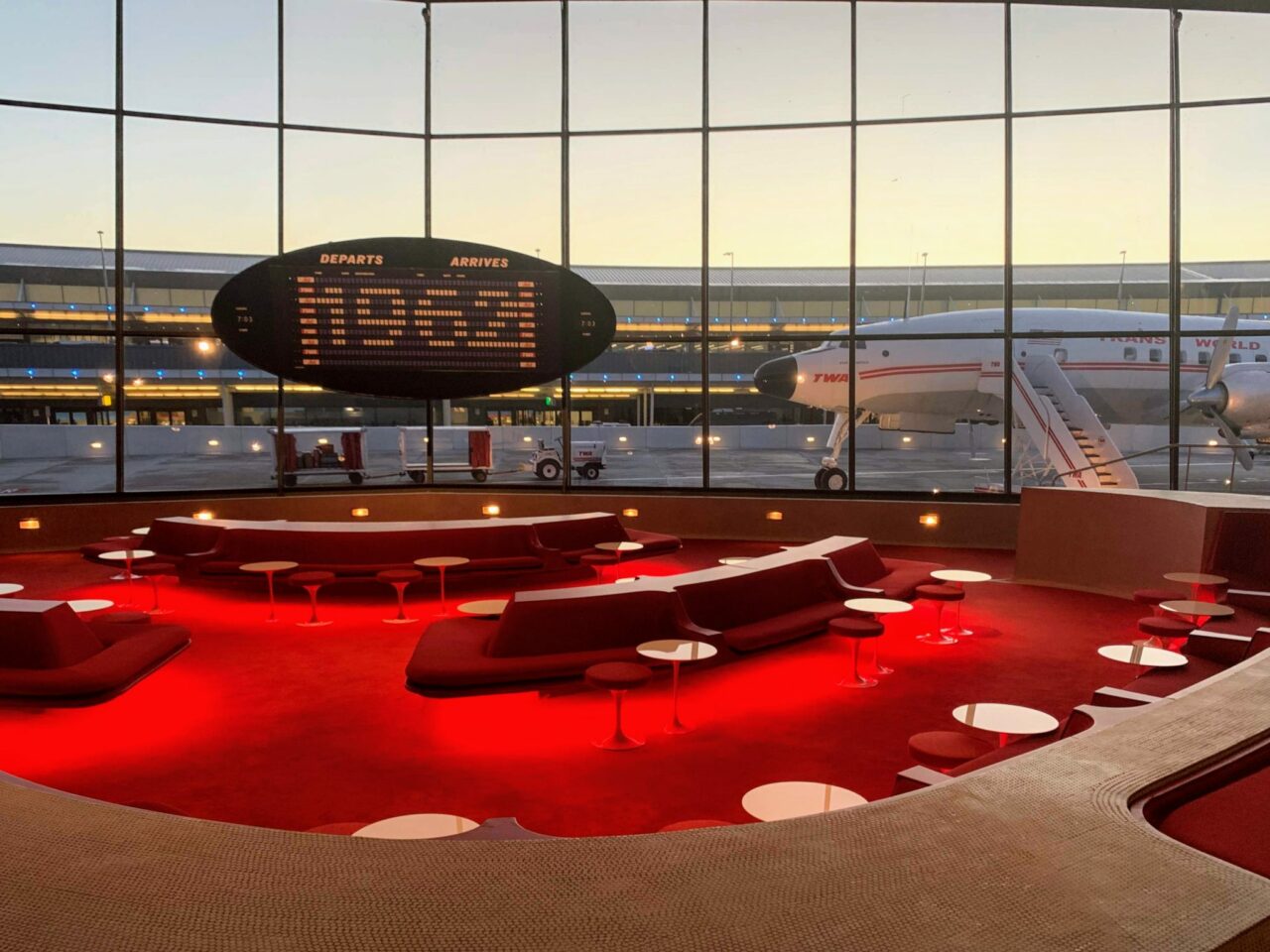 Check-in was decidedly unglamorous for first class at JFK. However, they were friendly and helpful and for the two minutes I was there it was not an issue.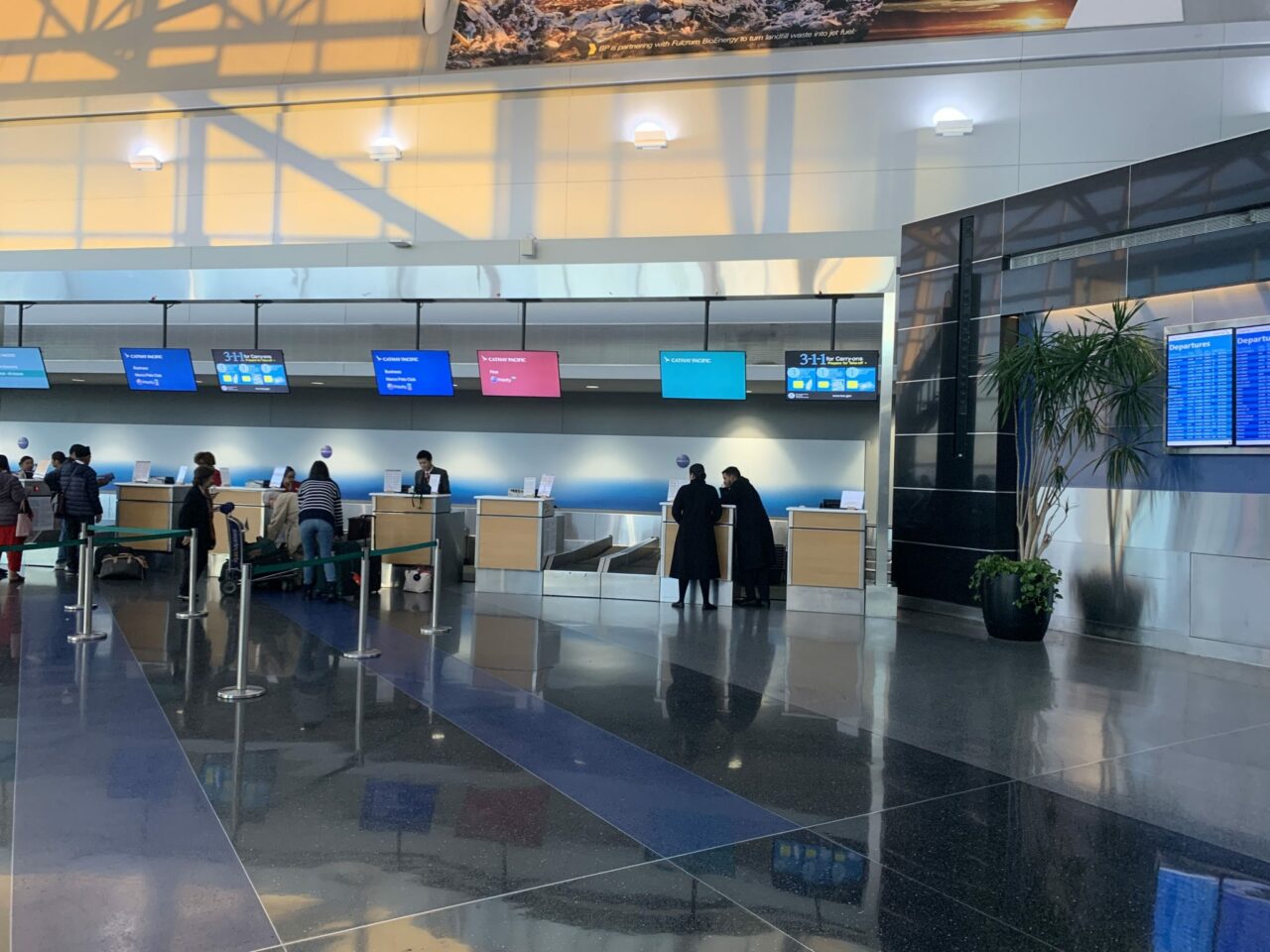 Lounge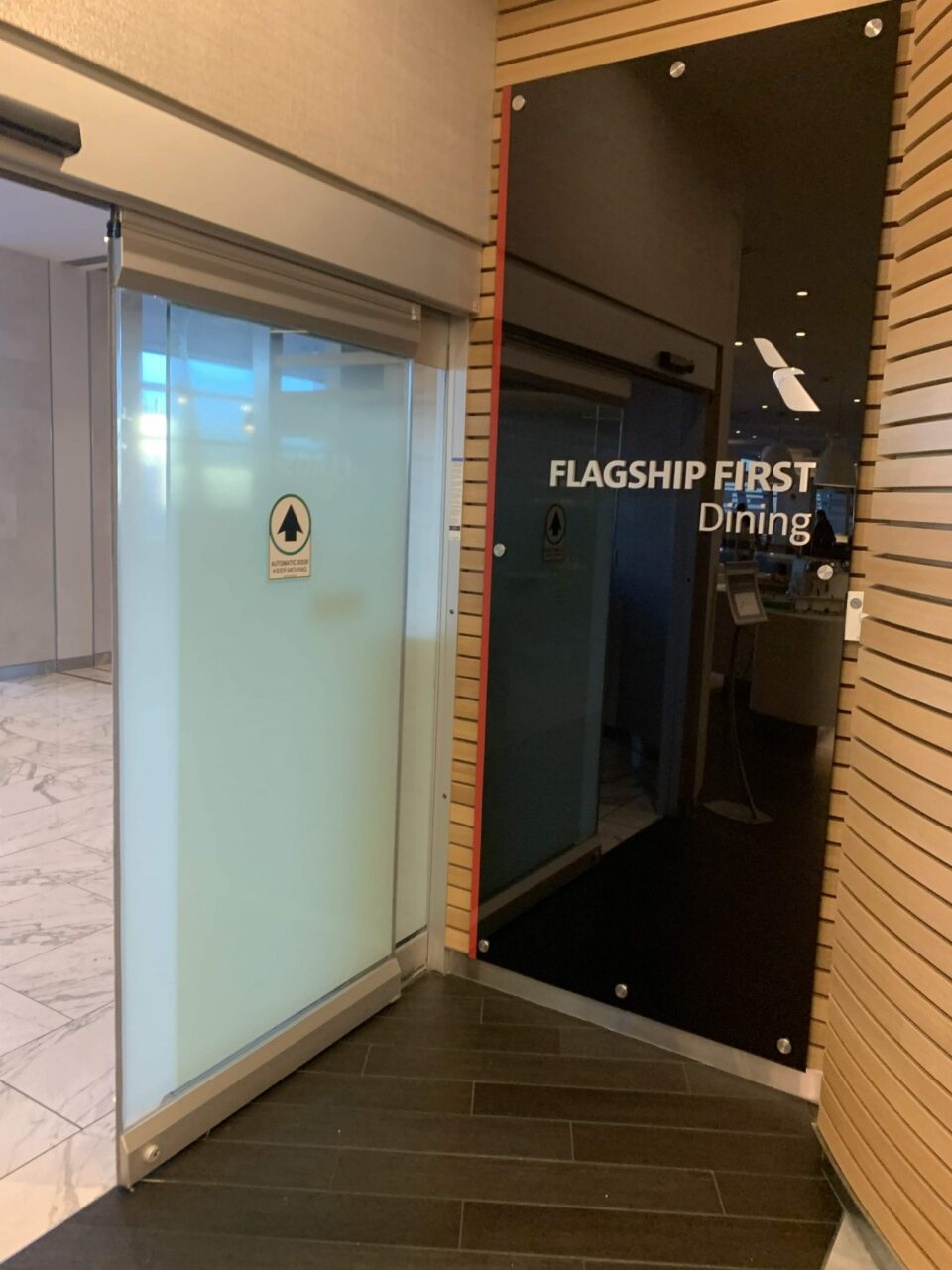 If you are flying First class with American Airlines and certain oneworld partners, you have access to the American Airlines Flagship dining room. This is located within the main Flagship lounge, which is still very nice in its own right. Some of our group were travelling in business class, but they were happy for us to guest them in.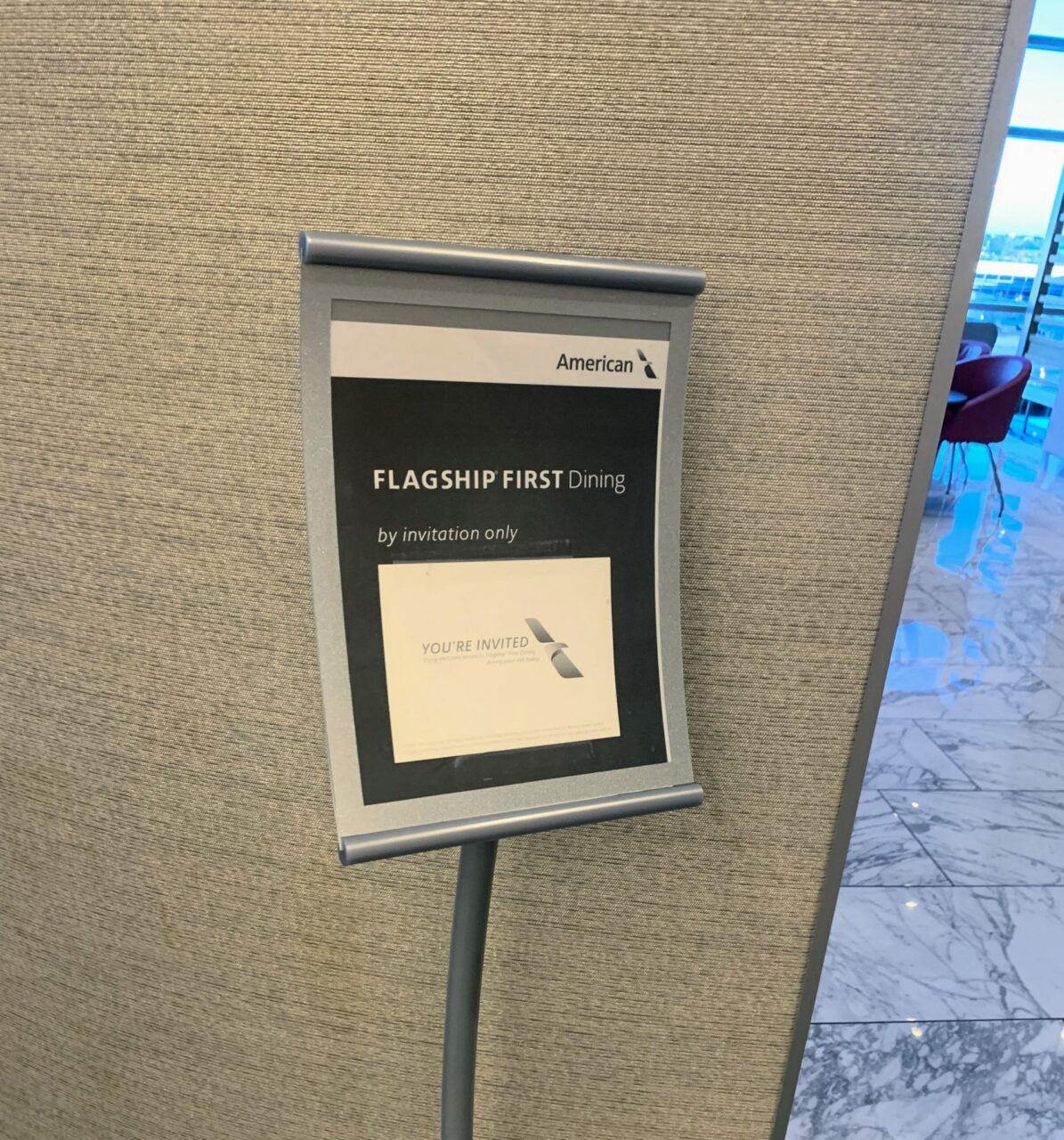 The most notable thing about the Flagship dining is that they serve Krug. With the exception of BA's Concorde Rooms, most First lounges tend to serve mid-range champagne so this is pretty special. They did not start serving alcohol until 8am, so we bided our time with some coffees and food to wake up. The breakfast menu looked very tempting and it was hard to know what to have!
Here is the food menu: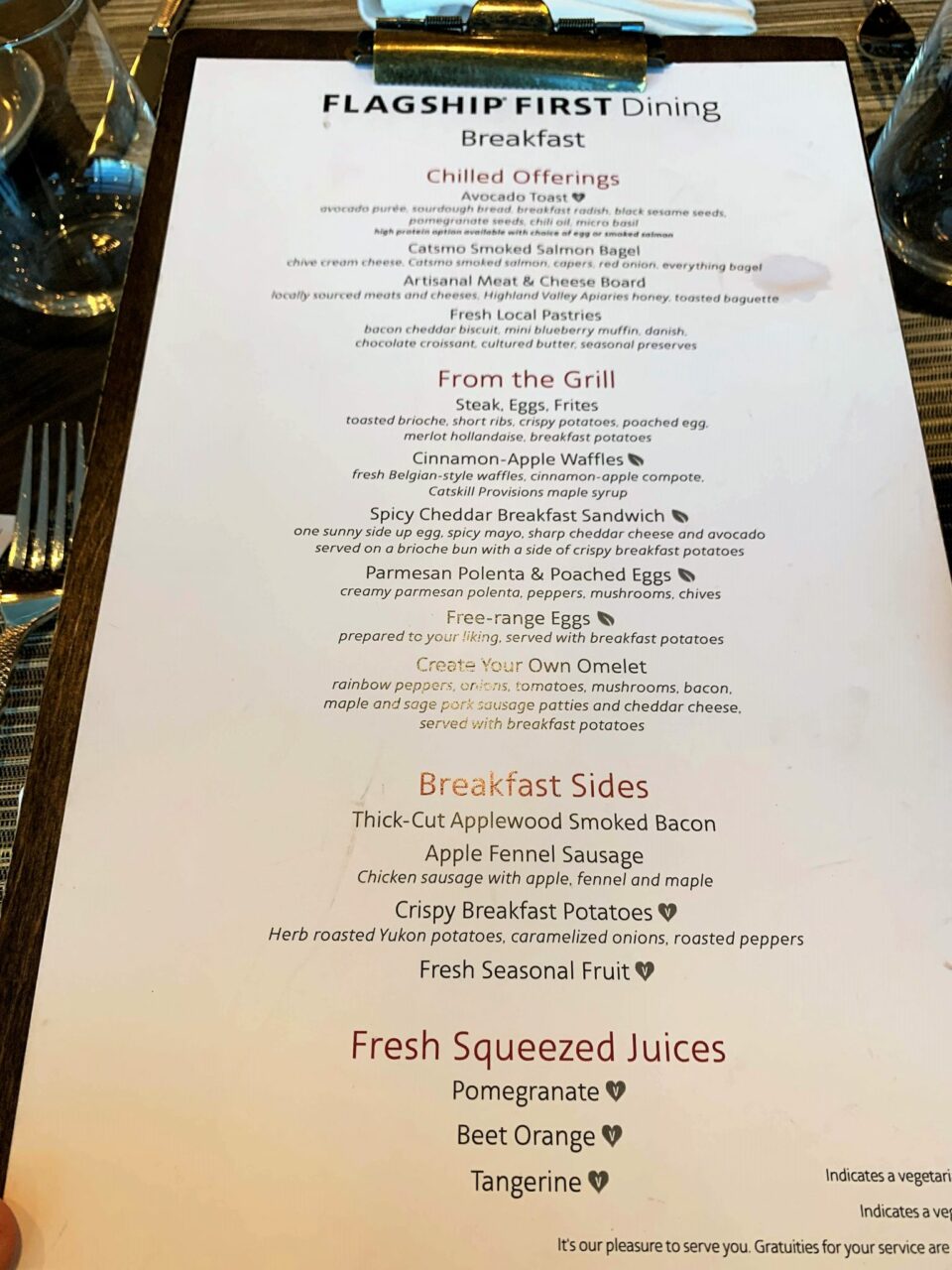 And the drinks menu: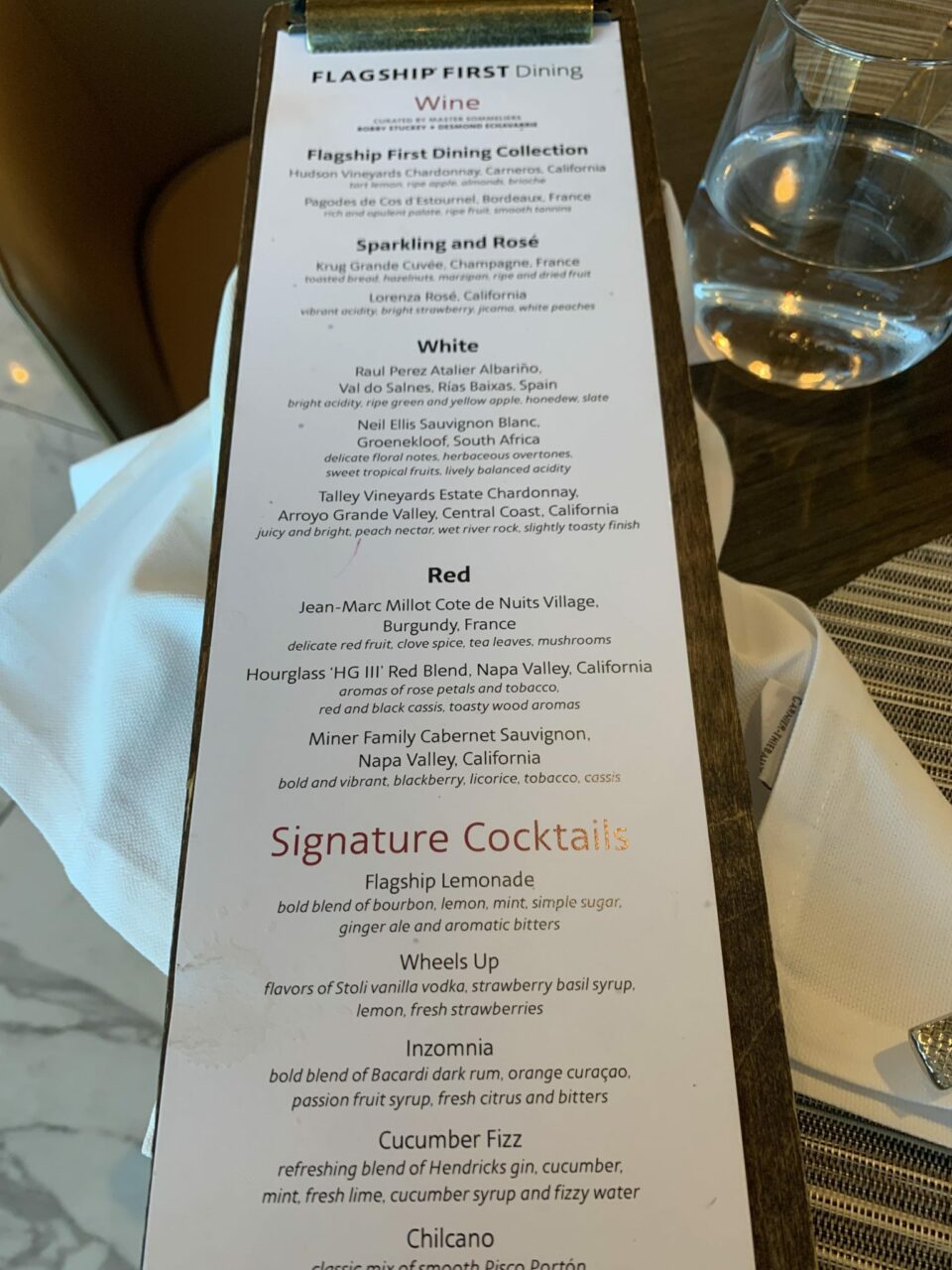 I like the fact that they always have unusual juices to try. I went for a Tangerine juice.
We tried a selection of dishes:
They were all excellent – I loved the addition of the pomegranate seeds on my avocado toast which gave it a nice crunch and tart sweetness. Then it was time for the main event: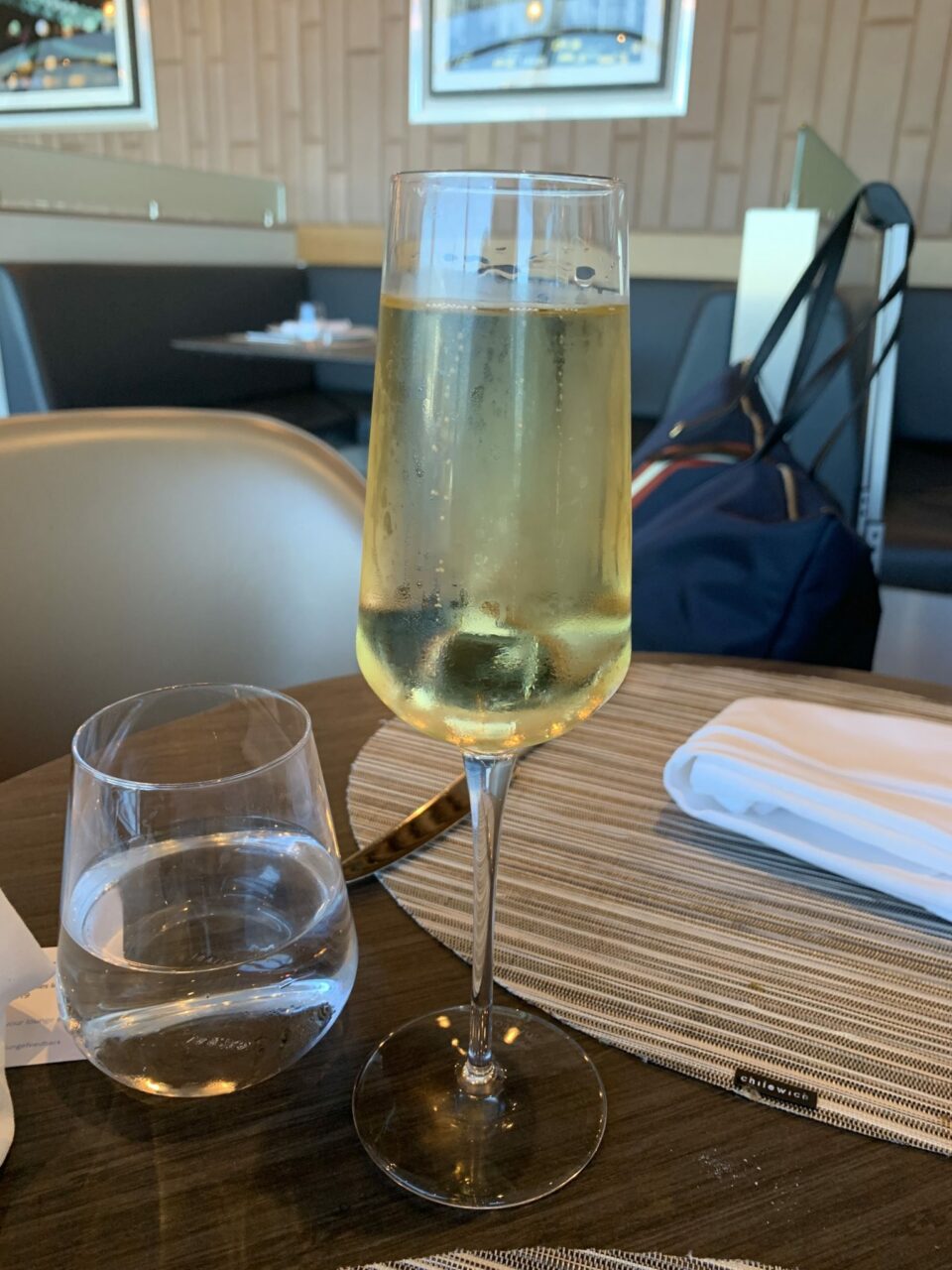 It was interesting that the Krug came in half bottles which seemed a very expensive way to buy Krug, but I guess it keeps it nice and fresh rather than having a large bottle open for a while. As usual, the service was friendly and professional but pretty slow. Very odd considering most people have limited time!
Boarding Cathay Pacific First Class
Boarding started very early and a couple of us ended up being called to the gate even though it was still around 35 minutes before departure!
Once at the door, I was shown to my seat and greeted by the crew. A welcome drink was offered and I gladly accepted a glass of the Deutz Amore de Deutz. The champagne was poured at the seat and served with nuts which were a nice touch. I really enjoyed the champagne which I thought on a par with BA's Laurent Perrier Gran Siecle although less well known. Sadly they have stopped the Krug they used to serve.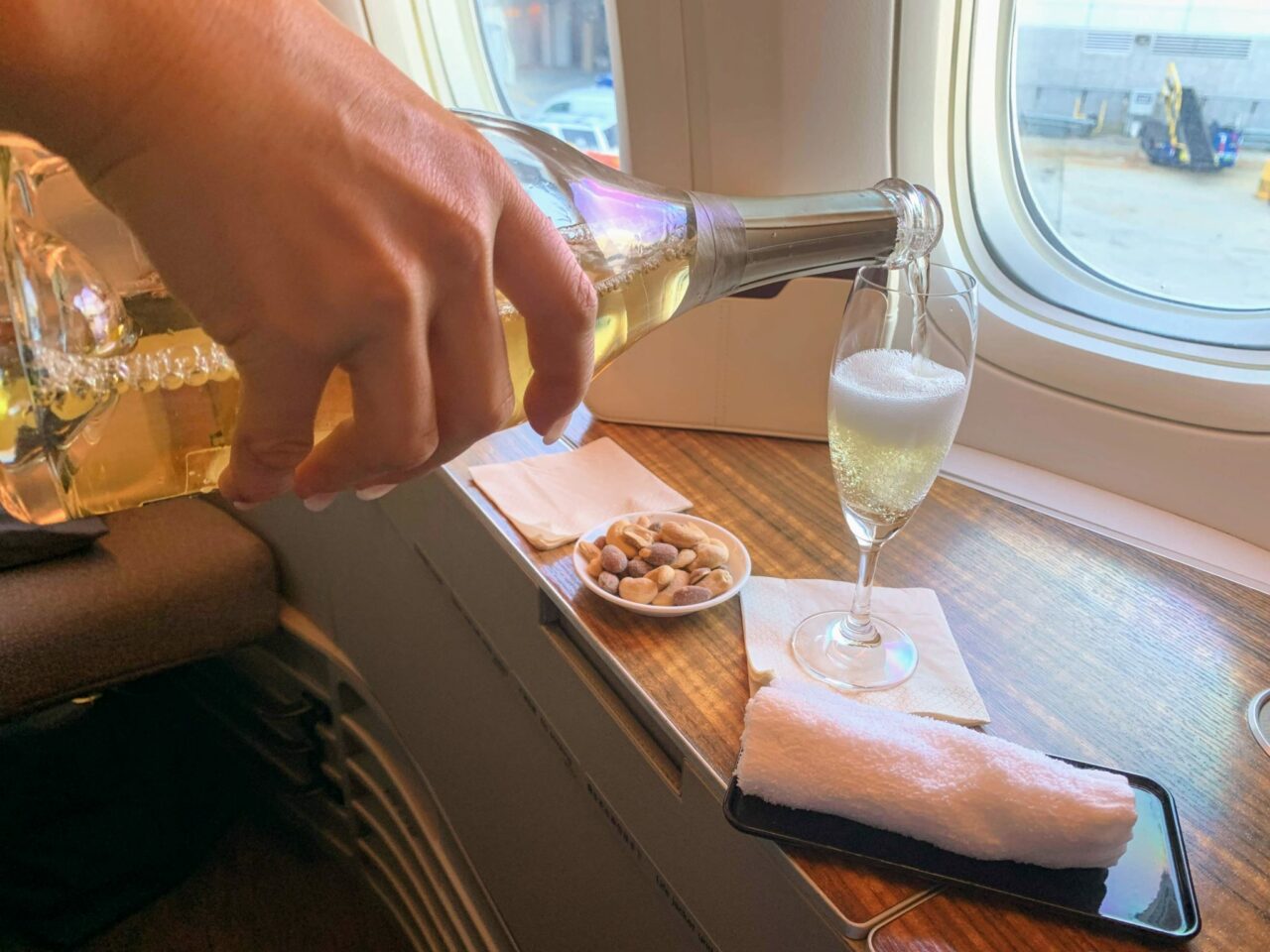 I always say you can tell whether it will be a good crew in the first few minutes and I was right. I always find Cathay crew very efficient and friendly but this crew were in another league! There were five us travelling together, some of whom were going to a wedding when we returned to Vietnam. The crew had found this out from one of us and they were asking us all about the wedding and chatting about our trip. Throughout the whole flight, they were charming and really could not do enough for you. The service felt very personalised and also not too formal either.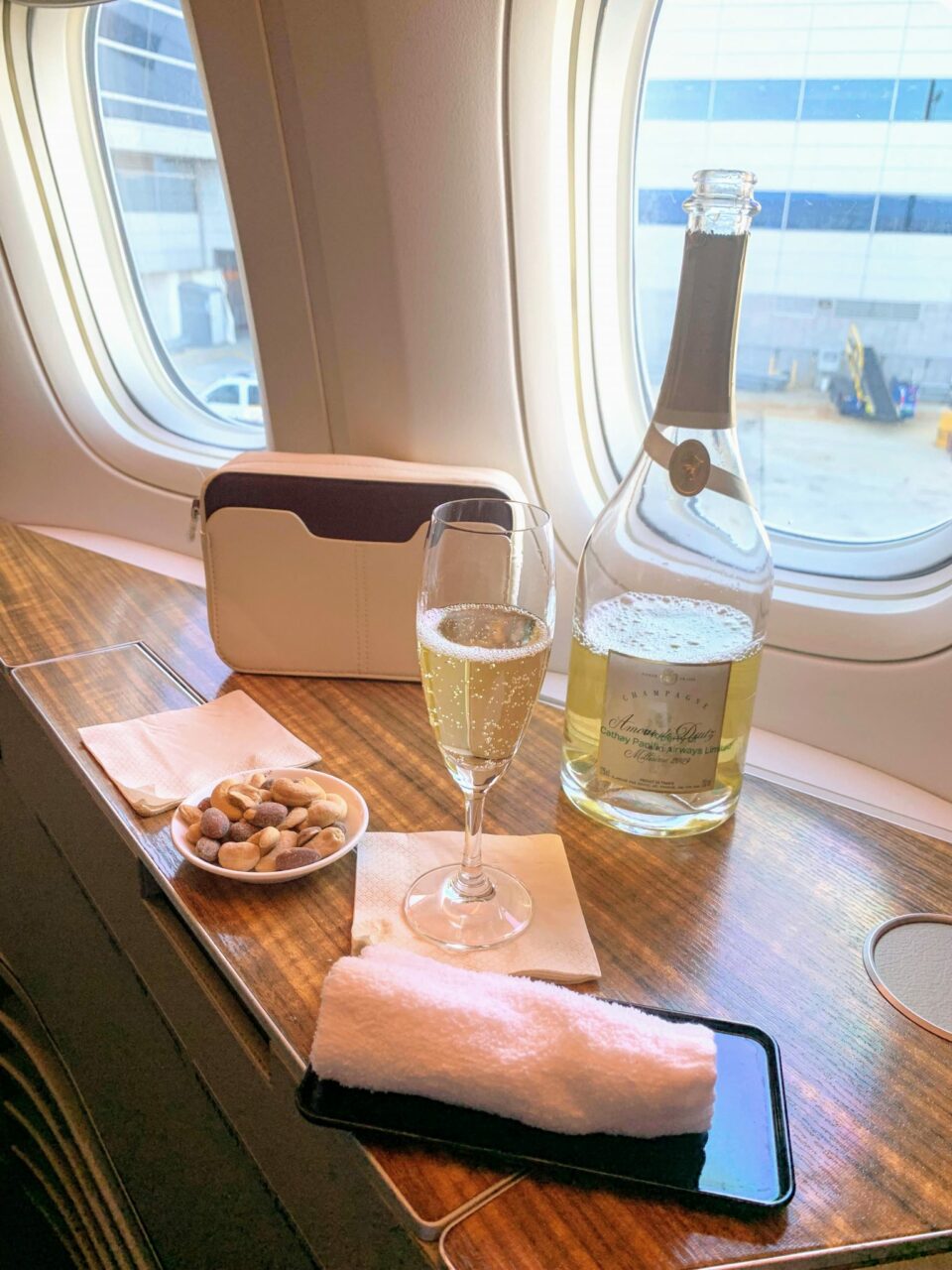 I was presented with an amenity kit and pyjamas with slippers before take off along with the menu. The pyjamas were quite unusual with a mandarin collar in silky navy fabric. There was also a booklet about the sleep amenities.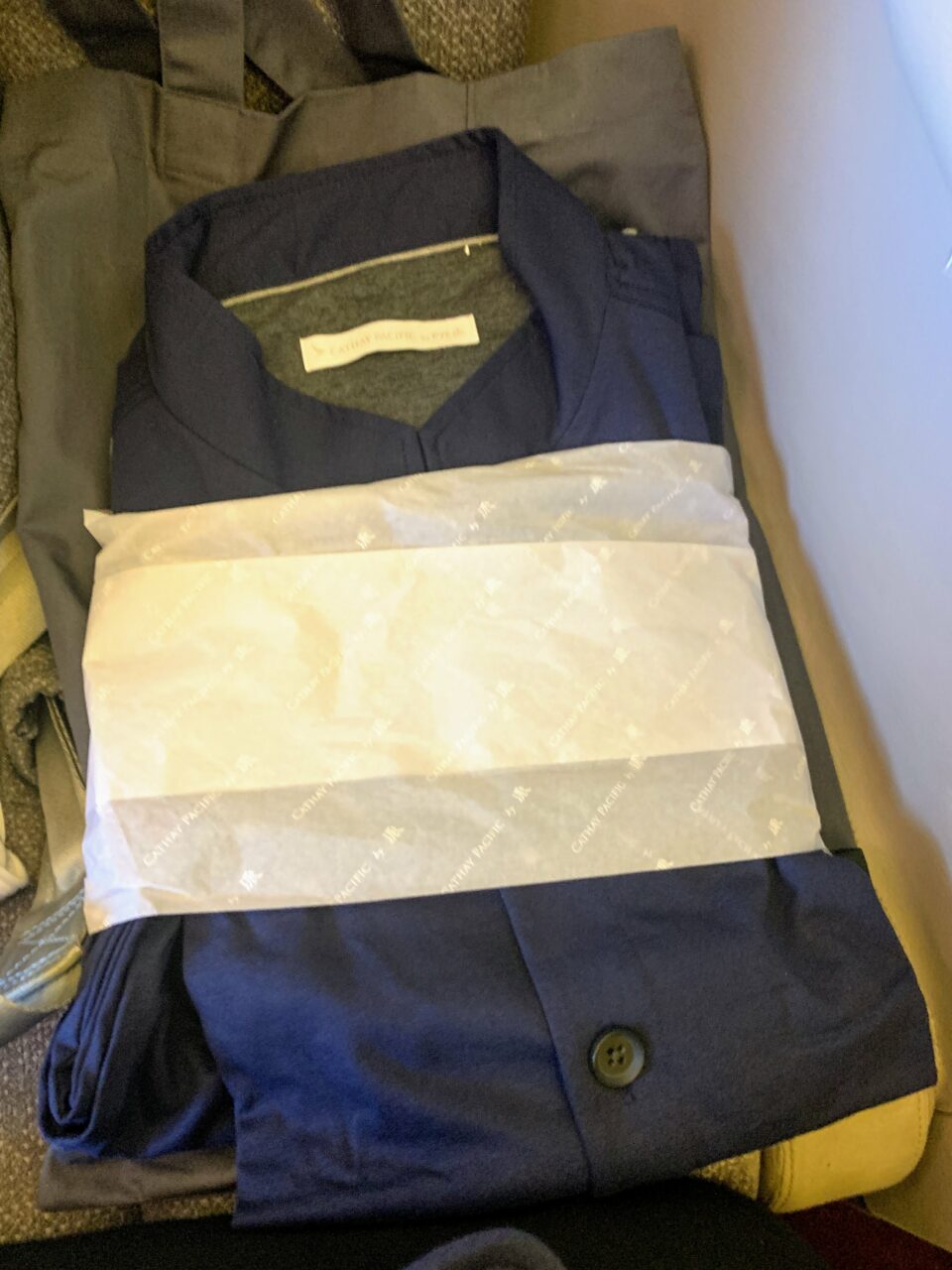 The amenity kit was an elegant leather bag and filled with Bamford toiletries. I was impressed with the range of contents and pleased that it was Bamford. Bamford are similar to Aesop in terms of great natural fragranced products that are highly effective.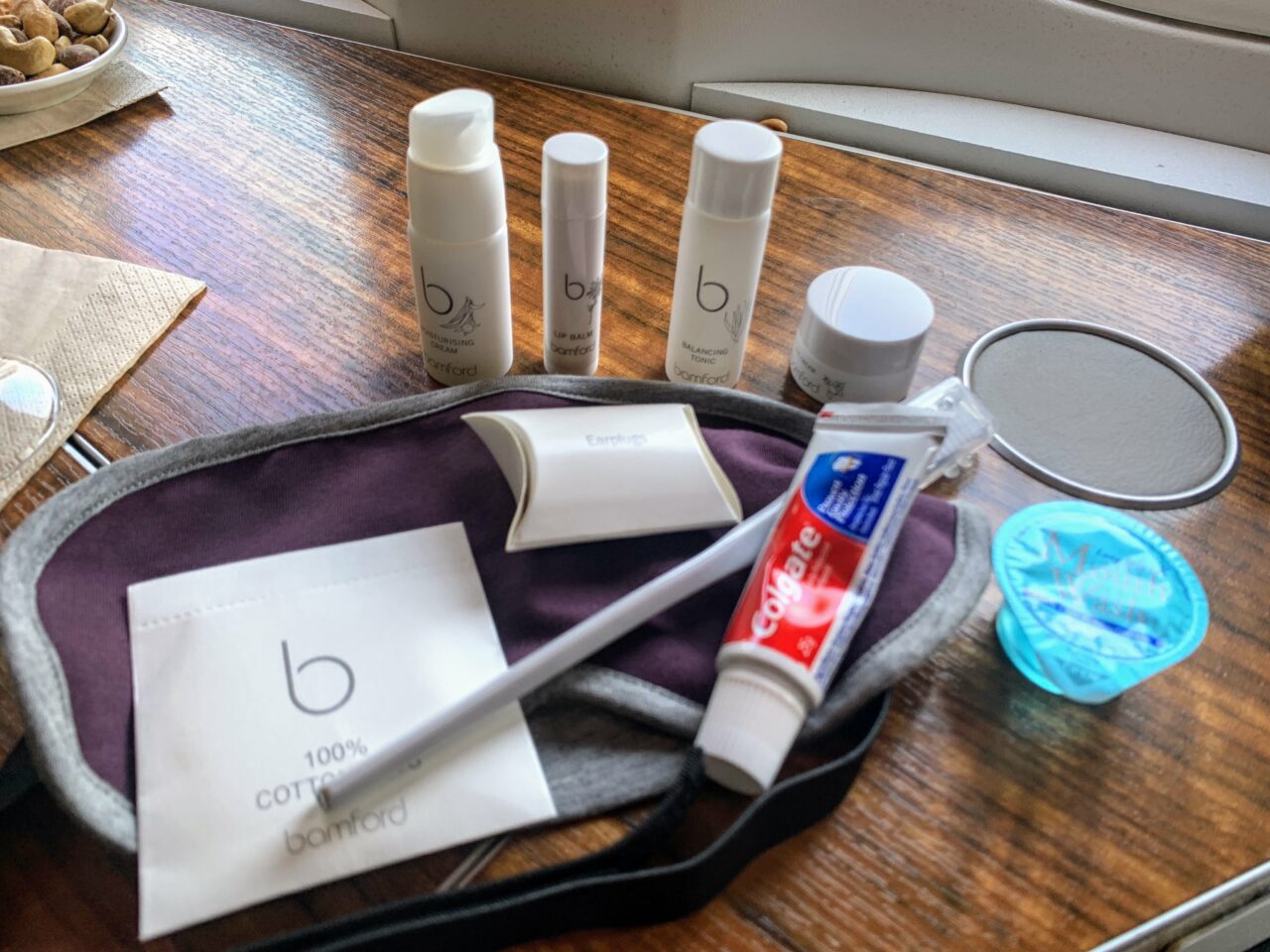 The ladies kit contained:
Mouthwash
Toothpaste
Toothbrush
Eye mask
Earplugs
Moisturiser
Toner
Lip balm
Cotton wool
Here is what you get in the men's kit: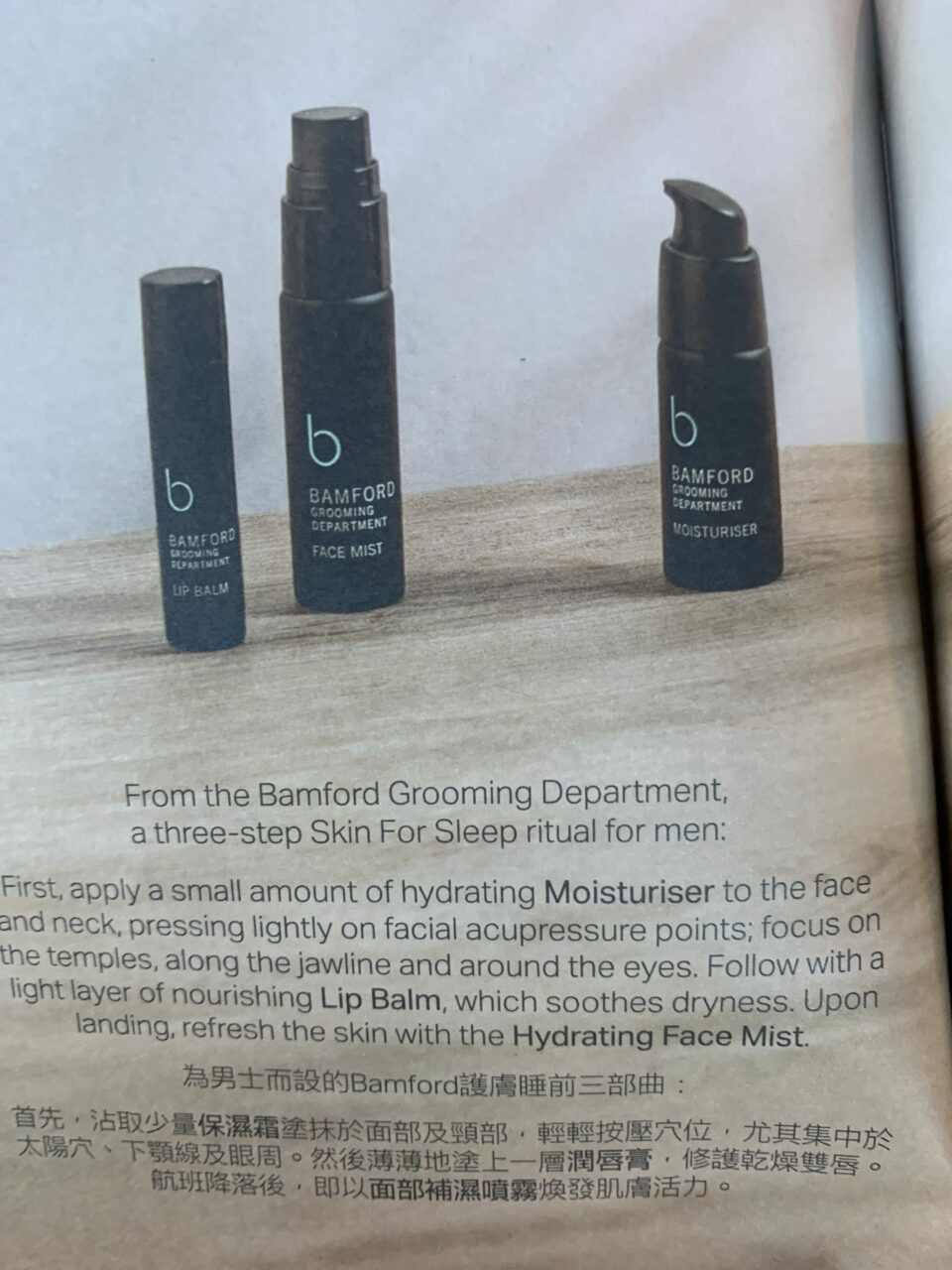 Cathay Pacific First Class Seat and cabin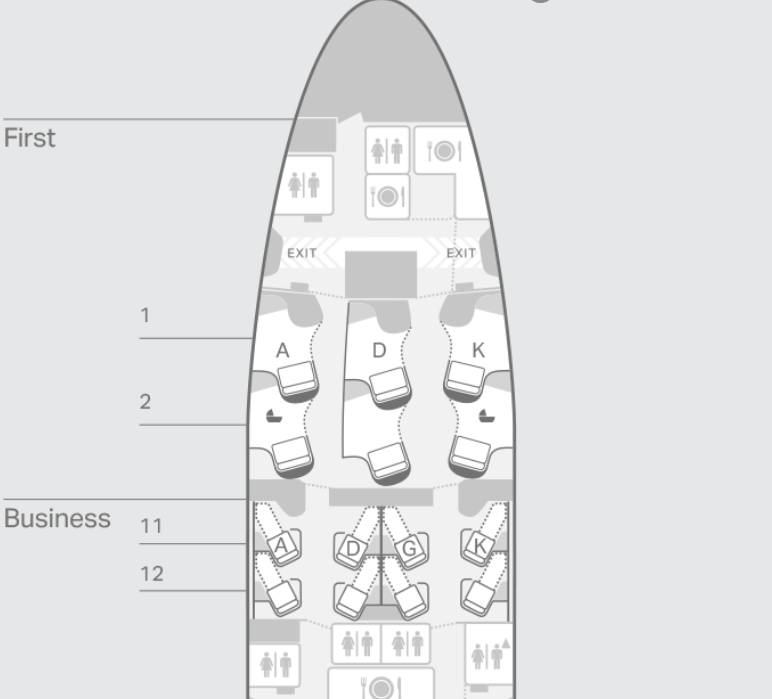 The Cathay Pacific First Class cabin is small with only 6 seats in a 1-1-1 configuration. The seats are not as fancy as the suites you get on Emirates or Singapore but they felt spacious and reasonably private. The cabin itself was definitely understated and I couldn't really say it had any wow factor or was particularly attractive. I recommend the A side if you want more privacy as there is a screen down the middle of the cabin on the left side of the D seats. As a couple, you can sit in the middle and lower the divider between the seats. With it raised it is pretty private. I did not like the glass panel in the screen though as on a day flight it let light from the other side of the cabin through.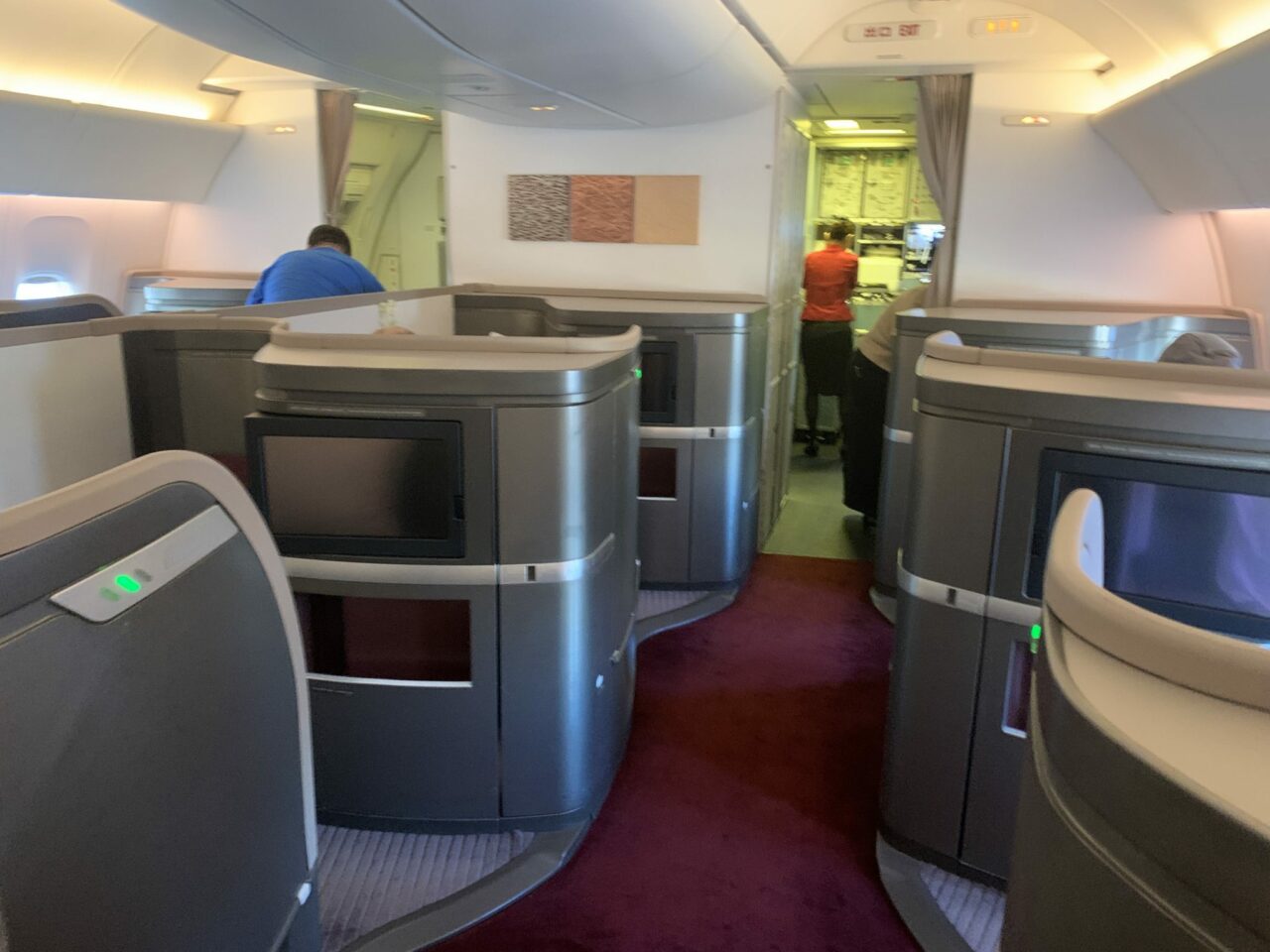 I had some issues with my seat choice on the way out, so I was pleased that my chosen seat 2K was in working order. The seat next to me 2G was empty so I asked if I could use that as a bed as I planned to have a couple of naps on the mammoth 16-hour flight and this would save a lot of mucking about. The cabin were very happy for me to do this.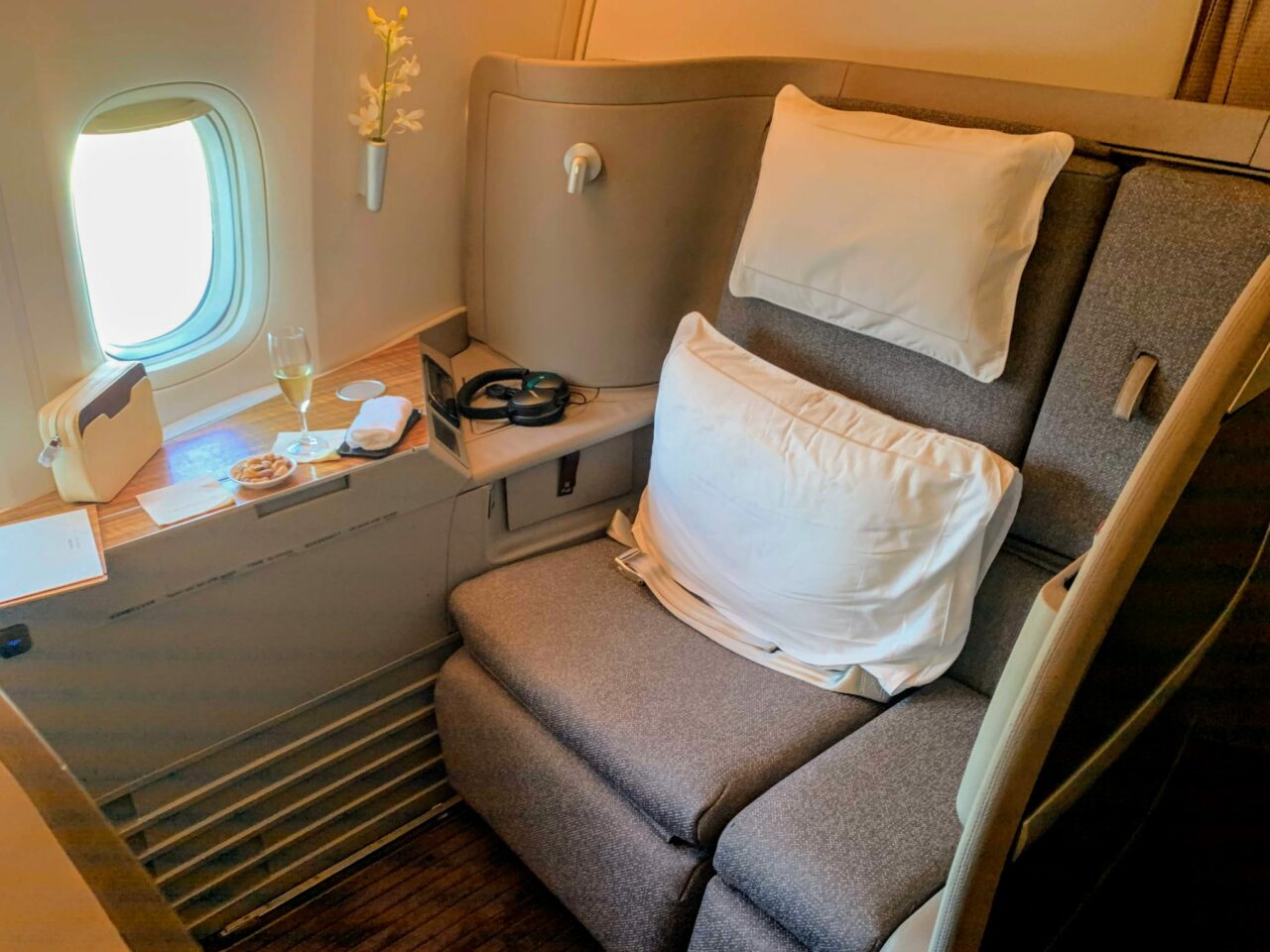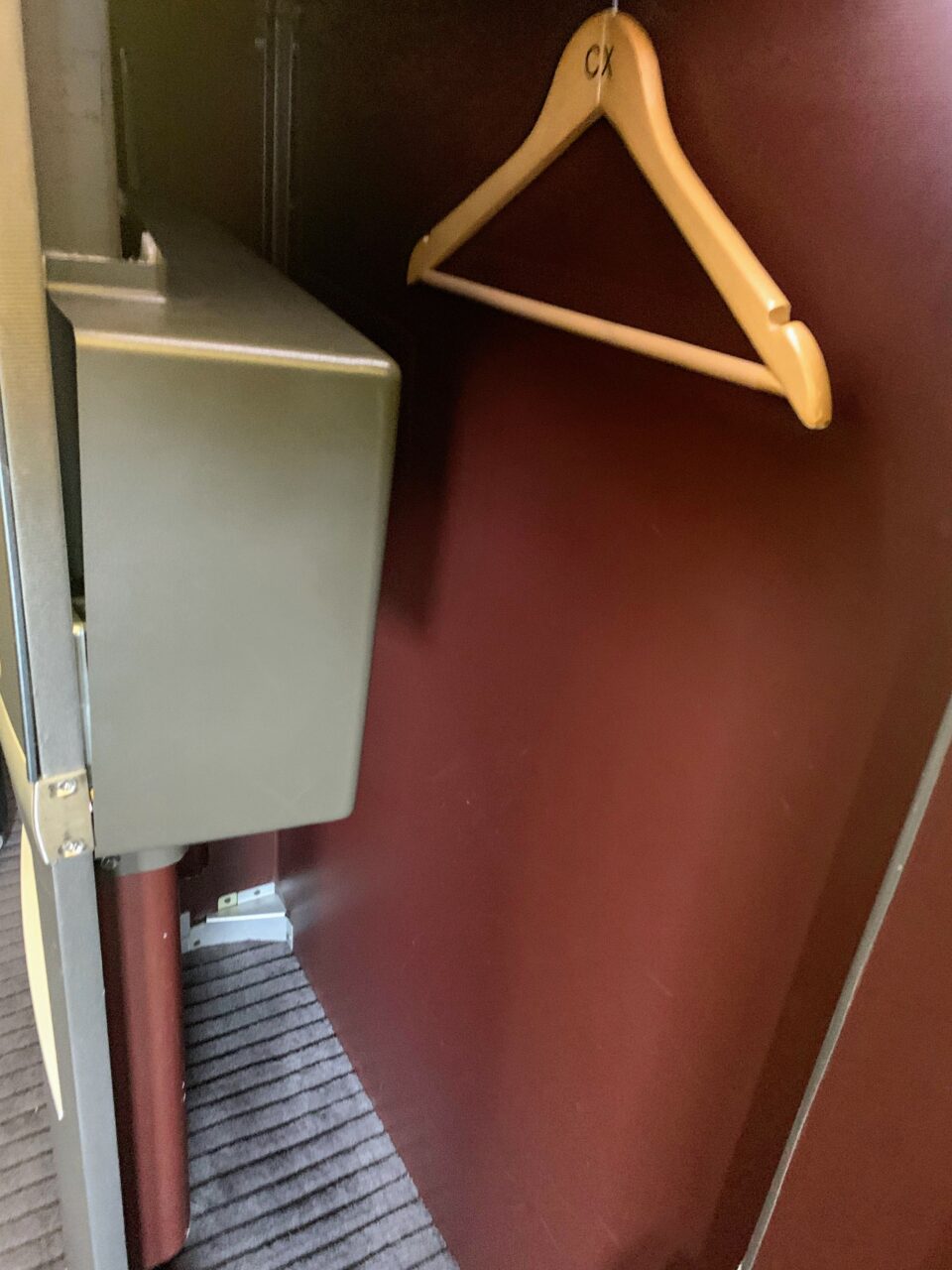 There was plenty of seat storage which is needed as there are no overhead storage lockers. Each seat has a large wardrobe big enough for a wheelie bag and another bag. I liked not having to lift it up into a locker. There was also an area for magazines/laptop and shoes which was close at hand to the seat.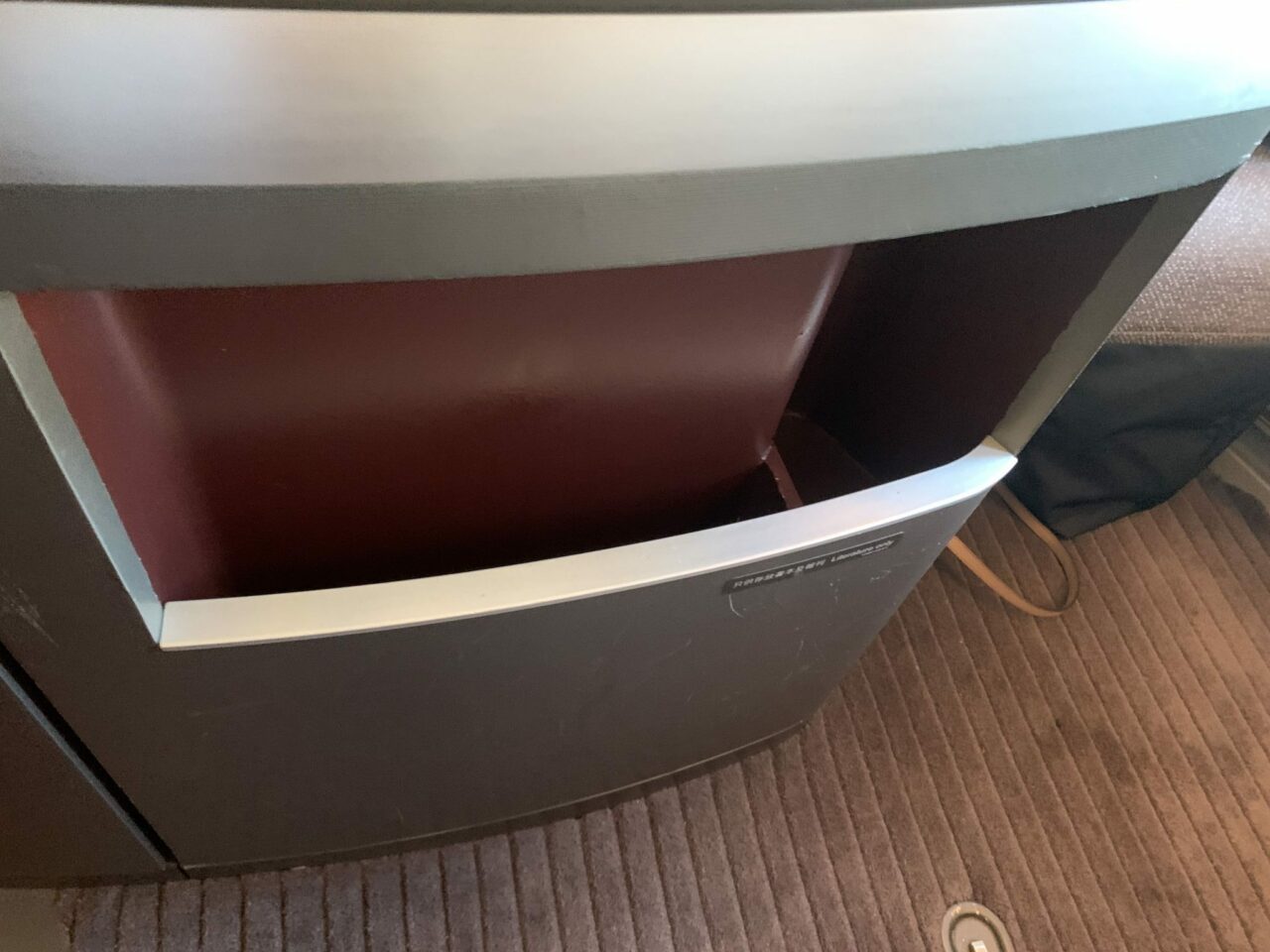 As it had been a very early start and I had just eaten breakfast, I decided to have a nap first and then have lunch at a normal time. The lovely cabin crew made up the bed and this time put the pillow spray next to the bed which was a classy touch.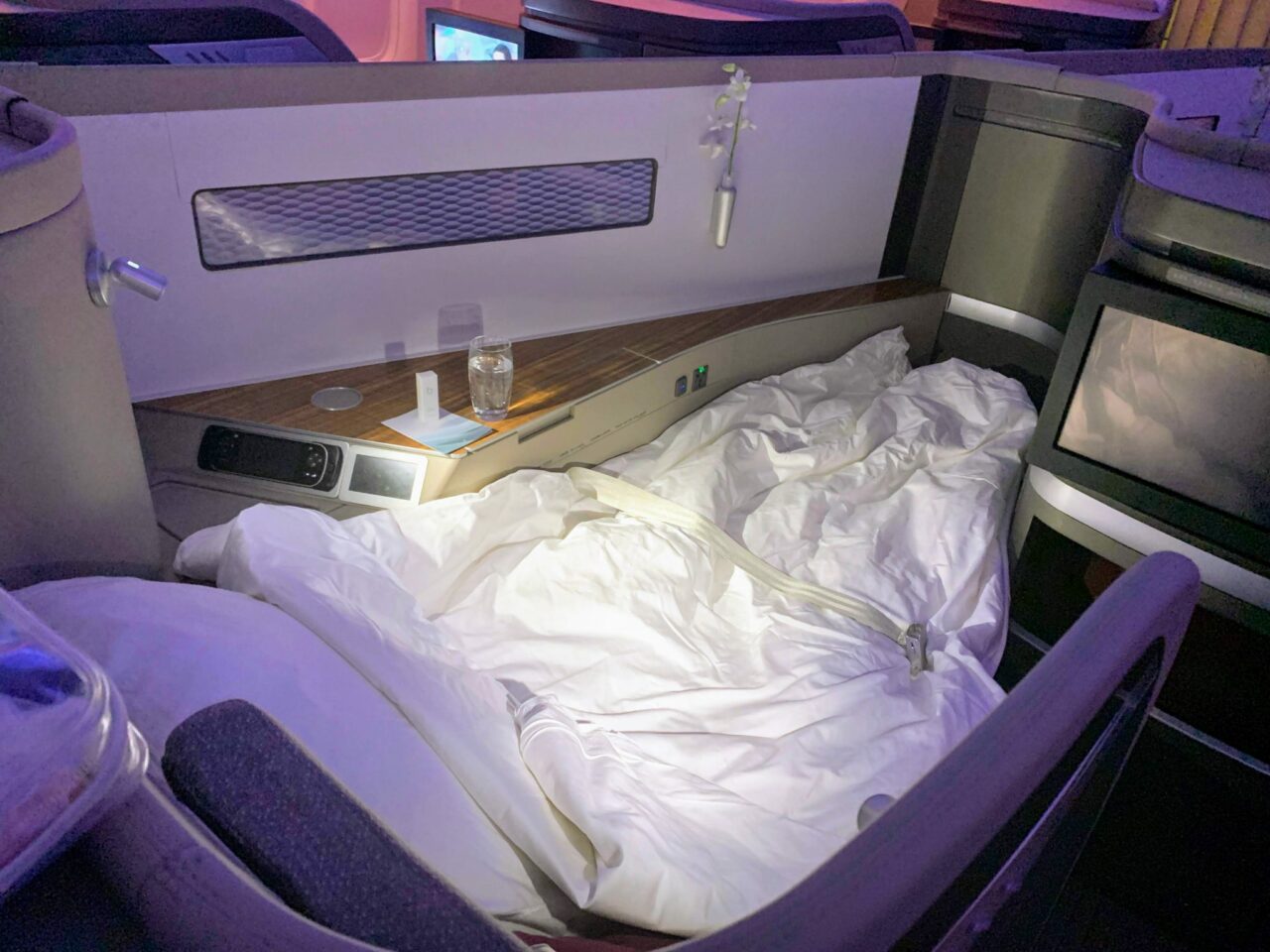 I did find the bed a little hard as is often the case with Asian airlines. There was a mattress topper but it was not enough to make it soft enough for my liking. As you could also request a nice red blanket, I slept on top of the duvet and used the blanket to cover myself which was very comfortable.
The seat was also pretty comfortable for sitting – easy to adjust each element via a display screen. I liked the extra padded area which made the seat very wide – you could easily sit with your legs curled up on the seat next to you. As well as the pillow there was also a day cushion.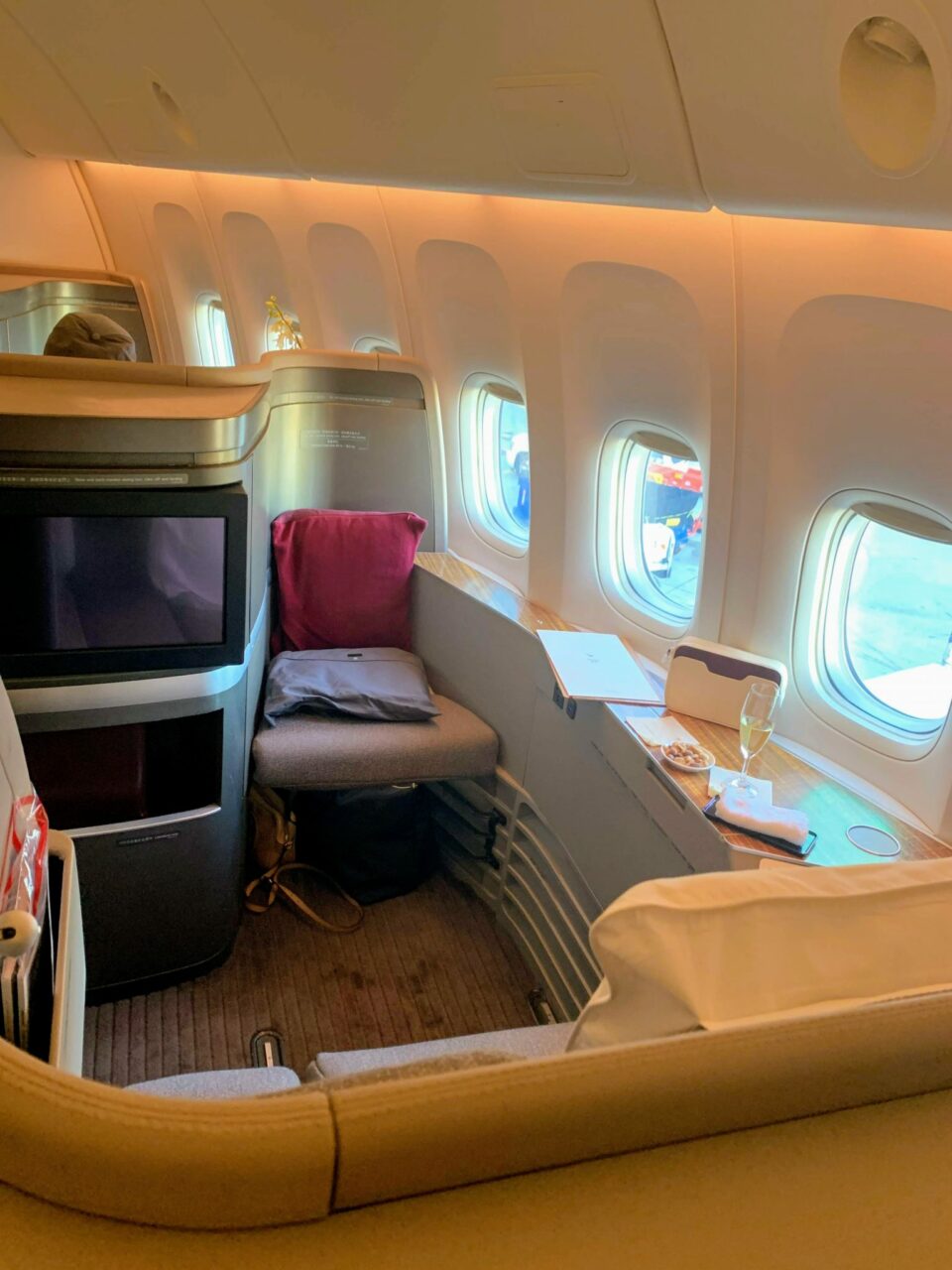 Cathay Pacific First Class Food and drink
The meals in First on Cathay are dine on demand. The crew are very happy to do this and will save you whatever you want. They were very flexible with me and I ended up eating even later than I had originally requested as my breakfast was still going down. The first meal on board was lunch.
Here is the full menu for the flight.
I started with the caviar and more of the excellent champagne. The caviar is nicely presented on Cathay and comes with a good range of traditional accompaniments. The blinis were very good and tasted homemade. My only criticism is that I would have liked some red onion or shallot as well but otherwise, it was excellent.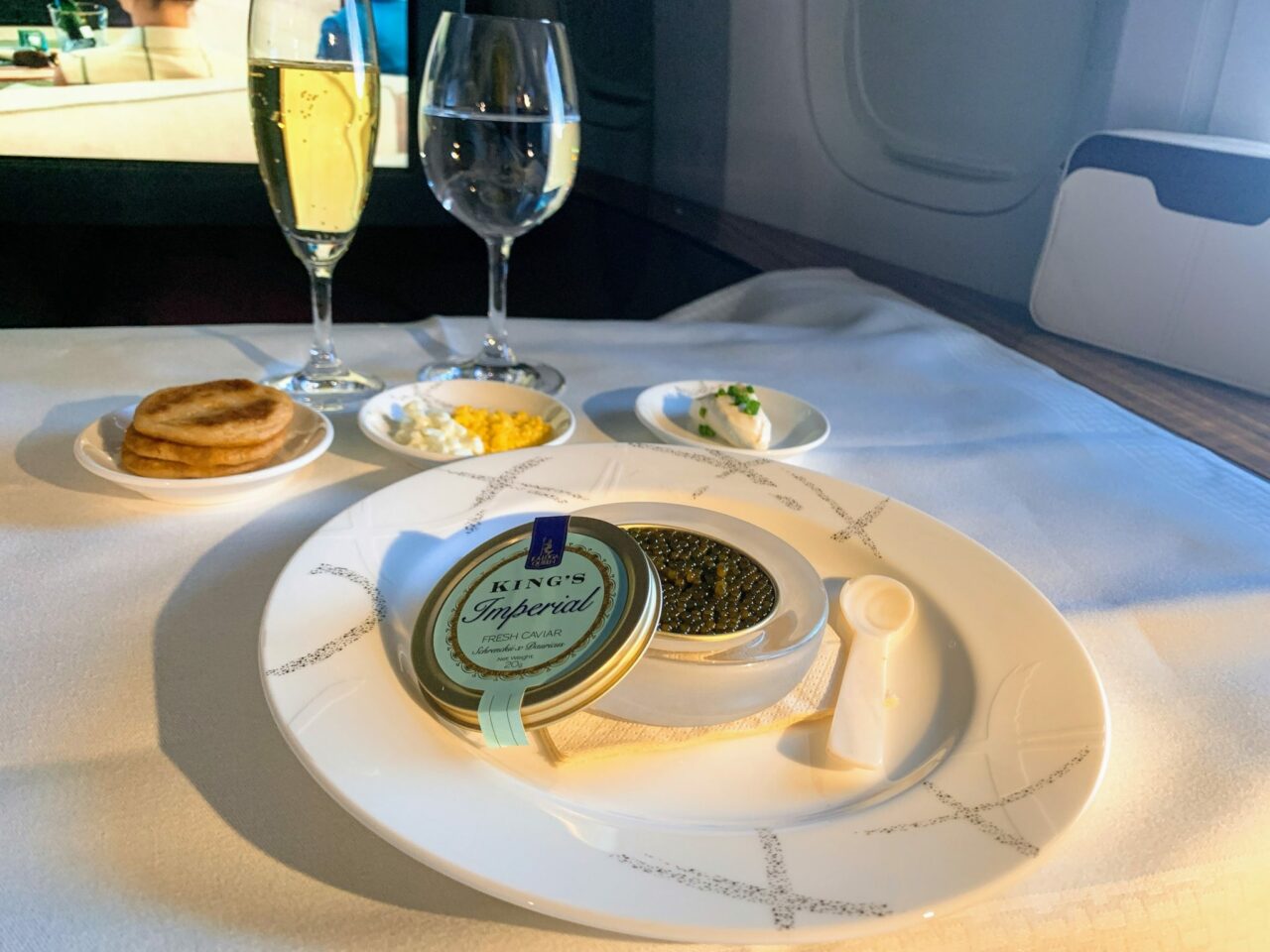 Next, I went for the lobster. Lobster always sounds like a good idea but it often dry or rubbery on planes (Singapore Airlines I'm looking at you!) The lobster was perfectly cooked with just the right amount of spring onion and ginger so it wasn't overpowered.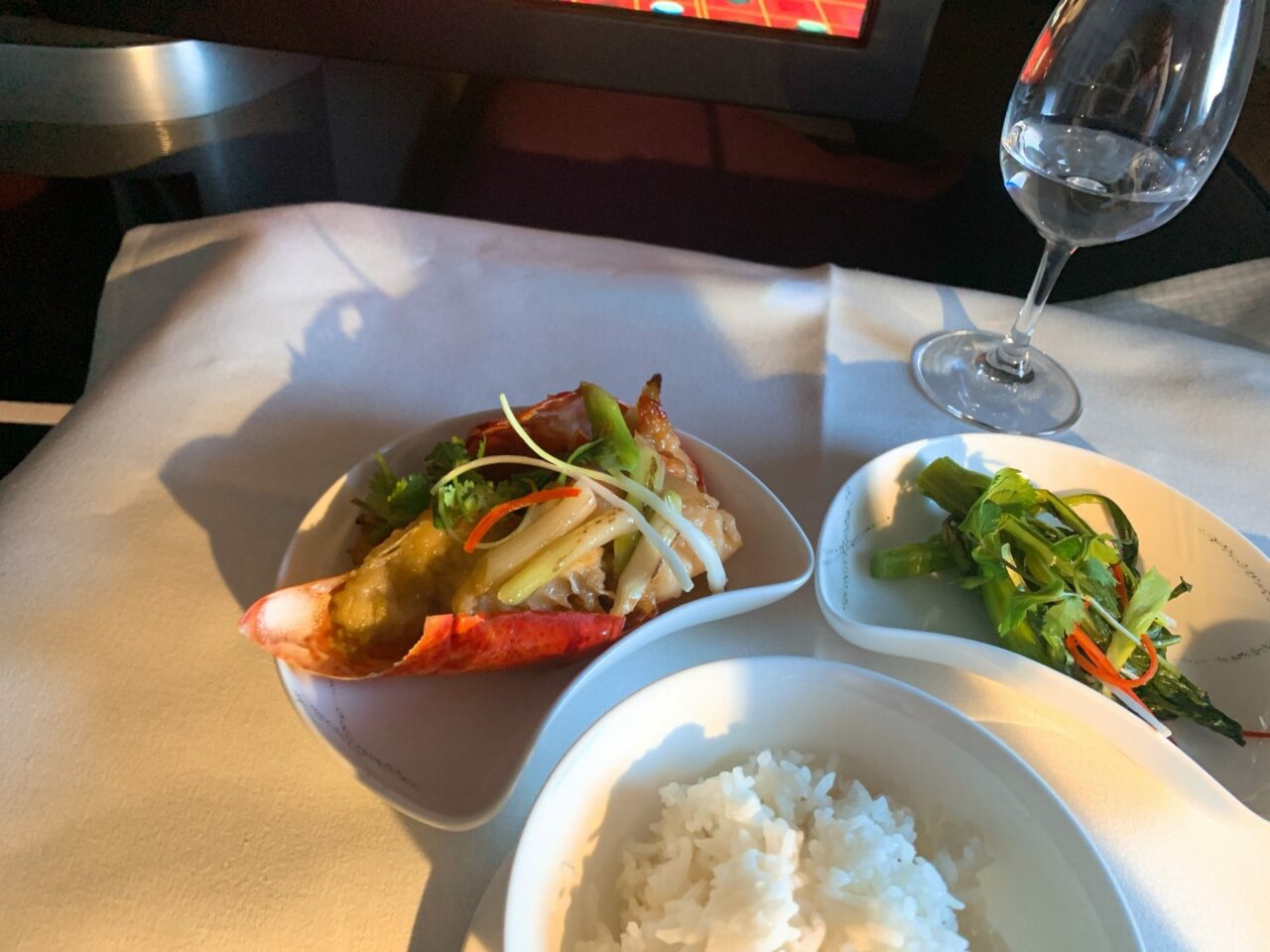 Since the food was quite light, I had left enough room for the sticky toffee pudding that was luscious with plenty of silky toffee sauce to go with the fluffy sponge.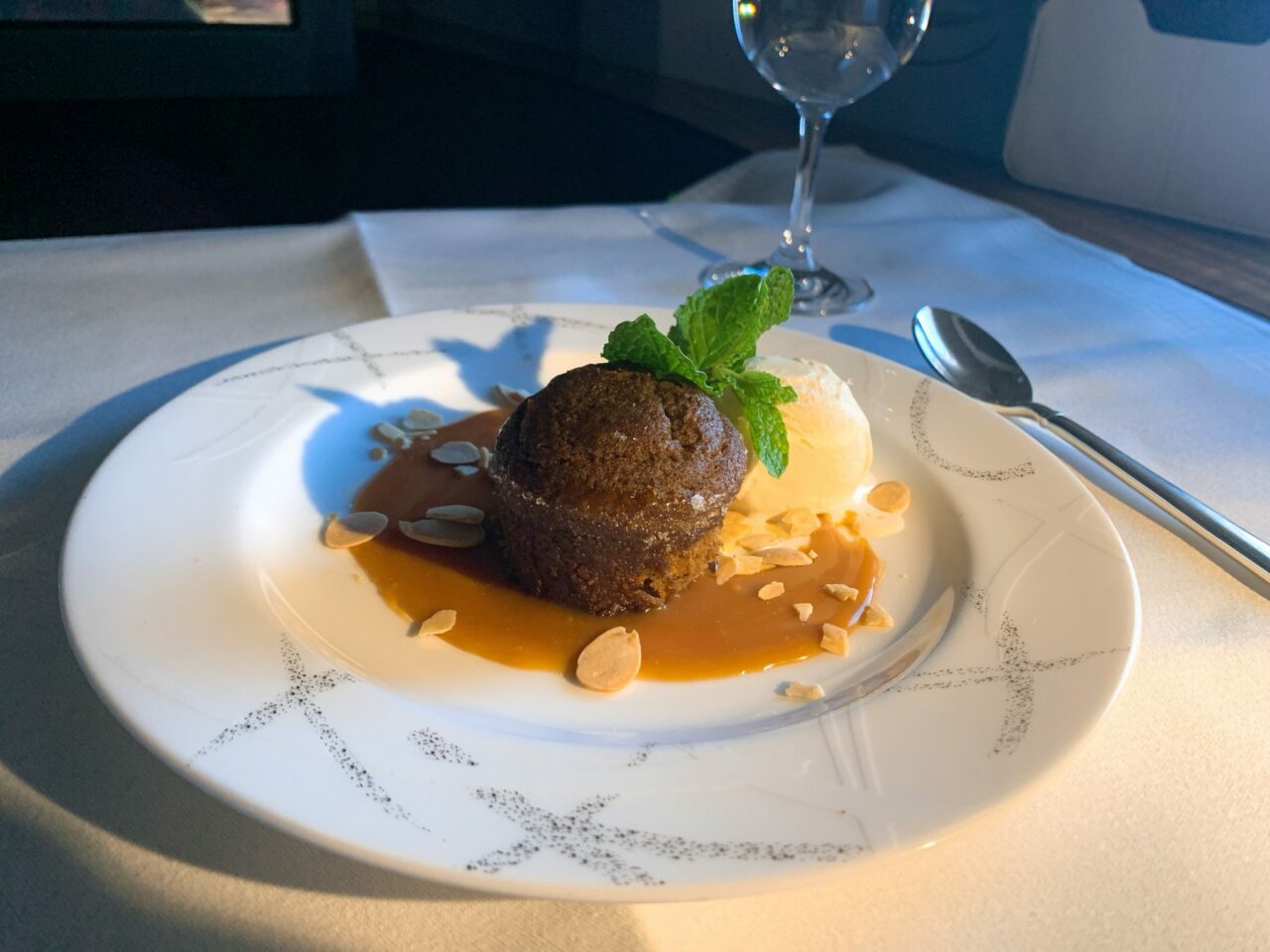 I finished with a pot of tea rather than the requisite brandy as I found their cognac a bit disappointing on the way out.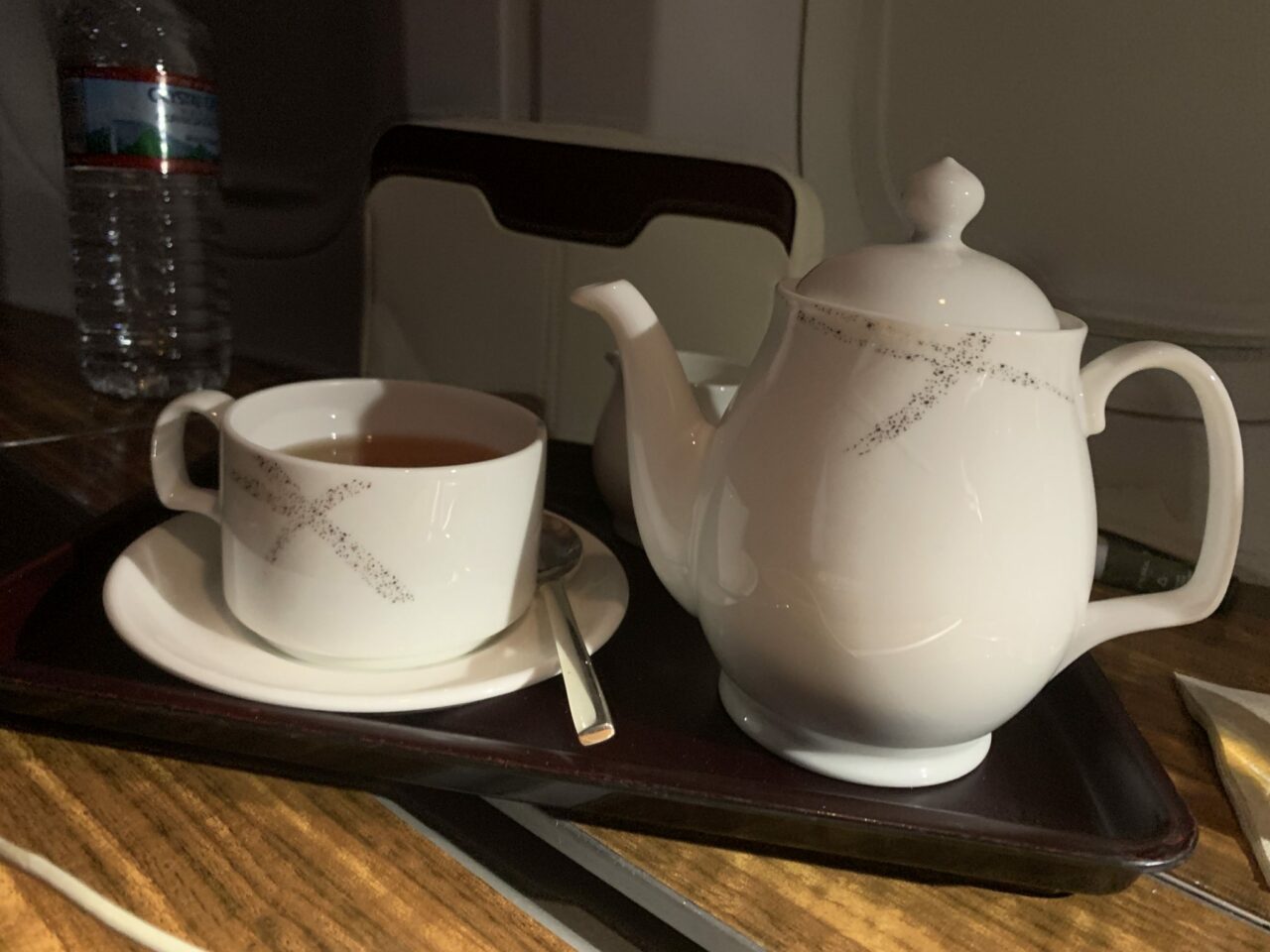 Here is the wine and drinks list:
This was the same as the way out, so have a read of my previous review to see my opinion of the Mersault and Pauillac that I had both ways. As per the way out, there was a hand written note placed on the table when they laid it up. This one felt a lot more personal though and reflected the excellent personalised service we all received.
There was also a snack menu which I didn't bother with on this flight, but it was nice to see some substantial choices. The second meal was dinner which again you could have whenever you wanted. I had it about 2 hours before landing. I only went for the main course and dessert but the lamb main was outstanding! This was hands down the best main course I have had on a plane. Lamb cutlets are hard enough to get right on the ground, let alone on a plane. The lamb was perfectly cooked and beautifully tender. There was a rich mint jus, some fresh herbs, wilted spinach and some unctuous truffled potato gratin – I was in foodie heaven!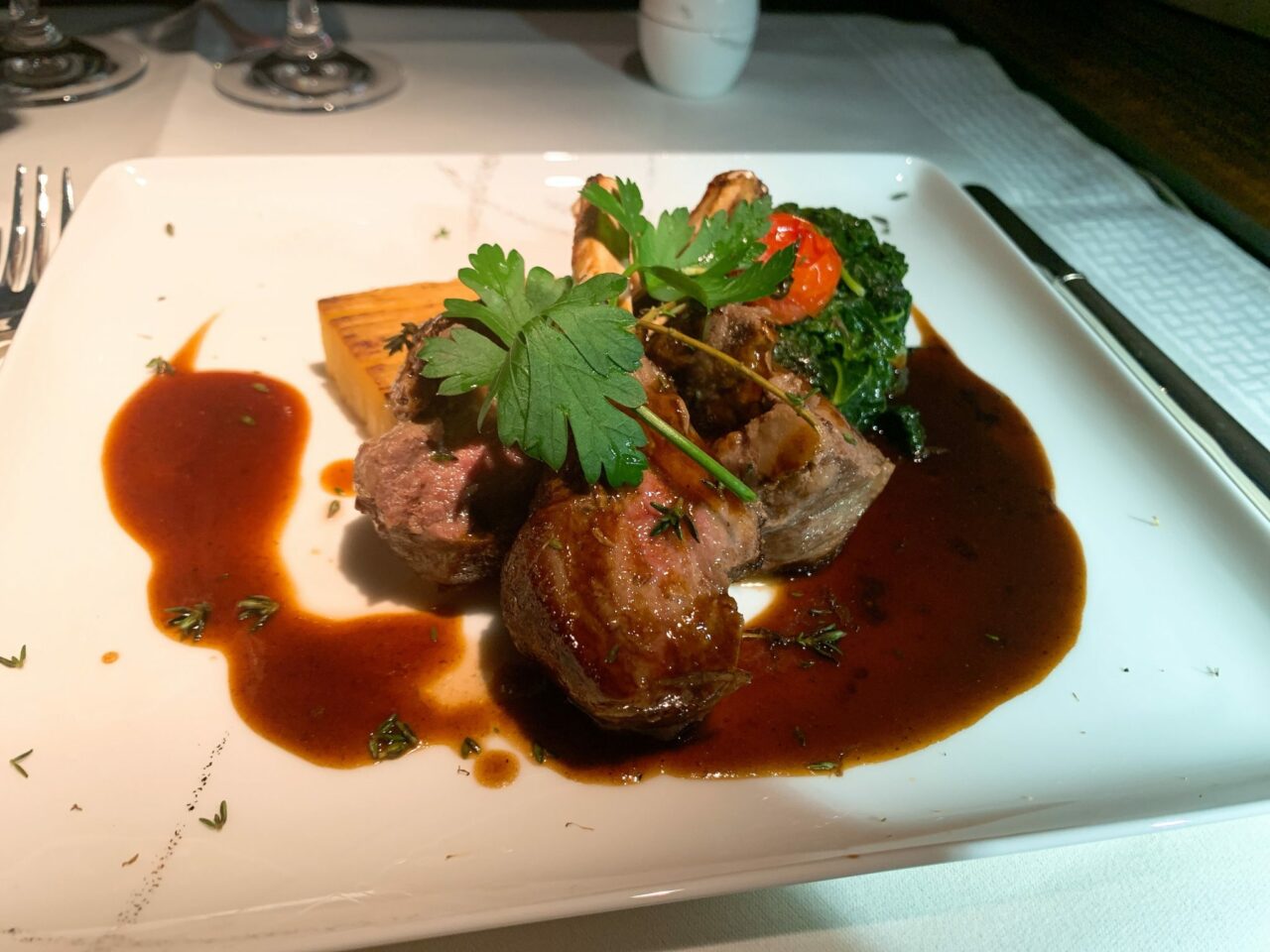 This was followed by the lemon meringue which looked beautiful but was a little too sweet for my taste.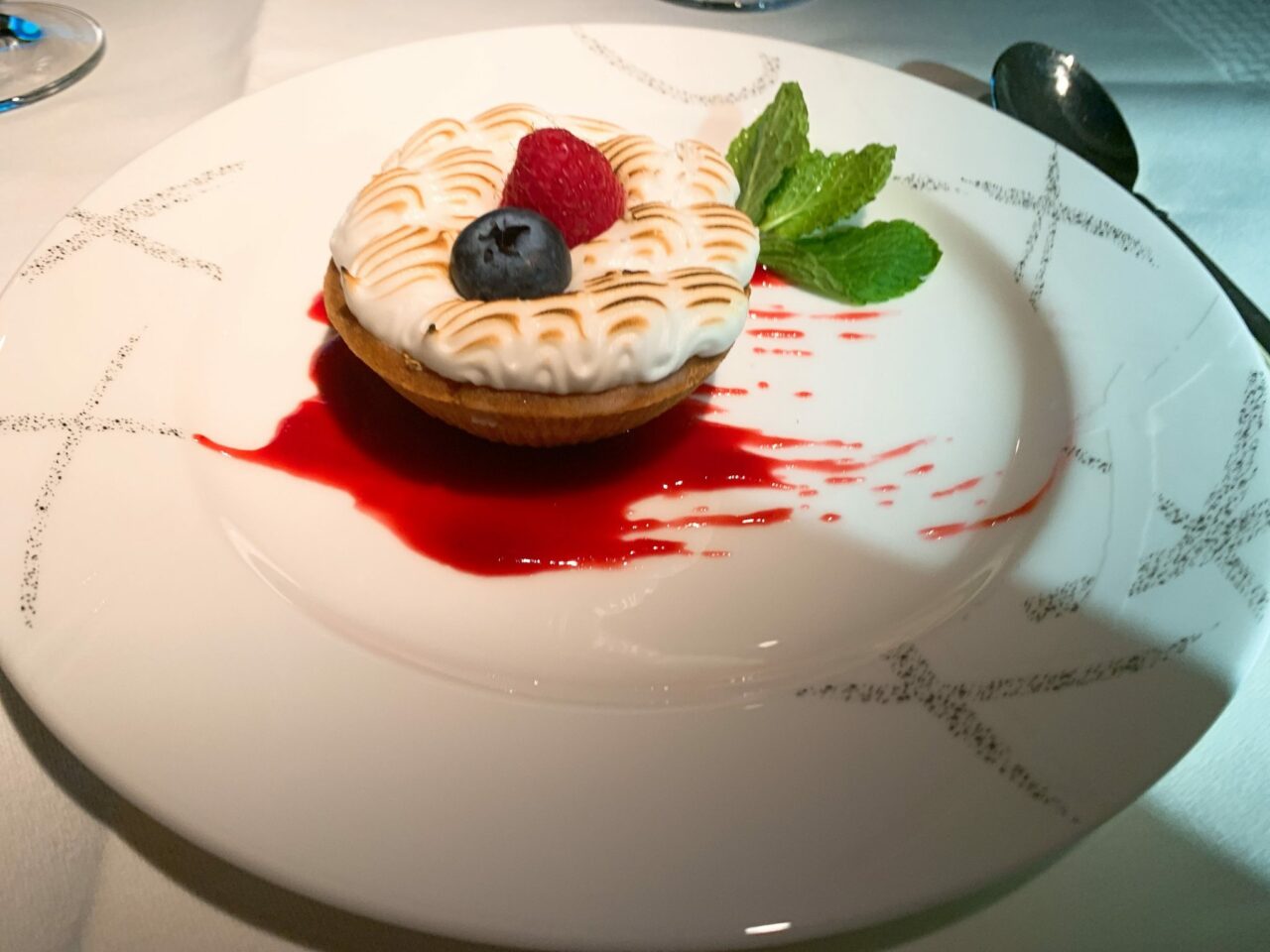 I decided to finish off by trying the cappuccino – something that is very variable on aircraft. Sadly Cathay lost the battle with this one. The coffee was quite weak and the foam was fairly watery.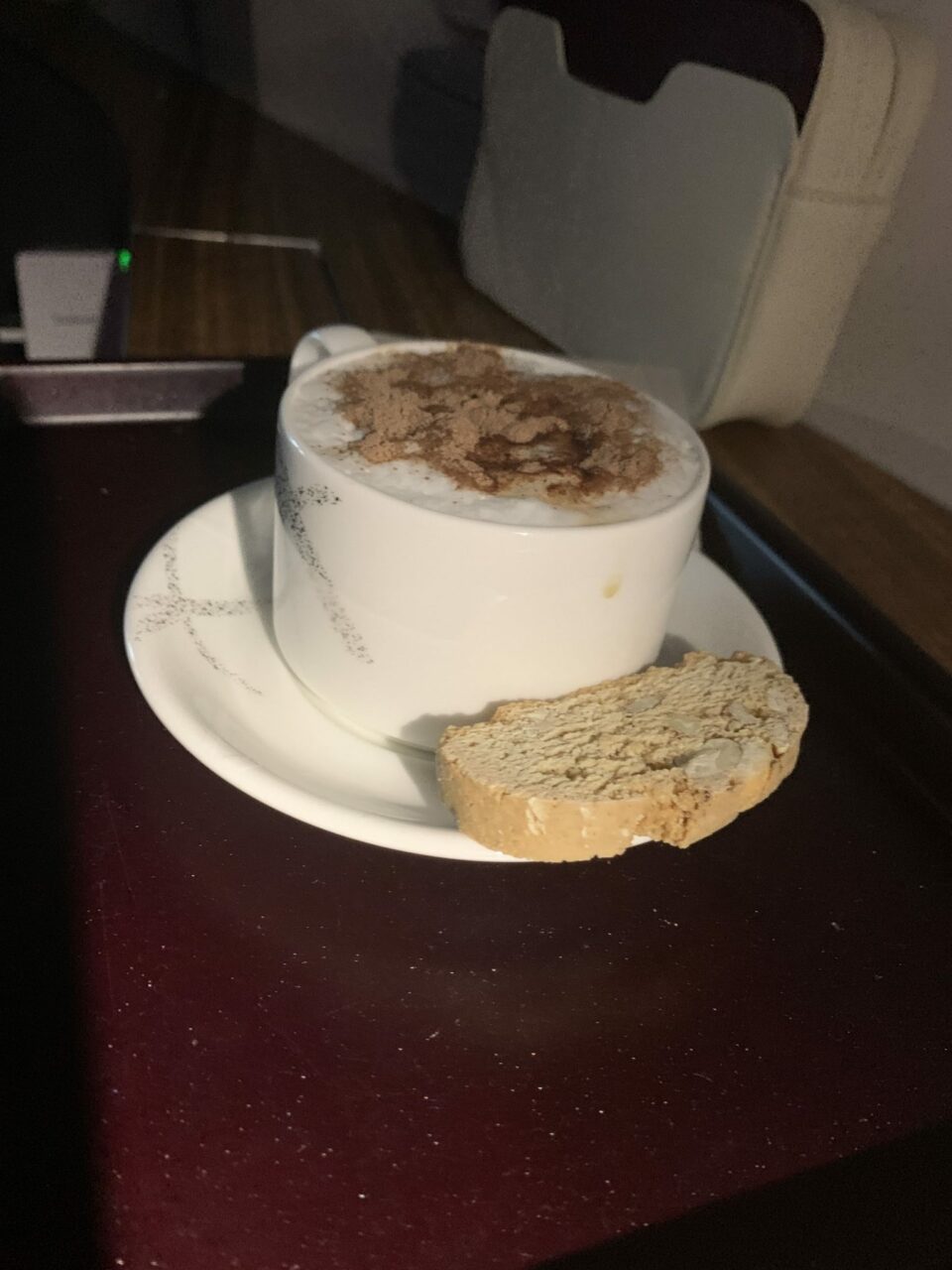 Cathay Pacific First Class Entertainment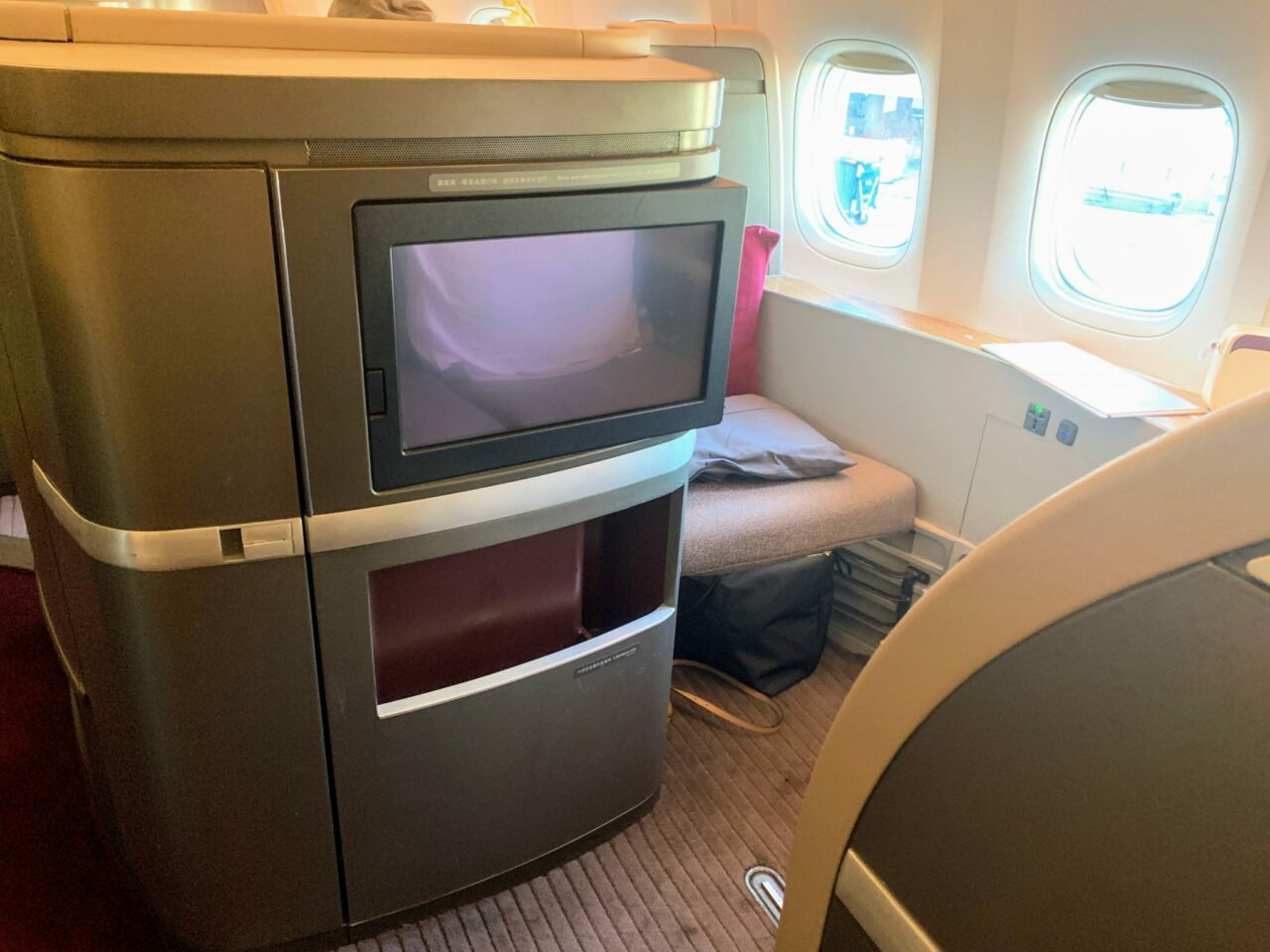 The TV screen felt large for the space, and I liked that you could slide it across so it was directly in front of you. The definition was also good on the screen. The selection of films and TV programs was pretty good with both new and old selections. I had plenty to choose from that I had not seen. The handheld controller was not very good like so many are – a little bit non-responsive and irritating! I watched Ode to Joy with Martin Freeman- a gentle rom-com and The Hustle (a bad remake of the fantastic Dirty Rotten Scoundrels).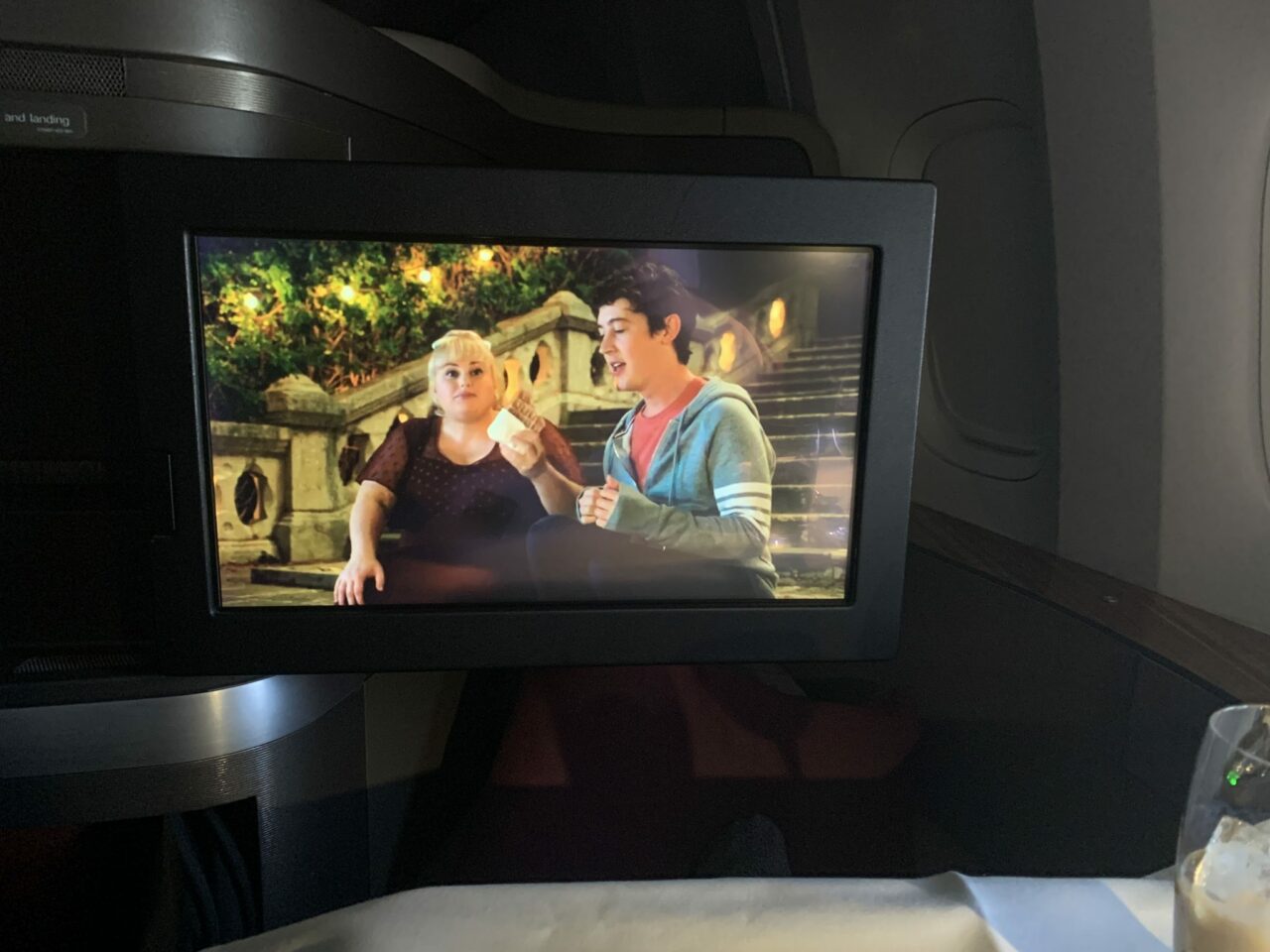 I was impressed with the Bose headphones. Normally I always use my own but I found these very comfortable and with good quality audio and noise cancelling. So much so, I never bothered to get my headphones out!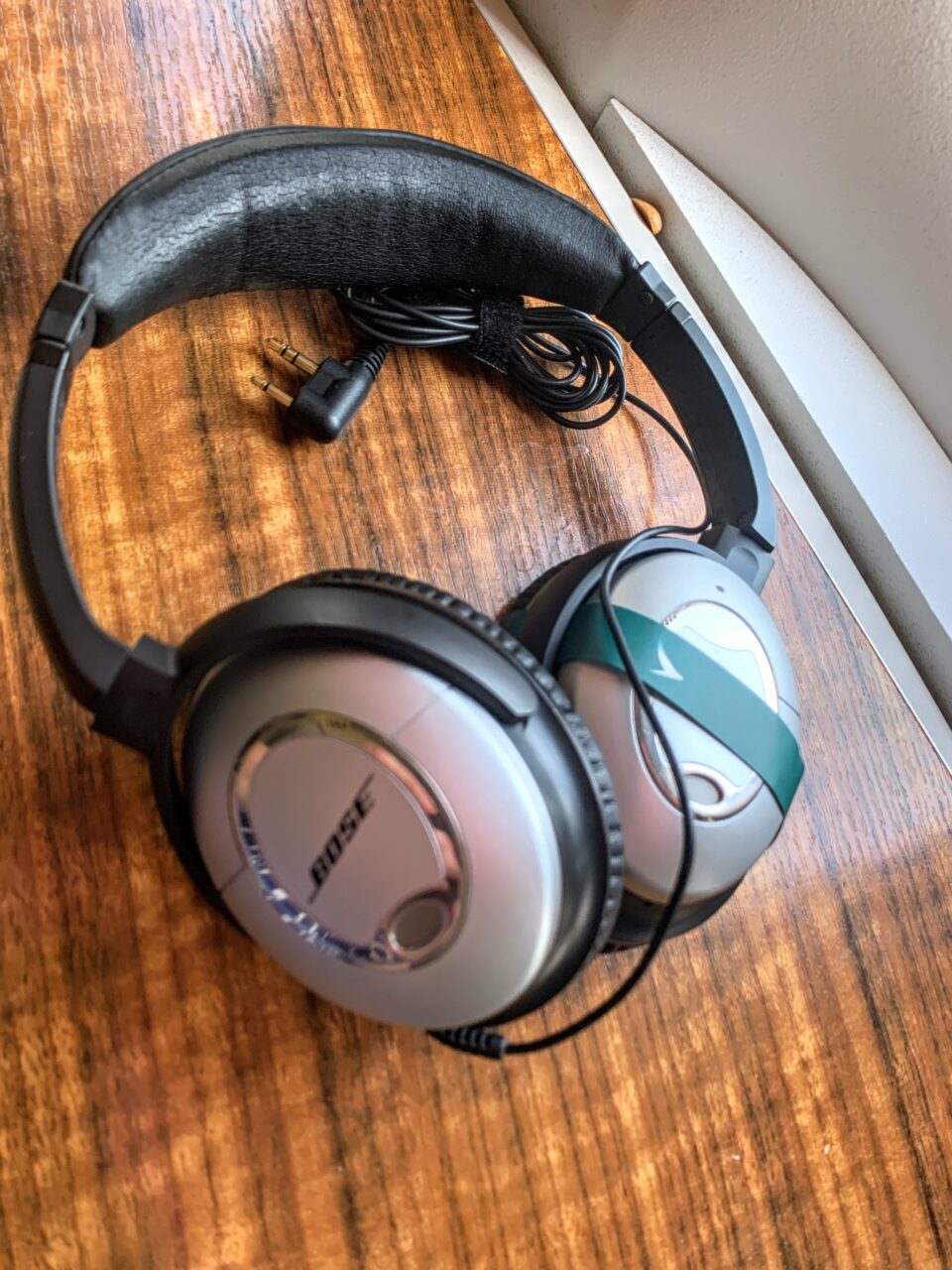 For some unknown reason, there was no Wi-Fi. This was extremely annoying on a daylight 16-hour flight. We had Wi-Fi on the way out at least.
Conclusion for Cathay Pacific First Class
This was another excellent flight and it probably tops oneworld as the best First product overall for me. The cabin whilst rather dull has large comfortable seats with good privacy and the service was superb. The food was also excellent – quality ingredients cooked perfectly. My only real complaint was the hardness of the bed which was resolved by using the duvet as a mattress topper.