This is a review of Biltmore Hotel Mayfair. I am a Hilton Diamond member and one of the things that I find lacking is the top-end luxury hotels which in many places are non-existent with Hilton. In London, there are a couple of 5* Hiltons – the Bankside which is a great value option with a nice pool and good service. The other option is the Conrad which I generally find pretty disappointing apart from the lounge which is OK.
So I was very excited when I heard that Hilton were opening a new very high-end hotel in Mayfair. The Biltmore is part of their revived LXR brand which at the moment only has the Habtoor Palace Dubai and the Zemi Beach house in Anguilla. LXR describes itself as delivering "There's no such thing as average when you stay with LXR. Each stay is memorable because of our anticipatory personalized service" So did it live up to the hype?
Location of Biltmore Hotel Mayfair
The Biltmore Hotel Mayfair in London has a lovely location on Grosvenor Square in Mayfair. Some of the rooms have a view over the square if you are willing to pay a little extra. It was less than 10 minutes walk to Oxford Street, Park Lane or Bond Street tube.
Grosvenor Square had a beautiful display of lights when I was there. Some were in the form of white roses which you could buy to dedicate to someone which was lovely.
Check-in at Biltmore Hotel Mayfair
There are two entrances to the hotel, the main one on and a smaller one on Grosvenor Square. I pulled up to the main entrance in a cab and the door was opened by the smiling doorman. He introduced himself by name, Sunday, and helped me with my bag to reception. After dropping me at reception he urged me to let him know if there was anything he could do for me. I don't think you could ask for much more really on arrival.
This standard of service carried on throughout the stay. When I was waiting to get a taxi, the butler came to introduce himself and offer any assistance with my stay such as unpacking (not sure I want anyone looking through my underwear!) Again, he found out my name and whenever I passed him he remembered me and asked me how my day was going. I have to say in all the hotels I have stayed in, this is definitely one of the best for service. At the time of my stay, the hotel had only been open for a few weeks so the level of service was doubly impressive.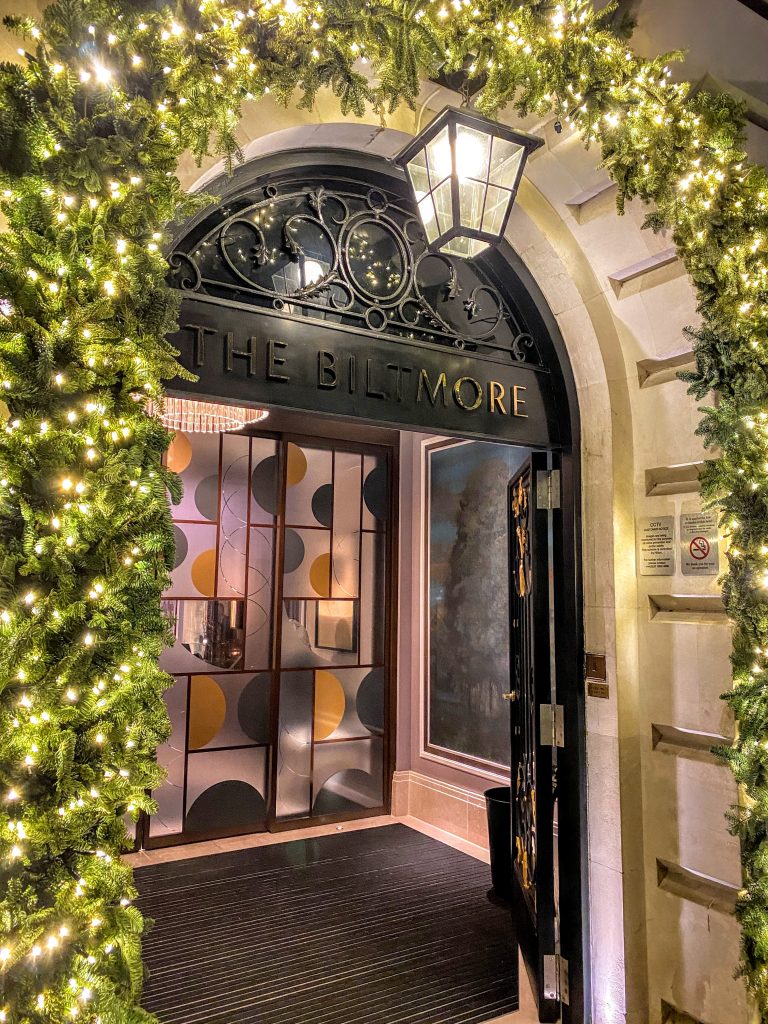 Once at the check-in desk, I was warmly greeted. I had booked using points and cash as I had a lot of points to burn but there was only the premium points rate available. I had been upgraded from a King Grand Premier Room to a King Grand Premier Room with a Grosvenor Square view. Since I was about 90 minutes early for check-in my room was not ready.
The front desk were very helpful though and offered me my original room category if I did not want to wait. I wasn't that bothered about a view so said that as long as it was a quiet room I did not care. I had a meeting to go to so I declined the kind offer of the tour of the hotel. I was still escorted to my room by the receptionist though which I thought was a nice touch and she explained the basics as we went there. She was also friendly asking about my stay and what I had planned in London. Each time I saw her after that she also remembered me as did all the other staff. I was addressed by name on almost every occasion!
Biltmore Hotel Mayfair Room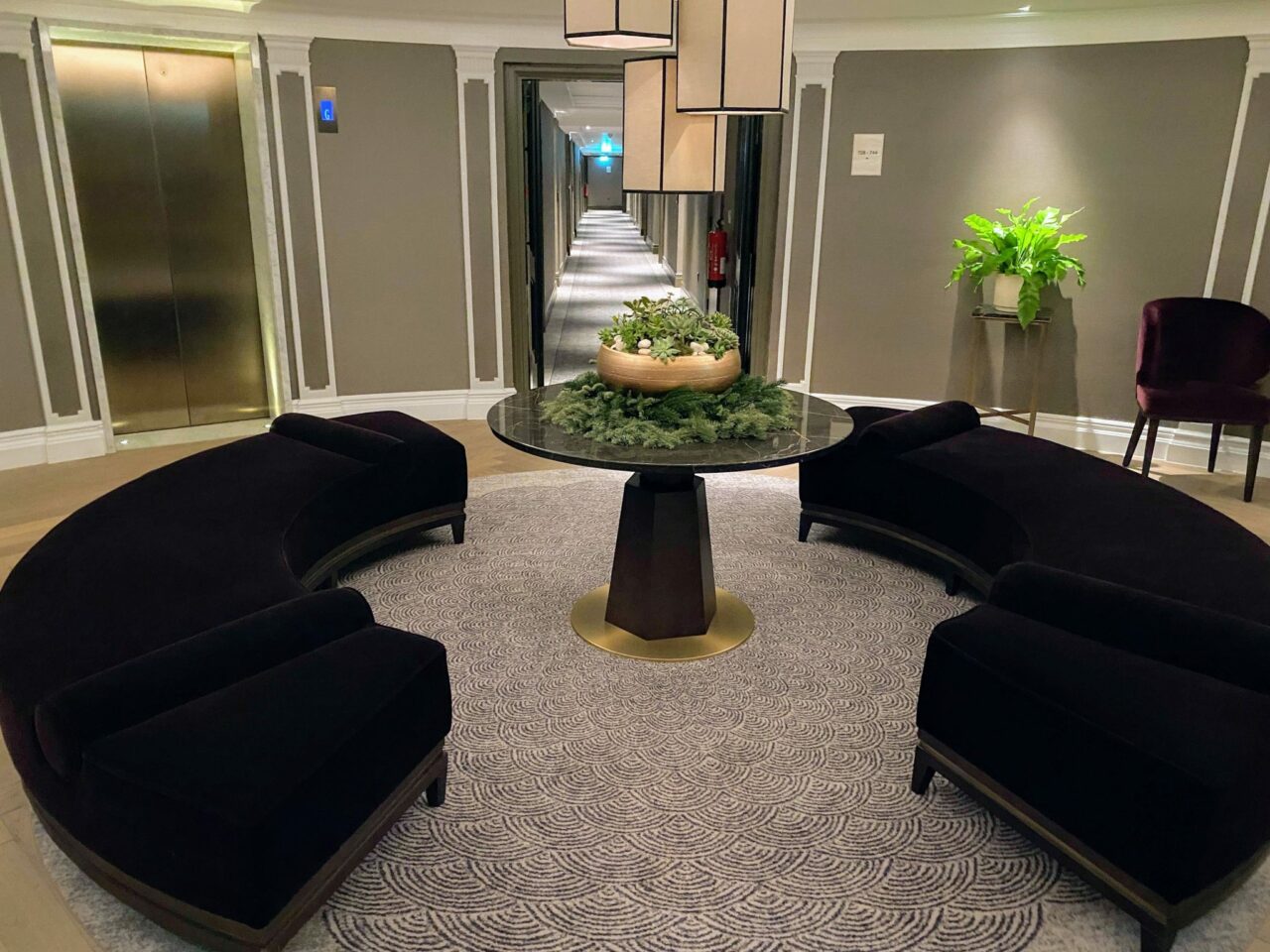 Even the corridors were impressive with a lovely seating area in the lift lobby of each floor.
My first impression of the room was good. It was a decent size and looked classy – modern but with a classic twist. I would say it was in keeping with the top 5* hotels on London such as the Corinthia (my favourite) although there weren't as many extra touches as the Corinthia (such as the heated bathroom floor and TV).
The view was unremarkable of the back of some buildings, but it made for a very quiet stay which is what I had asked for. The room was kitted out as I would expect a luxury hotel to be with both a kettle and a Nespresso machine (although they were a bit stingy with the pods as there appeared to be no decaf option).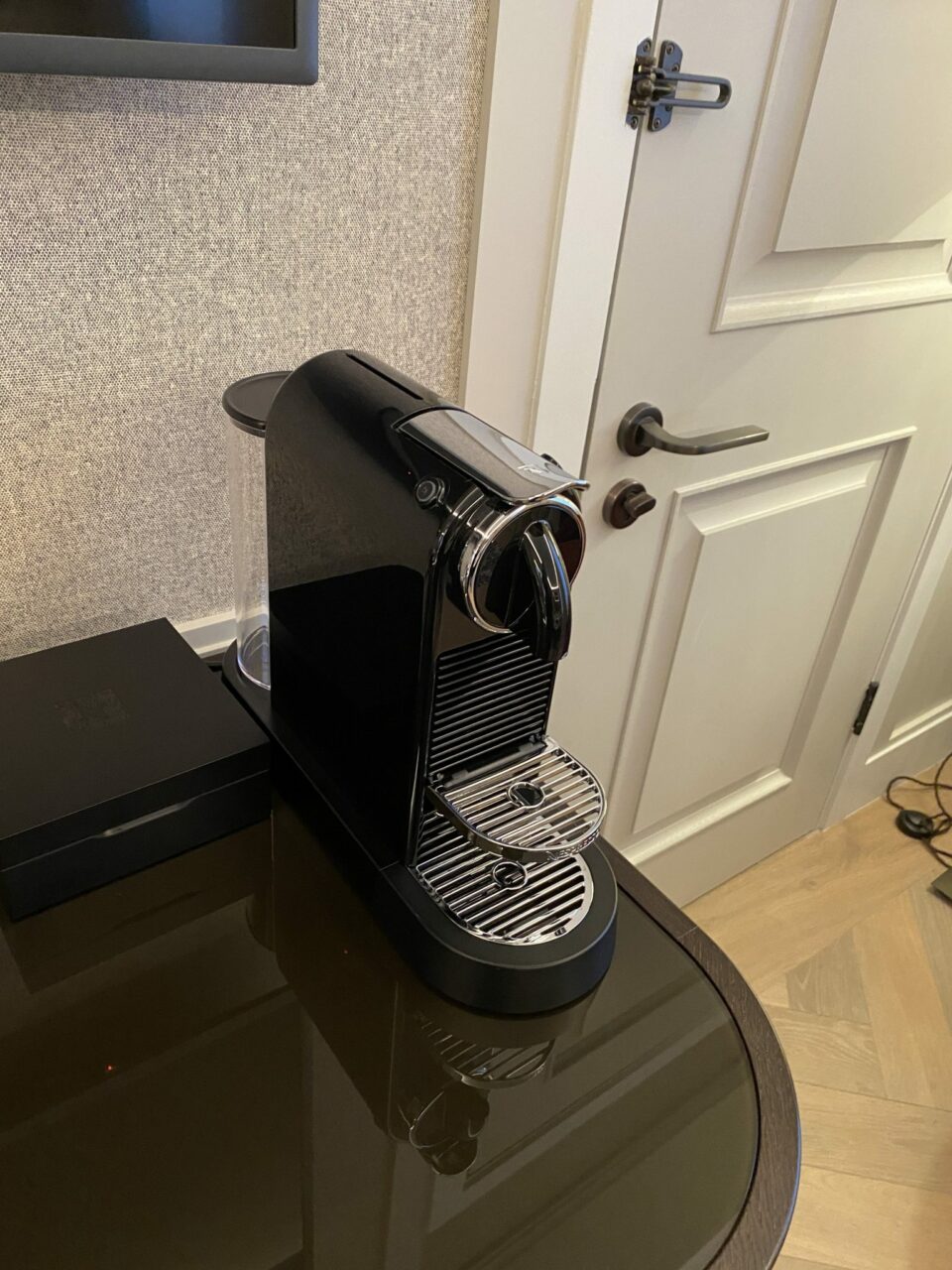 There was also all the usual things such as slippers, bathrobe, ironing board, mineral water and a minibar. I loved the very ornate crystal glasses in the minibar.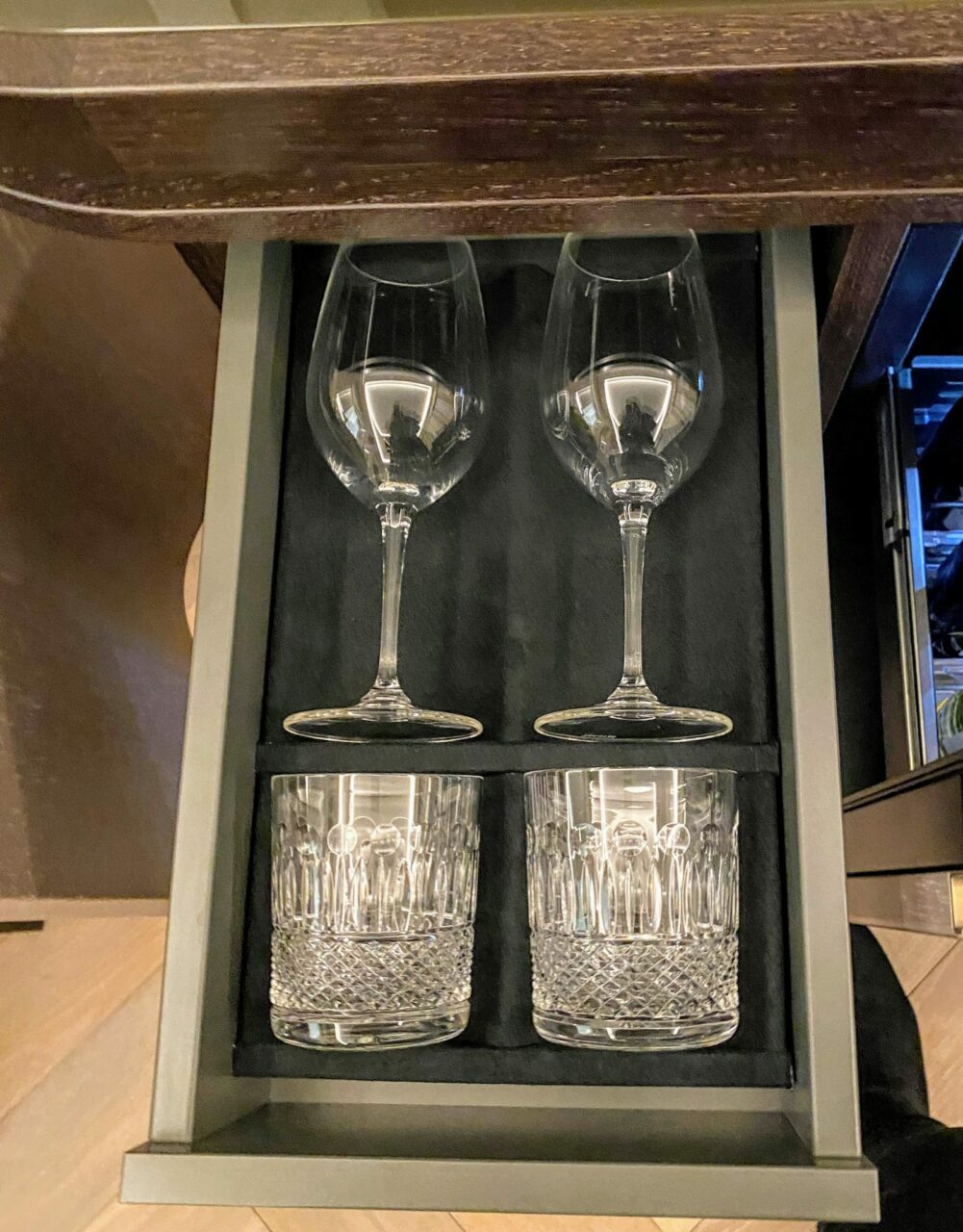 So many hotel rooms give you one small chair which is no good if there are two people in the room. My room had a nice large sofa with a big table which would have been perfect for room service dining while you watched the TV if you wanted a quiet night in.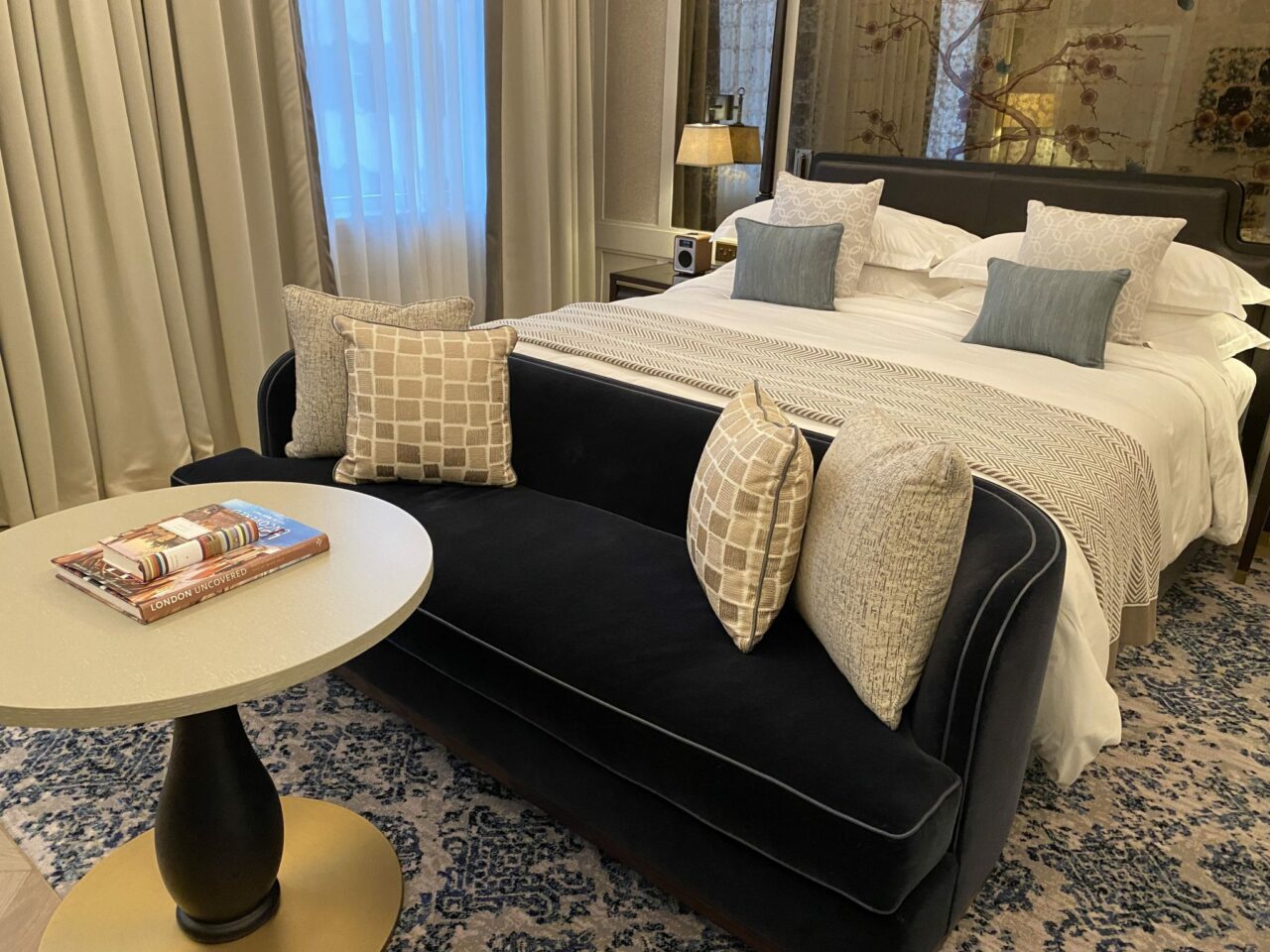 If you wanted to work there was also a desk area with sockets which would have doubled as a convenient place to do your hair thanks to the full-size mirror on the front of the bathroom door.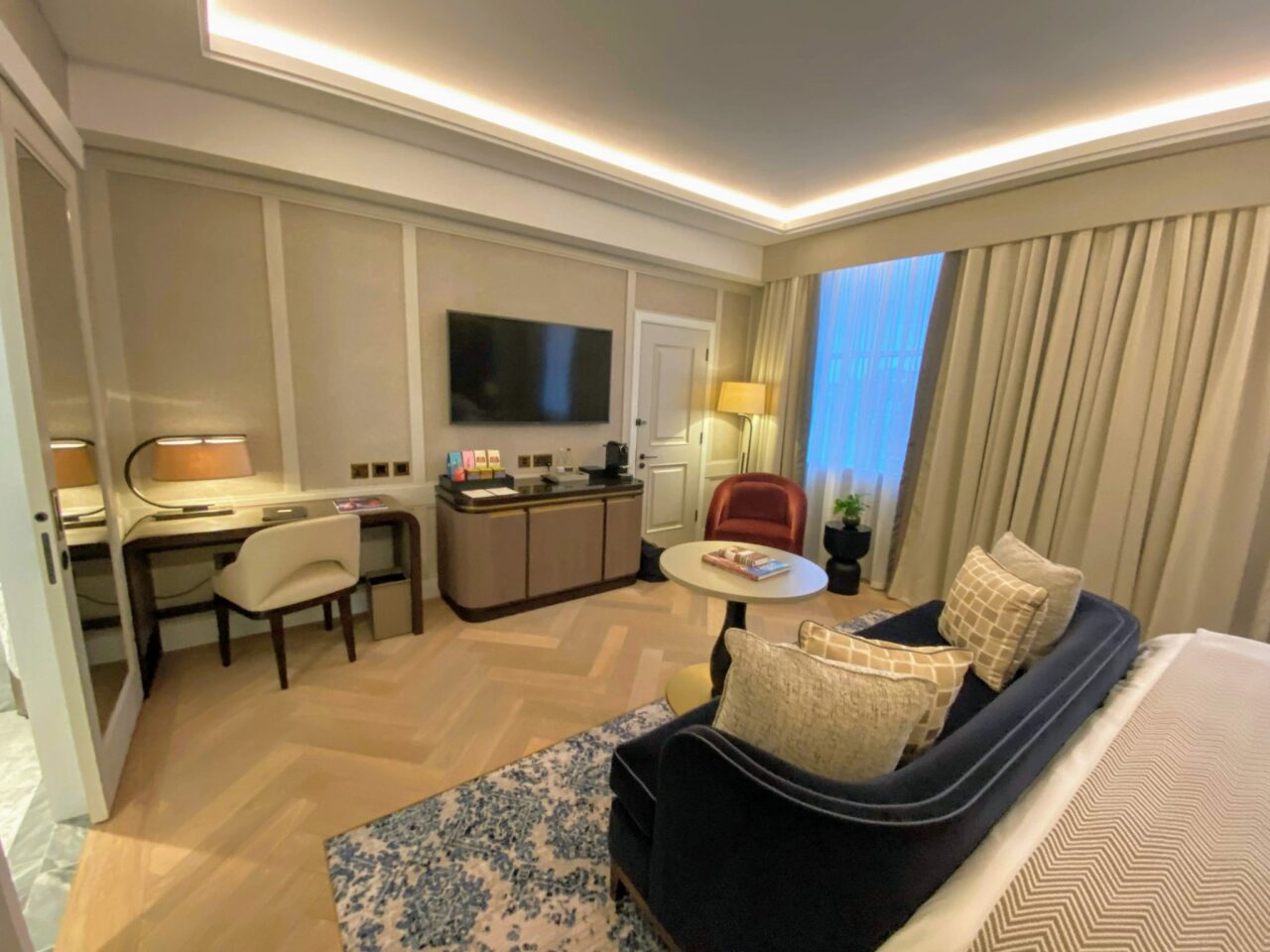 The bed was comfortable and had a radio/Bluetooth speaker/alarm next to the bed as well as the all-important sockets. I would have preferred the bed a touch softer but that is more my personal preference. Other than that I had a peaceful nights rest. So much so I really did not want to leave the next morning! I did not manage to get the late check out I wanted (and being Hilton Diamond) which I was a bit disappointed by, so ended up working in the bar for want of a better place to sit.
The TV was a large HD smart TV and there was also a laptop safe which is always useful.
Bathroom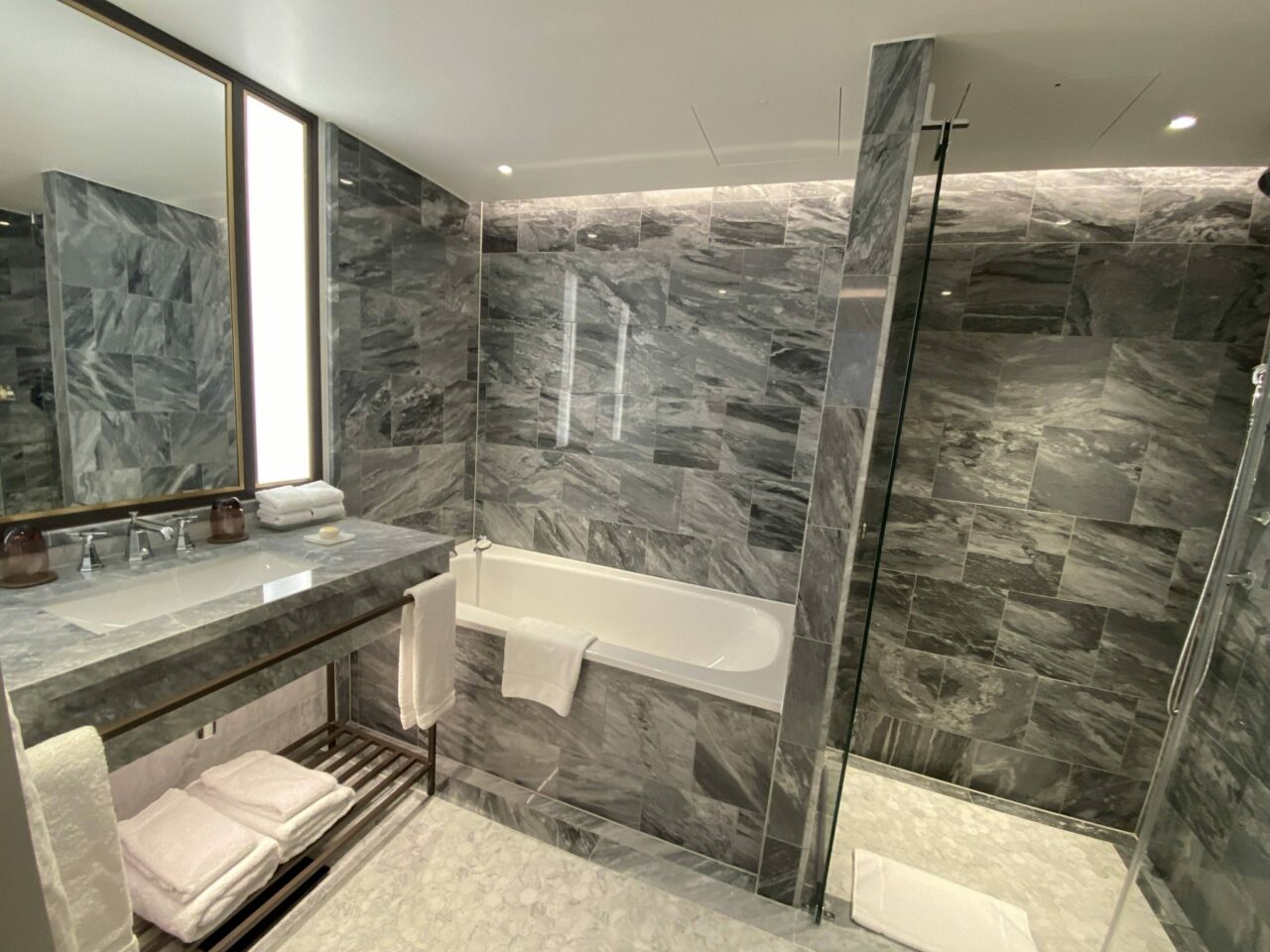 The bathroom was exactly what I would expect to see in a modern luxury hotel with grey marble and a large shower. The shower was an absolute delight, probably one of the best ones I have had for a long time. Great water pressure and plenty of room to put stuff and move around. I also managed a soak in the generous sized bath. The vanity unit was large and well lit with a separate magnifying mirror.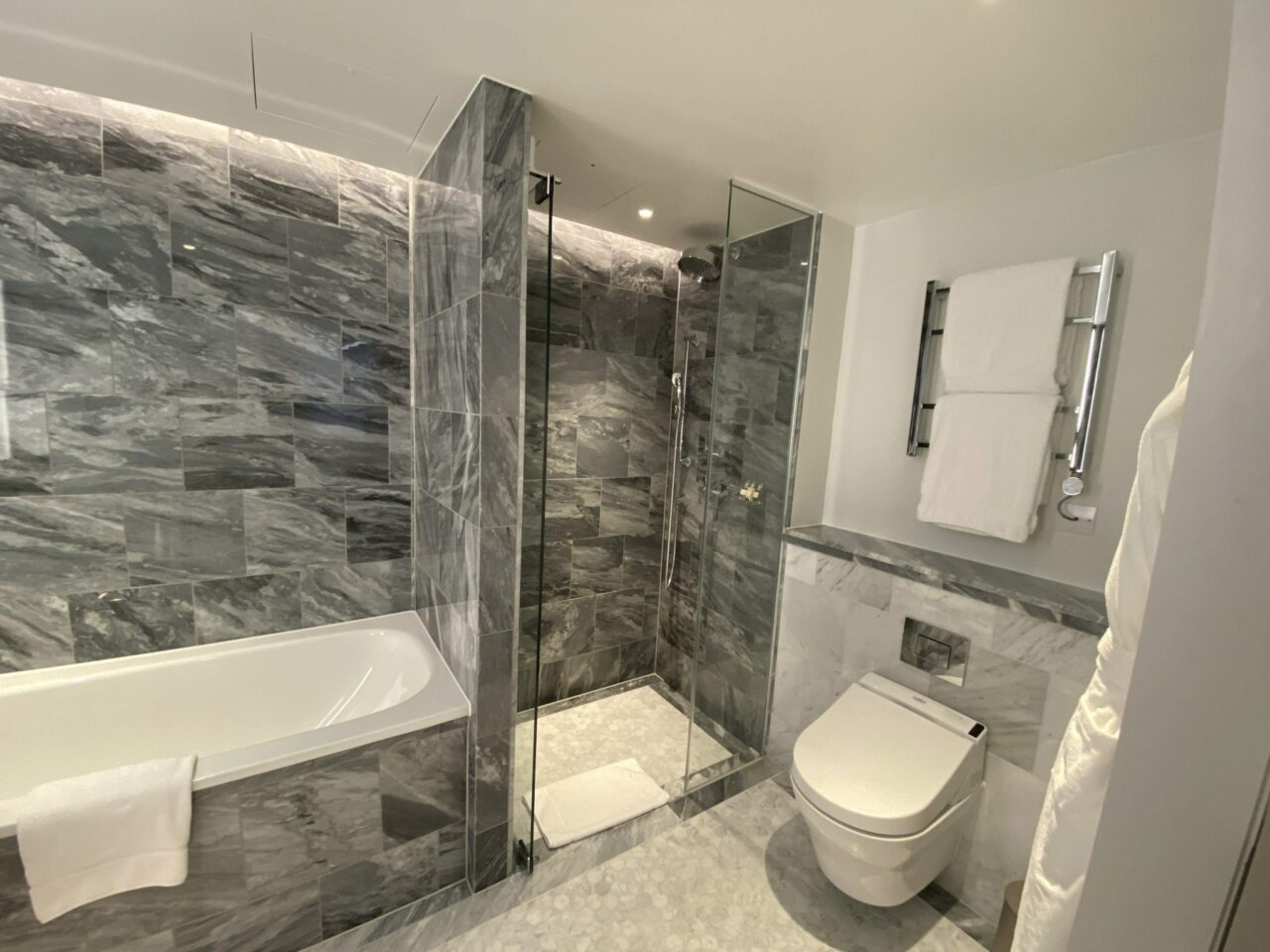 The toiletries were Penhaligons which I thought a little of an odd choice when there are so many wonderful modern brands to choose from. They looked rather old fashioned in the bathroom to me.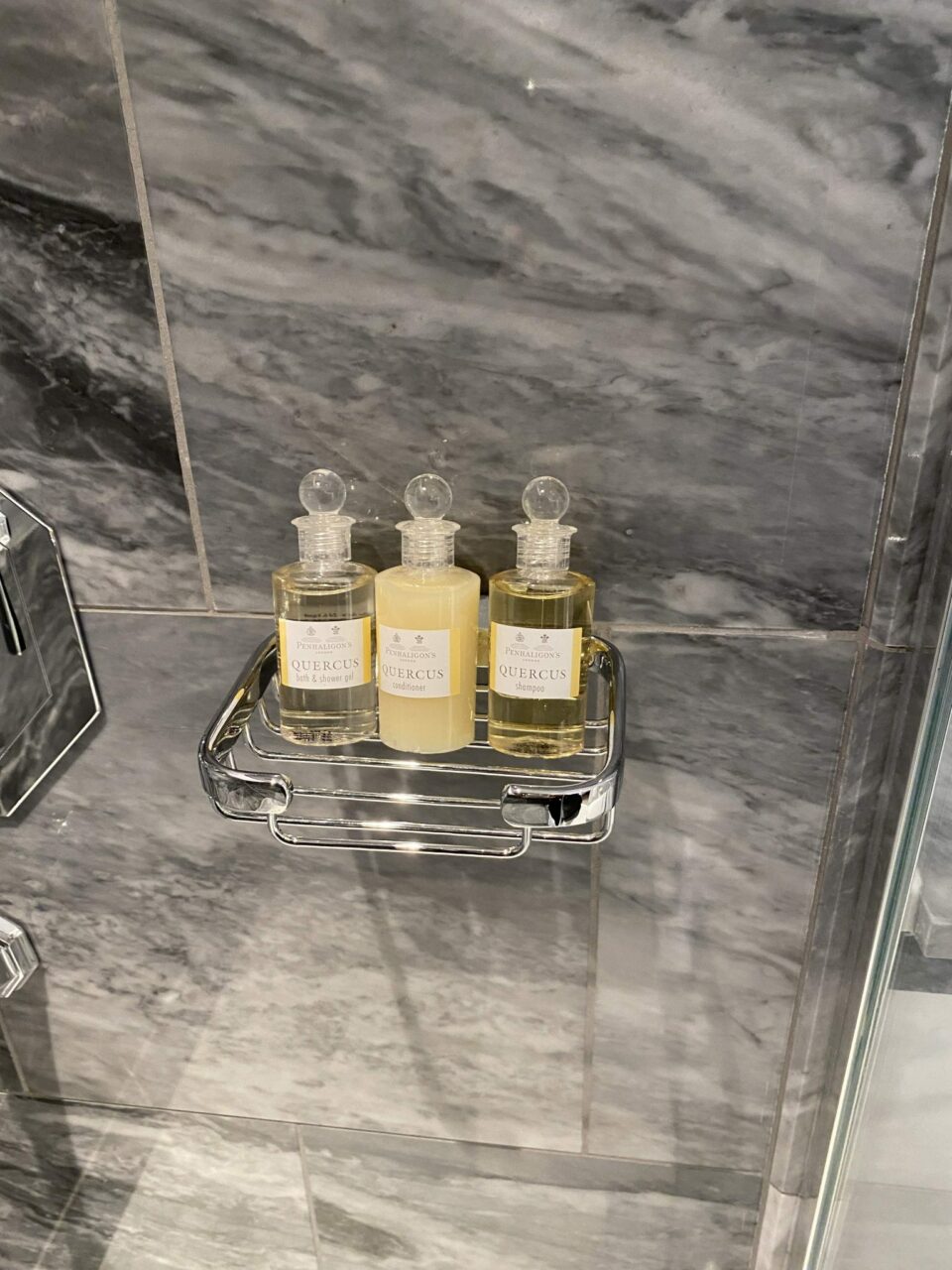 As well as the standard shampoo etc there were also some additional amenities such as a nail file and mouth wash.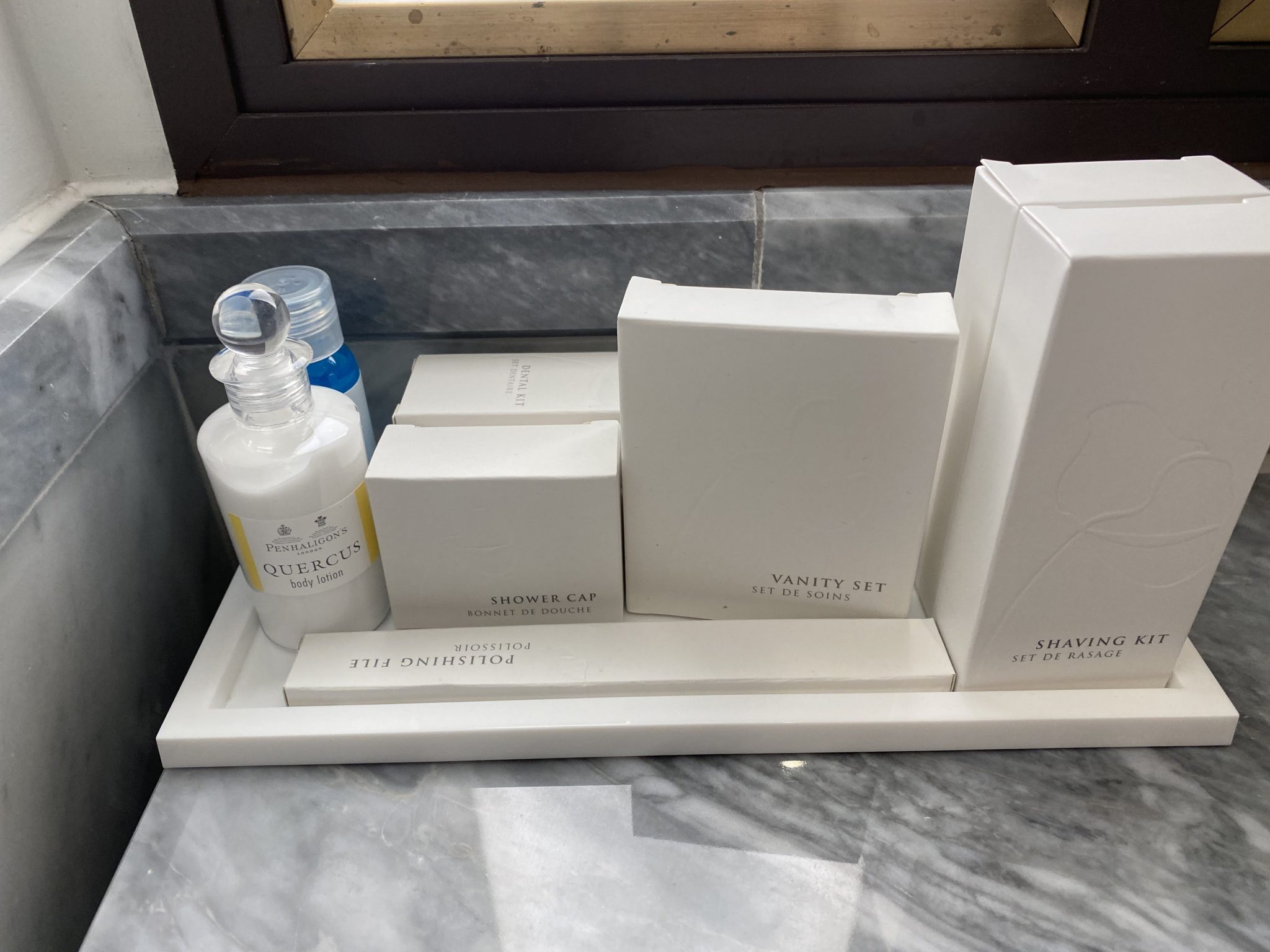 Strangely the highlight was actually the toilet!! It is not often you see a Japanese toilet in London hotels, but this had the full works with a choice of washes (!) and a heated seat. Trust me, you haven't lived until you have tried a heated seat!
Food and drink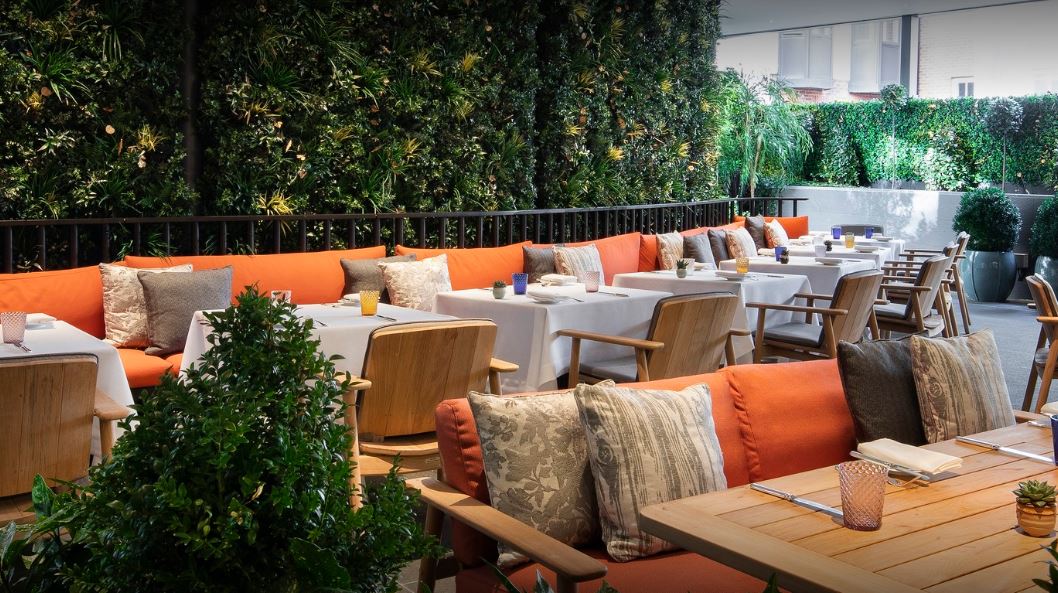 The hotel is well catered for in terms of food and drink with Jason Atherton's Betterment, an all-day restaurant features brasserie-style dining with a seasonal menu. There is also an outdoor terrace, the Pine Bar and the Tea Lounge.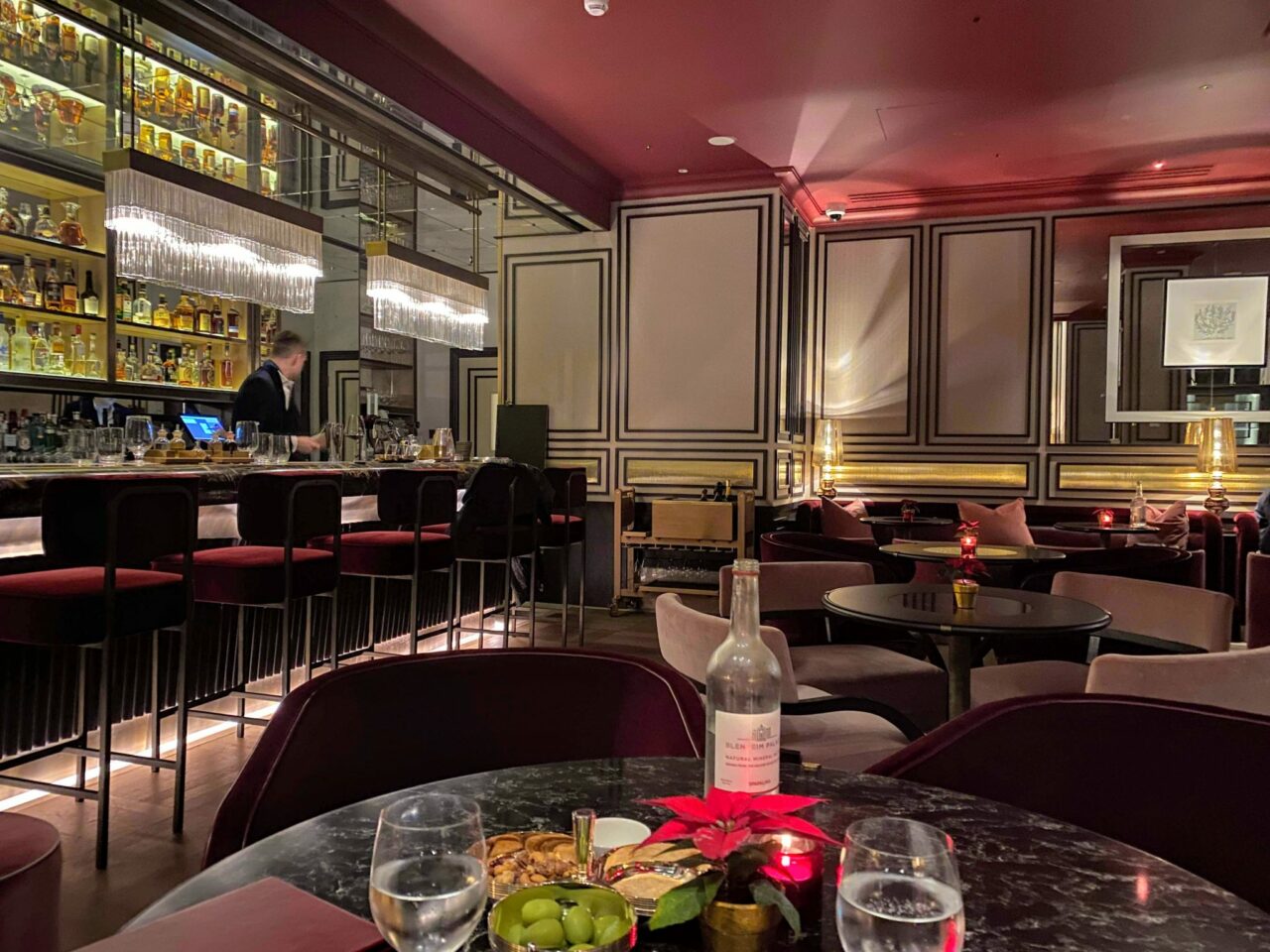 I visited the Pine Bar on two occasions and again was very impressed with the friendly service. We could not have been looked after better. They had an interesting selection of British inspired cocktails or offered to make a classic cocktail. I challenged them with a couple of classics that are often variable. A Brandy Alexander which perfect and pretty potent, and a Bloody Mary which had just the right amount of spice. Prices were not that expensive for a London hotel either, and I would pop in to enjoy the fireplace and the sophisticated atmosphere even if I am not staying here.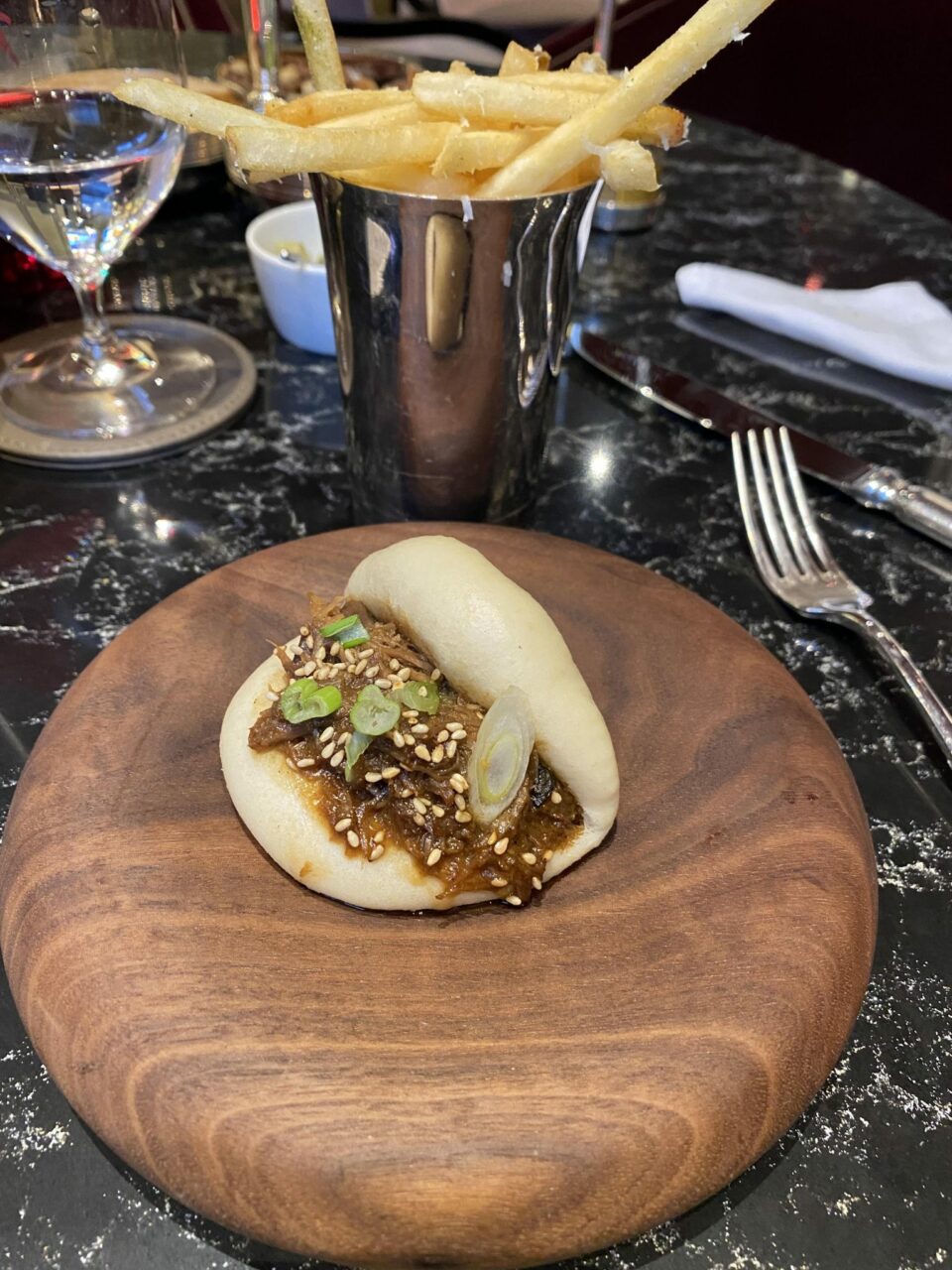 I also grabbed lunch there and enjoyed the eclectic mix of small dishes such as duck bao bun and a pulled pork taco. The food was good, but not quite there yet – the taco was a little thick and the duck a bit lacking in flavour.
Breakfast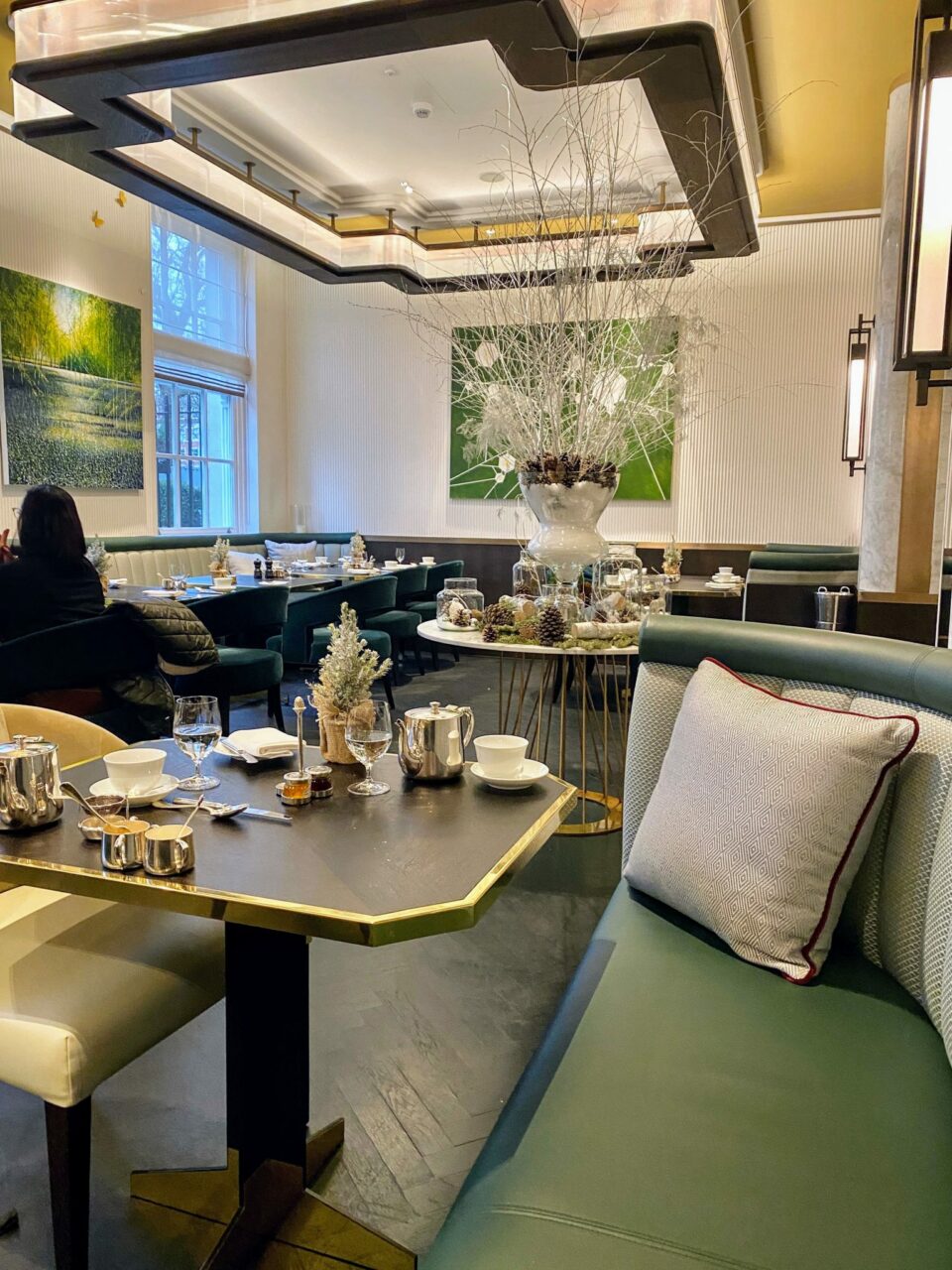 This was a slight let down for me in terms of being a Diamond member. Compared to other London Hilton's it was a bit poor. The only choice was the Continental buffet which was actually more expensive than many of the other dishes. I would prefer an amount of credit equal to the buffet. After having a look at the very limited buffet I ended up paying for a dish instead. I did like the setting of the restaurant which felt casual but elegant.
The buffet fruit selection was particularly dull and the other choices were limited too:
The a la carte looked interesting though: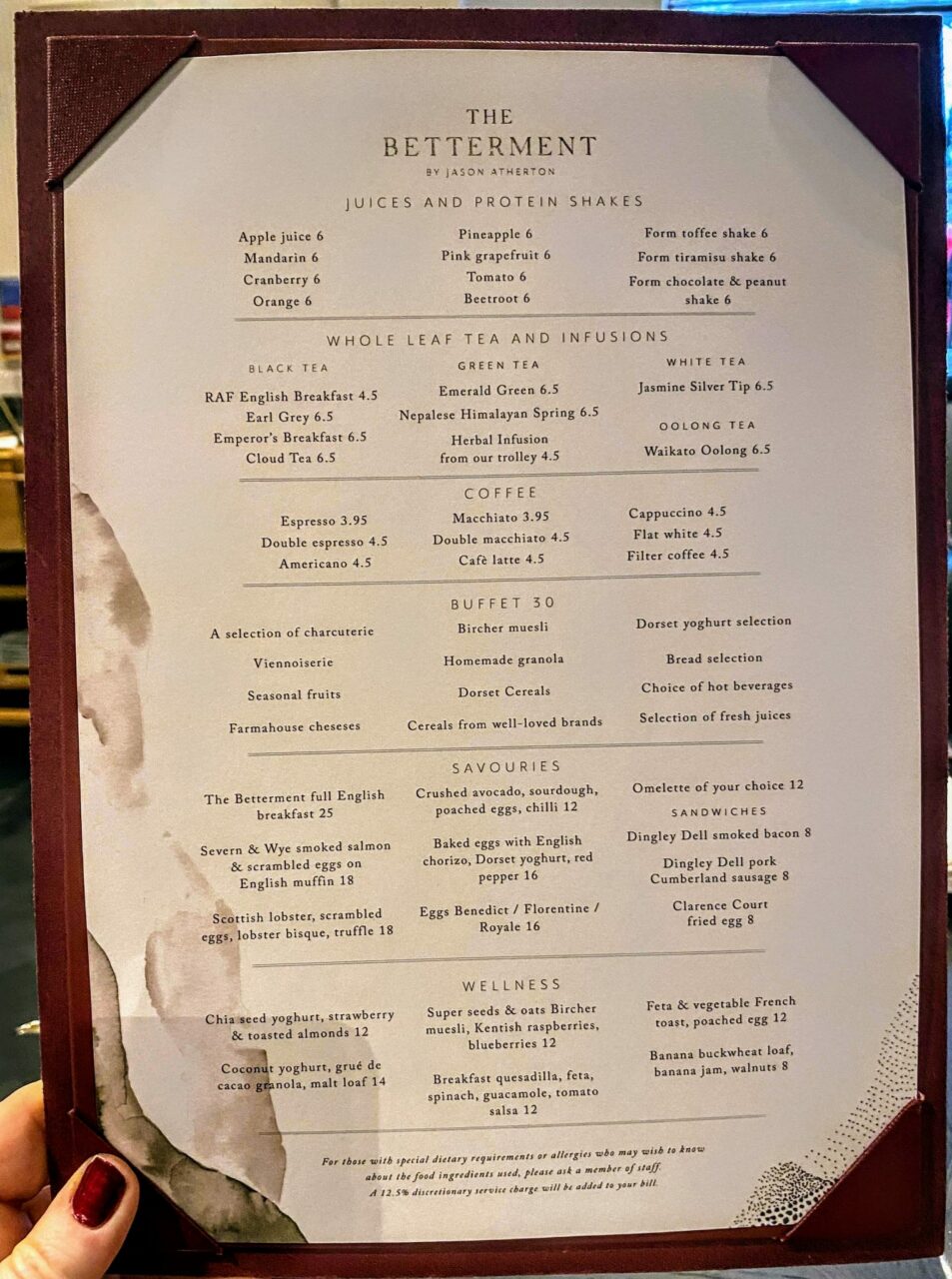 I went for the baked eggs which were fantastic, and even with coffee and juice it was cheaper than the buffet! I can't fault the service either which was also very good.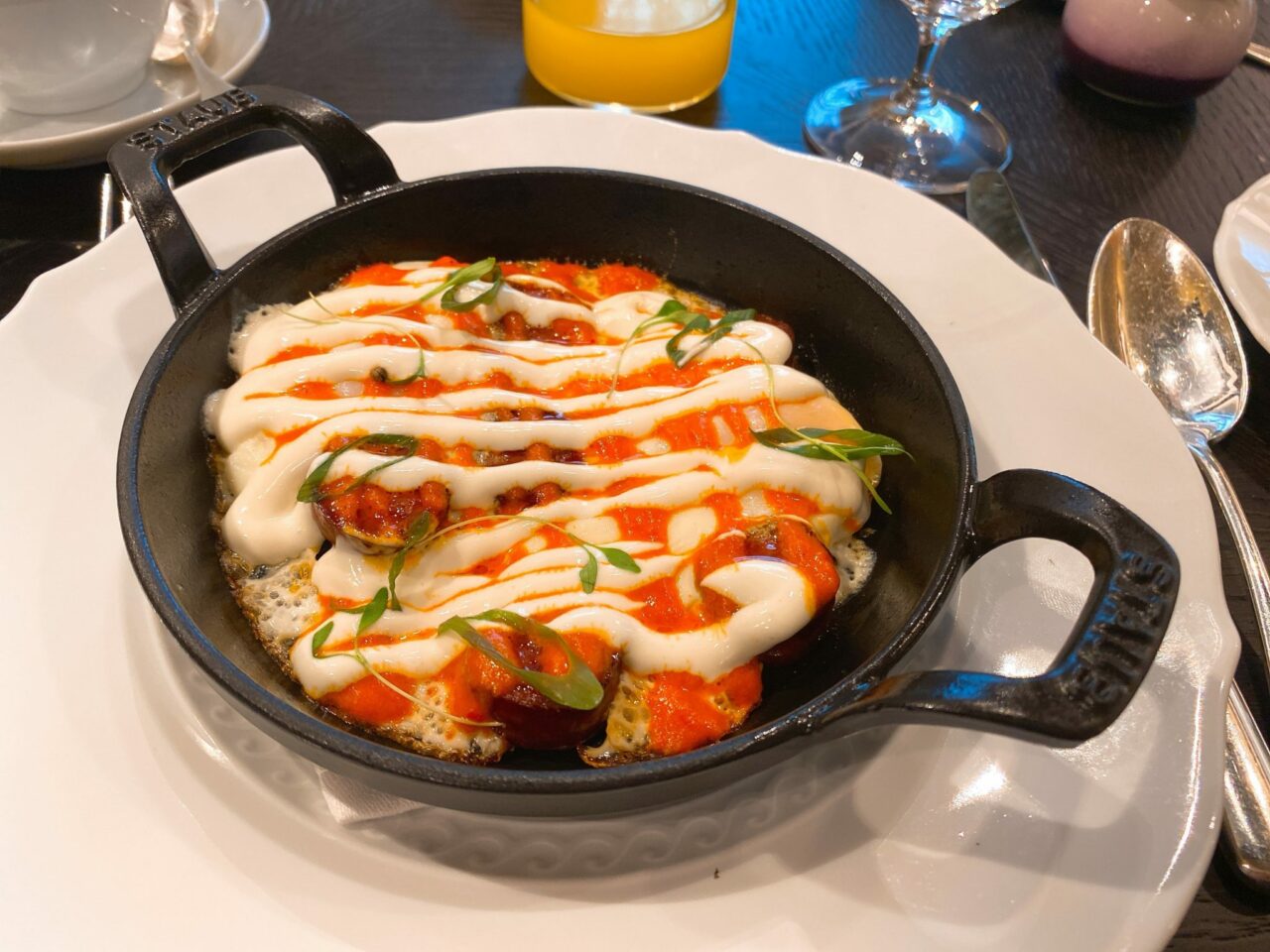 Biltmore Hotel Mayfair Facilities
The one area where they are lacking is in terms of facilities. There is no pool, no spa or business centre. You can, of course, get things printed though if you need it. There is also no executive lounge but this is not suprising at this level of luxury hotel (although The Langham has one that is next level!)
There is, however, a fantastic gym with two separate areas. The main gym with very sophisticated equipment even has a numbered strip of flooring and lines of coloured lights that interact with you during circuit training. The second room offers Les Mills fitness sessions on a large video screen. A great idea for a hotel to offer classes all day even if it is a virtual sense!
Biltmore Hotel Mayfair Booking and price
Sadly the Biltmore does not come cheap! The cheapest I have seen it so far is 95,000 points or £399. In the run-up to Christmas, it was routinely over £500 a night. For my stay, I used 111,000 points and £249 cash and this then got me over 12,000 points back. The cash price was originally £399 for a basic double but I left it overnight and it had shot up to over £500! Given that this room was about 4 categories up from the basic room, I thought this was reasonable value.
Overall I would say this is a good use of points given than the Conrad is usually at least 80,000 points.
If you join Hilton Honors (free) you get a discount when you book direct.
If you want to pay cash, your best bet is to book through a Hilton Impressario agent. These are luxury travel agents who are able to give extra Hilton benefits and you still get all the points and perks as a Hilton member the same as booking direct which is not the case with most travel agents.
The rates are flexible and for most places don't need payment in advance. The Impressario rates are available on Conrad, LXR and Waldorf Astoria brands.
The benefits are:
Complimentary Breakfast for 2 people
$100 USD hotel credit per stay, or local currency equivalent
Next category upgrade, subject to availability
Double Hilton Honors points for the clients
There are some good deals currently with $200 or three for two.
You can book Hilton Impressario rates with our partners Debonair who are part of Pro-Travel, one of the largest collections of independent luxury travel agents in the world.
Conclusion
I was very impressed with my stay at the Biltmore. When it comes to service I am quite hard to please, and I could not fault a single member of staff. It is not often to come across this level of training and personality in a chain hotel, so well done to the Biltmore! The whole hotel felt luxurious and bespoke with plenty of personality.
If the price isn't too crazy this would always be my first choice of Hilton hotel in London, with the Bankside Hilton a second and much more reasonable option!
You can find more information about The Biltmore Mayfair here.
Like our review of Biltmore Hotel Mayfair? You can read more hotel reviews here.