A review of Cathay Pacific B777-300 First class.
The mistake fare
A couple of weeks ago, a group of friends and I flew to Vietnam to take advantage of one of the most publicized mistake fares of recent times. On New Year's Eve last year, I think one of Cathay Pacific's fare pricing team may have started on the celebratory drinks a bit early, as they priced a return trip from Da Nang in Vietnam at around £600 return in First class. They also had business class for about £550. Fortunately, Paul and I plus some friends managed to book before the fare was withdrawn. We then waited with bated breath to see if they would honour it. Cathay were very clever in how they acted with the fare. I'm guessing that given it was New Year's Eve, not that many people managed to buy it before it was withdrawn a few hours later. That, and the fact it had very wide publicity, probably meant it was a way to get some seriously good publicity and goodwill for a small number of cheap fares. They made a public announcement saying they were honouring the fares.
Now, all we had to do was get to Vietnam! Eventually, I flew from Warsaw to Bangkok on Qatar for around £1300 (reviews coming soon) and then on to Da Nang with Air Asia.
Hong Kong to New York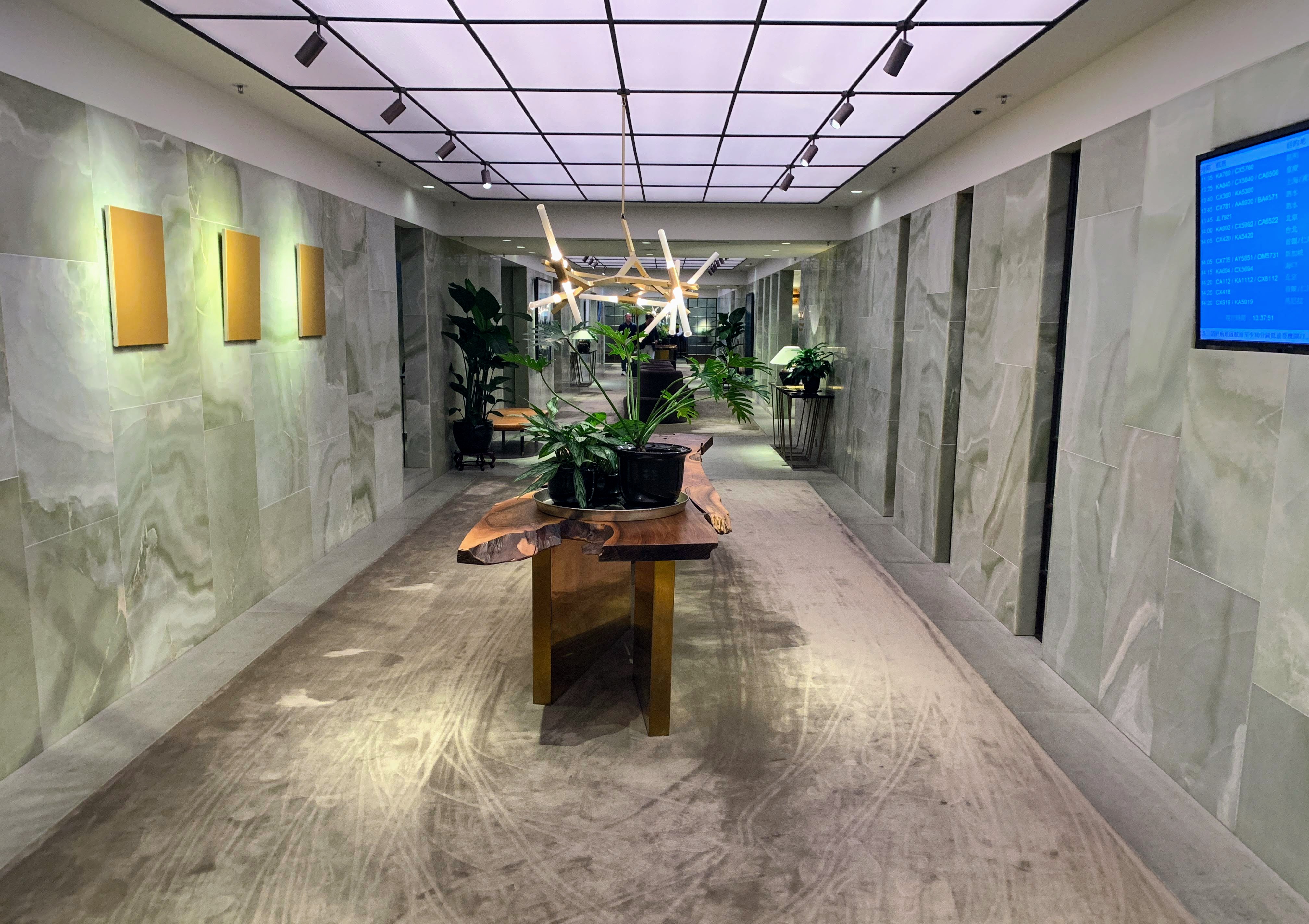 We had already flown from Da Nang to Hong Kong on Cathay Dragon as part of the ticket, so I won't talk about check-in. Once we arrived in Hong Kong we rather foolishly decided to go The Pier first class lounge as we had thought we could get a free buggy ride to the gate. It was about a 25-minute walk to our gate but sadly no more free buggy rides for first class! You can read my review of the two Cathay Pacific first class lounges here.
On this visit I had a new dish – Clams with chilli and boy, were they spicy! I followed this with most Cathay flyer's favourite order (and available in many Cathay business class lounges including London) – Dan Dan Mien noodles.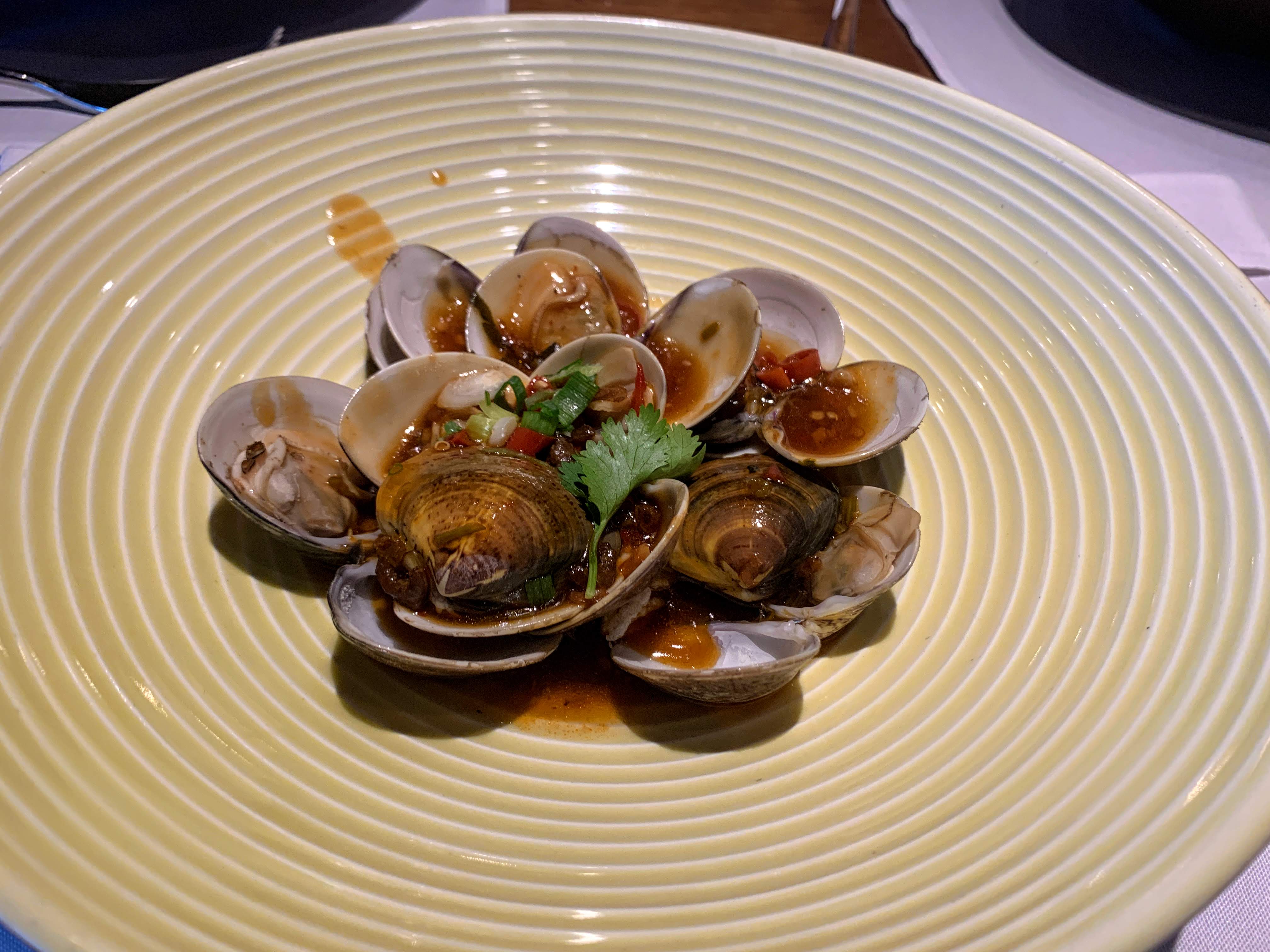 As I tried in vain to get an appointment for a foot massage. People that moan about BA's Elemis spa appointments should try the Cathay Hong Kong First lounge. I have never managed to be offered an appointment less than 4 hours in advance. Quite frankly they should get rid of it, as all it does is wind me up every time before I have even got on the plane! If they limited it to those flying in Cathay First it would solve the problem.
Once we had walked almost the entire length of the airport we arrived at the gate for boarding!
Boarding Cathay Pacific B777-300 First class

As always with Cathay, boarding was orderly and organised into groups starting with First and Emerald oneworld. Once at the door, I was shown to my seat and greeted by the crew. A welcome drink was offered and I gladly accepted a glass of the Deutz Amore de Deutz. The champagne was poured at the seat and served with nuts which were a nice touch. I really enjoyed the champagne which I thought on a par with BA's Laurent Perrier Gran Siecle although less well known. Sadly they have stopped the Krug they used to serve.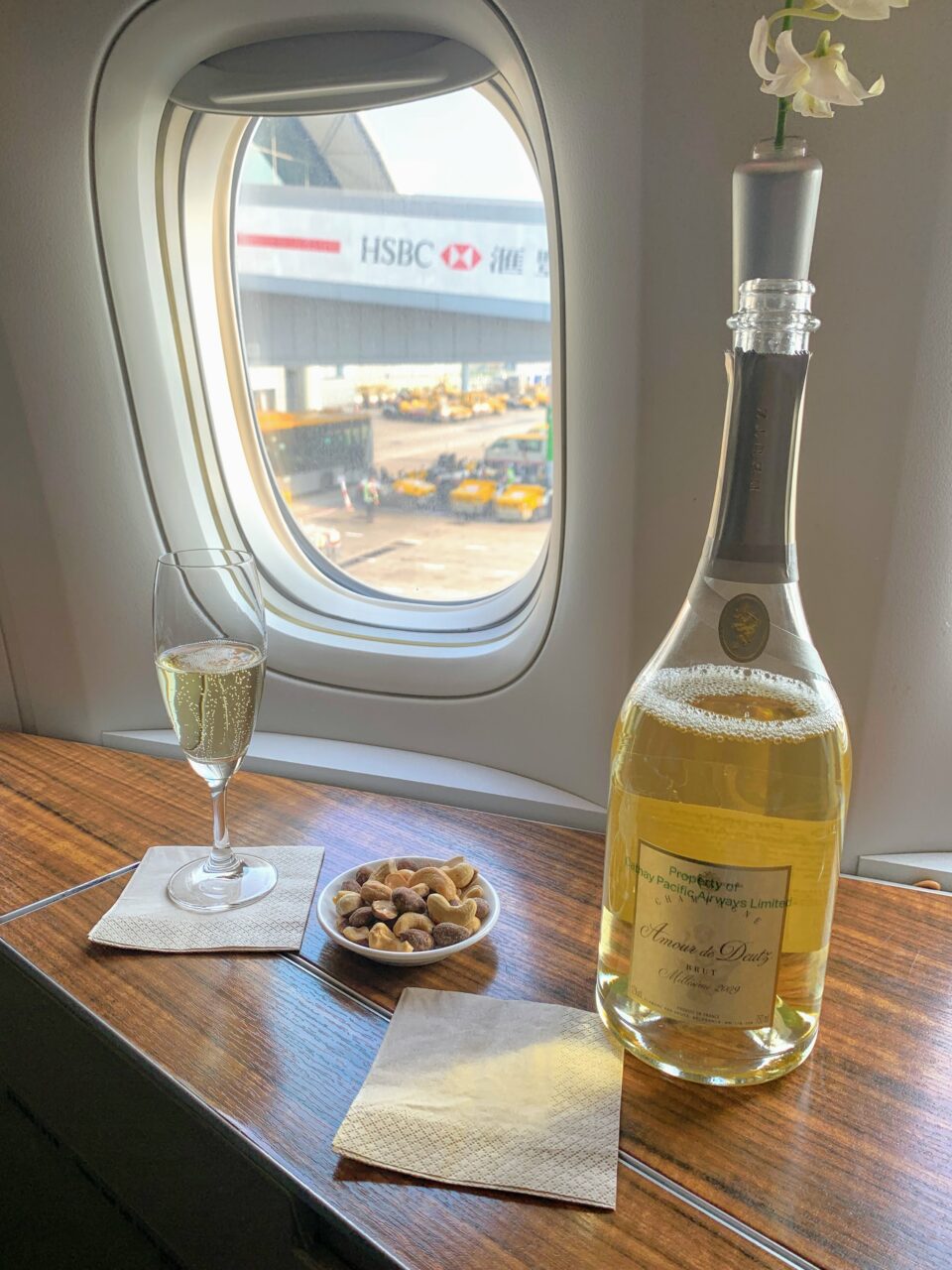 I was presented with an amenity kit, pyjamas with slippers and pillow mist before take off along with the menu. The pyjamas were quite unusual with a mandarin collar in silky navy fabric. My two friends looked like a pair of waiters from a Chinese restaurant in theirs!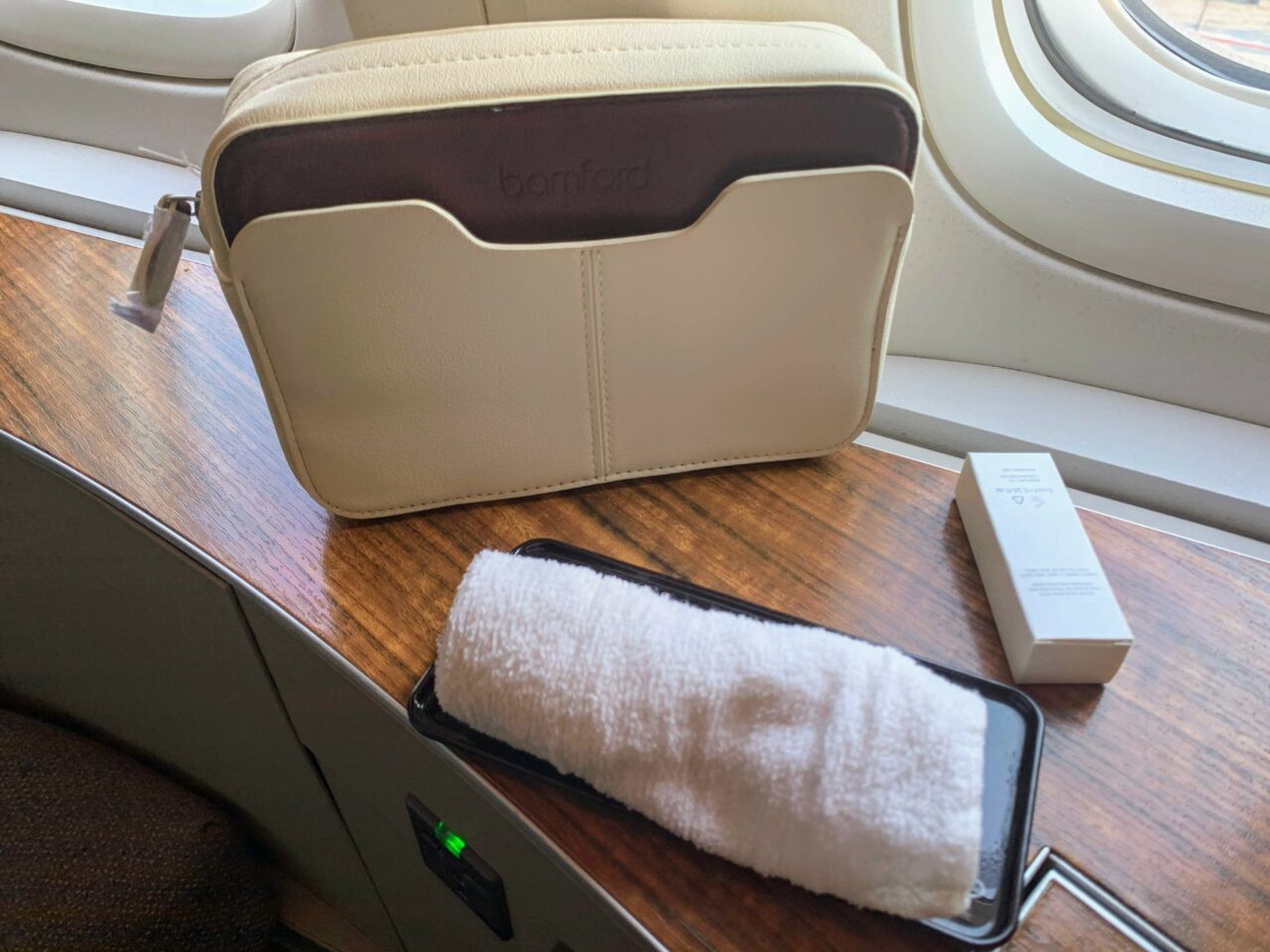 The amenity kit was an elegant leather bag and filled with Bamford toiletries. I was impressed with the range of contents and pleased that it was Bamford. Bamford are similar to Aesop in terms of great natural fragranced products that are highly effective.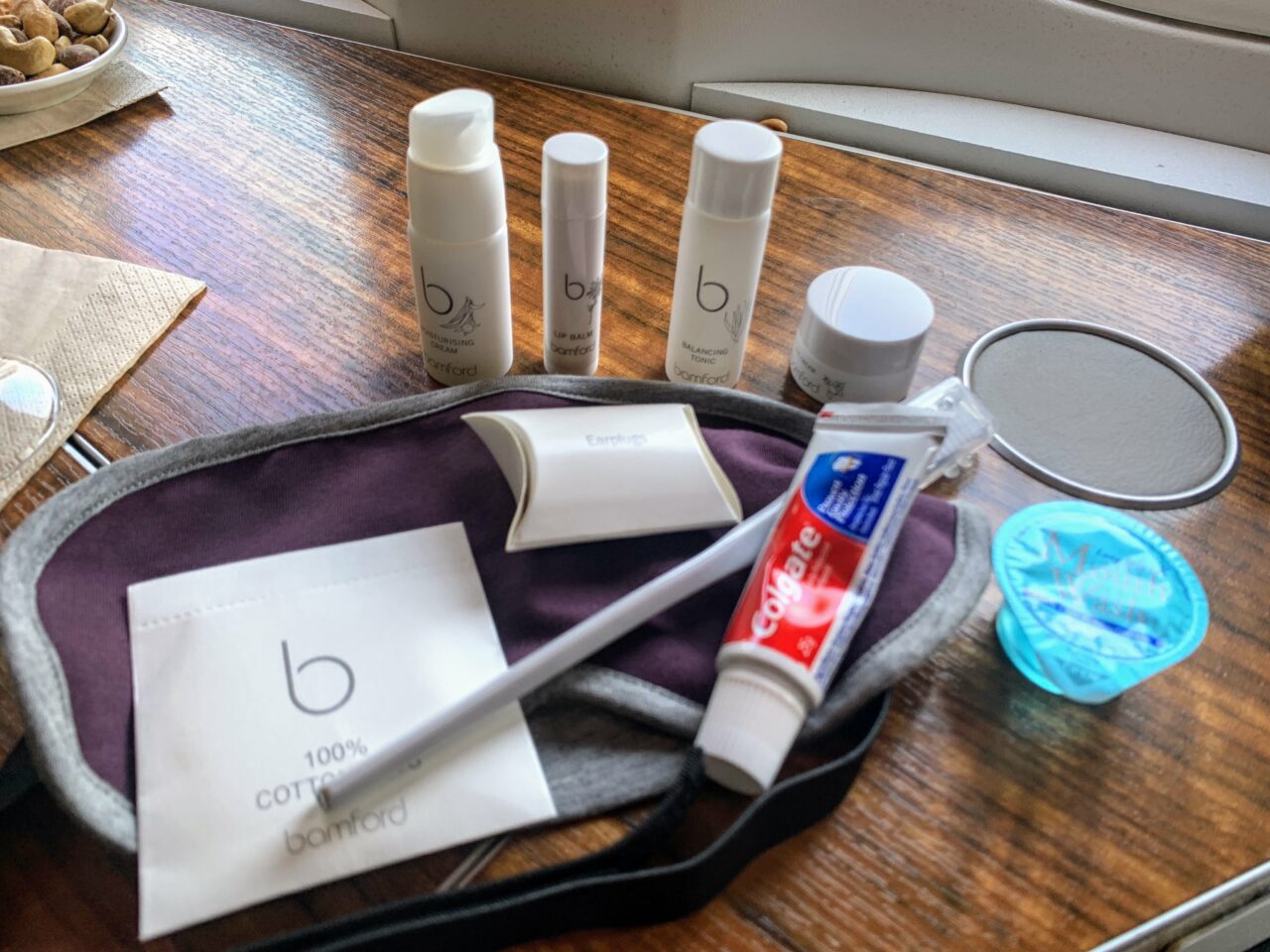 The ladies kit contained:
Mouthwash
Toothpaste
Toothbrush
Eye mask
Earplugs
Moisturiser
Eye cream
Toner
Lip balm
Cotton wool
Here is what you get in the men's kit: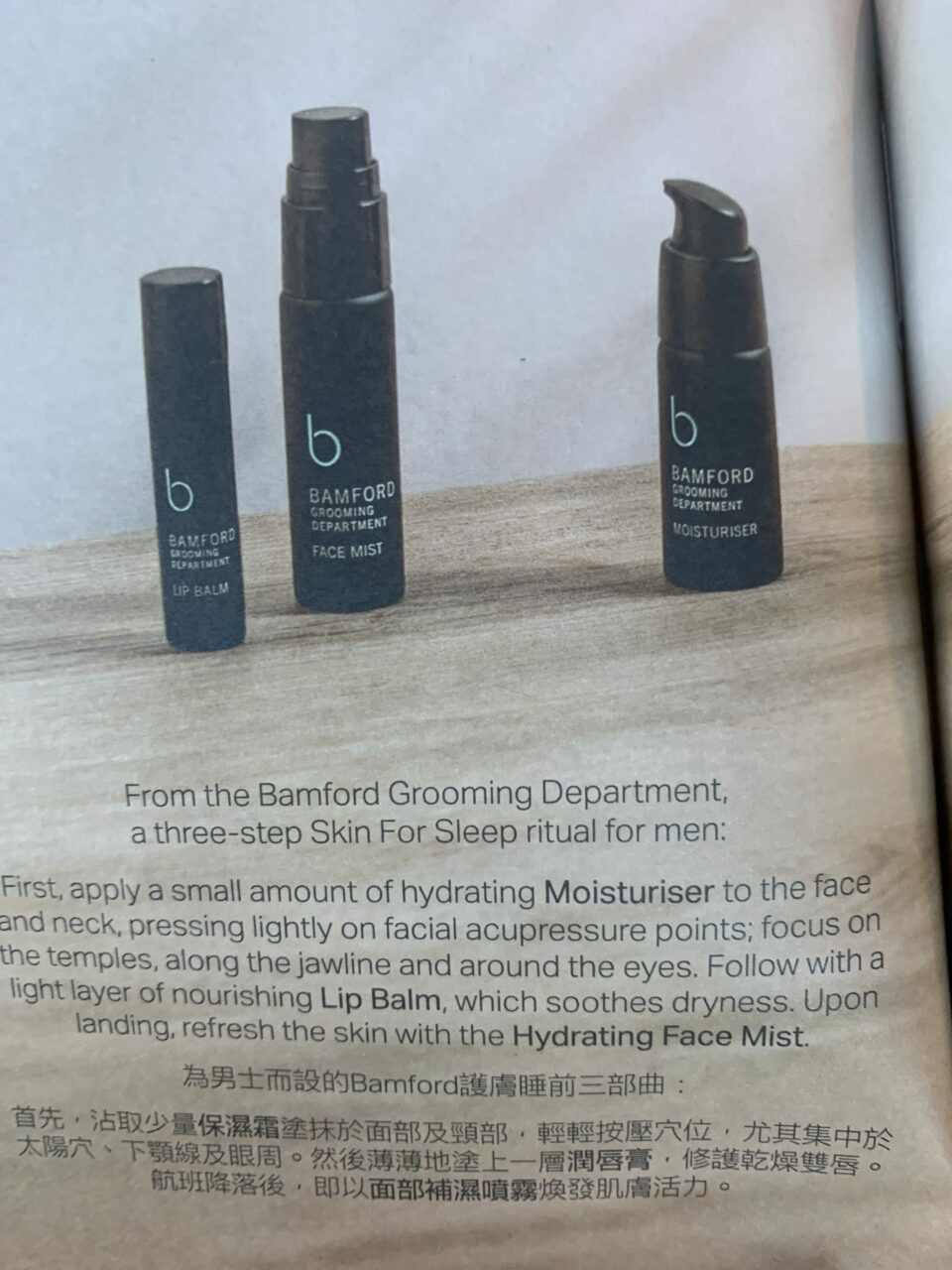 Before take-off both the senior cabin crew member and the cabin crew in first class, came across to say hello and introduce themselves. I was also presented with the menu and asked for my choices just before take-off.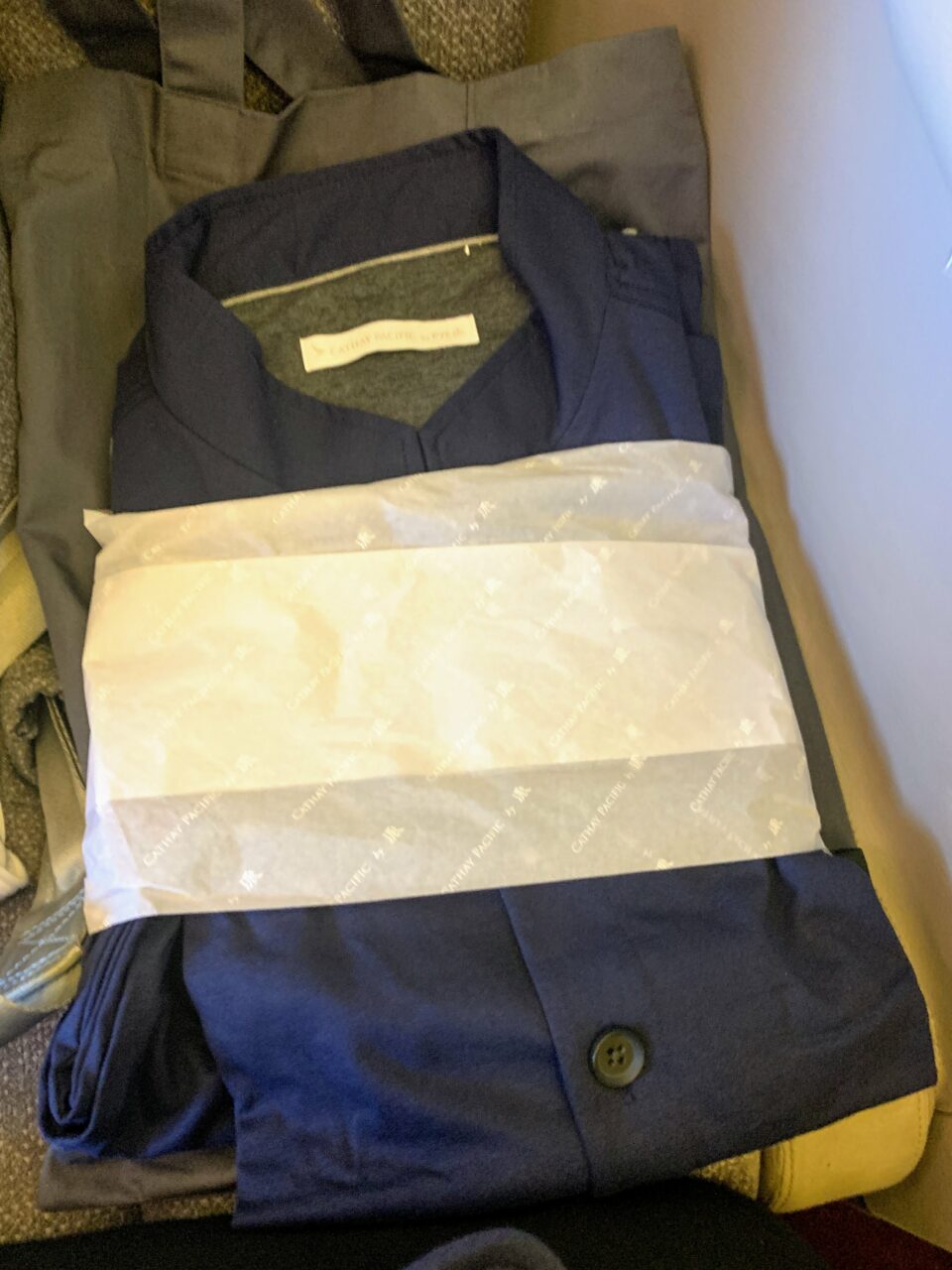 Cathay Pacific B777-300 First class Cabin and Seat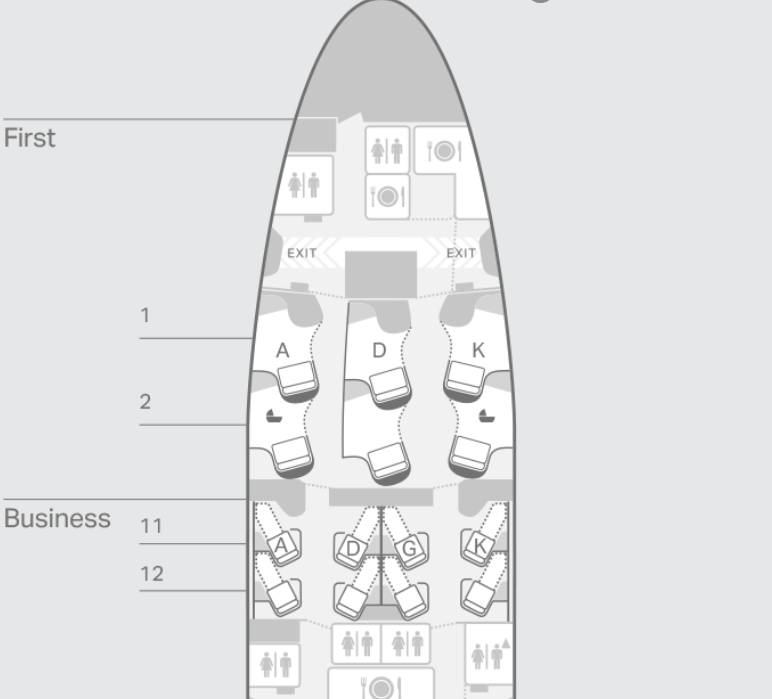 I had chosen 2K which you have to select by calling as it is designated as a bassinet position. When I went to check in I could see that I had been moved to 2D, the middle seat and the two window seats on the K side had been blocked. I had tried at check-in and the lounge and not been able to swap. This is quite common as it usually indicates that the seat is not working.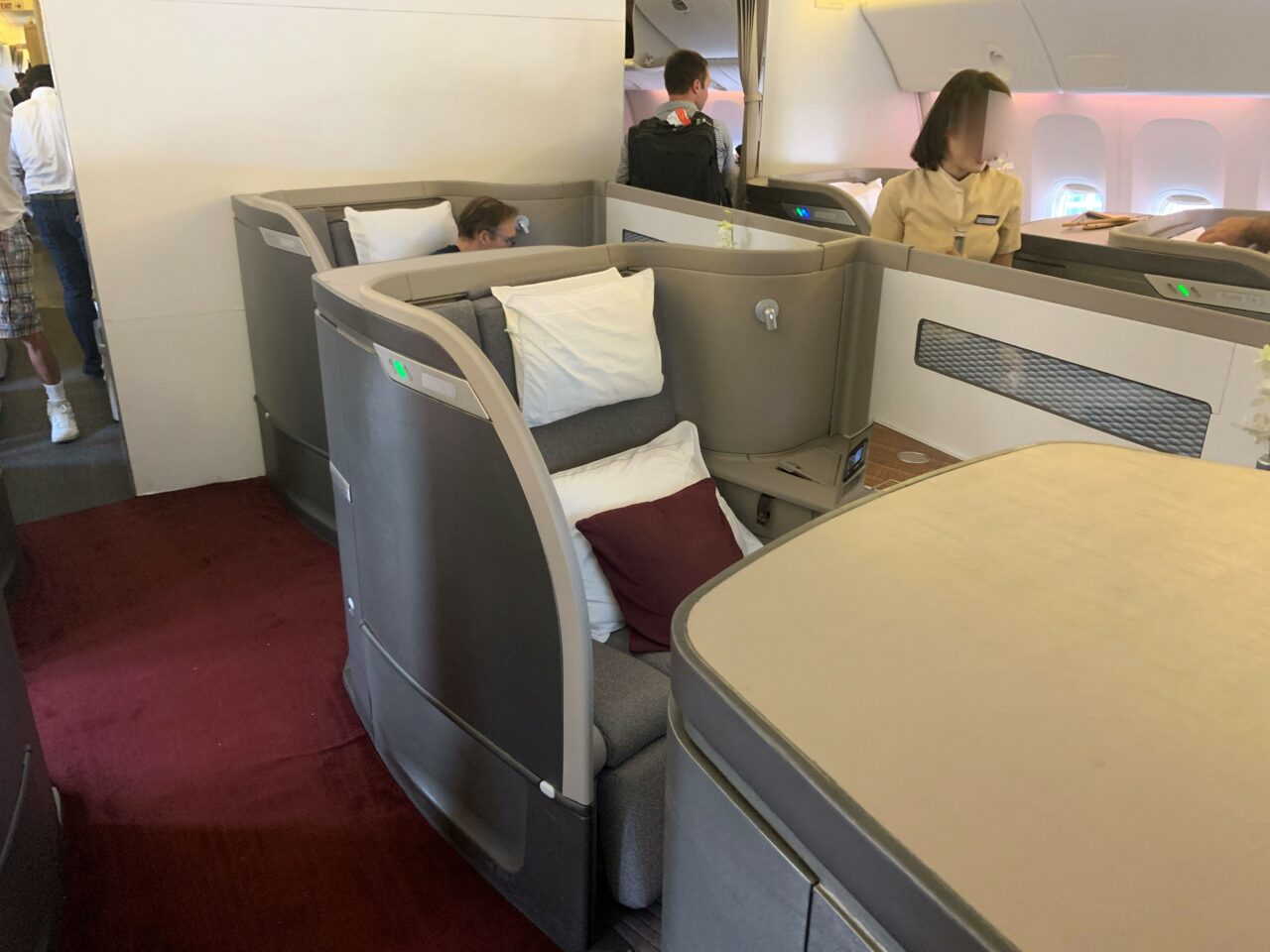 Once onboard I asked about what was wrong with the seat and whether it was OK to sit there for take-off. It turned out the only thing wrong with 1K was that one of the reading lights did not work. So I quickly moved over to enjoy the window view.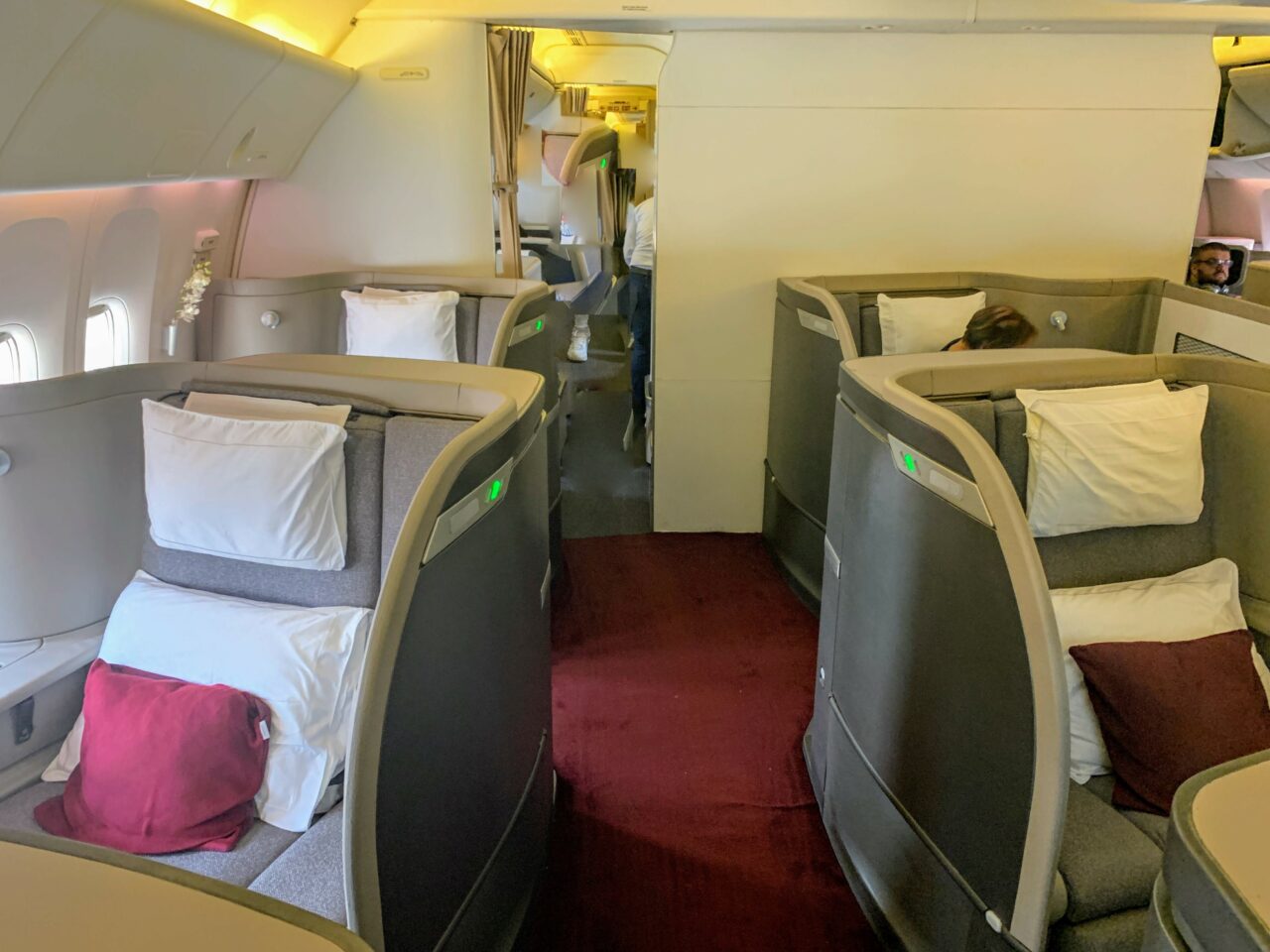 The cabin is small with only 6 seats in a 1-1-1 configuration. The seats are not as fancy as the suites you get on Emirates or Singapore but they felt spacious and reasonably private. The cabin itself was definitely understated and I couldn't really say it had any wow factor or was particularly attractive. I recommend the A side if you want more privacy as there is a screen down the middle of the cabin on the left side of the D seats.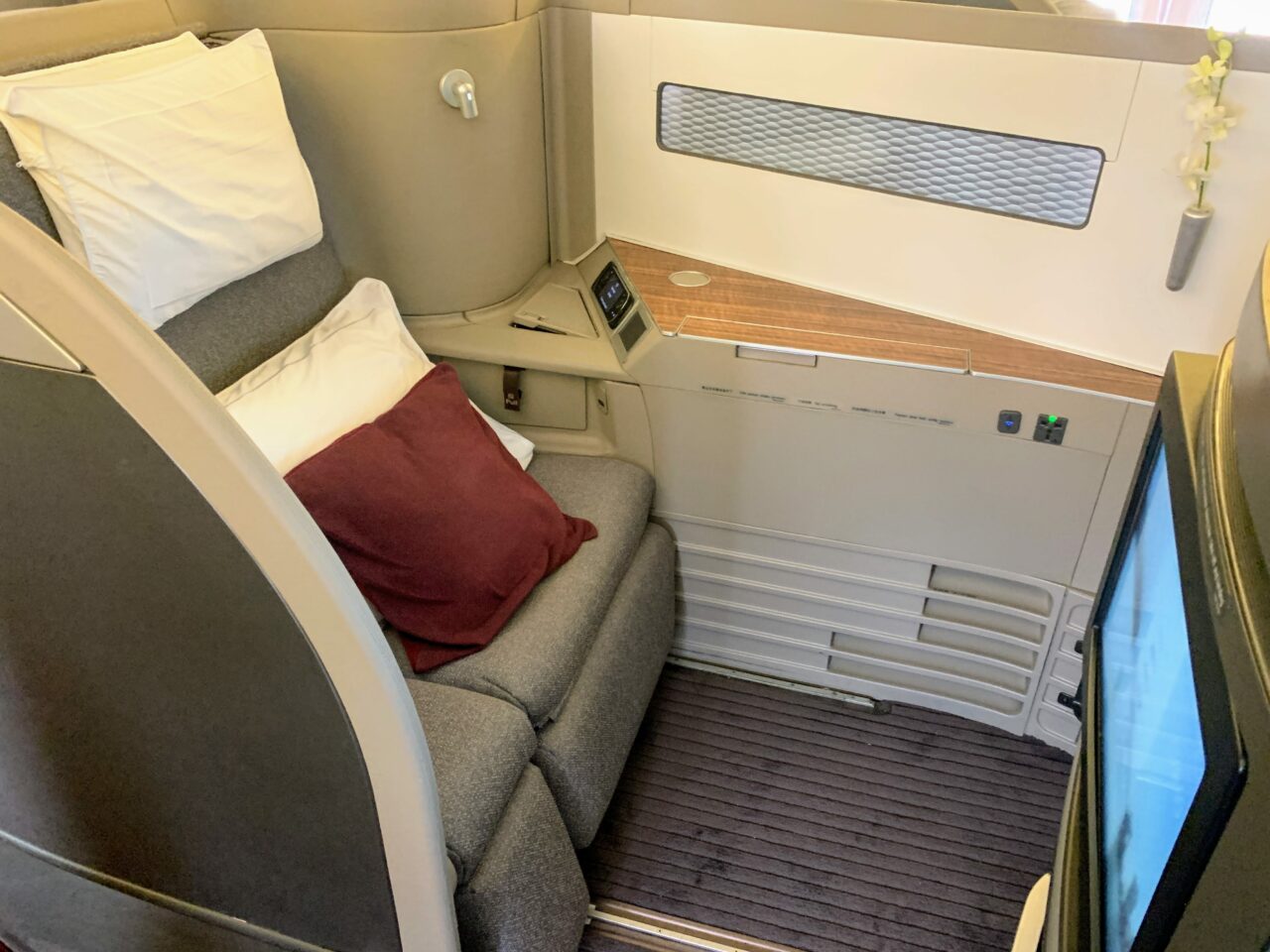 The middle seats have the divider which I actually thought whilst it looked nice, having a sort of frosted glass meant you got more glare in the middle seat from the A side if people had the shades up or the light on whilst you are trying to sleep.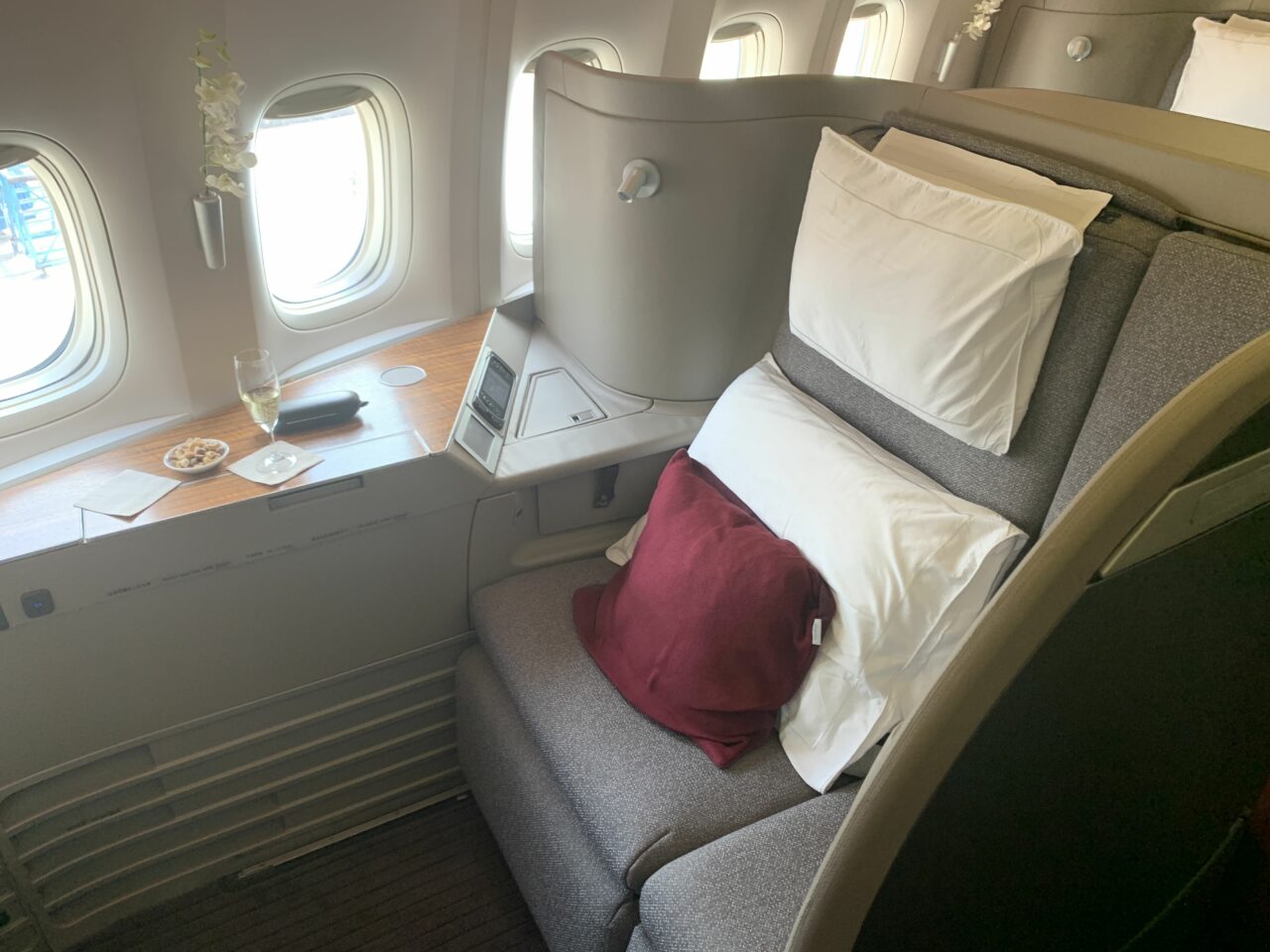 I found the seat comfortable for sitting and the seat controls were easy to use. I liked that you can control each element separately such as the footrest but also have preset positions. The seat had a wide padded side inset which made it very spacious for stretching out (I could sit with my legs curled to my side or when sleeping.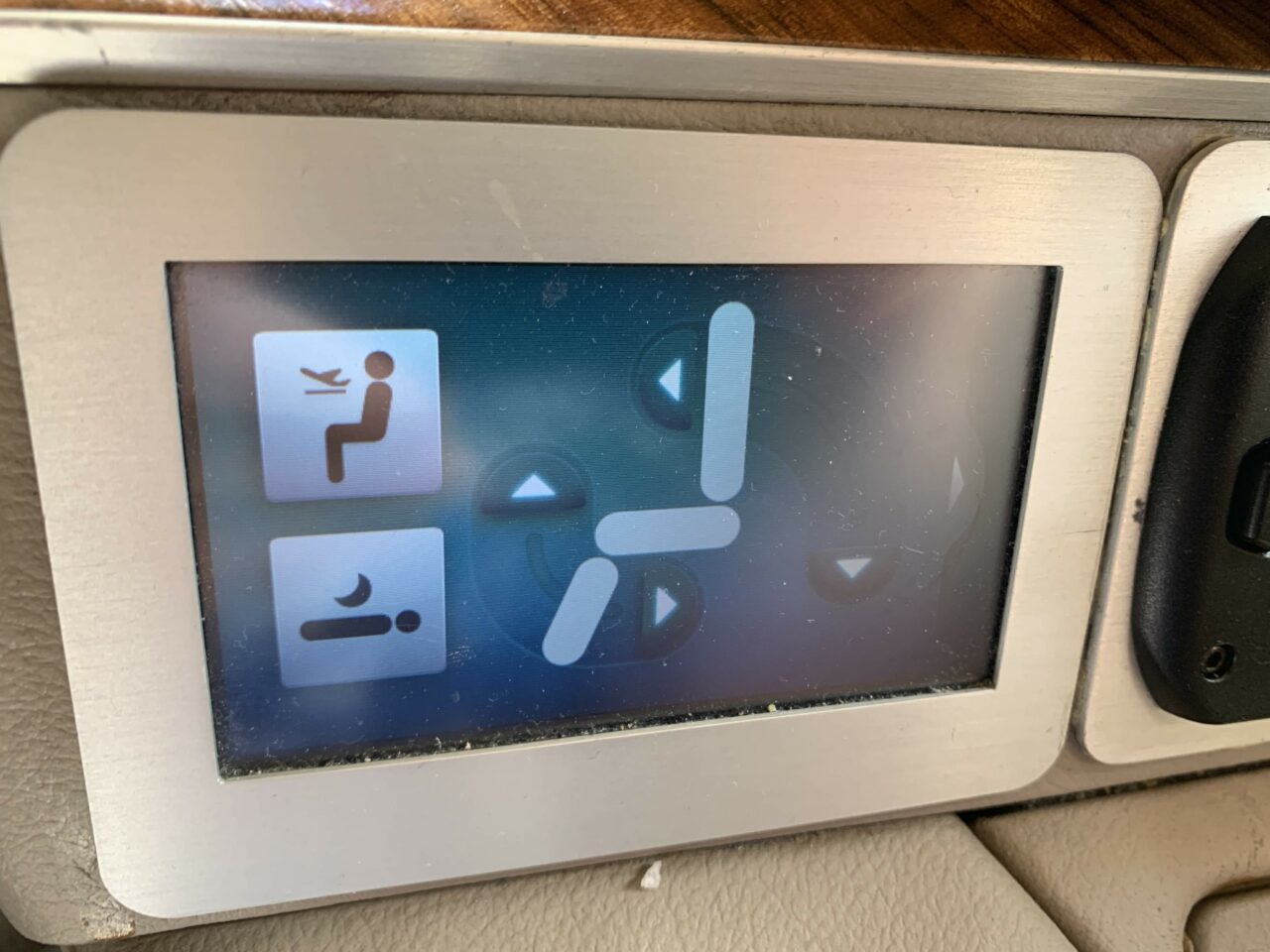 There was plenty of seat storage. In fact, it confused me when I first sat down as I wondered where the overhead luggage bins had gone! Each seat has a large wardrobe big enough for a wheelie bag and another bag. I liked not having to lift it up into a locker.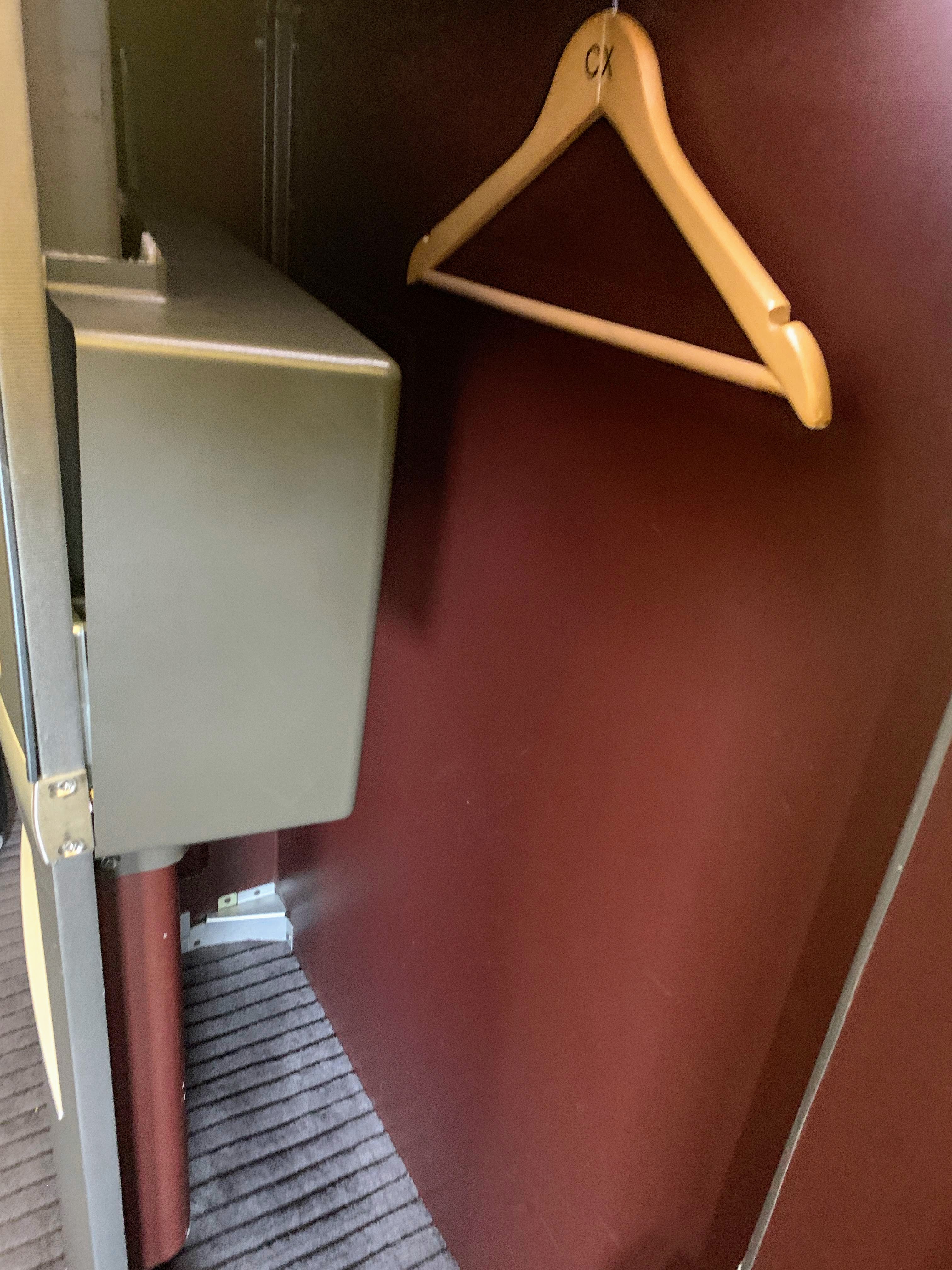 You could also store stuff under the footstool.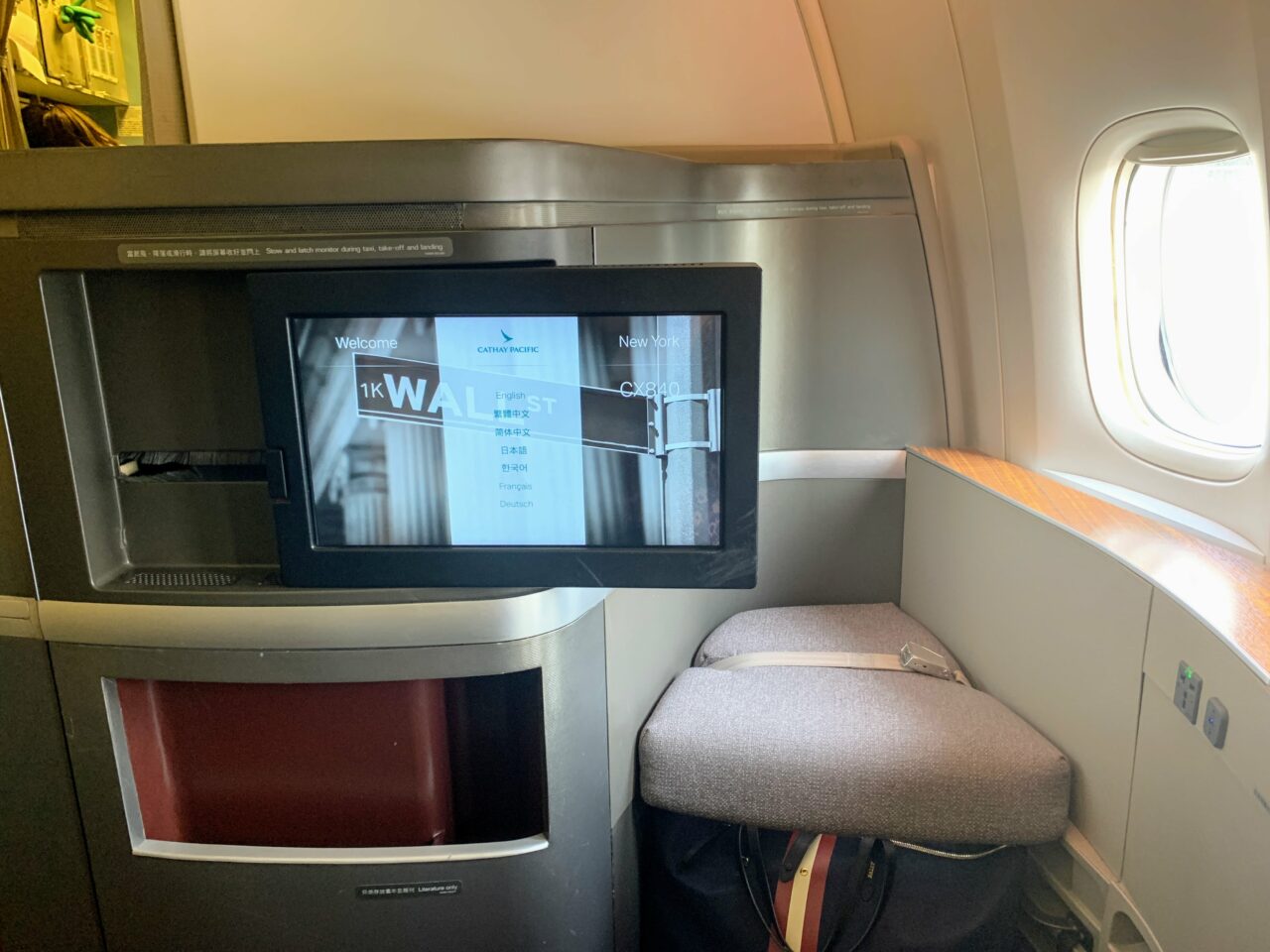 There was a small storage bin next to the seat and obviously, after take-off there was loads of room on the shelf to have your belongings.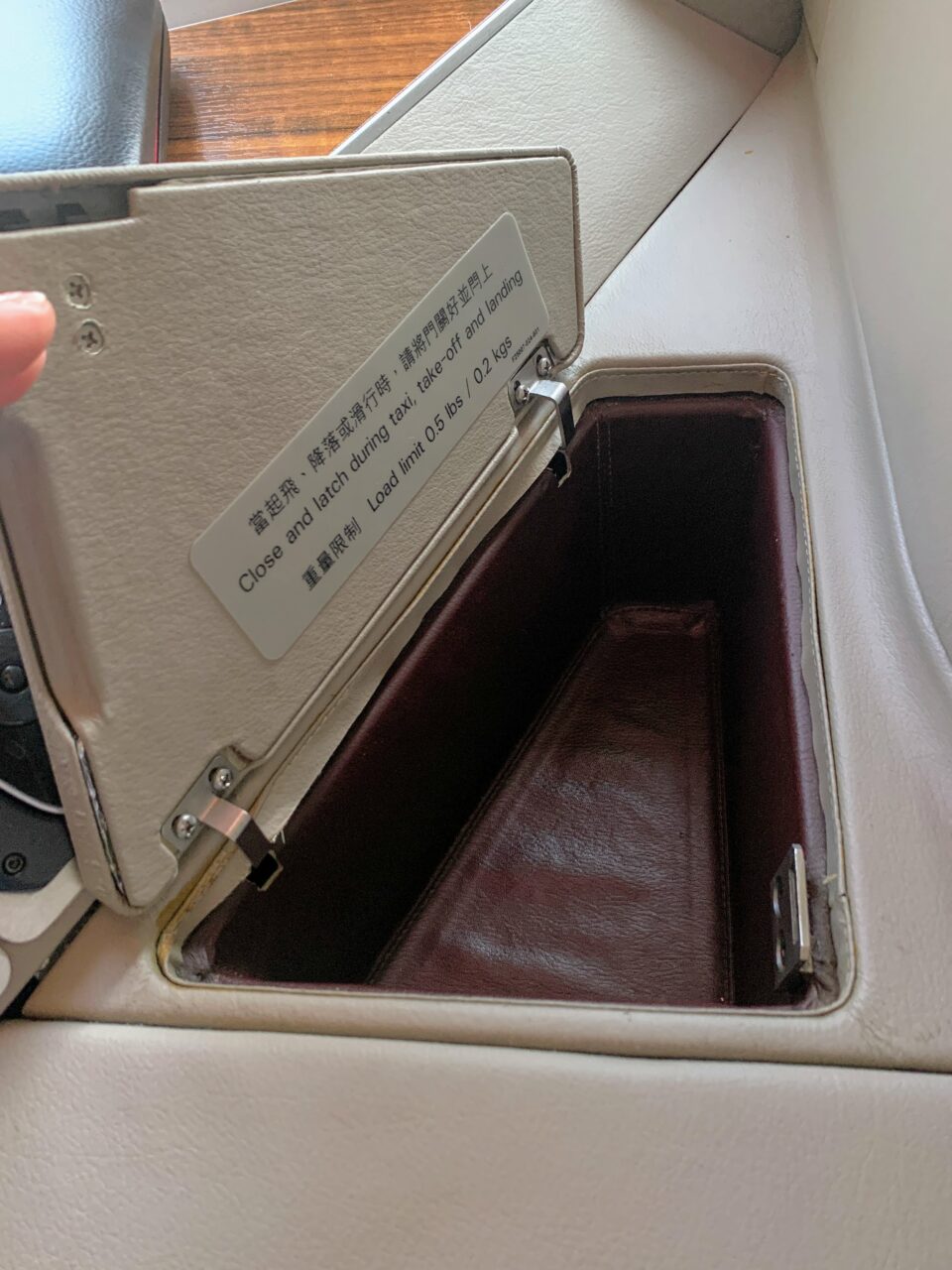 I loved that there was a fresh orchid at my seat too!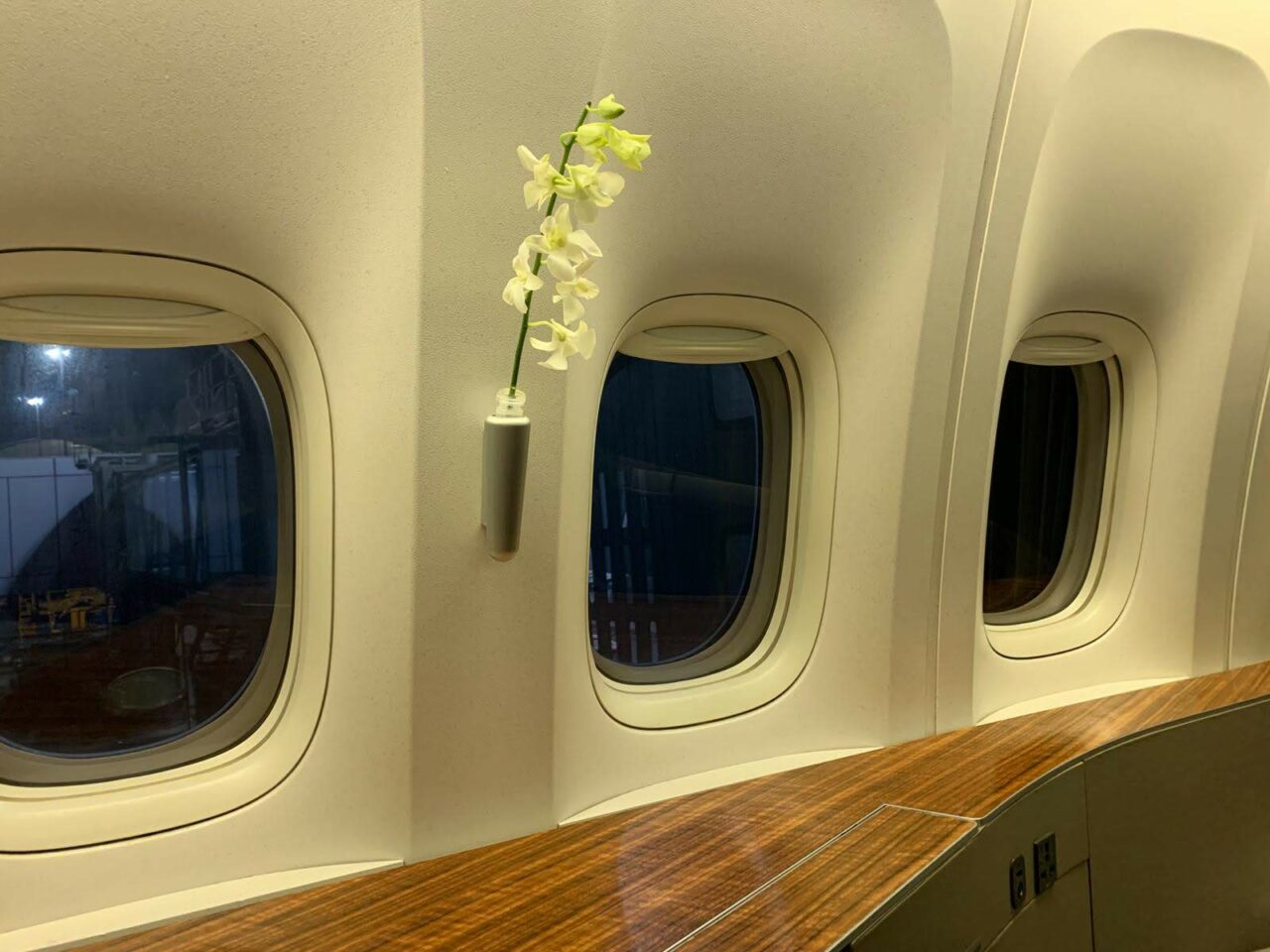 Sleeping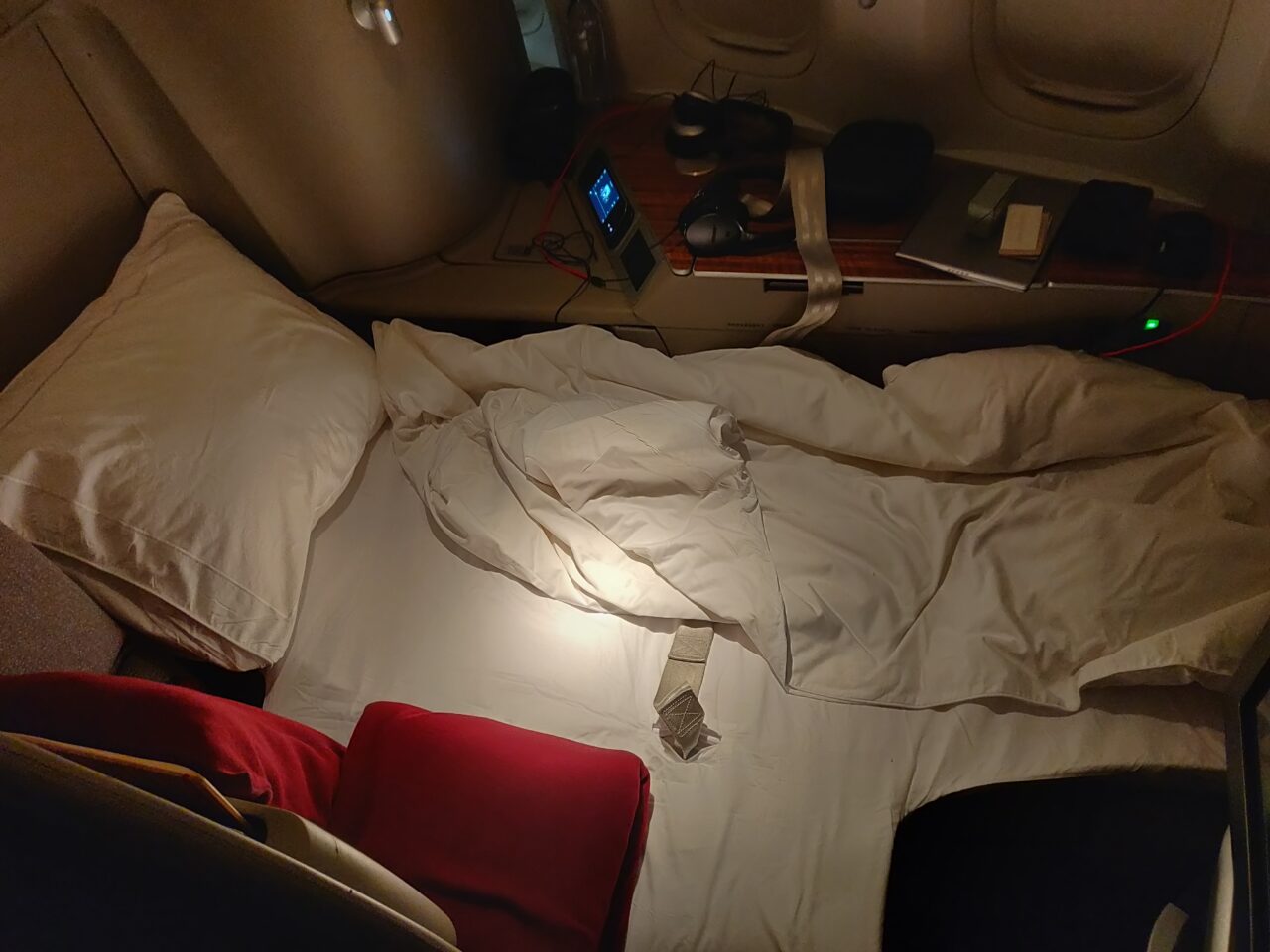 One of the most important things for me is how comfortable the seat is for sleeping. No matter whether it is a day or night flight I always try to have a short sleep on long-haul flights. These were around 15 hours. The important thing to beat jet lag is when you sleep during the flight. If you are landing in the afternoon/evening, I like to sleep early on in the flight so I will be tired enough to sleep when I get there but not so tired I can't enjoy an evening out. If I am arriving in the morning, I try to sleep later on until as close as possible to landing.
Sadly despite all the new bedding provided by Cathay, I wasn't overly impressed. It seems to be quite common with Asian carriers as I find JAL and Singapore both have the same issue – hard beds. A mattress pad was provided, but it was pretty slim when you compare it to Emirates or Qantas.
I liked the pillow, although it too could have been a bit softer, and shortly you will be able to choose what type of pillow you want. Sadly, although I was given the pillow menu, I was stuck with the pillow at the seat – I'm still not sure if it was the hard or medium version! I did enjoy the pillow spray and the cotton-covered duvet. If you wanted you could request a cosy red blanket too.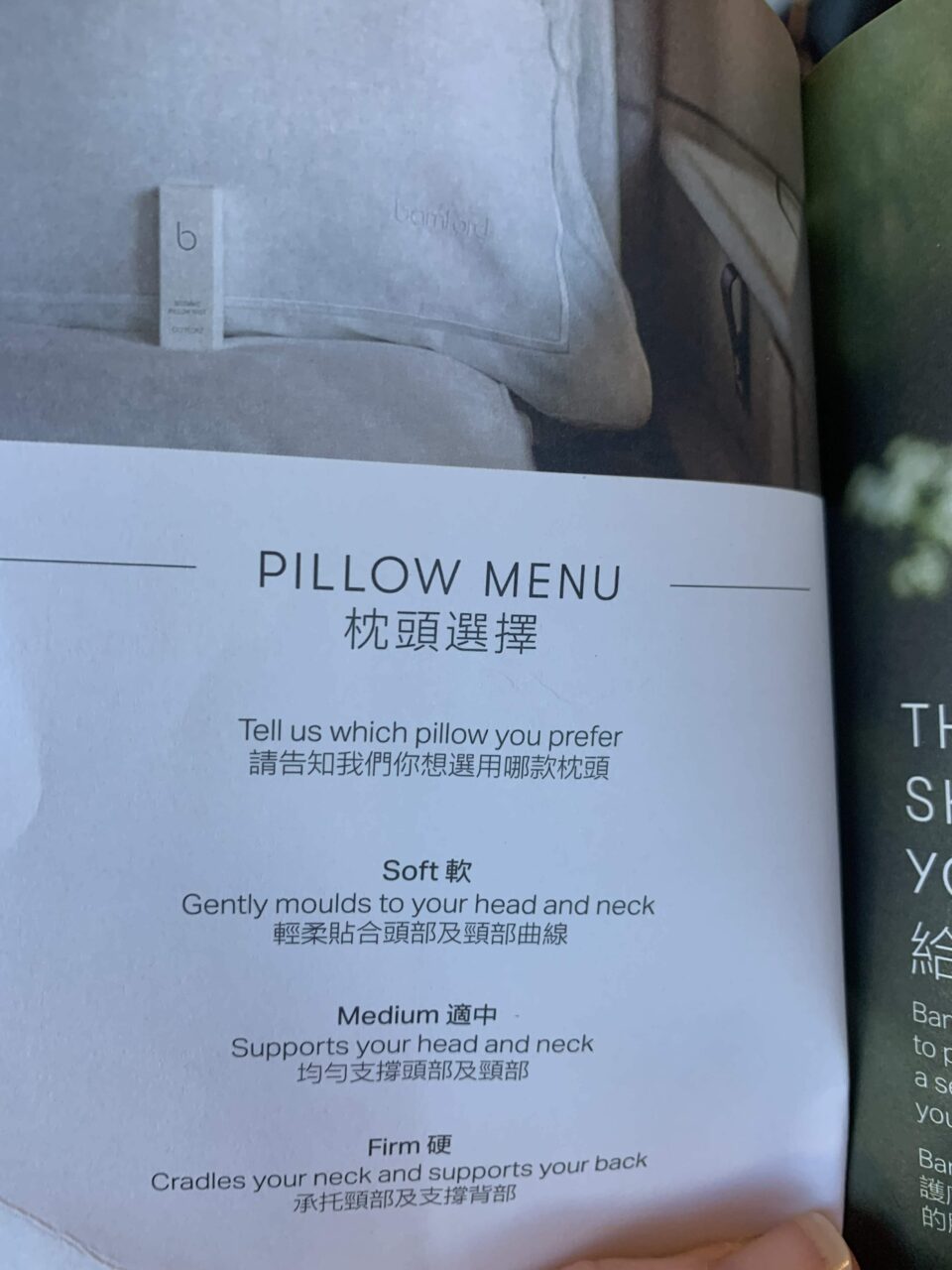 They kept the cabin pretty cool, which I prefer for sleeping. To counteract the hardness, I found the best thing was to lie on the duvet and mattress topper and then use the blanket instead of the duvet to cover myself.
Cathay Pacific B777-300 First class Food and drink
My order for food was taken before take-off. You can eat at any time, so I opted to eat after about a few hours. For dinner, there are two menus – Western or Chinese which are designed to be eaten as a whole menu but I chose to just have part of it since I had eaten in the lounge.
Here is the food menu:
Firs the crew came with an amuse bouche which I enjoyed with a glass of the Deutz Amour De Blanc Brut Millesime. This is an elegant but complex Blanc de Blanc style champagne with hints of peach and citrus and a lingering finish. I enjoyed it more than BA's Laurent Perrier Gran Siecle but I would have preferred Krug which Cathay was serving before. The amuse bouche was a delicious crab cocktail which tasted super fresh. I thought the presentation was a little clumsy compared to BA's amuse bouches.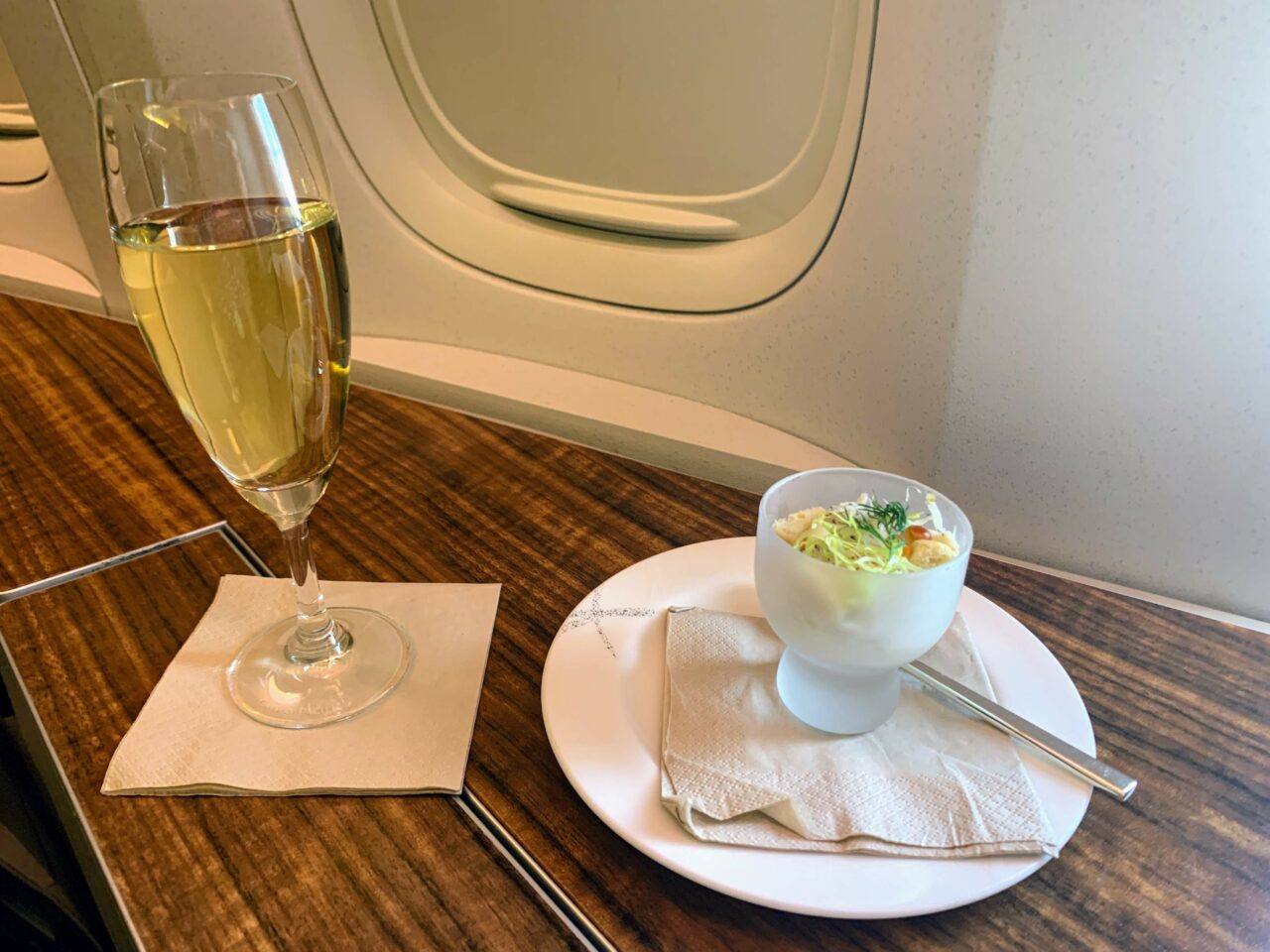 Next the table was laid up with crisp white linens and a large bread basket with my favourite warm garlic bread. Yum! As well as butter, olive oil and balsamic vinegar were offered. A little note was on the table personally addressed to me which was a lovely touch.
Naturally, I had to try the caviar: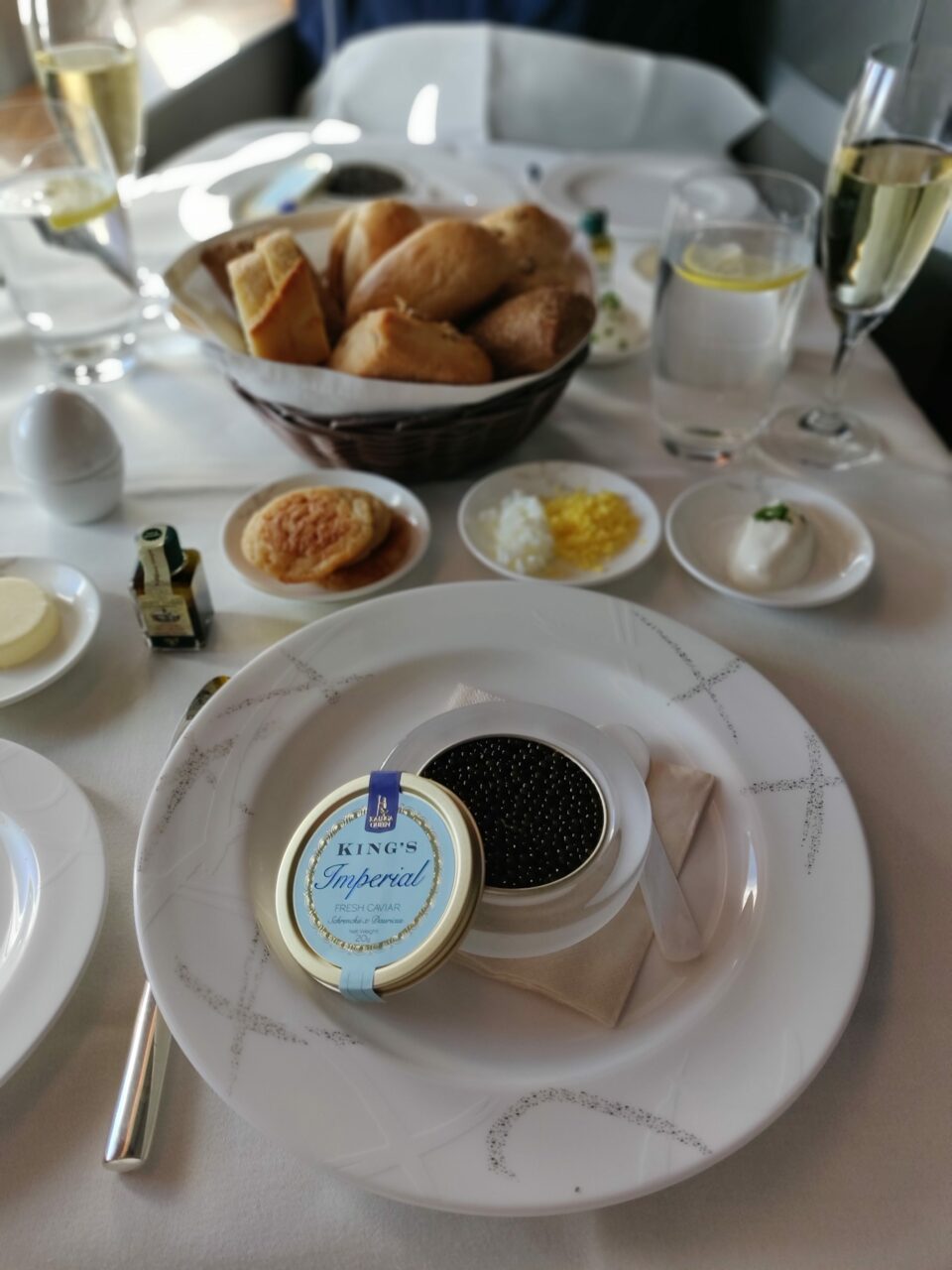 This was Imperial caviar and it was top notch. Imperial caviar is also known as Golden Caviar and is one of the more premium caviars because only an estimated 5% of all adult sturgeon will be able to produce the golden eggs. It came with blinis, sour cream and egg. I would have liked a little minced red onion too, but it was very enjoyable none the less.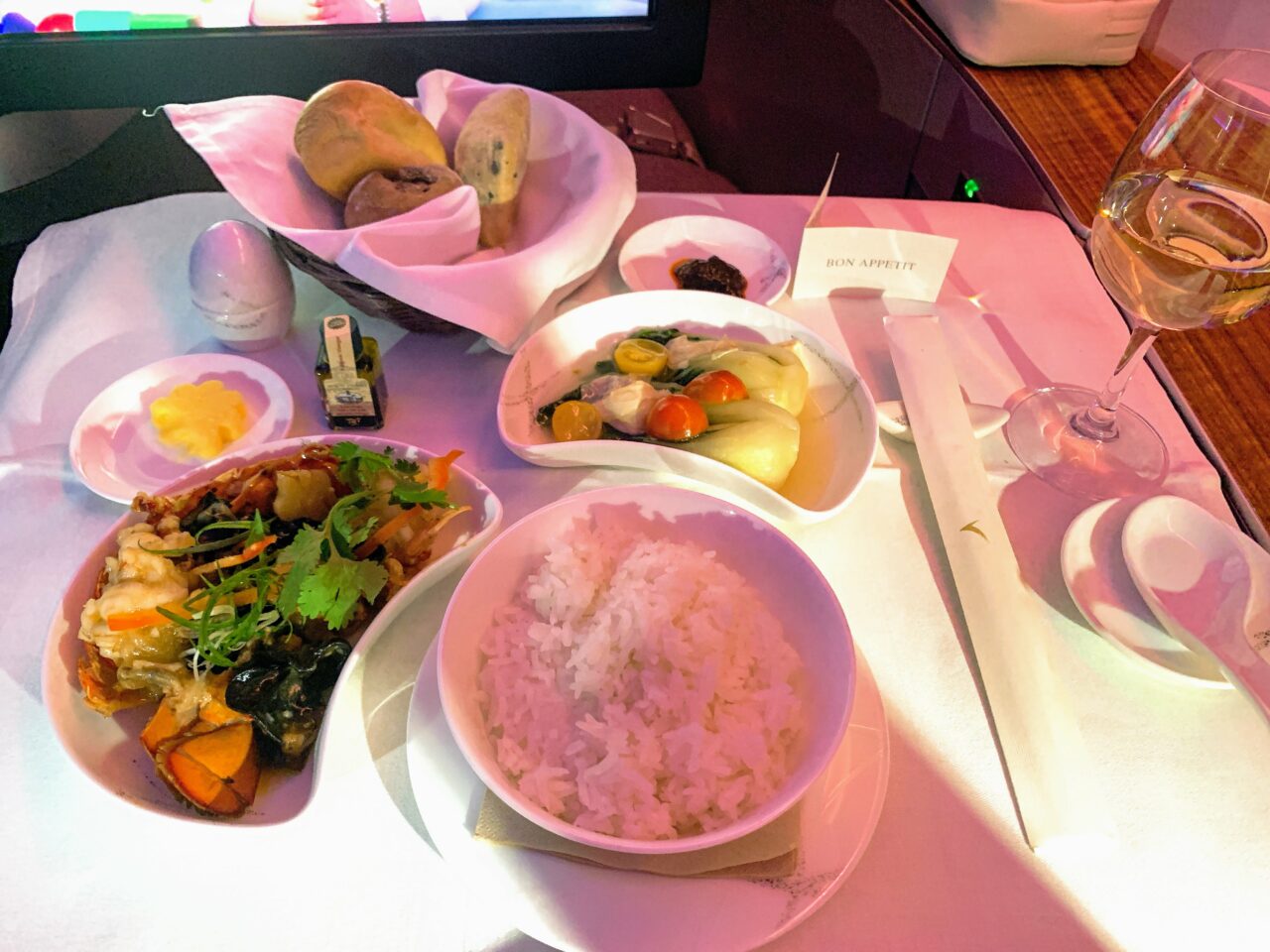 Next, I switched to the Chinese menu for the lobster with XO sauce. It came with rice, chilli sauce, and a selection of stir-fried Chinese vegetables. Whilst it doesn't look the most appealing in the photo, it was a triumph for plane food. The lobster was cooked perfectly, being moist and still tender. There was a good portion of lobster and the XO wasn't too overpowering for it.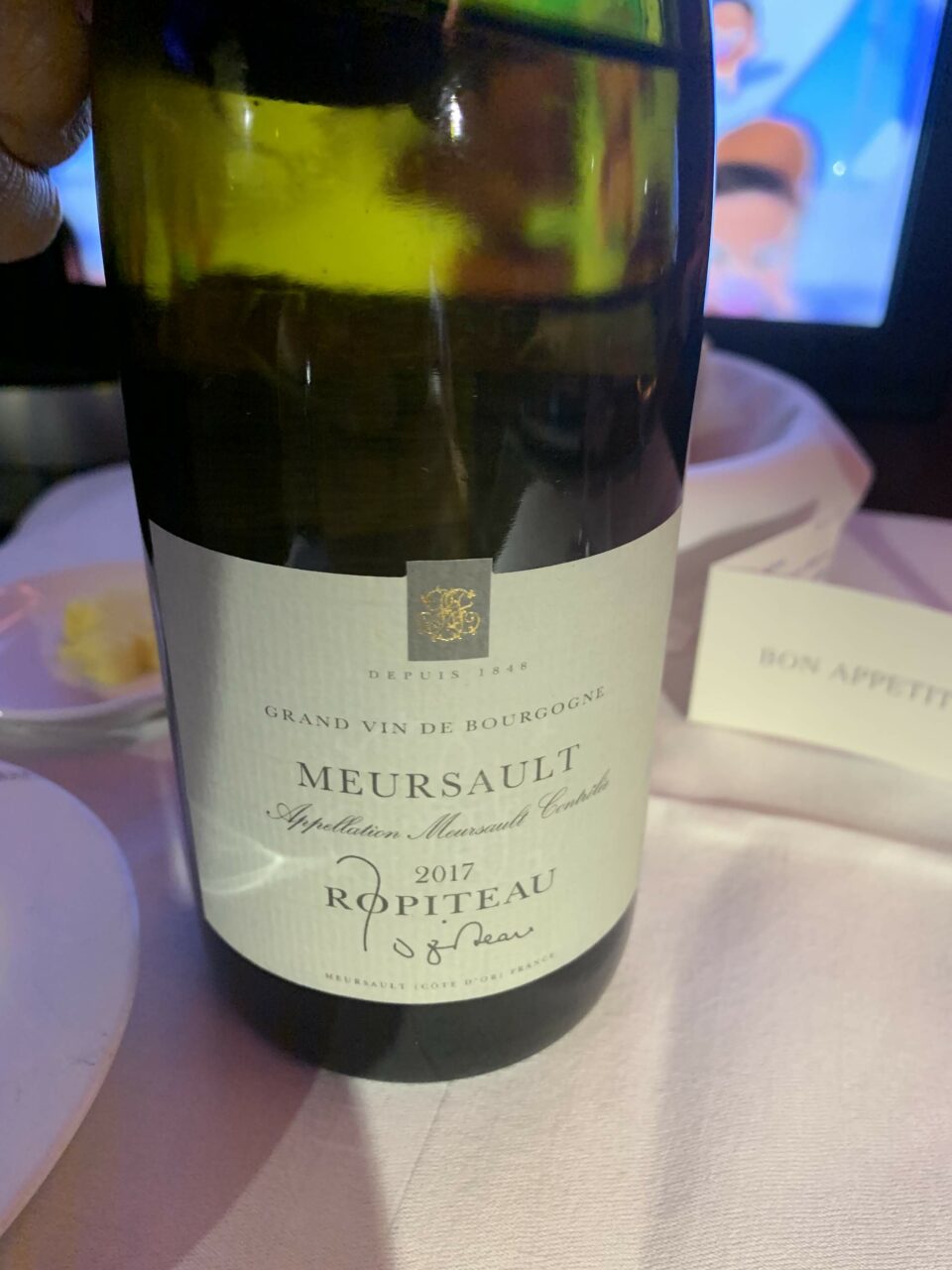 I accompanied this with a glass of one of my favourite Burgundy whites, Mersault. Often the Mersault you get on planes is inferior, but this was extremely good. It was complex with a delicious buttery finish. The wine has won a number of awards and retails for around £35 a bottle. I would say this is one of the best white wines I have had on an aircraft.
Once I had finished my main course, the crew came and showed me the cheese selection on an elegant platter. You can choose which ones you want but I decided to go for the full selection.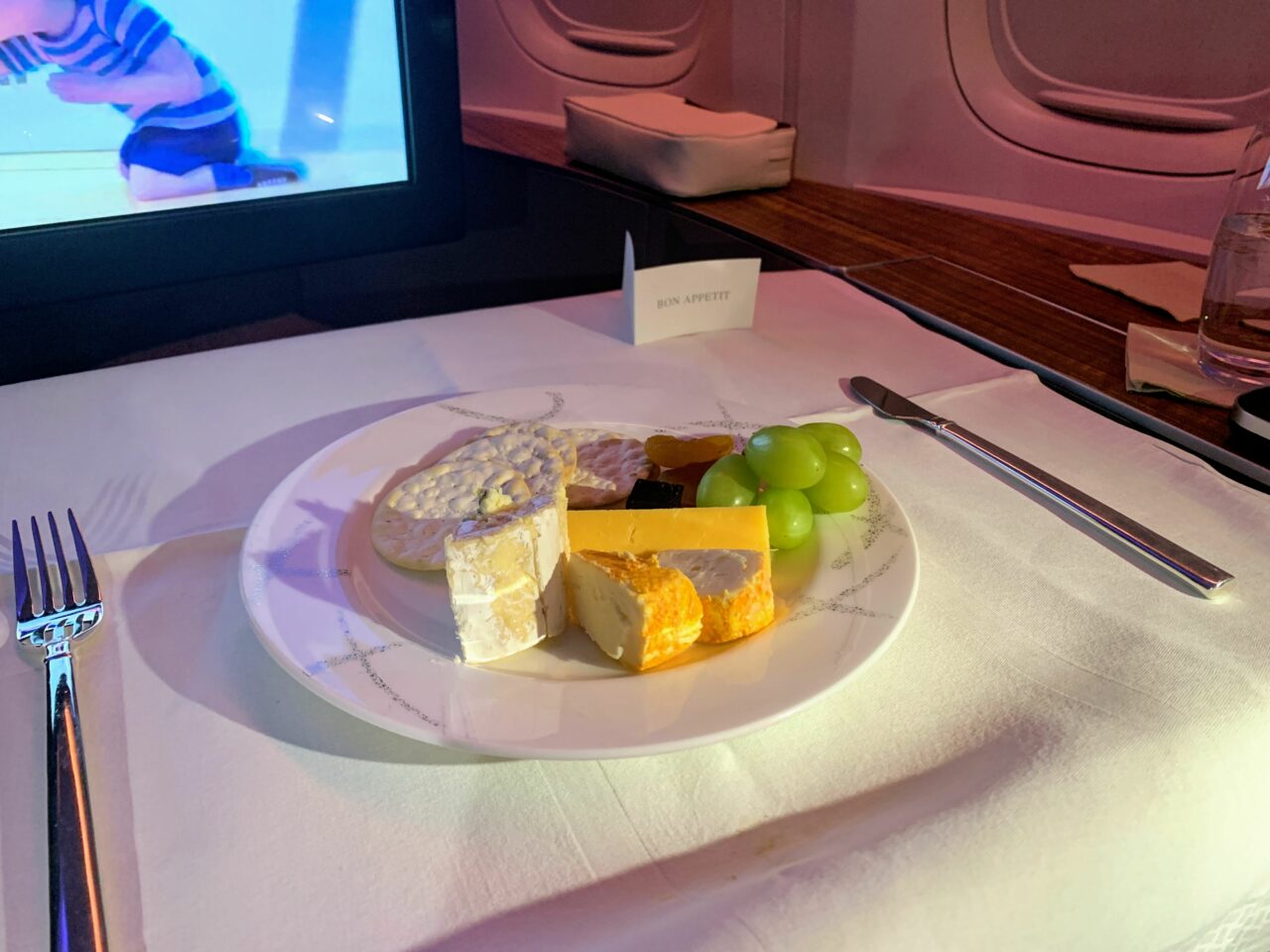 The cheese was [presented well with grapes, crackers, dried fruit and quince paste. They were big chunks of cheese but oh, so good. Particularly the creamy, nutty Chaumes. I tried a glass of the Pauillac 2008 with the cheese and that was also excellent with lovely notes of cassis.
I finished off with a glass of the XO which was the only disappointment for food and drink on this flight. It was quite pale and did not have enough depth or caramel flavours for my taste. Hennessy Paradis, it was not!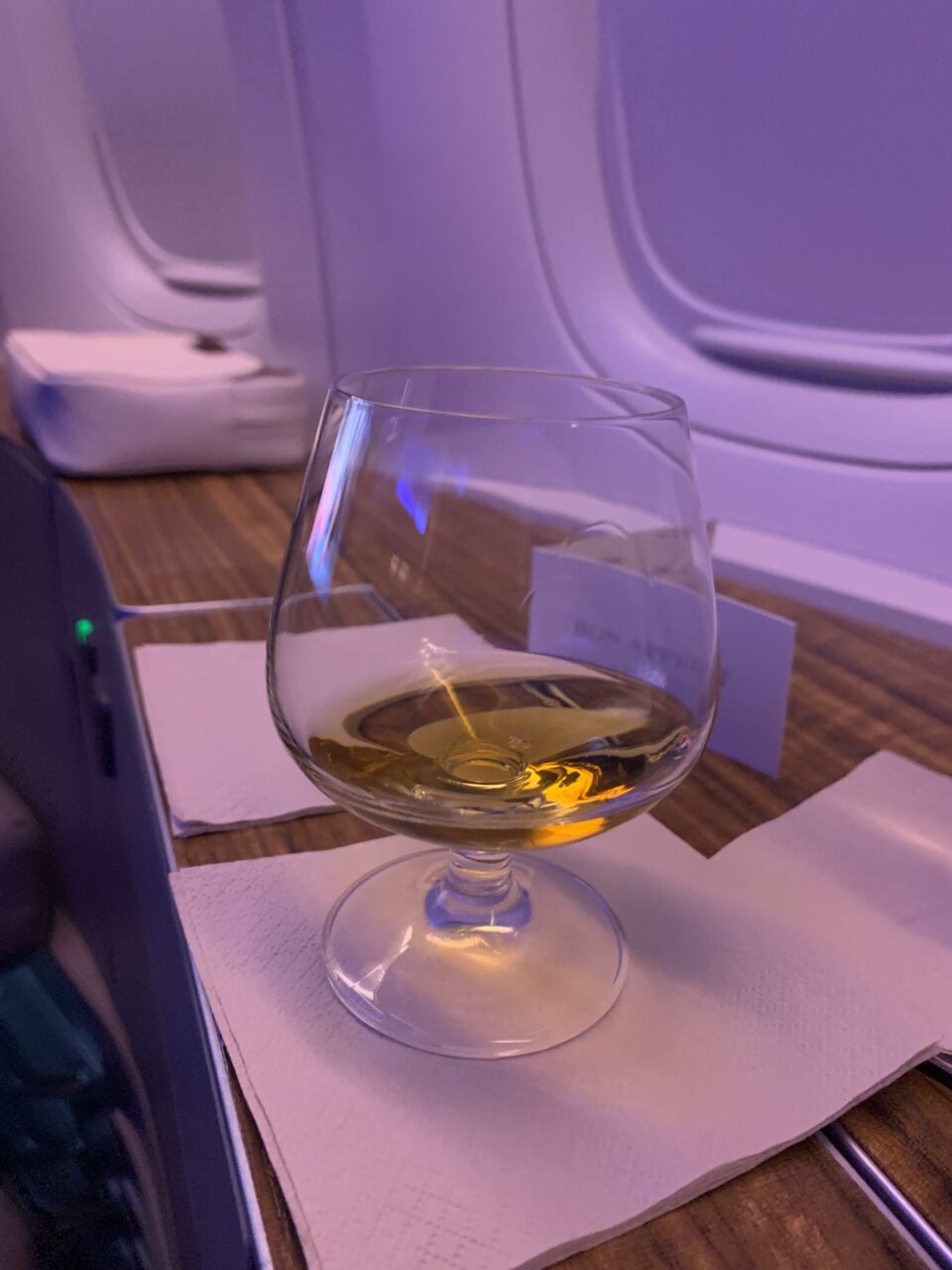 This came with some rather moreish chocolates, nicely presented. It was lovely to see such an unusual flavour chocolate. Calamansi for those that have never heard of it, is an Asian citrus fruit that it a bit like a cross between lime and mandarin.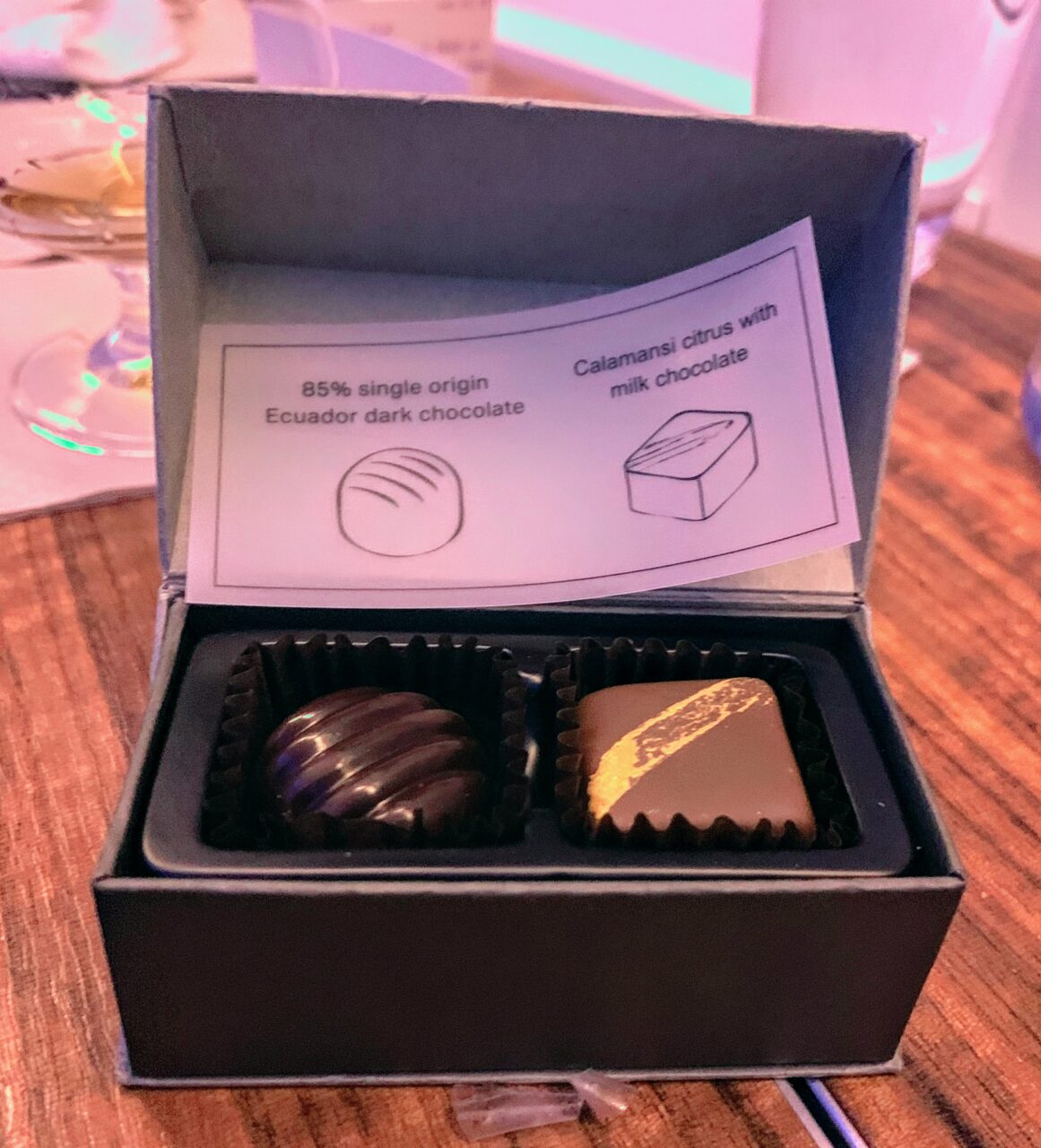 I did not need any snacks as I then had a bit of a snooze after all that! About 90 minutes before landing I decided to try the breakfast (the flight was nearly 16 hours so you need a second meal!). I thought breakfast was an odd choice given that we were landing at JFK at night. I went for the least breakfast-like option the dim sum. They were all very good even if they didn't look that appetising though I have to say I am still not convinced by bean curd skin.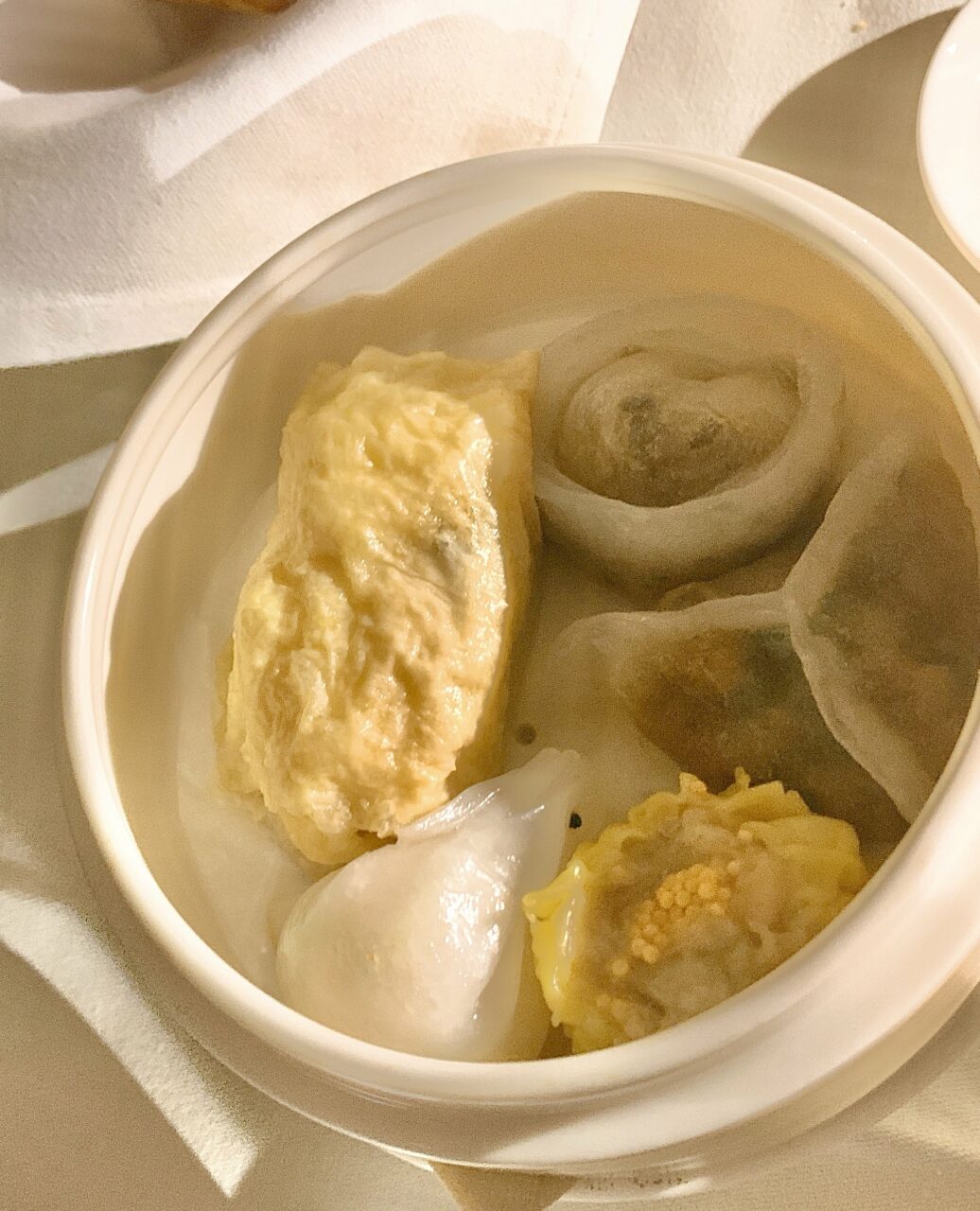 I also tried the smoothie which was full of flavour and fresh tasting. The croissants were also good although could have been a little more moist. They were so flaky there was croissant flake fallout all around me!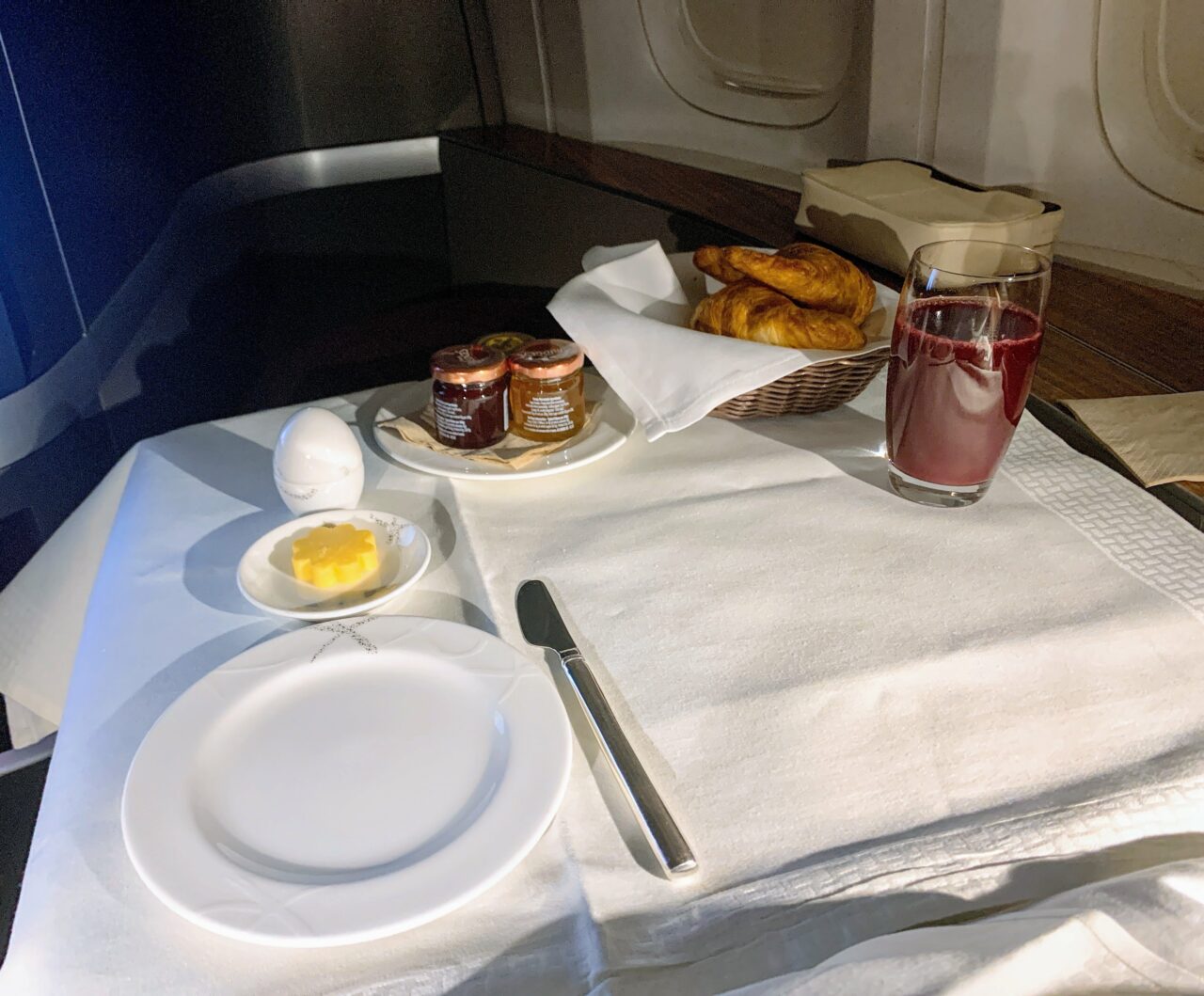 Marek just had the fruit which looked good.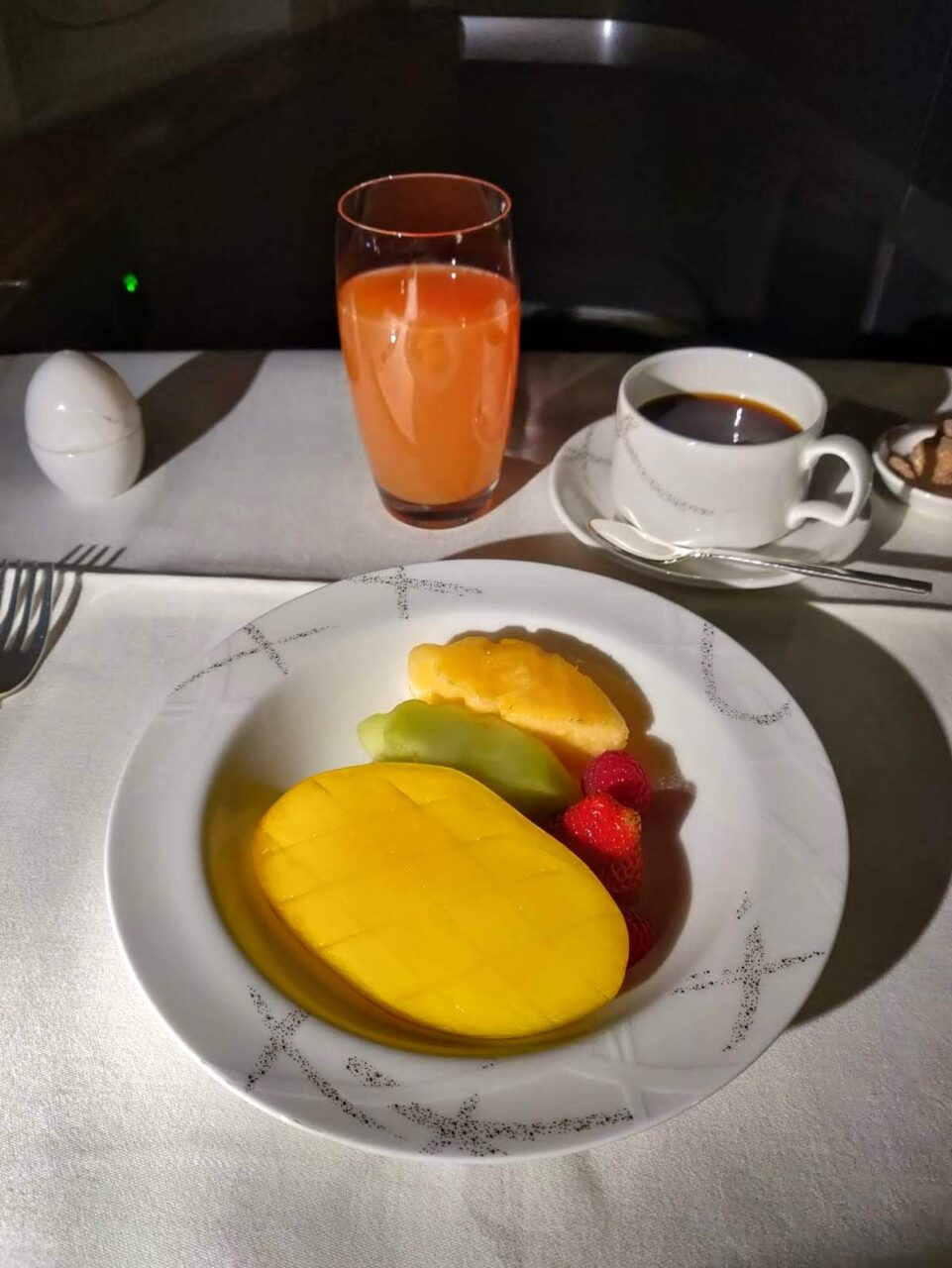 Cathay Pacific B777-300 First class Entertainment and connectivity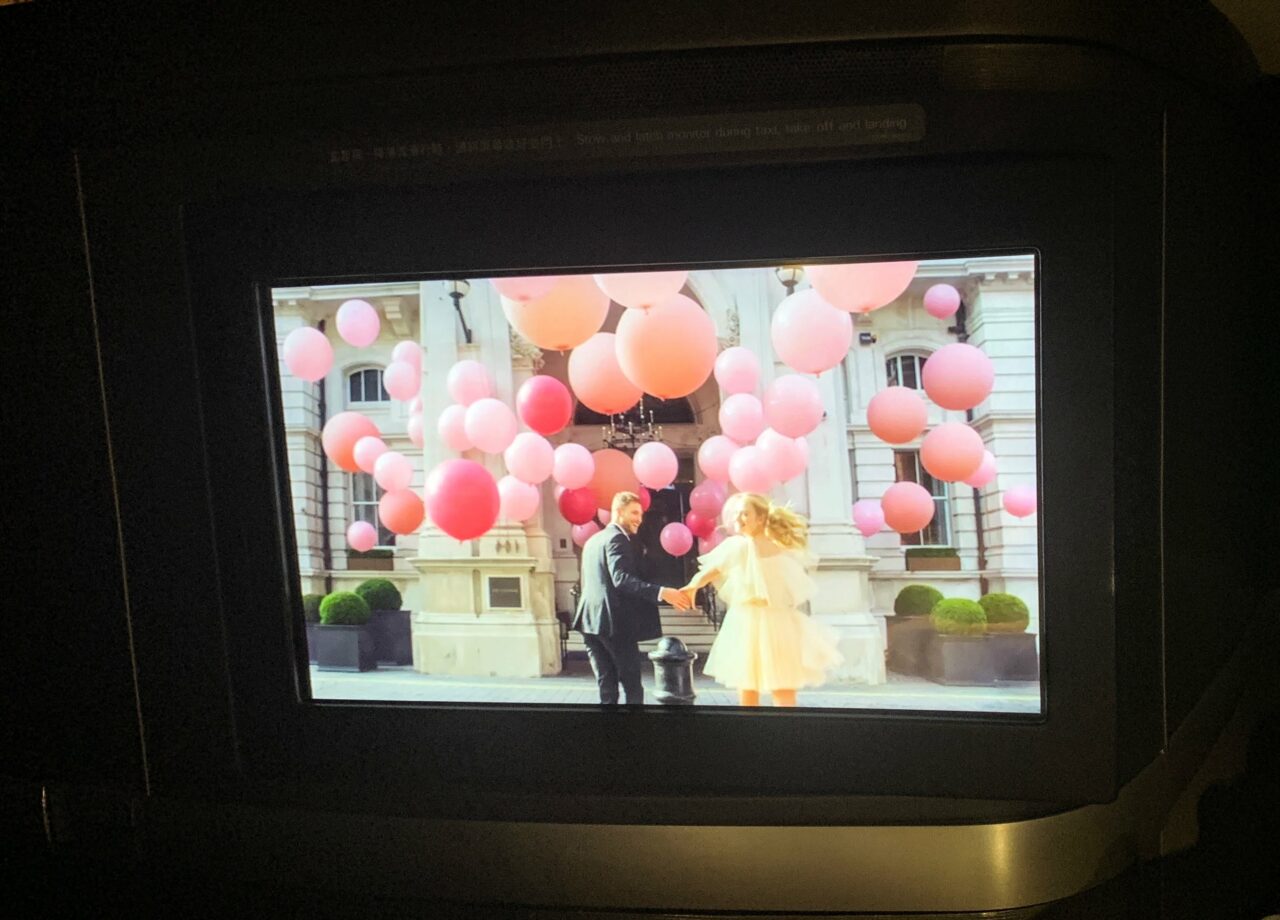 The TV screen felt large for the space, and I liked that you could slide it across so it was directly in front of you. The definition was also good on the screen. The selection of films and TV programs was pretty good with both new and old selections. I caught up on the latest series of Young Sheldon and a couple of films. There was a handheld controller that was the same as most airlines – a little bit non-responsive and irritating!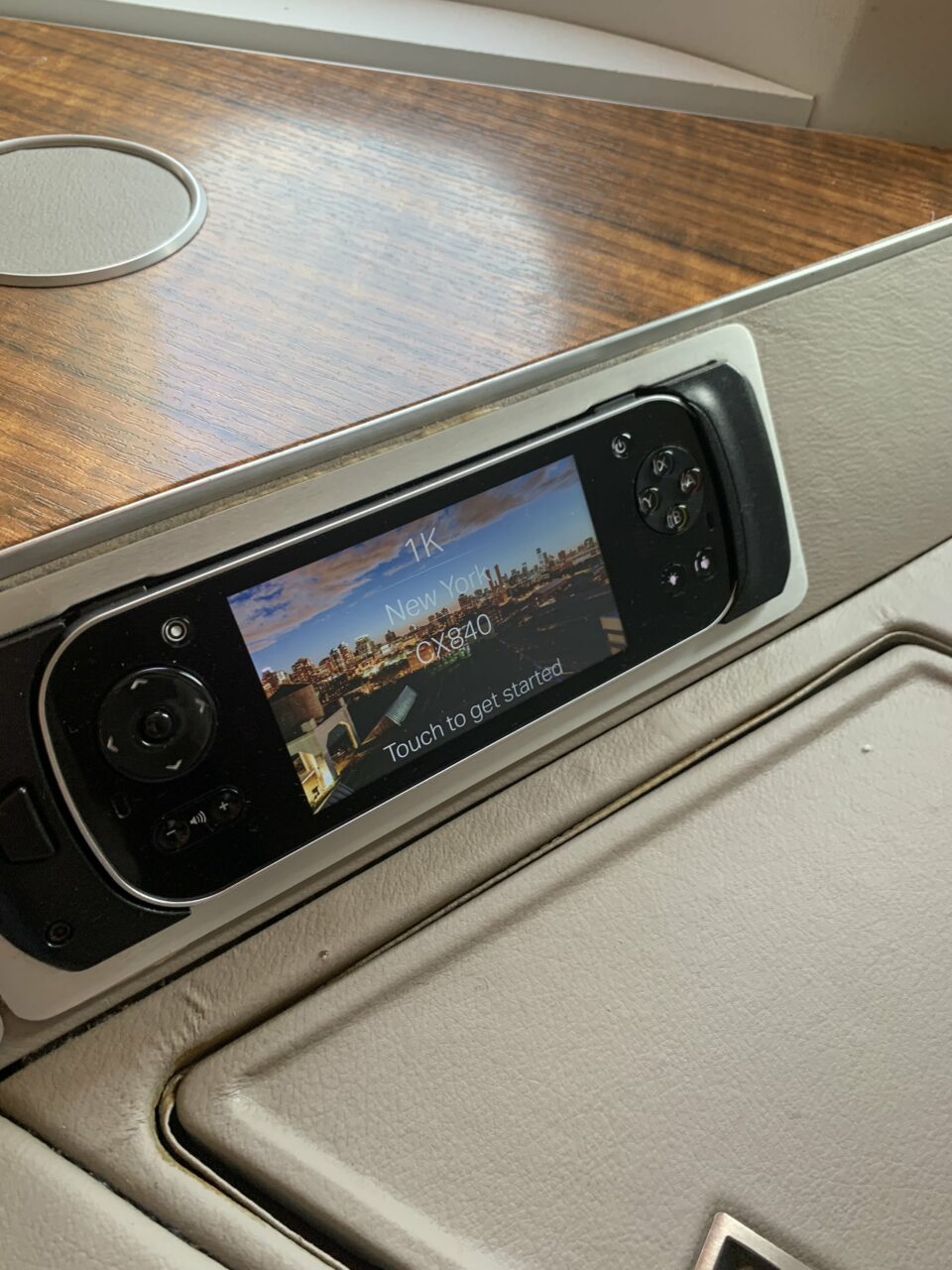 I was impressed with the Bose QC35 headphones. Normally I always use my own but I found these very comfortable and with good quality audio and noise cancelling. So much so I never bothered to get my headphones out!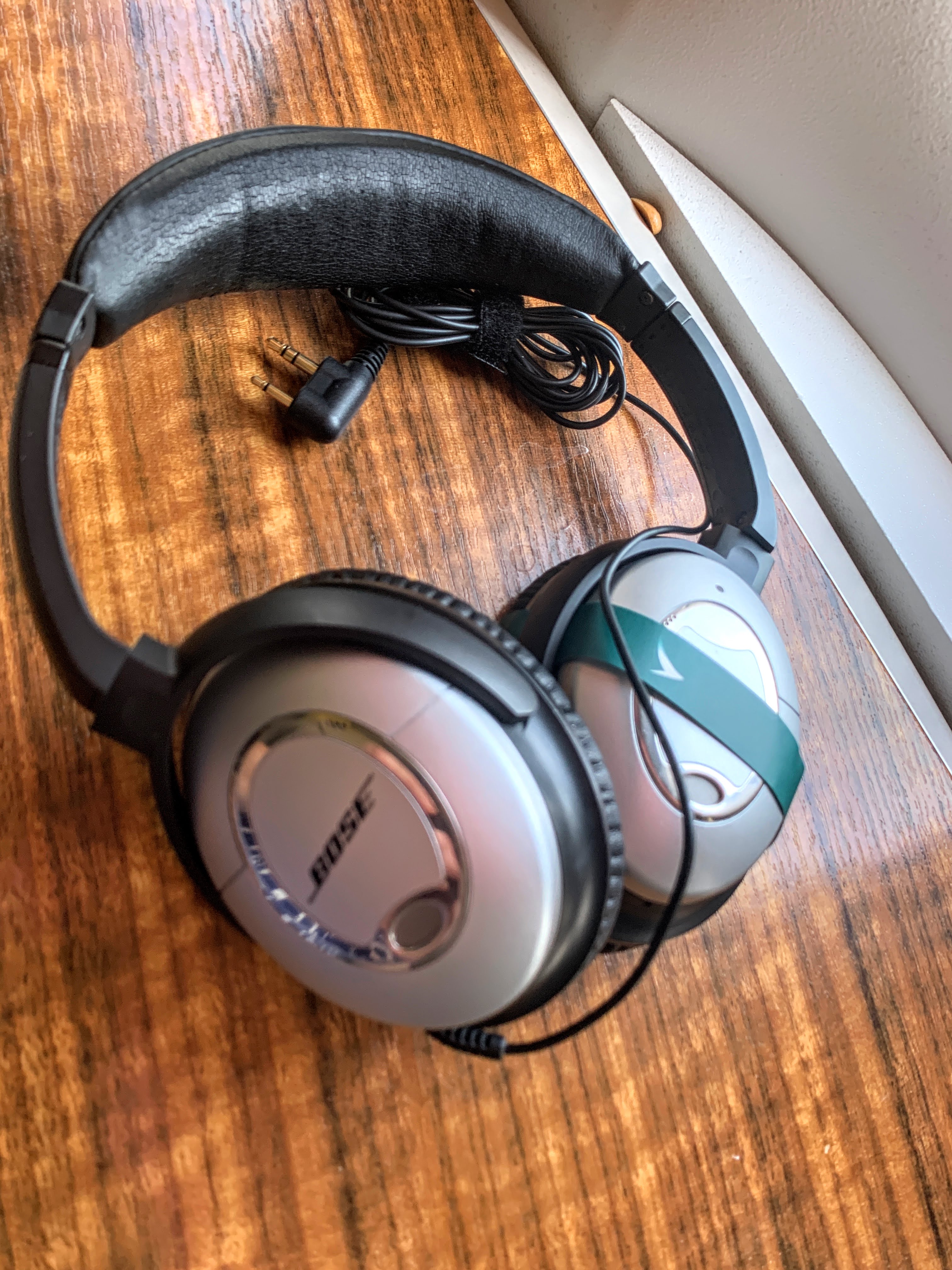 There was a multi-country socket and a USB point for charging.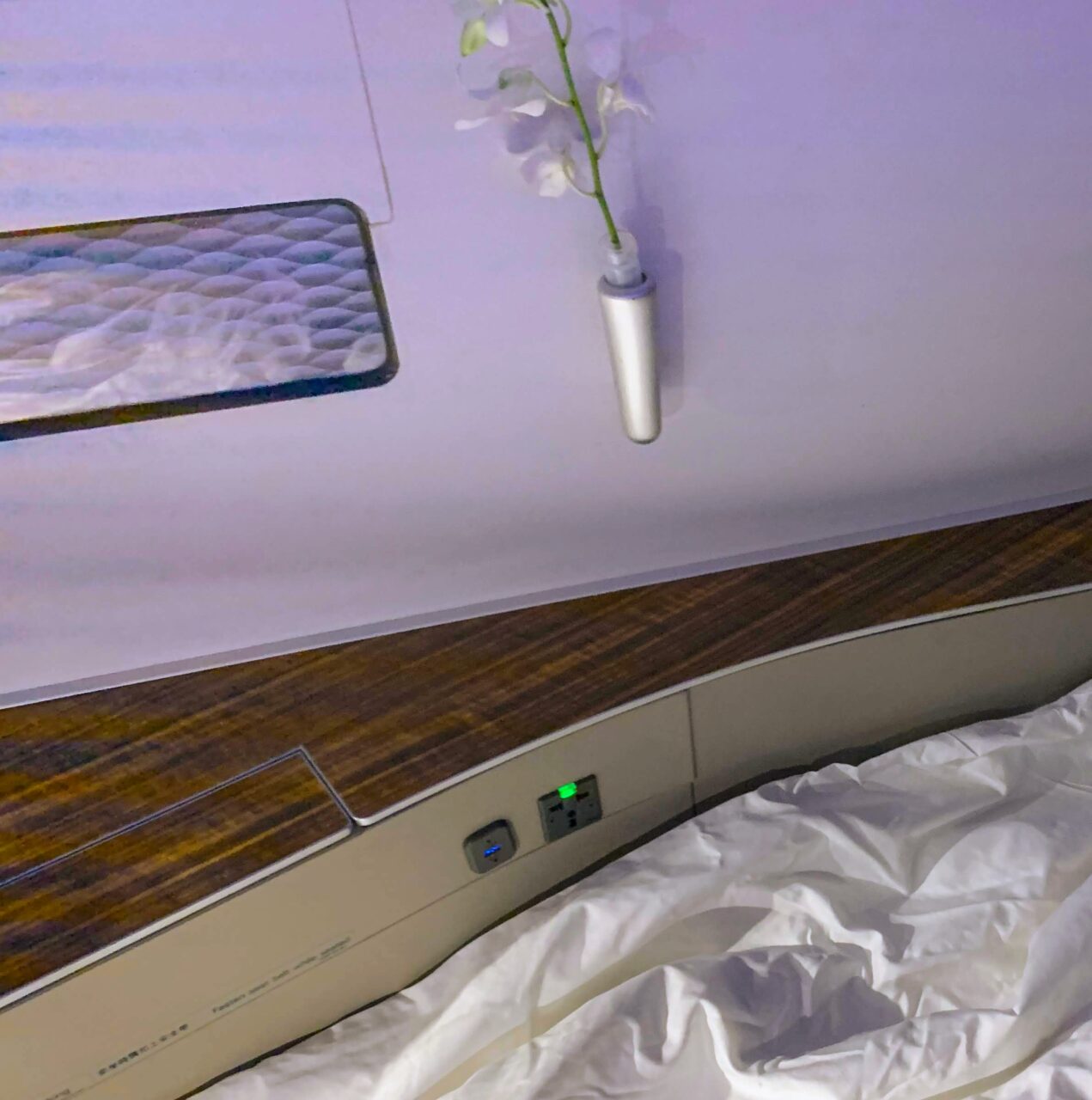 There was Wi-Fi on board and I thought for a 16-hour flight, the price was reasonable. The Wi-Fi worked OK but I did find it a little slow. Fortunately, there were no data limits unlike some airlines – I'm looking at you Iberia with your 200mb limit!
Conclusion
The crew on the flight were polite, friendly and efficient – pretty much on par with what you get on every Cathay Pacific flight. They do not often have the banter that you get with BA which I love, but they are consistent. (see the return trip review!). The service was good throughout the flight and every time I went into the toilet, it was immaculate.
I loved the space and width of the seat, the food and wines were excellent plus the entertainment was also good. My only real complaint was the hardness of the seat and thin-ish mattress topper. If I had the choice between Cathay and Qantas I would choose Qantas for a night flight. If it was a day flight I would probably go with Cathay for the superior food and wine.
Stay tuned for the next TLFL giveaway where I will be including some Cathay F PJs and amenity kits plus the next review of the return flight in Cathay First.
Like our Cathay Pacific B777-300 First class review? You can read more flight reviews here.