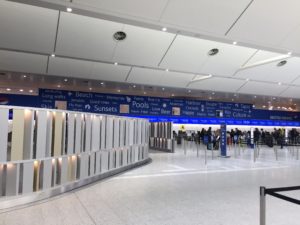 I recently flew in Club Europe from Gatwick to Faro, Portugal. This was the first time I had flown Club Europe in about 9 months. I reviewed the Check in and new Club Lounge at Gatwick South Terminal here. In this article I will look at whether it is worth spending the extra money or Avios on Club Europe now that Economy is buy on board.
BA announced that Club Europe catering will be "improved and revamped from spring 2017" but no firm date has been announced. I have 2 more Club Europe flights booked in the next few months, so I will report back once the changes are introduced.
LGW-FAO
Boarding
There was a priority queue that was probably about a third of the aircraft's passengers. I personally think they should just restrict it to Silver and above but also allow Club Europe to board before other passengers. There were at least 20 people in front of me before I was able to board. Other than that, we boarded on time and in a fairly organised fashion. There was still plenty of room for my hand luggage in the bin above my seat.
Seat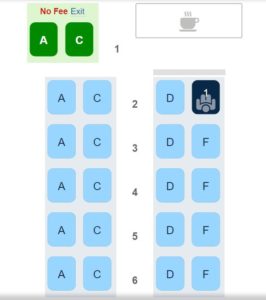 I had only booked a couple of weeks before and my preferred seats in row 2 had already gone. Something to be wary of is the configuration that BA are using on their Gatwick A320s which does not show up on Seatguru or BA's own generic seat maps. It will show up in Manage my Booking though. In this configuration, the only really good seats are 2D and 2F. Row 1 also has leg room but here are a couple of good reasons why not to choose it: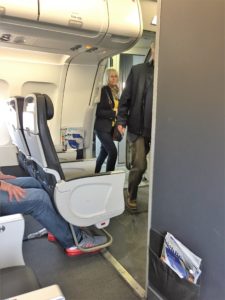 As you can see during boarding you are in the middle of everyone and often get knocked by people walking past. 1C does not have anywhere to store anything either and having sat there I felt like I was practically sitting in the galley.
I chose 4F as it was the first row with any space in it. The legroom is 30″ and a seat width of 17″. This is exactly the same as economy. The only difference is that the middle seat is blocked. For comparison Easyjet is 29″ but 18″ wide. It felt quite cramped.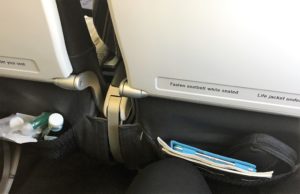 The one thing I did like was the design that meant you could hang your tablet from the seat back.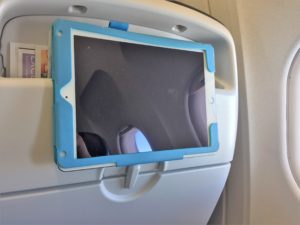 On board service
This was the main area of improvement for me. Both crews apart from the Cutomer Service Managers seemed pretty miserable and trying to do as little as possible. The woman serving me had a face like thunder for most of the flight and seemed like she really hated her job.
Hot towels were given out before the service but they are still the rather pathetic, thin towels that they have always been. The trolley was then brought round with drinks and a packet of mixed nuts. I had a gin and tonic which was Gordons gin and Fever Tree Tonic. Given that they are now using Bombay Sapphire for buy on board, it would be nice if they could upgrade the gin to that or Tanqueray as per Club World.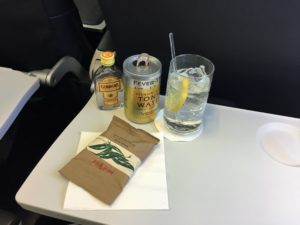 There was then a choice of 2 dishes for lunch. The first was a risotto but I chose the chicken pasta. The chicken was warm and actually very tasty with a sachet of Caesar's dressing as well. The pasta underneath was cold with a mustard dressing. The plum and ginger cheesecake was also very moreish although I couldn't taste any ginger. My main complaint was for a 3 hour flight, the meal was very small. It is hard to tell from the picture but I would say this is starter size portion in a restaurant.
No further drinks were offered when the meal was delivered. I had to stop one of the crew to ask for another drink. As the wines are economy wines (and pretty dire), I decided to have champagne instead. I had previously not been keen on the Castelnau but it seemed to taste better this time.
After lunch, tea and coffee were offered followed by duty free. We landed a few minutes ahead of schedule.
FAO-LGW
Check in and Lounge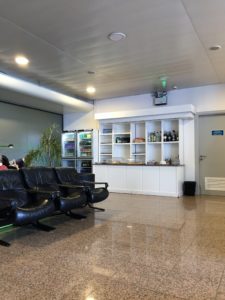 Faro airport is something of a building site at present. The staff that I encountered everywhere in the airport were all incredibly helpful and friendly which made up for the makeshift appearance. The queue for Club was empty so I was checked in and on my way to security very quickly. There was a premium security queue which I was directed to, which basically cut ahead of the main queue. It was not overly busy anyway. The security staff were very friendly but thorough and the staff at LHR and LGW could learn a thing or two from them!
After a quick look round the shops with a very helpful wine expert in the Duty free shop, I headed for the lounge. BA use the Executive lounge by Swissport. This has to be one of the worst BA lounges I have visited and I thought St Lucia was bad! BA probably have no choice but to use this lounge as it was the only one I saw.
Unfortunately there are a lot of premium passengers on the Faro route and the lounge was very busy. I was hoping to get some work done on my laptop but there was nowhere to work. Most of the seats were already taken so I ended up having to sit in a seat that did not even have a table (see picture). I was balancing my laptop on my lap and had to put my drink on the floor!
There was a small selection of alcoholic and non alcoholic drinks and one of the most dismal selections of food I have seen. A couple of curled cheese sandwiches which looked like they had been there some time and some unidentifiable sweet looking buns were the selection. Personally I would rather sit in a restaurant in the terminal.
Seat
This time I had managed to secure my favourite seat, 2F and also had the benefit of no one in the row apart from me. Although there is nowhere to hang your iPad, the extra legroom makes up for it.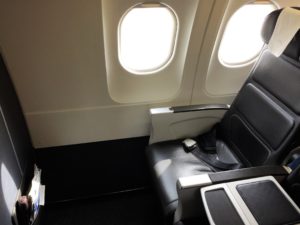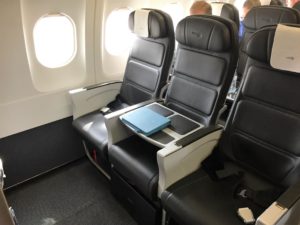 On board service
Again the crew were pretty miserable apart from the Customer Service Manager who at least attempted a smile. Hot towels were given out before 'brunch' was served. There was no drinks round prior to the meal or nuts.
I hate the BA brunch service at this time of day. We took off just before 12pm and landed at around 2.20pm which is exactly the time most people would eat lunch. Instead this seems to be an excuse to serve less food. There was no choice so it was tough if you were allergic to any of it or didnt't like it.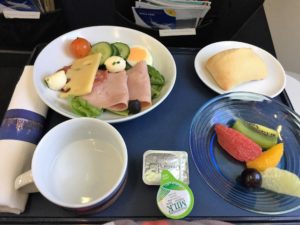 As you will see from the pictures the portions were even smaller than the way out. The "salad" consisted of 2 slices of cheap ham with gristle, half a slice of cheese, half an egg and 2 mozzarella balls. The fruit salad was tiny and since I can't eat grapefruit that left me 2 slices of fruit and a grape!
I had the Champagne again which also tasted better than I remember, so it wasn't just fluke last time!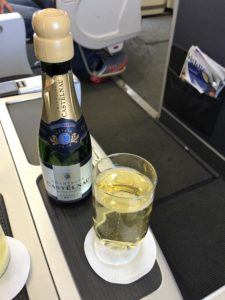 Tea and Coffee were offered but no further drinks so I had to ask for some water. Interestingly one of the cabin crew was then seen sitting in 1C doing paperwork after she had told the very tall passenger in row 2 that he couldn't move forward!
Conclusion
Whether Club Europe is worth the extra money or Avios depends a lot on the price that you are paying and how many Avios you have. I got this fare in the sale and only paid £220 so I think for that price it is not bad value. You can easily pay that for economy on longer routes such as Faro, even on Easyjet. I certainly would not pay any more than this. The food was generally very small and poor on the way back. The legroom is also the same as economy in most rows.
If you already have BA status and can get an emergency exit row in economy and lounge access, it is generally not worth it. As I was travelling solo then it is worth it for me to have the seat next to me empty. If you wanted to work it may also be useful so you can use the middle seat for your drinks etc. It will be interesting to see what the promised revamp of the food brings.
What are your thoughts about Club Europe? Do you think it's worth the money? Let me know in the comments section below or on my social media.
UPDATE: As of the end of March 2017, Club Europe catering has changed. To find out more about the current service you can read my new Club Europe catering review or look at my Guide to Club Europe catering to see more.