In the vibrant district of Da'an, a small slice of Japanese hospitality can be experienced at the MGH Mitsui Garden Hotel Zhongxiao. The hotel provided a two-night stay in order to review the property.
Getting there
With both our late-night arrival into Taipei and early departure from the city, it takes around thirty minutes to get to Da'an District by taxi. Taipei Metro's Bannan Line runs directly to the nearby Zhongxiao station, just a couple of stops to Taipei's main station for connections to the airport and national high-speed rail.
Initial impressions for MGH Mitsui Garden Hotel
The hotel has opted for a minimalist Japanese design throughout. From the wood accents to cool greys, muted paintings and earthy accessories, the MGH Mitsui Garden Hotel has a relaxing design.
We were welcomed by the attentive staff, who quickly processed our check-in, explaining breakfast and Japanese bath protocols.
During the stay, we spent our two-nights in a Deluxe Corner Room. I had hoped to get one of the funky-themed rooms, but that didn't happen, unfortunately.
How was the room?
The room itself is a sizeable 35.3m². It follows a familiar concept found at other hotels in Taipei of having the bathroom immediately as you enter to cleanse yourself before getting into bed.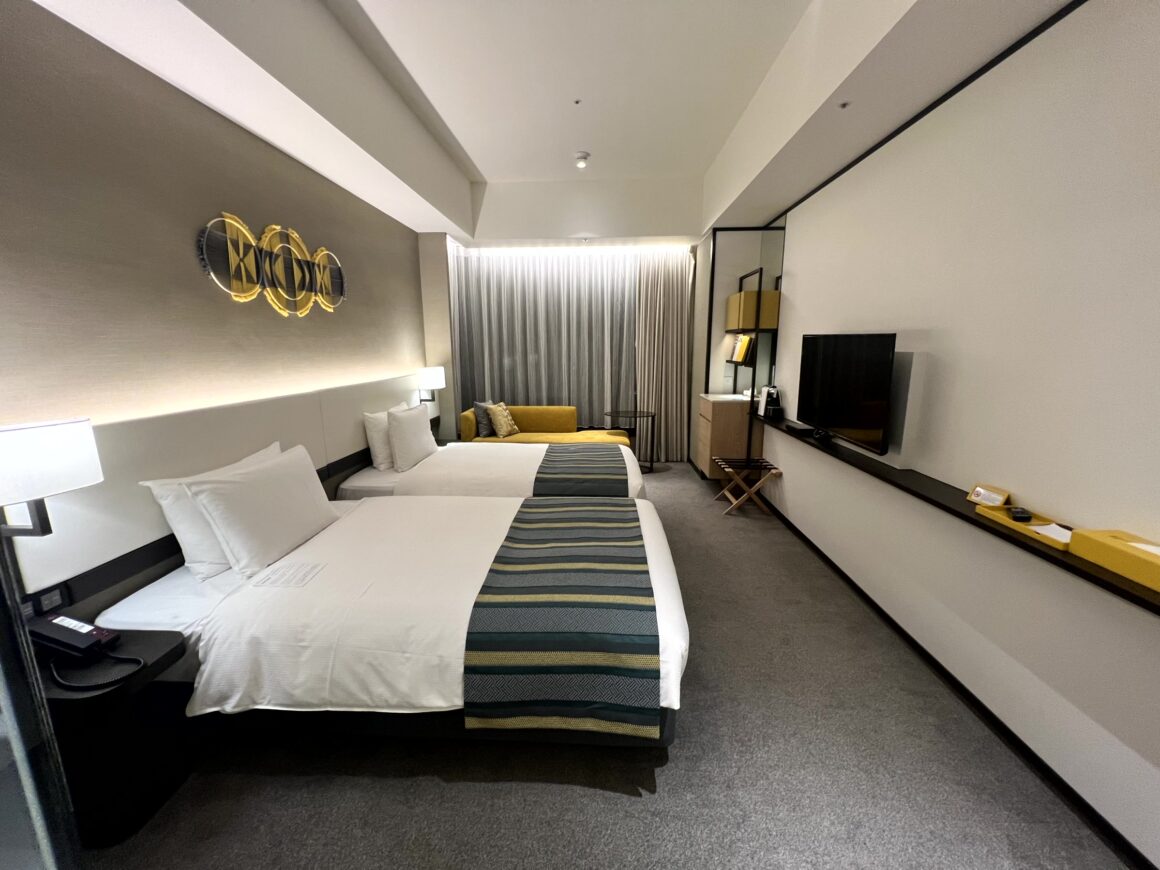 That bathroom is subdivided into dual sinks, a Japanese toilet (which should really become more popular elsewhere in the world), as well as a shower and bath. While the bath was too short to be particularly comfortable for most people, the shower was powerful and maintained a consistent temperature.
All the products used for shower gel, shampoo and conditioner throughout the hotel are made by the popular Japanese brand Kao and are of good quality.
By the time we checked in, only a twin room was available for us to stay in. This wasn't a particular problem as the beds were large for a twin and seemed to be closer to two queen-sized beds. The beds themselves were firm, providing sufficient support while sleeping without being rock hard, as some Japanese hotels may be.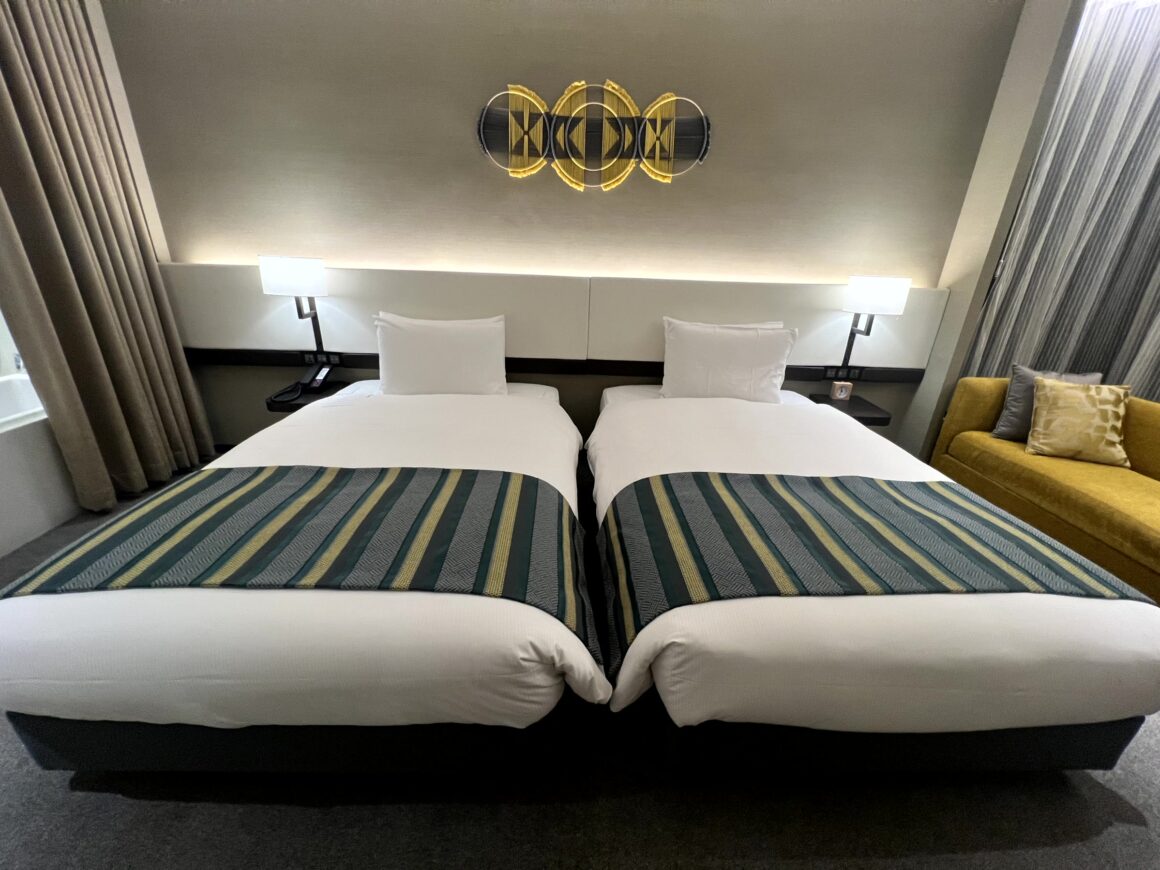 MGH has gone for a similar colour theme to the rest of the hotel with liberal use of cool greys, but this time with a few splashes of yellow to brighten it up. The addition of yellow artwork on the wall and the yellow sofa makes the space feel more inviting to spend time in rather than feeling too corporate.
Next to the sofa is a very small but manoeuvrable table that is large enough to take a laptop, but I probably wouldn't recommend working from this for lengthy periods of time.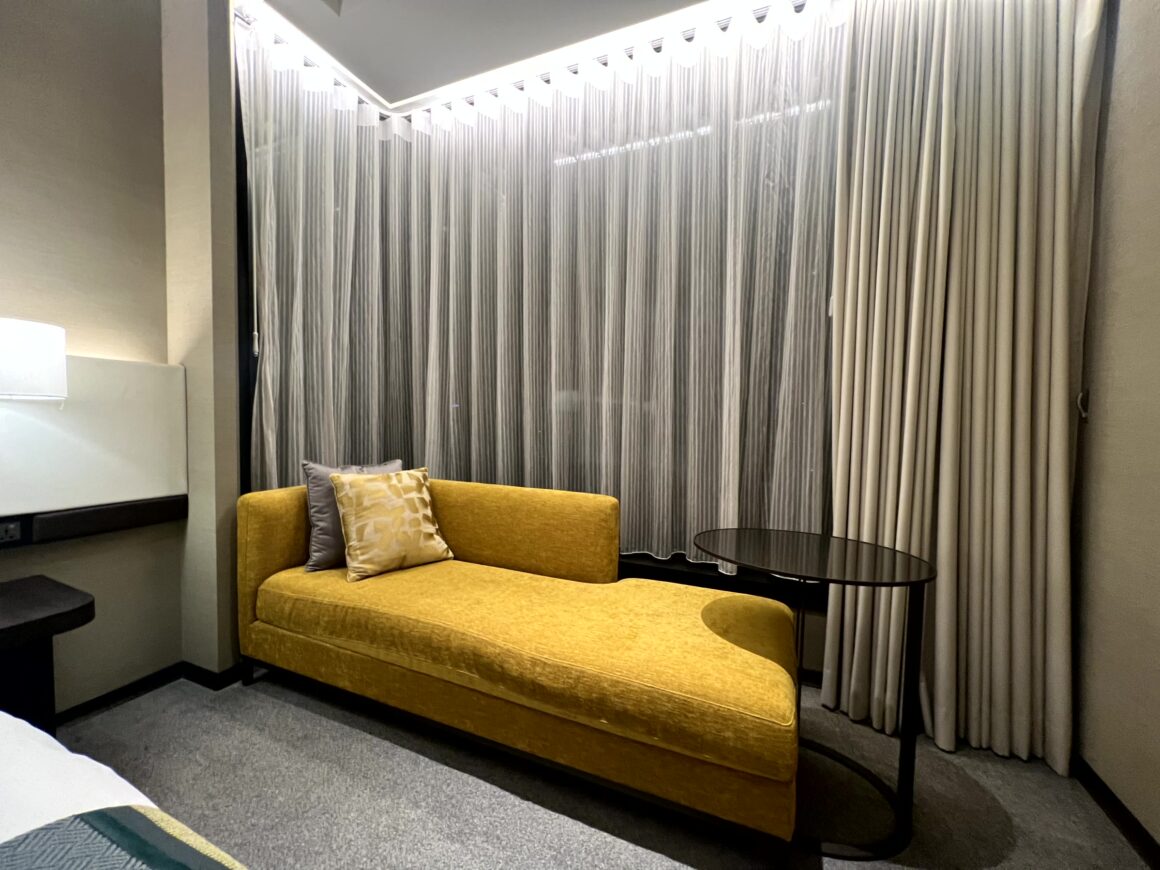 We had a corner room during our visit, which meant a lovely view which looked over the northern part of Taipei towards the mountains – as well as a unique perspective to look over the nearby roads.
WiFi was decent throughout the hotel, with upload and download speeds of ~55mbps from a number of tests during our stay at the property.
Complimentary Taiwanese tea, Lavazza coffee pods and bottled water are provided to guests and replenished daily by the MGH Mitsui Garden Hotel team.
One final note on the room, which I've not seen elsewhere, was these magnets indicating room status, e.g. please clean, do not disturb, etc. These are a great idea as the regular ones always fall off the door handles, making them a bit redundant. We placed one of these on the door as we went to breakfast, and the room was cleaned within an hour of returning.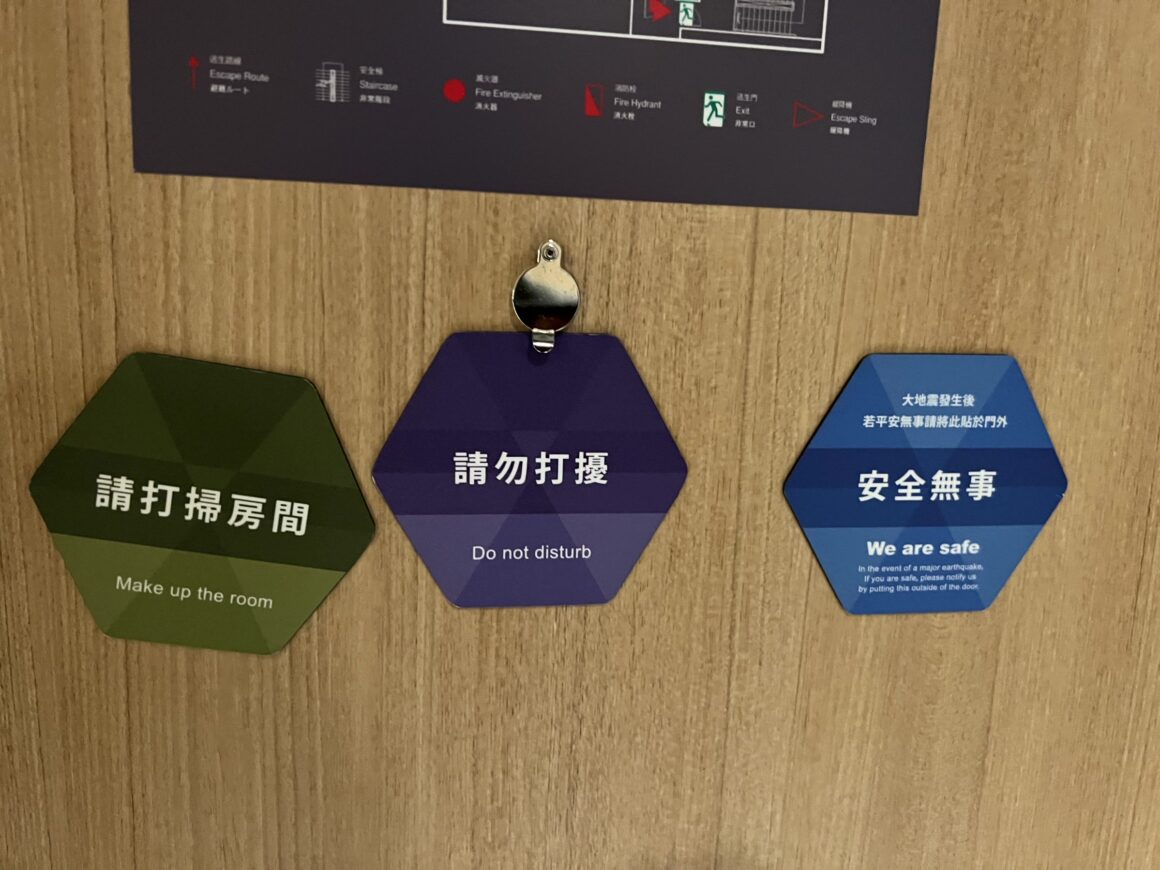 Japanese bathing in the centre of Taipei
In much the same vein as their homeland, MGH Mitsui Garden Hotel have outfitted their Taipei hotel with a Japanese bath. Split between male and female sections, the hot baths are a great way to relax at the end of the day or to start the day on a fresh note.
The baths are included in the price of a stay, although there are a couple of caveats. Opening times are a bit odd at 06:00-10:00, then 15:00-00:00, and you must bring towels from your bedroom. Of course, this being a Japanese bath, being naked is non-negotiable…
We only tried once during the short visit, and it was extremely quiet as we were the only ones in the entire bath. Unfortunately, I didn't manage to snap a picture of the empty bath as phones are forbidden from the space.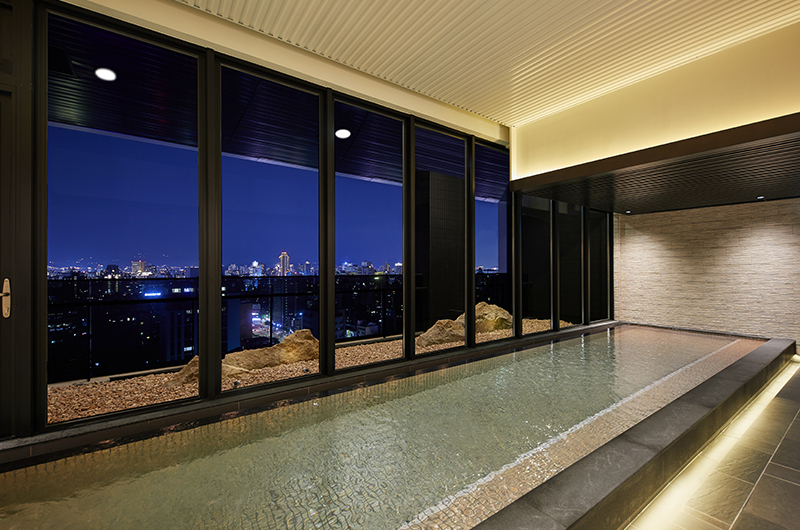 A comfortable lounging space and a Japanese-Italian restaurant
On the second floor, MGH has installed a comfortable lounge for people to relax and meet with other hotel guests. If needed, you can grab a bottle of water and coffee as part of your stay.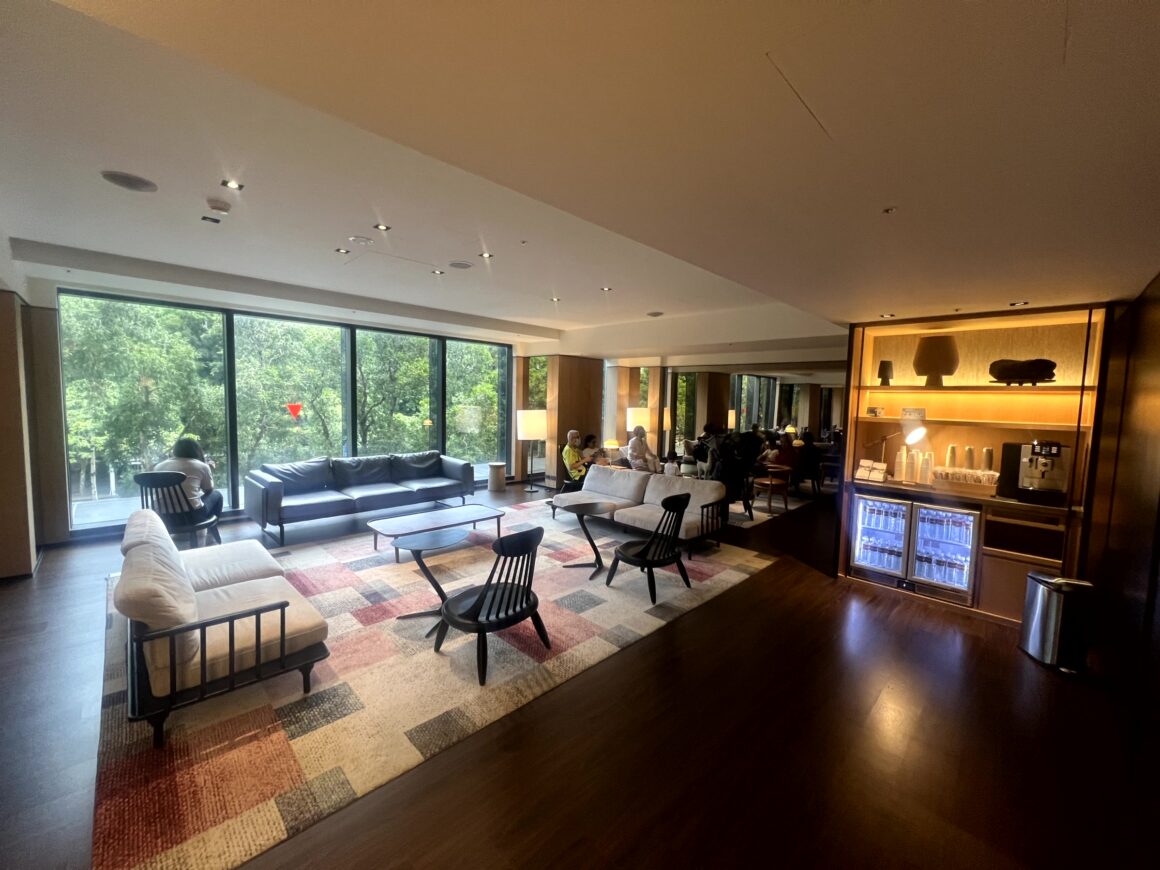 The lounge is open from 08:00-23:00, although I don't necessarily see why the hotel couldn't extend the opening hours to 24/7 since it requires a key card to access the floor. If you need to work on a laptop during your visit, you will probably be better off working from here rather than in the room due to better tables.
With a mismashed name combining Japan and Napoli, Japoli is the resident restaurant of the MGH Mitsui Garden Hotel. While for the rest of the day, Japoli serves mainly Italian food, the inclusive breakfast is slightly more mixed.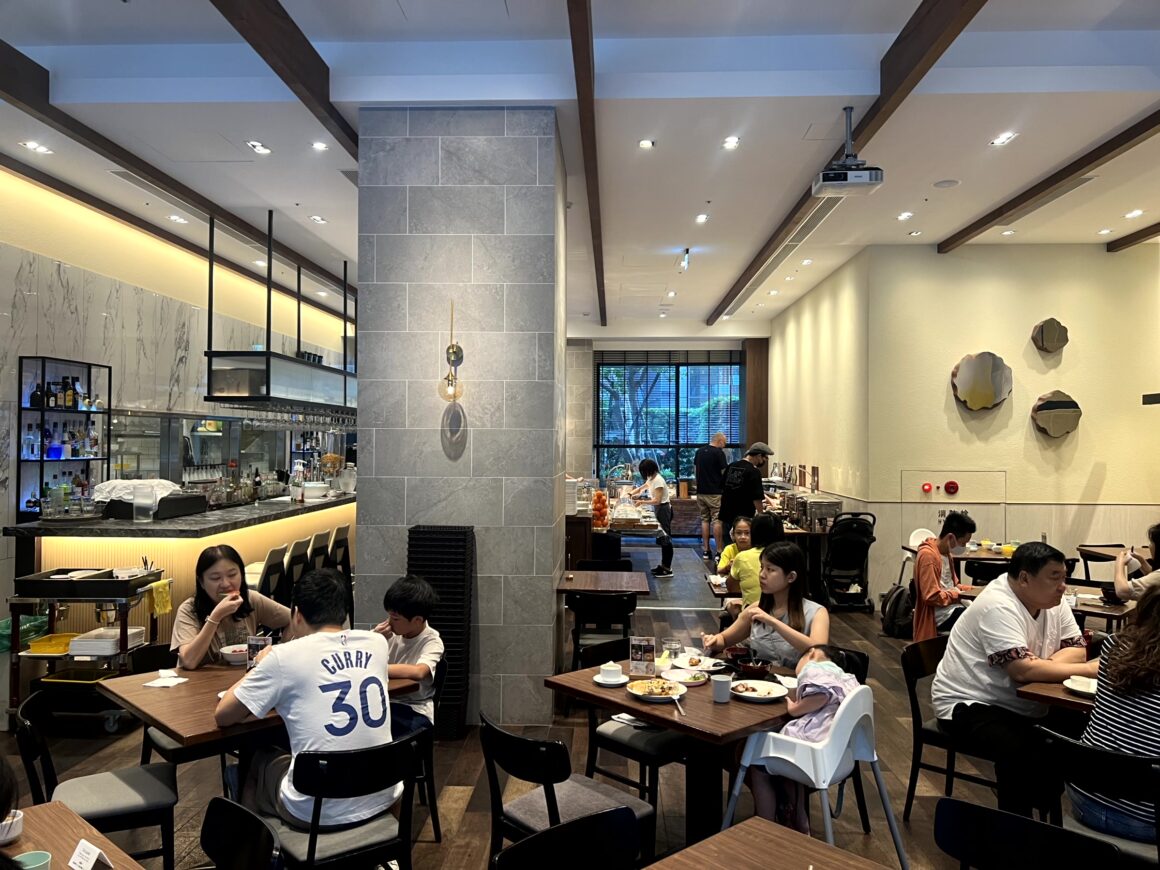 Primarily consisting of a buffet, the vast majority of options are Taiwanese or Japanese, with plenty of options to choose from. I particularly liked the extensive selection of fresh foods like grilled meat and fish, vegetables and fruits, which was refreshing after a lot of fried food in the preceding days.
While the healthier options were appealing, I must admit that Japoli could produce a mean piece of pizza. On both days, the options included margarita and mushroom with truffle oil, with both being well made and on par with many of the best pizzerias I've visited.
For those who may be hungry later in the day, hotel guests receive a 10% discount at Japoli for lunch and dinner.
Conclusion for MGH Mitsui Garden Hotel
MGH Mitsui Garden Hotel is a comfortable, clean hotel in a great location in Taipei to explore the culture of the city. It is an ideal place to stay if you are spending long days around the city and need a reliable place to rest at night. While it is not the most luxurious property in the metropolis, added touches such as the Japanese bath and clean design make for a premium hotel stay, which will please many – myself included.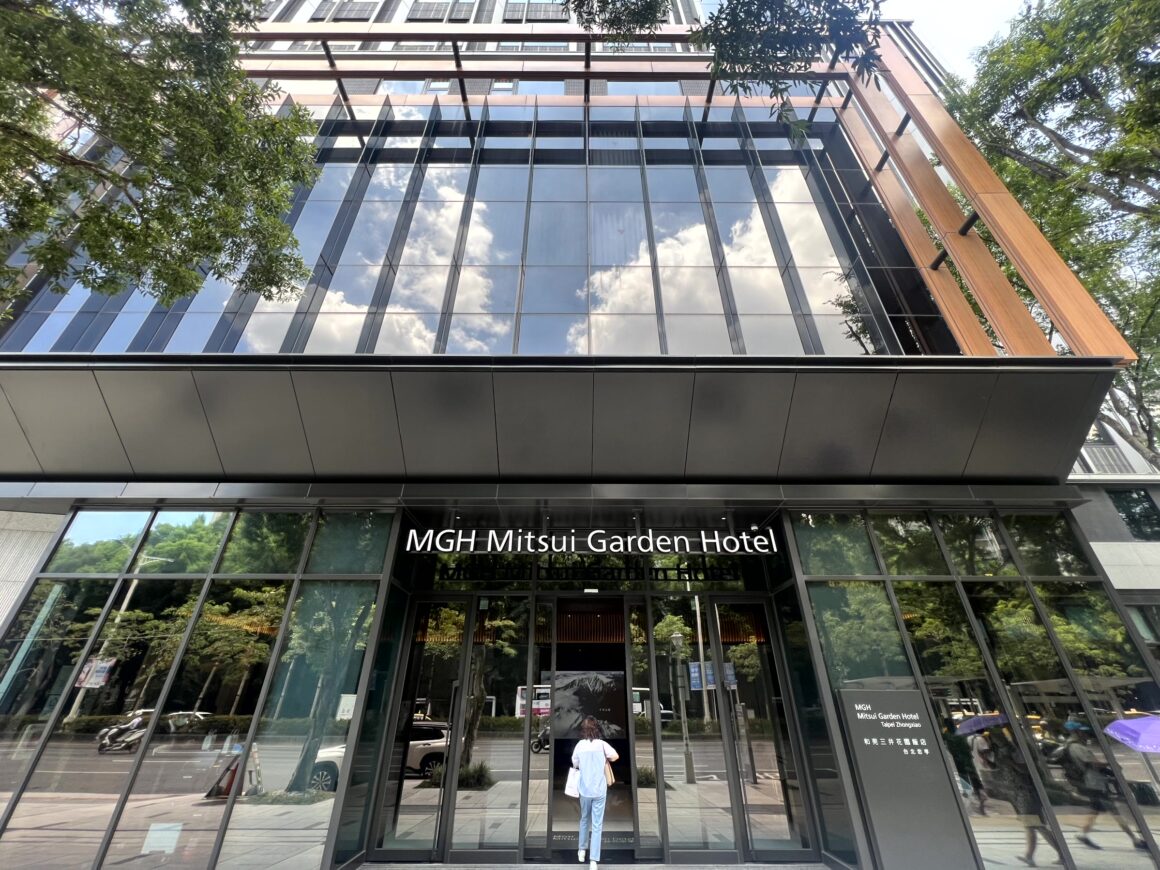 Like our MGH Mitsui Garden Hotel review? You can read more great hotel reviews, including another hotel option in Tawain, here.