As you will know, if you have watched the news or been travelling today, there was a major system failure for UK ATC, which resulted in huge delays and cancellations. I was stuck at Jersey on board the BA Cityflyer to London City for 4 hours, but luckily, we got away eventually. We even had to evacuate the terminal at one point thanks to a fire alarm, which was when it all started to feel very surreal!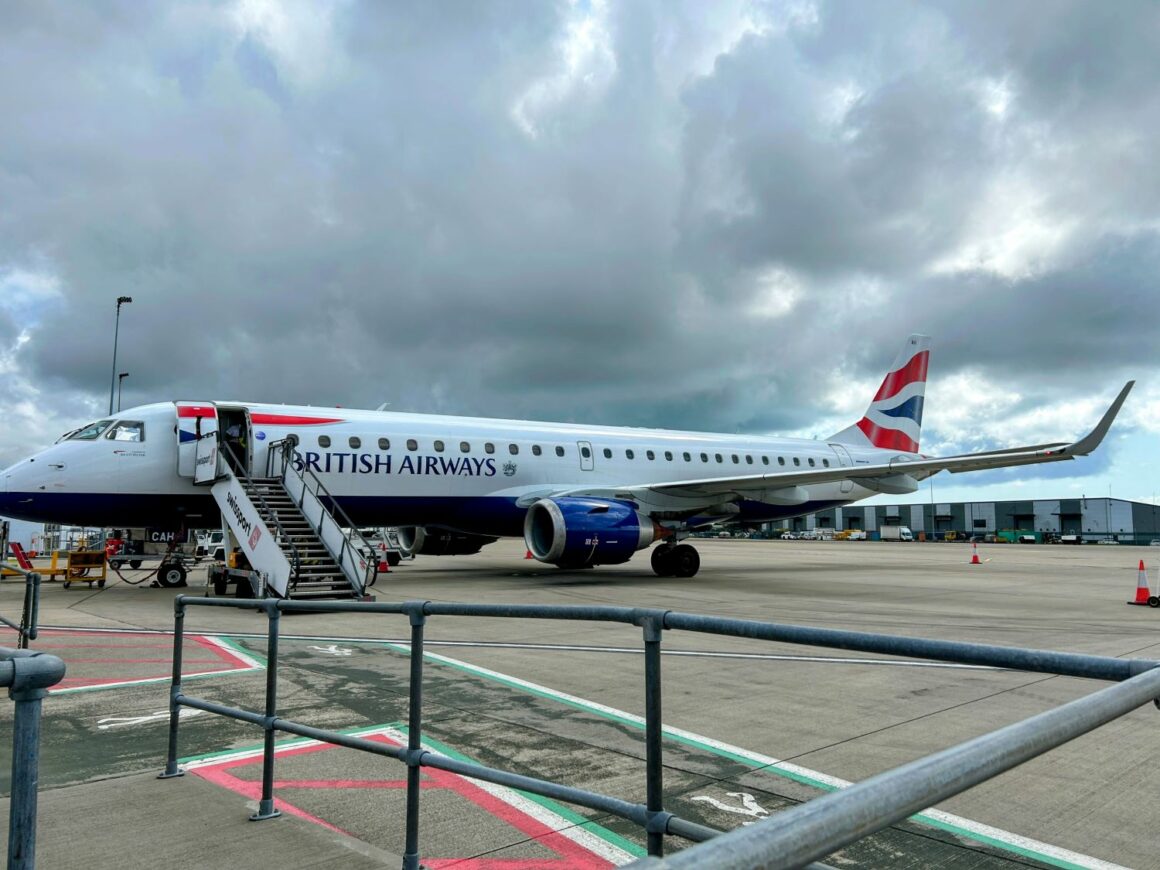 What went wrong with Air Traffic Control?
I worked in ATC for 23 years, so here are a few of my thoughts on what happened.
This morning, the flight planning system failed for the UK, which affected both ATC centres in Scotland and Swanwick and the airports. The centres control aircraft once they have taken off, when they are inbound to the UK before they are handed over to the airport and also flights which are overflying the UK.
Controllers need basic information on each flight to populate their display, such as the flight number, aircraft type, destination and route. When the system initially failed, it was not an issue as it can store 4 hours' worth of data, so everything continued as normal. When it became clear that they could not fix the issue within 4 hours they decided to go manual. This means all flight plans have to be entered manually, which is very time-consuming. Therefore, they will not be able to handle anywhere near the usual number of aircraft. It seems like they put a "zero-rate" on which stops aircraft departing for the UK and from the UK that are not already airborne. We were told at Jersey that the delay was indefinite at this point.
Once they have transferred into manual operations, they will usually try to increase the number of aircraft allowed to take off to a level where they can comfortably work, but this is still very, very limited.
At around 3.30pm the systems came back on, but by this time, most airlines were having to cancel multiple flights. The flights affected will be mainly domestic and short-haul flights. Airlines will now try to recover as much of the ongoing schedule as they can.
If you were on Avios there does not need to be Avios availability on the replacement flight.
What to do if you are flying from tomorrow onwards
Most airports are expecting to operate normally tomorrow (Tuesday). However, there will be lots of disruption initially as crew and aircraft will be out of place. Make sure you keep an eye on your flights using the airline's app to track them or something like the Flighty app (although today, that didn't work at all because it had no data to work from).
It's likely that it will be very hard to contact BA for a few days as they have a huge workload trying to get people back to where they should be and will be completely overwhelmed. The airline apps are the best starting point to see what you can do if you have had your flight cancelled or delayed. If you don't need to contact the airline urgently, please wait.
If you are flying Club Europe, it is likely you may find that the middle seat is no longer blocked. At times of mass disruption BA do this to try to get people home. It may not be what you paid for, but it is the right thing to do in my opinion. You can try to claim something back from BA as it is not the advertised product, but I am not sure how much success people have had with this in the past.
British Airways has advised that if you are travelling today but want to change to a later date you can do so free of charge. This applies to anyone flying short-haul from Heathrow, Gatwick or London City Airport. You can fly within 14 days as long as there is a seat in your original booked class. If you want to travel after that there must be availability in the same fare bucket as you booked.
For those whose flights were delayed or cancelled today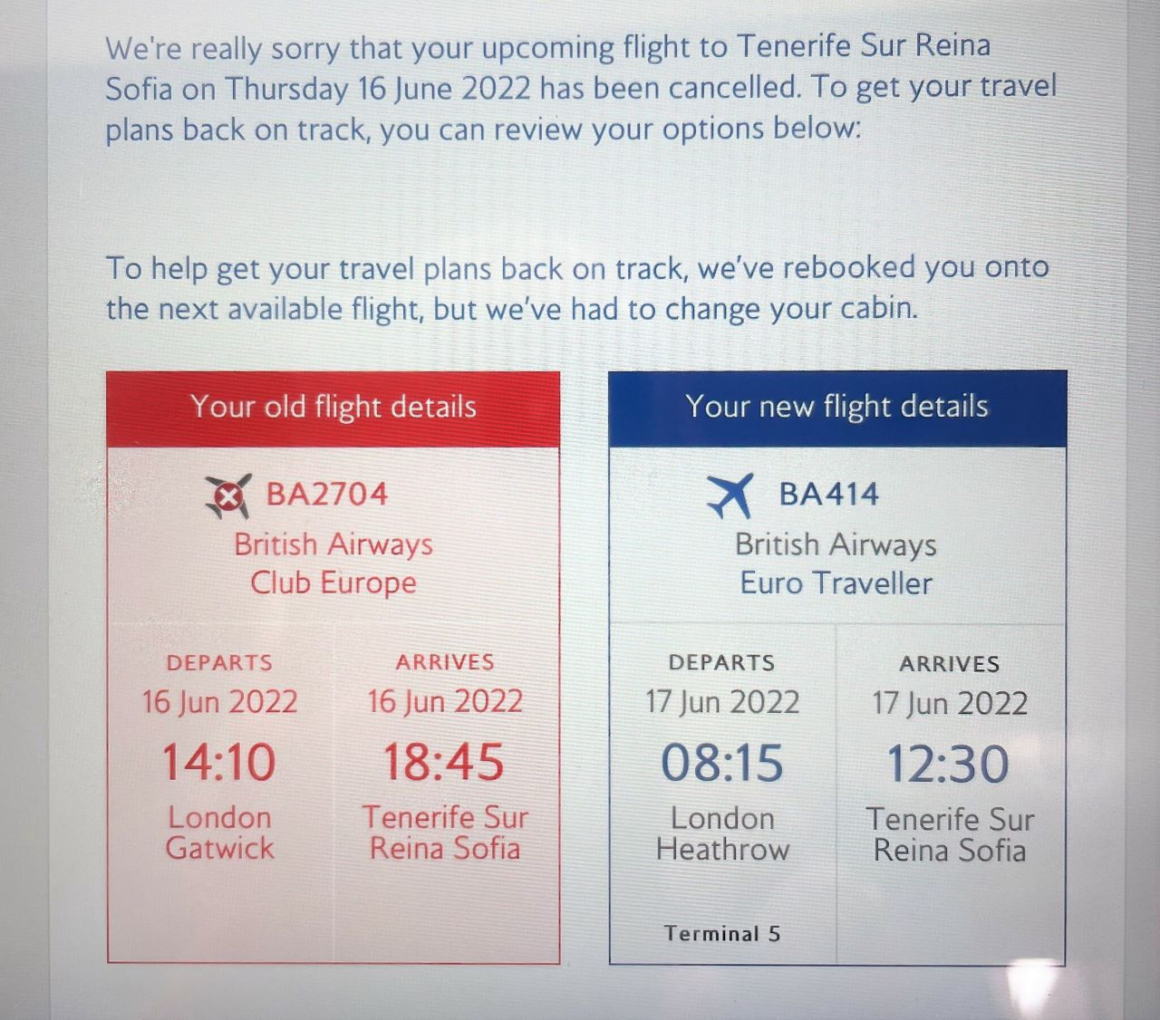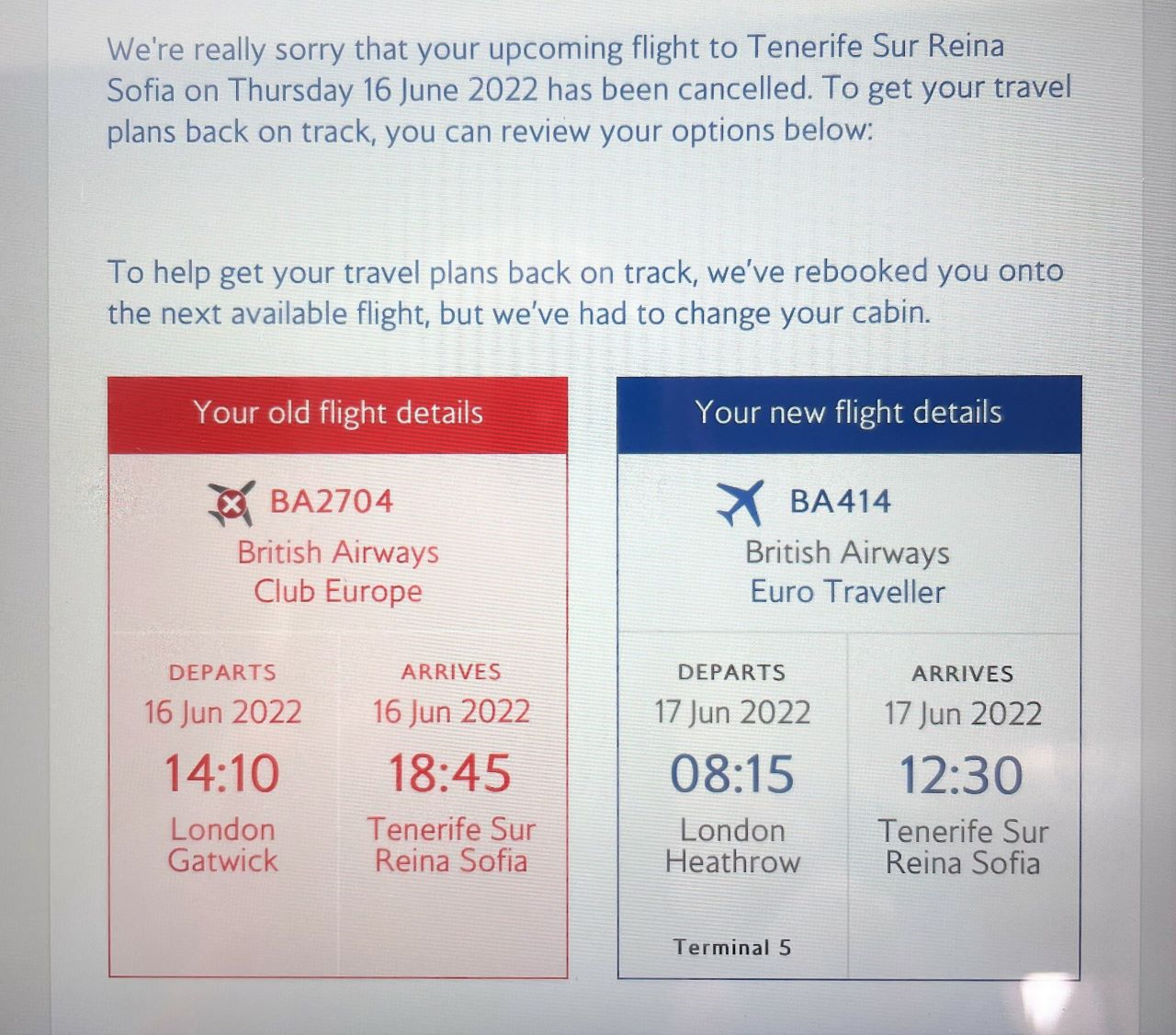 The same applies in that it will be very hard to get hold of the airline by phone. If there is a chat system or Twitter, you may have more luck with that. The first port of call should be the airline's website and/or app with Manage My Booking to see if they have rebooked you already. They should notify you, but it's worth checking. If you booked with a travel agent, you should speak to them rather than the airline initially.
Unfortunately, there was disruption a few days ago due to weather, so flights that were already almost full due to the Bank Holiday are now completely full. Some people are being told they will have to wait days for a new flight.
Firstly, I would not immediately accept the option offered if it does not suit you without checking. Before you contact the airline assess your options. It's likely there are not many flights on any airline, but it is always worth trying something like Google flights to see if you can find an alternative on another airline. BA and some other airlines technically can rebook you on a different airline, but only if you can actually speak to someone.
You may choose to book yourself on something else and reclaim from BA, but be prepared that this could take a while – at least four weeks for many airlines. It is also worth checking your travel insurance to see what they can provide. Obviously, you can look at alternatives such as train, ferry or Eurostar and then claim those back as well.
You will not be eligible for EU261 compensation for late arrival or late notice cancellation, as the issue was not within the airline's control. However, the airlines do still have a duty of care to get you to where you were meant to be going and give you accommodation and meals as necessary.
If the airline has not provided a hotel, you can find one yourself and charge the airline. BA normally suggest around £200 a night, but it depends on where you are and the average rates. Obviously, around Heathrow and major airports tonight, the rates will be very high, so it is always worth screening shotting something like booking.com to show what was available.
Make sure you keep all receipts from things such as food and drink plus transport such as taxis. While airlines are supposed to provide food and drink, often, in these situations of mass disruption, you may be left to fend for yourselves. I always think it is best in these situations to sort what you can yourself and claim afterwards.
Have you been affected by the disruption? Let us know in the comments below.