As regular readers will know, I have started a series of Heathrow and Gatwick hotel reviews. You can access my Hilton T4 review here. I will also be posting reviews of the Sofitels at Gatwick and Heathrow, Renaissance Heathrow, Premier Inn T5 and the Hilton and Bloc hotels at Gatwick in the coming weeks. This week I will look at my recent stay at the Crowne Plaza Heathrow.
Crowne Plaza Hotel Heathrow review
I have been staying at this Crowne Plaza for more years than I care to remember. Unfortunately in that time not much has changed including the décor. However, the 3 reasons that I chose this hotel remain current too. The hotel has one of the best locations for T2 and 3, being right by the M4 spur into the Heathrow tunnel. The hotel is part of IHG which means I can get triple Avios earning opportunities. Through the Avios estore portal I can get 3 Avios per £1, on my credit card I can earn Avios and finally through IHG Rewards I can earn 2 Avios per £1 as well. Finally, the hotel is usually keenly priced. On this occasion I paid £90 which is not bad for a 4* hotel at Heathrow on a week night. At weekends prices are usually around £70. You can join IHG Rewards here. This also gives free Wi-Fi at properties that charge.
Location and transport
The hotel is situated very close to the Heathrow M4 spur. Depending on the time of day, you should be able to reach Terminals 2 or 3 in around 5 minutes or 15 at peak times. It is approximately 2.5 miles to terminal 3. You could either do what we did and drive to Heathrow from the hotel, get a taxi or the Hoppa bus, which goes every 20 minutes. The Hoppa bus costs £4.50 one way or £8 return, which is frankly extortionate. Parking costs £16 a night at the hotel. You could also do a hotel plus parking deal which is normally pretty reasonable through someone like Holiday Extras where rates start from £98 with 8 days parking included. The Crowne Plaza page for Holiday Extras is here.
Check in

As I was an IHG member, I used their dedicated desk. There was only a short wait and the check in agent was welcoming. Pretty soon I was on my way to the room. Interestingly, Roving Reporter, who was not an IHG member, got a better room than me! Check out was very swift with no queue.
The room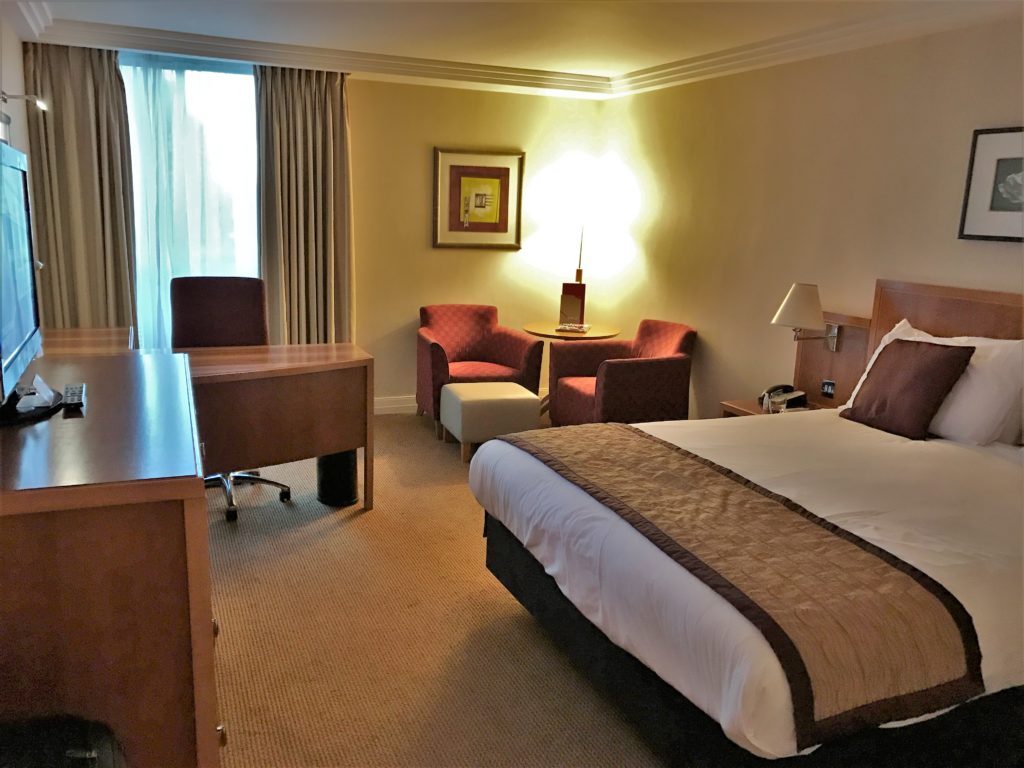 The rooms are a reasonable size but now looking dated. I am pretty sure the rooms have not changed much in the last 15 years! What they lack in modernity, they make up for with amenities. There was a bathrobe, tea tray with biscuits, chocolates and hot chocolate too. There was an almost empty fridge with free bottled water. The rather small TV had a good selection of Freeview channels as well as some international ones. If you wanted to work, there was a huge desk with sockets next to it. Unfortunately, there were very few sockets elsewhere and none by the bed which really annoys me. Roving Reporter's room appeared to have had a minor update however, and had a double socket and USB by his bed side plus slightly different furnishings.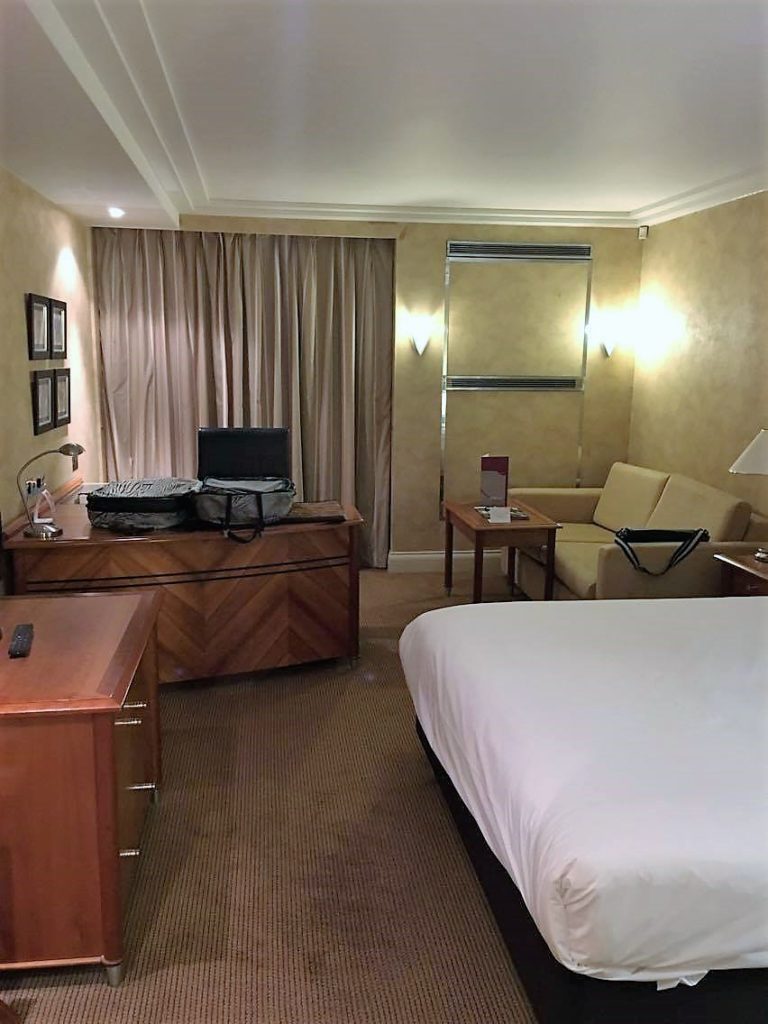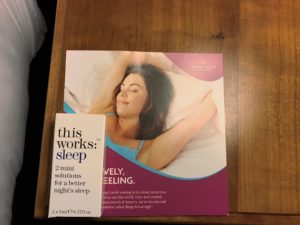 The bed was comfortable with a mattress topper for softness but unfortunately the same could not be said for the pillows. The pillows were both extremely hard and lumpy and there were no spare ones in the wardrobe. There are apparently other pillows available, so I advise you to check the pillows when you arrive and order some more if not to your liking.
There was the usual Crowne Plaza sleep kit by the bed which I like. This has a this works Breathe in rollerball – with Frankincense from Somalia and Eucalyptus from Spain, helps clear the head and counters physical and mental fatigue. There was also a Deep Calm Pillow Spray– a fusion of Vetivert, French Lavender and Chamomile to help you relax, unwind and sleep well.
The room was fairly quiet and I could not hear any noise from the airport. The only noise I heard was from the road outside which was fairly quiet.
There are a few other rooms available, including Club rooms. I have stayed in the Club rooms and a few times and think the lounge is worth paying a bit extra for if you will have time to use it. They have evening drinks/canapés and a free breakfast. As we arrived after 8pm, it wasn't worth it. I had the standard double room and it appears that Roving reporter may have been upgraded to a Deluxe room. So much for rewarding IHG loyalty members! All the rooms are the same size.
The bathroom

The bathroom had reasonable quality toiletries with a Temple Spa calming face and body balm, Essential elements fresh neroli shower gel and conditioning shampoo. The shower was OK with reasonable water pressure although it was a bath/shower combination. It did have a shower curtain rather than a screen, which is another of my pet peeves (yes I am hard to please). I appreciated the shaving mirror and decent lighting for applying make up though. It was definitely very clean, which is always a good sign.
Food and drink
Orwell's Brasserie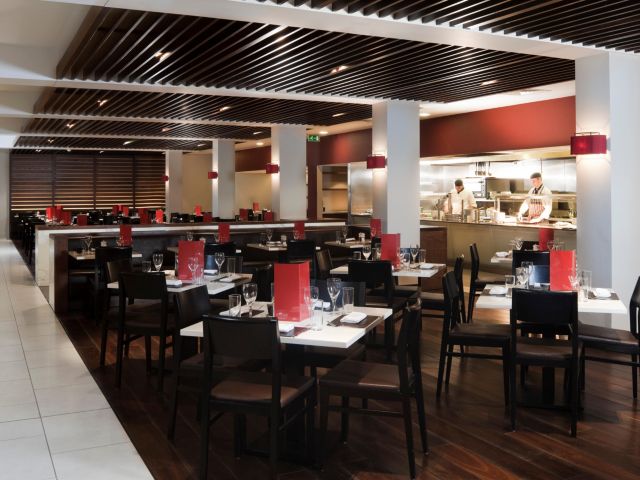 This is the casual restaurant. It is open from 06.00 to 10.00 Monday to Friday and 06.00 to 10.30 Saturday and Sunday for breakfast. I have eaten breakfast here and thought that it was up to the usual standard of a 4* hotel, although it can be very busy. If breakfast isn't included, it costs £16.
Eriki
Eriki is open in the evenings and serves fine dining authentic Indian food in an elegant setting. The restaurant has antique hand crafted indian tables with Jali backed chairs. It has a good reputation and has even won awards.
Bars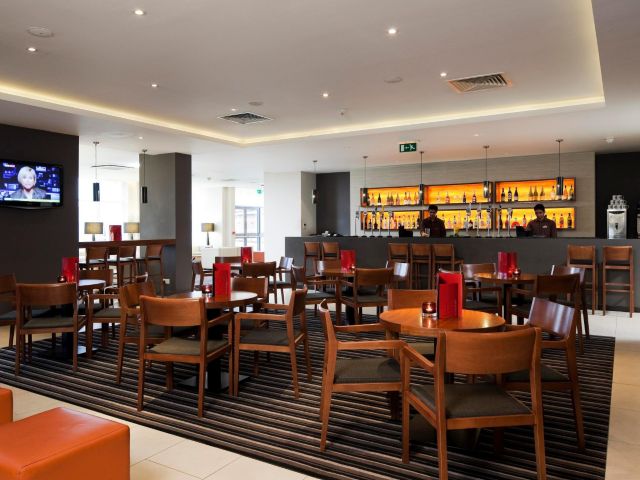 There are a 2 bars to choose from at the Crowne Plaza. We visited the Library bar, the more upmarket of the 2. The drinks prices were average for a 4* hotel with a beer and Hendricks and tonic costing around £11. The bar is nothing special but has a decent range of drinks available. There is also O'Driscolls Irish bar, if you fancy more of a pub atmosphere.
Facilities
If you have an extended time at Heathrow overnight, there are at least decent facilities at the Crowne Plaza. There is a large gym as well as an indoor pool, sauna, steam room, jacuzzi and whirlpool. Wi-Fi is free but I didn't really test it very thoroughly to assess the speed.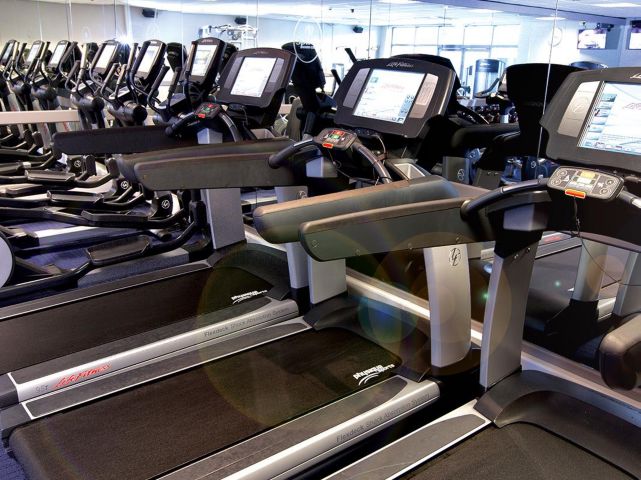 Conclusion
For me, this hotel is in the OK range. The decor doesn't really bother me and most of the other issues were only minor apart, from the pillows. In future, I may be tempted to try some of the other hotels on Bath road which are a similar distance from Heathrow T2 and 3. It would mainly depend on the price and miles on offer. The Crowne Plaza Heathrow home page is here.