I was on a press trip with Jumeirah hotels that visited Abu Dhabi and Oman when I took this Etihad A320-200 business class flight. These two places make a great two-centre with Abu Dhabi's attractions, from the Louvre to theme parks and Oman's culture and stunning scenery. You can actually drive between the two places, but it will take about 6 hours. Flying takes around an hour.
Check-in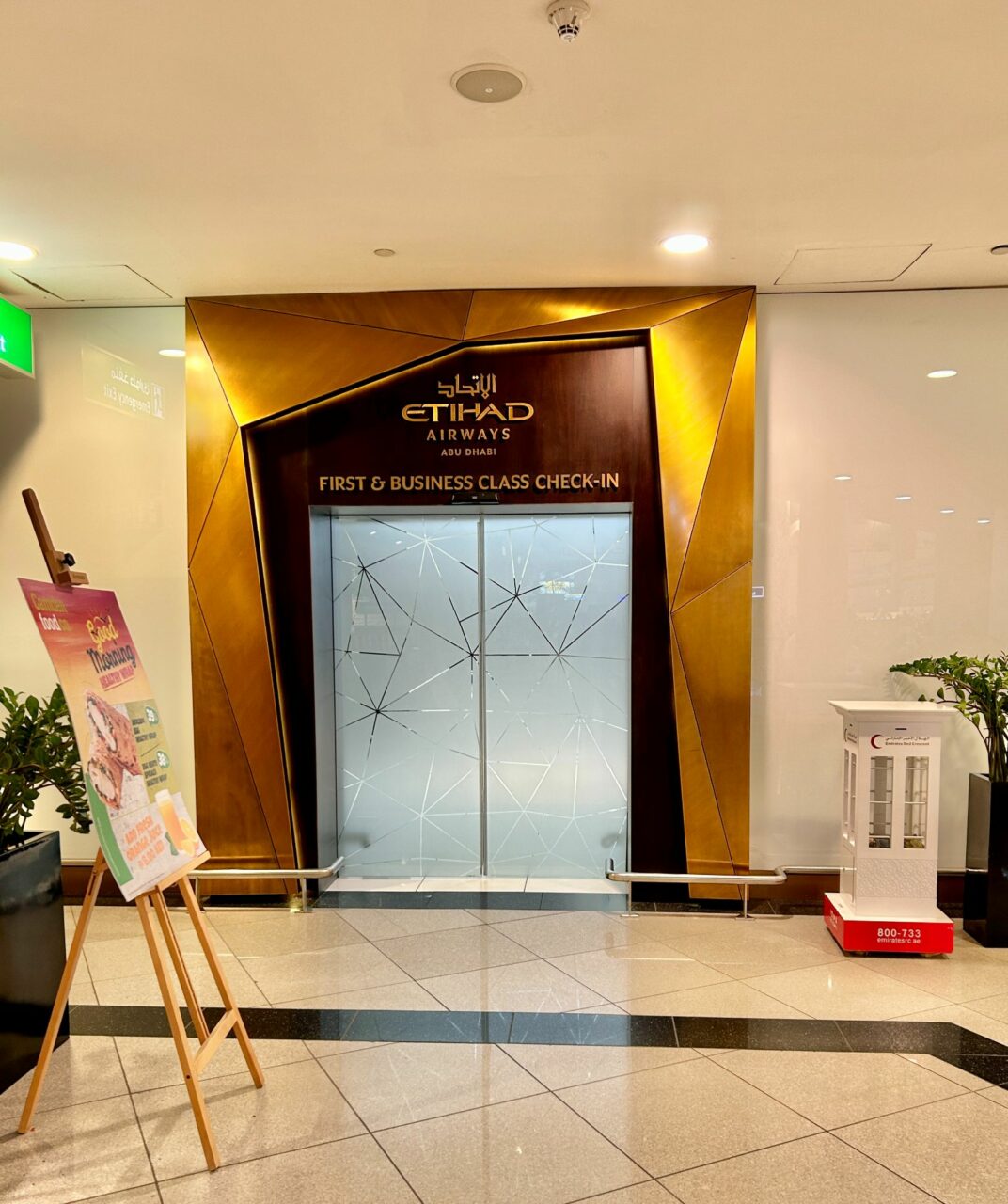 Abu Dhabi airport has a completely separate check-in area for business and first class. When I arrived, all the business class desks were busy, so I was directed to the first class section along with some other passengers who were waiting.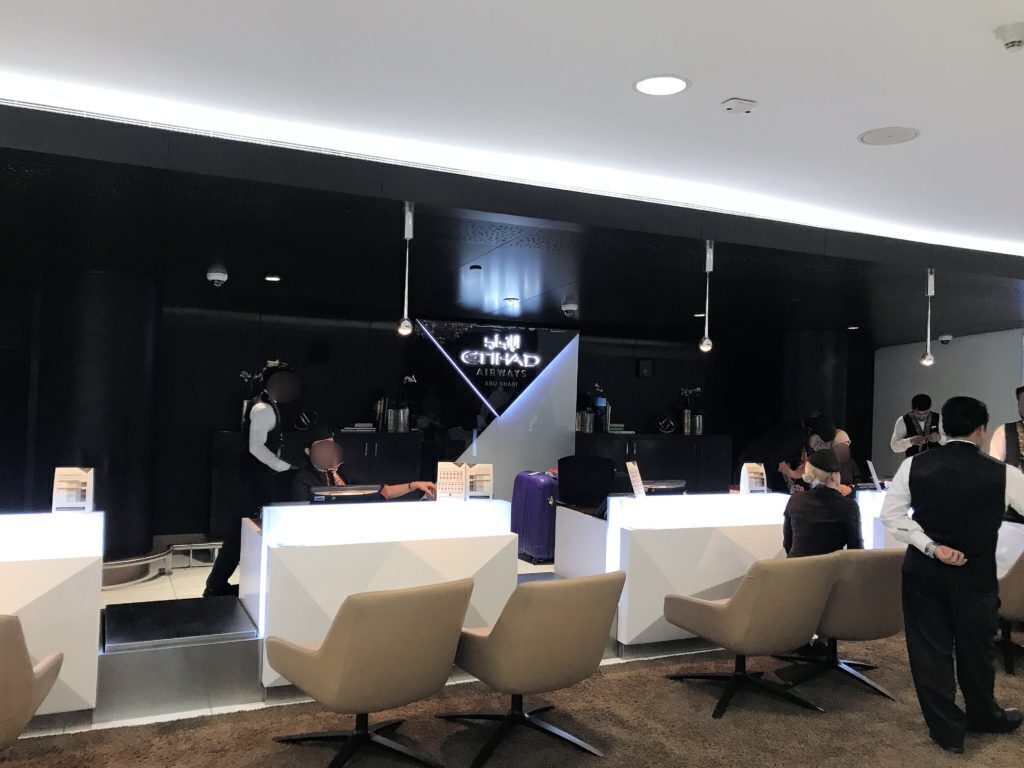 The first class section is very impressive, with desks to sit at as you check in and someone to put your luggage on the scale. I remember on a previous trip when I arrived by chauffeur, I didn't have to touch my luggage at all until I arrived at the other end. Certainly beats lugging it around yourself!
The check-in agent was very helpful as I had a space available upgrade and phoned several people to see if they could give it to me straight away. The flight was quite busy, so I was told the lounge would sort it out for me later.
Lounge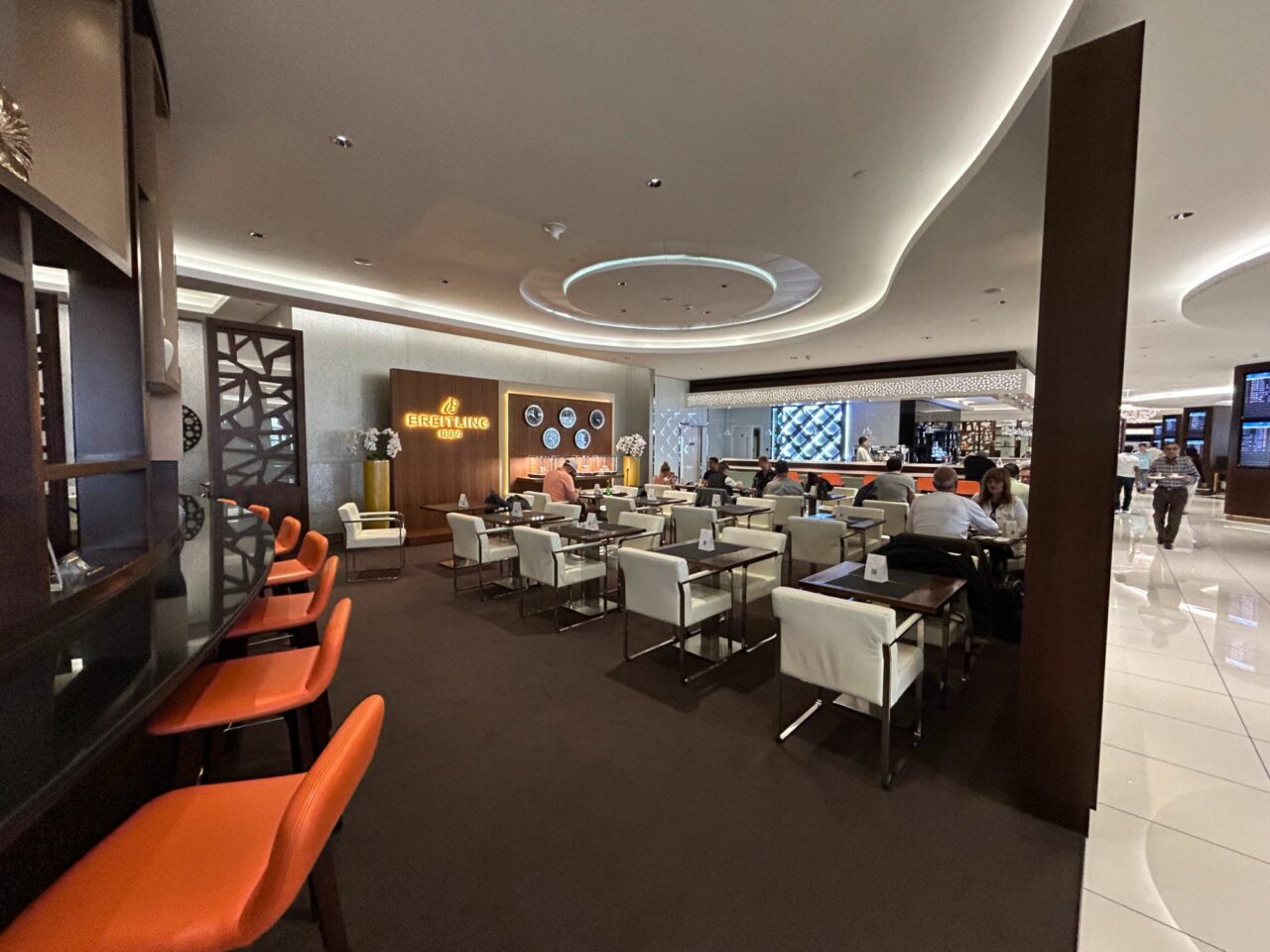 You can find the lounge review from this flight here.
Boarding Etihad A320-200 business class
I headed to the gate a little ahead of time as I wasn't sure how far it was to the boarding gate. Once there, I realised it was a bus gate which is not my favourite. However, in the Middle East, they know how to do bus gates properly, and there was a separate bus for business class which meant we all had a seat. Much more pleasant than clinging onto the handrail!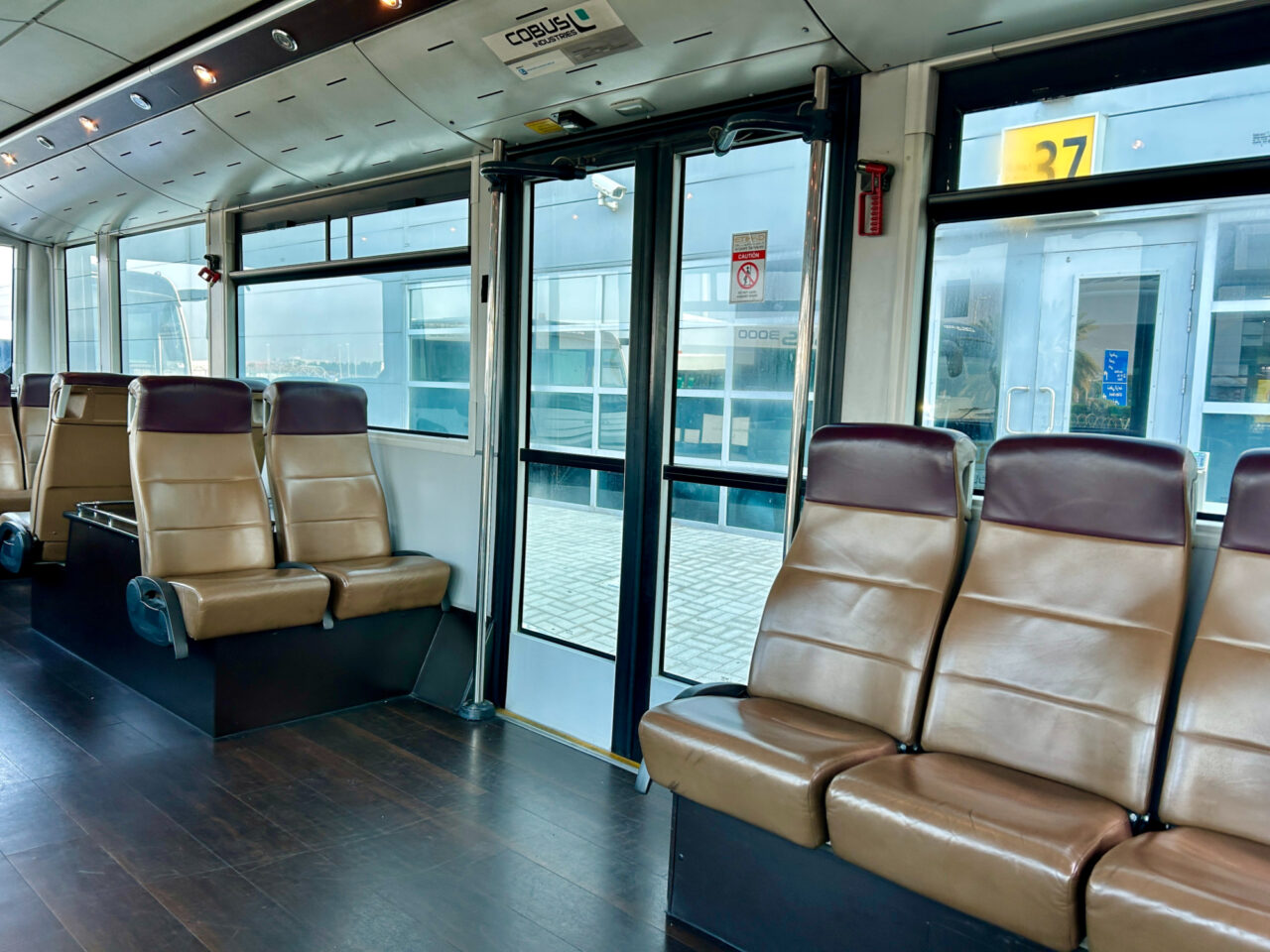 Once on board, we were welcomed with a choice of soft drinks. I went for the Lemon-Mint drink which is a traditional drink for the region and very refreshing. Next came the offer of Arabic coffee and dates. If you have never had it, it is very different to what you may be used to. It is spiced and a bit lighter than normal coffee, although it still has a kick of caffeine to it.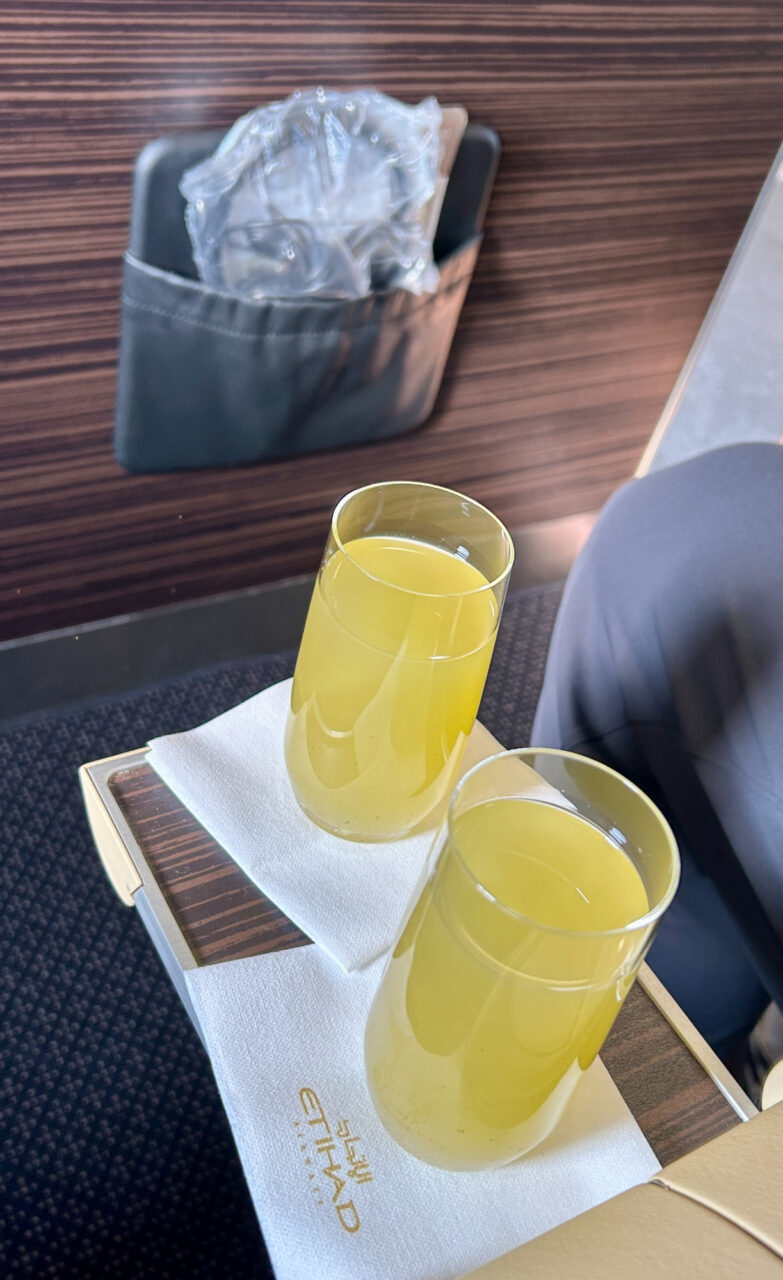 Unfortunately, at this point, it all started to fall apart as there was a malfunction with the aircraft. To be fair, these things happen, and the crew were very good at looking after us and keeping us updated while the engineer tried to fix the issue. The crew were most apologetic too!
Drinks were offered more than once even though we only waited for around 30-40 minutes. It was then decided that we would need a new aircraft, so another business class bus arrived to take us back to the terminal. Unfortunately, we had to go through security again but were soon back at the original gate. I can't fault Etihad at all, as within around 10 minutes of being at the gate, they started to call boarding again for the new aircraft.
Etihad A320-200 business class Seat and Cabin
The cabin is pretty small, with seats in a 2-2 configuration in two rows. The seat was certainly very different from what we are used to on short haul in Europe!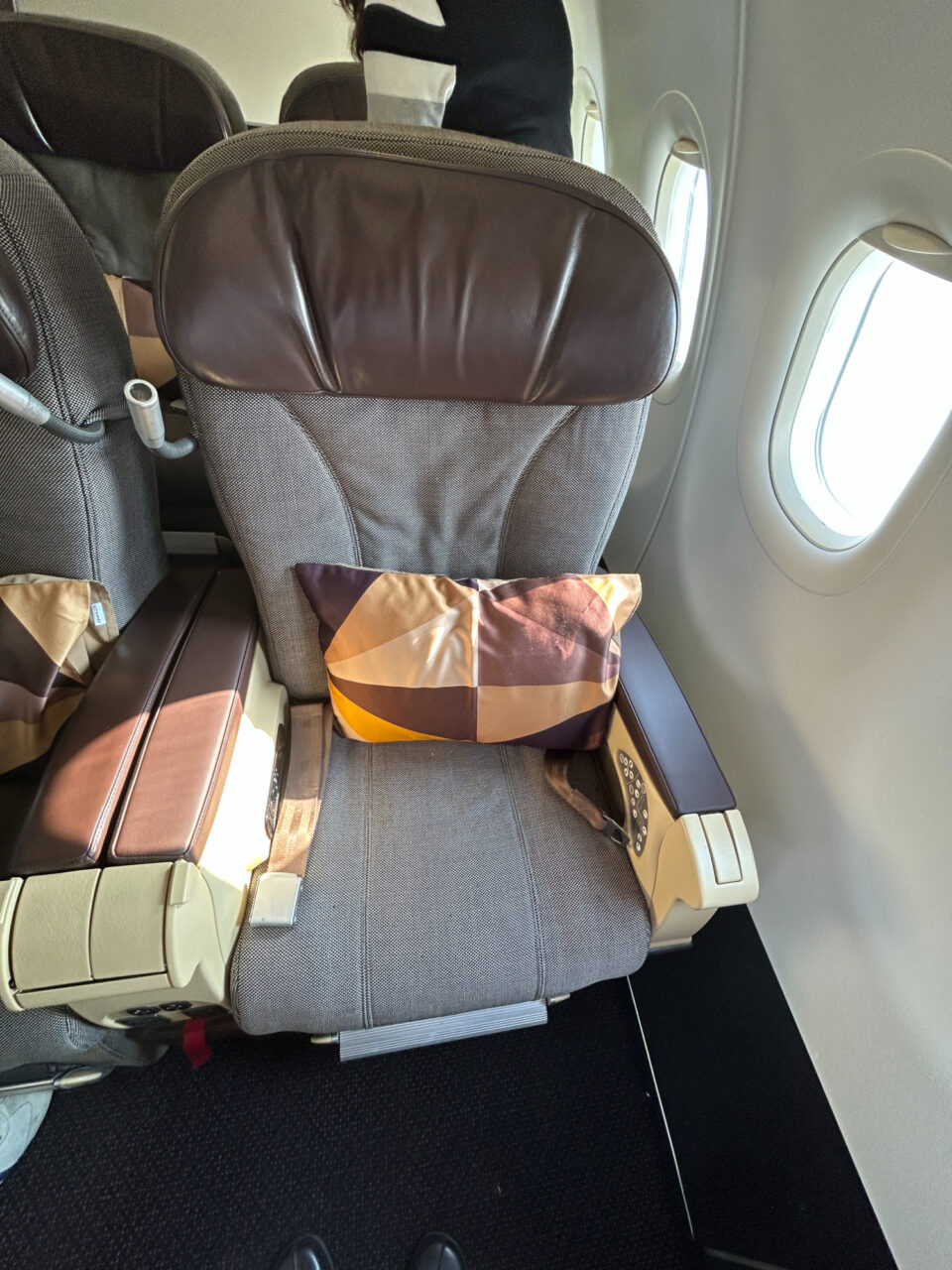 The seat was wide and comfortable and could be reclined using the controls on the side, which had a number of different settings. There was also a padded legrest with a flip-out part for your feet.

I liked that there was a drinks tray that popped out from between the two seats which was perfect for the welcome drinks. The seat was well-padded, wide and very comfortable for the short hop to Muscat. There was also a lot of room in front of me in the bulkhead row.
Etihad A320-200 business class Food and drink
After take off we only had around 50 minutes flying time, but they still managed to offer multiple drinks and a decent meal. A hot towel service was also delivered. The flight was mid-morning, but the meal was a nice selection of local dips with Arabic bread for dipping, a sandwich and some desserts.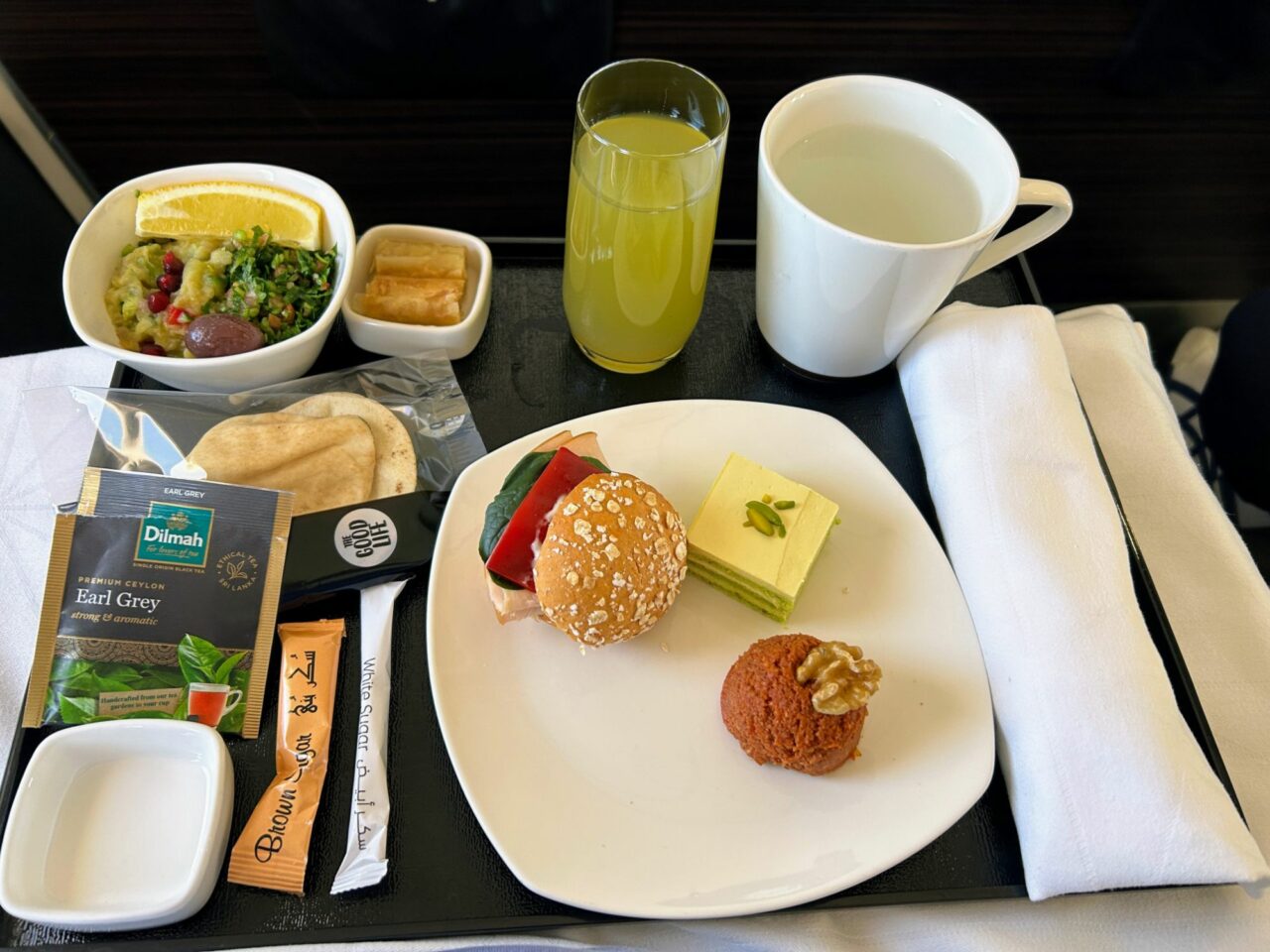 It was all very tasty and nicely presented. I had another lemon mint drink and an early grey tea. The cabin crew member looking after me was exceptional and had the patience of a saint. The man next to me had spent most of the flight snoring and then when he woke up just as they were collecting everything in, he of course wanted the full meal and drinks! They managed to serve him the meal and a drink before landing which was impressive.
Etihad A320-200 business class Entertainment

Wi-fi was available, but I didn't use it on this short flight. It starts from $1.99 for the chat package. I was surprised there was such a good choice of entertainment too. We were offered proper noise-cancelling headphones before take-off. For the front row of business class, the entertainment screen folded out from the centre console.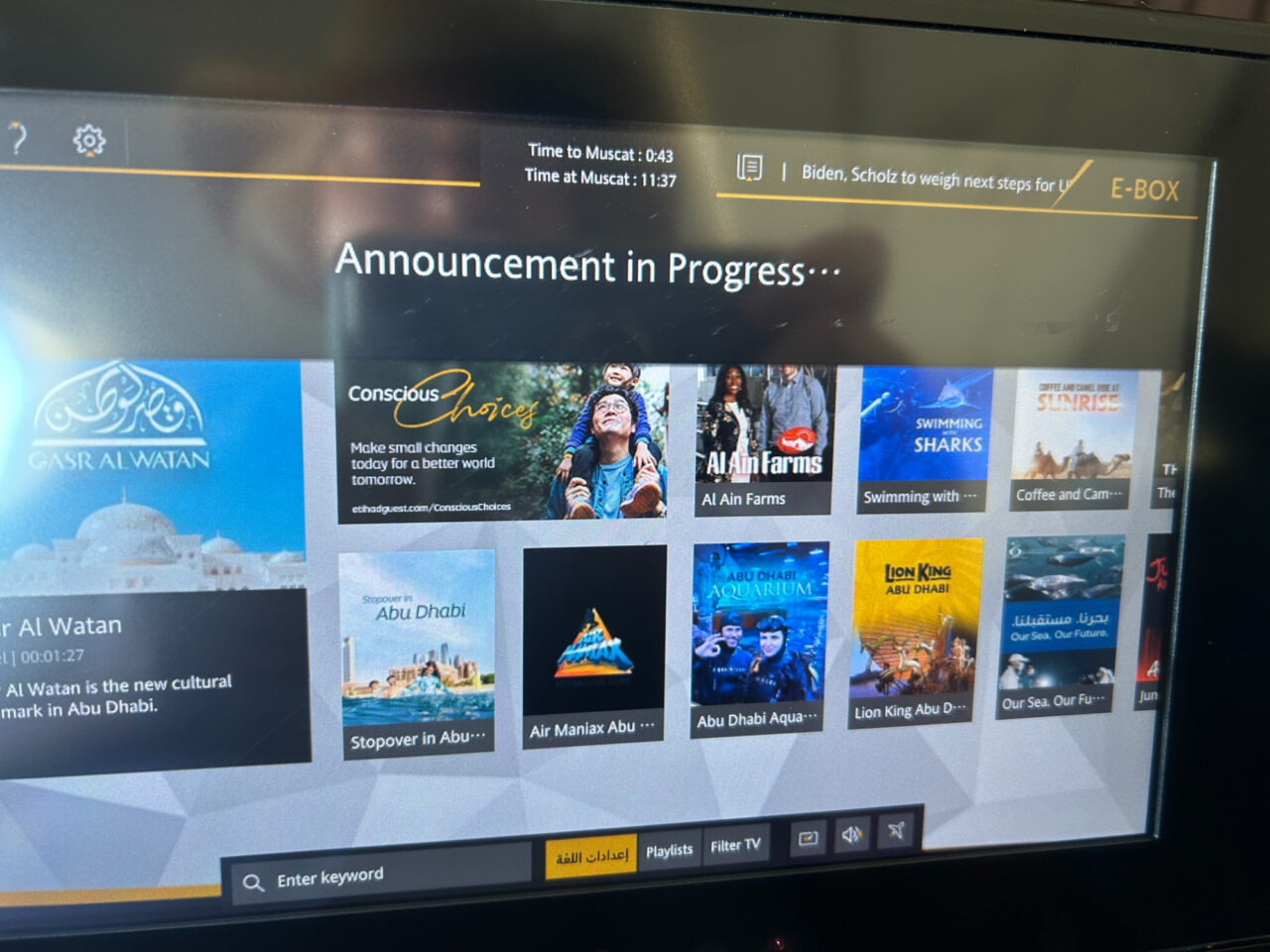 The choice was pretty much what I would expect on a long-haul flight with TV shows, recent movies and destination programs too. As well as that you could stream to your own device which is also available in economy.
Conclusion for Etihad A320-200 business class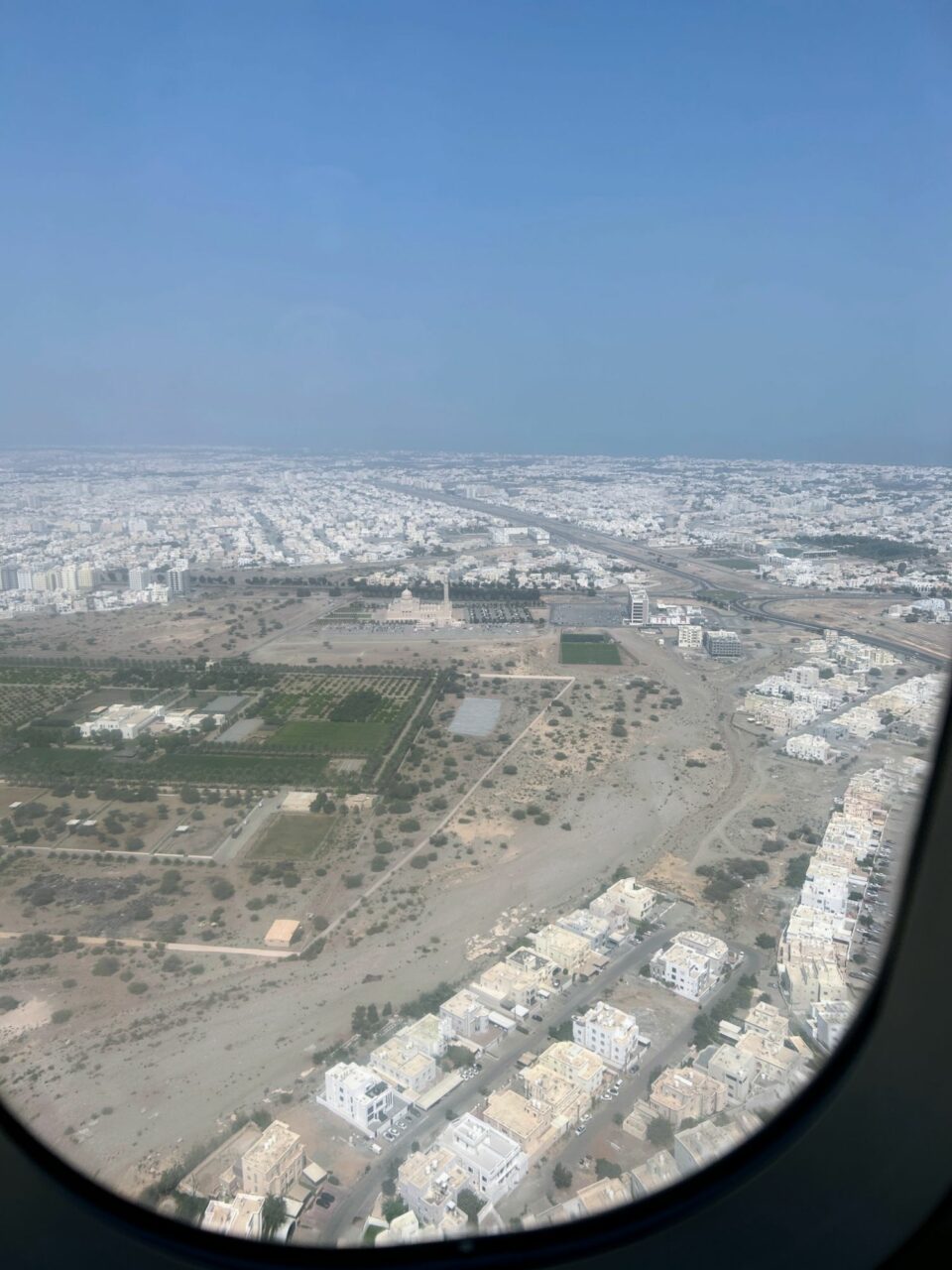 This flight highlighted the real differences between short-haul business classes around the world. Although the food and drink was similar to what you would get in Europe (apart from the welcome drinks), the seat was worlds apart from the economy seats in Europe. I was just sad it wasn't a longer flight to enjoy it all!
Like our Etihad A320-200 business class review? You can read more flight reviews here. Other Etihad reviews that you might like are Etihad A380 Business Class Studio Review London Heathrow To Abu Dhabi and Etihad B787-9 And B787-10 Business Class Review Bangkok To Amsterdam