Today's reader review is about Etihad B787-9 and B787-10 Business class review from Reader Jason. You can read his JAL business class review here.
Etihad B787-9 Business class review Bangkok to Amsterdam
Departure 20:35
Bangkok – Phuket – Abu Dhabi
Seat 6K
Aircraft: B787-9
Check-in
I used the Etihad.com verification service to upload my PCR test result, vaccination certificate, and Netherlands Health Declaration and within three or four hours I received an email that the documents had been approved and I could now obtain my boarding pass and according to the email go straight to my gate (I was travelling with hand baggage only). However, the security staff at BKK insisted I obtain a paper boarding pass so I had to visit the airport check-in desk anyway. This was quick and painless enough and I was issued with paper boarding passes for both segments as well as an invitation to the Miracle Lounge. I was able to use the Fast Track security and immigration control point which was empty and through to a once bustling, now empty departures concourse.
Lounge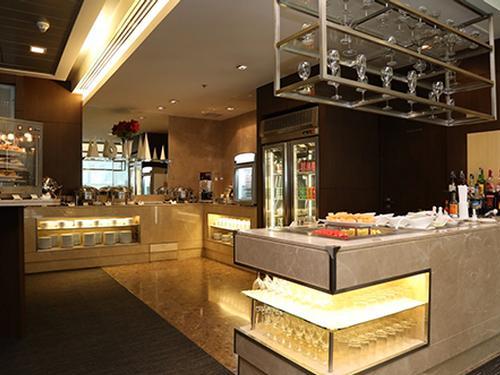 Etihad uses the Miracle Lounge at BKK. I had fairly low expectations however the lounge was very pleasant. The décor was very aesthetically pleasing and the lounge was roomy, light and modern with ample seating and plenty of charging points. All food and beverage items were help yourself. There was a wide selection of hot and cold options as well as beers, wines, spirits and soft drinks. I stuck to coffee and there were three very good coffee machines in the lounge.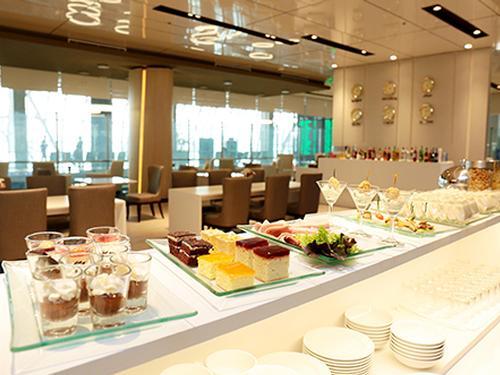 The wifi I'd been given a code for by the lounge staff worked well and there were quite a few charging points. I wasn't expecting anything to eat on the Bangkok to Phuket sector and planned on sleeping on the flight to Abu Dhabi so had some pork loin with pepper sauce and salads.
Boarding
I arrived at the gate where boarding commenced on time 30min ahead of departure. Etihad boards by zone and there was a fairly light load boarding the flight in BKK.
I was greeted at the door of the aircraft by very friendly cabin crew and directed to my seat, 6K. I was immediately impressed by the stunning cabin, the colours, and the lighting. I had not flown this kind of configuration before. The seats stagger closer to the window and aisle with the closer to the aisle seats facing rearwards and the true window seats facing forwards. Centre seats also alternate between forwards and rearwards facing. I took my seat and was immediately impressed with my personal space and a bottle of water, headphones, blanket and water were already at the seat. It was definitely the lowest to the floor seat I had ever experienced on an aircraft although I was happy to see a large footwell as so many these days have tiny cubby holes.
Not all seats are equal, however. The reverse facing window seats are not only closer to the aisle, they also have noticeably less personal space. The 'true' window forward-facing seats are definitely the way to go.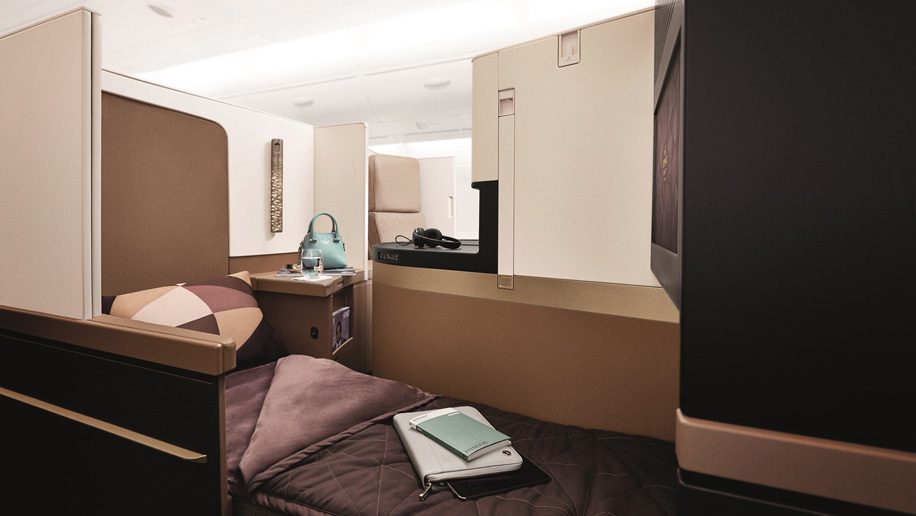 There was only a handful of passengers on the short hour hop to Phuket. The cabin manager and crew member serving my aisle both came to introduce themselves and they both seemed really genuine in their welcome instead of the often robotic 'welcome mr xxx my name is xxx it is a pleasure to have you onboard today'.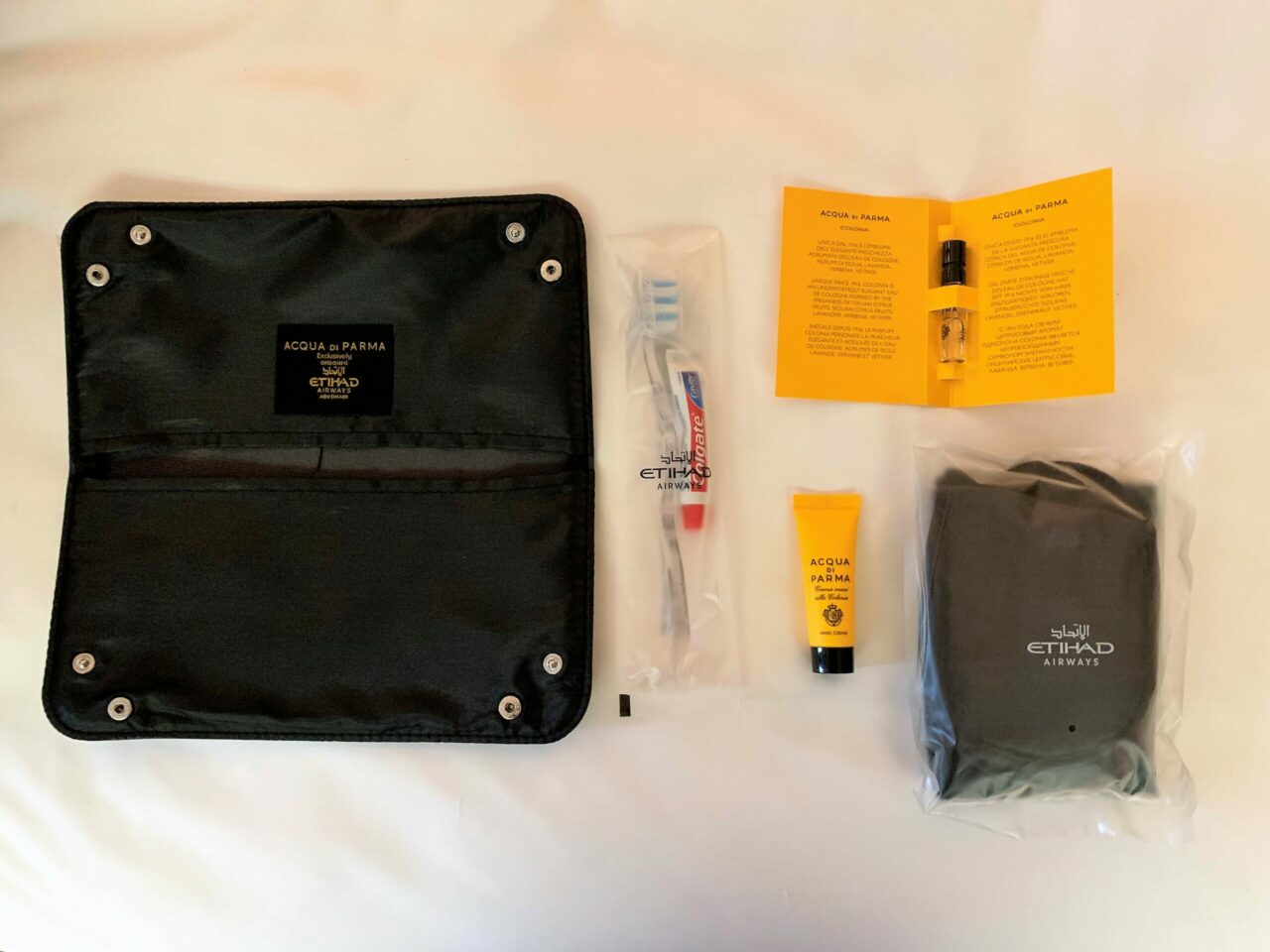 A choice of Lemon and mint, OJ or water were brought around (no fizz on the ground), washbags were distributed (although earplugs were not included but were provided when asked) as well as a very comprehensive 'wellness kit' of a small bottle of hand sanitizer, wipes and two masks.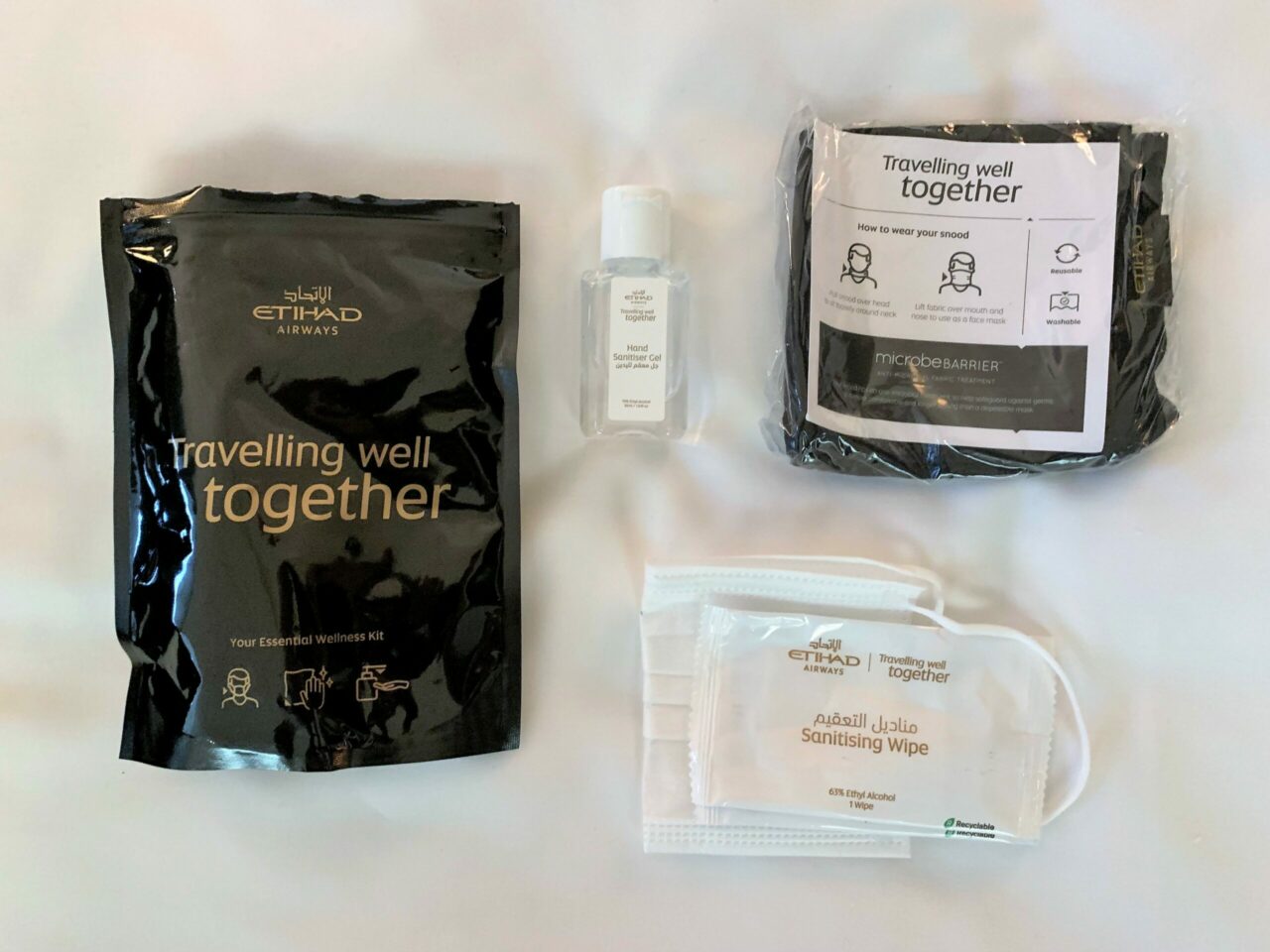 During boarding I was asked if I would like the light meal served on the BKK-HKT sector and I was pleasantly surprised they were serving anything apart from a drink and perhaps some nuts. The crew member explained it was just some cold snacks and as I wasn't eating on the longer flight I though why not.
The door was closed and we pushed back on time. During the short hop to Phuket the light meal was served which was some very tasty canapes.
We landed in Phuket and although the cockpit crew had a change the same cabin crew were continuing to Abu Dhabi.
Boarding of Phuket passengers began and the flight completely filled up. Menus were then distributed and having a quick flick through the catering cost-cutting rumours seemed true. Meals are just a one-tray affair now with a 'starter' (which is really a small side if anything), main and dessert are all served together. The only choice available is for the main. Meal and drink orders were taken and I just opted for a glass of wine with some nuts after take off.
We were again airborne and my wine and nuts were delivered and I was so tired I cannot even remember preparing my bed.
I woke up around 2am UAE time by the captain's announcement that we would be landing in around 45mins. One of the crew immediately approached me and asked if she could get me anything to drink and I opted for a coffee. Not that I was interested (I had four hours in the lounge approaching) there was no breakfast on offer or even a simple pastry or some fruit which I thought was a little weak if someone had not had dinner and fancied something light before disembarking.
It was a nice flight, I loved the seat and cabin and the friendliness and genuineness of the crew was a highlight. I find crew on Asian and Middle Eastern carriers can be extremely polite and professional but sometimes it feels a little forced or rehearsed. These guys genuinely seemed to be really genuine in their approach.
Transit and Lounge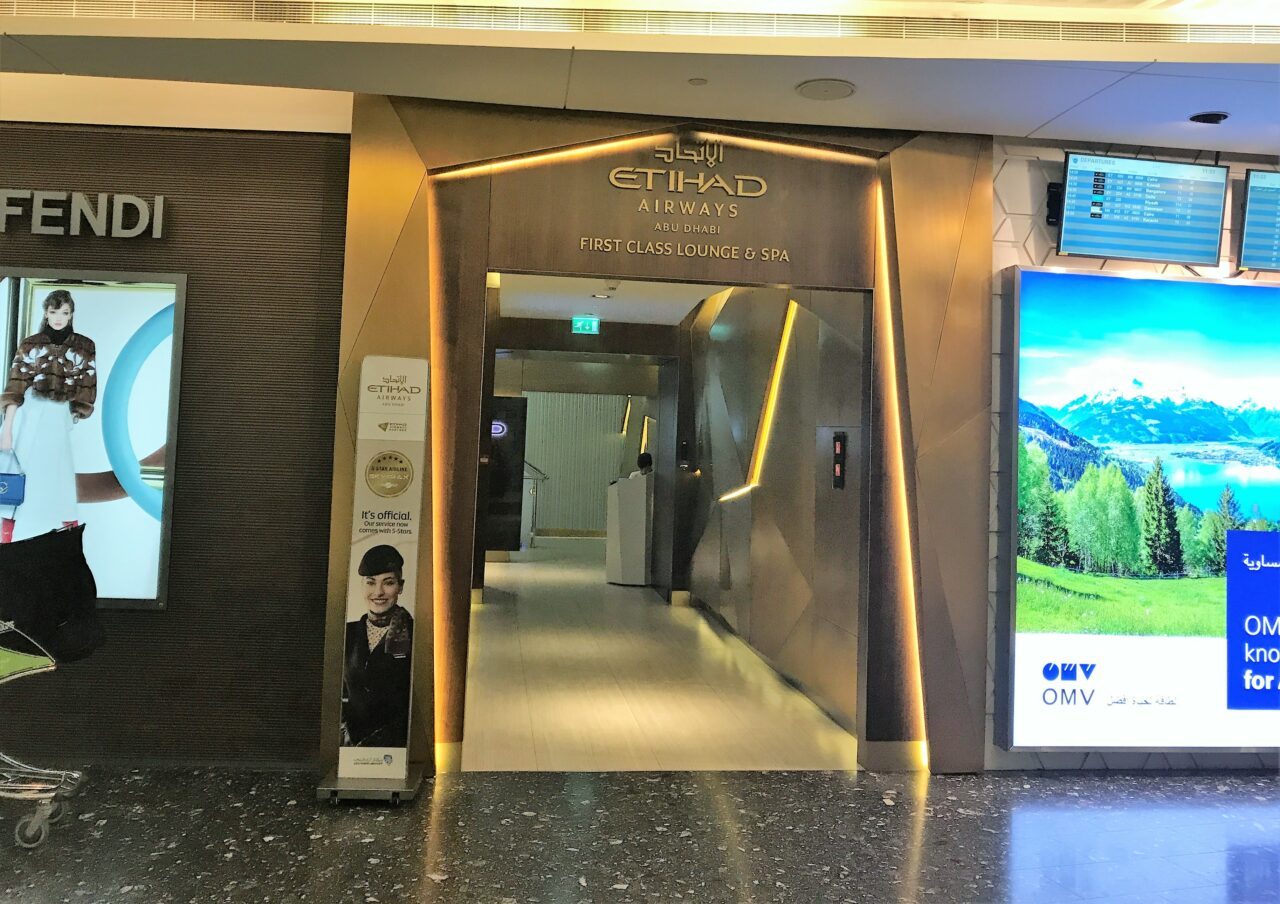 I passed through the transit security check point and followed the signs for the Business Class lounge. Upon entering the lounge I was impressed by the space and how serene and quiet it was. What was not impressive was the lack of food. The food areas were all empty and when I enquired was advised that breakfast doesn't start until 04:30, an hour and a half later. So that's fine, but surely there can be some snacks or light bites on offer beforehand. There was absolutely nothing. I thought this a weak point because in cases like mine, I'd elected not to eat onboard the flight so I could sleep instead and assumed there would be some kind of food offering available in the lounge. Wrong!
When the breakfast did commence it was a reasonable offering, nothing special. The food was served from a buffet by staff members. I was a little disappointed by the lack of traditional middle eastern items like foul medames and labneh etc. The focus was more on the usual scrambled eggs, sausages etc.
Abu Dhabi to Amsterdam Seat: 10A B787-10 Departure time 08:10
Boarding for the AMS flight was via buses and a remote stand. Annoying for most, a joy for the avgeek! This was my first time travelling on the B787-10 variant although it seemed very similar to the -9.
I was again welcomed onboard by a very friendly crew and once at my window seat was welcomed by both the cabin manager and the crew member serving my aisle. Either Etihad trains their crew very well or I got very lucky. All the crew I interacted with over the two flights were a ten out of ten.
I'd again selected one of the forward-facing window seats although further towards the back of the cabin this time (have to get those engine pix!). Flicking through the menu breakfast was the main meal. Not surprising for a flight departing at 08:05. Meal and drink orders were taken on the ground and I was asked when I would like to eat. Dine on demand was suspended during the pandemic but seems to have made a comeback. I placed my order for the Arabic breakfast and enjoyed one of the lemon and mint mocktails on the ground. Fizz was available pre-departure from AUH also.
We again had a bang on time pushback and there was some interesting plane spotting during the taxi to the runway including a Qantas A380, two Air Fiji A330's a LATAM 777 and a South African Airways A320. We were in the air minutes later.
Breakfast was served and it was fine. It's all a one-tray affair and the only choice you make is for the main dish. The starters were some fruit and yoghurt. The cost-cutting in catering are evident. There are no premium offerings onboard such as some smoked salmon etc and the starter could not really be called a starter. It's a tiny side dish. Although nearly all airlines modified their service during the pandemic most have now returned to at least a near-normal offering. Some cheeky airlines are still using COVID as an excuse for their 'reduced' catering however.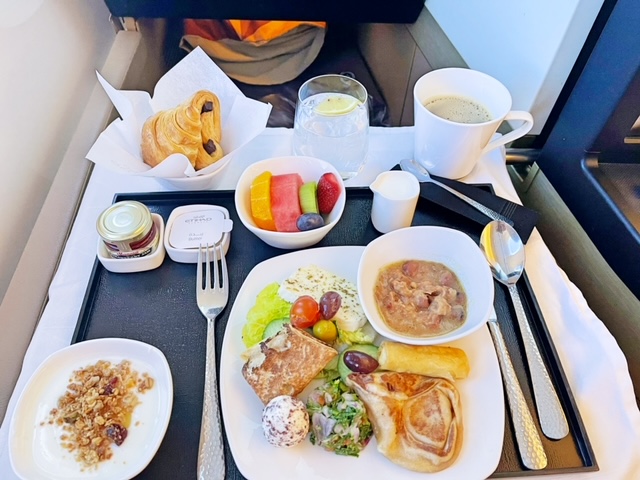 Being a day flight I checked out the inflight entertainment. There is a huge choice of movies, TV even live TV available. Wifi is also available with packages ranging from a message only service for $1.99 per flight through to wifi by the hour or 24 hours for $24.99. I couldn't see in the price plan if the 24hr packages allowed you to continue use on a connecting flight though.
Before landing in Amsterdam there were a choice of light bites available – a steak sandwich or a quiche. I had the steak sandwich which was served with a bag of crisps and have to say the sandwich was excellent.
Before landing the cabin manager again approached me and asked how my flight was, thanked me and wished me a happy new year and shortly afterwards we were on stand.
Verdict
I really enjoyed my flights. Etihad has beautiful cabins and great seats although I would avoid the reverse facing window seats and opt for a forward-facing one instead. I found the friendliness of the crew a highlight and they managed the fine line between being friendly and professional but also genuine and relaxed.
The catering was an area that definitely needs improvement. There is little choice, the justification to serve everything at once 'cos of COVID' isn't really on. Starters are tiny – a little side dish. Mains are fine. There is no choice of dessert or cheese. It's just one standard dessert and that's it. The fact that Etihad operates from a 24/7 hub at AUH should also be reflected in the offerings of their flagship lounge. Hopefully, these aspects will be improved once business picks up again.
You can read Gus's review of his recent Etihad flight here and the lounges here.