I reviewed the Etihad First and Business class lounge at Heathrow yesterday. Etihad's business class studio is often said to be one of the best business class products going, so what did I think? (Note: if you are reading by email you may need to click through to the website to see the slideshows).
Check-in and boarding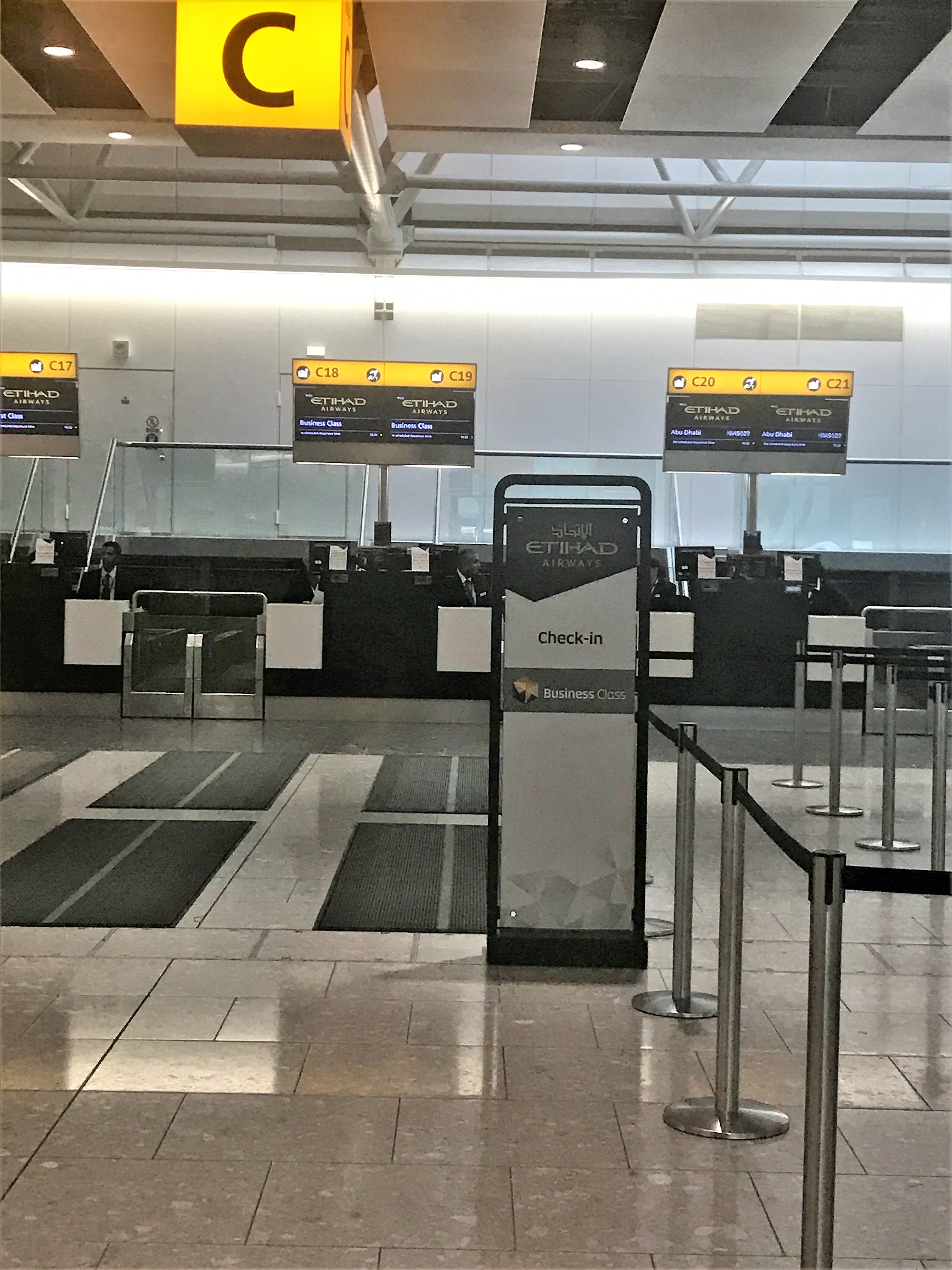 This really impressed me, as much as a check-in can. Although the Etihad business class check-in area isn't very exciting, the service was superb. I was greeted with a smile and my luggage was lifted onto the belt for me. You don't even get that with most first class flights on many airlines. There was certainly no evidence of cost cutting here. The agent explained where the lounge was and wished me a pleasant flight. You can read yesterday's article about the Etihad Heathrow lounge here.
As you approached the gate there was some secondary screening going on but I was waved through. Despite leaving the lounge as soon as boarding was announced, they had already begun. The boarding seemed fairly orderly and I didn't have to fight my way through a queue. The boarding for the upper deck was via a ramp. I glanced enviously at the First Apartments as I walked past but I knew I was going to experience them on the way home.
The seat

I was sitting in 14K, a window seat. Business class on the A380 is upstairs and fills the majority of the space along with first class. The seats are in a forward and backward unique 2-4-2 configuration. If you were travelling with someone you would need to get the middle pair to be able to talk to each other. The layout means that every seat has aisle access which was great.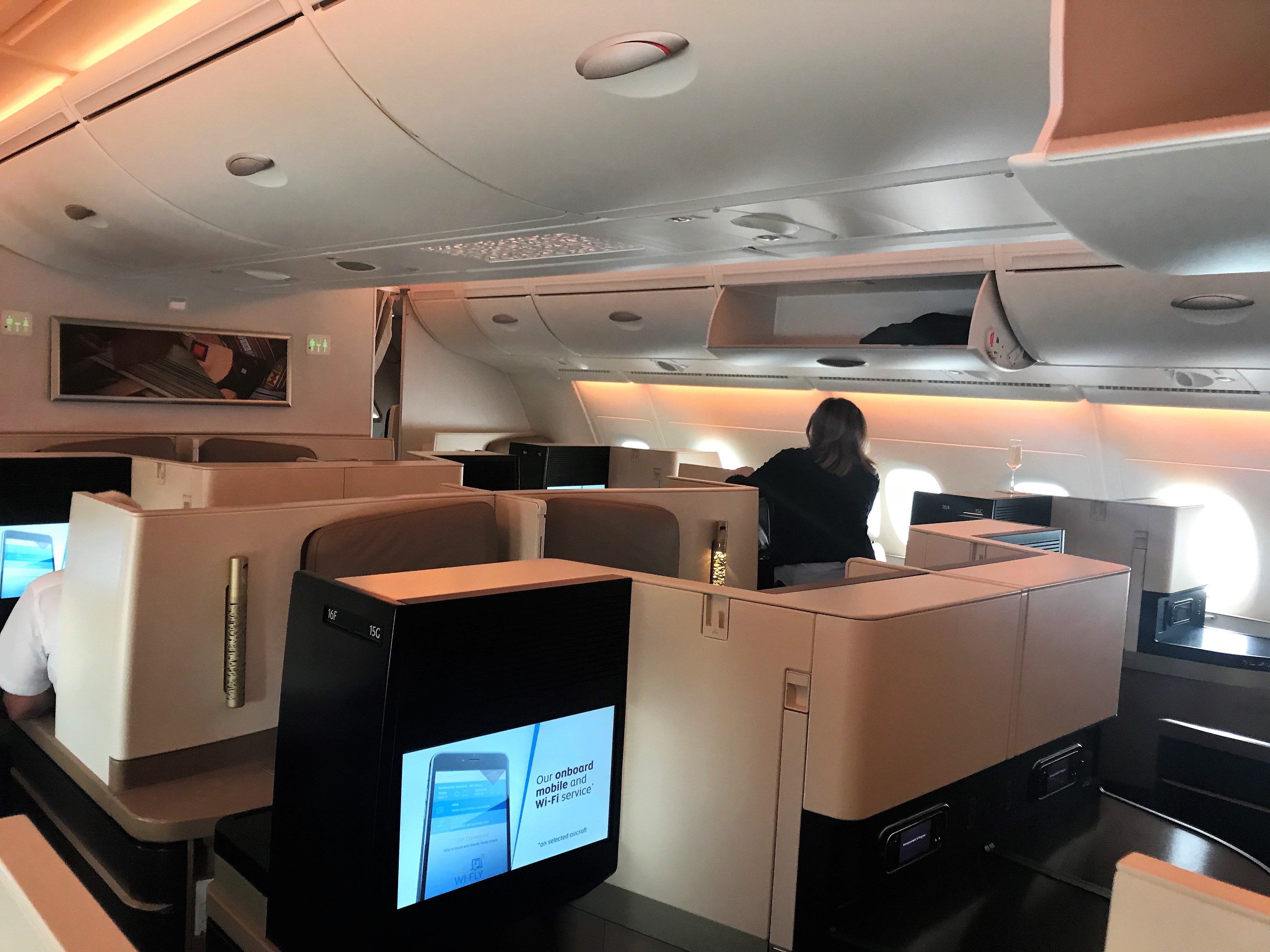 My first impression of the seat was excellent. It had everything I would want in a business class seat – privacy, direct aisle access, plenty of space and lots of storage. I liked the feel of the cabin with the brown leather seats and the bright cushions on each seat. There was the right balance of sophistication along with a few unique touches to add a bit of wow factor.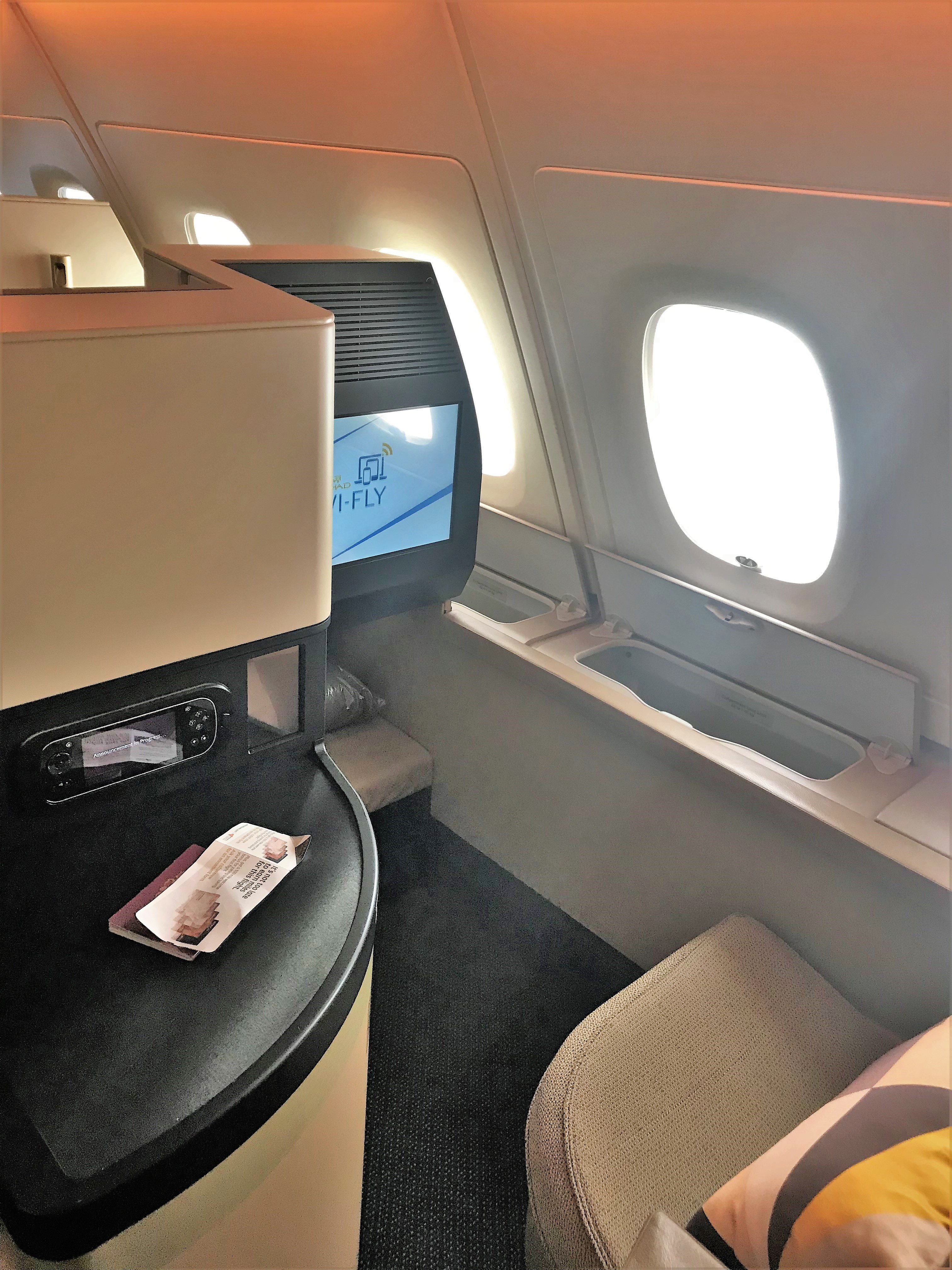 The lights were my favourite design feature both at the seats and the ones of the ceiling with its fretwork look that cast patterned reflections. Despite this, there was no bling factor here!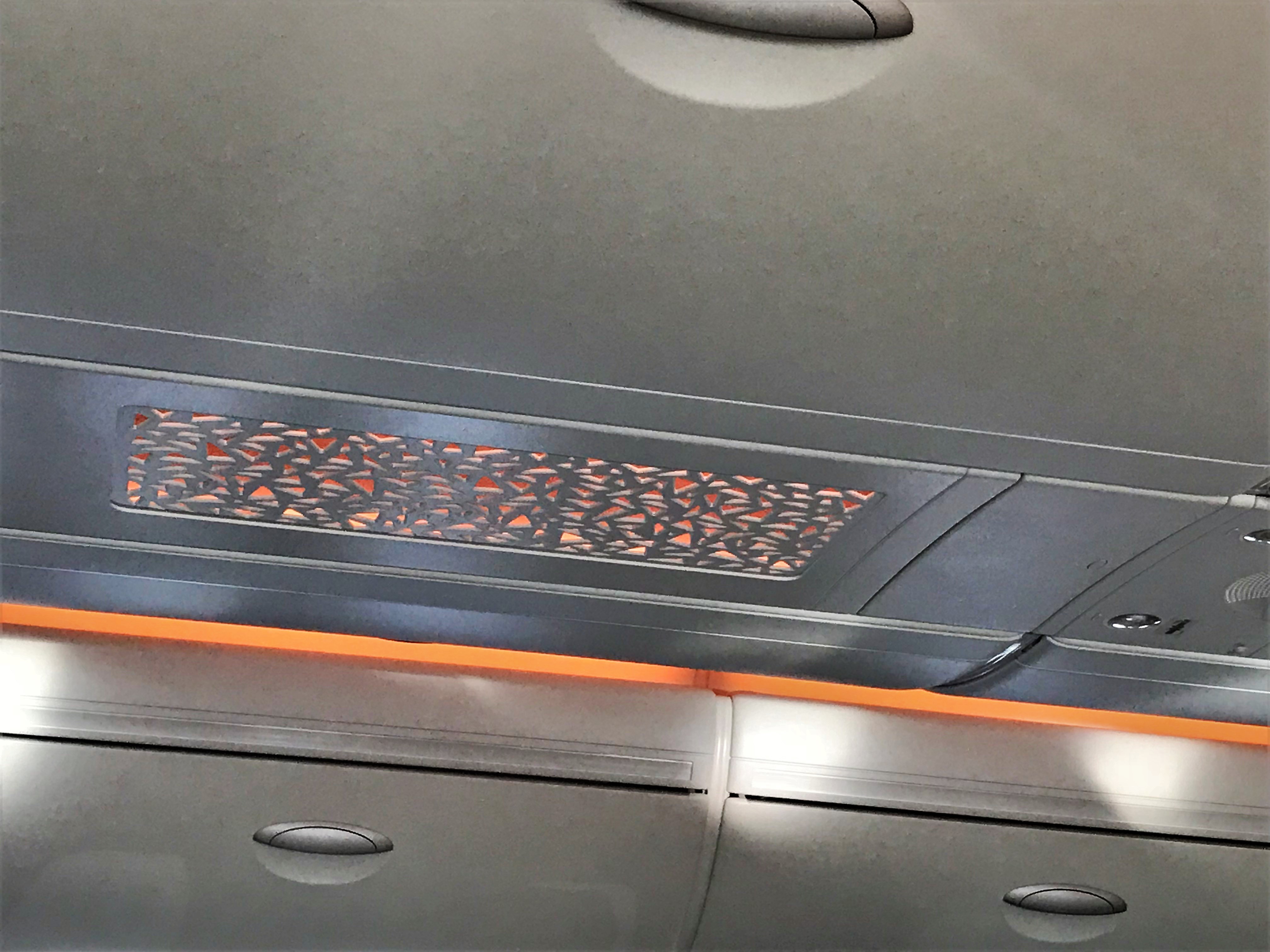 There were no pillows as such, only the cushions which you could use as a pillow. At the seat, there were already noise cancelling headphones and a blanket. I was offered a glass of champagne or soft drink. The champagne (Piper Heidsieck) although not great, came in a lovely elegant glass and having the shelf to put it on made it feel like there was less chance of knocking it over compared to a table.
The seat is controlled by two methods. The first being the usual buttons which were underneath the side shelf (see above photo). The second was a far more modern handset which was much easier to use and control the settings more finely. You could control every aspect of the seat and I particularly liked the massage function which was fairly powerful at full tilt. You could control how firm (or not) you wanted your seat too. There was even a 'do not disturb' option from the handset! The lights were also controlled from here with lots of different options of 'mood' lighting.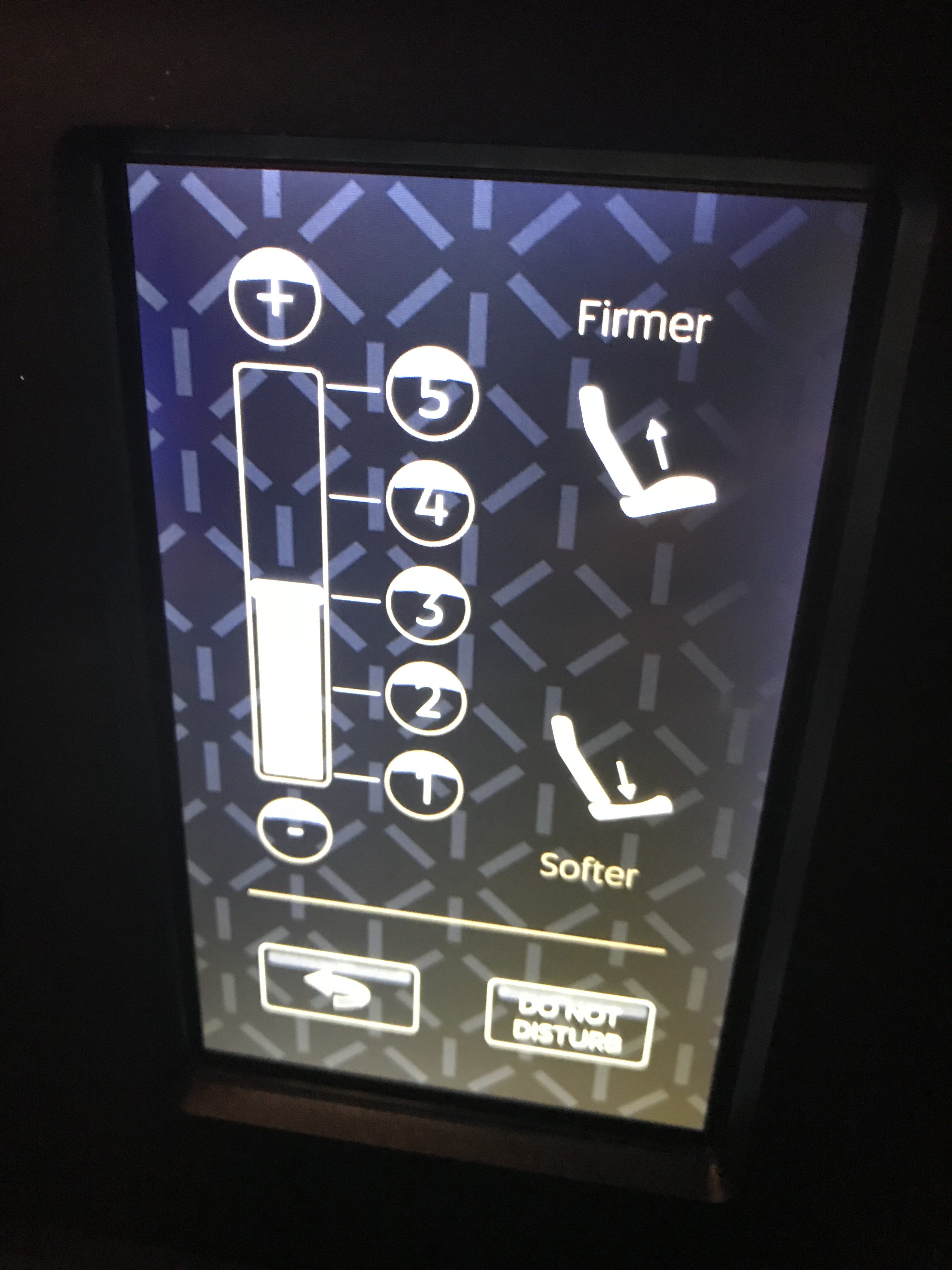 The seat had a cubby hole for your feet which was under the TV. Unlike many business class seats, this wasn't too narrow and I could reach it from my seat without having to recline. The footrest was well padded and I found the seat comfortable when reclining.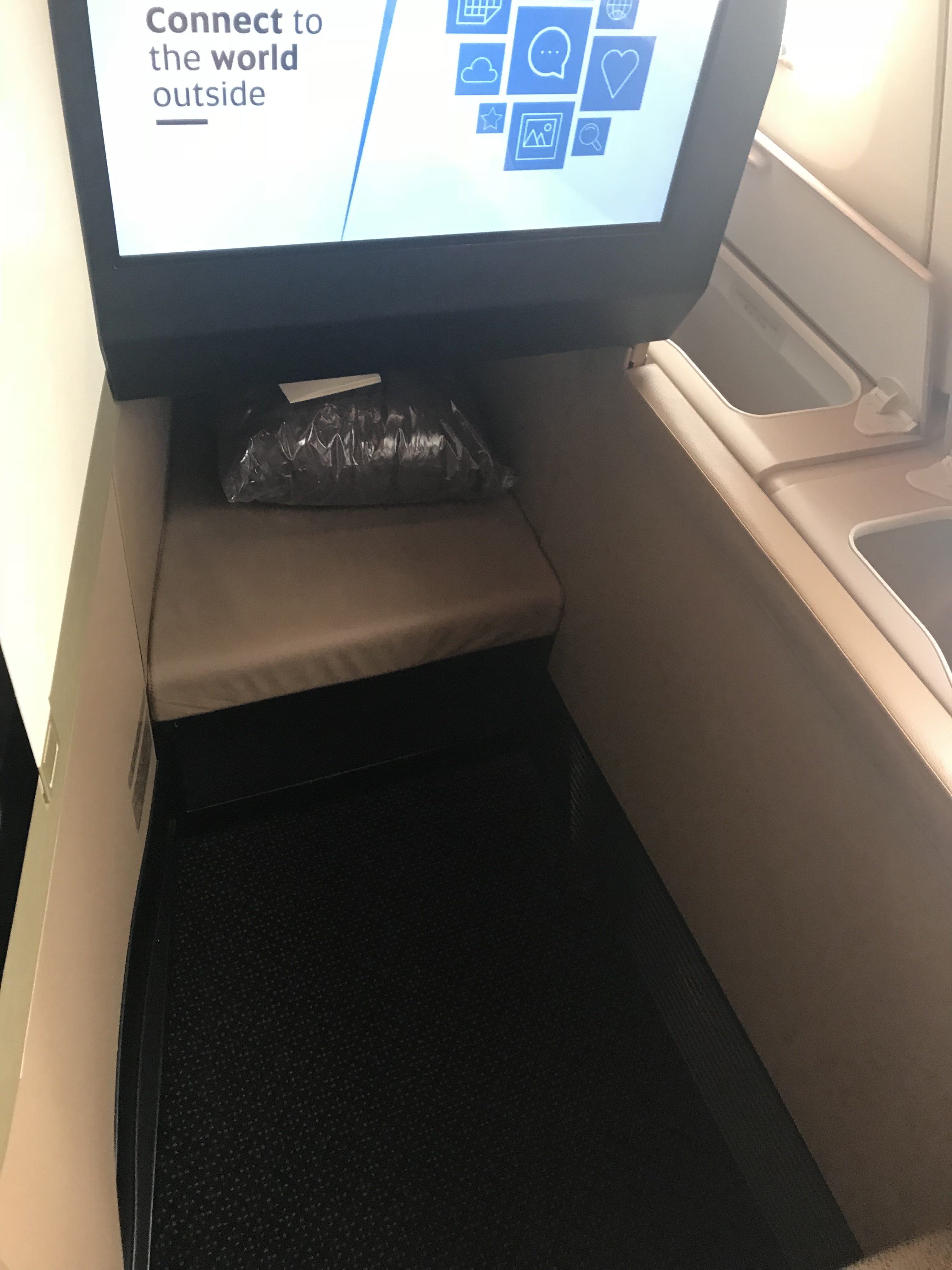 Storage
The overhead bins were quite small and I had to shove my bag quite hard to actually get it in. (I know I don't do packing light but it wasn't  that big – I promise!). Fortunately, there was a ton of storage space for the window seats. This is a big bonus for me as having just flown back on BA's B777 I found the lack of storage space at the seat to be a major annoyance.
Next to the window were the storage bins you usually find on the A380 which you could fit quite a lot into.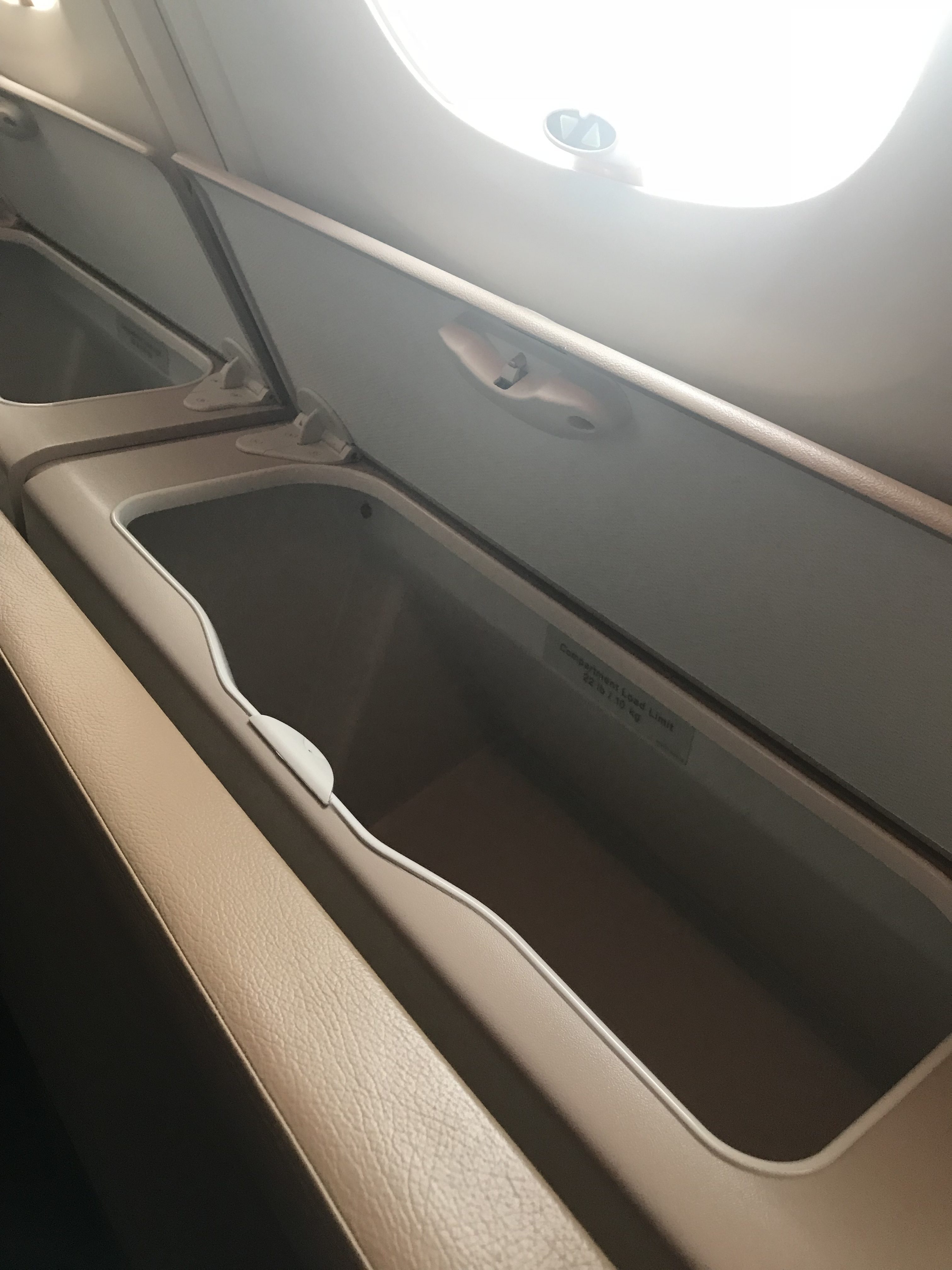 There was a handy water bottle holder and above this was a hidden compartment for your headphones plus you could fit a couple of personal items in as well. A bottle of water was already sitting there ready for me. I liked the large side table which was perfect for your drinks and an iPad without having to get your main table out.
Privacy was also extremely good in the business class studio. From my seat I could only see the person across the aisle if I leant forward. If you wanted more privacy, the rear facing window seats would be even better but it is not so easy to look out of the window in those seats.
The window blinds were novel with electronic controls where you could have a transparent screen to keep out glare or a full opaque shade.
Amenities
Not a lot to write about in this section as you don't get an amenity kit! From April this year as part of their cost-cutting, Etihad stopped amenity kits on daylight flights but they are still on the seats for evening flights. They do have socks, eyeshades etc on request though I didn't bother. I thought this was pretty stingy. It doesn't really create the image of a premium airline on a 7 hour flight.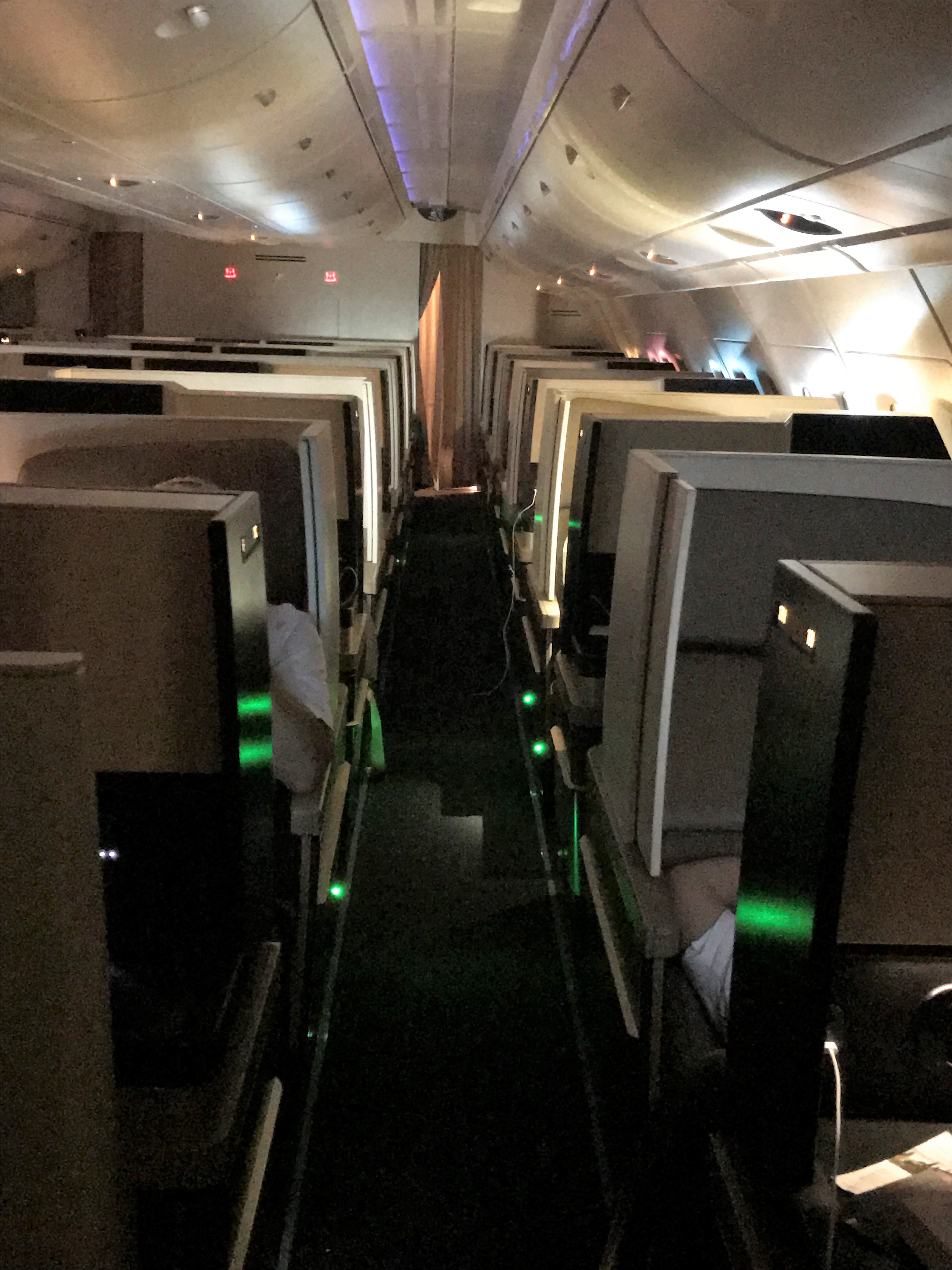 Sleeping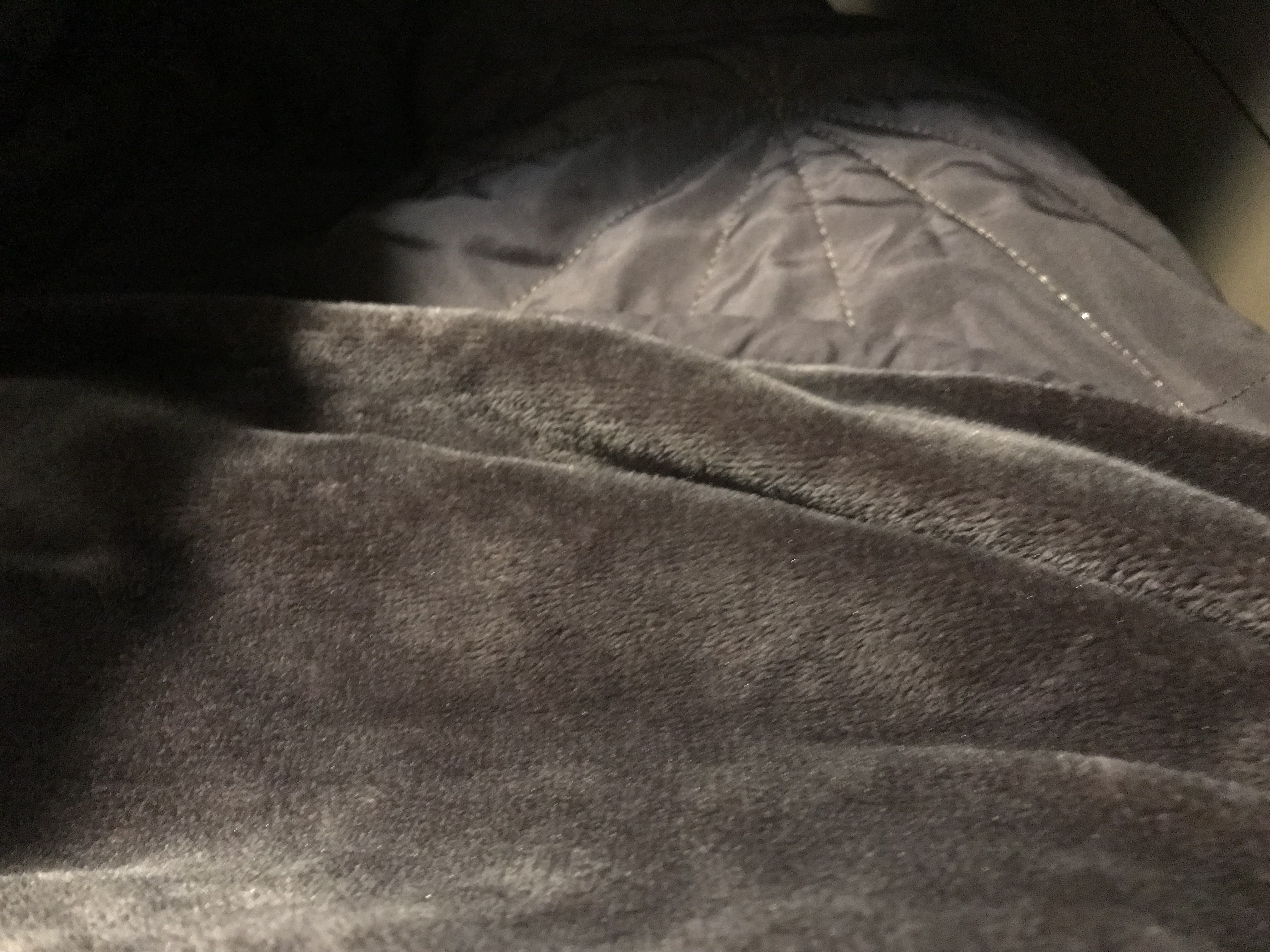 After I had finally finished my meal, I was feeling slightly sleepy so I decided to have a quick snooze. The seat easily transforms into a large (up to 6'8″ long) bed. As I mentioned earlier there was a pillow/cushion which was reasonably comfortable but I would have preferred a proper pillow like you get on most airlines. The blanket was fantastic though and I was quite tempted to pop it into my carry-on! It was amazingly soft and fluffy on one side and the other one had a silky quilted texture like my favourite AA blankets. This gave you two options and it was also very lightweight and not too warm.
I found the bed very comfortable once it was flat with plenty of room and I happily dozed off for a while.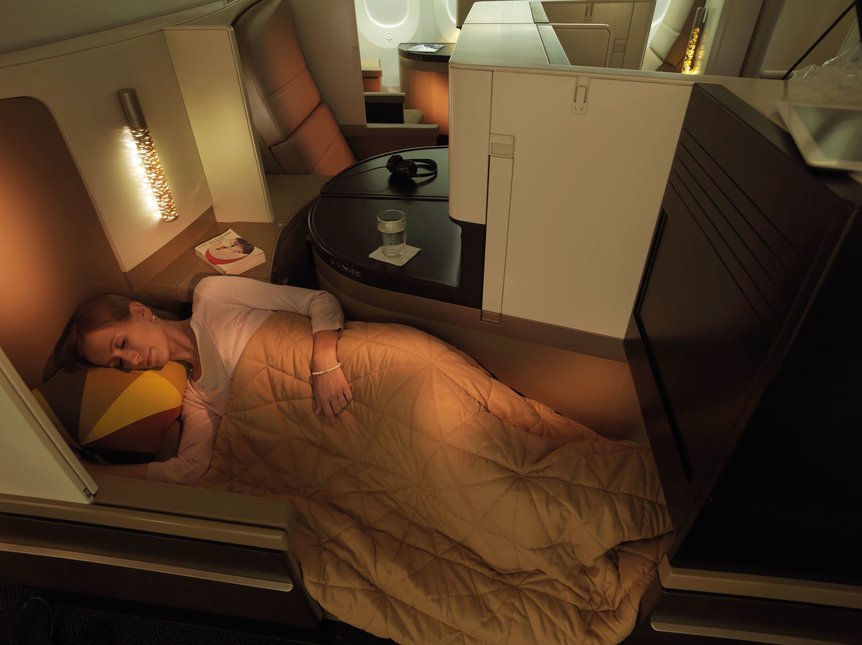 Onboard lounge/bar – The Lobby
The Lobby is Etihad's onboard bar area but really it is more of a lounge. It is very different to the other onboard bars such as Virgin, Qatar and Emirates as it doesn't really have a bar as such. I had a quick look at it but it felt a bit soulless. It wasn't like a proper bar as it was a seating area with a few drinks set up at the side.
I think if you were travelling with friends or colleagues it would be a good place to sit and have a chat over a drink. The Lobby seats up to six guests and is fitted with seatbelts, power supply and connectivity ports. There is also a widescreen TV perfect for keeping up with live sporting events. Both business and first passengers can use the lounge and it is situated between the 2 cabins.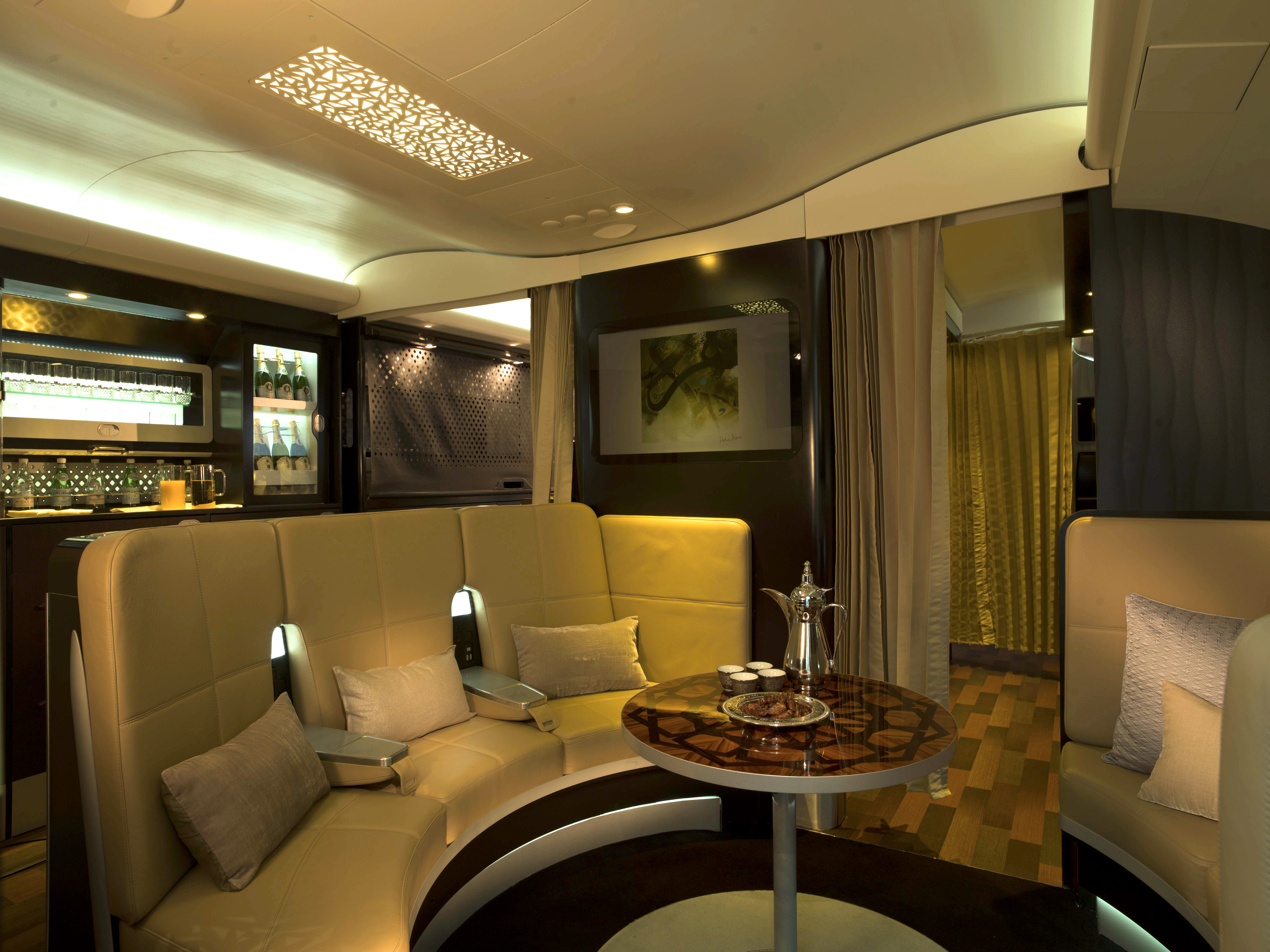 Food, drink and service
One of the food and beverage managers popped along to introduce himself to me at the start of the flight. I thought he looked very dapper in his smart white jacket. This brought back memories of many previous wonderful flights with Etihad and I smiled to myself at the prospect of another one just starting. Little did I know what was coming…
The menu looked interesting and as usual, it was 'dine on demand' meaning you could eat whenever you liked (in theory). I decided to eat at the start of the flight and then try to have a quick nap before arrival. There was a choice of two starters plus soup and then 4 mains including a vegetarian option.
It all started well when the crew member asked what I would like to drink after take off and took my food and drinks orders. I decided to go for a gin and tonic for a change since they had Caorunn small batch Scottish gin which I had never heard of. I really enjoyed this gin, it had a very smooth finish and a well-balanced blend of botanicals. I think I may have to buy some now! This was served with some mixed nuts in an elegant china bowl.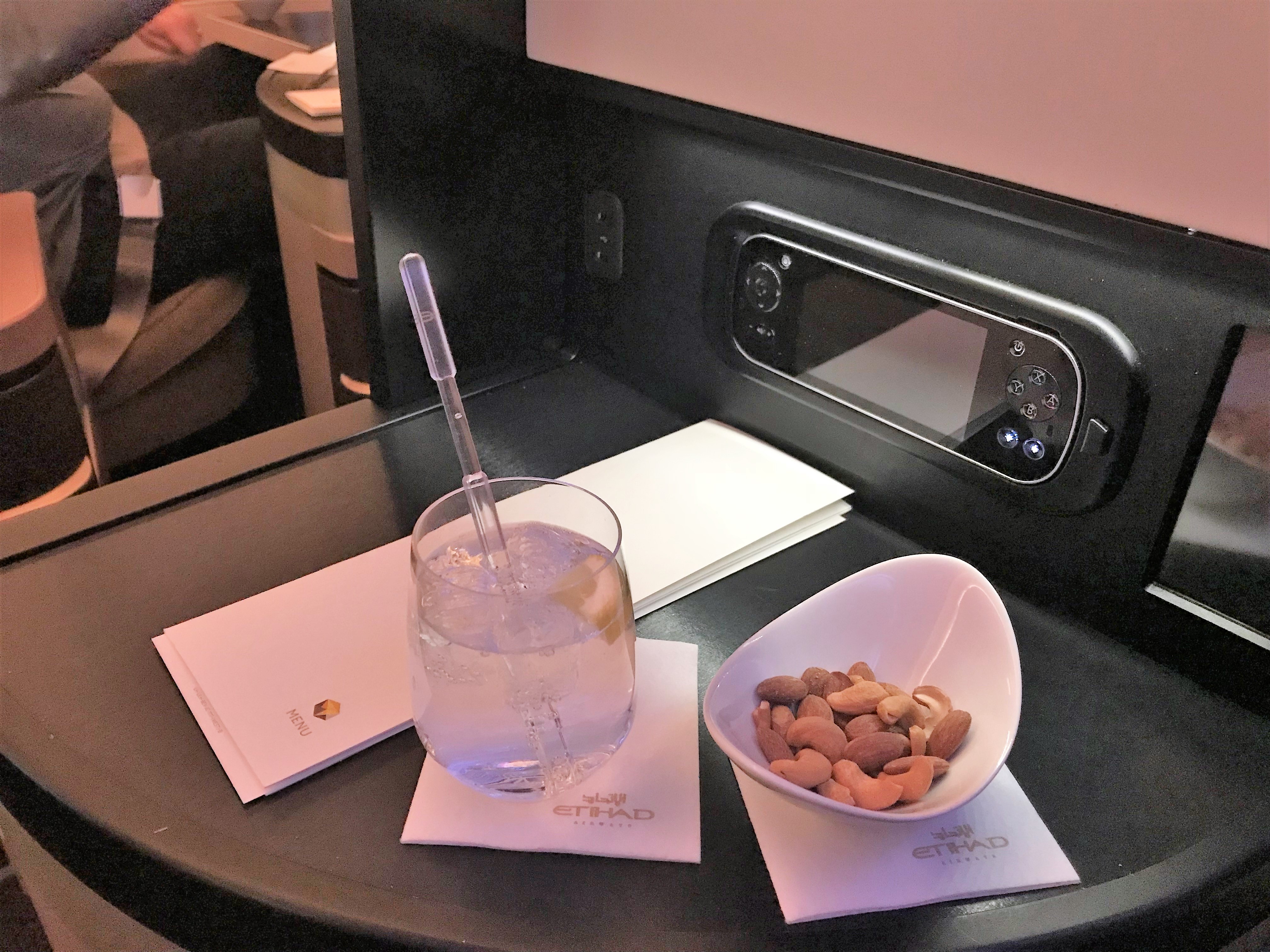 After my gin and tonic I sat and waited for my food to arrive. And waited and waited…… I watched as my fellow passenger opposite had both his starter, main and ordered his pudding as I sat there beginning to get 'hangry' and whatever the equivalent for lack of a glass of wine is? I could see the person in front of me had not got his food either. When eventually he got his and a further 10 minutes went past with nothing whilst across the aisle he finished his dessert, I decided to take action. I could count the number of times I have pressed the call button on aircraft on one hand and still have 3 fingers left! In these circumstances though, I was concerned I had been forgotten altogether. After a few minutes, the crew member appeared and without waiting for me to say anything said 'your food is coming' and walked off.
After a further 5 or so minutes my food eventually arrived. Given that I was having a cold starter and a glass of wine I could not understand how it was taking so long but at this point I was just glad to get something. I have to say this is the worst service I have had on any flight in business class that I can ever remember.
Fortunately, the tray was beautifully presented and had a very smart individual bread basket with warm bread (perhaps he was making it from scratch which is what took so long – he certainly had the time!). I had chosen the mezze even after my earlier buffet samples as I am something of a mezze fiend. It was a pretty big portion and even came with a mini Arabic bread. At least when I eventually got the food I wouldn't go hungry. It all tasted and looked good too which is not easy with mezze. One of my favourite things about the food was the balsamic and olive oil in the little ceramic dish for dipping your warm bread into. Delicious!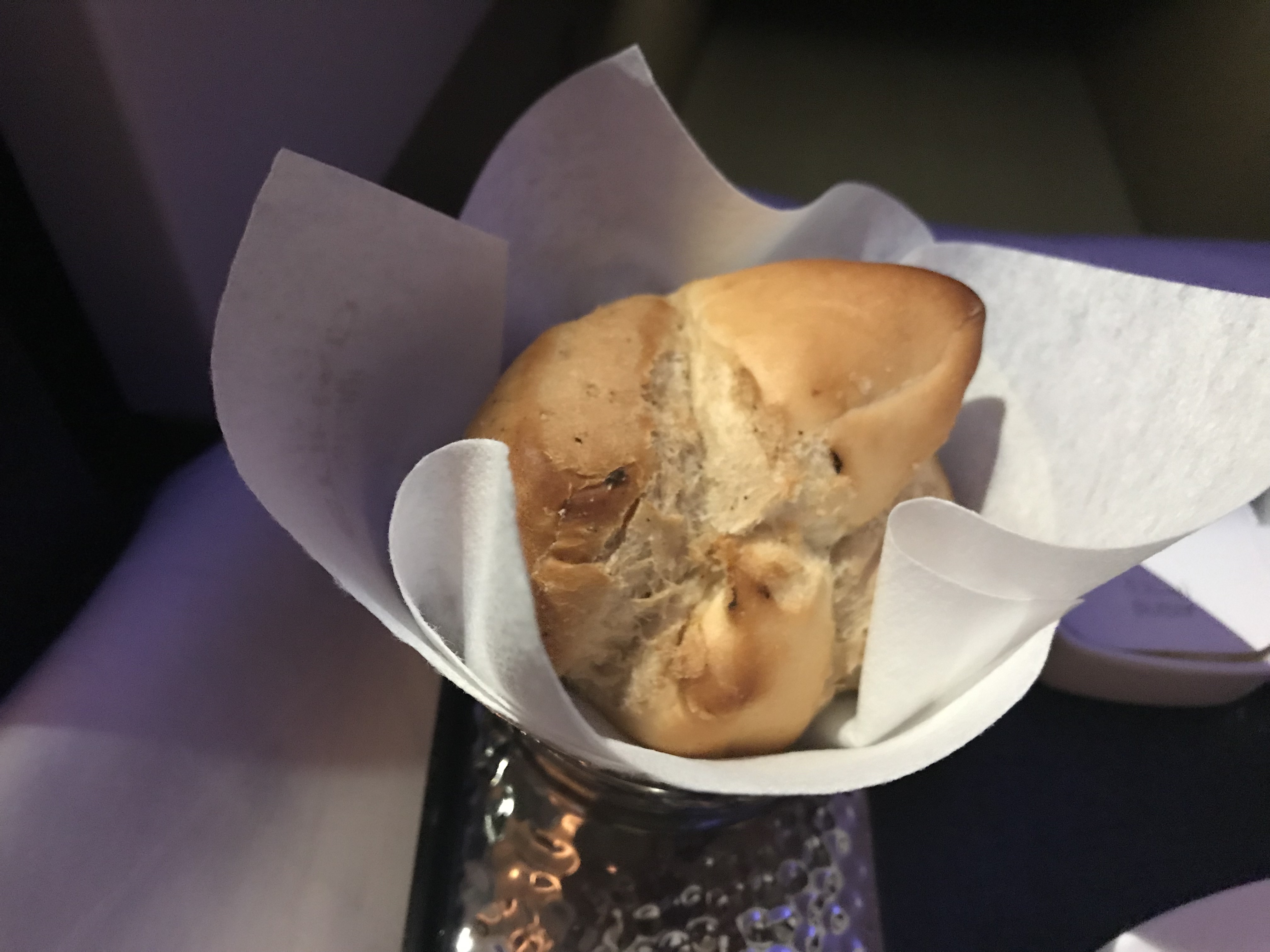 I had chosen the Greywacke Sauvignon Blanc as I was sure I had heard of it. Despite being a little bit over Marlborough Sauvignon Blanc at the moment, I really enjoyed this wine which retails about £15 (the winemaker was formally at Cloudy Bay). It wasn't too overpowering like many others from this area. It had plenty of tropical fruit flavours but was well balanced with some citrus notes. Top ups of wine were pretty much non-existent but fortunately, I had chosen a different wine for each course so I didn't have to sober up too much!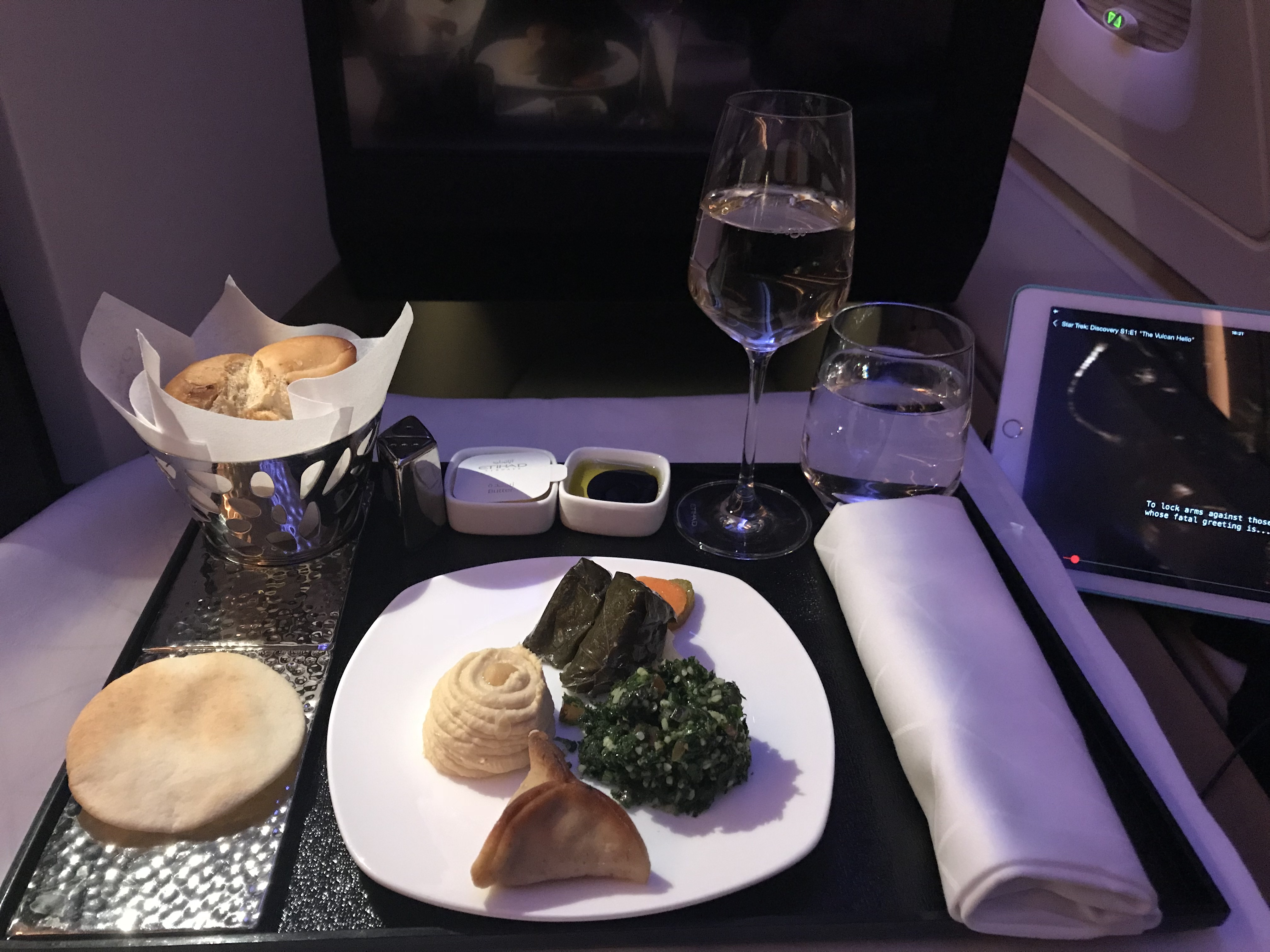 Next, I stuck with the Arabic theme and went for the Lamb Kabsa. The description was pretty vague and I had no idea what it was but I thought I would give it a go! It was a little like a lightly spiced biryani. I enjoyed the dish as it was well spiced and tender but I could have done with some more sauce. I had a glass of the Chateau Moulin Haut Laroque 2012 with it. This was a fairly average Bordeaux which retails around £15 a bottle but it was pleasant enough.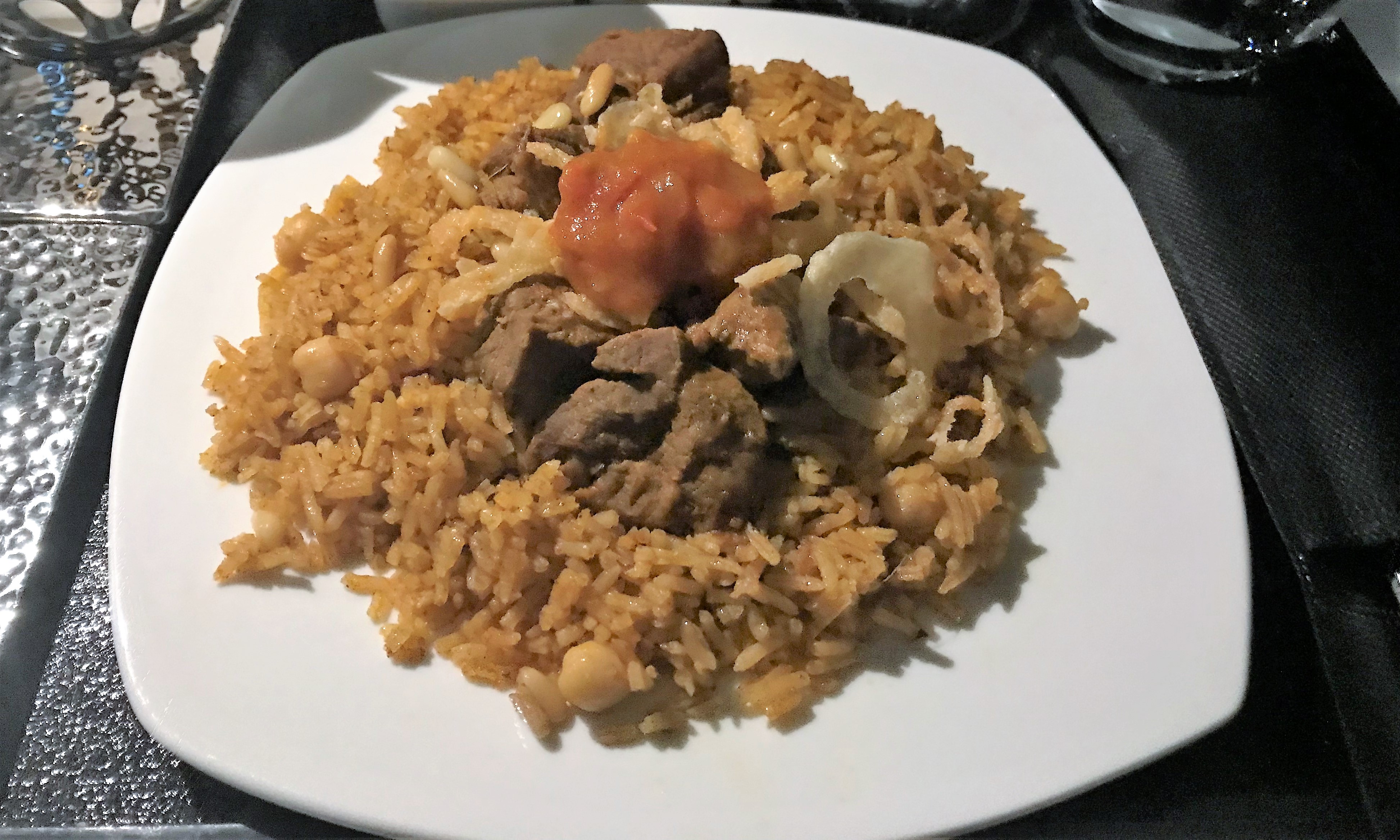 I would normally have gone for cheese but as they had a dessert wine I thought I would try the apple pie with the Nederberg Late Harvest Chenin blanc. The wine was a little sweet for me although it did have some acidity on the finish to balance it out. There was a fairly rich honey flavour to it which probably was the issue as I'm not a great honey fan. It was still a nice way to finish the meal though.
Unfortunately, the apple pie was not really a success. The pastry was very odd. It was quite stodgy and soft even though it looked like it would be crispy. I suspect storing it after cooking in cold storage is probably not the best recipe for success.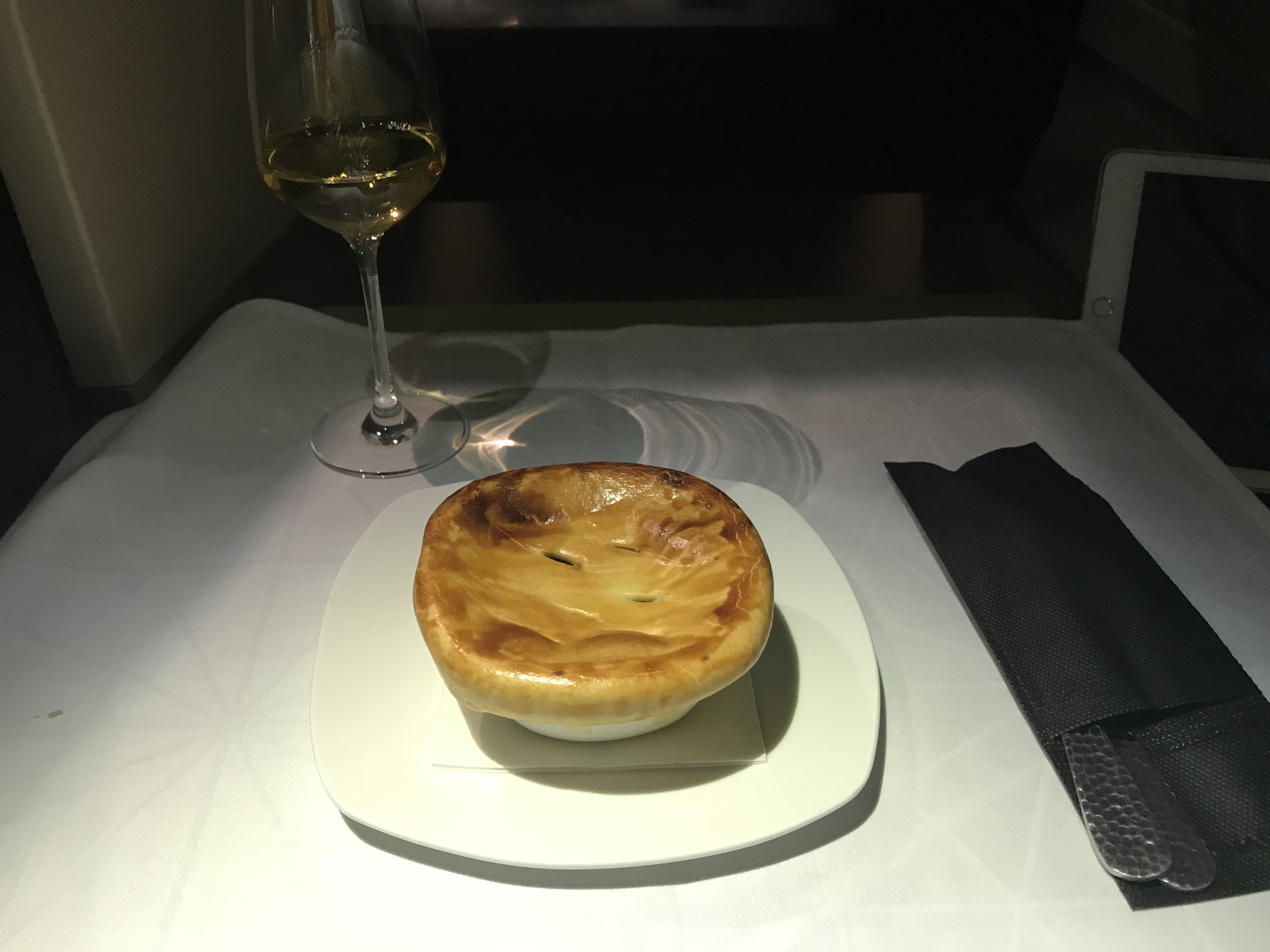 About 90 minutes before landing I was asked if I would like anything else. I decided to try a cappuccino for the novelty factor on a plane accompanied by some baklava. The cappuccino was pretty good and certainly better than the usual airline coffee. Fortunately, it didn't take hours to arrive! I liked the sugar cubes rather than cheap packets of sugar.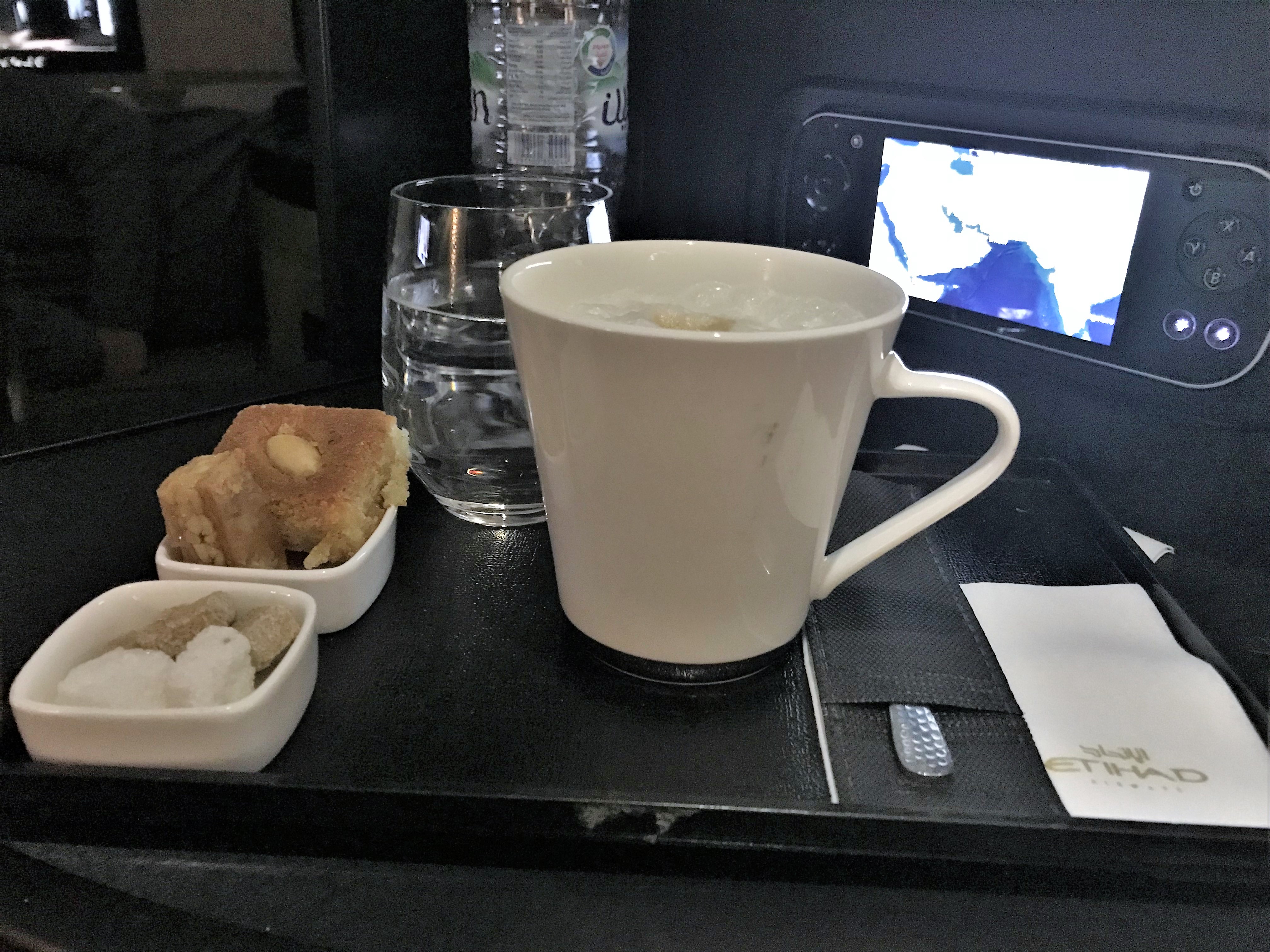 Entertainment and wi-fi
This was a strong area for Etihad in terms of the TV screen. The definition was excellent and it felt like a very big screen at 18.5″.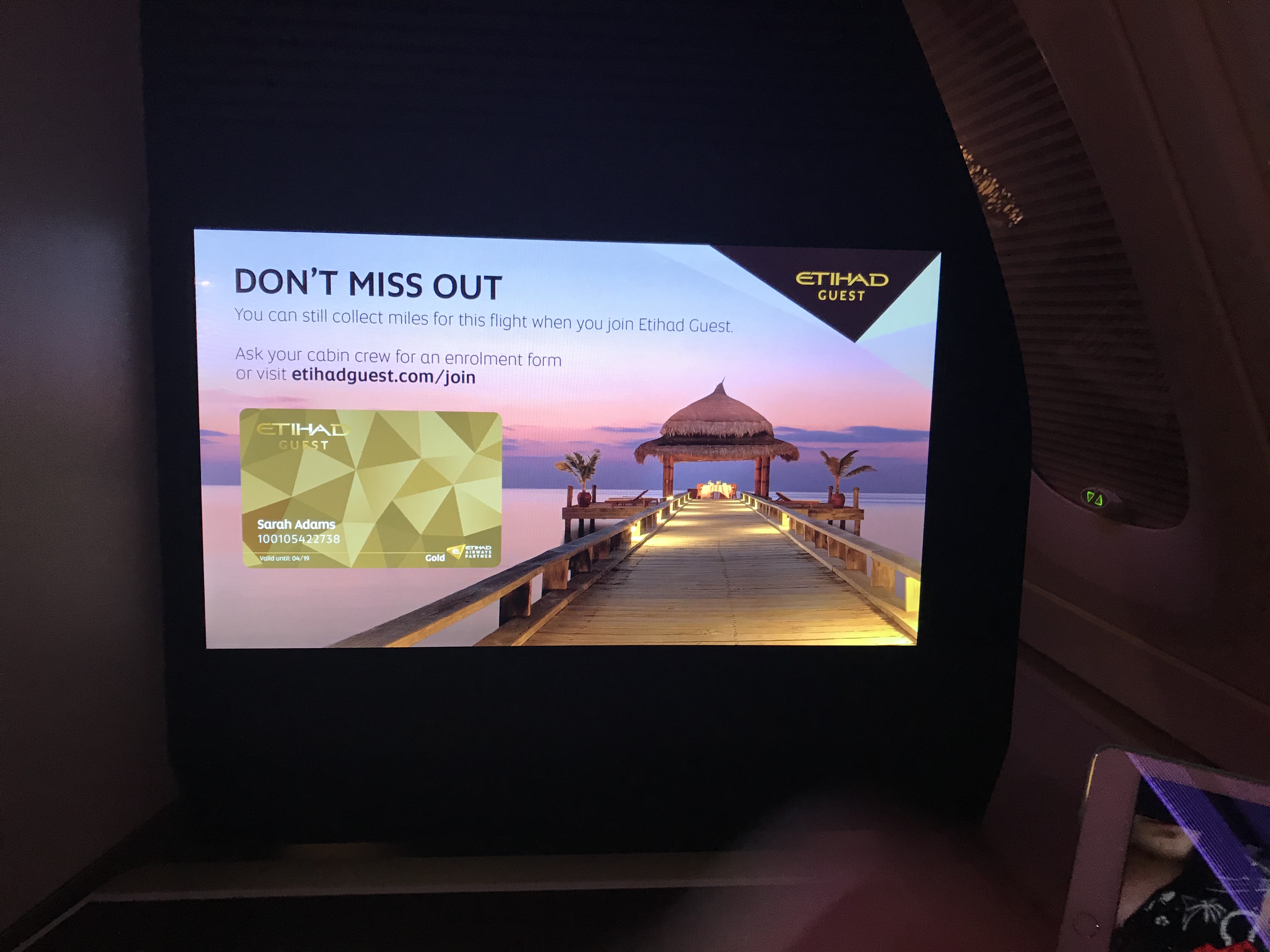 You control the screen with a handheld touchscreen device that has a second independent screen if you wanted to have the flight path up for instance. The selection of new films could have been a bit wider in my opinion but that was about the only complaint I had. As well as 150 different movies there were also 7 live TV channels to watch and a scrolling news bar at the top of the screen. There were also a number of other features such as the camera to see outside the aircraft, music, box sets and games.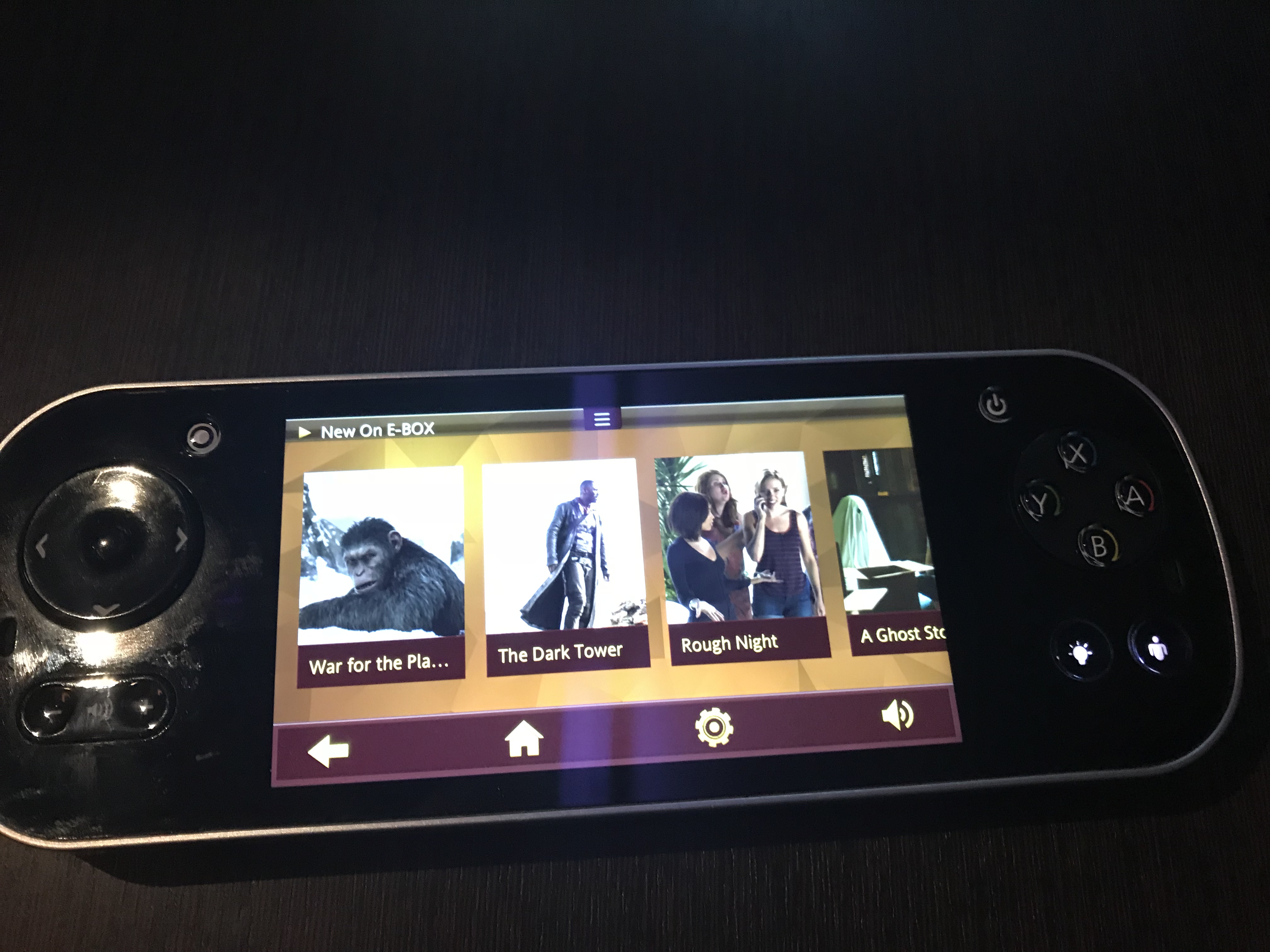 There was also Wi-Fi on the aircraft although after battling to connect for a while I gave up. There were three options from $4.95 for 30MB to $19.95 for 180MB. I did use it on the way home and it was a little bit slow but would be OK for emails and a post on Facebook to boast to your friends that you are at 30,000ft!
Arrival and chauffeur
We arrived on time and disembarked fairly quickly. There was a premium queue for immigration which was good and I was through in just a few minutes. Unfortunately, it then took forever to get my luggage. I think it was one of the very last bags to arrive on the belt. So much for the priority tagging! Luckily a few months ago I invested in a LugLoc Luggage Tracker
 which stops me sweating over whether my bag was actually loaded in the first place! It sends you a text once you land to tell you where your bag is, so you know it will arrive at some point.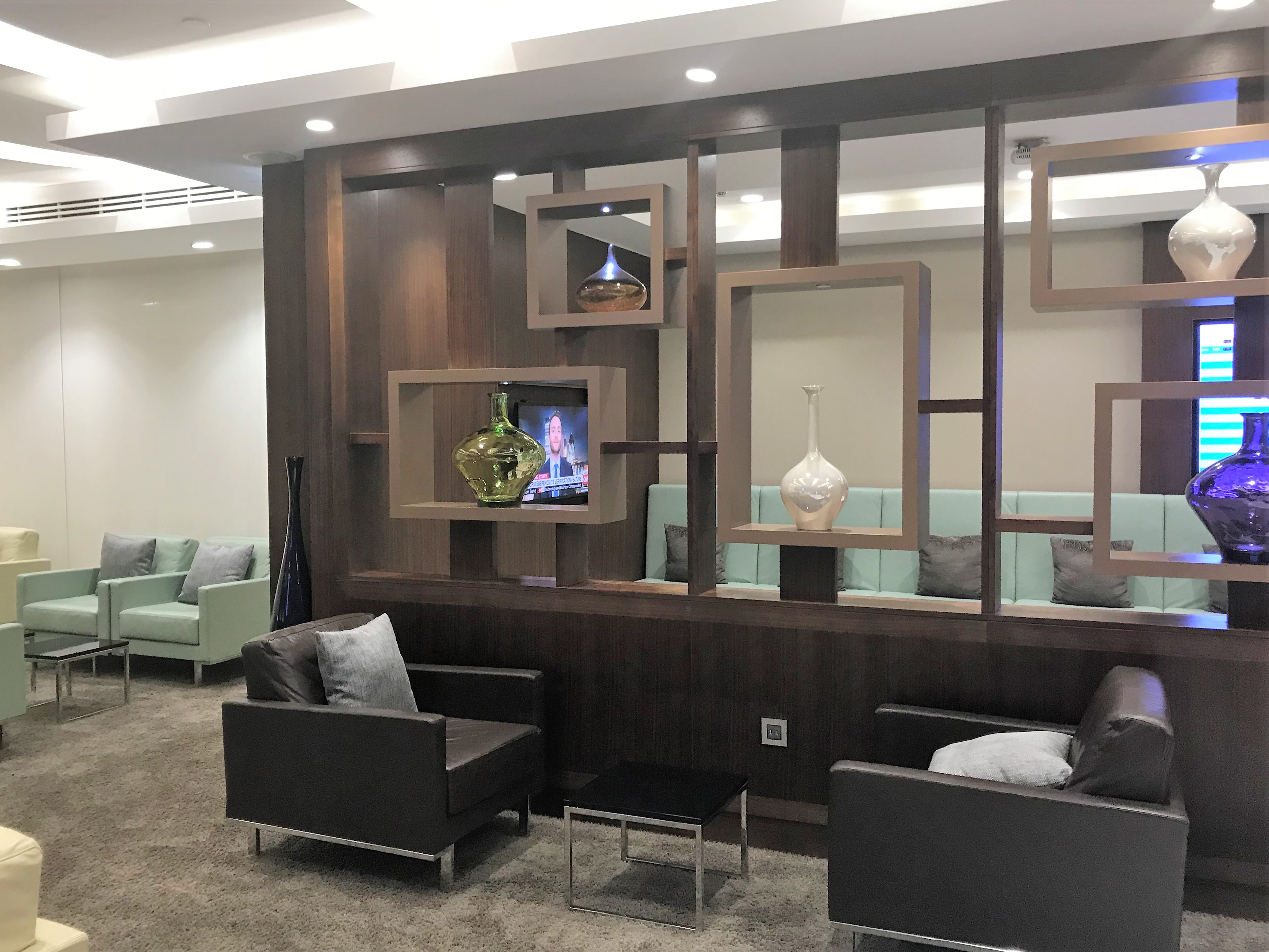 Although Etihad have stopped chauffeurs for almost all flights in business and first class, it is still available when arriving or departing Abu Dhabi even on miles tickets. I followed the signs to the Etihad chauffeur area and was impressed when they knew who I was when I entered. However, they didn't say anything else so I sat down and waited and waited…… The lounge was very impressive though with a good selection of hot and cold drinks. Eventually, I went and asked what was happening. There were some puzzled looks and head-scratching but eventually they said my car was ready and to go outside. Once outside it was organised chaos but eventually, I got a car (Audi). The driver was very pleasant and helpful but his driving at times would have given Lewis Hamilton a run for his money! Still, I got to the hotel in one piece.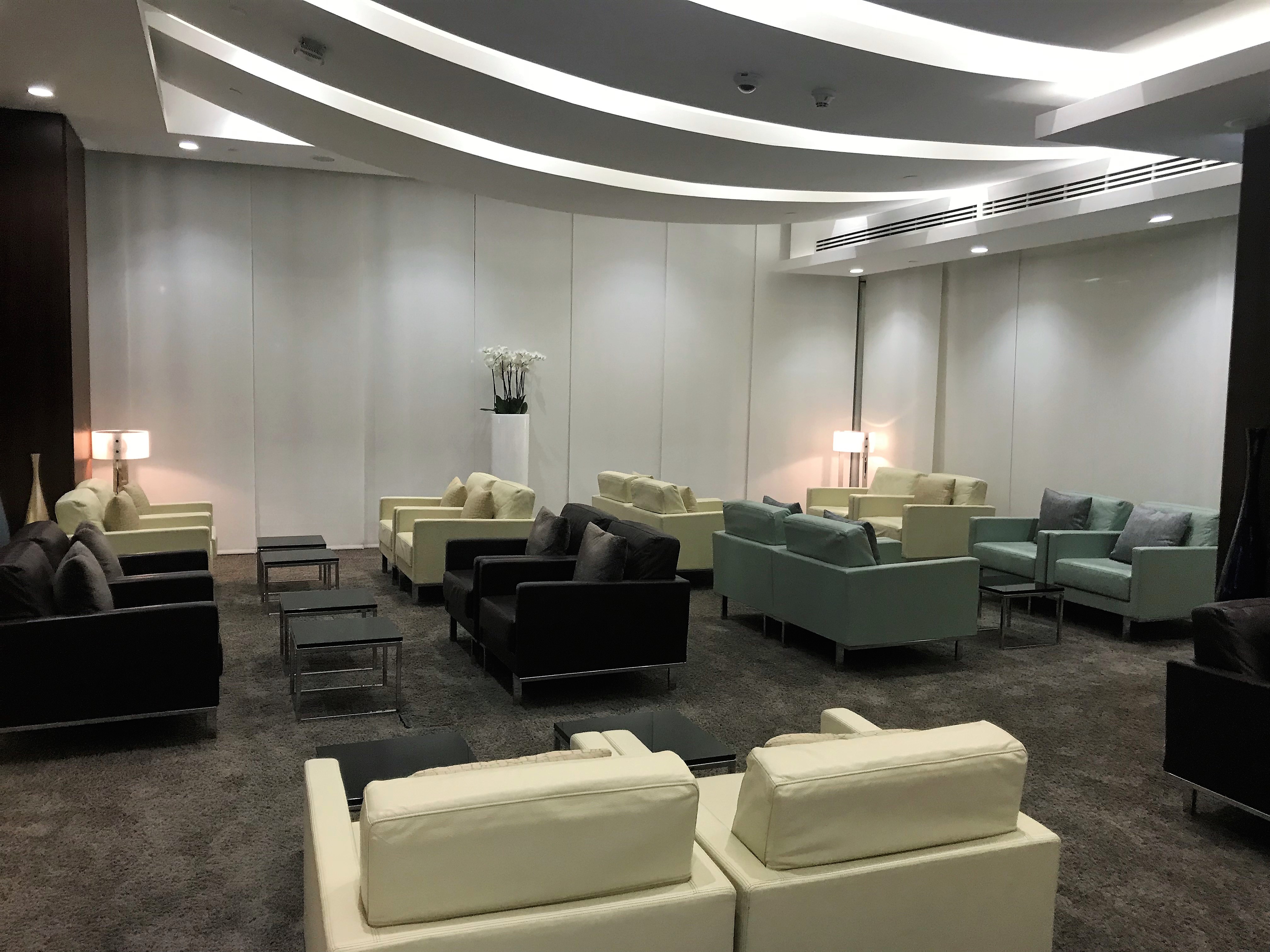 Conclusion and how I paid for the flight
I paid for the flight using a paid economy class ticket one way which I then upgraded with miles. There are various options for which economy ticket you buy and the more expensive ones need less in terms of miles. I paid £600 (prices started from £400 with more miles to upgrade) for the flight and then upgraded to business with miles.
In terms of the seat itself, this is definitely my favourite business class seat I have flown on to date. I suspect Qatar's Qsuite may just usurp it with the extra privacy but having already sat in it, I would say that Etihad is equally impressive even without the doors to the suite. The other positives were the food and wine. The wines were equally a match for BA's Club wines and in fact, I would say slightly better apart from the Champagne. I liked being able to have a glass of dessert wine and not just port. Everything was presented well and tasted good apart from the apple pie. Being able to eat when you wanted (assuming it wasn't within the first 2.5 hours of the flight!) was a positive too.
The main area that let this flight down was obviously the service. The crew were generally polite and friendly but so sloooow… It was not what I expected from Etihad but unfortunately, this seems to be common at the moment. Whilst some passengers receive excellent service, others are getting very variable service. Despite this, I would still fly with them again as pretty much everything else was a really premium product and I actually preferred the seat to Qatar. Hopefully I would be luckier with the crew member next time.