I began my business class flight to Abu Dhabi with Etihad in the lounge at Heathrow T4. I will be covering my business class flight to Abu Dhabi tomorrow. You can also check out my Etihad First apartment review back to Heathrow if you haven't had time to read it yet.
Unfortunately, Etihad recently closed their Six Senses Spa at Heathrow which was a great shame. Although it wasn't free for business class passengers I would have liked to have paid for a treatment if they were as good as the Abu Dhabi lounge treatments. Etihad have been in financial difficulties recently and been going through a serious of cutbacks, not unlike BA. So, would I notice any other evidence of penny-pinching on my journey?
Arrival
The lounge is for first and business class customers, so the overall standard was more of a First Class lounge than business. You can either take the spiral staircase down to the lounge or the lift. I checked in with the receptionist who was professional as well as giving me a warm greeting.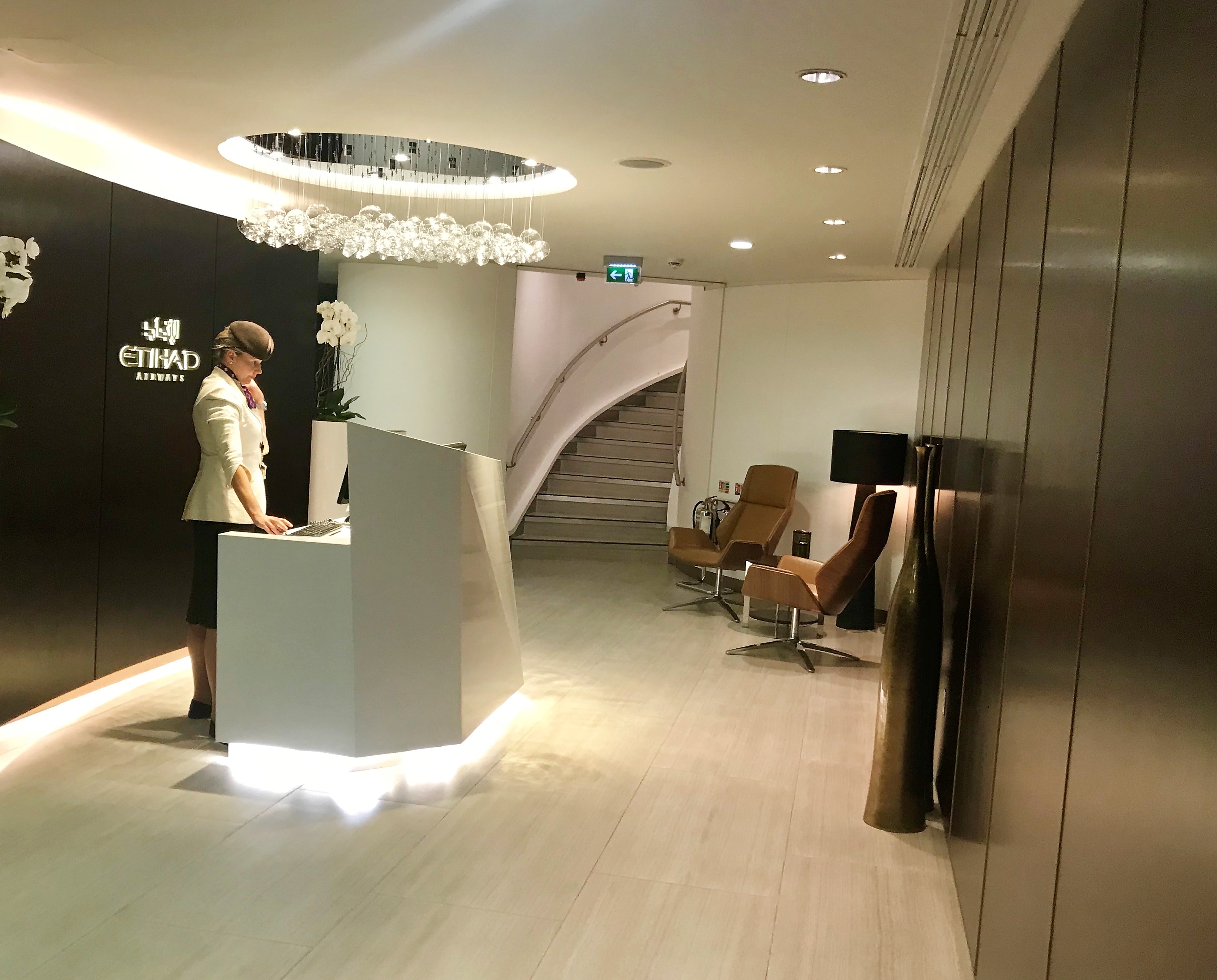 When I entered the lounge, it was still fairly quiet and I have never seen quite so many staff for this size of lounge. The lounge has two main areas, the restaurant and bar and then the main seating area.
The lounge

The decor of the lounge is in keeping with Etihad's style and colour scheme. The lounge had a subdued colour platter with browns and creams. Although it was modern in style, it felt a little dull to me overall. There was a section with comfortable armchairs hairs and then by the buffet, there was a less comfortable seating area which felt a little cramped if you were trying to squeeze between the tables. The chairs were Parker Knowle type swivel chairs with low tables, so not ideal for eating. There were a few power points in the floor here but they probably could have done with a few more. Natural daylight kept it from being too gloomy but the views of the tarmac weren't particularly inspiring being on ground level.
In the lounge area, I had a glass of Palmer and Co Rosé Reserve Champagne which retails at around £35 a bottle. I quite enjoyed this rosé although it was nothing special.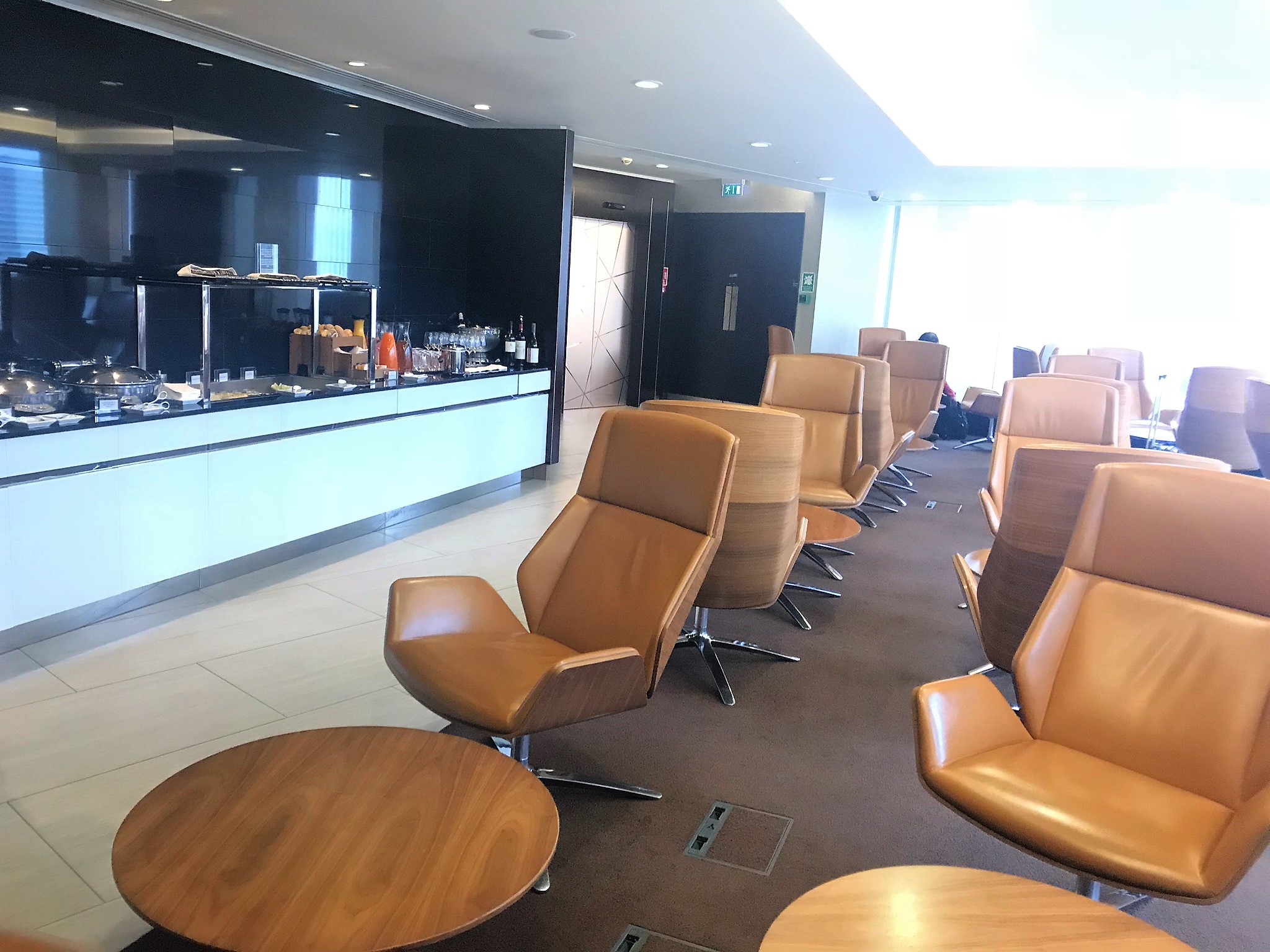 If you were travelling with children, there was a really nice children's area with plenty of toys and games plus a TV to keep them amused.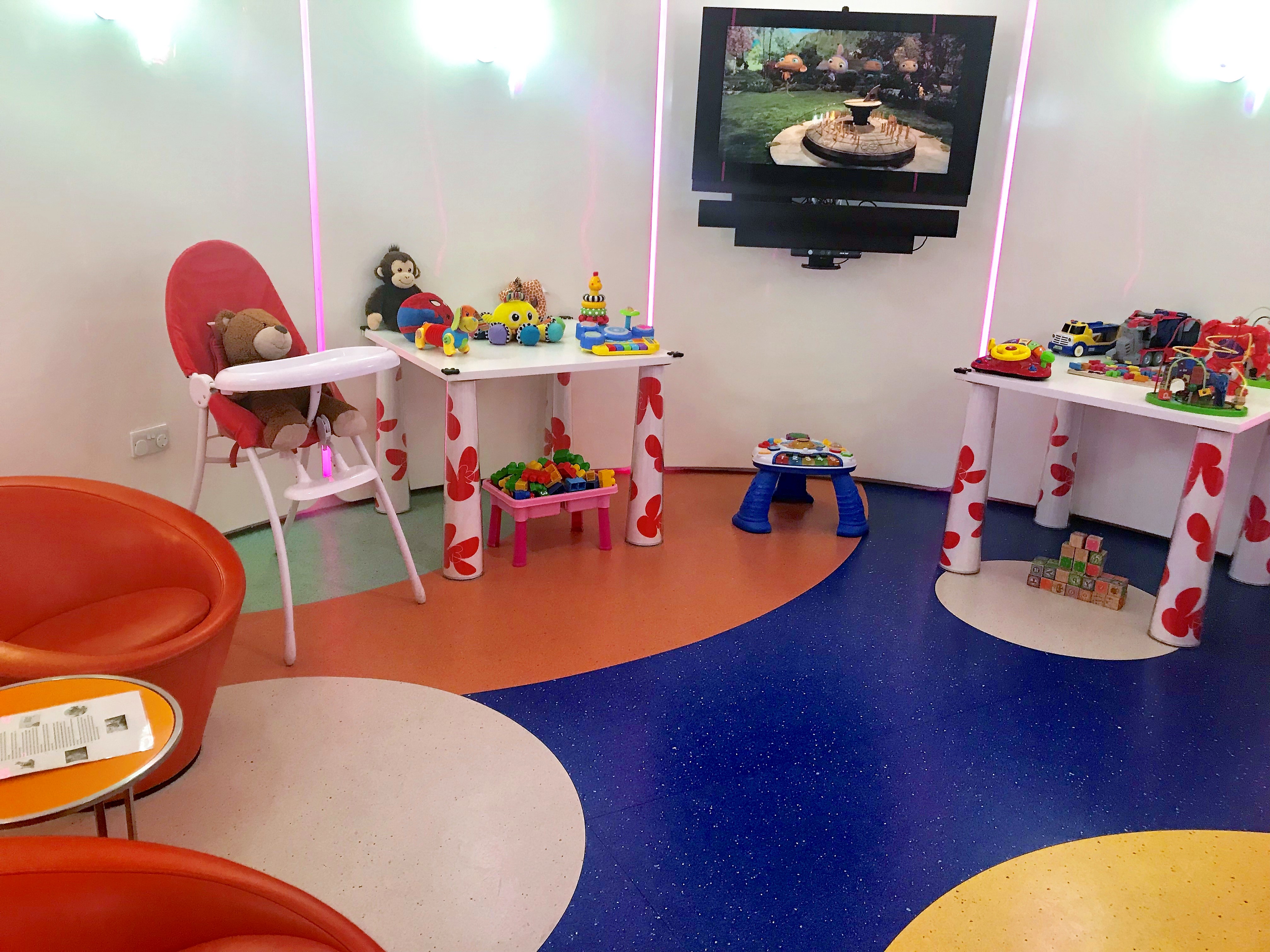 Showers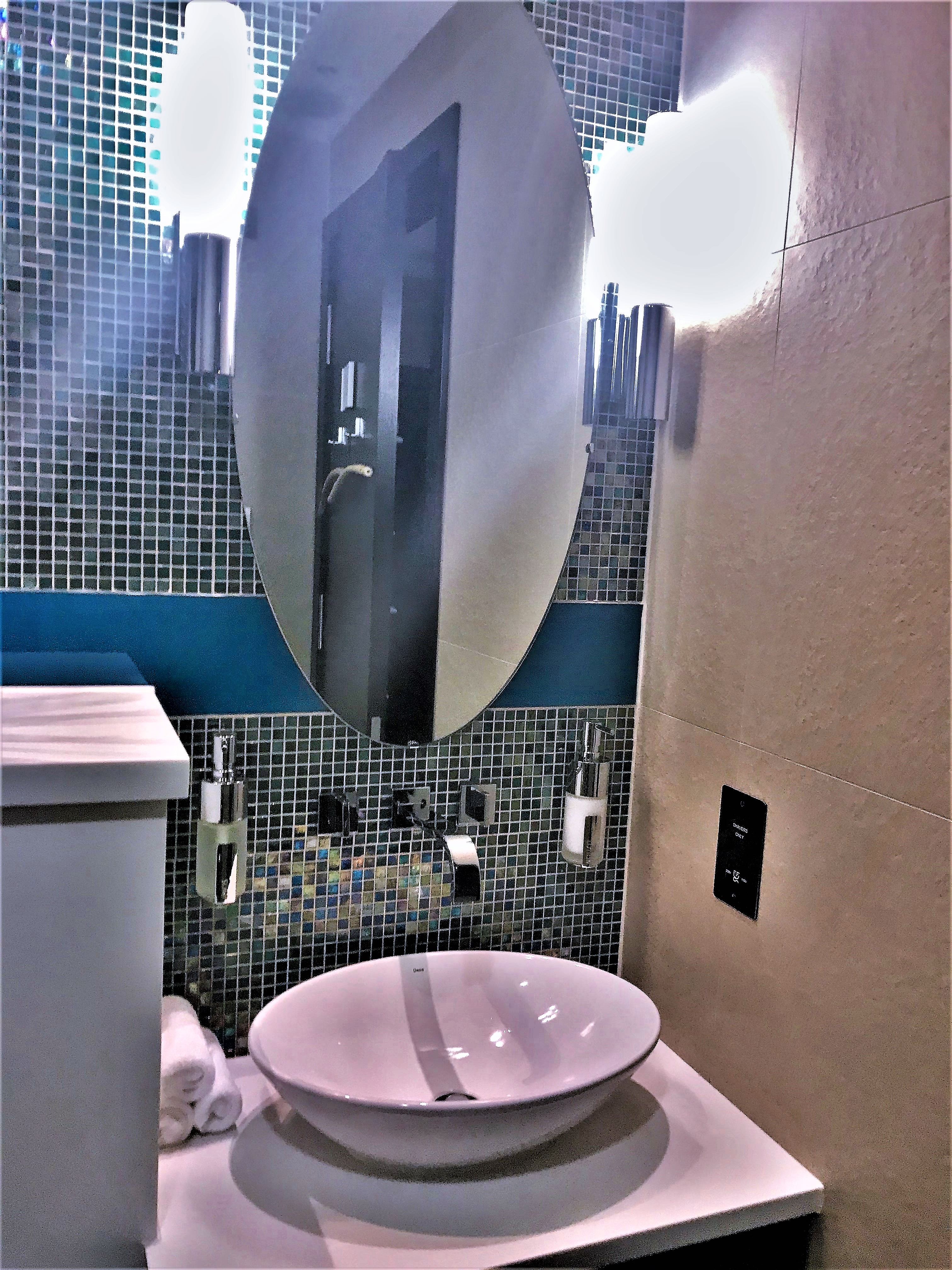 As I had just arrived I didn't need a shower, but I asked to see one of the cubicles. As you would expect they were modern and luxurious. I particularly liked the mosaic tiling with a slight sheen to it which brightened up the space. A full selection of toiletries including conditioner and body lotion were provided in large containers attached to the wall along with plenty of white fluffy towels.
The toilets!
I also popped into the toilets. It may be strange to say but the toilets had a bit of a wow factor and other than the lack of Aesop toiletries, rival the Cathay ones in T3. The patterned black pearlescent mosaic tiles gave it a feel of a fancy boutique hotel bathroom rather than an airport lounge. I am pretty sure that someone was going in after every customer as I have never seen quite such pristine public toilets anywhere, let alone in an airport. There were unbranded hand wash and hand lotion in large containers too. The whole area was spotless and the hand towels were arranged in a perfect pyramid which was obviously topped up every time someone went in.
Food and drink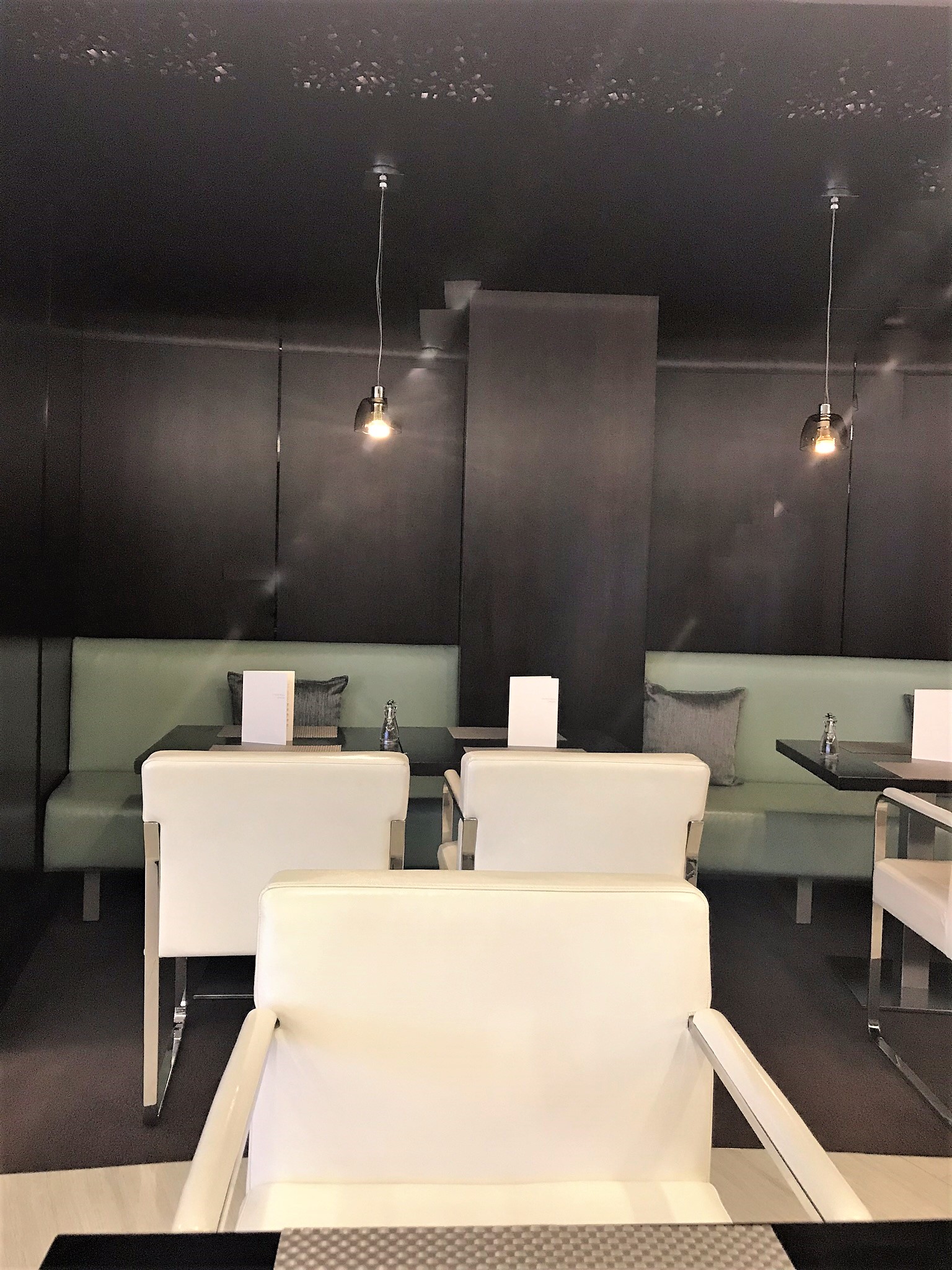 I was planning on eating on board but of course, in the interest of research, I decided to go into the main dining area and try something. The menu was fairly limited, but it was good to see some smaller items as well as larger main courses.
I went for the chicken satay. I have to say it was a little disappointing flavour wise, but the chicken was moist, and it arrived quickly. I accompanied this with a glass of Lanson Champagne which was fine. The bar was set to one side of the dining area and I did not see a drinks list which was odd. It would have been good to have a list of what was available rather than having to listen to all the options when I asked.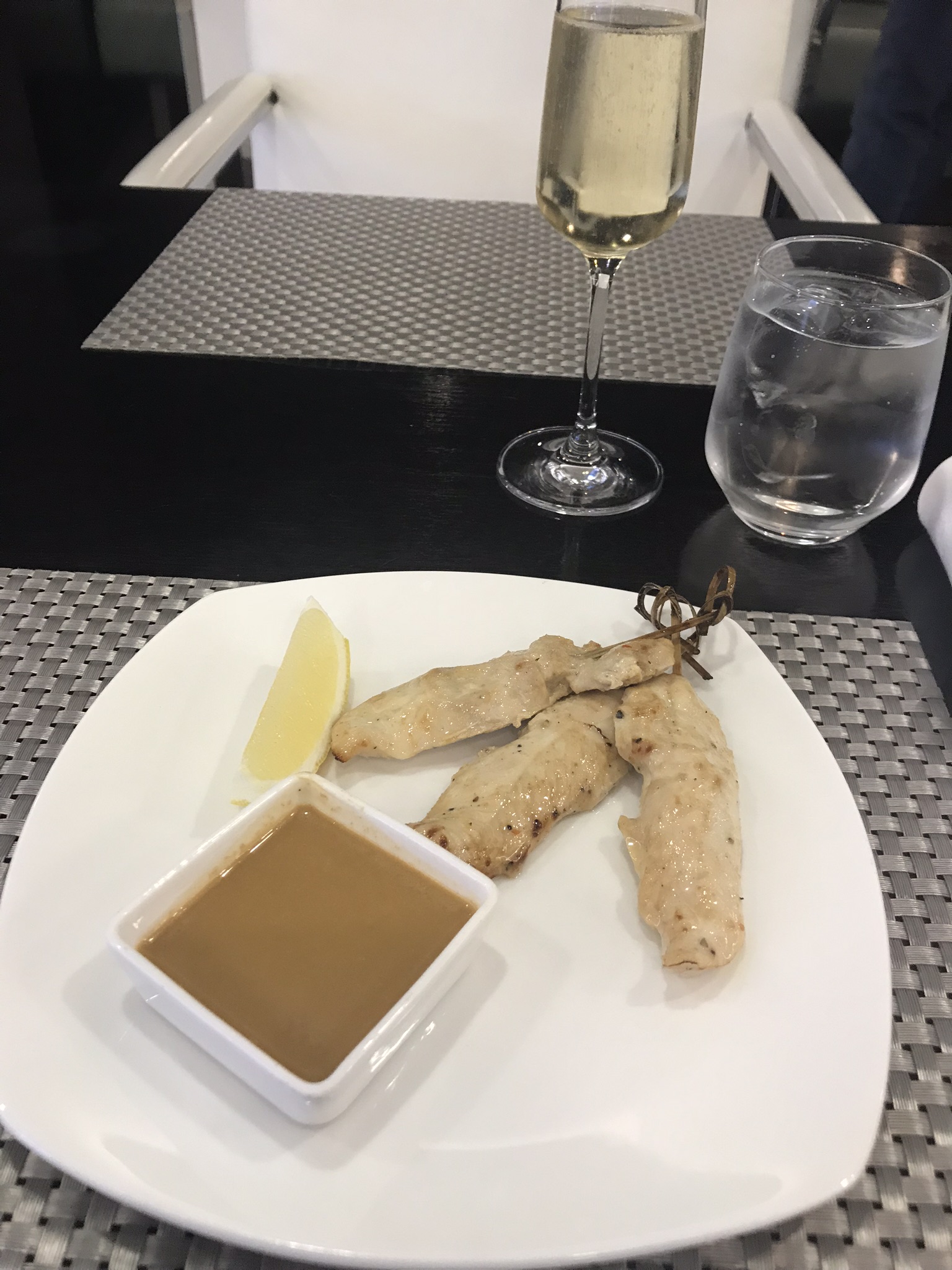 I also sampled a couple of the middle eastern mezze items from the buffet and these were nicely presented and delicious. The buffet had a selection of individual portions of mezze, cheese and biscuits, fresh fruit, desserts, a couple of salads and a couple of hot items including a hot main course. There was also Arabic bread as well as a more traditional bread selection.  The main course was rosemary and garlic chicken with Parmentier potatoes and vegetables. I didn't try it, but it looked tasty.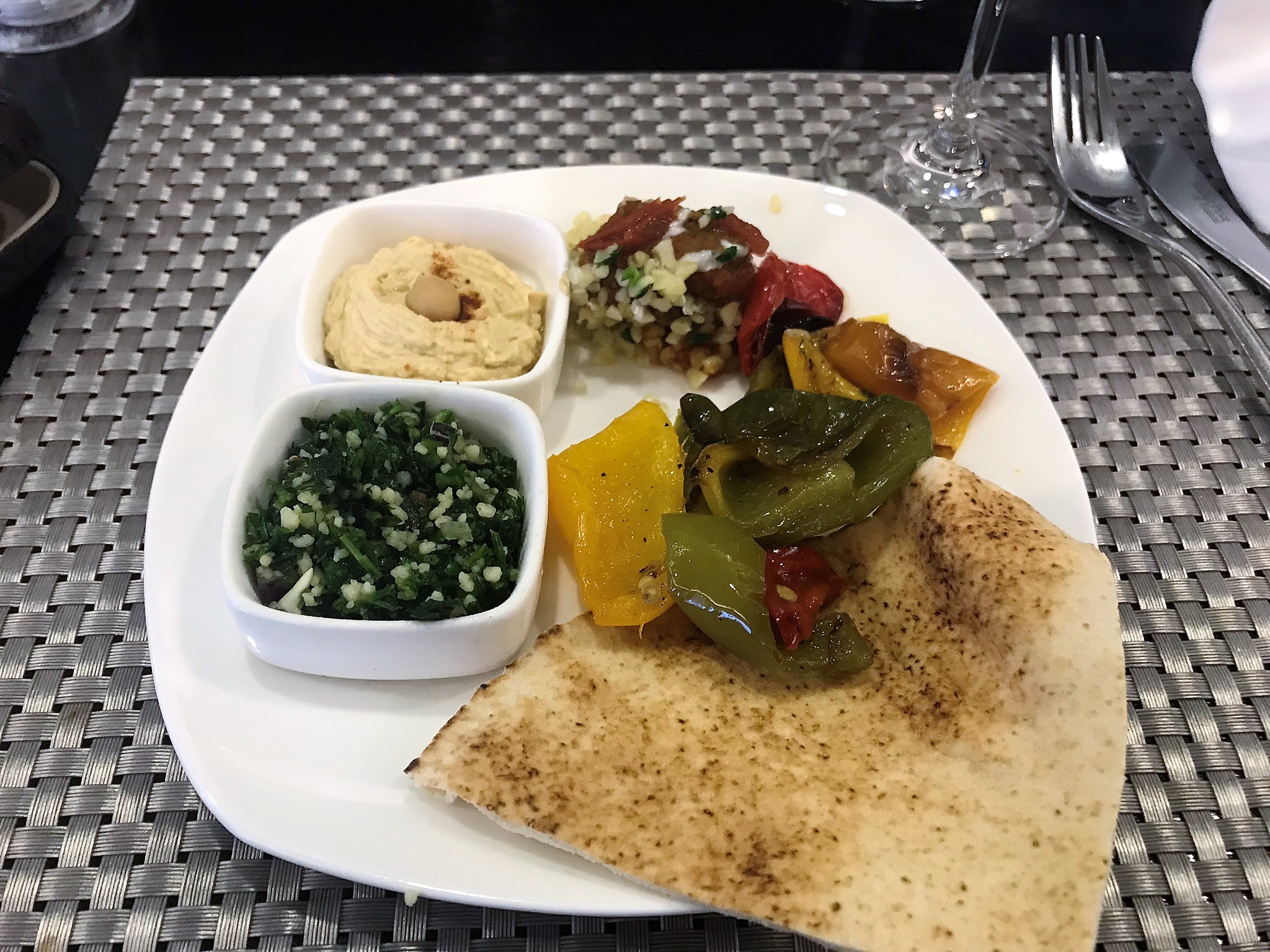 Next to the buffet were some wines to help yourself to. I always prefer this as you can have a look at what is on offer and try one or two before deciding. There was a choice of 3 red wines including a Bordeaux and 3 white. Apart from the ubiquitous Pinot Grigio, there was an interesting sounding South African Rhanleigh Chardonnay which I tried. This retails at about £8 a bottle and was very average. You could also help yourself to a selection of soft drinks and juices in this area.
I could have also sat at the bar but it had no natural light as you faced the wall. I didn't find a drinks list anywhere but there was a wider selection of spirits for them to make pretty much any well-known cocktail. None of the spirits seemed very premium.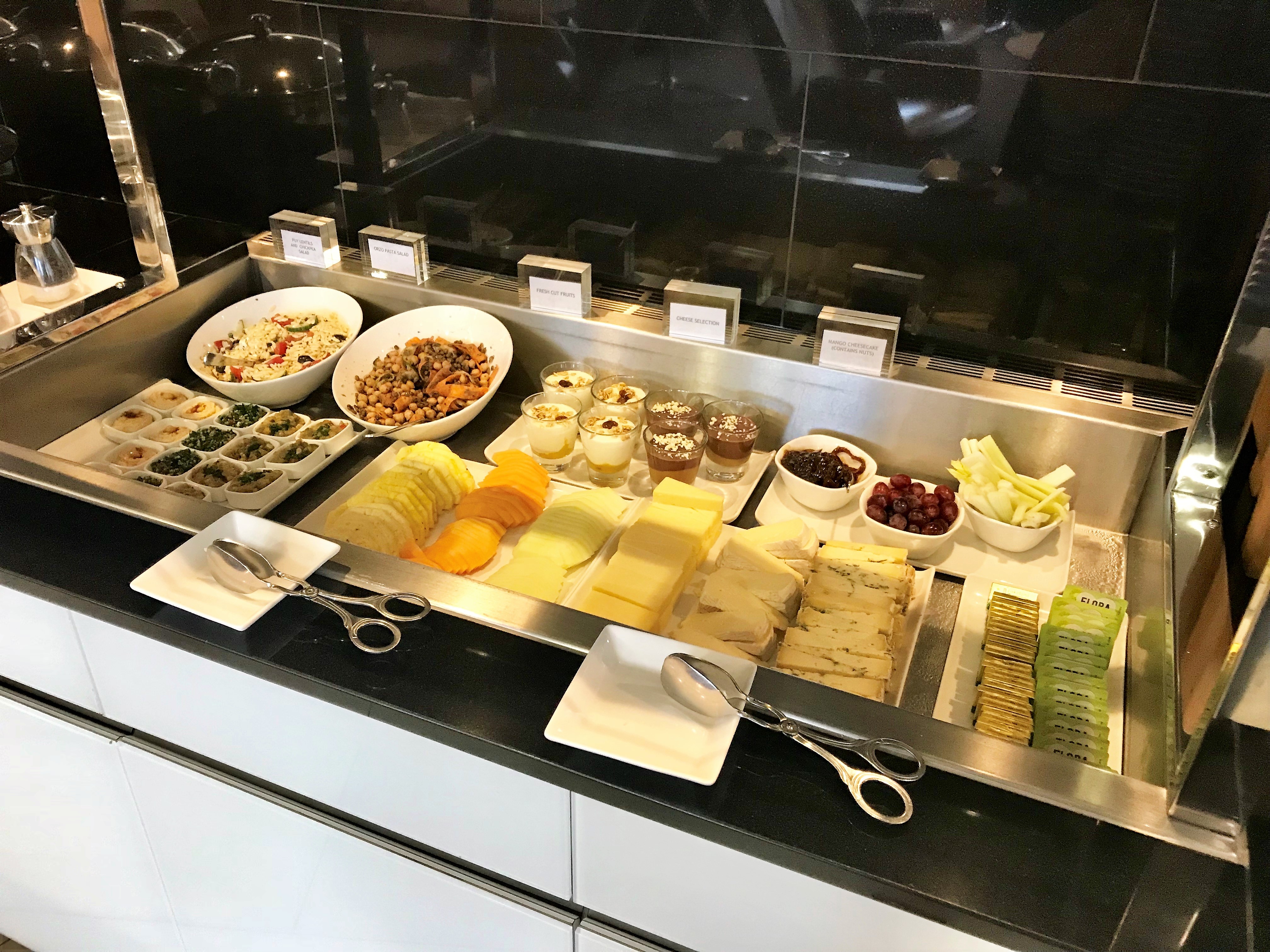 The staff were all pretty helpful and would instantly access if they could help you with something or get you a table if you wanted to go into the restaurant. It actually got the point of being a bit comical and as every time I made the slightest move one of the staff would approach me to see if they could help me! As I was trying to take photos and videos, it felt like they were getting in the way. This is not me complaining though, compared to the non-existent service you get in some lounges I would rather it was this way round.
Conclusion
There was some evidence of cost-cutting with the closure of the spa but overall this was a great lounge to spend some time in. The wines and champagnes were very average but with the addition of bar staff to make whatever cocktail you would like it doesn't matter so much. The style of the lounge was very in keeping with Etihad's other lounges and whilst the staff were a little overbearing I had no complaints about the service.