Etihad are fast becoming the Qatar of special offers with a new one every few weeks. This is probably due to the fact that Etihad have been struggling financially recently. They have cut things like chauffeurs, the London lounge spa, free chauffeurs outside the UAE and now the 'Shave and Style' barbers and beauty salon has closed too in the First Lounge at Abu Dhabi. The business class luggage allowance has also shrunk from 2 x 23kg per person to 40kg total.
However, they are still a good airline in my option. Although the service was very slow on my flight, the seat, food and lounge were all excellent. Judging by people in other seats, I just drew the short straw in terms of cabin crew. You can read my A380 Business class studio review here.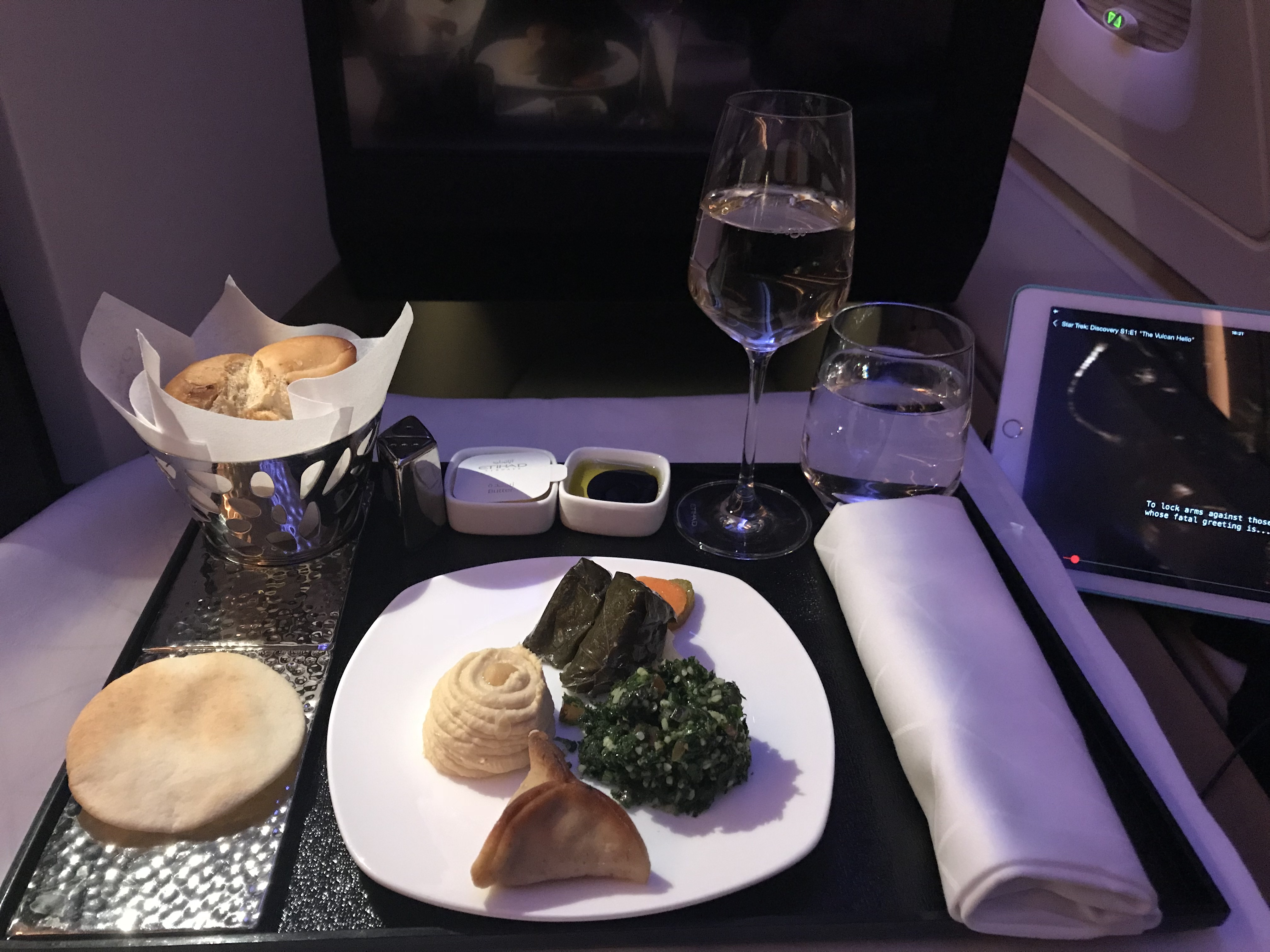 Although you can't earn Avios and BA tier points on Etihad like you can on Qatar, Etihad has one of the best business class seats. They are also an Amex Membership reward partner so you could top up any miles earned with Amex points.
The new Business Class Studio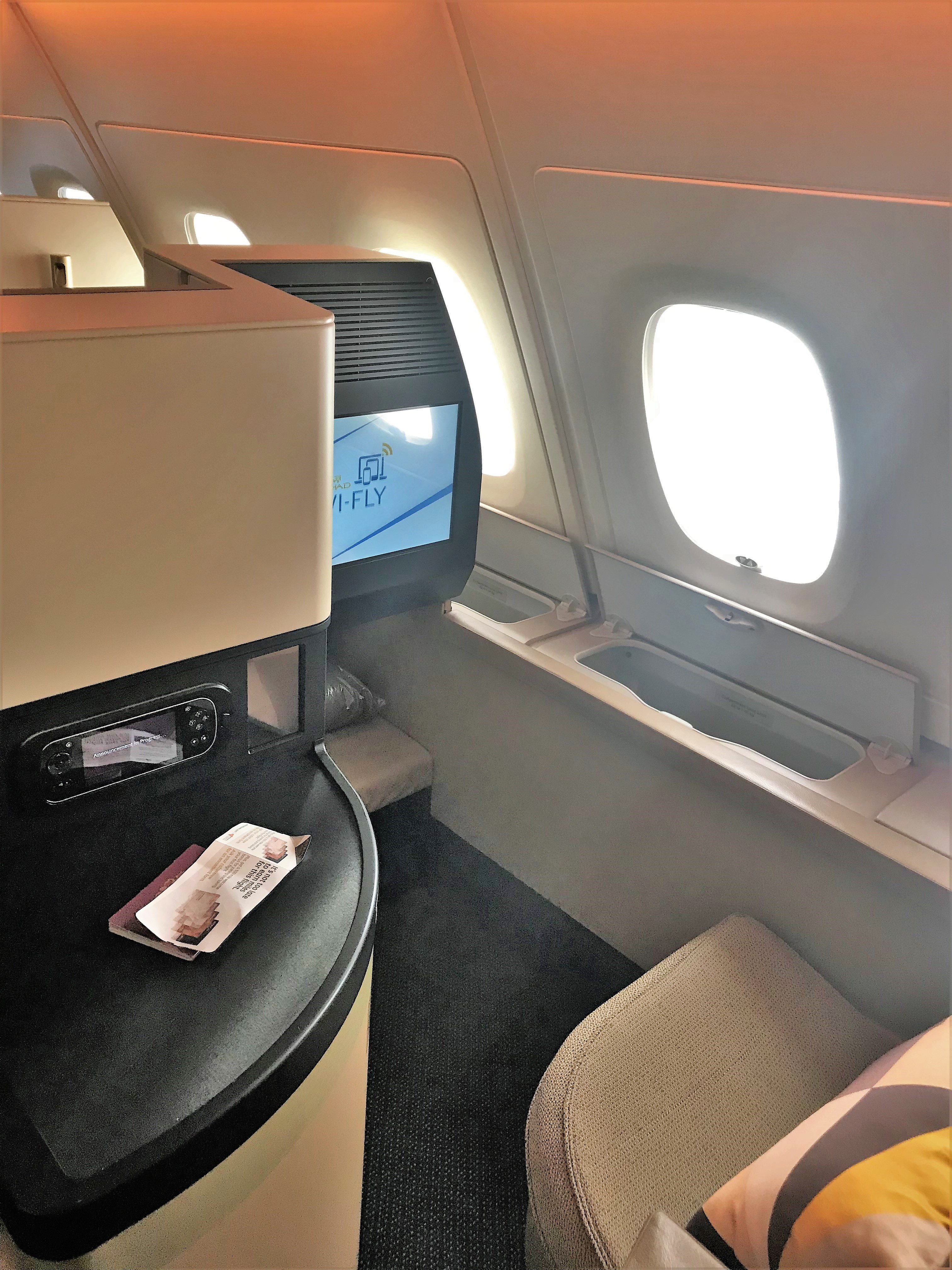 The new Business Studios are available only on the A380 and 787 Dreamliners at the moment. Fortunately, the London to Abu Dhabi route currently has the A380. The rest of Etihad's fleet offer their older business class which still has fully flat beds.
The Business Class Studio features a 22-inch wide seat that converts into a fully-flat bed of up to 6 feet and 8 inches. Each seat has direct aisle access, unlike British Airways.
All business class seats provide:
mood lighting providing a relaxed ambience throughout the flight
in-seat massage function and personal lighting, controlled at the touch of a button
a turn-down service including a mattress, luxury loungewear and slippers on ultra long-haul flights
noise-cancelling headsets.
range of connection ports and mobile or Wi-Fi connectivity on board for selected flights.
18.5-inch touch-screen TV (Business Studio)
15.4-inch touch-screen TV (Business Flatbed)
https://www.youtube.com/watch?v=p6E9BdY0qK0
If you are reading via email you can view the Business Class Studio video here
The sale
The sale is on for flights departing London, Edinburgh and Manchester. The prices can vary by several hundred pounds between airports so it is well worth looking at all the departure points. Even factoring in the price of a connecting flight it could well be worth starting from a cheaper airport. The price to Singapore is excellent from the UK and well worth a quick positioning flight.
You need to book by 11 February 2018 for travel starting by until 30 September 2018 and completed by 15 October 2018.
The best fares are below and are from London unless otherwise stated:
Abu Dhabi from £1,500
Bangkok from £1,643 (Edinburgh)
Kuala Lumpur from £1,640 (Edinburgh)
Mumbai from £1,673
Perth from £2,454 (Edinburgh)
Singapore from £1,594 (Edinburgh)
Sydney from £2,761 (Edinburgh)
Tokyo from £1,953 (Edinburgh)
The sale page is here.