Qatar economy
We flew on a variety of Qatar's aircraft types, B777-300ER, B787, A380 and A320. As a BA silver member we were able to use a lounge though unfortunately not Qatar's own amazing lounge. That said, the lounge was perfectly acceptable and we were booked in for complimentary facials on arrival.
Once onboard the aircraft we were impressed with the space around the seats and the size of the entertainment screens. When the entertainment was up and running there was a huge selection of films both new and old. There were also several on-screen games (for both adults and children), TV shows and news programmes available. The quality of the screens was excellent and I would actually rate them as much better than some of the ones I've experienced in BA Business (especially those dreadful ones you have to 'flick out' on many of the older aircraft).
The Qatar cabin crew could teach BA a thing or two about customer service. They were all polite, efficient and just the right level of friendly throughout the entire flight. There was a good selection of quality alcoholic drinks available that didn't run out during the flight. The menu choices for dinner were good and tasted great although it was the 'all at once' tray service which I really dislike but I suppose it's the only practical way. The flight was just less than 7 hours and a warm snack was served about an hour before landing.
We had a tight transfer for our flight to Muscat so just headed straight to the gate without visiting a lounge. On our way home we had a little more time so visited the Qatar business class lounge for status holders that aren't flying in business class. It was fairly basic and very busy when we were there. It wasn't a patch on Qatar's 'proper' Doha lounge which remains my favourite lounge of all.
The flight to Muscat was early hours and less than an hour long. The aircraft looked like it had just been taken out of it's box it was so pristine. Although the flight was short the crew managed both a soft drink service then a further warm snack and soft drink service. The flight was surprisingly busy but the service never seemed rushed.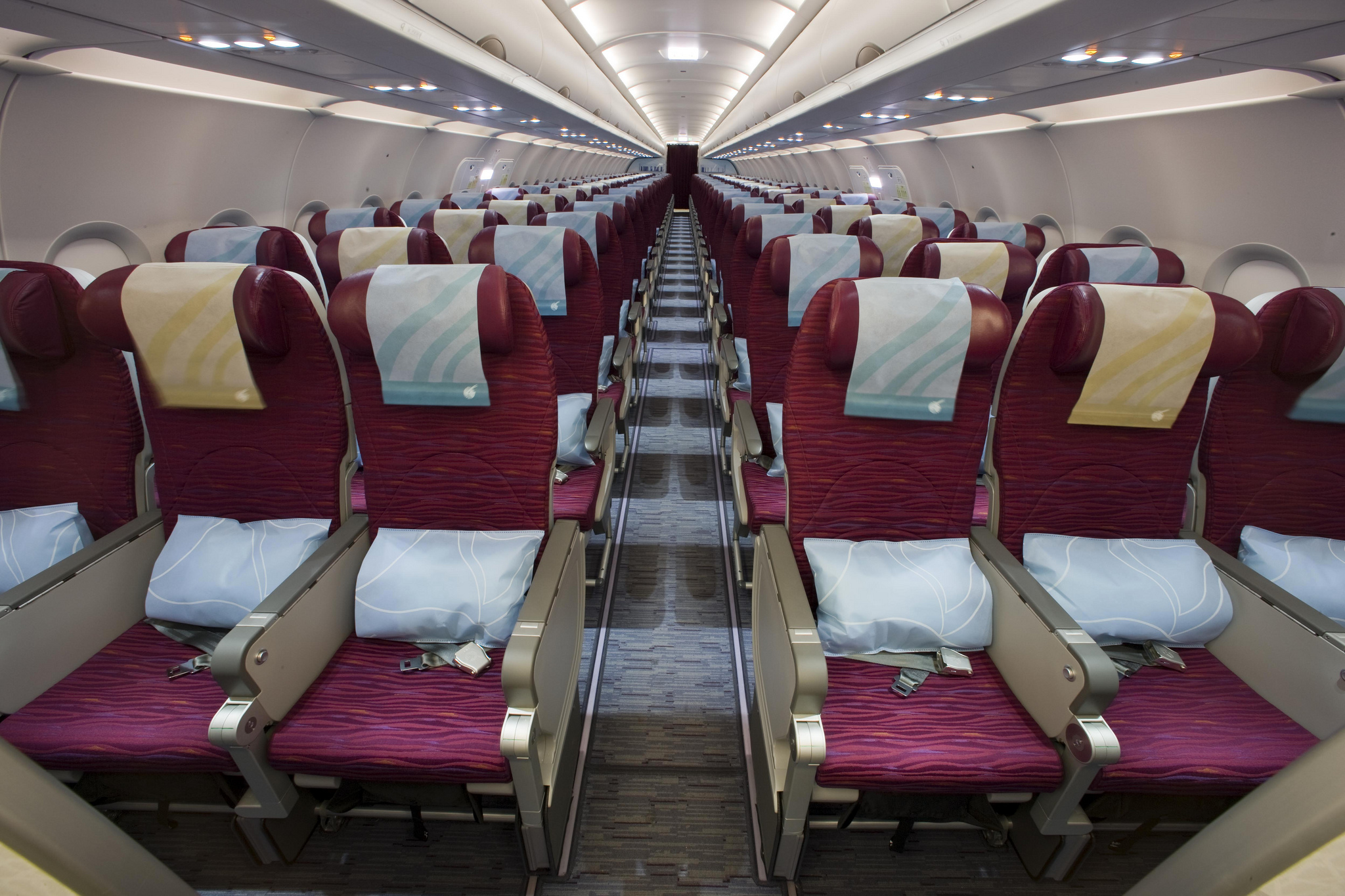 Immigration in Muscat is always, in my experience, quick and easy. A visa has to be purchased on arrival (at the currency exchange booth!) at a cost of OMR 20 which is roughly £37. There are always plenty of immigration staff to ensure a quick transit through immigration although they rarely utter a word to the visitors but chatter constantly to their colleagues. Baggage arrived quickly and we were in a taxi on the way to our hotel within 20 minutes. Taxis are all regulated and metered so are probably the best way to get to your hotel – hotel arranged transfers are often quite expensive.
Sheraton Oman

We arrived at The Sheraton, Oman at 06:00 local time hoping we could check in although we were actually only technically booked in from later that day. The manager said that he would only charge us for an early check in and not the standard half day rate which was a nice touch. While he processed our paperwork we chatted about the reason we were visiting Muscat on this occasion. As he handed us our room key he said 'I think you've had enough stress so I have checked you in early free of charge'. Nice touch and appreciated by two very tired travellers!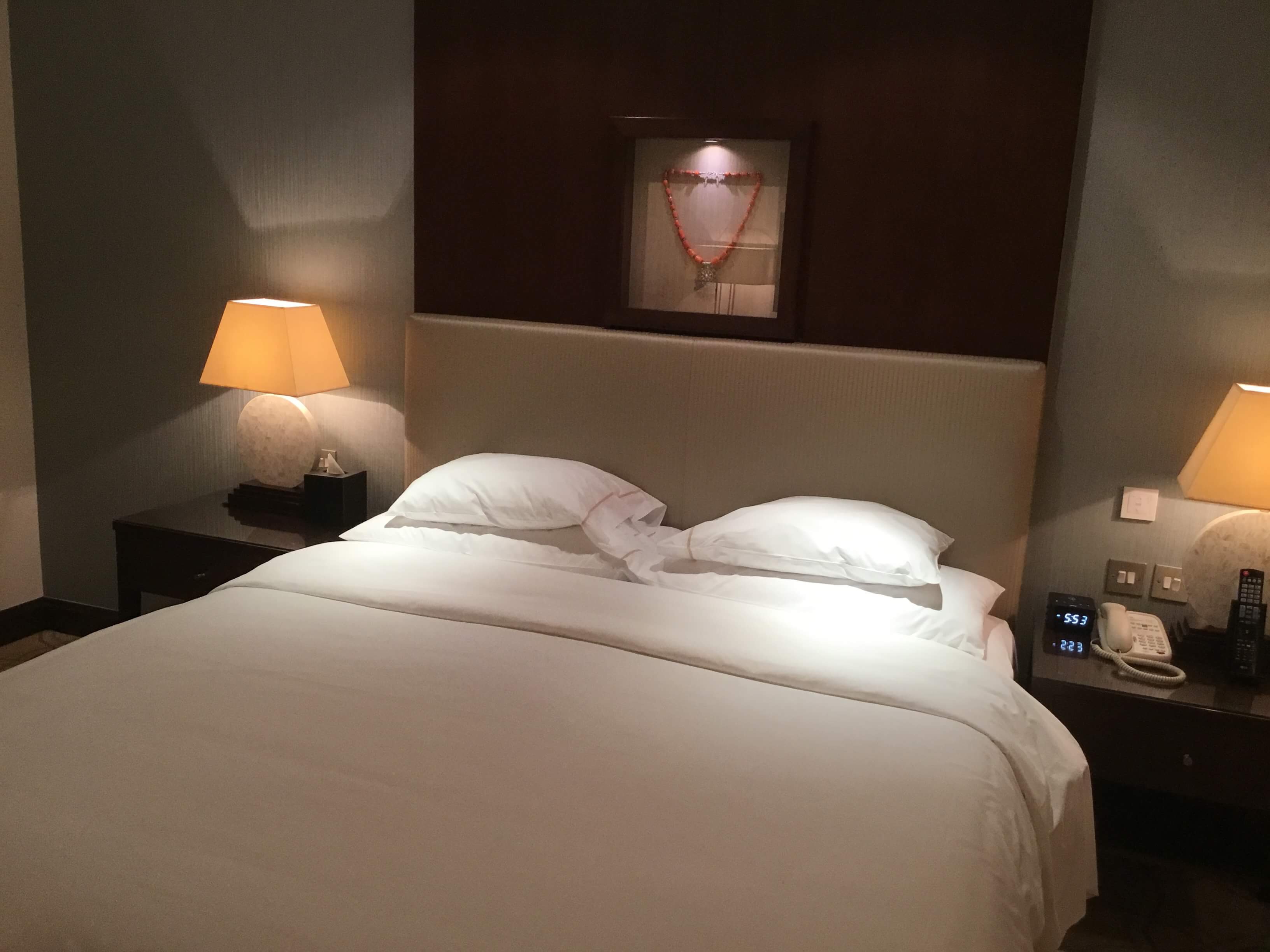 The room was fresh and comfortable as I would expect from any reasonable Middle East hotel. My only criticism would be that the shower was over the bath and there was just one sink.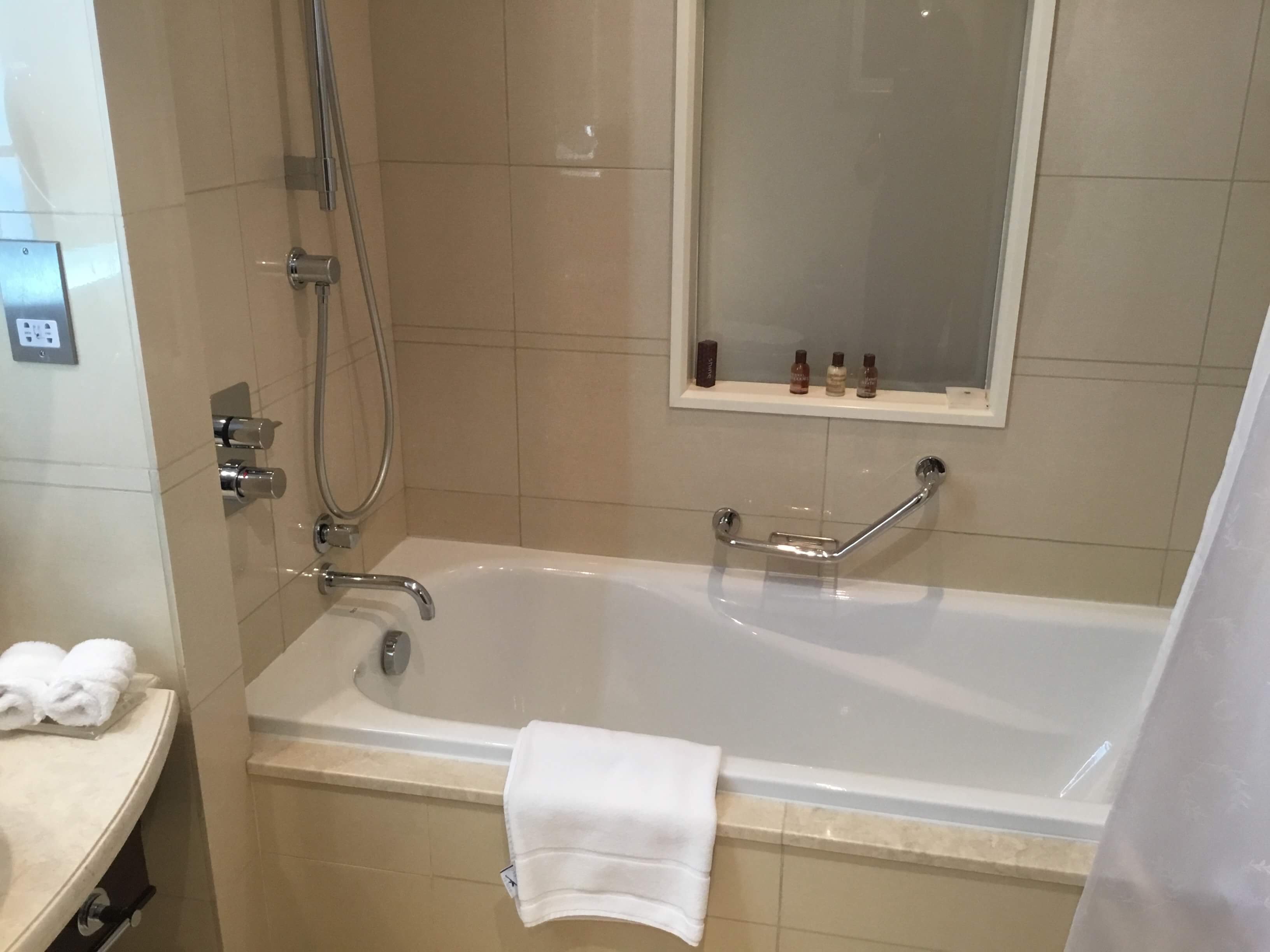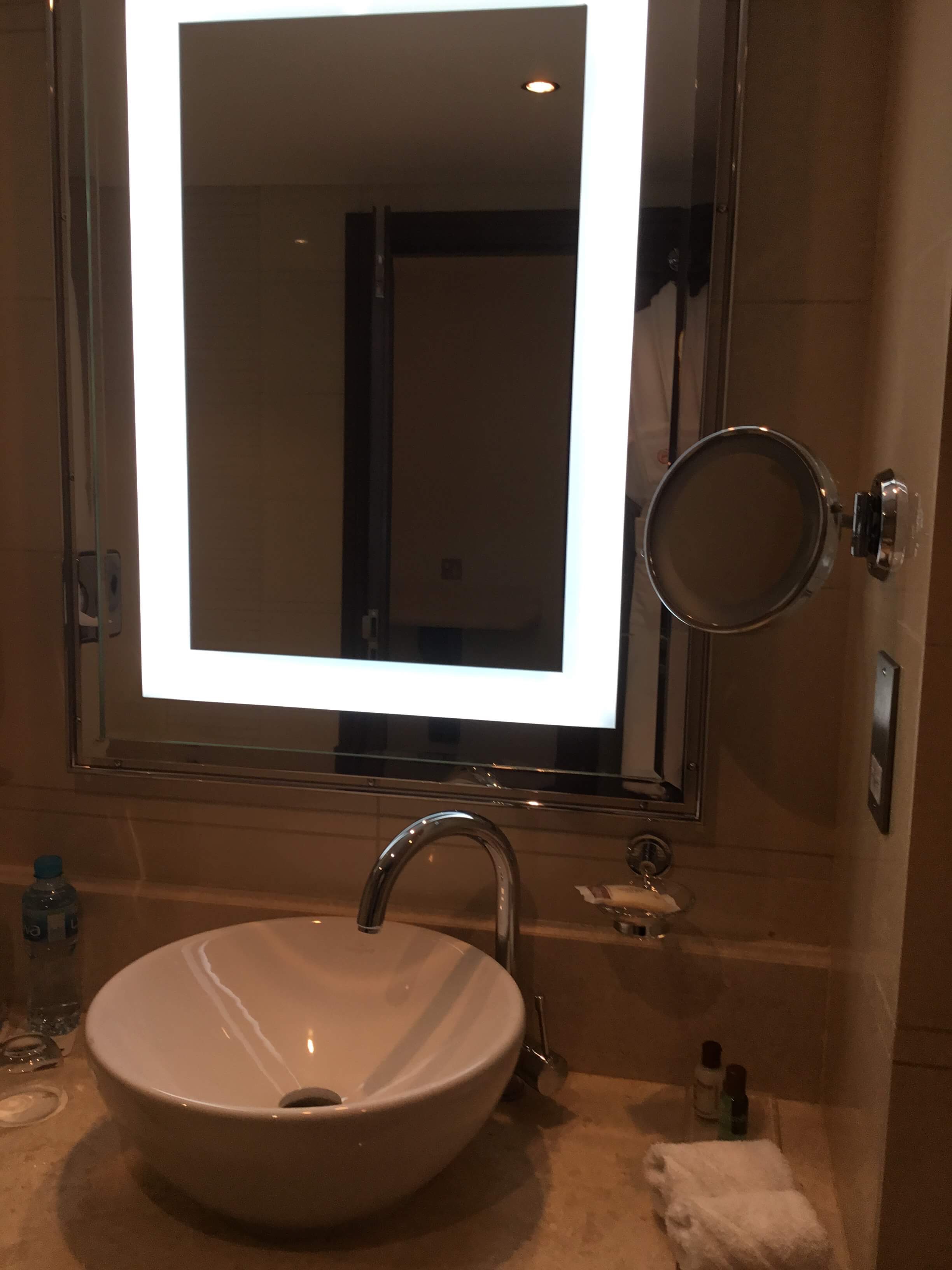 The pool
It is important to realise that this hotel is very much a business hotel in the middle of Muscat's business area. It does not have a beach but the hotel provides a shuttle to and from the beach in the morning and afternoon. There is a small but beautifully landscaped swimming pool area with lifeguards on duty during opening hours. There were four jacuzzi beds actually in the shallow part of the pool which were very relaxing. The majority of the pool was covered which I'm sure is appreciated by all in summer.
The sun loungers had the poshest cushions I've ever seen on a sun bed. I was surprised that although the covers were embroidered jacquard type material they were very fresh and clean. The lifeguards insisted on arranging the towels on the loungers and positioning the beds in the sun although I would consider this is almost standard in the Middle East. The trees provide plenty of shade around the pool which although perfect for most meant that as a sun worshipper I had to 'adjust position' during the day. Actually it was the lifeguard that adjusted my sun bed position! There was a somewhat sporadic drinks and food service around the pool and alcohol was not served in that area after 15:00.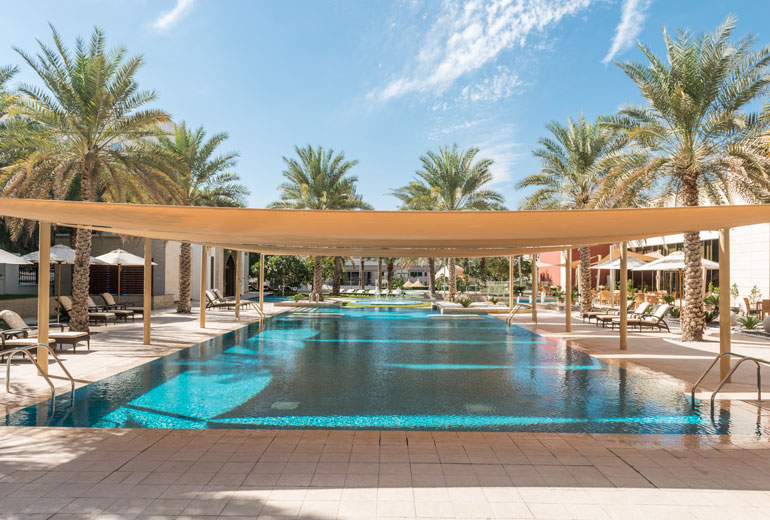 Dining
There are only two restaurants but again it should be remembered that this is predominantly a business hotel. The main restaurant is a buffet which serves breakfast, lunch and dinner. One night a week there is a seafood buffet which is supposedly 'famous' in Muscat and highly rated by the locals. You could opt for with or without alcohol, cost with alcohol being OMR 40 (approx £75). This turned out to be amazing value and I wished it was done on more than one night! The seafood could not have been more fresh with a chef opening oysters as you asked for them. Lobster tails were plentiful and there was pretty much every other sort of seafood I could think of, all prepared to your personal taste. There was the usual salad, cheese and desert (including revolving gelato station!) buffet areas though I concentrated completely on the seafood!
In late November the weather was perfect to sit outside for dinner. I found that each time I turned my head away from the table my glass was refilled – that's a compliment, not a criticism! There is another themed night which is 'meat based' and is slightly more expensive though we didn't try it.
The other restaurant is a wonderful steak restaurant with staff knowledgeable about the content of the menu. We opted for tomahawk steak (beef fore rib) for two. It was cooked perfectly to our request (very rare) and full of flavour. It of course was served with side dishes and a jus of your choice. Neither of us managed to finish the sides but no meat remained! We adjourned to the adjacent bar for after dinner liqueurs – great selection and even better measures. This meal, including a decent bottle of red wine and liqueurs cost approximately £160 and was completely worth it.
There is a coffee and cake area in the lobby with an absolutely huge selection of cakes which I surprisingly managed to resist.
Club lounge
I was disappointed with the Club Lounge though I had to constantly remind myself that it was geared for business visitors. Soft drinks, tea, coffee and various snacks (which changed through the day) were available from 10:30 until 23:00. Complimentary alcoholic beverages were served from 18:00 until 20:00. The evening buffet was very disappointing. There were two hot offerings which repeated every second evening – onion rings, chicken wings and similar. Bread, basic salad items and sandwich fillers (egg mayonnaise, ham, cheese or tuna) were there if you fancied making yourself a sandwich! The cheeseboard was pitiful with only two cheeses – Edam and leerdammer. It lacked a couple of cheeses that actually had flavour! Strangely there were no crackers available and it was suggested that you could have bread with your cheese. There were a couple of mini cake offerings for dessert. The drinks service however was excellent.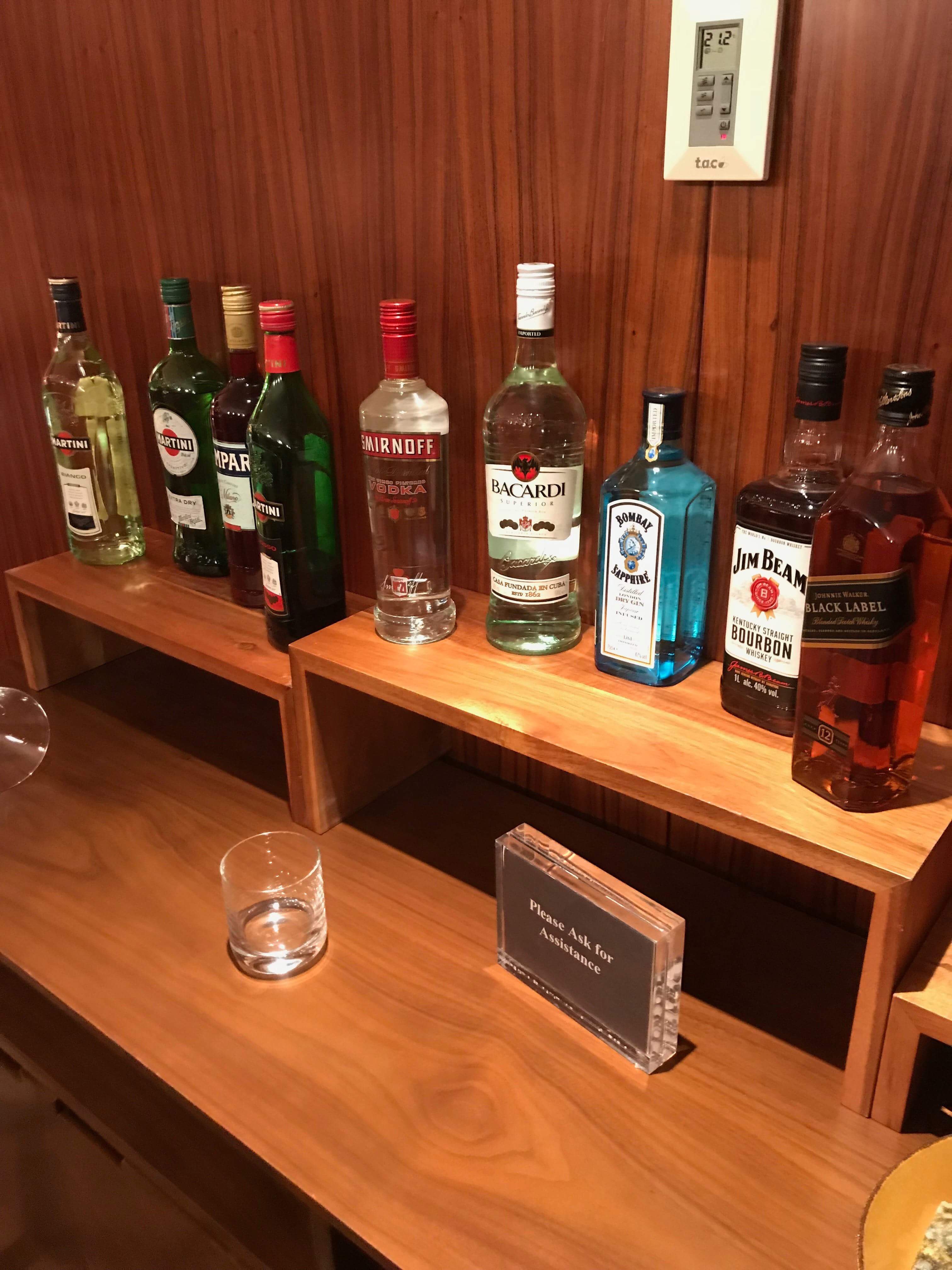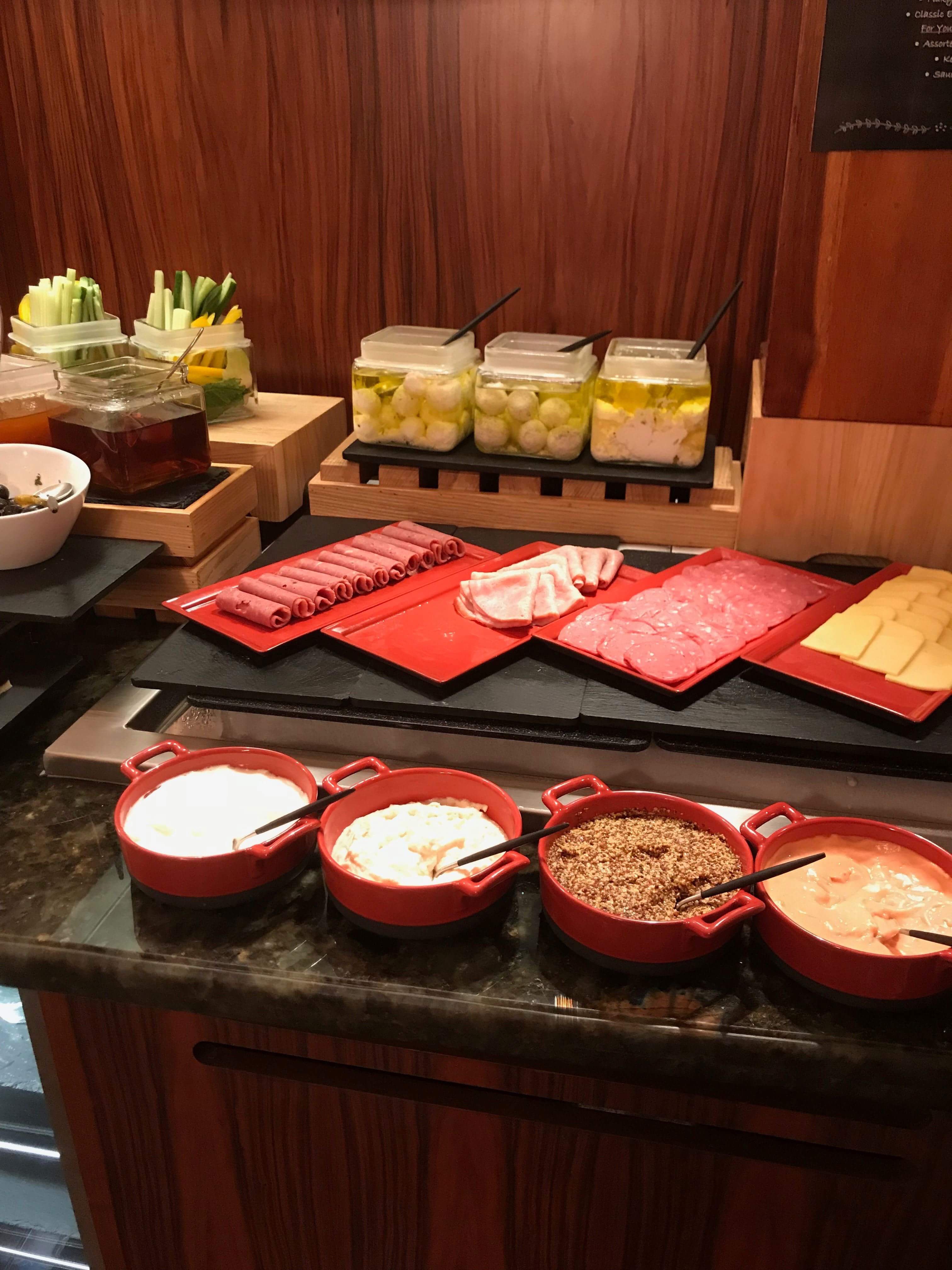 Our flight home was overnight. I was quite surprised that I had found the outbound day flight in economy perfectly acceptable but after the return flight I'd changed my mind about ever choosing to fly medium / long haul economy again. I'm too old to try to sleep sitting up! I would however definitely consider flying economy with Qatar so long as it was day flights both ways. There are currently 5 flights daily each way between Heathrow and Doha so with a bit of forward planning day flights are easily available both ways.
Overall, although it was not the holiday that I had expected it was a perfectly good winter sun break. Temperatures by day were mid to high 20's and by night high teens or low 20's. The sky was clear blue every day (we actually saw one single small cloud in the whole time we were there!)
Conclusions
If you are happy to relax on a sun bed with a book this was a great holiday at a wonderful price (total was £2150 for both of us) but if you are more adventurous this isn't the place for you. There is really nothing more than office blocks to see anywhere near the hotel though the rooms had a wonderful view of the Hajjar mountains. My husband did manage to find a military museum with an entrance fee of OMR 1 if you were desperate for some culture. I declined his invitation to go with him!
Would I do this again – economy flights and stay at The Sheraton?
Probably not but in our specific circumstances it was fine and for such a low total price of £2150 it's worth consideration for a quick bit of guaranteed winter sun as a week in the likes of Tenerife can cost much the same. If I did it would most definitely have to be day flights both ways! All in all it's highly unlikely that we would revisit this particular hotel as there are several lovely Muscat 'leisure' hotels. The Chedi is superb and would be my first choice though Shangri-la Al Bandar or Shangri-la Al Husn are excellent too. You can see more pictures of the Sheraton here.
I have no doubt that we will get to Bali at some point though having read Michele's post on her recent trip to Mauritius (another place on my bucket list) I've just booked flights there for December 2018. I'm sincerely hoping that there are no volcanoes or other geographical phenomena on Mauritius that could result in another holiday hastily replanned in a Heathrow coffee shop!