I have fond associations with the BMI brand, and in particular the now-defunct BMI Diamond Club. This was the loyalty scheme that introduced me to luxury travel and started me off in the miles and points game. Many people are unaware that BMI are still going as a regional airline called FlyBMI. I generally love flying from regional airports on short-haul for the sheer ease of getting in and out of the airport in super quick time. BMI wanted to promote some of their destinations so I jumped at the chance when they offered me a ticket to try their airline on a trip to Munich. This was my first time to Munich and I will be doing a full review of my trip and the hotel I stayed at in the near future.
FlyBMI fly from a range of UK airports including Bristol, London, Newcastle, Aberdeen, Inverness, Manchester, Edinburgh and East Midlands.
Check-in and Bristol Airport
This was my first time at Bristol Airport and I was surprised by how big the airport actually was. There was a slight queue at check-in which was unsurprising given that it was a weekend in the middle of the school summer holidays. BMI were good at managing the queue though and soon opened an extra desk which moved the queue rapidly. Part of the issue was that nobody appeared to have bothered to check in on-line as each check-in was taking ages. Mine took less than 60 seconds for her to tag my bag and give me the receipt as I already had a boarding pass.
There are three choices of fare with FlyBMI: Classic, Classic plus and Executiv.e I was on Classic plus which includes:
Bags fly free
Free baggage allowance includes 1 bag of up to 23kg.
Hand baggage
One piece of hand baggage of up to 12kg onboard, plus one personal item.
Complimentary food and drink
Complimentary bar and snacks. Soft drinks, tea and coffee are also available.
All jet fleet
Embraer aircraft – E135 and E145
All leather seating
31″ seat pitch with 1:2 seating
Change your flights
ClassicPlus Fare can be changed up to one hour before your flight for a no fee, you simply pay any fare difference when confirming your new travel date.
Cancel your flight
If you cancel your flight at least one hour prior to your flight they will refund you the full fare, minus a cancellation fee of £50/€65 per passenger, per sector.
All fares get free baggage and free onboard food and drink. The Executive fare gets more baggage and a hot meal as well as premium security.
The security premium line was virtually deserted so it was a breeze. The staff there were friendly which makes a change from most airport security personnel.
I liked the airport as it felt light and airy even on a busy day. There was a lot of glass which helped and it felt modern with some interesting touches. I particularly liked the tree seats. There was a selection of shops and I even managed to pick up a snazzy new hat as I forgotten that one may be a good idea for Munich's heatwave when I was packing.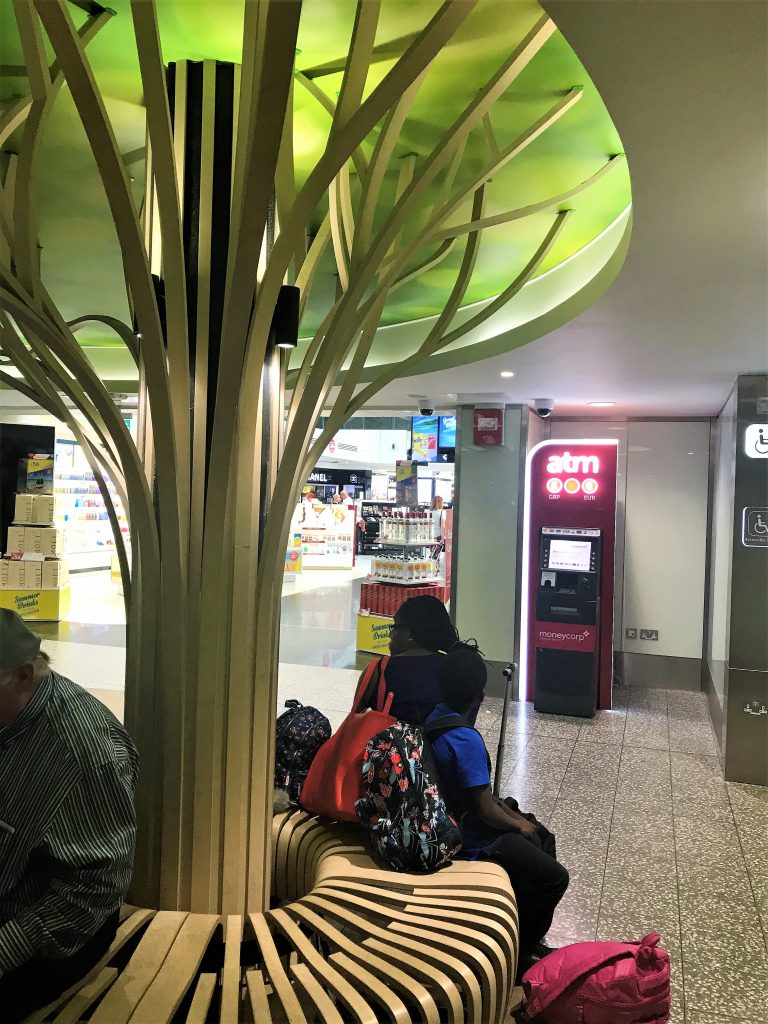 Aspire lounge Bristol
There are two lounges at Bristol airport – one at either end. One was the Aspire Plus which is adults only and a slightly more comprehensive offering. I was in the standard Aspire lounge. The staff on the door were very welcoming and explained that there were no announcements and asked if I had been before. As I hadn't she gave me a quick rundown of the lounge which was nice. It is a fairly small lounge but the decor was smart and there was plenty of room with enough seats to choose from.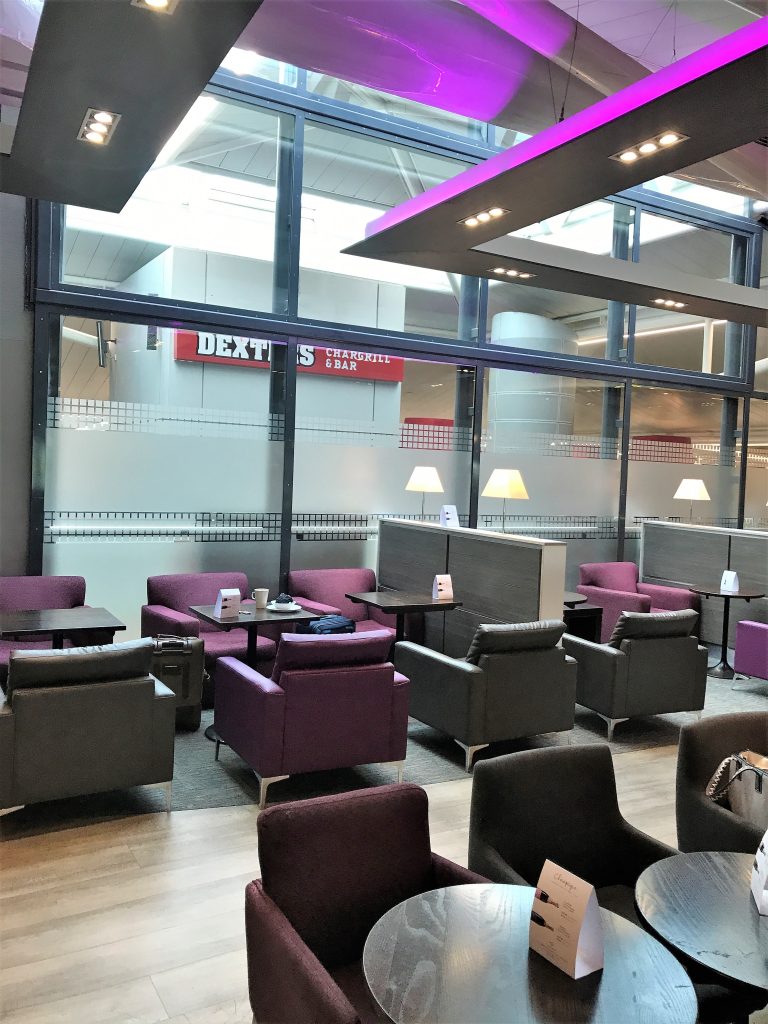 There was a small buffet with a few salads, meat and a choice of a couple of hot dishes – Chicken Pesto Pasta or Vegetable Curry & Rice. There are always two hot dishes to choose from which change on a monthly basis. In another area were some cakes and biscuits. The salads consisted of:
Garden Salad
Sliced Wiltshire Ham
Mexican Bean Salad
Moroccan Couscous
Roasted Sweet Potato & Quinoa Salad
Beetroot and Quinoa Salad with Lime & Honey Dressing
Egg Mayonnaise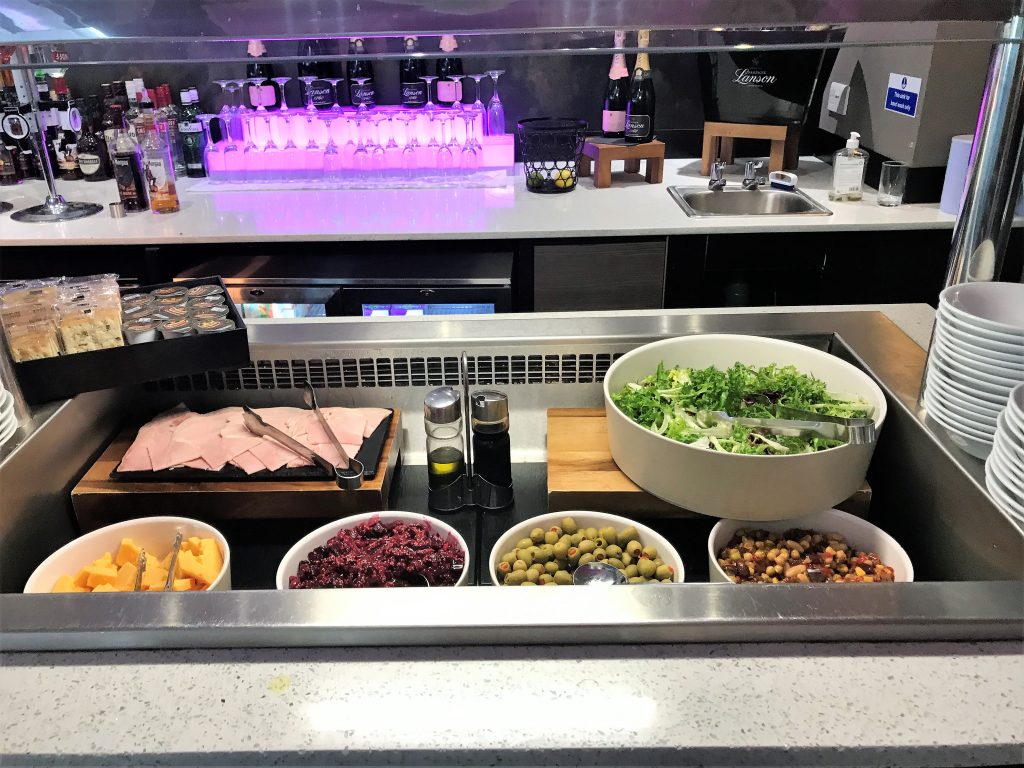 Like other Aspire lounges there was only serve yourself soft drinks and a coffee machine. All the alcoholic drink were free apart from champagne/prosecco/cocktails and served from behind the bar which was manned by one of the people from behind the desk. The choice of drinks was pretty standard for an Aspire lounge. You are not going to find any fine wines here. There was a choice of red, white or rosé plus beer and a reasonable selection of standard spirits.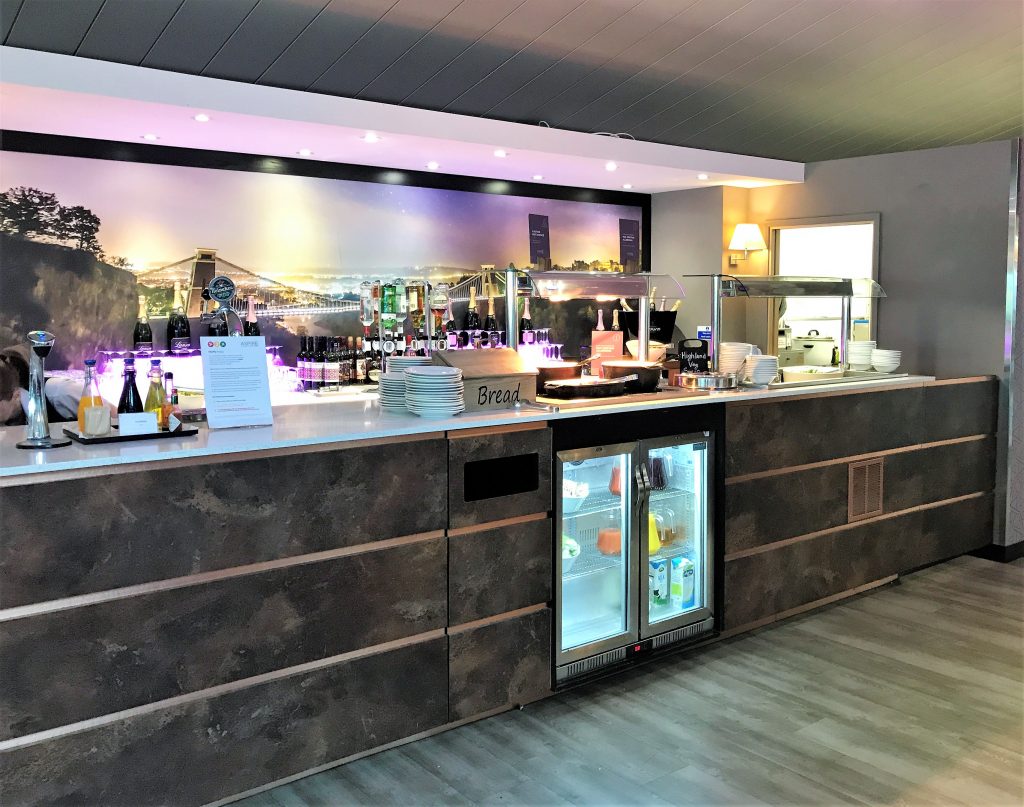 Complimentary Alcoholic Drinks
Kronenbourg
Tiger
Guinness/London Pride
White/Red/Rose Wine
Vodka
White Rum
Whisky
Brandy
Gin
Port
Cinzano
Available to Purchase
Lanson Champagne
Tosti Prosecco
Cocktails
If you wanted to buy access you can do so through my favourite lounge app – Lounge Buddy. Access starts from £26. You can find Lounge Buddy's website for the latest prices and to book here. You can also get access with the Priority Pass card.
Boarding
Boarding was announced quite early which I assumed would be due to it being a bus gate as the E145 has built-in steps. The gate lounge had plenty of room and fairly soon we boarded the bus. There was a bit of a delay but the bus driver was good at keeping us informed plus he had a bit of a sense of humour which I liked. The E145 has very little on-board storage space so if you had a carry on you could get it put into the hold for free and then pick it up at the aircraft steps once you landed.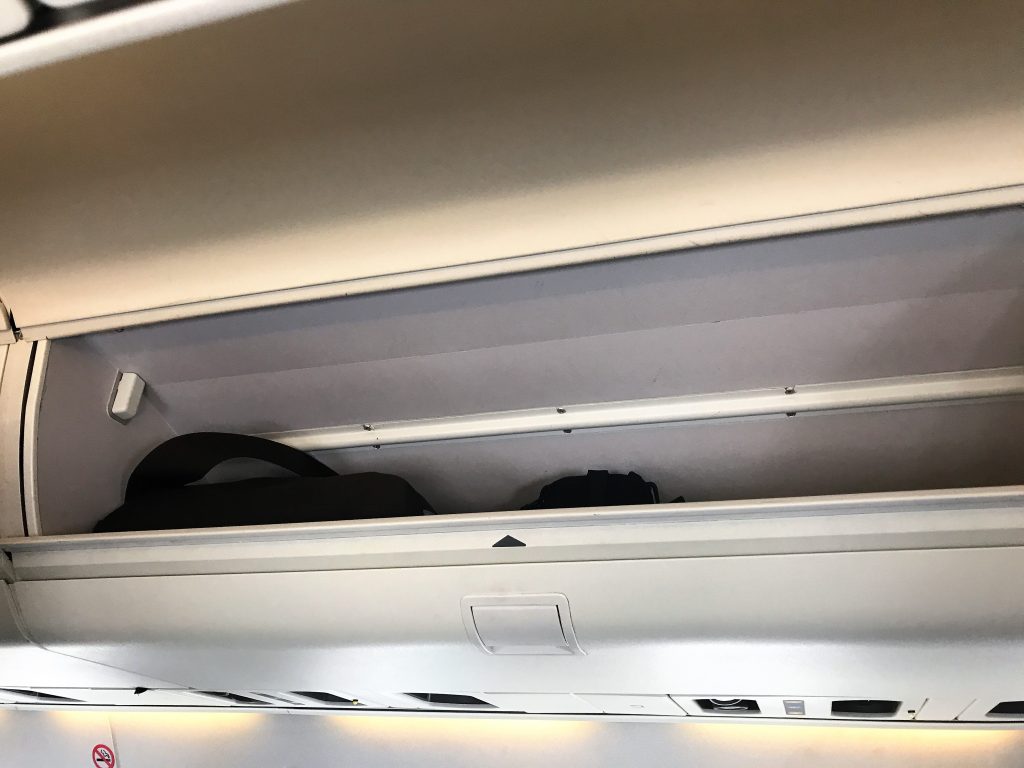 The flight
Bristol – Munich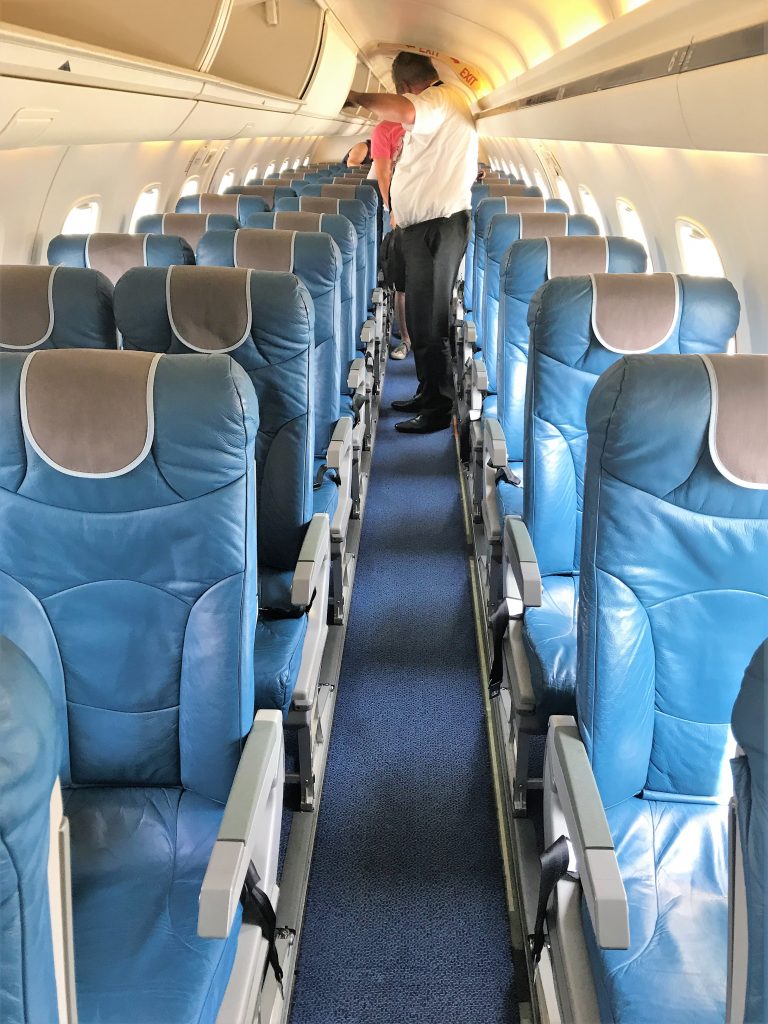 I had chosen one of the A window seats as the aircraft is in a 1-2 configuration. The seat pitch was 31″ which felt very roomy. My knees had a good couple of inches in front of them before you got to the seat. You could definitely feel the difference compared to the standard pitch of 29-30″ for most airlines.
The other good thing about FlyBMI is that they still offer free snacks and a full bar for free which is refreshing in a tide of ever decreasing on-board service.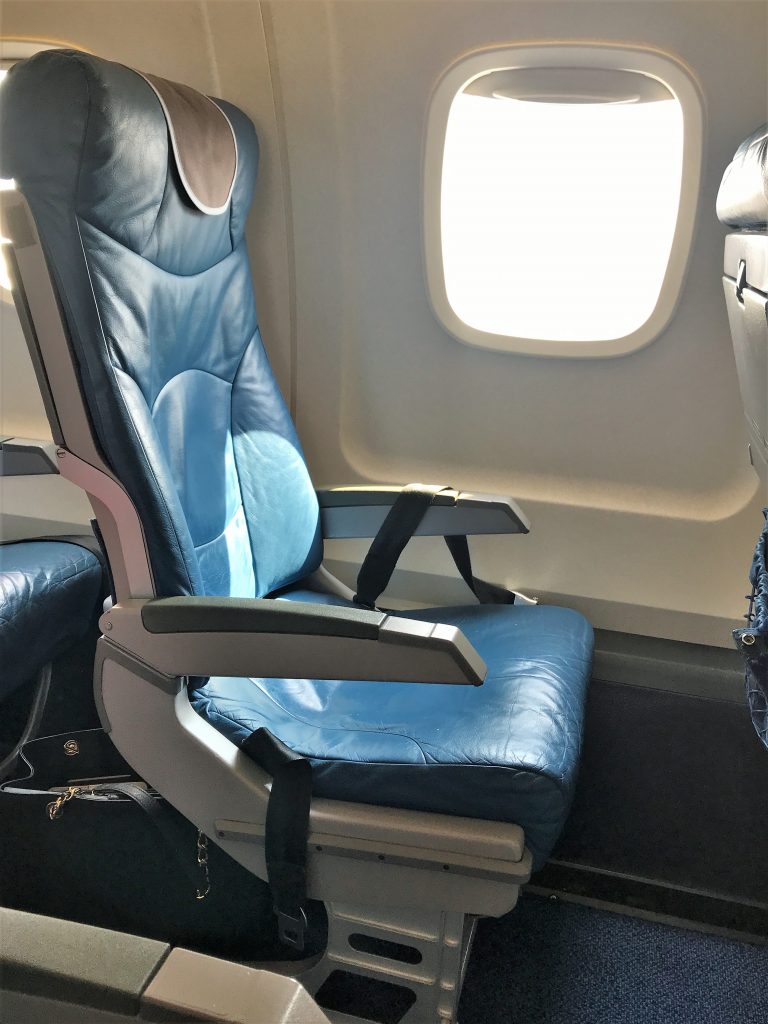 The flight left Bristol at 1210 and on this flight we were offered a snack of a Kitkat or a full size bag of my favourite sour cream and chive flavour pretzels.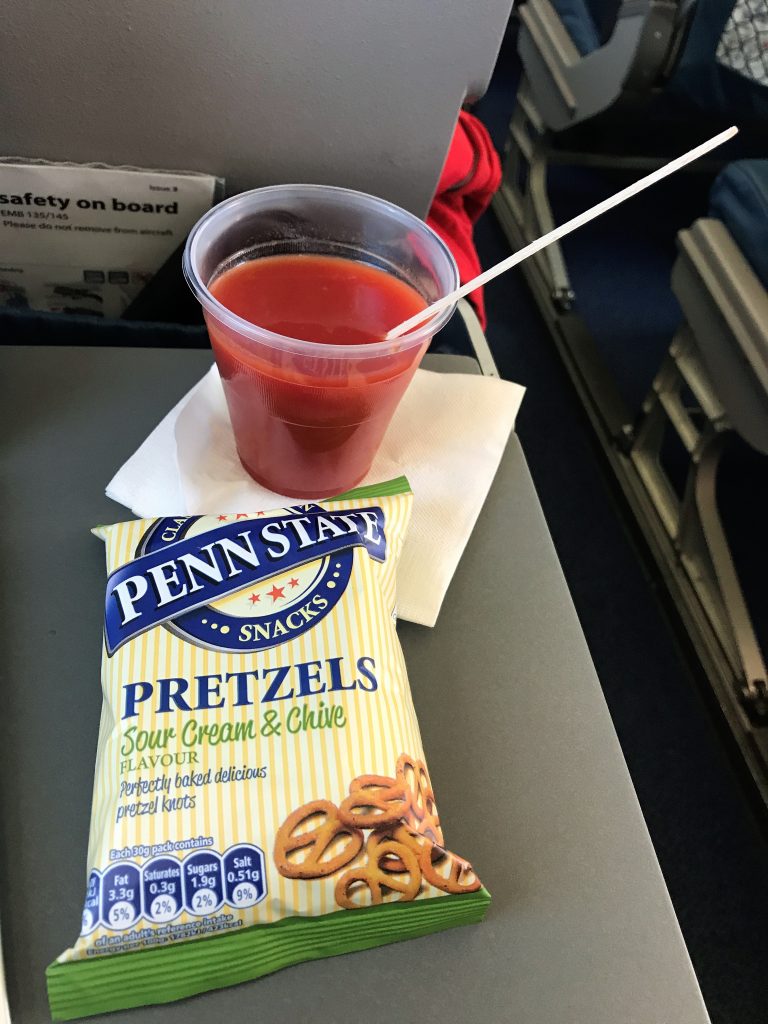 There was then a choice of drinks from the bar or tea and coffee. In the bar they had Smirnoff Blue, Tanqueray gin and Barcadi, Gordon's gin and Baileys plus a whisky I think but I didn't see what it was. They also have wine, beer and cider. For such a small aircraft and it being complimentary I though that they had a good selection.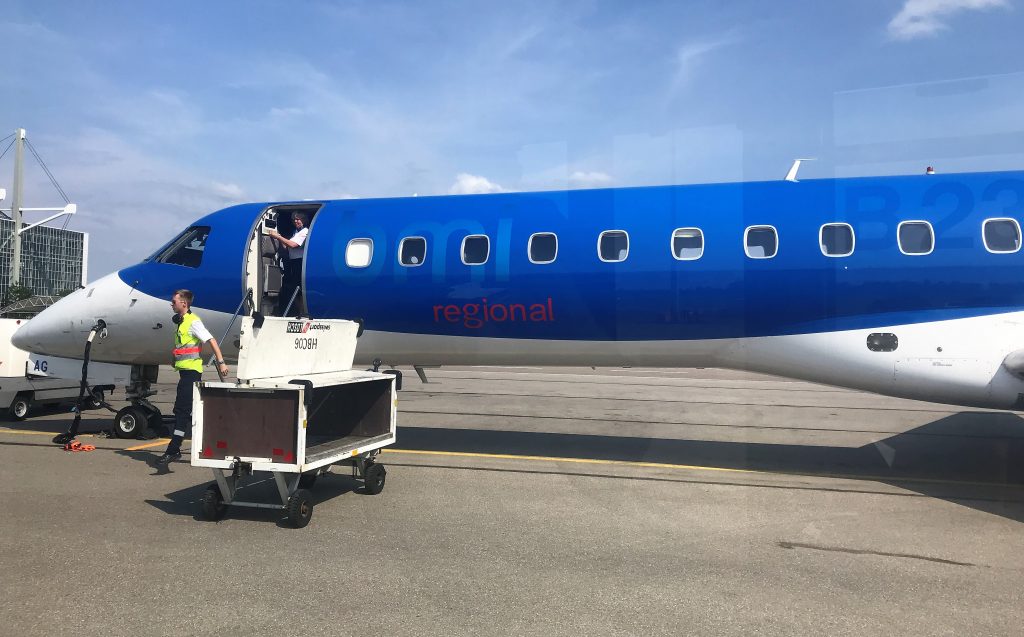 Once we arrived it took a few minutes for the baggage that had been put in the hold to be retrieved and placed outside the aircraft.
Munich- Bristol return journey
Munich airport is well-connected to the centre with the Lufthansa bus that goes every 20 minutes for €10 if booked in advance. There was a long queue of people for check-in which is done at the Lufthansa desks. However, I couldn't understand why as there were lots of empty self-service desks. There were Lufthansa staff on hand if you weren't sure how to do it. The whole process only took a few minutes and then I went through to the boarding area. Munich airport has plenty of nice shops and restaurants although if you have priority pass there is no lounge in terminal 2 only in the satellite terminal 2S. I had a wonder around instead and spotted these nap cabins which were self-service which I thought was a great concept.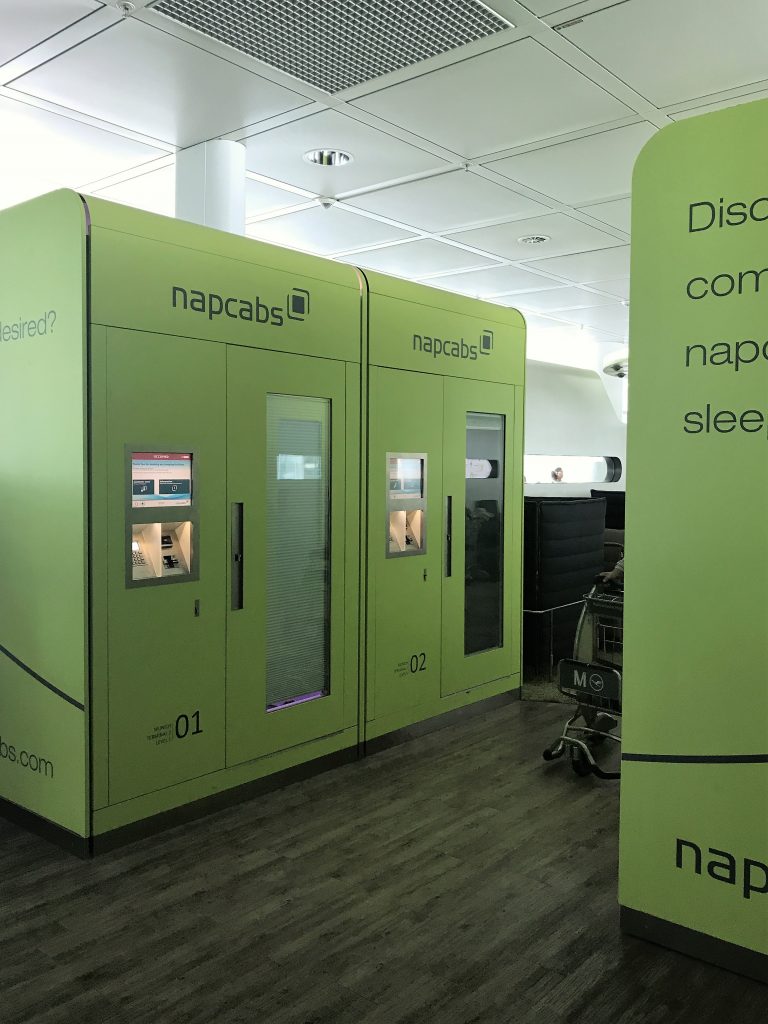 Boarding was a bit later at Munich and again it was a bus. Funnily enough one of the pilots was a friend of one of my readers, Nevil from Planetalking podcast. I had made contact with Stuart (the pilot) in advance so I could go up to the cockpit for a chat and to take a photo.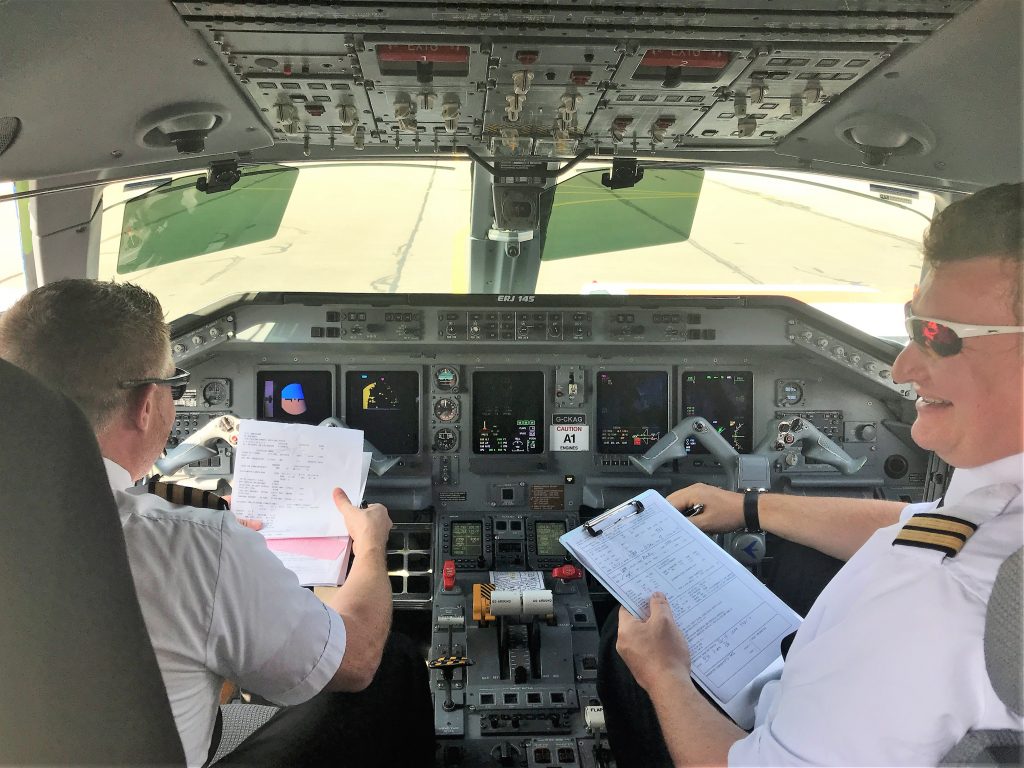 The cabin crew member was particularly friendly on this leg and looked after me well. I had the same solo window seat again. This time being classed as breakfast there was a more substantial snack in the form of a granola type pot or a ham and cheese croissant. The croissant was actually surprisingly tasty, not too claggy or heavy.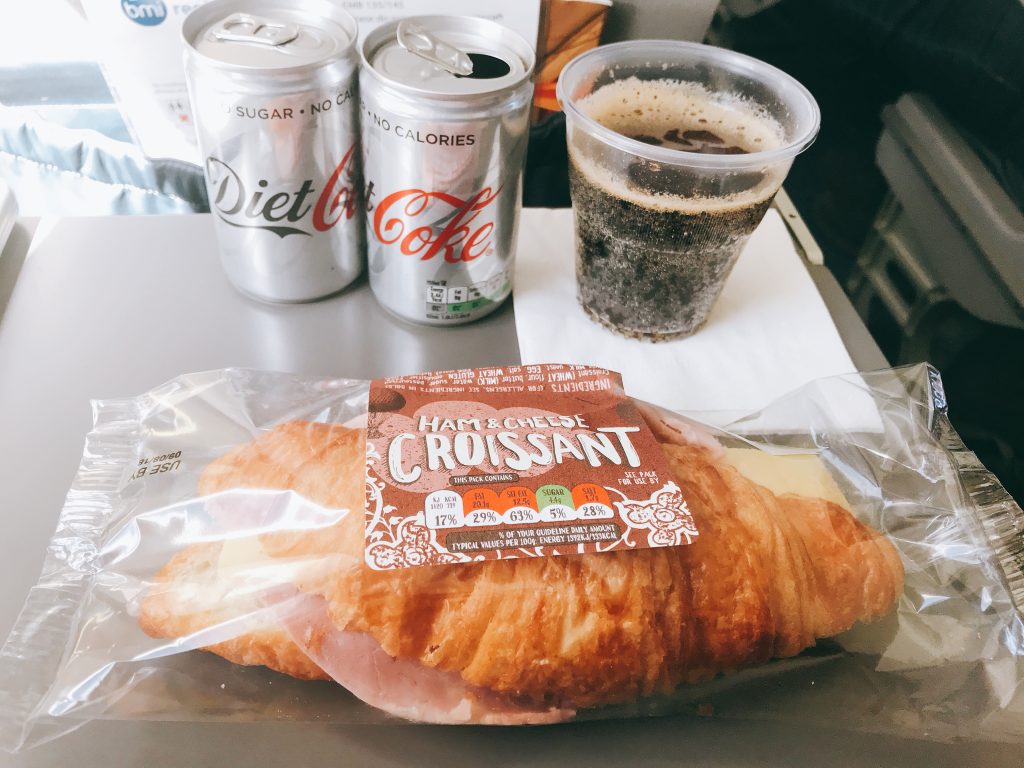 Once we had landed at Bristol and been bussed back to the terminal I was impressed by the speed of the luggage delivery. I had popped into the toilet for 2 minutes and then walked straight to the carousel where my bag was already waiting. This is why I love regional airports!
Conclusion
FlyBMI felt very much like a boutique airline like some of my favourite ones I talked about in this article. The aircraft are all jets which I much prefer to my local regional airline that has mainly turboprops which I am not keen on. It is so much easier when everything is already included in the fare, especially with a reasonable 23kg luggage allowance. As the aircraft were small, getting on and off was quick. I liked that you could have a decent size carry-on but have it put in the hold and returned as you got off the aircraft. This better than it ending up with it on the floor like you do on other small aircraft airlines.
Overall there was little to fault apart from the fact in most places you will always have a bus gate. For me all the included extras more than made up for that.
You can find out all the destinations that FlyBMI go to and more information about flying with them here.