The Principal started off as a small group of hotels but was recently bought by IHG which makes them much more interesting. You can read about the hotels new branding in IHG in this article. The Principal London will become the UK's first Kimpton hotel and is now called the Kimpton Fitzroy.
The Principal London has undergone a £85 million refurbishment to restore it. It was originally opened in 1898 as the Hotel Russell and is now a Grade II listed building designed by Charles Fitzroy Doll. At the entrance are four British Queens – Elizabeth I, Mary II, Anne and Victoria – guarding the entrance. The hotel was still in its 'soft opening' phase when I went as some of the areas were not yet open like the Palm Court.
Location
The hotel has a good central location right on Russell Square with plenty of transport links. There are a number of bus routes that go right past the hotel and Russell Square tube on the Piccadilly line is just a few steps away.
Arrival and check in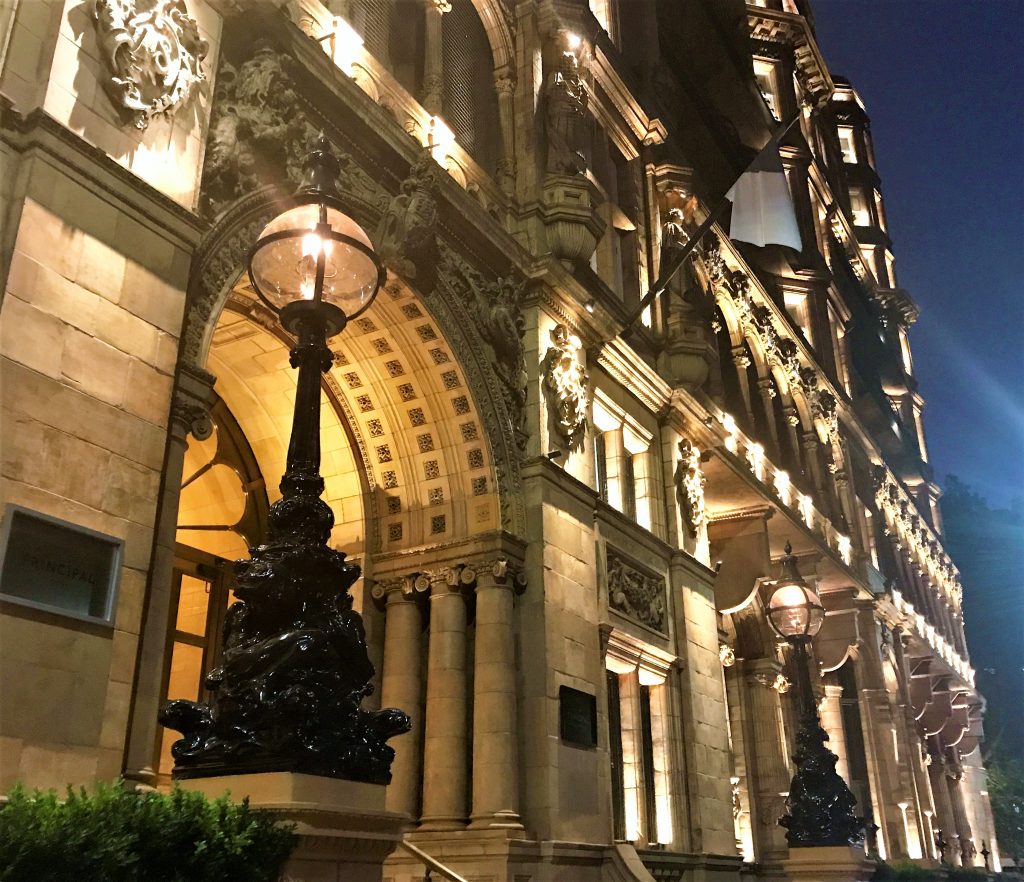 Arriving at the Principal it was a very imposing and grand building which reminded me quite a bit of the St Pancras Renaissance hotel which I love the architecture of. One of the highlights of the hotel staff was the doorman here. As is the trend his attire was more casual than many of the 5* London hotels, as was his greeting but he was extremely helpful and friendly. Every time I went in or out he had time for a quick chat and to check if needed help getting a taxi or directions.
The space once inside was equally impressive with a sympathetic restoration but with a modern luxury feel. It perhaps lacked a little in grandeur as there were lots of smaller areas rather than one large entrance but it gave it a more intimate feeling.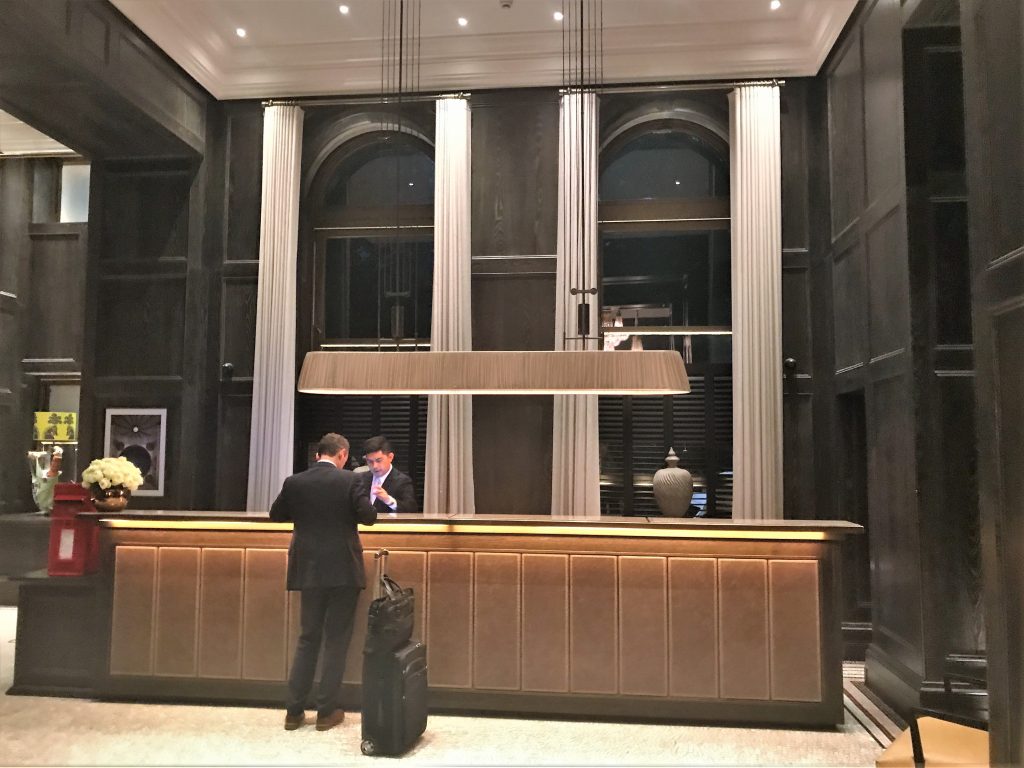 There was a bit of a queue at check in which was odd as I had arrived after check out time and way before check-in. It was partly because they only had a couple of people on reception but they soon found someone else and I was assisted. I had arrived very early so my room wasn't ready. When I returned at around 3.30pm there was no queue and I collected my keys without any delay.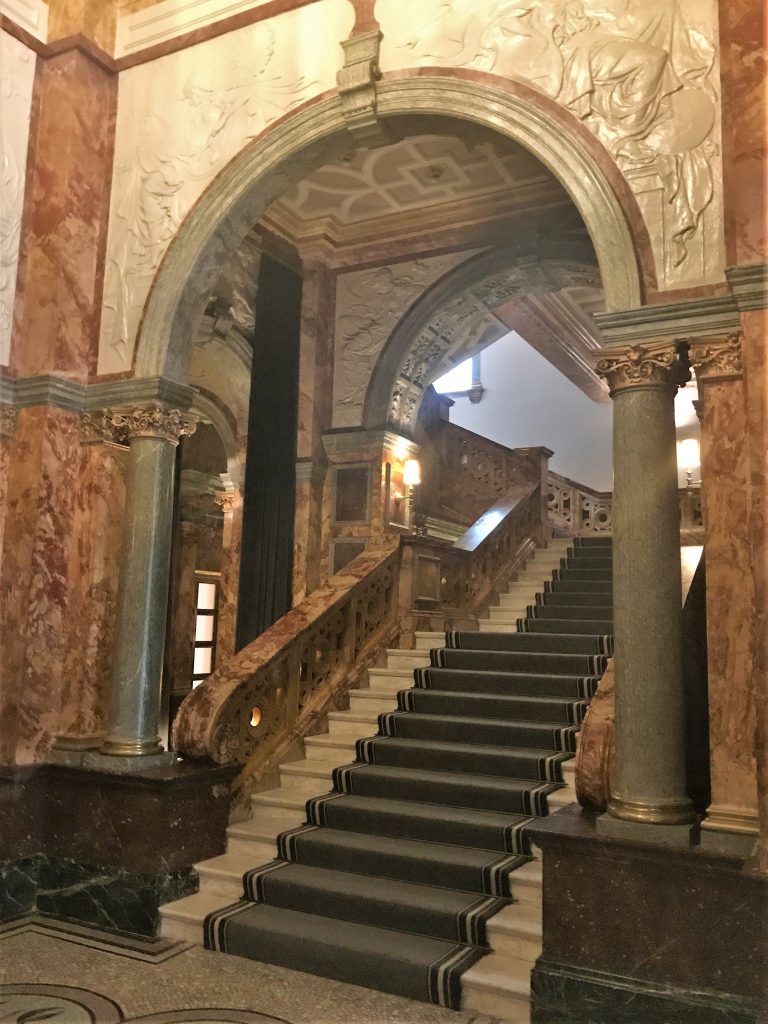 Room
I had booked a superior double room as it was a fairly last minute trip and there were not many rooms left. My first thought was that I had been given a First-floor room and as I emerged from the lift, I also realised right by the lift both of which I normally try to avoid. Fortunately, I couldn't hear any elevator dings from the room though. The room overlooked Russell Square and so had a lovely outlook but despite the double glazing I found it very noisy at night given it is on the main road with high bus traffic.
Like the whole hotel, it had been renovated to a high standard sympathetic to the original features. The furnishings were very much my style with a modern take on classic style which was quite subdued but still luxurious. The room appeared slightly small on the first inspection but for one person the size was OK.
Post from RICOH THETA. – Spherical Image – RICOH THETA
It was interesting as I had been upgraded to a Deluxe room from the Superior I had booked. However, if you look at some of the pictures of other deluxe rooms they look larger as they have a different layout. There was quiet a lot of dead space in my room due to the L shape and the narrowness by the bed made it appear smaller. The high ceilings and large windows made it feel light and airy which helped though. Then I noticed the bathroom….
Before I look at the bathroom, I will talk about the rest of the room. The room had quite a few features that I really liked: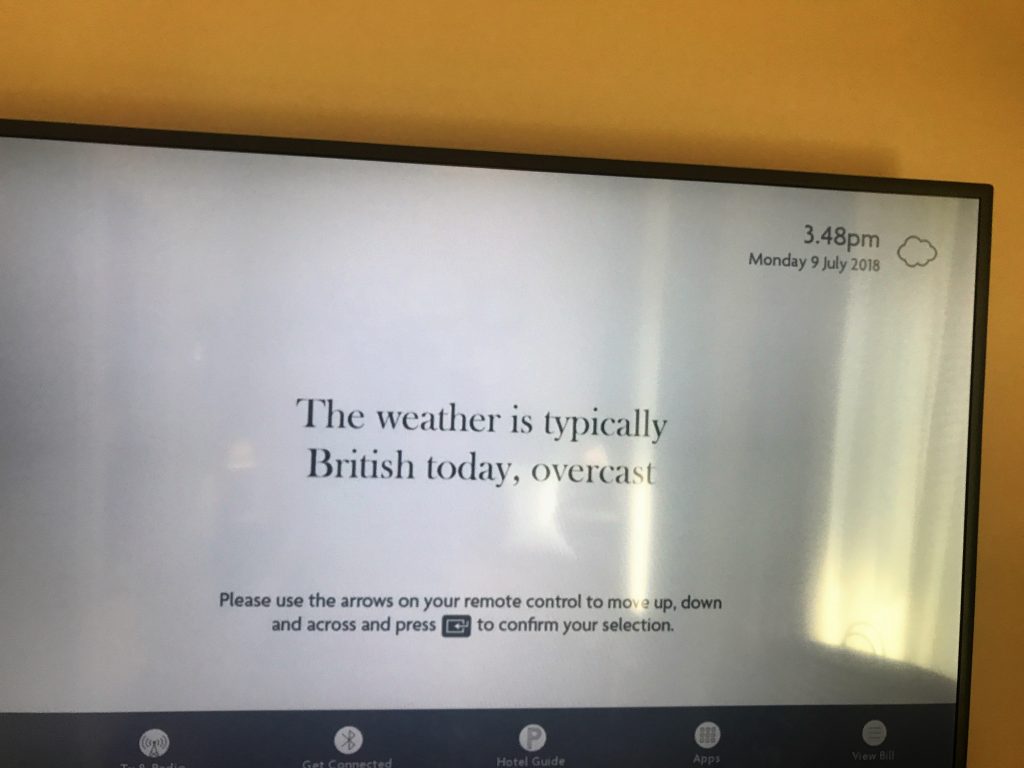 The whole hotel has lots of little quirky touches and a sense of Britishness. In the room, I liked the weather forecast on the TV with a bit of humour. I also liked the list for how not to forget your belongings – especially the last one (guilty as charged!)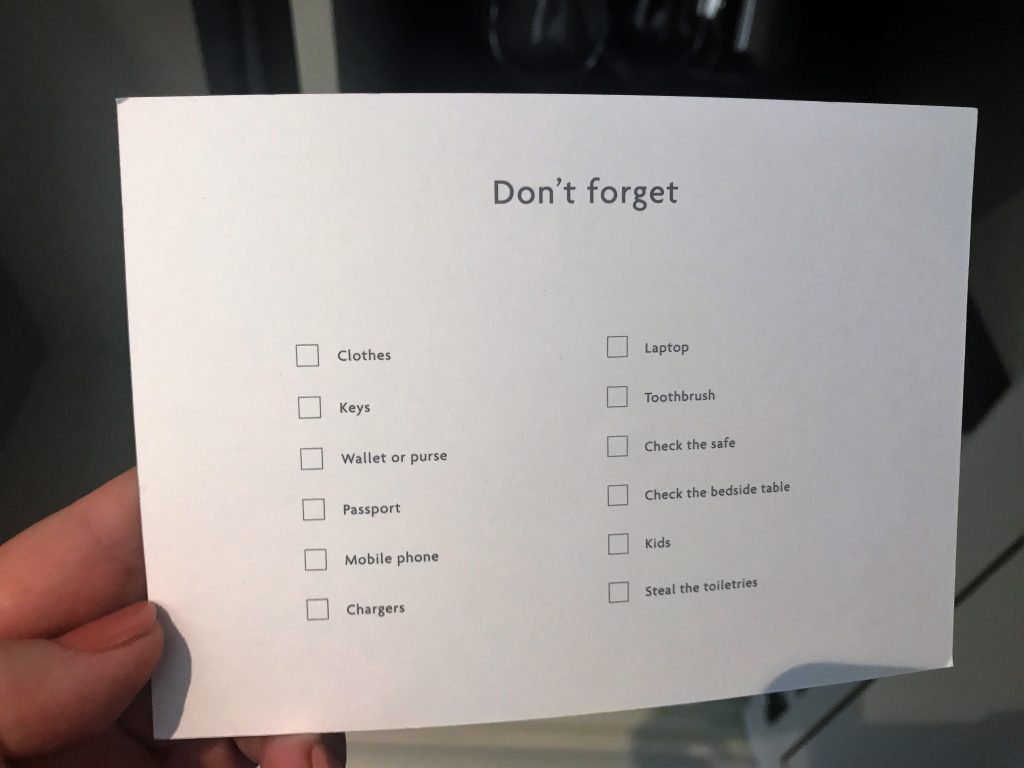 The room has all the usual amenities you would expect as this level such as slippers, bathrobe, iron, ironing board etc. There was no Nespresso maker but they did have a kettle, teapot, fresh milk and proper coffee bags so it wasn't a problem. I was slightly baffled by the PG Tips tea but I am guessing it was chosen as an iconic British brand rather than as a luxury tea.
The best thing about the room was the free minibar and tuck box. There offering was quite spare in the fridge but I am guessing this was because I had booked for one person as there was only one of each can and one solitary bottle of water. There should have been a least one still and one sparkling according to the room description.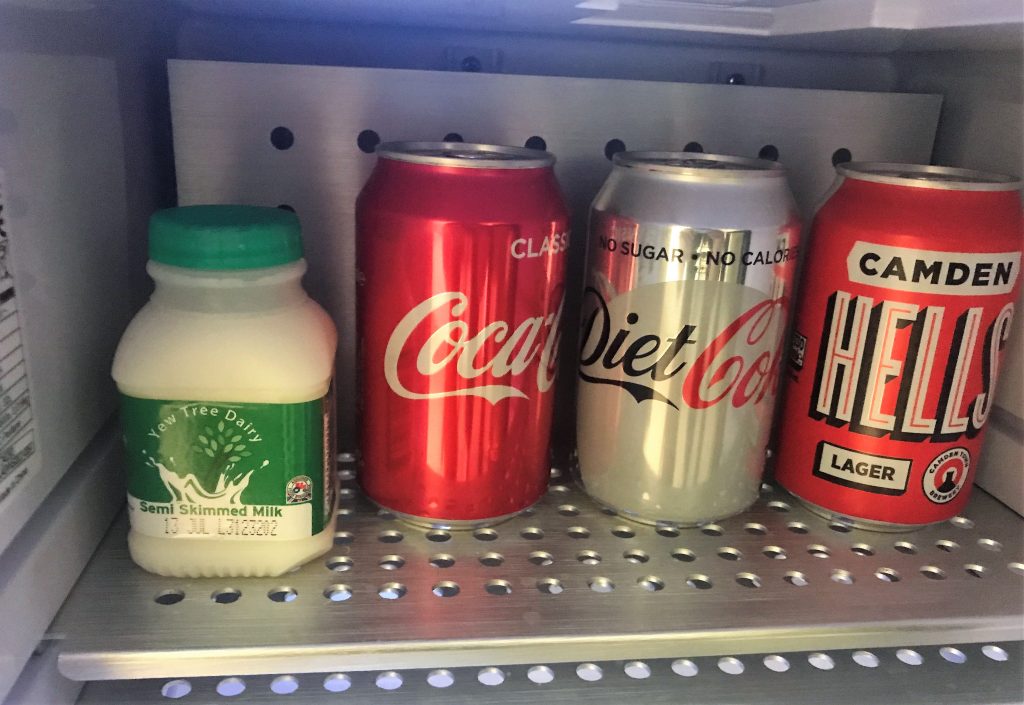 The tuck box had a few naughty treats too which were all complimentary.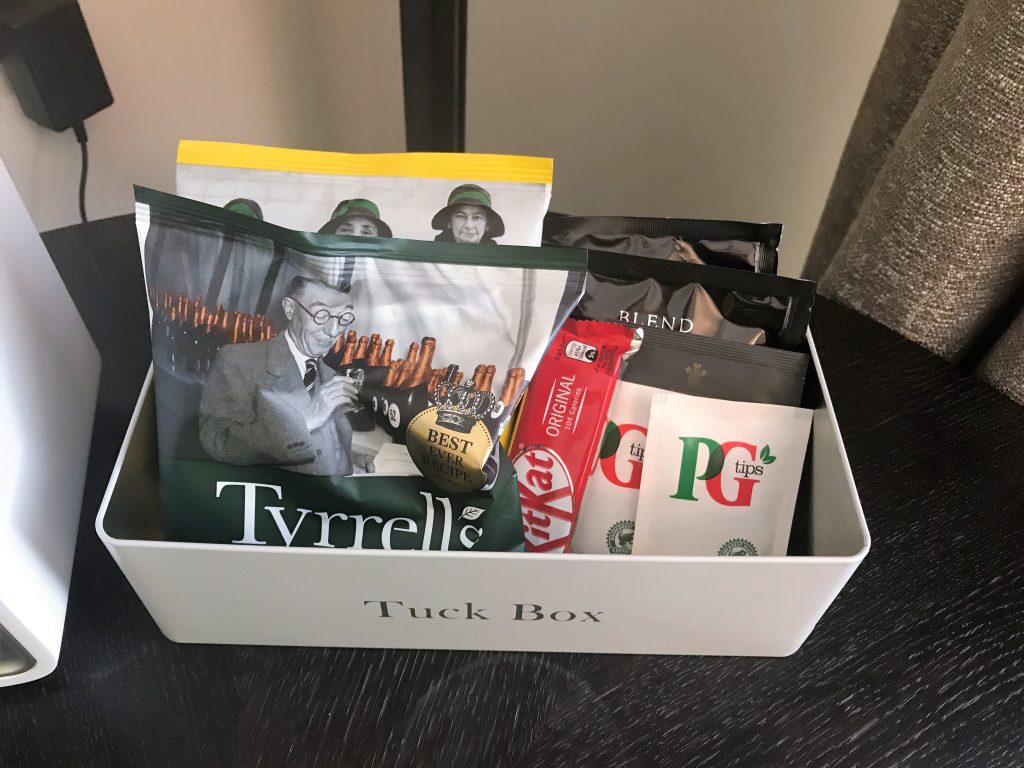 You could buy further supplies for your mini bar along with a few souvenir type items in the shop in the lobby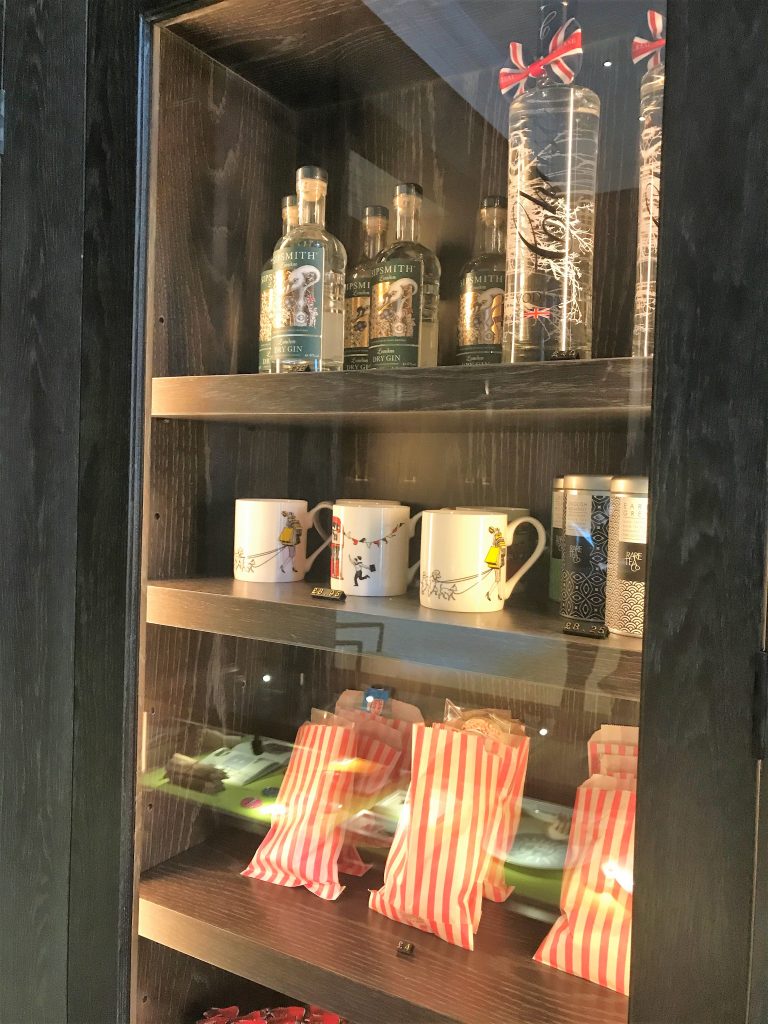 I also loved the quirky old-fashioned red phone by the bed which was different.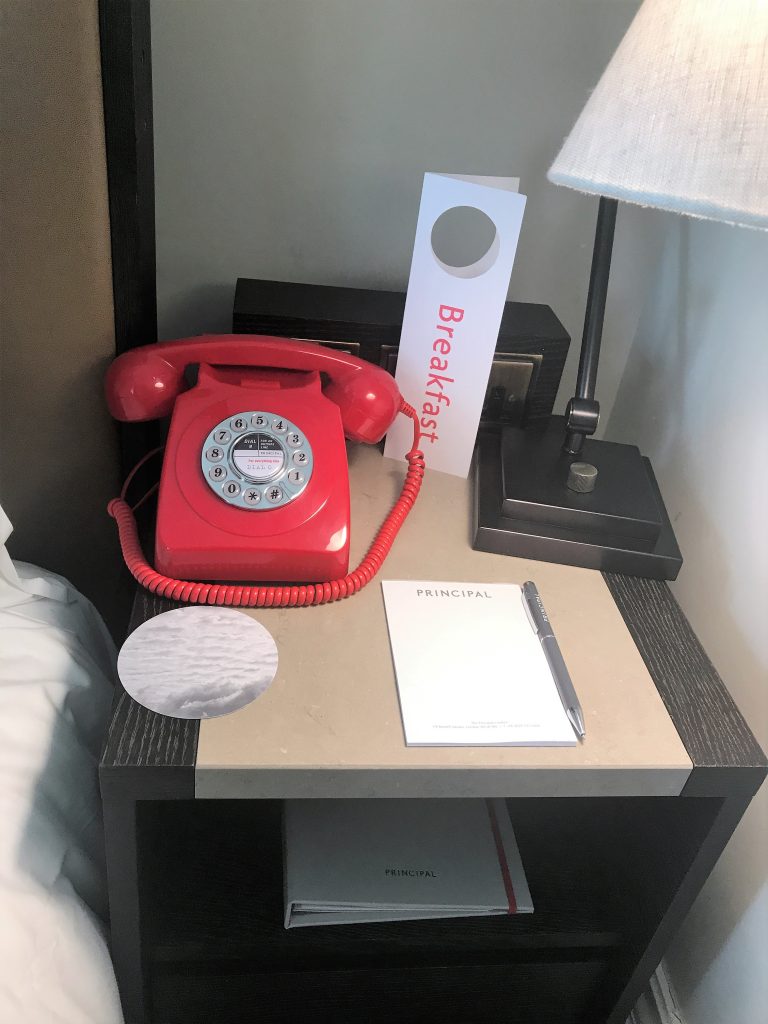 I was staying during the recent hot weather and although there was air conditioning it wouldn't go below 19°c and took quite a long time to cool down the room after putting it on.
The bed had charging points next to it which was good and high quality linens. However, the duvet made a strange crinkly sound which may have been because it was new. I found the bed a little hard compared to other 5 star hotels I would usually stay in. It may again have been because it was new but the pillows were fine. As I mentioned before it was quite noisy in the room due to traffic noise and I needed earplugs to sleep.
Bathroom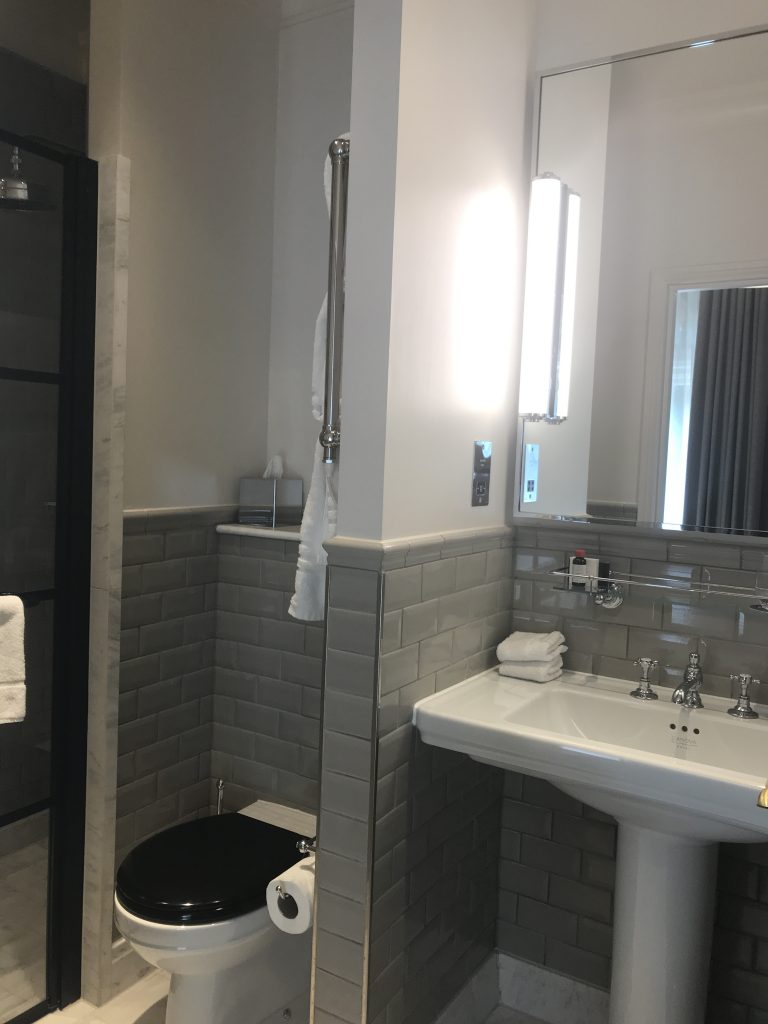 This was the big let down for me, though part of it may be more a woman's thing. Although the bathroom was beautifully done in a modern but classic style it was so small it really annoyed me. The massive step up to it wasn't great either particularly if you got up in the night and forgot about it!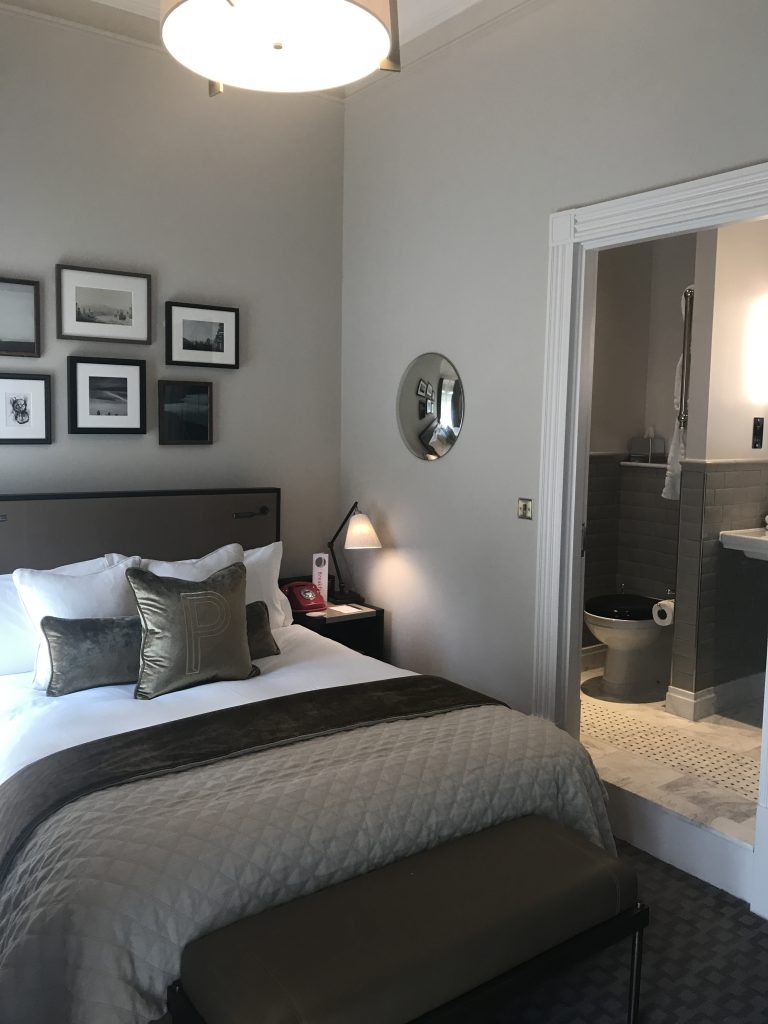 The sink had a small glass shelf above it but had very little room around the sink if you wanted to rest a wash bag or make-up bags whilst you were using it. On a short stay, you don't necessarily want to take anything out. I actually ended up having stuff on the bed which I could almost reach from the sink whilst I was getting ready to go out for the evening. The toiletries were by Perfumer's Story and were high quality modern botanical smelling products. I liked the packaging too which was evocative of Aesop.
The shower was the highlight of the bathroom as that was a reasonable size and nicely done although it could have been a bit lighter in there. It had a large rainfall shower head and was easy to control.
Dining and bars
The hotel will have a range of dining and entertainment options but as it is currently still in the soft opening phase they weren't all open. At the heart of The Principal London will be the Palm Court, a lounge type area which is due to open later this month. Burr & Co., a coffeehouse, is open for breakfast and throughout the day. The hotel breakfast is served there at weekends.
Fitz's bar had an opulent feel to it and would be a glamorous place for a few cocktails. Neptune restaurant, in partnership with Brett Redman and Margaret Crow, is open for the hotel breakfast as well as dinner every day and lunch from Wednesday to Saturday.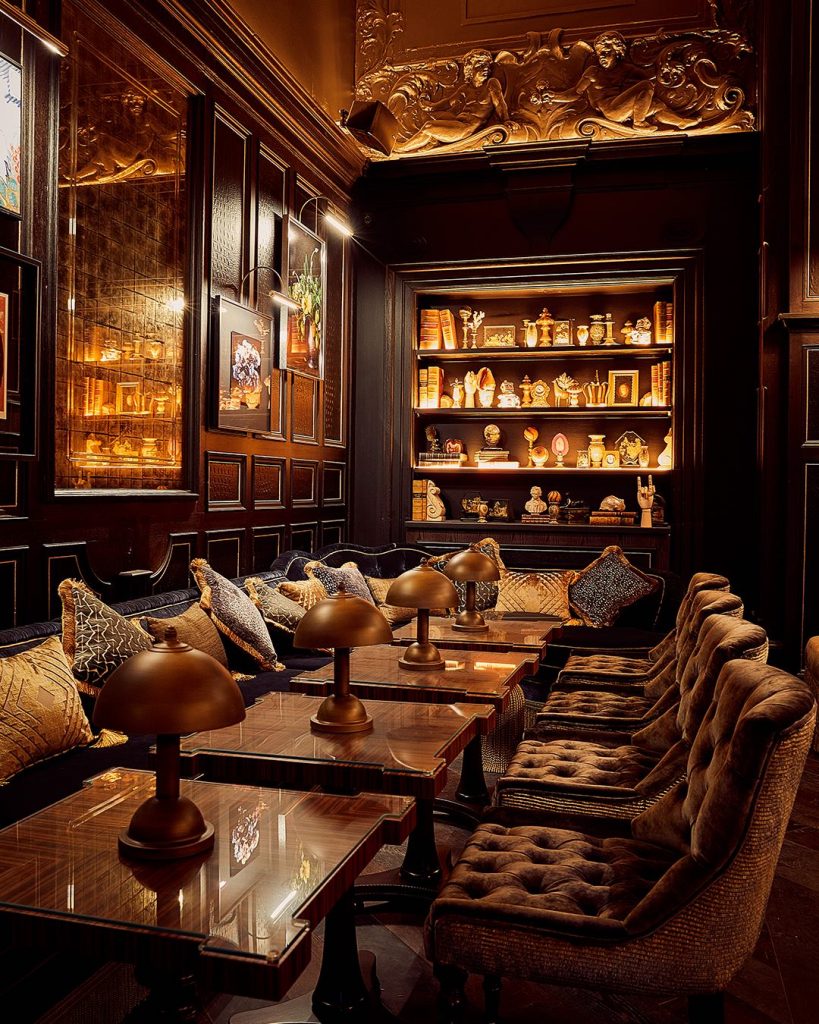 Breakfast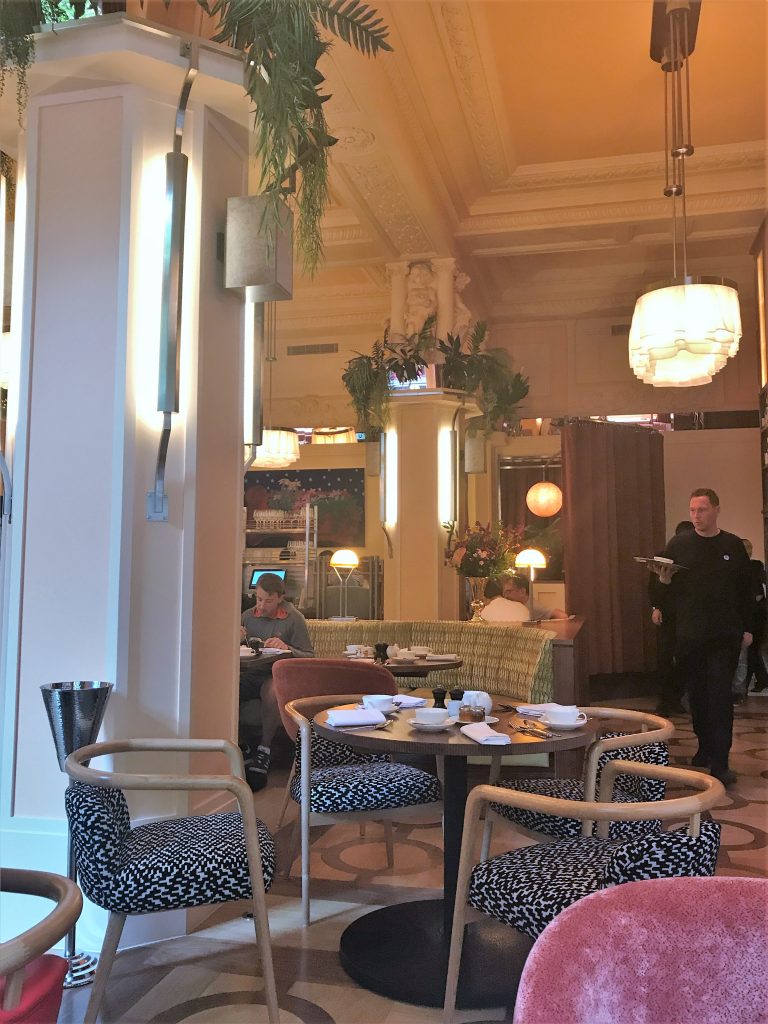 The breakfast area in Neptune's and buffet appeared to be quite small at first glance but I reserved judgement of the food until I had time to have a proper look. I did not, however, reserve my judgement of the very strange outfits the staff were wearing which looked like they had turned up to work in a pair of BA First pyjamas but in black. It was a very odd choice of outfit. The service was a little slow but friendly enough.
The whole restaurant was busy and the buffet area was quite small and congested due to the lack of space. I thought the cold selection was a little lacking in variety for a 5* hotel but it was made up for by a high quality cooked selection with a chef available to make omelettes, eggs etc to order. The cold section had 3 choices of cereal, yogurt, one type of meat, smoked salmon and a couple of cheeses. For cut fruit, they only had strawberries or fruit salad. They had some pre-mixed options like bircher muesli and something involving chia seeds which looked far too healthy for its own good!
Conclusion and offers
The hotel has a grand feel to it and is housed in a beautiful building. I liked all the quirky touches in the room and the free mini bar/snacks. My choice of room wasn't great and if I returned I would ask for a room overlooking the side street or on a higher floor. For me, there isn't enough that sets it apart at the moment for me to return versus my usual hotels in London. There are no real facilities apart from a gym, the rooms are quite small although well done and the bathroom was a deal breaker for me. Now it is part of IHG then I think it is a slightly different matter for the points earning opportunity.
You can the latest prices and more details on the Kimpton Fitroy homepage here.
You can read my other London hotels review here.