Today's review, Flying British Airways Club Europe from Gatwick to Turkey Europe is from reader Debbie.
Thanks to all those that have shared their experiences with TLFL. It allows me the odd day off when I am travelling and to also increase the amount of travel experiences we can feature. There have been some unpleasant comments on previous reader reviews. Please bear in mind that reader reviews are contributed from their own goodwill with no payment received. They are not professional writers so please don't trash them in the comments or people will stop their valuable contributions!
The Check In Experience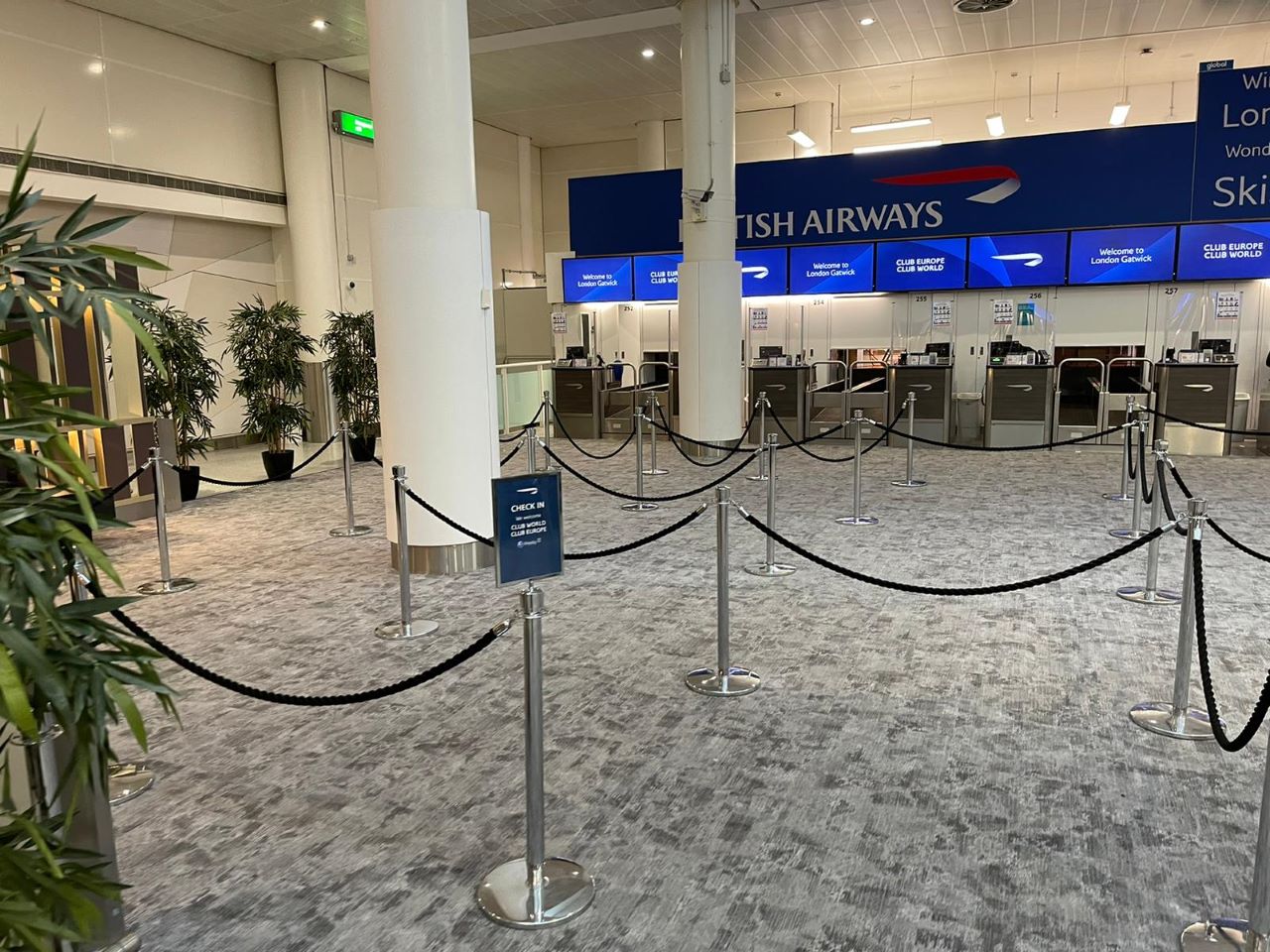 I had booked a BA holiday to Turkey a year ago for May and it would not be an understatement to say that BA did their best to discourage us from going – cancelled flights, change of time, change of date, change of airport and the icing on the cake, an extra charge. Having negotiated my way through all of these obstacles (and spent three hours on the phone to overturn the extra charge), I set off with my travelling partner and husband to LGW South. Pre-pandemic, I had always enjoyed the checking in experience here because the Club check-in was clearly separated from the main areas and had an air of calm and efficiency.
We arrived on a Saturday morning, considerably earlier than I would normally have planned as I was well aware that airports were having problems. I am certainly very glad that I did. We headed immediately over to Club check-in, to be faced with a huge queue of people. It was puzzling but soon all became clear. Since the First check-in has been removed, BA has added a World Traveller Plus Check in right next to Club and there were many many people waiting in that line which had merged into one.
After a small intervention from ground staff the lines were separated, but we continued to wait another 30 minutes before we reached the front. At this point, the same ground crew member brought a family in front of us as they were about to miss their flight. Directly following them though, were a number of people (more about these later) who were clearly annoyed at having to wait so simply stood behind them. This particular group were also travelling to Dalaman. No attempt was made by ground staff to remedy the situation which was becoming quite heated due to irate passengers who had spent the same time as us in line.
Escaping this chaos, we headed for the priority security line and walked straight through to the scanners. Unfortunately here too we encountered further issues. The standard line is now managed by automated screens advising passengers which section they should go to. Nothing for us and no member of staff, so we simply stood forward and found our own spaces. Understandably this caused some confusion and quite honestly was utterly unnecessary.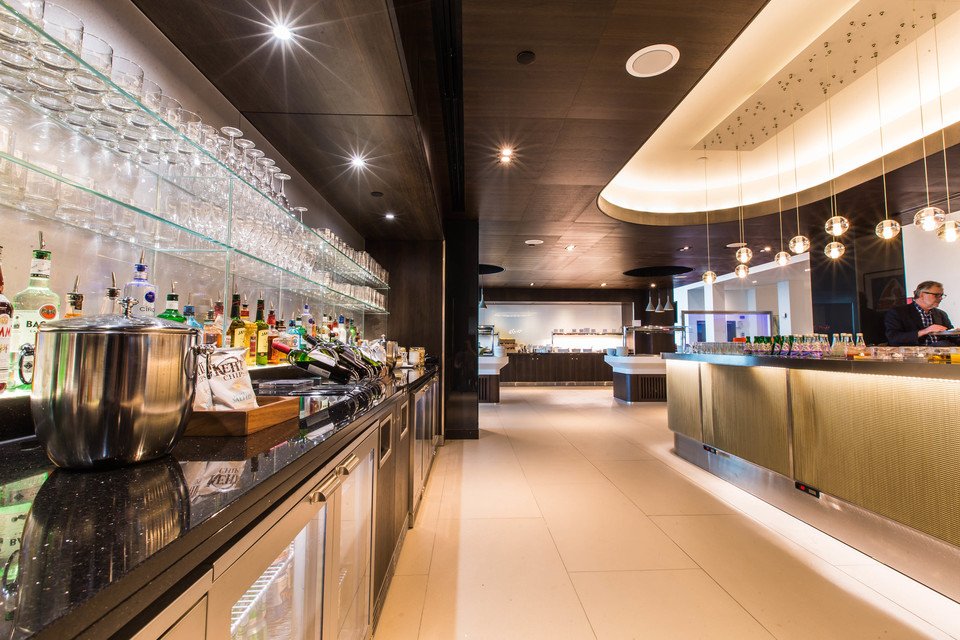 We gladly arrived at the Galleries Lounge. Table service with the usual QR code, and help yourself drinks were the order of the day. Unfortunately some people, and I can only assume they were travelling for the first time since the pandemic, failed to understand this and regularly went into the roped-off food areas to help themselves. I suspect bigger and better signage may well be in order moving forward… The food provided was very good and the fizz Hattingley Valley which I particularly appreciate.
British Airways Club Europe Flight
Boarding was on time and ordered. We had 1A and C and were first on board and greeted by the crew. As I happily people watched the boarding process, I recognised the group that had cut the queue from earlier. It then became apparent that they were off duty BA employees as their seat numbers were dolled out by the lead and their conversations with the crew gave them away. I think I'll end my comments there…..
The flight was busy and the Club section full, stretching back 9 rows. Once in the air, the crew handed out the menu and offered us drinks from the bar. It was refreshing both to have a menu choice and to experience a lovely drinks service from the CSM Donna.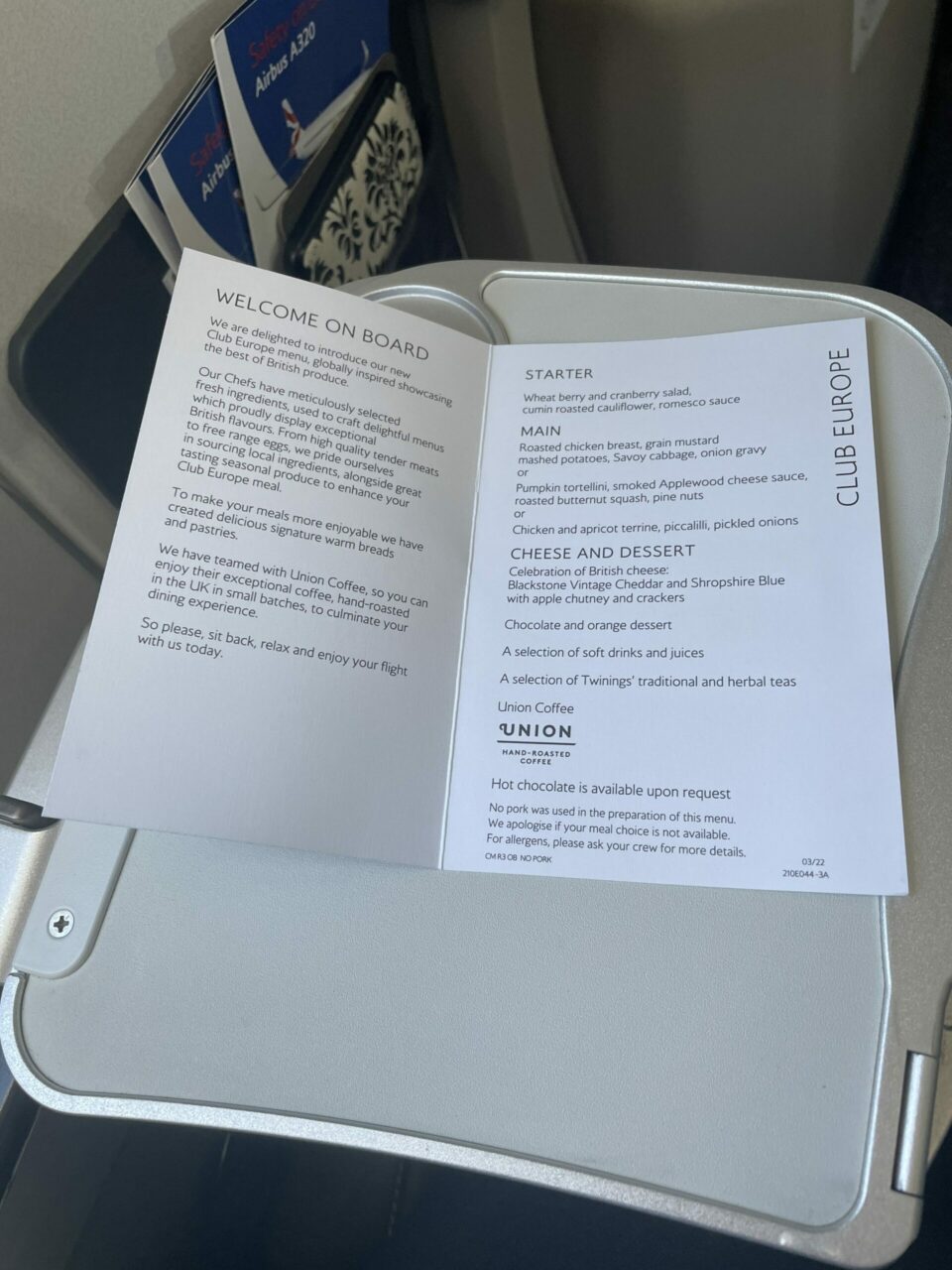 I chose the pumpkin tortellini. Whilst it was all presented on one tray, I was given another drink- this time the Malbec- and offered warm bread rolls. The tortellini was absolutely delicious and I really enjoyed my meal. I rarely eat dessert, but I was assured that the sticky toffee cheesecake was sublime. The only complaint I had was that the cheese was served sitting on top of the chutney which made for messy fingers, but it was still tasty.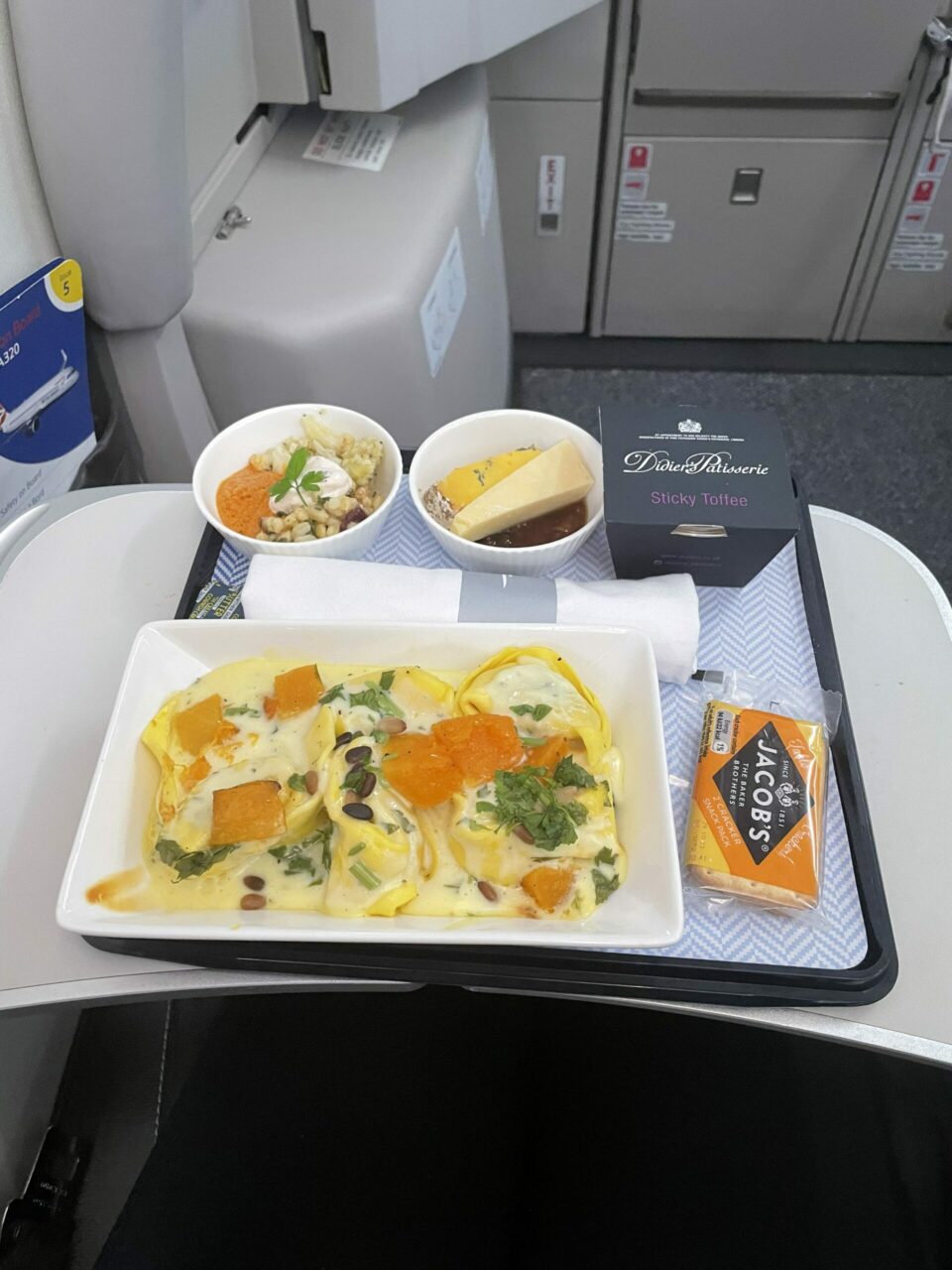 Sadly my favourite Malbec was in short supply on the four hour flight and we had to switch. Surely this should not happen on an outbound flight? Anyway, we experienced a very pleasant and fast flight made better by the crew. The IFL specifically wanted this mentioned when I offered her the feedback because as she says, it's the hard-working crew who suffer for the faults of the business as a whole.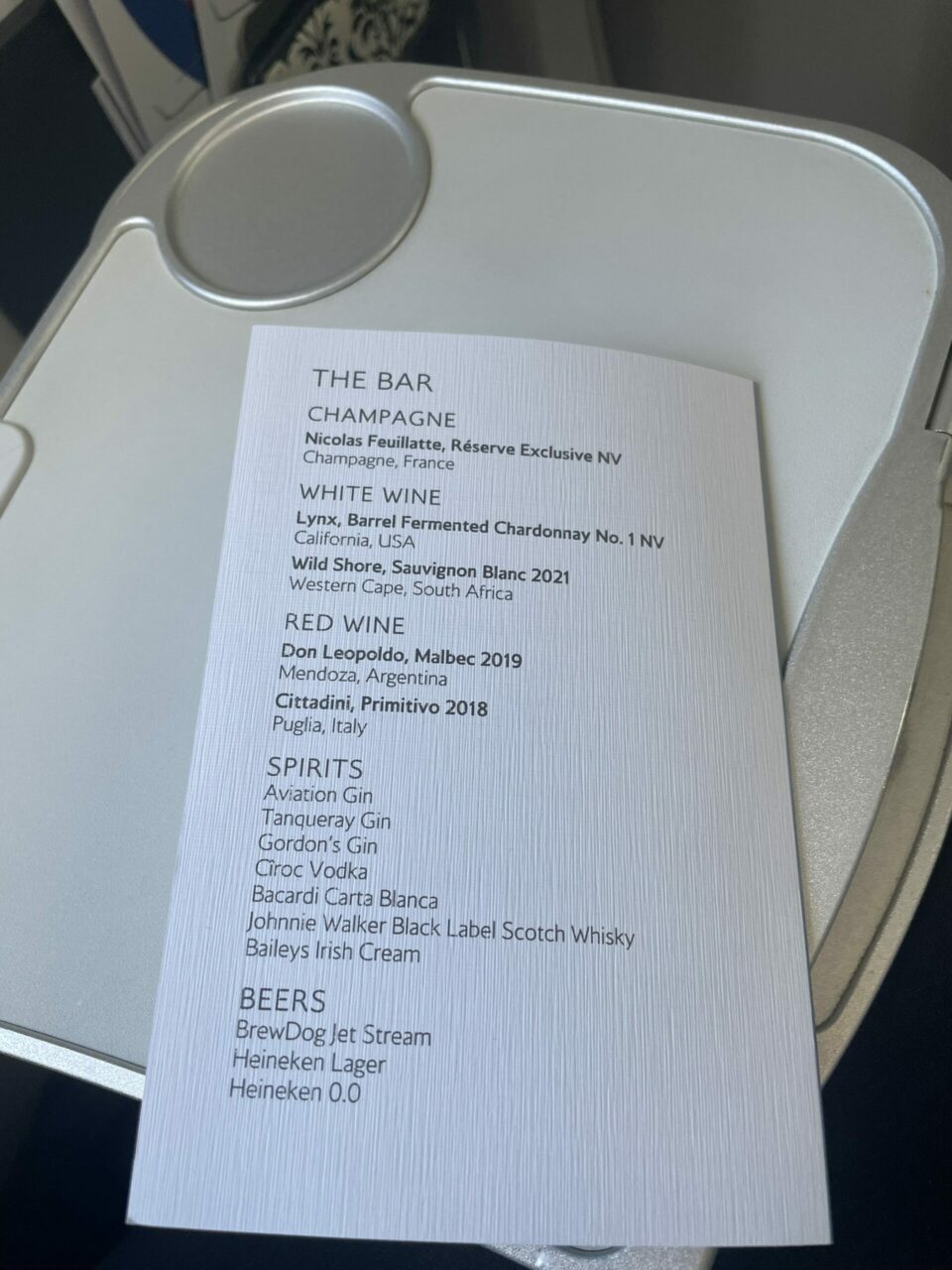 Conclusion – British Airways Club Europe
I was so disappointed with the check-in experience at LGW South. What previously had been a welcoming sanctuary has now turned into utter chaos. This needs rethinking or funnily enough, more ground staff to manage the passengers. It's to be expected that there are only a couple of check-in desks open, I suppose, but processes can still be improved throughout the whole journey into the lounge. The flight was enjoyable and made so by the competent, happy and professional crew. I do though, still remain cautious of BA when travelling and look forward to significant positive changes in the future.
If you want to read more about travelling from Gatwick and a previous recent experience, check out this article.