As you might imagine, I have stayed in a lot of nice hotels and in fact, I wrote an article about my top 5 hotels fairly recently which you can read here. Well, after my recent stay at the Four Seasons, we may have a new contender. I plan to publish a new list of more of my favourite hotels shortly.
Location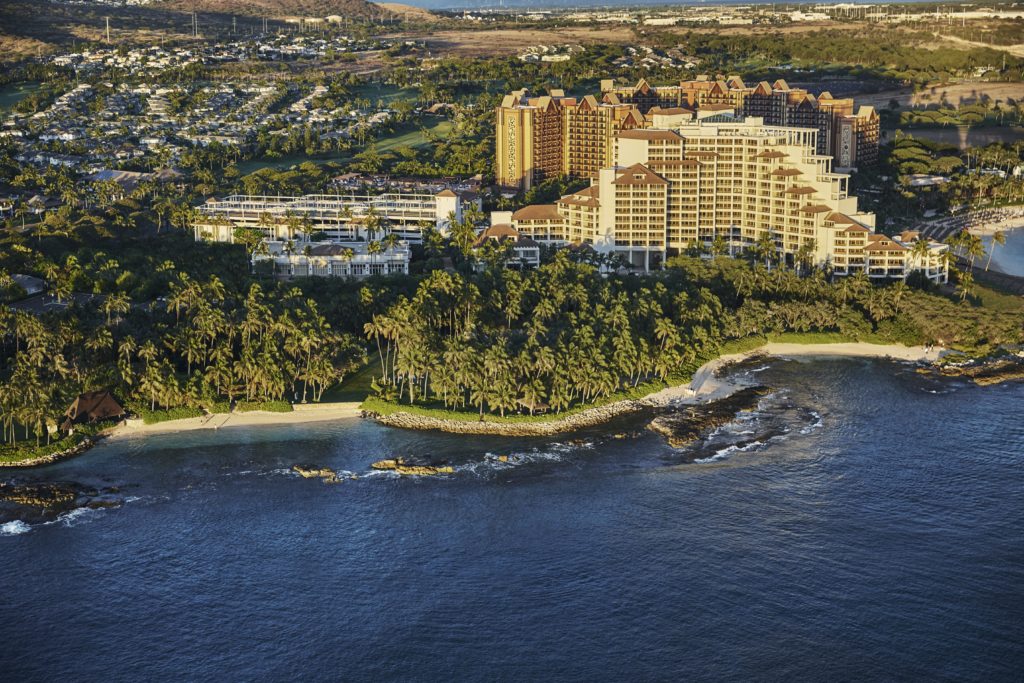 Ko'Olina is about a 40 minute drive from Honolulu on the west coast of Oahu. From Turtle Bay, it took over an hour. The location is nowhere near as secluded as the North Shore as there are 2 other hotels on the bay – the Marriott Ko'Olina and the Disney Aulani resort. This made the beach area fairly busy but it was the school summer holidays so, as you can imagine, the Disney resort was very busy (mental note to self – do not go during school holidays again!).
Arrival
I was driving to the hotel from my stay at Turtle Bay which you can read my review of here. One thing I try to do is always leave the nicest hotel until last on a trip, otherwise you end up disappointed even if there is not much wrong. The hotel opened in 2016 and was formerly the JW Marriott. The actual building itself is nothing special but they have done a great job of the refurbishment. The overall feel of the decor is light and breezy but luxurious and sophisticated.
I drove up to the hotel entrance where I was instantly greeted by the valet and my luggage unloaded. The car was taken for valet parking, although the charge was an eye watering $40 which is not unusual for Hawaii. I was given a lei too. Once at reception, I waited a few minutes due to a misunderstanding as the receptionist was busy typing on her screen, so I assumed she wasn't free. Once she realised I was waiting, she apologised profusely and repeatedly even though I had only been there a couple of minutes.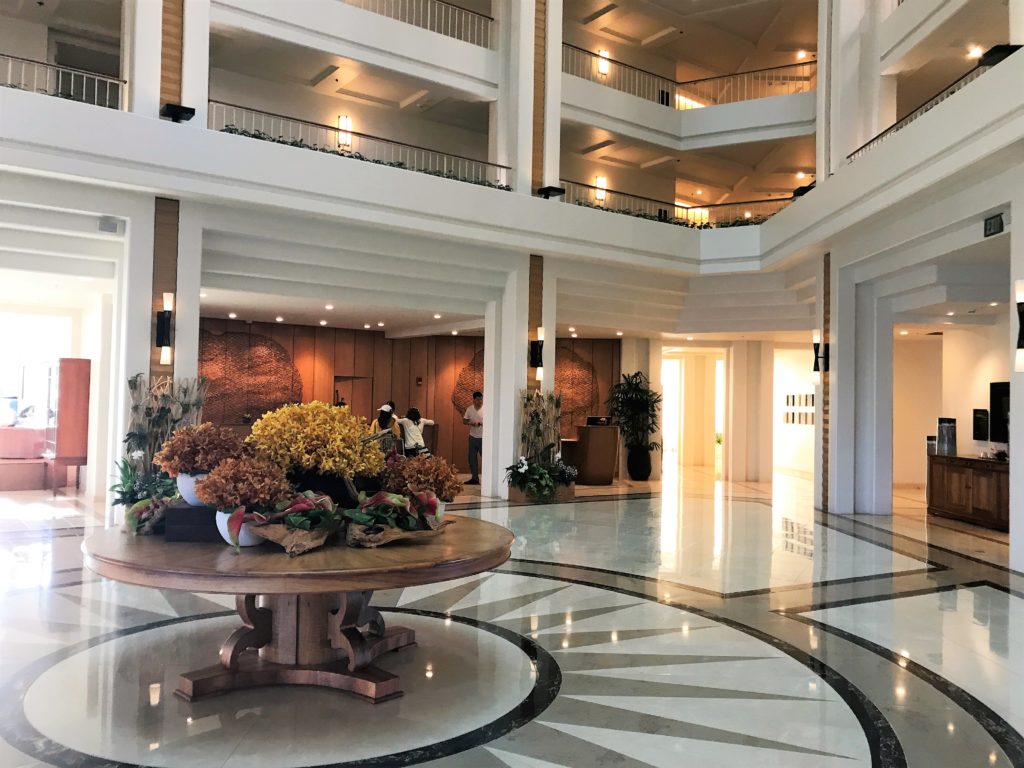 Check in was swift and friendly. I had booked with Virtuoso, so had been upgraded to a sea view room and the benefits of the Virtuoso scheme were clearly explained.
Room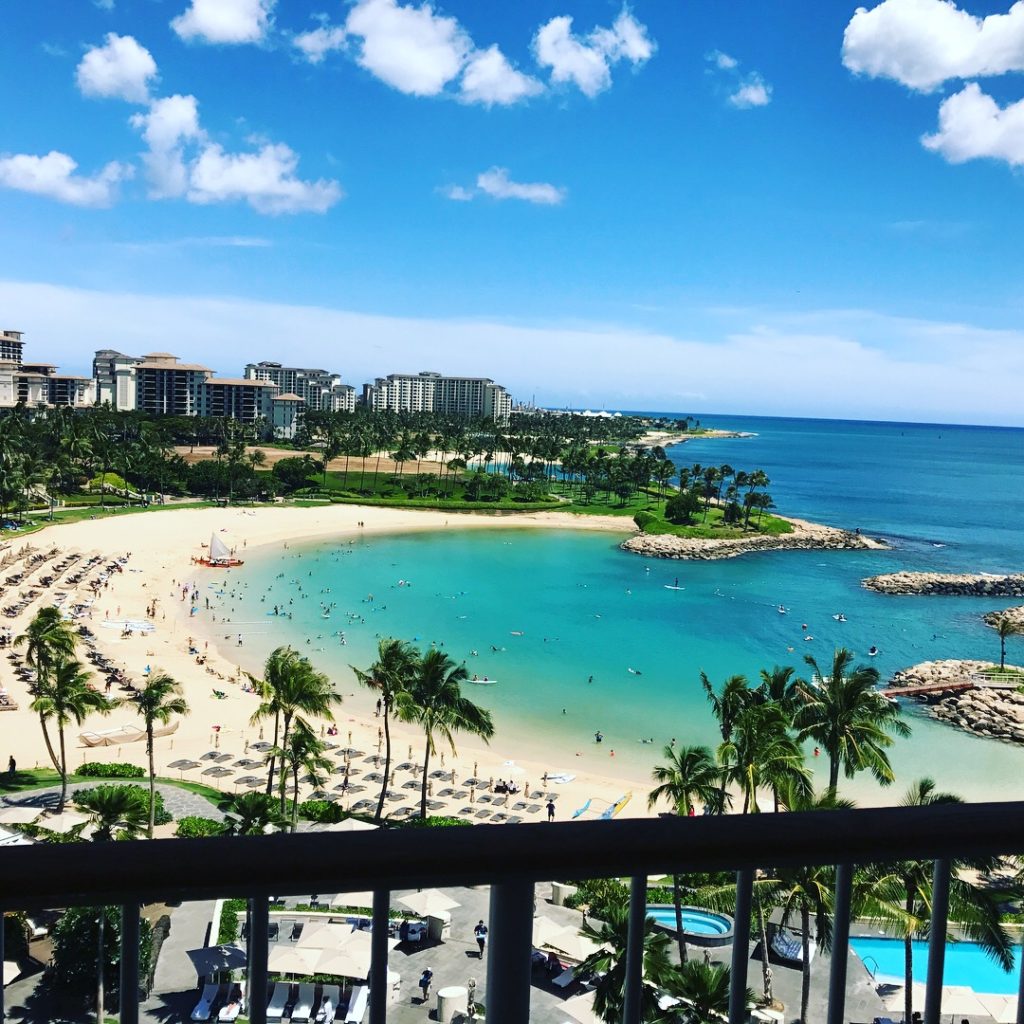 I have to say when I walked in the room I did actually say 'wow' out loud. The view combined with the beautiful room was pretty special. The room wasn't huge but it had everything I could need including a lovely fruit platter and mineral water courtesy of Virtuoso again.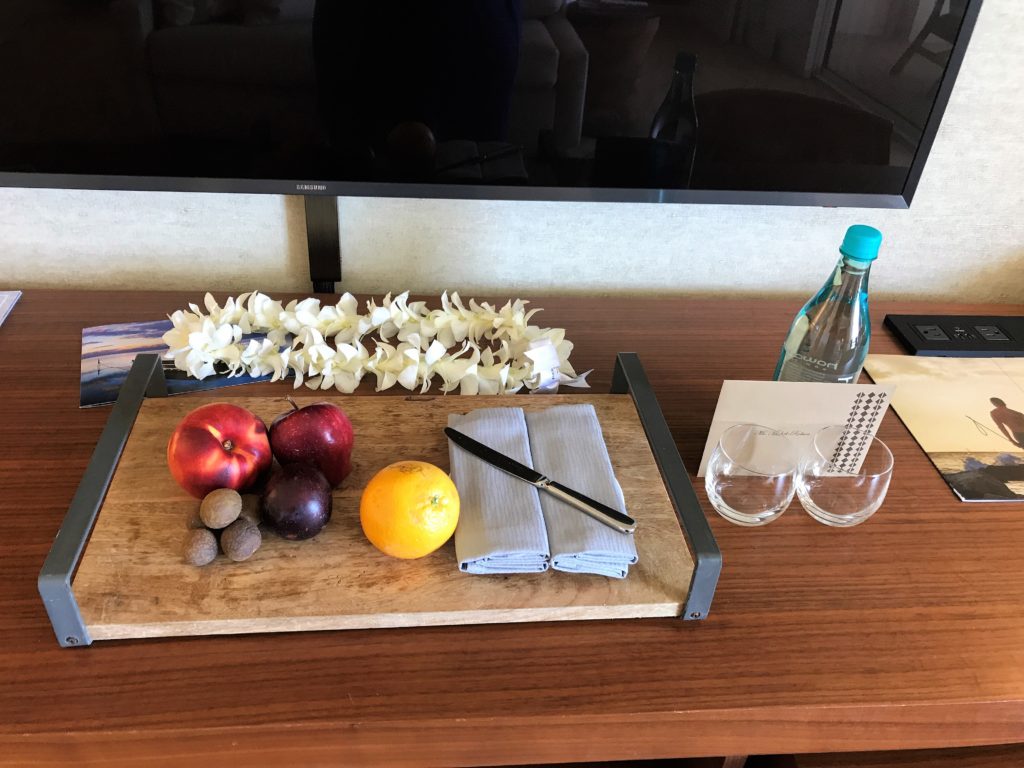 I loved the fact that the room had mood lighting settings such as relax, sunset and day. You could also dim or brighten the lights on each setting.
The bed was incredibly comfortable, as Four Seasons beds tend to be, and even rivalled my bed at home, which I view as the gold standard. The room had floor to ceiling windows out onto a balcony with a fantastic view of the bay and resort. There was both air conditioning and a fan which seems to be standard in many Hawaii hotels.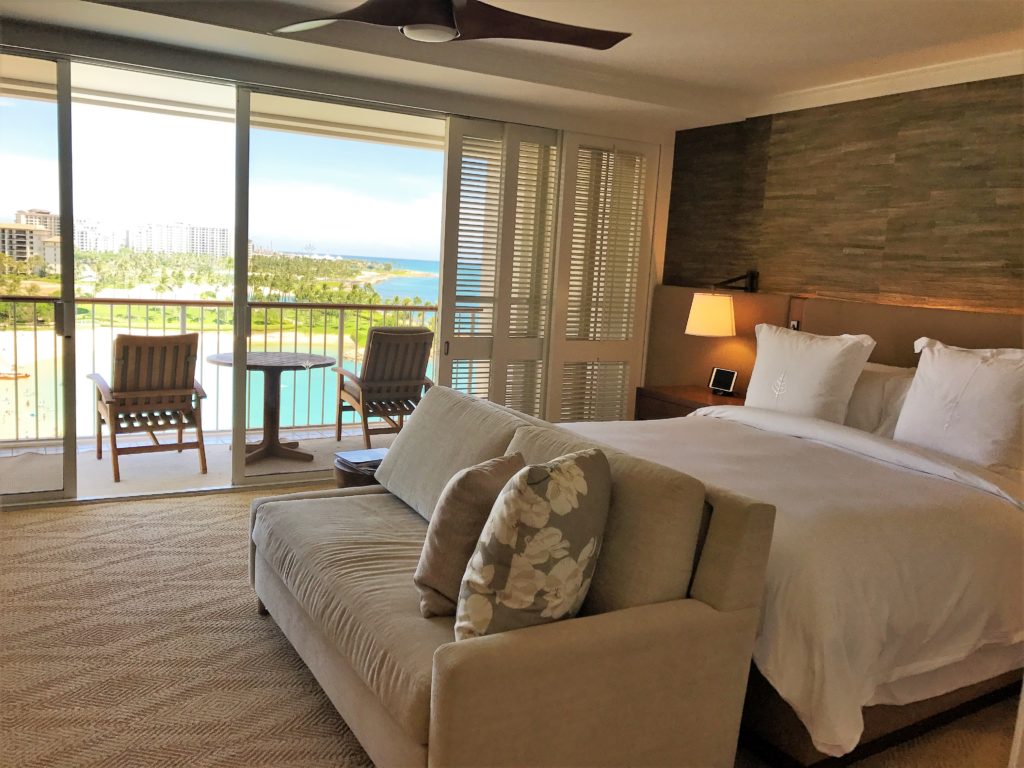 As you walked into the room, there was a small bar area with both a Nespresso machine and kettle which always pleases me, being a tea lover. Nothing worse than tea tasting of coffee from the Nespresso maker! There was also complimentary mineral water and a mini bar. As you would expect, there were all the usual luxury hotel amenities, bathrobe, slippers, hairdryer etc. Next to the bed was a tablet for hotel information that seems to be becoming standard in many hotels now.
The room was turned down when I arrived back from dinner. The turn down could have been a bit more exciting as it pretty much consisted of putting water by the bed and a few fresh towels. As I mentioned the bed was very comfortable with high thread count linens. That, along with a very quiet room, ensured a lovely night's sleep.
Bathroom

The bathroom was stylish with 2 sinks, a rain head shower and a soaking tub. The toilet was in a separate room which is usual for the Four Seasons. One thing I think Four Seasons don't do very well is the baths. They are always really short and never that great for a long soak but, on this occasion, I didn't have time to use it anyway!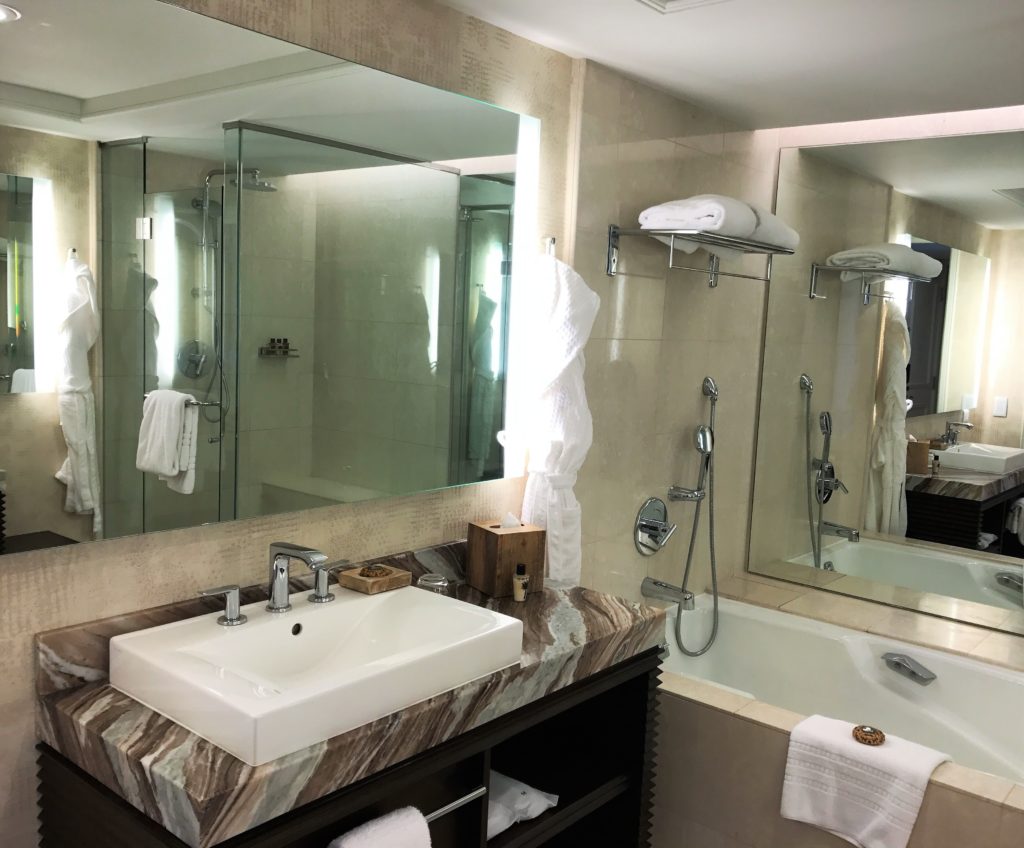 The toiletries were a brand I had never heard of, Ortigia, and whilst they were high quality I wasn't keen on the smell which was a bit masculine for my taste. The brand is from Sicily and whilst they are a premium brand, I would have liked something with more of a tropical, Hawaiin feel. They were all a decent size though which is better environmentally, as well as if you want to take some with you! The towels were soft, fluffy and large which always gives me a feeling of luxury in a hotel.
Pool and beach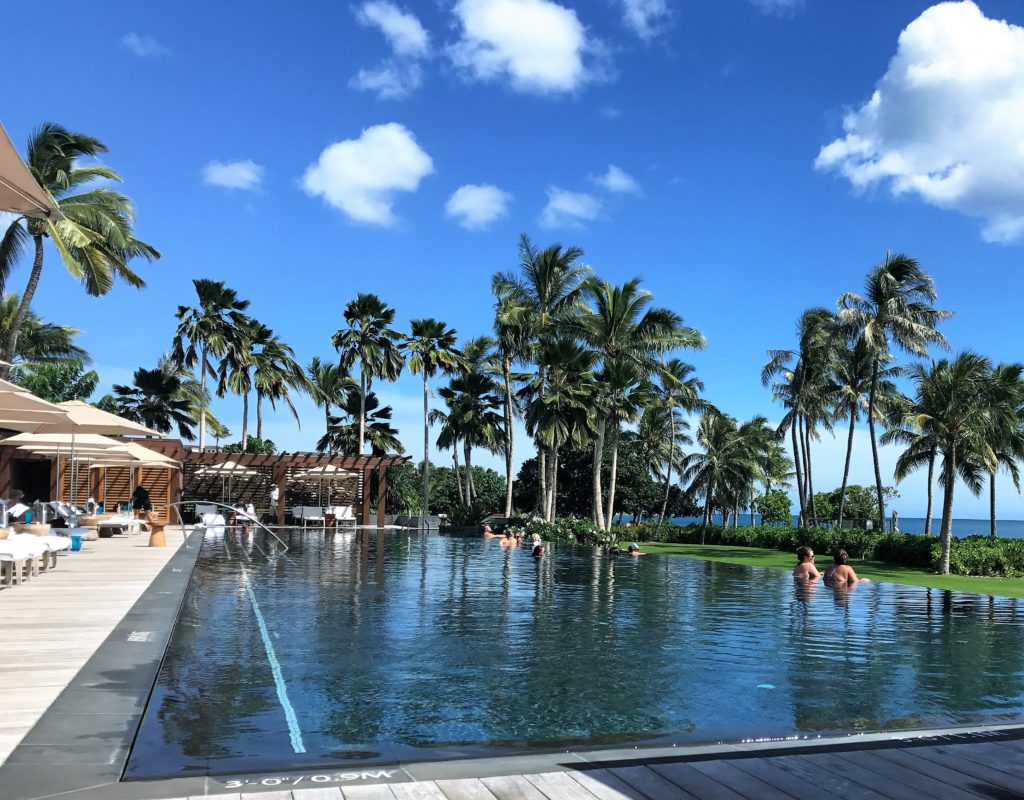 The resort has 4 different pools to choose from including an adult pool, a lap pool and a kids pool. I planned to go to the adult pool and then have a swim in the sea. The resort is set on a fantastic lagoon which makes a nice change from being pummelled by the waves in most places in Hawaii.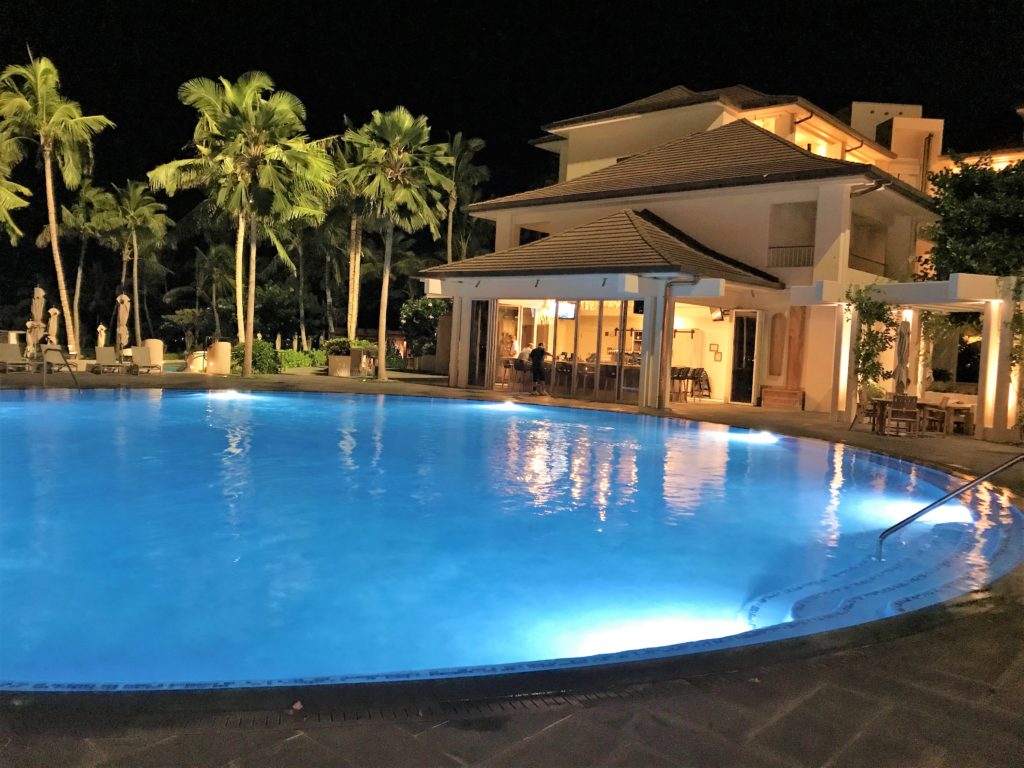 I couldn't immediately see the adult pool, so I approached one of the pool staff. Instead of just pointing me in the right direction, he asked if this was my first visit and then proceeded to show me where everything was, how it worked and then walked me to the adult pool and got me set up with a chair. The adult pool is nice and secluded but just next to the hotel.
Similar to the FS Las Vegas, the pool service is exemplary. When you first arrive they will take a note of your name and use it throughout the day. The staff will set up a chair for you in the shade or sun according to your preference with chair covers and a constant supply of iced water. There is a steady stream of extras during the day as well such as frozen treats and sunscreen. I was slightly surprised when one of the staff came round with a tray of sun lotion asking if I wanted sunscreen. I wasn't sure if that included rubbing it in for me but since he looked about 12 years old I wasn't inclined to find out!
Another thing occurred at the pool which reinforced the great service you receive at the FS Oahu and most other FS for that matter. As I was sitting by the adult pool, the Director of Rooms came and introduced herself, calling me by name. Apparently, she does this with all guests to make sure that everything is OK with the room during their stay, which I thought was a clever touch.
Spa
As part of the Virtuoso package, I had $100 of spa credit to use, which is normal for Four Seasons Virtuoso. I booked the 50-minute Hula reflexology treatment. The Naupaka Spa had a lovely Hawaiin feel to it and I was greeted with a welcome drink of Passion Fruit kombucha. This was the first time I had had kombucha and I would say it is something of an acquired taste!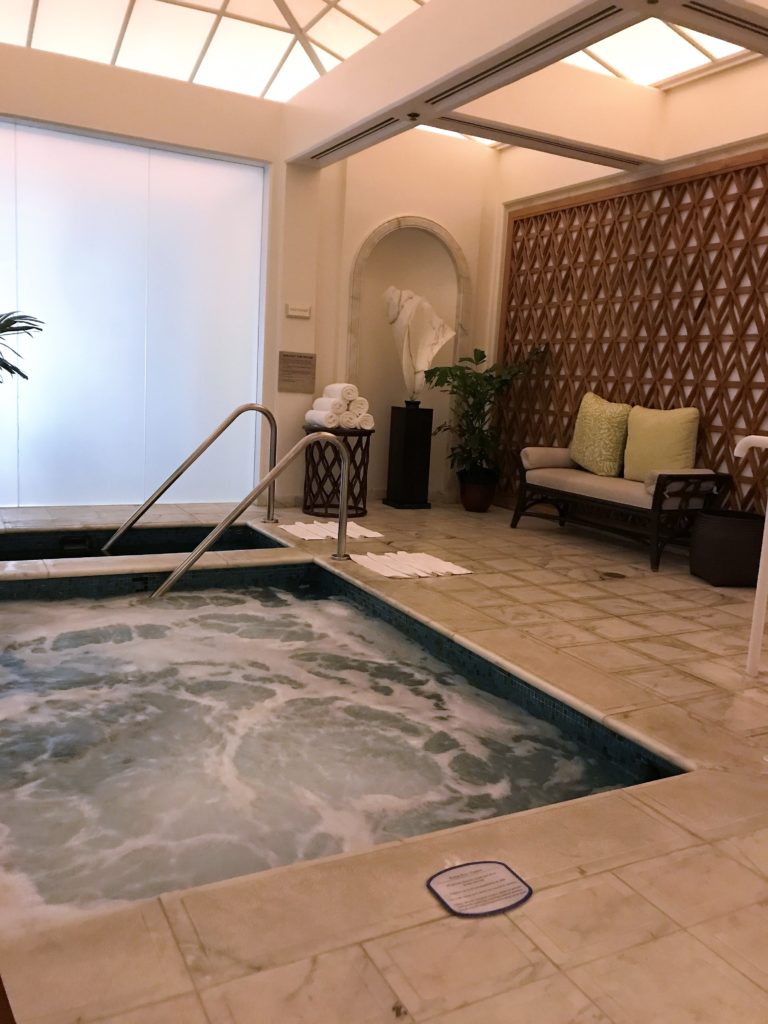 The spa had separate men's and women's facilities such as steam room, spa pool and a sauna. On the roof, there was a lap pool which was very quiet if you wanted to do some serious swimming.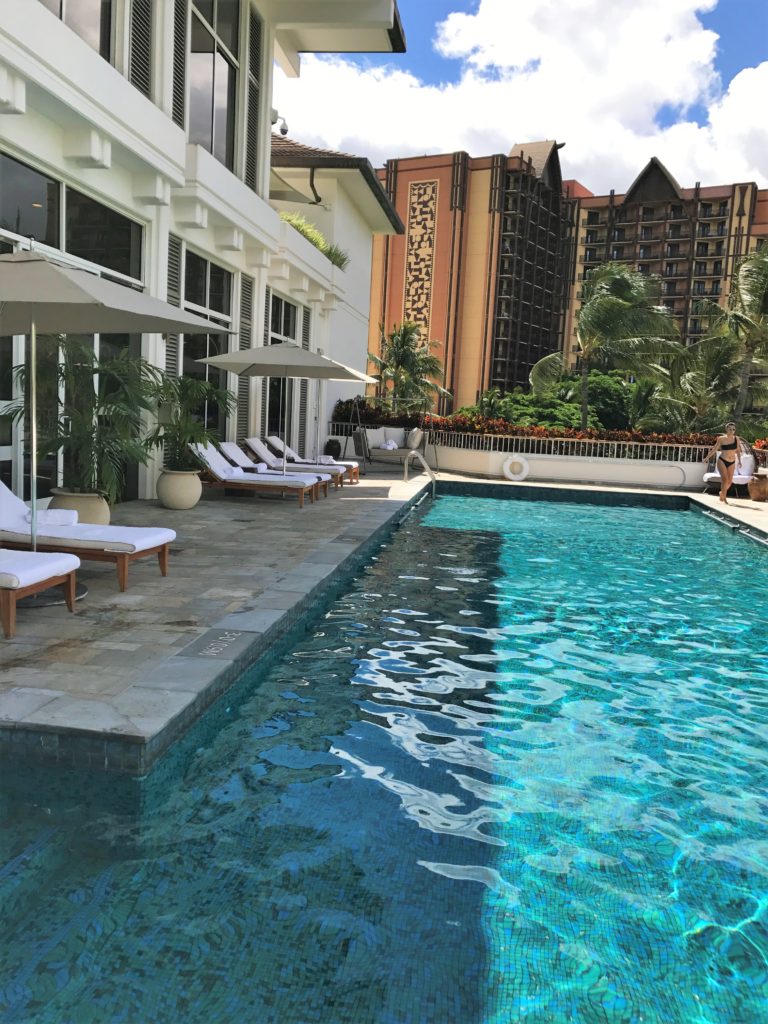 The treatment was excellent as I would expect from the FS spa and afterwards, I was taken to the relaxation area. I loved the shady outdoor areas with their tropical feel.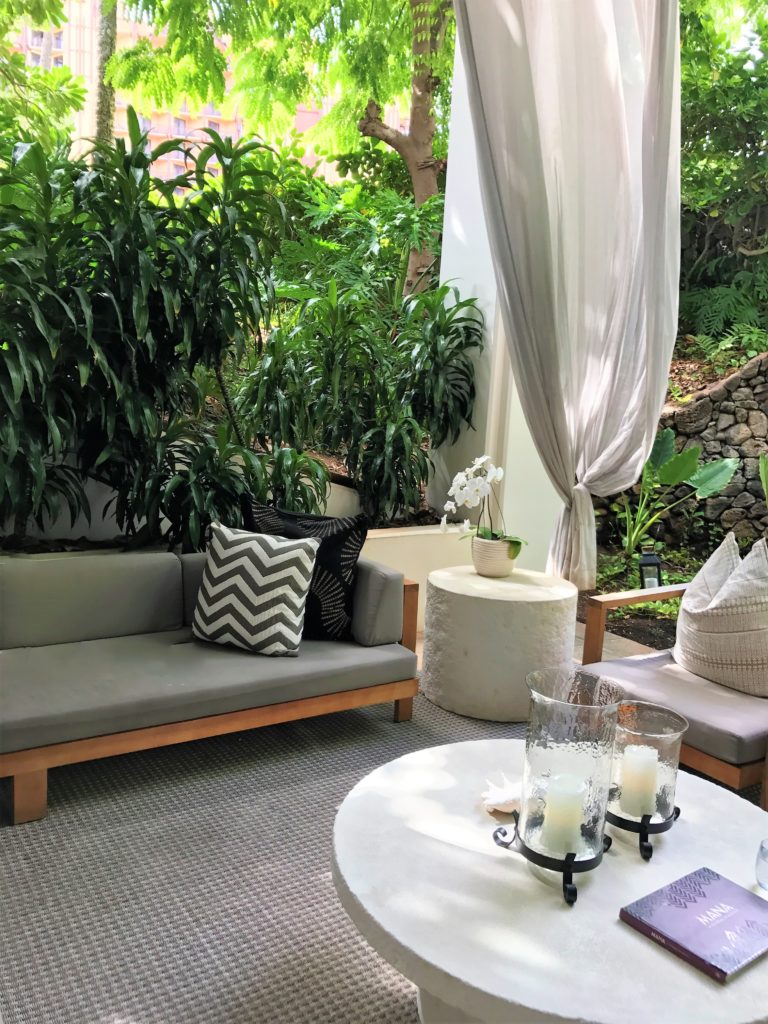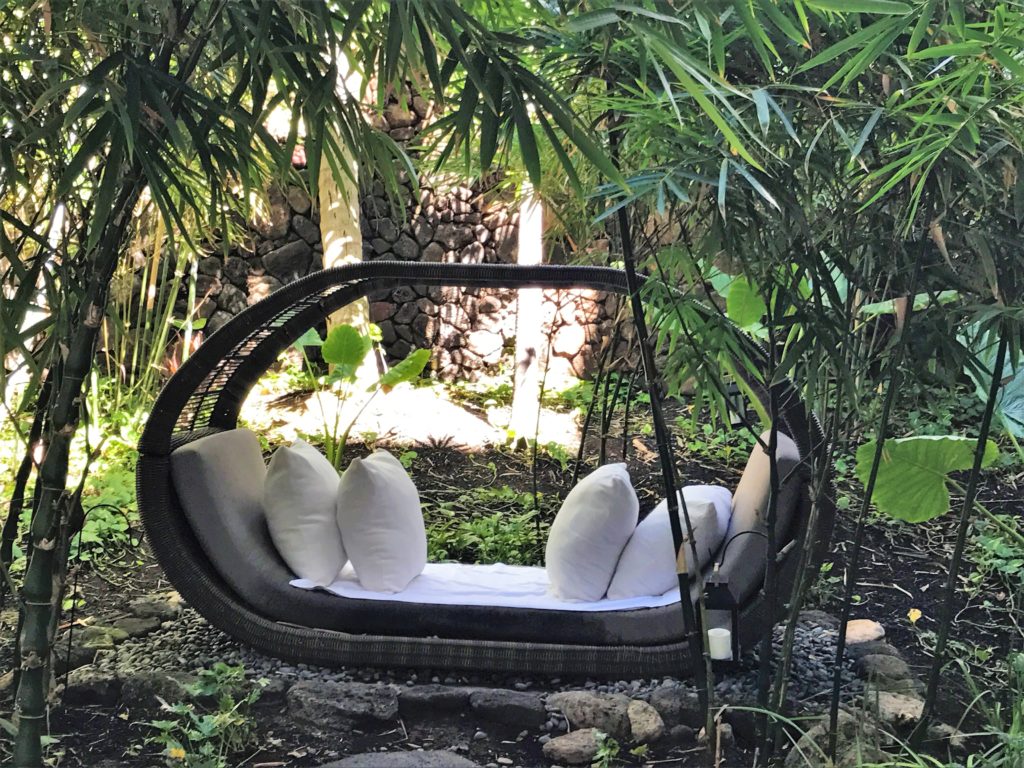 Restaurants and bars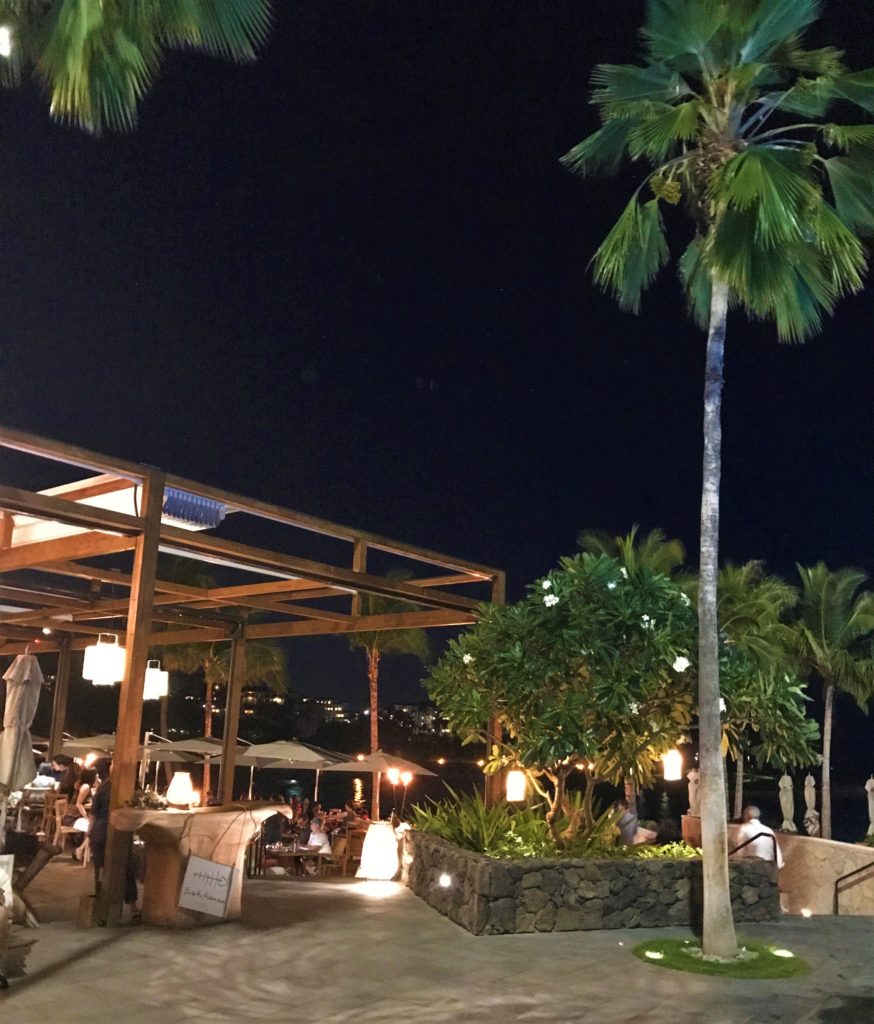 There are plenty of restaurants and bars to choose from on site, as well as a good choice in the immediate vicinity if you want to get out and about.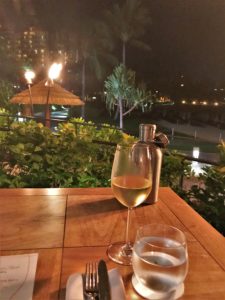 Restaurant: Fish House
Cuisine: Seafood
Indoor/Outdoor Seating
Restaurant: La Hiki
Cuisine: Buffet breakfast; pan-Asian for dinner
Seating: Open air
Restaurant: Noe
Cuisine: Italian
Seating: Indoors and outdoors
Restaurant: Waterman Bar & Grill
Cuisine: Cocktails, lunch, light fare
Seating: Outdoors
Lounge: Hokulea
Cuisine: Coffee, juice, light breakfast (morning); cocktails and small plates (afternoon and evening)
Seating: Indoors and outdoors
I tried the Fish House for dinner. I had made a reservation and when I arrived I was seated outside on a table right by the beach. As I was on my own I was offered something to read which was a lovely gesture. Again, the service was spot on from start to finish. Your name is used throughout and the staff are friendly but professional.
I started with the oysters which were plump, juicy and super fresh. They were definitely some of the best I have had.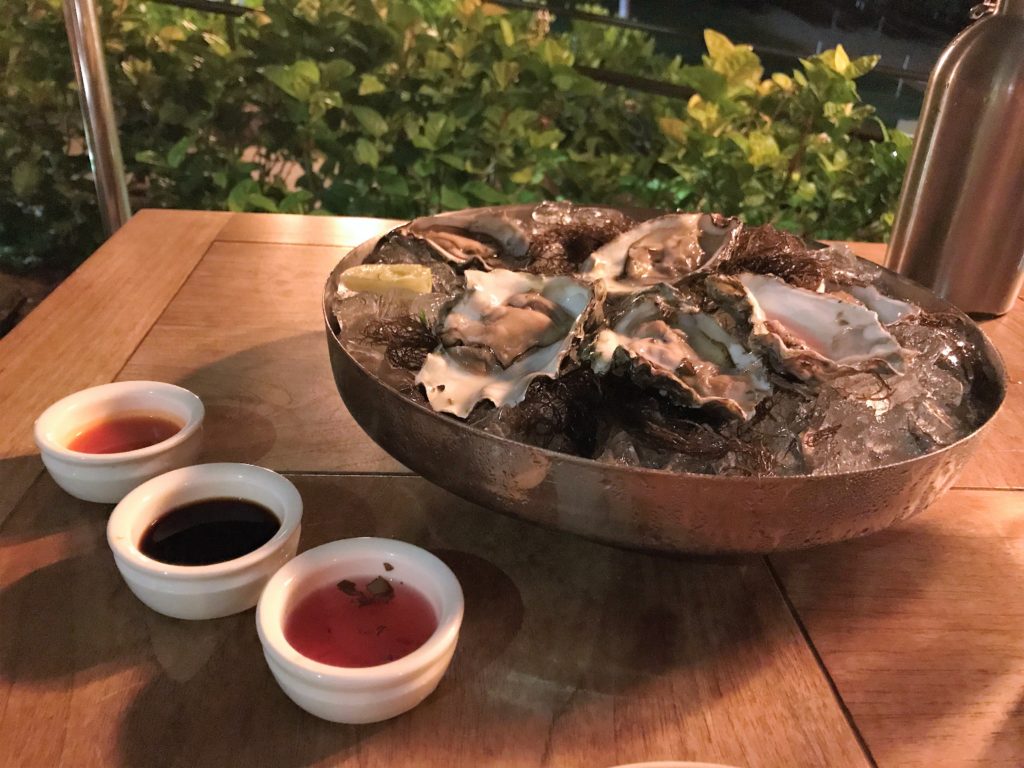 The next course was less successful for me but still a great dish. I love lobster and let myself be talked into the Crispy lobster with cauliflower and coriander salsa which was deep fried. Not being a fan of fried food, I was assured it was only a light batter, which it was. However, I would still prefer my lobster au natural I think. The lobster was cooked perfectly though and it was still a very tasty dish.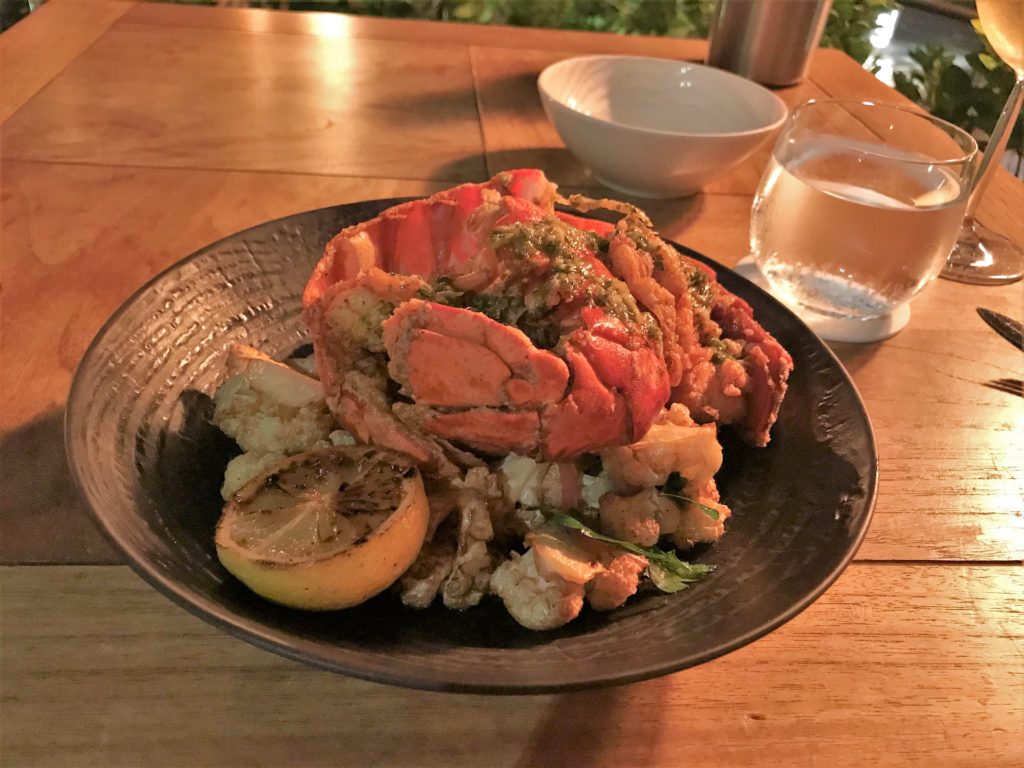 Breakfast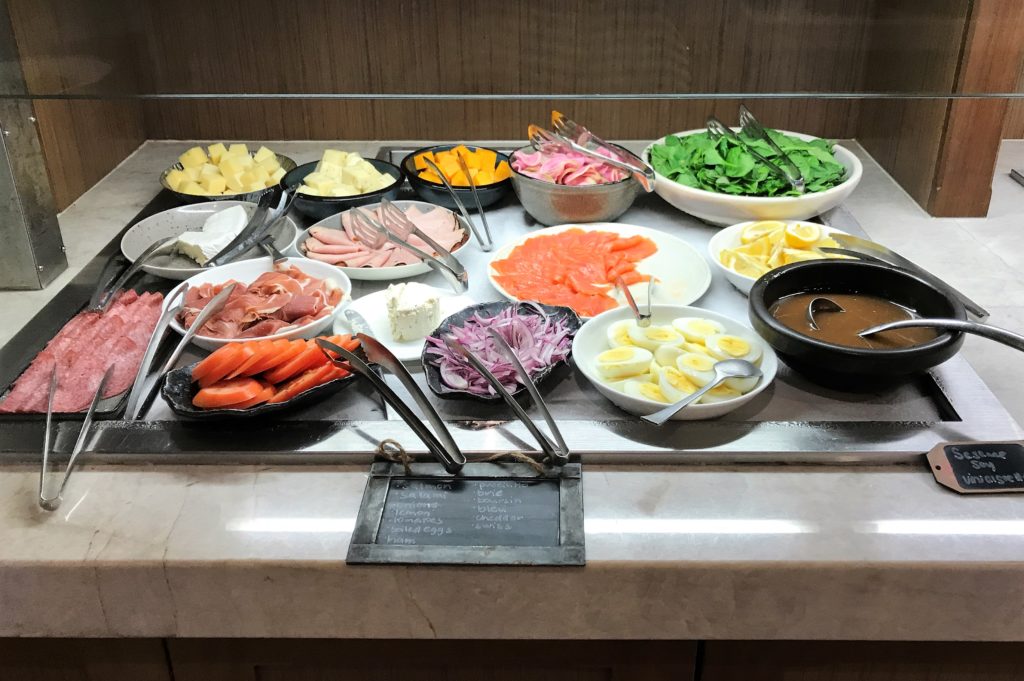 Breakfast was very impressive but not exactly cheap. Fortunately, it was free on my package up to $95 per room. Since I was on my own, I made the most of it and had the Mimosa breakfast which came in a range of flavours. Service again was excellent. You could easily stuff yourself at breakfast and not need to eat any lunch here. The food was all beautifully presented on the buffet plus there was a chef to cook eggs to order. There was a wide range of items on the buffet from eggs benedict and Asian dishes to a gluten free table.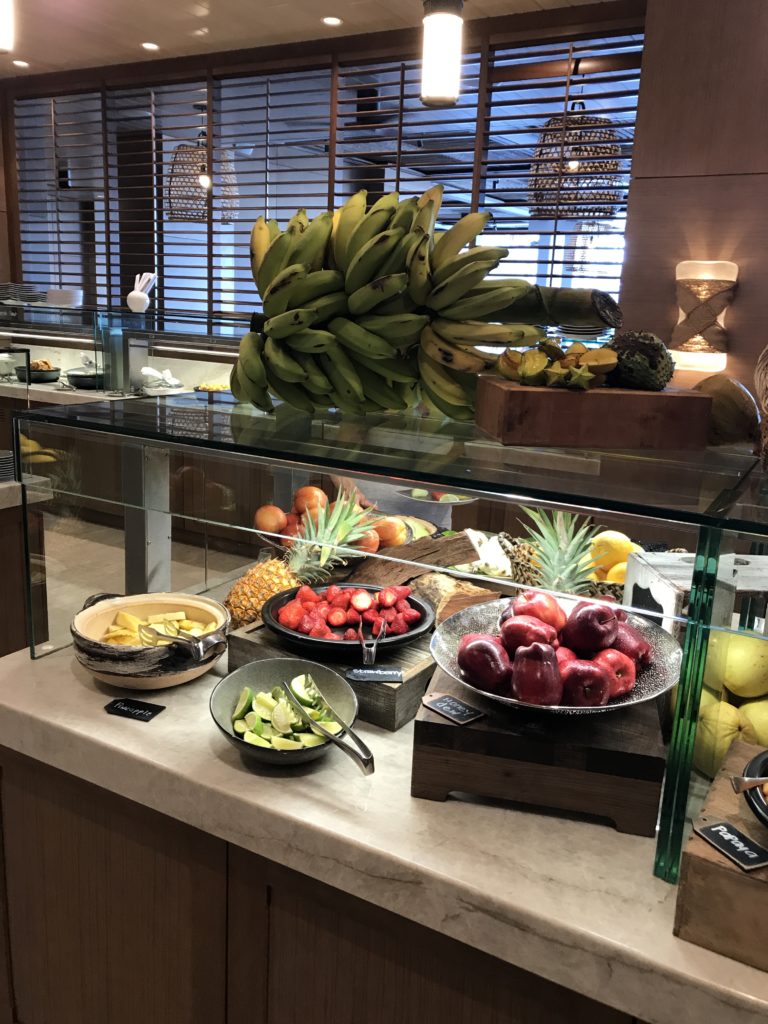 Other facilities
At the beach, there are a couple of free activities with stand up paddle boarding and sunrise yoga available free of charge. If you can tear yourself away from the beach, there are also 4 tennis courts and special privileges at the nearby Ko'Olina Golf Club. If you have the kids with you there is also a kids club and a young adults club for ages 12+. There is a beautiful wedding chapel on site if you are considering getting married in Hawaii. FS guests also get access to the adjoining Lanikuhonua Cultural Estate and nature reserve.
How to get it cheaper
Apart from using cashback sites, the Four Seasons often does special packages such as "stay 4 nights get 1 free". You can see more information here. You can use our partners GTC to book my Virtuoso deal. This is the same rate as the FS best available rate but includes extras. I received free breakfast up to $95 per room per night, $100 spa treatment credit, a free upgrade (subject to availability) and a welcome fruit and water platter.
Conclusion
I generally have very high standards, as you may have gathered. Unusually for me, there was virtually nothing I really could fault here and certainly nothing with the service. Although it is very expensive, you could always do what I did and combine it with some cheaper hotels on your trip to keep the overall cost down. The FS Oahu is a lovely way to spend a couple of days just relaxing and being pampered. I will definitely be back next time I am on Oahu.